Consider the elements of a highly livable city—a thriving cultural and culinary scene, proximity to nature, iconic architecture and ease of mobility, to name a few. Now picture them condensed into a 90km² radius, between mountains and a lake. Welcome to Zurich, the glistening Swiss city that has long made its mark as one of Europe's most attractive destinations.
Its appeal is one of harmonious contrasts, in which commerce aligns with culture, diversity with a distinct identity, and efficiency with an easygoing friendliness. Little wonder that it consistently ranks in the upper echelons of international quality of life surveys. Making the most of its charms doesn't require a permanent address, however. Together with Zurich Tourism, we bring you twelve of the city's highlights—iconic addresses for where to sleep, eat, shop, and soak up culture. In other words, inspiration for a design-focused visit to this little city that has it all.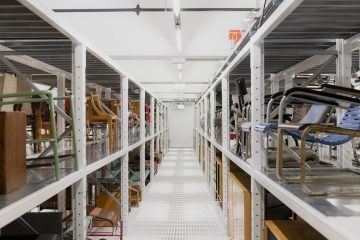 Museum für Gestaltung
Ausstellungsstrasse 60, 8005 Zurich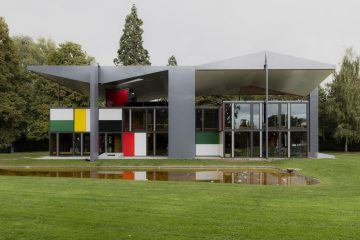 Pavillon Le Corbusier
Höschgasse 8, 8008 Zurich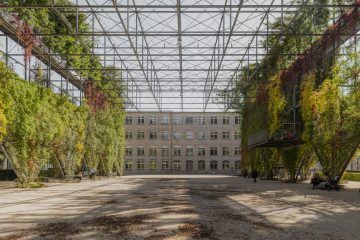 Maschinenfabrik Oerlikon (MFO)
Elias-Canetti-Strasse, 8050 Zurich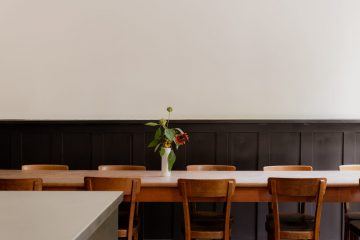 Gamper
Nietengasse 1, 8004 Zurich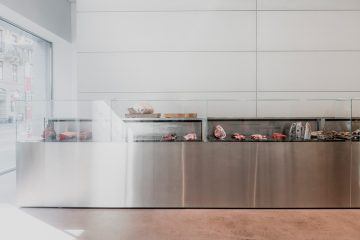 Hatecke Bar Boucherie
Usteristrasse 12, 8001 Zurich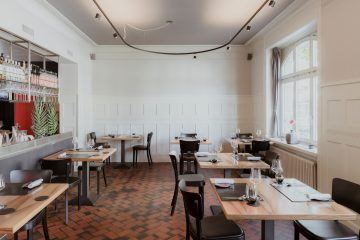 EquiTable
Stauffacherstrasse 163, 8004 Zurich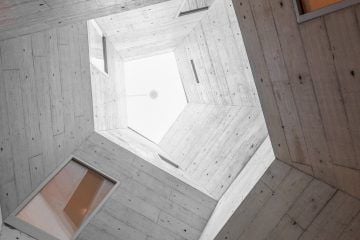 B2 Boutique Hotel and Spa
Brandschenkestrasse 152, 8002 Zurich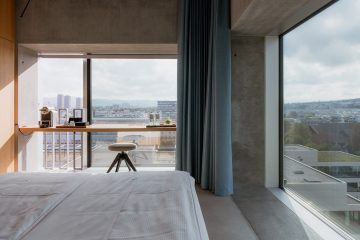 Placid Hotel
Buckhauserstrasse 36, 8048 Zurich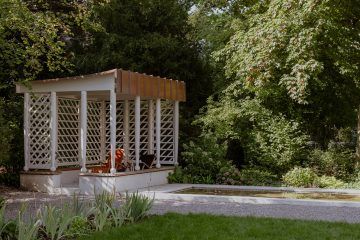 Signau House and Garden
Signaustrasse 6, 8008 Zürich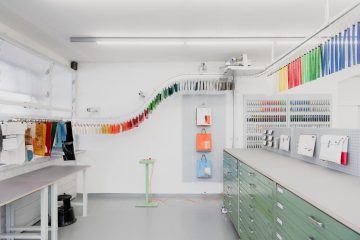 FREITAG Sweat Yourself Shop
Grüngasse 21, 8004 Zurich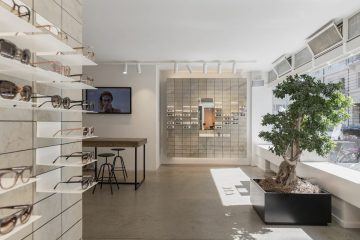 VIU
Grüngasse 4, 8004 Zurich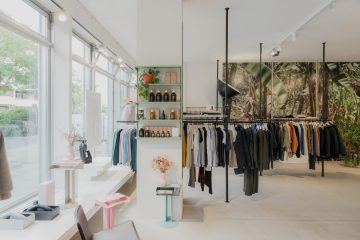 QWSTION Flagship Store
Badenerstrasse 156, 8004 Zurich
WHERE: Main building: Ausstellungsstrasse 60, 8005 Zurich, Switzerland
Toni-Areal: Pfingstweidstrasse 96, 8005 Zurich

WHEN: Tues – Sun: 10:00 – 17:00, Wed: 10:00 – 20:00
WHAT: Le Corbusier, Max Bill, Sophie Taeuber-Arp, Trix, and Robert Haussmann—from Modernist furniture to experimental typefaces, Switzerland's design legacy is world-class, and ever evolving. There's no better place to delve deep into its trajectory than the collections of Zurich's Museum für Gestaltung, the four collections of which comprise half a million objects. Supplemented by a host of international temporary shows, events, and excursions, they provide a rich and extensive overview of the seminal movements of 20th and 21st century design, both in Switzerland and beyond. A short tram ride away from the museum's archives is the Toni-Areal, its second building—a newly-restored Modernist masterpiece on Ausstellungsstrasse—offers further exhibitions, including 2000 of the collection's highlights, which are grouped thematically and presented in a newly-configured permanent exhibition. Upstairs, the 'Swiss Design Lounge' showroom invites visitors to experience the highlights of the country's design legacy for themselves.
WHERE: Höschgasse 8, 8008 Zurich
WHEN: Tue-Wed 12pm-6pm, Thu 12pm-8pm, Fri-Sun 12pm-6pm
WHAT: The shores of Lake Zurich set the scene for the eminent Swiss-French architect Le Corbusier's Gesamtkunstwerk—his final masterpiece, and his only building constructed entirely from glass and steel. The exhibition pavilion was commissioned by the interior designer, and gallery owner Heidi Weber, and realized between 1961-1967. After having been used for a variety of purposes throughout the decades, the pavilion was renovated between 2017-2019. Now, from May through November each year, it offers visitors the opportunity to take an 'architectural promenade' through its exquisite rooms and exhibitions, while delving into the life and work of the Modernist master whose name it bears.
WHO: Maschinenfabrik Oerlikon (MFO)
WHERE: Elias-Canetti-Strasse, 8050 Zurich

WHAT: On what was once the site of a machine factory, Maschinenfabrik Oerlikon (MFO) in Zurich-Nord has today been transformed into an architectural oasis for the public to enjoy—a bastion of urban development that carries its location's former purpose into the cutting edge of urban renewal. The heart of what is today MFO-Park is an atrium constructed from double-walled steel latticework that stands open on three of its sides, and is covered by a trellis of climbing plants that create an enchanting interplay of fragrance, light, and shadow—like the lush Virginia Creeper that transforms from bright green to shades of golden as summer melts into autumn. A rooftop sundeck offers panoramic views over the surrounding development of Neu Oerlikon and northern Zurich. The park's dramatic design makes it an ideal backdrop for open-air concerts, film screenings, and performances.
WHERE: Usteristrasse 12, 8001 Zurich
WHEN: Mon 10.00-19.00, Tue-Fri 09.00-22.00, Sat 09.00-19.00
WHAT: Meat becomes pure art at Hatecke, an upscale butchery and bistro which brings the highest quality organic cuts from farmers in the Lower Engadin Valley to Zurich's Löwenplatz. There's a story behind every product, which the affable owners—the fourth-generation father-and-son team Ludwig and David Hatecke—are more than happy to share along with a sample of delicately sliced sausage and, if it's Apéro hour, a glass of red wine. Tucked into the central Alps, on the cusp where Switzerland meets Italy and Austria, the Lower Engadin—or Engiadina Bassa in the region's Romansh dialect, Switzerland's fourth official language—is a remote region of breath-taking mountainous beauty, scattered with pure blue lakes, hairpin-bend roads, and traditional villages. It's also become known for its high-quality produce, largely thanks to the century-long legacy of one family. A butchery that began as a humble delivery service has, over the years, transformed into a high-end concept delicatessen and eatery with five outposts across the country, including Zurich, just 2.5 hours' drive from the Lower Engadin.
WHO: EquiTable
WHERE: Stauffacherstrasse 163, 8004 Zurich
WHEN: Tue-Sat 18.30-00.00
WHAT: Well before the concept of sustainability entered the gastronomic mainstream, chef Fabian Fuchs and the team behind the Michelin-starred EquiTable were demonstrating how naturally fine dining could go hand in hand with uncompromising ethics. Only organic, regional, and seasonal products, sourced through fair trade or direct supply chains, make it into Fuchs' kitchen, where they are transformed into exquisite dishes that exemplify the terroir of Zurich and its surrounding landscapes. EquiTable has a tiny kitchen. It's so small that it's hard to envisage exactly how the team whips up the four-to-eight 'surprise' courses that the restaurant's 30-odd guests submit themselves to every evening. Depending on the season, this might include Kernotto, EquiTable's signature dish, made from rolled spelt with a mountain cheese 'froth' and fresh herbs. Or, pike perch with confit and pickled onions and finished with sorrel—followed by a milk pudding made with rhubarb, wild strawberries, and lemongrass for dessert.
WHO: Gamper
WHERE: Nietengasse 1, 8004 Zurich
WHEN: Wed-Sat 18:00-00:00
WHAT: A one-hour 'onsen egg' couched in pea foam. Chilled beetroot soup with roasted Piedmont hazelnuts and a splash of chive oil. White asparagus with beurre noisette and kombucha vinaigrette. Charcoal-grilled sourdough bread. These concoctions only offer a teaser of what discerning diners may have the pleasure of experiencing during an evening at Gamper. The small restaurant in central Zurich's District 4 takes no reservations, and offers no à la carte options. Instead, diners submit their evening to the expertise of chef Marius Frehner, whose menu changes from day to day. His gastronomic concept, however, remains constant: A steadfast commitment to sustainability, taking guests back to the basics, and a reminder to the palette that when ingredients are of the highest quality, less is always more.
WHO: B2 Boutique Hotel and Spa
WHERE: Brandschenkestrasse 152, 8002 Zurich
WHAT: A stone's throw from the shores of Lake Zurich, an impressive industrial building-turned-boutique hotel and thermal spa complex invites visitors to immerse themselves in a unique facet of the city's history. The B2 Boutique Hotel was designed to honor the heritage of a building that once housed the iconic Hürlimann Brewery. Today, it offers guests a luxurious base from which to explore the city's manifold pleasures. It's hard to think of a more awe-inspiring place to witness the sun rising over Zurich than the thermal rooftop pool at the former Hürlimann Brewery complex, a relic of the city's industrial heritage, perched atop the Sihlberg hill in the Enge district. For one hour every morning, guests of the adjacent B2 Boutique Hotel have exclusive access to the spa area, and can start their morning taking in the panoramic view during a relaxing dip in the gently bubbling 38° mineral-rich water before heading downstairs for a lavish breakfast, served in the hotel's centerpiece space, the open-plan 'Wine Library'.
WHO: Placid Hotel
WHERE: Buckhauserstrasse 36, 8048 Zurich

WHAT: It may have received a prestigious inclusion within the top 100 corporate hotels of 2019, but Placid was built for stays beyond business travel. With its modern interior architecture and dedication to luxurious essentialism, the aptly-named hotel sets a new standard for multi-purpose accommodation, and in doing so, offers an alluring base for a new generation of design-conscious visitors to Zurich. Towering twelve stories high over the industrial landscape of the western district of Zurich-Altstetten, Placid was designed by E2A Architects, a distinguished local studio specializing in Modernist architecture. In a rare departure from standard hotel projects, the architects were given a carte blanche for the total architectural and design concept, not only for the building itself, but also for the interior and the objects that bring each space to life, from the restrained color palette and artwork on the walls right down to the chairs and tables—and the vases by heritage Swiss porcelain manufacturer, Linck Ceramics, that adorn them.
WHERE: Signaustrasse 6, 8008 Zürich

WHAT: Close to the pulse of the city, yet cloaked in a calm, the Signau House and Garden invites guests to glimpse Zurich's architectural heritage during a stay at the boutique hotel, perched on a hill in the city's district of Riesbach-Seefeld. Set in a 1912-built patrician villa, the building was renovated to the highest standard in 2018, and now offers visitors to Zurich an elegant home away from home. Travelers seeking more space, discretion, and charm than a traditional hotel will find tranquility in this boutique ten room villa, restored to honor its original early 20th century character. Cozy and full of character, it embodies the restrained brand of luxury for which the Swiss are known. "I always used to say to my husband that one day I'd like to have a bed and breakfast in the city," says Gré-Gré Stocker Preiss, co-owner of the hotel. "We used to travel a lot, but at some point, with work and a child, you can't travel as much anymore. So instead we thought we'd host guests to let the international experiences come to us." When, in 2014, the property beside her husband's childhood home was listed on the market, the couple took it as a sign that their dream of starting a bed and breakfast was meant to be.
WHO: FREITAG Sweat Yourself Shop
WHERE: Grüngasse 21, 8004 Zurich
WHEN: Tue-Fri 11.30-19.00, Sat 11.00-17.00
WHAT: From a bag design inspired by the rumbling of trucks past a Zurich apartment in 1993 to pioneering the circular economy, FREITAG has become more of a way of life than a maker of products. As evidenced by its ever-evolving range, global store expansion and artistic collaborations, the company is relentless in its innovation. Its latest project is located in Zurich's hip District 4. At the 'Sweat Yourself Shop' FREITAG's micro-manufactory located in District 4, a leisurely half hour stroll away from the flagship store, individuals or groups of two are invited to book a DIY session. Over the course of an hour, they can art direct their own version of an exclusive new model, F718 BUH—also known as the 'Self-Composed Shopper', by selecting the five tarp cuts that make up the bag from a carefully-chosen range of colors. Then, guided by a FREITAG expert, they are invited to get hands on and carry out the steps of assembly that go into the shopper's production, before enjoying a drink while the bag is sewn together right in front of their eyes. The resulting unique, self-made souvenir allows Zurich's progressive design legacy to be carried off—and carried on.
WHO: VIU
WHERE: Grüngasse 4, 8004 Zurich
WHEN: Mon-Fri 10.00-19.00, Sat 10.00-18.00
WHAT: When strolling around Zurich, there's a good chance that the stylish glasses-wearing denizens you encounter picked up their pair from one address: Grüngasse 4, the flagship store of trailblazing Zurich eyewear brand, VIU. In just five years, both VIU's frames and the interior concept where they're presented have come to secure their position amongst the Swiss design icons of today. Grüngasse 4 is where it all began. Glasses are a deceptively humble everyday object, according to VIU's Creative Director, Fabrice Aeberhard. Aside from the necessity of correction lenses, "Frames are often perceived as a small item related to fashion or accessories," he muses. "Yet they're actually one of the most prominent products, as they sit in the middle of your face. They support or change your character—the way you're perceived, even approached." It's this thinking that underpins the brand's motto, 'Framing Characters', which Aeberhard defines as "trying to find the uniqueness in everyone."
WHERE: Badenerstrasse 156, 8004 Zurich
WHEN: Mon-Fri 11.00-19.00, Sat 11.00-17.00
WHAT: QWSTION has been challenging the norms of conventional approaches to sustainable textile development and product design since the company was founded in 2008. Today, the brand has three flagship stores across northern Europe, a dedicated presence in select concept stores around the world, and a reputation for expanding the scope of what it means to create sustainability. Positioned in a light-flooded corner space that once housed a supermarket, QWSTION's Zurich flagship serves as a microcosm of the brand's universe. The pared-back display systems—conceived of by the in-house design team—serve as a backdrop for QWSTION's own products. Offering carrying solutions for work, leisure, and travel, the bags are designed according to the principles of functional essentialism, and feature versatile details such as modular handles and strap systems that provide for a quick transition from being carried on the back or over the shoulder.