When strolling around Zurich's vibrant District 4, it's worth indulging in a little flânerie—straying off the main drag, following a sign that catches your eye, ducking around a promising-looking corner. It's so often our instincts, rather than our maps, that lead us to a city's most unique gems. Like the flagship store of local design studio and bag makers QWSTION, who have been challenging the norms of conventional approaches to sustainable textile development and product design since the company was founded in 2008.
Today, the brand has three flagship stores across northern Europe, a dedicated presence in select concept stores around the world, and a reputation for expanding the scope of what it means to create sustainability. Positioned in a light-flooded corner space that once housed a supermarket, QWSTION's Zurich flagship serves as a microcosm of the brand's universe. The clean lines and cubic structures that give the store interior its graphic feel are punctuated by the curled leaves of lush fig trees that stretch up to the lofty ceilings. The pared-back display systems—conceived of by the in-house design team—serve as a backdrop for QWSTION's own products. Offering carrying solutions for work, leisure, and travel, the bags are designed according to the principles of functional essentialism, and feature versatile details such as modular handles and strap systems that provide for a quick transition from being carried on the back or over the shoulder.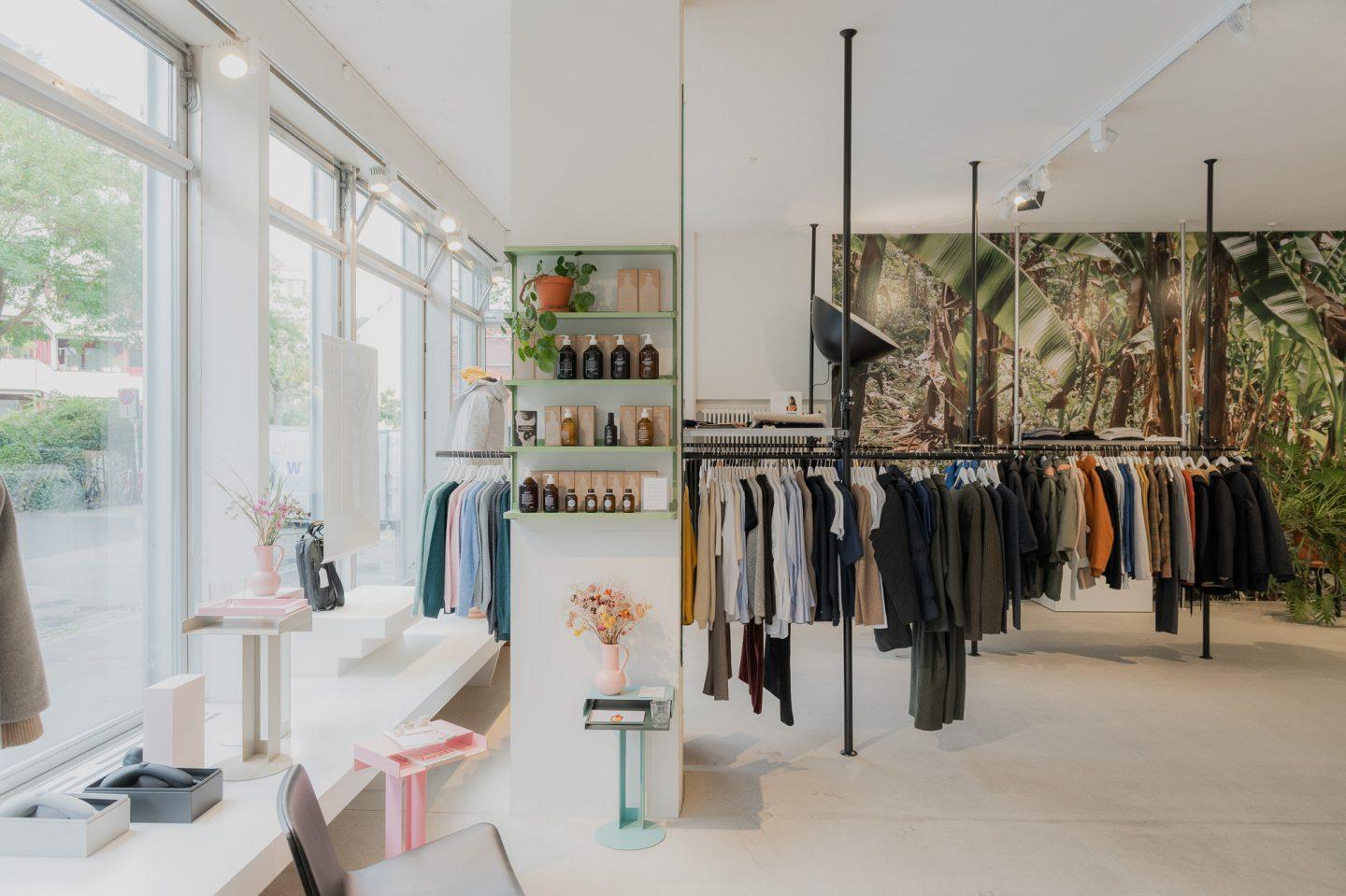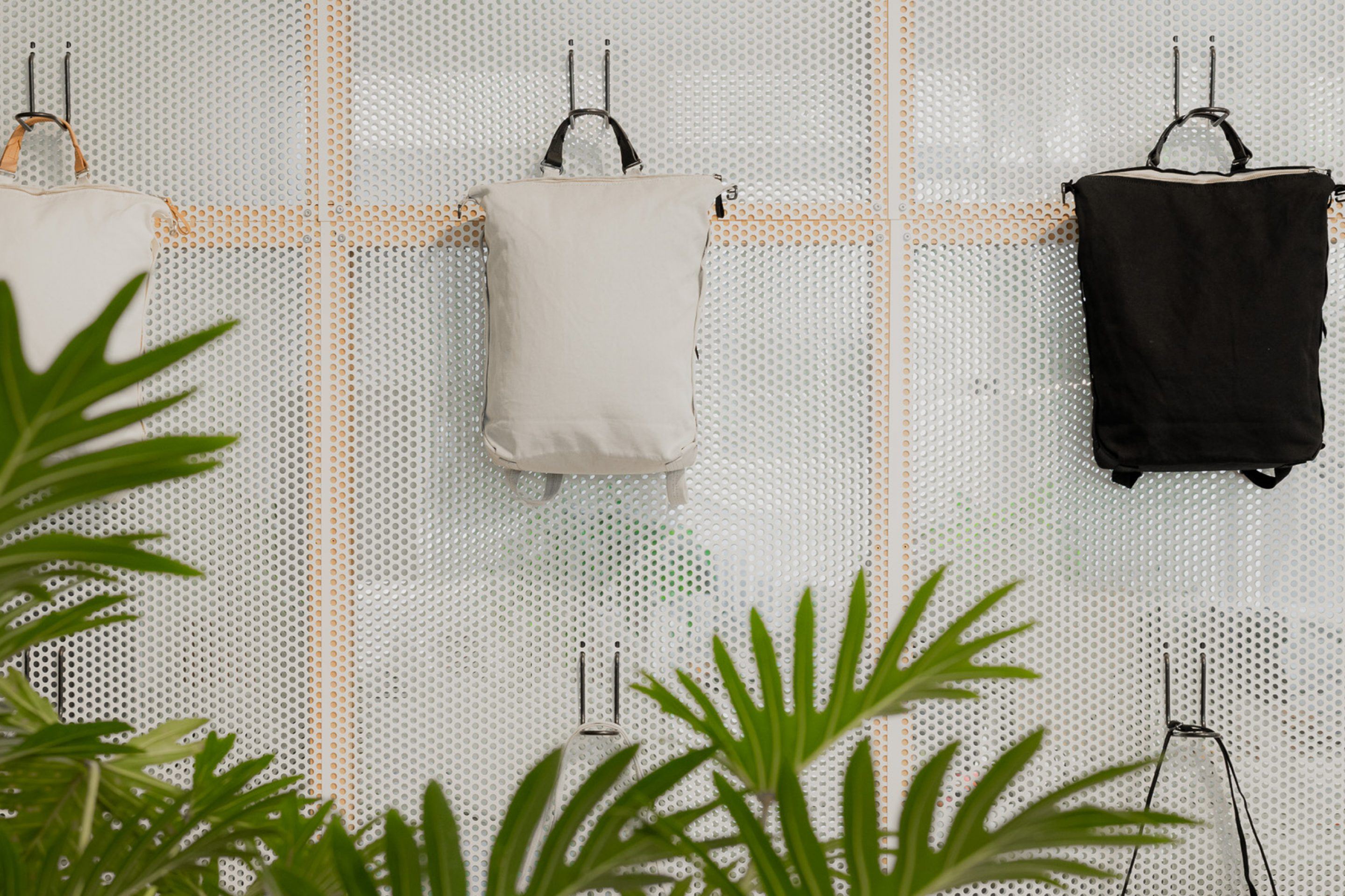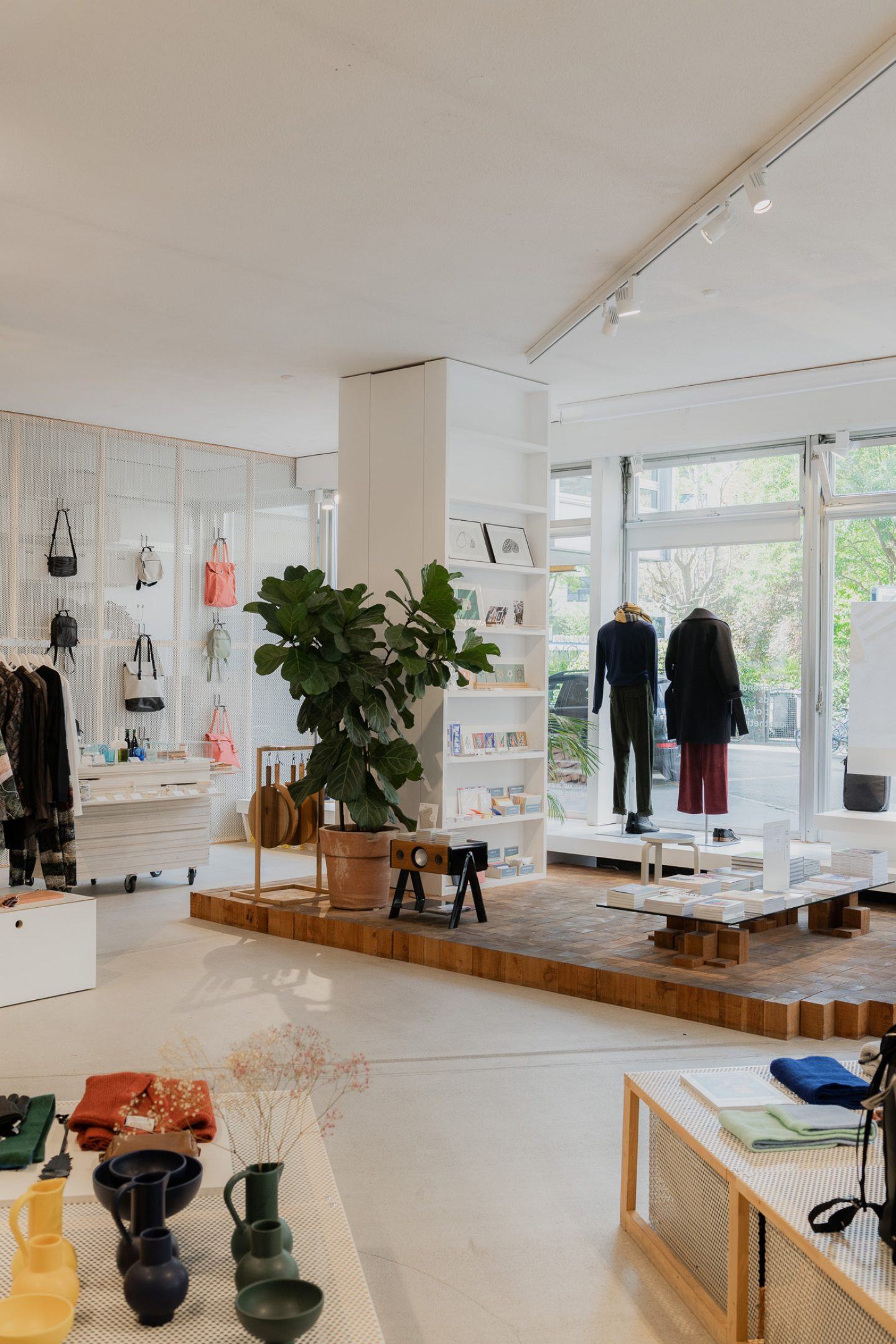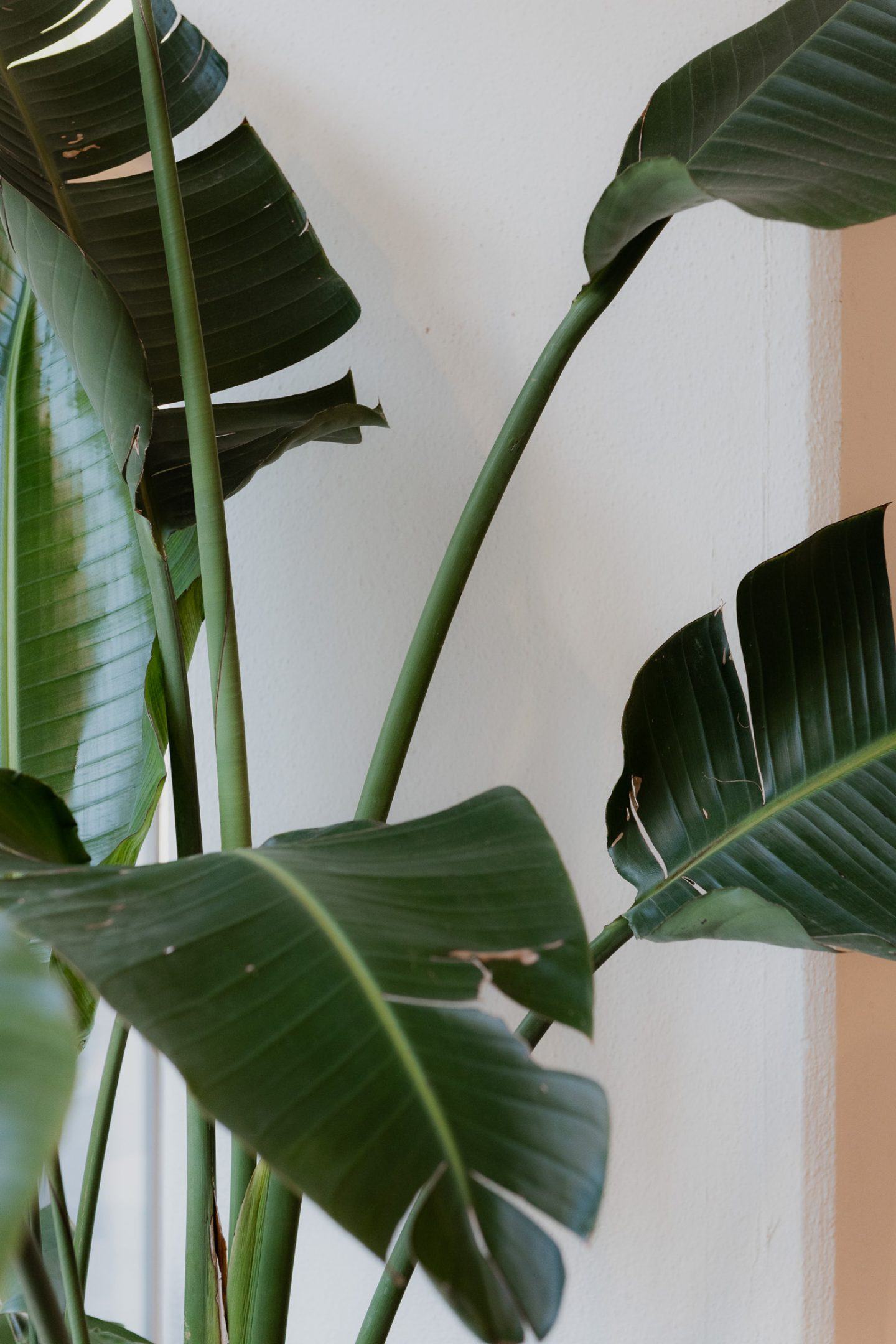 In line with its 'less is more' philosophy, QWSTION's core collection is only updated when a breakthrough in material or product development calls for a new design to be added to the collection. Essential to this is the production of materials. From its early days, QWSTION has been iteratively working towards optimizing the sustainability of every step in the production and supply chain of the materials that go into its products—from organic cotton to veg-tanned leather and a fully vegan collection. 2018 marked the brand's most significant breakthrough yet—the development of Bananatex®, a 100% biodegradable fabric made from abacá banana plants that are cultivated within a sustainable ecosystem in the Philippines. Years of research and development went into creating the pioneering material, which QWSTION decided to launch as an open source resource for designers who share their aim of eliminating the use of plastics in their product.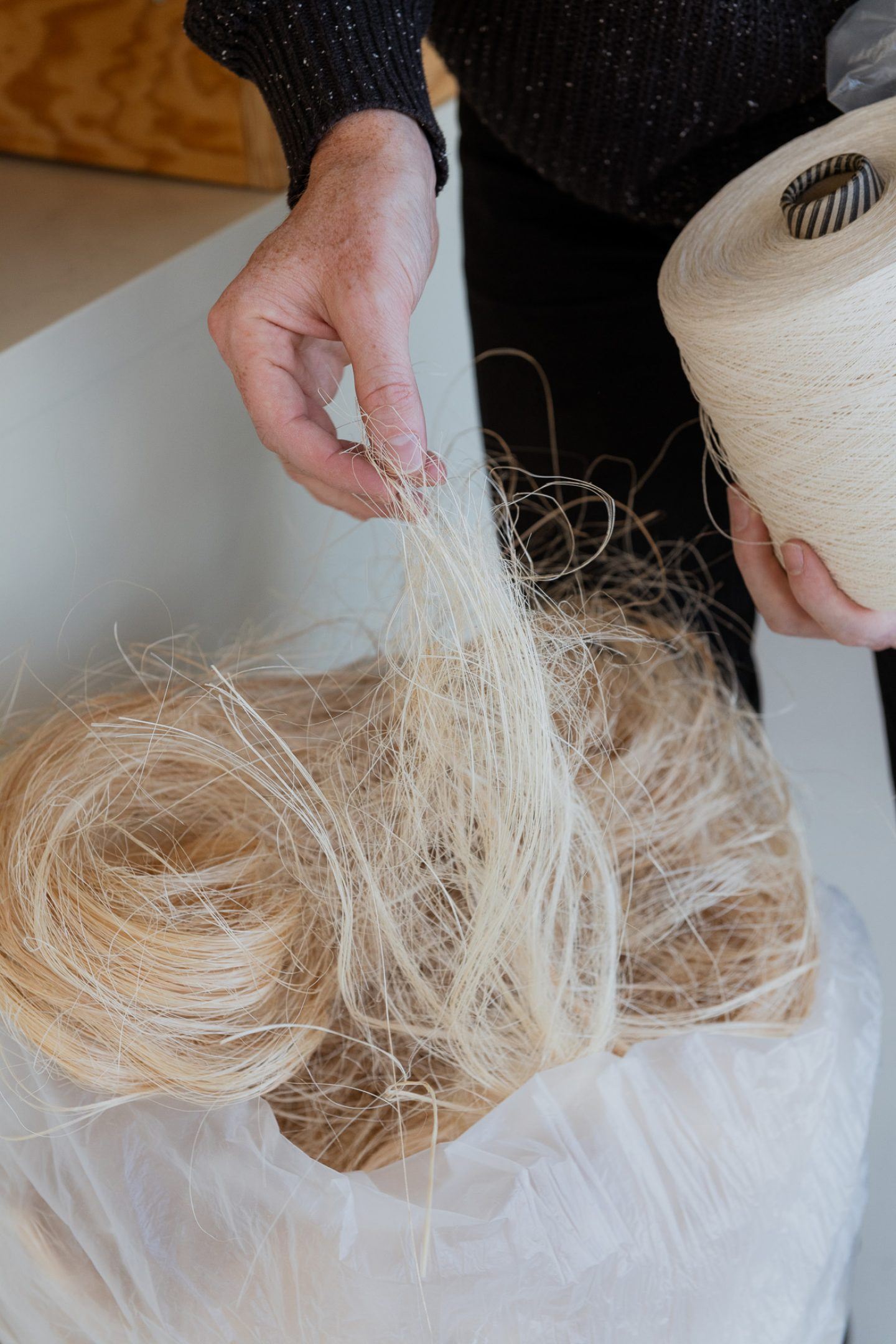 Durable and waterproof, yet light with a supple handfeel, Bananatex® has a wide range of applications, from automotive to footwear. "We noticed that a lot of brands nowadays are looking for alternatives to plastics and we actually have a solution that works," explains Christian Paul Kaegi, co-founder and Creative Director of QWSTION. "So we didn't want to limit the potential of that development to our own collection." The first non-QWSTION Bananatex® product was launched in 2019—a chair created as a collaboration between Bazaar Noir Editions in Berlin and the Dresden-based design studio, PALAIUS. Hundreds of other companies have expressed interest, indicating the beginnings of a cross-industry shift towards taking sustainability seriously.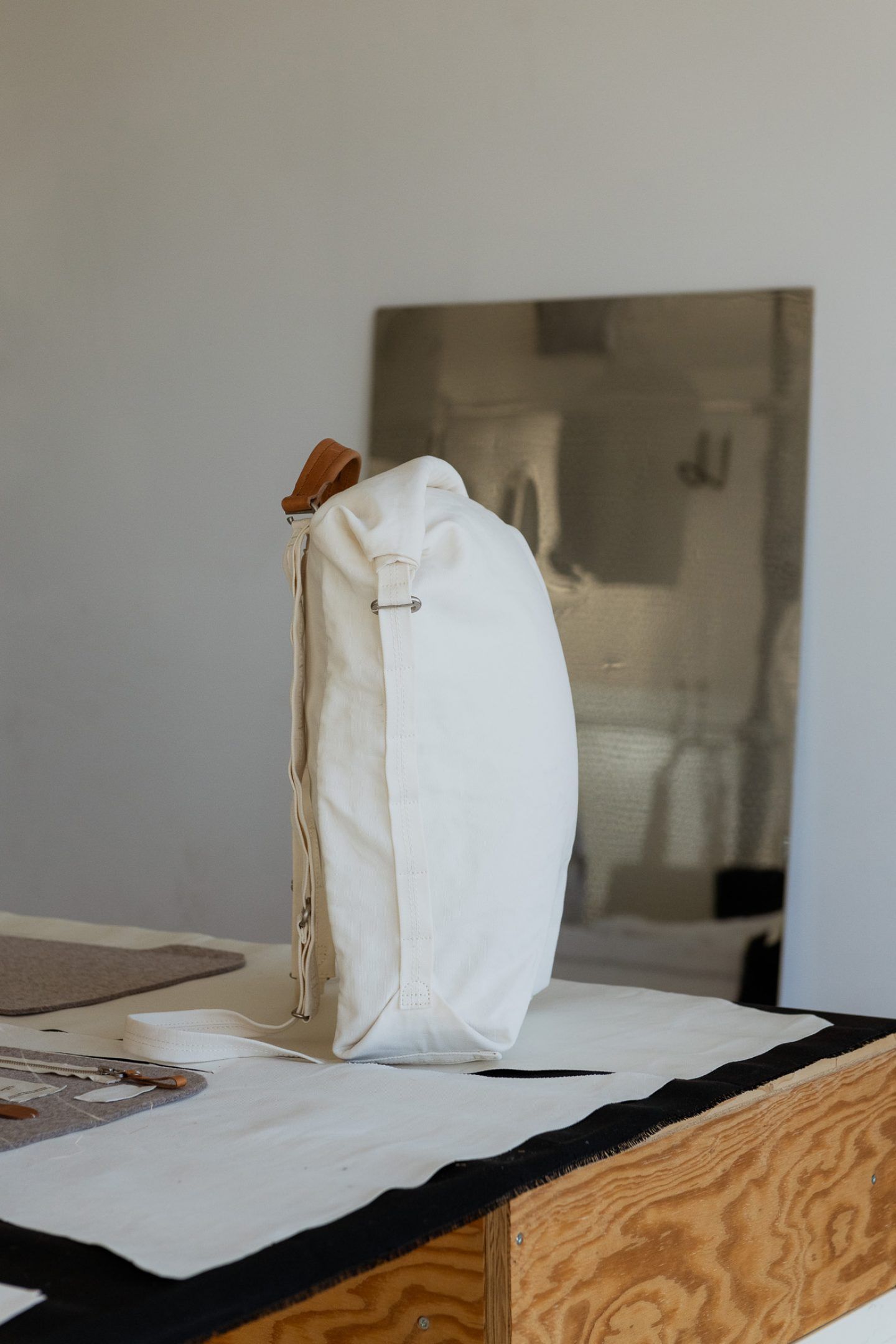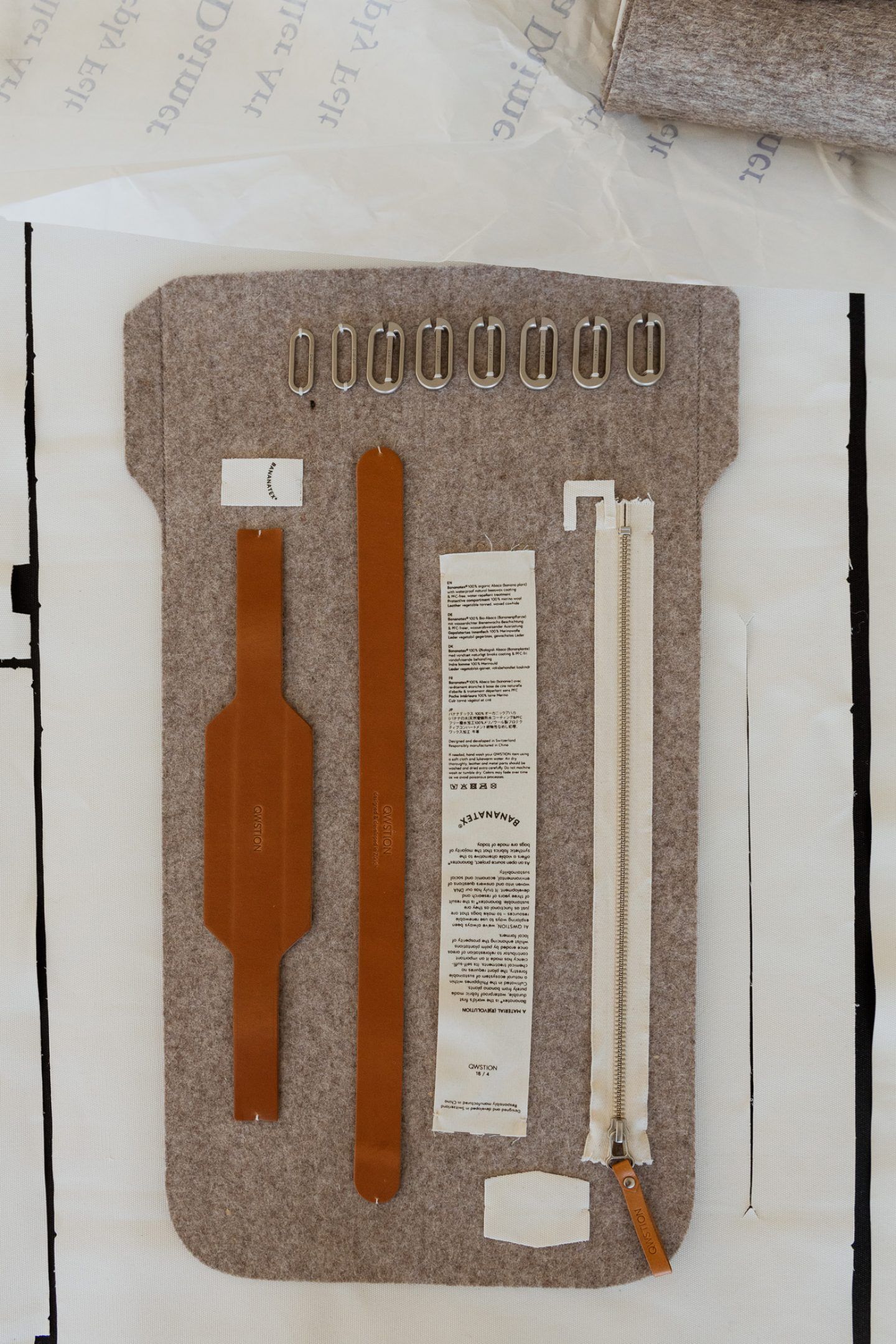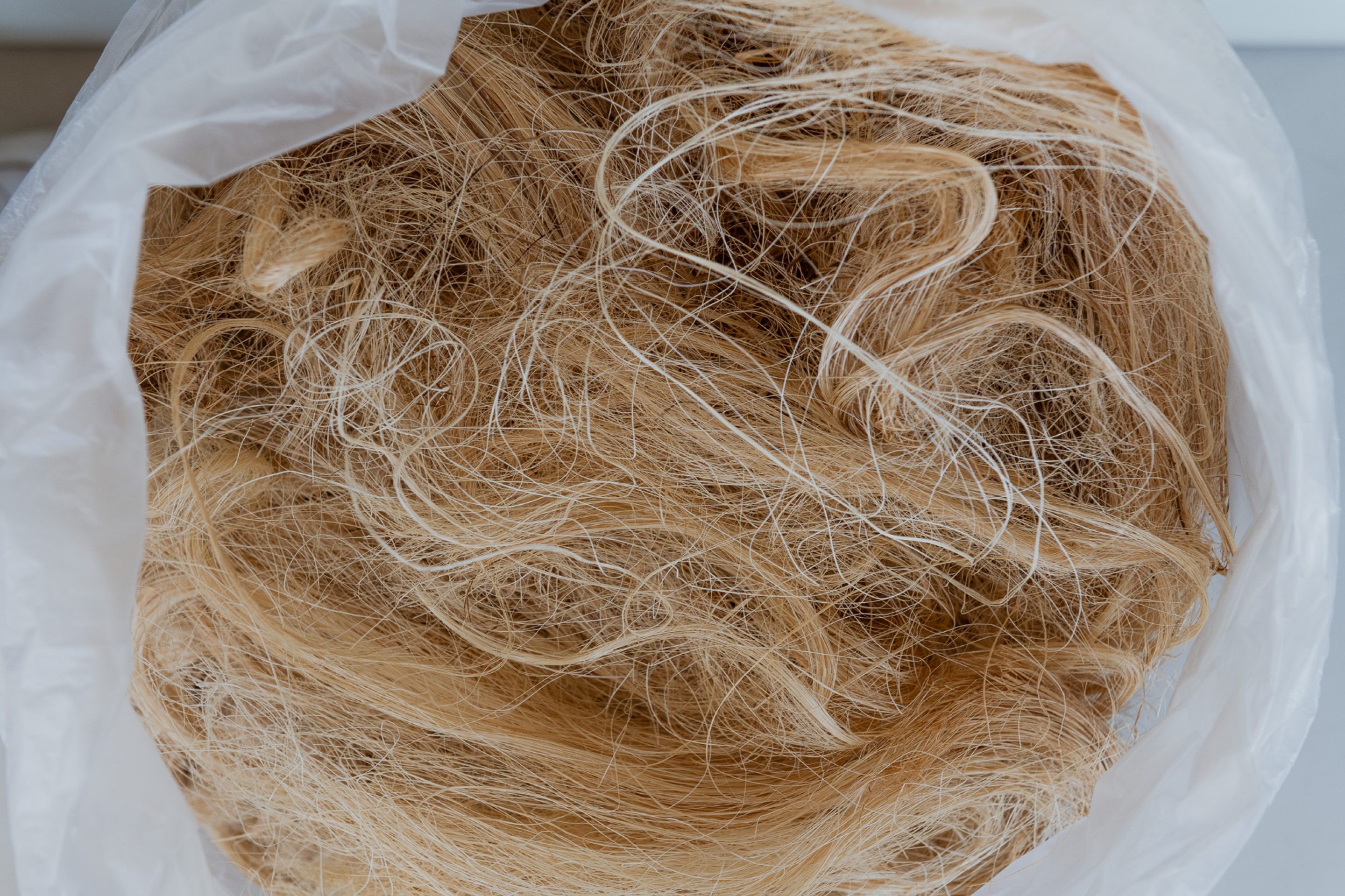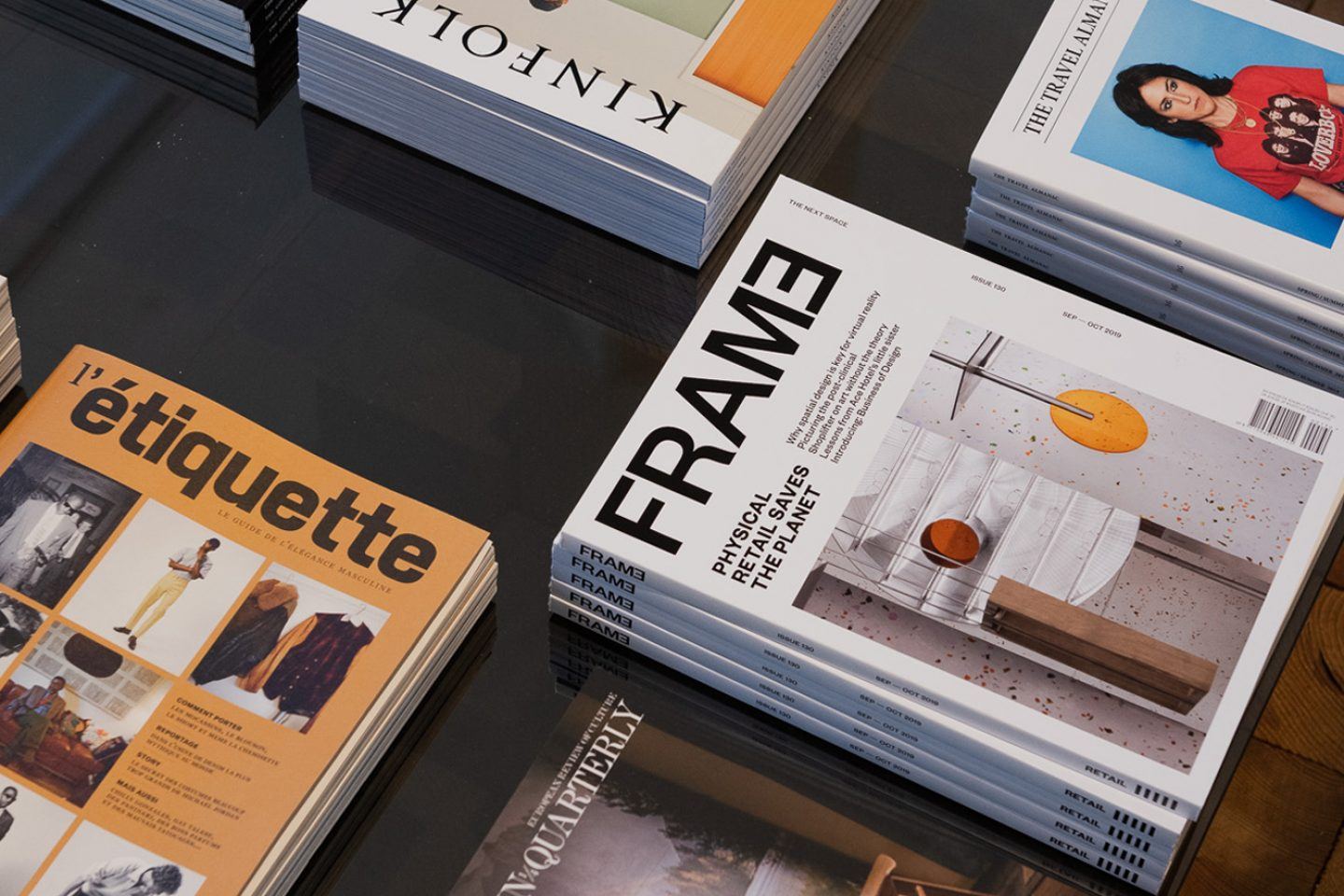 Back at the QWSTION flagship, Bananatex® manifests in the brand's Minimal Collection, a trio of bags based on patterns designed to minimize fabric waste, in different volumes and colorways: The Roll Pack, the Zip Pack, and the Hip Pouch. Alongside the brand's own products, the store concept is built around creating a platform for timeless everyday goods made with purpose, Kaegi says. An eclectic array of objects by established and cult designers are placed in dialogue with creations by emerging local studios: Furniture by Artek and New Tendency, soaps by Soeder*, footwear by VELT, apparel by A Kind of Guise and Kinfolk, sunglasses by R.T.CO, stationery by YSTUDIO, and an array of independent magazines. The 'Design Platform' offers up-and-coming Swiss designers—such as Julian Zigerli, Sibylle Stoeckli, and Terrazzo Project—a space to be displayed and discovered in the store. Far beyond bags, QWSTION has come to embody the forward-thinking approach to design that gives Zurich's creative scene its avant-garde reputation.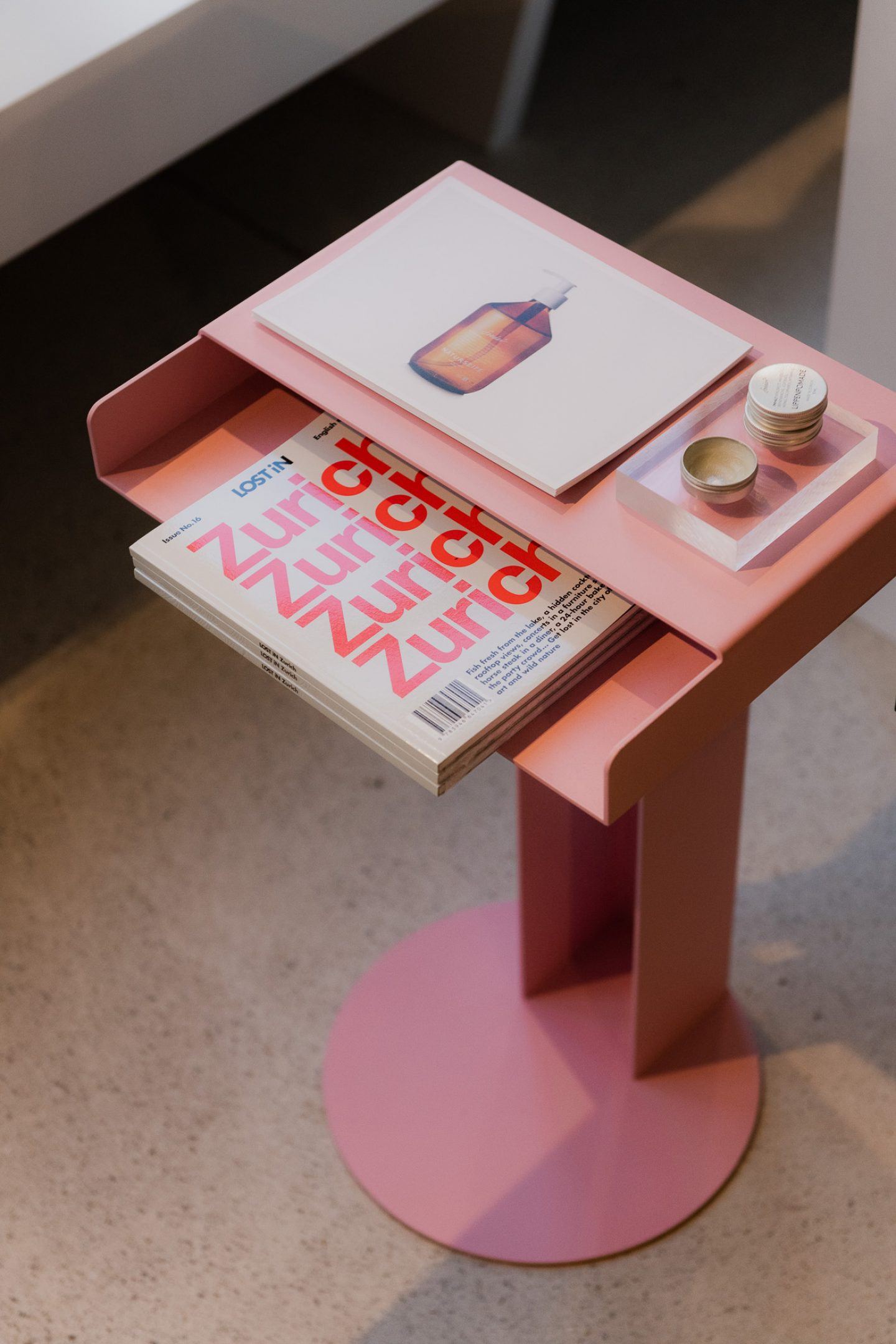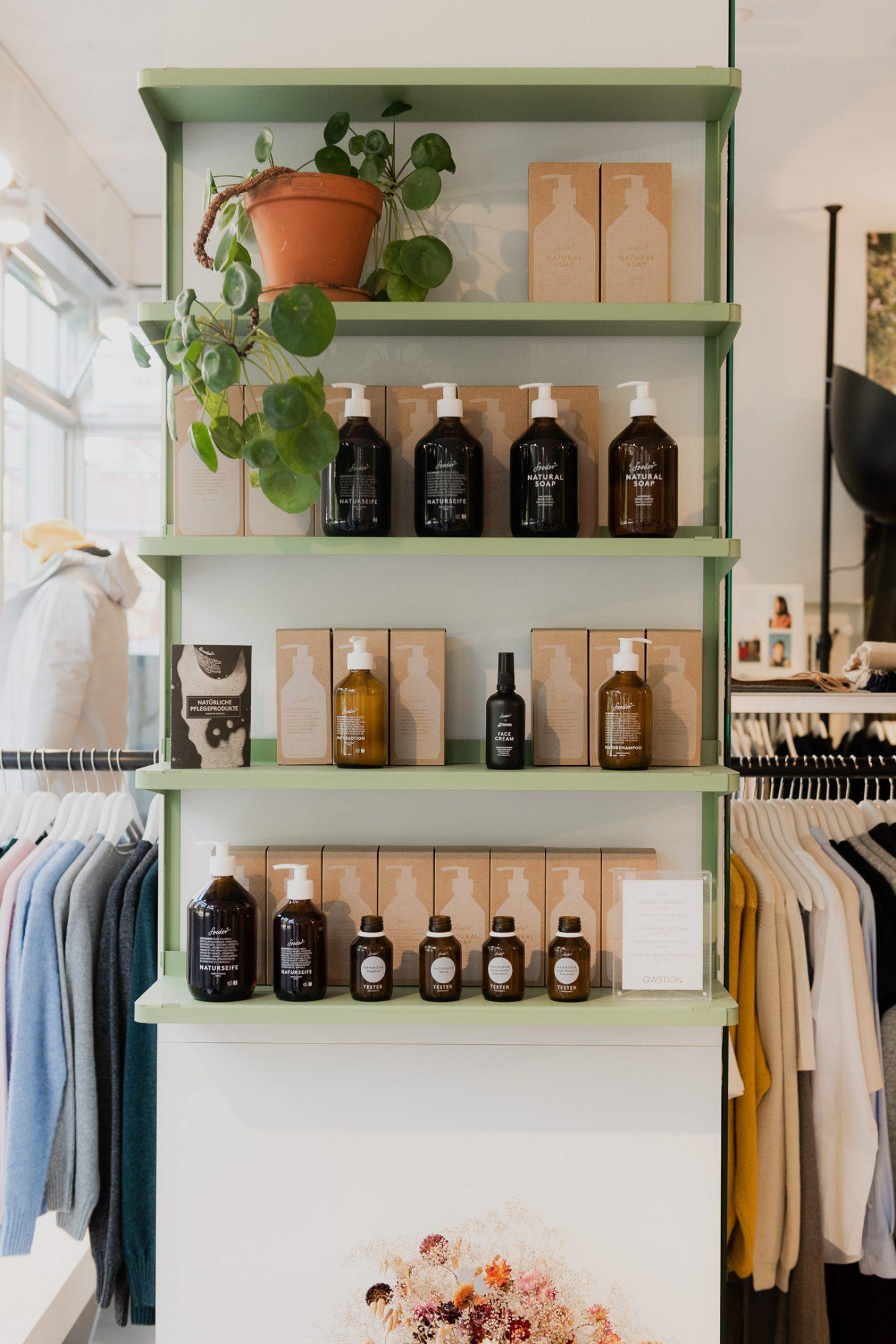 ADDRESS
QWSTION Store Zurich
Badenerstrasse 156
8004 Zurich
OPENING HOURS
Mon-Fri 11.00-19.00
Sat 11.00-17.00
CONTACT
Tel.: +41 43 535 24 61
Website
This story is the ninth in a 12-part travel guide to Zurich,
created in collaboration with Zürich Tourism.
Follow the series and discover the city here.