After closing down their successful restaurant Da Baffi that they've opened in Wedding with Wibke Isenberg a few weeks ago, the two Italiens Federico Testa and Francesco Righi started a new Italian restaurant named Bosco a few weeks ago. When the two Italians came to Berlin in 2008 they actually planed to start a band together while destiny had something else in mind.
Da Baffi started out with the idea of cooking for friends and friends of friends, bringing people together, but it quickly gained customers that enjoyed the relaxed atmosphere and the fine food that they'd find at the restaurant. Even though the duo never took care of advertisement, the word spread and soon they were booked every night."We were three, when we started in Wedding with a really basic equipment and without big expectations. We really had like a Herdplatte from Mauerpark" and after the closing of Da Baffi Federico and Francesco decided to keep on with their passion and they moved to Kreuzberg, where they are based today at Wrangelstr 42.
We were lucky enough to meet Federico Testa and Francesco Righi for a talk and to taste some of the delicious food they offer. Both guys seem down to earth and rather shy though once the topic comes to food, they start gesturing with a glow in their eyes, getting all passionate and talkative.
We would especially recommend the raw tuna with coconut soup, burrata, lime and bottarga – never tasted anything like that before and their homemade desert creation 'Sottobosco autunnale' which is also quite terrific. You can have a look at the Menu here. The prices are really fair for what you'll get though with a price of 22 EUR for the main course it's probably not for the everyday for most of us but certainly a perfect place if you'd like to treat yourself or your tongue or celebrate a special occasion. By the way, the Art Direction & Identity Design is curated by Michela Picchi in collaboration with Margot Pandone.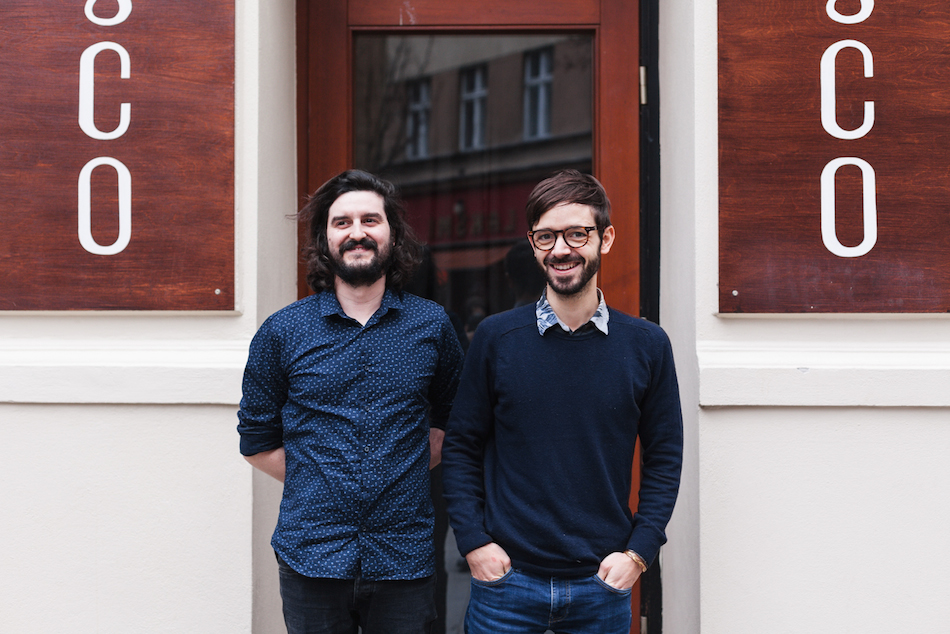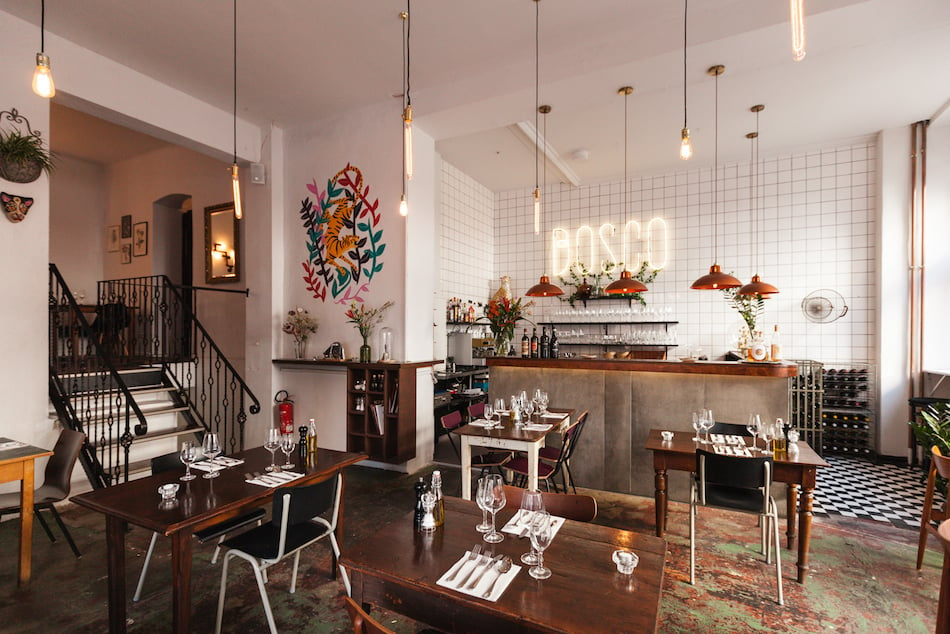 You just closed your successful Restaurant Da Baffi in Berlin Wedding and opened Bosco here in Wrangelkiez. Why did you pick this area?
Francesco: Both, me and Federico come from this area. We just saw this beautiful space, it wasn't really planned and we were quite open about going in any area in Berlin but we really liked the structure of this space. We changed a lot in here, almost everything but now we're really happy with it.
Did you do a lot of the changes yourself?
(Both laughing)
Federico: Yes! A lot. Of course there were some handymen to help us doing the more specific works but we did a lot ourselves.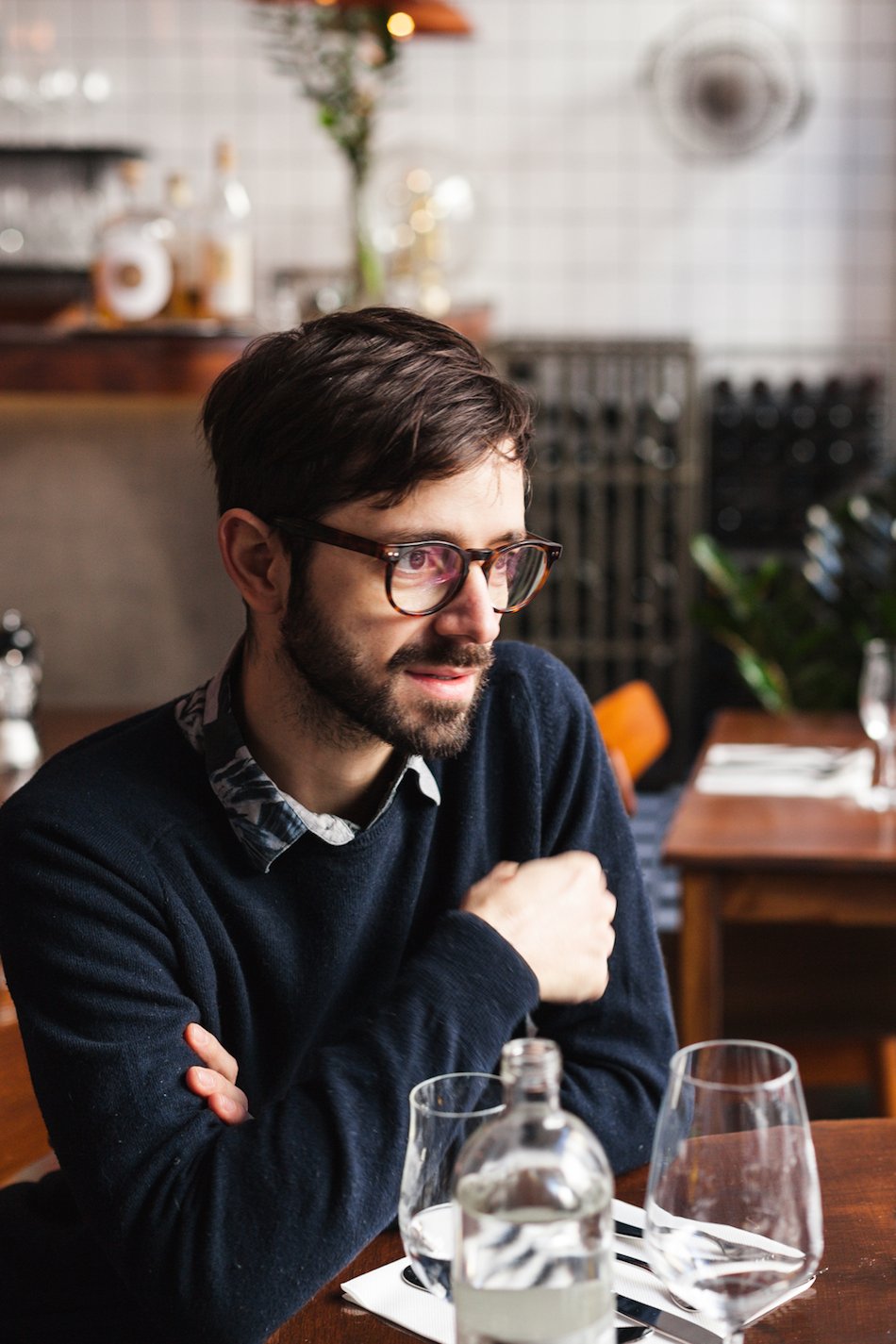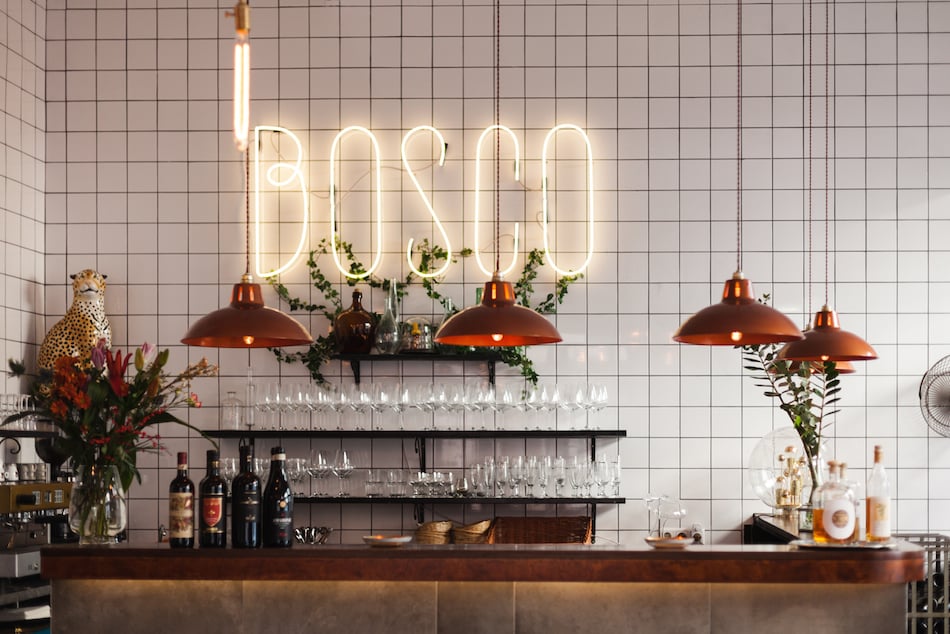 When did you first come up with the idea to open a restaurant?
Federico: Francesco is a chef and we originally came to Berlin to make music together. But Francesco found a job as a chef very quickly. I was actually a photographer at that time and I found a job as well. So the plan of playing music together kind of fainted. I grew up in the gastronomy since my father owned a restaurant for 35 years. I kind of always had that passion. In Berlin we once made a dinner event for some friends, cooking in a gallery back in 2009. From the thing in the gallery we opened Da Baffi but in the beginning the idea was more like a café and bistro/"panini laden". For lunch there was not much work so we decided to concentrate more on the evenings and all of a sudden we had a restaurant (laughing).
Francesco: After a few months we were often booked out and than we decided to elevate our kitchen and our staff to turn it into a real restaurant.
Where did you learn how to cook?
Federico: I learned it from my family, Francesco is more experienced to work in a restaurant than me.
Francesco: Almost all Italian people start to learn cooking from their own grandma or mother but if you want to elevate your kitchen you have to keep working in the kitchen.
Federico: Cooking at home and cooking in a restaurant is very different. I think cooking at home is very good to train your mouth and to start to recognize the taste but for the restaurant you'll have to train your mind and your body.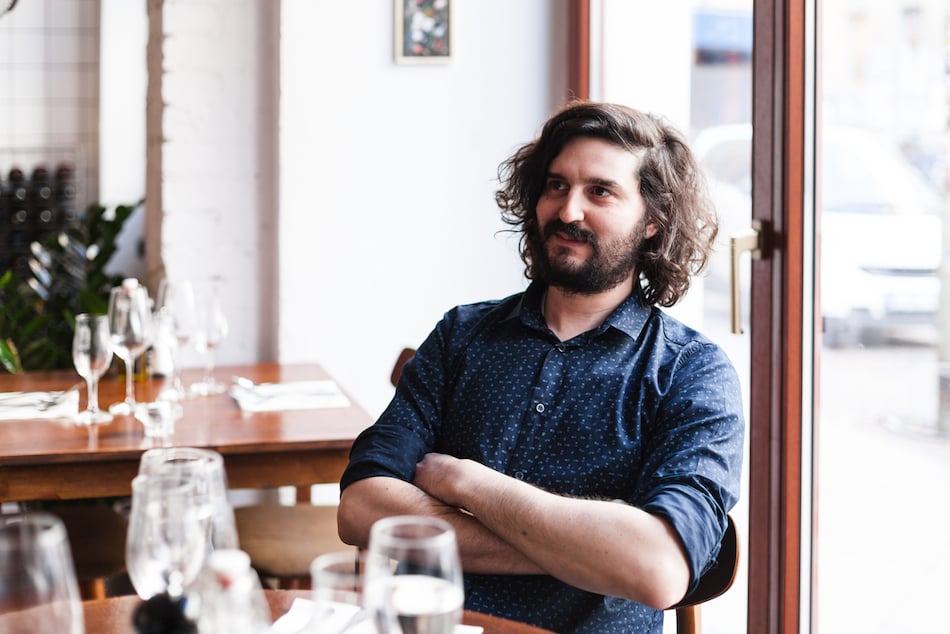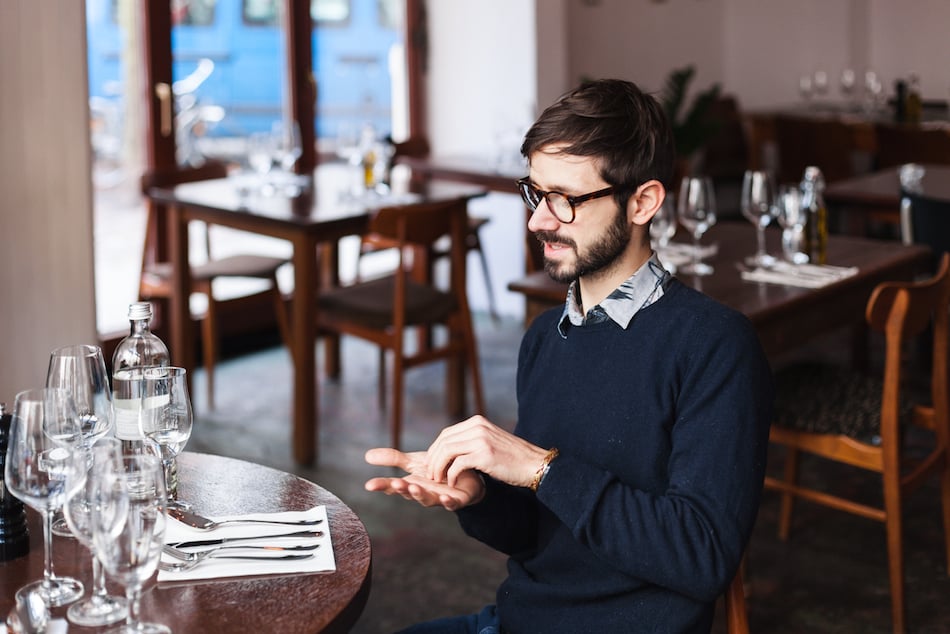 Why did you pick Wedding as a location back than?
Federico: We found this place that we really liked and we liked the atmosphere there. It actually used to be a Frisörladen so we had to create a space that we could use as a restaurant which was kind of a challenge.
How did you come up with Bosco as the name for the restaurant?
Federico: Bosco means forest in Italian. We both have always been close to nature also with our kitchen we really focus a lot on the nature of things and products. Bosco is where everything grows.
Francesco: You can find a lot of great stuff in the woods just like here at Bosco.
You said that you use a lot of natural products for the restaurant. Where do your ingredients actually come from?
Francesco: Mostly from Italy. We get fresh products from the delivery service from Italy everyday.
Federico: Fish and meat comes from Frischeparadies here in Berlin and the rest like cheese, prosciutto, etc. comes from Italy. We know a very nice guy from Sardinia that has amazing products
.
Francesco: It's important for us that it's mostly genuine Italian products as Federico and I are very picky when it comes to our ingredients. We have to check the quality of our products everyday.
Federico: Sometimes I am sending things back (laughs).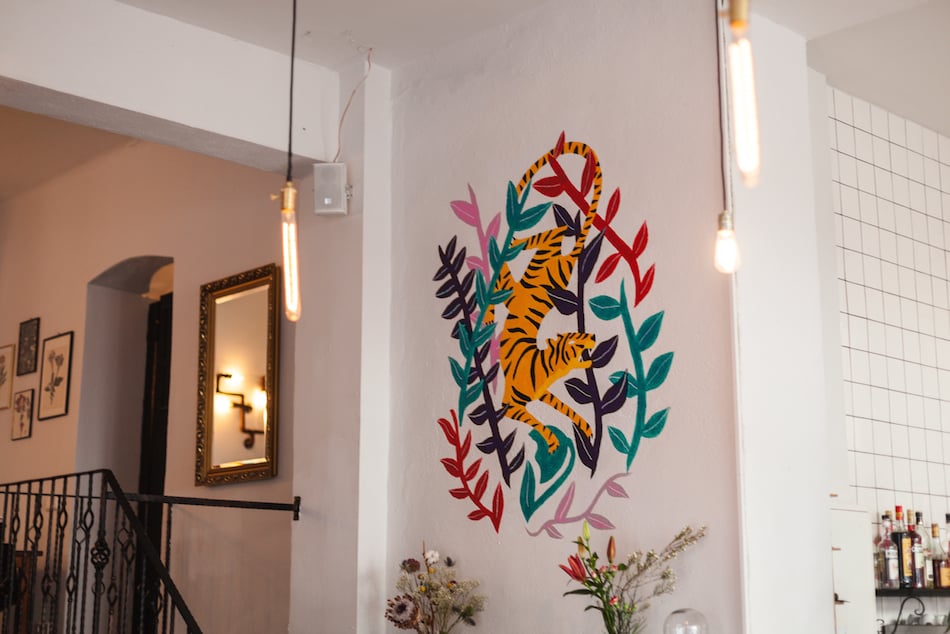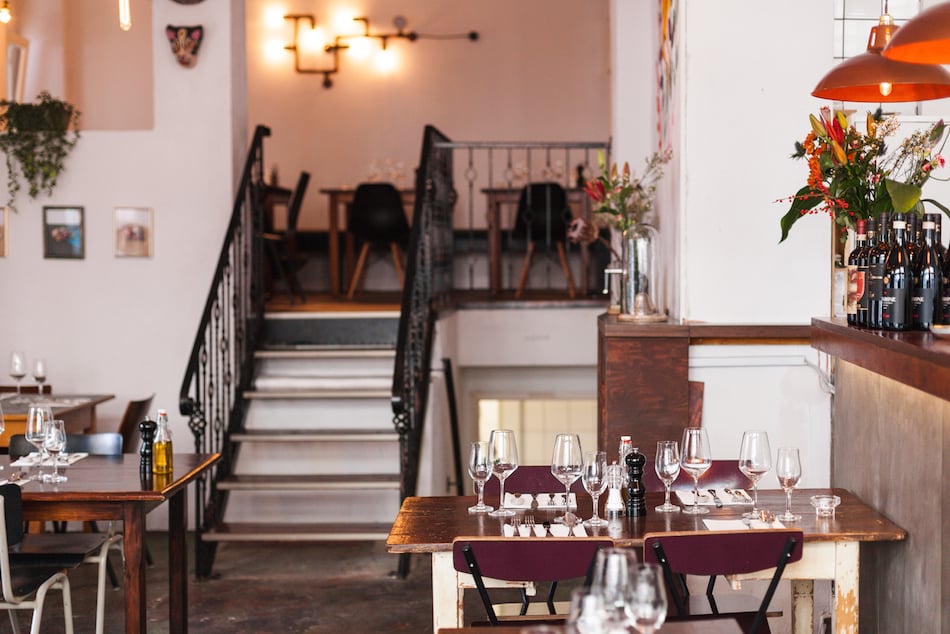 Who is your chef?
Federico: Jacopo Ghiggini is our chef. He managed the kitchen last year at Da Baffi as well. He is better than us (laughs). He worked a lot also with very big chefs. I really like him because he's not forgetting about the tradition which is super important for us! You don't need to do fancy stuff to impress somebody. You can do the tradition with a little bit of fanciness, that's the best. If you forget about the tradition it's too much ego in what you do. He's really good at following the rules and playing with that. The Italian kitchen is already rich. Also with not so many ingredients but rich in taste so it's better to just focus on that.
Did you change the menu from Da Baffi?
Federico: Yes. In our kitchen here, we have one person more giving us the possibility of focusing in a baking area which we didn't have before. We bake for our desserts, we bake bread and so on and there is also more space for the rest. Any kind of preparation and any way of composing the plate is possible now.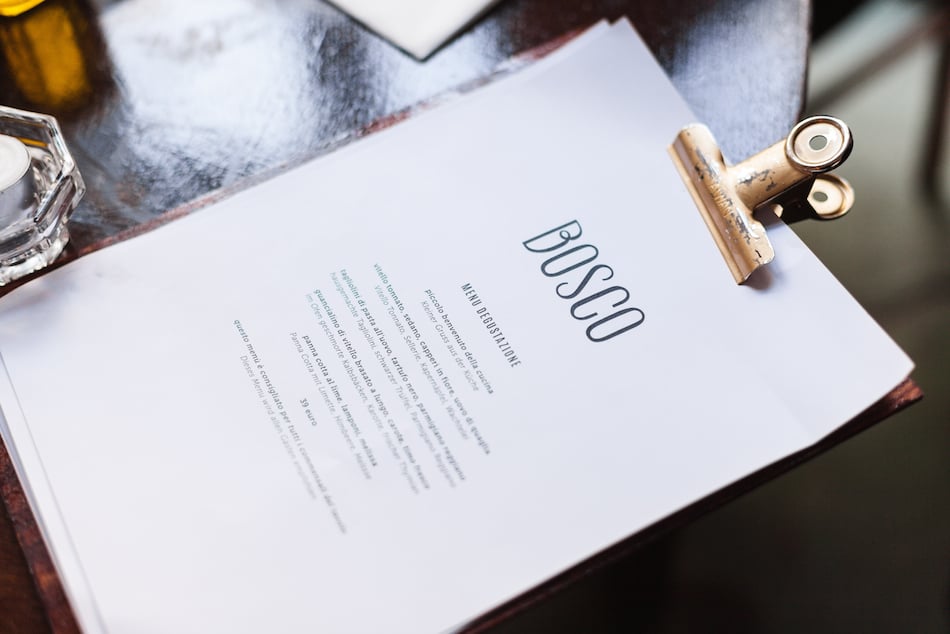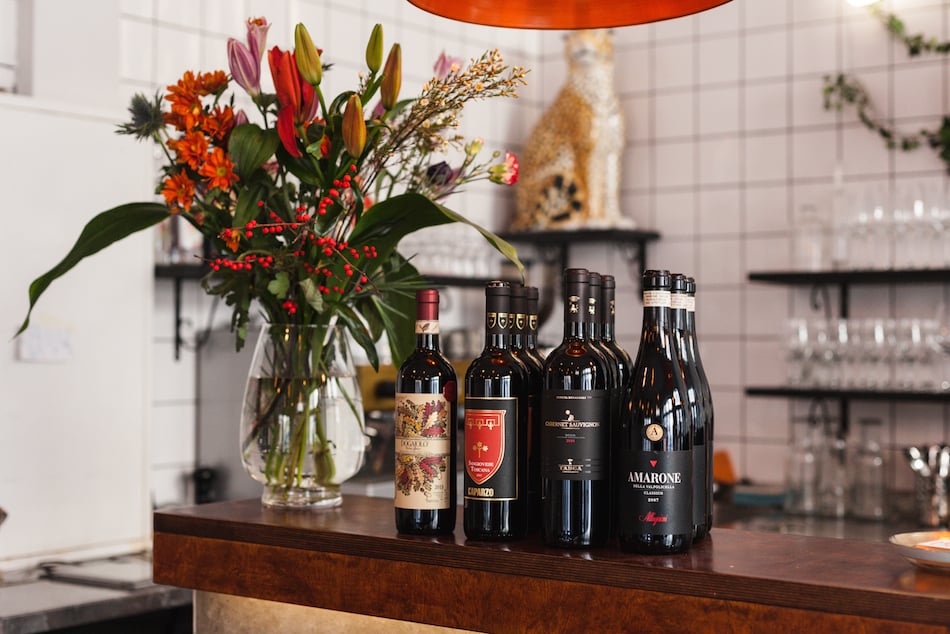 What makes Bosco different from other restaurants?
Francesco: We always follow the first rule. Being honest to your customers and taking it seriously.
Federico: I don't know what to answer to this questions but we honestly do what we would like to find when having dinner at a restaurant. We set everything how we'd like it as a guest. We think a lot about that. What we'd like to eat, how we'd like to sit and everything. And than we do that. If we get a good feedback: good, if not such a good feedback: maybe we have to think about it again.
So you couldn't imagine to have people working for you and not be present yourself?
Federico: No. I mean it's not a matter of controlling the employees it's a matter of cultivating your guests and I can't tell if an employee is doing it better or worse but probably they would never have the same eye on 'our baby'. It's like giving your baby to the babysitter (laughs). She can take care but it's not the same love.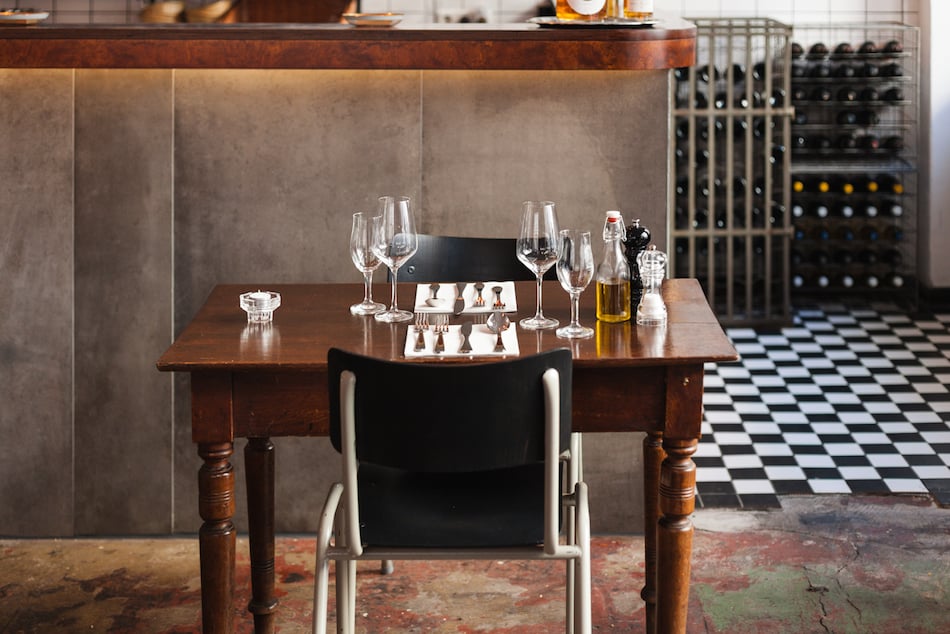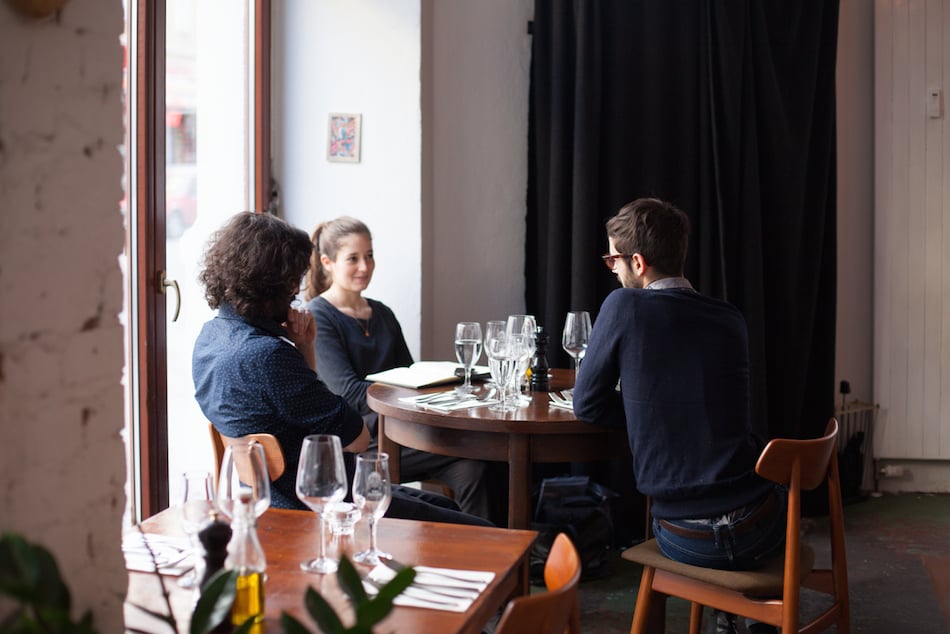 What would be your favourite course on your menu?
Federico: At the moment I really love the raw tuna with cocos soup, Burrata, Lime and Bottarga. The risotto for instance is one of these recipes that has really basic ingredients, nothing fancy but the balance between the ingredients makes it really, really good and I don't even like apple or cinnamon but I was trying it and I couldn't stop eating. It was so good!
Francesco: For me it would be the braised veal cheeks because I am more a meat person than fish but if I had to pick something with fish I'd take the tuna as well. I think it's genious. I just see all the work that goes into it, we cook for hours and it's quite embarrassing but of course I'd pick everything from our menu (laughs). I love stuffed noodles so I'd also always pick the Agnolotti. The dessert called Sottobosco is also so amazing.
Federico: Yes, it is a composition like a painting. It's chocolate crumble than comes a layer of hazelnut cream, chocolate cream, everything is homemade than comes a pistachio foam with herbs from the woods. The bitter and sweet taste together is really crazy and on top there are some wild berries. I never ate anything like that before. I always suggest it to clients and they always love it and it's also a big enough for two so it's good to share.
Francesco: The secret of a dish is always the same. In the end you shouldn't just taste one ingredient in your mouth. You shouldn't be left with just vanilla, mandarin or so. It should all come together as one new taste. If that's the case, the dish is almost perfect.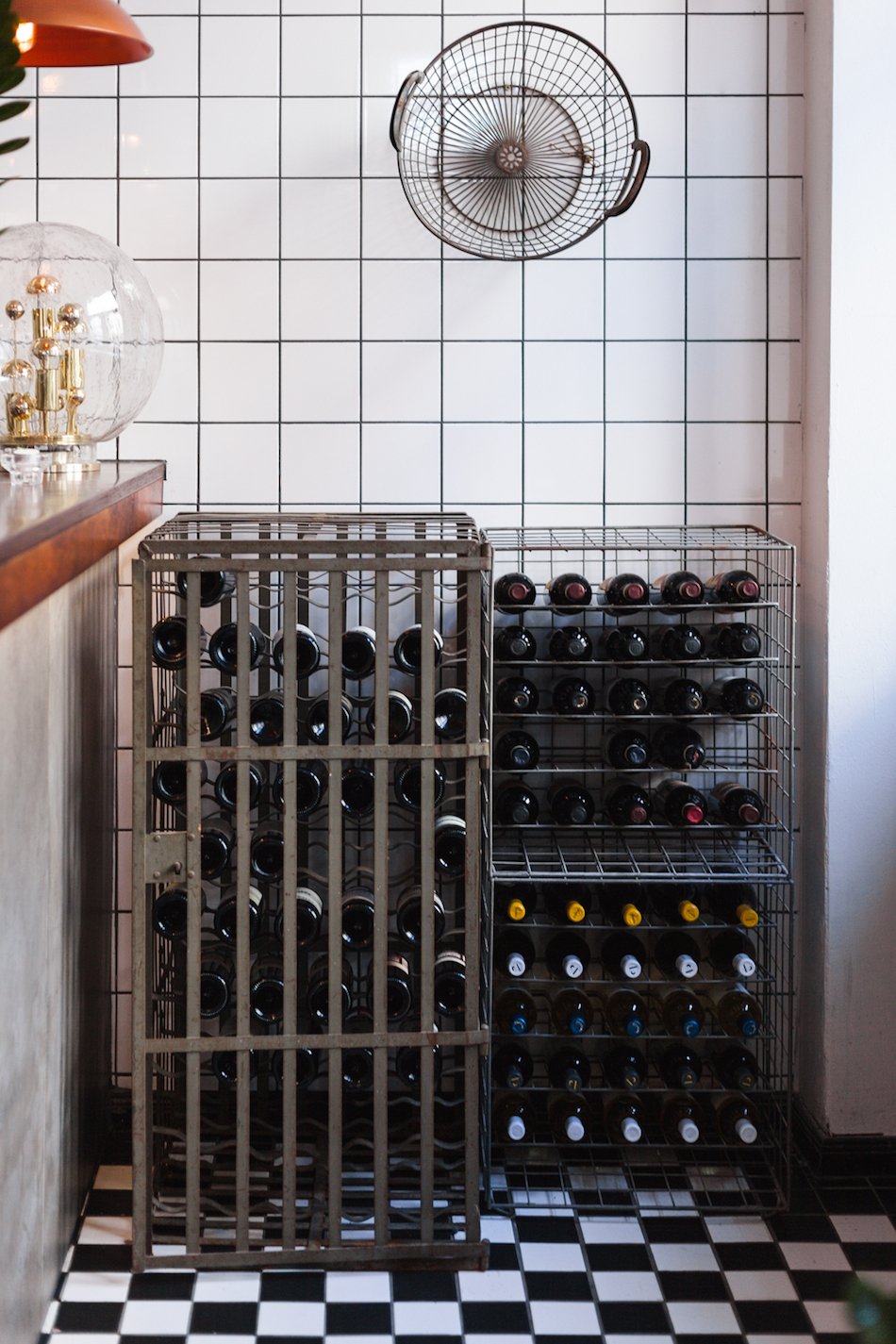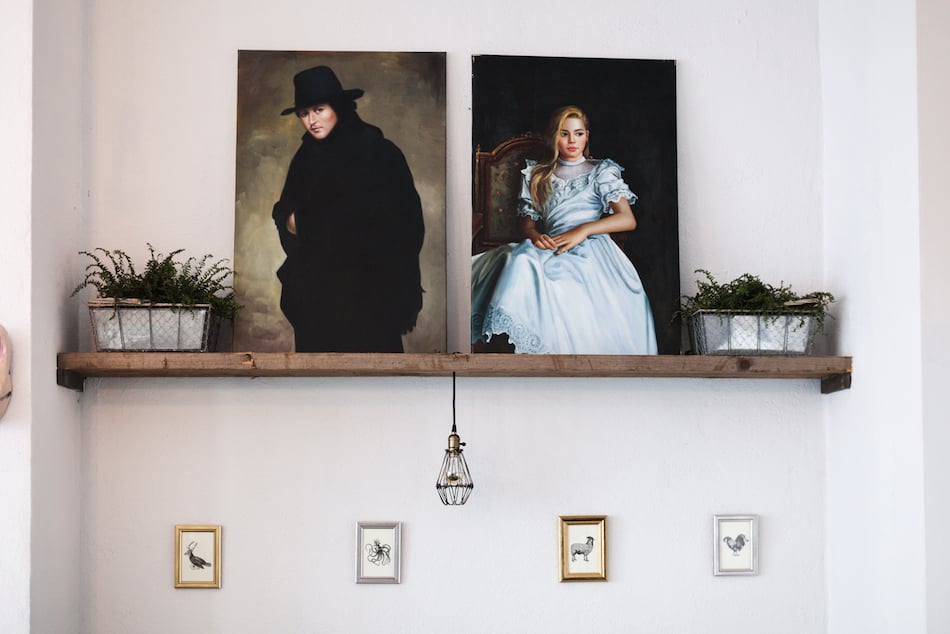 Can you tell us a little bit about the area around?
Federico: I don't know. I really have to understand the area still. But I'd say it's a little bit more wild than Wedding. We already found taggs and stuff. I mean it's nice because you have a new tagg everyday (laughs) but we're just opened for a month now and a lot of stuff has happened already.
Where do you go to have dinner yourselves?
Federico: I love Sasaya.
Francesco: I must say that I always care about other Italian food. We tried out a lot of Italian places, there are a lot of good ones, but I love Asian food as well…
A passersby enters the space, asking if he could have an espresso while Federico and Francesco are trying to explain to him that the restaurant is closed. He keeps chatting, asking if they named their restaurant after some song he heard that's about a guy who's always drunk while his wife keeps rescuing him. After they explained that Bosco means 'forest' he's nodding still in thought while leaving the restaurant.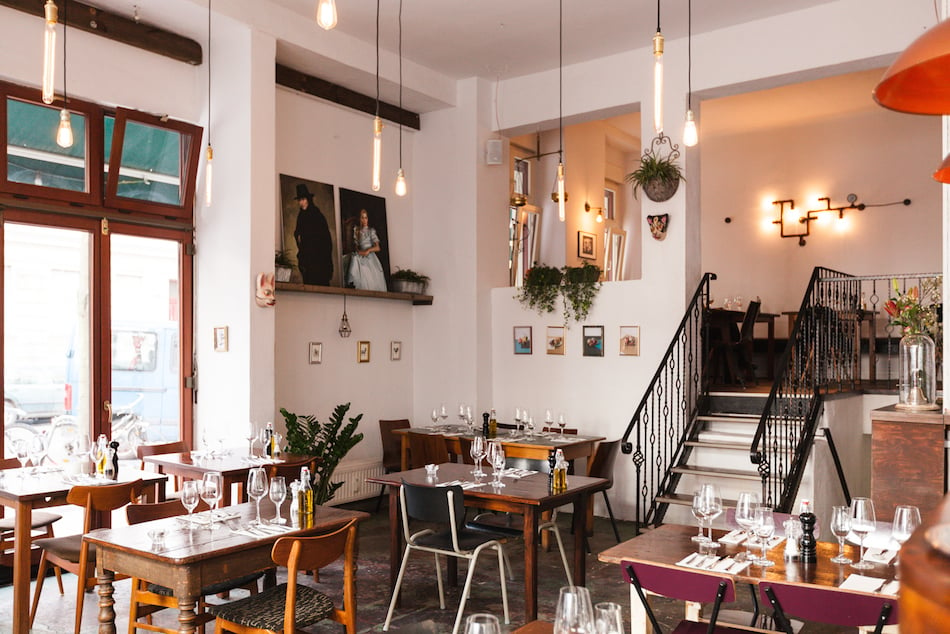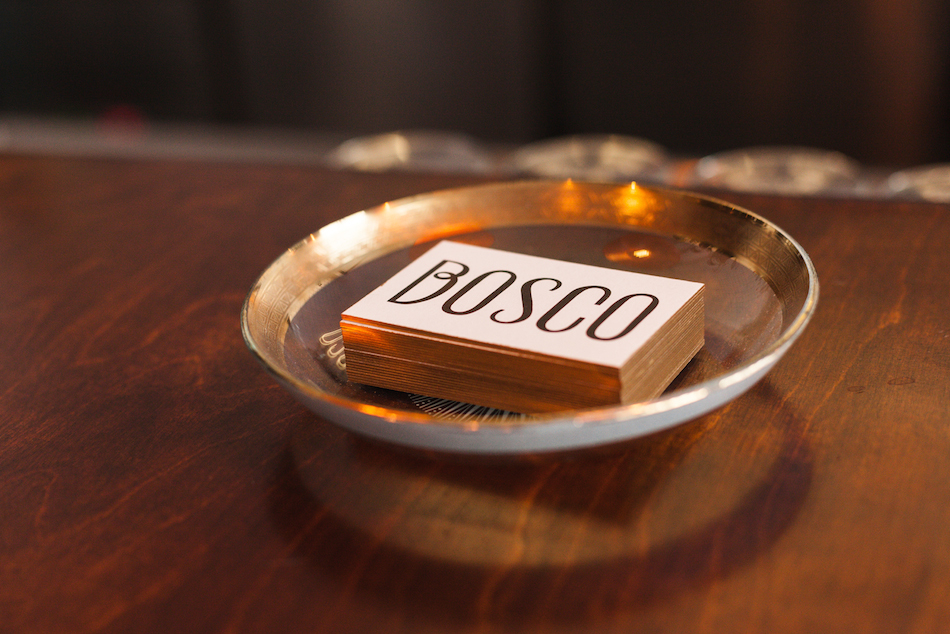 Federico: Yea, anyway. Young people like us that are currently opening businesses in Berlin are doing a really good job I must say! They really put their hearts in what they do. I often go to Sala da Mangiare for instance, he's a friend of mine. I actually don't care, as long as people put their hearts in what they do.
What's your favourite dish ever?
Federico: Tagliatelle a ragout. Because I come from Bologna. Homemade Tagliatelle from my grandmother, she always makes it for me (that's a Sunday thing) and ragout, which is Bolognese in German but this word doesn't exist in Italy. Each city, actually every 20 kilometers has its own recipe for ragout. I have my own recipe, which I think is the best (laughs) because it's also my favourite dish. I like it with homemade Tagliatelle from my grandmother or from me.
Francesco: Mine is called Passatelli in Brodo it's a dough from breadcrumbs, Parmesan, Lemon Cest, muscat in a super good broth. It's a super cheap dish in Italy but I can't live without it. Every time I come back home I have to eat it.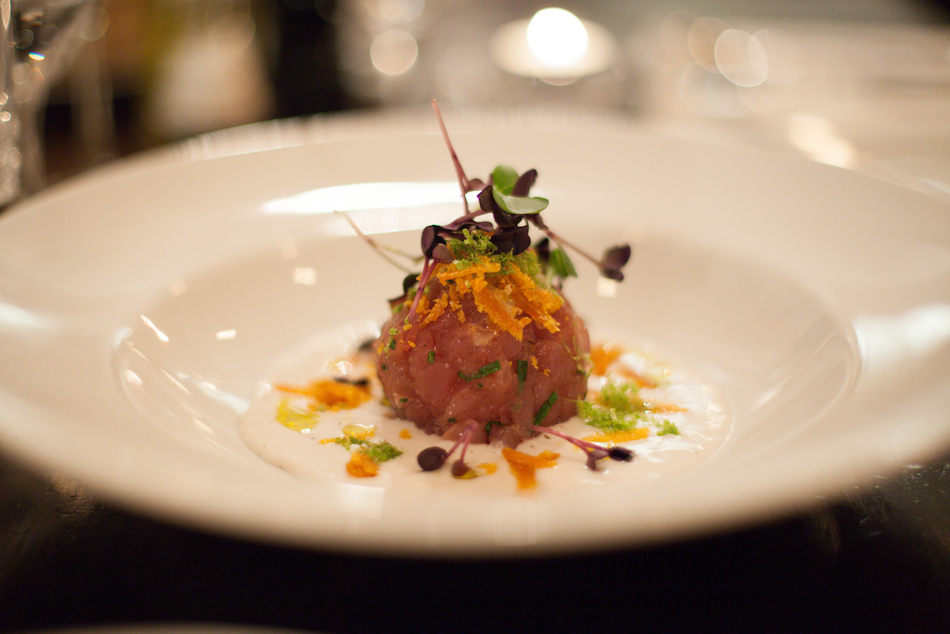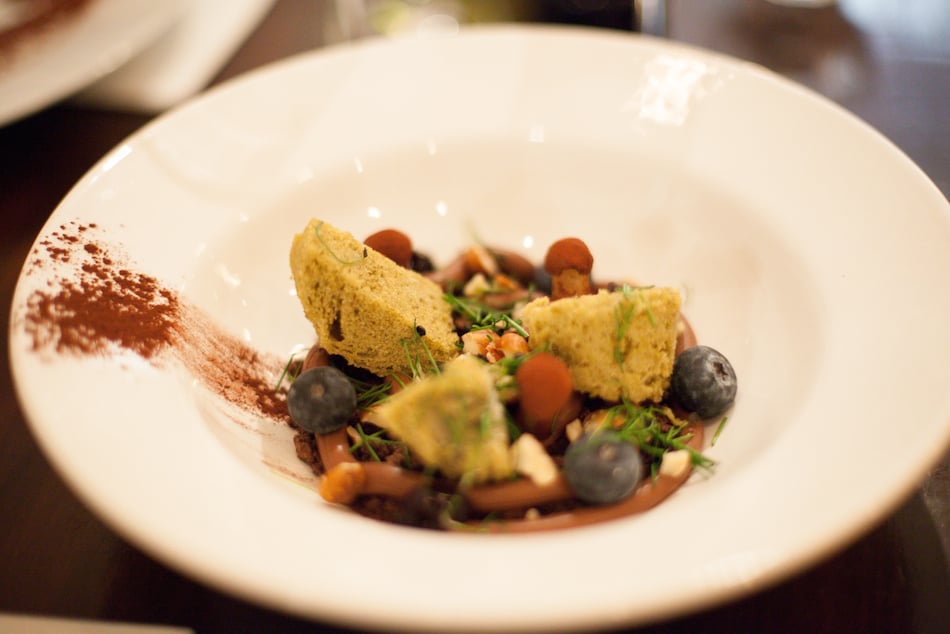 Photography by Ana Santl, Interview and Text by Caroline Kurze