In both life and lighting, Czech designer Lucie Koldova treads a determined and balanced line. Form, she explains, is useless without function—and both are futile if not backed by a creative concept. Her sculptural lighting pieces will take center stage at this year's imm Cologne, where she has designed the truly luminous Das Haus.
Through the rear courtyard of a 1920s apartment block in Prague, you'll find Lucie's bright, light-flooded studio — in collaboration with Samsung The Frame TV, we visited her here. The white walls and high ceiling of the space form the perfect backdrop for the minimalist, sculptural work of the young lighting designer. Here she crafts her charismatic but balanced design pieces, and works on projects for Brokis — the premier lighting company that she heads up as Artistic Director. Born in the north of the Czech Republic, Lucie is at the forefront of the country's design revival — something that she attributes to the heritage of her homeland, and the time she spent abroad that helped her to appreciate it. We spoke to her about the design scene in Prague, the art of perfection and how she finds balance through contrast and contradiction.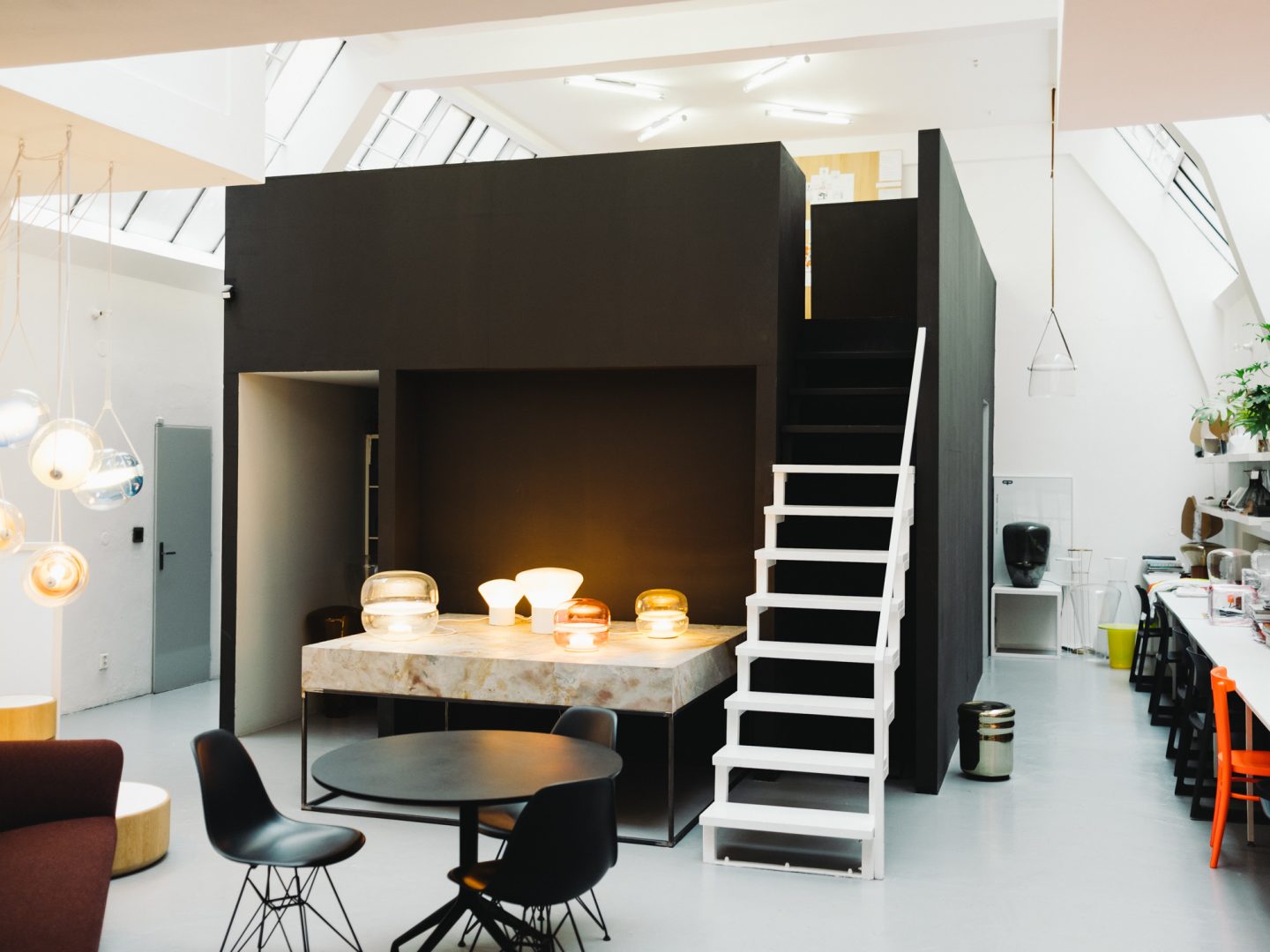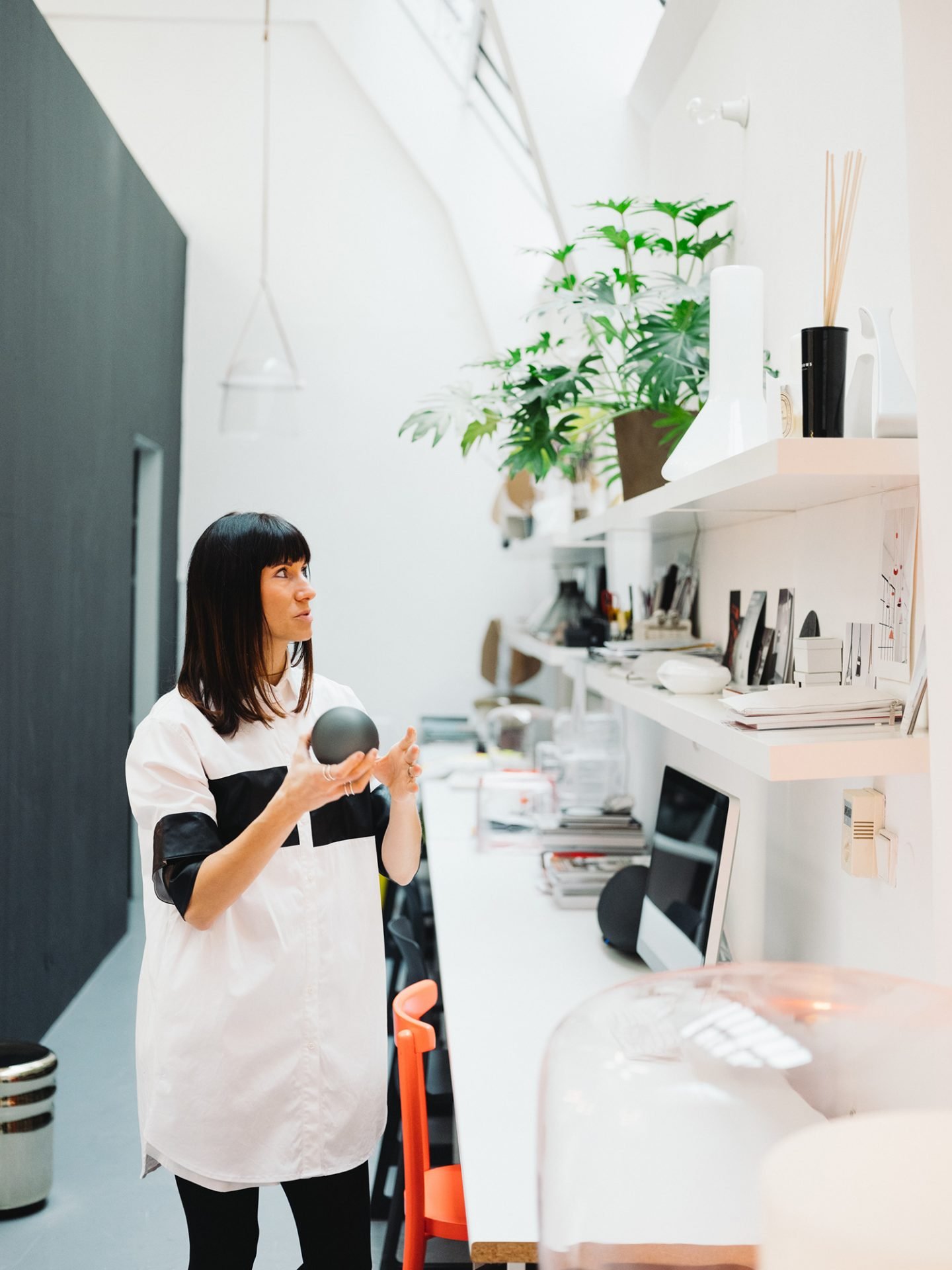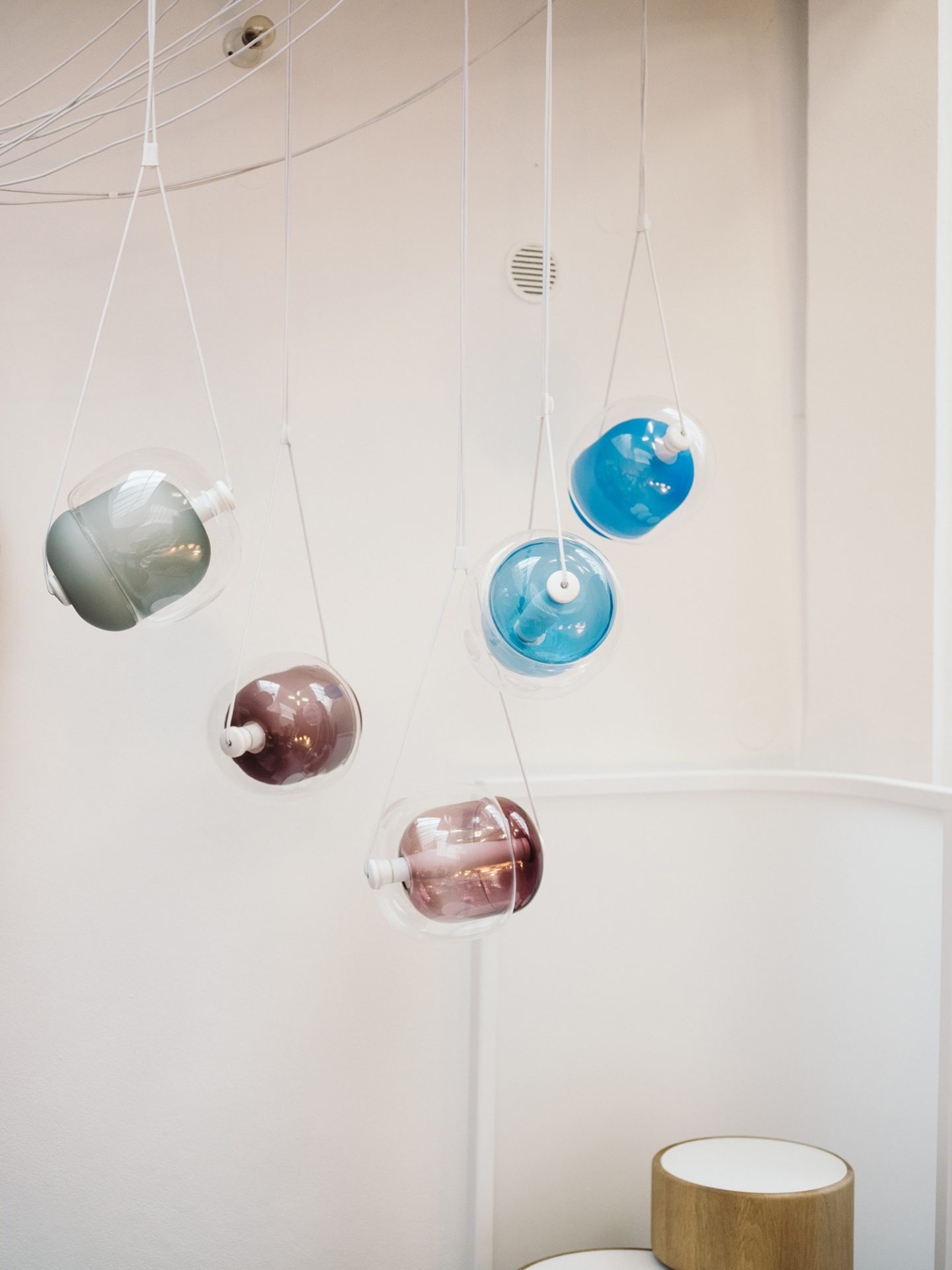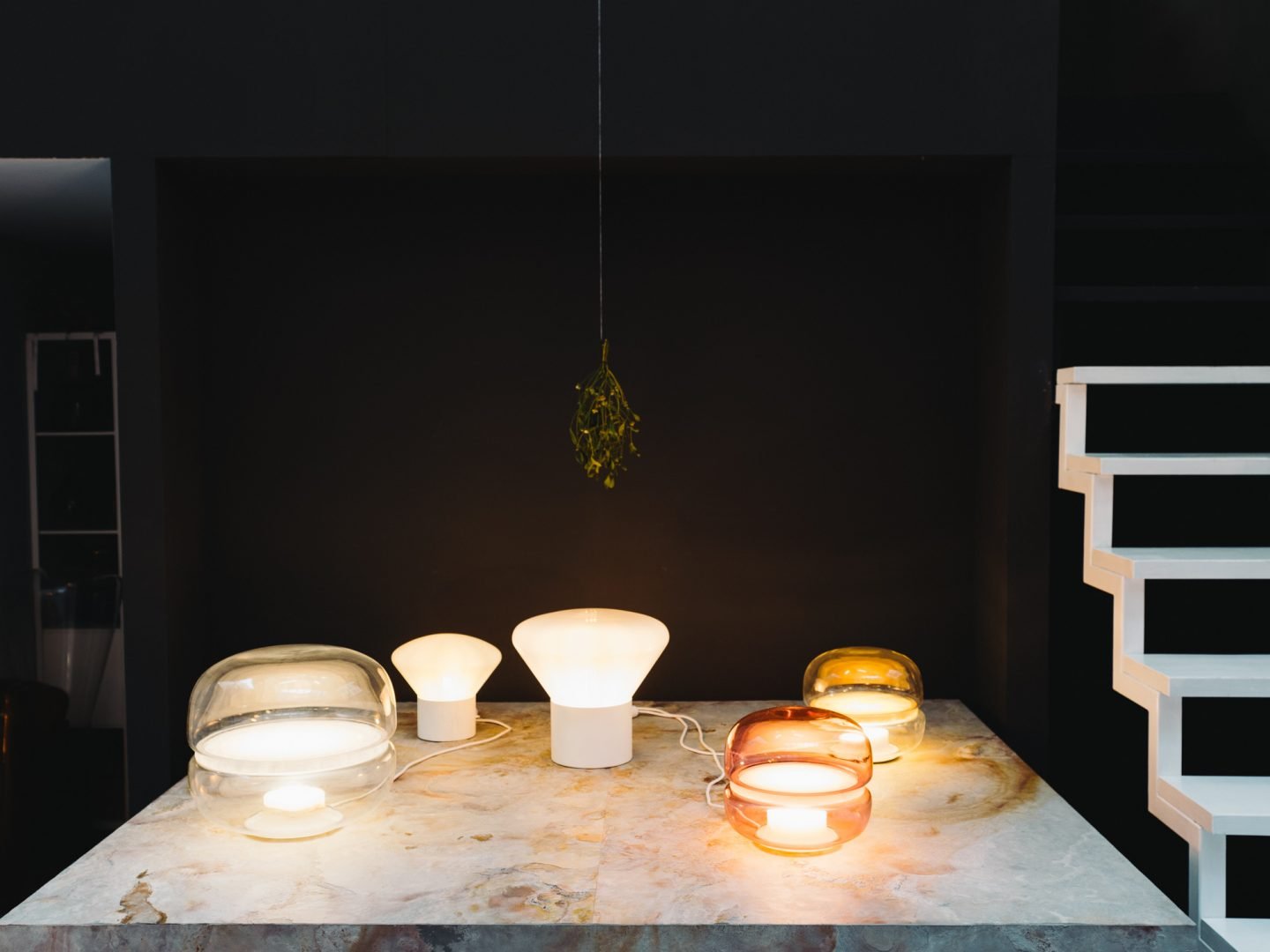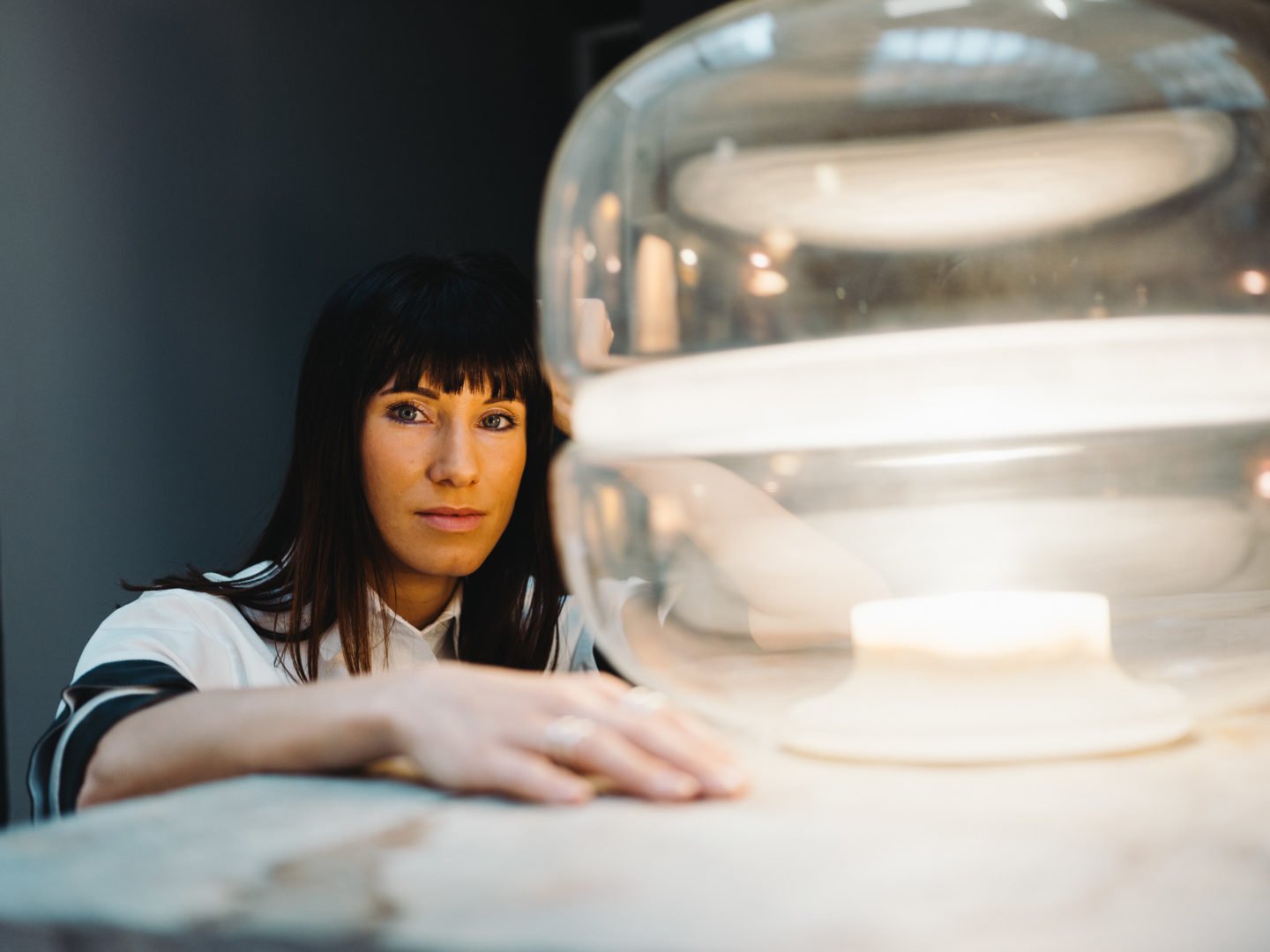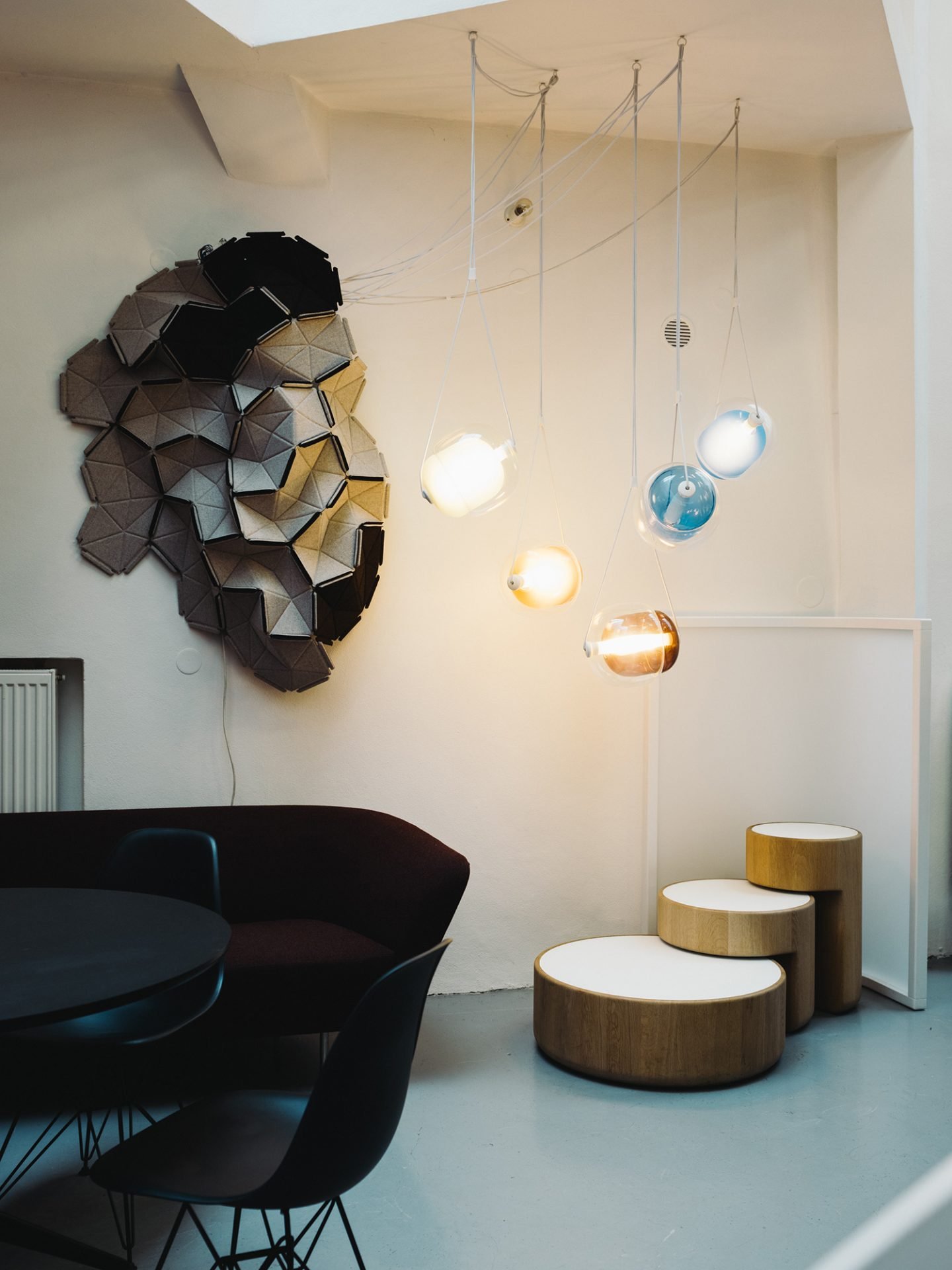 How did you come to design, was it something that you always knew you were supposed to do?
Not really, I was open to everything. When I was studying at the first school, I was attending the art school as well, and I realized that I liked most of the disciplines that I studied there. I liked the 3D pictures, the modeling part and also the conceptual part, and drawing, and design contained all of it. I was trying to find my direction — if it should be art if it should be something else — and I had the feeling that design contained all of it, and I decided I wanted to work with people, for people. I wanted to be in touch with real life, I wanted to focus on things in daily life, and design was just quite exciting! I didn't know anything about it, so it was something that I was really attracted to. I don't have several special reasons for starting as a designer, I was simply attracted to design, it was really appealing to me, so I applied for the school [The Academy of Arts, Architecture and Design in Prague] — and now I guess I've realized that it was a good choice!
When you began your studies at the Academy of Arts, Architecture and Design, when did your interest in lighting design begin?
First it [the University syllabus] was more general; the topics were different — and also connected to architecture — and they changed every three months, so it was not easy to work out what you really liked. After a couple of years we had to design a chair from metal wires in furniture design, and then I understood that these larger pieces were really, really cool for me. Lighting design really came after my studies when I went to Paris and had the opportunity to work with Brokis; work that was with amazing people and with an excellent glass factory. So, in this way, I am keeping with the Czech tradition in glass — it's our legacy, it's what dragged me to lighting. I found a fresh sparkle and I just fell in love with it.
"I am keeping with the Czech tradition in glass — it's our legacy, it's what dragged me to lighting."
After you graduated from Prague's Academy of Arts, Architecture and Design you moved to Paris — what prompted that move, and how did the creative scene there differ to that in Prague?
I had the opportunity to work at a good studio [Arik Levy], and it looked like a cool chance to go to Paris! So I went there for a couple of years, and started walking my own path —  there were so many new opportunities in France, so it was kind of amazing. But then I realized that I had reached what I came for — I mean, I had some contacts in France, but I was missing my home. At this time, I had also started to work on some Czech projects, and one project lead to another one, and it ultimately just made sense to me to come back to the Czech Republic, to be where all the people that I loved were. At that time, Paris was an amazing chapter — but it was already closed, and Prague was vibrating in quite a cool way, so I thought Prague was the place to be.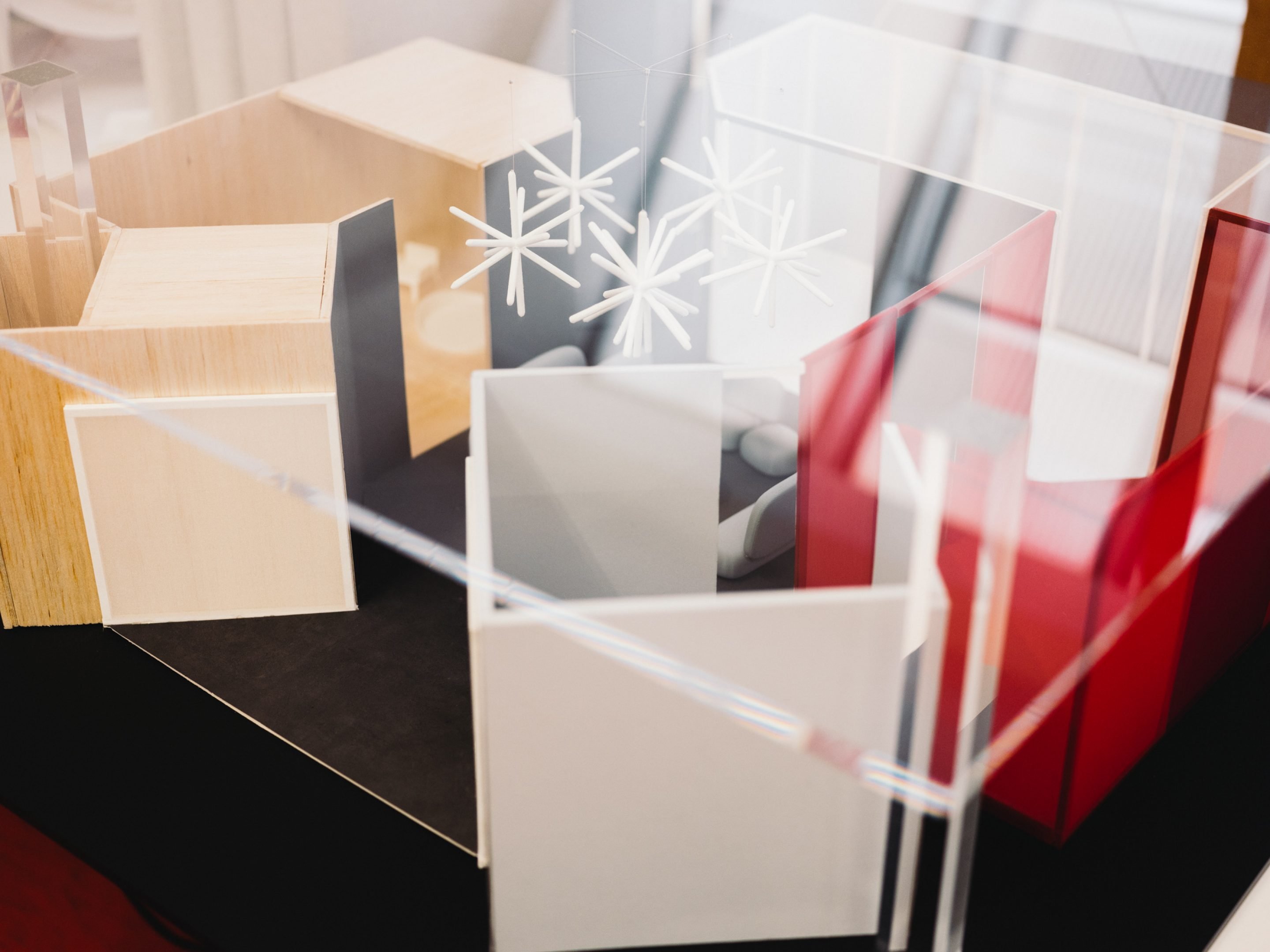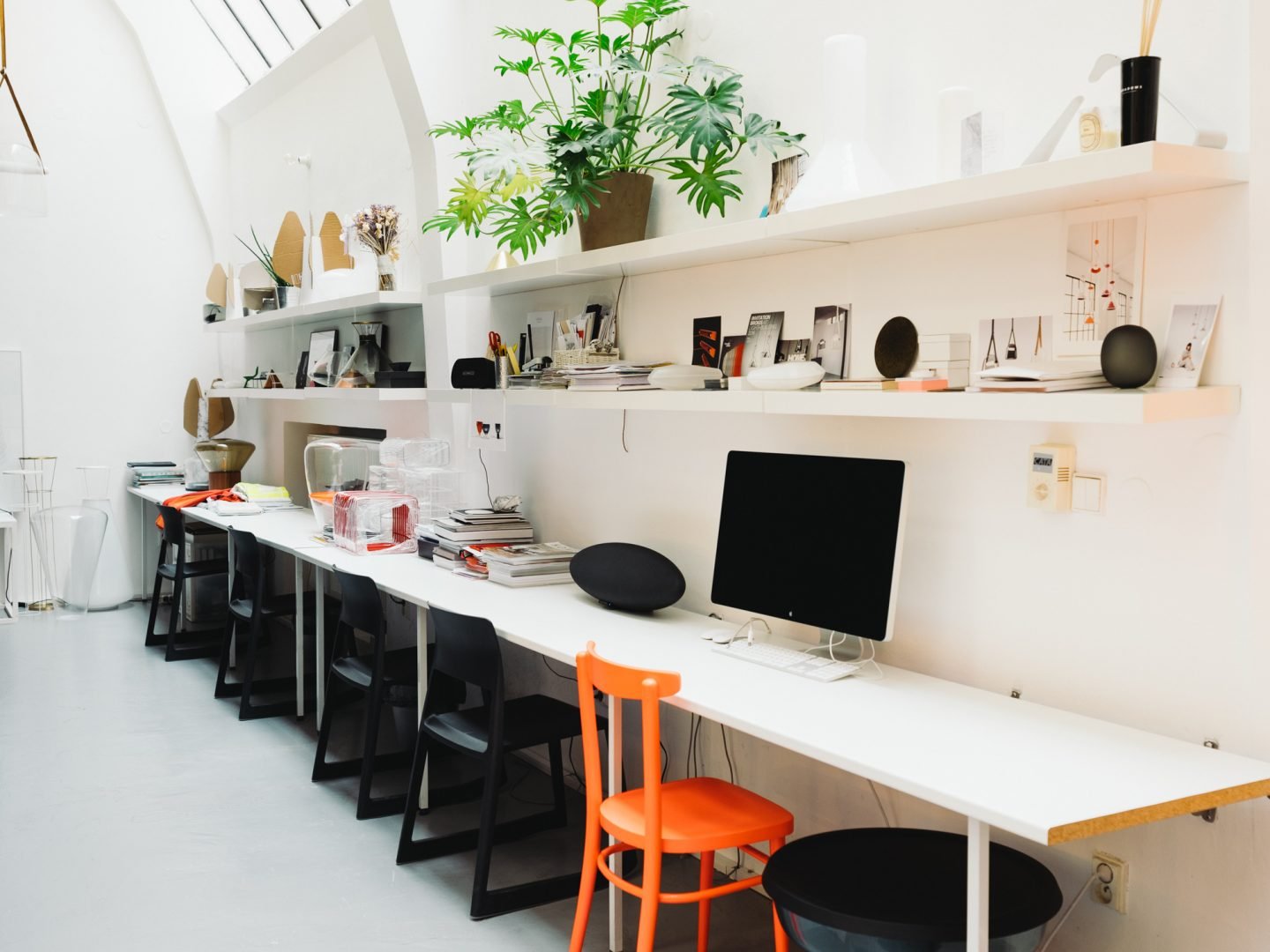 You have become something of a poster child for the current Czech design revival. What is the design scene like in Prague and the wider Czech Republic? And what is this 'movement' or 'revival'?
It's interesting and fresh, there are people who want to be seen, who really have a lot of enthusiasm, and it's really excellent to be a part of it — and for me, it makes so much sense. I mean, to actually help to build something from scratch. I think that there are many talented people here, and they take nothing for granted.
I do think that it is important to open your eyes to the world outside and to experience different situations and different people. I mean, it's important to travel — if someone takes it as an experience and takes the best out of it. Once you have traveled in this way, you know where your place is and you want to go back and give your country something that was invested in you. I think it's important for you to give back, and this is something that I strongly feel now that I am in the Czech Republic, where I was educated, and where I have something to give. I feel it's much more fulfilling being here than it is to be a nomad who will be one year here, one year there — it's great for experiences, yes, but at the end of the day, you need to know where you belong to, and I found out that I belong to the Czech Republic.
"I think it's important for you to give back, and this is something that I strongly feel now that I am in the Czech Republic"
Do you feel like this happened because of your years in Paris?
Of course, my four years in Paris was like a washing machine for me — a washing machine that I was put inside, with all of these strong moments and experiences — and I needed to find my way out of it. I was thinking 'How I can contribute to the world?' and 'What am I going to do with my life?' — you know, those normal questions that certainly everyone asks themselves. I think I also had really good people around me, people who I could talk to, and because of that, I realized what my belief was, and what I needed to do. Now, I work closely with Brokis as art director, and this is something that keeps me going in lighting design. We share the same values, they're a strong partner that I rely on, and we are building something together, which is amazing. And I am also presenting my work — how I feel, how I see the world around me, so I feel I am contributing my part.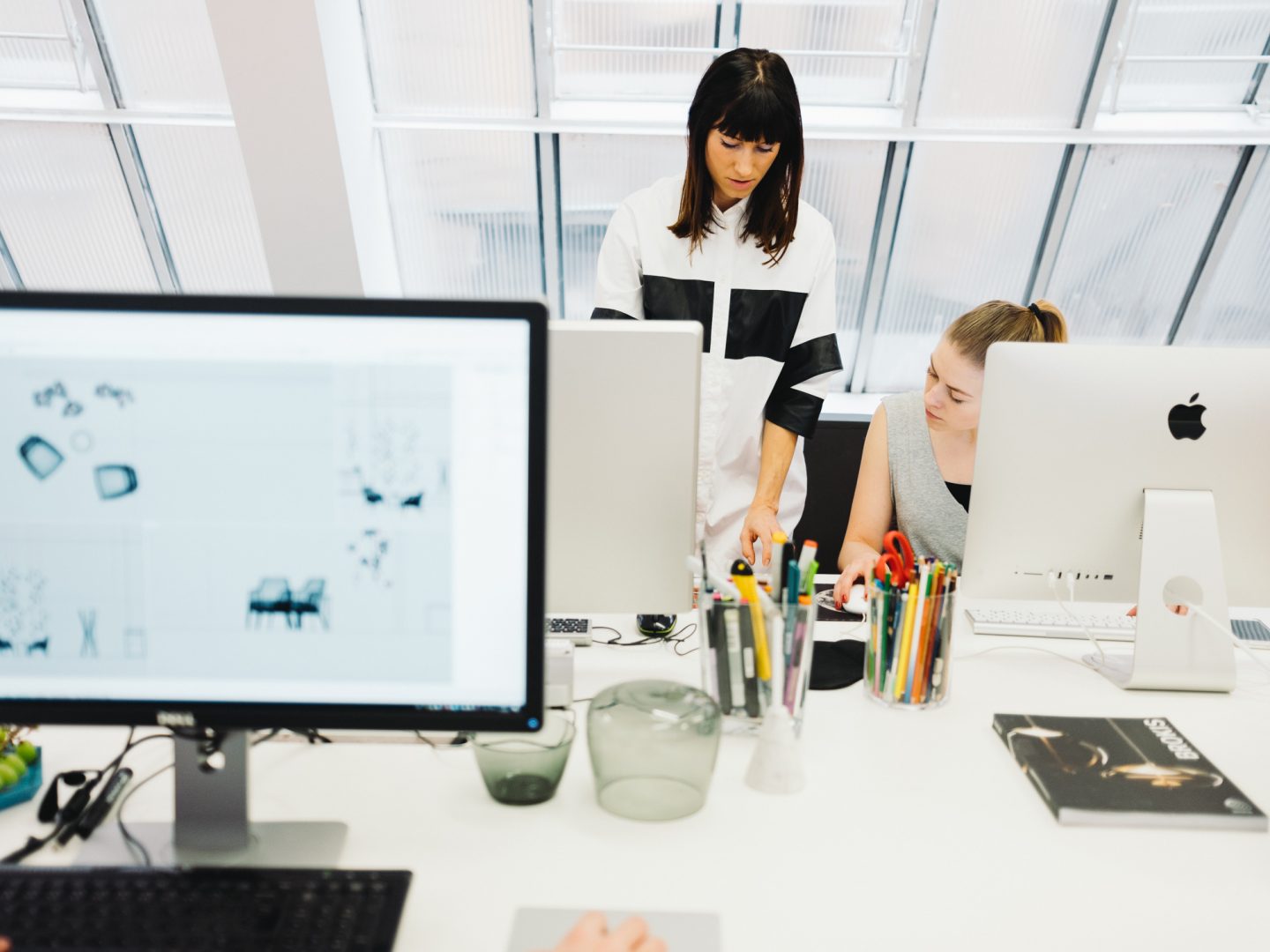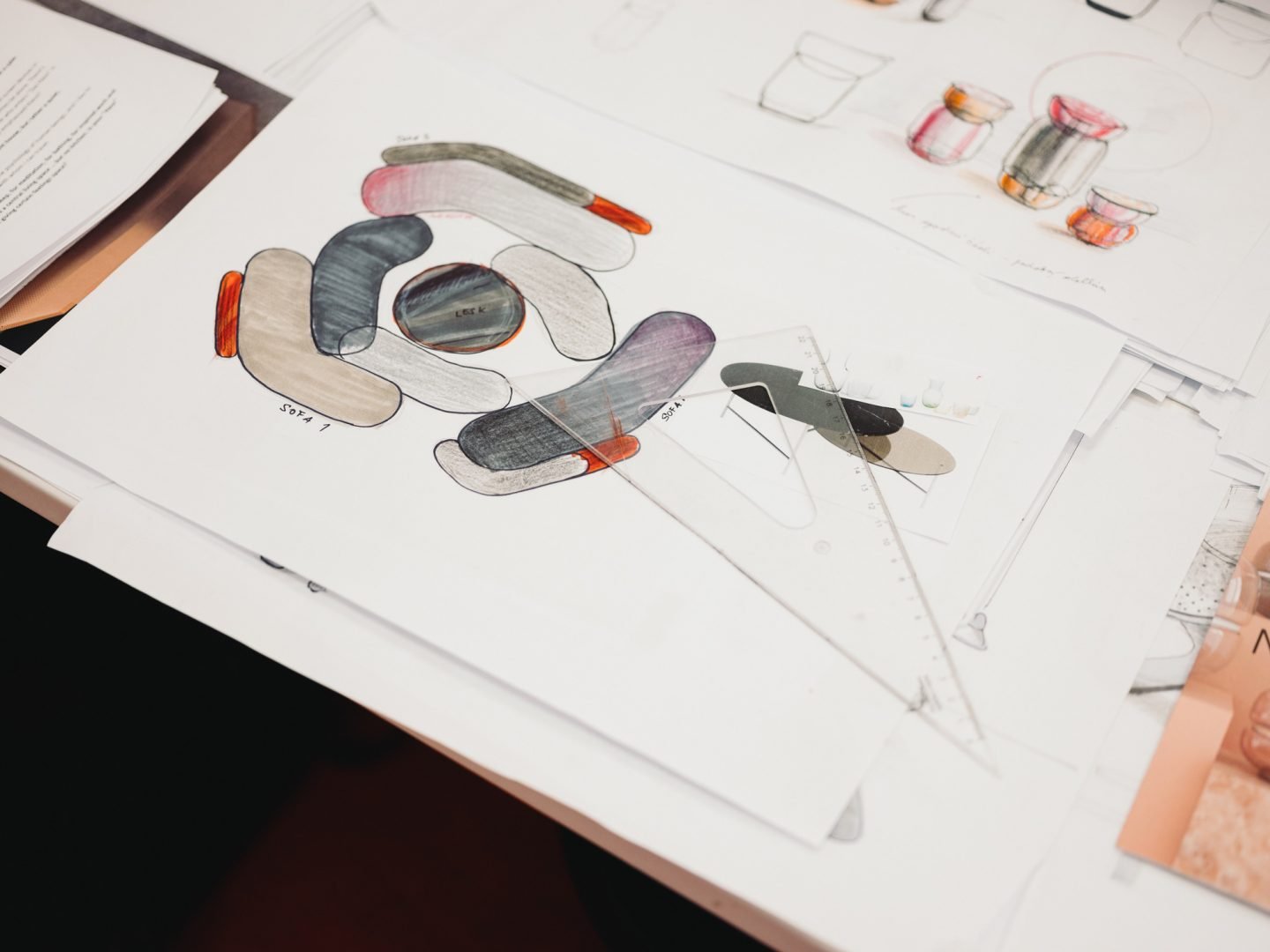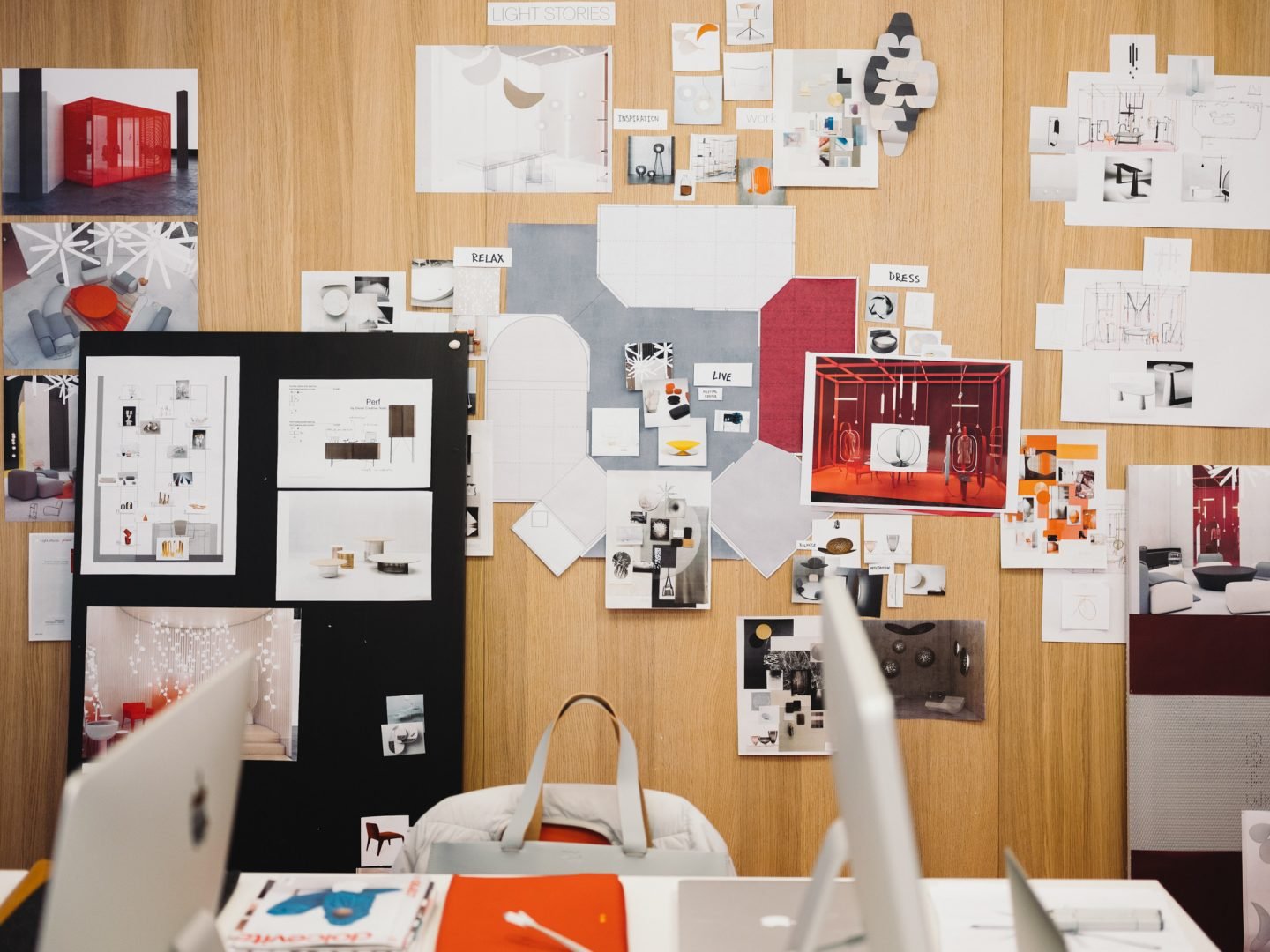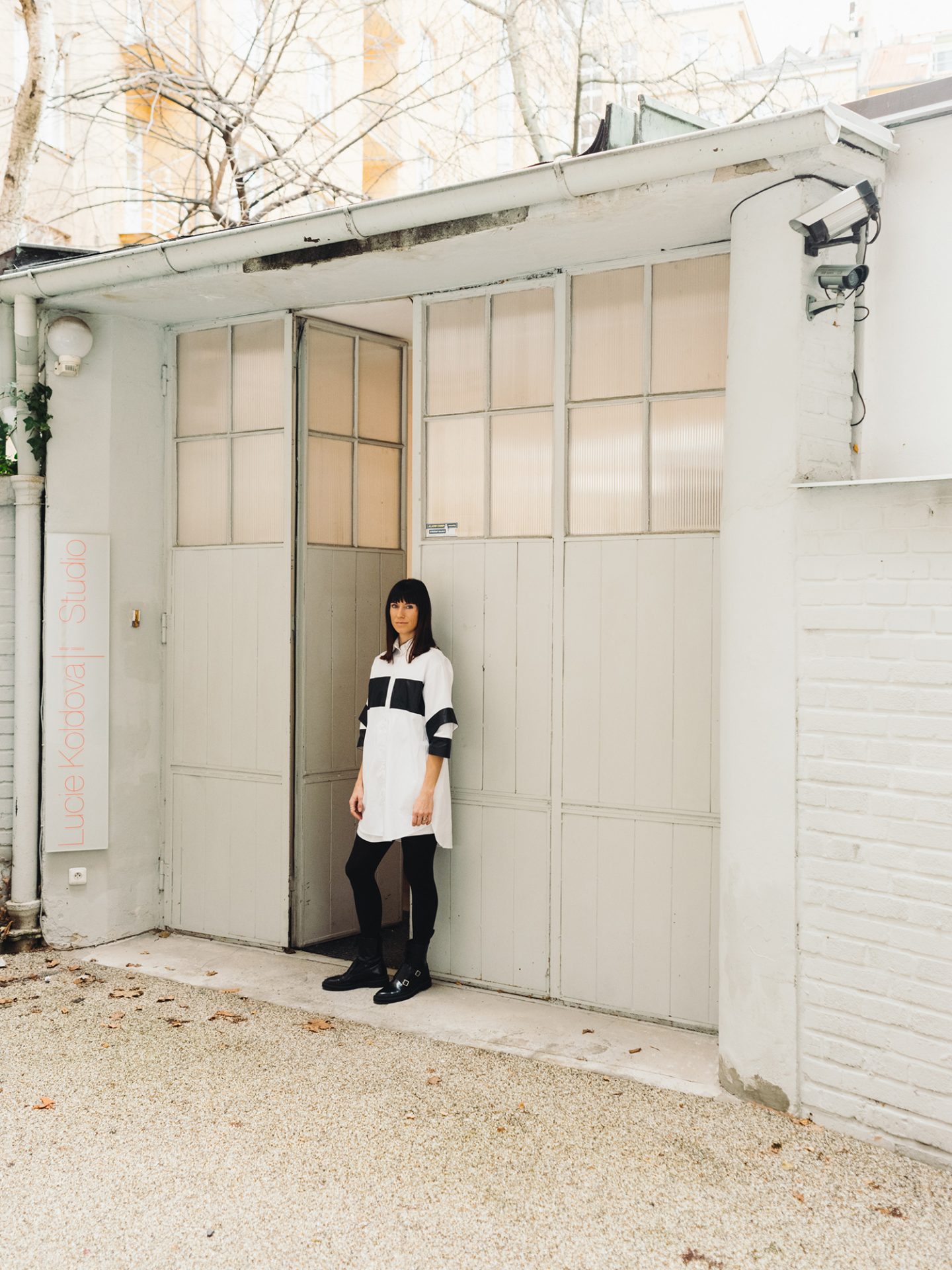 What is the importance of good lighting design? How does it change our experience of spaces?
Well, this is slightly complicated, the thing is that it differs; nowadays everybody has their own opinion, everyone can buy whatever they like. I think for me personally, what is important is something that gives a certain atmosphere, or a certain effect or feeling. It's important that the light you get meets your needs. The criteria for what good design is, is hard to say. I think I am searching for a certain balance; the object should function well but at the same time the form and the concept should be on the same level. I don't think if you have something that works perfectly but looks terrible, that people will buy it. So for me, I am searching for a balance, in form and, in function. I am balancing always on the top because I want everything to be perfect — and because I am a perfectionist, sometimes I make life hard for myself.
Is your use of contrasting materials an act of balance too?
Contrast is a big part of my work, I am a contrast person — as much as I can look strong, I am very sensitive, so it's about balancing the black and white. What is so cool about glass is that it can be fragile, but at the same time it is a very resilient and strong material, and this has always fascinated me.
"You try to find your place in this world, and that's not easy — it's a constant search."
Did you work with glass before lighting design?
No, I mean I did some things here and there, but I wouldn't have said that glass would be something I would dedicate my life to, I mean, I also was not born as a designer! I think that my love of design just grew as I was searching for my path, so it came as I was growing up as a person. You try to find your place in this world, and that's not easy — it's a constant search.
You are the guest designer for the 2018 installation of Das Haus for imm Cologne, could you tell about this project?
I was asked to create a house where the main topic was light. I was pretty excited to create new concepts which were then manufactured for Das Haus, and well — it was a great challenge. 'Light Level' is the name if the installation, because I wanted to present the light from different perspectives. The division of the house is into five zones; living, relaxation, spirit, inspiration and, dressing. So this was the division according to how I see the concept of living, of how important it is to me.
The key word for me was atmosphere; when you come home you want to relax, you want to actually, you want to enjoy your privacy and share your space with your loved ones. For me, home should be a safe place for you and your family. I created several zones to divide the atmosphere, so for example, if you are in the relaxation zone, there will be soft lighting, while if you are in the dressing zone, it's more dramatic and cinematic. In the living room, which is in the middle, you get more of a spectacular feeling because of the large suspension chandeliers.
In collaboration with:


The Samsung The Frame TV is indistinguishable from a modern picture frame, designed to blend seamlessly with the contemporary home. In TV Mode, The Frame is a 4K UHD Television, but when you turn it off, it enters Art Mode — where it will elegantly present art or your own photos.