An investment in a set of USM Haller is an investment for life. One that embraces the uncertainty of the future and is set to grow with you. Many have followed in its wake, yet the cult Swiss brand's founding formula of modularity—paired with a dedication to considered innovation—has secured its standing in the ranks of modern design classics.
Originally founded in 1885 as a locksmith business, the design company as we know it today was born in 1961 to remake the modular furniture that Paul Schärer had commissioned for the office. Almost 50 years, on the occasion of the release of the "USM Haller E"—a shelf with integrated light—we visited Dr. Thomas Dienes, Product Development Director at USM. At the headquarters of the company in Münsingen, Switzerland, we delved deep into the brand's history, got to know the intricacies of its design process, and philosophized over the meaning of timelessness in design.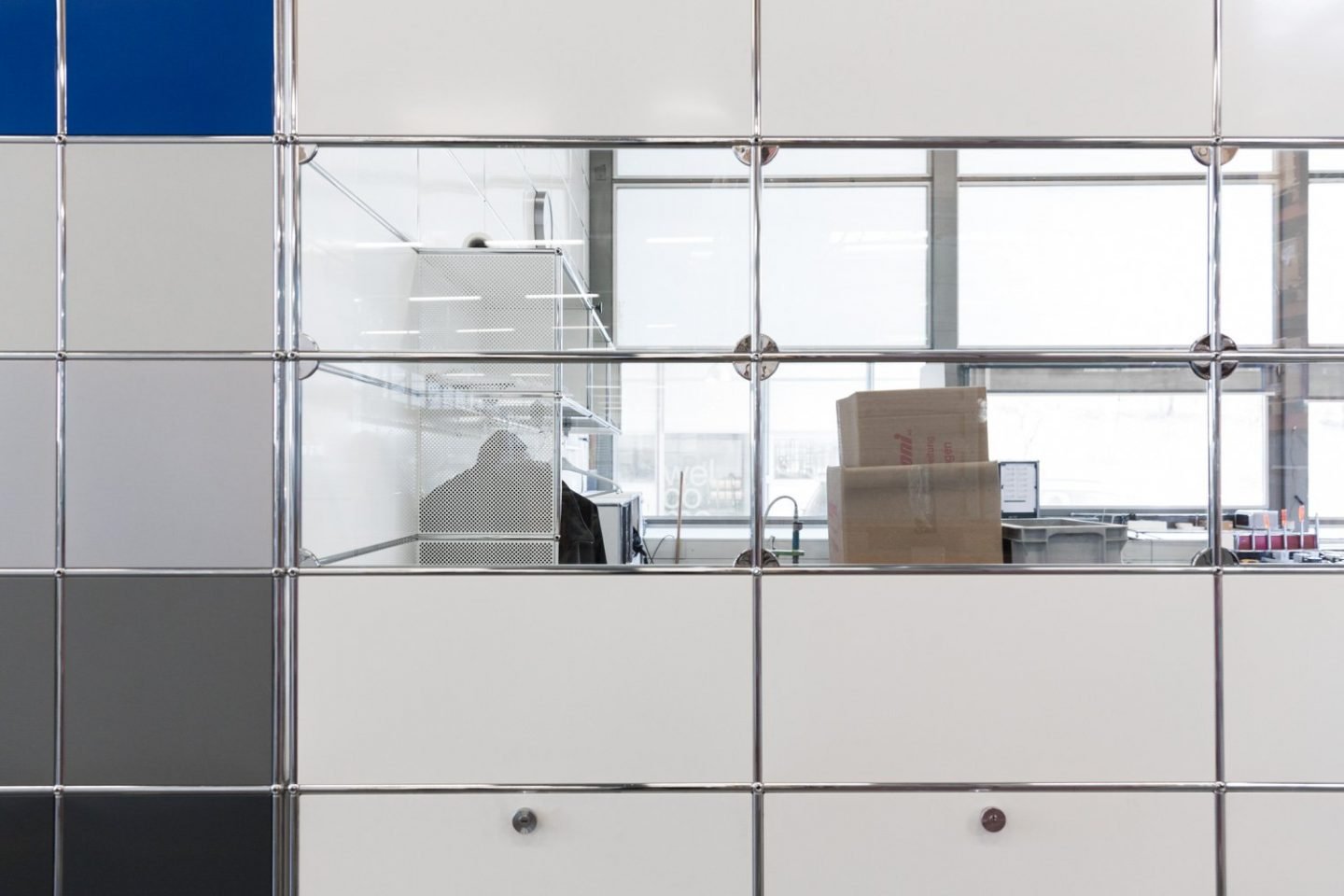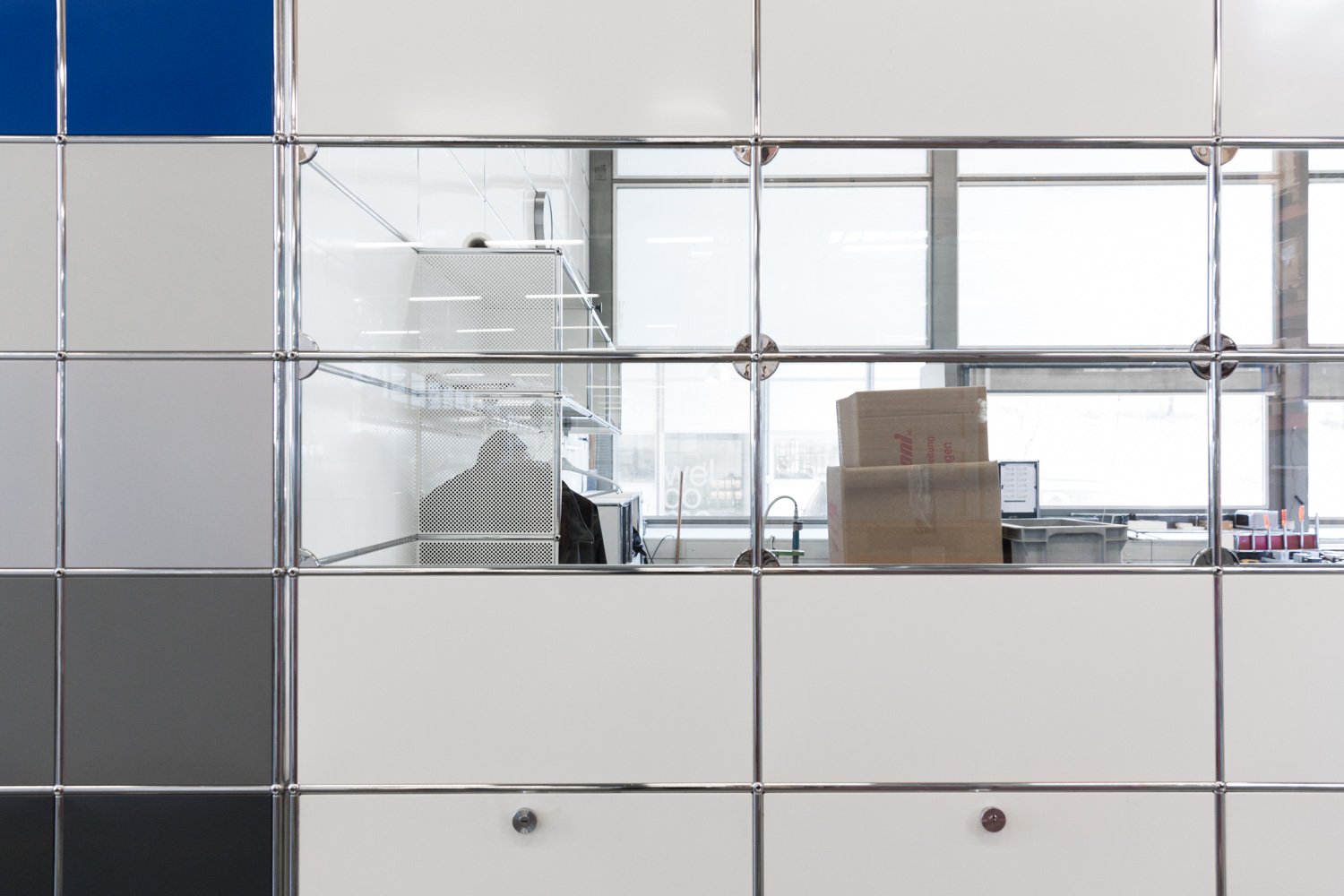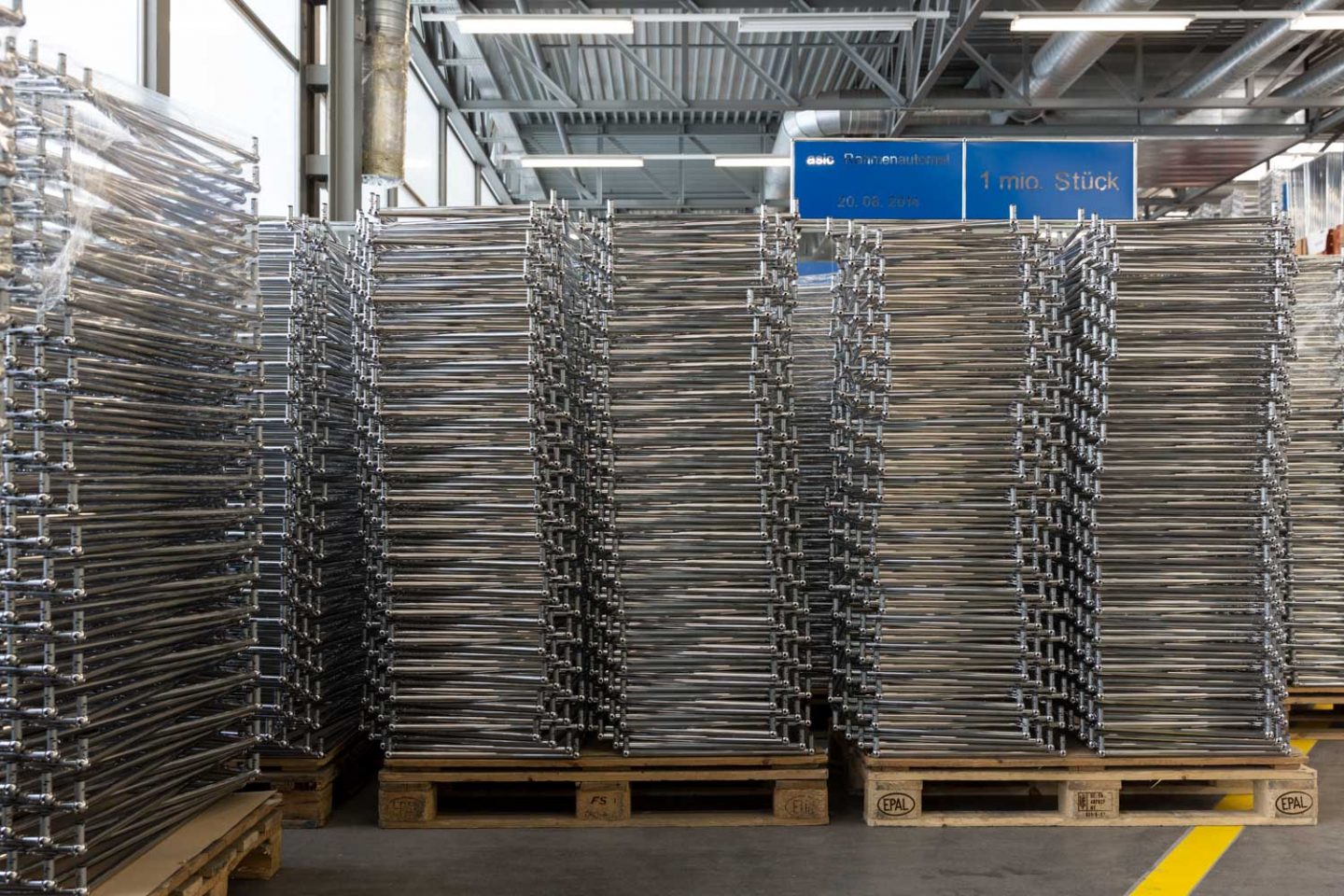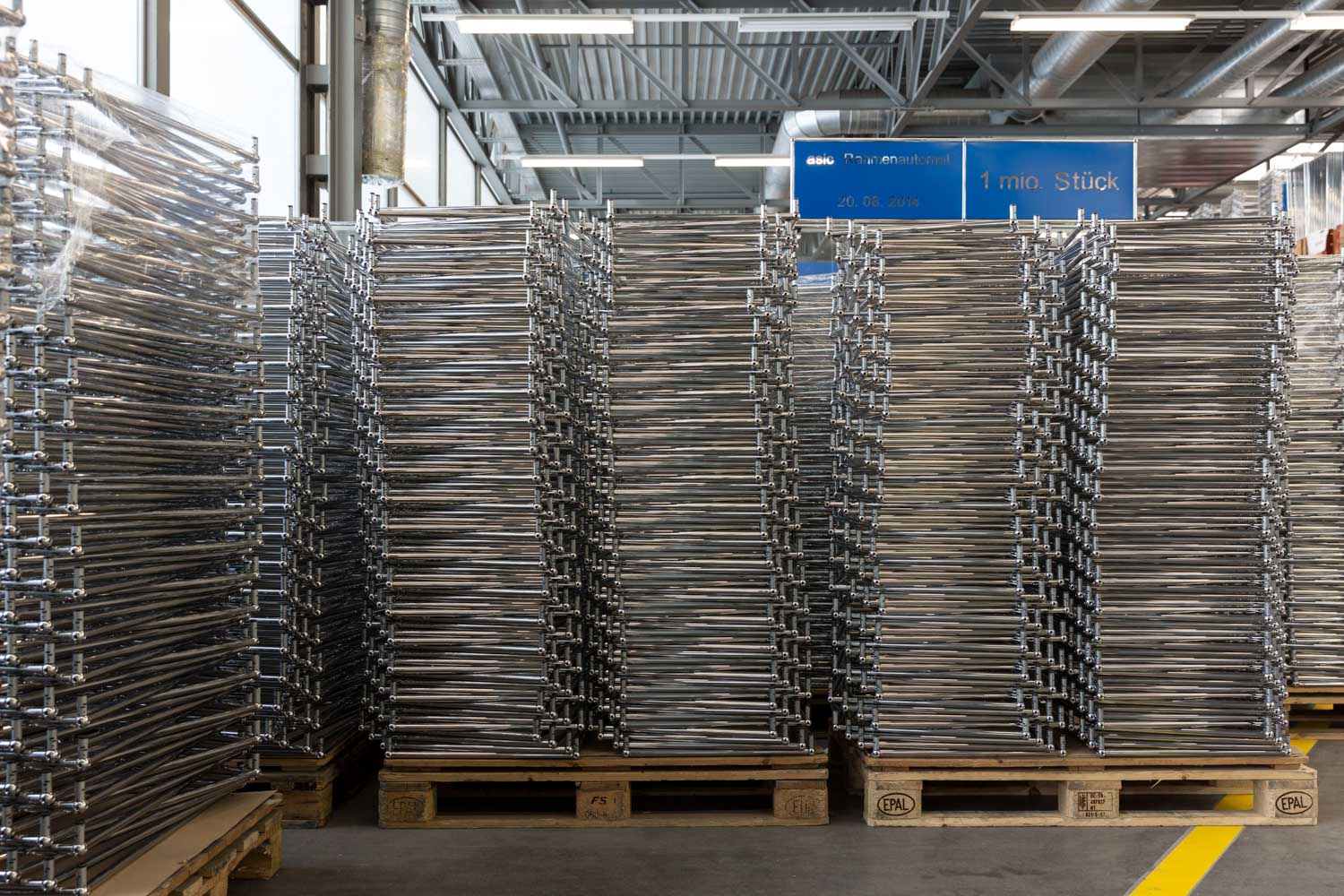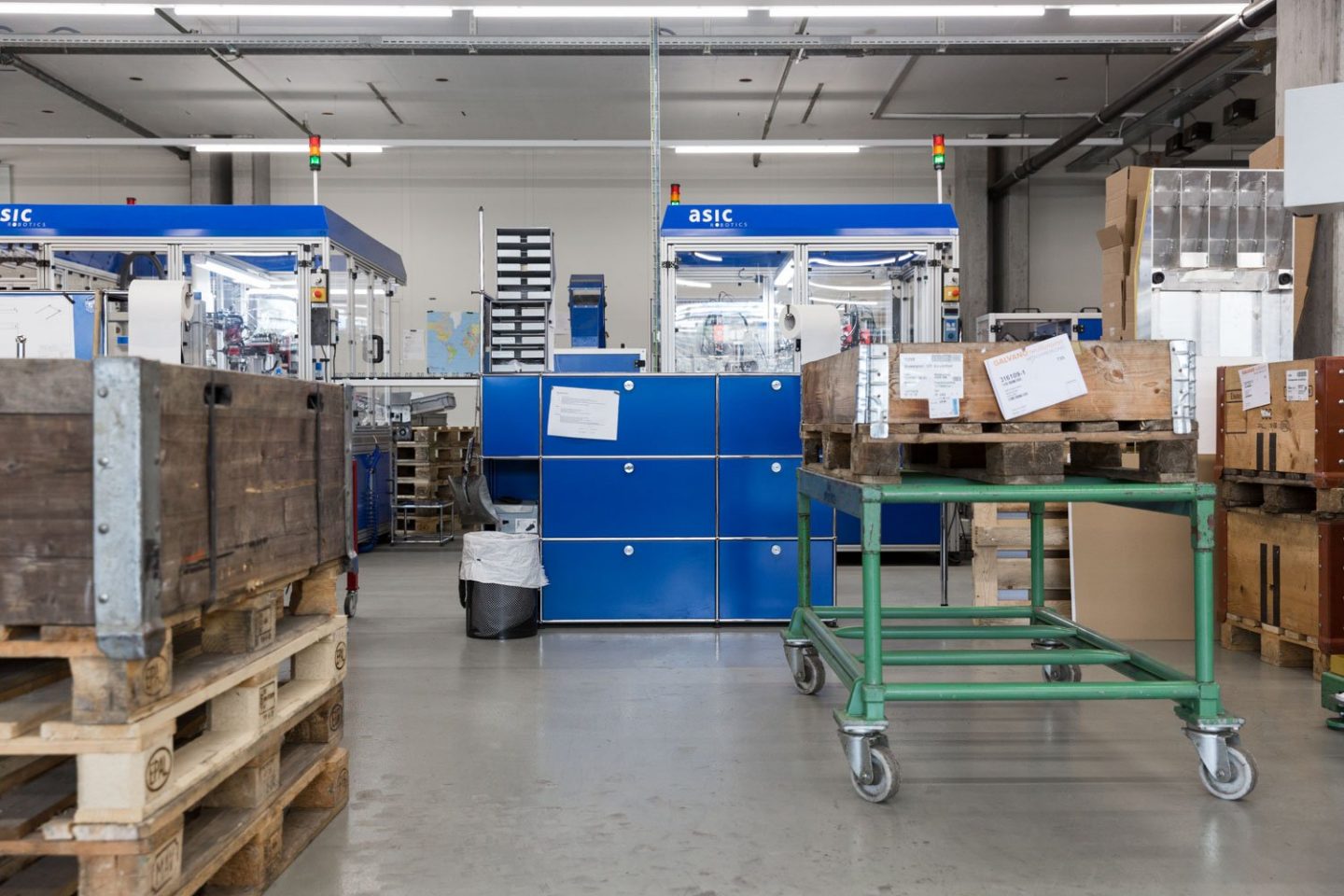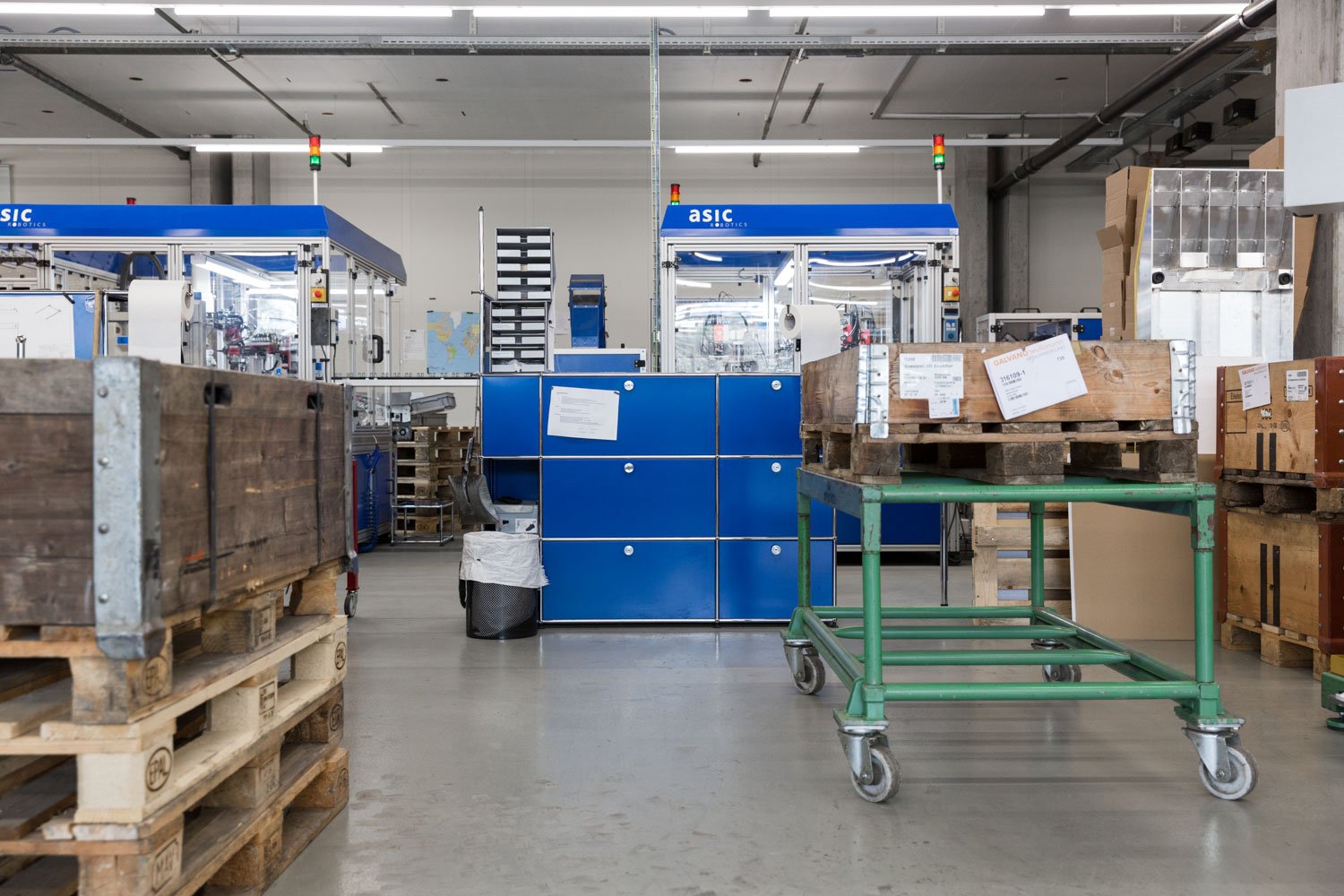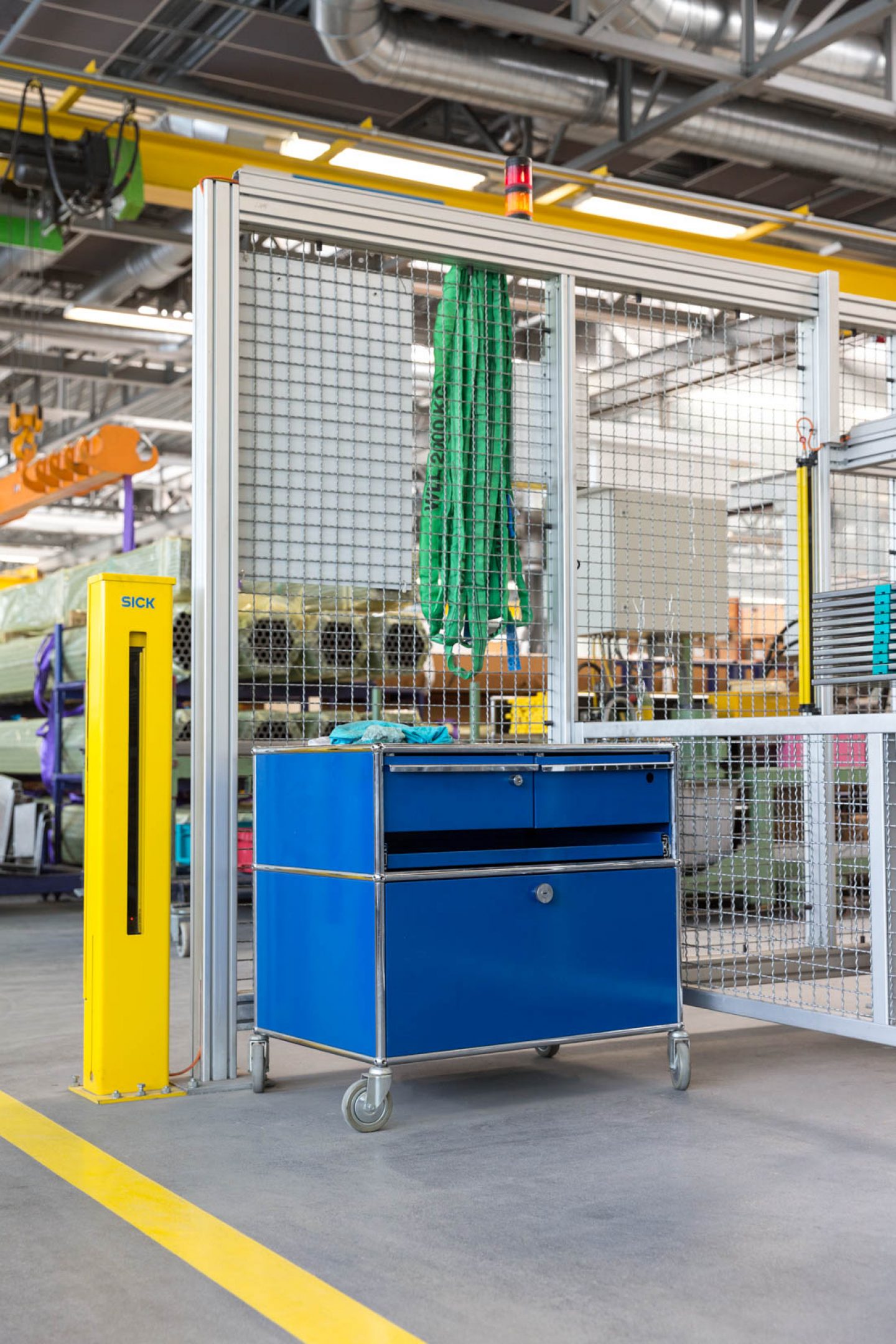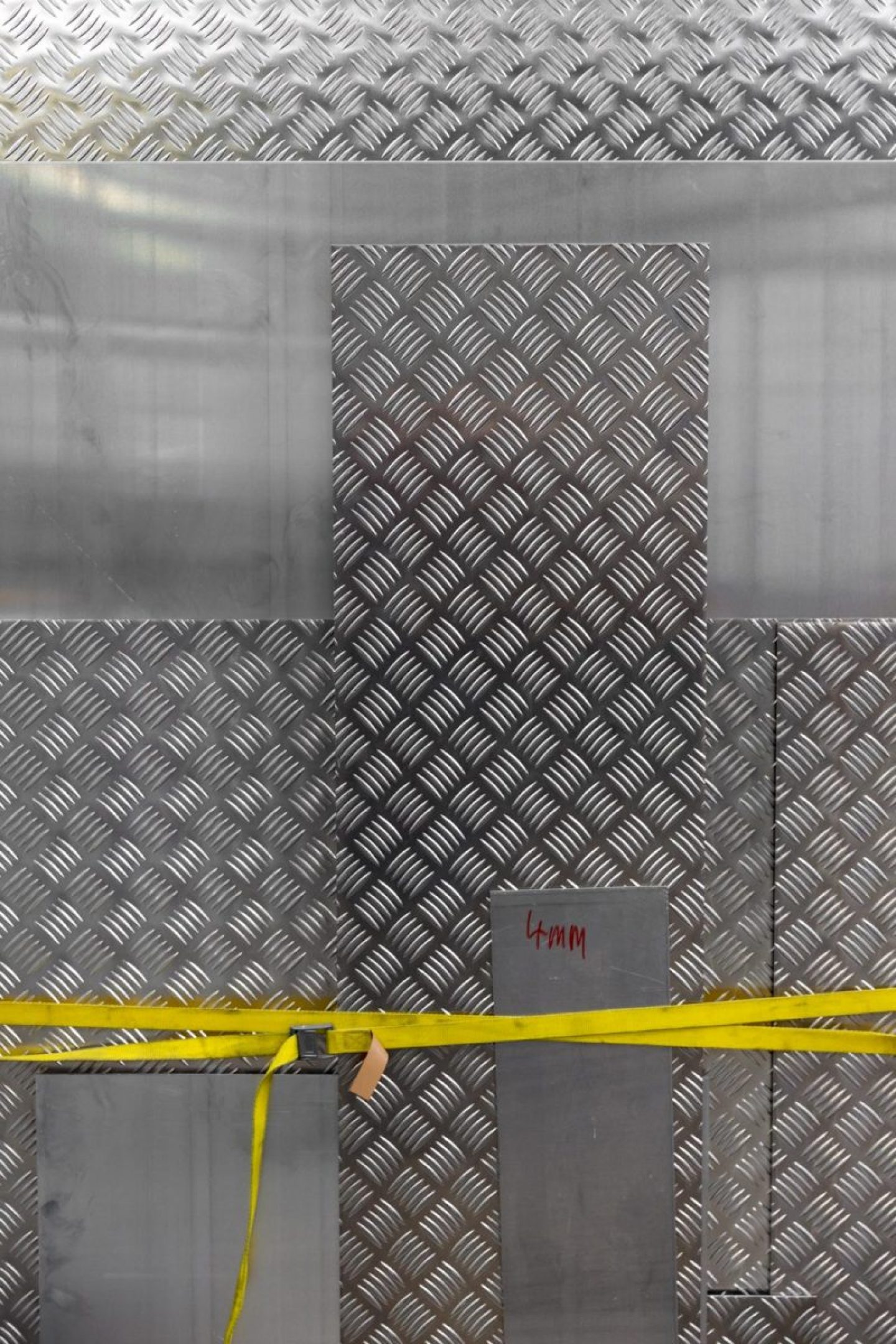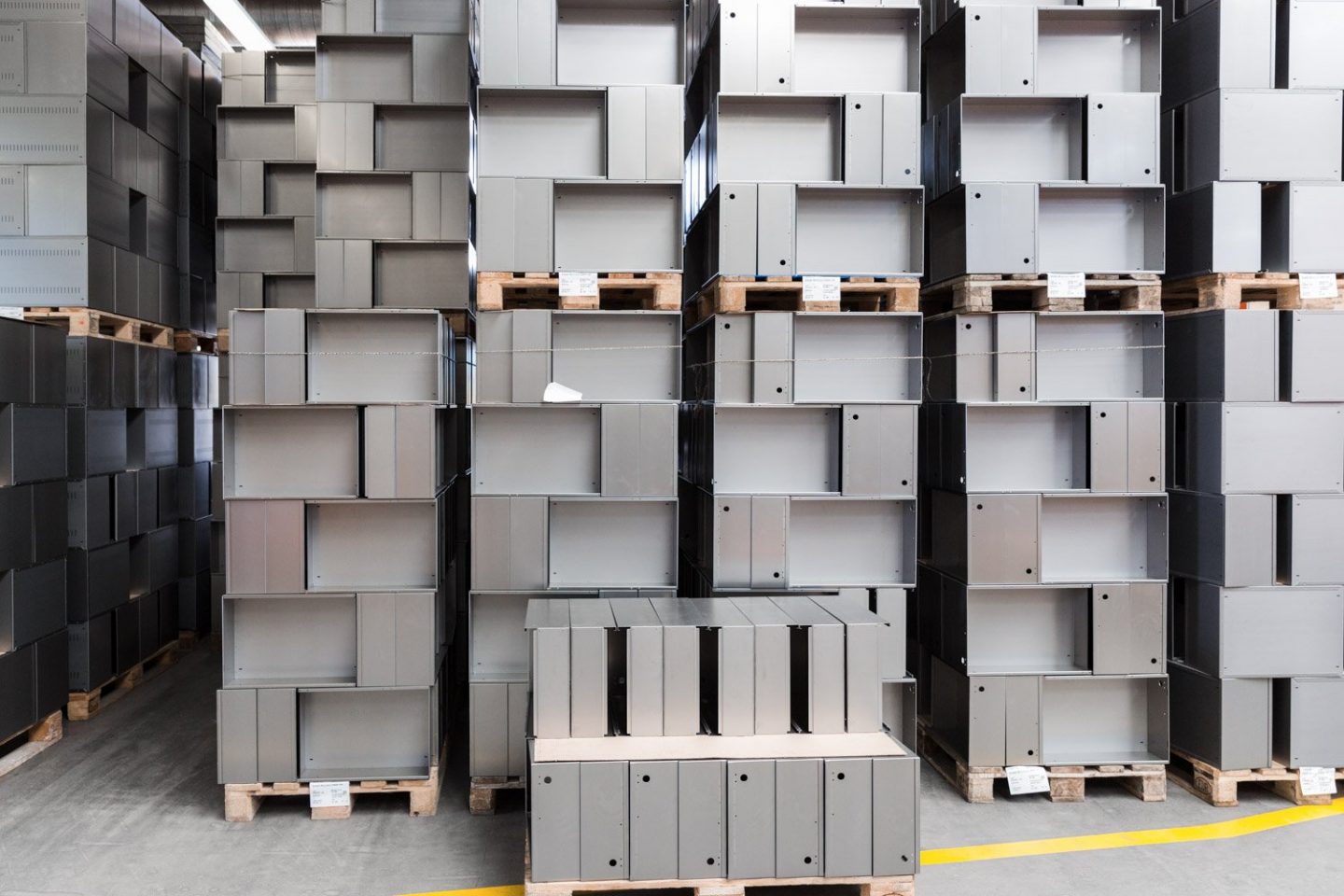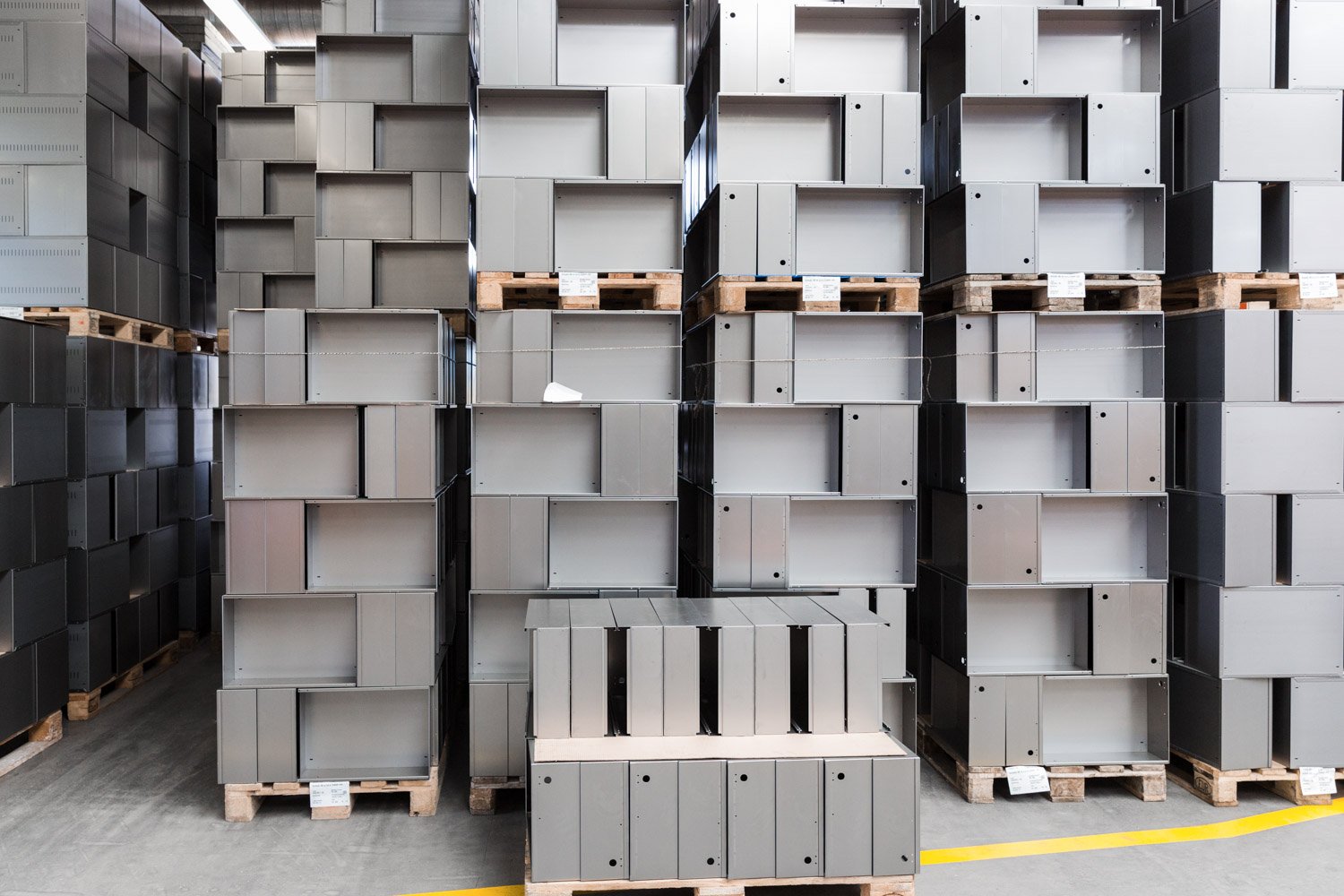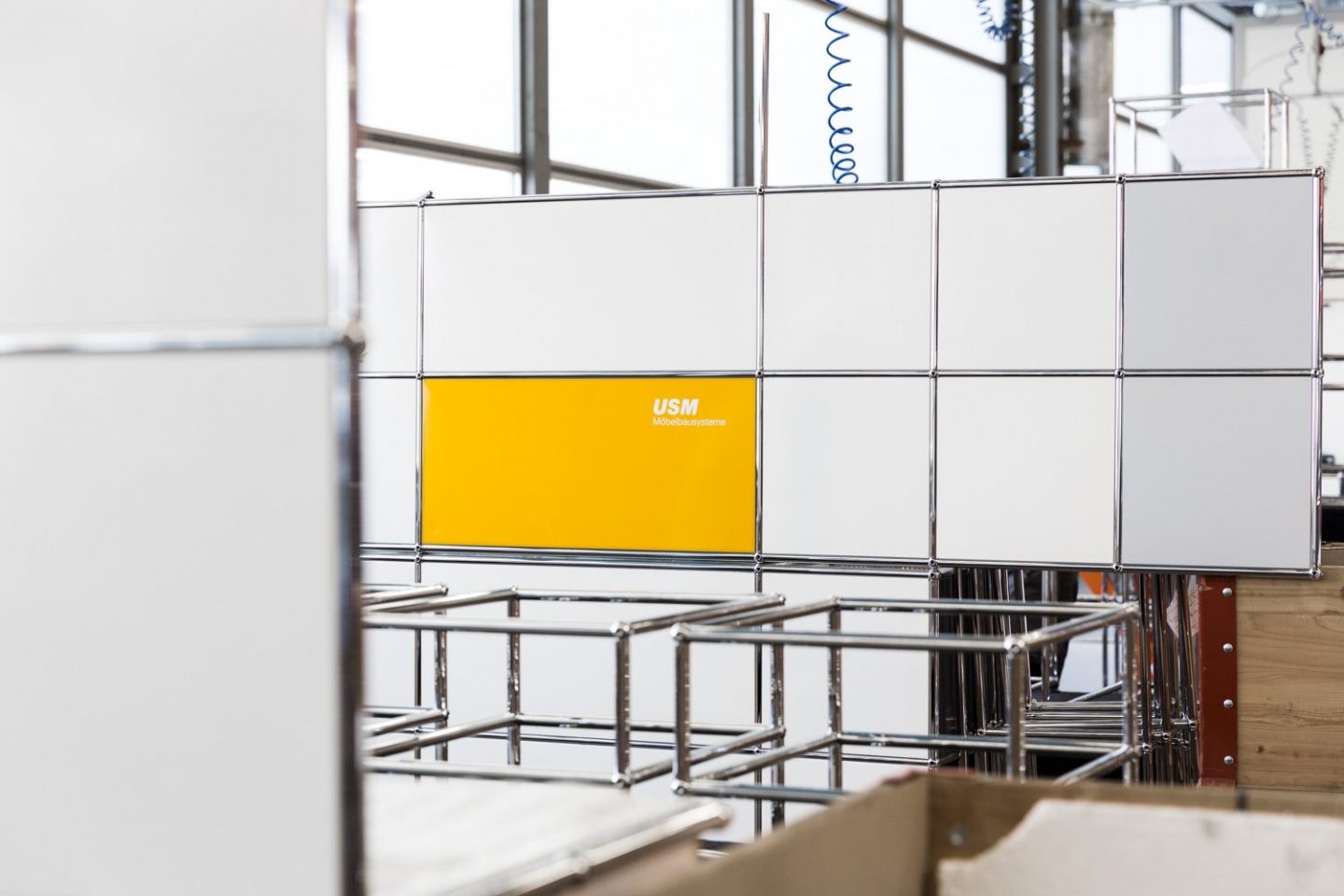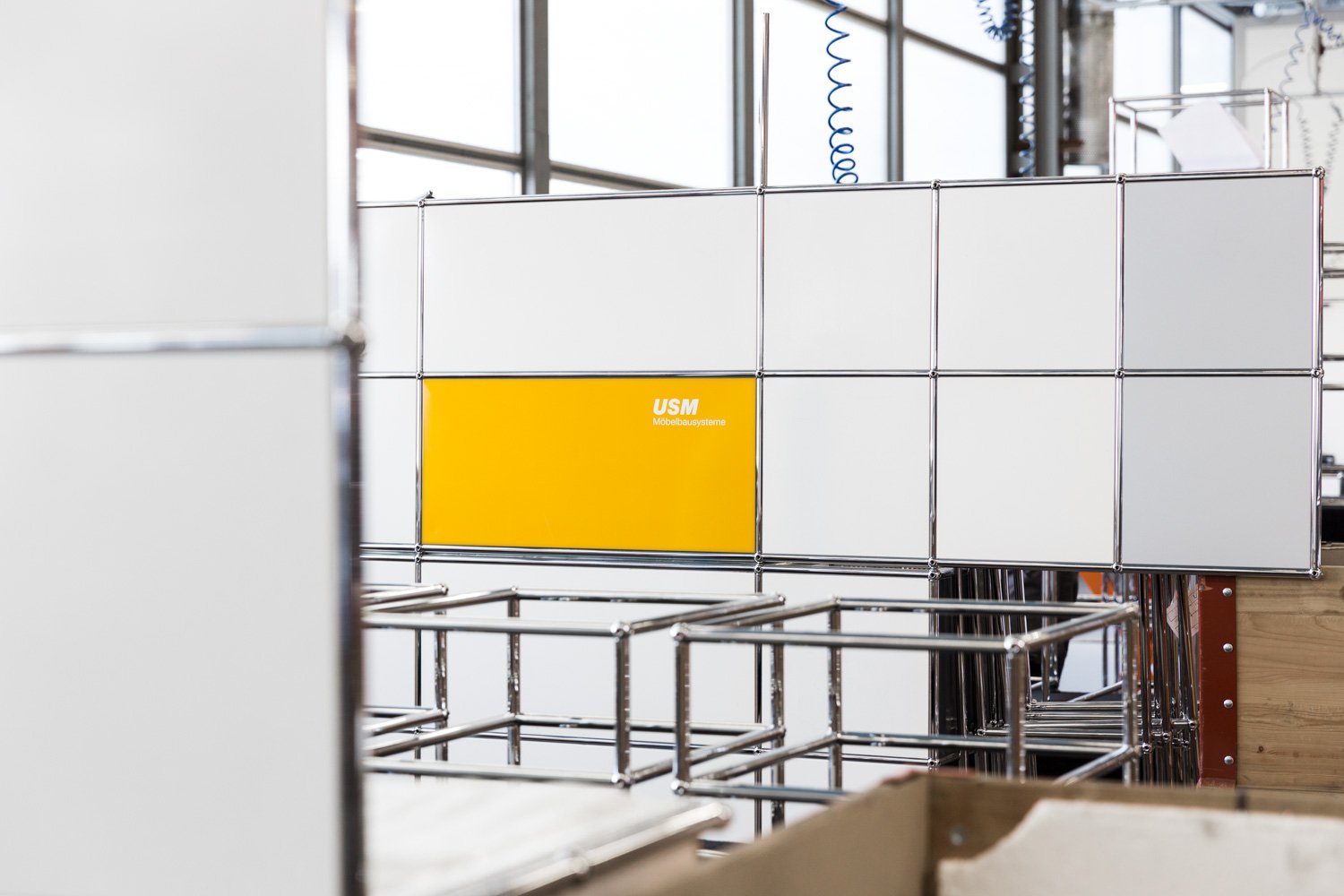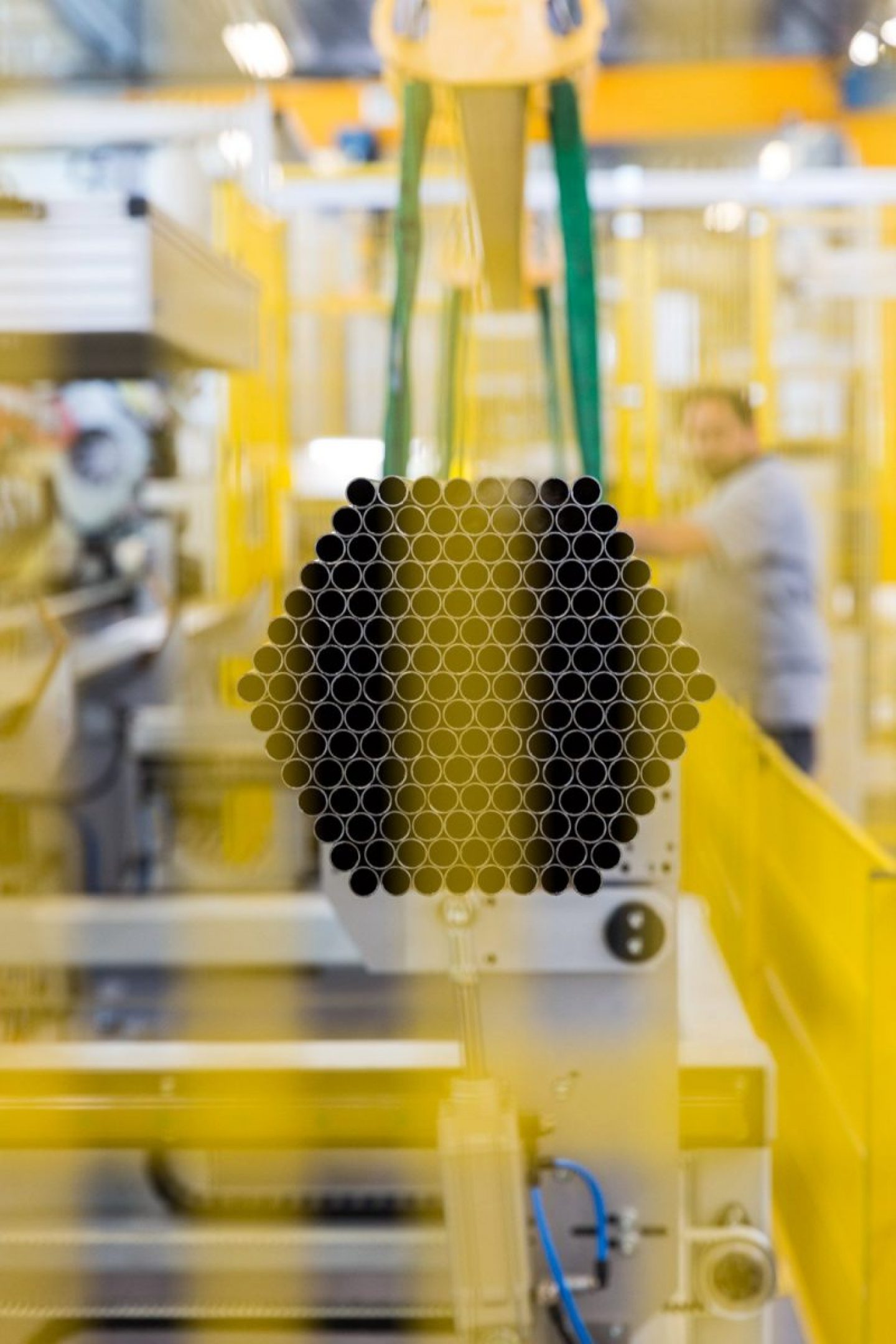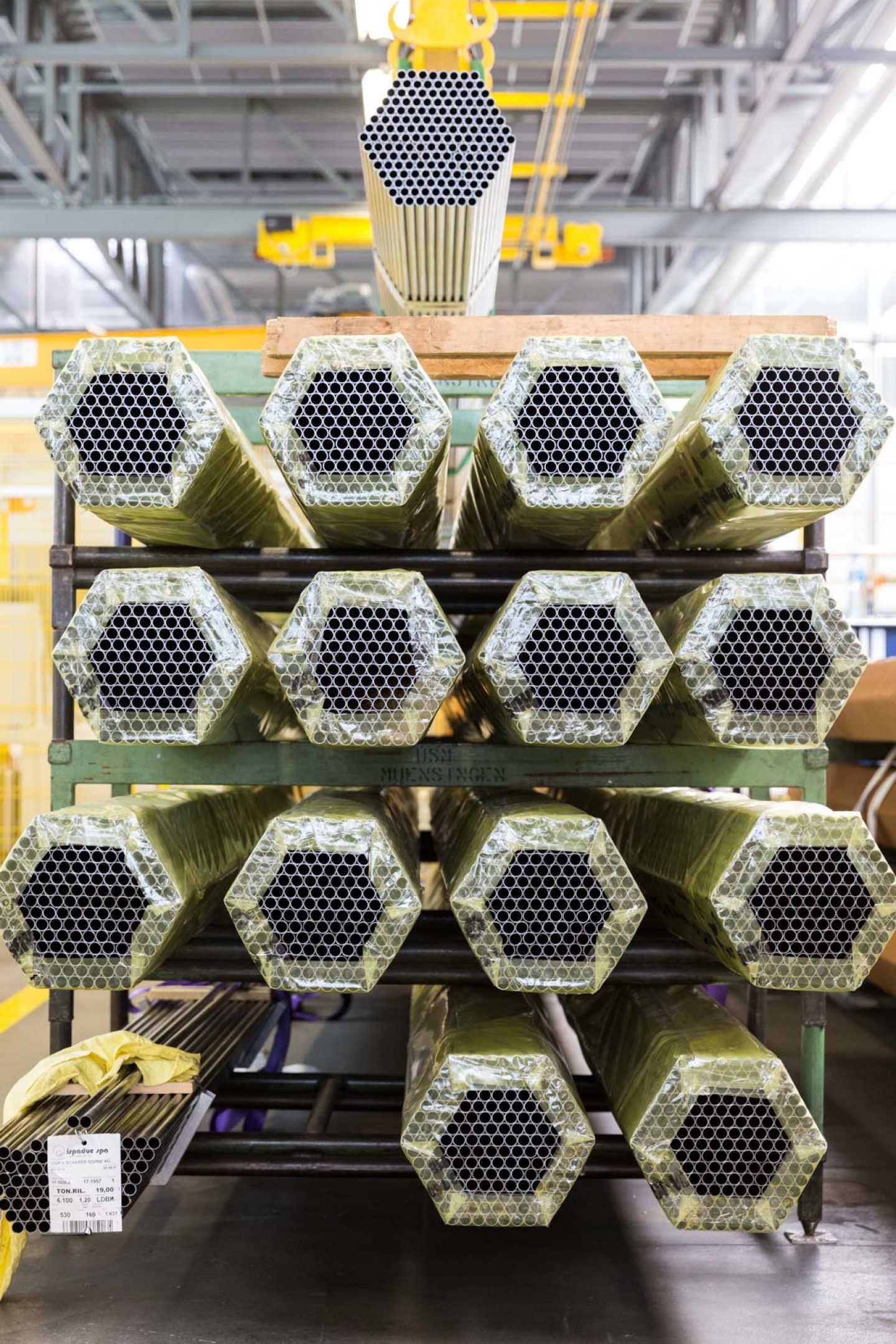 Originally founded in 1885 as a hardware and locksmith business in Münsingen, Switzerland, USM began to evolve into the brand it is today in 1961, with an architect's sketch for modular furniture. Can you walk us through some more of the key moments in USM's history?
"The main focus was indeed the processing of metal, which has remained the case until today"Yes, USM emerged from a locksmith business, so the main focus was indeed the processing of metal, which has remained the case until today. Eventually USM became known for its expertise in window fittings – in the past we had around 50% of the window fitting market share in Switzerland. If you look at an old Bernese house today, you can still see a USM emblem on the fittings—though the form is different. In terms of the history of our space, it was planned by Paul Schärer, the third generation in USM history, the predecessor of Alexander Schärer and Judith Stuber-Schärer, the two current owners of USM. Paul Schärer was very driven when it came to business and management on the one hand, and on the other he was also an engineer who drew a lot of inspiration from art. He had a lot to do with the Solothurn school and artists from that region. He commissioned an architect to develop a factory building that was as modular and as flexible as possible.
This led him to Fritz Haller, who designed the modular building. By the way, these types of buildings were later industrialized, and still exists in various parts of Switzerland. But there's another moment I find particularly exciting. The second original USM building was the pavilion, originally intended for the administration office, where we are right now. The design principle is similar: The building is modular and flexible, and then of course it needed to be furnished. In the '60s of course it was all about heavy wood furniture, though that didn't quite fit here. Economic considerations came into play too—there wasn't an excessive amount of money to spend on furnishings. So the question was posed, "Could we go about this in the same way we designed the building? To produce furniture in our own workshop from materials we are familiar with, in a cost-efficient way?" And so a furniture system built to meet our own needs was born.
The key entrepreneurial idea—I think—was the first moment someone from outside the buildings came to visit and saw the furniture and thought they'd like to have it in their space too. It was the banker Rothschild from Paris who asked Paul Schärer where he could buy it. Schärer answered, "It doesn't exist, it was developed for us and by us." From there on the question was how to start working in a completely different area—the furniture industry—to produce this for a potential client without any idea as to how to calculate materials, measurements and tools. For me, it seems like an extreme business step in economic terms. A fascinating one, to say the least.
"A furniture system built to meet our own needs was born"
And was that then the first big order?
It was, but a lot of perseverance was required afterwards. It wasn't furniture that fit the Zeitgeist. Of course, the production structure—for window fittings—hadn't been set up for this industry. It took many years, and much perseverance, until we could say, "Let's start developing further,"—until the market came halfway towards us.
USM furniture has been designed and manufactured in Münsingen, Switzerland, since the beginning. How important is this location for USM? What does your Swiss heritage stand for?
"We must be open, but without bending, without forgetting our Philosophy"At this point I'd like to mention the word "persistence". A character trait that I, as a German, understood to be part of the Swiss mentality of this region. There's an extreme necessity to stick to a basic principle for a long time. Only when all the parts are matching together over such a long period of time, it's a system as a whole. It's things like these that build persistence over time. And that's how I've experienced the Swiss mentality. And maybe a similar piece of furniture created somewhere else wouldn't have remained on the market for so long.
But how does this relate to innovation? Earlier we talked about new possibilities within the existing "building block". At this point we must walk the tightrope. We must be open, but without bending, without forgetting our philosophy. With the "USM Haller E", we have tried to build something which makes a furniture system no longer simply a space, but something that can also turn into something for totally different use like a writing board, a sitting corner or even something we do not yet know today.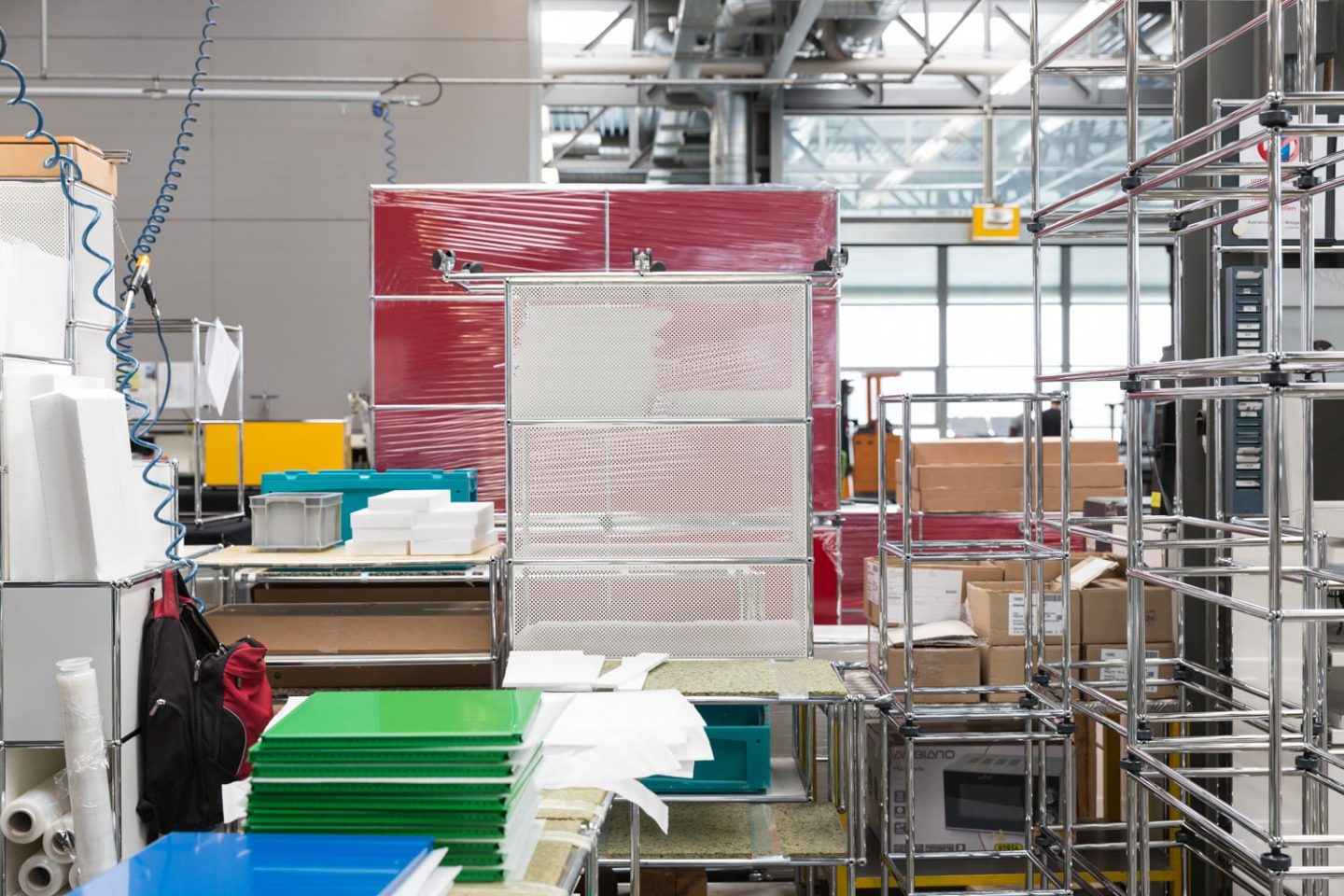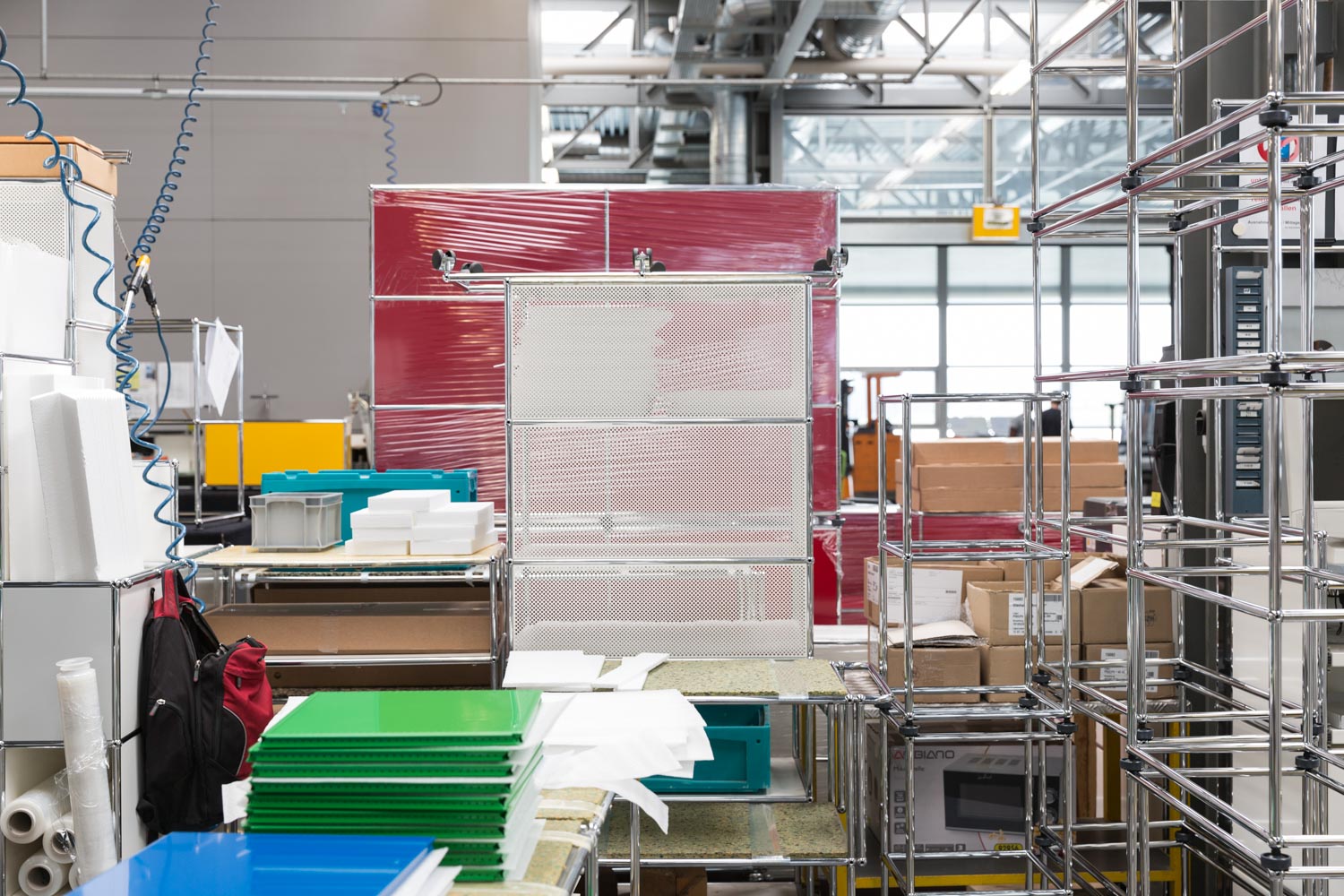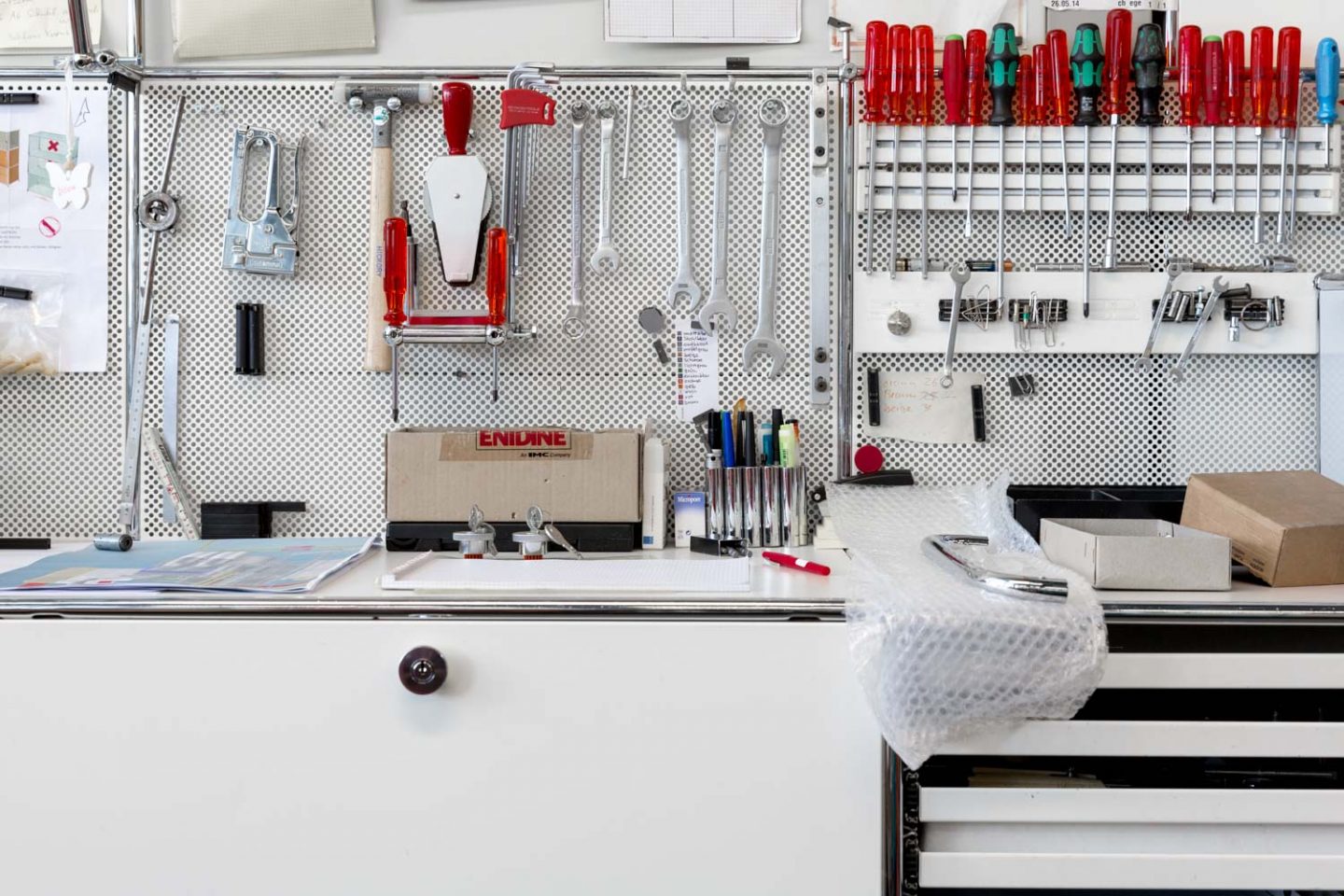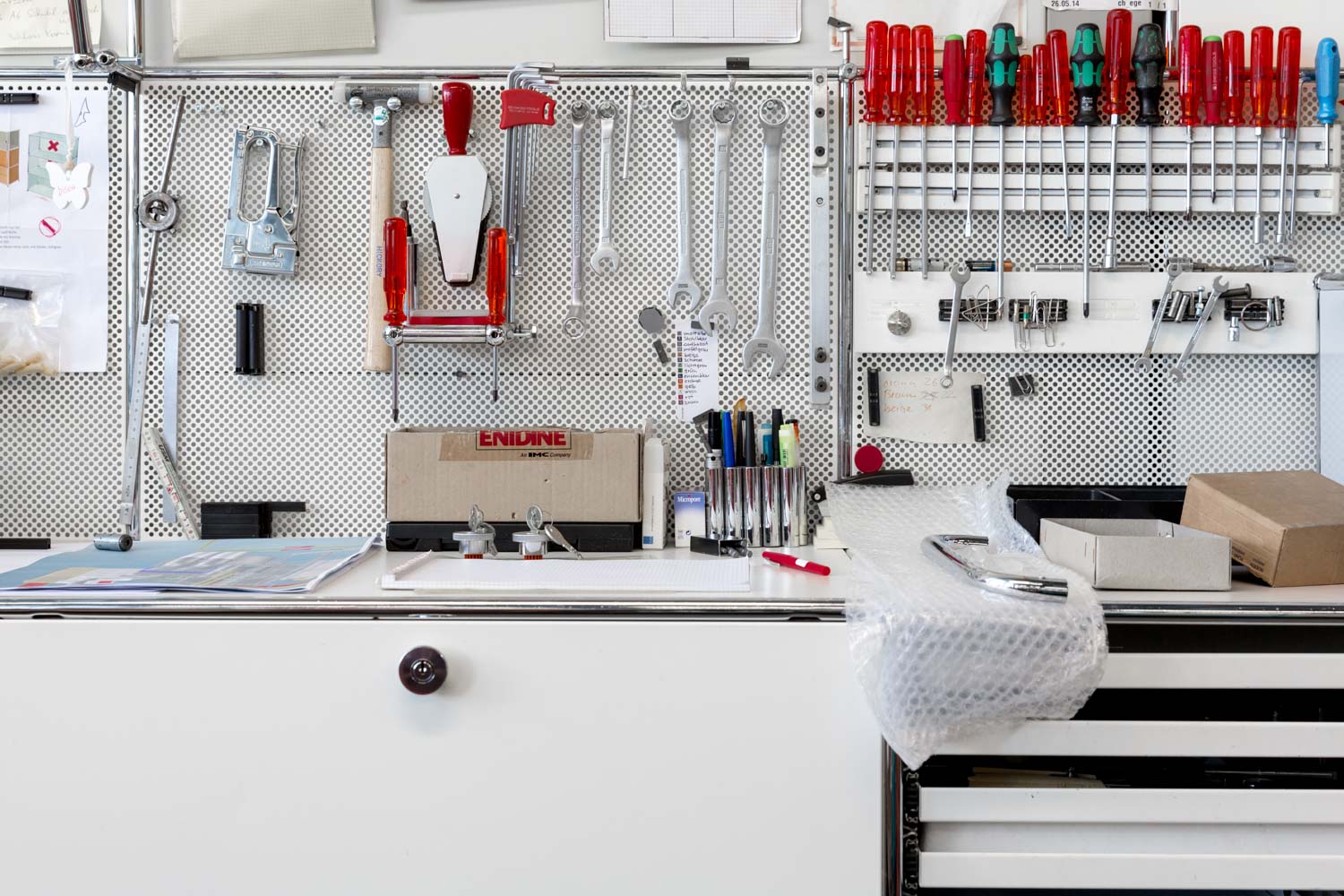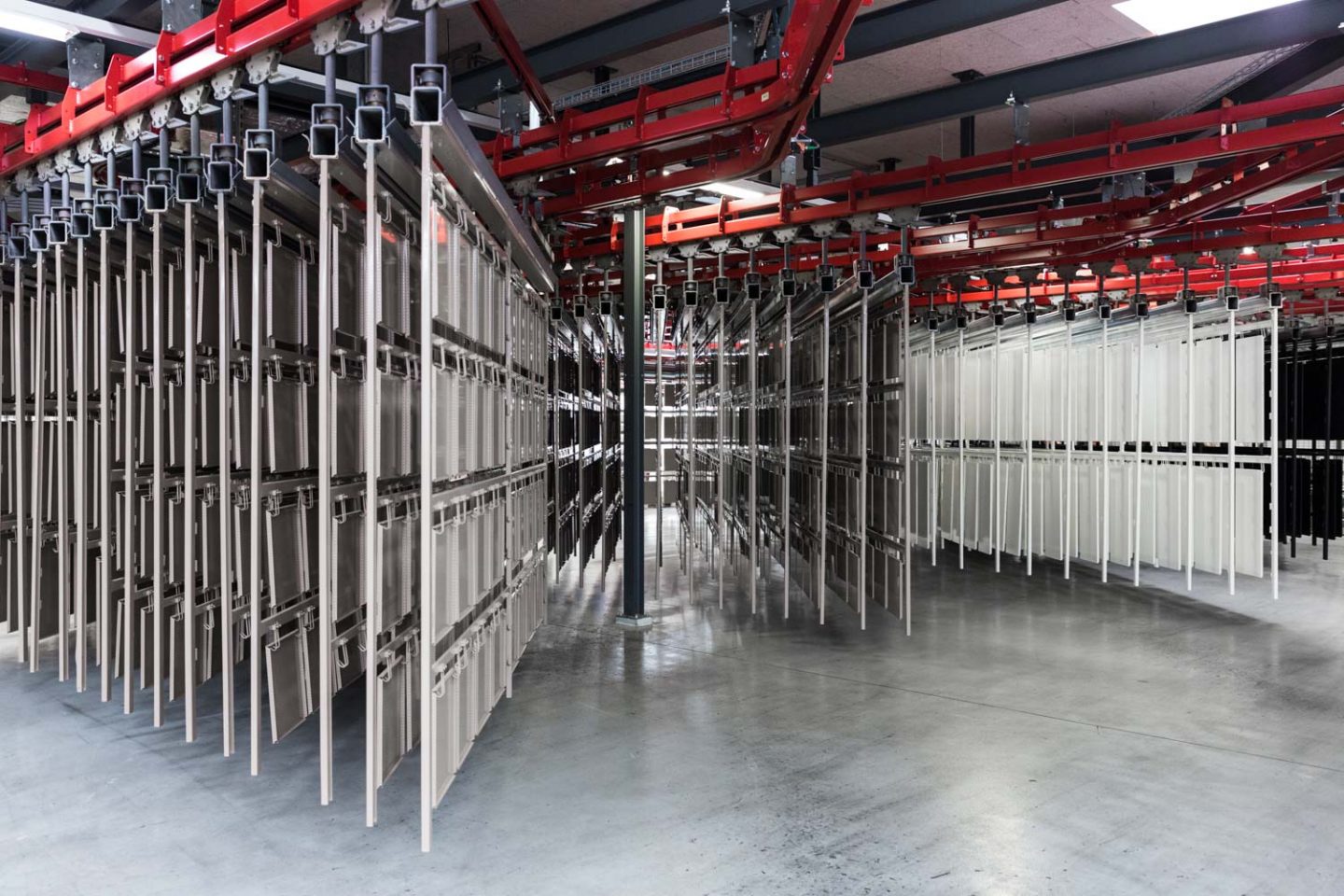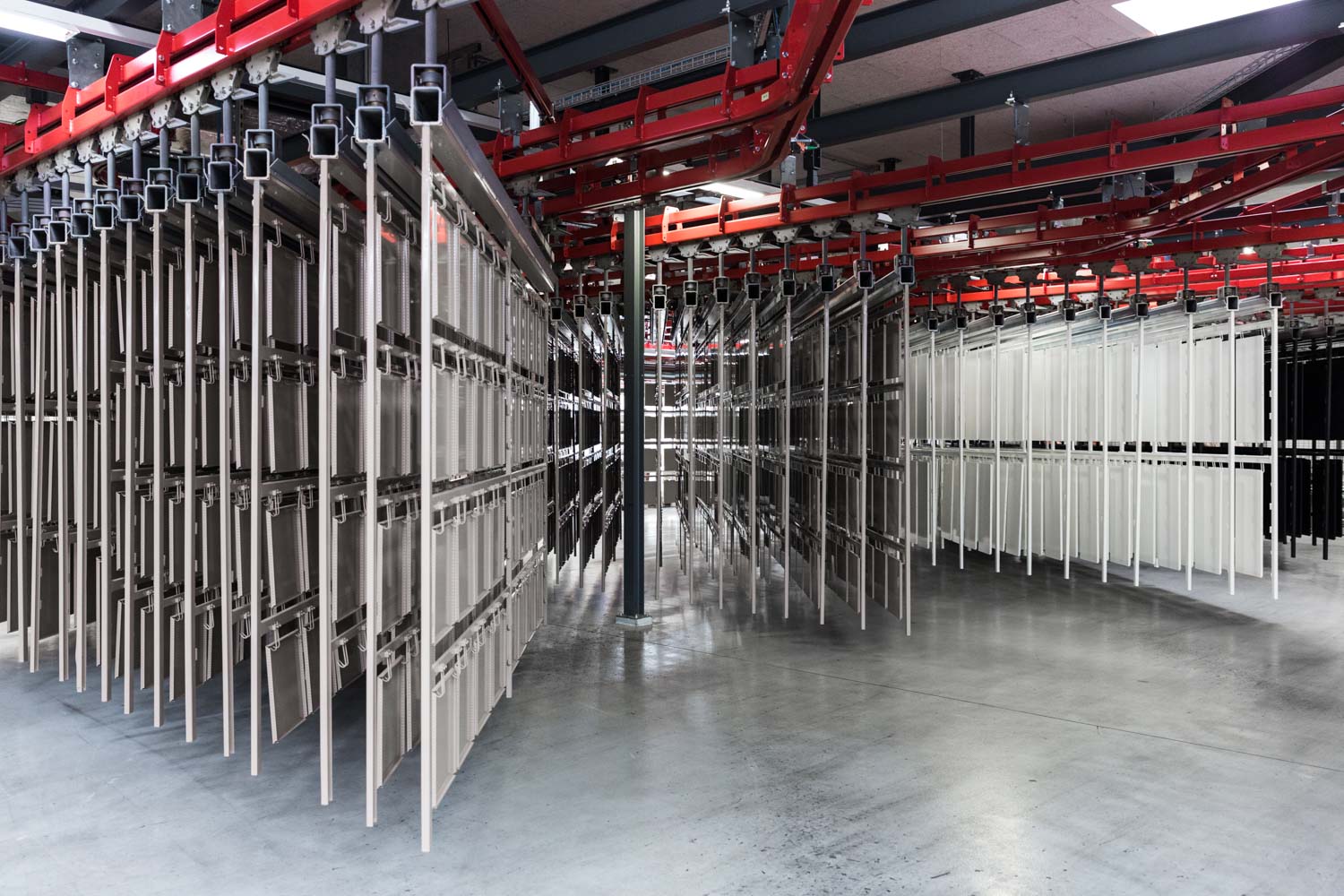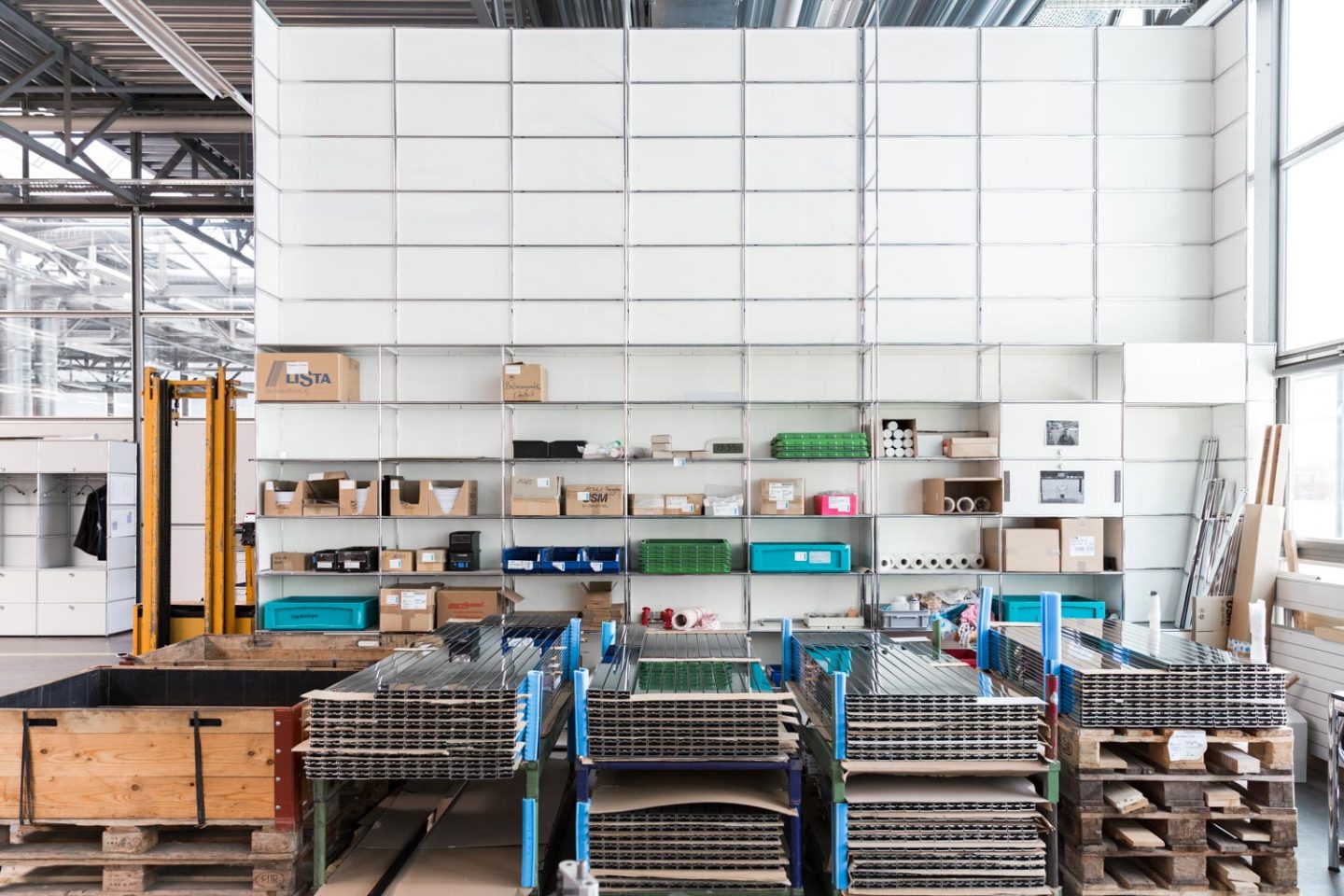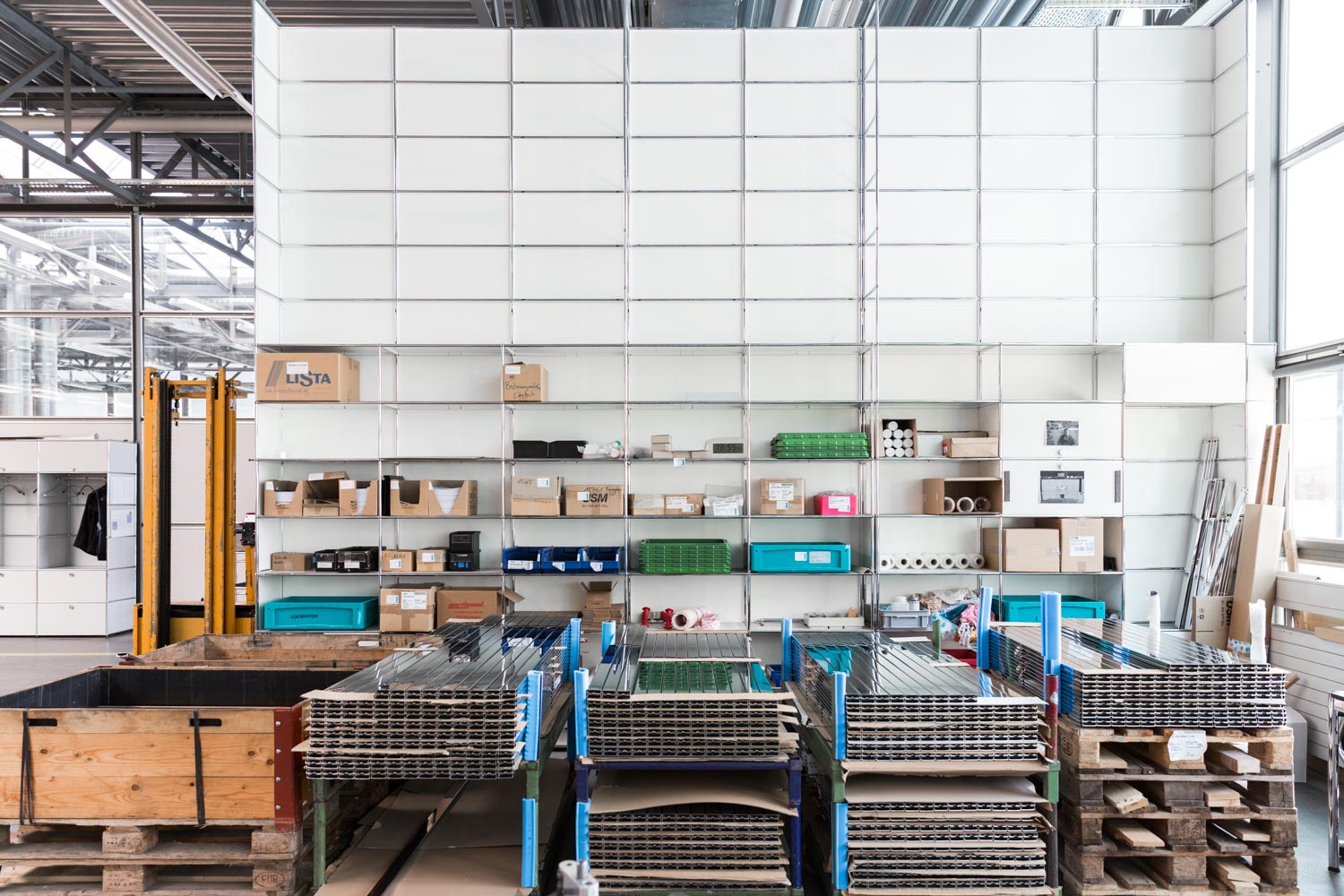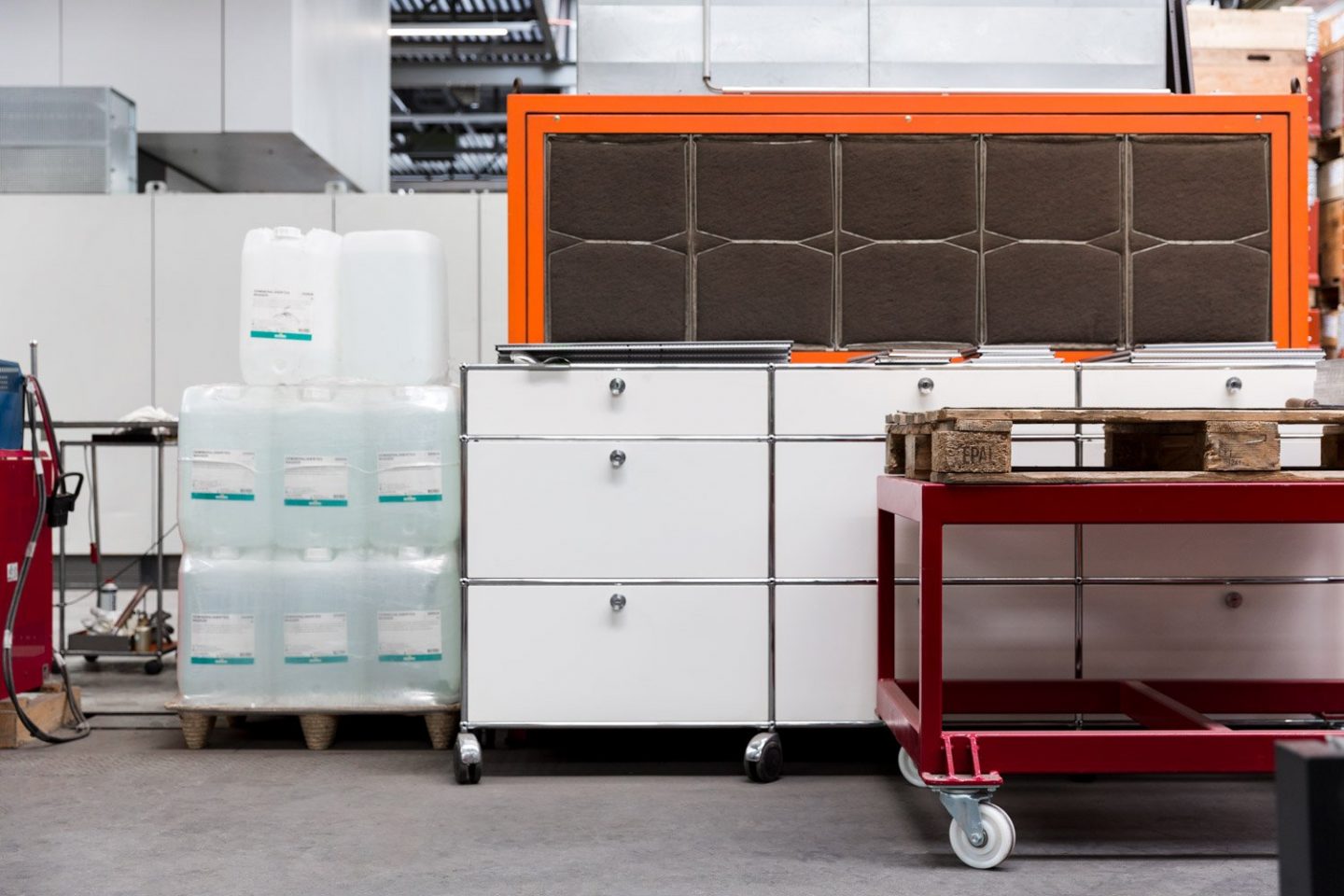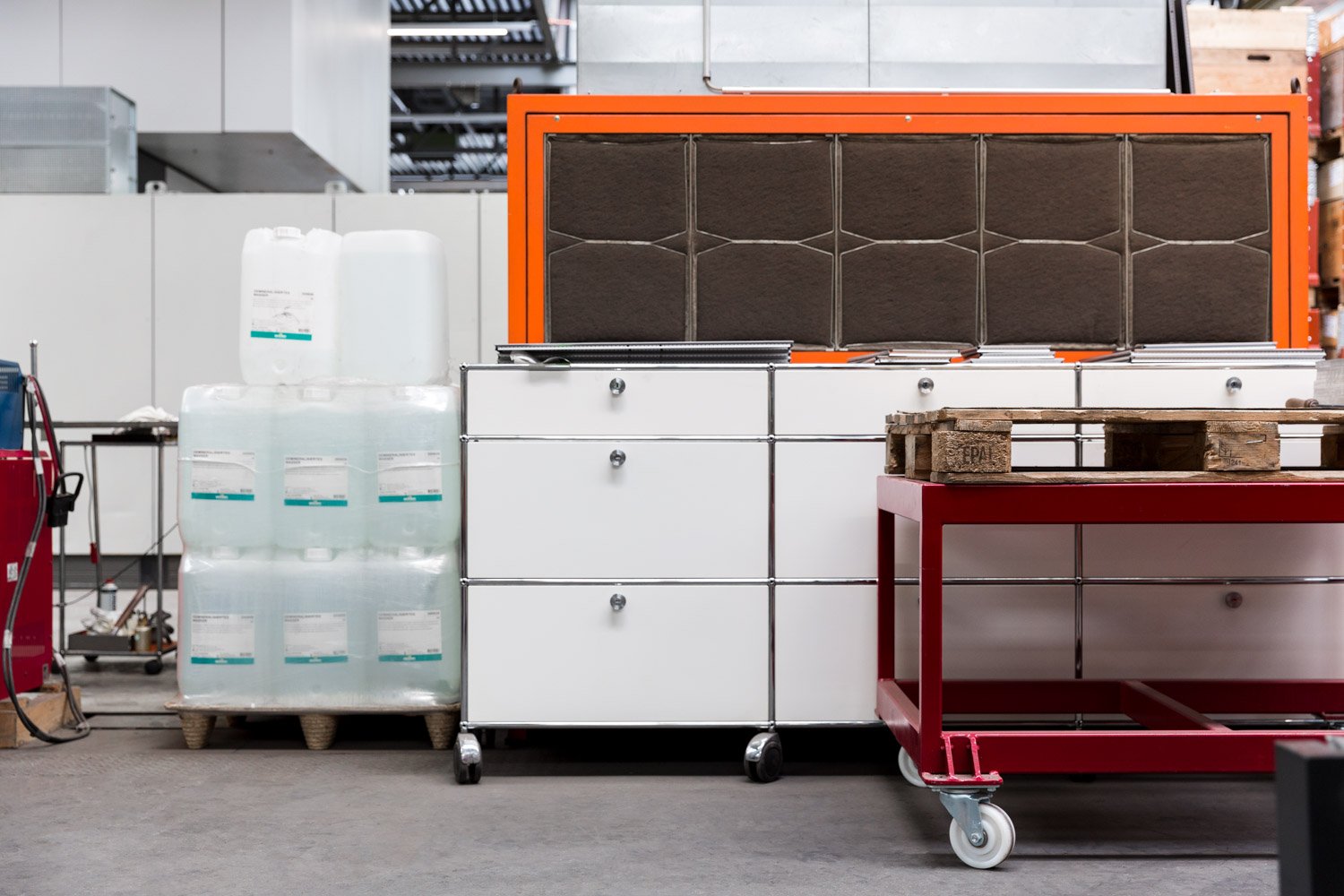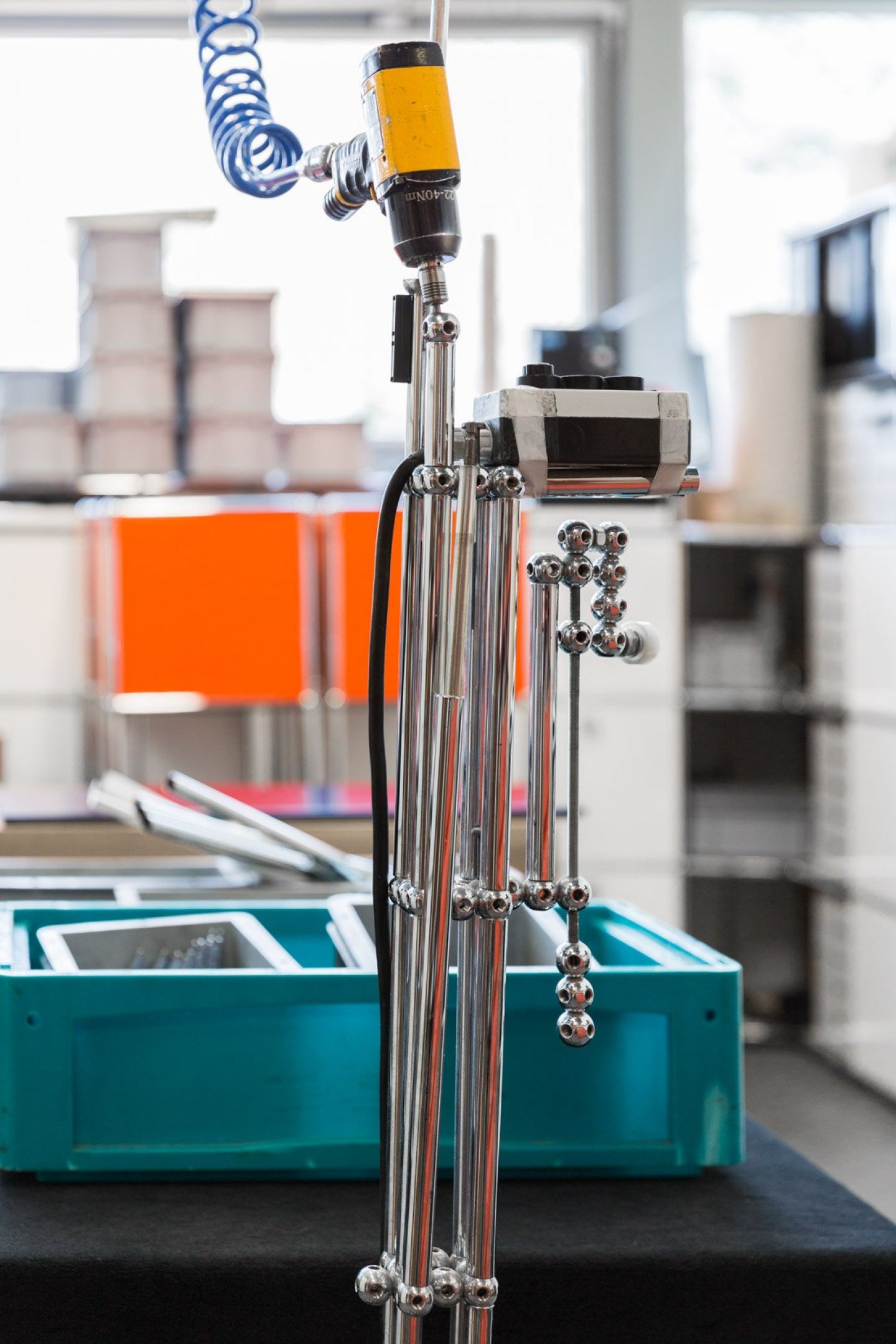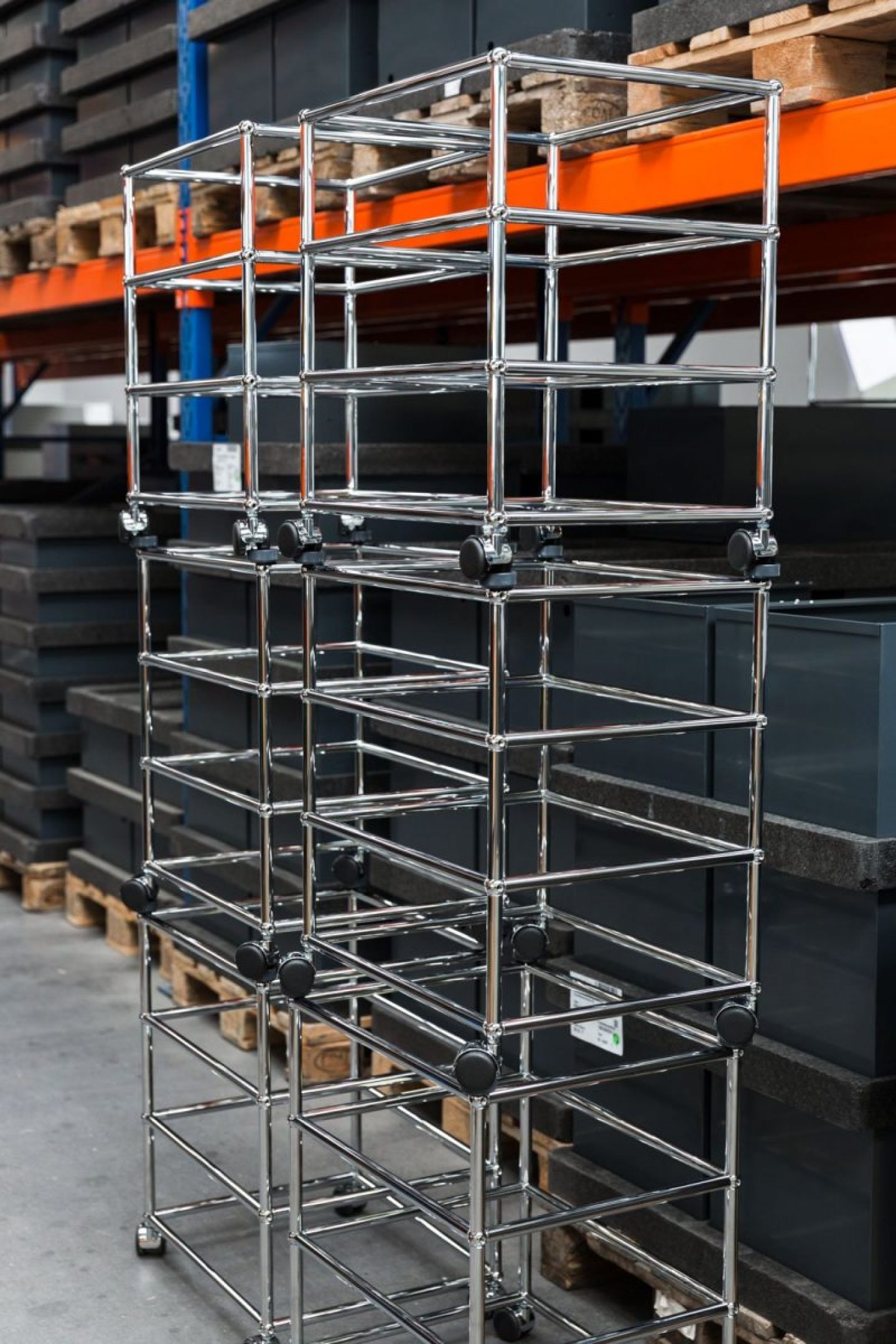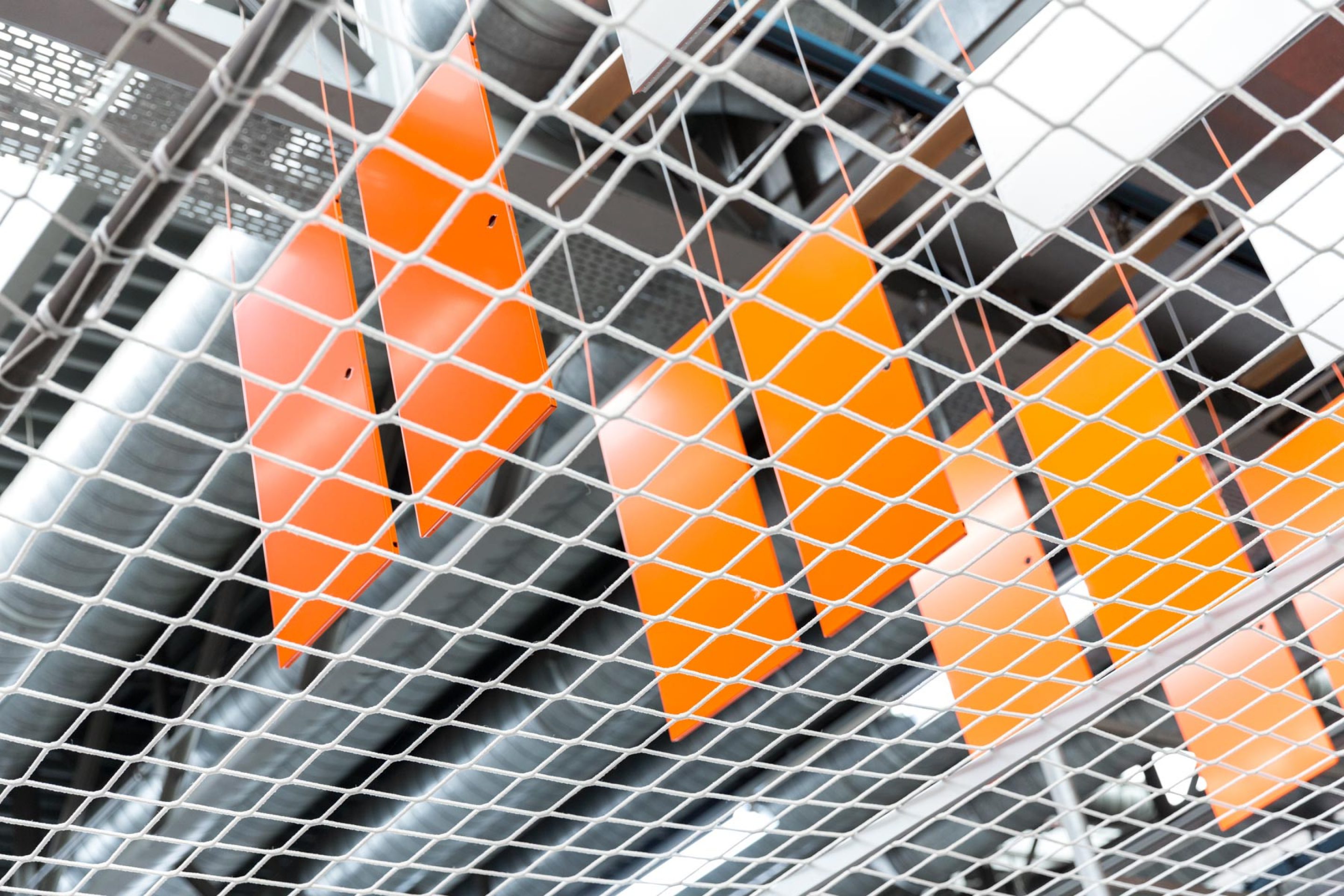 You briefly touched on the design philosophy of USM. How would you describe it exactly?
Yes, there are a few terms that define us—modularity is the one I just mentioned, but modularity can also result in a very banal cellar shelf. So another aspect needs to come into play. We naturally appreciate the beauty of the details, of individual parts. We have an affinity for design, and we always ensure this balances out the functionality. But if one element is only beautiful, then it's not beautiful anymore. So what USM ultimately does is bring these two elements—functionality and design—together.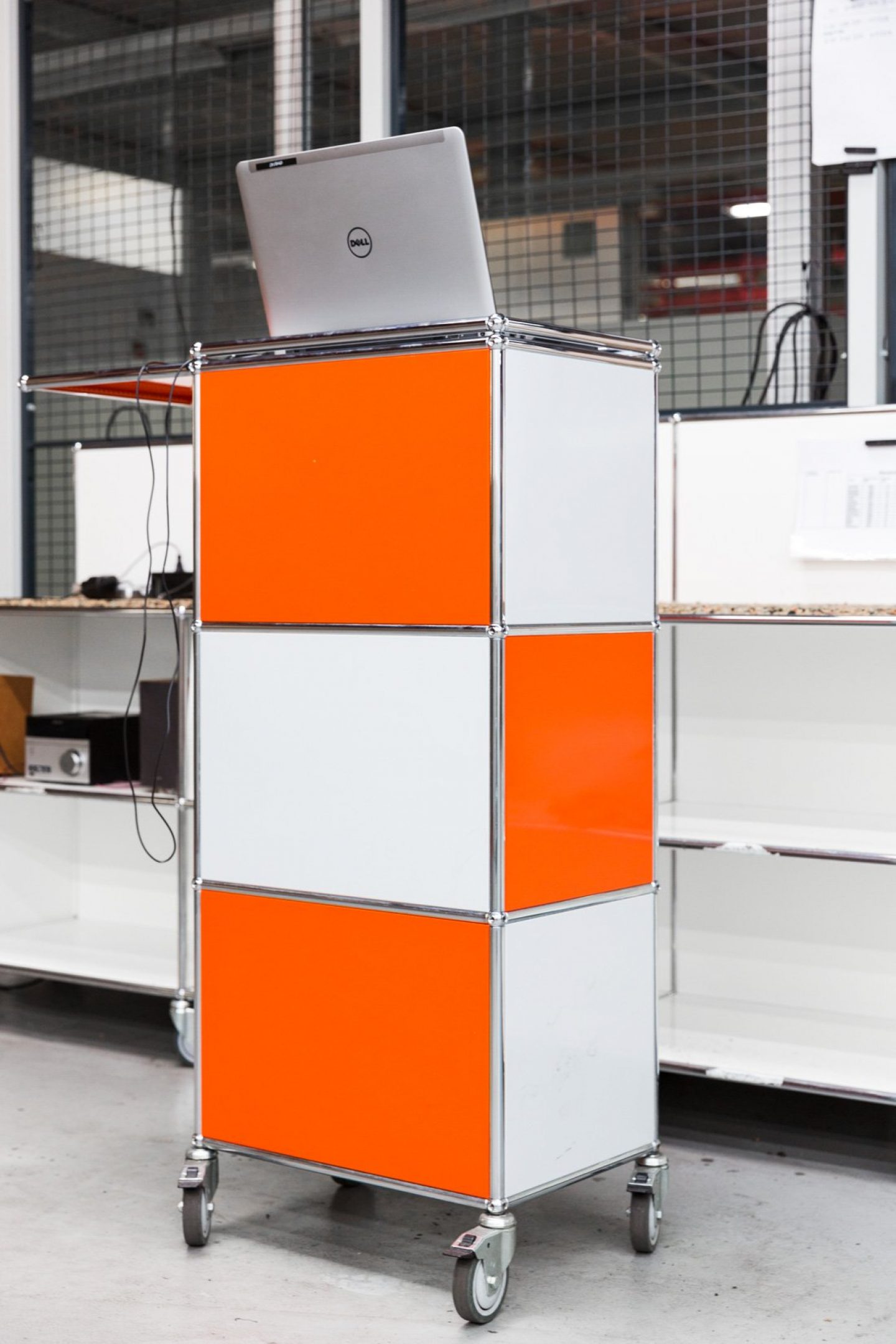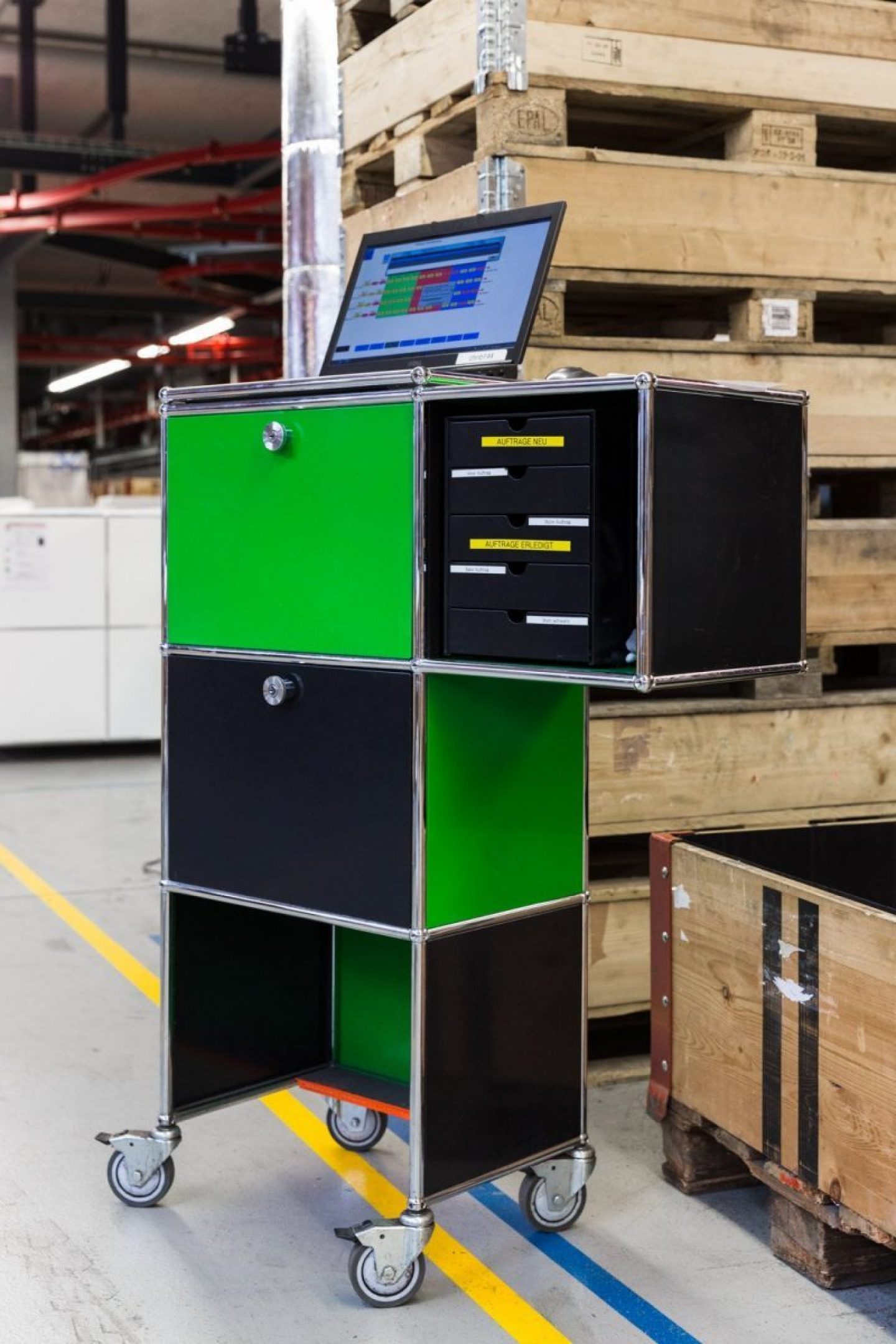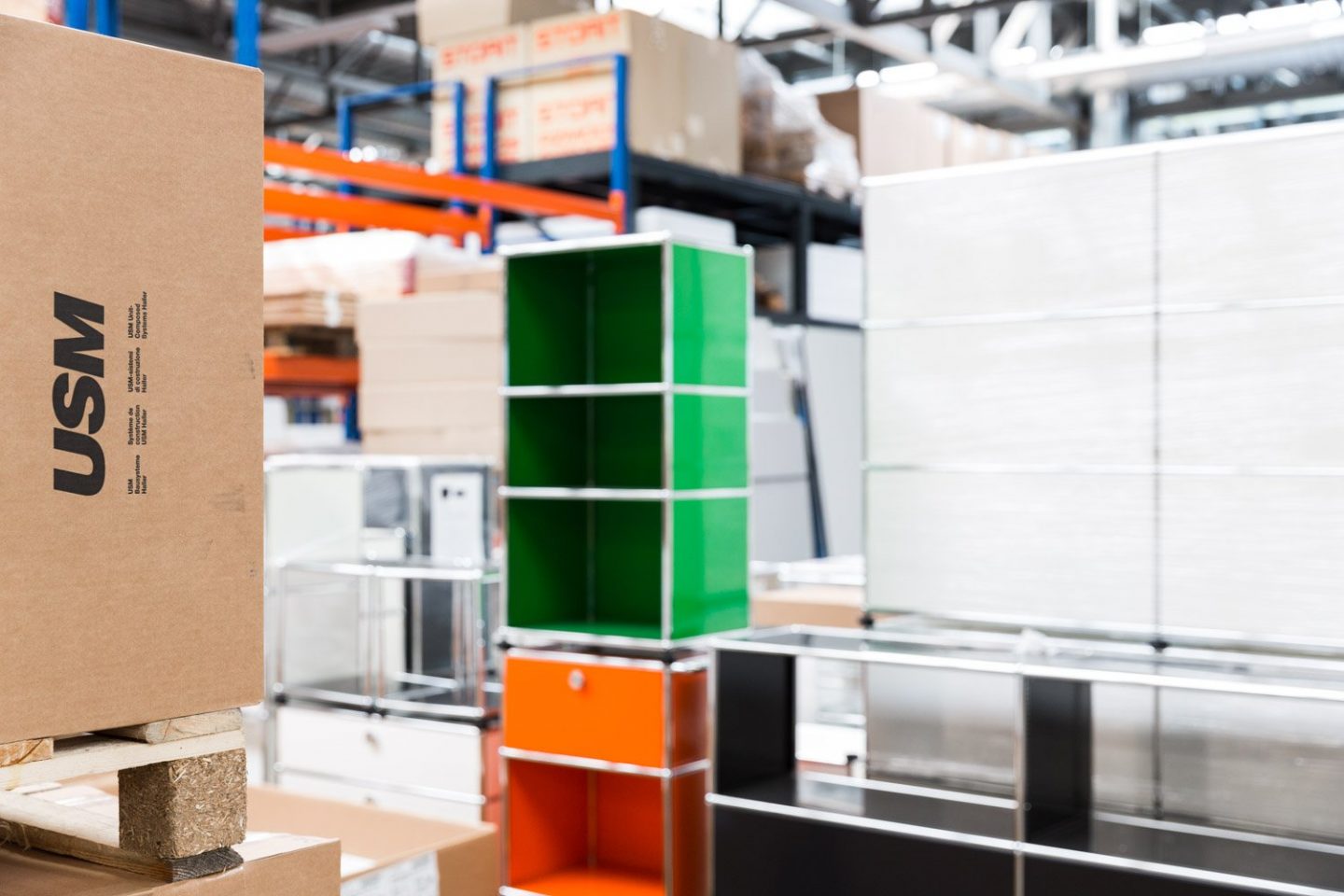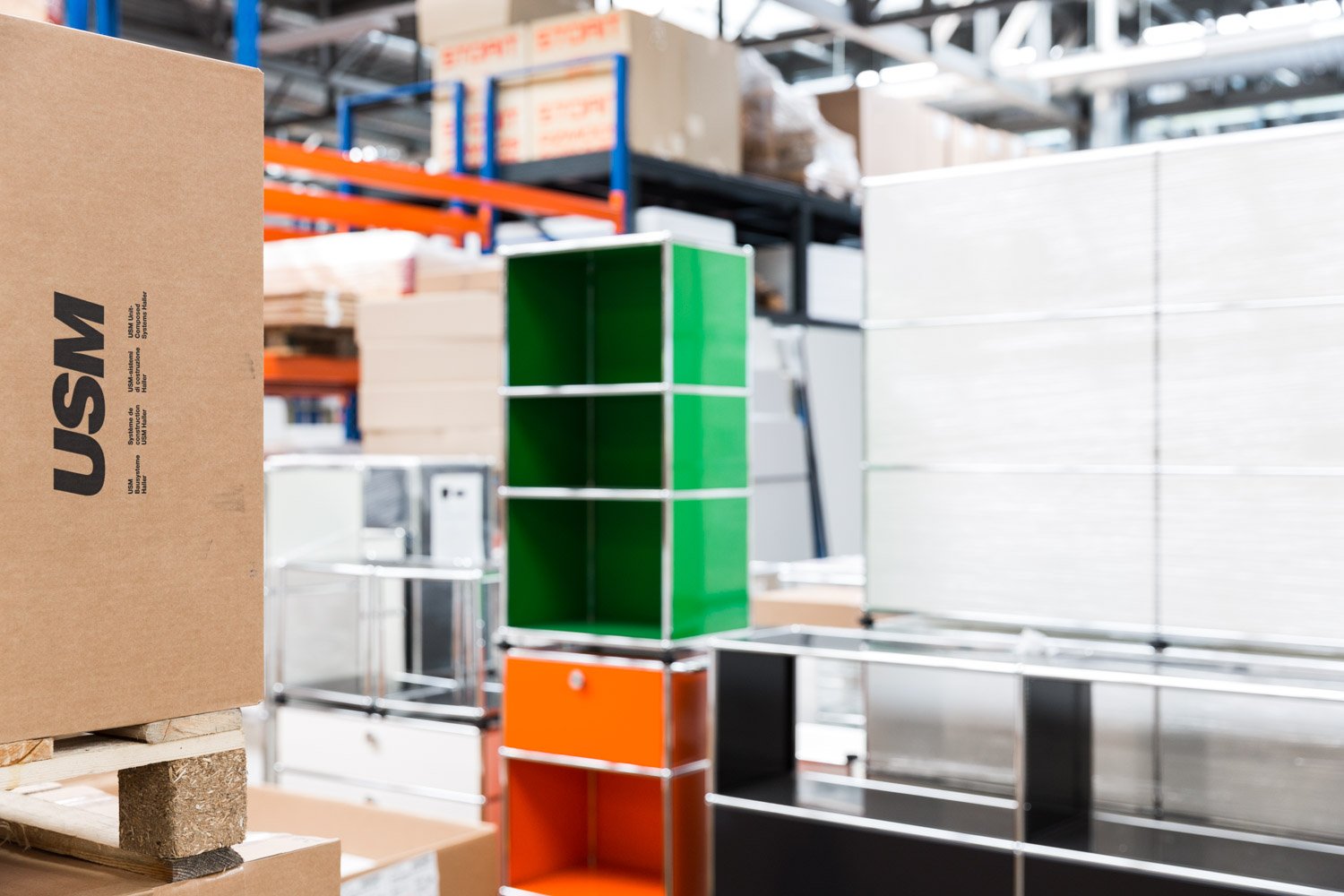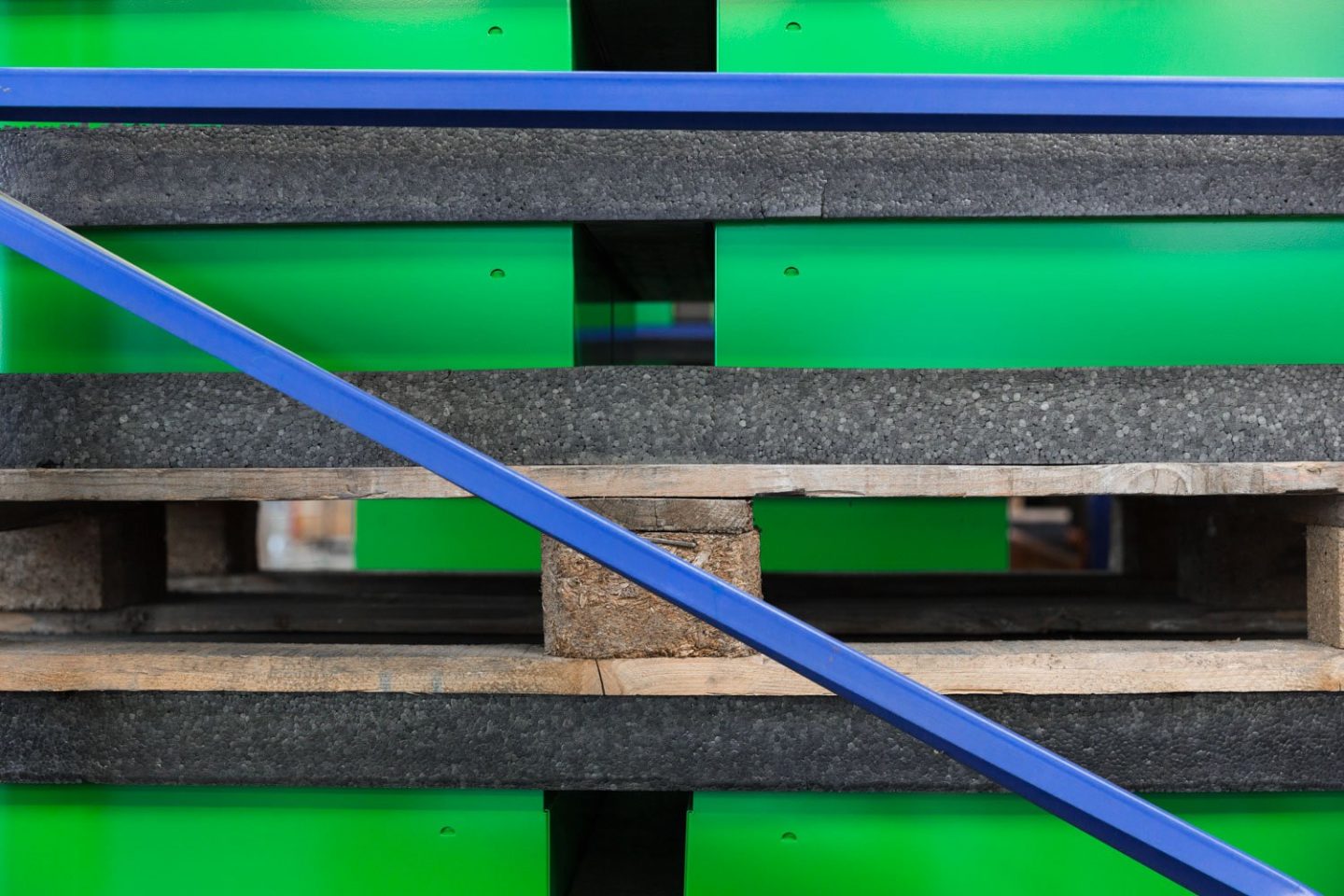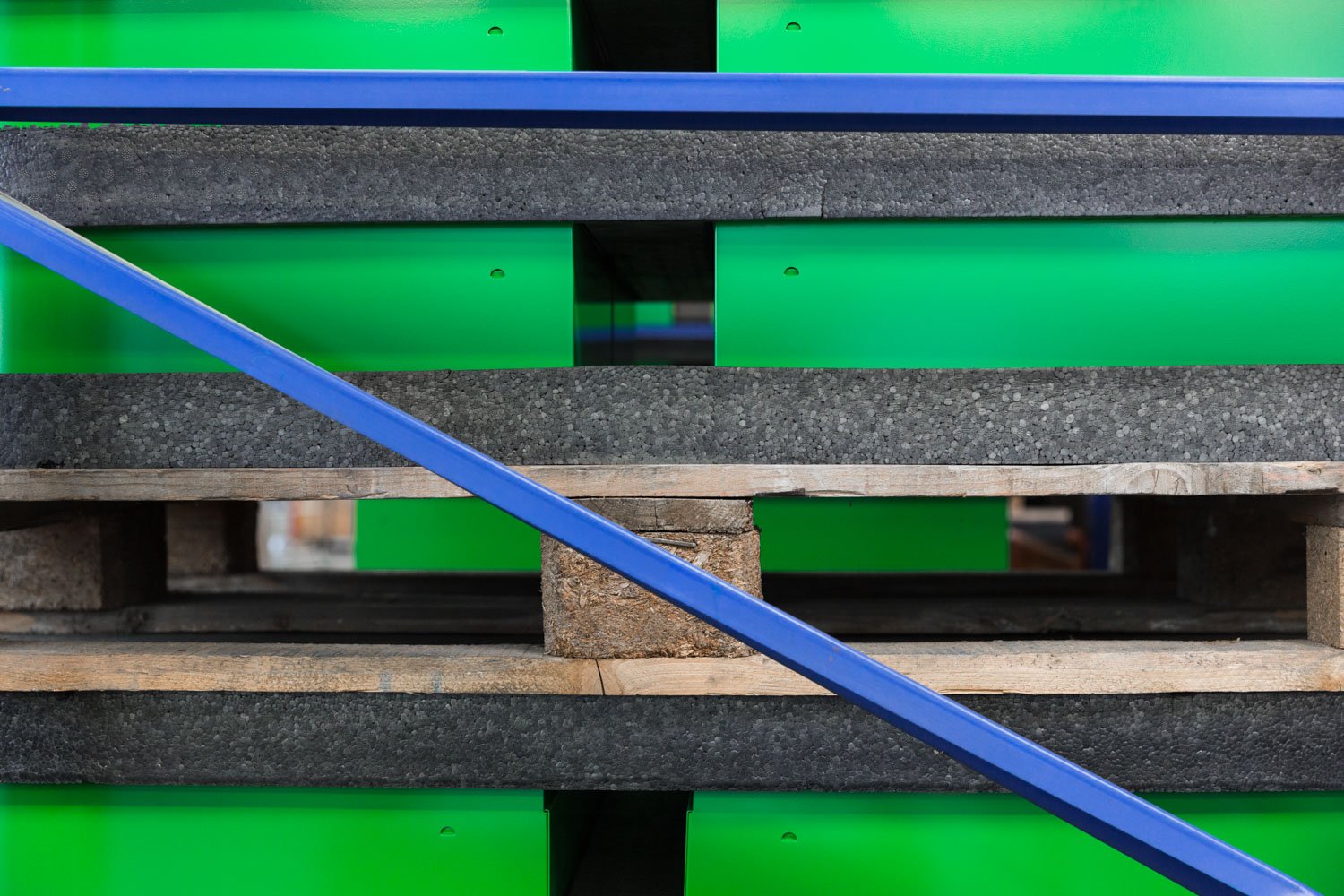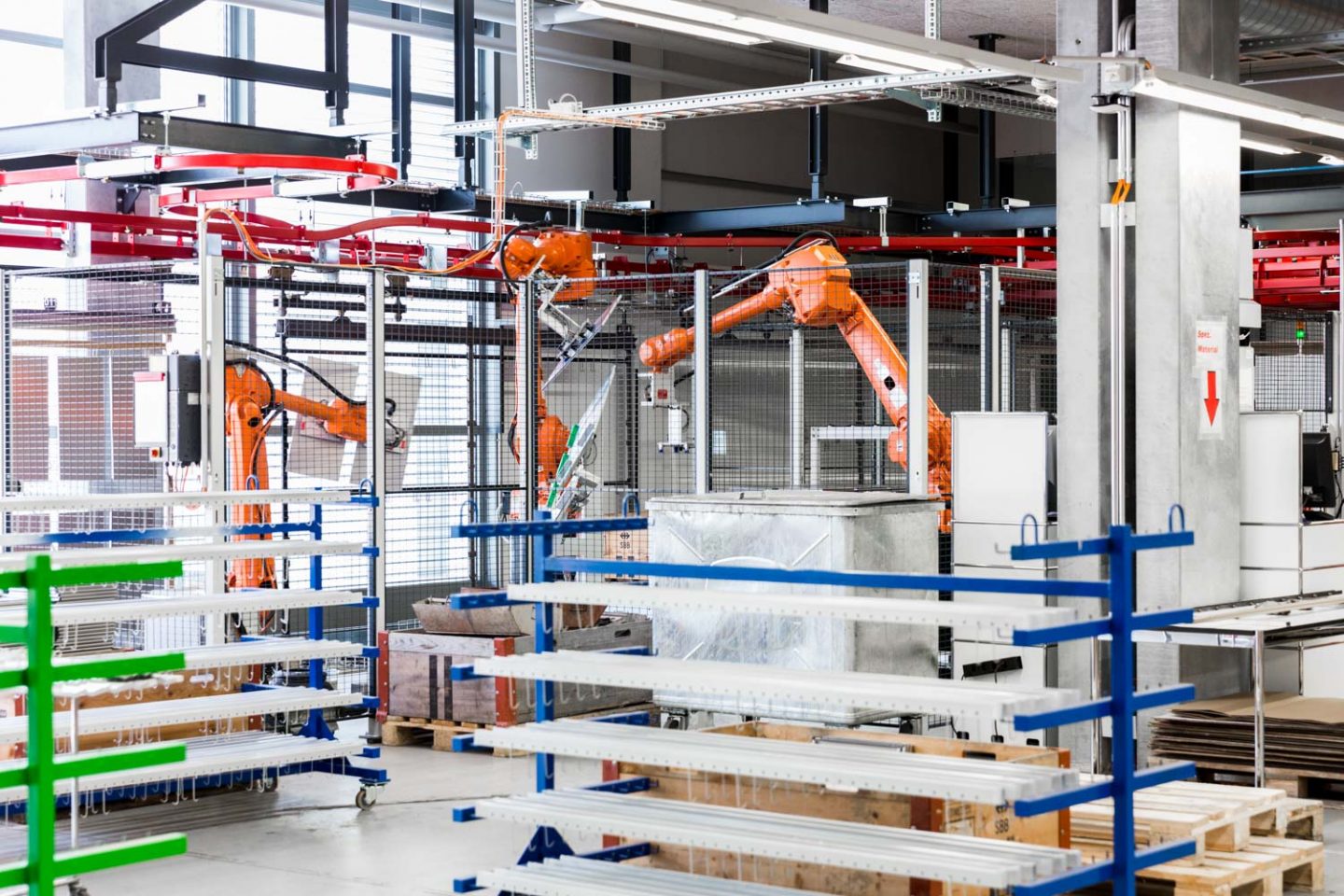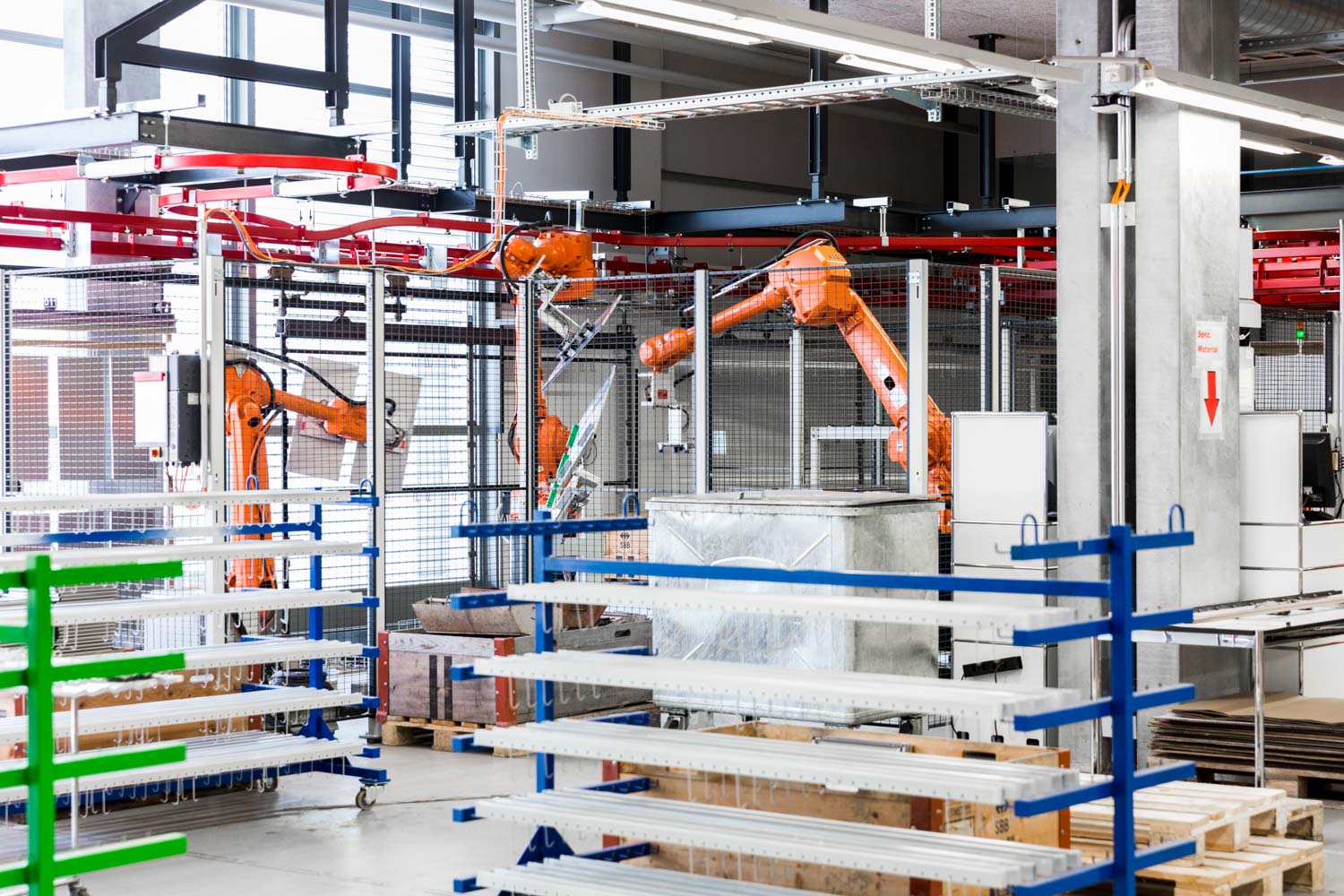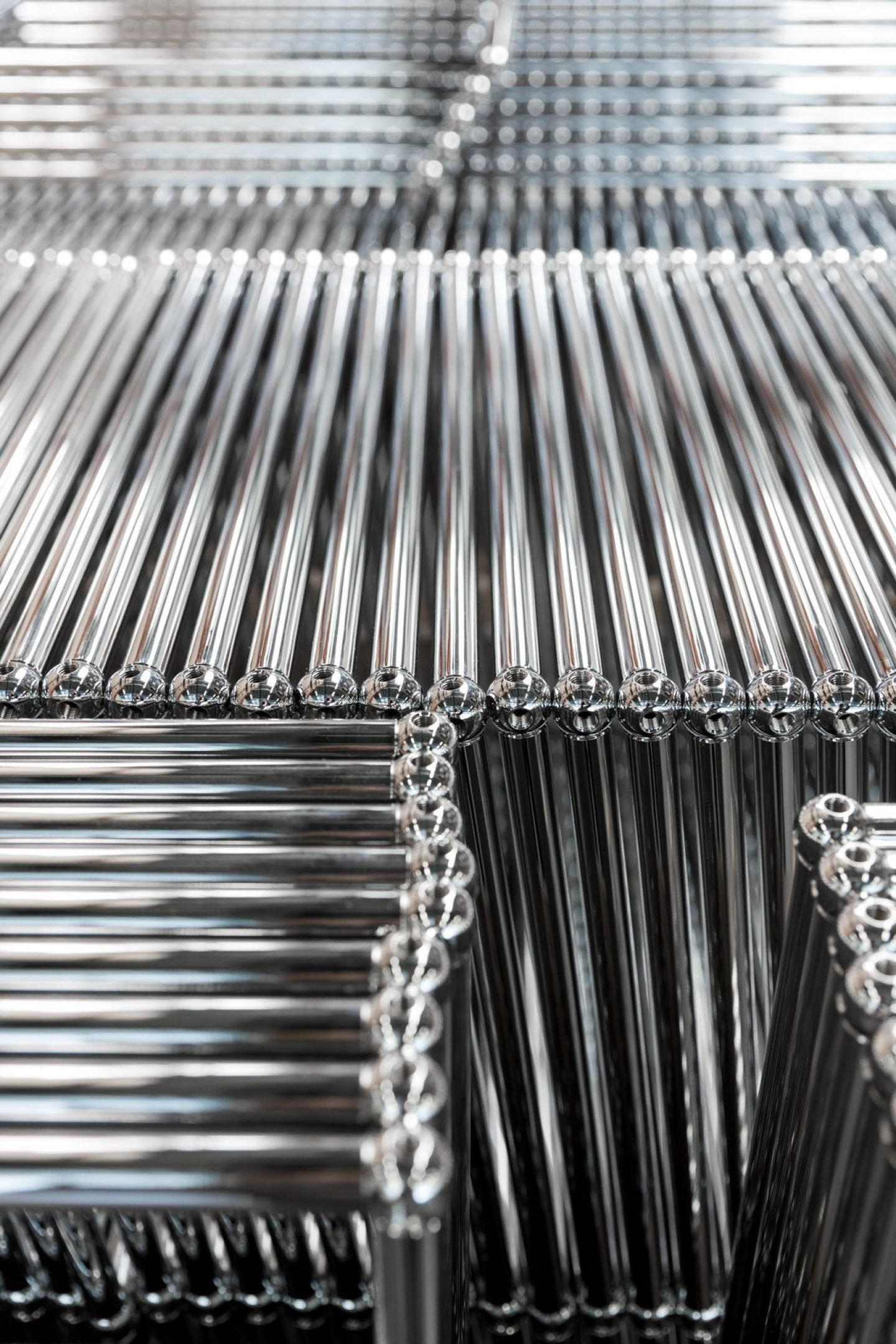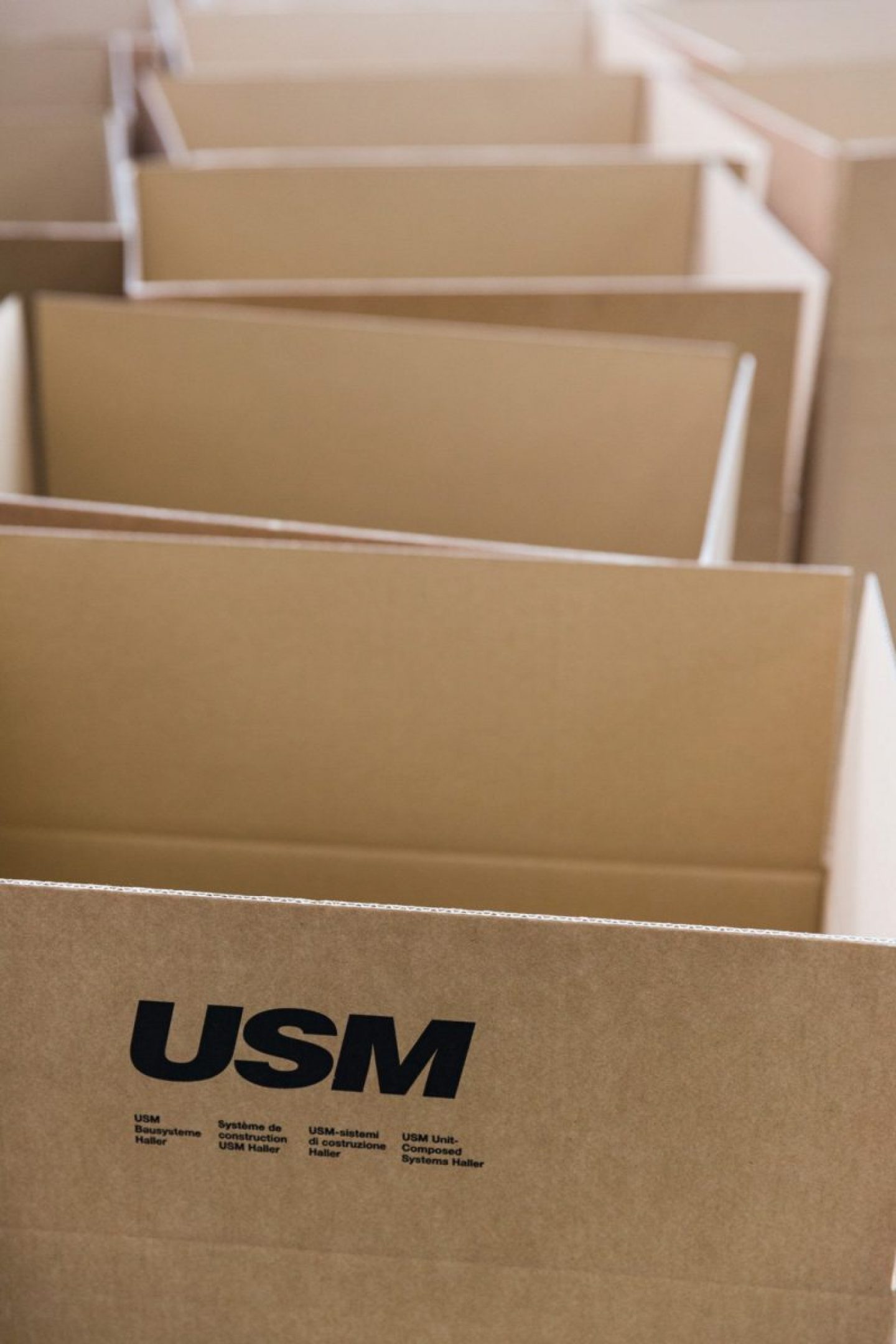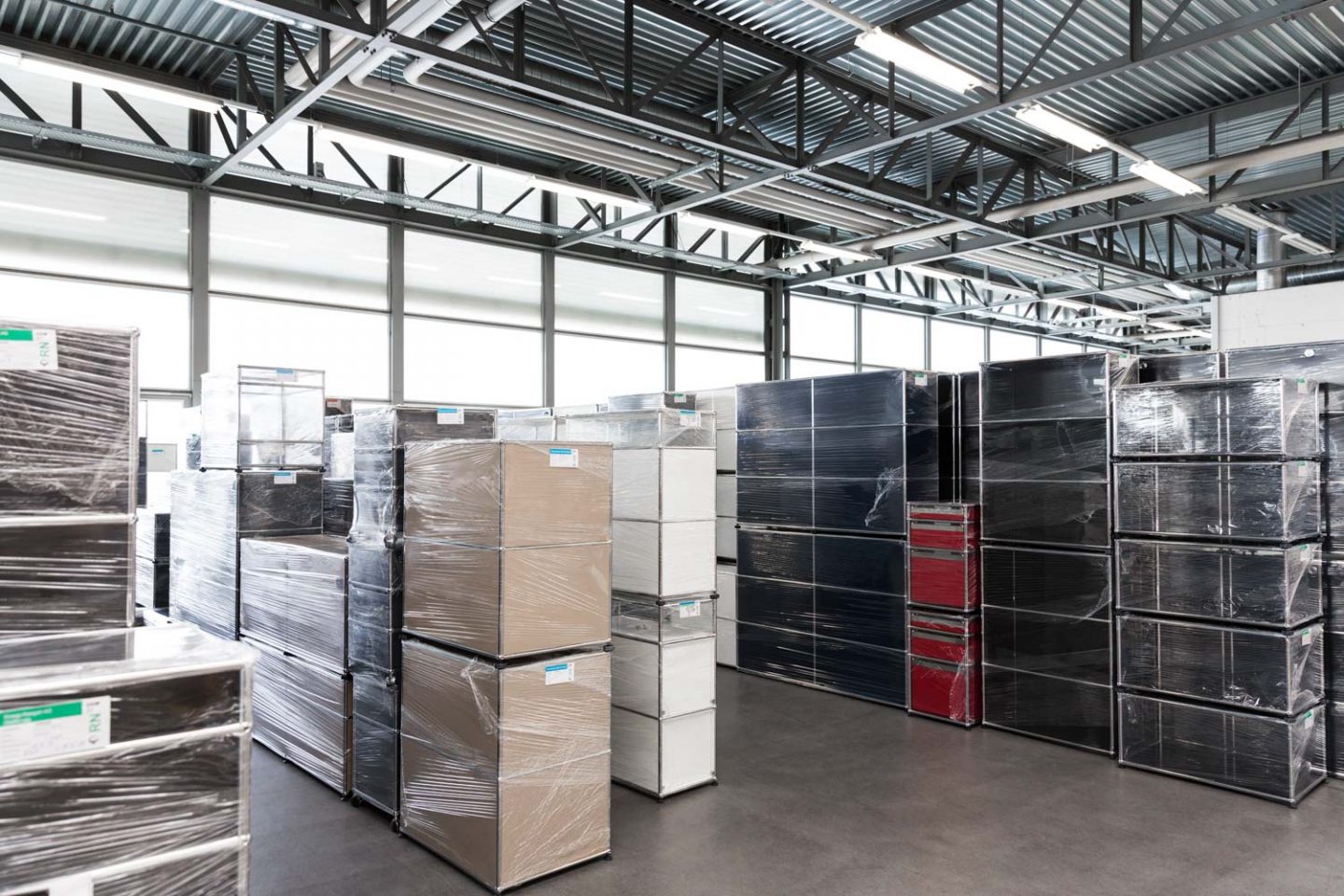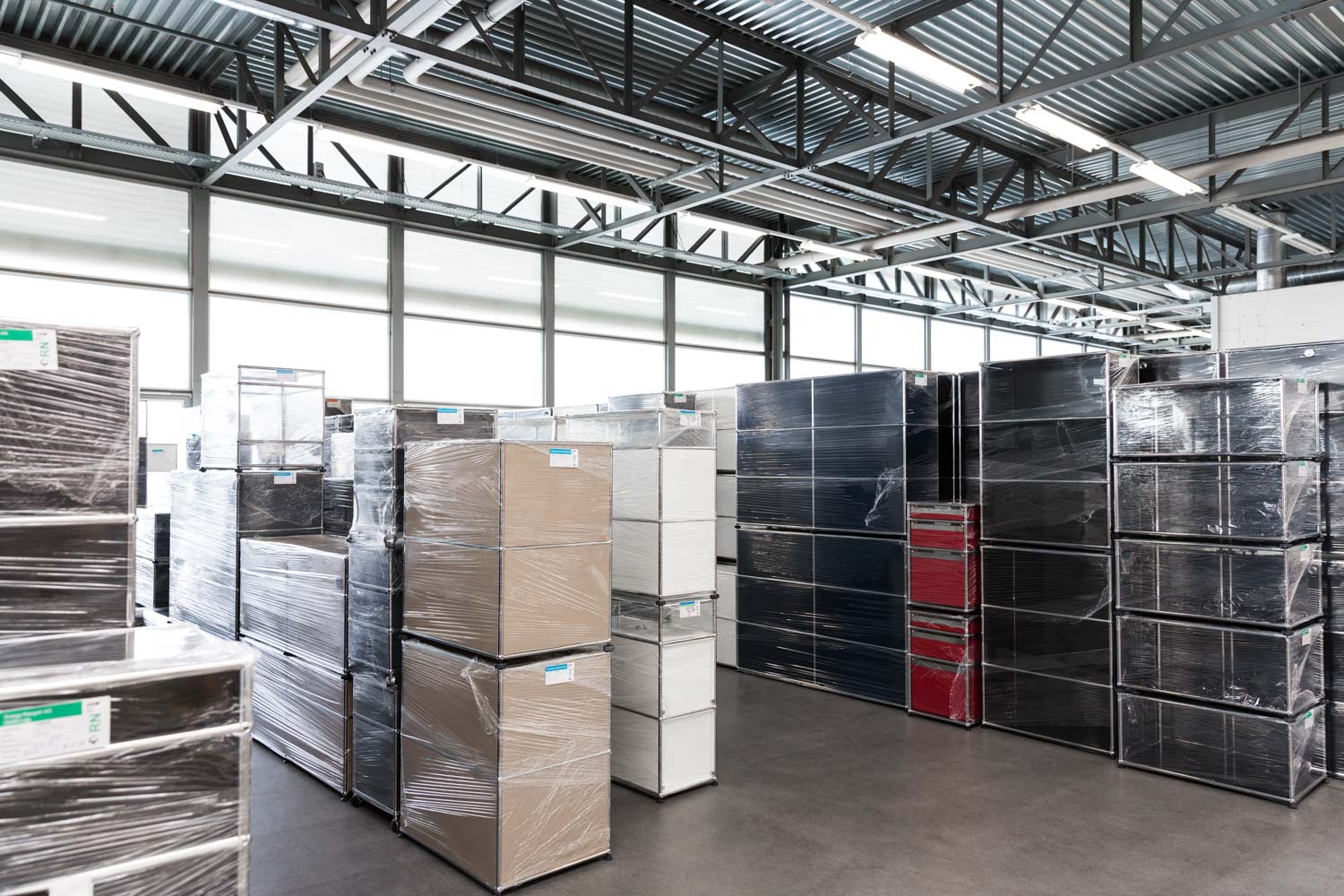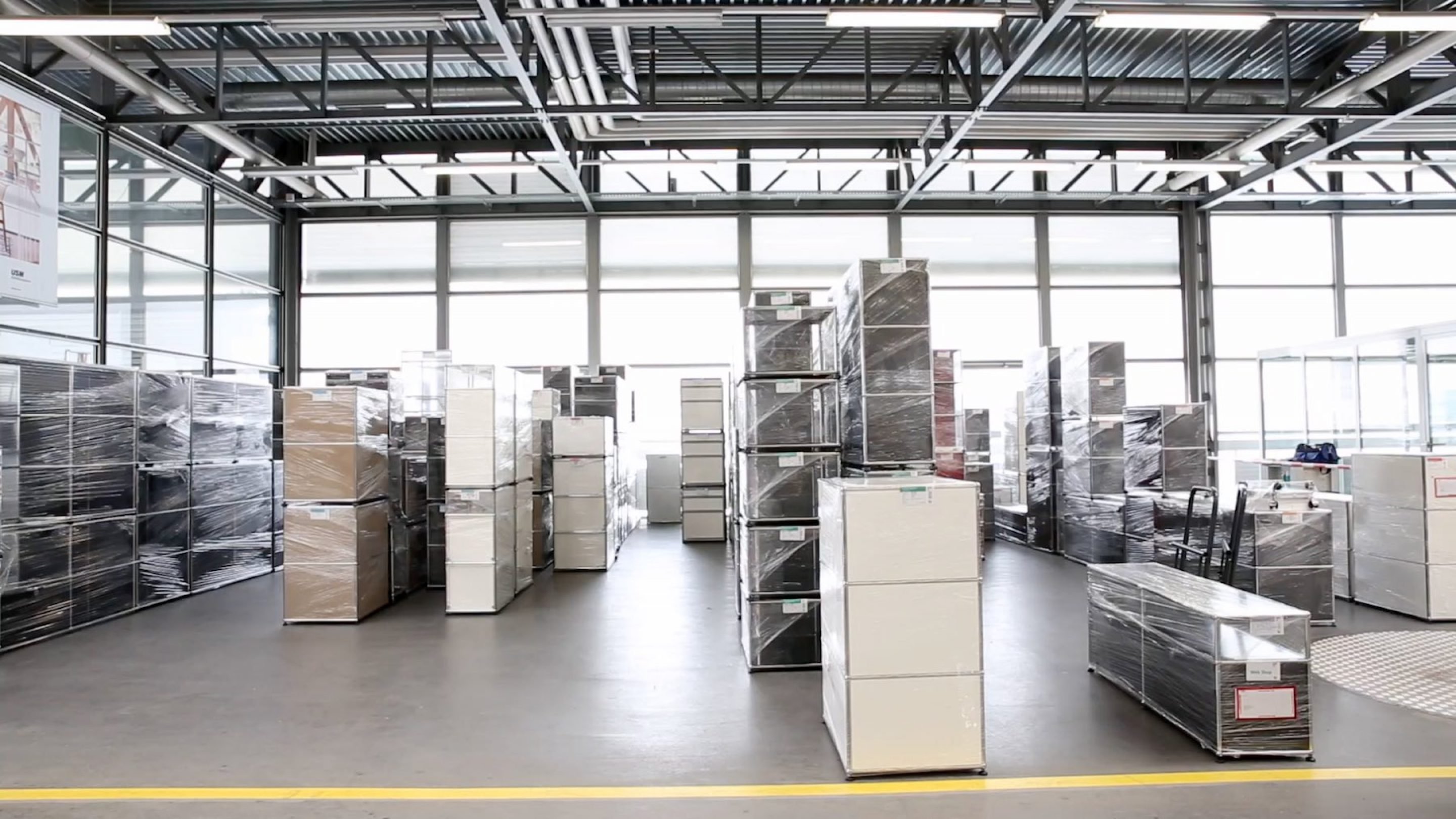 Modular furniture has long since become a bit of a buzzword in the design scene; many have attempted to emulate your concept. How important is modularity for USM and to what extent does it represent the USM brand?
The last part of the question is relatively easy to answer: It's our core philosophy. But I'll start with the first part, because I have to question whether modularity really still counts as a trend. We're always thinking "in which direction is the future of the furniture industry going?" and "what will people require of their space in future?" Today we don't know what the future will bring. I want to contrast this with the individual or customized creations or design pieces that I also find very exciting. But these are usually created for a particular situation and not with the future in mind. When it comes to furniture, modularity allows for changes that we can't yet imagine. And that's precisely why I believe USM, though it's now been in the market for a long time, is a modern system. Over the past 50 years, because it has remained modular, it's very well equipped for the future.
"When it comes to furniture, modularity allows for changes that I can't even imagine"
Before, you mentioned "USM Haller E", the new furniture piece from USM Haller. Could you briefly explain how the design came to be?
This was a case where the desire for the product came from the outside. So there was the impetus to develop further, in this case it was OLED technology. So you look around, see what's happening in other industries and areas. We suddenly discovered a light form which creates a beautiful surface light. So we asked ourselves how we could integrate a functionality like this into our classics. So the question is "how do you integrate electrical power supply into furniture?" It very quickly became clear that there was a need for this, but no-one seemed to have a solution. The discussion took so long—seven years. I'm very lucky, and this is the beauty of USM, because we have very long-term projects, that I am very free in the research stage. I can very freely consider the question "Is there any chance that we can solve this issue on a technical level?" So I'd describe the result [of "USM Haller E"] as nothing more than a few simple, banal pieces that we have lying here on this half table. With the add-ons to the USM Haller building kit system, we have completely new worlds of solutions we can create over and over again. It's still USM Haller, after all.
What was the biggest challenge in the design process?
If you compartmentalize it, then I'd say the USM ball. When it came to electricity, we had very specific requirements. We did not want to work with cables. We wanted to preserve the basic principles of our furniture construction system: So you have modules you can put together to create your world. If there's a cable involved, you're bound by the length of the cable, for example. We also wanted to keep the assembly process the same. We had to separate the connector, when electricity flows through the structure, like the plus and minus poles of a battery. And the USM ball is the most critical element in the design.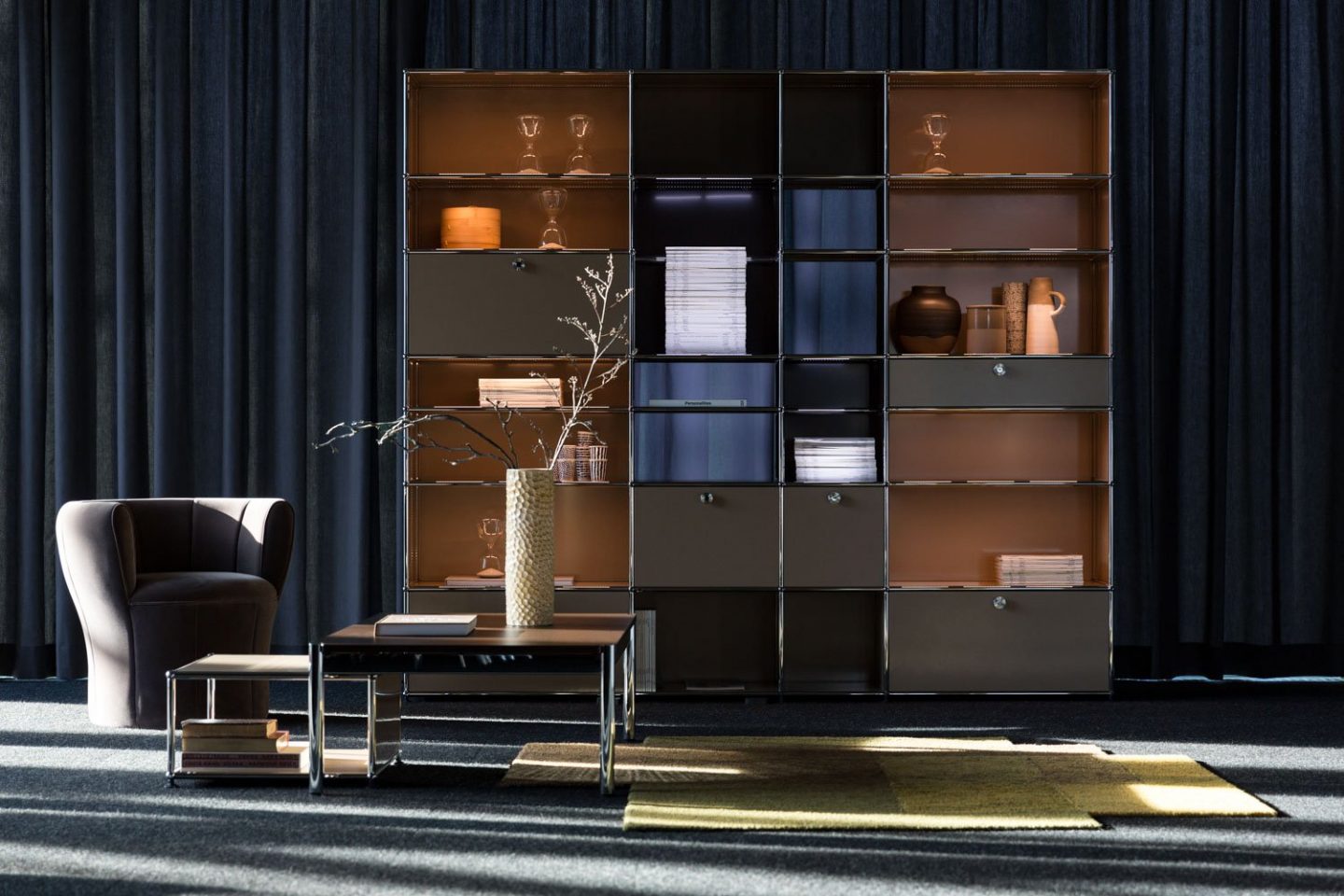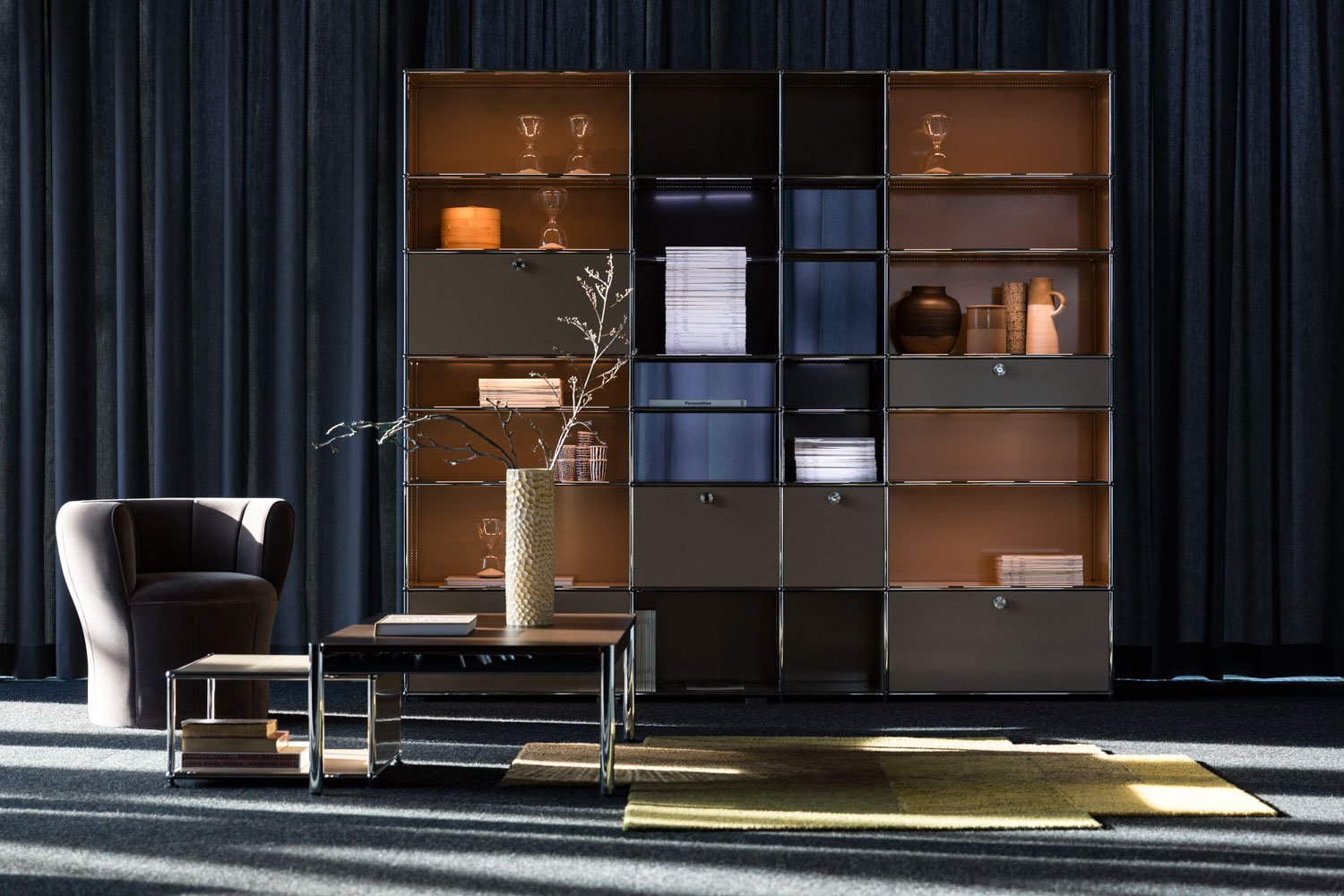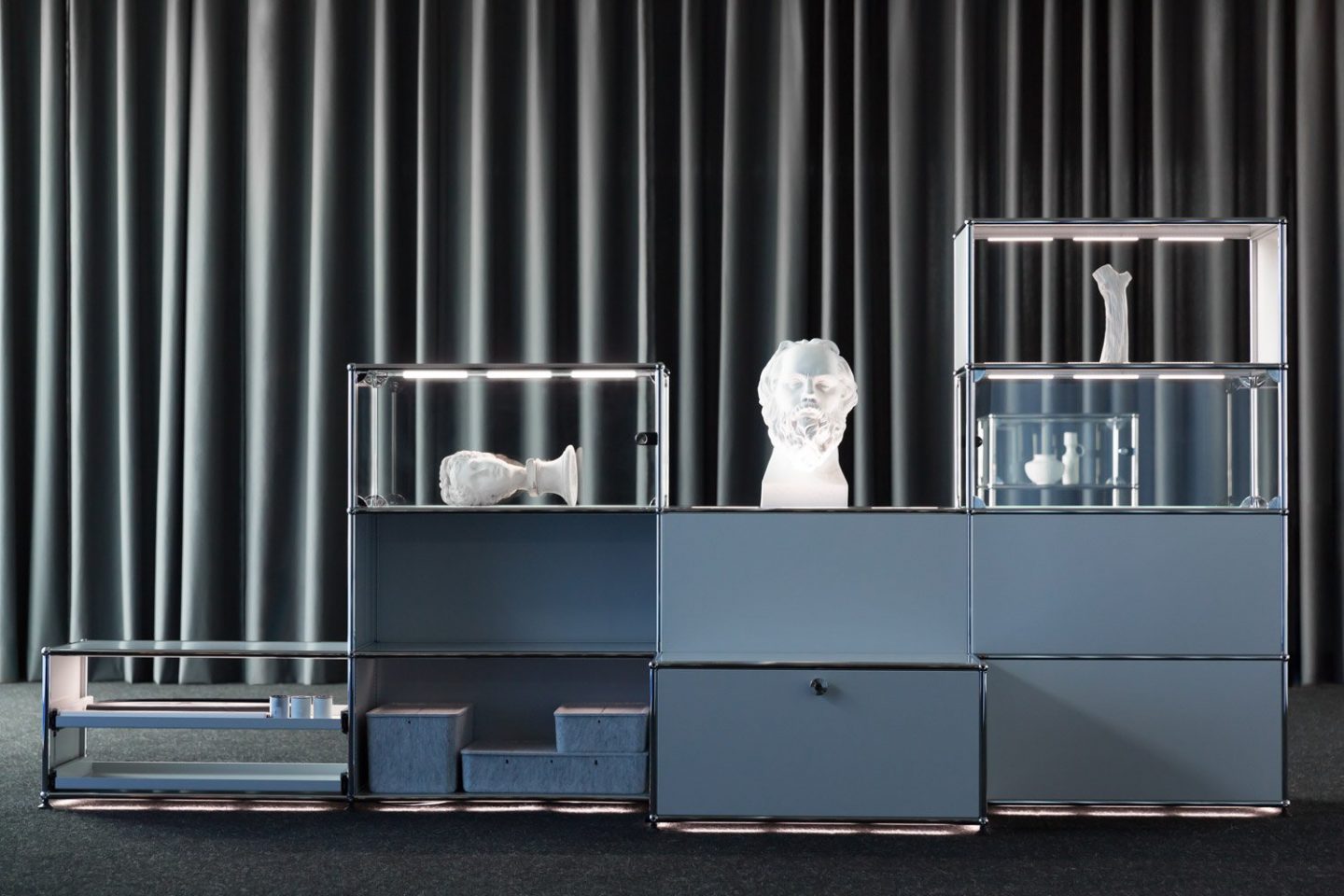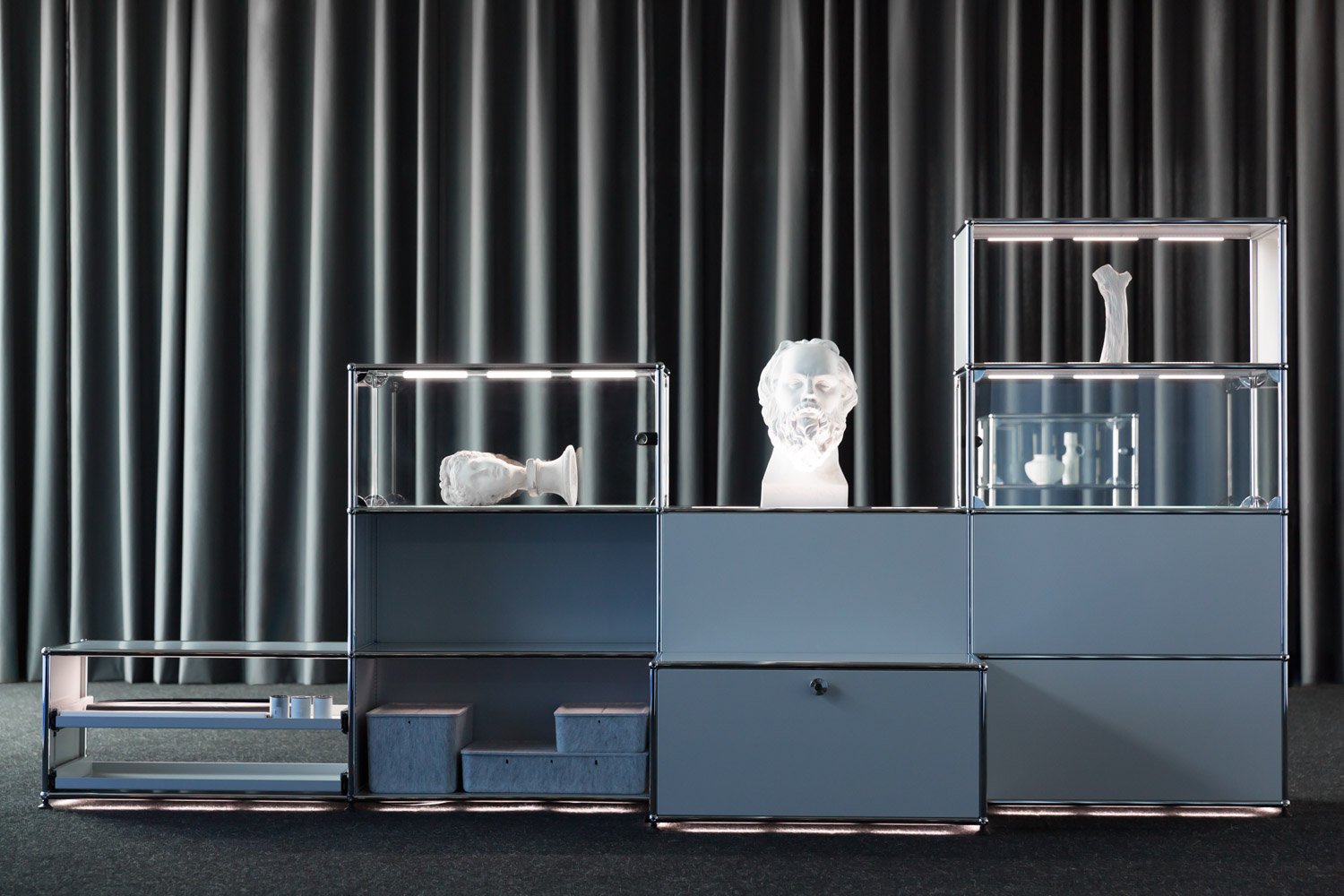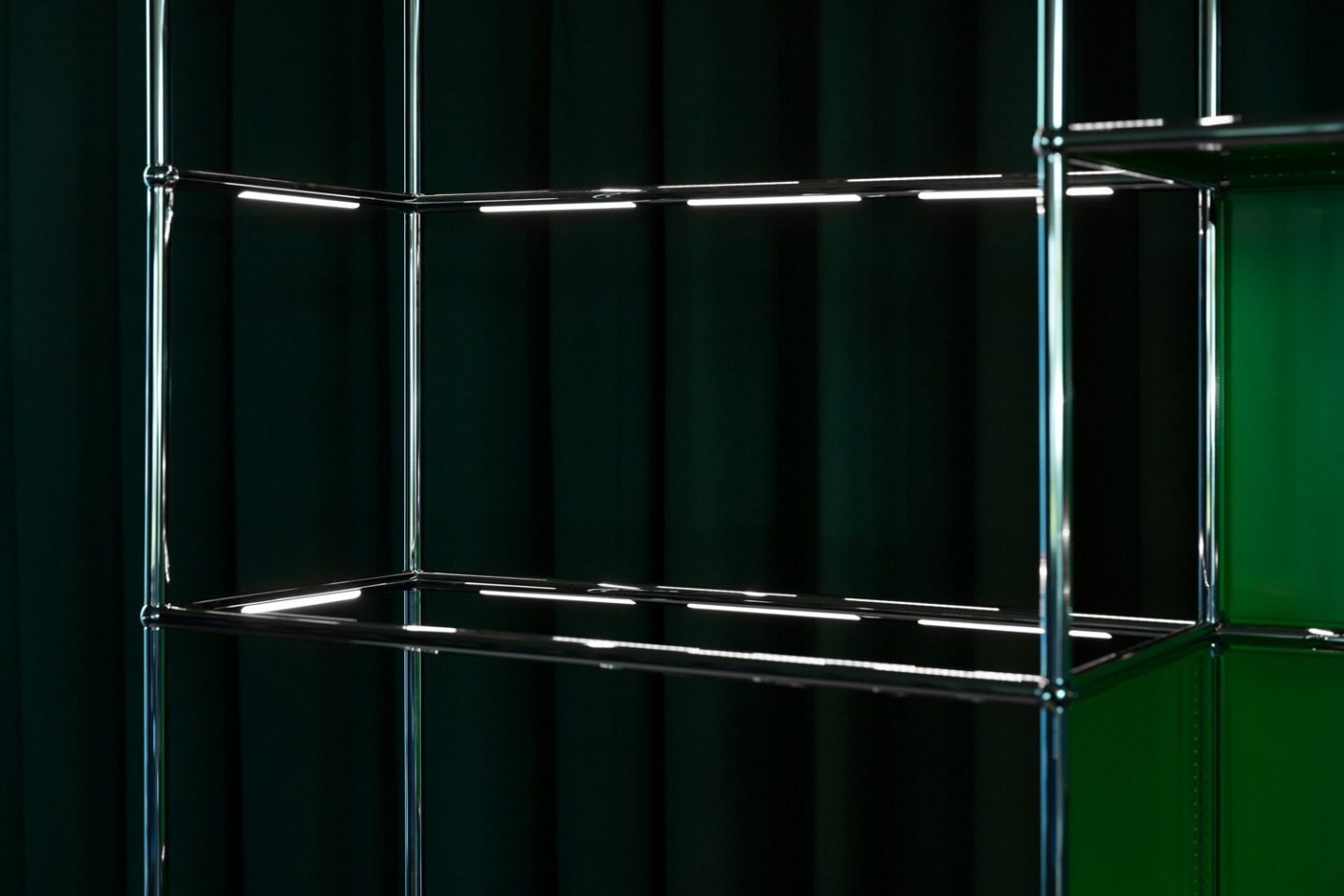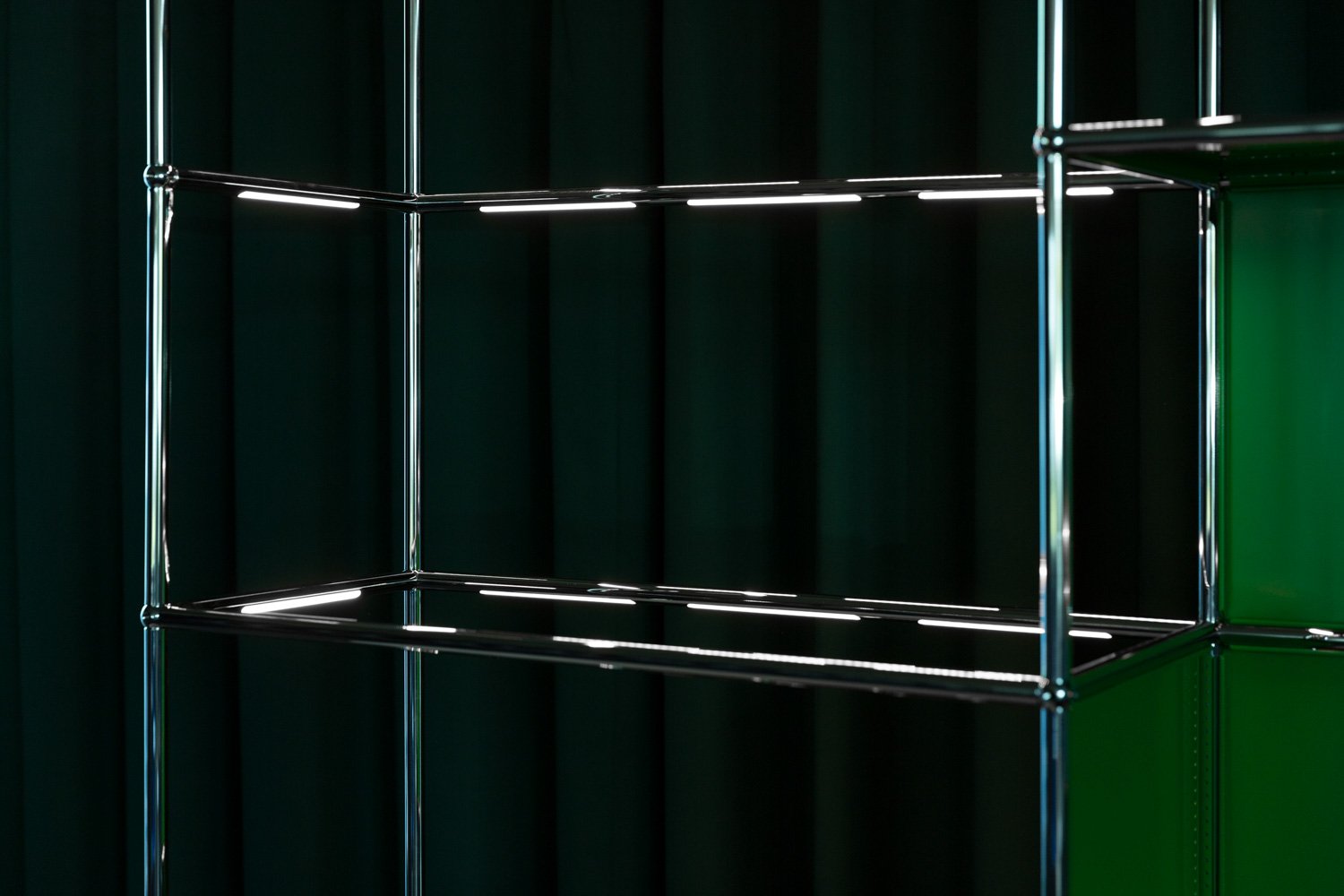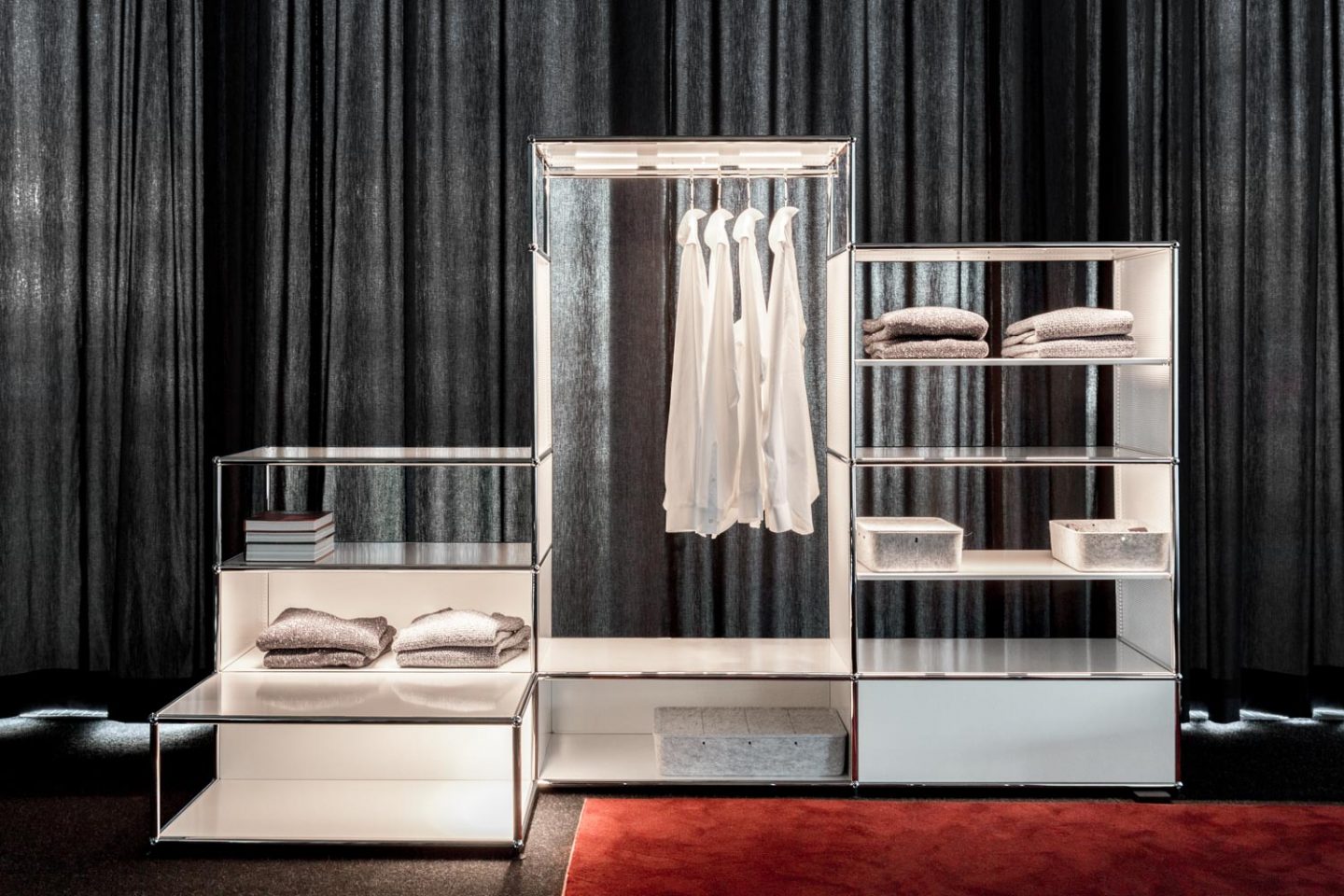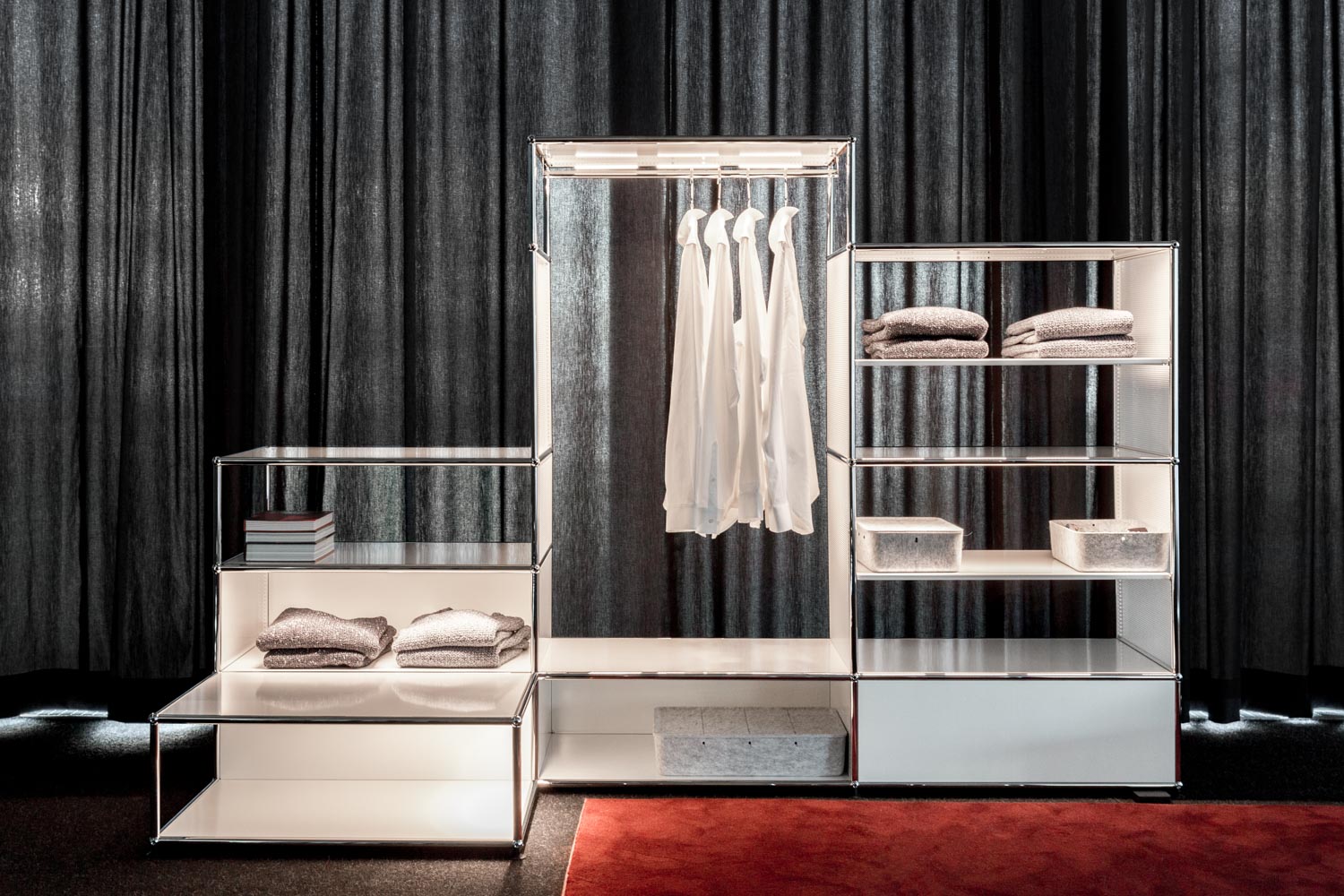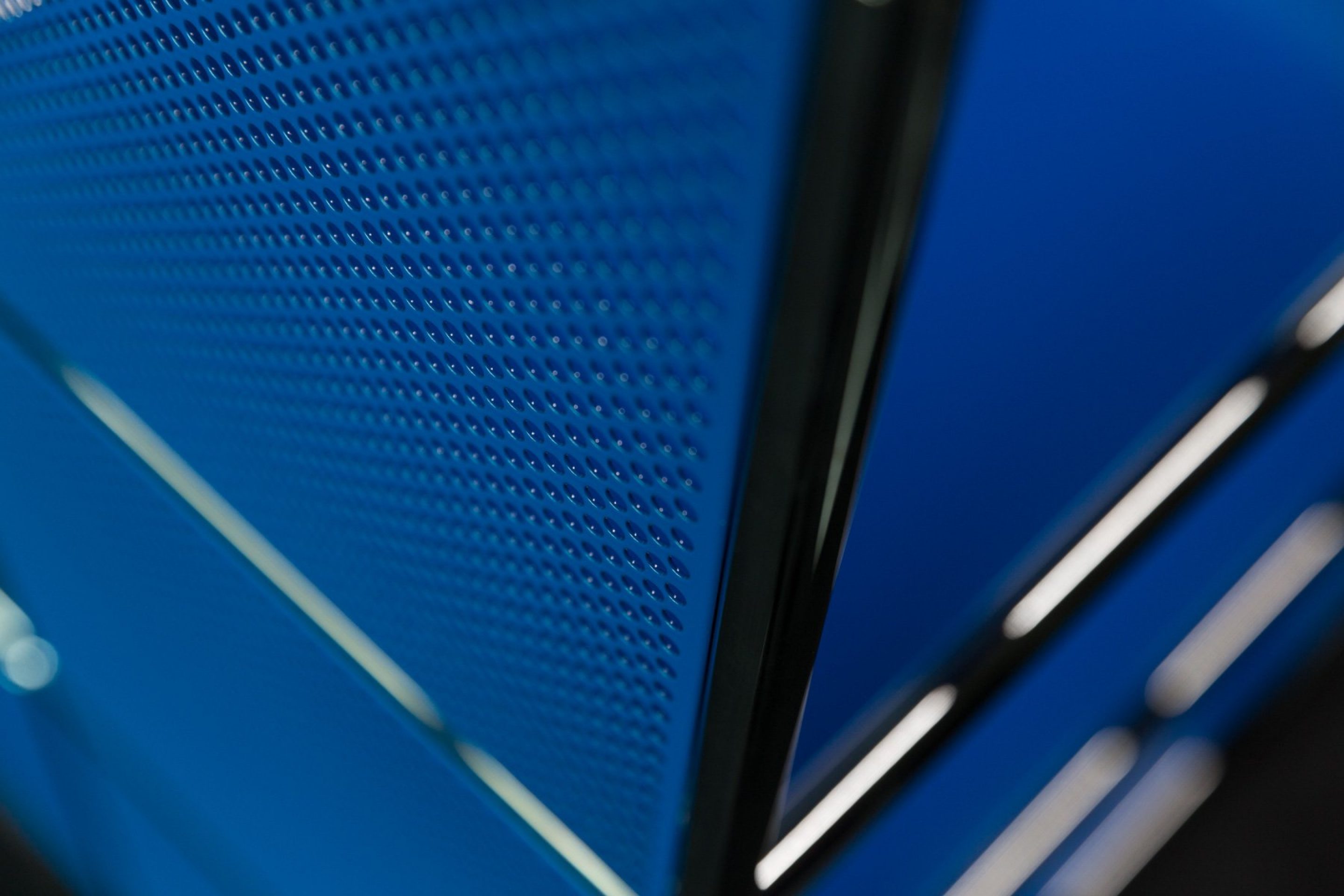 Timelessness is at the core of your brand — an investment in a USM piece is an investment for life. In your opinion, what are the features or qualities that make a design timeless?
"Timeless" is of course a very lofty claim, and whether we'll ever reach it, I can't say. We have achieved it over a period of 52 years, depending on how you view such a length of time. So we must be realistic in our contemplation of time. I think the features we mentioned earlier are to do with timelessness. The philosophy that we first have to create furniture that is functional. And modularity—that's not something you can build from one day to the next: You have to develop it over a long period of time. Yes, of course quality is inherent in our designs. It's a principle that's very closely linked with us.