A constant stream of images depicting immaculately styled stores and apartments would have us believe that impeccable taste is effortless—and still somewhat inaccessible.
Yet for the collectors and creatives who dream high and put together the spaces we drool over, the formula is not magic. Instead, it seems to consist of a combination of dedicated research, applied passion and an endless process of discovery. One notable connoisseur in this field is Emmanuel de Bayser, collector and founder of luxury department store, The Corner. We were lucky enough to have the rare opportunity to visit de Bayser in his exquisite midcentury apartment, located in a 19th century building at Gendarmenmarkt in Berlin. There, surrounded by luscious textures, considered furniture pairings and an enviable selection of art pieces, he filled us in on the triumphs and tribulations of the collecting process, the concept behind The Corner, and what's currently keeping him inspired.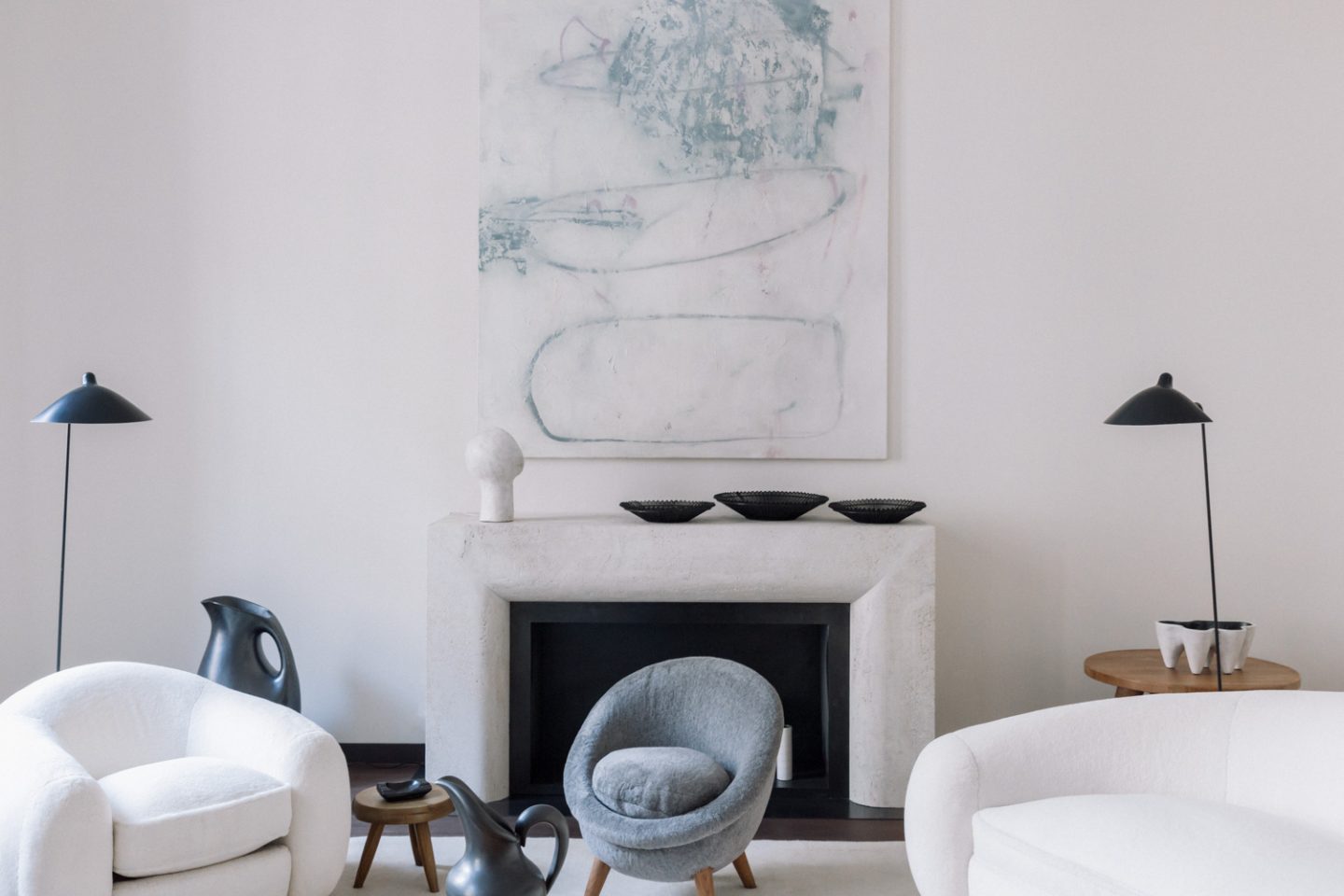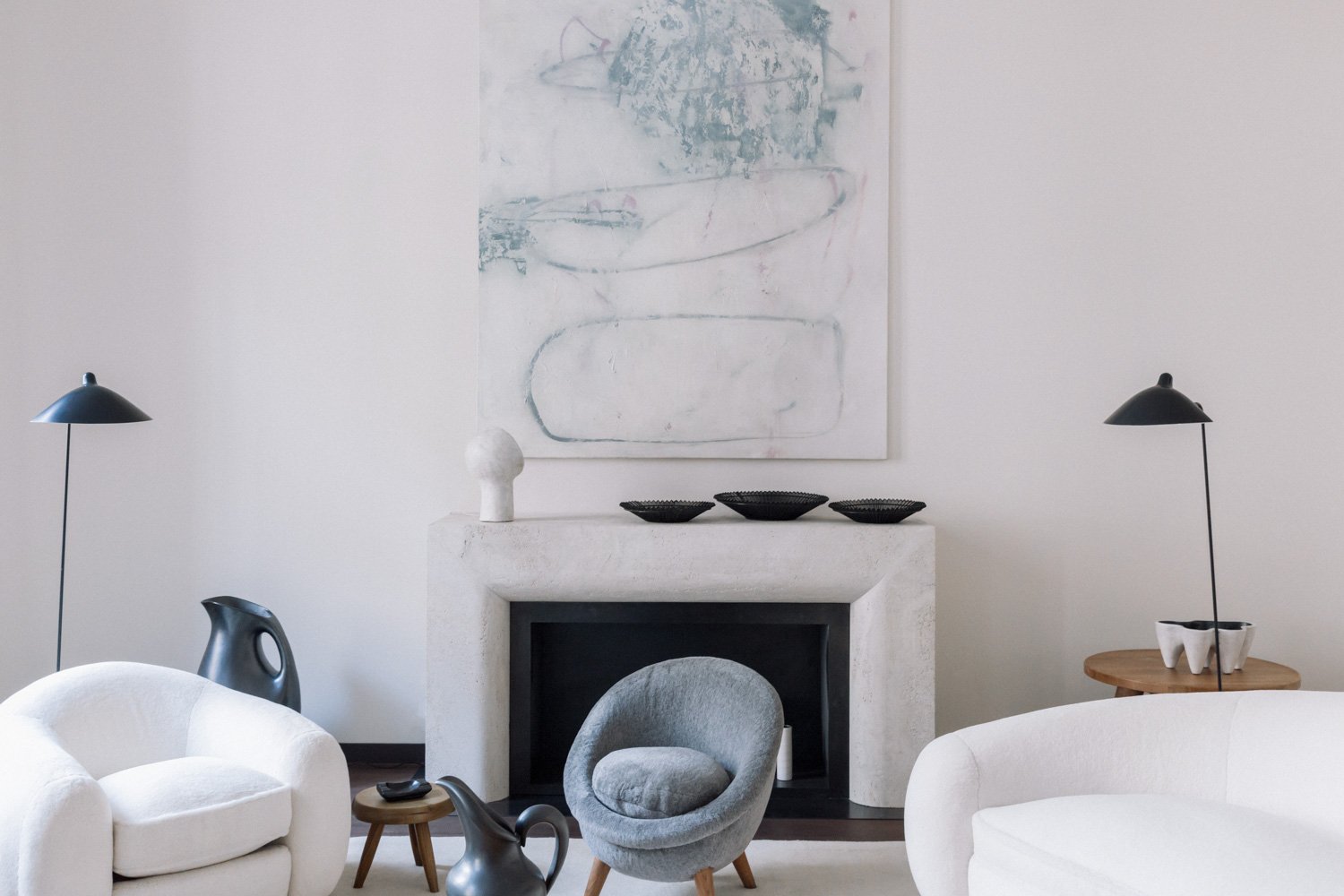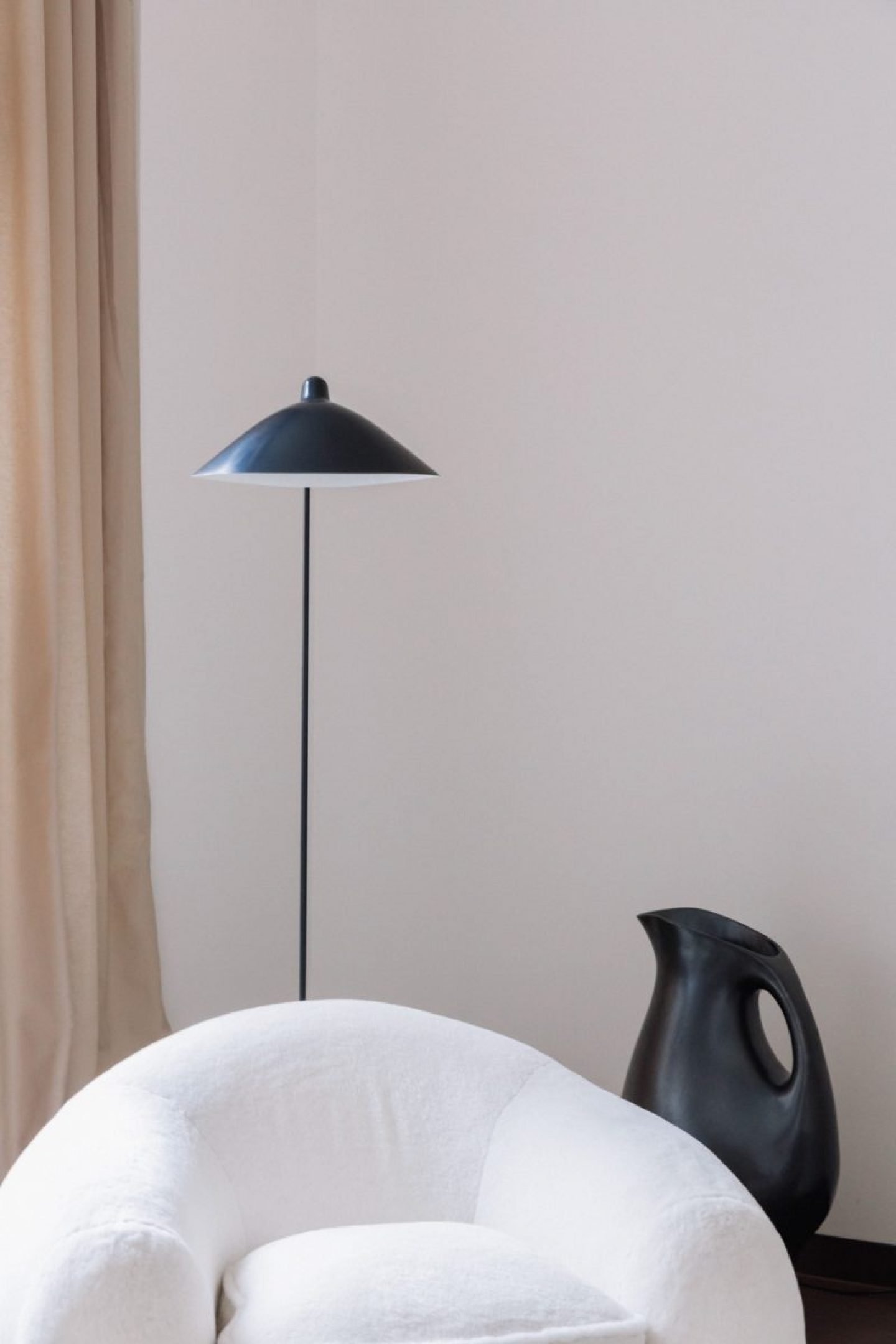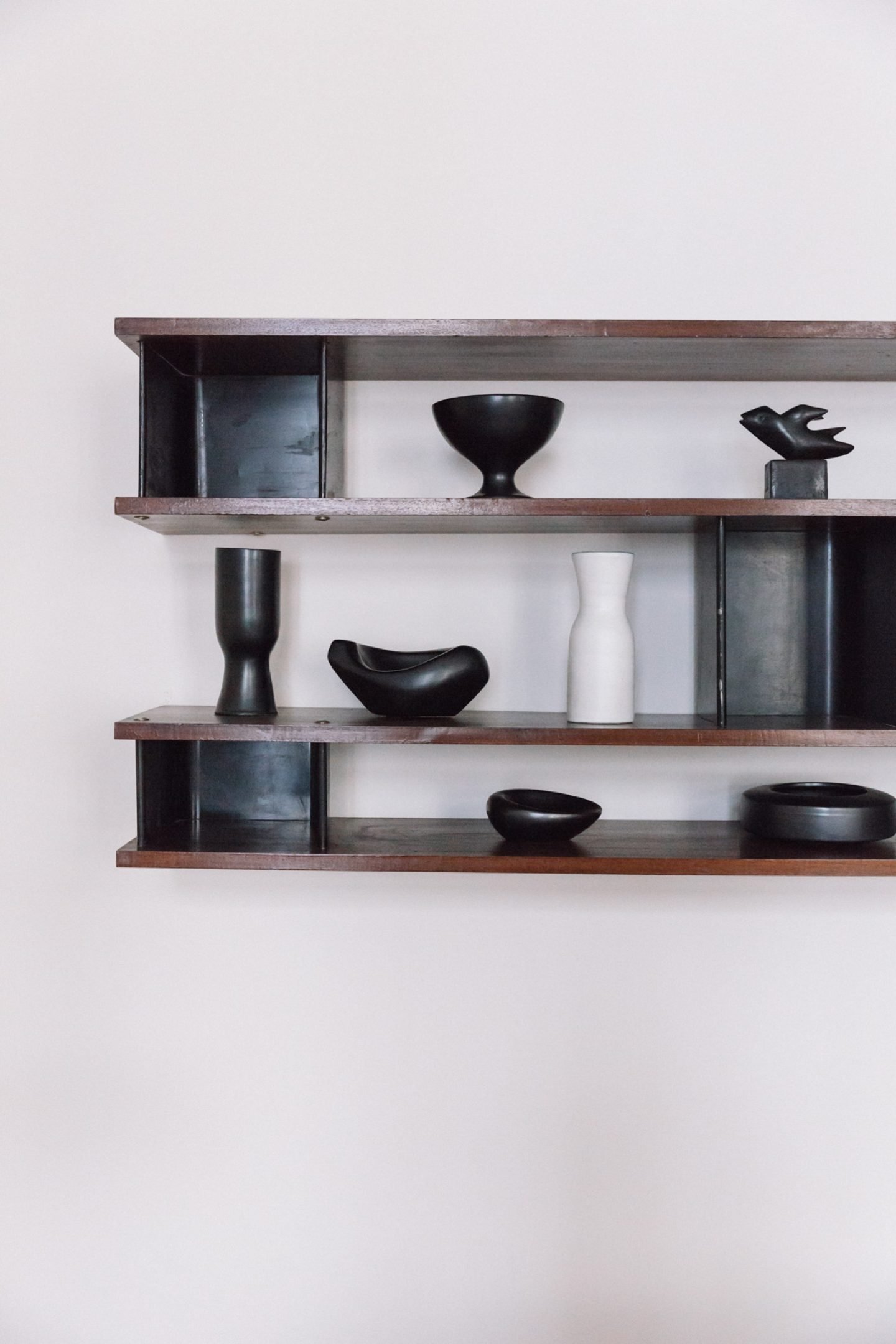 Have you always had a particular affinity to design?
Yes, I'd say so. I inherited an interest in aesthetics from my family. I was always surrounded by art on my father's side and also on my mother's. One of my grandfathers ran an art gallery dedicated to the drawings of old masters in Paris. The other one was constantly dealing with paintings, objects, furniture—mainly 18th century. My great-grandfatherr, George Desvallieres was a very well know symbolist painter from the beginning of the XXth century. There was an exhibition of his work in Paris at the Petit Palais last year.
Regarding interiors, they were more into the golden age of french classic interiors. So in my childhood I was surrounded mainly by 18th century furniture. I went in a different direction, one that felt right for me and fits with my identity. That'd be the '40s until the '70s. I started to buy things very early on—when I was only 20—American designers like Eames and Nelson—for me, those were the exotic things, as I'm French.
It was interesting, because at that time you could really find things from 25 years earlier, there wasn't really a demand for it. And then around 15 years ago, it was all about French design, a bit of Italian design, and also Scandinavian. I've been collecting for 25 years now, and have always lived with my things. I don't acquire things to put them in storage and treat them like an investment. I buy certain things that I can live with, and some of those are investment pieces, because they came at a certain price, but at least I can enjoy them every day. Things like ceramics, I love them. After work or early in the morning I wake up and am surrounded by beautiful things. That makes me happy—it's what keeps me breathing. "I've been collecting for 25 years now, and have always lived with my things."
And why the attraction to American design?
When I started collecting American design from the '50s: Eames, Nelson, Alexander Girard, Knoll. I really liked the cool modern vibe of '50s California. It felt really fresh even though it was vintage. The first set that I bought was from Florence Knoll—and it is still there in our store in the shoe section, by the way. And that's how it began. You pick up an interest in a designer, learn what he or she has created and find out with whom they worked with. Eames was part of that crowd too, in Los Angeles—Eames and Nelson and their whole group came from L.A. And then one thing leads to another. I find that a really interesting aspect of collecting—you read about a designer and then find out they were working at the same time with another designer, and that their work fits together well, and then it all develops from there. Totally organically—so you have to have a passion for it. Everything to do with aesthetics, you need a passion for, otherwise, it is too shallow. You have to be able to have fun with what you're doing. Being spontaneous is also important. But ultimately, passion is everything. Research, visiting galleries, following online auctions—it can take a lot of time and money if you're not careful.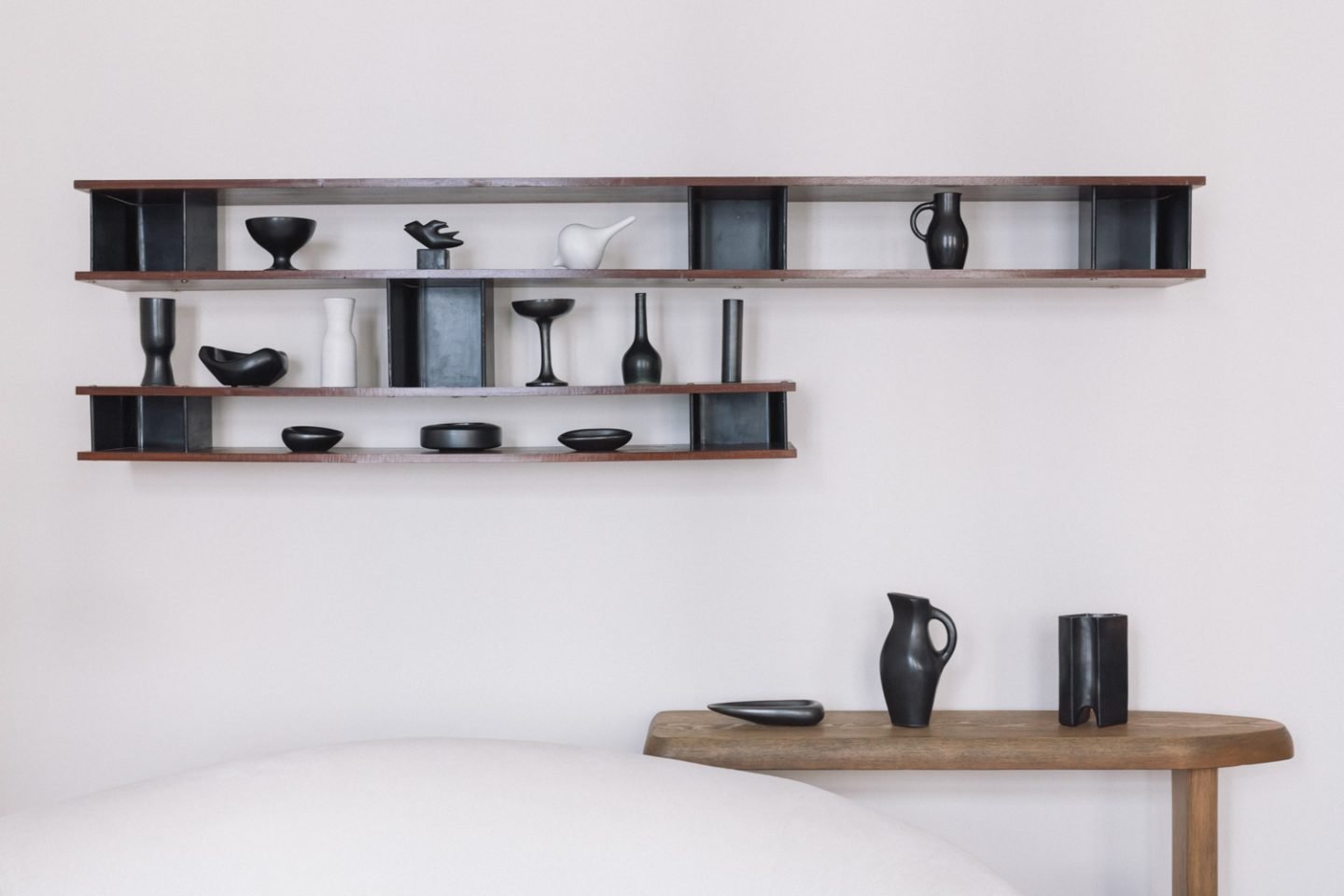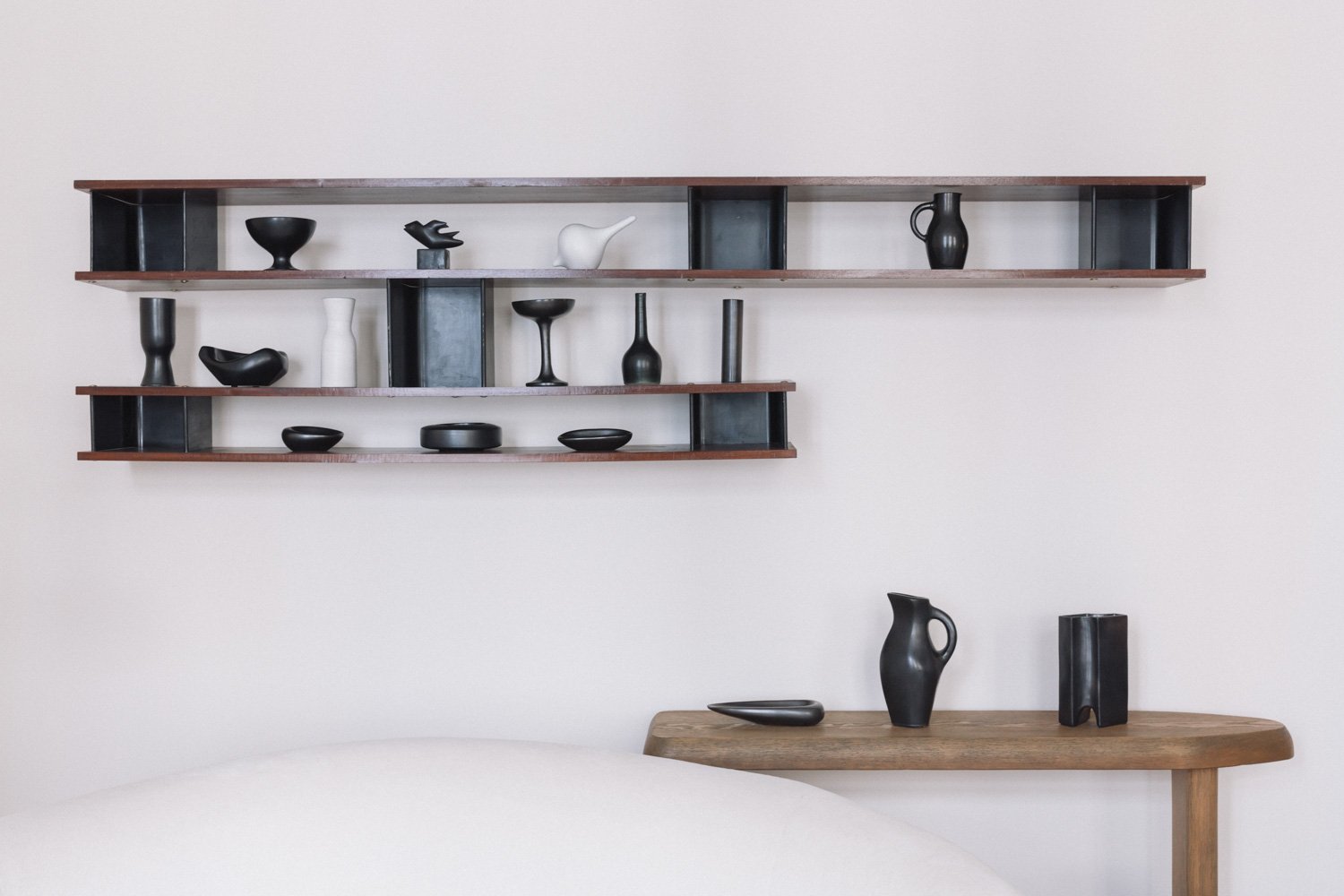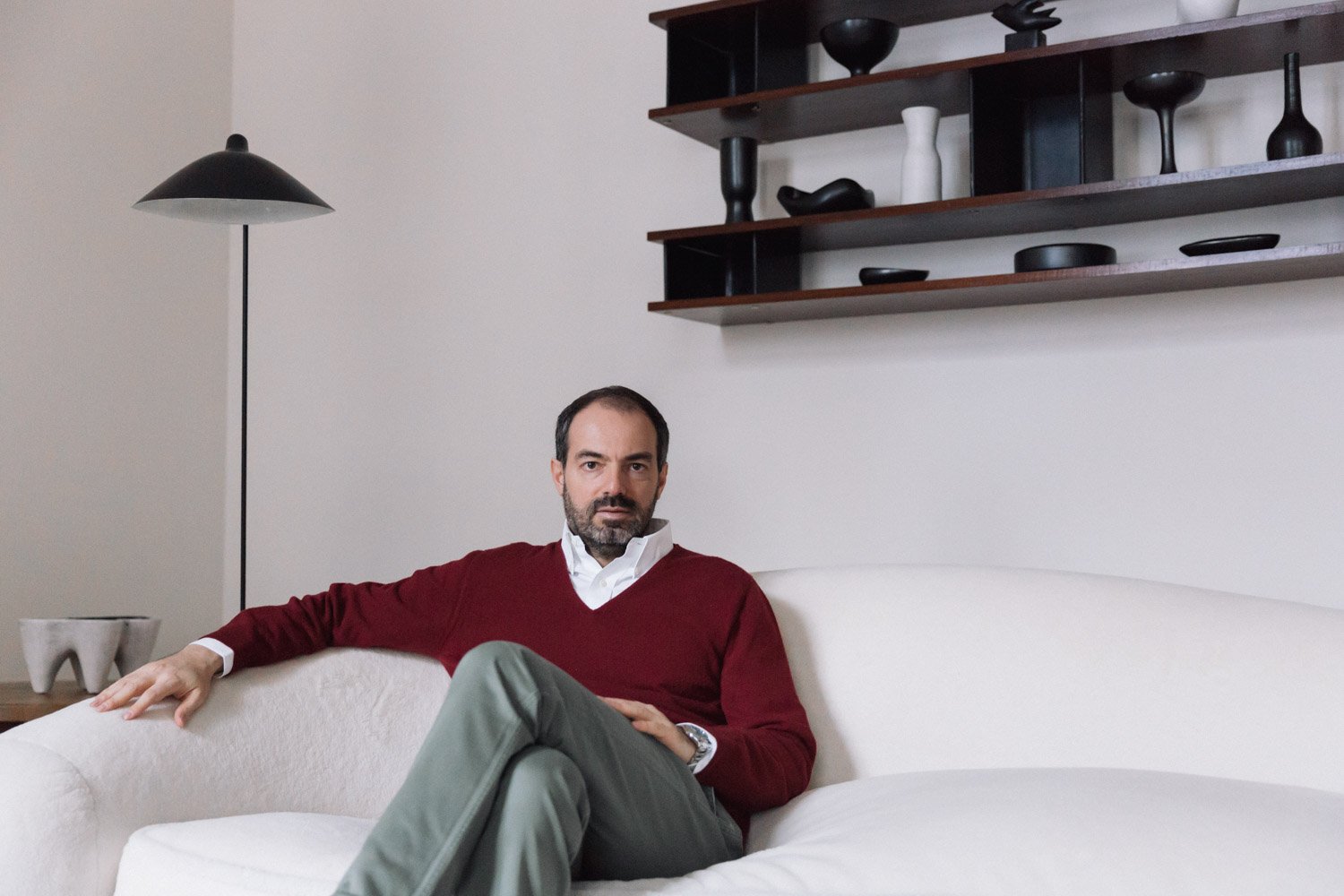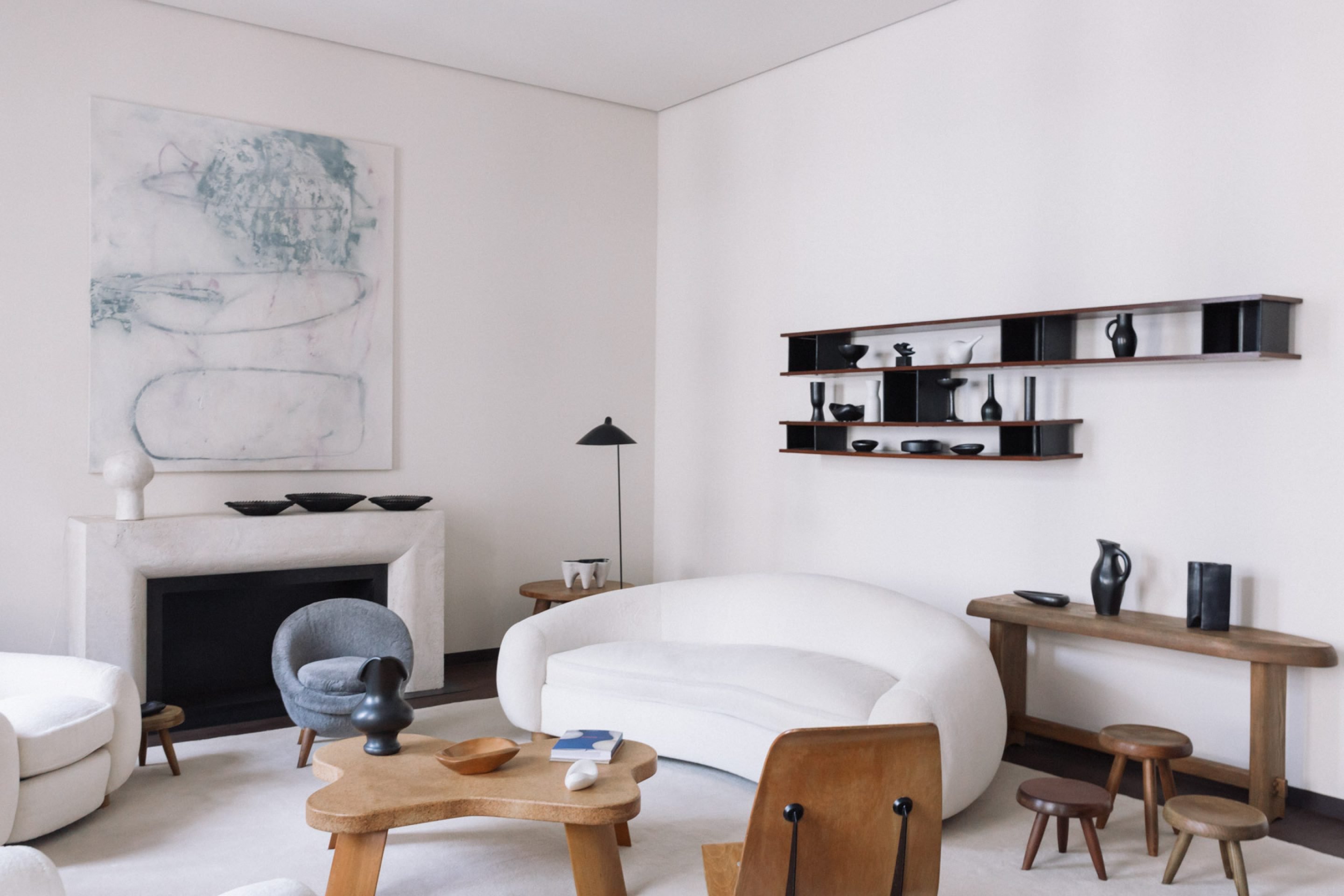 Do you collect particular books or magazines?
Lots of books which are very useful if you collect. That is where you get the first information. Then of course you have to train your eye by looking precisely at pieces in real life. And now online. You have to watch out though with online. Nothing better than the real life experience of objects. I've been doing this for 25 years now so I think you could say I'm hopefully a bit of an expert.
And do you have tips on buying books?
"I started with books that were quite general, for example about American design of the 1950s"Sure. The main thing is to follow your instinct. I started with books that were quite general, for example about American design of the 1950s, or interior books that showcase a lot of different apartments of this style, because I love the variety of atmospheres they include. But then for collectors and researchers, you have to go for more serious books like monographs are. That is where you get more precise information that is crucial if you collect seriously. But at the end I like to mix them with other kinds of books to keep things interesting. Art books, cooking books, books about gardens etc…
Do you find particular elements or patterns that keep resurfacing?
Yes, for sure—there are things and combinations that I really like and that you will find in the different apartments that I did. I have an apartment in Paris which is often photographed, and people tend to recognize it's style with the one in Berlin—it's a kind of signature. But then I try to keep developing myself, and to mix things up a bit so that I am not stuck in one kind of style or aesthetics. For example, I don't currently have any flowers, though last week I wanted flowers and added them in. I like to try different things and see if they work. Certain formulas work in certain seasons. Things tend to go wrong when you stick to the same formula all the time. I believe in the creative process of constant questioning. That doesn't mean you have to change everything at once, but one or two tweaks can be fun. Next year I'm doing a little chalet in the mountains. That's going to be something else.
Your style is generally pared back, with a few color accents…
Yes, that's my thing. When I started out I wasn't so into color. I tended to use masculine tones, quite minimal with black, white and beige. But now I'm enjoying color more and more—maybe that also has to do with the influence of fashion, because when we opened 10 years ago 80% of the store was black with a bit of white. And now it's 10% black with a lot of color and pattern. Color done right is wonderful. I work with contrast a lot, for which color is important—black on black is hard to see. It's also really important to use different materials—I'm starting to use a mixture of wood, ceramics and metal. I'm a big fan of that combination.
How would you describe your research process?
I like to buy things for which I already have an idea of where I can place them. Or if I love the object, I just have to find a place for it. That's really tricky, because sometimes you try it and it just doesn't work. Then you just have to say, 'OK, I know I love it but it's not going to fit'. I had an amazing Prouvé table which I didn't buy and now I really regret it, because it sold so well at auction. But that's another story. I loved the table so much and had it standing there for two or three weeks. I tried to make it work, but it just didn't, so I gave it back. Sometimes you have to be a little bit sensible.
Do you research online or do you have your favorite stores?
I know where to look for things. I do research online, yes. Prices, auctions, everything. Then I also ask in galleries, or for the opinions of people. I have my contacts—collectors and all. Sometimes it takes two, three or even six months. But usually, I succeed.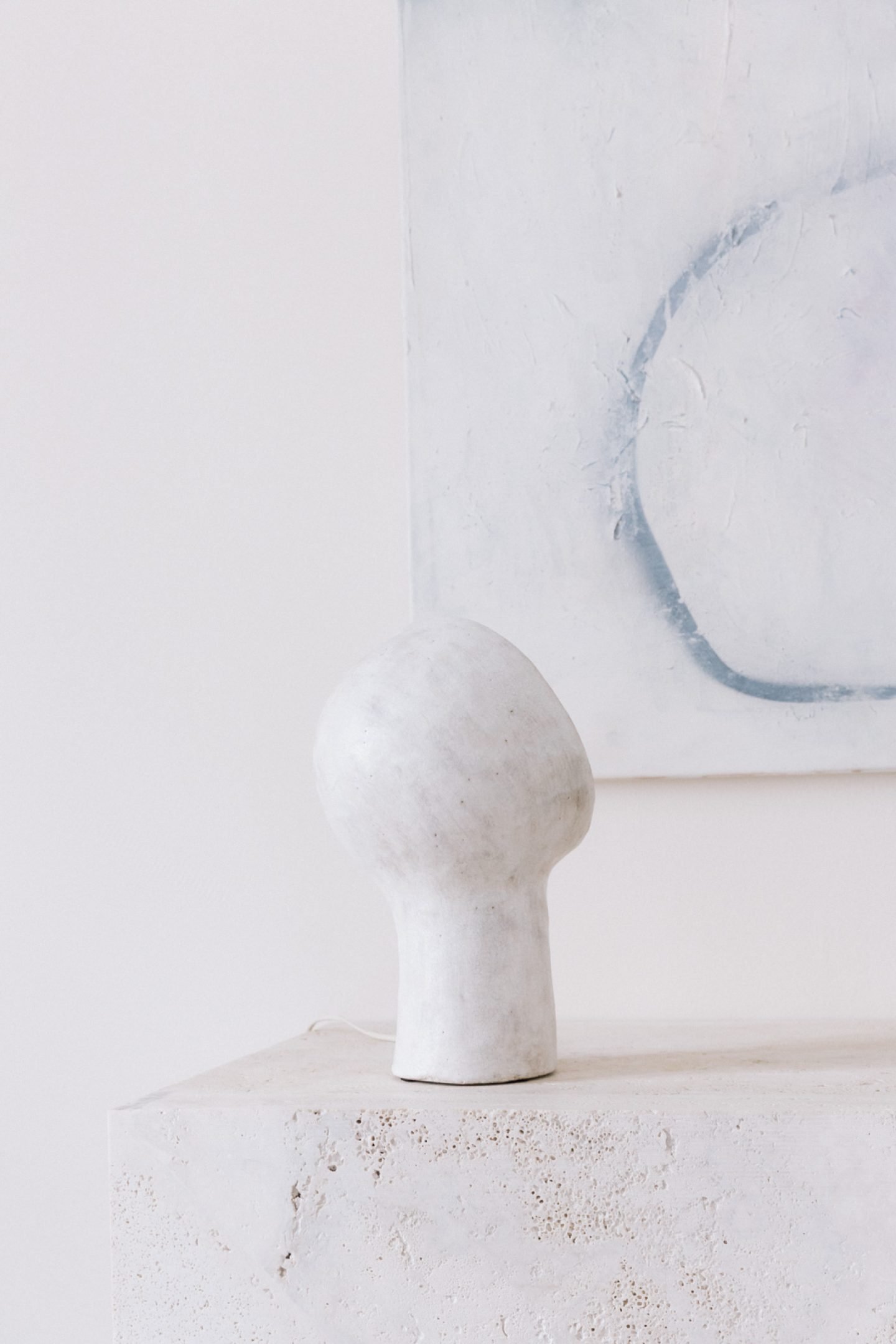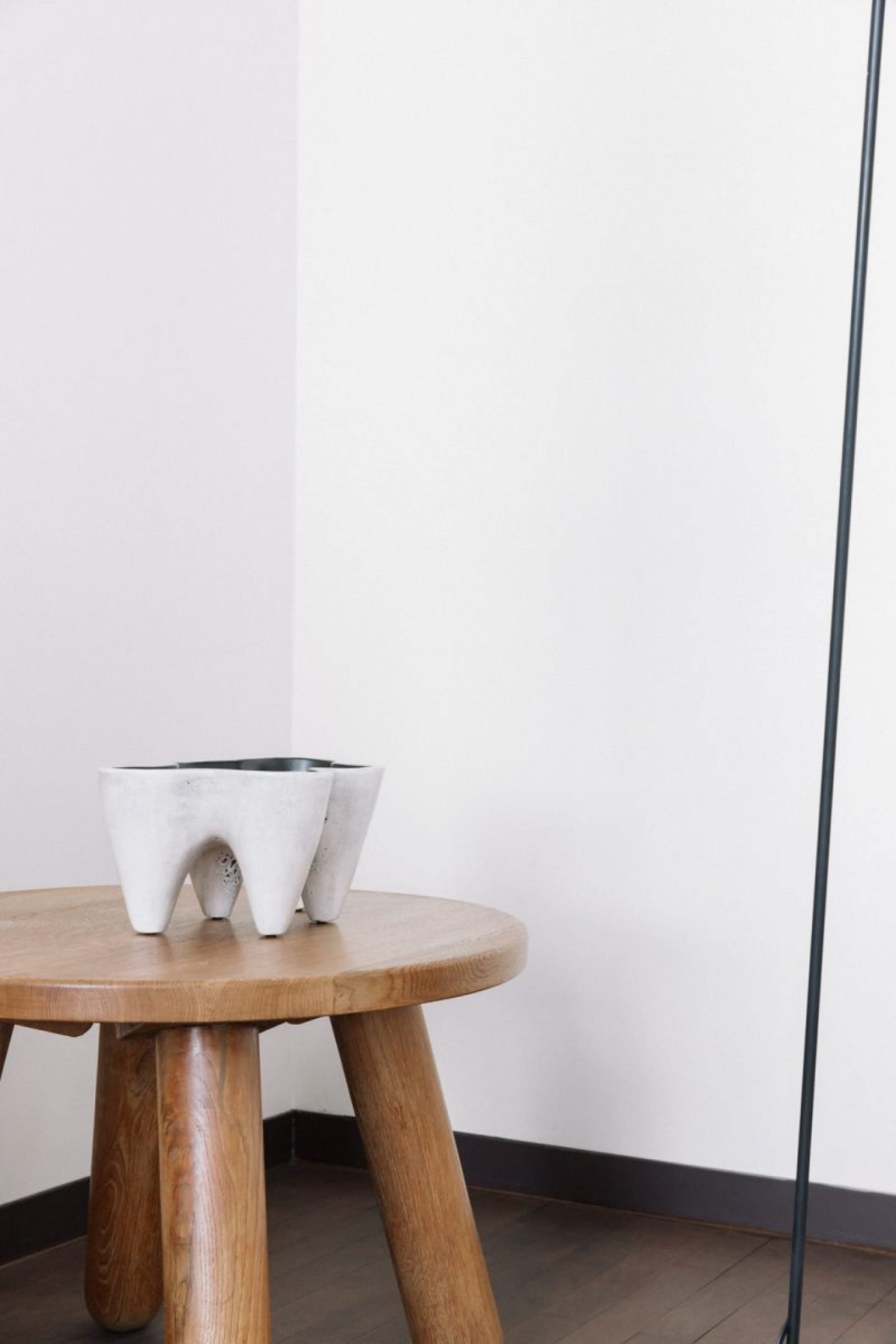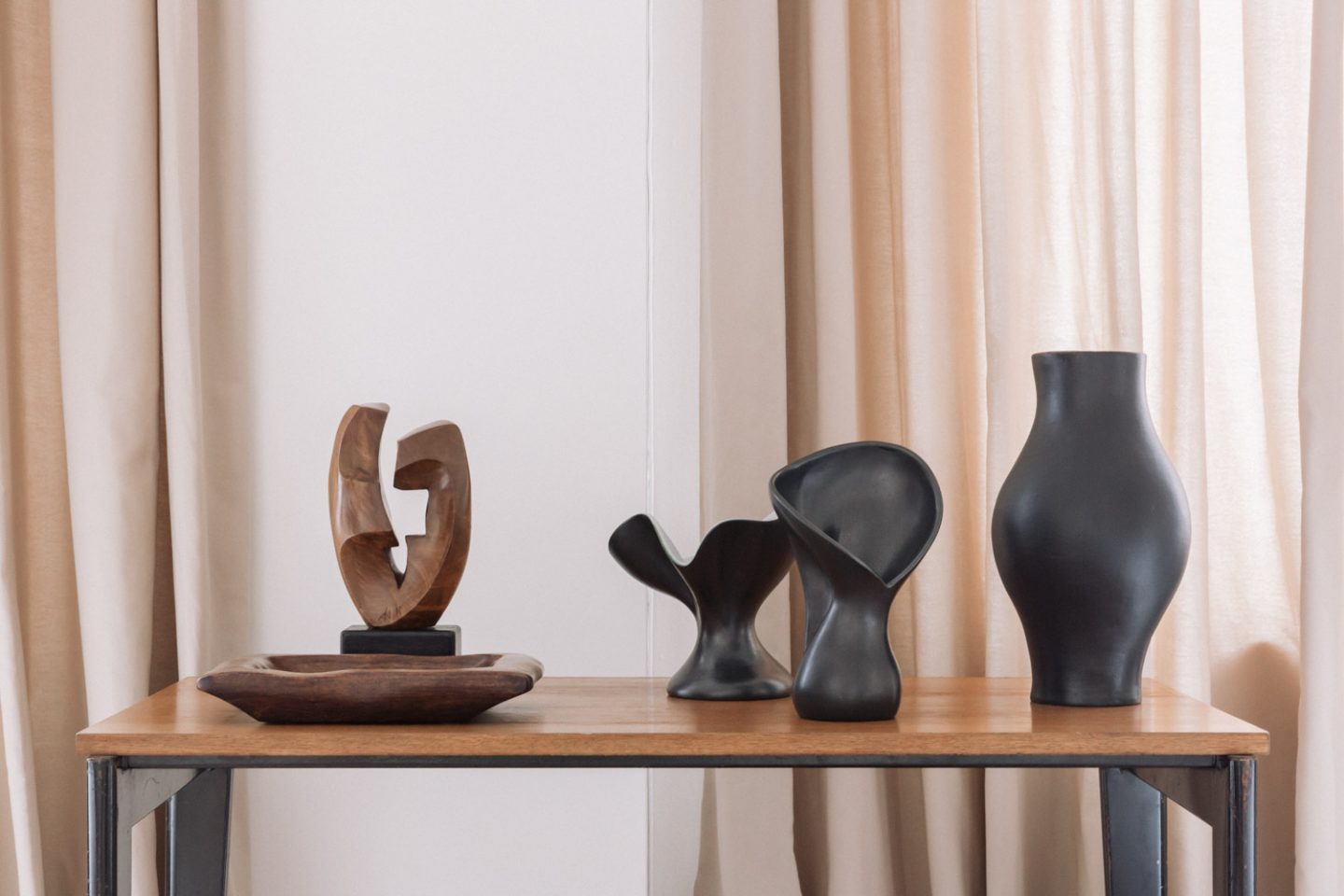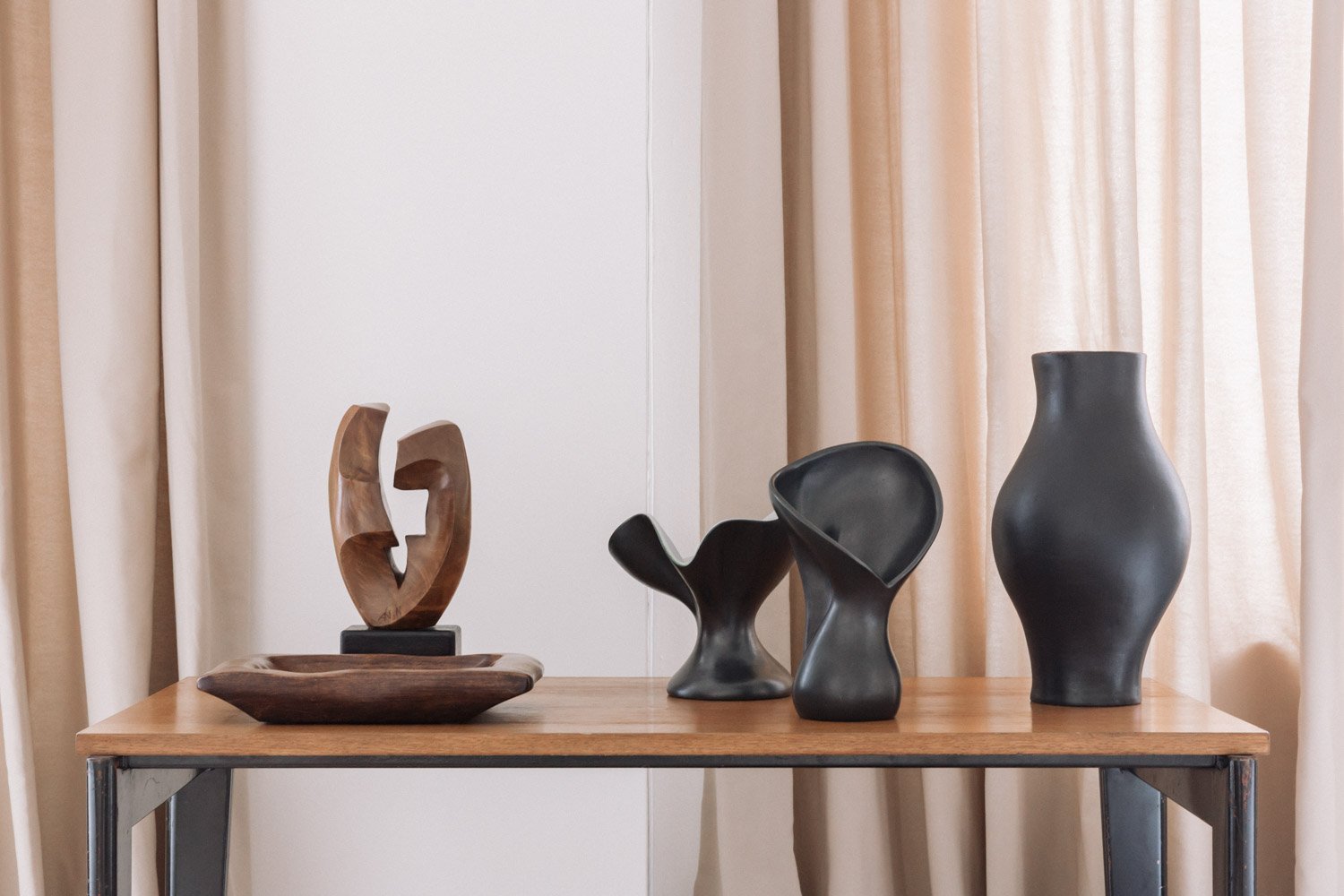 Do you have favorite pieces?
I have so many favorite pieces. I love my two sheep, for example. I bought them this year from François-Xavier Lalanne. The original sheep were made with wool, but I have the stone and bronze version."When I started out I had a really minimal 90s style, everything clean and perfect. Now it's more about comfort and color" I'd always dreamt of acquiring the sheep. Once I found myself in Paris on a street lined with galleries and auction houses …and I just saw them in a window. I went right in to buy them, negotiated a deal and everything. The collector was Belgian—he'd had them at home and wanted to sell them. I think it's important to have an element of humor in an apartment. To not take yourself too seriously. Another example is the sofa of Jean Royère. They are called "Polar Bear" because they look so much like them!…and are super comfortable. When I started out I had a really minimal 90s style, everything clean and perfect. Now it's more about comfort and color. When it comes down to it you want to feel good in your surroundings.
So you could say it's a continual process?
Absolutely. I think people who do up their whole apartment in a week are missing something—or else it ends up looking like a showroom. I've had this apartment for three years now, and it's a work in progress. I keep changing things around. It's fun, the space lives and grows with me. Maybe in summer I'll add something to freshen things up. And in winter I want it to be more comfortable. So there are the base elements which stay the same, and then there are the parts you mix up. Even adding one flower makes a difference. I bought something in Paris and wanted it as a Christmas present but things didn't work out with the transport. I was so looking forward to it and knew exactly where I was going to put it, and then it didn't work. So I bought some flowers instead and then that changed the mood slightly—they smelled so good. Small things can make a big difference.
Like being patient?
Yes, being patient in all areas of life. Waiting is very frustrating for me. I see patience as a superpower. I'm super impatient and am trying to get better at waiting, but I'm a very spontaneous person. I'm not from Berlin and used to work for large international companies like in Paris and London where everything runs efficiently. In Berlin it's a different story. You have to learn how the city works, and to adapt to its rhythm. For that you need patience.
How long have you been living in Berlin for?
Eleven years.
How long has the shop existed for?
Ten years.
And why Berlin?
I studied German in high school and my first professional work experience was in Germany, in München. I lived in München for four years, between the ages of 22 and 26. So I knew the German language, and also the German mentality. I got to know my business partner, Josef Voelk, in München. Then I went back to Paris, and he went to Berlin. So I visited him there a few times and these spaces where the shop is [Französische Straße] were empty. He suggested, "Why don't we make something of this?" He was already in fashion at that time, and I was working in beauty and communications. So we discussed it, and then made it happen. As I mentioned, because I was already familiar with the German language and mentality, it wasn't a major shift for me. I'd also had four years experience in consulting and six years working at L'Oréal. I knew how big business worked, the politics and the corporate nature of it all. Then at that time I wanted to do something on my own. It was the perfect moment to change
Where were you living before that? Also in Mitte?
My first apartment was on Alten Schönhauser Allee, near where Monsieur Vuong is. It was all renovated and super nice. Then I lived at Hausvogteiplatz. Finally this place became free and so I took it, after waiting for a long time.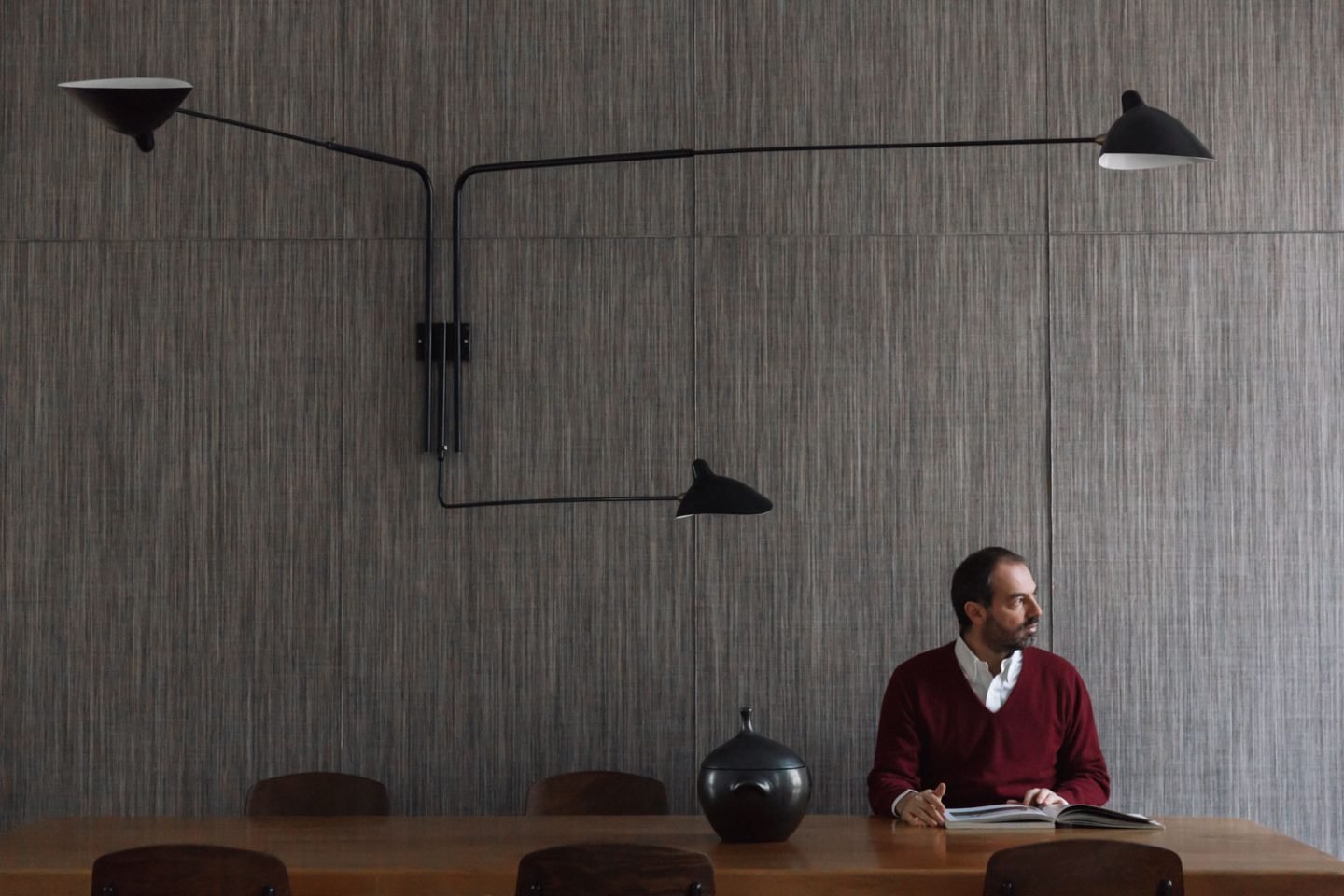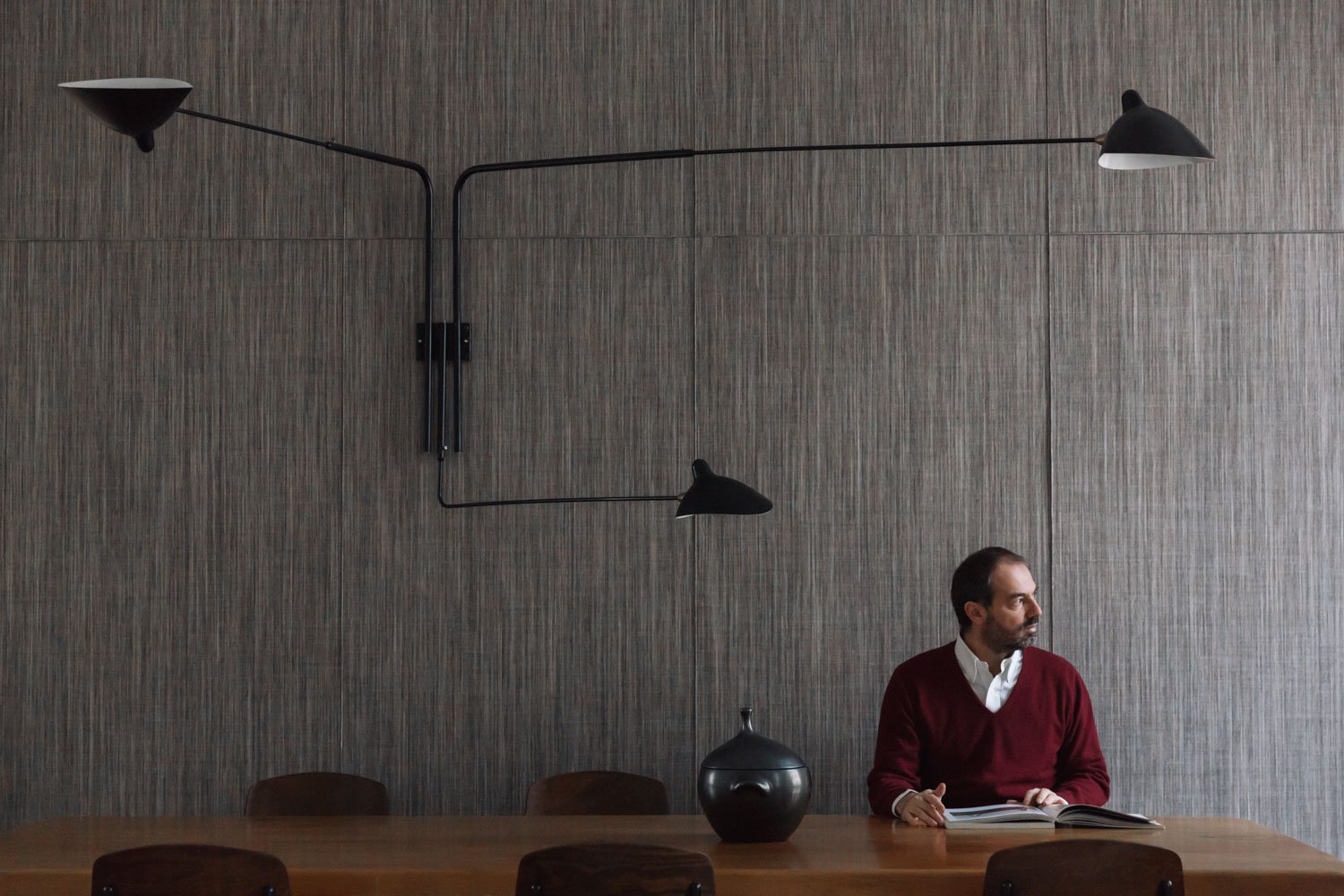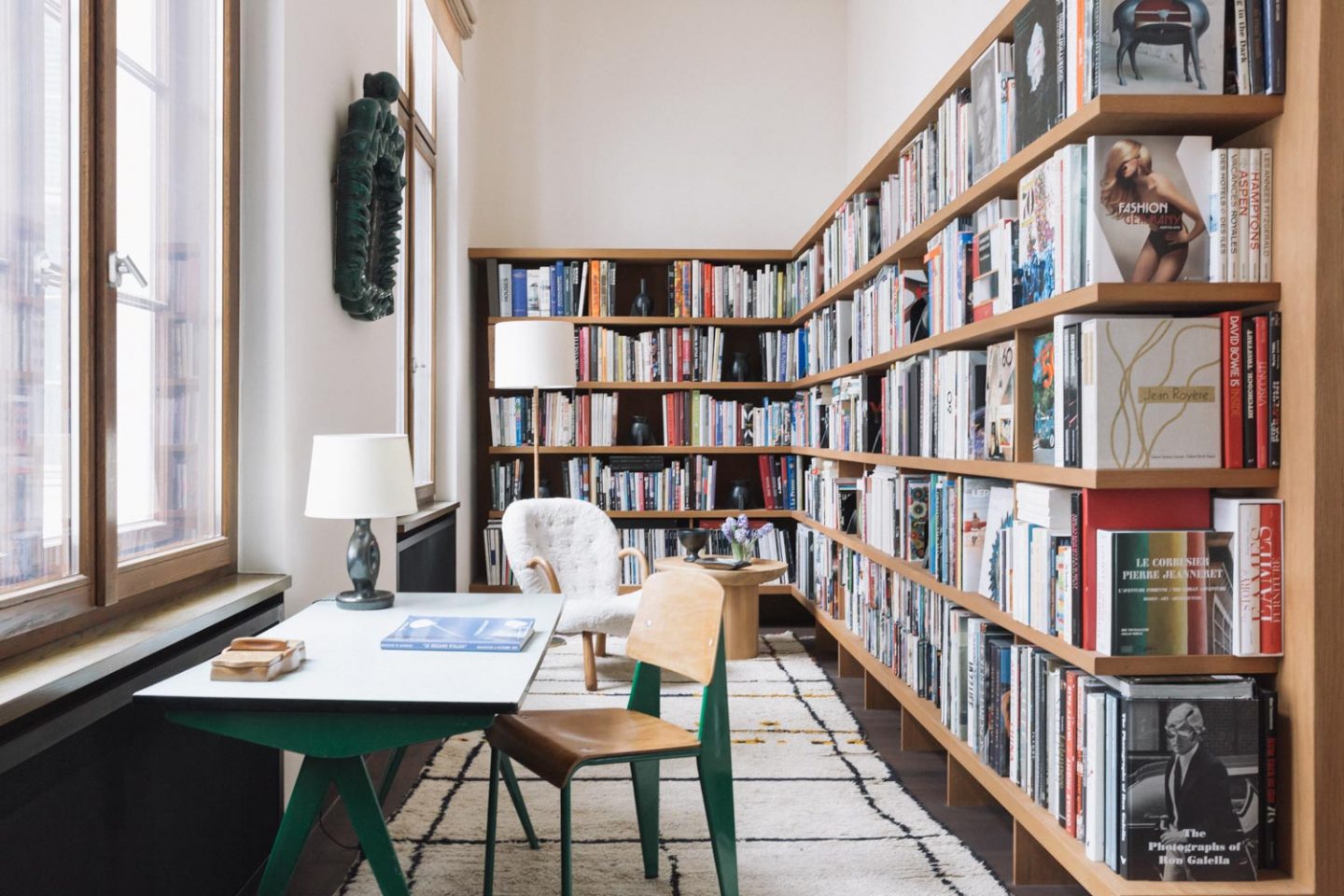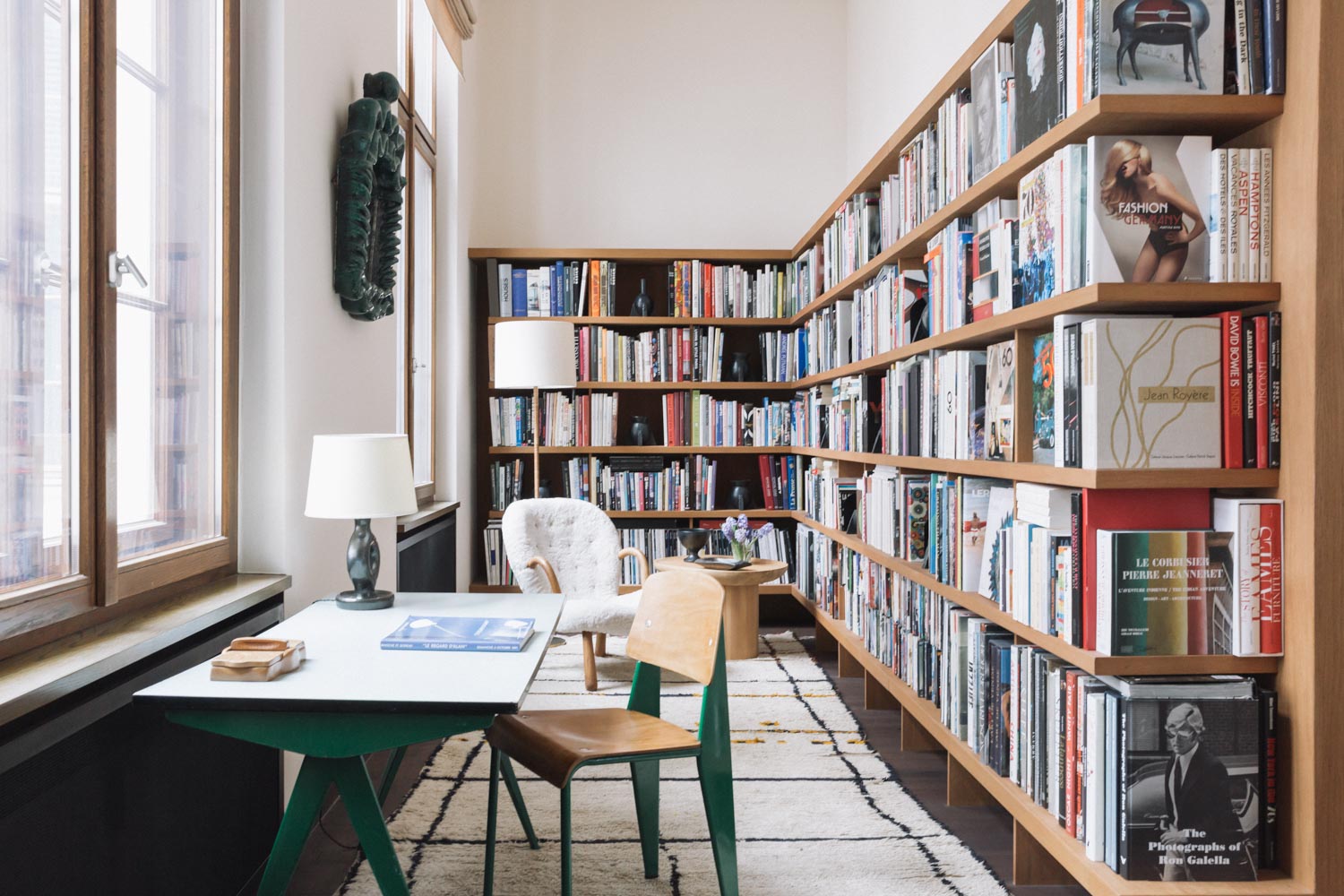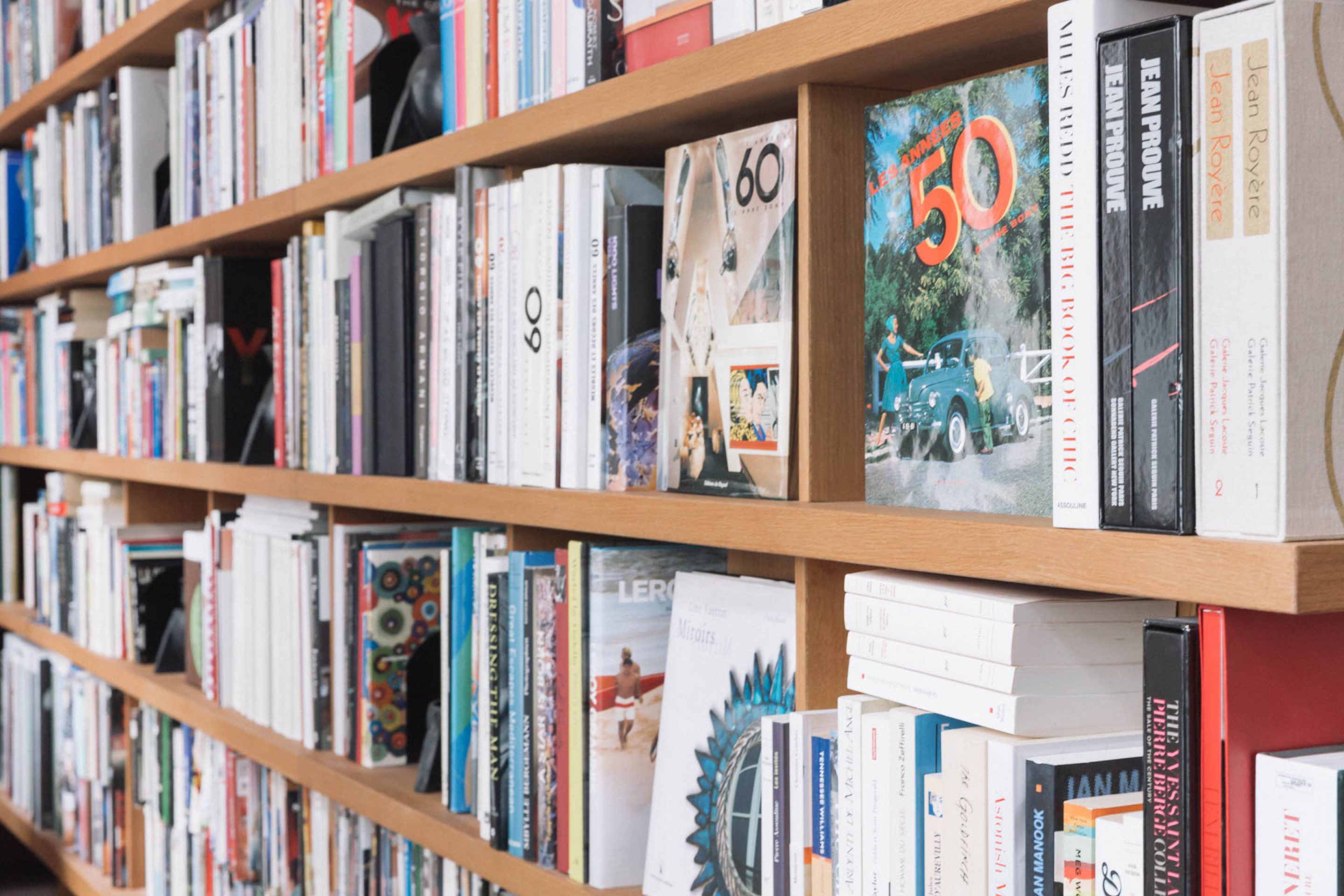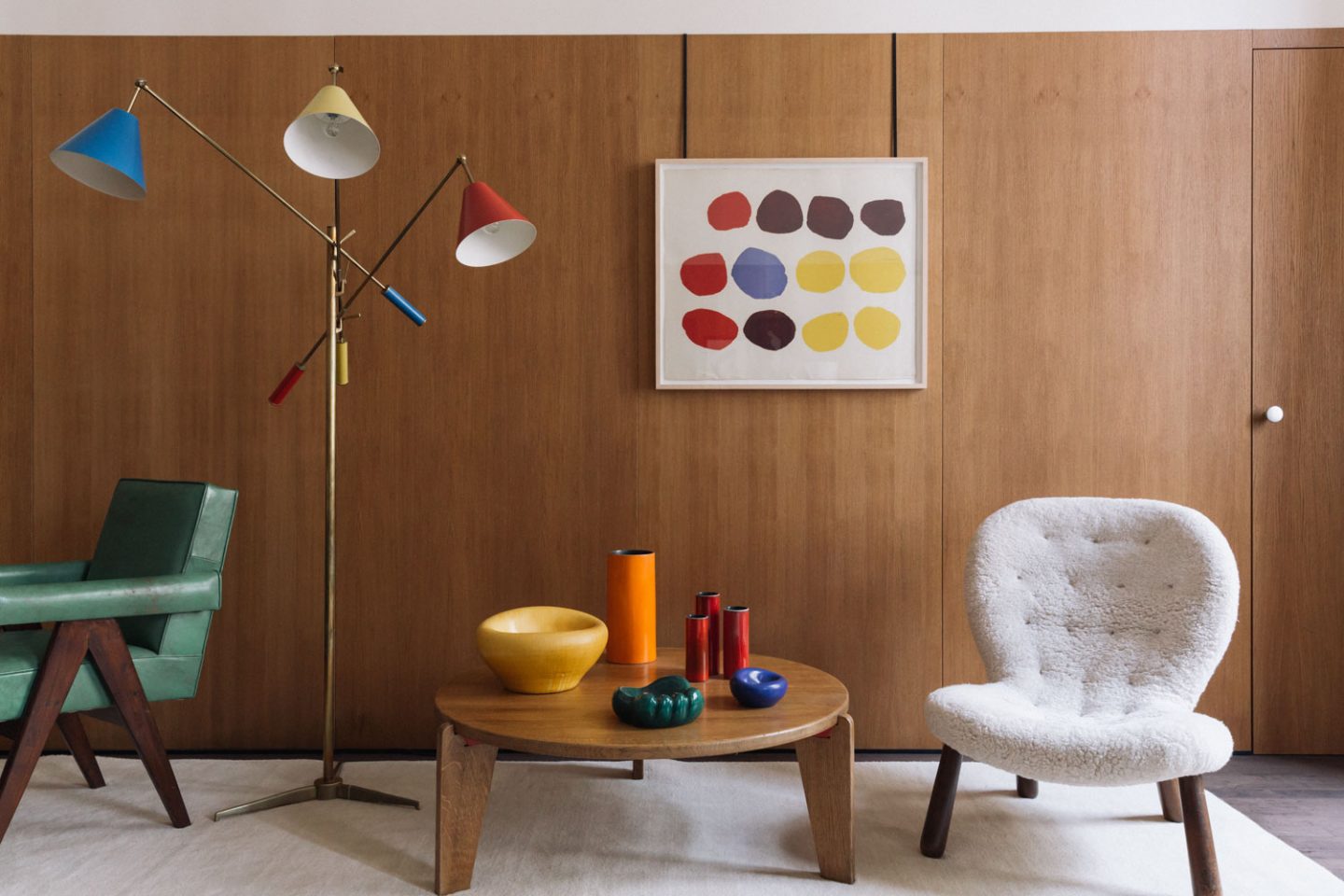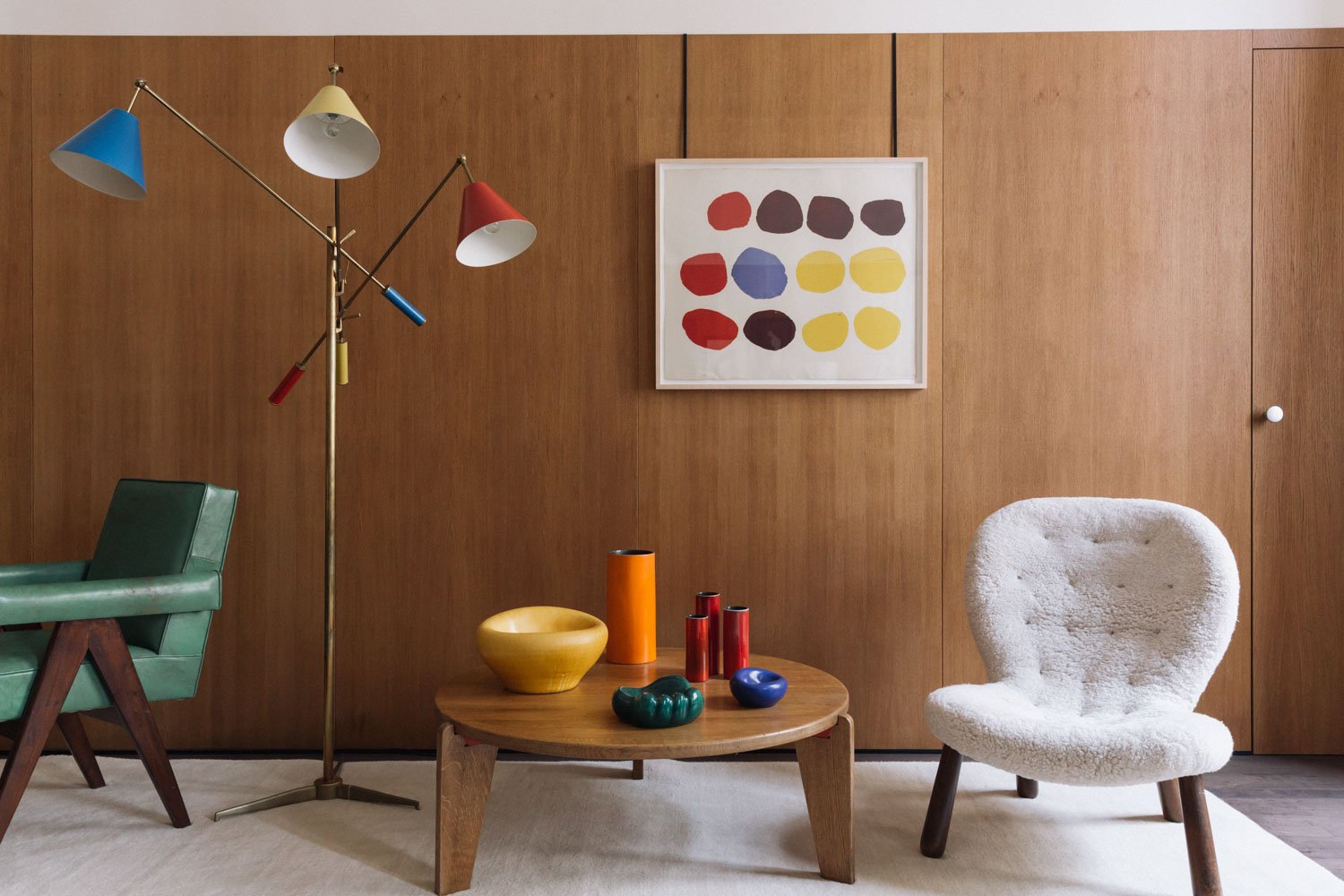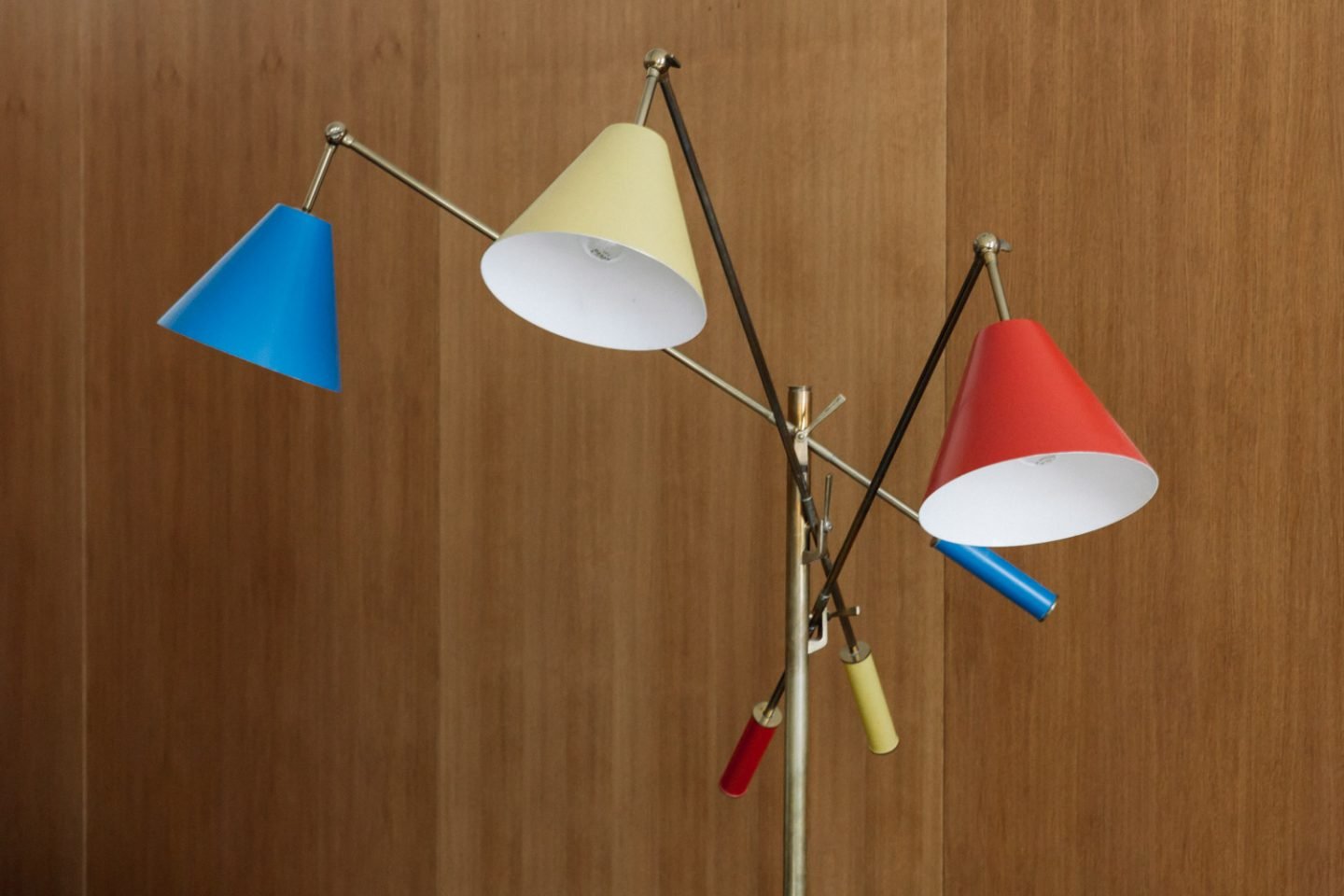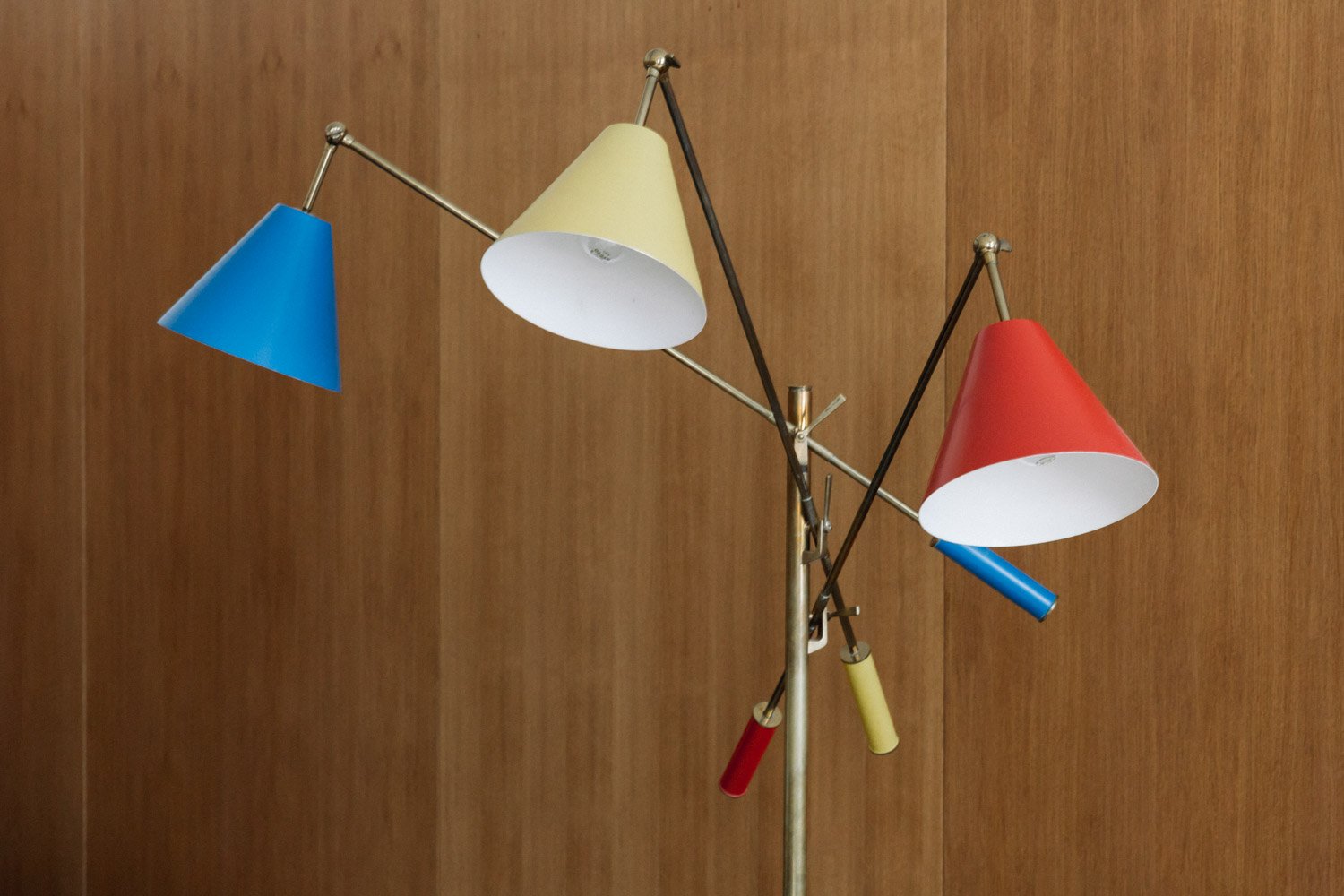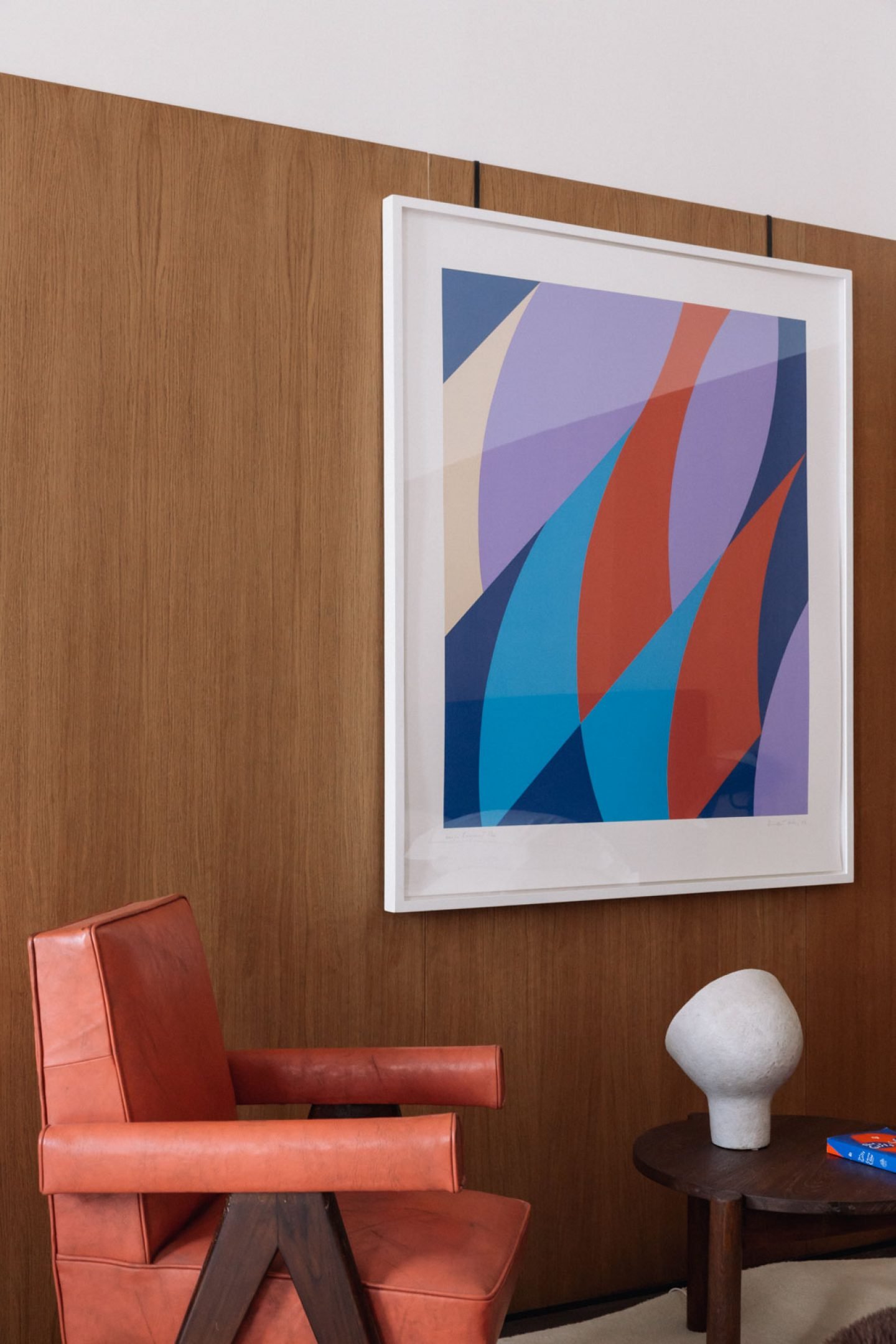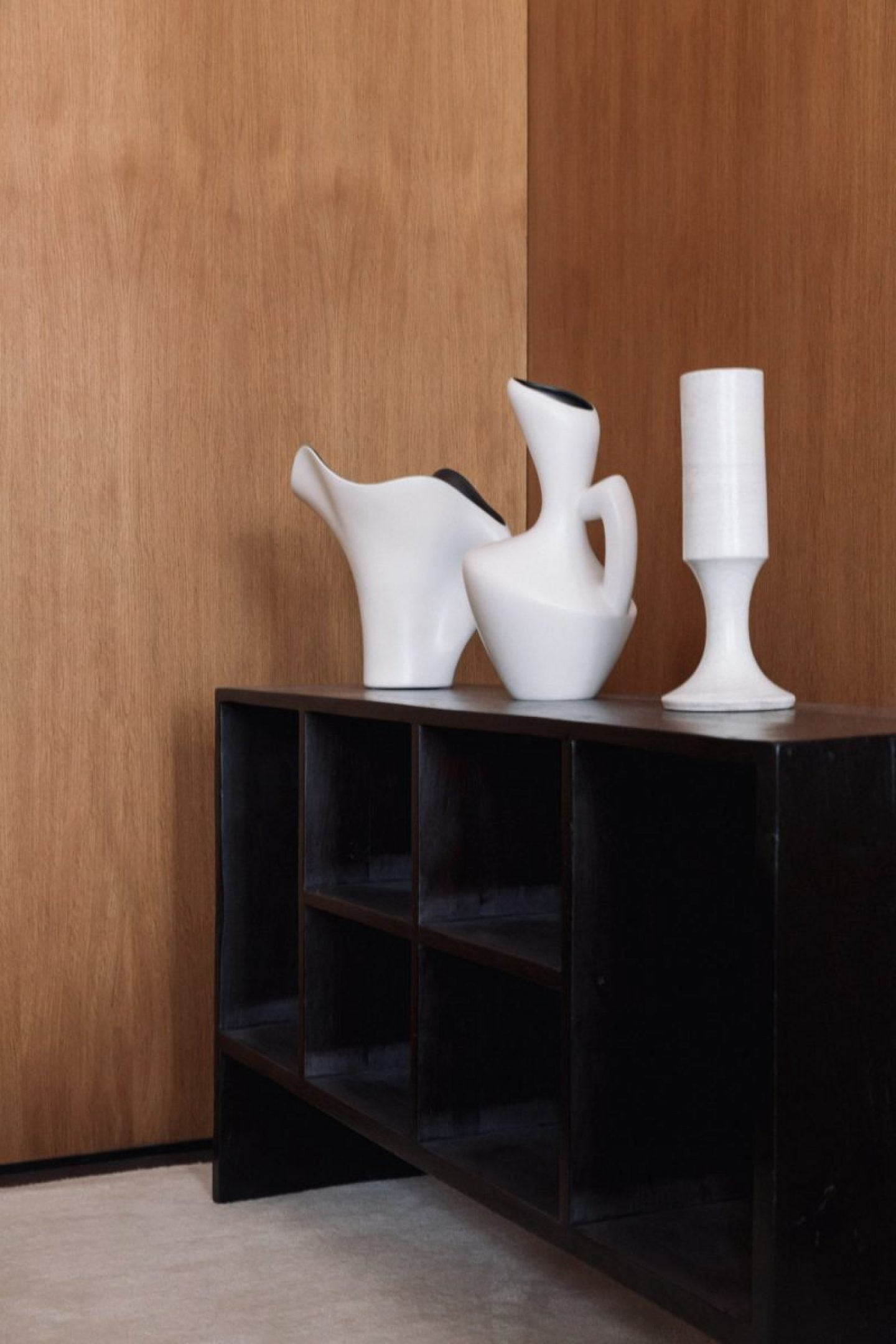 Could you briefly describe the concept of your store?
It's like my apartment. It's in constant development. The idea is to offer an eclectic mix of high fashion designers. "That's what I love about Berlin, this dynamism. We're trying to reflect and develop that cosmopolitanism in store too." Our philosophy is that they should have a very strong identity—their own identity. We never accept a copy of a copy. Vetements, Balenciaga, Dior, Céline, Gucci, Saint Laurent or Sacai, JW Anderson, Marques Almeida, Jacquemus: they all have a strong identity. We bring together the best of high fashion and what's currently relevant. And it's a work in progress. Super interesting, and sometimes challenging because the rhythm of it all only speeds up. But it's fun, because we're a really international team. We're Russian, Asian, European, American. Around 15 different nationalities in total. That's what I love about Berlin, this dynamism. We're trying to reflect and develop that cosmopolitanism in store too. Because we're internationally renowned, we buy internationally. We want to combine this international approach with a certain level of professionalism here in Berlin. We're growing, and there's always something new, every day. It's a permanent work in progress.
Do you only select established brands or does your portfolio includes news ones too? What are your criteria?
We have newcomers like "ALYX", this new US brand, or 424, a streetwear brand from LA. They need to have an edge to them. We're not always exclusive suppliers either—though sometimes we're lucky enough to be.
Your three favorite interior design brands?
I'd rather say interior designers. I really like Joseph Dirand. Pierre Yovanovitch is great too. And also Jacques Grange. So French designers, but then I'm also French. I like Italian designers who are at the top of their game too, thought Italian design isn't 100% my style. But these three designers I love, and I often keep tabs on what they're doing, as inspiration.
And do you want to stay in Berlin?
I'm almost never in one fixed place. You have to see how things develop. France, Paris—that will always be my base, I think. I have my family there, and the things that I like. I like good food, I like discovering beautiful objects. Paris is a treasure trove for that. It's just part of our culture. That's missing a bit for me in Berlin. It's a different way of life here, and it's in development, as the city is still so young. What I love about Paris is that it's also part of the culture that people, even if they're not millionaires, are happy to spend money on good food or just on the pleasures of life. It's a bit different here in Germany. The priorities are somehow different here. For us, a beautiful interior is super important. But each to their own. I'm French through and through and the things that make life more beautiful strongly influence the way I live. There are people for whom it's not important. They might have a nice car instead. But for me, it simply comes down to living well.
"For me, it simply comes down to living well."