The esteemed Berlin destination Andreas Murkudis Möbel + Architektur is many things: Purveyor of fine—and often under-the-radar—design brands and items, studio for customized interior architecture, representation of its founder's rigorous aesthetic vision. Just don't call it a concept store.
The third feature in our ongoing collaboration with Samsung Serif led us into the courtyards of Berlin's Potsdamer Straße, where we met with Murkudis himself to discuss need for room to think, a deconstructed notion of curation, and the elements of an ideal living room set up.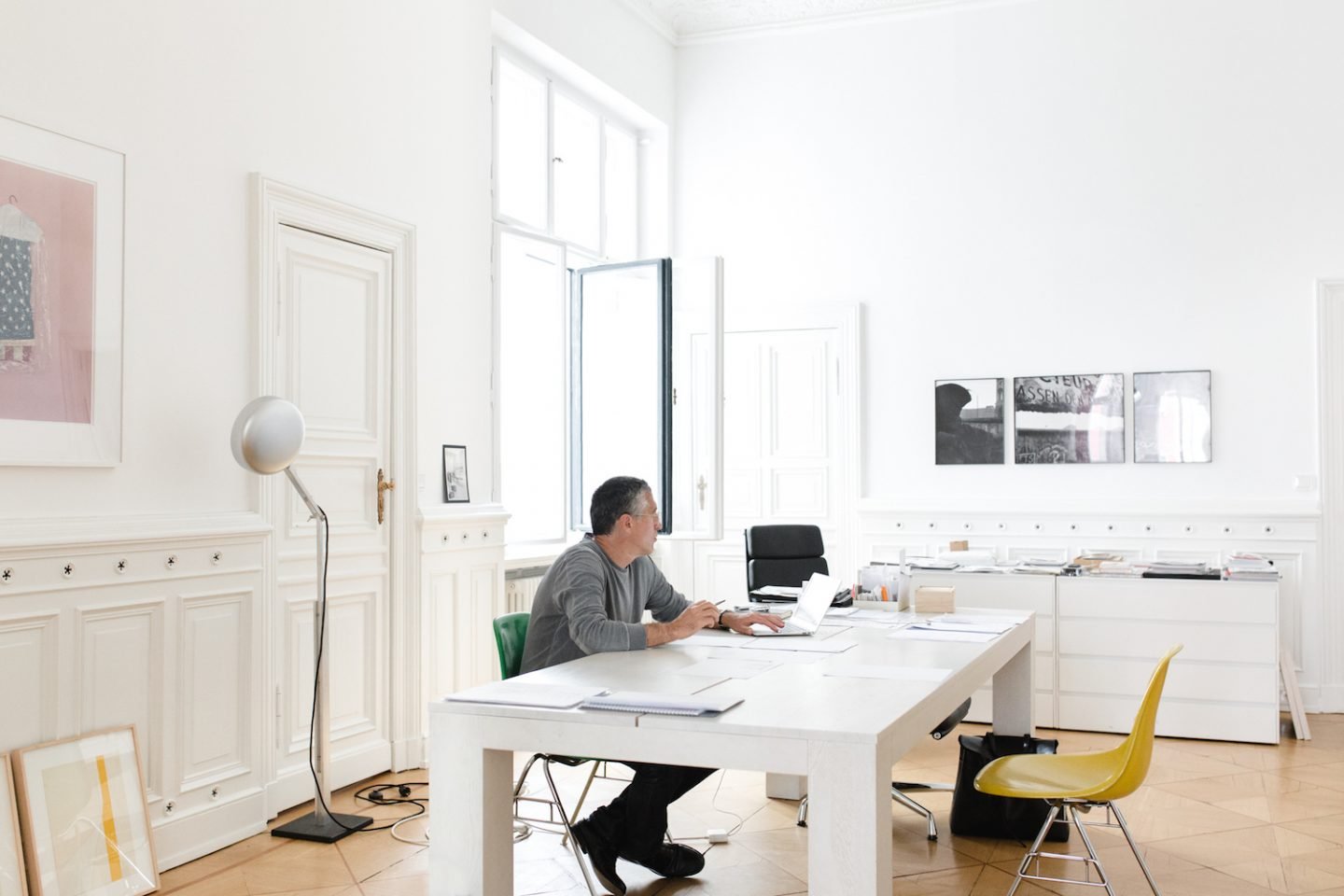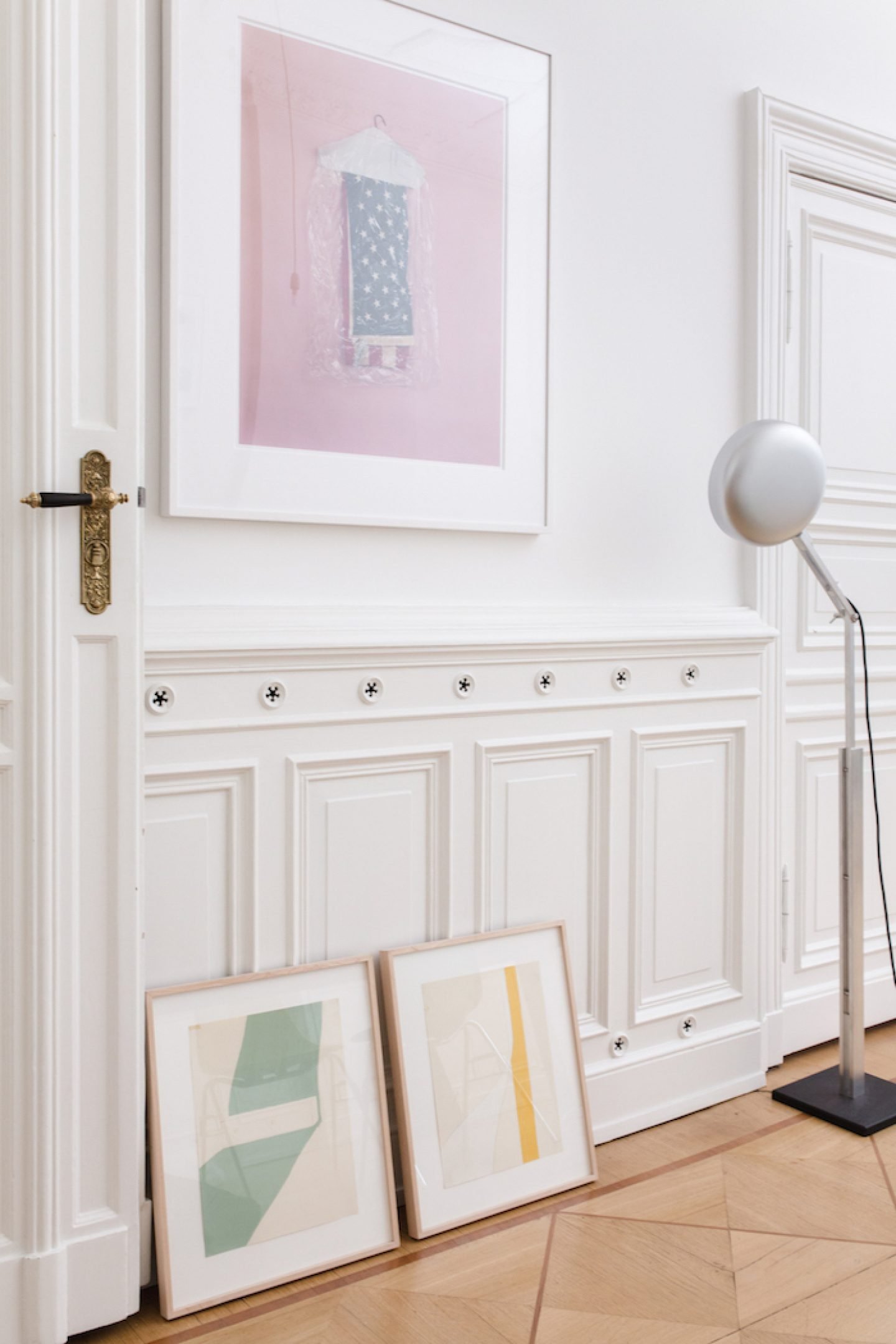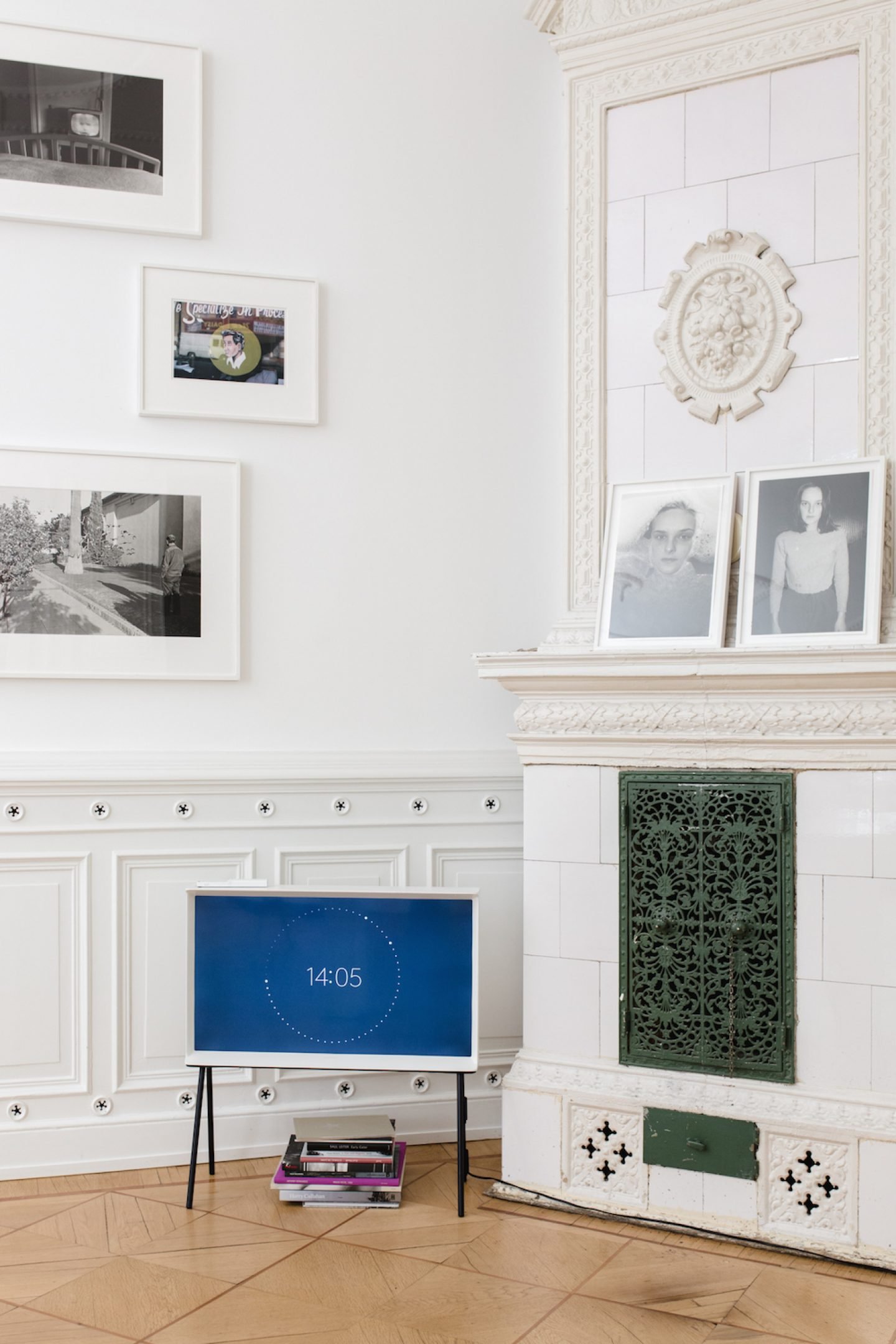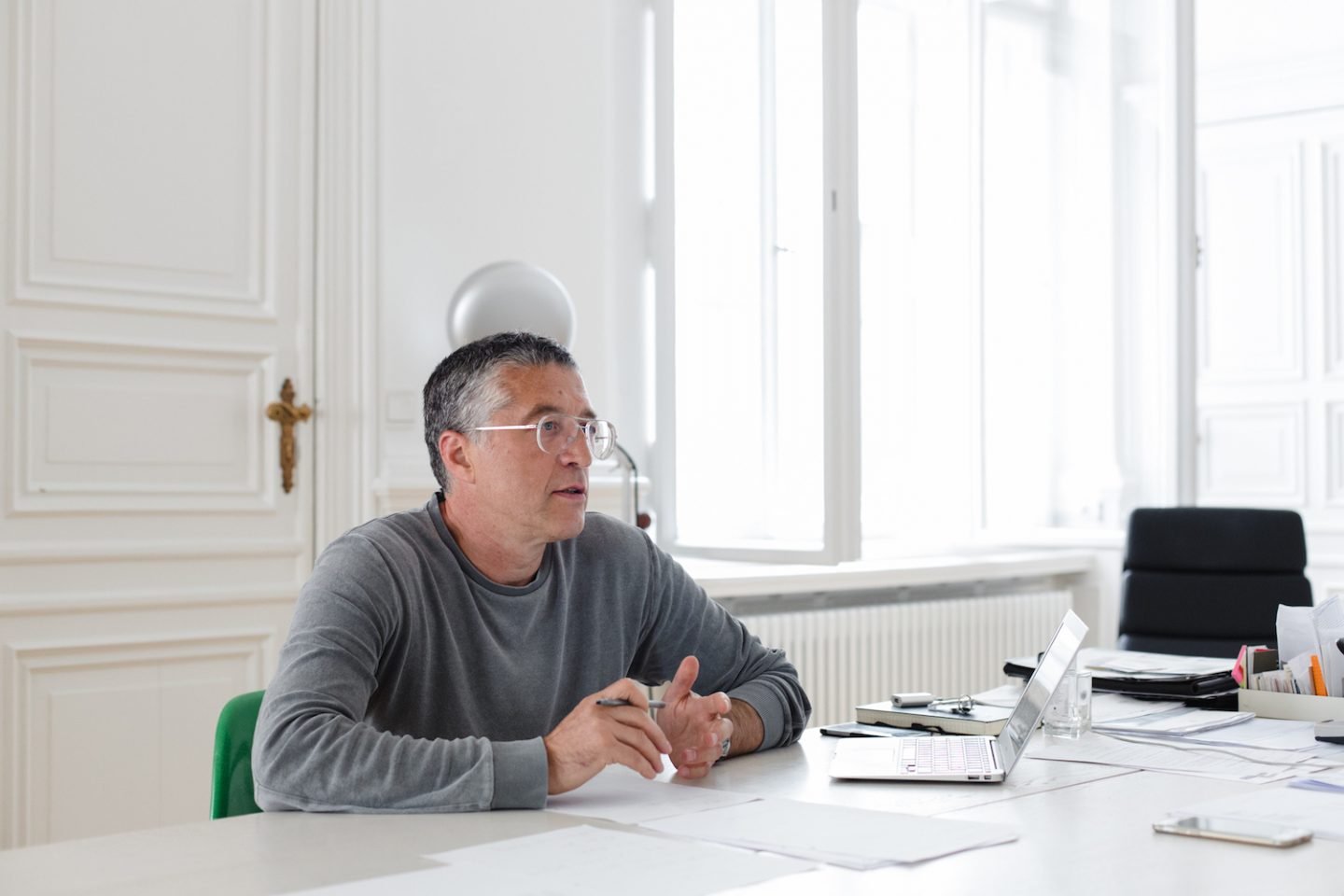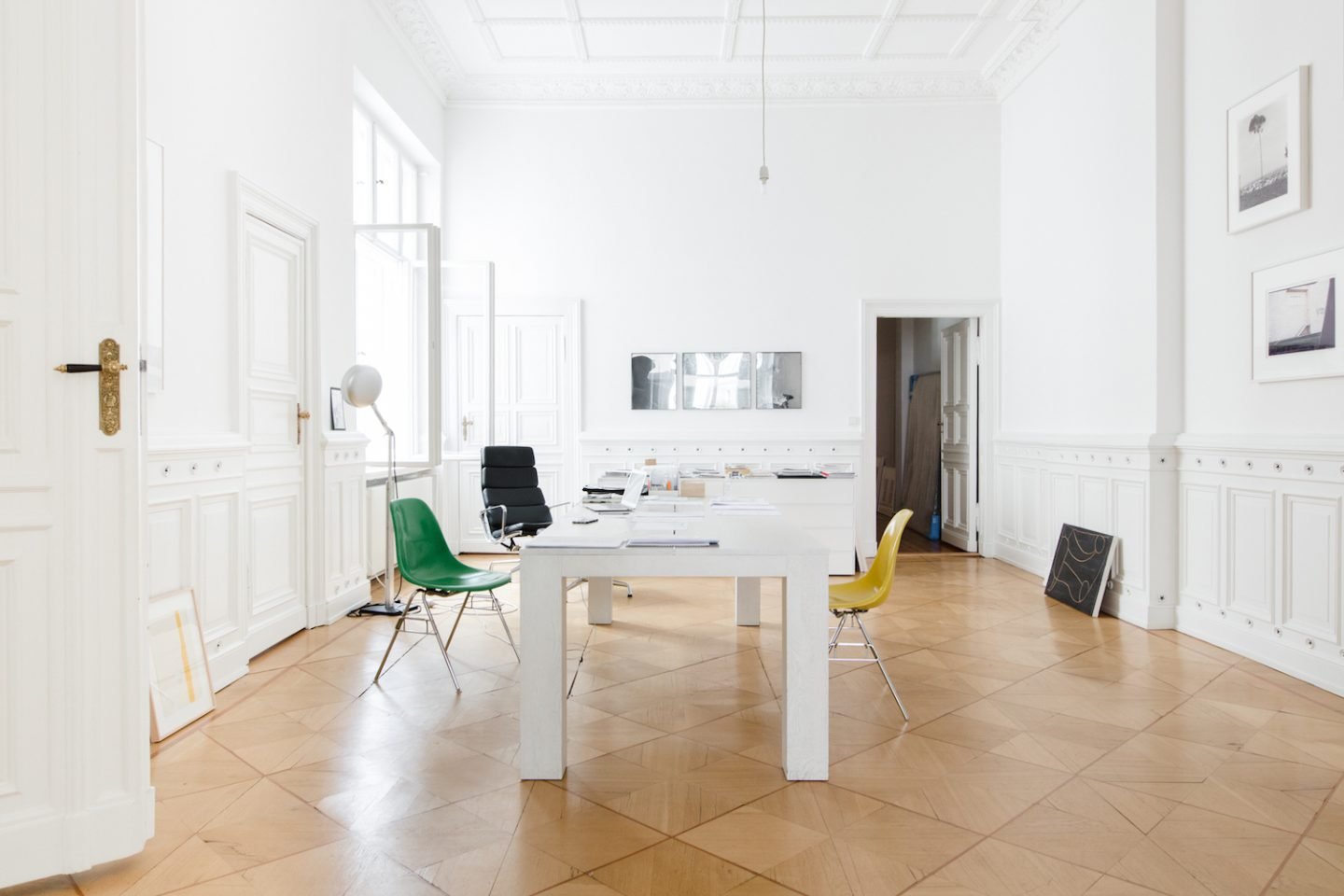 Not only a store, Andreas Murkudis Möbel + Architektur (AMMA) is also part design studio, part gallery. How would you describe the kind of experience you offer your customers when they step in the door?
The overall concept with Andreas Murkudis was always to only offer things that really speak to me, and this, of course, extends to Andreas Murkudis Möbel + Architektur: We didn't want to establish just another furniture store, with the same brands that everyone knows, but instead to offer something special—for example, brands that aren't yet widely available in Germany, or things that will surprise even customers who are familiar with the industry with things they don't expect. That's why we decided to work with brands such as Christophe Delcourt or Michael Anastassiades, who aren't widely distributed, or don't yet have such a large following. Our job is to introduce these brands to people, and that's much more fun than simply presenting things and designers that are already playing on people's minds.
Individual services and customized interior concepts are a cornerstone of your offerings. Can you walk us through the key steps in the collaborative process with the client?
So basically the process starts with us getting to know the client, and at first, it may not be apparent that we offer this service, but at a certain point in our conversation, we realize that the client is looking for something more. Then we begin to really get to know his or her tastes and preferences, and decide on brands and products that fit to those. This isn't a simple process, but we have incredibly talented colleagues here who make it happen. So the process—from a single object to an entire interior concept—flows relatively organically. We're slowly expanding our product range, offering and discovering ever more brands—here in the office is the place where we conduct research and gather inspirations, and we're starting to realize that we're already outgrowing the showroom. Despite it being 200 sqm large, it's getting to be far too small. So we have to start thinking about expansion.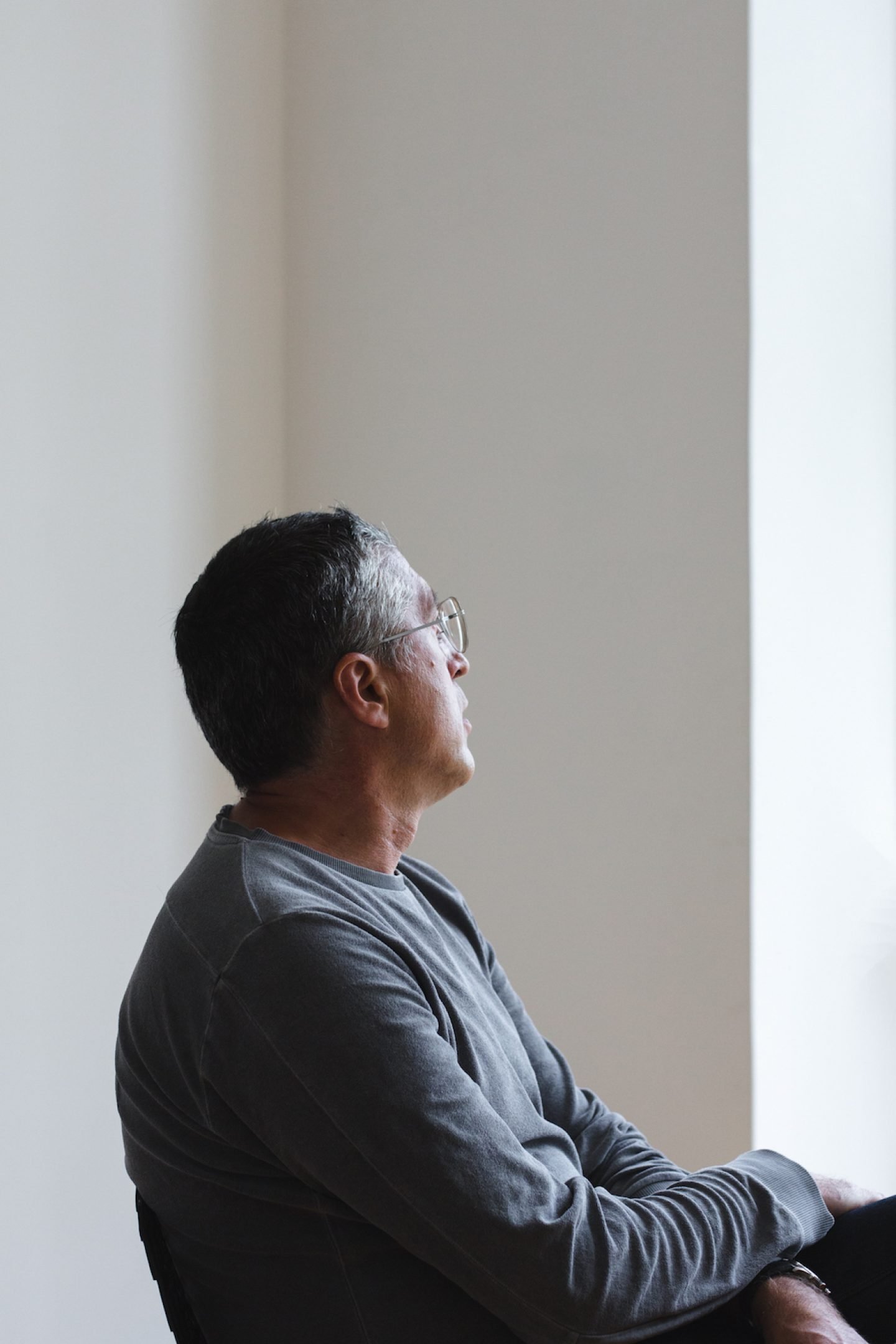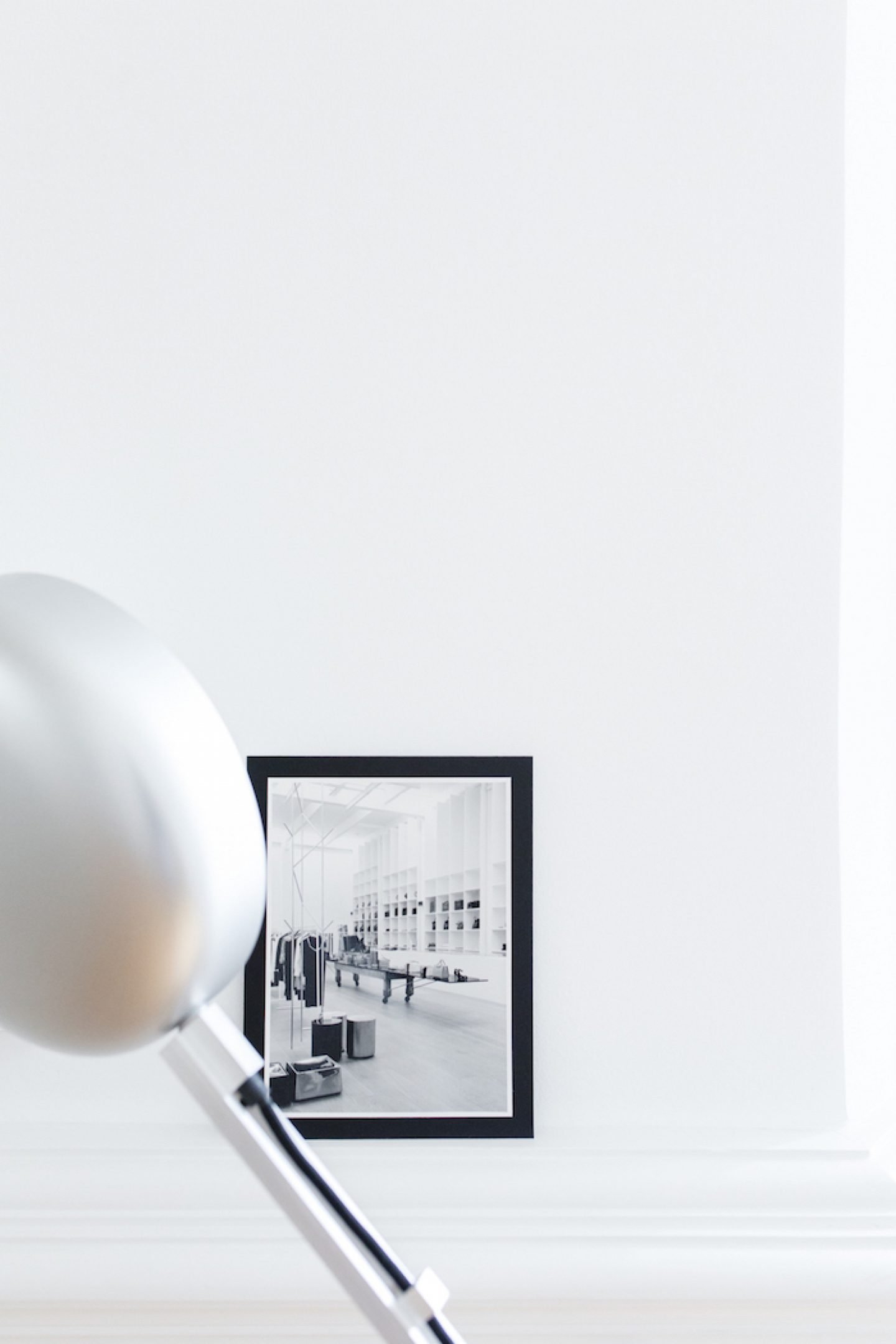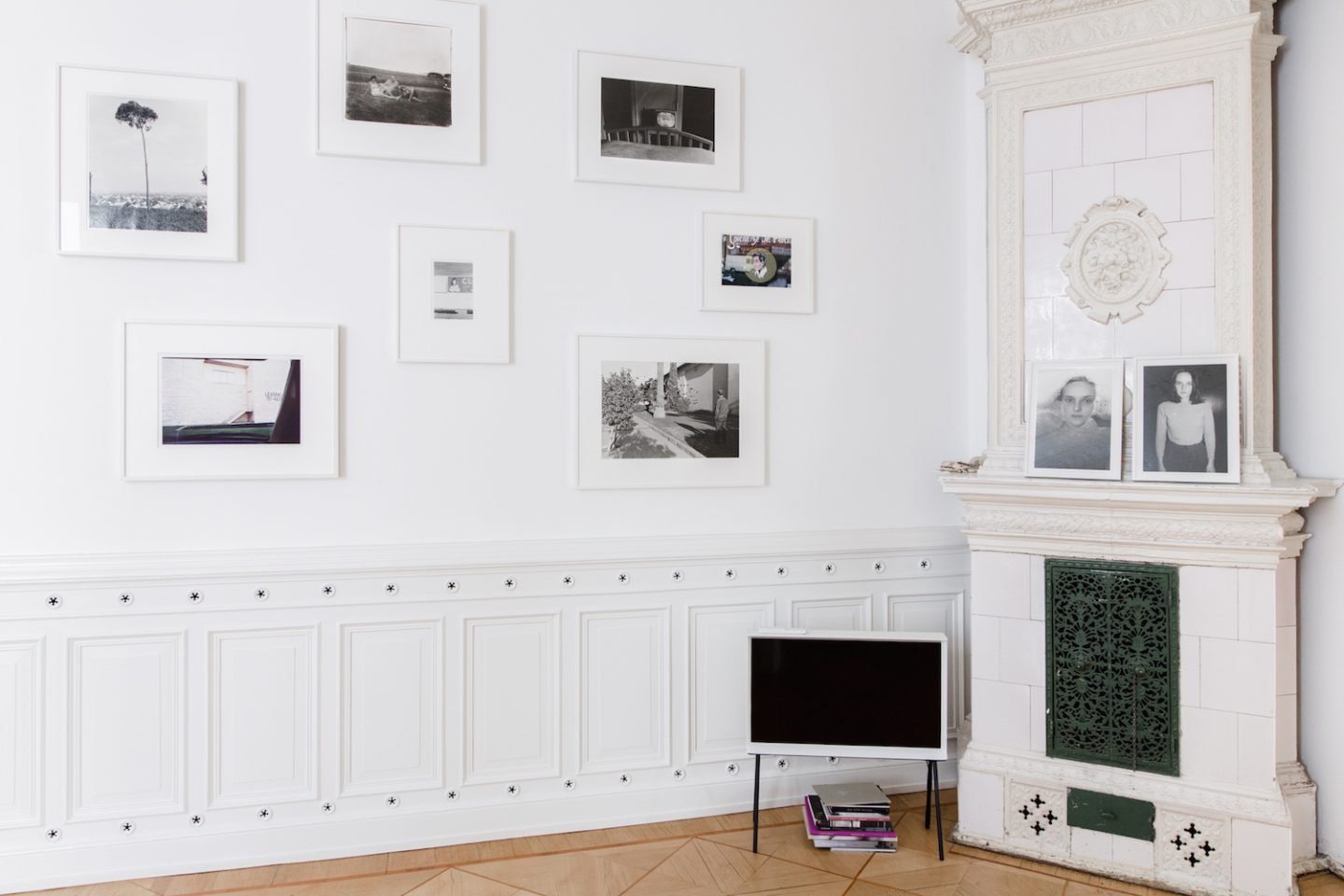 Speaking of change, your location on Potsdamer Straße has undergone rapid transformation over the past decade. What drew you to the location in the first place, and what does the street and the community it hosts mean for you?
It simply got to the point where our original surroundings in Mitte became too commercial, so seven years ago, we began to search for another location. I didn't want to head to Kreuzberg, because I think Kreuzberg needs to be left in peace sometimes, and Neukölln isn't really my world either—despite having spent several years there. I find this spot here really interesting—we're on the border between Tiergarten and Schöneberg—and there was simply nothing in this area. I went to school here, so I know it well. There wasn't anything 30 years ago, and that hasn't changed since. I was intrigued by the idea of moving somewhere empty. I opened my first and second stores in a front courtyard, which I like because they're off the street, hidden, and the same goes for AMMA. There's no sign on the street indicating we're here.
When I found the space, I was standing in the courtyard, and everything was empty so I could choose which place I wanted. I picked this room because it was the most beautiful space in terms of proportions. I open the shop every morning, and every morning it surprises me with how impressive it is—it's cubic, it's almost 8 meters tall. It's hard to find such a space in the middle of the city, and I'm reminded of that anew every day. At the time we moved to Potsdamer Straße, there was an element of risk in our decision because there was nothing here, and there were many clients based in Mitte for whom it was too far out. Some stayed away, but many followed us. And so ultimately it was the best decision we could have made, to move here.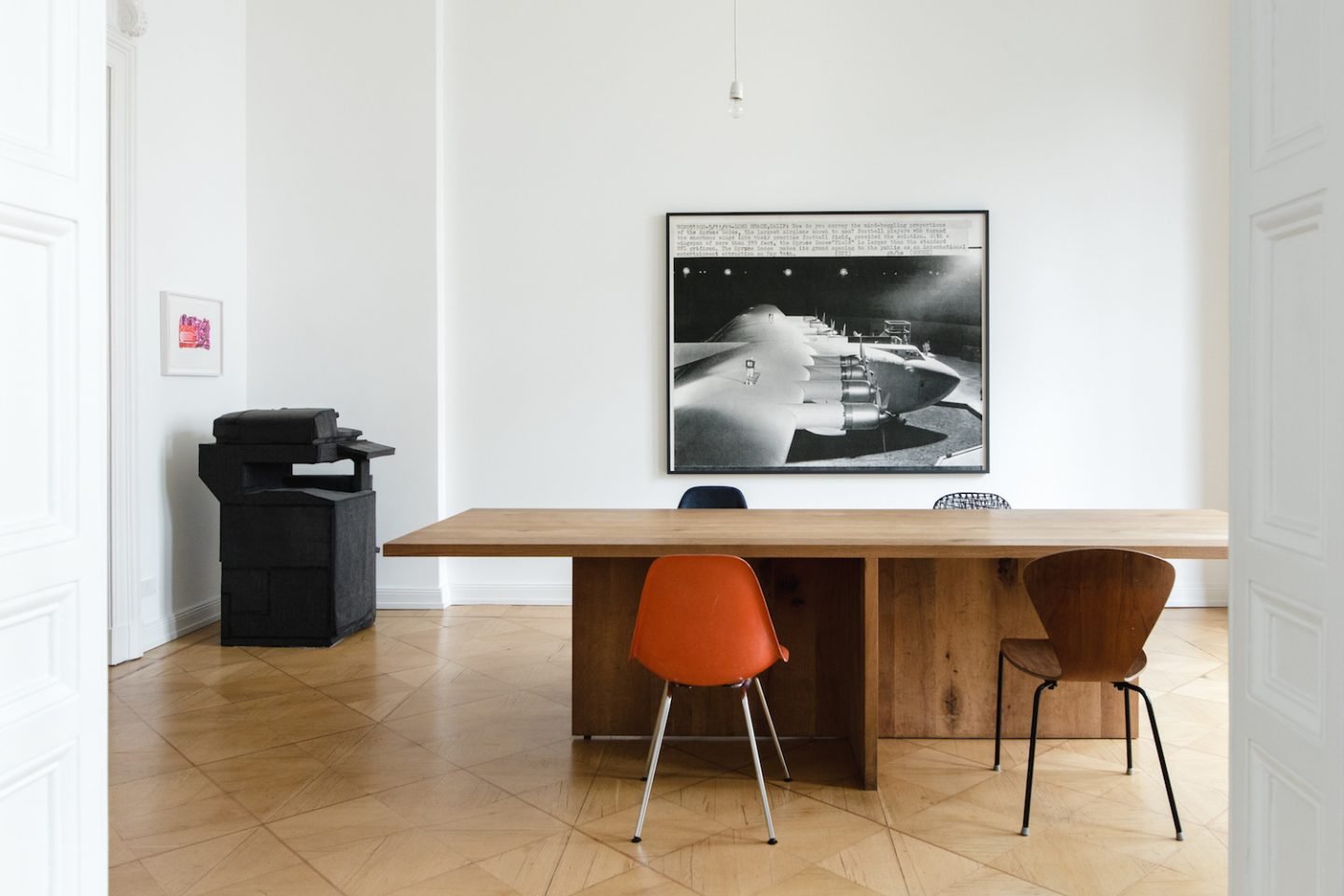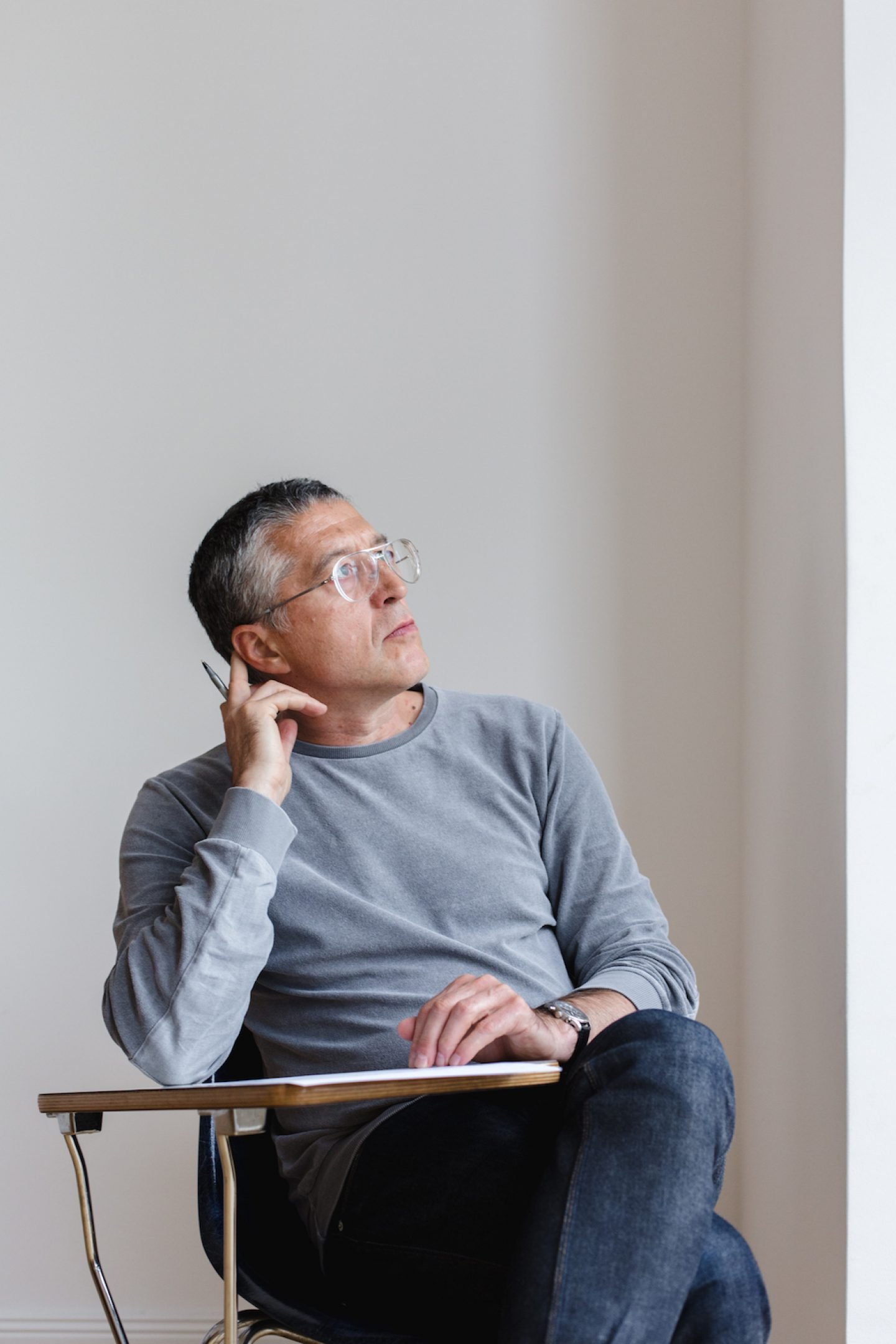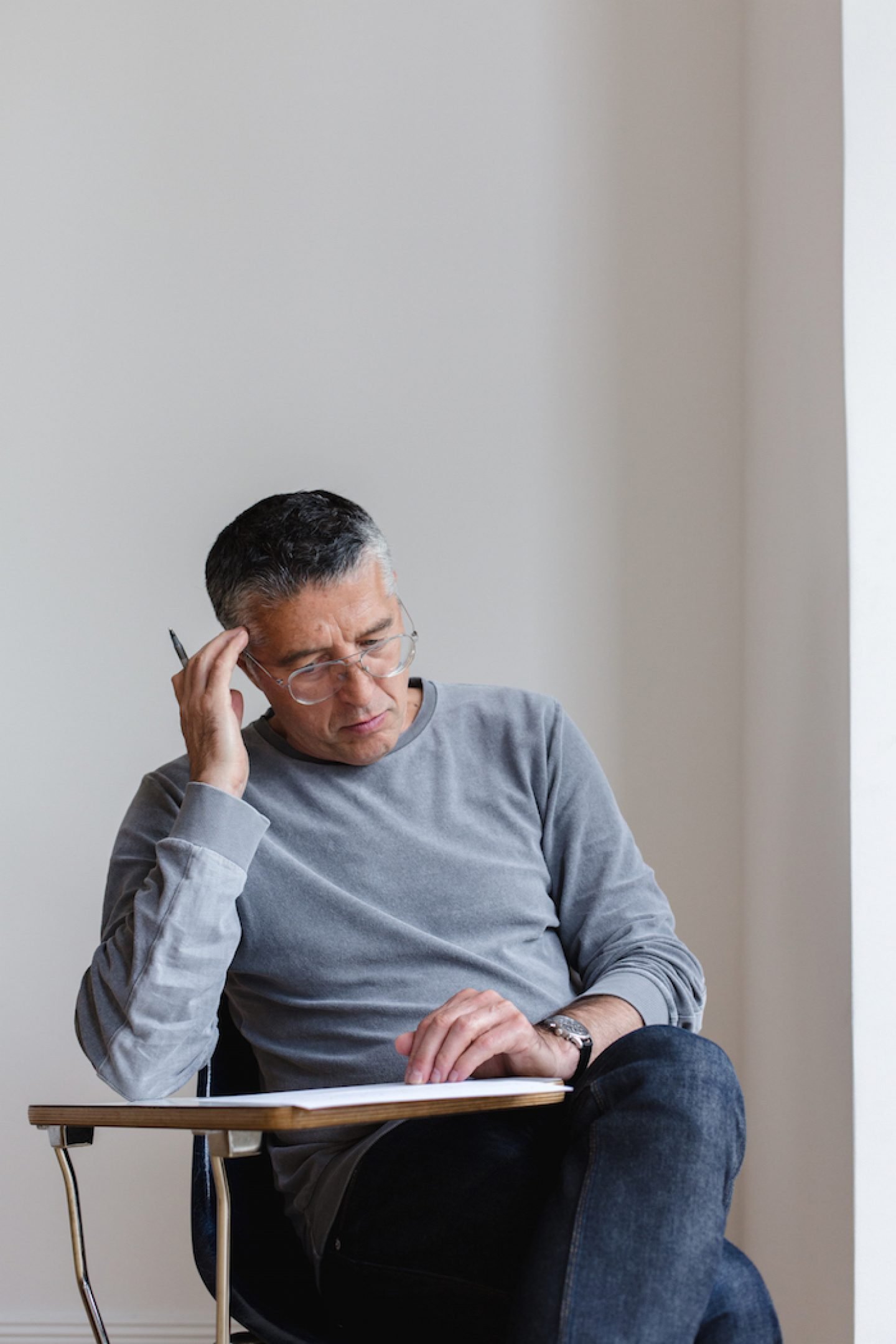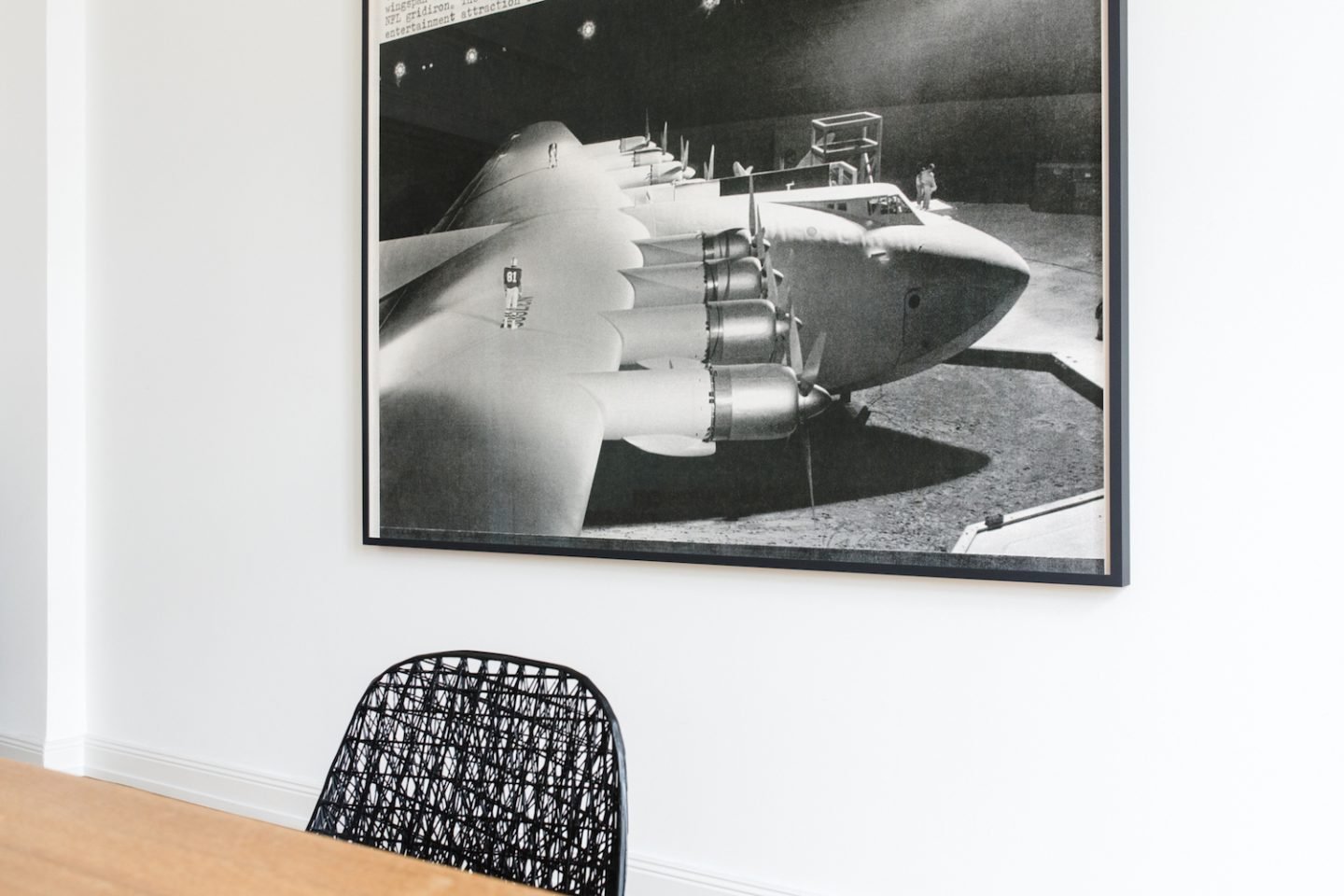 I'm interested to hear your thoughts on the connection between products and the space and arrangements in which they're presented.

It's important to me that the products—and this is why I say that the space is almost too small—need a lot of room to breathe. It's not purely about selling for us – of course we need to sell, to be able to pay our bills, but it's very important to us that people don't feel pressured to buy. So it's important that the products can breathe, that they can work, shine a little, and that we can convey to customers what each one is. Behind every brand is a story. And so we have to consider how to tell it.
One option would be to have text next to each object, which is, of course, difficult to achieve, given the placement of some products behind the counter and on this kind of mountain display, so we haven't found a way to do this yet. At the moment, our colleagues end up telling the story they know about each product, meaning they require space around them. We're operating at a certain price point here—our offerings are expensive—and so we need to be able to explain why that is; due to handicraft, history, credentials etc. That's ultimately why we feel like the showroom is so full, even if people say it's empty. I don't think it is. The customer needs to be able to take everything in. We probably have around 5-6,000 products in the store, which is a challenging number for anyone to take in all at once.
That's how it was with the clothing store. In the women's department, we have around 1,500 pieces, and at some stage, the customer starts to get to grips with the range, and after, say, the fourth or fifth rack, she'll say, 'Right, I've had enough'. So we have to find a way to deal with this issue—we're constantly working on it. We're always discussing how we can make the space more customer friendly, more navigable, more beautiful. And we always try to learn from customer behavior. We used to have these steps leading down to a basement hall, but we realized that people weren't heading down there, so we thought about how we could adapt. We ended up changing the space to include these black blocks. If we just said to ourselves, 'OK, the store is working well now' and didn't constantly question what we're doing, it'd get boring.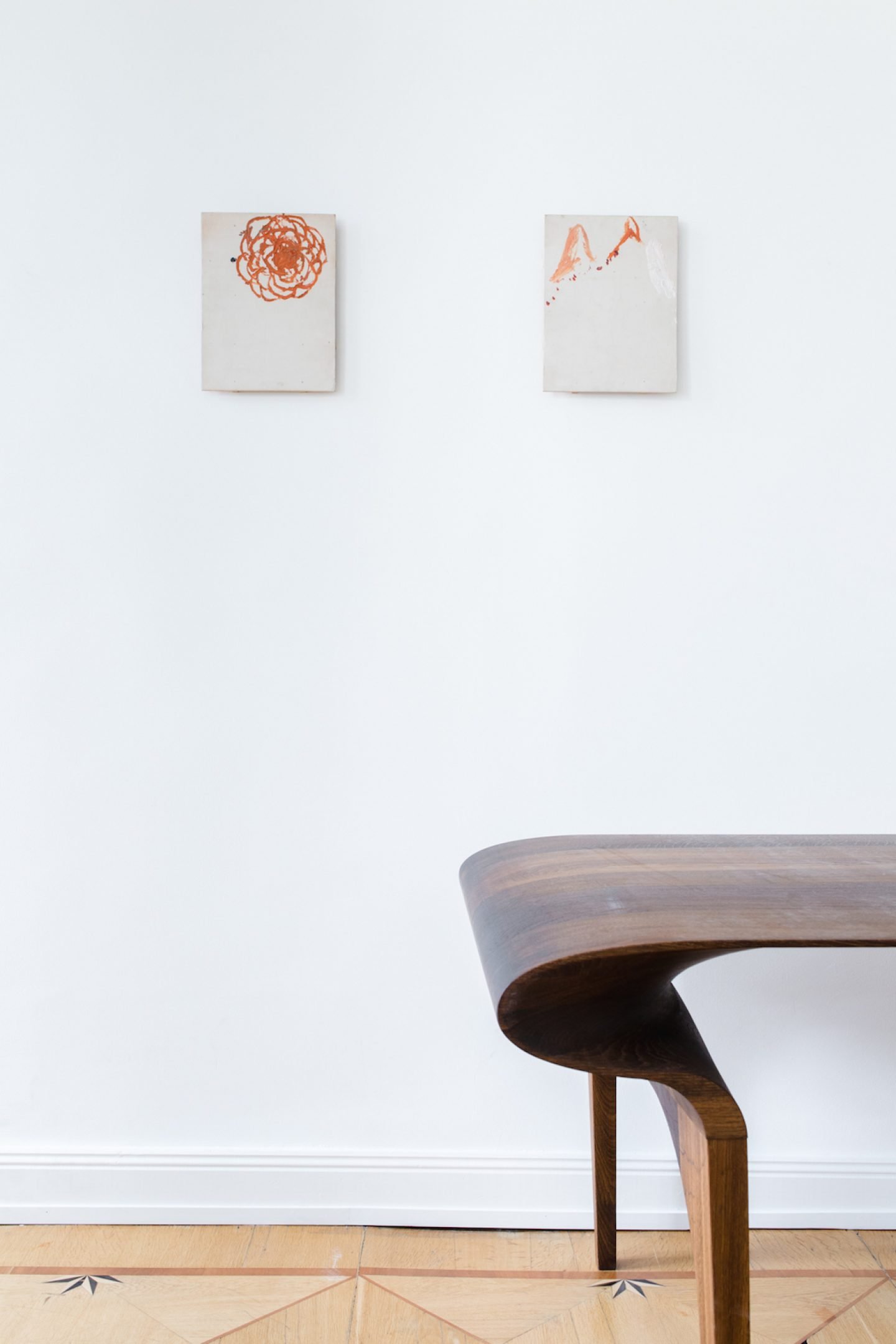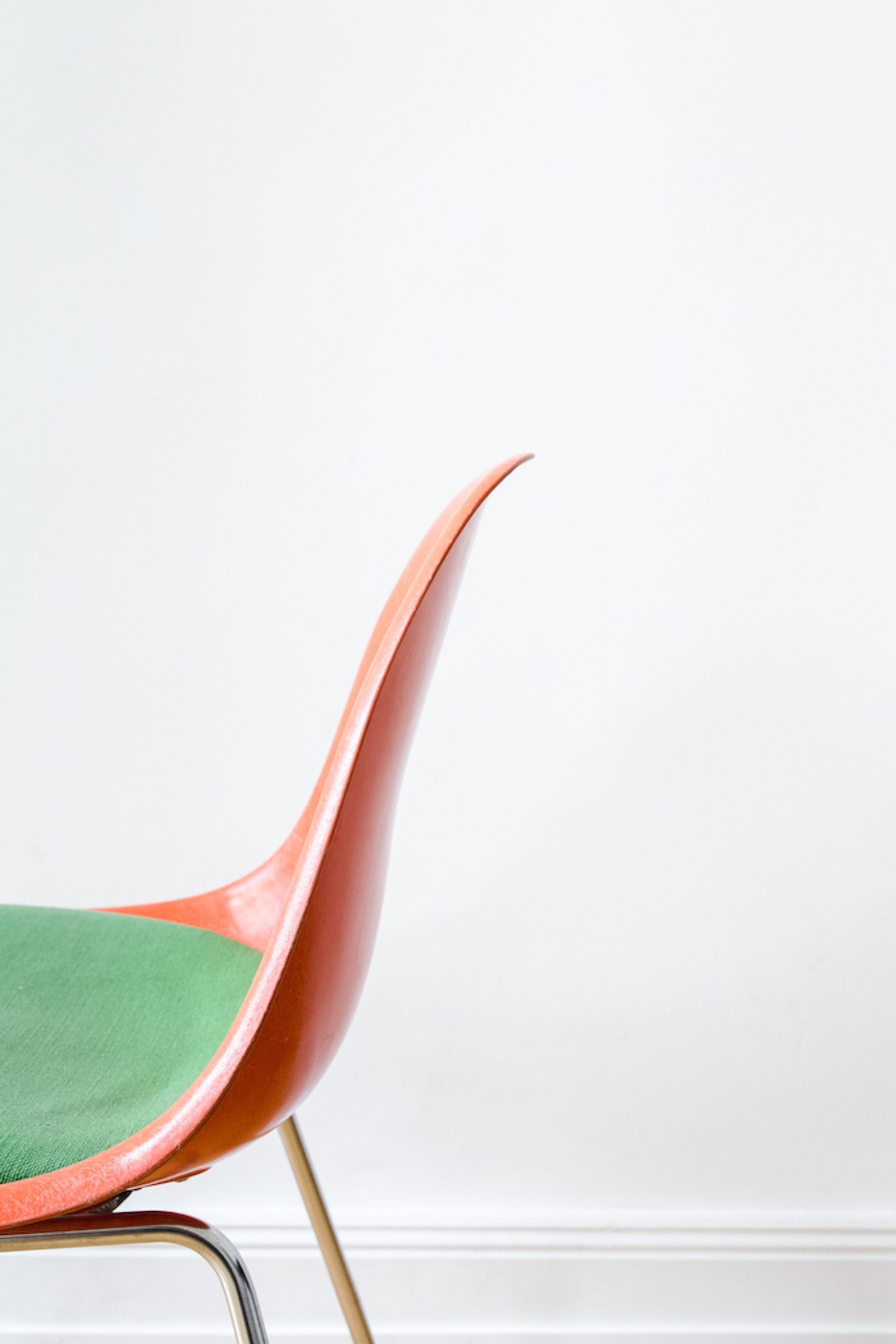 Curation is, of course, a fundamental tenet of what you do. Over the past few years in particular, however, the word itself seems to have become abstracted from its original meaning. What, in your eyes, is the role of the curator today?
I find these terms—curation, concept store etc—a little exaggerated, to be honest. In the end, it's either a good store or a bad store. Every store has a concept – there are simply good concepts and bad concepts. So you have to keep interrogating your concept, asking yourself whether what you're selling is still good, and adapt accordingly. I take issue with the word 'curation' in the context of what I do, as it implies more than just bringing things together, but rather an intellectual process. You can't really apply it to a store. The word has its use as a tool, but it's a difficult one. In the end, everyone is a curator, every shoe shop is a concept store, every supermarket is a concept store of sorts.
Can you describe your ideal living room set up to us?
In a living room—and this goes for my living room at home too—the most important thing is a nice couch, somewhere to relax on at the end of the day, after being in the office – a space to allow yourself to unwind, to just be. In terms of lighting, I have real difficulties with pendant lamps. At home, we have standing lamps. With the store, and actually with your living space, you constantly have to consider how to rearrange things, and, of course, with pendant lamps, it's tricky to do that. For example, if you want to change the height of a table, the pendant light has to be adjusted too, whereas standing lamps allow you to be much more flexible.
We're lucky to have found our Michael Anastassiades, Bodo Sperlein and now also Bocci pendant lamps. It's always been a lot easier simply to work with standing lamps, but there's a new generation of beautiful pendant lamps starting to come through. Like what Lindsey Adelman is doing, for example. But the goal is to stay is flexible as possible, so as to allow yourself to rearrange things as often as you want. You don't even know in how many different formations you can arrange your room. You just have to keep trying it out.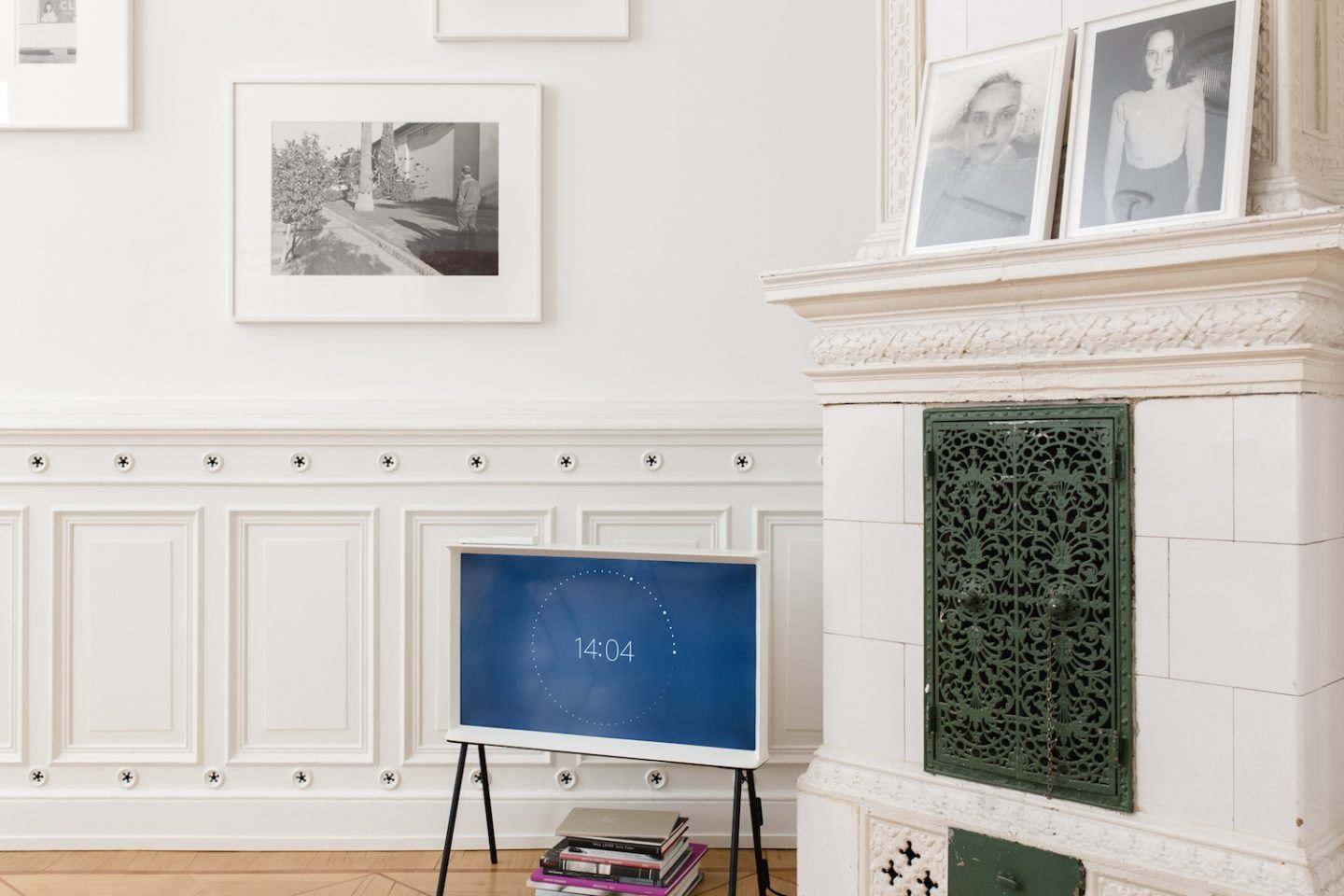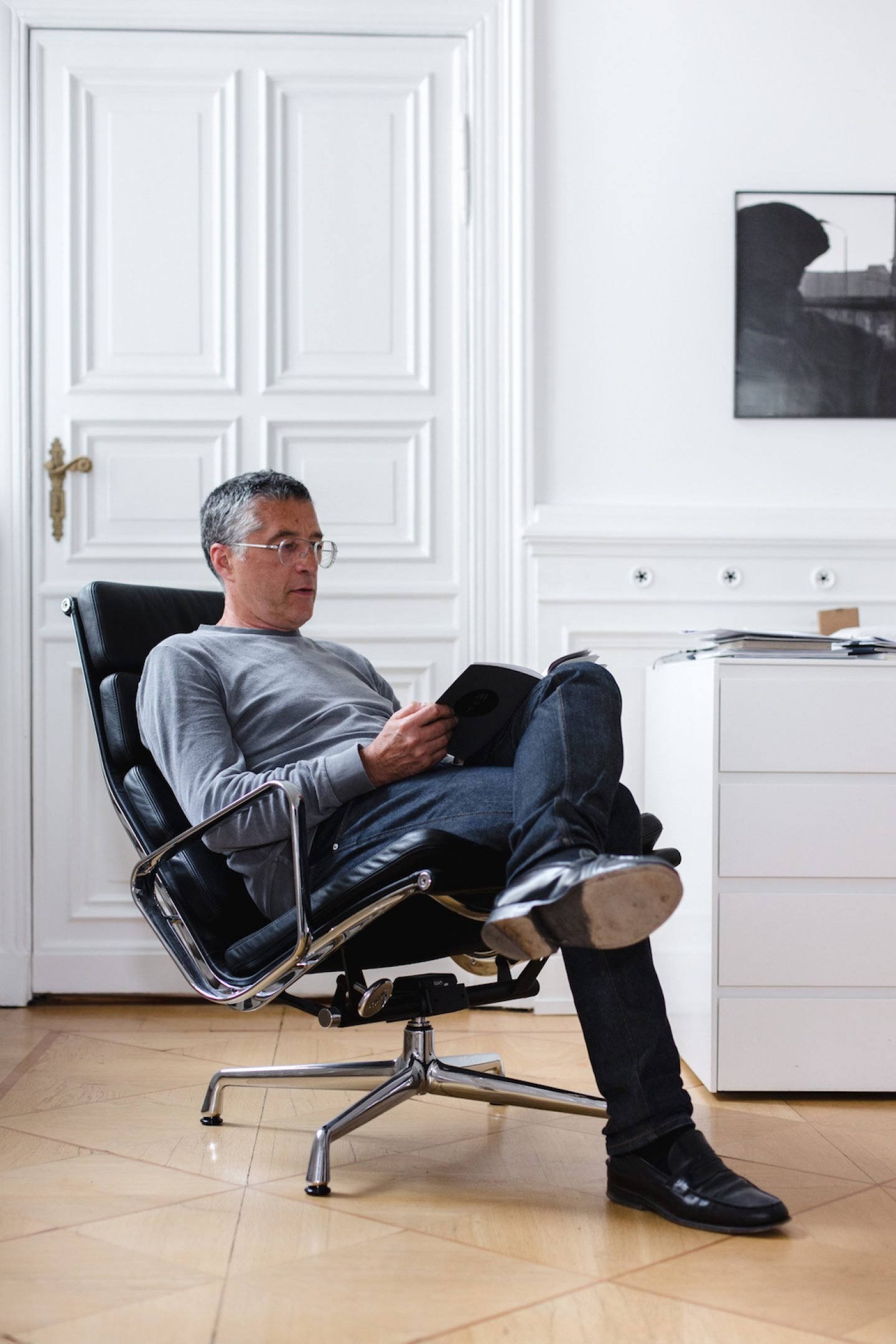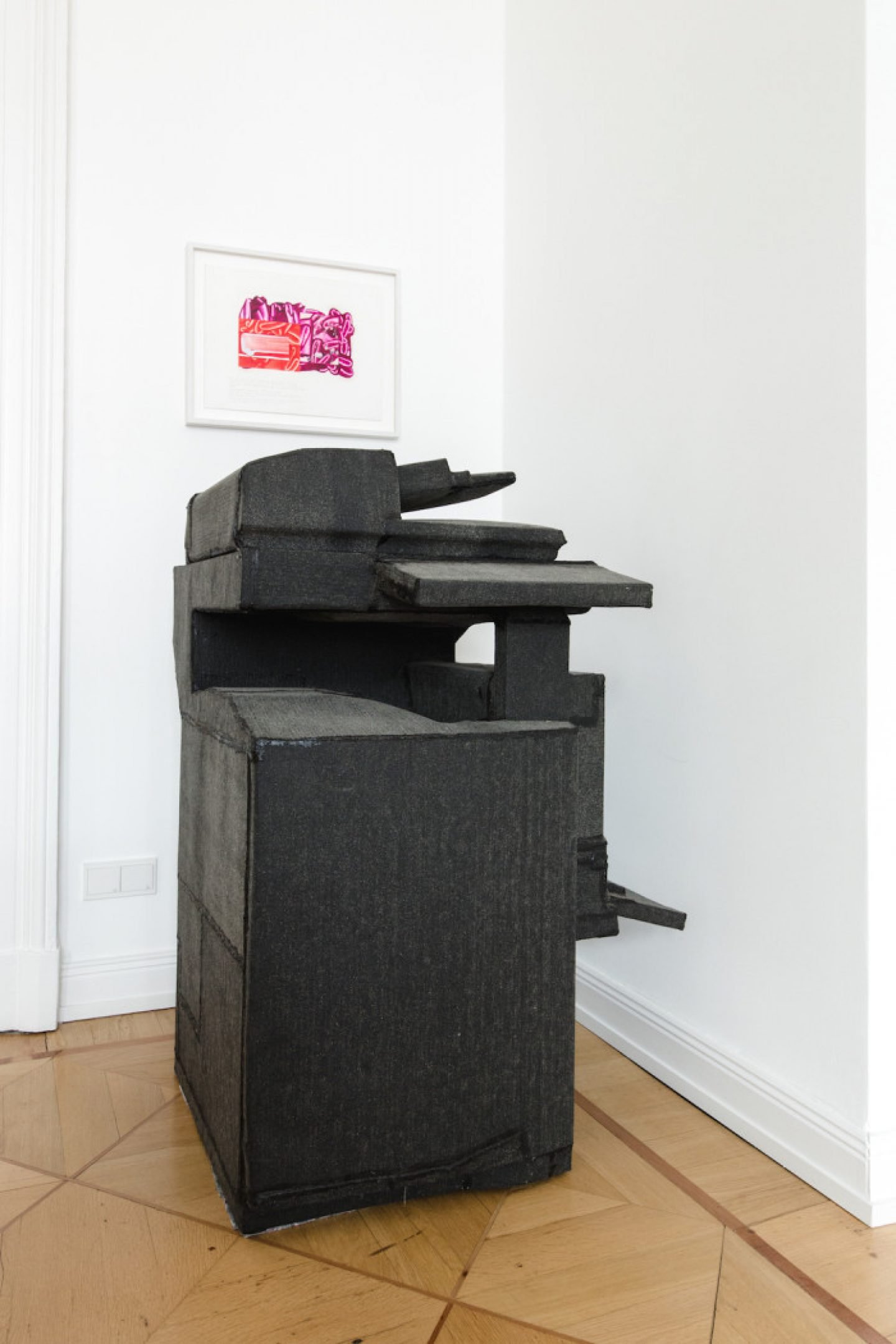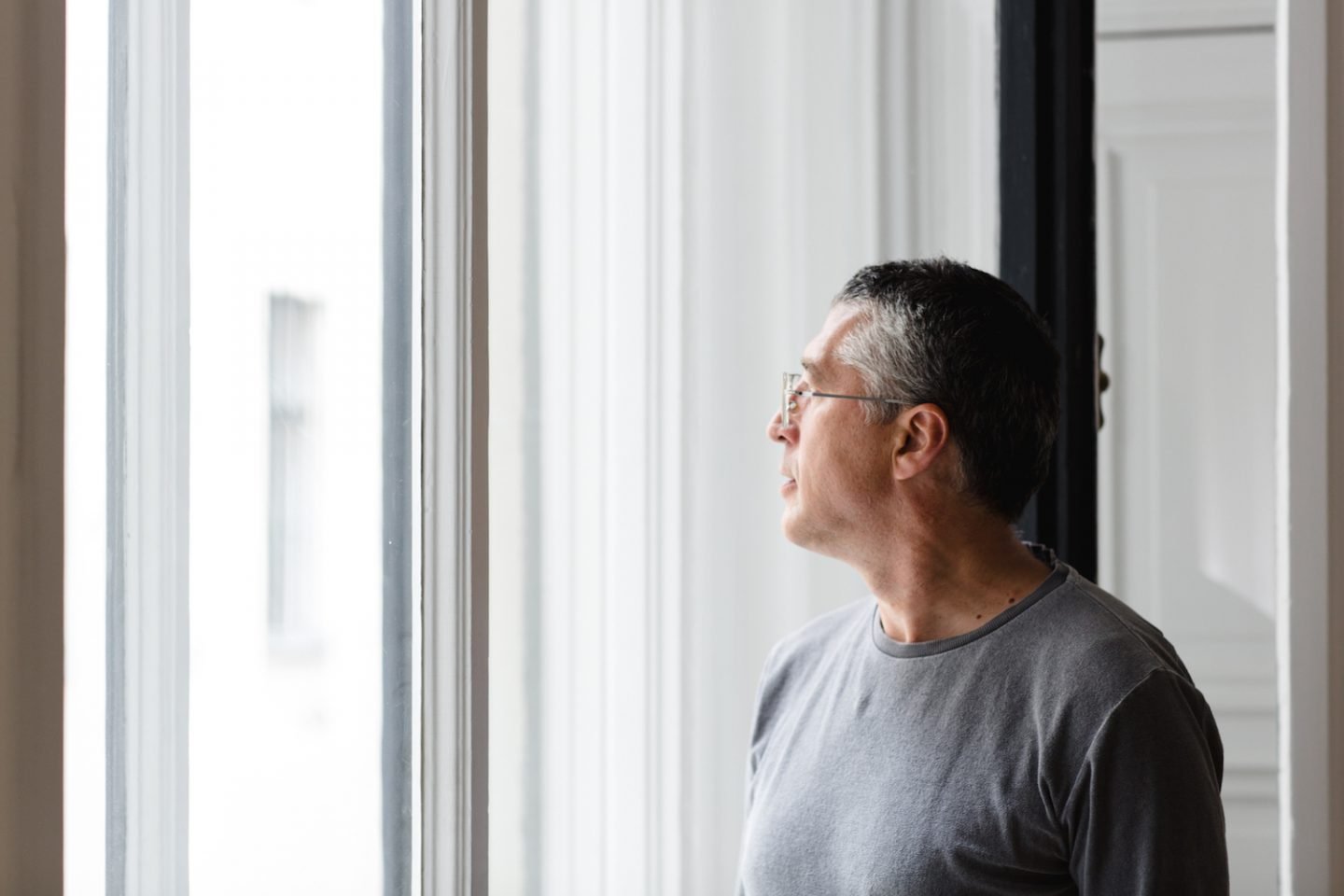 Taking the living room as a space for relaxation and entertainment, what should the role of a television be in that environment?
A TV is important to me—I have two children, and we find ourselves watching sport from time to time, or a film, but I find that most TVs are—or were in the past, at least—so ugly that I wanted them out of sight, in a TV cabinet for example. But now, looking at the Bourollec TV design, it reminds me a bit of a chalk board from a classroom or a kid's playroom, with this frame, on which you can keep things, so for example you could lay down a piece of chalk and pick it up later and draw on it. There's also this mirror in the store, by Classicon, that has a frame with depth, and the mirror is behind it. It's a great idea, because you can place keys or lipstick or anything on the frame. The Samsung Serif TV reminded me a bit of that too. It's a beautiful object. Most TVs just look like ugly electronic items, but this here looks like a precious, desirable object.
This interview was edited and condensed. Text by Anna Dorothea Ker. All images © Clemens Poloczek, created exclusively for IGNANT.