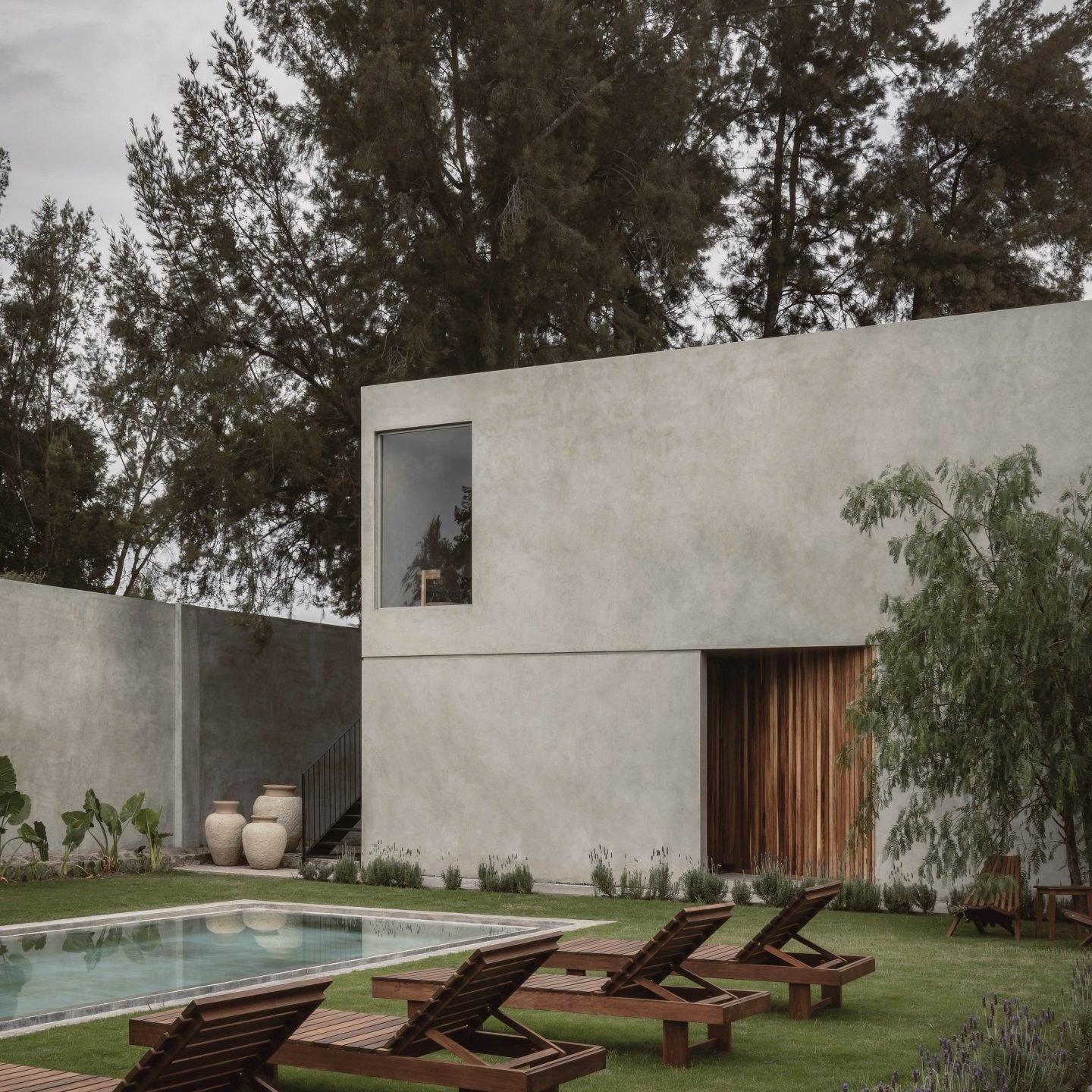 Casa Mate By Araujo Galvan Arquitectos Is A Study Of Simplicity And Refinement
Mexican architectural firm Araujo Galvan Arquitectos has designed a minimalist country house in the south of Guadalajara, the capital of Jalisco, Mexico's western state. Named Casa Mate, the residence features a striking geometric concrete structure and a large central garden—both of which have become a defining part of the project's identity.
The 480-square-meter dwelling is accessed by an ample entrance terrace, which leads to the property's kitchen and living area. Beautifully enclosed by floor-to-ceiling glazing, this opens, in the back, to a vast central garden with a minimalist concrete swimming pool and an intimate terrace conceived for conversations around a fire pit. Various rooms and functions are arranged around the garden, including domestic spaces, open air and flexible areas. With gallery-like, tall double-height ceilings, the main bedroom is connected to the terrace through an external corridor and offers tranquil views towards one of the more intimate side gardens. Equally conceived with isolation and quietude in mind, three more bedrooms are found in the back volume. Arranged on two floors, they feature private terraces in rustic stone dotted by pots and trees. At Casa Mate, everything is enveloped in clean surfaces, giving the complex a crisp feel of modern minimalist architecture. Concrete, wood, and marble are the main materials, while granite details and neutral colors wrap the interior in calming textures—allowing the architecture to become the project's real protagonist. Sleek furniture, large openings, and greenery throughout the spaces reinforce the overall sense of warmth and calm while adding colorful accents and a soft contrast to the perceived harshness that otherwise defines the concrete structure.