With a visionary approach and a virtuosity only few could match, Grégoire Scalabre is one of the most accomplished sculptors of our time. His laborious works merge disparate techniques, textures, shapes, and forms, taking the art of ceramic to constant new heights. IGNANT caught up with the artist just hours before his latest work, The Final Metamorphosis of Thetis, was presented in the context of the exhibition 'Porcelain Virtuosity,' at Homo Faber 2022, in Venice.
Scalabre found his love for ceramics at a very early age. "I was quite rowdy at school," he tells us over Zoom, "so I was sent to a boarding school in Normandy, which had a ceramic workshop." Mesmerized by the plasticity of clays and the transformation of the material by water and fire, he notes, "by the time I was 10 or 11 years old, I knew I wanted to do ceramics." Through an apprenticeship in the Drôme region of France, and several trainings across the country, very soon, he developed a remarkable technical and aesthetic approach, mastering with great precision colors, light, forms, and patterns.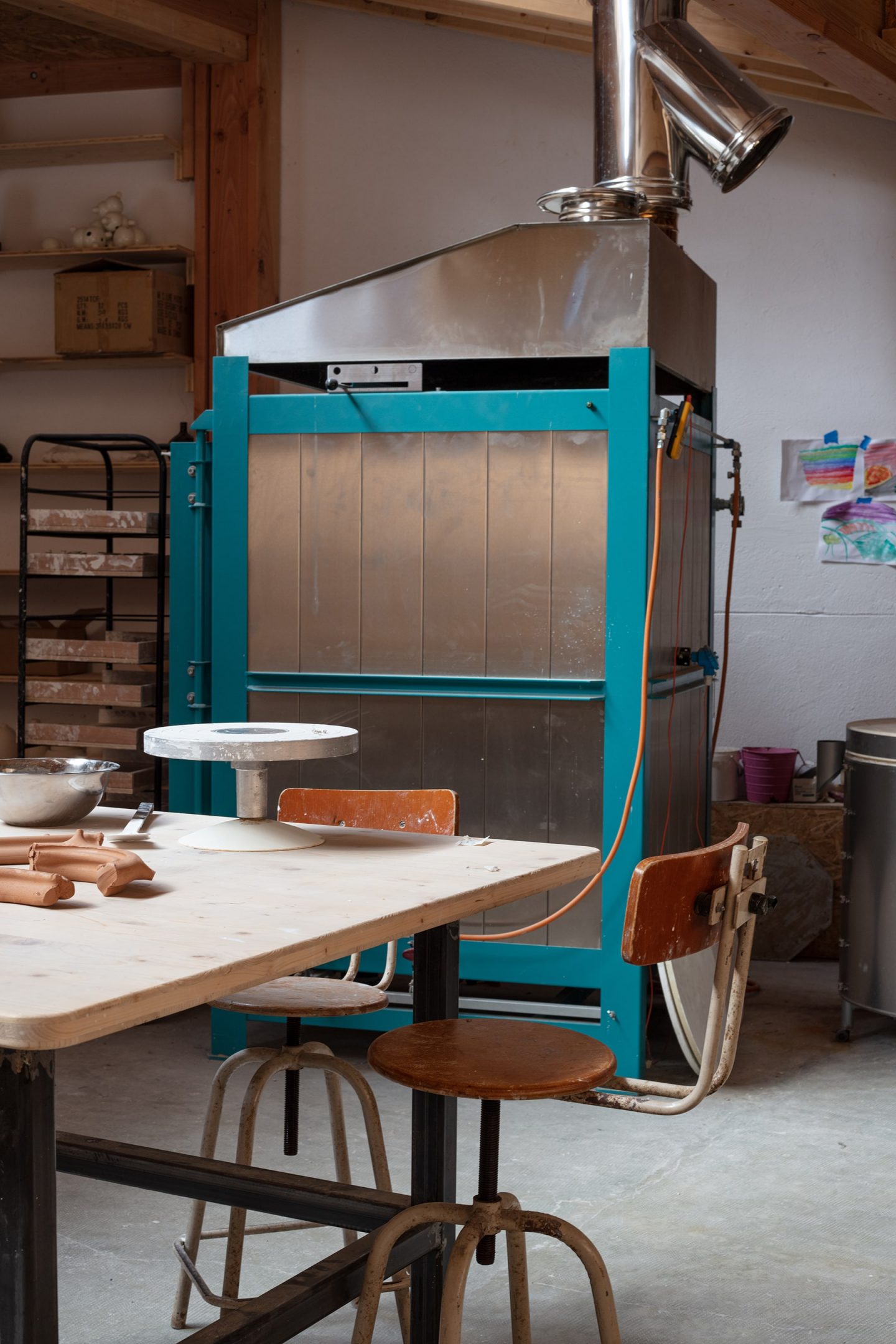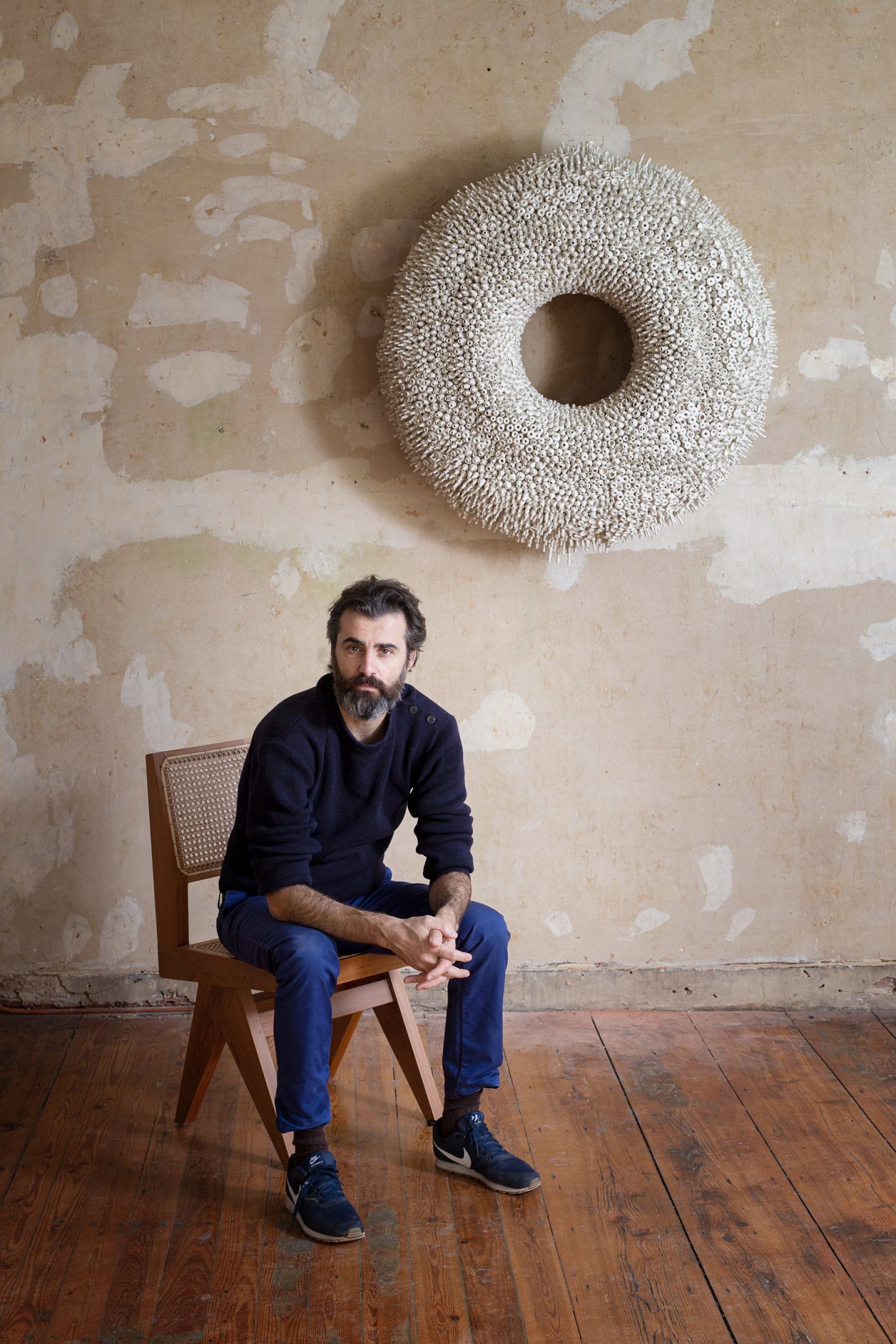 A visionary at heart, Scalabre was what many would call an imaginative child. "As a kid, I already had my own universe. I observed and drew a lot. I tinkered with things and built stuff," he says. From making forts and treehouses to adventures in the woods, Scalabre loved taking initiative. "Telling stories, that was really my thing," he adds. Today, his stories are reflected in his contemporary creations which widen the limits of ceramics. "I still like the sensation of being immersed in a project," he admits. "I have very clear visions of what I imagine, of sizes and shapes. It's like a virtual photocopy of a given moment, and that allows me to really push forward."
"As a kid, I already had my own universe. I observed and drew a lot"
The artist divides his time between his creative studio in the village of Dieulefit—a special place for ceramic art in France—and Paris, where he teaches at the Scalabre Mercier Studio. This workshop was created in collaboration with Virginie Mercier, and dedicated to the dissemination of ceramic know-how. Inspired by statuary art, as well as French heritage architecture and industry, his work is internationally celebrated and found in major public and private collections in France and abroad, including the Musée des Arts Décoratifs in Paris and the National Collection at the Manufacture de Sèvres.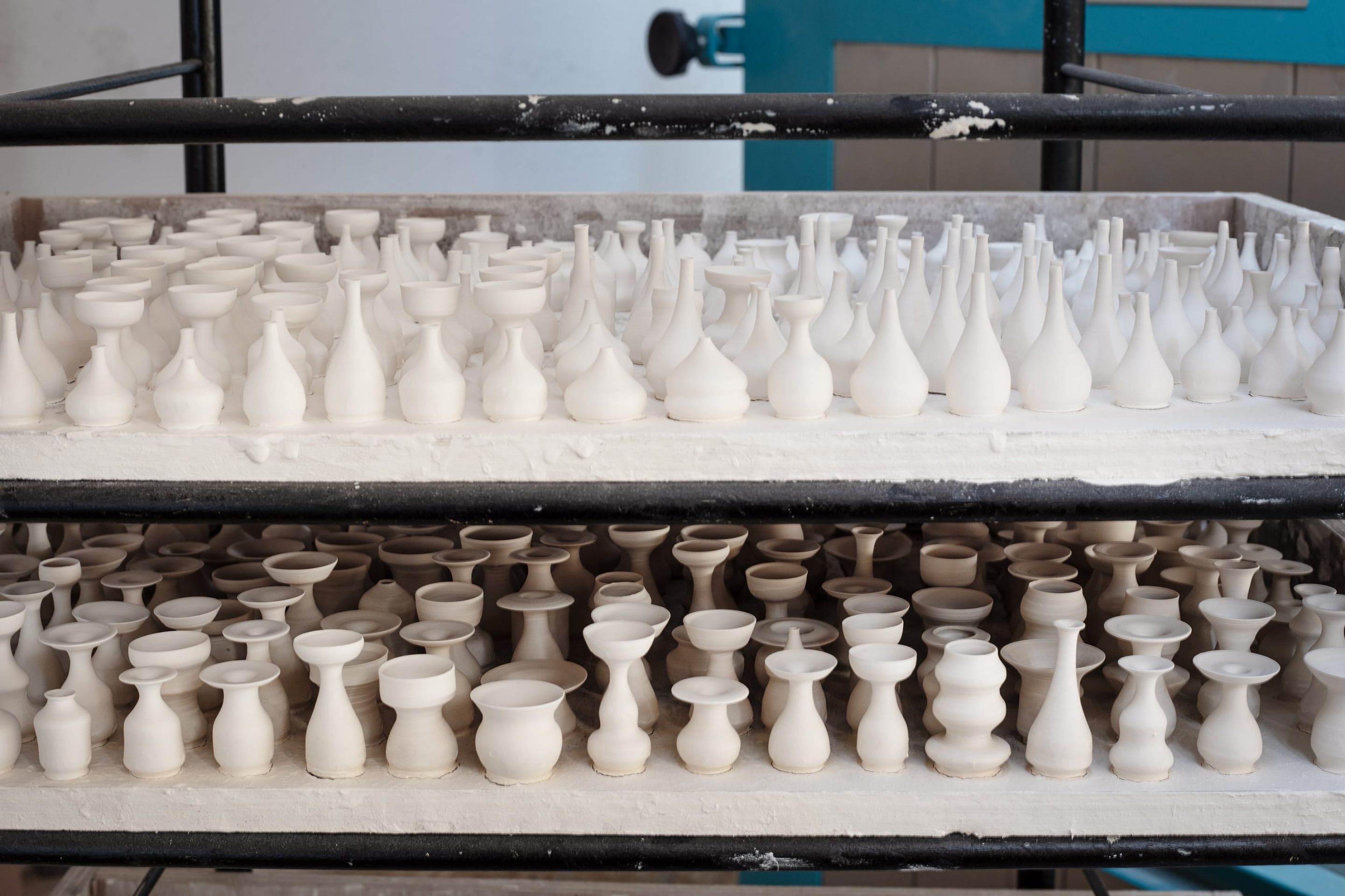 From polished to rough and extreme, Scalabre's work spans styles and textures. The ceramist uses a variety of registers of expression in terms of size and material, often clashing those in a single work to seek a renewed repertoire of shapes. His pieces are generally made in ceramic, yet he admits to enjoying blurring the lines every now and then. "I allow myself the freedom to play with surface effects and to imagine different mediums. I want the viewers to wonder: Is it cast iron? Rubber? Stone? Porcelain?" he says. By challenging preconceptions of form, weight, and materiality, the field of possibility becomes boundless. "You soon realize that when you imagine different materials, you have another way of apprehending the shape and its contours," adds Scalabre.
"I allow myself the freedom to play with surface effects and to imagine different mediums"
The Final Metamorphosis of Thetis is a prime example of Scalabre's game of paradoxical combinationsThe artist likes to play on a very wide range—from the miniature to the monumental, from dissemination to accumulation. Presented as part of the exhibition 'Porcelain Virtuosity' of the Homo Faber 2022 edition, in the Baldassare-Longhena Library of the CINI Foundation in Venice, his latest monumental work, The Final Metamorphosis of Thetis is a prime example of this game of paradoxical combinations. Two meters high, 1.60 meters wide, and weighing 450 kilos, the piece is composed of thousands of miniature amphoras in an exceptional arrays of whites, beiges and greens, and combines all the know-how of Scalabre's work. For the sculpture, the artist pushed himself to the extreme—he turned and enameled each miniature, one by one one, by hand.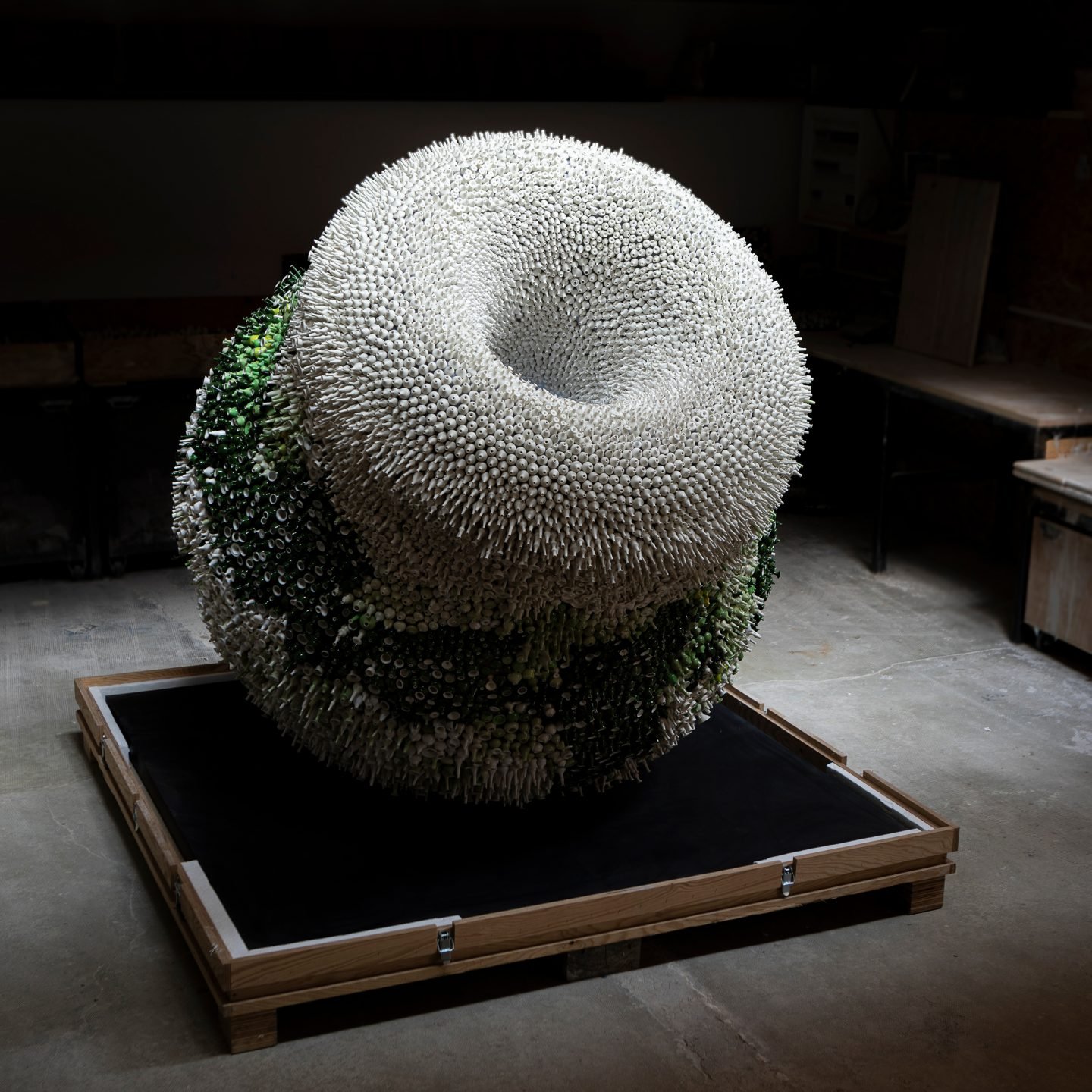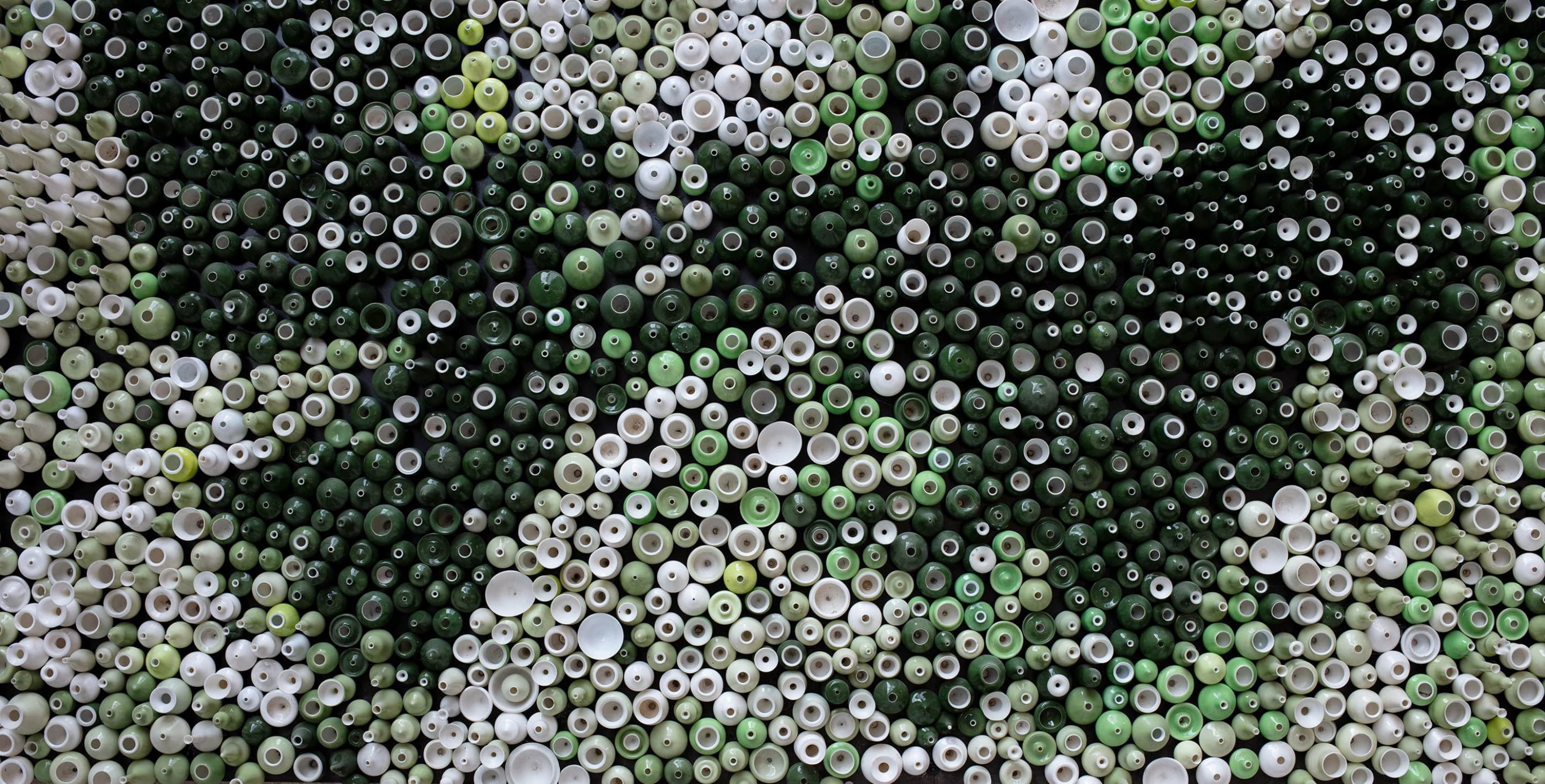 "I'm interested in repeating an act to arrive at a secondary state, to master a material and discipline""Accumulation is the multiplication of forms that moves and changes the scales, making the tiny cohabit with the monumental on the same piece," the sculptor explains proudly. Small things and accumulation are not new to Scalabre—earlier works such as Soane or the Cignus are testament to this technique—yet this piece is his most important one in terms of size. For it, Scalabre has created 70,000 pieces, 2 to 3 cm in height and 1 cm in width, using the technique of turning called 'à la Motte'—a traditional method in which each porcelain miniature is individually turned and, like a thread, a series of pieces merge continuously from the artist's hands. The sculpture, however, "is not a study in repetition," the artist is quick to point out. "It is a single piece covered by thousands of items. While we see a form of repetition, in reality, no two pieces are alike. Because they are turned individually, there are maybe twenty or thirty different forms with perhaps a hundred different sizes," he explains. Repetition is limited to Scalabre's gesture and technique. "The art of general repetition doesn't necessarily touch me. I'm interested in repeating an act to arrive at a secondary state, to master a material and discipline," he continues. "This allows one to go to the bottom of oneself."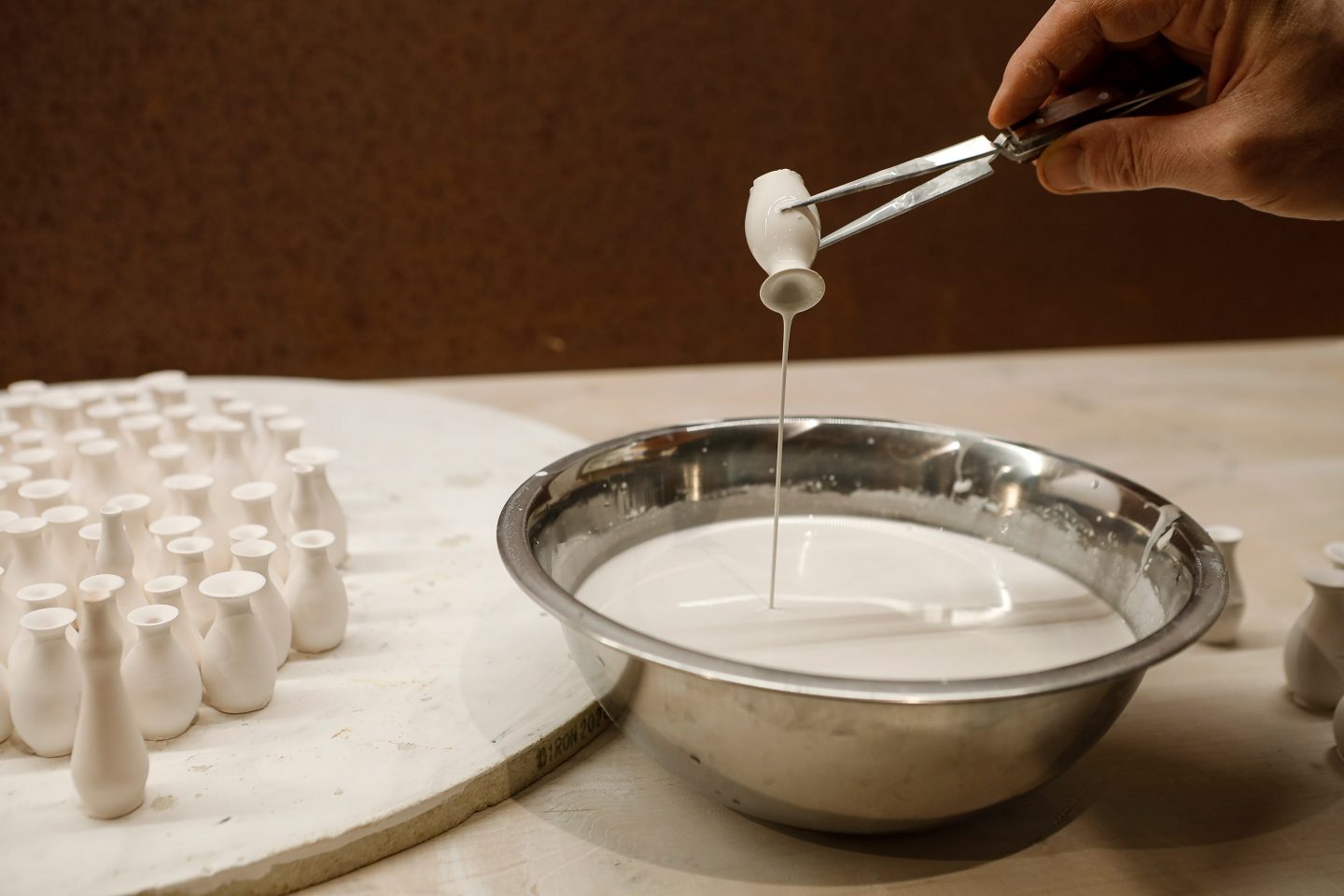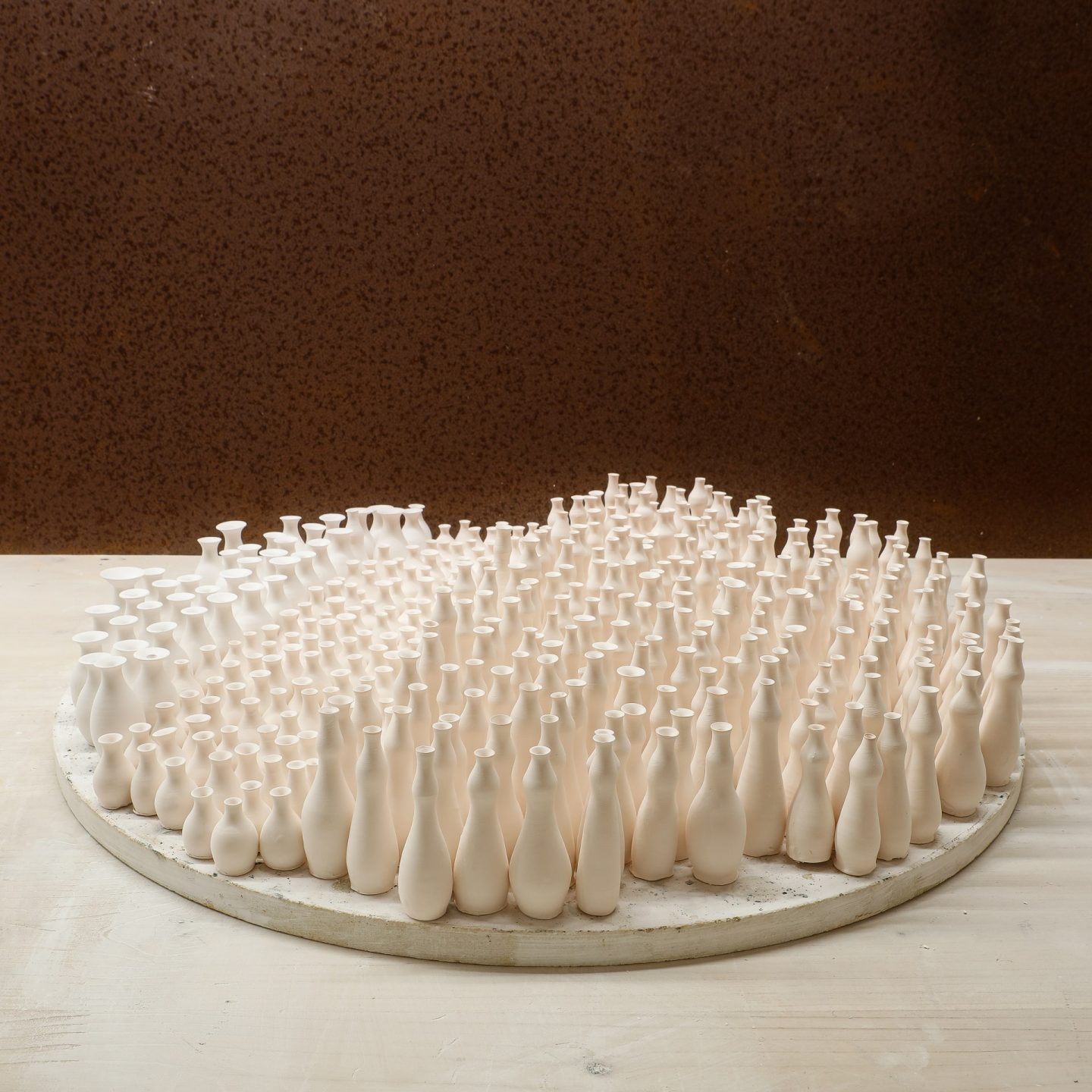 From start to finish, the production of The Final Metamorphosis of Thetis was a real technical feat—a colossal effort spanning several months. "Completing the work was like a marathon," Scalabre confesses. "I had to go through different trades, calculations, and scopes, then imagine the structure, 3D-model it, create the shapes, and fix them on an adhesive surface." The composition itself was the most arduous part. Having no predetermined pattern, it was completed instinctively by associating and juxtaposing shapes and color on the surface so that a language would develop. "Paradoxically, in a work of adding parts, the most challenging part is to remove and to arrive at the essential," he discloses.
"It's about letting the rational side gradually die and the imagination take over"
The sculpture is an ode to the Greek deity Thetis, a sea nymph with extraordinary powers of successive transformation, who lived out her life as a recluse at the bottom of the deepest sea trenches to flee her suitors. "I do not have a background in Greek mythology. What interested me is the secondary state in which I was going to put myself ," Scalabre admits. "When we enter something initiatory like that, we can imagine a meeting with a divinity. I wanted to give her a final metamorphosis. I Imagined all these boats wrecked in the Mediterranean, their amphoras at the bottom of the sea. Thetis could majestically drape herself in the myriad of vases and rise from the sea." In many ways, the piece is a reflection of the artist's own creative ritual. "It's about being able to change, to overcome exhaustion and tiredness through motivation. That was really the experiment: To see how far a man alone can go in the work of accumulation and what the limit is," he explains. "It's about letting the rational side gradually die and the imagination take over."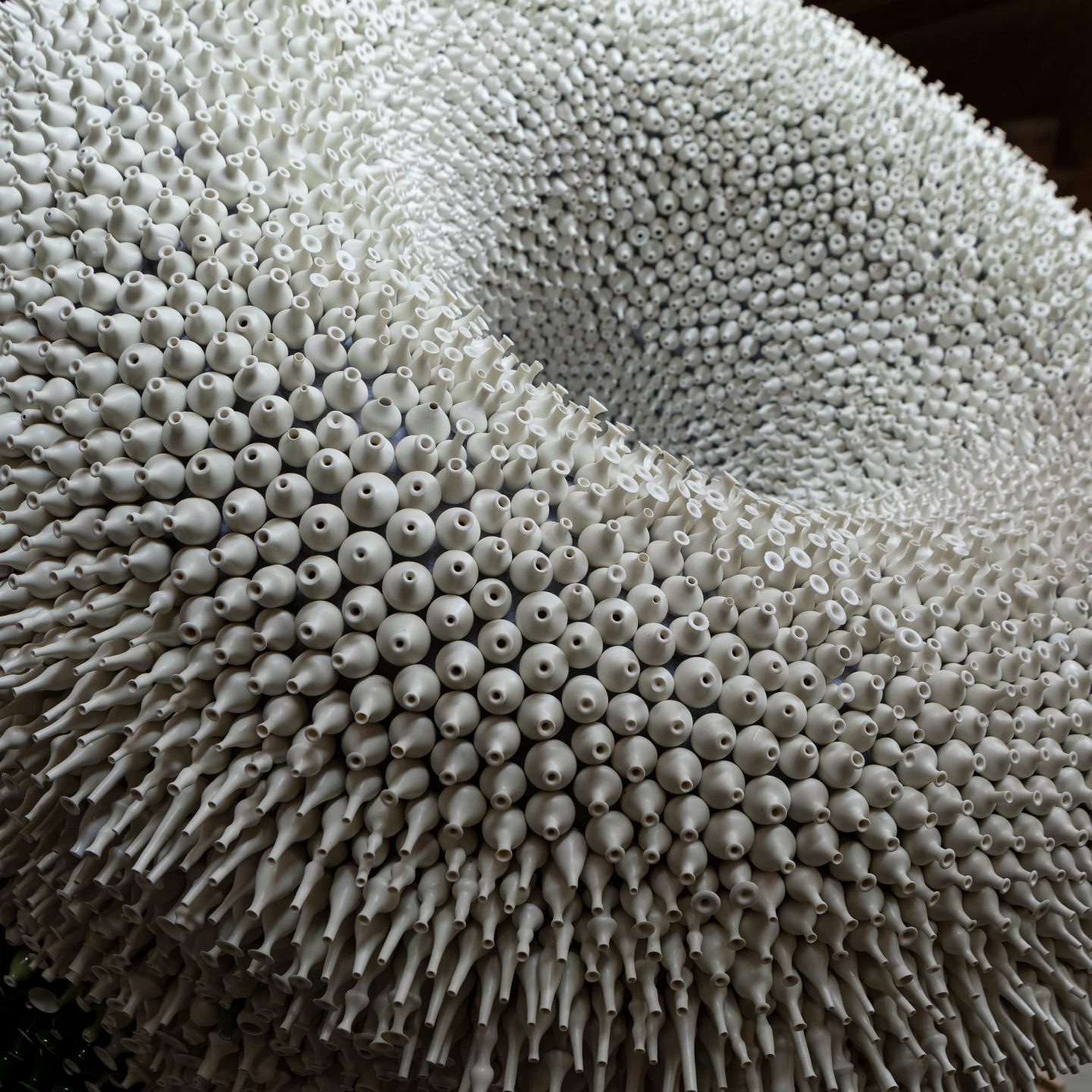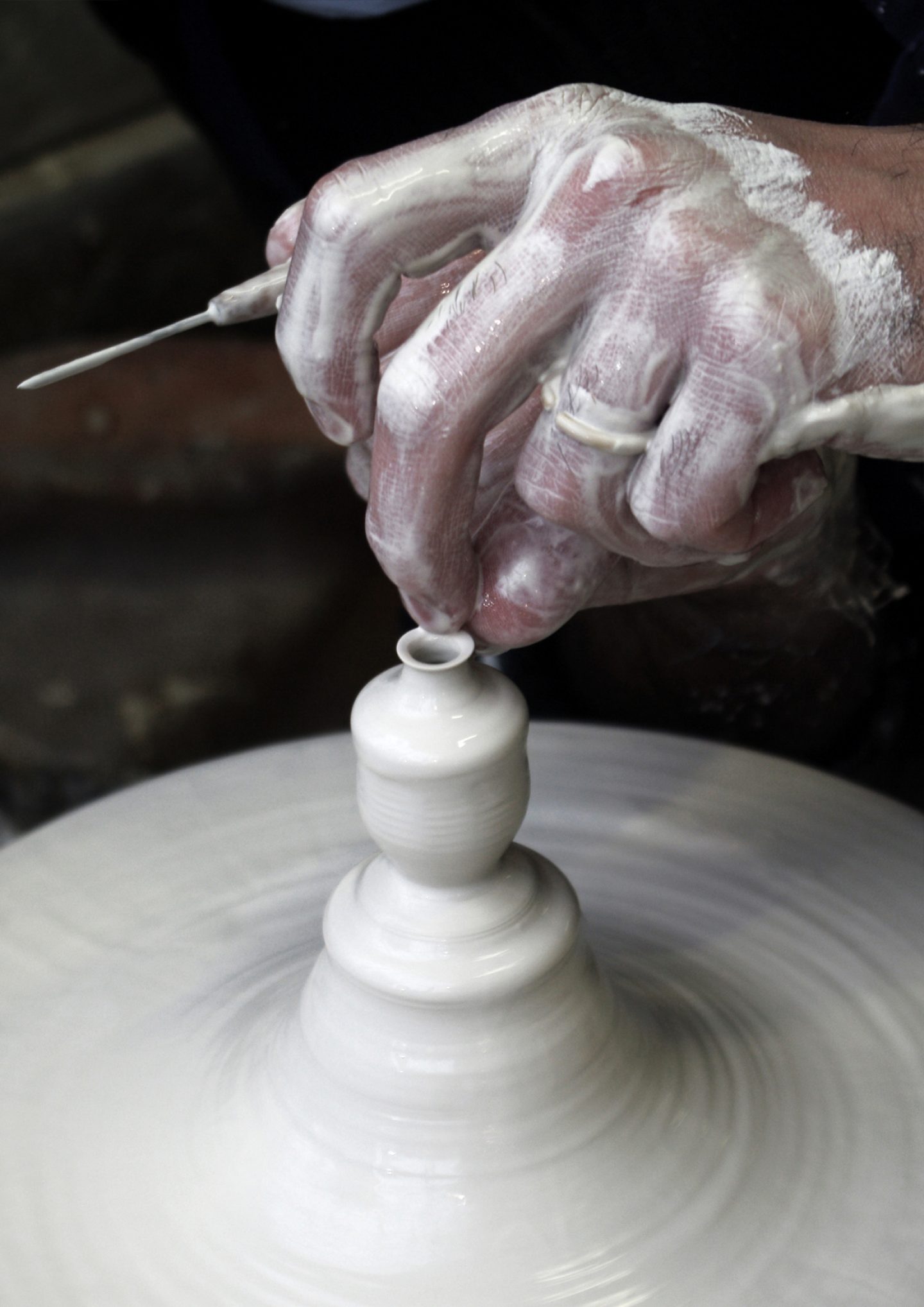 The artist acknowledges setting hard standards for himself. "Until its completion, I did not know what the piece was going to look like. I always had the feeling that it needed to be redone or improved. It's a symptom of someone who is tired," he laughingly shares. The ceramist is not shy to call himself a perfectionist. "Perfectionism is to not let anything go and to keep the same initial will, despite the difficulties that come with time," he notes. "I work alone and I give myself the means to achieve the clear vision that is ingrained in me. I owe so much to this medium that I'm very demanding so that it is best represented." More than just a requirement, perfectionism is Scalabre's balancing act, "a dance between overwhelm and managing the adventure."
"I make sculptures to generate emotions for myself"
Profoundly focused on his work, Scalabre takes refuge in his techniques, which become forms of escapism. "I make sculptures to generate emotions for myself," he confesses. "I don't do my work with a concern of message, of conveying something. It's very egocentric. Sculptures are a pretext for me; they allow me to live the moment better." Yet, when looking at the now-completed work The Final Metamorphosis of Thetis, Scalabre finds it difficult to express what the final piece evokes to him. "My view of it has changed completely between the first sketches and the final result," he explains. "I just installed it in Venice, I put it down and looked at it as if it were someone else's. I need to detach myself from the technical side." Spectacular and monumental, the piece definitely has a wow-factor. "I'm proud of its technical prowess, but technique is something that will remain intimate. What interests me is to know how it will be represented, which parts will be the most watched. Nothing is fixed for me. Feelings will change with time and according to our state of mind. In many ways, the piece is like a mirror," he says.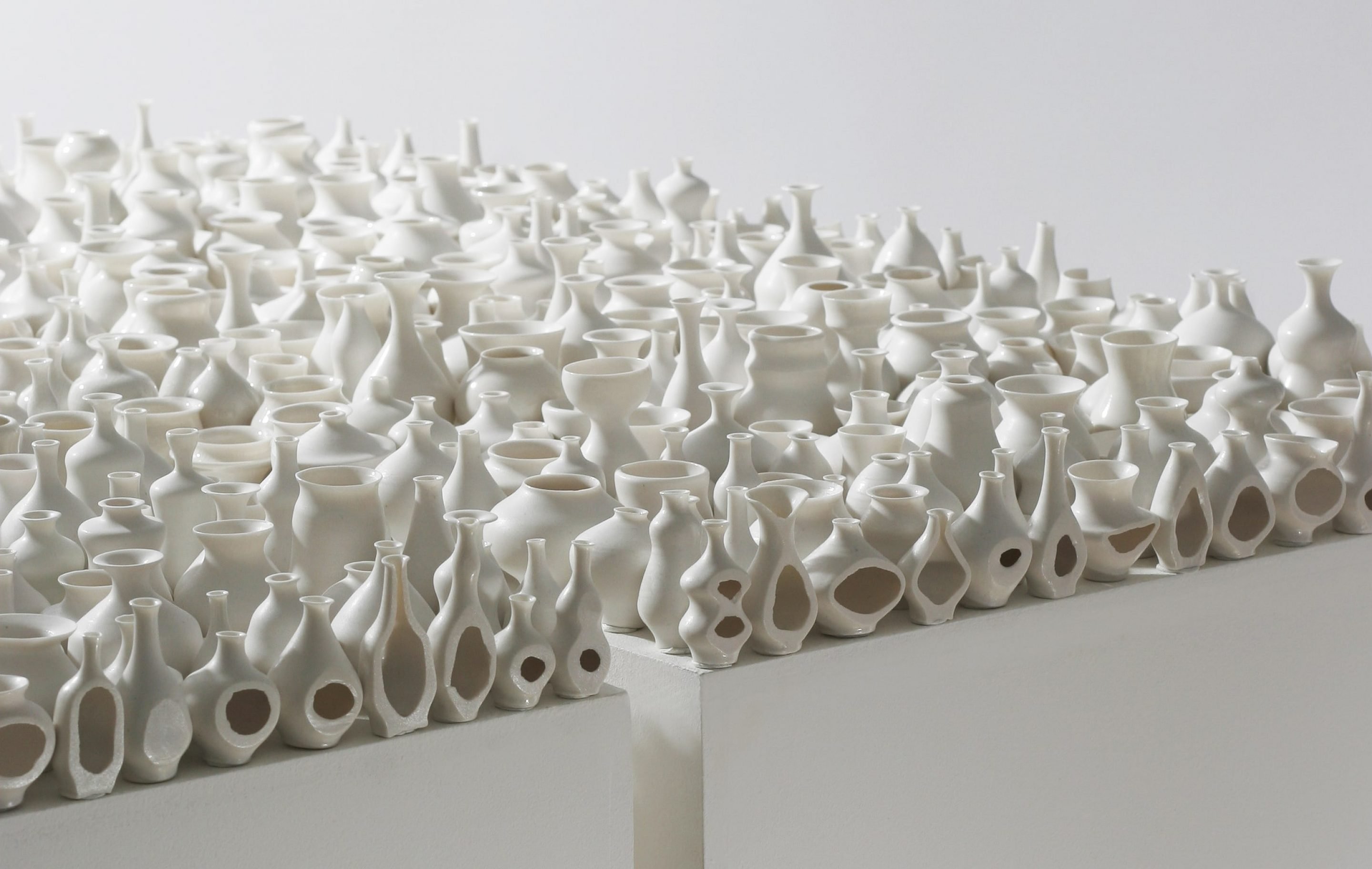 "I am at the service of ceramics. I shall not be too interested in what people say"With decades of work and achievements under his belt, Scalabre is no longer interested in getting noticed nor in what the viewers take away from his work. "I am at the service of ceramics," he asserts. "If I can bring ceramics to a certain level, I'm pleased. I shall not be too interested in what people say." The artist remains, however, humble. "I'm grateful for having my work recognized and for the many possibilities of exhibitions. It is something that makes me feel good and bolsters my ambition," he says. "But the bulk of the battle is inside oneself. When you enter the studio and close the door [behind you], you are back to the earth and your work. I'm very humbled by this. It is a discipline, an attitude that I want, that I put in my workshop and that will lead me to continue my work," he adds with a soft smile.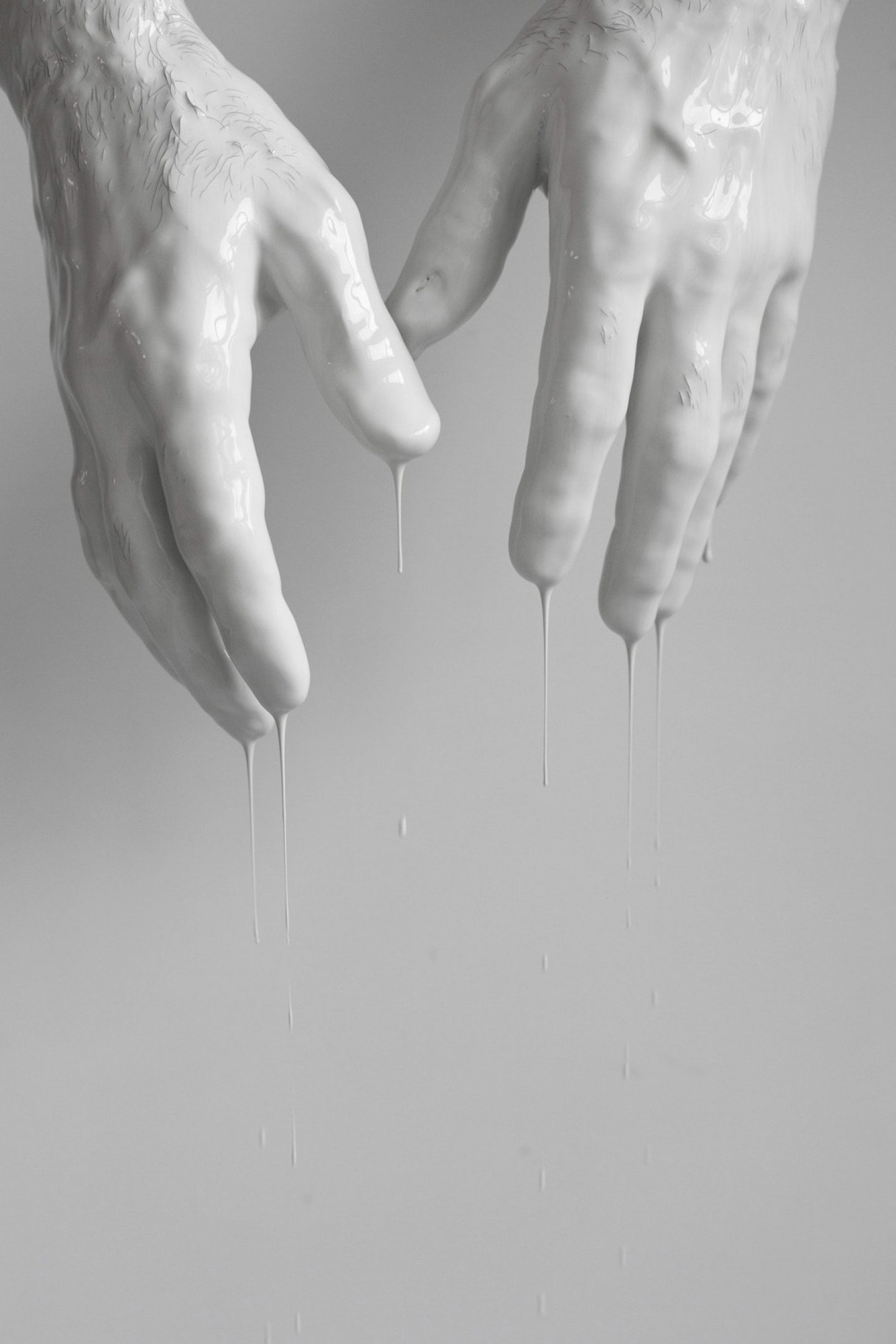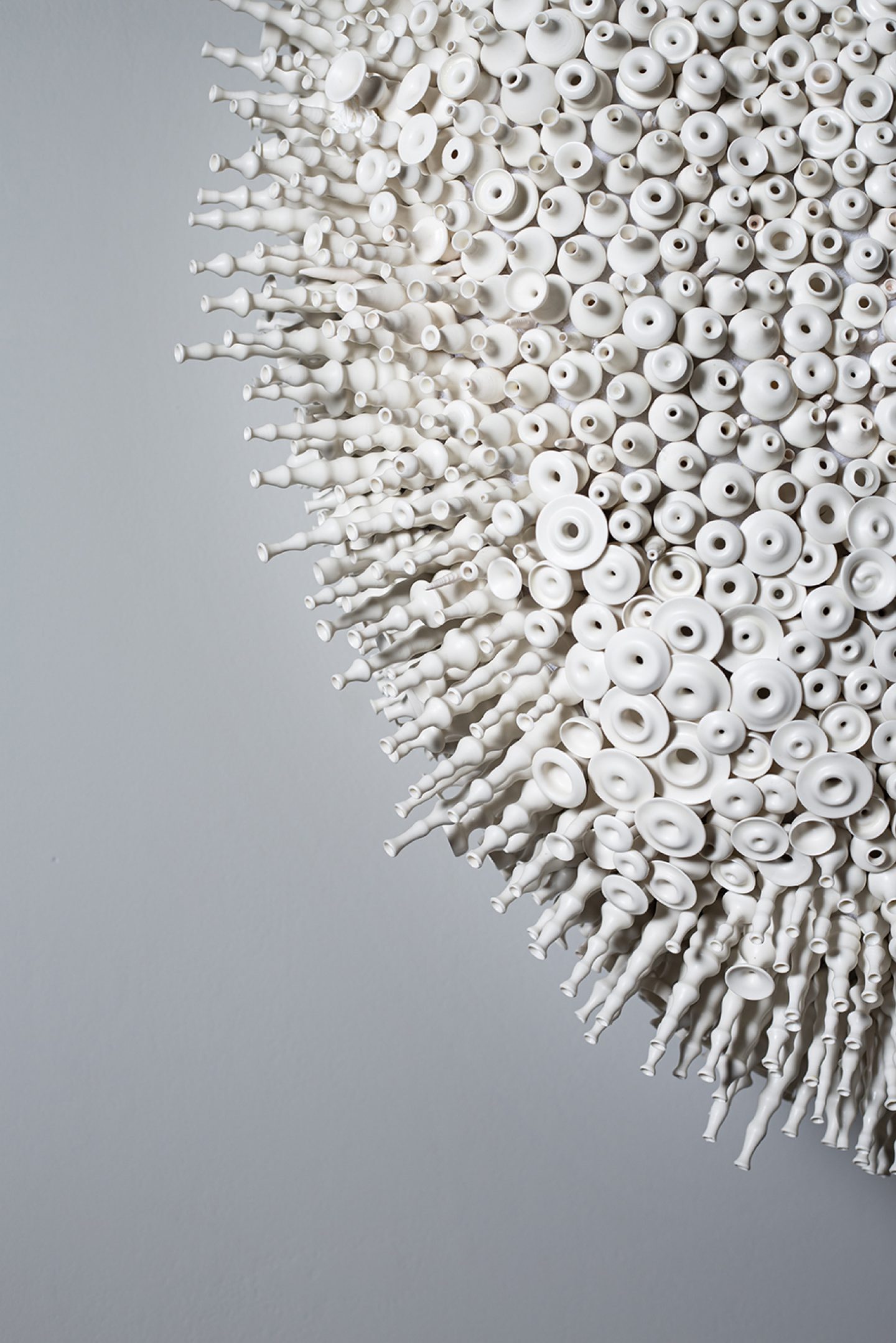 For Scalabre, ceramics is more than just an intimate act, it is a foundation of his life. "I am happy to have found a way to live with this job and to have a blossoming in what I do," he tells us as our conversation comes to an end. With a chuckle, he concludes, "in our society, many people don't know what they want or find it difficult to be in love with something. I love my job like a kid loves Christmas morning."
Grégoire Scalabre's The Final Metamorphosis of Thetis is on view at Homo Faber 2022, Venice, from April 10 through May 1st, 2022.