The British-born, Denmark-based sculptor Nicholas Shurey creates hand-carved wooden pieces that exist as furniture, art objects, and sculptures all at once. During the height of the COVID-19 pandemic, we took a digital tour of his minimal studio in Copenhagen to talk about his creative practice, the revived appreciation of slow craftsmanship, and the similarities between Danish and Japanese design.
The trained architect-turn-sculptor has a penchant for the natural material that stems from his childhood in the countryside of southwest England. "I have always loved wood, some of my fondest memories are set under trees or within forests," he tells us. "Working with wood connects me to these memories and gives me that sense of intrigue and adventure." His tactile body of work, which includes one-off sculptures along with two-meter high standing objects, is thematic in that each item features sinuous, oscillating arcs and curves that create tension between their varying masses. Creativity was always a big part of his family life growing up: "A couple of my siblings paint and the other does her own dressmaking, but I'm the first to have taken the plunge into living from making," he says.
"Often, we are discouraged from touching sculpture... But good sculpture fills its viewers with a lust to touch it"
Shurey studied architecture in the UK, and worked in London for four years before moving to Copenhagen to study his masters. "In 2018 I decided to leave my architecture job and spend a month in Switzerland working with a farmer-cum-sculptor," he says. "The days were spent helping on the farm, tending the sheep and crops, making hay, and building greenhouses." During day breaks, Shurey would draw sketches in the orchards or the barn, and would spend his nights learning how to make raw models out of clay or wood. "It was incredibly liberating to start with a block of solid wood, and chip away to reveal the form hidden within it," he explains. "I didn't want to lose this sense of freedom when I arrived back in Copenhagen, so I bought some basic sculpture tools and have been using them ever since."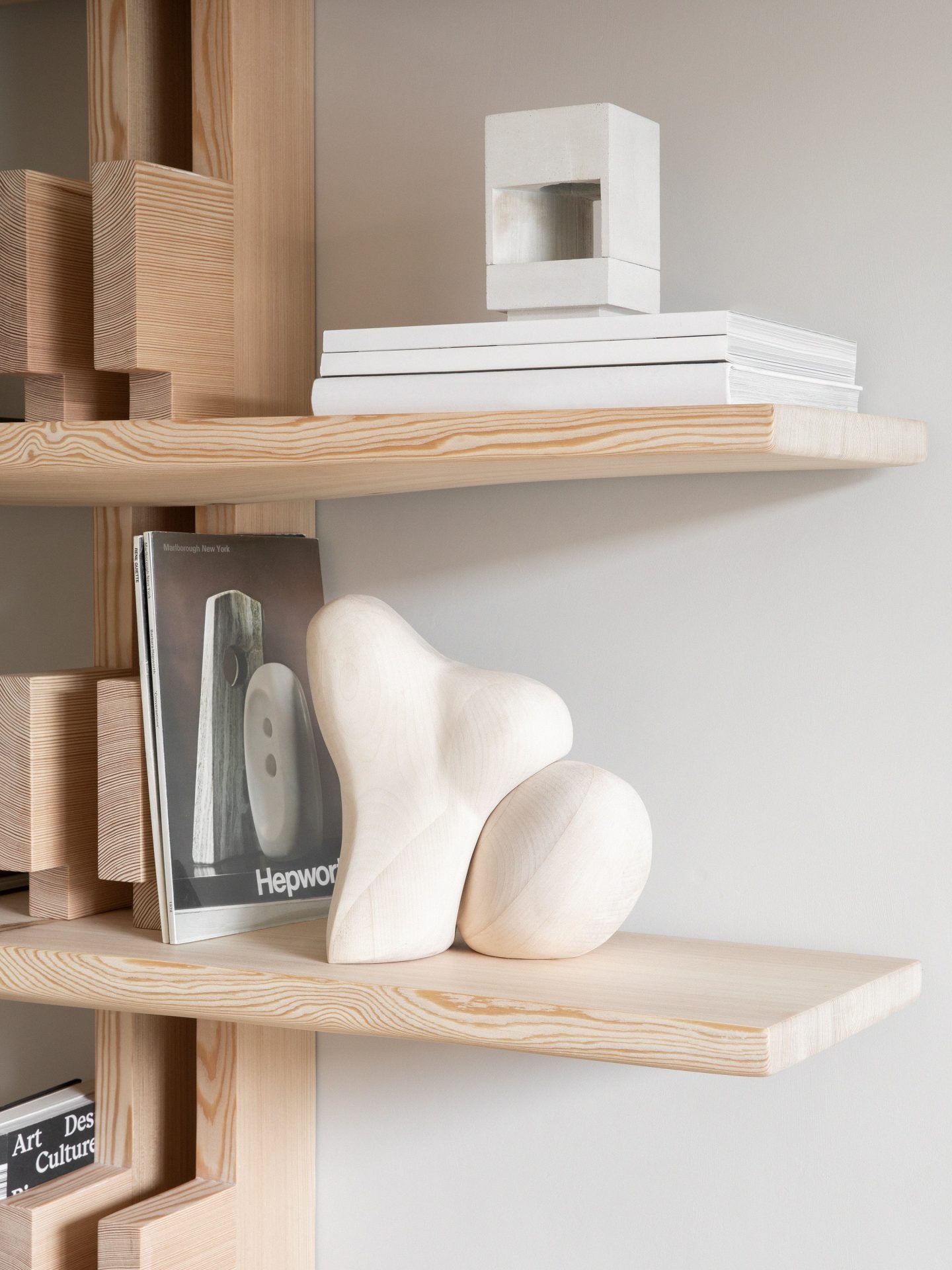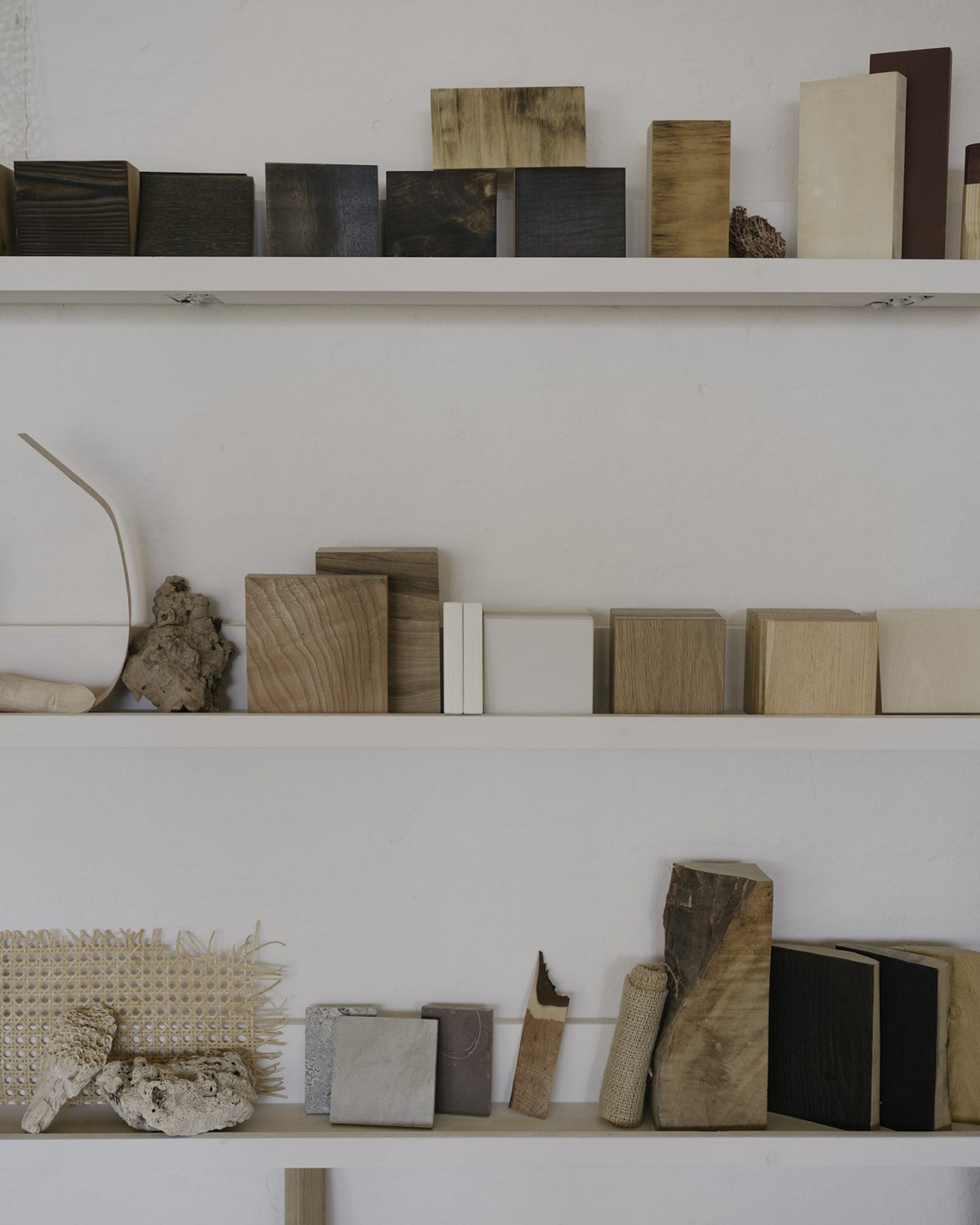 Just one year into his woodwork endeavors, Shurey's multifunctional creations awarded him a place in Toast's inaugural class of New Makers. In the brief time since then, his sculptural pieces have found their place in homes and commercial spaces including The Audo, the refined boutique hotel and concept store designed by Norm Architects and MENU, and the studio of photographer Casper Sejersen. The main principle of Shurey's creative process, which is evident in these projects, is to explore his curiosity of form. "I favor organic forms because there's a satisfaction in drawing smooth curves that flow into one another, and even more satisfaction in sanding them smoothly into physicality," he says. For the designer, it is important that sculpture is not an esoteric art form: it should be playful, and fill the viewer with a desire to reach out and engage with it. "Often, we are discouraged from touching sculpture because we give it a sort of preciousness. But good sculpture fills its viewers with a lust to touch it," he says. "I also think sculpture should arrest a viewer beyond being visually stimulating," he says, "it should elicit sensations, emotions, or memories too."
An appreciation of, and full awareness towards, the materials we use is as important as being informed of where the things we consume come from.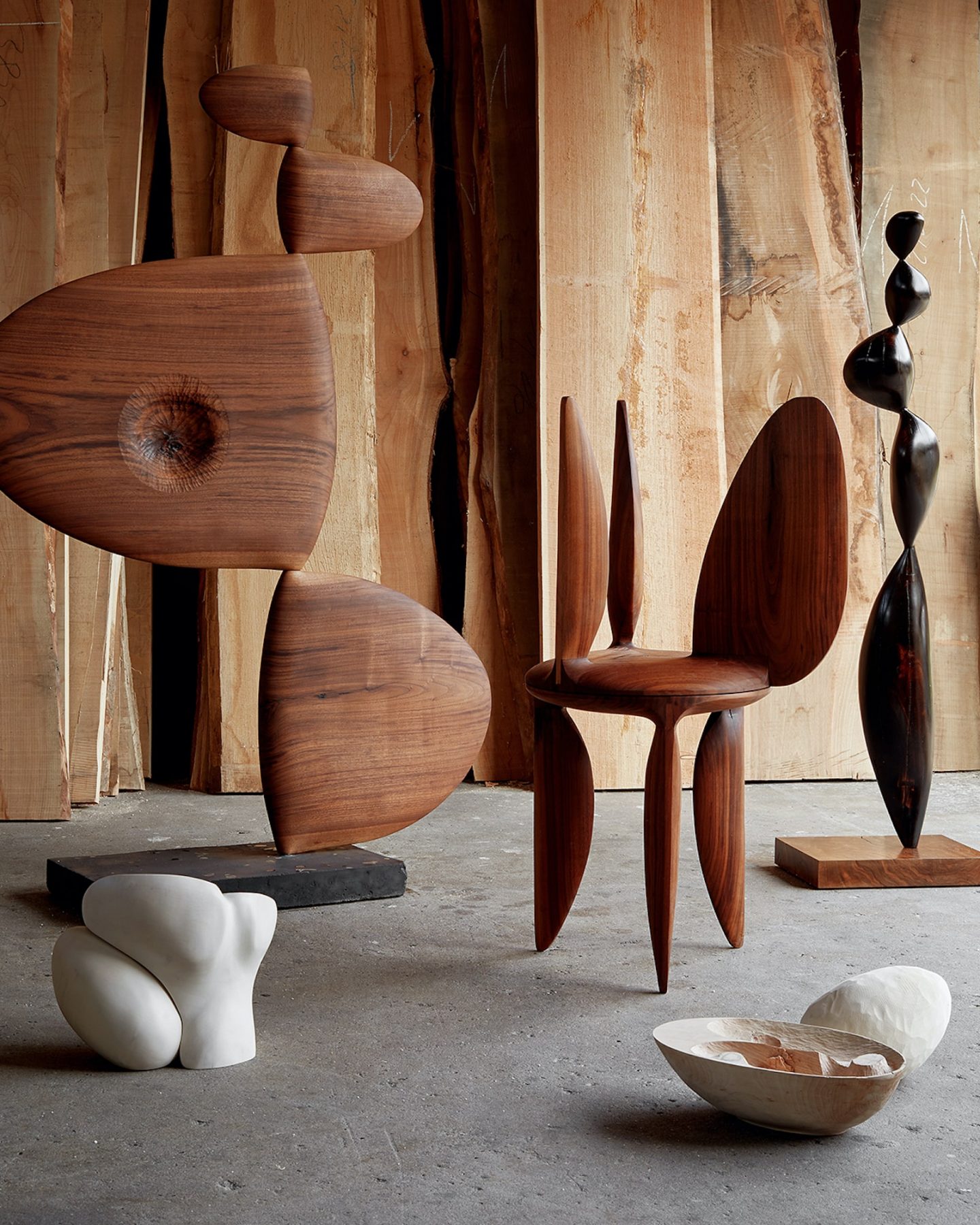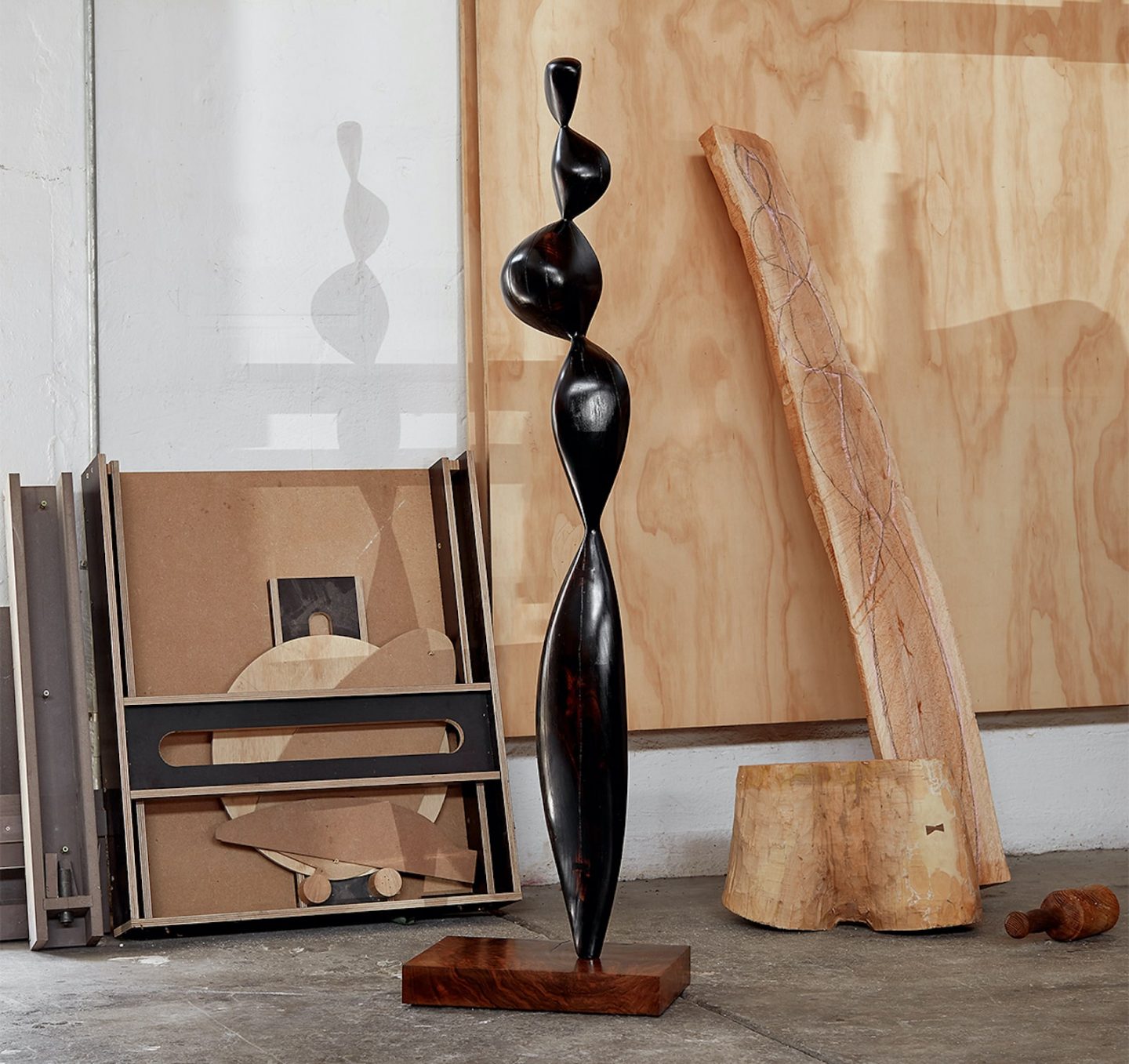 Most of the hardwood that Shurey works with could easily be a few hundred years old, and he loves the idea that each piece has a sense of time locked within its very structure. "Each growth ring on a tree trunk points to a full year's experience," he explains. With commercially-sourced timber, forests are often viewed as stockpiles for a commodity, rather than ecosystems whose careful management is essential for maintaining biodiversity. To move against this, Shurey sources his wood from in and around Copenhagen, using 'waste' wood created from trees that have to be felled in the city's parks or streets. "It's up to a three year wait before these planks are ready to use," he says, "but I think it's so important to know precisely where the materials we use come from. There are people who are unaware of where their planks come from, beyond the sawmill where they bought them from."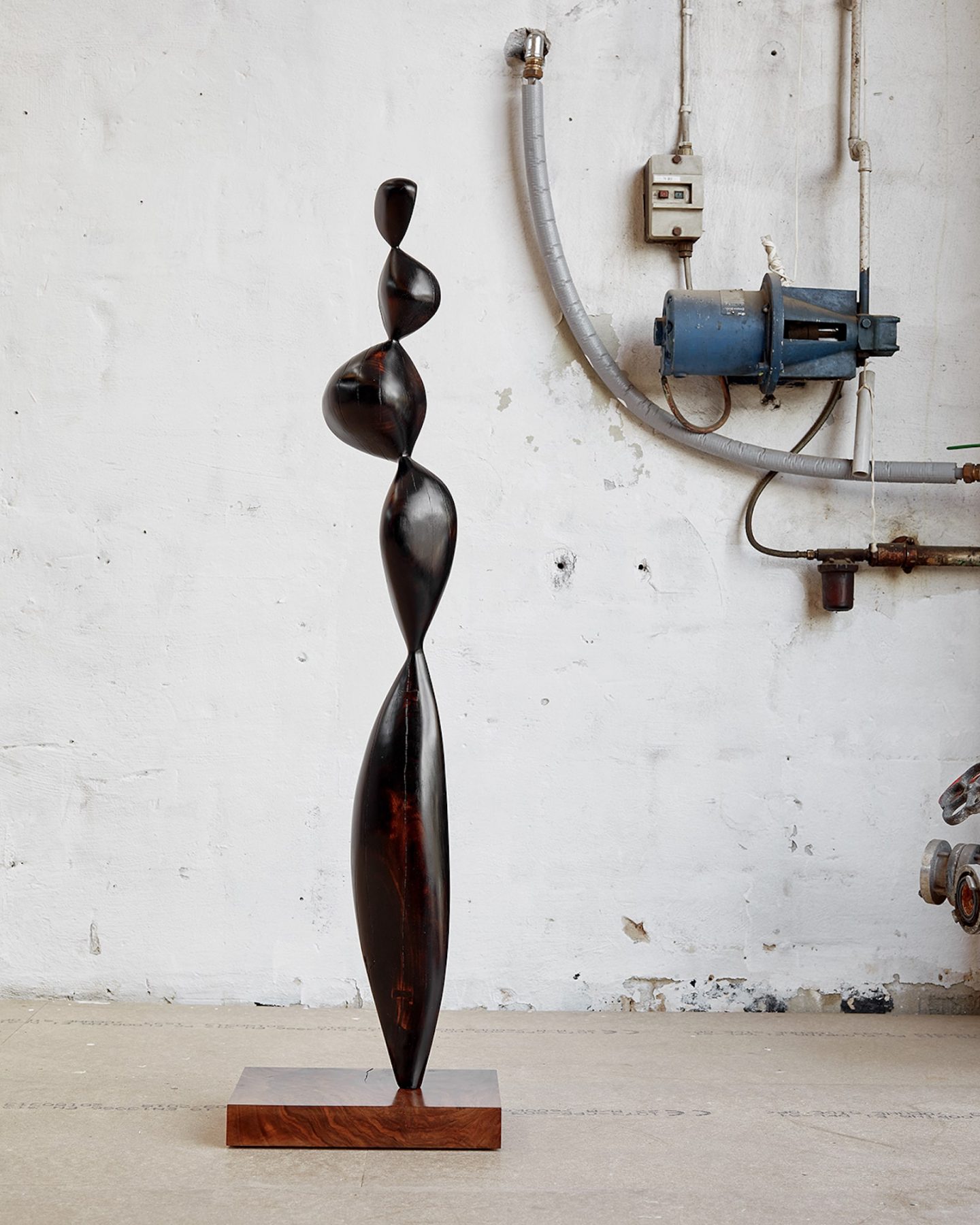 "When I sculpt a piece from a tree, I'm working with a natural organism and not simply shaping a lifeless object"
This appreciation of, and full awareness towards, the materials we use in our everyday lives is as important as being informed of where the things we consume come from, like our food, drink, and clothing. "When I sculpt a piece from a tree, I think a lot about how I'm really working with another natural organism and not simply shaping a lifeless object," he says. Shurey would like his process to communicate our dependence on natural resources such as wood, which we need to look after, instead of exploit. "I love that the Danish term 'træ' is used to describe both the terms 'tree' (a subgroup of plant organisms) and 'wood', (the fibrous material that forms the main substance of a tree). In the English language the separation of material from organisms means that we often take the felling of trees for granted, and reduce wood to a mere commodity."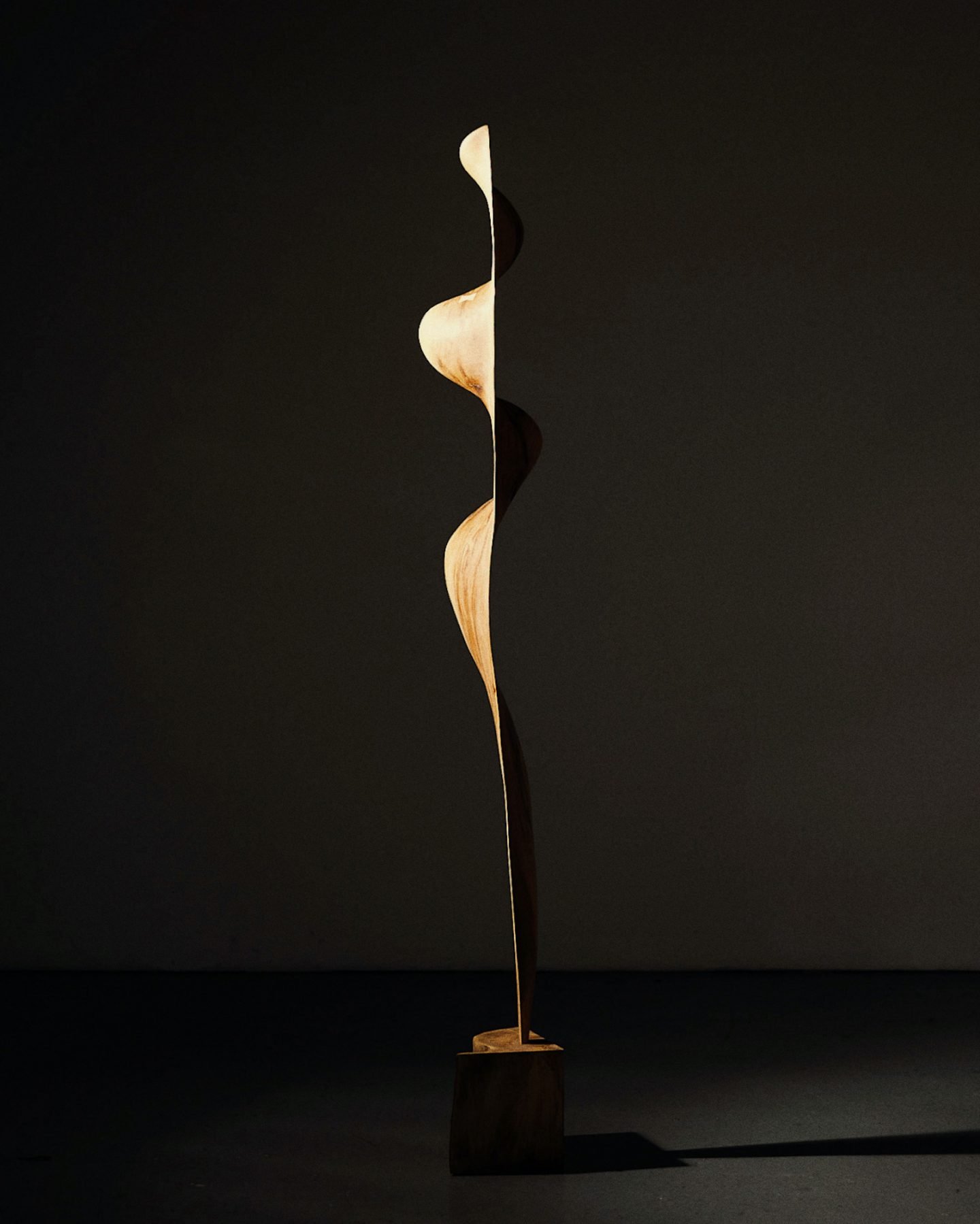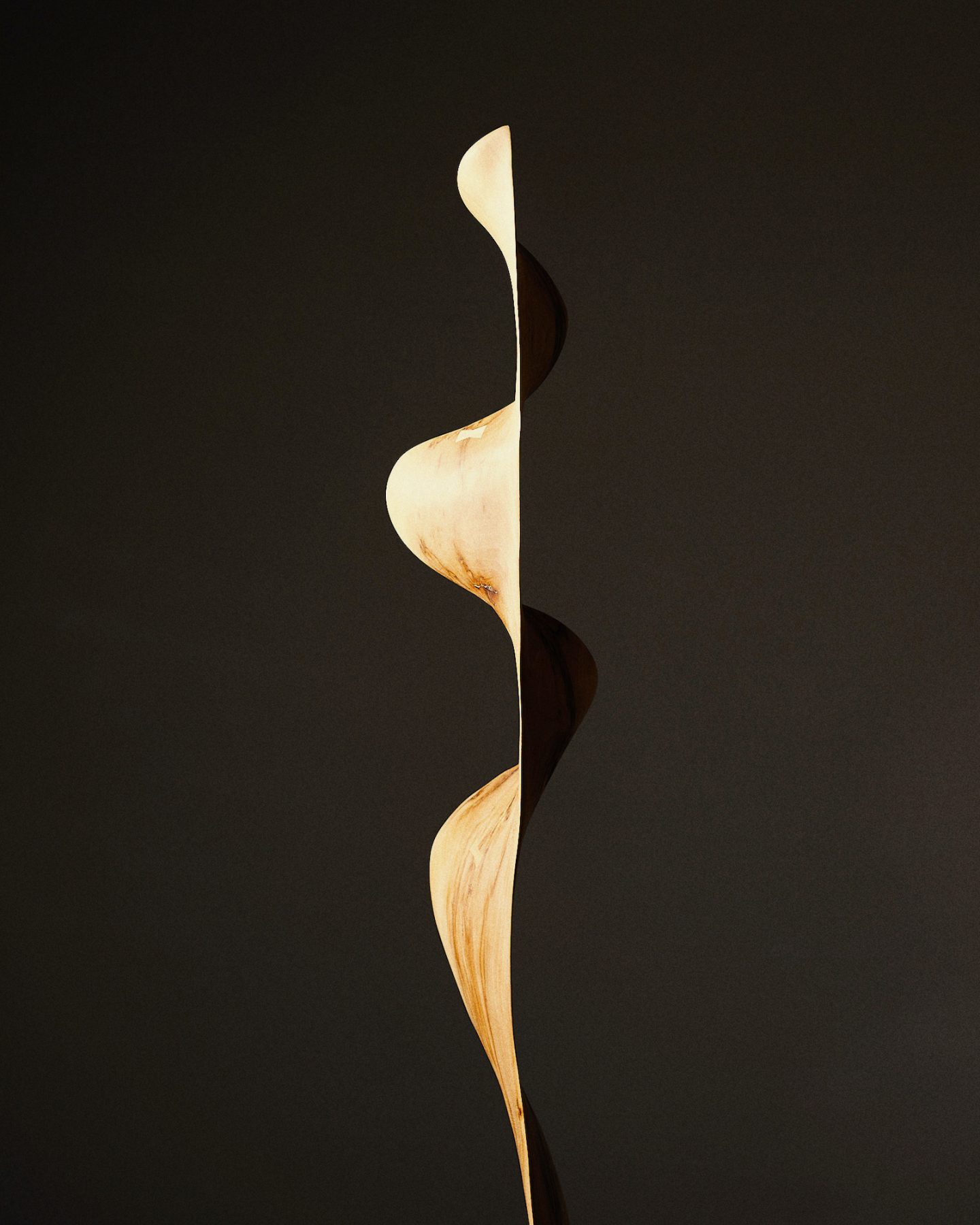 There are so many benefits to using wood in art and design that go beyond visual aesthetics. Wood sequesters carbon dioxide, so its net environmental impact is far lower than other building materials like steel, aluminium, or concrete. It improves air quality by moderating humidity, "Copenhagen has this amazing pedigree as the city for design, but it's possible to overdo it"encourages easier breathing, and is lightweight while being extremely durable. "Wood is an amazingly contradictory material, it is soft enough to be easily worked by hand, yet strong and hard enough to take on virtually any form," he explains. "It is a pleasant-feeling material that's warm to the touch, and it has a timelessly modern aesthetic."
Beyond experiencing these advantages, Shurey hopes to create pieces that resonate with the viewer at a philosophical level, rather than just aesthetically or decoratively. "I find myself far more influenced by the things that resonate with me at a fundamental level," he says. Living in Copenhagen, perhaps the most design-driven city in the world, has influenced how he works, but not in the obvious sense. "Copenhagen has this amazing pedigree as being the city for design, but I think it's possible to overdo it," he says. "For me, the things that resonate are the slower, more simple pleasures, like the nature that is actually found outside of the city."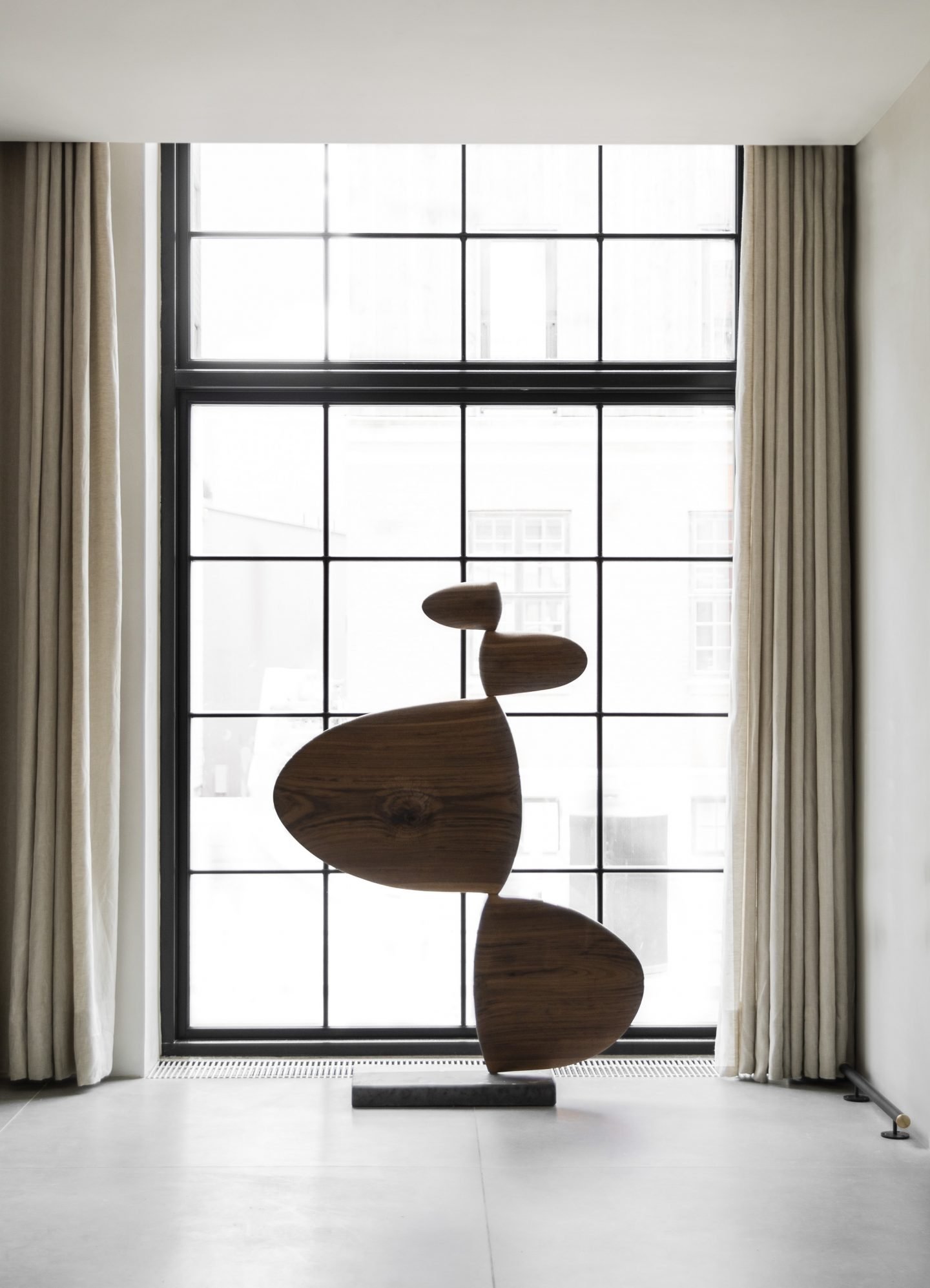 Recently, Shurey has collaborated with renowned Japanese fashion designer Jun Takahashi of the fashion house UNDERCOVER — Takahashi, a fan of Shurey's woodwork, got in touch about creating a wooden version of the label's cult mascot, the Graces dolls. "The dolls are usually made from vintage clothing and stuffed toys by dressmakers, so this is the first that's in a different material," Shurey says. More figurative than his usual sculptures, the designer put his signature take on the design of the wooden Grace by using intersecting, oscillating curves. "I was intrigued by Takahashi's approach to fashion, which included eschewing a catwalk show for a fictional storybook. It was a bold departure from the norms of the industry," he says. "I knew that it would be a fantastic experience to work with [him]."
"The whole notion of [craft] is at odds with the way that we consume things to excess"
Indeed, we have seen a reinvigoration in recent times of the appreciation of slow craftsmanship. "Craft has become a somewhat murky, misused word in recent years," he reflects. "The whole notion of it is at odds with the way that we in developed societies consume things to excess. To me, craft is therefore one of the antidotes to capitalist consumerism."
Certainly, two countries whose design scenes promote well-made, high quality, and sustainable products are Denmark and Japan. Their aesthetics regularly complement one another in the fields of art, architecture, fashion, and design. Speaking of this connection, Shurey says: "As an external observer, I think it's something to do with an appreciation of craftsmanship beyond superficial qualities. I'm thinking particularly of traditional Japanese woodworking techniques and the Danish equivalent in midcentury furniture-making. For me, the two are also equalled by their sense of poetry. I think both cultures developed an appreciation for the poetics of space, of light, of shadow, and of materials." Without a doubt, their legacies are alive and well, and sculptors like Shurey are using their expressive designs to create artworks that can set the tone for our experiences.