"What characterises the New Brutalism is precisely its brutality," wrote architectural critic Reyner Banham in 1955, "its je-m'en-foutisme, its bloody-mindedness."
Emerging in the late 1940s, Brutalism gave form to the functionalist aspirations of early Modernism while being symptomatic of the moral seriousness that pervaded post-war Europe. More than an aesthetic position, it was a movement whose architectural ambitions were intimately bound to ideas of social emancipation: this new style of Modernism argued that a democratic society could be created through rationally designed buildings.
Concrete provided a quick and inexpensive way for cities to rebuild after the destruction of WWII. Berlin, financially and architecturally in ruin, would see Brutalism and concrete bountifully restore its cityscape in the years that followed Hitler's fall. Though many of the monumental buildings from this era have been demolished, those that remain—quietly hidden in leafy suburbs and university campuses—demonstrate the other-worldly beauty and continuing influence of this brutal and singular-minded movement.
—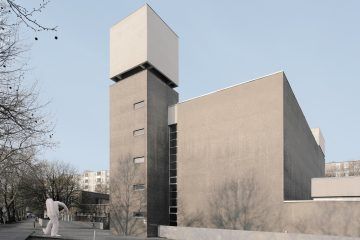 St. Agnes Kirche
Alexandrinenstraße 118-121, 10969 Berlin, Germany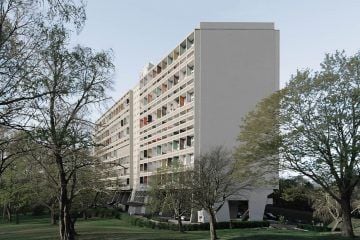 Unité d'Habitation
Flatowallee 16, 14055 Berlin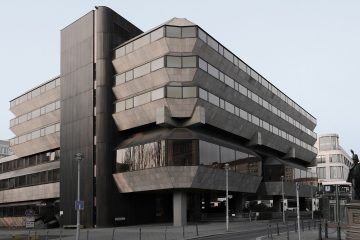 Tschechische Botschaft
Wilhelmstraße 44, 10117 Berlin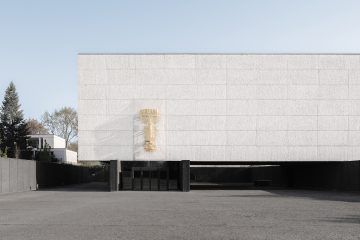 Maria Regina Martyrum
Heckerdamm 230, 13627 Berlin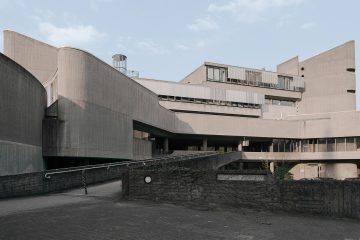 Institut für Hygiene & Umweltmedizin
Hindenburgdamm 27, 12203 Berlin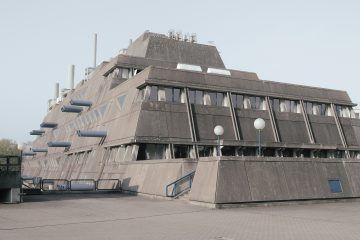 Mäusebunker
Hindenburgdamm 26, 12203 Berlin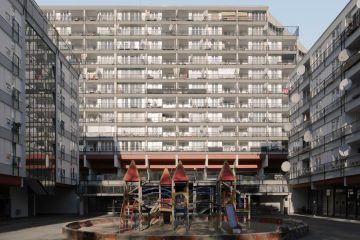 Pallasseum
Pallasstraße 3, 10781 Berlin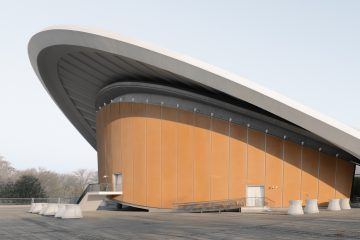 Haus der Kulturen der Welt
John-Foster-Dulles-Allee 10, 10557 Berlin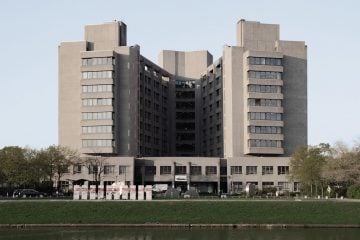 Klinikum am Urban
Dieffenbachstraße 1, 10967 Berlin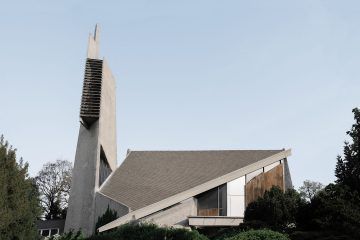 St. Norbert Kirche
Dominicusstraße 19B, 10823 Berlin
Air raids and bombing during WWII saw the suburb of Kreuzberg razed almost entirely to the ground. This once dense residential area of Berlin was the subject of intense urban regeneration in the decades that followed. One of the architectural highlights that emerged was the St. Agnes Church, a building destroyed during the war and reimagined in a striking manner by one of Germany's most important post-war Modernists, architect Werner Düttmann. "The church doesn't stand apart from everything else," Düttmann said, "it stands in the way." The monumental structure features a twenty-meter-tall tower, with a textured concrete exterior. In 2012, after some years of interim use, Johann and Lena König acquired the space on Alexandrinenstraße, and with the assistance of famed contemporary architect Arno Brandlhuber, reinvented the austere monolith as a gallery and cultural space.
Following the successful implementation of Unité d'Habitation in Marseille and Nantes-Rezé, Le Corbusier's béton brut masterpiece took shape in Berlin; providing much needed social housing for the city post-WWII. Work on the large-scale Plattenbau began in 1957, and was completed just 18 months later. As with many Modernist projects of the period, it was built from prefabricated concrete panels and poured concrete slabs making it quick and easy to assemble. Consisting of 530 apartments, the Berlin edition of Le Corbusier's Unité d'Habitation was considered too large for the proposed site in Hansaviertel. Relocated in consequence, the building was constructed on Flatowallee, not far from Berlin's Grunewald Forest at the edge of the city.
Today, the Embassy of Czechoslovakia stands as it did in 1978; an untouched example of the expressive aesthetic of the period. Sharp-edged and raised from the ground, the building seems to defy gravity, hovering above Wilhelmstraße in Mitte. Inside, boldly colored furniture populates spaces that range from the prosaic to a movie theater accented in orange. The building, along with its interior and its furniture, was designed by Věra Machoninová and Vladimír Machonin—partners in life and work. Sadly, the pair's genius was not recognized for many years. When Machonin refused to agree to the Soviet occupation of Czechoslovakia in the '70s, both he and Machoninová were banned from practising architecture. It wasn't until the Velvet Revolution in 1989 that the prohibition was overturned—a fact that came too late for Machonin, who passed away in 1990. Machoninová persisted with her architectural career alone, launching her own award-winning office, Atelier Alfa, in 1991.
On Heckerdamm in northern Charlottenburg is Gedenkirche Maria Regina Martyrum; a muted, angular church that was designed to commemorate those executed for opposing the Nazi regime at the nearby Plötzenzee Prison between 1933–1945. Designed by Friedrich Ebert and Hans Schädel, the building's somewhat oppressive exterior has the somber tone of a memorial space. The low, block-like building sits in a cobblestone courtyard, edged in by walls of black and grey basalt stone with a free-standing bell tower looming above. The uncomfortable nature of the space stands in deliberate contrast to its interior. Inside, the church is luminous; a buoyant cube of salvation and light with a dramatic set of angular organ pipes and an abstract pastel fresco in lieu of stained glass windows.
Hermann Fehling and Daniel Gogel are responsible for a series of buildings (1953–1990) that are amongst the most influential and interesting examples of post-war Modernism in Germany. The pair were students of Hans Scharoun, and their work was undoubtedly informed by the organic and expressionist architecture he was famed for. The Institut für Hygiene und Umweltmedizin is characteristic of their uniquely organic approach to Brutalism. Situated on Hindenburgdamm, a short distance from the Mäusebunker, the building features sculptural curves, rectilinear planes, and a dramatic triangular prism, all cast in board-marked concrete.
In the outlying suburb of Zehlendorf, amongst an almost uniformly grey landscape of Plattenbaus, is the Central Laboratory for Animals; a hulking mass of concrete with strange space-age adornments that cause it to resemble a battleship or tank far more than a scientific workshop. Nicknamed the 'Mäusebunker', it was designed by German architect Gerd Hänska during the late 1960s to house 88,000 scientific test-animals. Completed in 1981, its colossal size—complete with oblique raw concrete walls, triangular based pyramid windows and exposed steel pipes—makes it an imposing and peculiar addition to the Freie Universität campus that it is stationed upon.
On Pallastraße, between Kreuzberg and Schöneberg, lies one of Berlin's most interesting Brutalist buildings; the contentious housing complex Pallasseum designed by German architect Jürgen Sawade. Constructed between 1973 and 1976, the Pallasseum is a 15-storey-building that houses around 2000 people in 514 apartments. Like many Modernist projects, the utopian ambitions of the complex were not wholly successful. For some time, the project was known as the Sozial Palast, or social palace, in aspersive reference to residents there receiving welfare payments. In recent years, the grand concrete structure has undergone positive change. Renamed the Pallasseum, the front doors and stairwells have been redesigned, a cafe has been built at the base of the building, and the adjoining car park has been reimagined as a playground.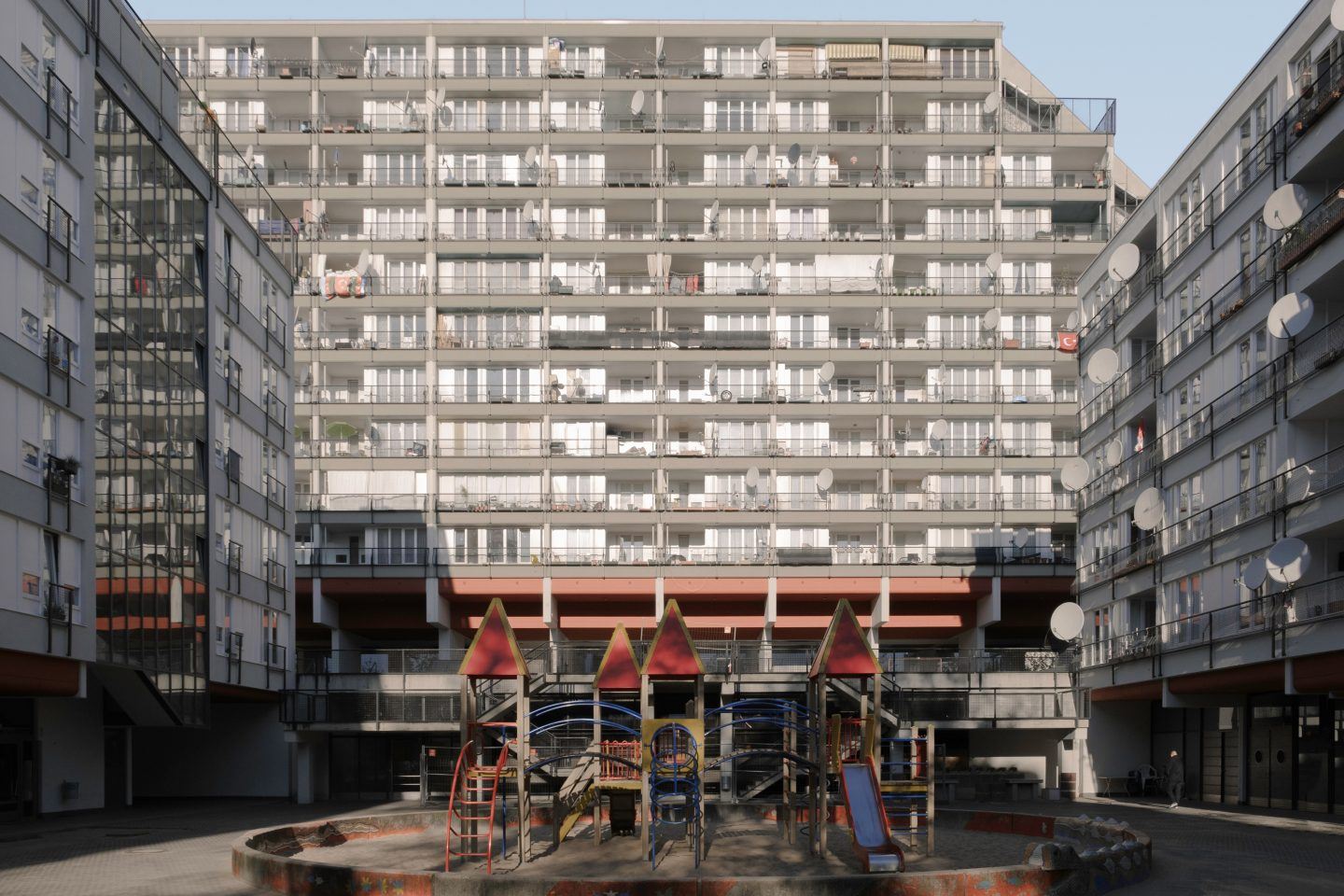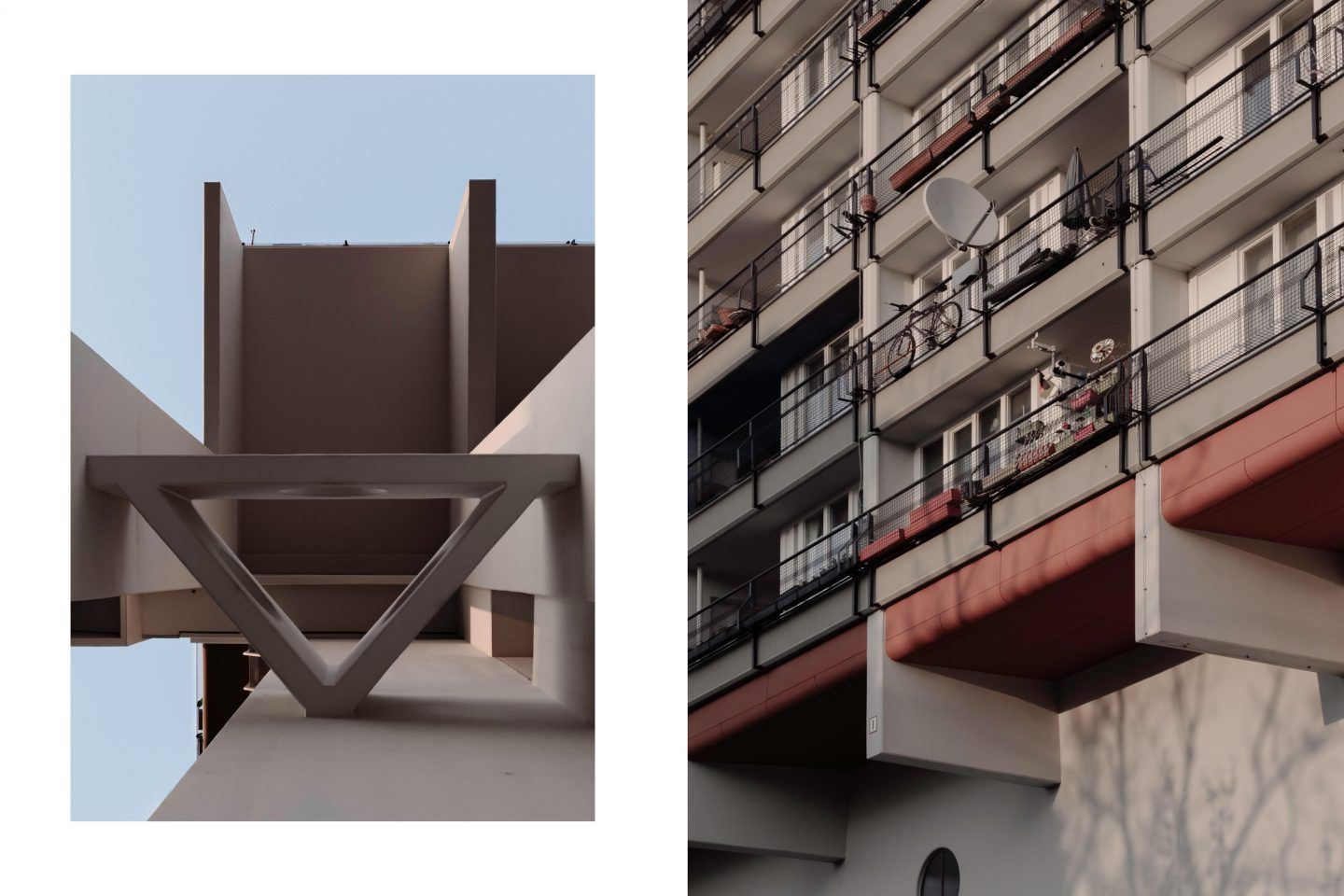 HKW's name translates from German to mean house of the cultures of the world: a fitting title for the interdisciplinary museum and exhibition space whose focus today is on non-European, contemporary art, and was previously on the voice and freedom of the German people. Designed by American architect Hugh Stubbins, the curved structure was conceived and constructed as a part of the Interbau Program in 1957. Stubbins, a former assistant of Bauhaus master Walter Gropius, considered the building an architectural analogy of freedom: Built before the fall of the Berlin Wall, it was constructed atop a man-made mound in Tiergarten to ensure that it could be seen clearly from both the West and the Communist East over the border. It remains an exceptional landmark in a post-war landscape.
Founded in 1887, Klinikum Am Urban is a hospital in Kreuzberg whose large-scale Brutalist extension stands overlooking the idyllic Landwehrkanal. Like many parts of Berlin, the original hospital suffered damage during the Second World War, and today many of the buildings that the health complex comprised of have been sold. Today, Klinikum Am Urban is known as the v-shaped concrete building designed by German architect Peter Poelzig in the '60s. Constructed in 1966, it was the first building to be added to a municipal hospital in post-war Berlin. The monumental construction spans nine stories, housing a mixture of rooms with 750 beds that are still in use today.
The St. Norbert Church on Dominicusstraße in Schöneberg has seen an evolution of aesthetics since it was first inaugurated in 1916. Designed by German architect Carl Kühn, the original was a Neo-Romanesque construction typical of European churches of the period; it featured thick walls, barrel vaults, round arches, and a double tower with decorative arcading. After sustaining damage during WWII, the Berlin Senate enlisted Hermann Fehling and Daniel Gogel to remodel the church. Rather than embracing the site as it had previously been, Fehling and Gogel enhanced it; designing a Brutalist-influenced extension that wraps around the original site. Today, a dramatic bell tower reaches aggressively towards the sky from the angular folds of coarse concrete that envelope the church below.