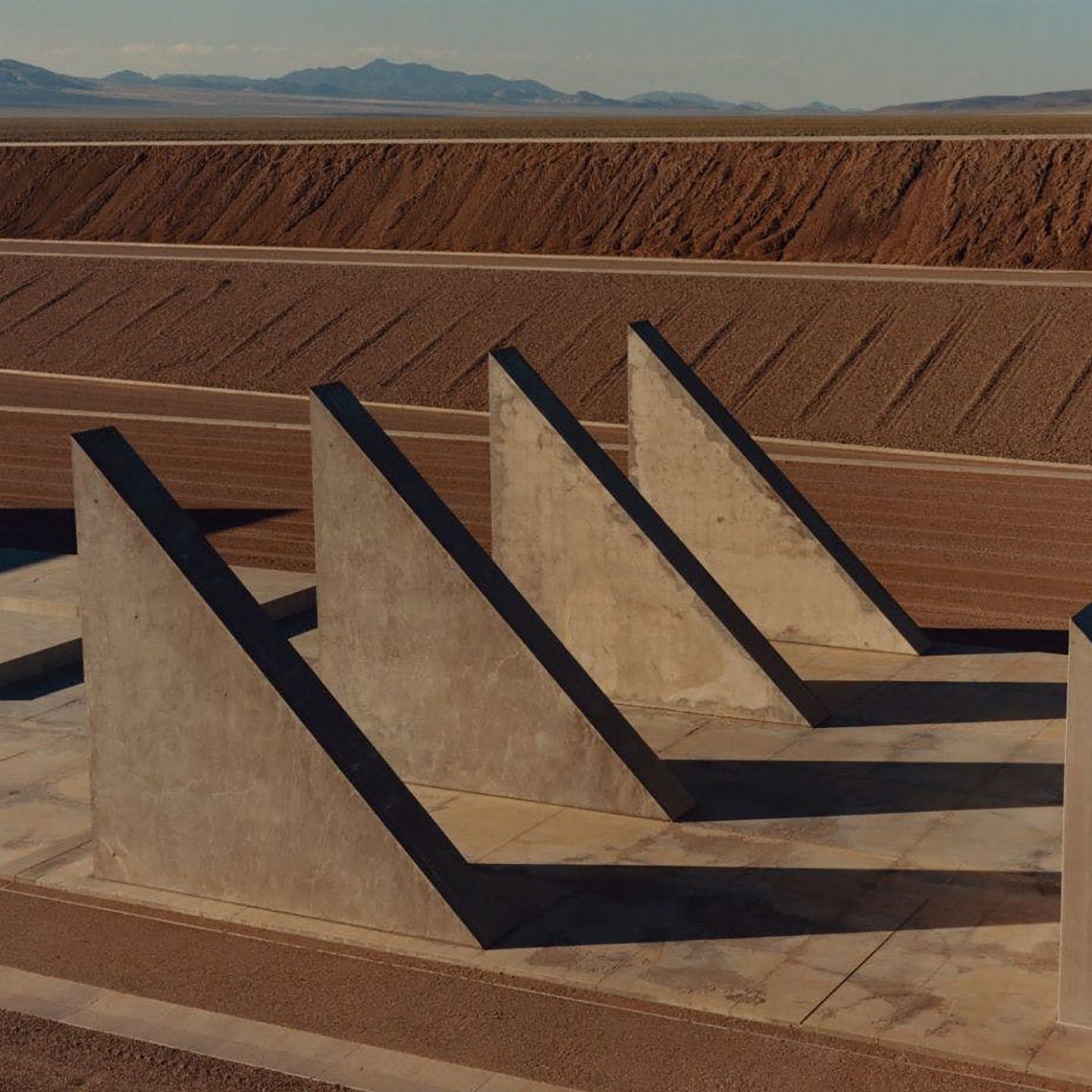 Mythos And Monumentality: Michael Heizer's City Stands Unseen In The Nevada Desert
"As long as you're going to make a sculpture, why not make one that competes with a 747, or the Empire State Building, or the Golden Gate Bridge?", asked Michael Heizer—the enigmatic American artist who is doing just this.
'City' is Heizer's magnum opus; the culmination of a lifetime of work and, even in its unfinished state, the largest piece of contemporary art in existence. It is also one of the most secret. Situated in an area called Basin and Range in the Nevada Desert, its geographic isolation coupled with Heizer's solitary existence means that few have ever visited the site, and that very little is known about it.
The project began in 1970, when Heizer hired a pilot from Las Vegas to help him find a property in the depths of the desert. It was on a flight that he came across Garden Valley in Basin and Range; backdropped by mountains, the site is isolated, but not inaccessible; its red earth arid, but not barren. Imperatively to Heizer, it was also cheap to procure. Work on 'City' started there 1972, and has been ongoing ever since.
'City' consists of five phases; each of which is composed of constructions collectively titled "complexes", a term borrowed from archaeology that refers to ancient buildings. Together, the five phases will create a fortress of buildings and abstract sculptures that measure one and a quarter miles in length, and over a quarter of a mile long. It is a megalithic artwork that draws upon the monumentality of sites from civilizations past—Angkor Wat, Chichén Itzá, Easter Island, Giza. With ancient Mesoamerican ruins as his model, Heizer's pioneering work merges Land Art and architecture on an incomprehensibly large scale.
When approaching 'City' from its desert surrounds, the concrete structures and earthen monuments that it comprises lay hidden from view, revealing themselves incrementally—and never in full. The size and arrangement of the work means that viewing it takes time and effort, you have to move around and outside of 'City' and its various complexes in order to understand it. "I think size is the most unused quotient in the sculptor's repertoire because it requires lots of commitment and time", Heizer remarked in a 1999 interview with The New York Times. "To me it's the best tool. With size you get space and atmosphere: atmosphere becomes volume. You stand in the shape, in the zone."
Much like the great sites of the Yucatan from which Heizer derived early inspiration, 'City' is is a fortress: its central plaza has been constructed below ground level, keeping it protected from the outside. "The sculpture is partly open because, rather than put you in a box, I want you to be able to breathe. But I also want to isolate you in it", Heizer remarked to Michael Kimmelman in an interview in 1999. It is comprised of mastaba-like rises of earth that surround an internal area made up of pits and passageways. Here, steles protrude hundreds of feet above the earth and angular arms that jut from trapezoidal mounds of red rock.
Unlike much Land Art, 'City' is not designed to bend to the will of the weather; Heizer has built it with the intention of it lasting long after he leaves this earth. "In the end I'm lucky it took this long", he commented in a 2015 interview with The New York Times. "Over the years we saw how the thing stood the test of time, what didn't work, what had to be rebuilt, what happened when the valley flooded, in different climates. It's like a handmade object now, erased, redone, adjusted, not just fabricated. It's part of nature, here for the millennia."
As 'City' enters its 50th year of construction, Heizer—now 75—has marked 2020 as the date of project completion. Until that time, we cannot ever know what it is truly like. Instead, we can only mythologize the unseen 'City', elaborating on the stories from the few who have witnessed it, and the handful of photographs that follow below.