In an era where feminism focuses on challenging cultural conditioning and inequality, art that is created by women, for women, takes on a new level of significance. For this reason, we've rounded up five of our favorite explorations of the female form, by five different female artists.
In many facets of life, the female form is still objectified, scrutinized, and overly sexualized. Despite varying cultural ideals in an increasingly volatile time, one thing we can universally agree on is that there is no universally agreed-upon standard of what the ideal female form should be. Diversity is beautiful and powerful, and those championing the female form in interesting ways should be celebrated. The collection below is a refreshing look at the art world through the eyes of five artistic women.
Australian painter Caroline Walls creates abstract nude artworks, characterized by evocative feminine forms that display composition and color confidently. Walls has a fluid approach to painting and focuses on the individualities of the female form as her primary inspiration. Using a palette of blacks, beiges, and dark blues, her graphic lines border on abstraction and have an empowering visual element to them. Read the full story here.
Italian contemporary artist Vanessa Beecroft uses sculpture and performance art to challenge perceptions of gender in artistic discourse. The naked female form is consistent throughout her work: appearing in erotic sketches, live paintings, and clay and plaster molds. Her series of sculptural female heads is a literal nod to the issue of misrepresentation, in that there is no single female experience. Find the full story here.
In her explorations of the female form, Argentinian illustrator Daiana Ruiz uses color and simple lines to delineate power. In light of the many issues surrounding the current women's movement, Ruiz's art is a refreshing and playful addition to an industry still afflicted by patriarchal dominance. Find the full story here.
In Spanish photographer Camila Falquez's photographic series 'Humanidad Aqui Arriba', two female bodies with differing skin tones synchronize in motion; forming imagery of harmony and unity. The series centers around seeing beauty in difference, and is complemented by a poem written by Leticia Sala; paraphrased as follows: "I raise beauty… To which nothing else reaches. Up here, I see only dead stars. Equality everywhere. They dance, they merge, they spread, they mix." Find the full story here.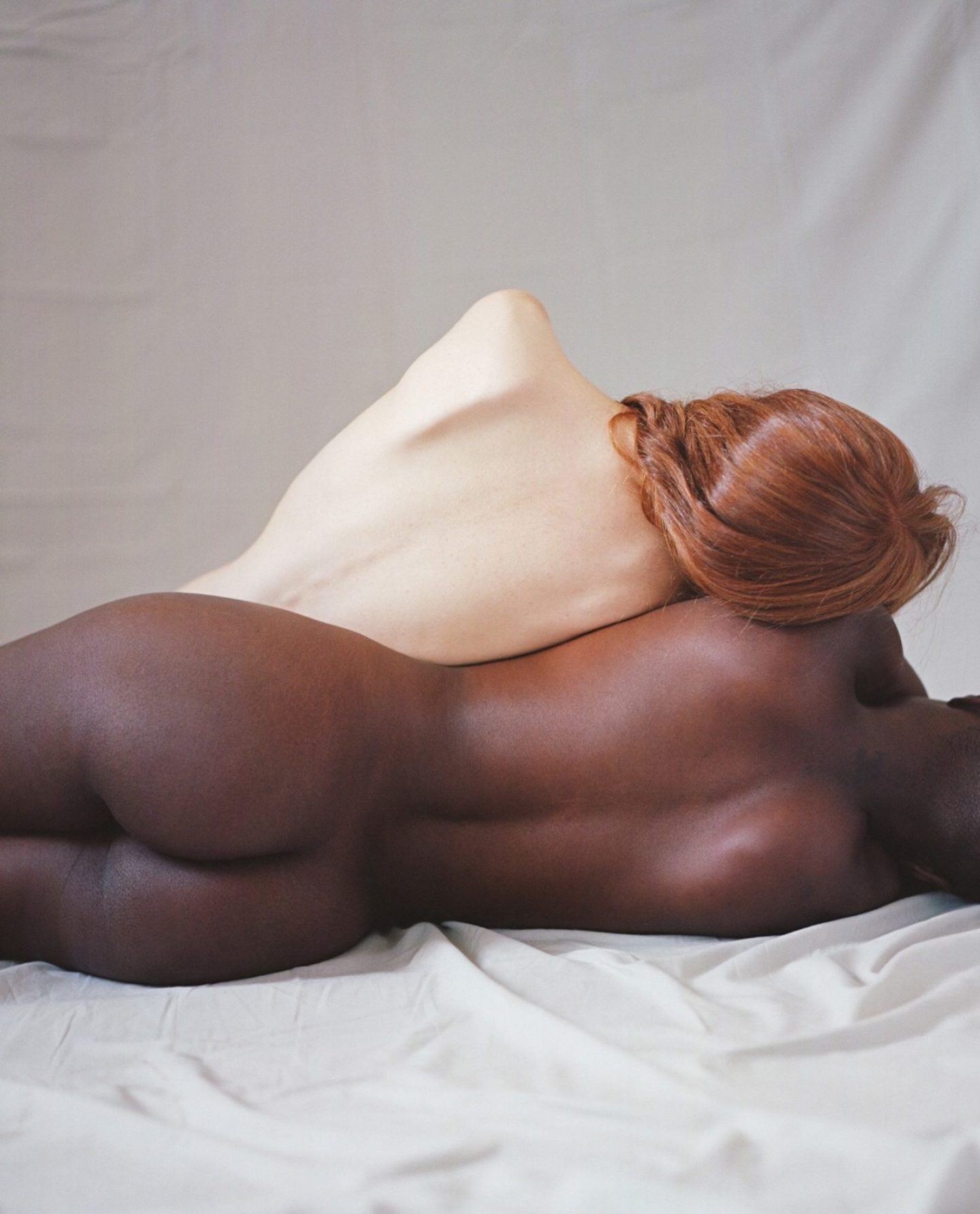 British artist Sarah Lucas uses plaster casts in suggestive poses to explore the power of the female figure. In an age of social media where selfhood is conflated with ideas of glorification and women's' bodies are constantly on show, Lucas's work is an encouraging reprieve. "I don't think any of the pieces are that shocking", remarks Lucas of her exhibition. "Things, other images, people see everyday are far more explicit. I find the thing that makes it shocking is people's own self-consciousness." Find the full story here.