We recently visited the folks behind Distrikt Coffee at their beautiful café in Berlin-Mitte. If there's one place that can be described as a hidden gem, it's Distrikt Coffee. Since opening on a quiet side street last winter, it has already become a neighborhood favorite. Not only is the coffee prepared with care, the café opens at 8:30 am which is quite early for Berlin standards. That's probably why it gets crowded so quickly.
We chatted with the owners Sophie Hardy and Hannes Haake about fulfilling their dream of opening a café, the Berlin coffee scene as well as the importance of social media in the gastronomy business. Later, we were joined by Matthew Maue, Distrikt Coffee's head chef, who shared his inspiration behind the café-style menu and approach to cooking.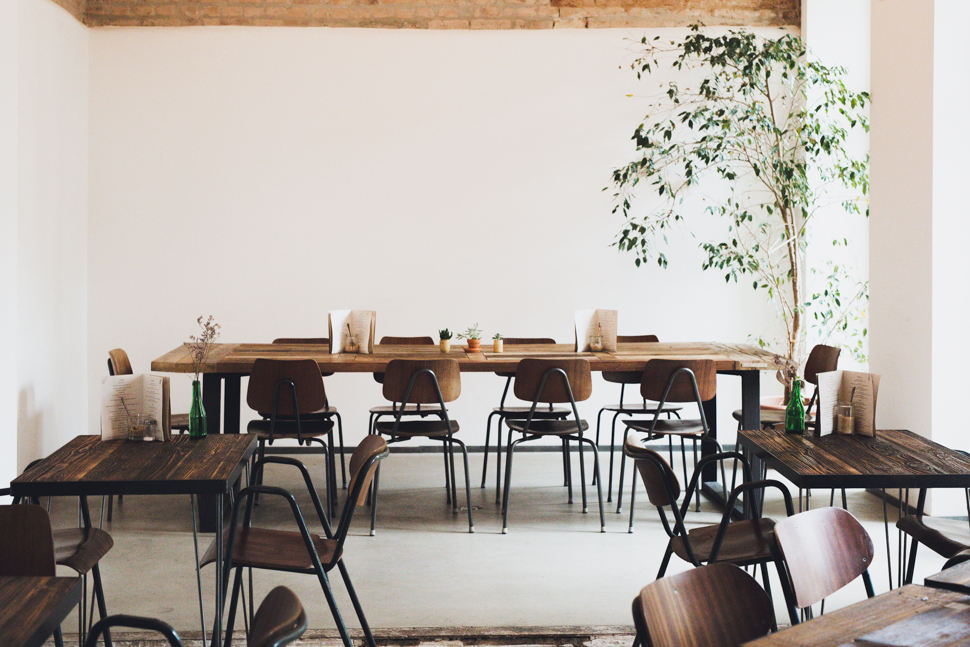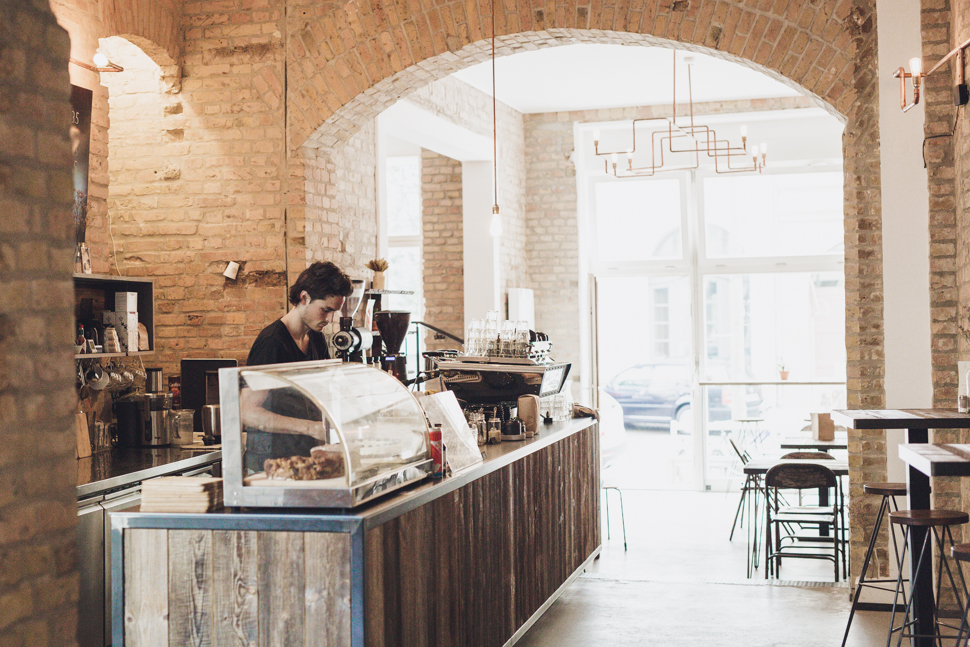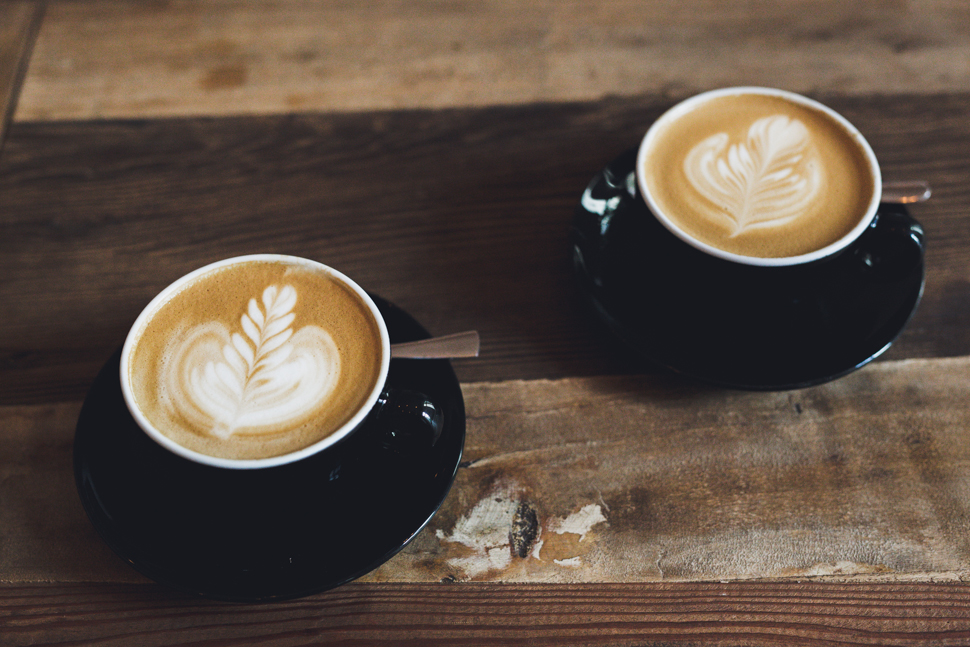 Distrikt Coffee has been open since last Christmas and already it's become a neighborhood favorite…
Sophie: Yes, we see a lot of people we know from this neighborhood coming back, some come every day…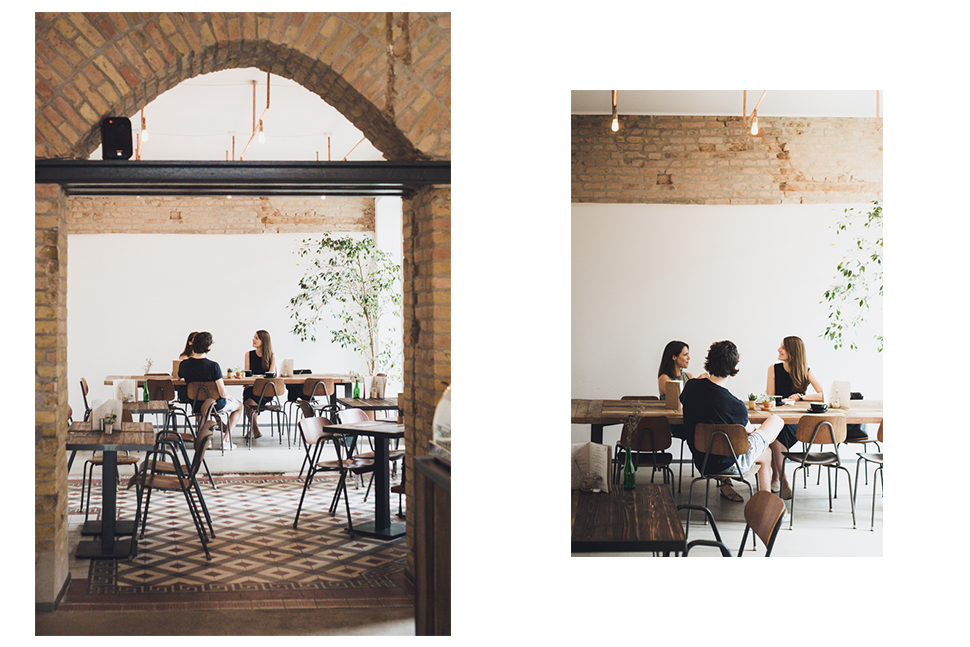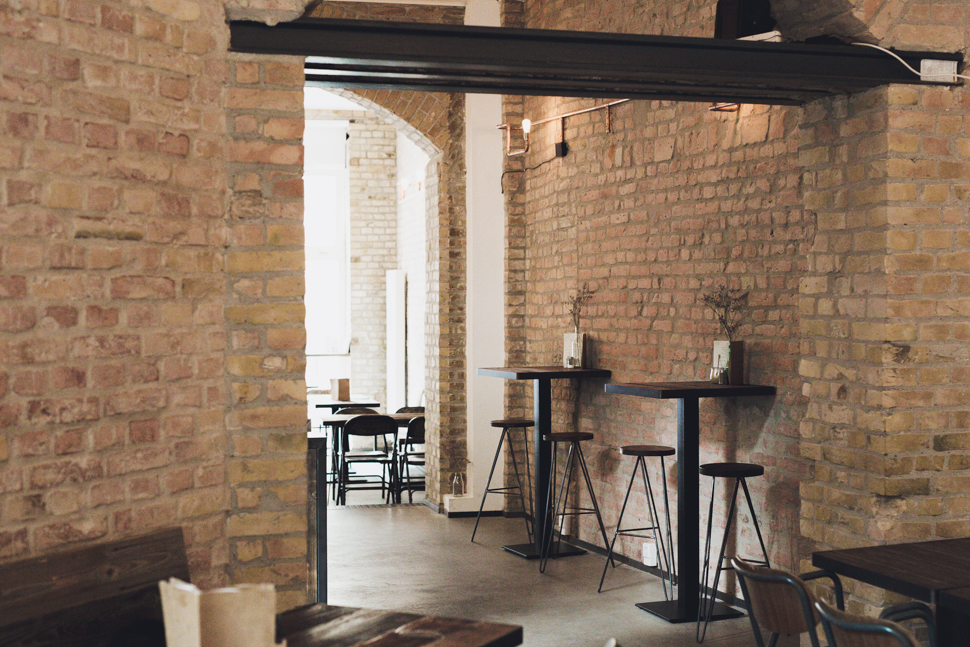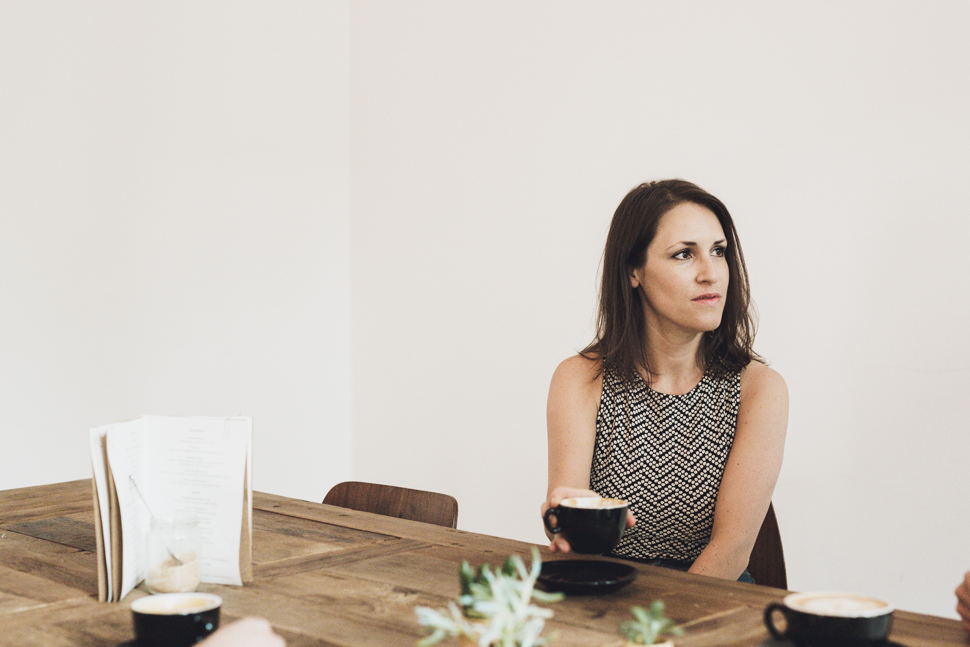 What kind of expectations did you have when you first opened?
Hannes: Well, that's a difficult one. We weren't really sure if the café would be busy from the start. I didn't know the neighborhood so well and the street is a bit quiet. Also, before opening, I was in here a lot with the builders and so I noticed that there wasn't so much foot traffic…
Sophie: I remember his grandparents, who have a shop in Lübeck, stopping by and they said, 'Oh, we're worried about the location, whether it will be popular…' Obviously, I was definitely a bit worried, because you just never know and it's the first time we've opened a café, so we really had no idea. But maybe that's also a good thing, that we were completely new and didn't have any reason to worry really. I think in the back of your mind, you're concerned, but then you kind of know what you've got and that it's an amazing space. Because we had such a delay from when we thought we'd open, it gave us even more time to be prepared and get the right people working here.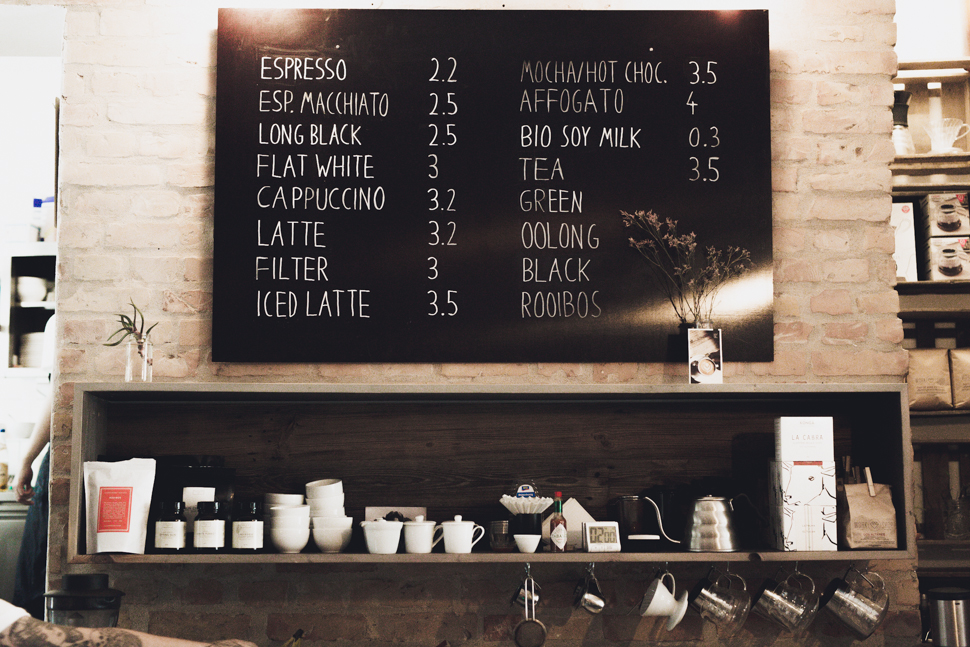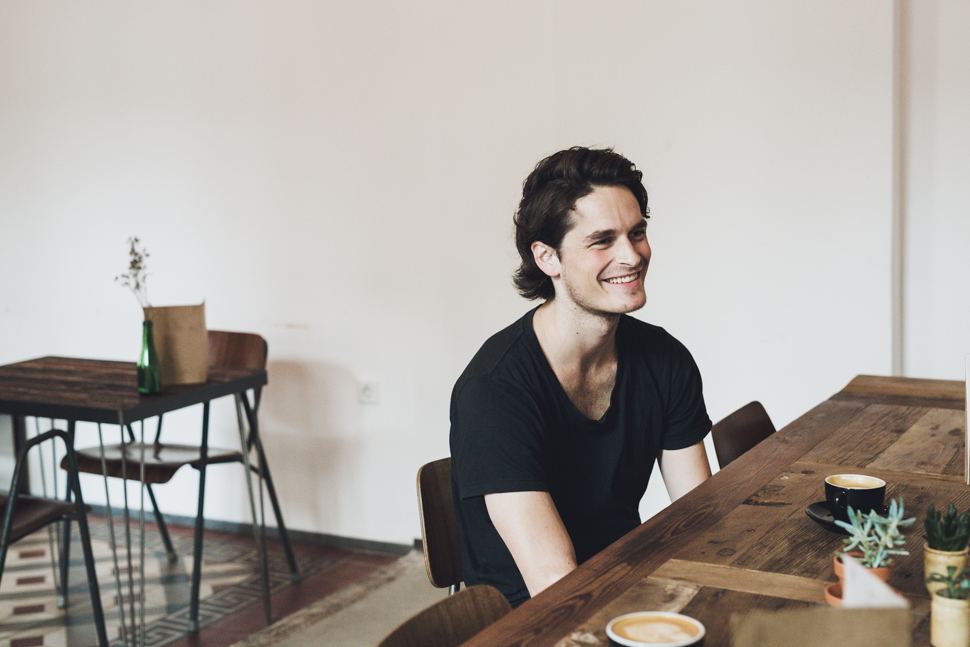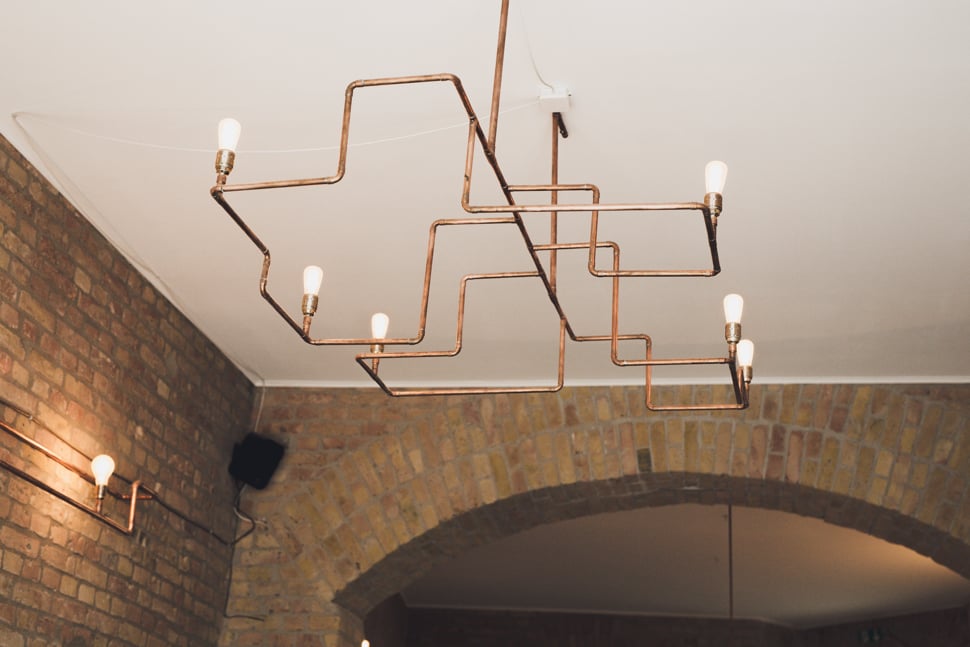 So why did you pick this neighborhood then?
Sophie: We were looking both in Mitte and in Kreuzberg, because we live in Kreuzberg, and just as soon as we saw this place, we were like, 'Wow'. I almost didn't care where it was because this space is so amazing.
It really is. Do you know what was here before?
Hannes: People are coming in and telling us stories. I think, originally, it was a bakery. Before this, it was a gallery. And before that, it was a bar and a club…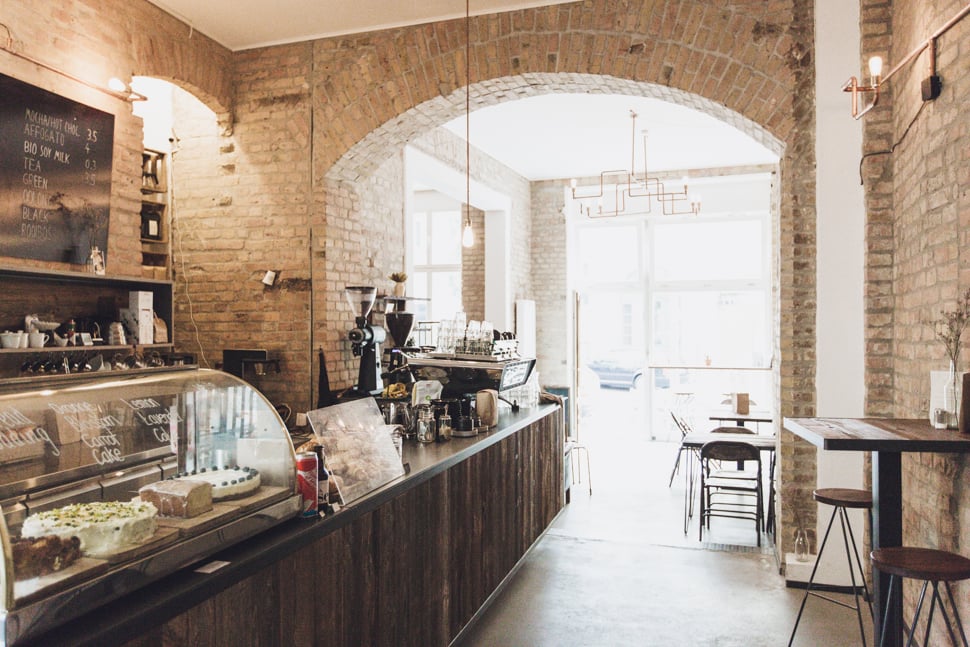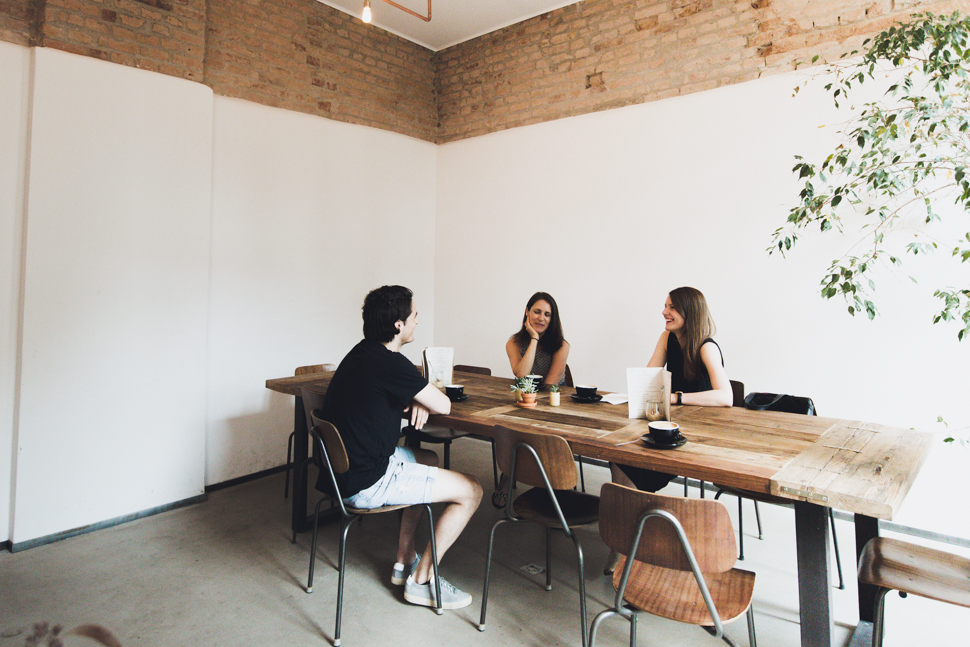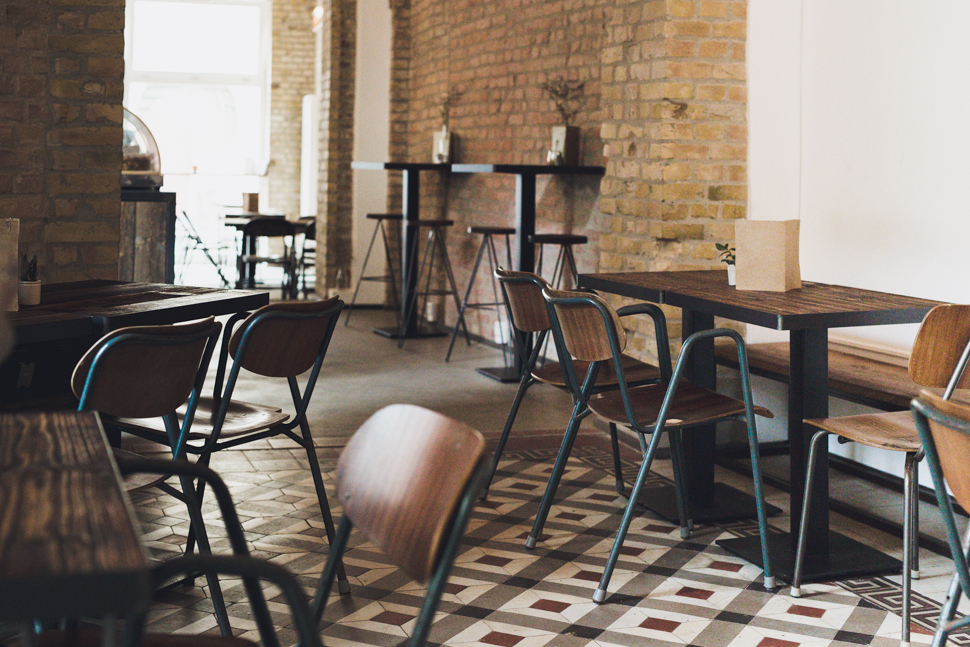 And then you renovated this place?
Sophie: When we first looked at it, you could see the brickwork in the main structure, but it was kind of covered. There were also these ugly blocks and a lot of holes. Along with the owner, we came up with the decision to cover some parts with this white and then completely stripped down the walls and filled them in. We took up the floor and replaced it with concrete, which was initially a big disaster, as it wasn't sealed properly and got stained super easily. But now, I quite like it, and it doesn't detract from the space at all.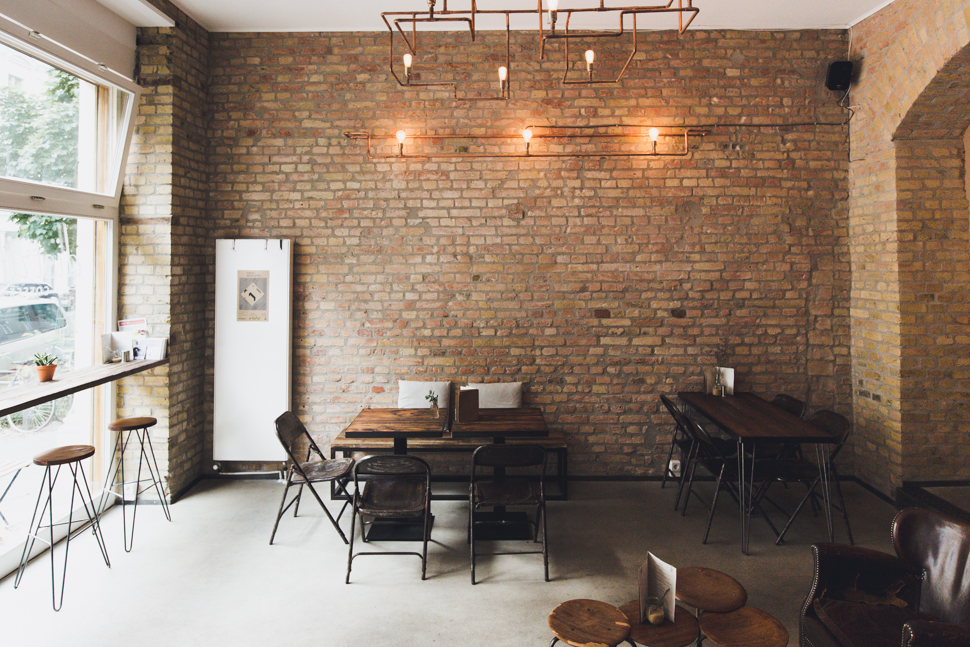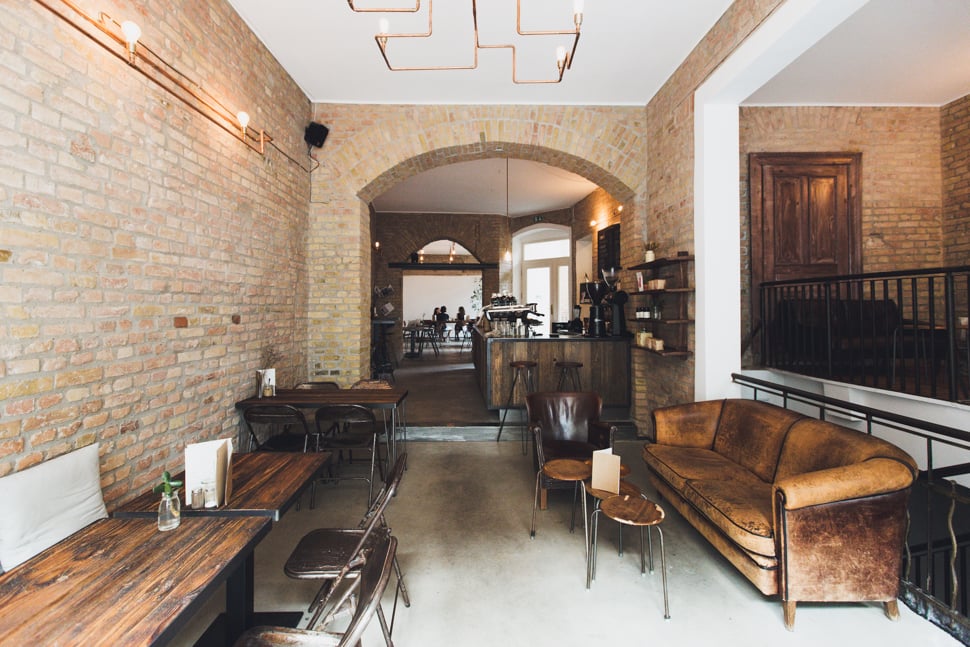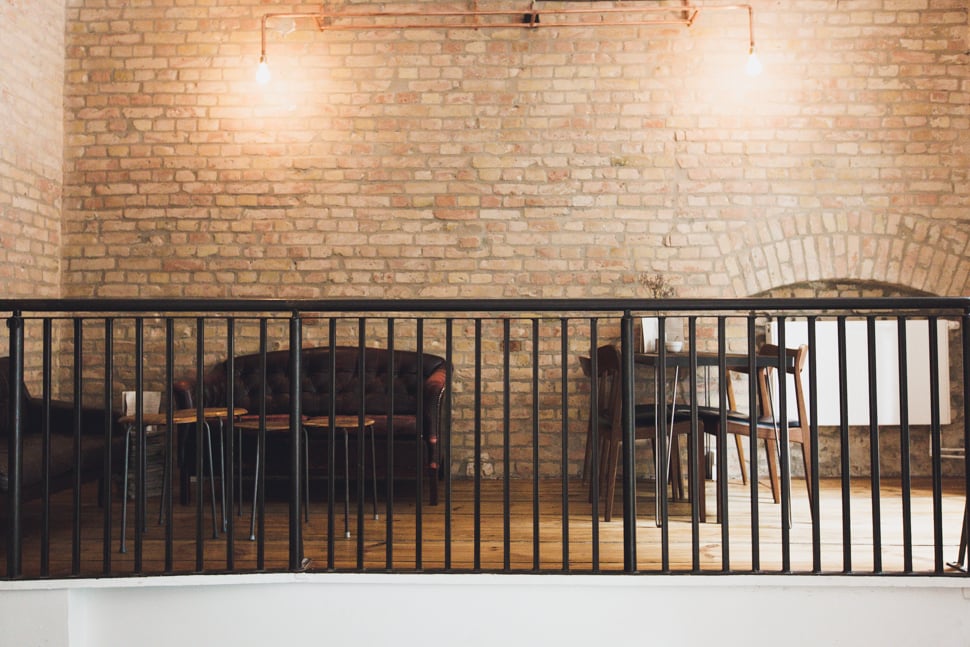 Can you tell us a bit about the inspiration for the design?
Sophie: I think we sort of knew that we wanted a wood and metal theme, but nothing too 'Berlin', which, at the time, I always found was mix-matched this and mix-matched that. When I first came here, I sort of liked it, but after a while, I couldn't see it anymore.
Hannes: And because the place was already so nice, we tried not to change too much. For example, we repeated the material of the stairs in the tables and bar top.
Sophie: There was also a wooden floor before, but I think that it would have been too much wood. That's why we went for that sort of grey and made sure everything else shined. And Then, a friend of ours came in and instantly said, 'You should have copper lights.' He did a big drawing of this place and came up with all these ideas. Then, we finally settled together on what we have now.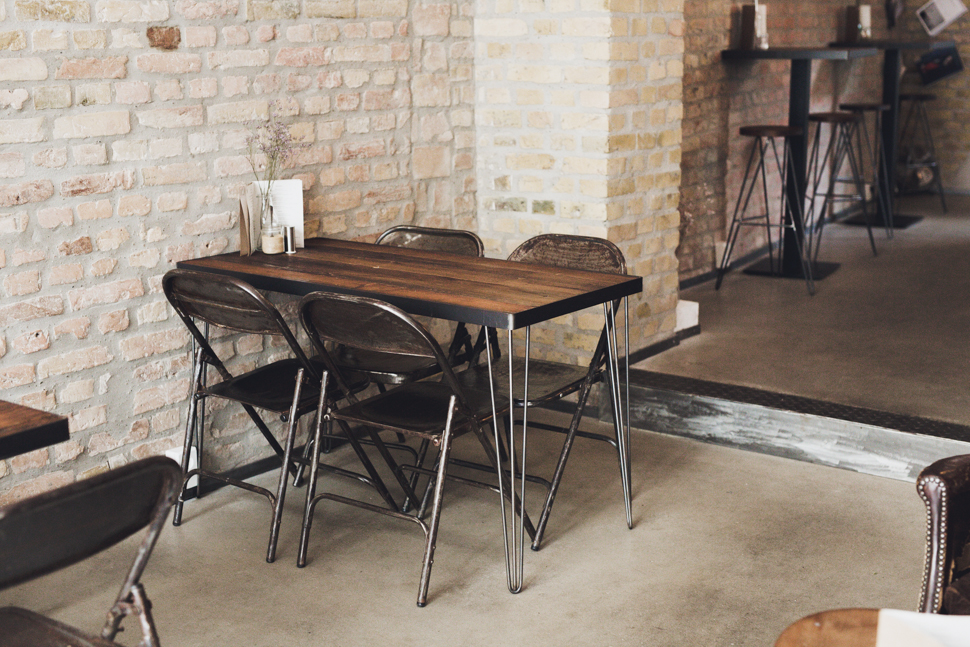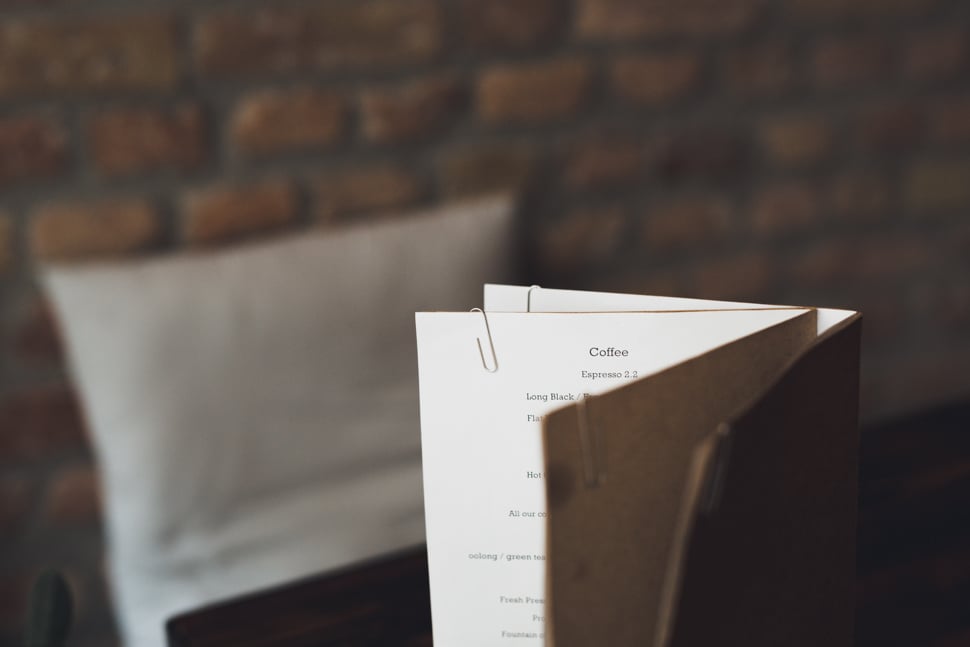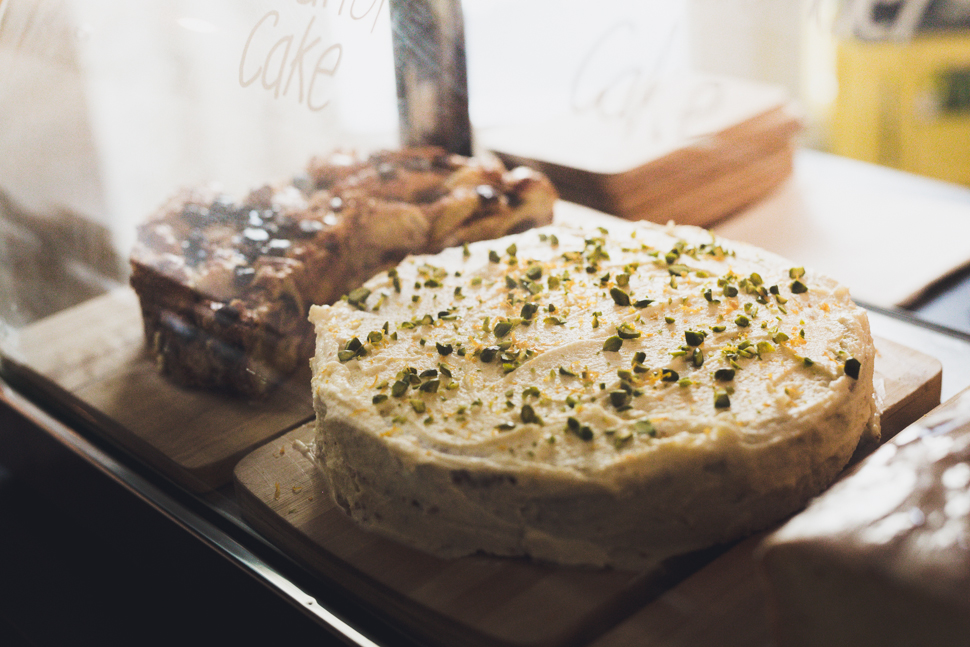 You two opened the place together. Can you tell us a bit about your background and how you came up with the idea of opening Distrikt Coffee?
Sophie: I'm from England, from a small village in the South West. But I lived in London for a long time before I came here about 4 years ago.
Hannes: And I'm from Lübeck.
Sophie: I'm actually also a teacher and that's what I did when I first came here. But from the age of 14, I've always worked in cafés and bars. However, since we've been in Berlin, neither of us worked in the gastronomy business – we just kind of enjoyed it and went to lots of cafés.
Hannes: Sophie was living across the street from Bonanza when we first met. When we went there, I started to like coffee more and more. Then, we started to go to cafés everyday.
Sophie: It became some sort of a thing for us, to find a new place to drink coffee all the time. Wherever we went, it was always the same. And his mum is also really into coffee. She has a small gallery with a café, where she makes filter coffee and hand brews… it's really nice.
Was it always a dream of yours to then also open your own café?
Sophie: Yeah, definitely. Actually from a young age I would say. I still can't quite believe that dream has come to fruition.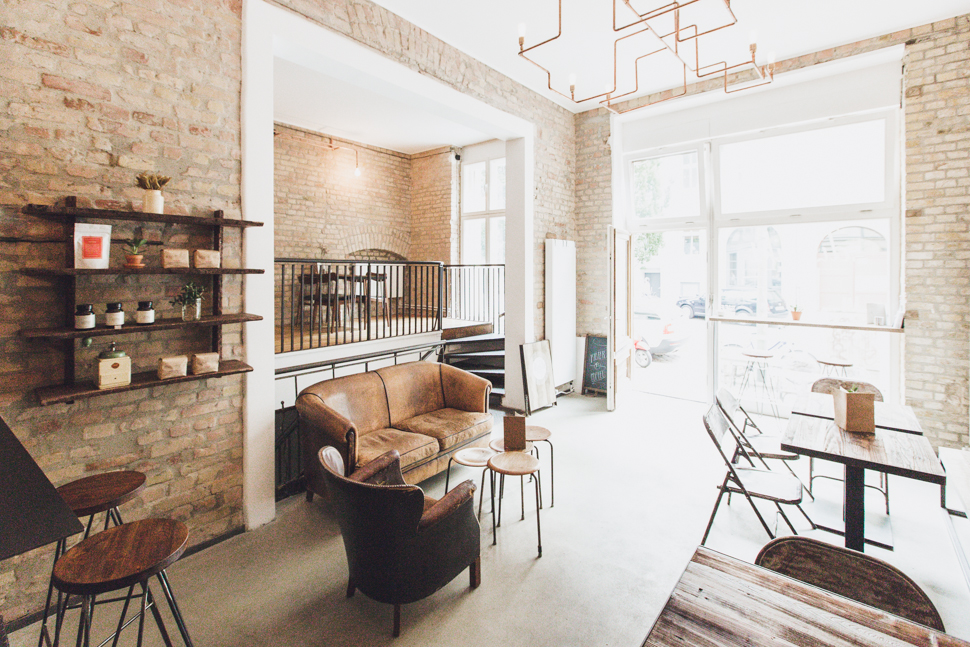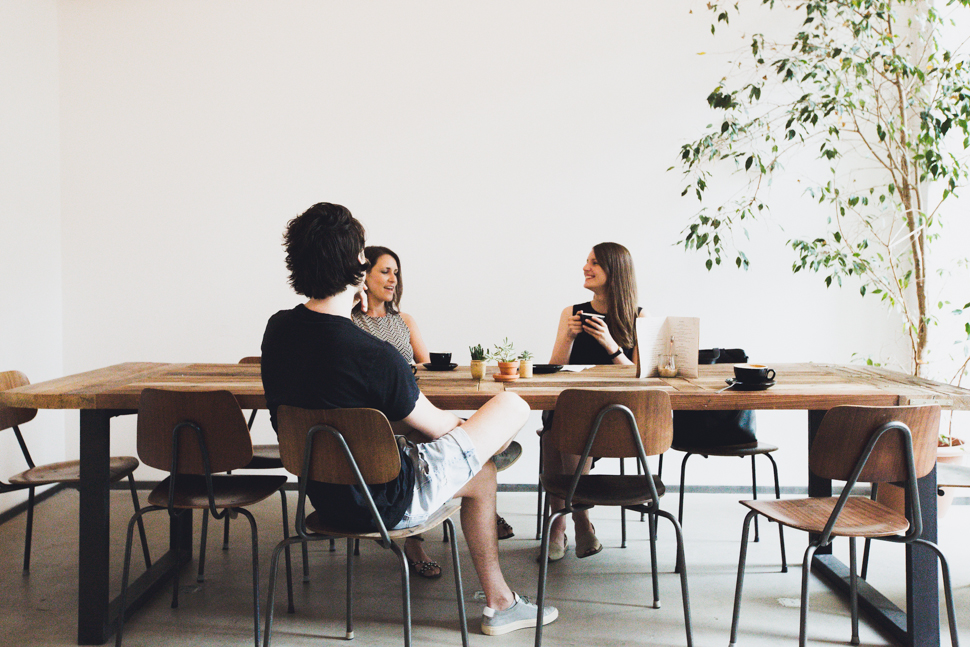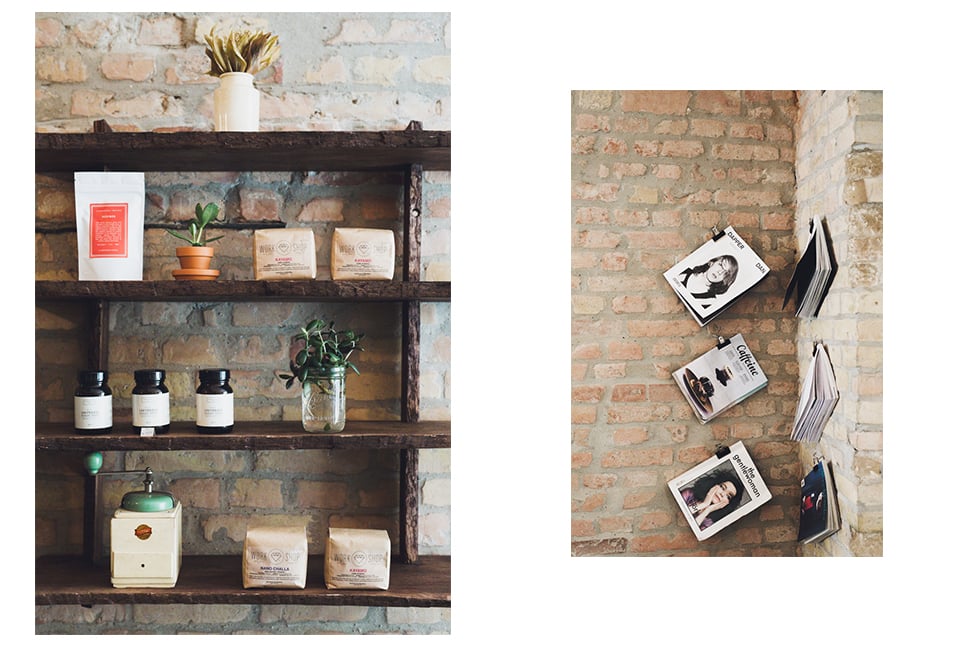 Where do the beans come from for your coffee?
Hannes: We always liked the idea of having something from London, just because The Barn and Bonanza are around the corner basically. And then there's Five Elephant, which you can get at Father Carpenters.
Sophie: Since beginning to use Workshop coffee, customers have been really positive about it. They're really great to work with and then we rotate different roasteries for our filter coffees. Generally, people who drink filters like to have different kinds of coffees on a regular basis.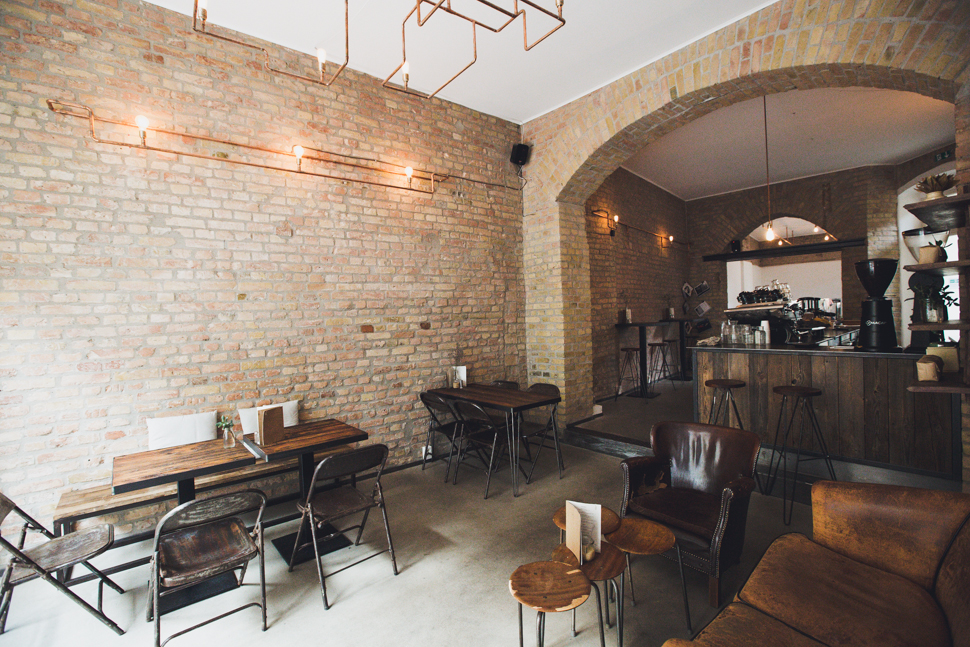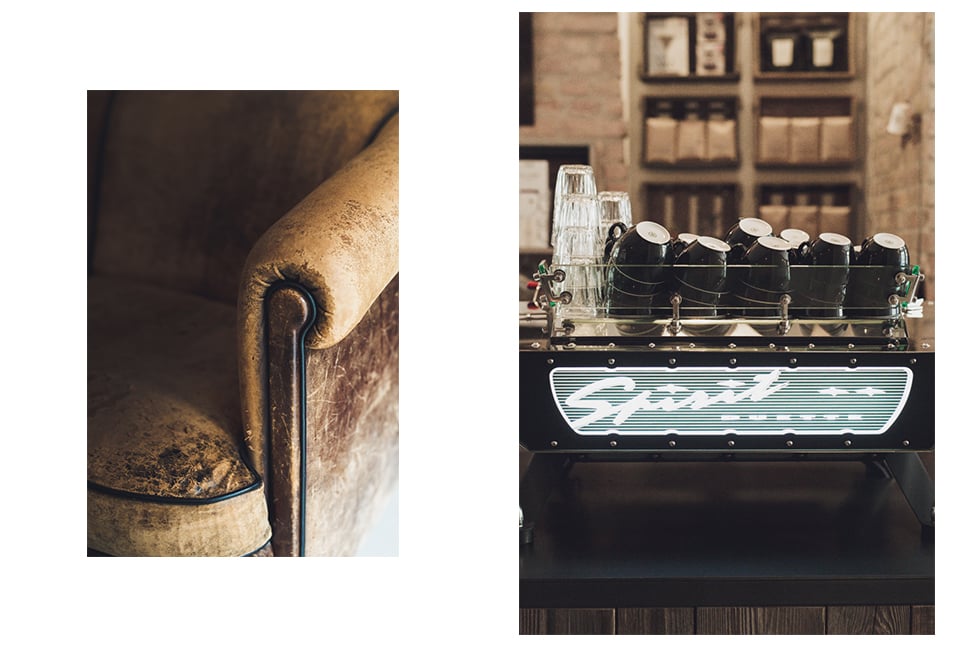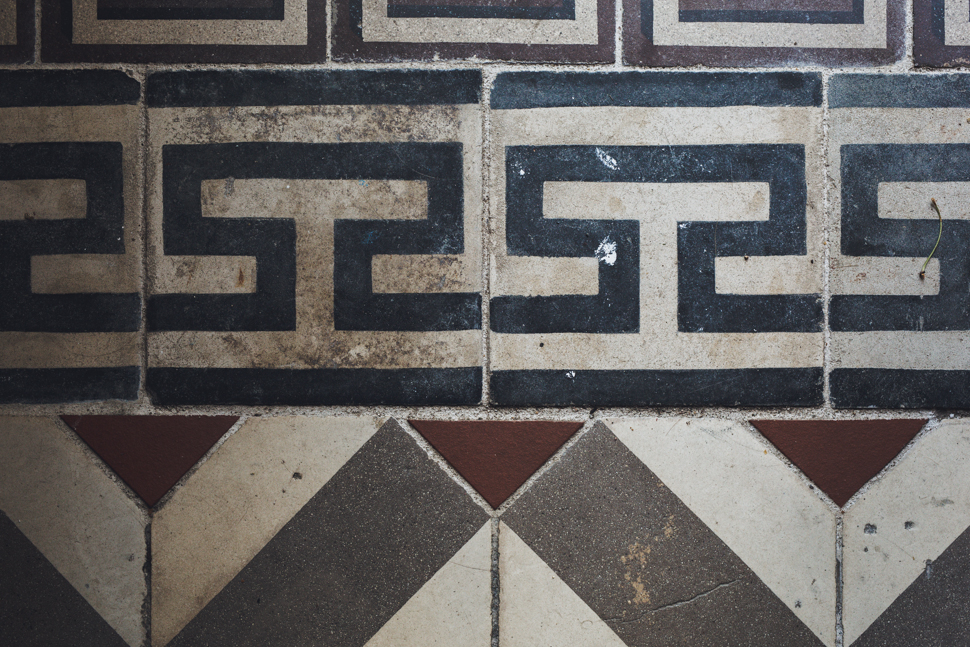 So you also travel around to explore new beans?
Sophie: Yes. And people also come here. La Cabra from Denmark, for example, they recently visited us. Different roasteries quite like to go to, let's say, Berlin and then go to their favorite coffee shops…
Hannes: It's also a lot of fun when you're abroad. You can get coffee from Europe here in Berlin. When we were in New York, we brought a lot of coffee back with us, like 8 kg, since you just can't get it here.
Sophie: It was quite nice, there's a new roastery called Parlor Coffee. Then there's Stumptown, which is quite well-known, so we bought that. Whenever we go somewhere different, we always bring back coffee. Hannes' mum, for instance, went to Denmark recently to Coffee Collective, so she just brought some coffee back with her.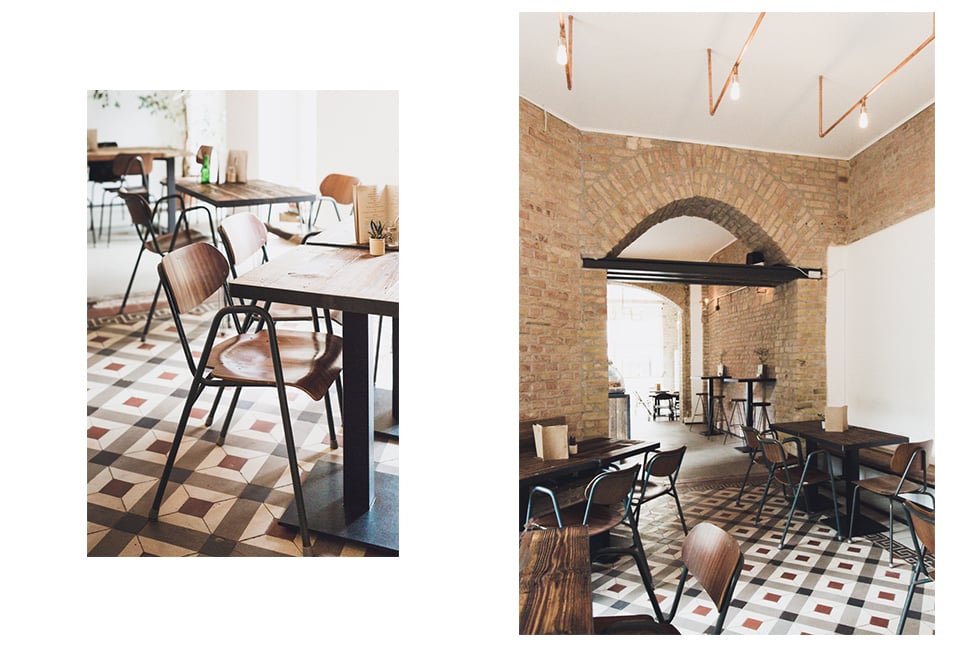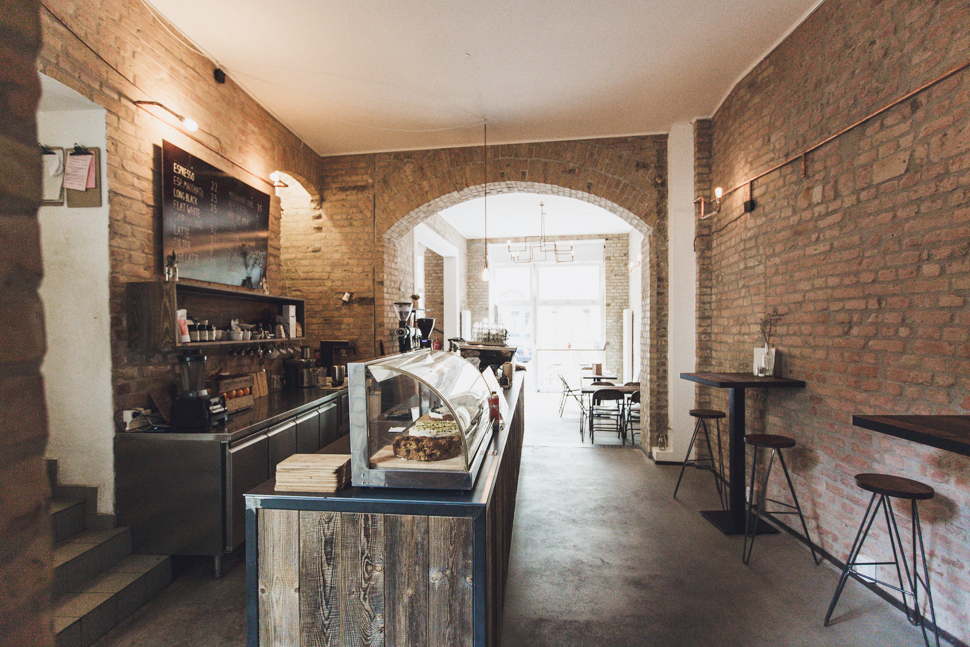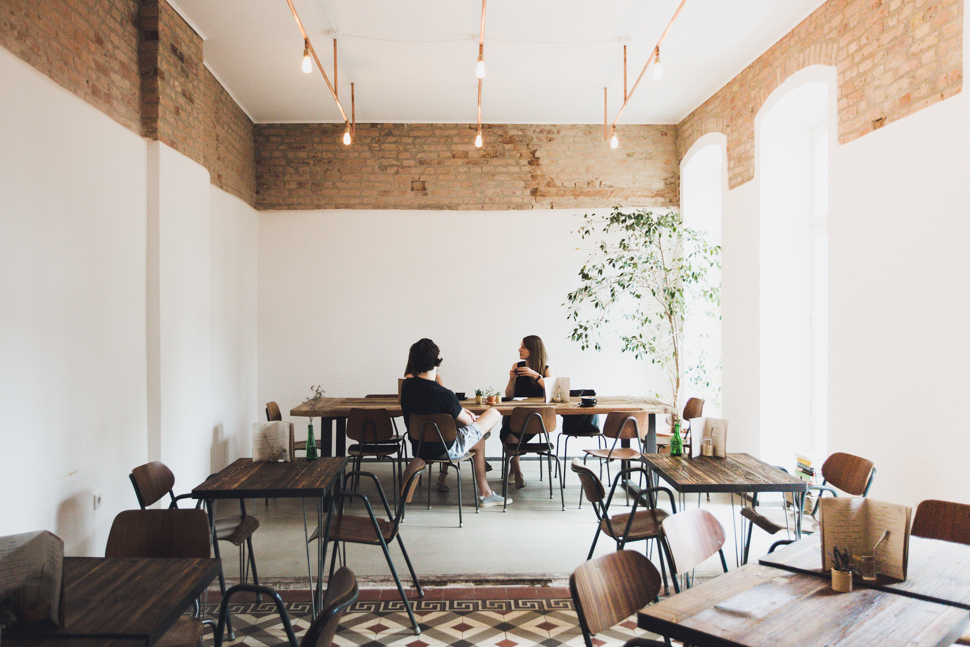 What is the most important thing to you when going to a new café?
Sophie: The atmosphere, definitely. When we were in New York, maybe because the prices for rent are so high, a lot of them were so small. You couldn't really sit there. In that case, you're looking for really great-tasting coffee. I really like to go to places as well where the staff is knowledgeable, but also friendly and welcoming and that's super important for me.
Hannes: Actually, if the staff is nice and you can have a nice chat, then even the thing that is quite average, is still fine.
Sophie: That's the great thing about New York, that you kind of know most people are really nice. Especially in Brooklyn, mainly as it's not as busy as in Manhattan.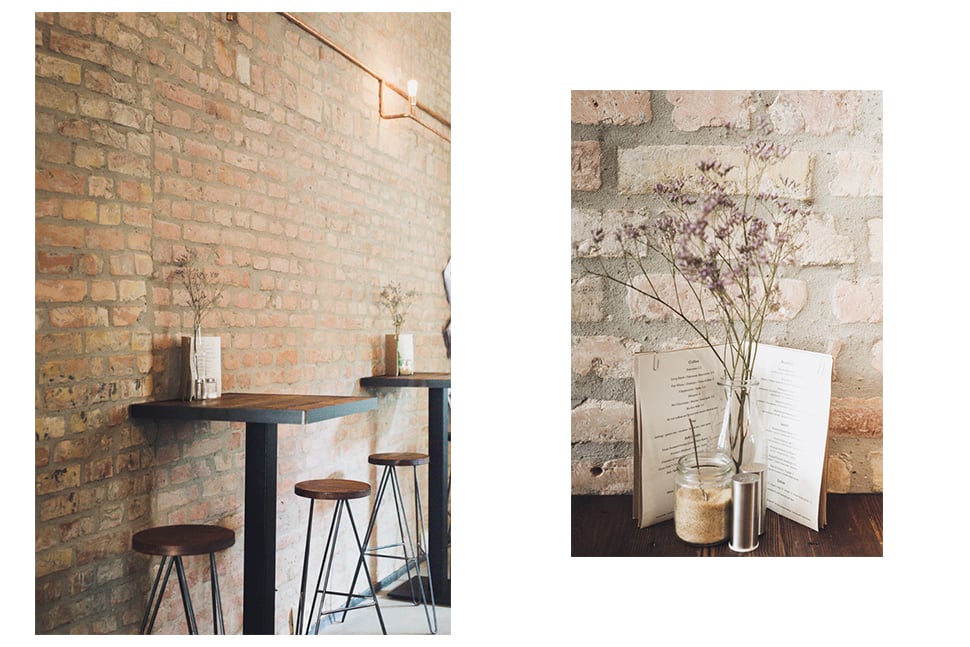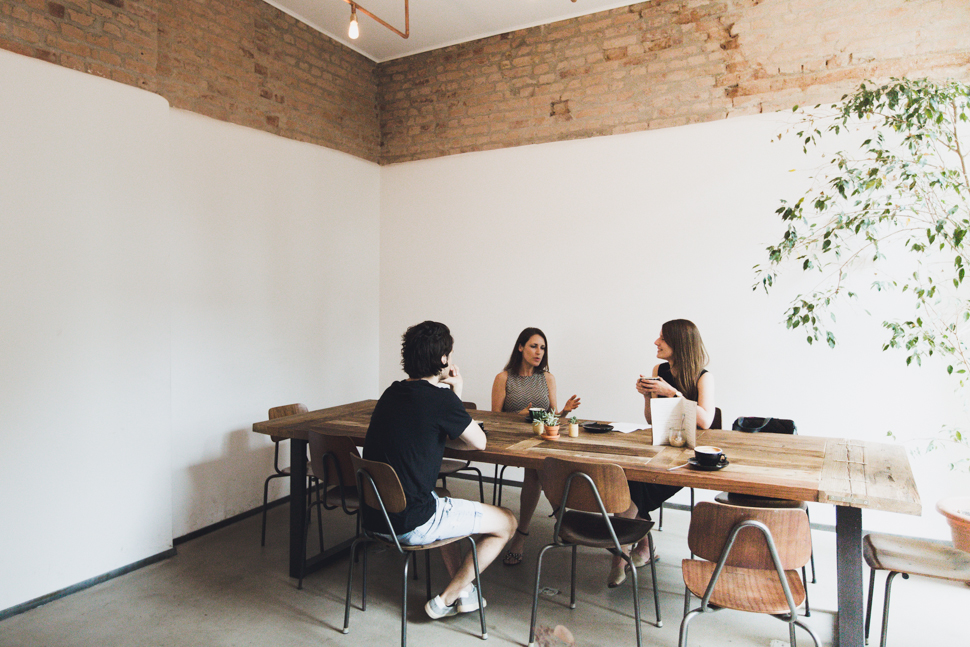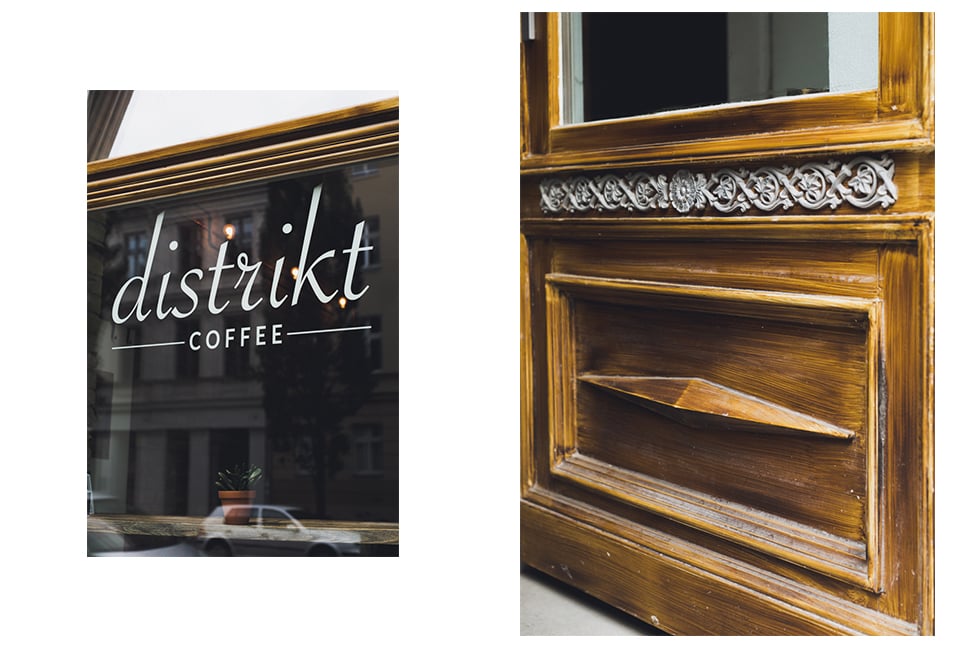 How would you describe the coffee scene in Berlin compared to other cities?
Sophie: I actually think the coffee scene is better here than in London. It's strange. I mean, there's obviously a lot more in London as well as in New York and everywhere there are third wave coffee shops, but somehow, it seems almost like just anyone would do it. They know it's going to work, because there are so many people and so many people just want a coffee before work in those cities. And here, I think it's a bit more special.
Hannes: It's also a bit more relaxing. Here, you can take your time to drink your coffee. In London, there's always a line and you get a coffee to go.
Sophie: It takes some time to get the coffee right and adjust it throughout the day. In other cities, where it's so busy, you almost can't keep up. Whereas here, you can. So it sort of raises the level of the coffee. We've also noticed so many new places in Berlin over the last year. There's never a shortage of places to go. It's also quite nice for a coffee scene where lots of people working in the industry know each other. For example, we use a lot of Companion Coffee's tea – it's quite a close-knit community.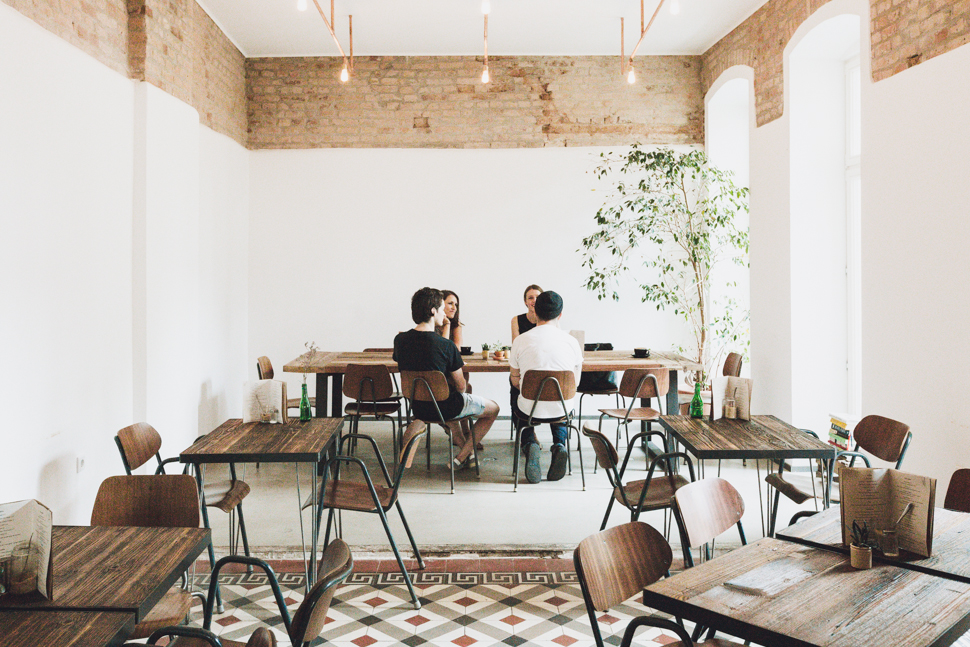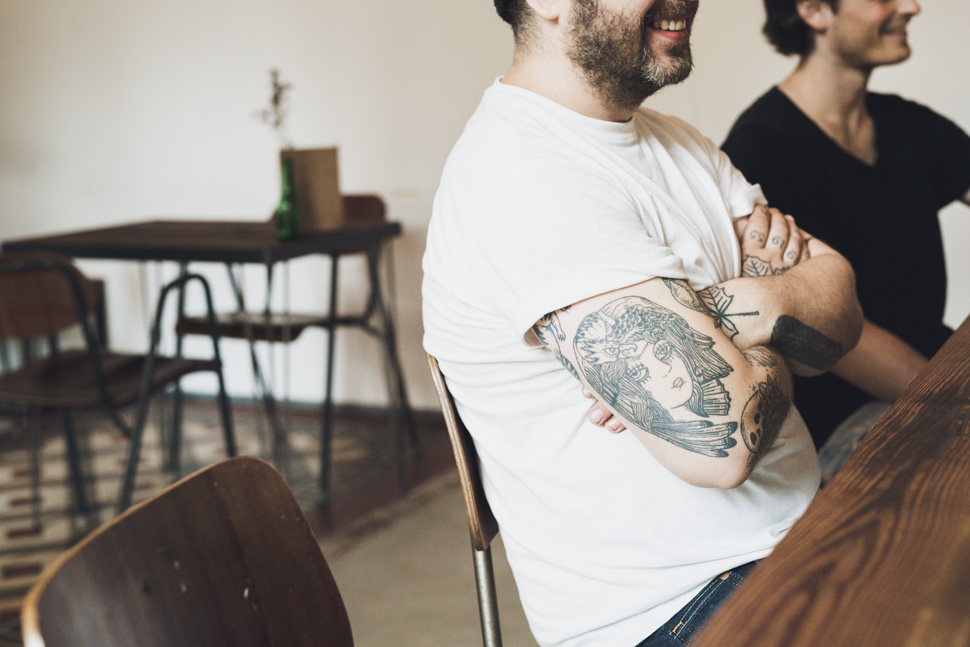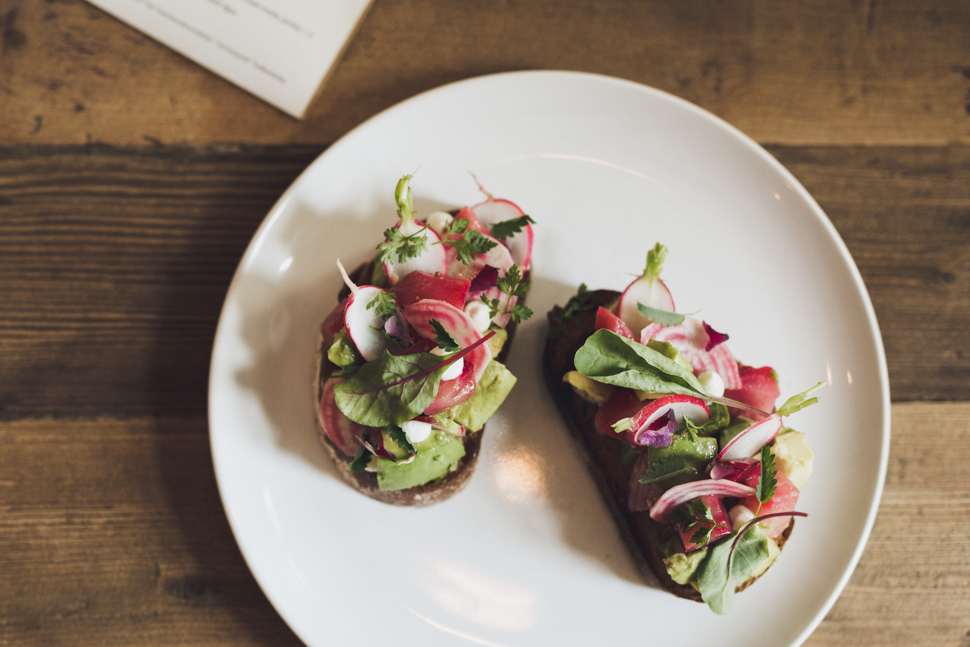 You recently hired Matthew Maue as a head chef. Matthew, what was your inspiration for the menu?
Matthew: I started here as head chef in May, so the menu is still fairly new. Obviously, it depends on how a kitchen works. We're still kind of figuring things out as we go, but we're going a seasonal route. We change it every time the seasons are changing. Right now, I'm trying to figure out what people like around here. I'm originally from New York and it's my first time in Europe. I'm also still trying to push it a little bit to make it different from what everybody else is doing. But I think the focus is on café-style food – making it a bit more market-driven and modern in a sense. If you look at the menu, it's very heavy on vegetables.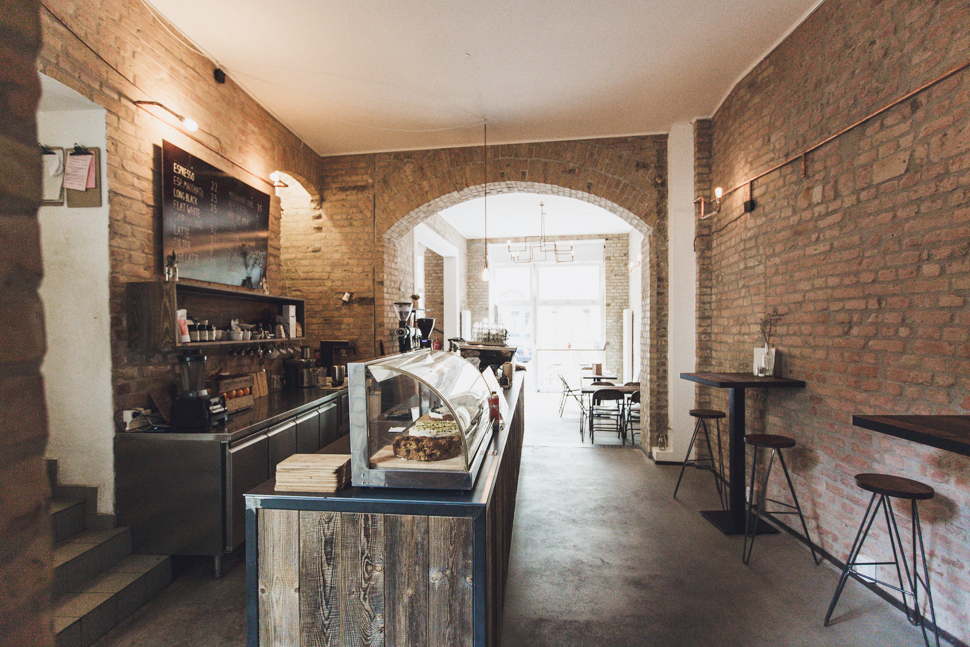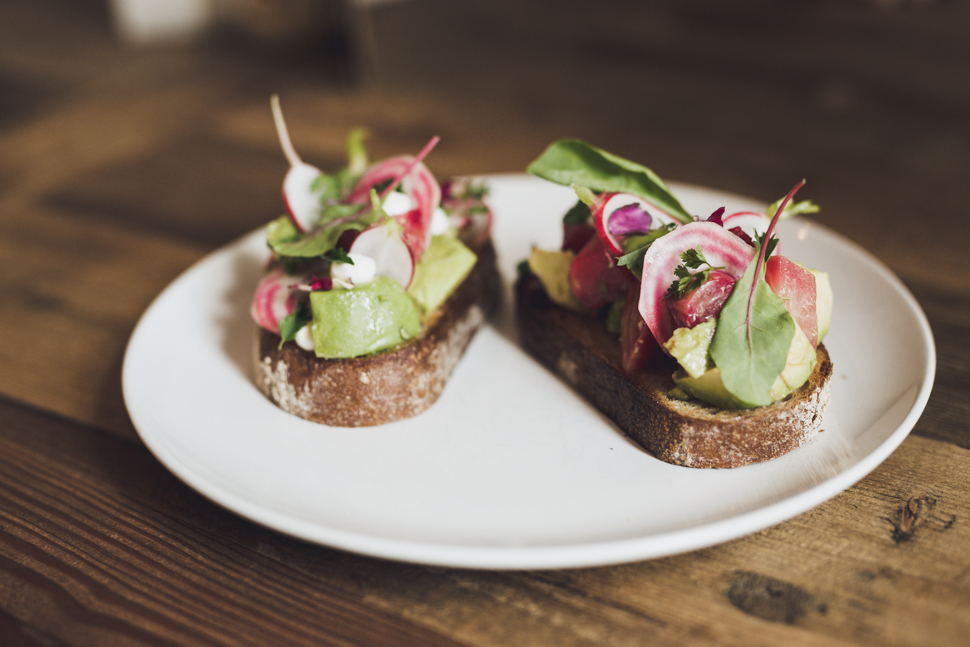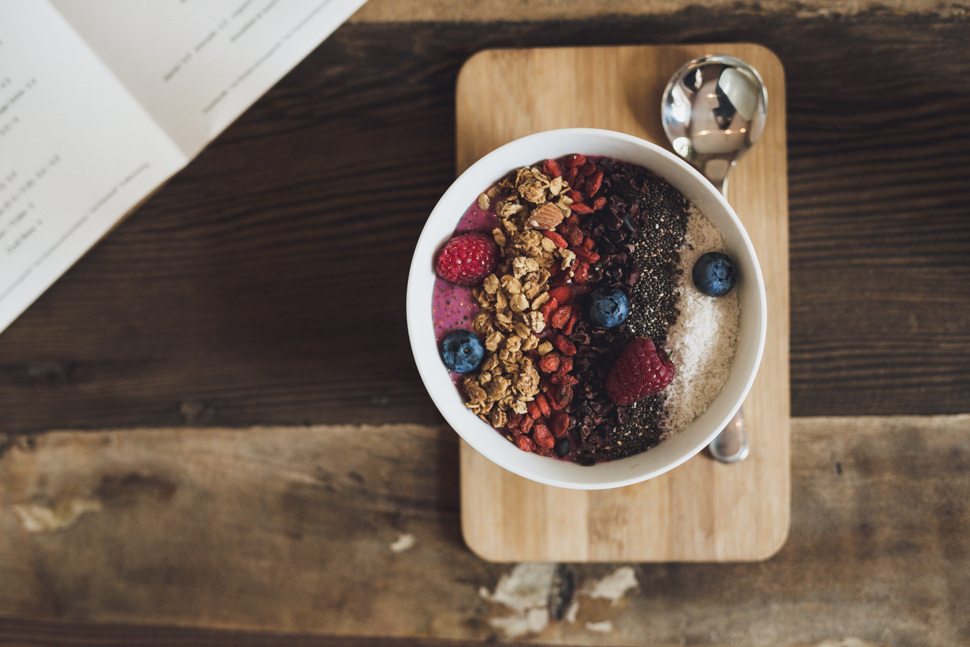 Coming from New York, you also recently added the Superfood Bowl with acai and goji berries to the menu, would you say there is also a trend in Berlin towards healthier food?
Matthew: I have the feeling that more and more chefs not only necessary cook healthier food, but they figure out that vegetables are special, too. It's just not like a piece of meat where you can cook it this or that way. Every single carrot is completely different than the next carrot, so you have to pay attention to each carrot individually and treat it with respect. I think this is also what most of the popular chefs are doing nowadays, everything is market-driven.
Sophie: For example, the beetroot. People keep saying, 'Wow, that's so tasty. How are you doing this?' and they've maybe never tried a beetroot that's being roasted. I think people are kind of excited about this. And like Matthew said, 'Vegetables are special, too.' Ha.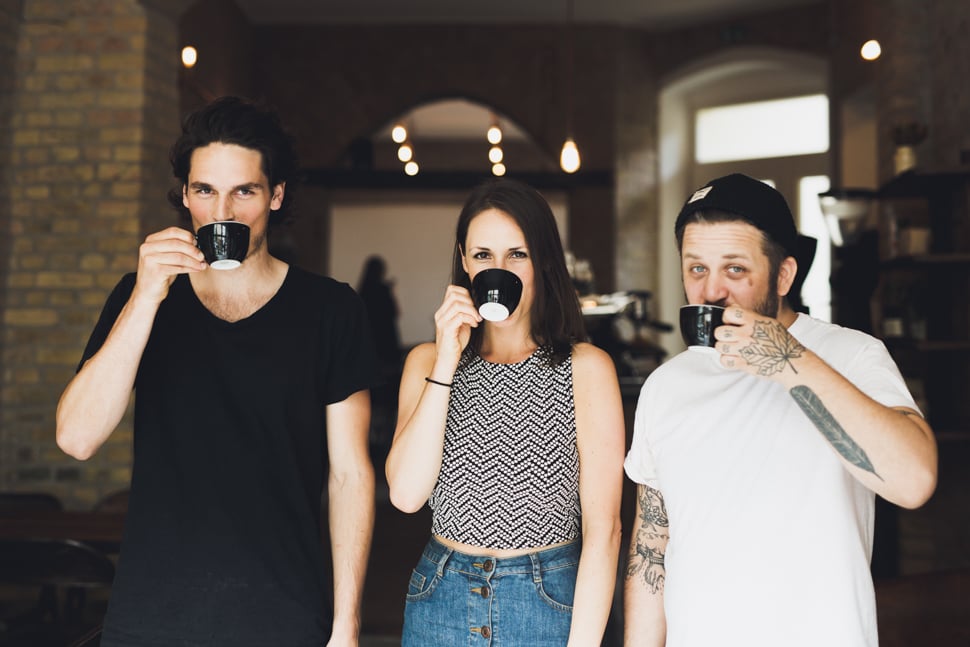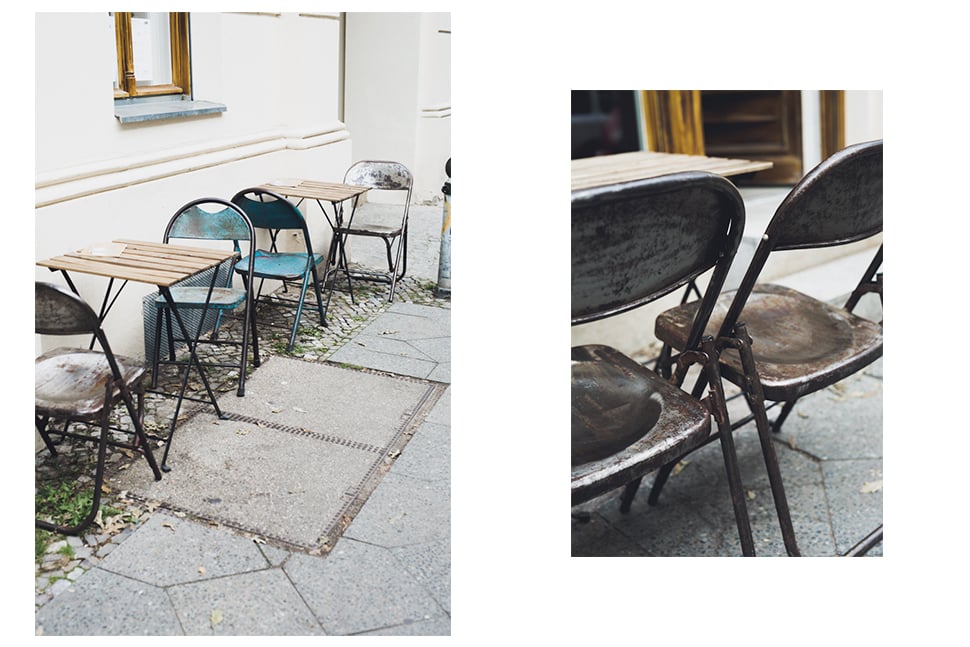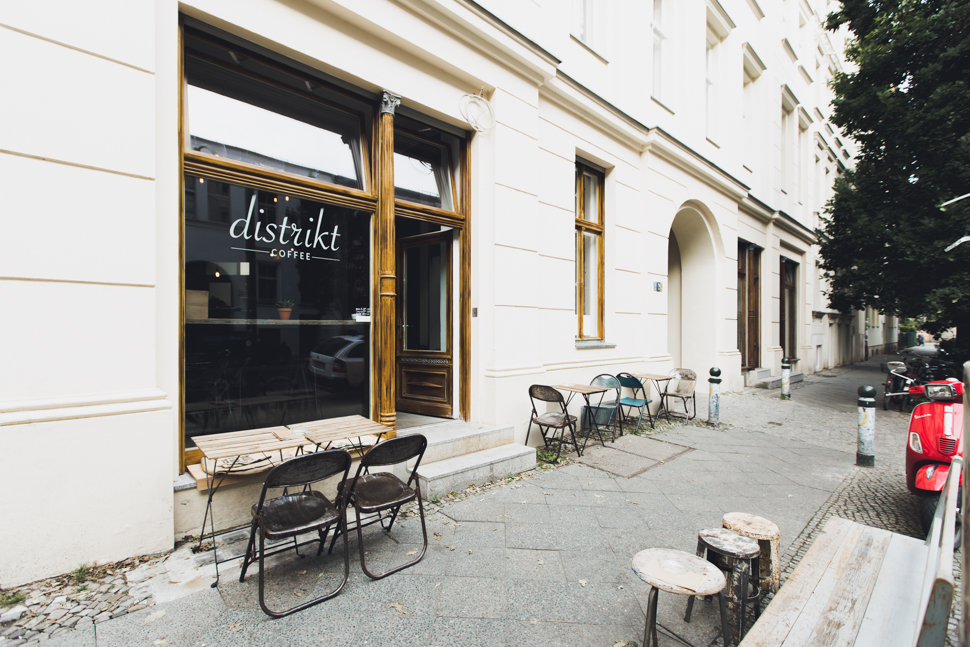 Would you say social media helped spread the word about Distrikt Coffee?
Hannes: You can do a bit on your own and we have our own Instagram, but in the end, you get the most followers when somebody posts something about you. And since we added some more great food dishes to the menu, you can see that there are definitely more posts. We just try to not post too much, but have 2, 3 or 4 good posts per week.
Sophie: I think it's definitely the most important thing that brought customers here. Whenever I ask them, 'How did you find us?' 99 times out of 100, I hear it's through Instagram. Sometimes, it's from places like TripAdvisor, but that seems to be for more older customers.
Hannes: I think nowadays, it's also the case that when you travel somewhere, you would rather check out the place on Instagram first through photos of the place and food.
Sophie: This is also just our generation.
Hannes: But it's also sometimes not so good when you already know a lot about the places, all the details and how every dish should look. Sometimes, you then offer a special of the day, where you can still get excited as a customer.
Sophie: It also raises expectations. Last Sunday, for example, we were super busy. Busier than we've ever been. By 3 o'clock, we ran out of pancakes. One guy came in and wanted to order pancakes and I said, 'Sorry, we've run out,' and I've never seen anyone so angry. He slammed his chair away, grabbed his keys and stormed out. I guess he was really desperate for these pancakes.
ADDRESS
Bergstraße 68
10115 Berlin
OPENING HOURS
Mon – Fri: 08.30 – 17.00
Sat, Sun: 09.30 – 17.00
CONTACT
Website
Photography by Ana Santl, Interview and Text by Jessica Jungbauer