The mastermind behind Berlin-based atelier I G G, Illya Goldman Gubin, is a multidisciplinary Ukrainian artist who bridges the gap between fashion and art in pursuing unique inventions that incite multi-layered reflections on today's reality and our perception of it. In his latest collaboration with the German luggage-manufacturer RIMOWA, he takes his incredible skills one step further.
Ranging from paintings to sculptures, installations, furniture, and clothing, I G G's work delves into the ambiguities of modern life, highlighting the complexity of human consciousness, hoping to disclose a heightened understanding of the self. With a signature style that can be described only as multifaceted and thought-provoking, the Ukrainian artist transforms materials, space, and time into intriguing, interactive, and sensorial artworks that invite contemplation and meditation. For the last installment of RIMOWA's international traveling exhibition 'As Seen By', Goldman Gubin was asked to reinterpret the iconic RIMOWA suitcase and freely transform its aluminum sheets and spare parts according to his unique visual language. His contribution joined that of other 60 talented artists and designers, who have showcased their amazing creations in the show's previous locations, including Shanghai, Paris, and Tokyo.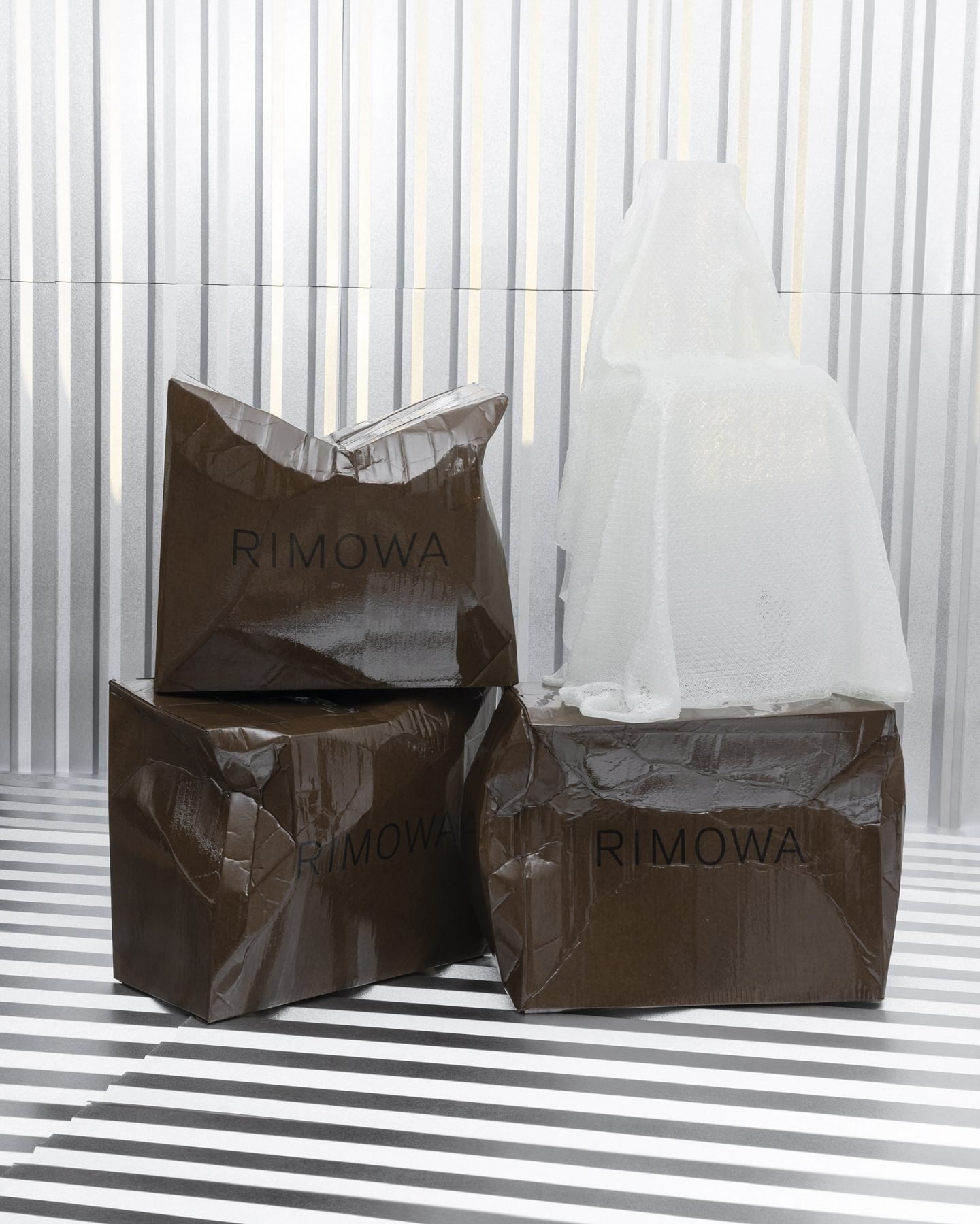 Taking place at Kant-Garagen—the iconic Bausaus six-story parking lot in Berlin's prestigious neighborhood Charlottenburg—the Berlin stop featured familiar RIMOWA luggages re-contextualized by creative minds, each seeking to expand the principles of lightweight construction. The artist reconfigured and redefined the sculptural suitcase for the show into two captivating creations. In the first, the 'Glasfaser Stuhl' (German for the Fiberglass Chair), Goldman Gubin implemented fiberglass to outline a minimalist see-through reminiscent of the suitcase's shape, in which the extended handle becomes the support for the user's back—a new basis of utility. The second, the 'RIMOWA Karton Hocker', extends the artist's 2020 'Karton' series, in which resinated cardboard structures become striking furniture pieces. For this, Goldman Gubin transformed the RIMOWA suitcase packaging box—an object which we once carried—into a series of stools that can now carry and support their users, reversing, in the process, the very meaning and function of the original material. Compelling and distinctive, the two creations meditate on concepts of materiality, impression, and consciousness, challenging our perception and interaction with the world—an ethos that has shaped the artist's career and raw aesthetic since its beginning. IGNANT has documented Goldman Gubin's unique process in the serene video below.