Stainless steel is all around us—a valuable centuries-old resource for many industries, and bound to remain so in the future. In Italy, the Piedmont-based company Quadrodesign has made it its mission to not only celebrate the material's unique qualities, but elevate it to new heights, with state-of-the-art taps for the home of today and tomorrow.
Stainless steel was produced accidentally by English self-taught metallurgist Harry Brearly over 100 years ago, who, on the hunt for a corrosion-resistant metal for gun barrels, discovered that adding chromium to molten iron produced a metal that would not rust. Called the 'miracle metal', stainless steel became a game-changer in the steel industry, with patents by American and German metallurgists leading to its industrialization and introduction to the wider public. With properties outperforming those of more traditional competing metals such as copper, the material has revolutionized our modern world with applications in almost every sector, from medicine to architecture and design. Now the third most widely used metal following aluminum and steel, it has become a commodity worldwide and a part of everyday life, from the utensils we eat with to the interiors that surround us.
Discovered accidentally, stainless steel became game-changer in the steel industry
The secret to its success lies in its incredible physical and chemical properties. An alloy of iron and carbon, the element of chromium is what sets it apart from normal steel—reacting to oxygen from air or water, it allows for the formation of a tough, invisible layer of chromium oxide on the surface, which gives the metal its corrosion resistance. Its radical properties are enhanced by the addition of other elements such as nickel, titanium, and manganese, which make it fire and heat resistant, and also create a lustrous and bright finish, giving it its attractive and modern character. On top of this, the metal can be formed, cut, welded, bent, machined, assembled, and fabricated easily; it does not rust, chip, stain, or scratch.
The metal has inexhaustible functions and applications in living environments
Owing to its combination of properties and minimal maintenance, the metal has inexhaustible functions and a broad range of applications in living environments, from the tiniest structural part in a valve to the largest architectural systems. Designers have long appreciated its noble character and modern quality—versatile, durable, and expressive, the material creates harmonious uniformity in any living space, matching materials, textures, and furniture seamlessly.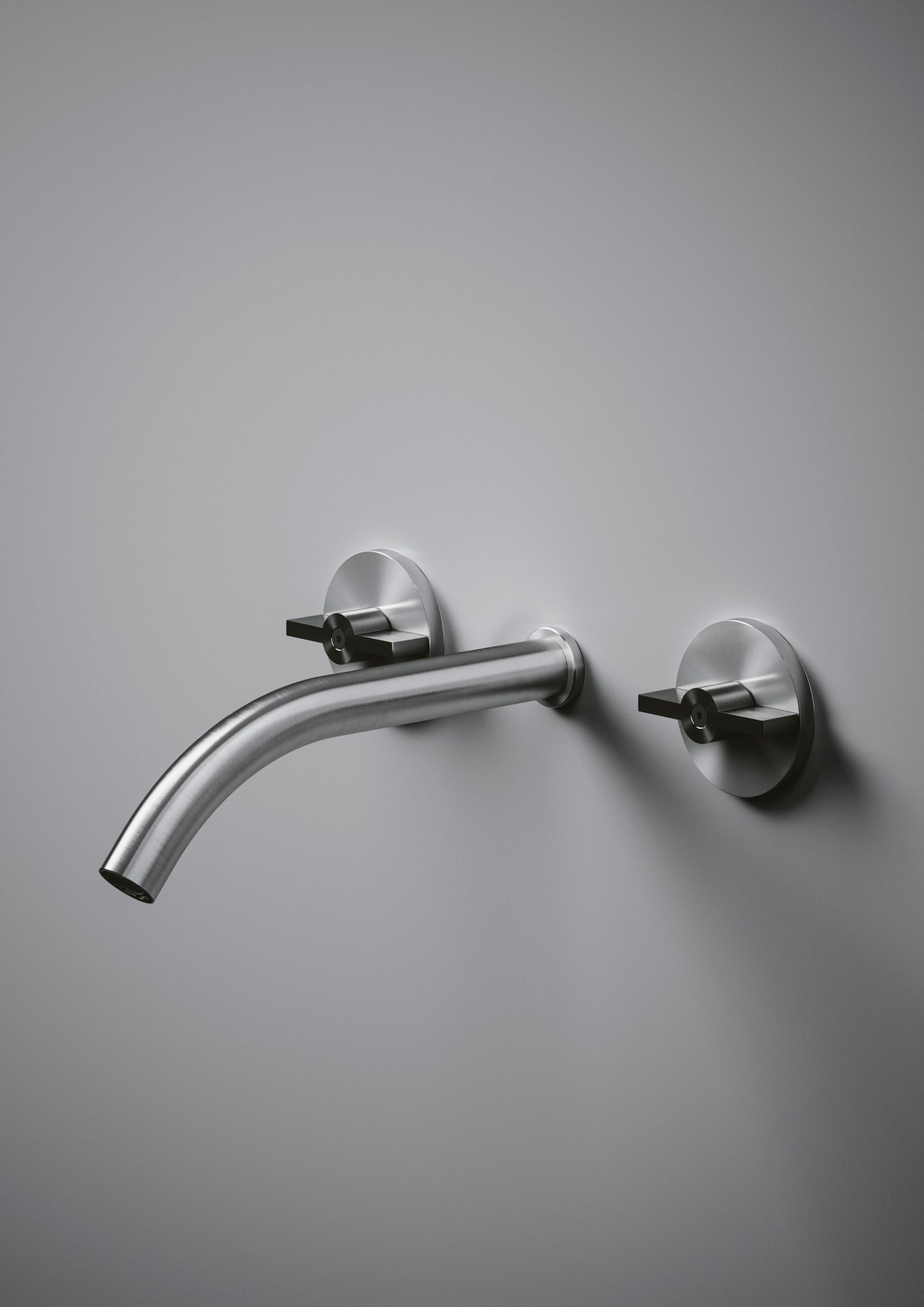 "Quadrodesign projects itself into a cutting-edge dimension, with sustainable and timelessly modern designs"With its great variety of surface finishes and industrial looks, stainless steel offers a unique material aesthetic that is very much in demand today. The development of new and more attractive grades of stainless steel is in the hands of manufacturing technologies and companies capable of refining them. The Piedmont-based tap manufacturer Quadrodesign is one such company: stainless steel has always been at the center of their focus. "Quadrodesign projects itself into a cutting-edge dimension, by anticipating product technologies that are even more eclectic, sustainable, and free from stereotypes," explain the founders to IGNANT. Delivering a broad variety of ever more versatile and high-performance materials, the Italian tap manufacturer pushes captivating stainless steel designs that are simultaneously "sustainable, technological, reliable, and timelessly modern."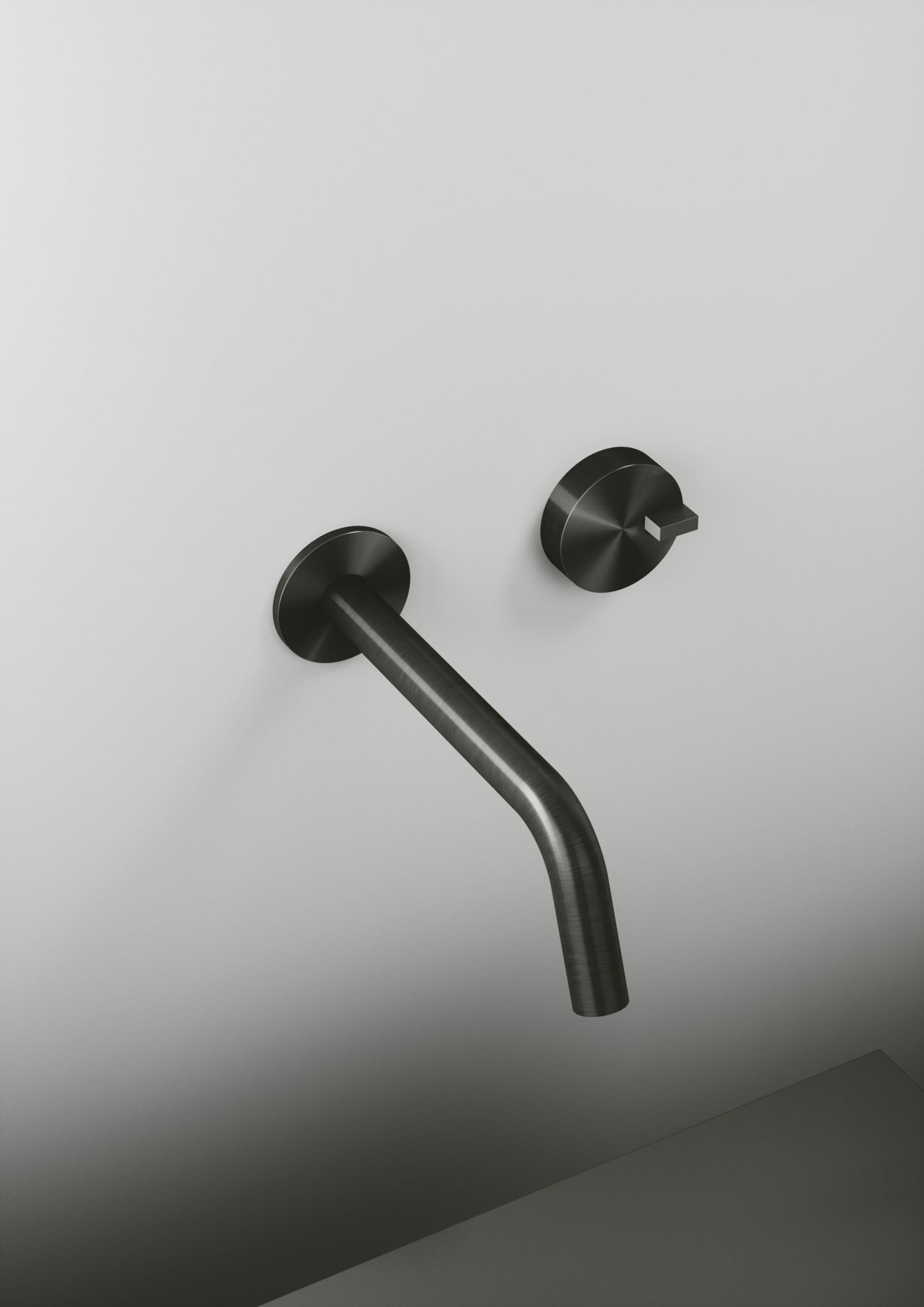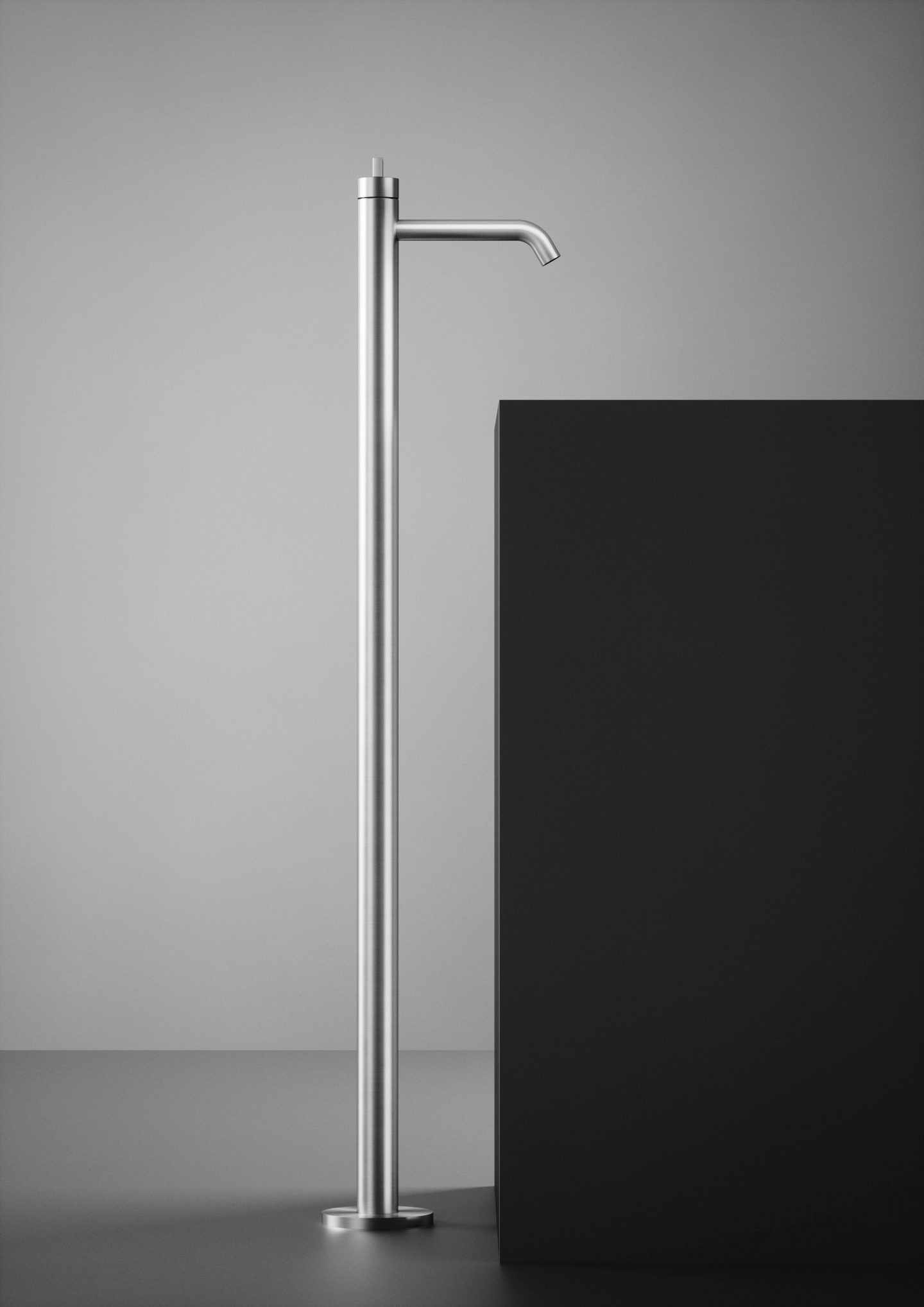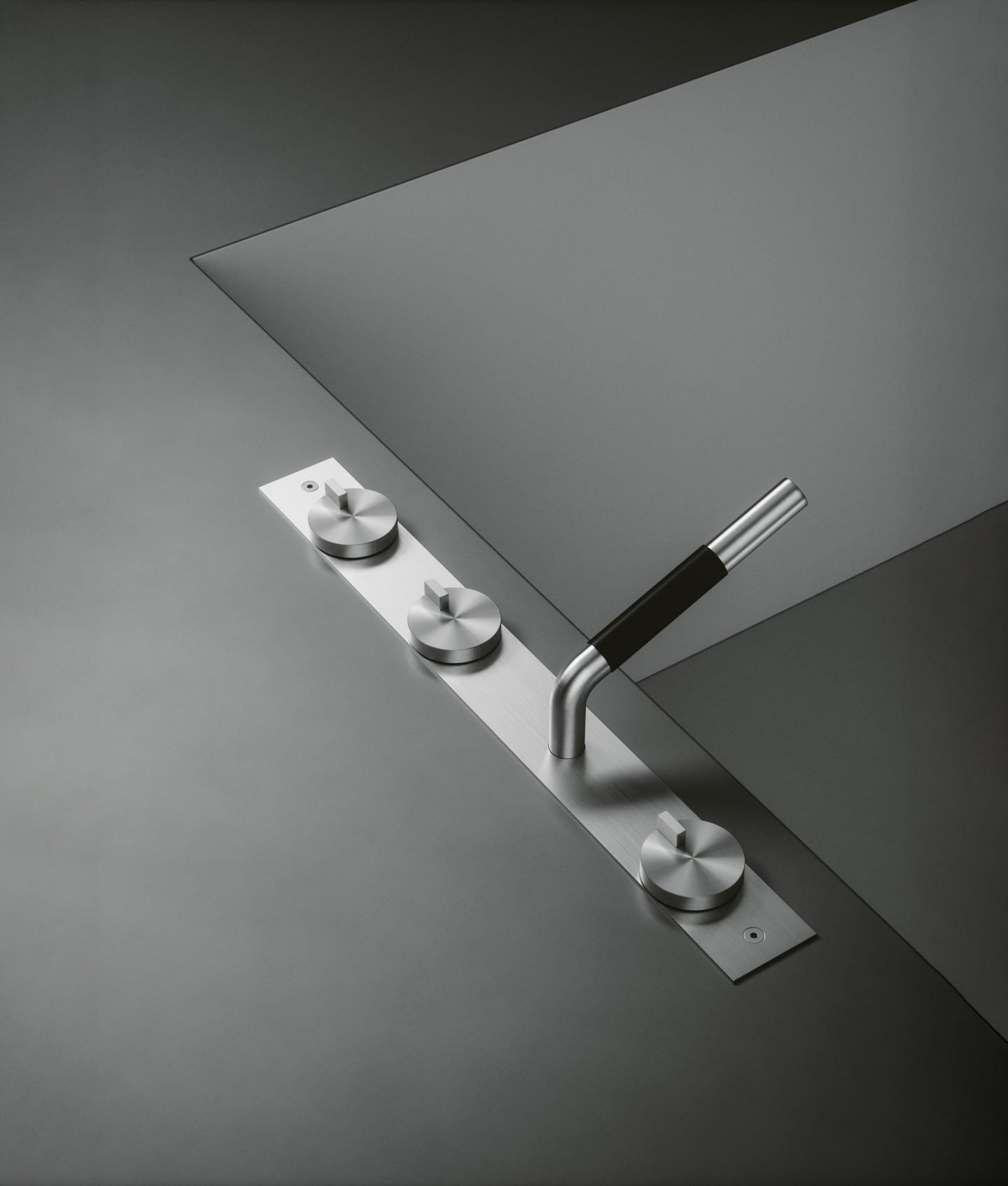 A classic for the contemporary high-end bathroom and kitchen, stainless steel taps have given the noble metal a new popularity and purpose, one that combines functionality with aesthetic styling—with their straight lines, curvier shapes, and silkier finishes, taps make stainless steel attractive and stylish. The metal is the protagonist of Quadrodesign's entire bathroom range. Designed by Studio Adolini, their latest range of taps are an ode to steel and water, and aim to represent both the aesthetic synthesis and the design process of the company through the balance of simplicity of forms and the complexity of its finishes. Perfectly suited for the contemporary bathroom, it includes the collections 'Valvola01', 'Valvola02', and 'Q', three series of unique sculptural taps bringing a touch of industrial charm and expressiveness into the home.
An ode to steel and water, their collections bring a touch of industrial charm into the home
Manufactured in AISI316L stainless steel, the three collections take their design from utilitarian spaces and industrial taps. Described as a "synthetic and highly modern formal reinterpretation of typical hydraulic and gas ball valves," they are a smooth and contemporary reworking of the round and wing-nut style valves of industrial derivation, catching one's attention through their timeless look and pure geometric shapes softened at the edges. Available in light gold, pink gold, and black gold, their unique knobs are what underlines the industrial origins and the design inspiration from colors typically found in traditional knobs: red, yellow, and green.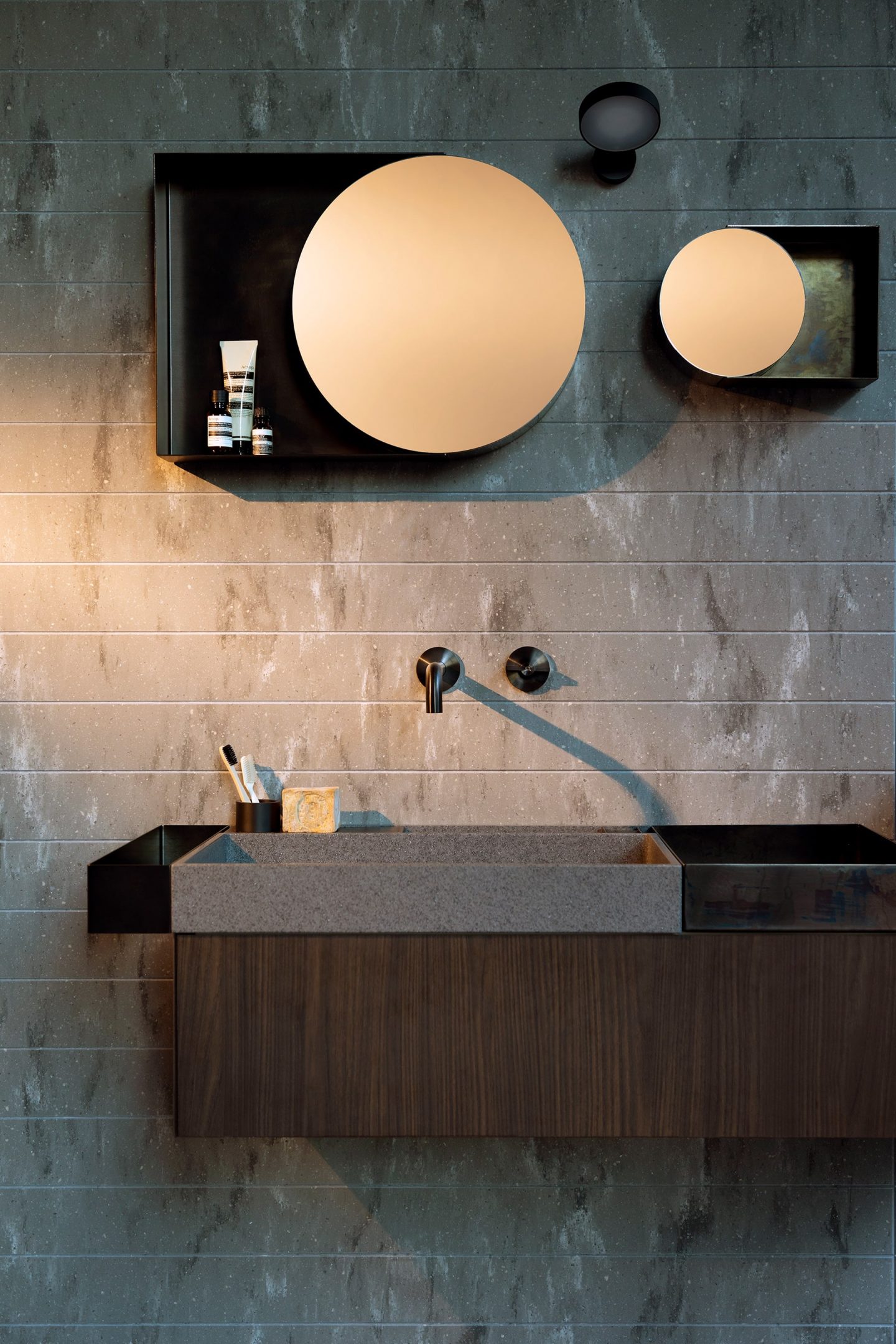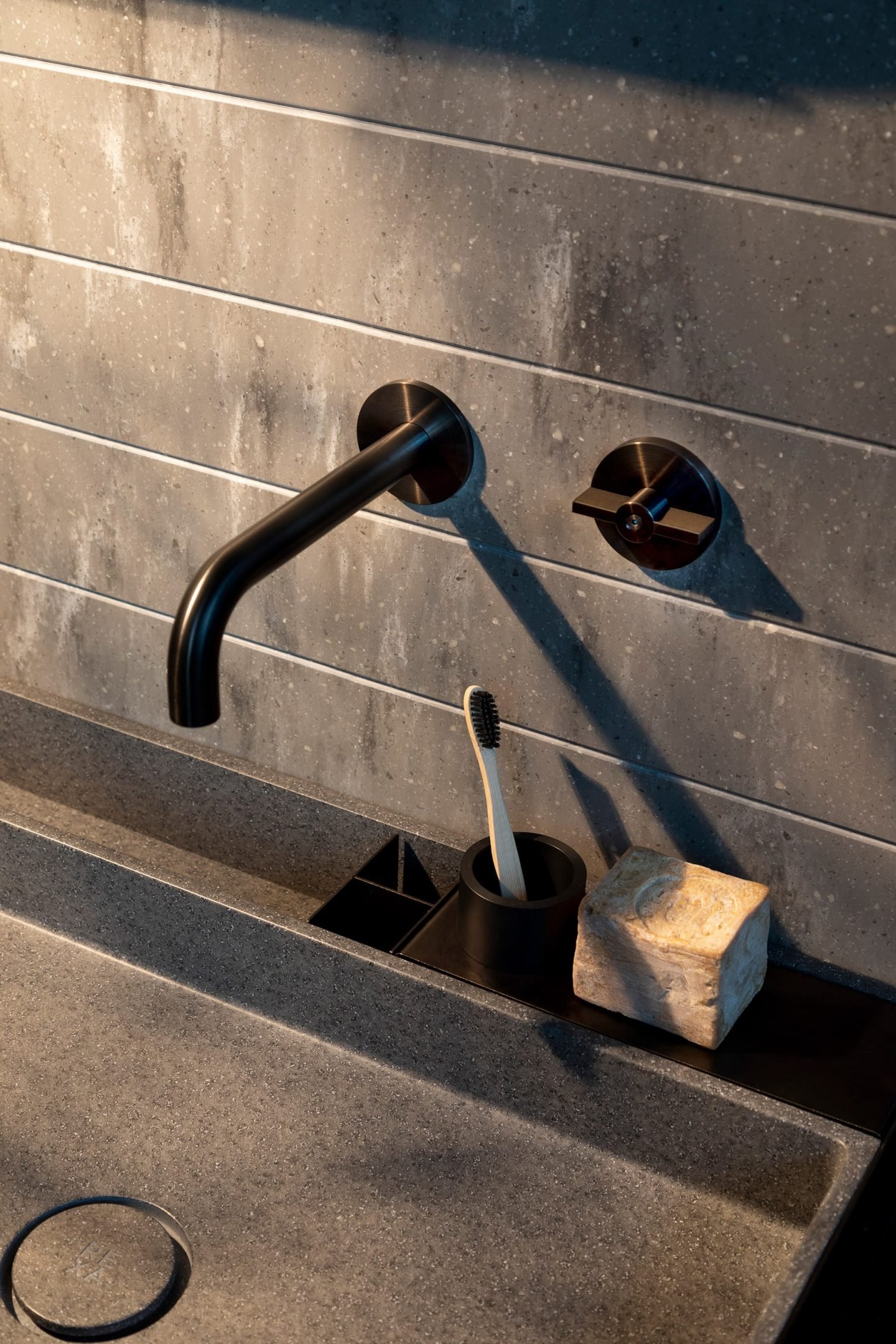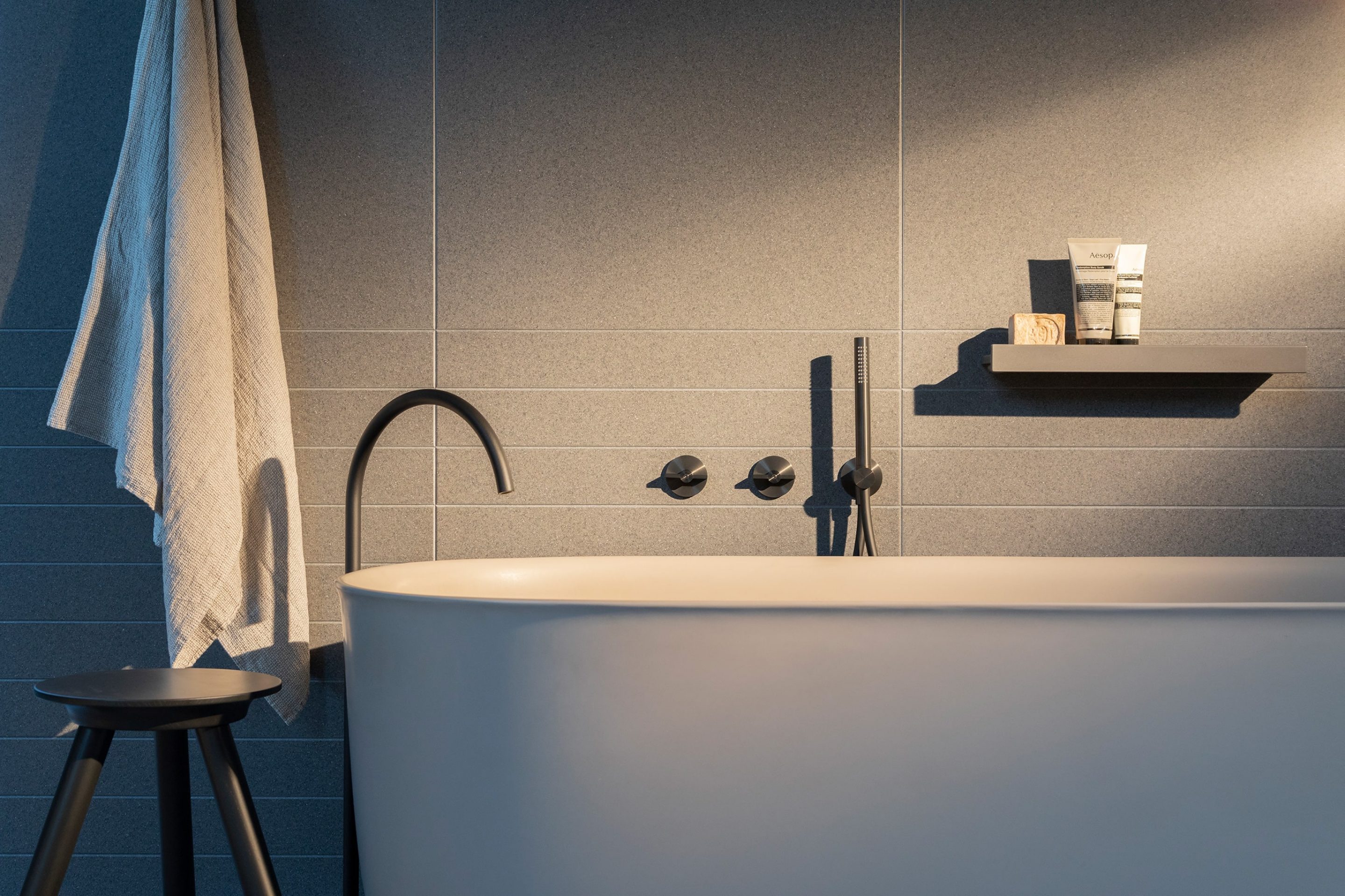 The taps catch one's attention through their timeless look and pure geometric shapesOffered in a wide range of designs and dimensions, they have been developed with maximum flexibility in mind and they satisfy any design specification challenge thanks to a single built-in control system that can be combined with different outlet elements, therefore enabling different solutions to be created. Finished using PVD (Physical Vapour Deposition) method, the collections use an an innovative process for coating metals that enables the valuable characteristics of stainless steel—elasticity, durability, inalterability, hypoallergenicity, resistance to corrosion—to remain intact and unaltered. At the same time, the process has a minimal environmental impact, aligning the design to the company's philosophy of sustainability.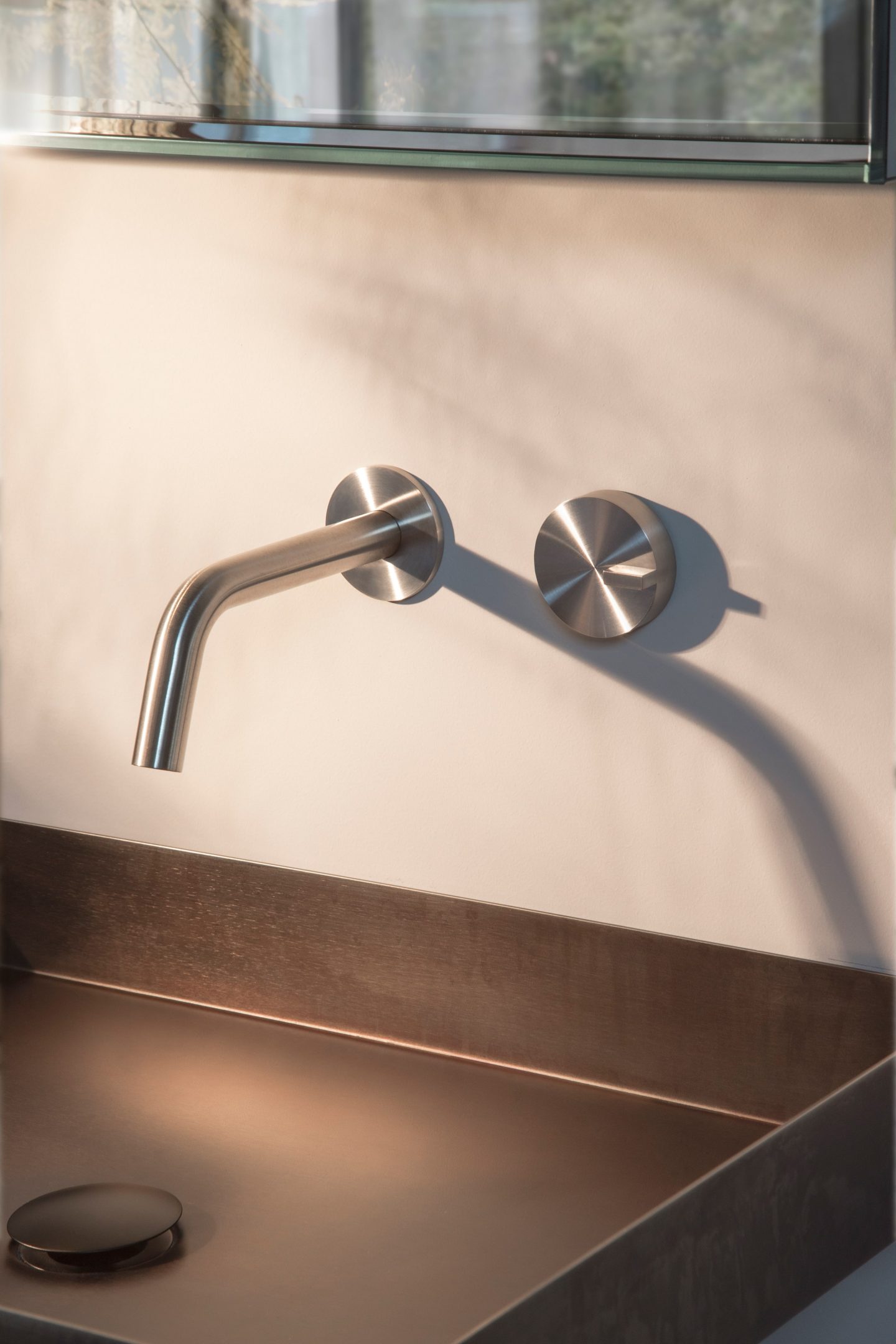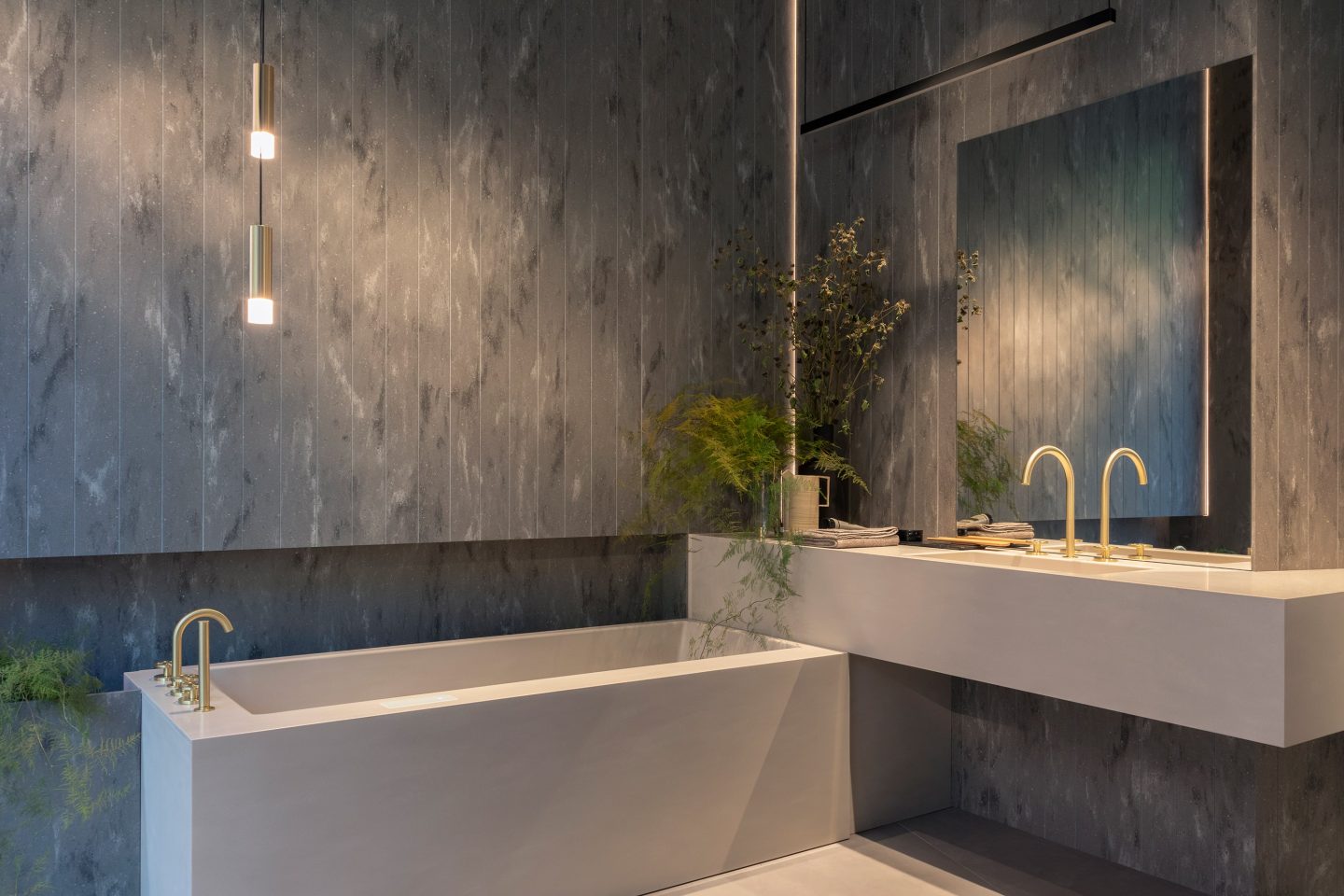 Quadrodesign envisions stainless steel as an instrument of changeWith the refinements to the material put forward with the 'Valvola01', 'Valvola02', and 'Q' collections, Quadrodesign demonstrates that stainless steel has sustainable properties. Infinitely recyclable, it is the green material par excellence—its sustainability is unmatched when compared to other metals. Requiring minimal maintenance, its combination of corrosion resistance and durability increases not only the product lifetime but makes it economical and valuable for the environment and society; in other words, it is an important driver of progress and a more efficient use of our resources.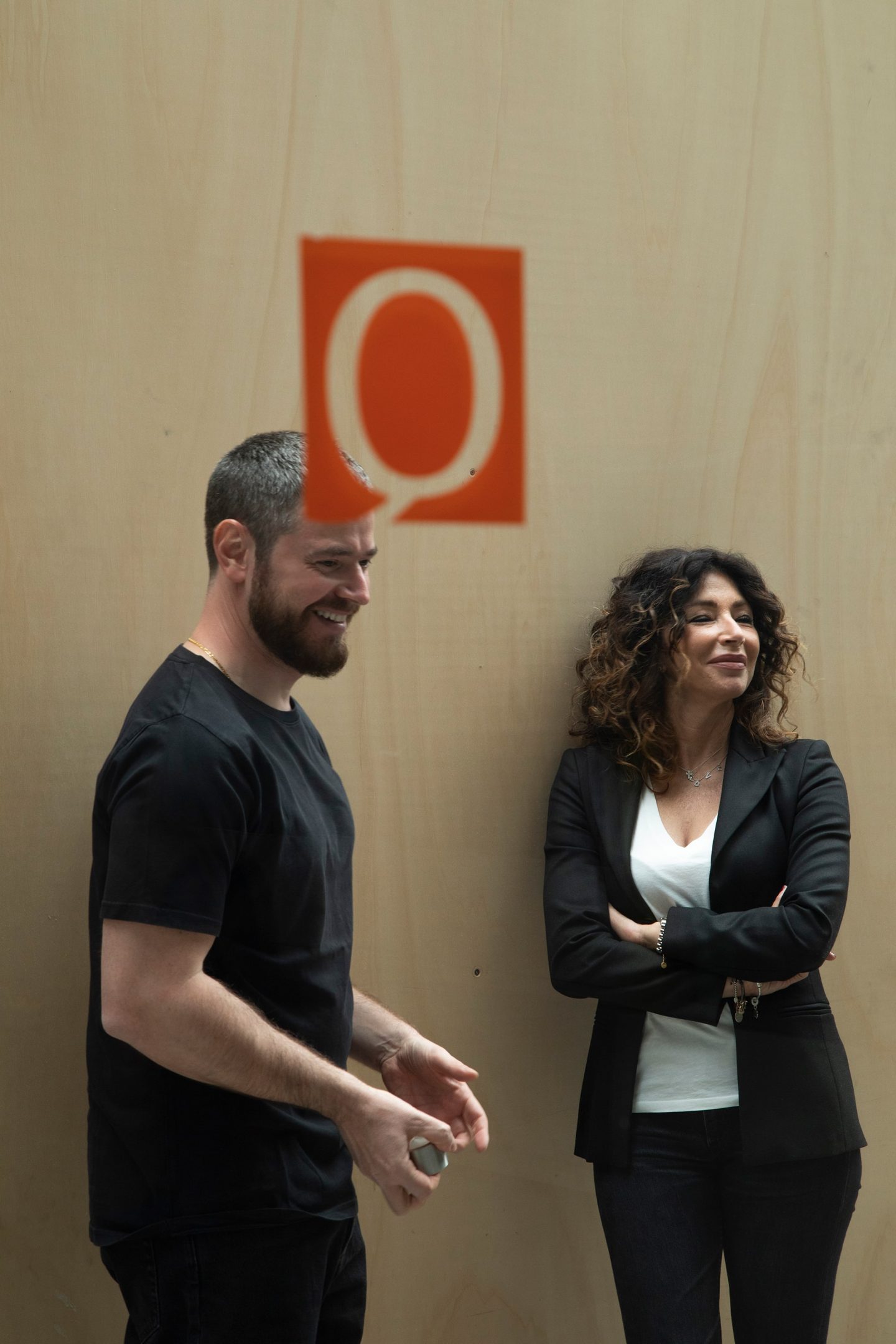 From their dedication to sustainability to their unique ability to blend in with both classic and contemporary interiors, Quadrodesign's taps create a visually strong and well-balanced design experience that embraces stainless steel's full strength. Taking a long-term perspective, the manufacturer envisions the material as an instrument of change. With even greener technologies to be expected in the years to come, the company's message is straightforward: stainless steel is here to stay, extending its use and aesthetic well into the next century and beyond.