Being published today the Spring Issue of Kinfolk Magazine takes us on a journey of exploring personal values and quality of life. One of the stories is told by Pip Usher who got the chance to visit the unique design duo behind Dimore Studio…
In an industry distracted by just-so austerity and asceticism, Dimore Studio designers Britt Moran and Emiliano Salci are waving a flag for indulgence. As soul mates, business partners and muses to one another, the daily working relationship between Moran and Salci is much like their interiors: intimate, unconventional and often quite dramatic. Britt Moran has a problem with clutter. Unlike most interior designers' modish obsession with minimalism, however, the co-founder of Dimore Studio finds every corner of the crimson-walled home that he shares with his creative partner, Emiliano Salci, jammed full of pretty things. "I was thinking the other day how I constantly order books. I have books coming every other day," he sighs. "I can't possibly put another book anywhere. It's the same with objects and small trinkets. Maybe it's part of the interior design problem: You're constantly going to markets for your clients and you'll see a piece of fabric and think, 'I want a meter of that for myself.'"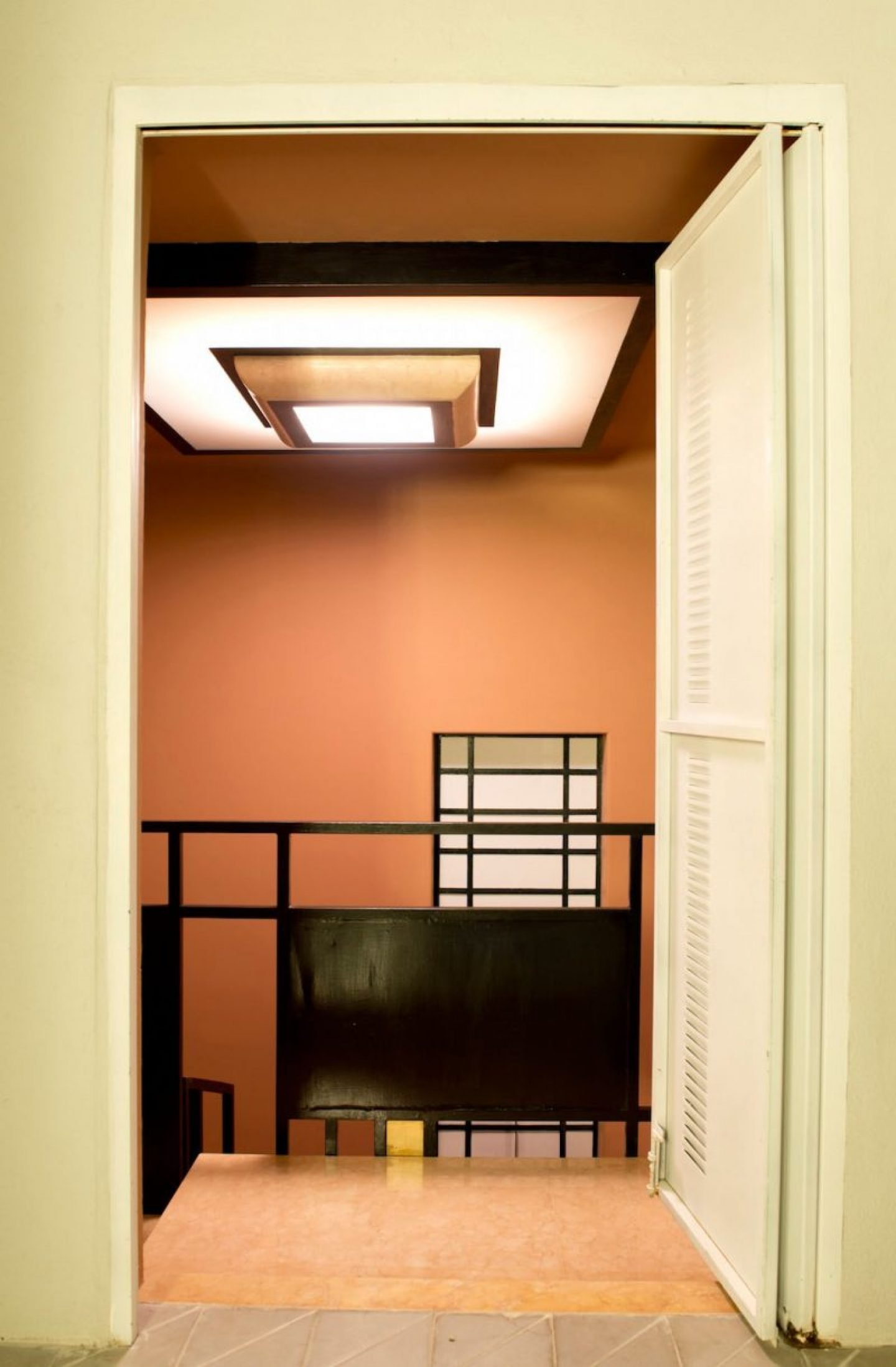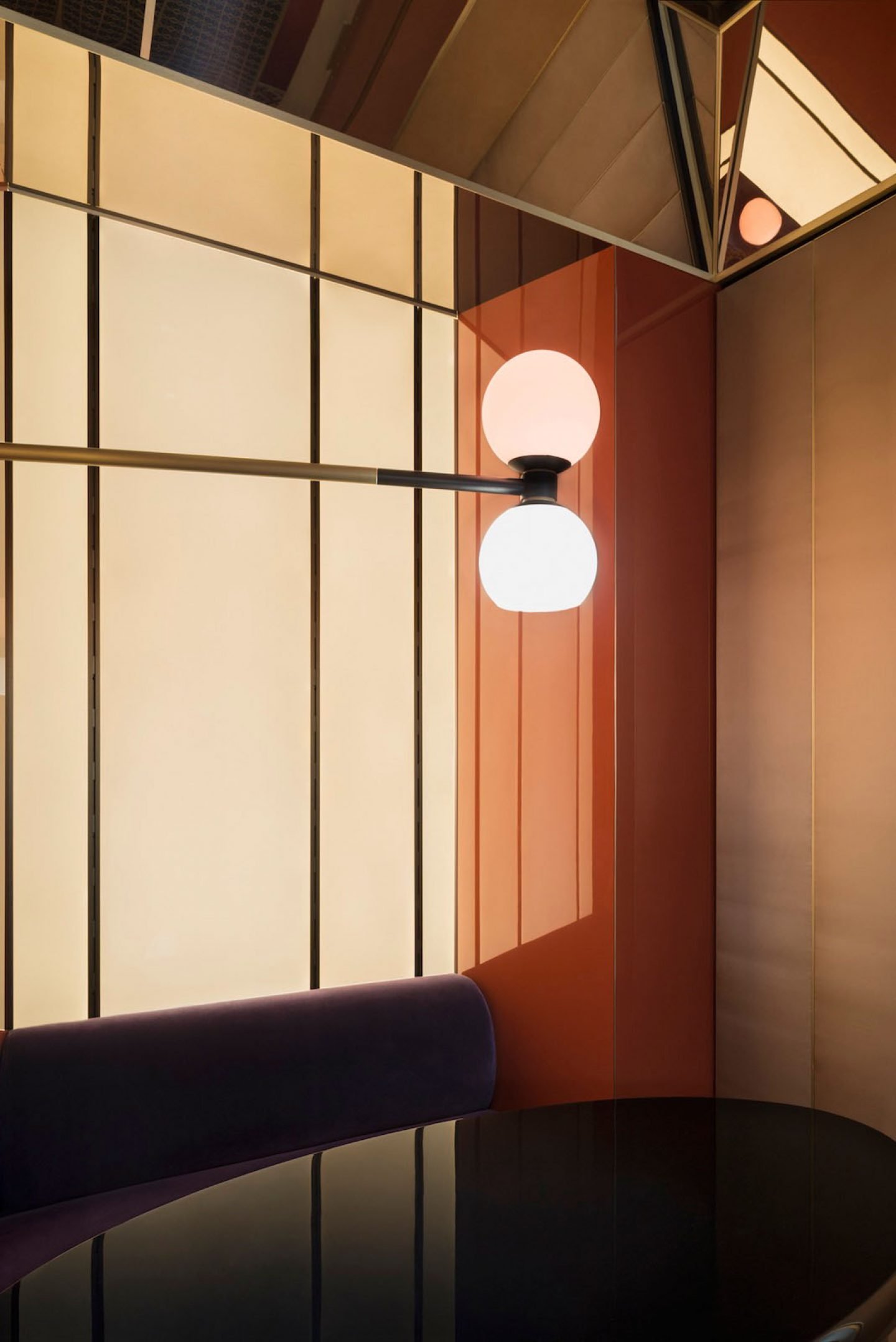 These magpie tendencies have seen the dapper pair build a formidable interiors business that champions their anomalous approach to design. "The word 'dimore' in Italian means dwelling, but conjures up images of old villas clinging to their aristocratic origins," says Moran, adding it lends the name "a sense of nostalgia." Based in Milan, Salci and Moran are surrounded by the grandiose relics of history; many of their projects riff on this environment with striking results. In the 13 years since Dimore Studio was founded, they have designed interiors for some of the world's chicest brands and count fashion houses Hermès and Bottega Veneta, restaurateur Thierry Costes and hotelier Ian Schrager as clients.
Moran and Salci start each of their projects by creating a fictional person to guide the narrative. Once they have settled on a character, they create a mood board adorned with images from art, design, fashion and architecture to visualize an imaginary world. Describing his creative process, Salci explains: "The first thing I do is look at the space and then, almost immediately, I can sense what I wish to do. My inspiration comes from the world around me—the streets, exhibitions and museums I visit."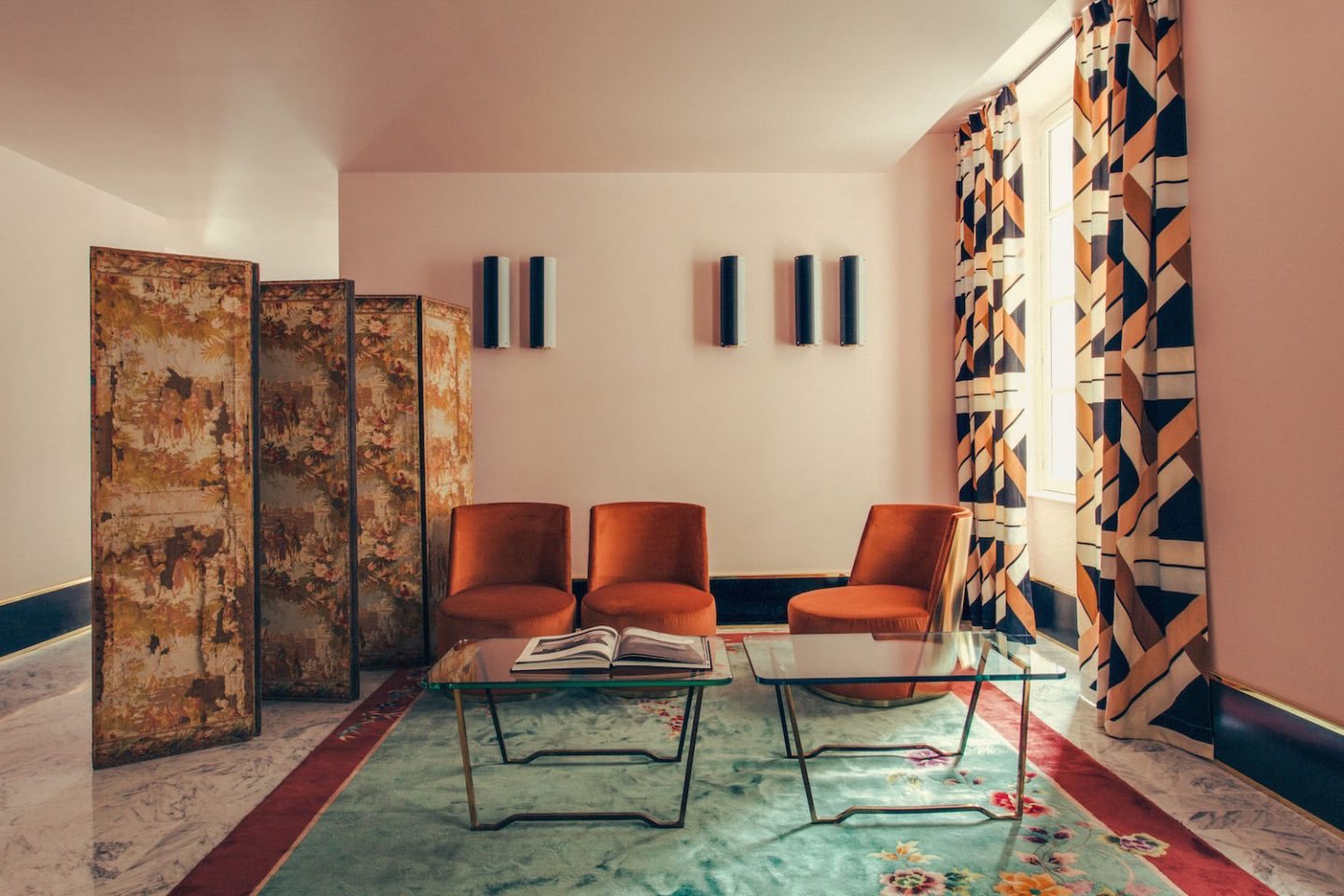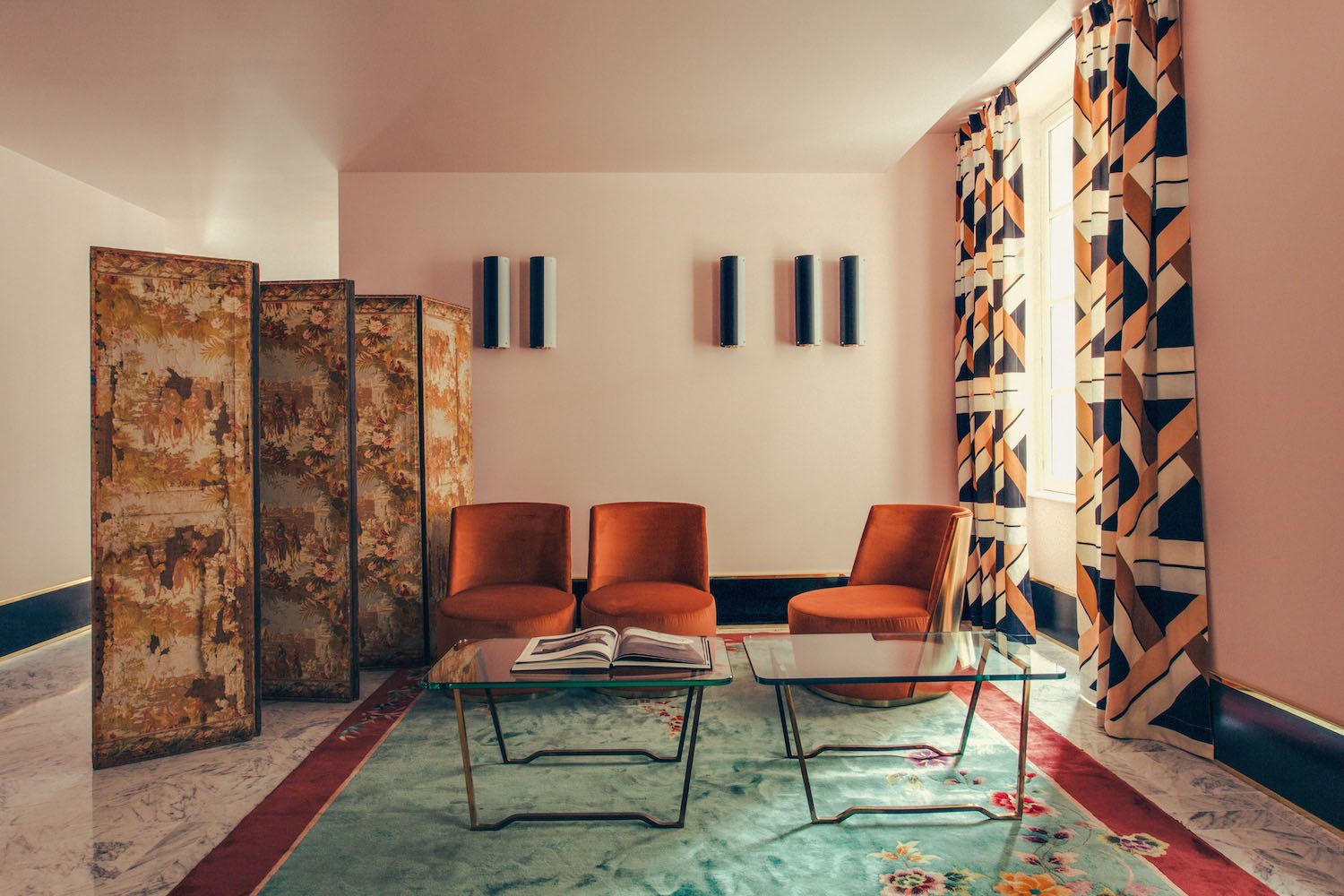 At the start of 2016, the duo transformed luxury skincare label Aesop's second Milan store into an old-world apothecary. Throughout the process, they imagined "the governess or butler of a well-heeled Milanese family, who visits the space to restock the bathroom linen closet or kitchen pantry with all the sundries necessary to maintain that faint perfume that hangs in the air of the house they're servicing." This fantasy manifests itself at every touchpoint in the store: arched display cabinets, tiled in green; lemon-yellow shelves; a stainless steel sink tucked in one corner. In the center sit two mid-century chairs in a dusky shade of pink velvet. "We experiment a lot with color and the relationship between the various colors we use," Moran adds. "We experiment a lot with color and the relationship between the various colors we use"
Moran and Salci hope this scrupulous attention to detail will create a lasting impression long after customers have left the shop through its heavy glass-fronted doors. "I think retail spaces are moving away from just the standard globalized concept and people now like having very specific stores in different cities," Moran says. "It becomes a tourist attraction in itself."
The duo has a particular fondness for hospitality projects because of the all-immersive creative freedom that such commissions allow. "The hotels and restaurants are interesting because you really have to think about how someone responds to the environment that you're creating," Moran says. "It has to be functional, it has to be interesting, it has to be timeless."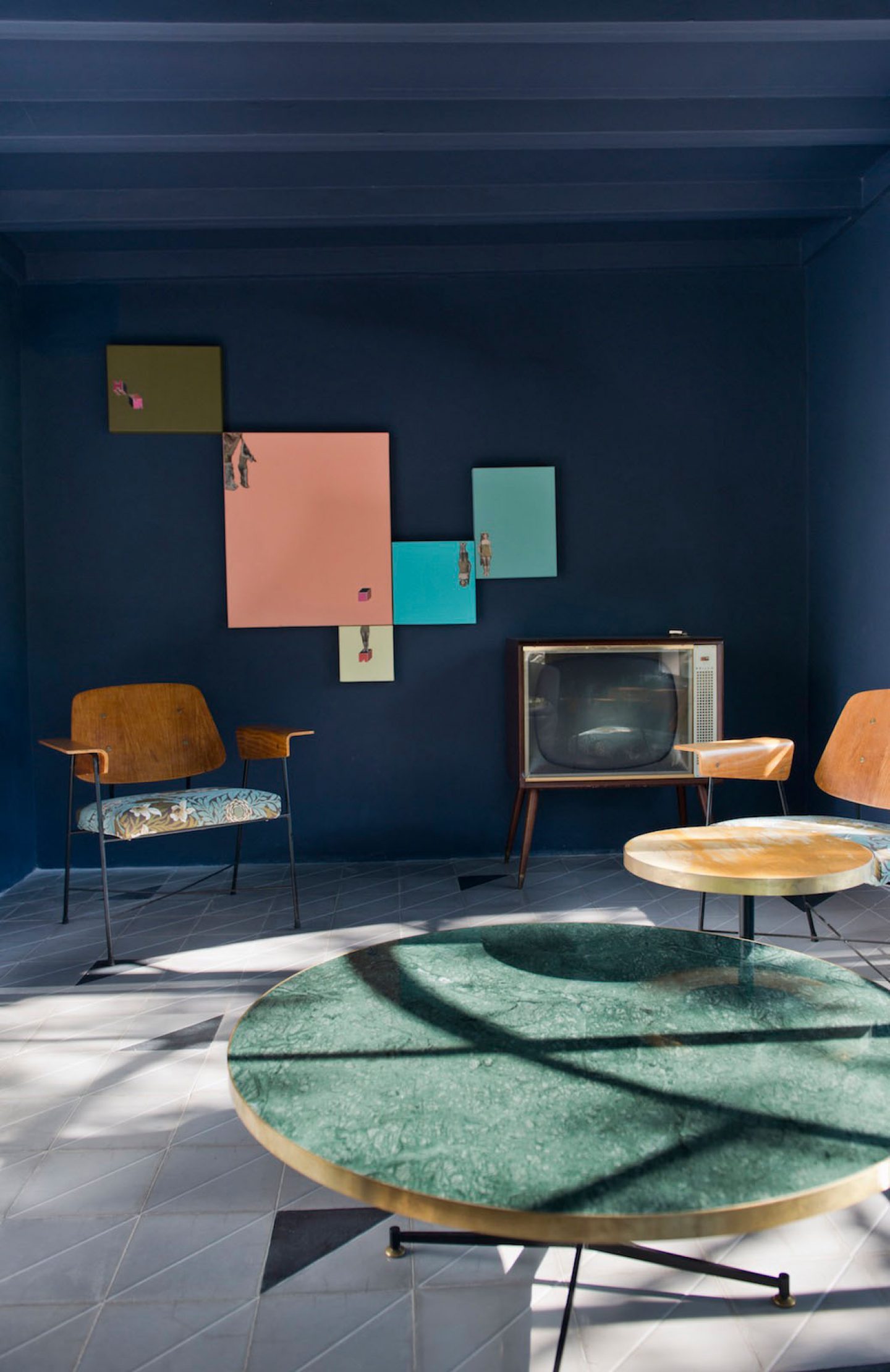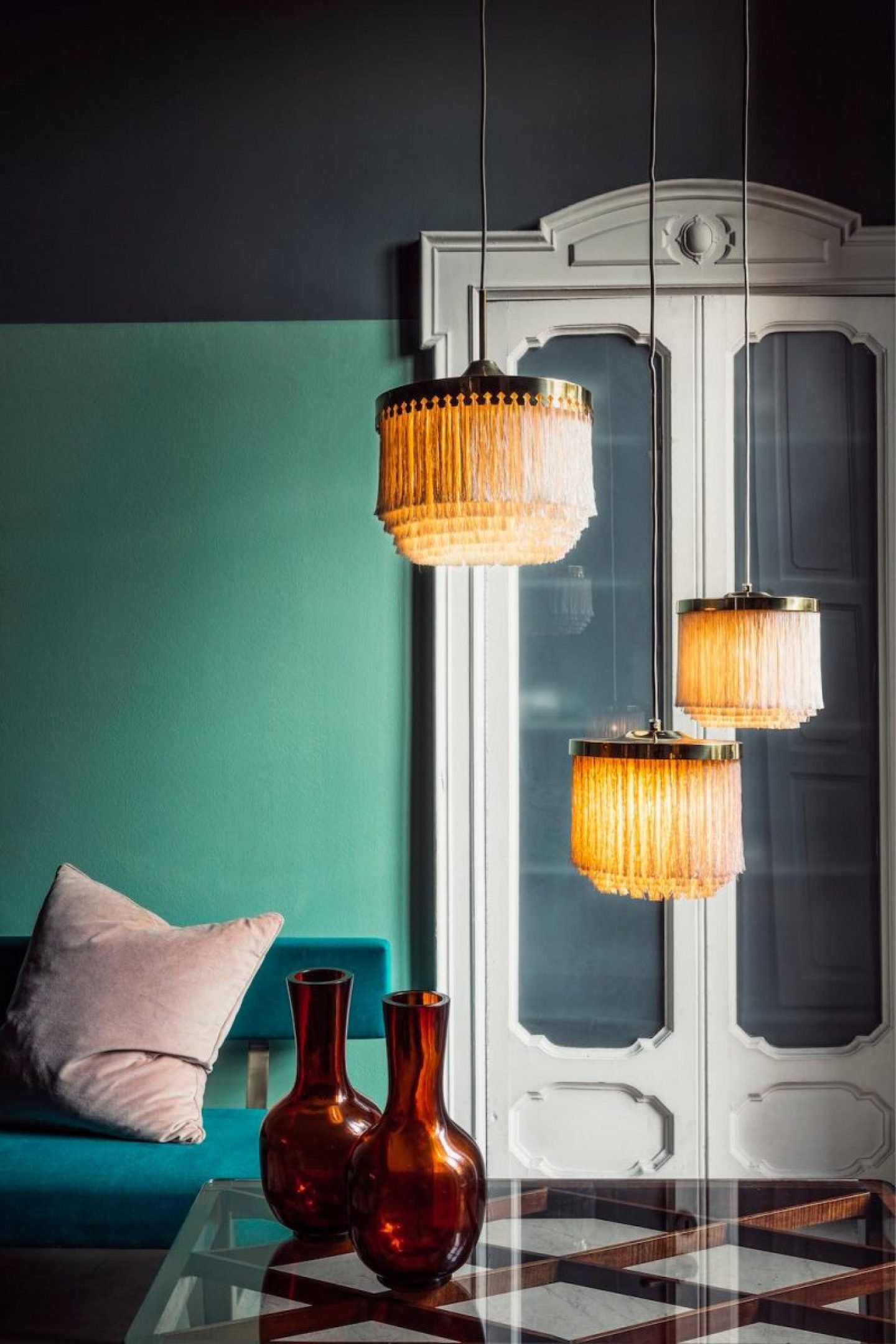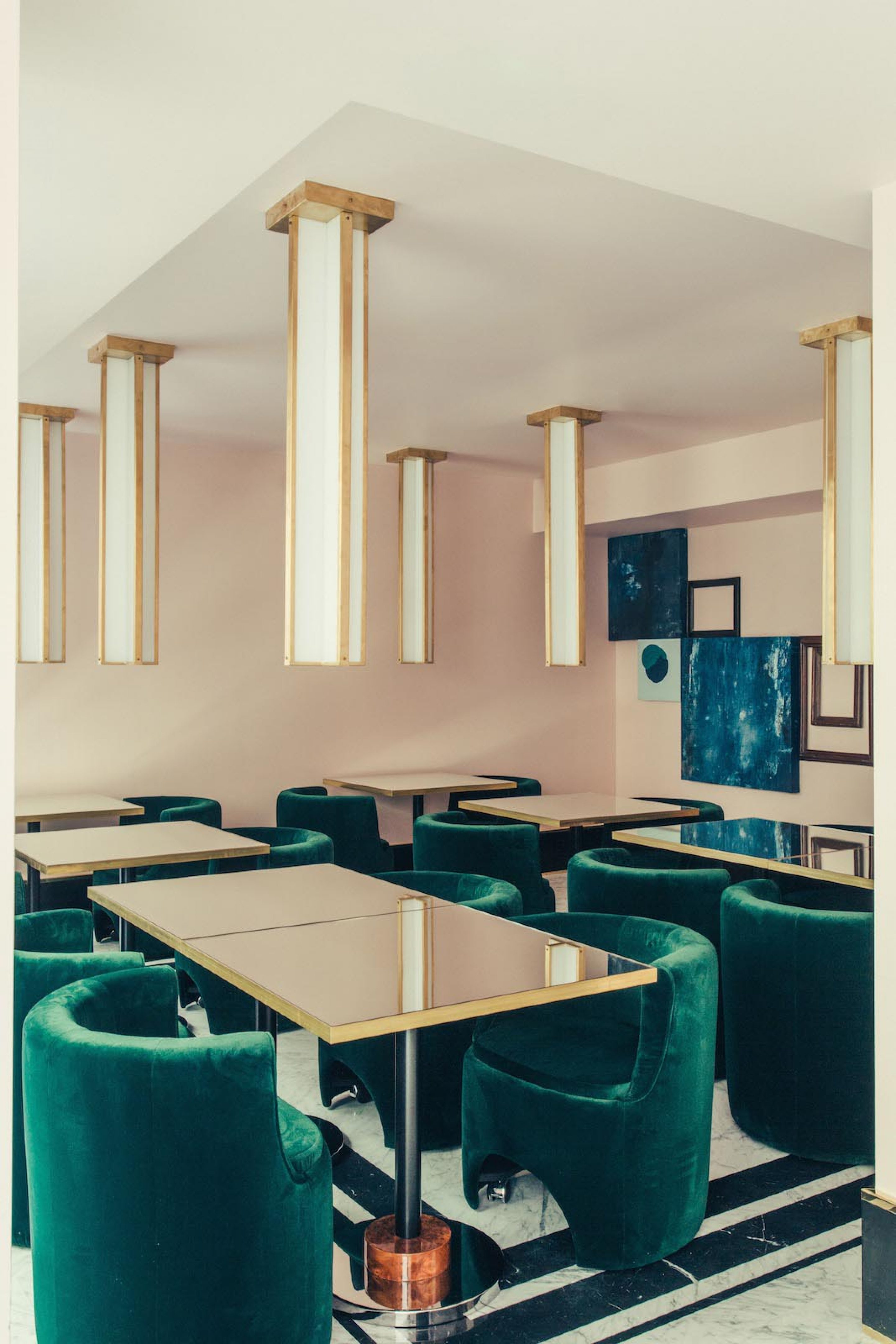 Last year, Guadalajara—a city in western Mexico famed for its tequila and mariachi music—also became known for Casa Fayette, a 1940s colonial mansion that the pair transformed into a retro-inspired, defiantly colorful hotel. Throughout, they imagined Luso-Brazilian samba singer Carmen Miranda "arriving at the hotel with trunks of clothes, singing late into the night on the patio and having breakfast by the pool the next day late in the afternoon."
With Miranda as their muse, the hotel was steeped in sultry, old-world glamor. In the common area, there are salmon-pink walls and a low sofa in a deep shade of purple; at the hotel's bar, Tropicália-print chairs and gold tones amp up the air of sun-kissed decadence. The somewhat spartan hotel bedrooms are dominated by strips of color, like the mint-green headboards that frame crisp white bedsheets.
"We try to push our clients as much as possible with colors, materials and items of furniture from different eras," says Moran as he reflects on Dimore Studio's approach to design.
"I think that's our DNA: We take a historical approach to a project to give it some roots, and then we inject it with more of a contemporary feel."
Although Moran hails originally from North Carolina, he has lived in Milan for so long that his English is occasionally flecked with an Italian slant. "My one year off has turned into 20," he laughs, recalling how he fell in love with Italy's fashion capital after visiting decades ago as a college student. He and the Tuscan-born Salci met through mutual friends and immediately connected. Both worked in creative industries—Salci as creative director at Cappellini, Moran as a graphic designer—and quickly began to collaborate on projects. By 2003, they had founded Dimore Studio and, two years later, had launched their own furniture line (their sumptuous pieces are shown at Salone del Mobile each year). As their clout has grown, so too has their company: Today, they preside over a team of nearly 30.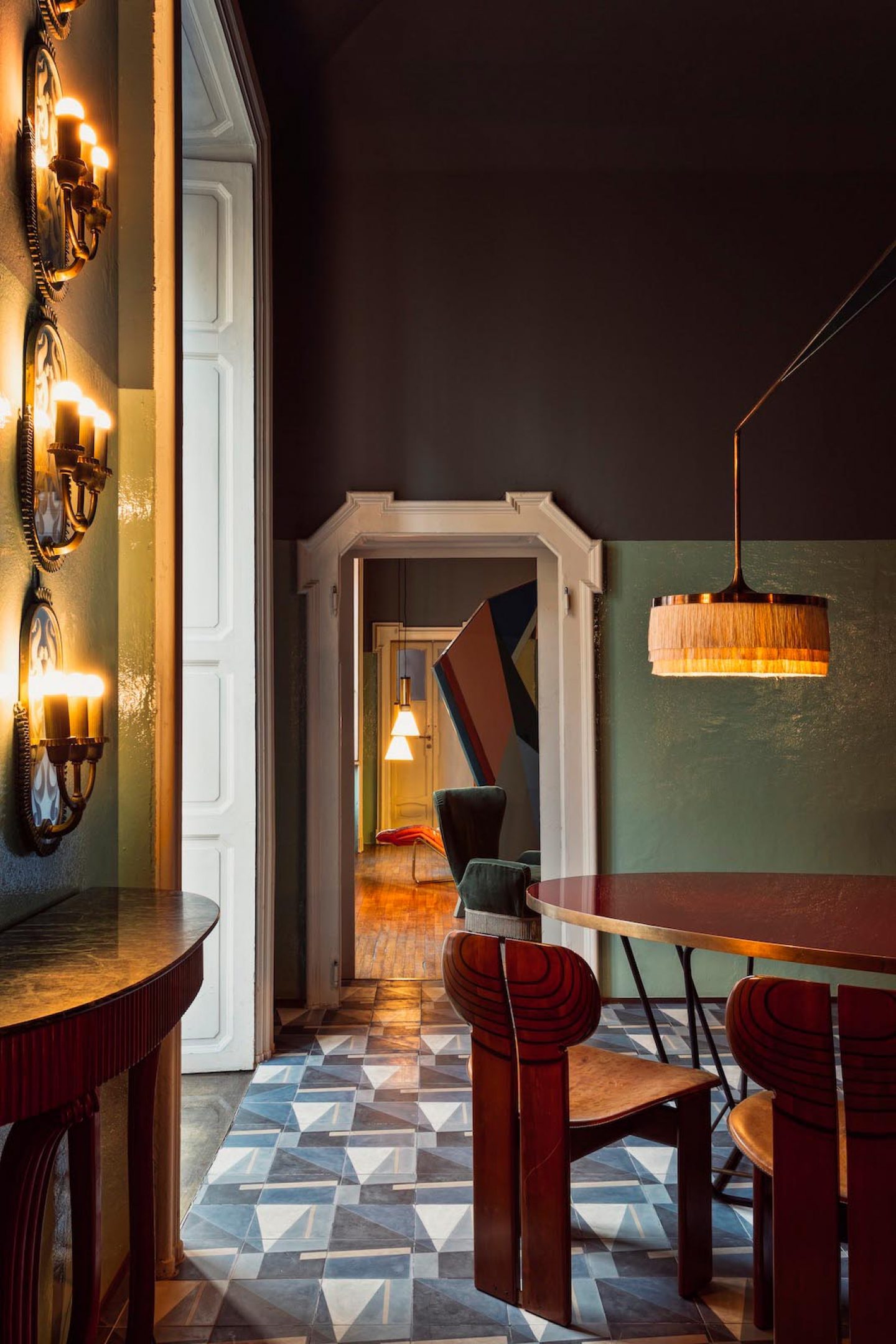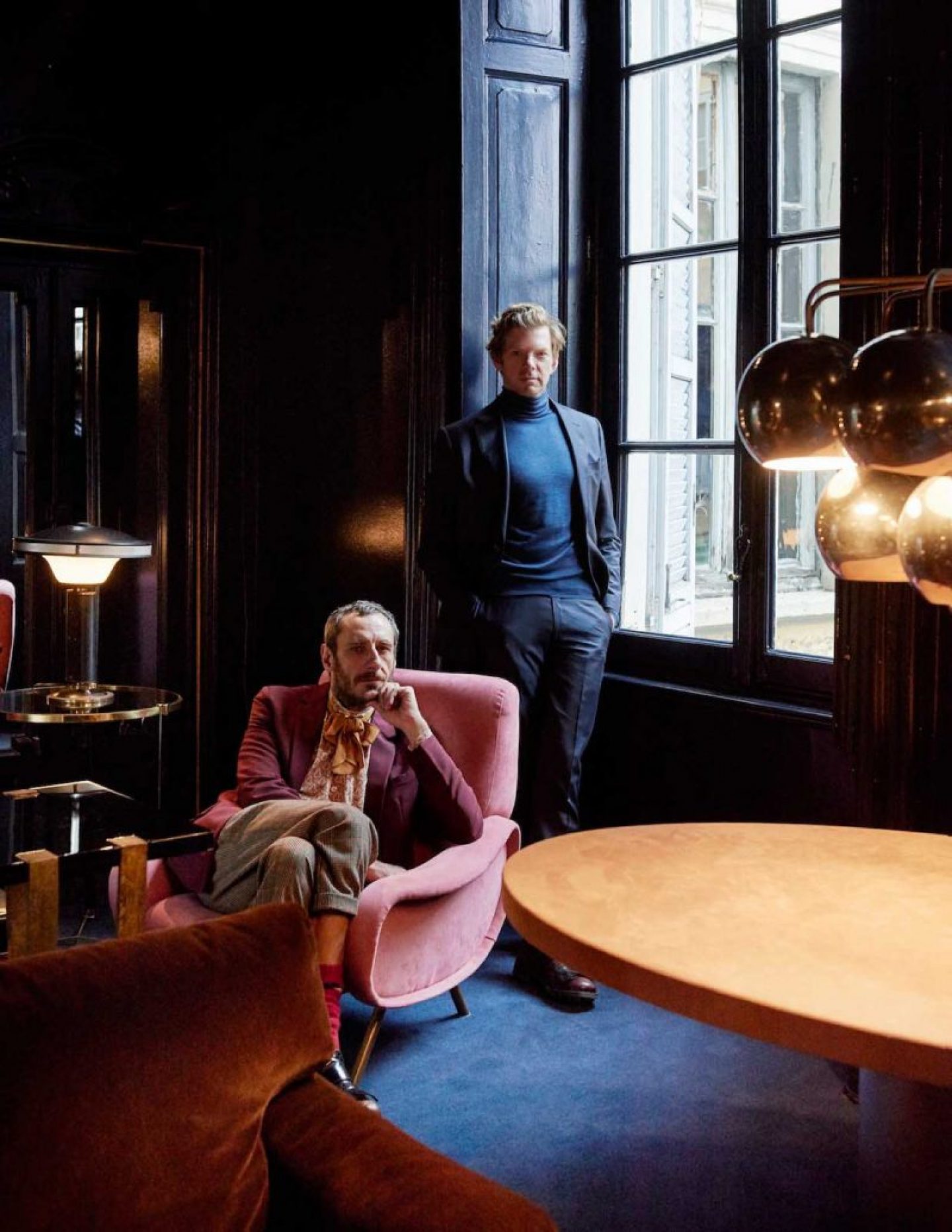 Their shared vision stretches beyond the parameters of a traditional business partnership. The two men have lived together in their shared home in Milan "forever," says Moran, making them housemates as well as a creative team. A demanding workload, coupled with the industry's numerous social engagements, means that they spend most waking moments together. But despite the intimacy, their relationship remains platonic.
"I know—it's a really strange arrangement," Moran says. "I really do think that in order to get everything done, that's how it has to be. We start talking about everything in the morning, we have lunch together, we have dinner together. We have our own line of fabrics, a furniture design company, we participate in international fairs, and then there are all of the projects. So to get everything done, you basically have to eat, sleep and breathe the studio 24 hours a day."
"Our life is centered on what we do""Our life is centered on what we do," adds Salci. "We work 24/7 because we enjoy what we do so much. It seems natural to work at the office and to take our work home."
Like any close relationship, there are dramatic blowups, particularly when the two are faced with the industry's demanding deadlines. For Moran and Salci, the trick is to clear the air: "I think a good shouting session helps sometimes," Moran advises. "We have a great group of people that we work with and it's kind of like a family. And, as in every family, there's usually a good shouting session, then we all kiss and make up and go have a drink together."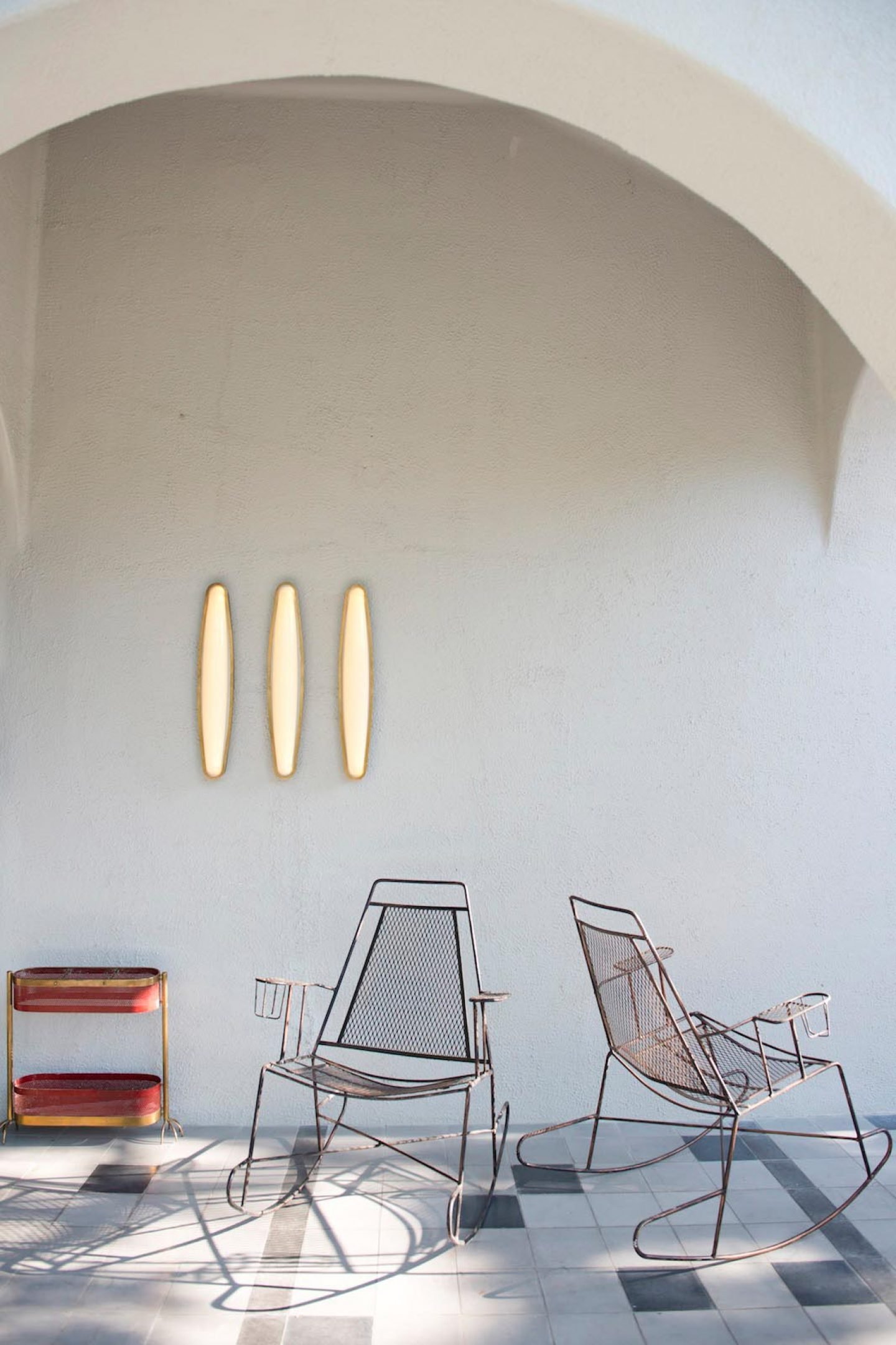 After more than a decade, the pair have settled into their respective roles as business partners. Salci—a vision of European excess in extravagant prints and wild socks—is the designated "crazy genius" while Moran—clad in more neutral clothing—"has to be there to make sure the client thinks we're going to move through the projects." As Moran has assumed responsibility for the administrative side of things, handling contracts and interactions with the press and lawyers, it's left Salci "with the liberty to be a little less burdened.""To have certain projects look the way you want, you have to be very diligent and meticulous."
Their yin and yang personalities are underpinned by a shared sense of industriousness. "We're very, very hands on, and I think that's one thing the client really expects from us," Moran says. "We don't just delegate projects to junior staff and expect them to generate it… It's a lot of work. To have certain projects look the way you want, you have to be very diligent and meticulous."
The scope of their ambition shows no sign of slowing down, with several projects in New York currently in the pipeline. As their acclaim grows, Moran admits that the unique intimacy of their partnership provides a comforting constancy. "At the moment, I'm really happy to have someone to bounce ideas off," he says. "It would be a very daunting position to be just the one person."
–
Words: Pip Usher
Photography: Danilo Scarpati, Simone Fiorini, Adam Wiseman, Philippe Servent & Paola Pansini
Published in Kinfolk Issue Twenty-Three