In Ukraine, Kyiv-based studio Yakusha Design has designed the interiors of a local healthy food eatery named Istetyka—a portmanteau of the Ukrainian words for eating and aesthetics.
For the restaurant's interior, the studio has channelled a less-is-more design aesthetic that combines clean lines with a palette of natural and recycled materials, including wood, gray stone, recycled plastic, steel, and dimpled clay. A balance of contrasts is maintained throughout the space, making a statement in the eatery's minimalist design scheme. The roughness of the exposed ceiling and columns in raw concrete is gently offset by the softness of the clay walls and the elegant floor area, which features a matte-white finish. Similarly, geometric elements are juxtaposed by organic forms while textured finishes are tempered by smooth steel and polished stone surfaces.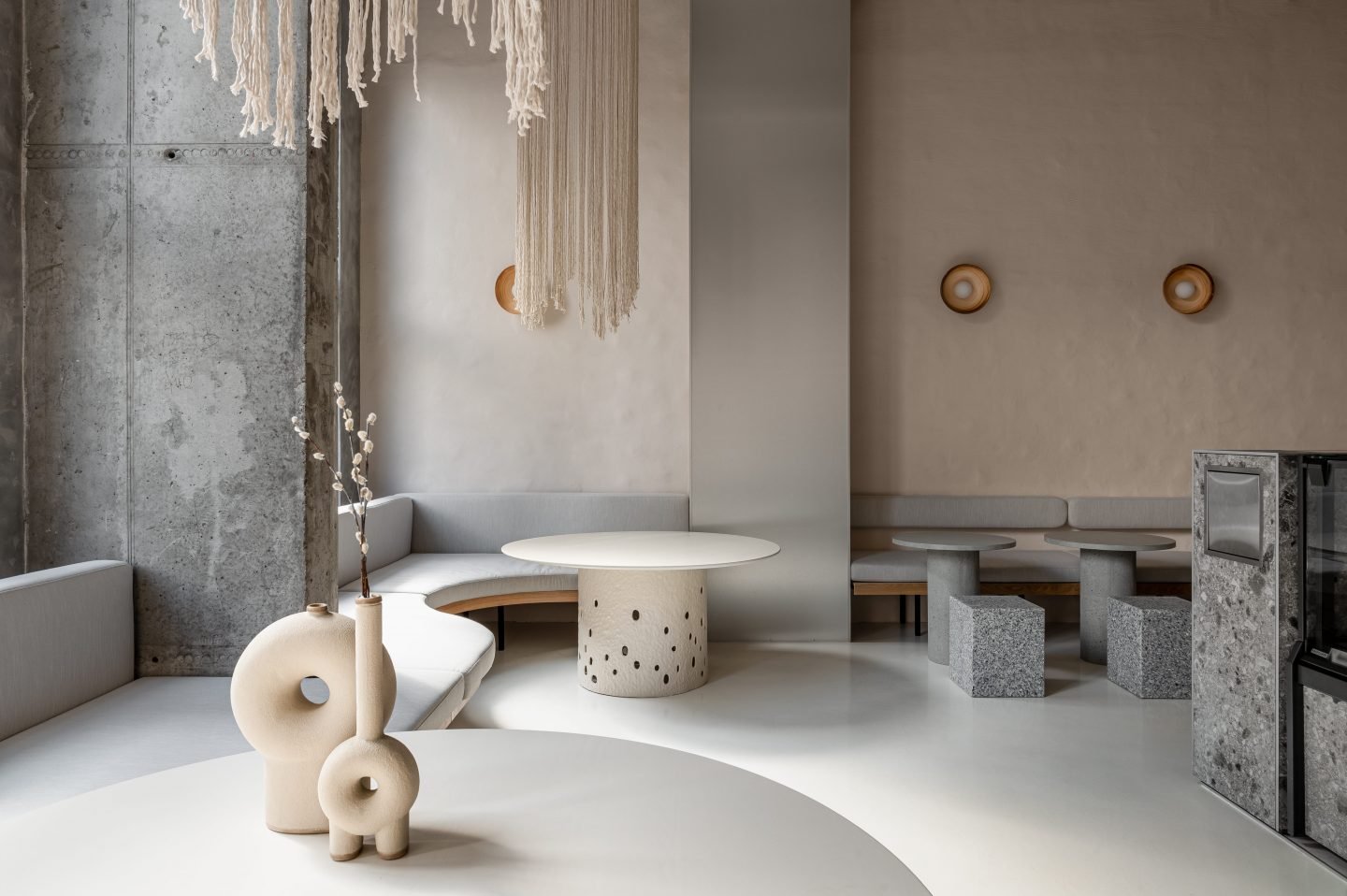 Divided into three functional zones, the restaurant's interior combines modern design techniques with traditional craftsmanship. The dining area features curved upholstered bench seating and large round tables with a base in from ztista, a sustainable material made from clay, recycled paper, and other natural components, applied to a recycled steel frame. In the second zone, a wall of bench seating and concrete tables is complemented by minimalist rectangular poufs made of recycled plastic. The third zone, the kitchen area, is defined by a glazed porcelain stoneware which extends into an elegant glass display for orders. Throughout, rounded steel sconces and interior objects by local artisans, such as macrame lamps and textured clay vases from the studio's own furniture brand Faina, add warmth to the space, inducing serenity and peace.