Serene bodies of water, imposing archways, and furniture-filled whimsical interiors—Charlotte Taylor's 3D living environments wander from our reality, extending beyond functionality and minimalism to reach utopian visions that, despite their imagined nature, may not be too far away.
Part of a new generation of artists taking digital art one step further, London-based artist and designer Charlotte Taylor has gained a trend-setter reputation in the 3D digital realm with avant-garde intangible spaces that blur the line between real and fictional worlds. A graduate in fine arts, her journey into digital artworks evolved organically—intrigued by the medium's fluidity and infinite possibilities she started using 3D software as a means to mock physical sculptures prior to building them. Today, she is one of the creative directors of the interdisciplinary practice dellostudio and the driving force behind Maison de Sable—an outlet for research around rendered creations and a collaborative creative studio.
"I enjoy my work to have an open-ended response; a source of curiosity, comfort, or escapism"
Taylor is intrigued by the sculptural qualities and peculiarities of space, by the unfamiliar and the new. Her unique aesthetic moves between fantasy and reality and is inspired by Californian and Brazilian Modernism as well as Radical Italian Design. With visionary architects Richard England, Carlo Scarpa, and John Launter shaping her vision, her digital works are playful, dramatic, and curious; pointing to a futuristic vision for contemporary design and architecture that is not only soothing and welcoming but also inextricably linked to nature—her 'Titled House', 'Black Desert House', 'Casa Atibaia', 'Villa Saracini' with Riccardo Fornon and 'Palm Spring House' with Stefano Giacomello are just some of her many striking examples. IGNANT caught up with Taylor to talk about her creative principles and the intentions behind her furniture-filled utopia.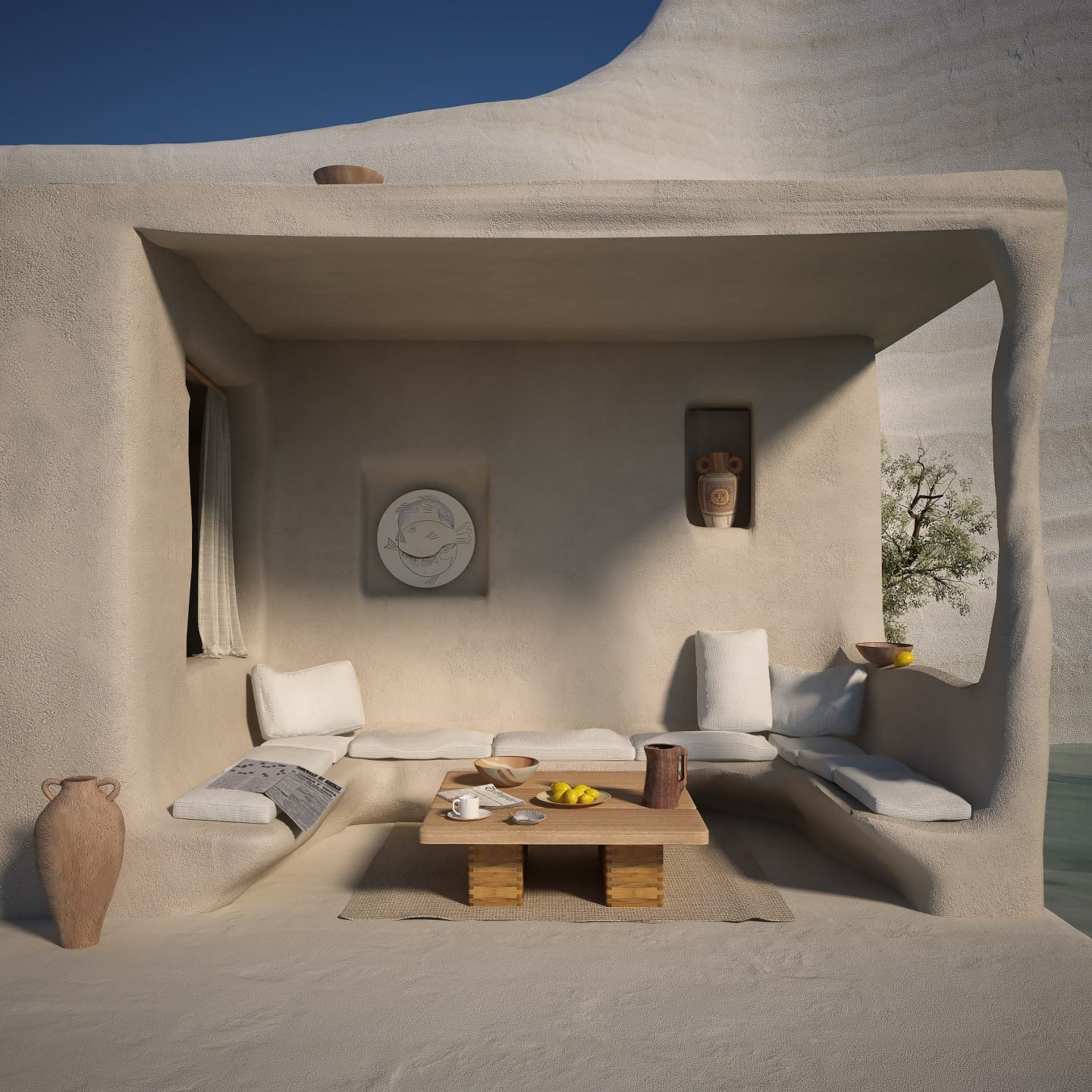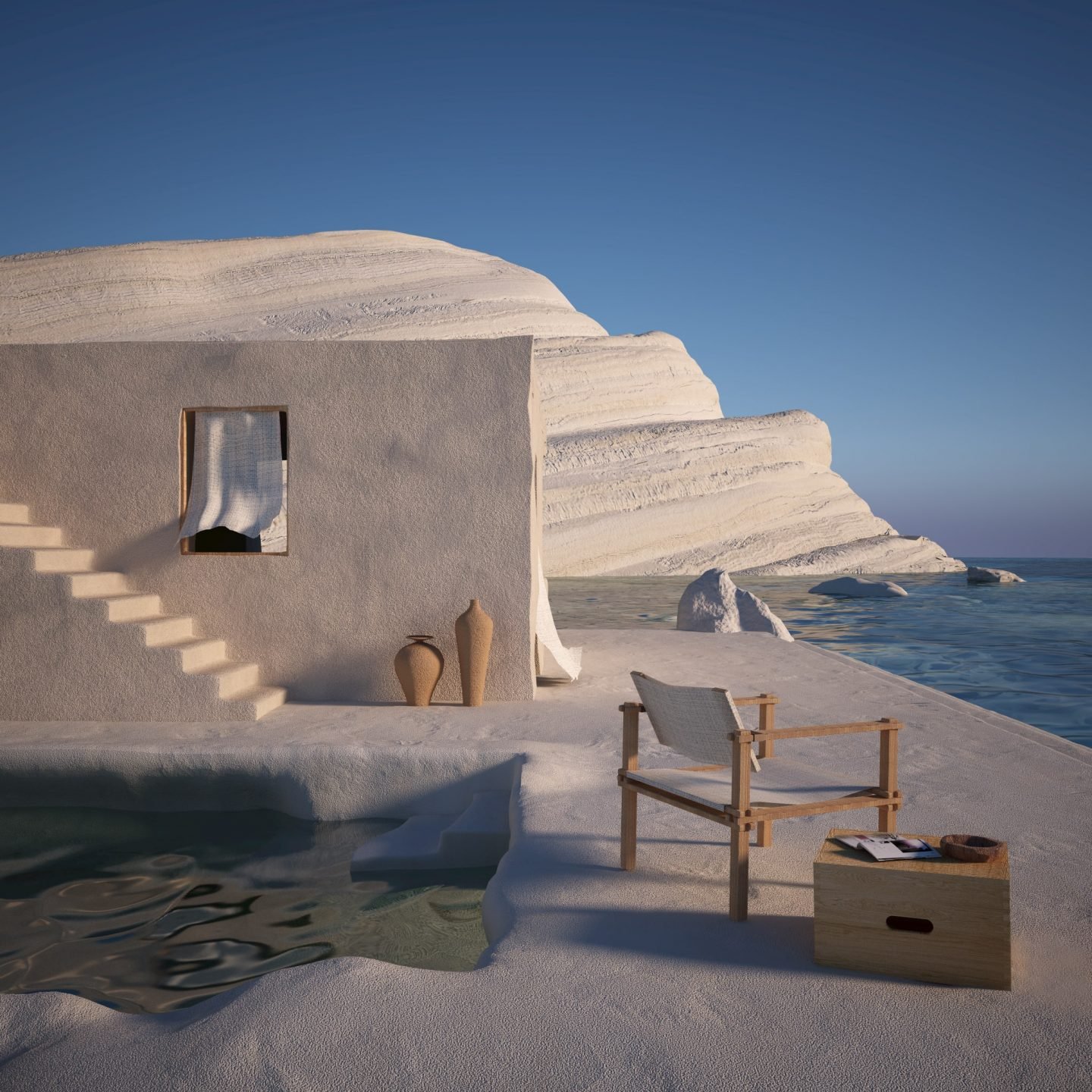 What are the core concepts that best represent you and your studio?
Play and a possibly naive principle of limitlessness is core to the studio. Our approach to architecture is rather unconventional and I believe that is what gives the identity and feel to the spaces and homes we design.
Can you tell us about the importance of texture, light, color, shape in your digital compositions?
The interplay and balance of these elements is very important; the mismatching of various materials and textures in a complementary palette is prevalent in my work. Light is essential in evoking a mood or feeling of the spaces and images and is often situated towards the warm and comforting hues.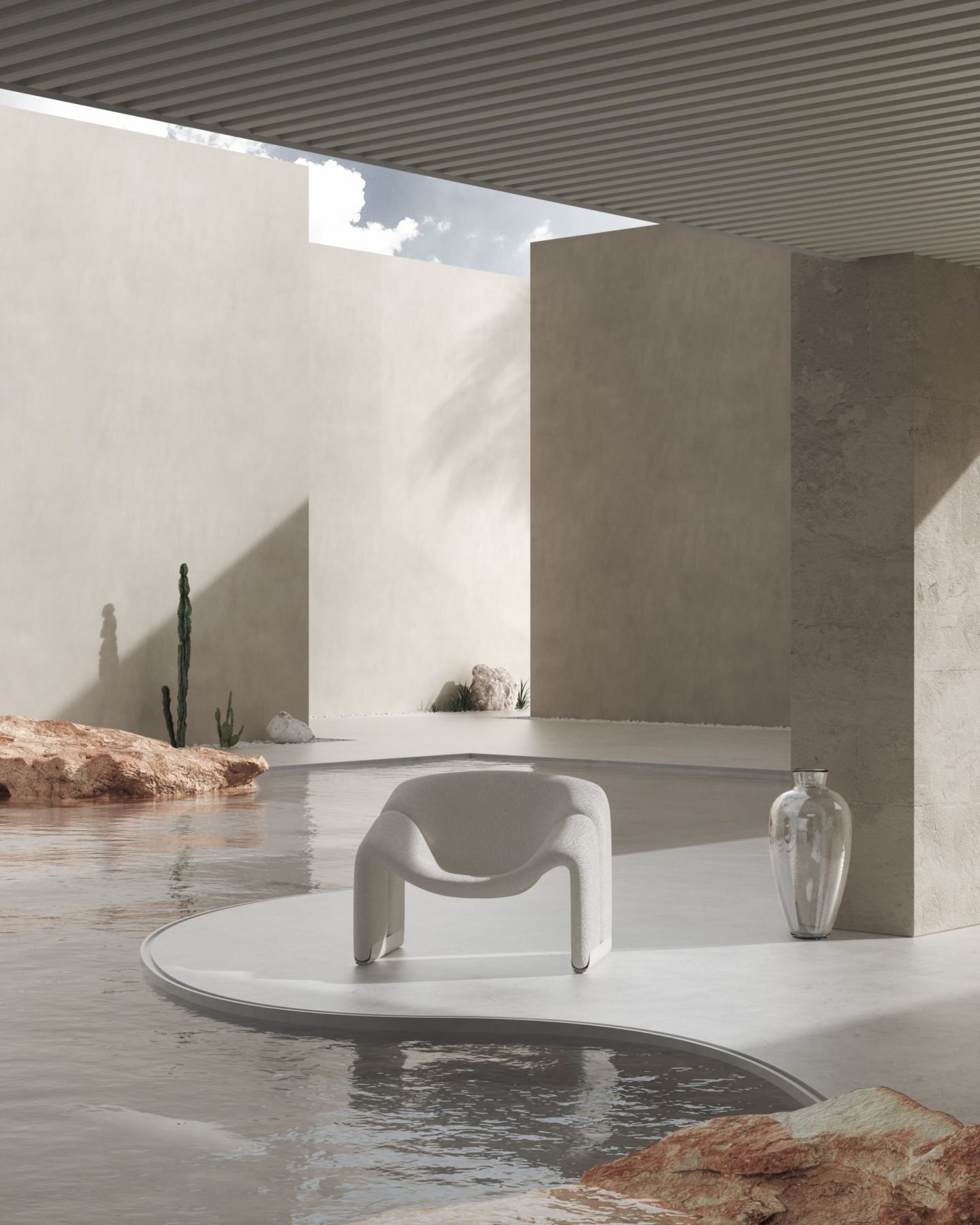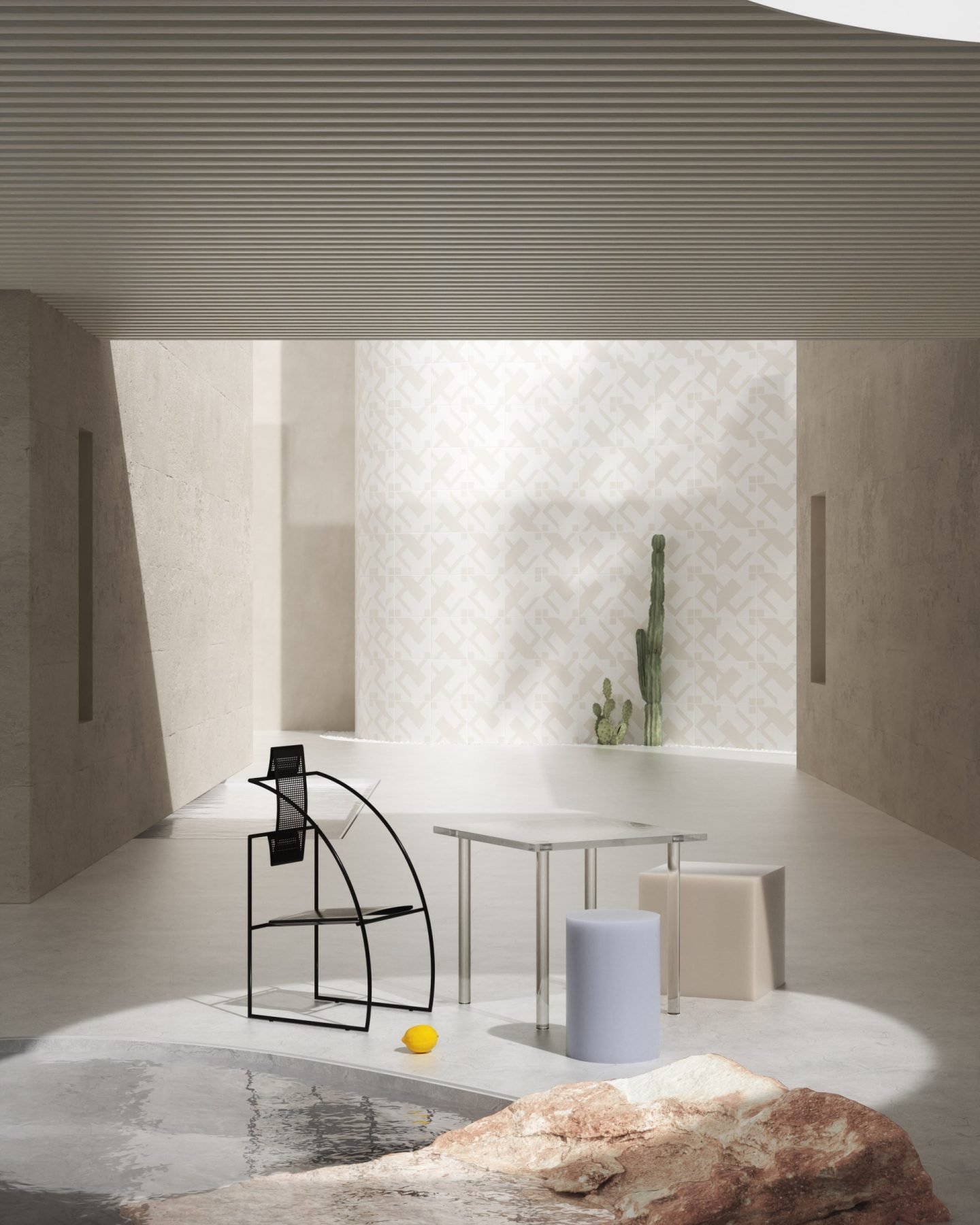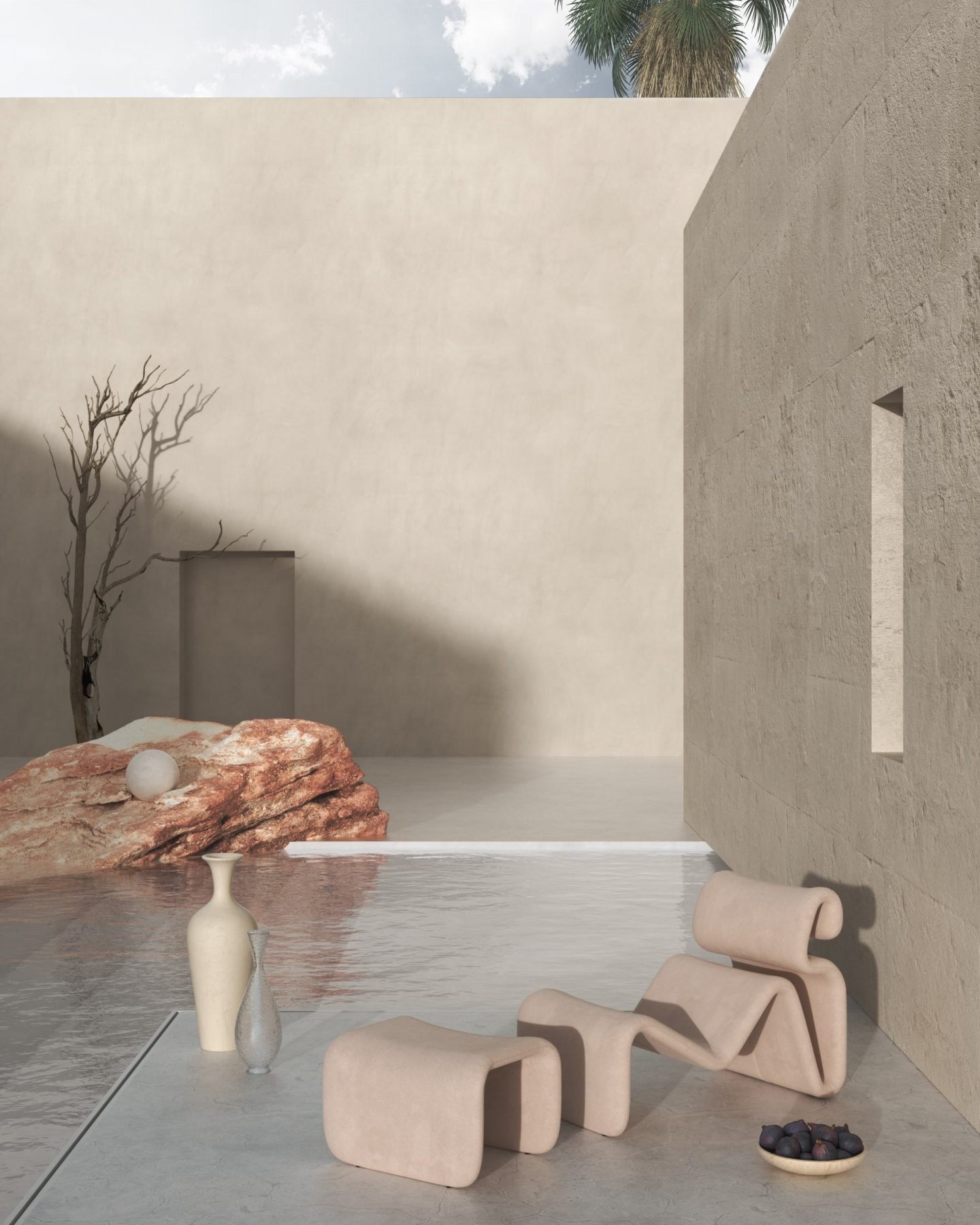 What are the references from the real world and how do they play a part in your digital process?
Almost all my projects have some essence of the real world within them, whether it is a homage home to an admired architect, a curve of a wall from an old magazine, or pieces of furniture I've come across that find their way into the spaces—physical objects and places are completely tied to my digital process.
In your projects, you play with the concept of intangible spaces and the fine line between the actual and the fictive. How do you ensure the right balance between what we conceive as real and unreal?
While the home may be situated on some faraway planet or unobtainable site, I like to play with little details and familiarities that give the space some sense of reality and somewhere we can project ourselves with more ease.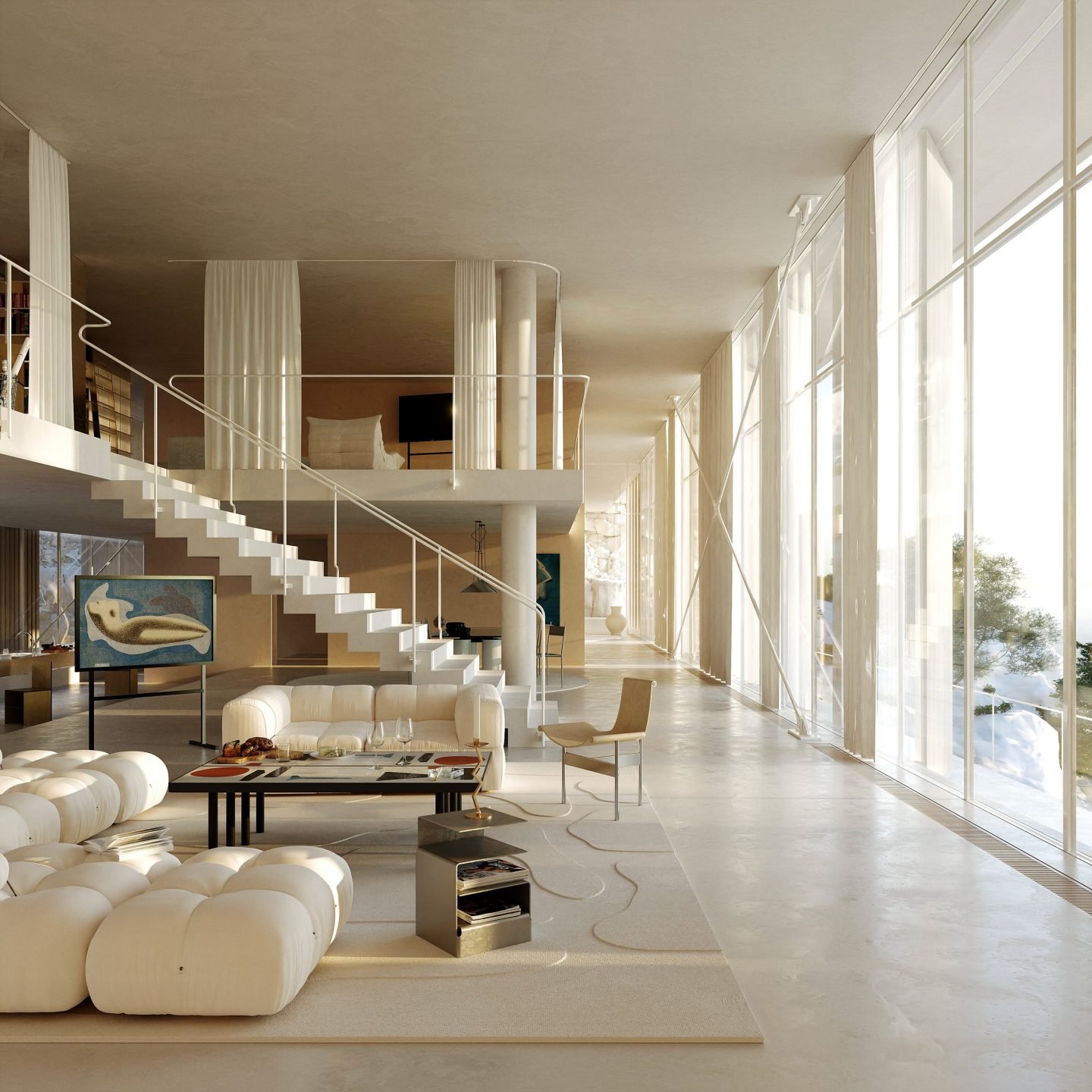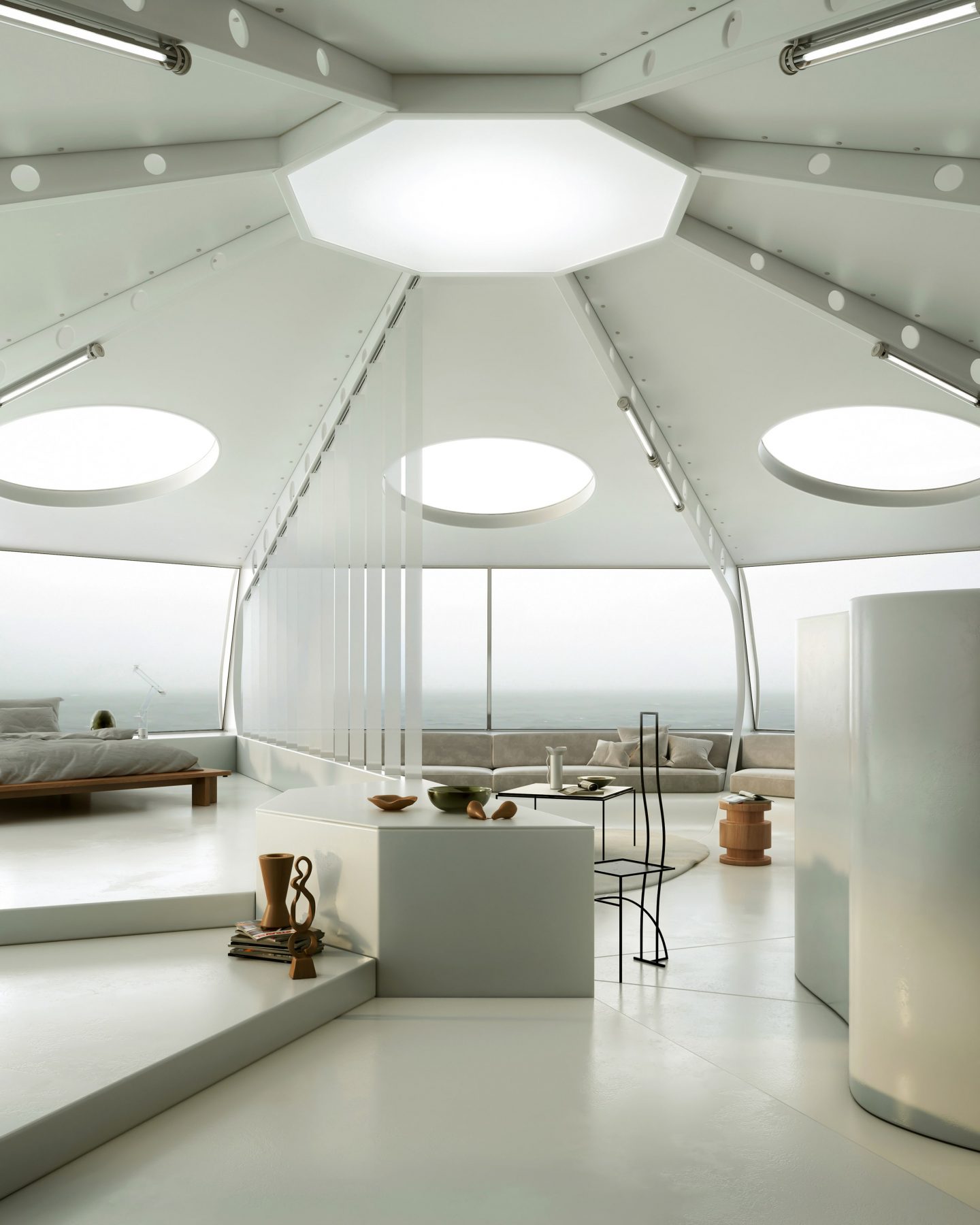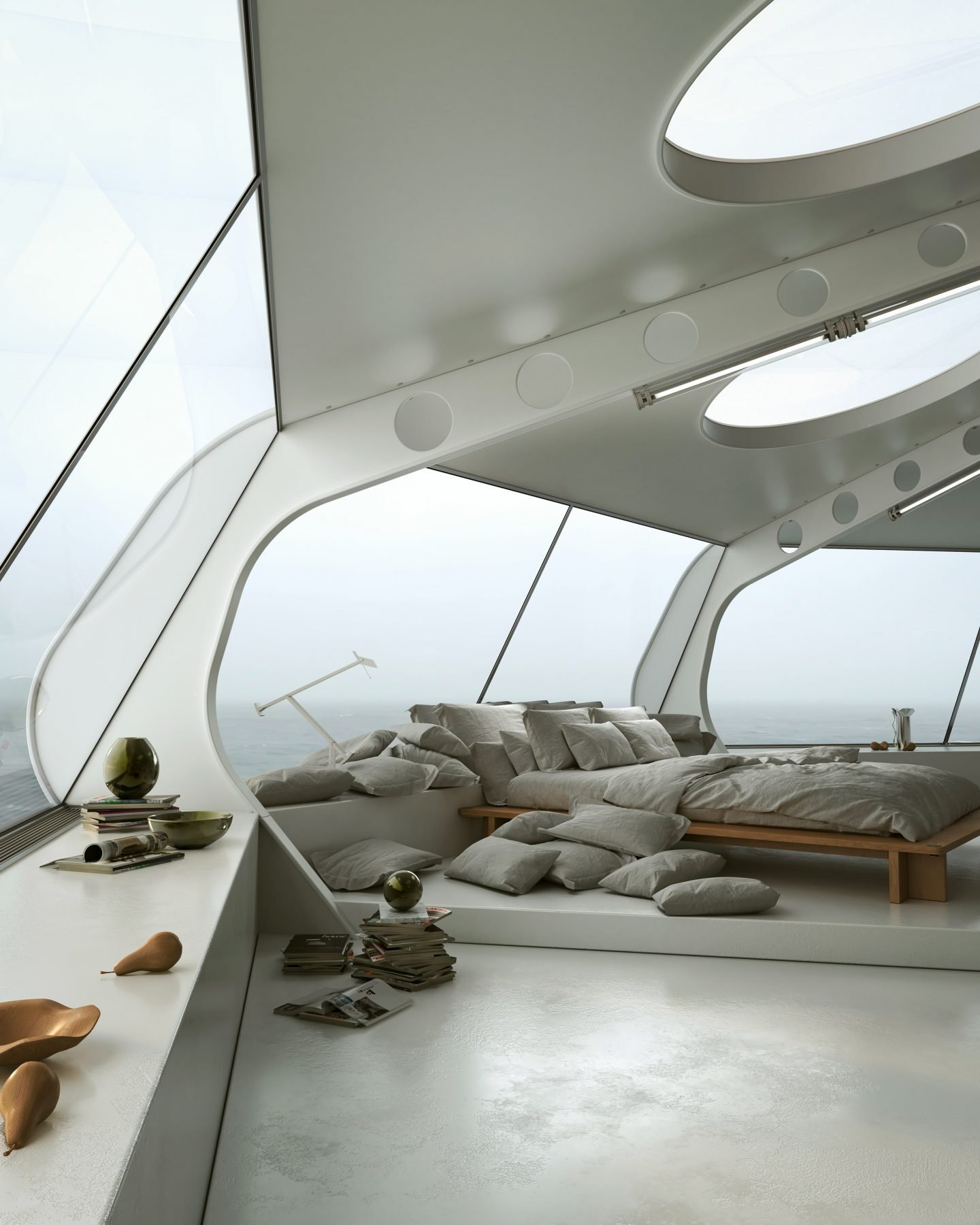 You seem to pursue a utopian vision. Is this a form of escapism for you? What reaction do you seek from the viewers?
In a way it is a form of escapism; designing without constraints and letting my imagination run wild. I never have a reaction in mind that I wish to trigger with my work, I enjoy it to have an open-ended response; a source of curiosity, comfort, escapism, or another interpretation.
Can you tell us about the brief for 'The Residency in Joshua Tree' with Madrid-based architect Alba de la Fuente, what were you setting out to achieve?
The Residency house was a concept designing a live-work space in a remote location inspired by the Judd foundation. The project itself didn't have a goal as such, it was more crafting an ideal space in which we would dream to undertake a residency at.
Your recent work is moving more and more towards inhabitable architecture, showcasing the beautiful and endless possibilities of design. Do your rendered visuals introduce the future of what interiors could entail?
The studios move towards more tangible and habitable spaces coincides with my personal practice which is edging towards physical space and interiors. Some of the ideas and design details from the rendered projects will hopefully start making a concrete appearance soon.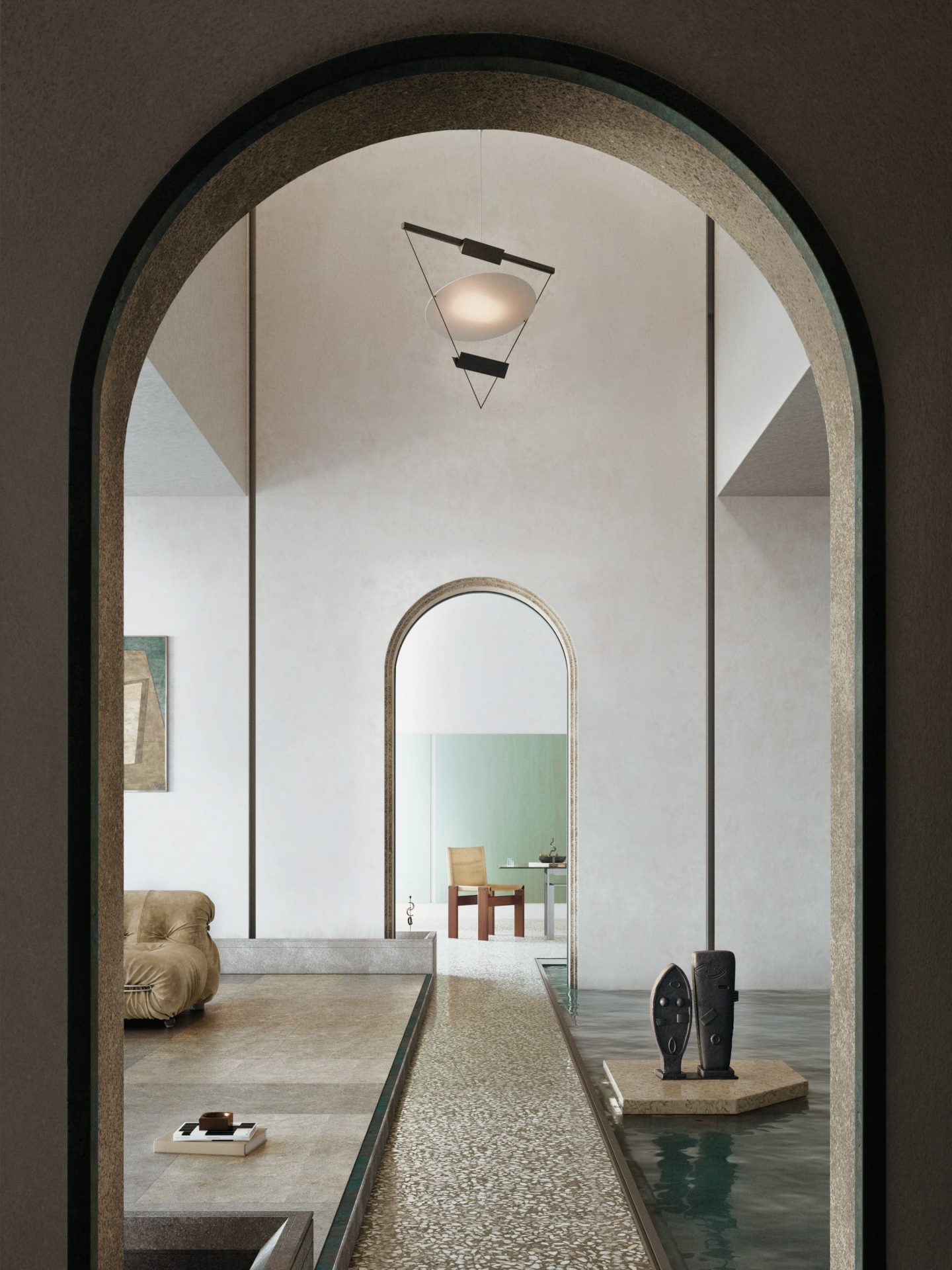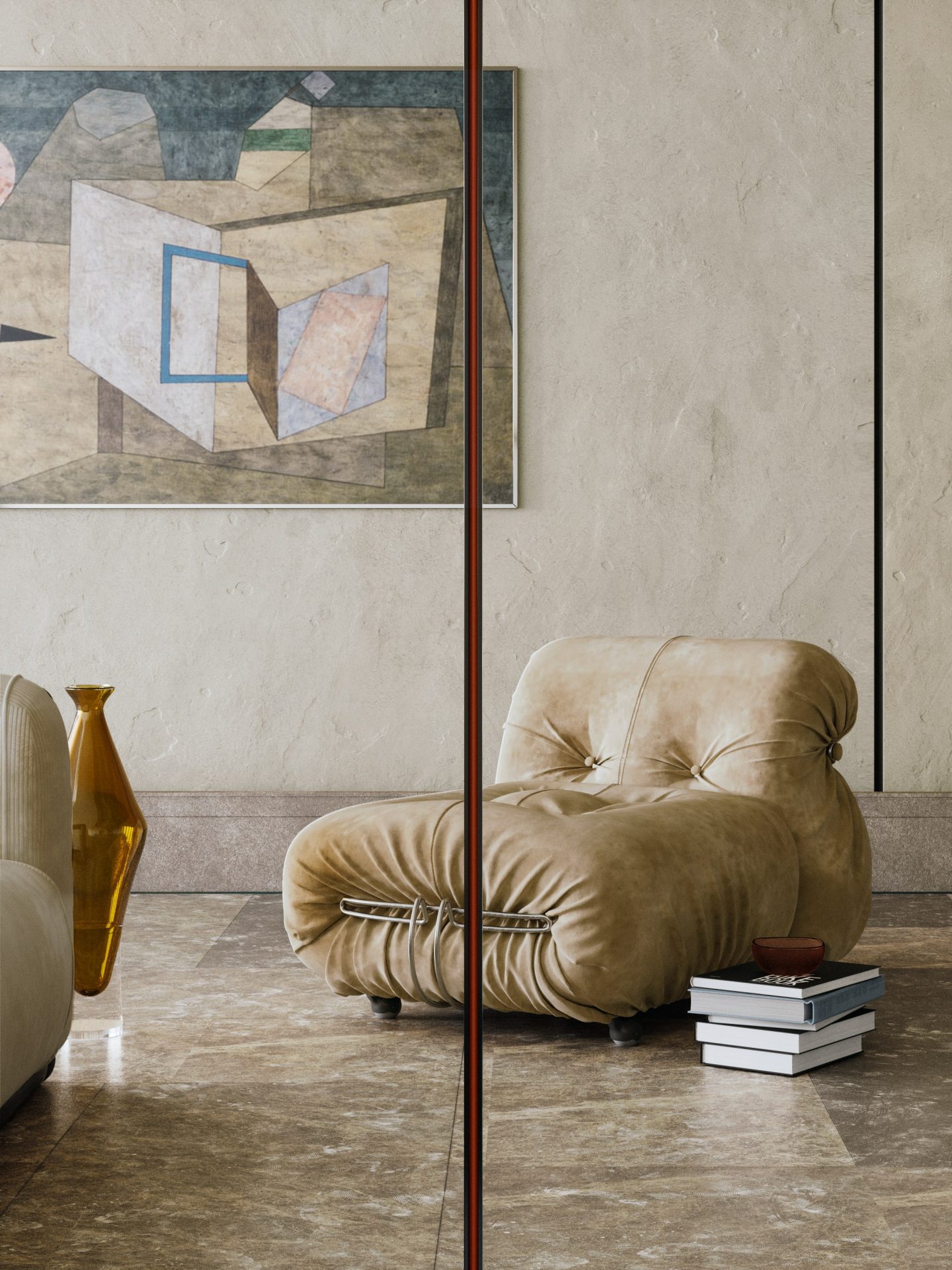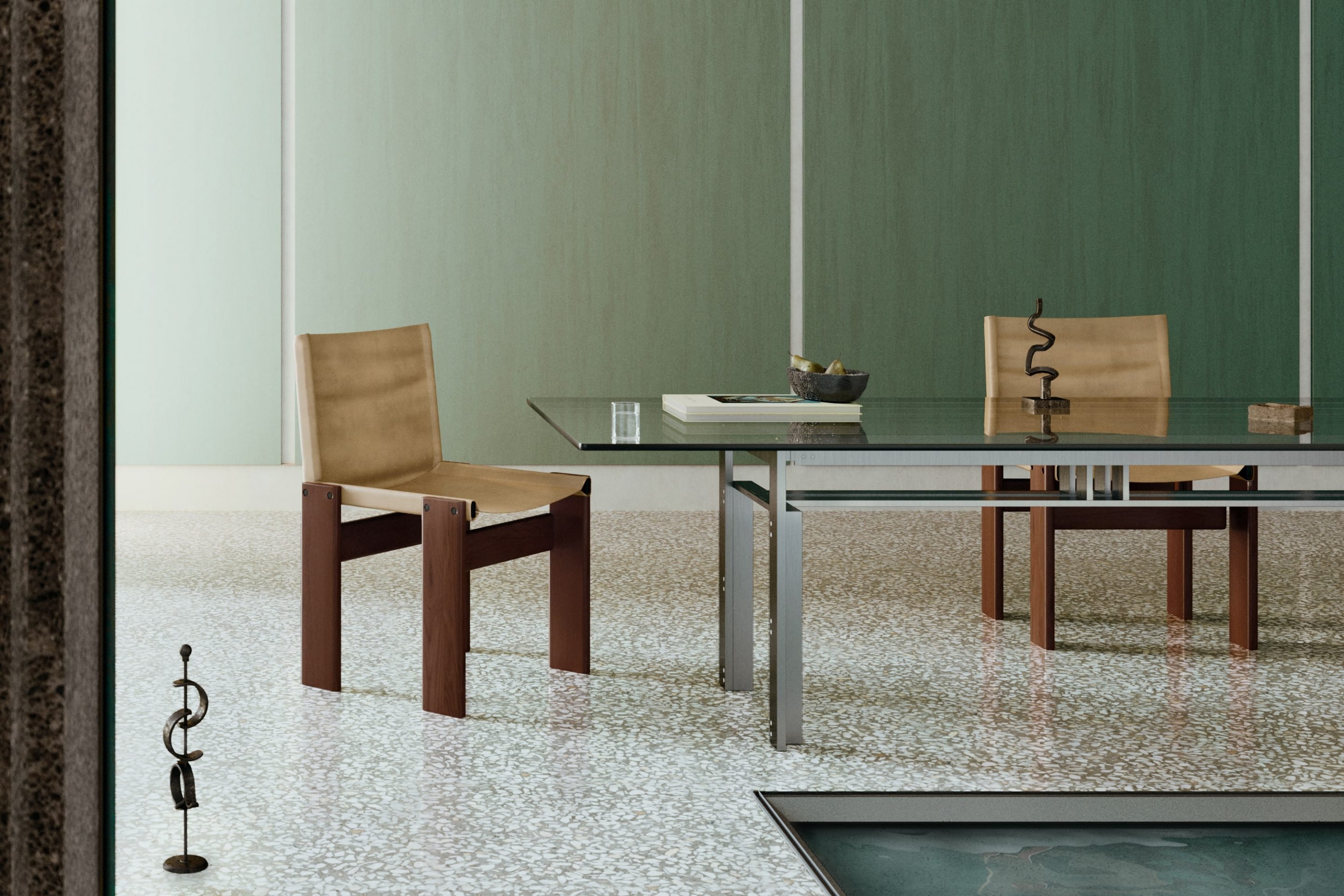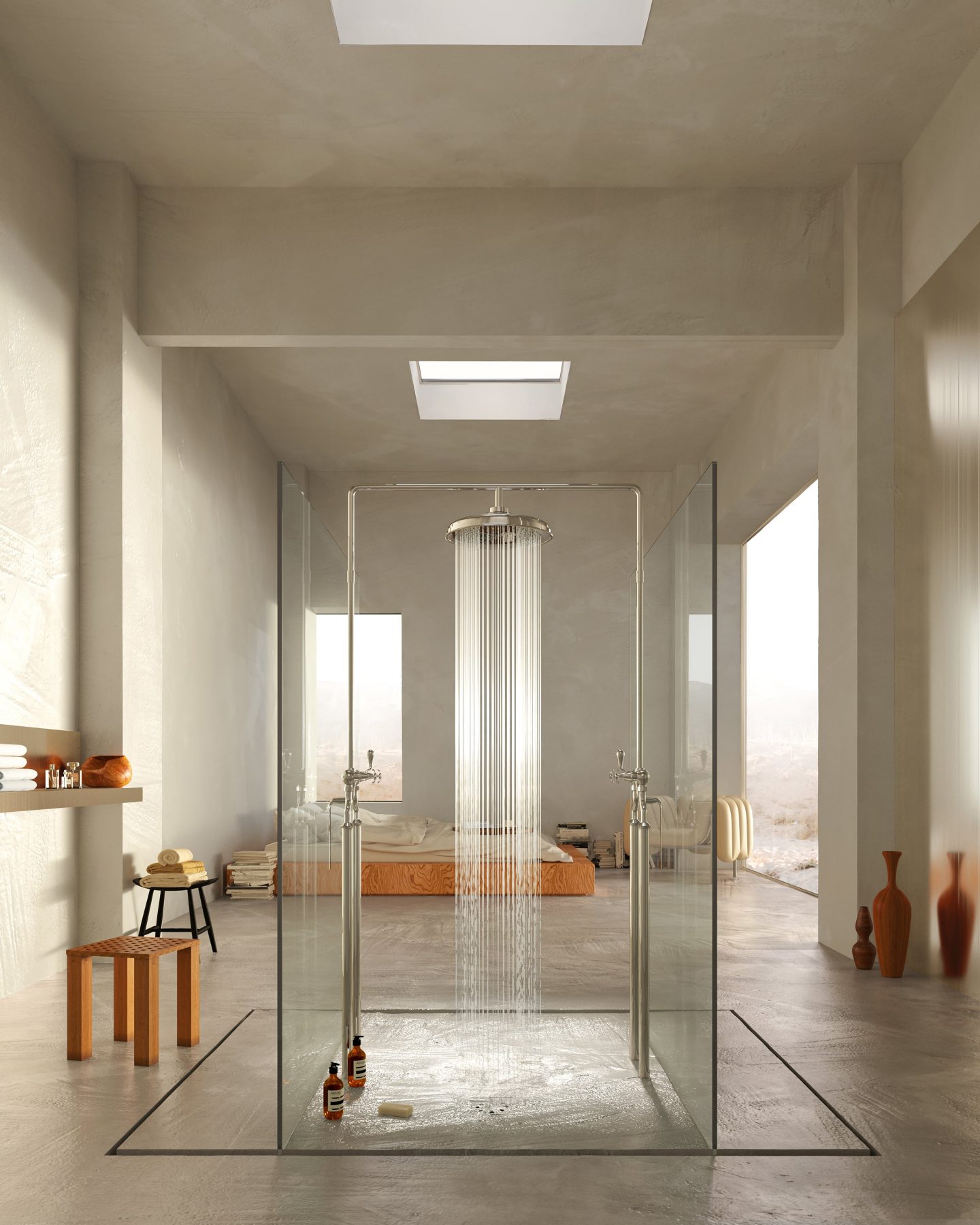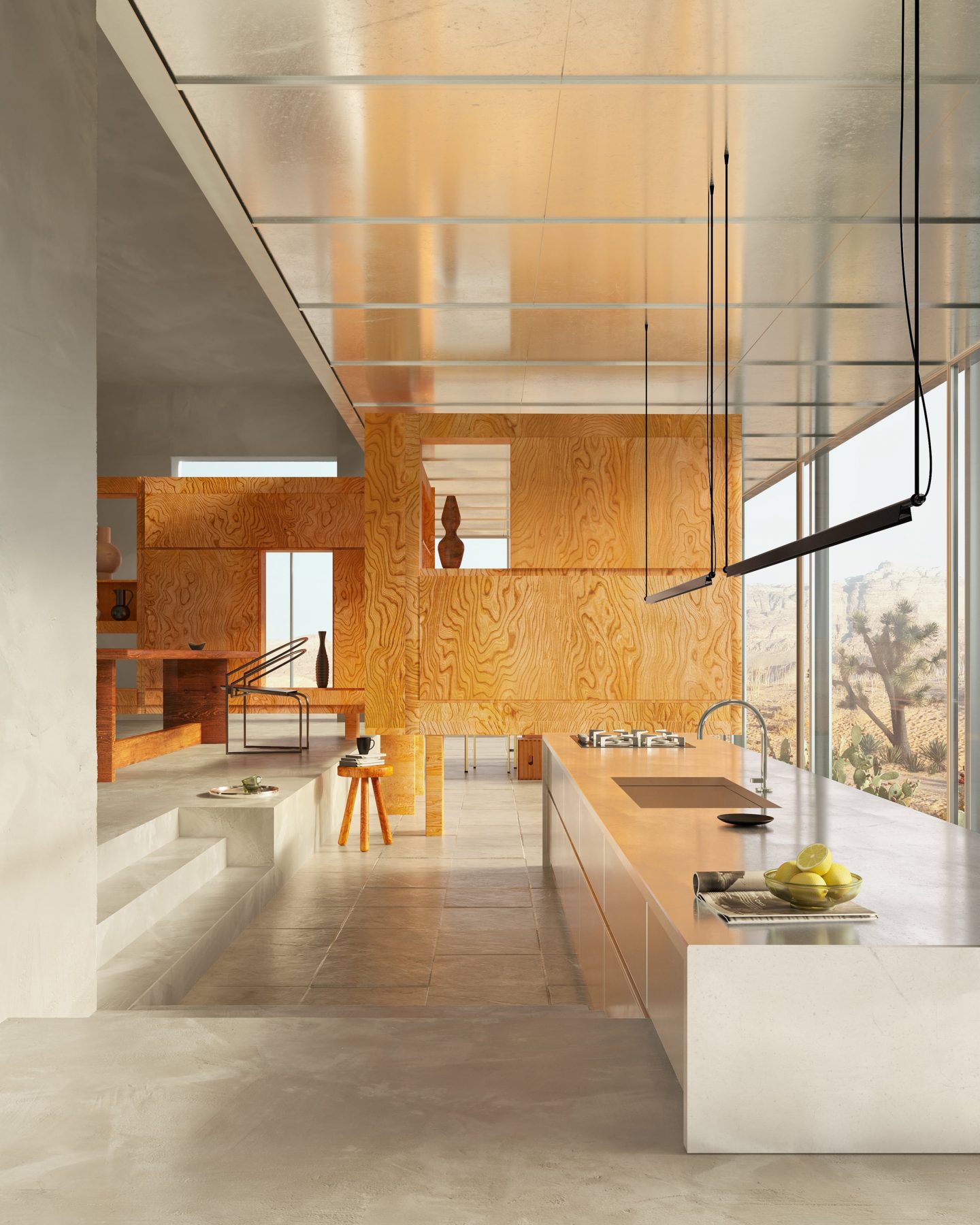 Futuristic visions are often devoid of nature yet in your projects you always try to connect the space to its natural surroundings. What draws you to this, is it an aesthetic choice or something more?
There has been a trend in the past years that futuristic visions are often depicted as dystopian, void of nature, and not overly inviting. I personally have a very utopic vision on futurism in which nature plays a key role.
Why is there a new wave of modern CGI? Why do people love it so much?
CGI images were perhaps far more niche previously and very linked to fields like gaming, cinema, and very technical representations of architecture. The recent wave of CGI has given the medium a right in its own to exist as an artwork or design for a broader audience and artist range. I think this excitement around renders feeds into people's curiosity and desire for escapism, I also believe this new wave is still relatively new so people are keen to get involved and interact with it early.
Finally, what are the top 3 most important things to consider when designing an interior?
The individual, balance, and details.