The Berlin-based contemporary lighting label Analog is elevating the craft of glassblowing with new digital technologies. Their products use science, sound, and movement of the human body to create functional sculptures that show the potential of this ancient skill as an artistic and expressive medium.
"I have always been very interested in the rhythm and musicality of glassblowing," explains Philipp Weber, the young German designer and founder of Analog, together with his business partner Nadania Idriss. "A good glass blower knows how to move fluidly in order to balance the material when it is liquid. In that way, each piece has its own rhythm and musicality, so I wanted to find out how music can influence glassblowing." Having studied at the Design Academy Eindhoven in the Netherlands, and at the University of Arts Berlin, Weber then worked for Berlin-based Argentinian artist Tomás Saraceno, who is well-known in the city's art scene for his immersive installations and sculptures.
"we wanted to bring a special focus to [glassblowing] and question its relevance in this digital world"
Today, with this new direction of work, Weber is seeking to investigate the ­human qualities within production processes. "Where lies the significance of craftsmanship in a digital society, and what is the meaning of the human relation to a material and its processing?" he asks. "These are questions that guide my approach, and I wanted to create a product that poses thoughts beyond its original purpose."
The company is now in its third year of operation, is a trademark of Berlin Glassworks, the public access glass studio that provides classes, workshops, and residency programs dedicated to sharing the skill of glass making. Berlin Glassworks was founded by Nadania Idriss and is Berlin's first hot-glass studio; Weber joined the company in 2018 and together they founded Analog. "We're not just a lighting brand, we are also a studio that makes commissioned work for artists, and we offer classes too—there's a real community that has grown out of this process of collaboration." Weber explains that the company's namesake references the definition of the word relating to human involvement, as opposed to when we do things with technology, like an old film camera versus a digital one. "With the name, we wanted to bring a special focus to the craft, and question its relevance in this digital, industrial world we live in," he says.
Each bespoke luminaire is shaped according to the gestures of the human body in action.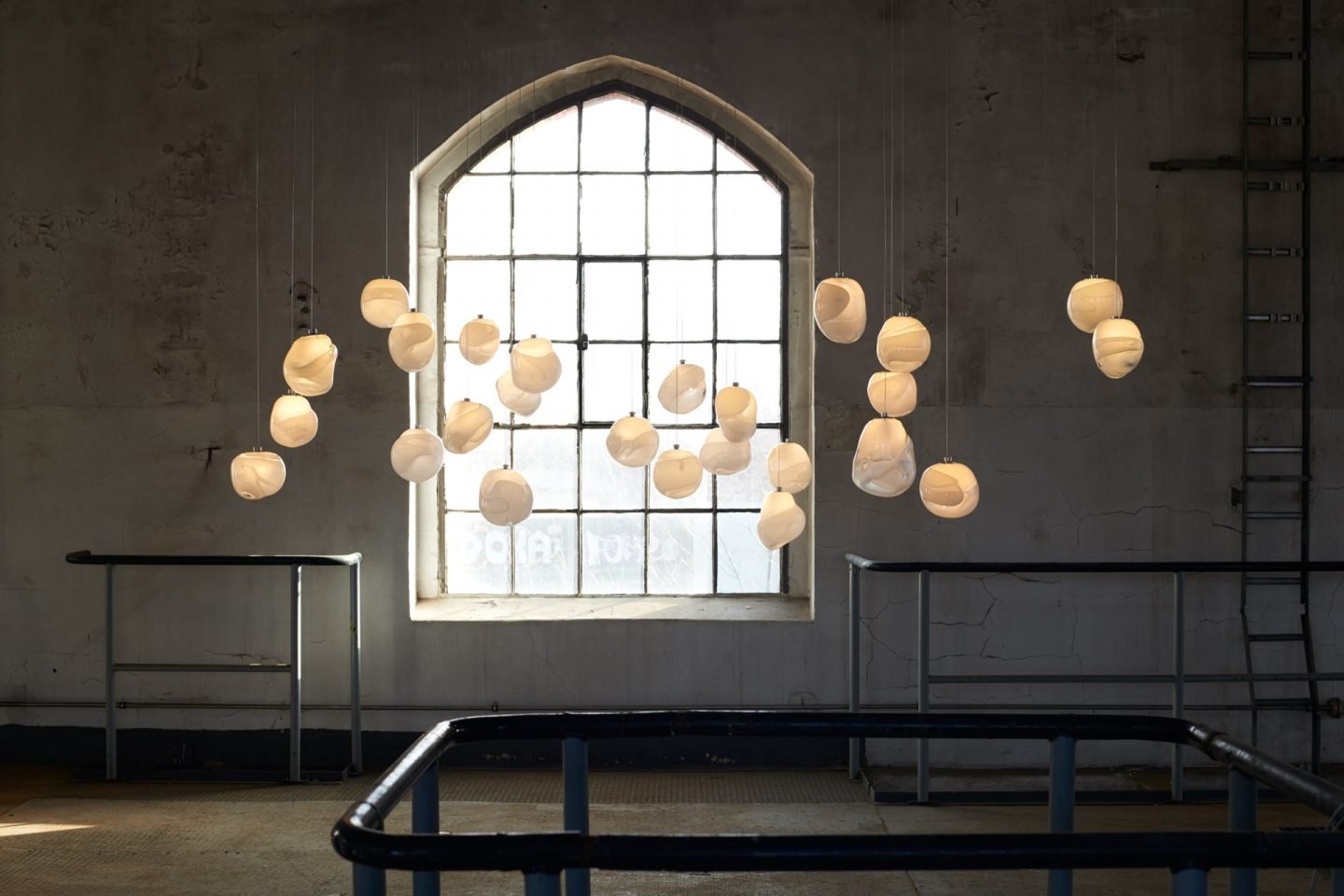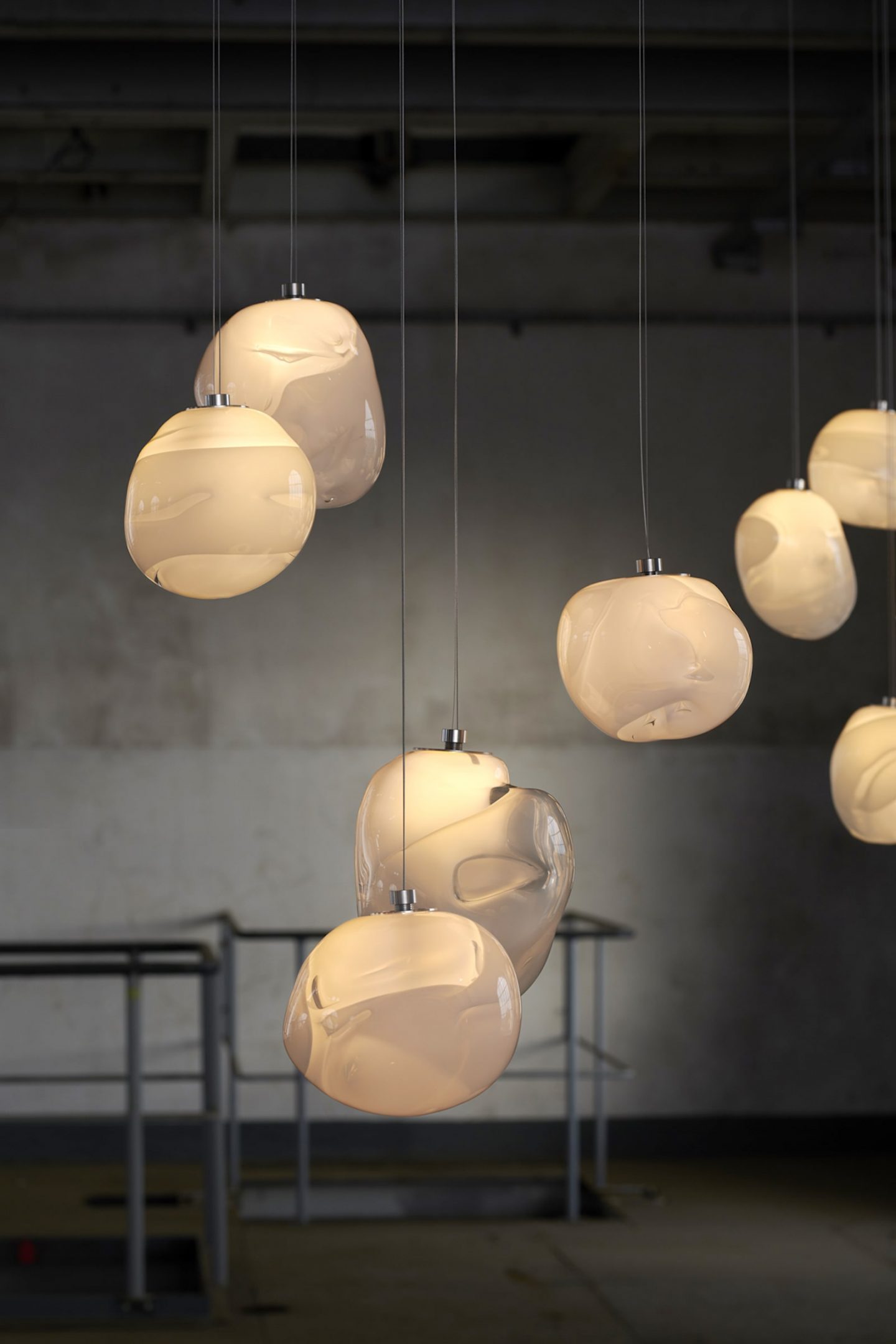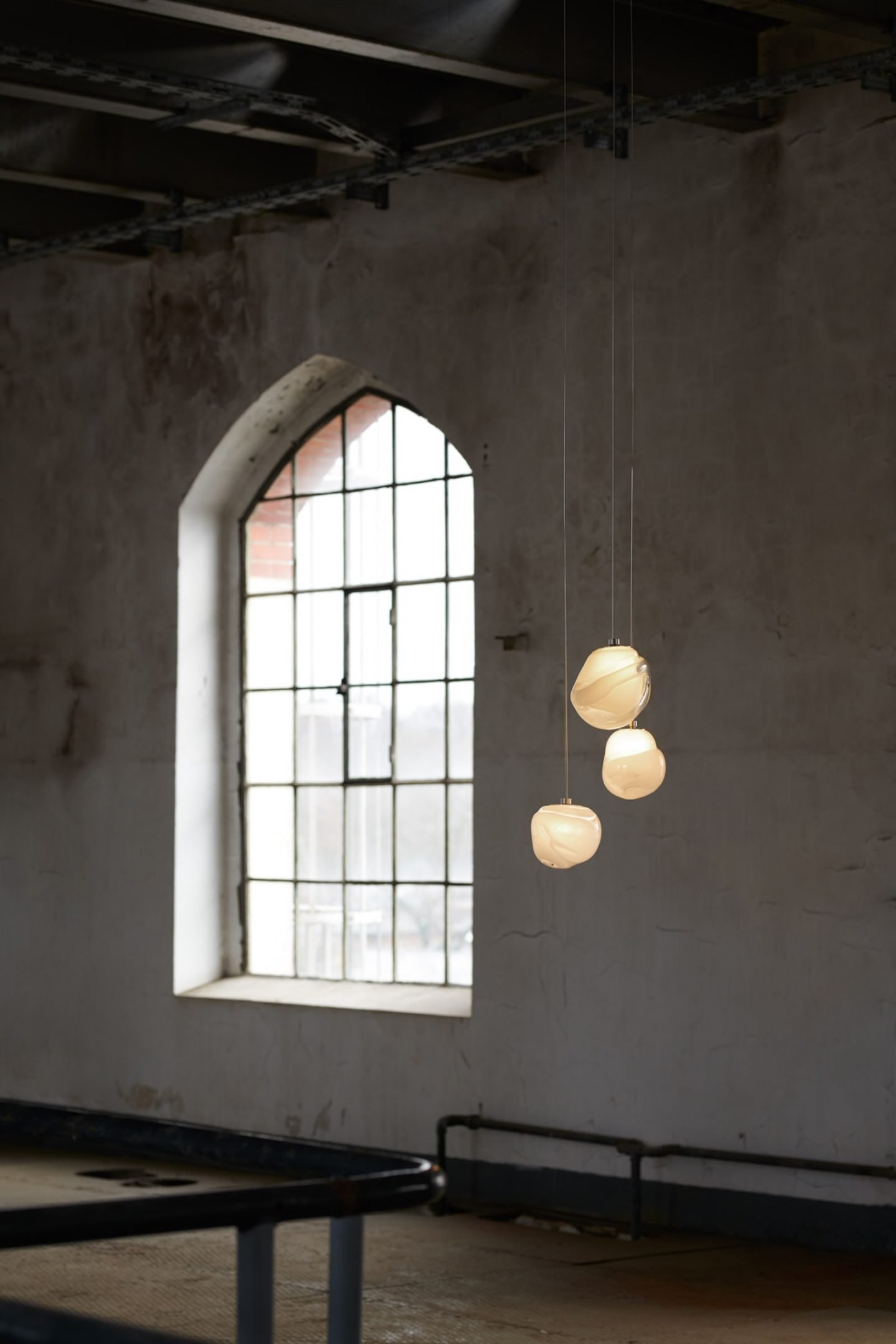 The company itself has an approach that is different to many interior or lighting brands, exploring atypical models of operation with a merit-based exchange system. "As a young brand, we've had to rely on exchange with our collaborators to get started, offering lower rates on our products or trading classes for their services. While it's
"Can you dance with the glass? Well, the object carries the dance within itself"
unconventional, we really love this approach—more than an alternative economy, it is a way to really get to know your collaborator and gain deeper insight into each other's craft. These kinds of transactions really add intangible value to what we do and they help build stronger relationships." With this way of working, Analog is among a string of small businesses aiming to preserve longstanding crafts like glassblowing, championing the skilled labor and complex processes involved and highlighting the notion and genuine value of collaboration beyond monetization.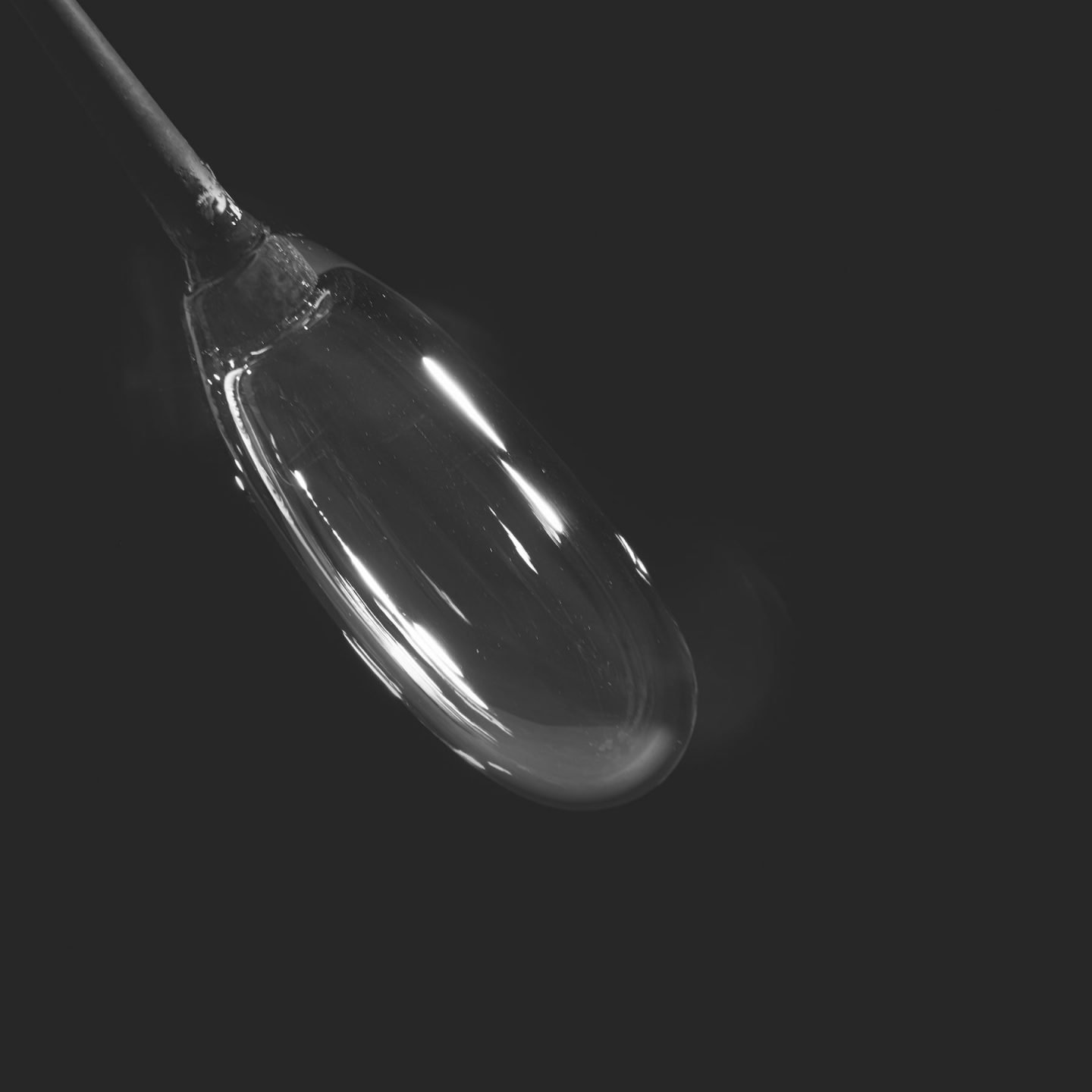 But, how exactly does glassblowing work? "Imagine some honey on the tip of a long stick," says Weber. "In order to not drip the honey on the ground, you have to keep moving your stick in circles. Then the honey gets cold and it hardens, and you can dip it again into your honeypot and get a second layer. Glassblowing is exactly like this," he continues, "it is a layering process where you can form whatever shapes you want." The glass is placed in a furnace, becoming soft and malleable when heated to 1100 degrees celsius (2000 degrees fahrenheit). Traditionally, to give the glass its final shape and size, it is blown into with a blowpipe that creates a type of bubble. It is a highly skilled and technical process, bending over flames and working with boiling hot materials that can shatter or burn in a second.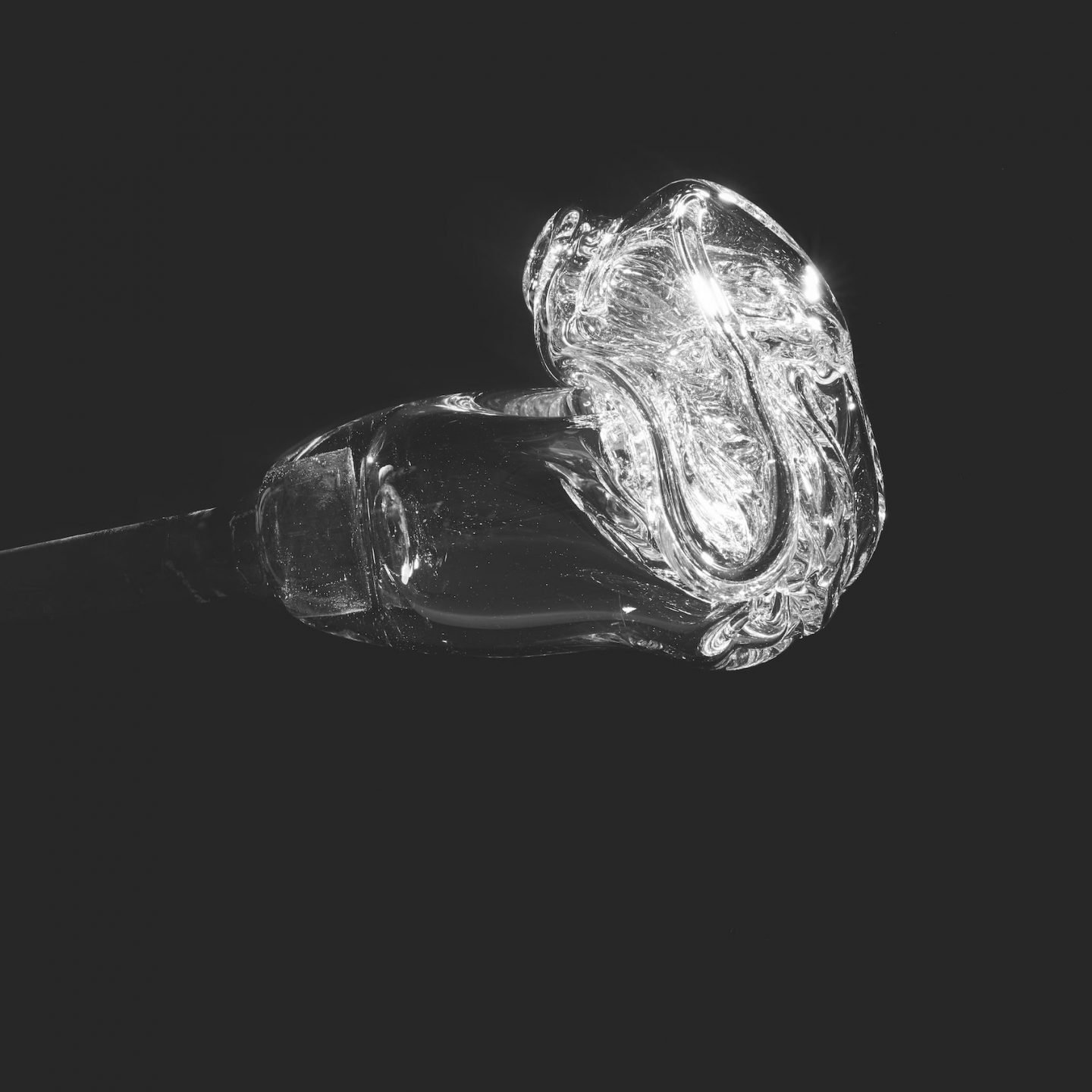 However at Analog, instead manipulating the glass into a perfect, homogenous form, each bespoke luminaire is shaped according to the gestures of the human body in action—the maker will move around in a dance-like "every movement you perform affects the shape of the material"motion, with their movements being tracked with technology. The making process itself thereby determines the outcome of the shape, and the idea was to complement the analog-making process by mapping both the body and the lights with digital tools. The first pendant lamp series by Analog that Weber designed himself is called 'Of Movement and Material', a distinctive statement piece that refracts light through its sinuous curves. A cluster of 10 to 15 lights (or whatever number the client requests) dangle from the ceiling at different angles and shapes, yet despite their asymmetry they afford the space a sense of balance. "The series is a discourse on the movement of the body," he says. "We wanted to address the way in which the human body and an amorphous substance like glass can influence each other, where the elements are created in a dance between maker and material," he says.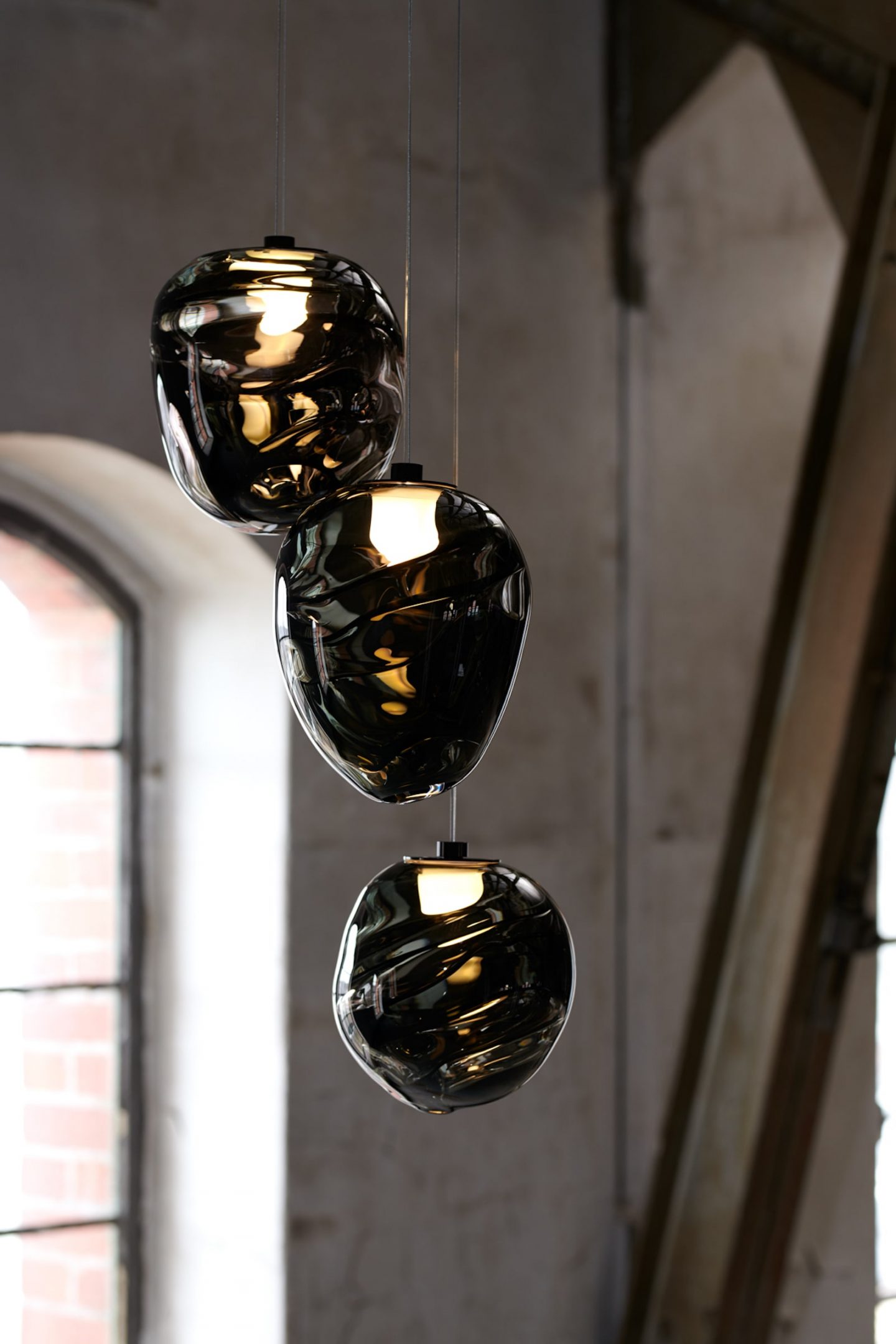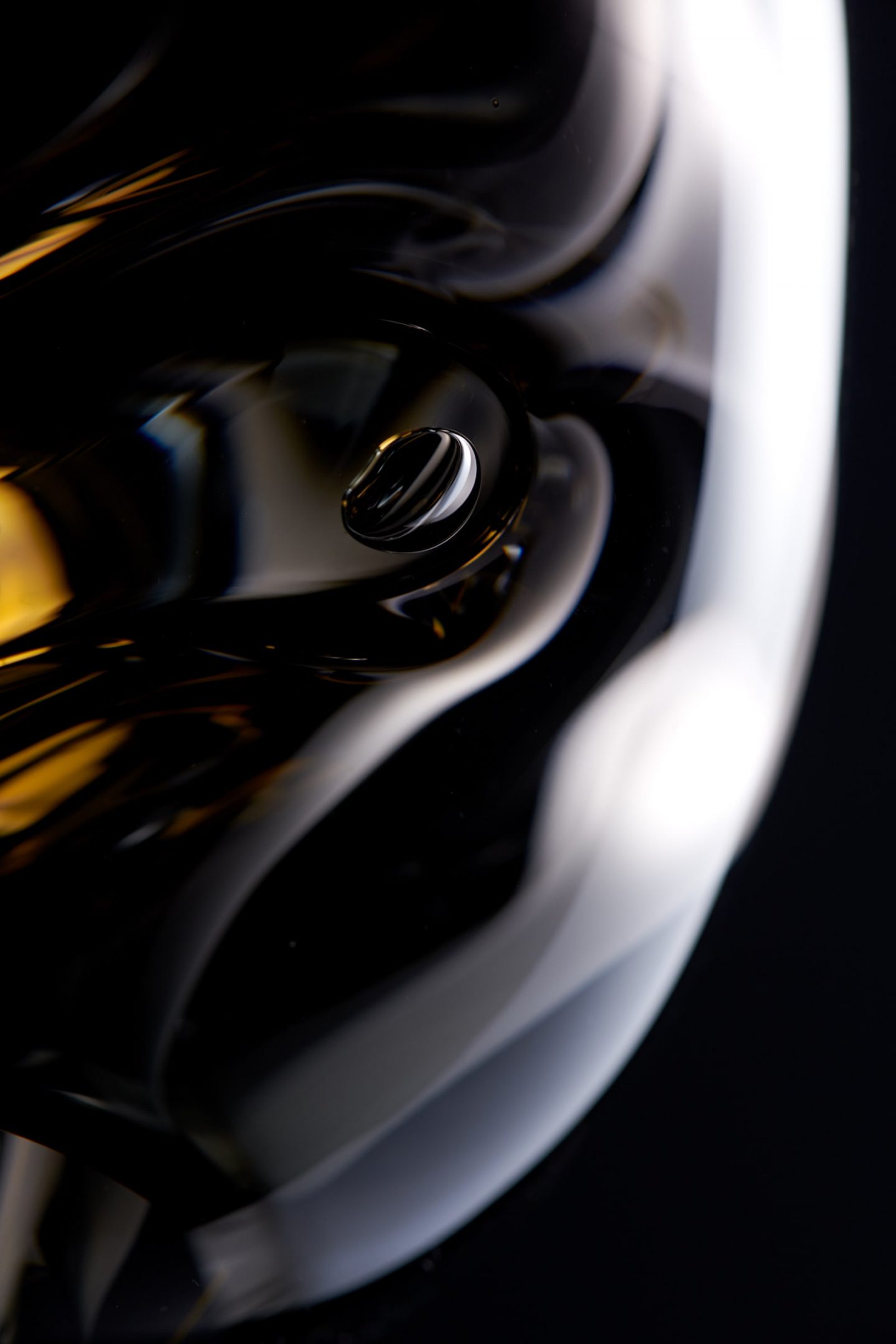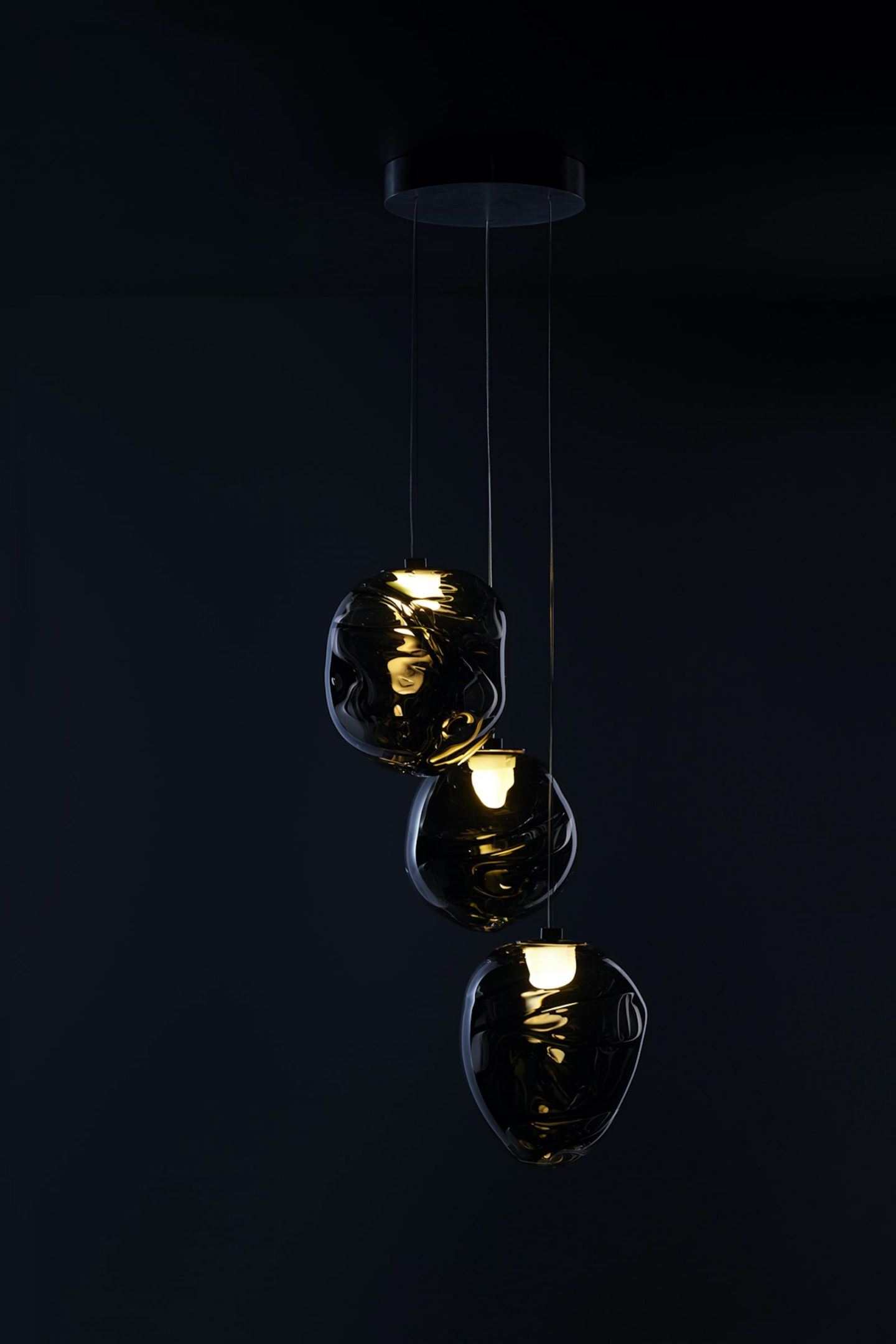 The 'Of Movement and Material Black' series coincides with Tacit Dialogues, a new and ongoing To Weber, the spaces we create influence our moods and our experiencescollaborative research project that Weber says is an artistic experiment. "I invited several artists and designers who work with digital visualization or production methods, and the idea was to complement Analog by mapping both the body and our lights with digital tools."
Sound confusing? Here's how the technology works. The implicit sounds and bodily movements in the act of glassblowing are mapped digitally using interactive tracking and data recording devices, just like when a voice is recorded in an interview and transcribed into text. "The tracker can recognize how the pipe is turning, where it's moving, and how fast it is accelerating," explains Weber. "Every movement you perform affects the shape of the material." The recorded sessions gather data to build a digital archive of different glassblowing choreographies, and the resulting objects are then translated into 3D-scans. The first results of the research have just been released in an exhibition curated by Federica Sala for Berlin Gallery Weekend.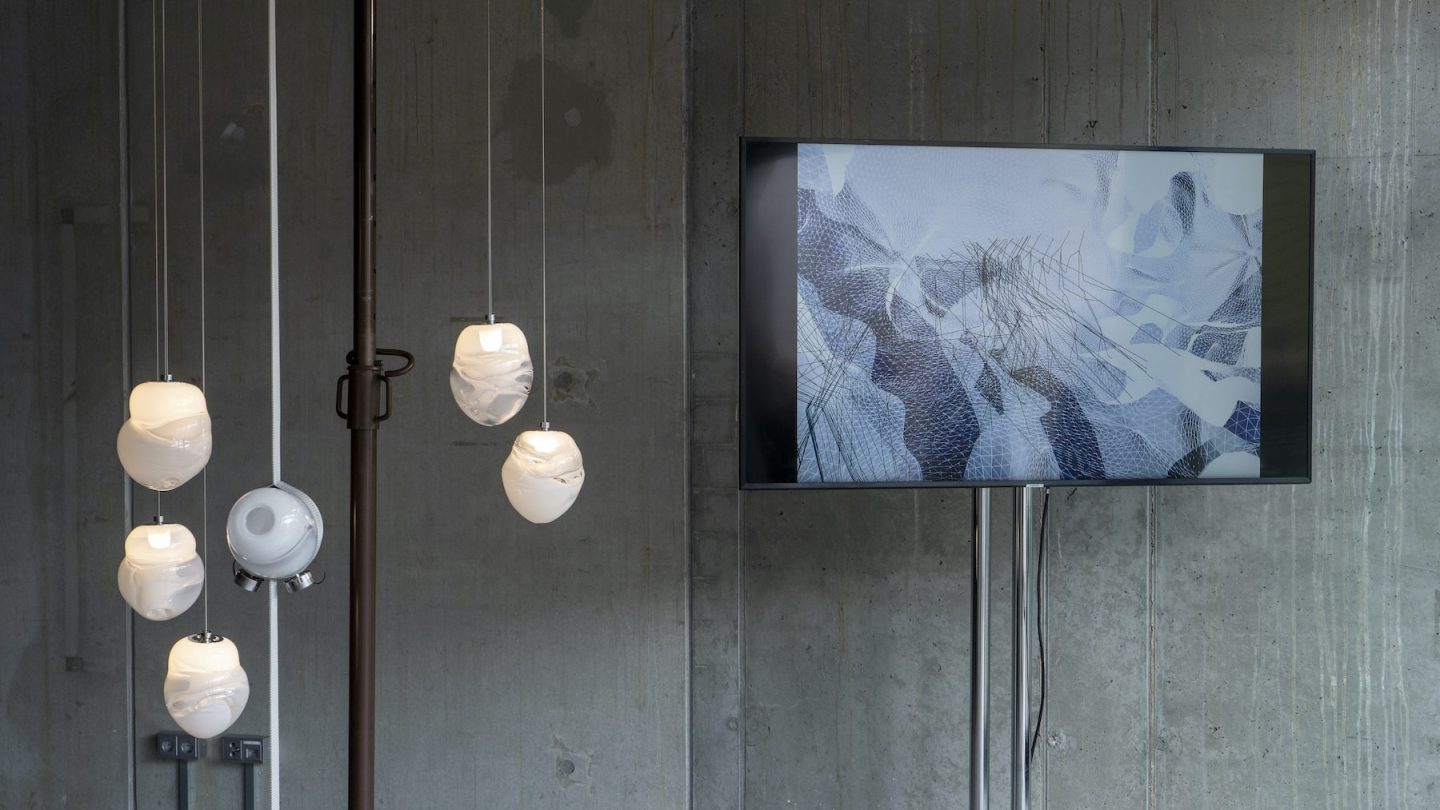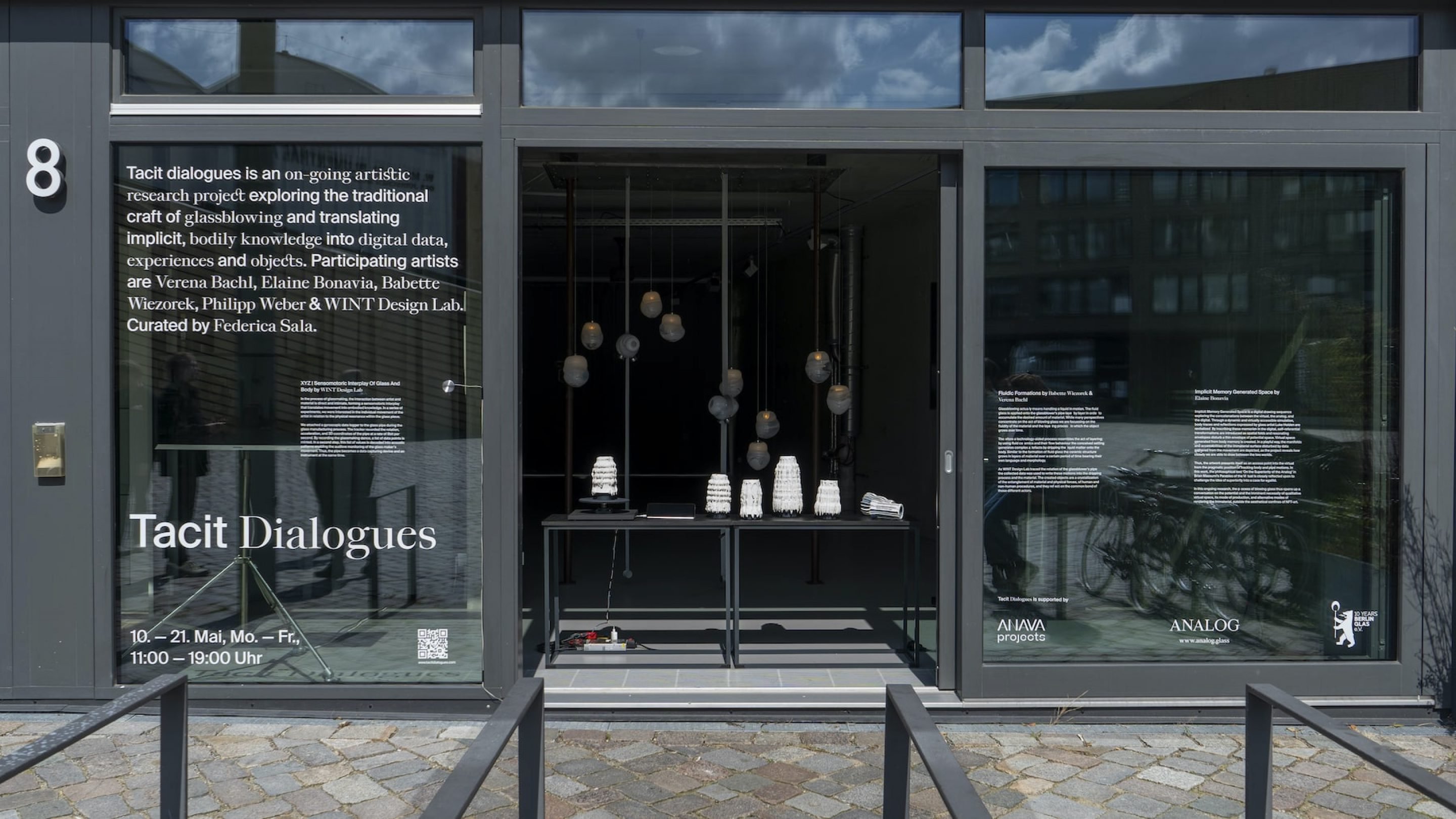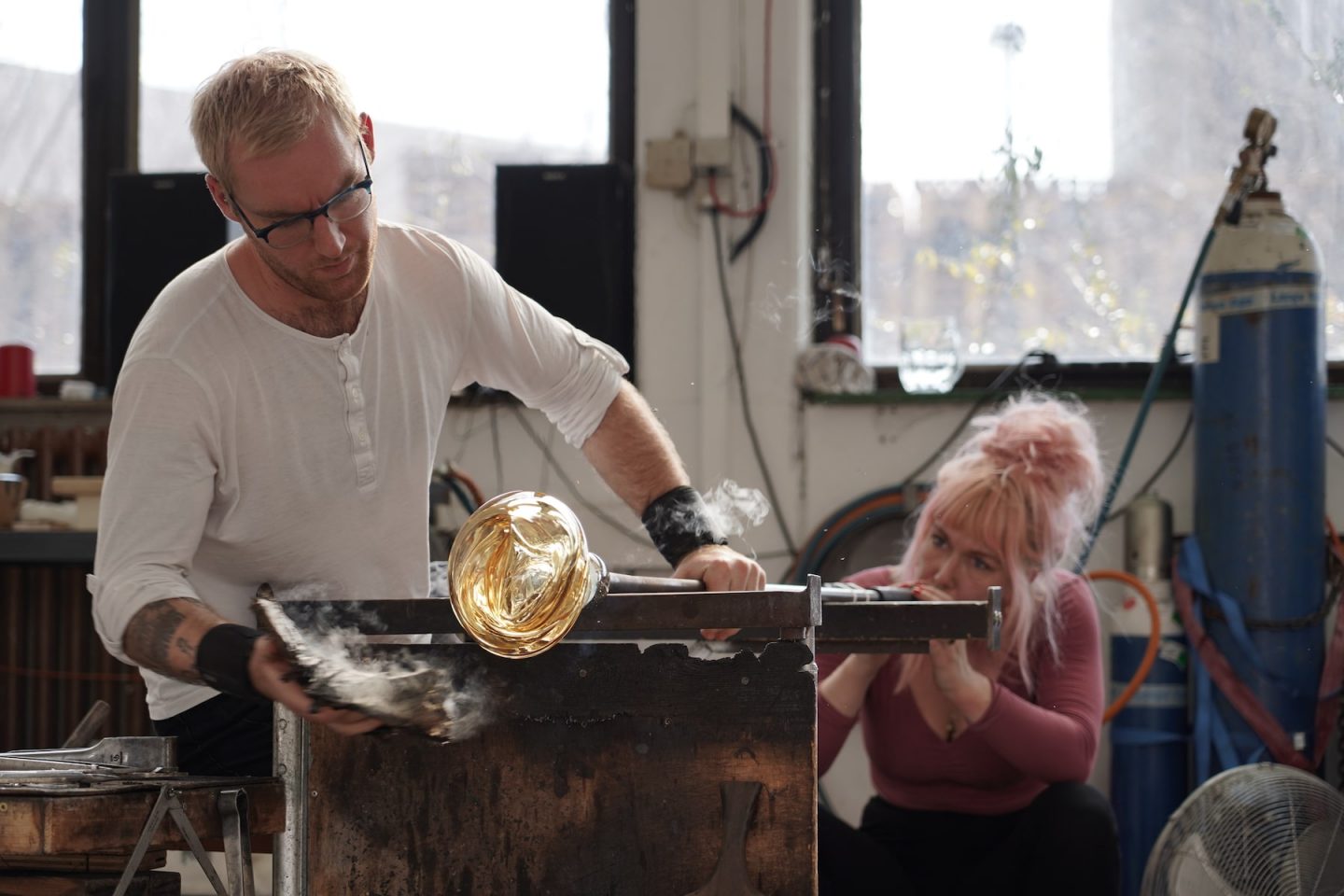 "Can you dance with the glass? Well, the object carries the dance within itself, because it has recorded our bodily information," Weber says. "I like that idea because a more interesting object results from the process. And when it is hanging in your living room, you have a completely different relationship to the object." Indeed, given how much time we are spending at home in recent months, the physical items we are constantly surrounded by have taken on a more prominent meaning in our lives. To Weber, the spaces we create for ourselves reflect us as people, but they also influence our moods and our experiences. "An object can transport you somewhere, even if you're just sitting in your living room. It is important to have things that mean something to you, and that tell stories about who you are."