Argentinian product and digital artist Andrés Reisinger is part of a new wave of designers exploring 3D's infinite potential and the impending NFT marketplace. Bridging the boundaries of reality and fiction through utopian architectural renderings, interiors, and whimsical furniture, his work creates scenes that are oftentimes impossible to exist.
"Since I was a kid, I always loved creating things from scratch," Reisinger tells us from his office in Catalonia's capital, Barcelona. "When my peers were craving to play video games, my aspiration was to create video games," he continues, "that further grew into my passion for creation in the digital dimension." Today, Reisinger has turned his impetus for creating into both a reality and a distinguished career. Founder of the eponymous practice Reisinger Studio, he is an internationally renowned artist, director, and 3D designer, with a remarkable portfolio of collaborations under his belt—from interior and furniture companies such as Mooi and Cassina, to global brands, including Apple, Microsoft, Nike, Samsung, and Rimowa.
"With its shape, color, and texture, the human body has always been my main source of inspiration"
With an educational background in graphic design and architecture and over a decade of experience in 3D rendering, Reisinger creates immaculate visuals that showcase the striking possibilities of digital design. Weaving in architecture, interiors, sculpture, and landscaping, his work is characterized by an arresting minimalism in which unexpected shapes and a lustrous color scheme lend the images a unique visual vibrancy. In them, the color pink dominates and acts as a motif with connotations to our bodies. "The human body is the foundation for the color palettes of my work," Reisinger explains about his chromatic preferences; "with its shape, color, and texture, it has always been my main source of inspiration."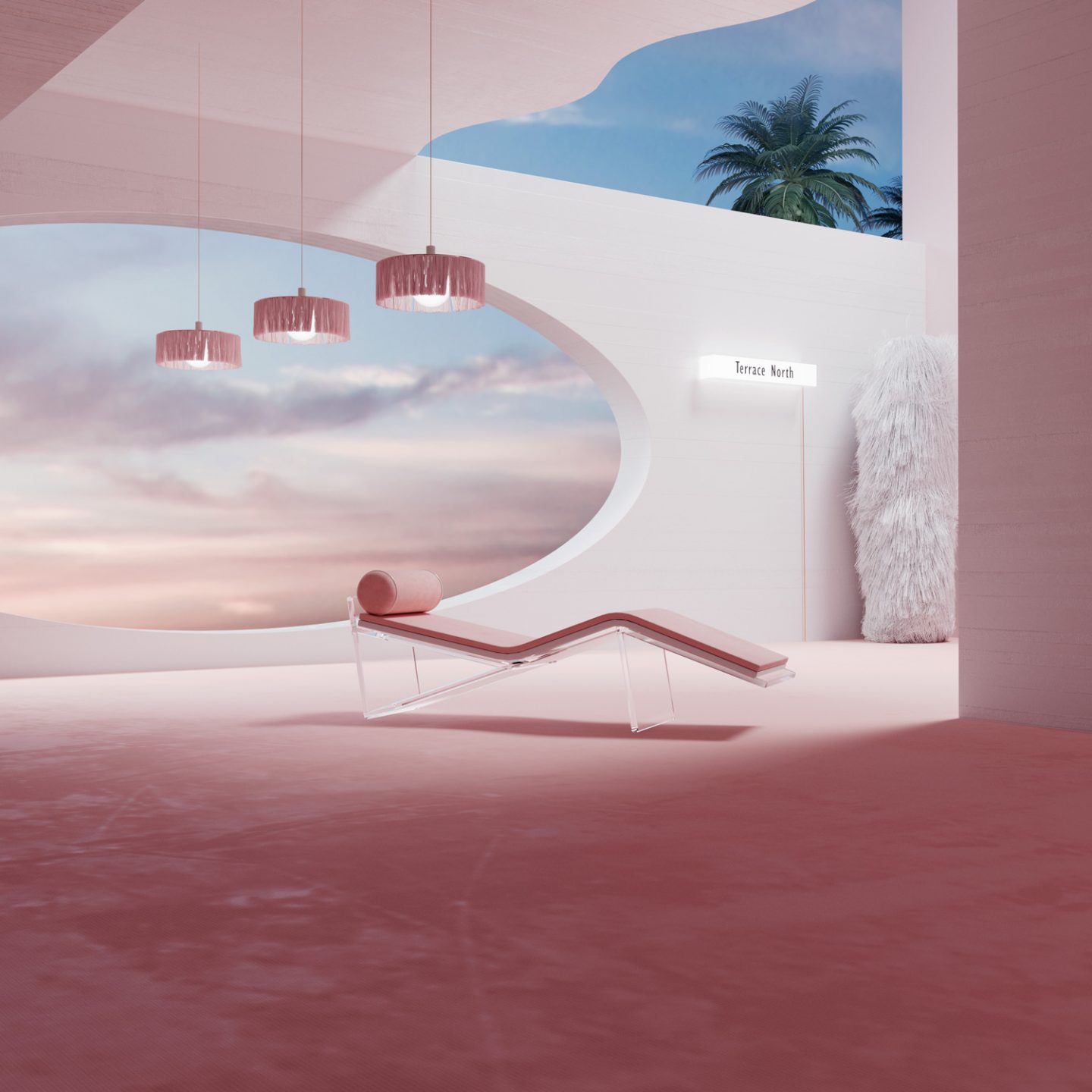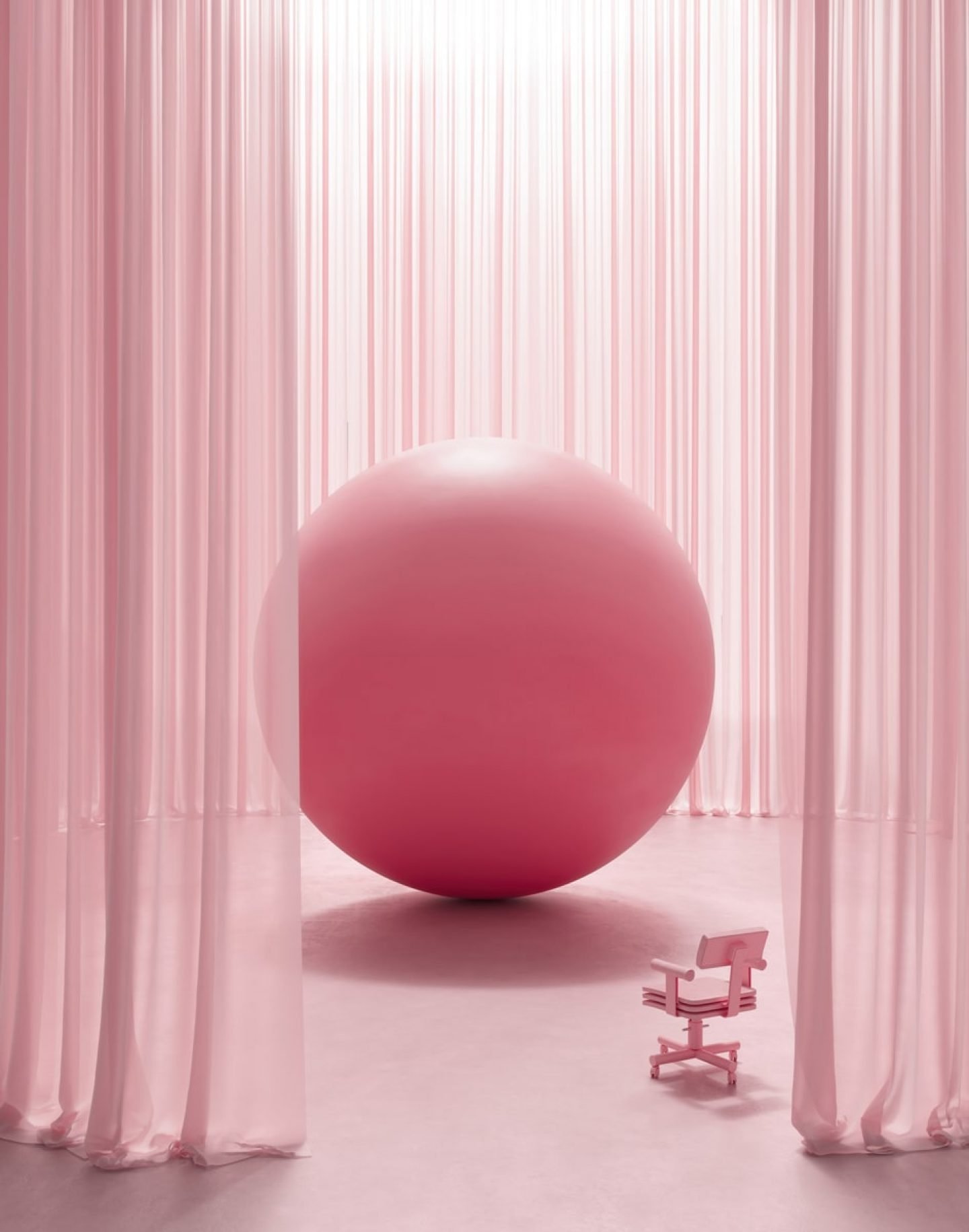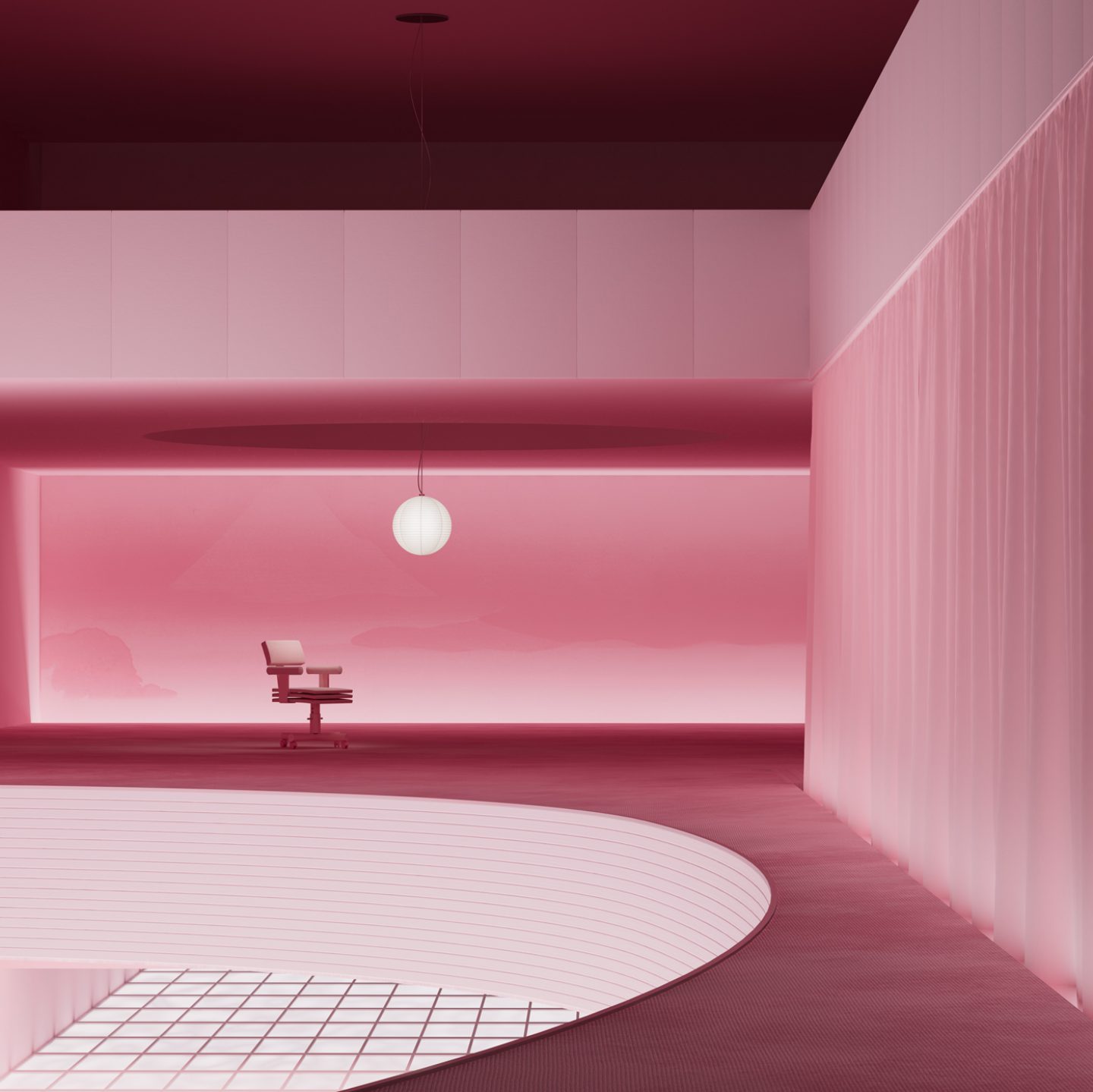 From enticing objects and hyper-stylized interiors to surreal landscapes, his body of digital work is highly versatile and diversified. "With 3D tools, there are no limits," he says. "With 3D tools, there are no limits"Digital art is created by manipulating polygon meshes, texturizing, molding, and rendering them into photorealistic objects and scenes. Generated on the basis of changeable parameters, the process allows for an infinite number of variations, opening paths to always new and unseen results. For his 2019 real-life exhibition 'Job Interview' at Last Resort in Copenhagen, Reisinger rendered over 50 digital proposals —featuring the same virtual objects in different spatial and chromatic alternatives; the images are a unique example of the medium's versatility and unlimited changeability. "[3D tools] give me the freedom to design whatever I can imagine, without problems of matter or development, and that helps me develop unpredictable processes," he continues.
Reisinger's work is all about imagination and transportation—rather than reproducing the world that surrounds him with extremely realistic imagery, he creates his own version of it, for us to explore. Through an experimental use of textures, light, and plush materials, the designer transports the viewer from real space to his imagined worlds. Known as 'dreamscapes', his atmospheric visualizations surpass the boundaries of the fictional and the real, deforming the latter with a particular touch of modernism and a slight strangeness that borders on being surreal. From his collection 'Digital Interiors' and his pastel-toned residential projects 'Summer House', 'Tilde House', and 'Terrace North', to the surreal video explorations for Studio Proba's rugs and contemporary furniture brand Sancal, his visuals allow us into an immersive journey through stunning nature, utopian architecture, and the many ideas that drive a never-realized design.
Reisinger's atmospheric visualizations surpass the boundaries of the fictional and the real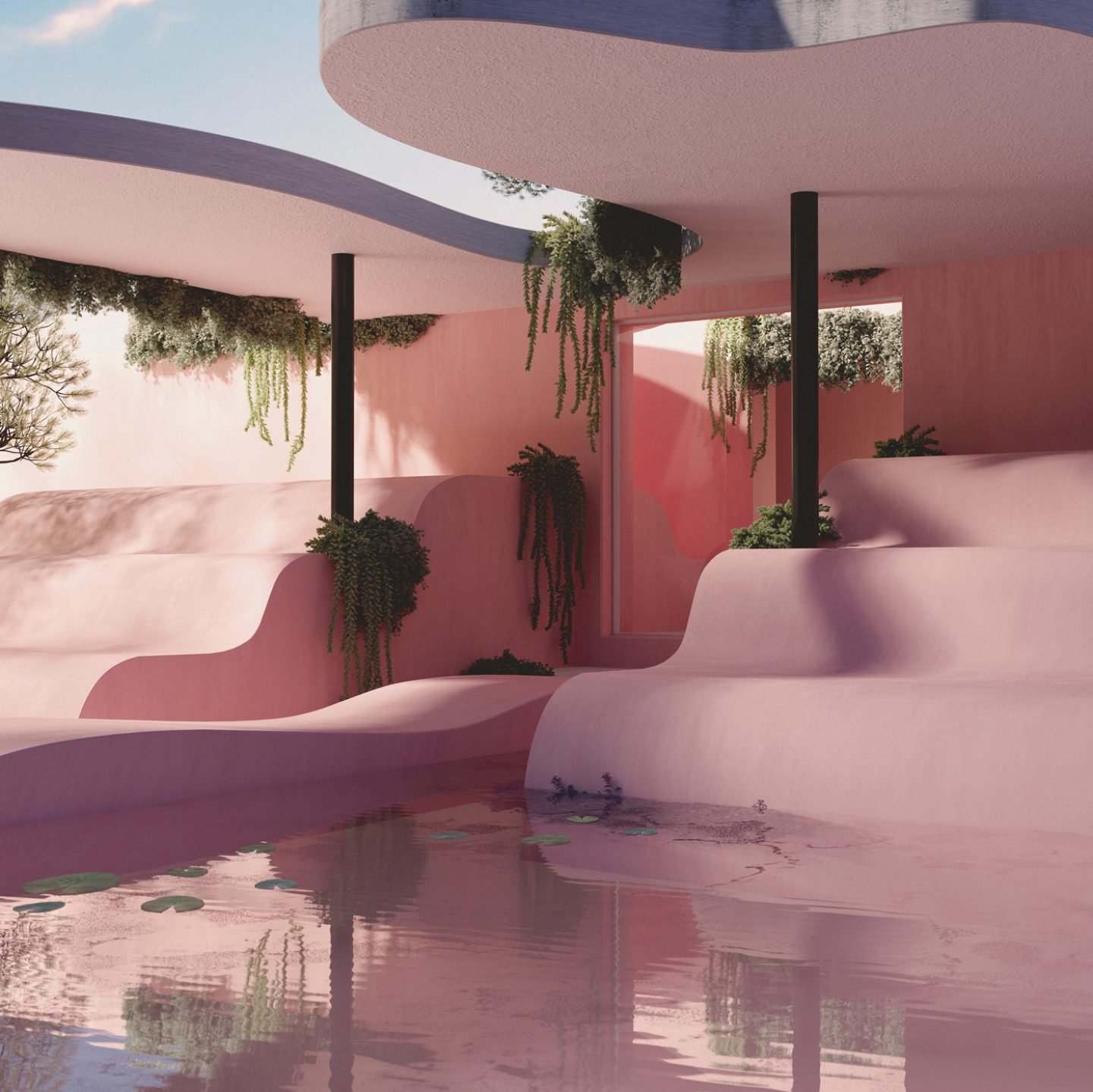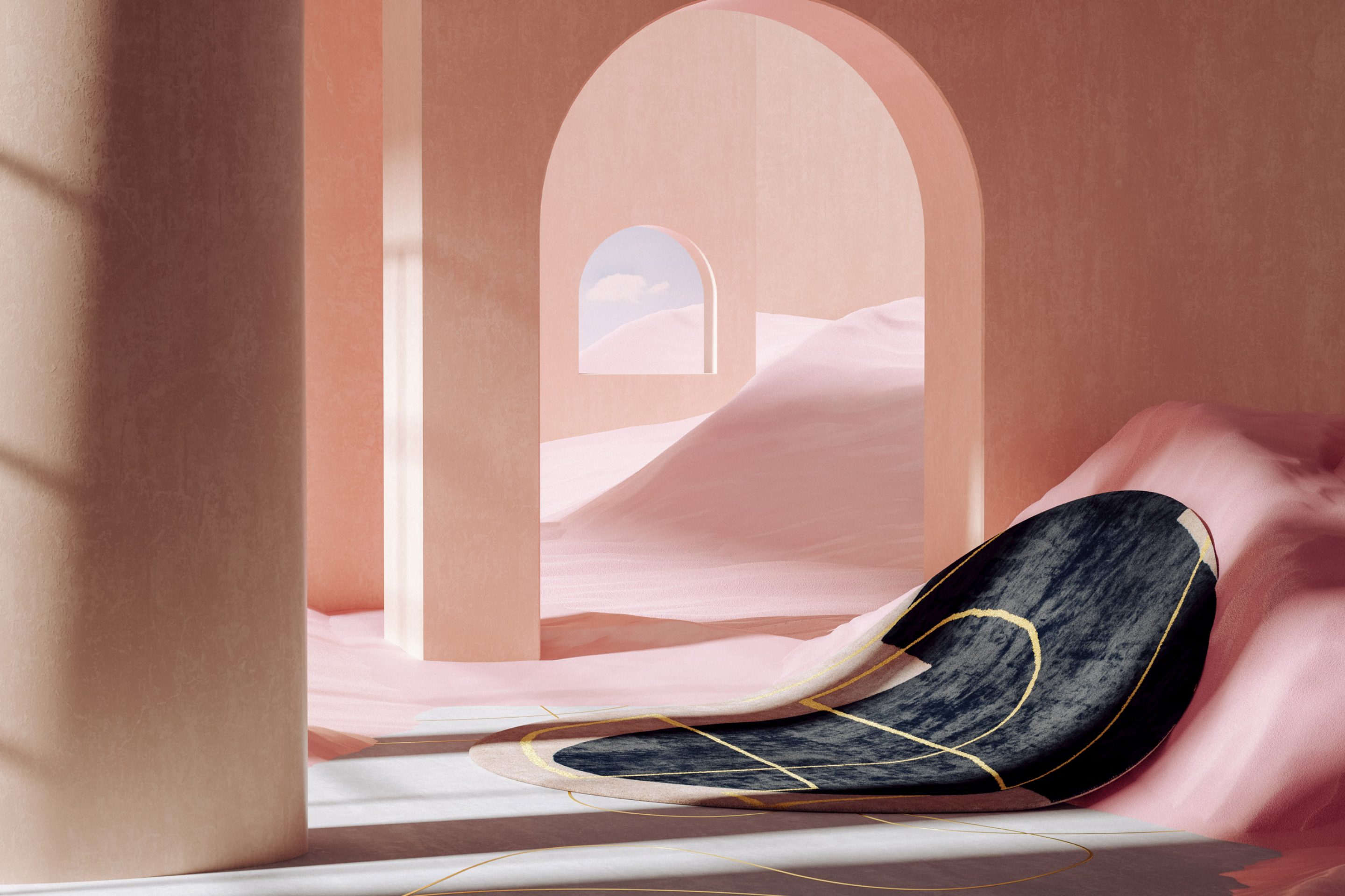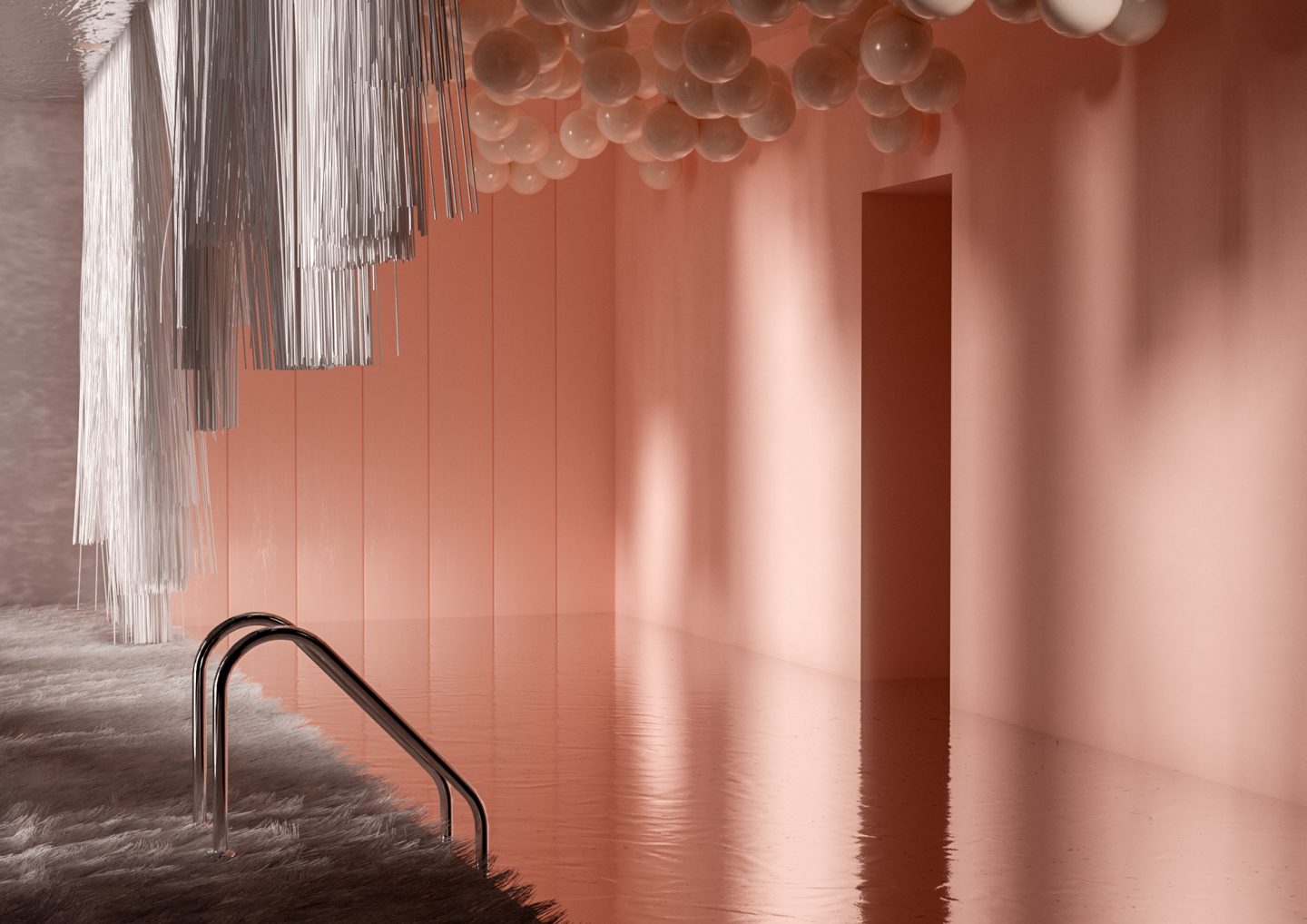 The desire for escapism is at an all-time high right now—sheltered in place, it makes sense that humanity is seeking distraction from the unpleasant realities of the current pandemic. With this in mind, Reisinger's virtual worlds have the potential to be immensely liberating. The designer, however, does not see the digital universe merely as an enticing alternative to ours, but rather as a component of our contemporary reality. "There is some common sentiment between futurists that humanity will utilize the eventual Metaverse, [the collective virtual shared universe], as a form of escape," he says. "I offer an alternative vision: in my practice I see a new possible answer to what the Metaverse holds: instead of co-existing between two worlds [the physical and the virtual], let them become singular." Challenging the perception of digital and material as opposite concepts, Reisinger aims for a subtle connection between the two realms.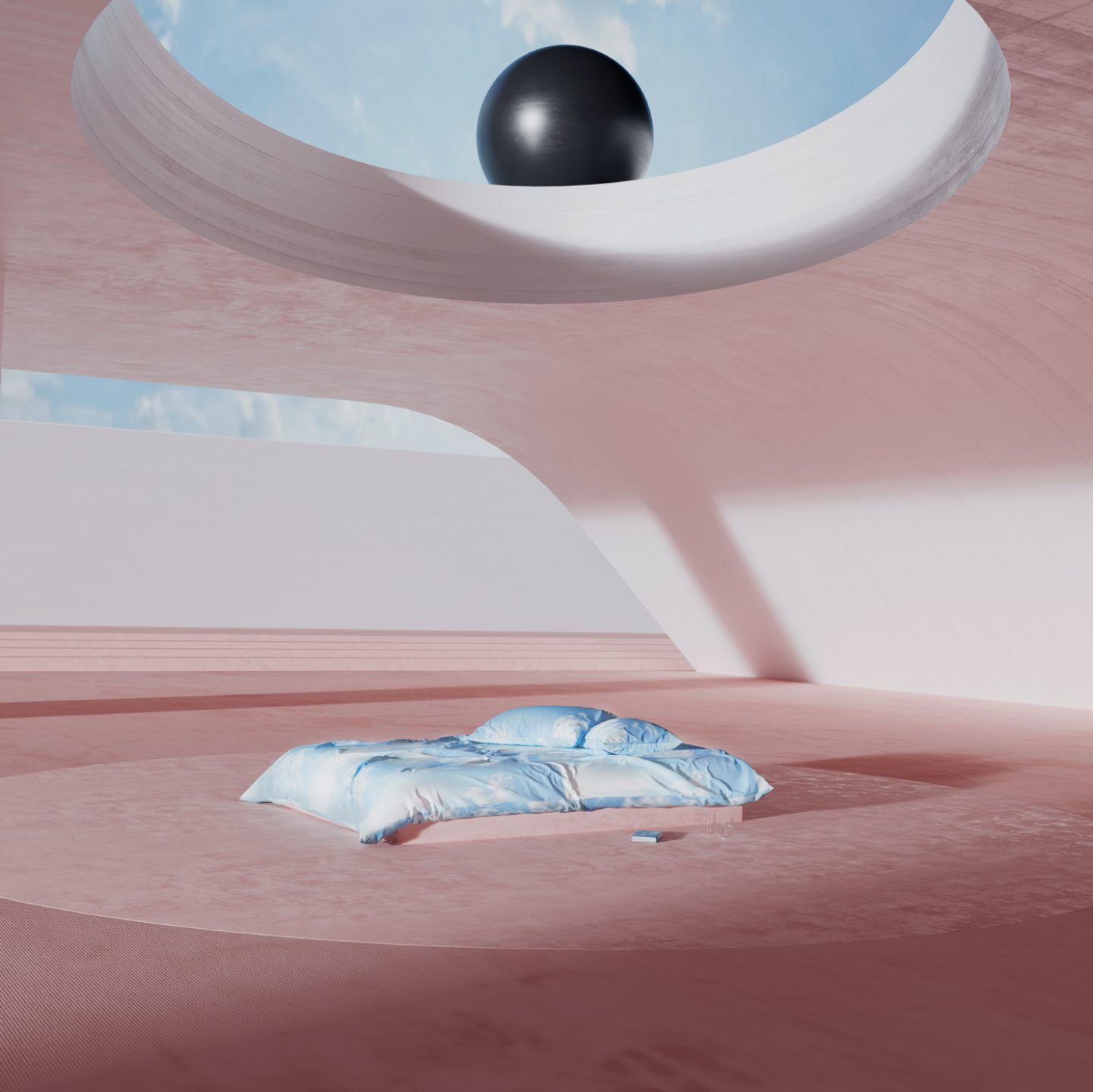 Dreamscapes are usually created for digital purposes only; Reisinger's visuals, however, do not stop there—his ideas go beyond rendering to become realities that can be touched and felt. Since 2019, the artist has branched into furniture and product design, with striking material manifestations of his designs that achieve the same look and tactility as the renders. "The idea of expanding my experiences into physical pieces was always there," he shares. Having reached most of his goals in digital work, it was only natural for Reisinger to stop imagining and start building the worlds he envisions. His first project was a limited edition of the widely popular design, the 'Hortensia Chair'. A year after going viral on social media in 2018, the pink cloud-like, hydrangea-inspired armchair became a functional piece of furniture thanks to the help of textile-focused product designer Júlia Esqué and 20,000 fabric petals.
"My approach is to create demand through digital ideas"
In the Reisinger Studio HQ, product designers work diligently on research and development for translating new digital objects into physical objects, with future projects including the pink sphere-legged 'Time Table', created in collaboration with Barcelona designer Isern Serra, as well as the matching 'ABBA Office Chair'. Reisinger sees value in designing objects before producing them. "I am very bullish on the idea of creating demand before supply—which is totally the opposite to our fast-design world. My approach is to create demand through digital ideas," he says. With his on-demand, limited-edition products, he subscribes to an ideology rooted in having less and choosing well. "It is one great tool to avoid waste, unpurposeful use of resources, and to slow down the fake 'recycle era'," he adds.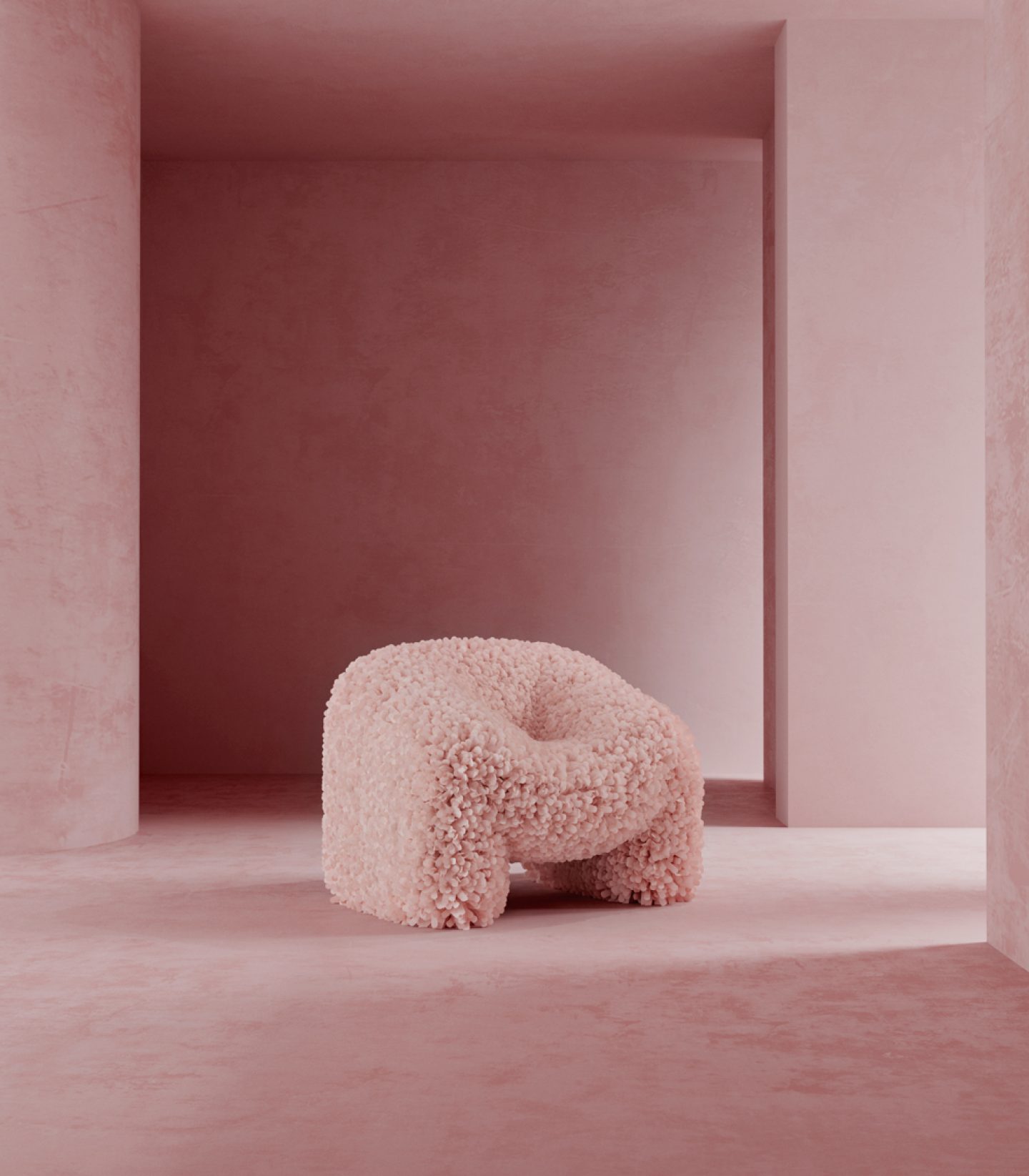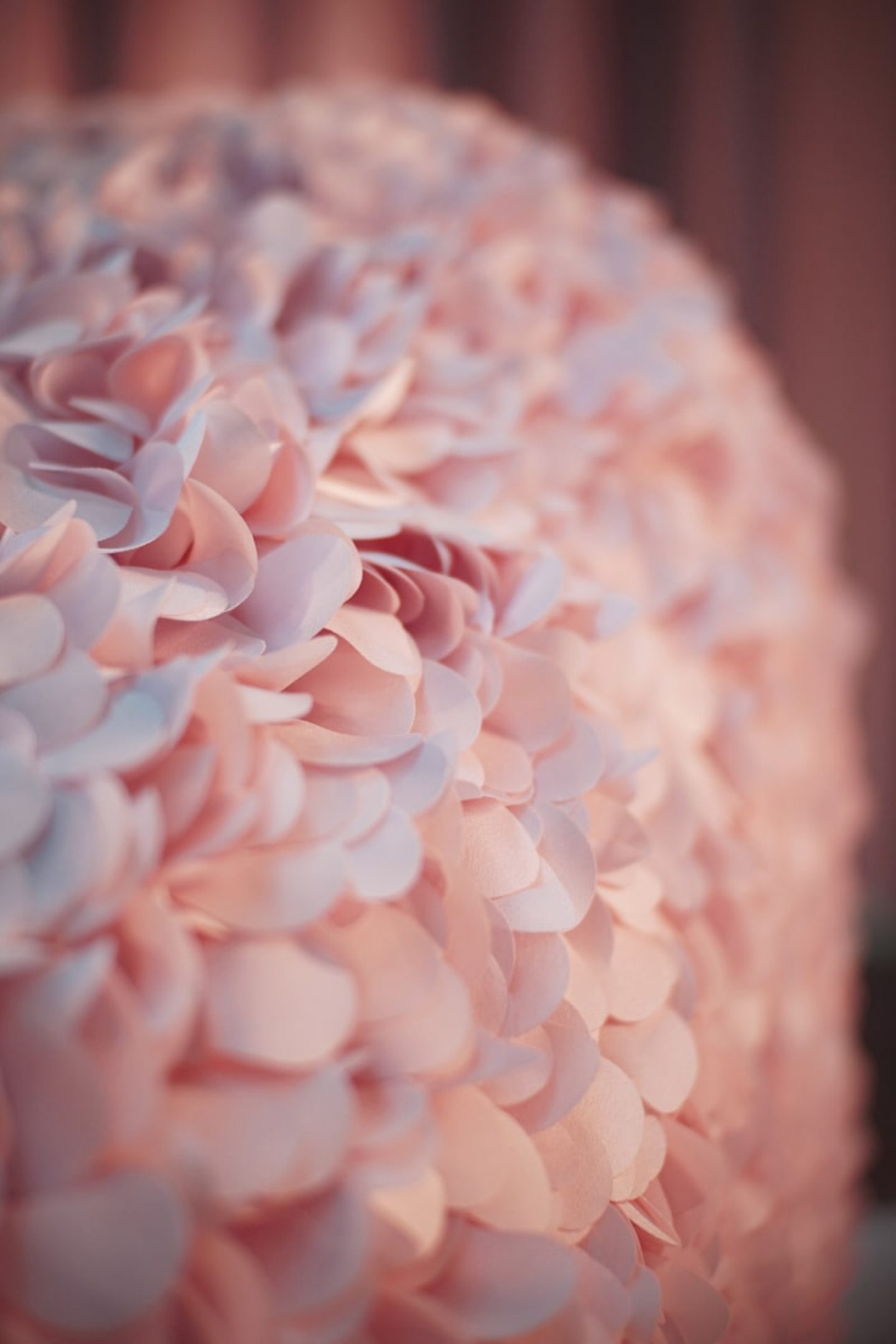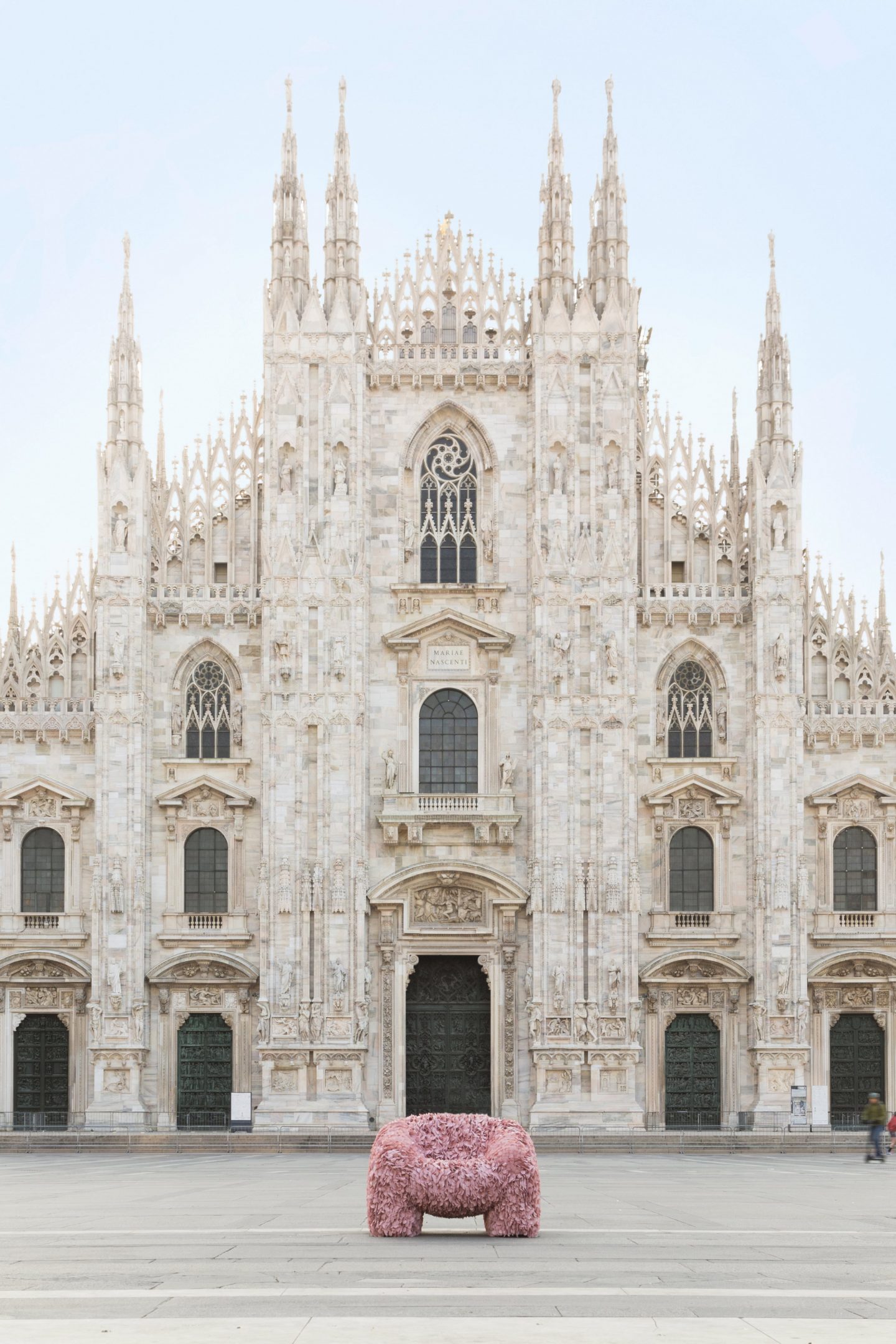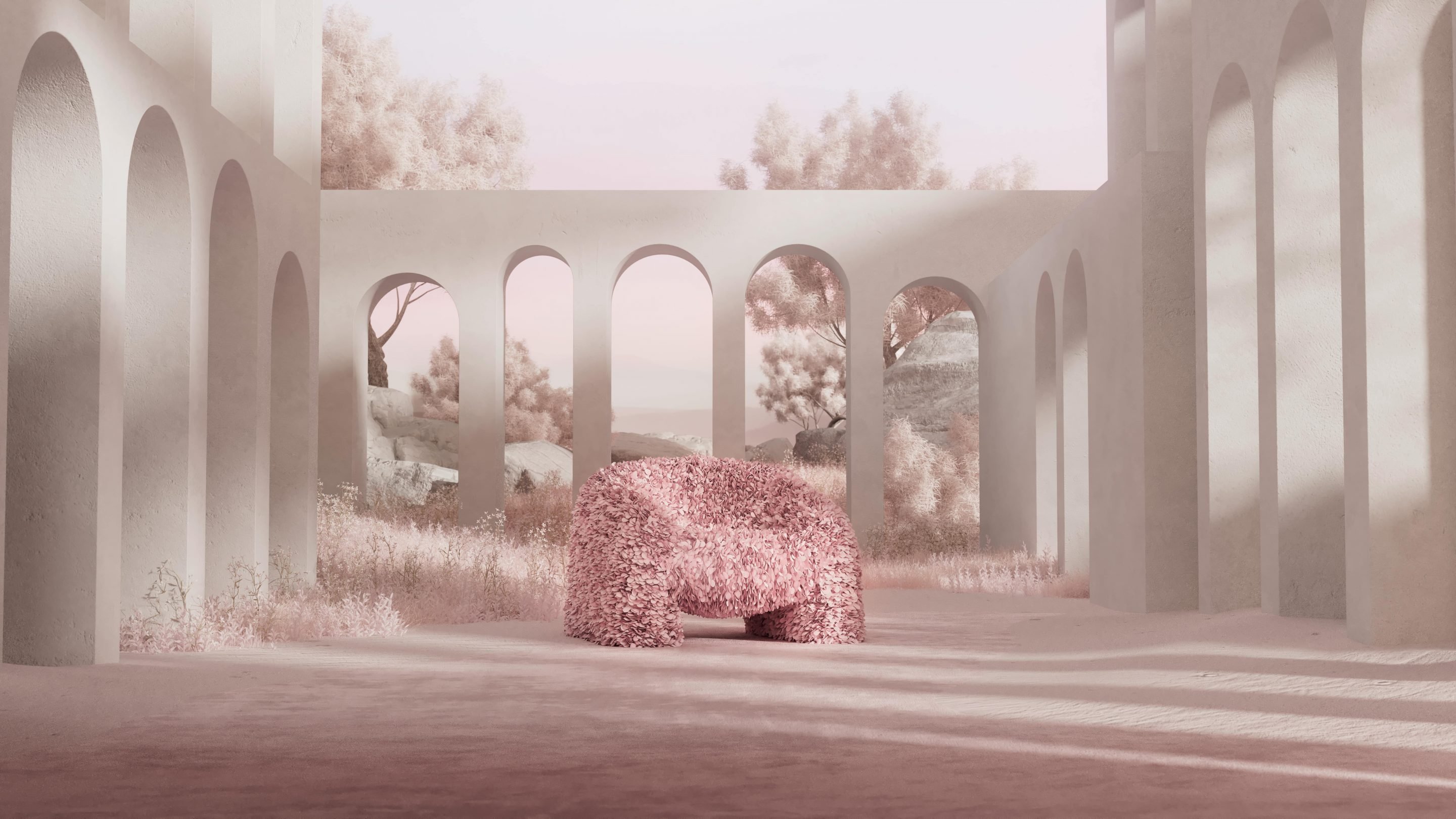 Translating the digital into the physical world can be challenging. If the former has limitless potential, this cannot so easily be said for physical designs. "In the case of the Hortensia chair, the challenge lay in the textile, the upholstery of the chair," Reisinger says. Mimicking the fluffy and hyper-tactile exterior while evoking the hortensia flower that gives the chair its name required a unique production process. "The chair was created entirely by local craftsmen, under our supervision with Júlia. The structure of the piece was made from wood which was covered by sculpted foam and finally we came up with a specific textile system that was upholstered all by hand," he continues—an assemblage of individual long strips of fabric laser-cut into pink polyester, and gathered together into clusters.
Reisinger is taking digital art one step further, into the art auctions realm
Reisinger is taking digital art one step further still—his mind-bending furniture has broken into the art auctions realm. As interest in virtual design continues to grow, there is a growing demand for the acquisition of virtual objects. This is thanks to the emergence of Non-Fungible Tokens (NFTs) which verify the authenticity and ownership of the artwork, much like a cryptocurrency transaction, allowing makers to create a digital origin and trade works on virtual platforms and marketplaces for a fee. A number of designers and artists have already sold their works as crypto art for up to six-figure prices; Reisinger is among them—his ten-piece virtual furniture collection titled 'The Shipping' sold in an NFT online auction for more than 450,000 dollars.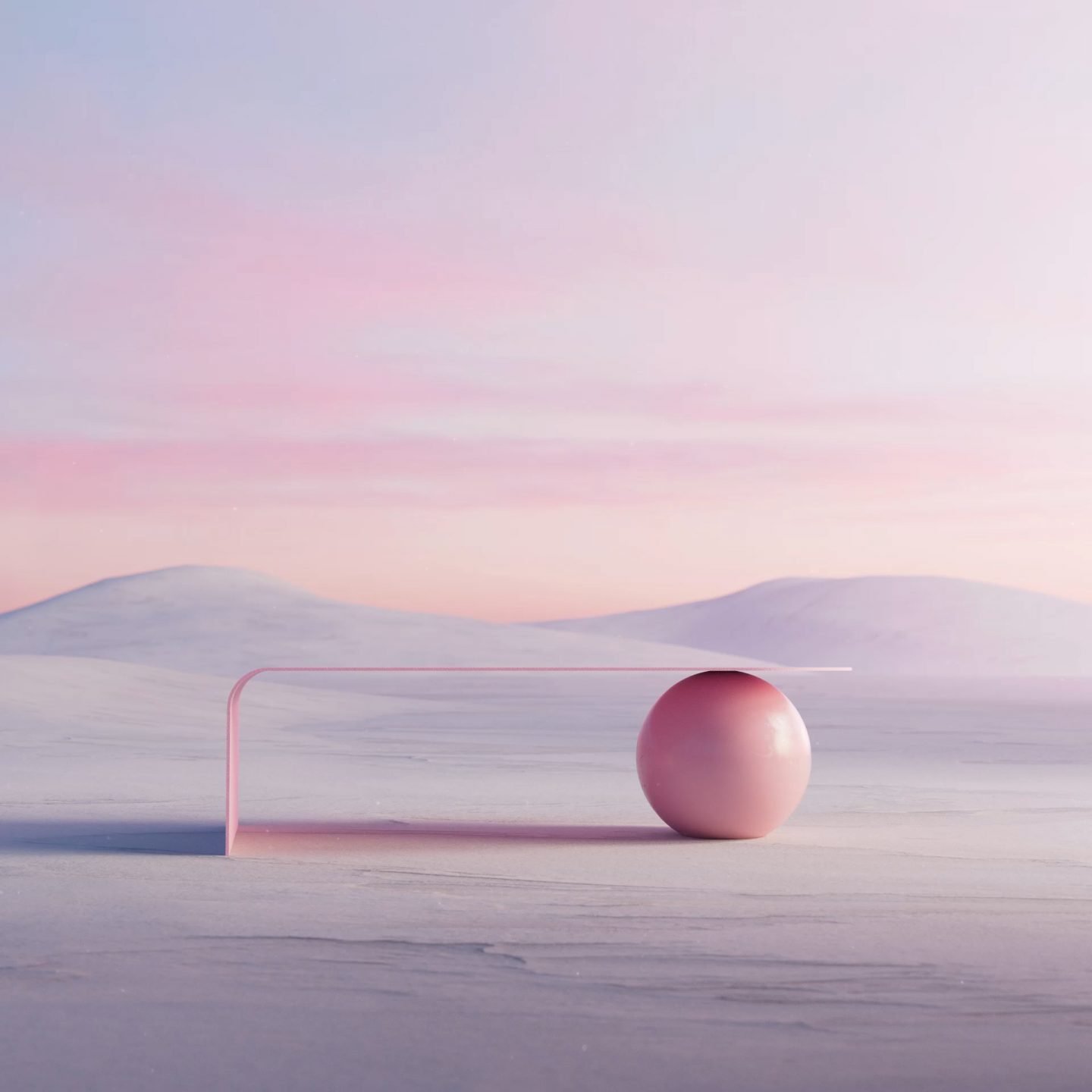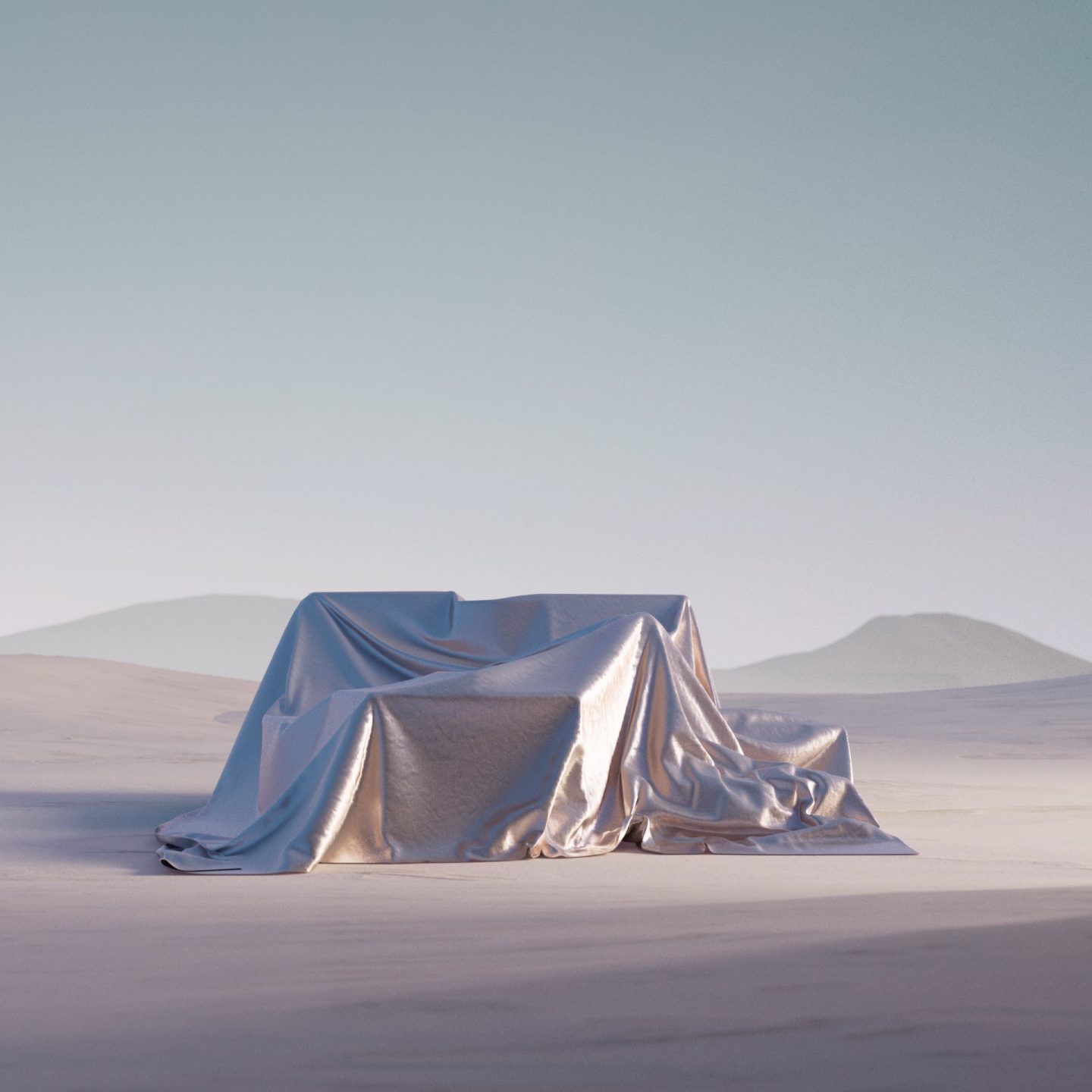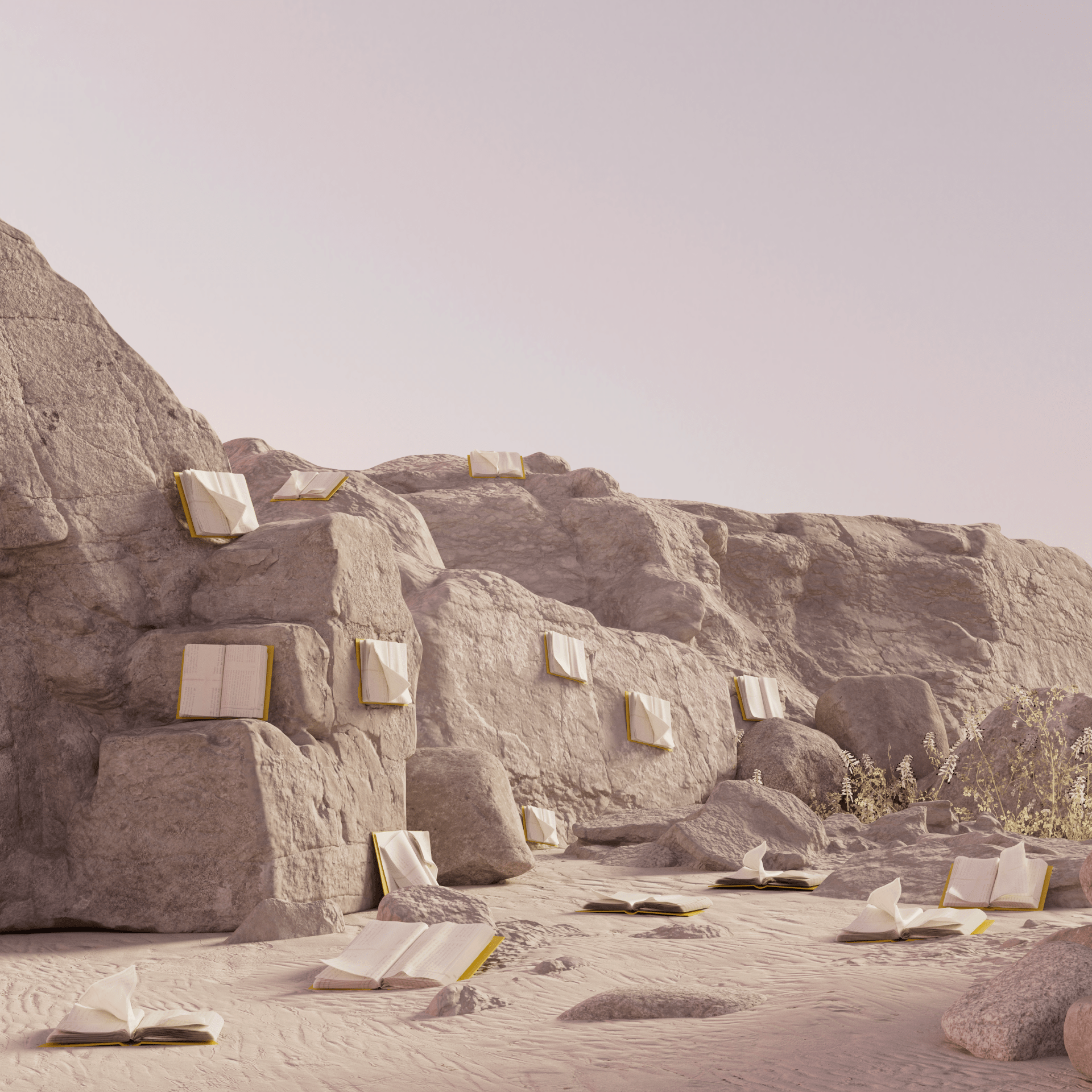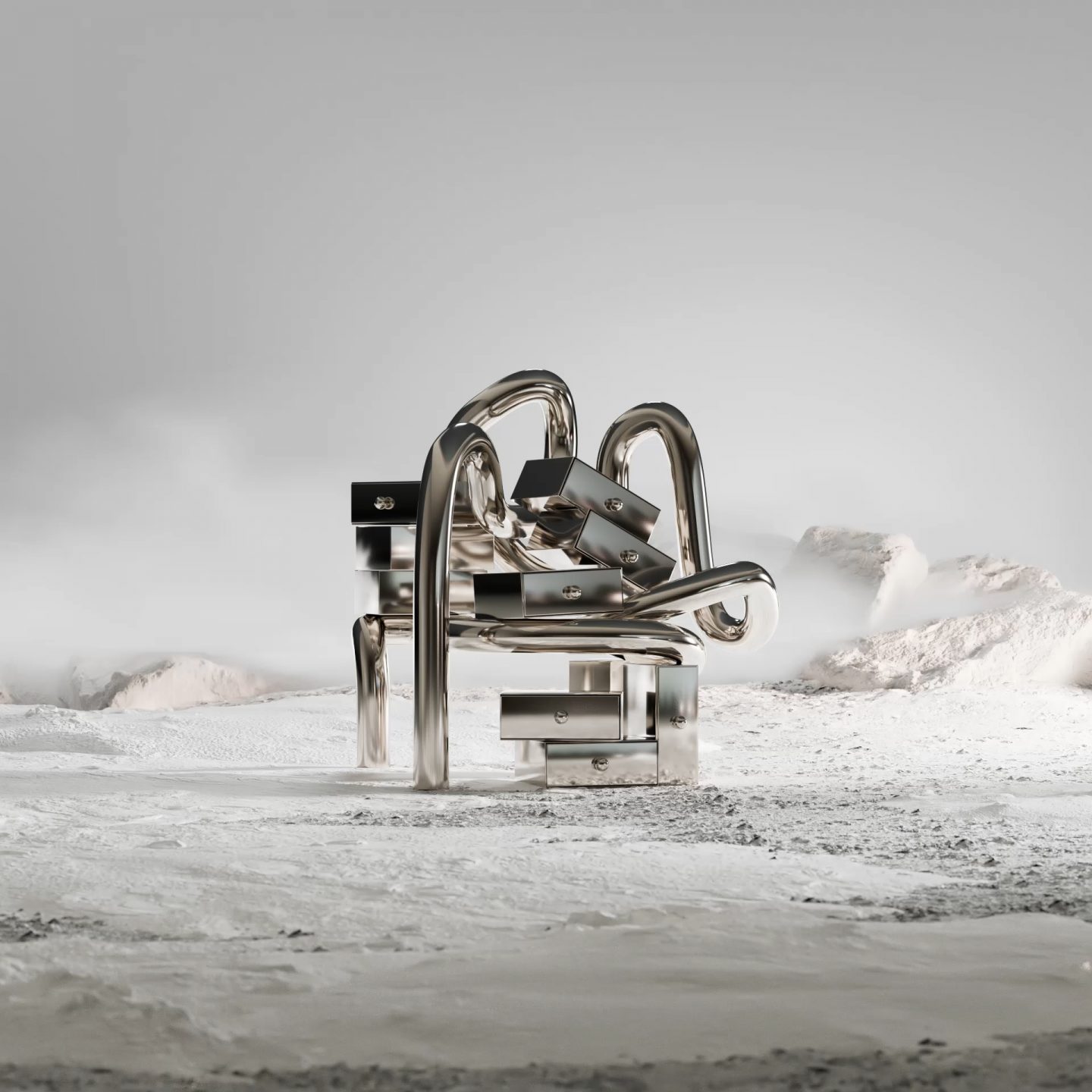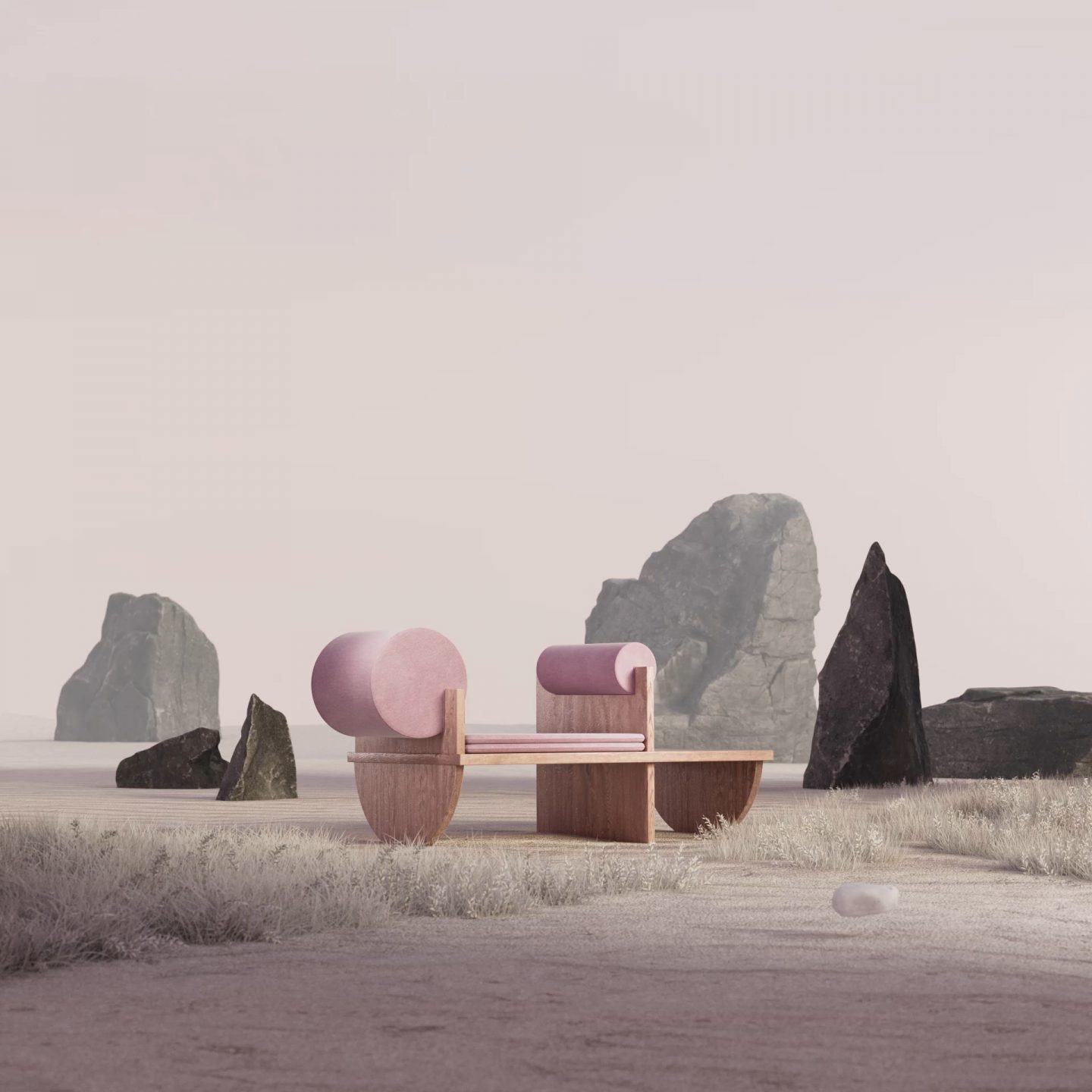 Available to be placed in any shared 3D virtual space and augmented-reality systems, his virtual creations can now be sold by their buyers for profit when demand is high. "My work manifests itself digitally. Selling it as digital assets using digital currencies made all sense," he explains. The auction was a first glimpse into Reisinger's ambition to expand the possibilities of our digital present—and an attempt to expand the experience of the material world into a new hybrid era of extended reality. "I intend to stay open and agile as the technology is constantly evolving," he says.
"Digital is a creative renaissance"
For Reisinger, selling digital art is only one part of the possibilities of the still emerging technology. "Digital is a creative renaissance," he asserts. "It has all the more potential to become comparable to the greatest fine arts masterpieces of our past and present time." As the physical and digital continue towards unity, how we create and experience art and design is already being rewritten.