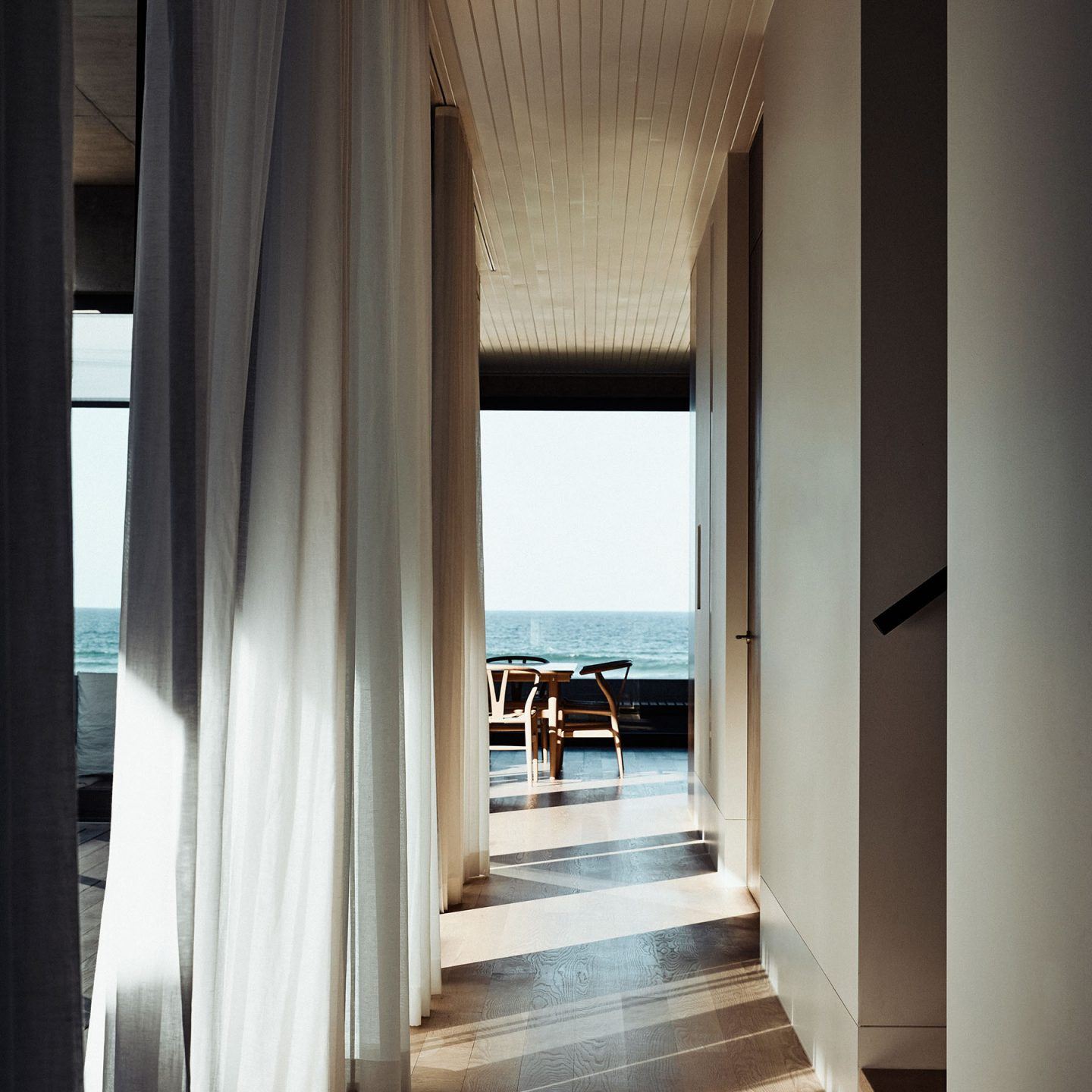 B.E Architects Design A Concrete And Wood Home On The Shores Of Australia's Mermaid Beach
Melbourne-based firm B.E Architects has designed a two storey home with geometric forms, comprised of two stacked volumes made from exposed concrete and wood. The beachfront property is positioned on the sands of the affluent Mermaid Beach on the Gold Coast in Queensland, offering its owners the prime opportunity to live the surfer lifestyle in full.
"The 'Mermaid Beach Residence' is a dialogue between architecture and the intrinsic human desire and emotional need for permanence; to put down roots," explains the firm of the project. "In contrast, the home is situated atop a beach which is impermanent, a place of both erosion and movement." The climate of Mermaid Beach is often prone to cyclonic winds, thunderstorms, and harsh sunlight and heat. The home's design needed to take such environmental factors into consideration, and protect the residents from the often volatile weather conditions while also providing privacy. At the same time, the clients desired an open, sun-drenched family home with ocean views and direct accessibility to the beach.
The exterior facade is a contrast of smooth and rough textured concrete, which is continued throughout the house as part of the interior finishes; its austere visual aesthetic is softened by natural timber joinery and furniture. The heat of summer is offset by thick walls that absorb excess heat, while the configuration of numerous openings with cross ventilation cools down the interiors. The minimalist finesse of the home's inside is representative of the clients' sophisticated design taste and their wish for unimpeded, open spaces. Large windows offer stunning views of the beach and swimming pool, rooms unfurl into internal courtyards, and the first-floor terrace overlooks the expansive coastline—factors that firmly anchor this Modernist home with the splendor of its oceanic surroundings.