For Berlin-based product designer Hanne Willmann, one of the essential functions of furniture is to create an emotional response in its users. While her works are characterized by a clear language of form, her philosophy toward creation paves the way for shapes that go beyond pure rationality. A few weeks ago, we visited Willmann in her studio to delve into her practice and learn more about her design process.
We enter the studio through a quiet backyard in the area of Berlin's Prenzlauer Berg, where Willmann is already waiting for us. In the main room, her team, currently consisting of four more designers, is working spread across three large tables. Some are doing quick sketches by hand, others are working digitally. The space has a modern vibe and is defined by an airy color palette composed of whites, soft greys, soothing tones of beige, and pops of pastel blue. Fresh flowers on the table add extra color. Finally, the shelves with carefully arranged material samples, 3D-printed objects, and several miniature versions of furniture (some of which we already know from Willmann's design portfolio) make it clear that we have arrived at a creative playground.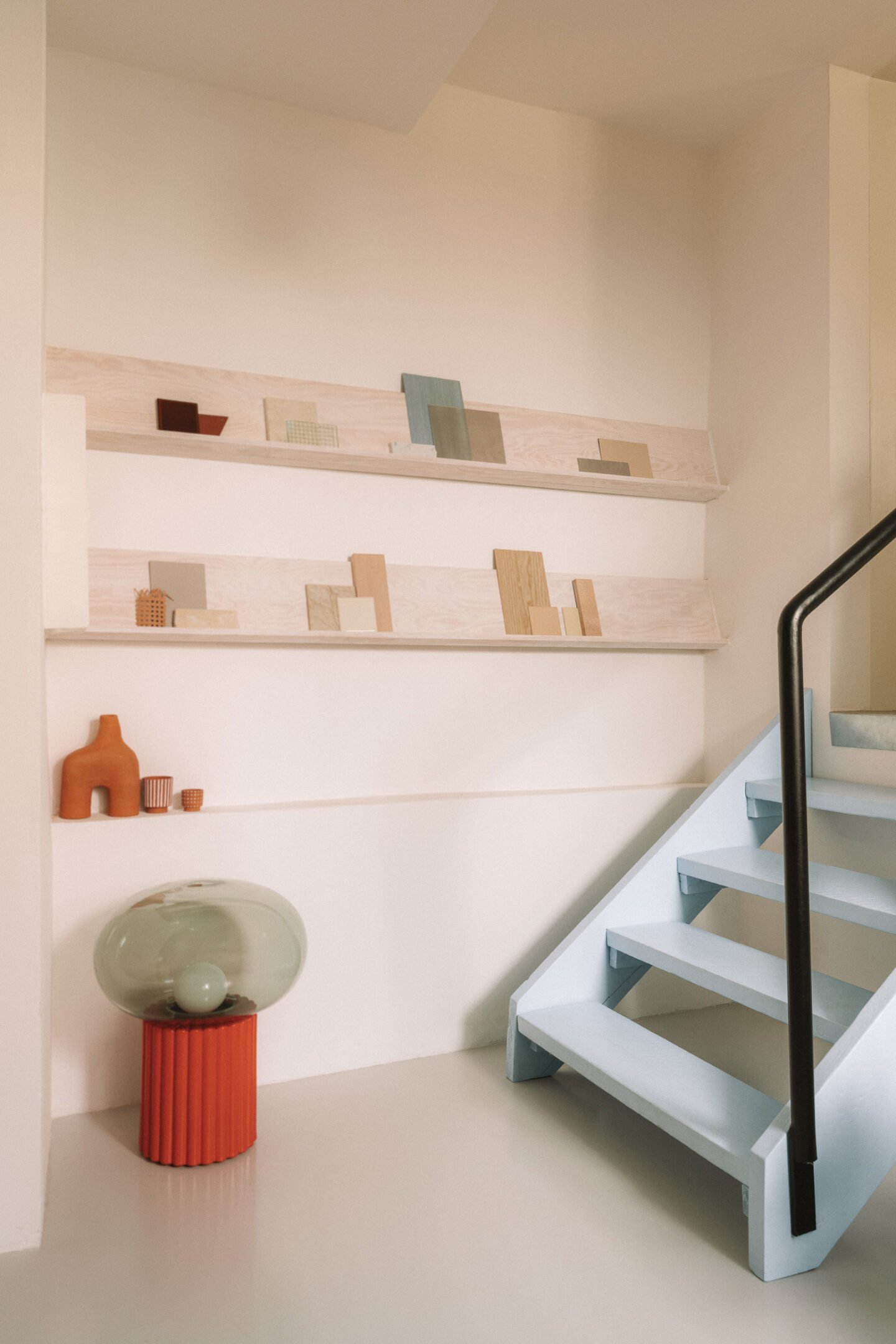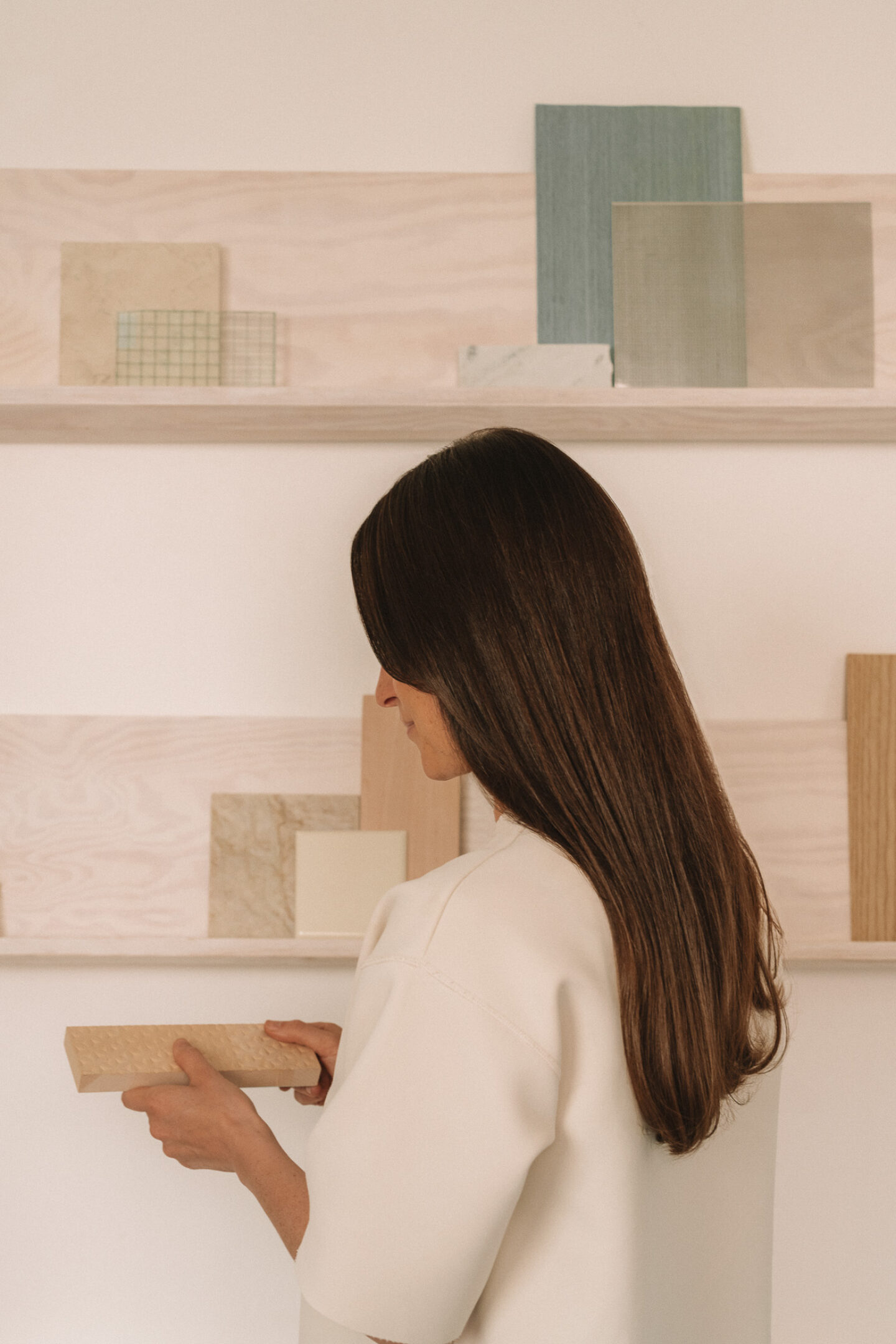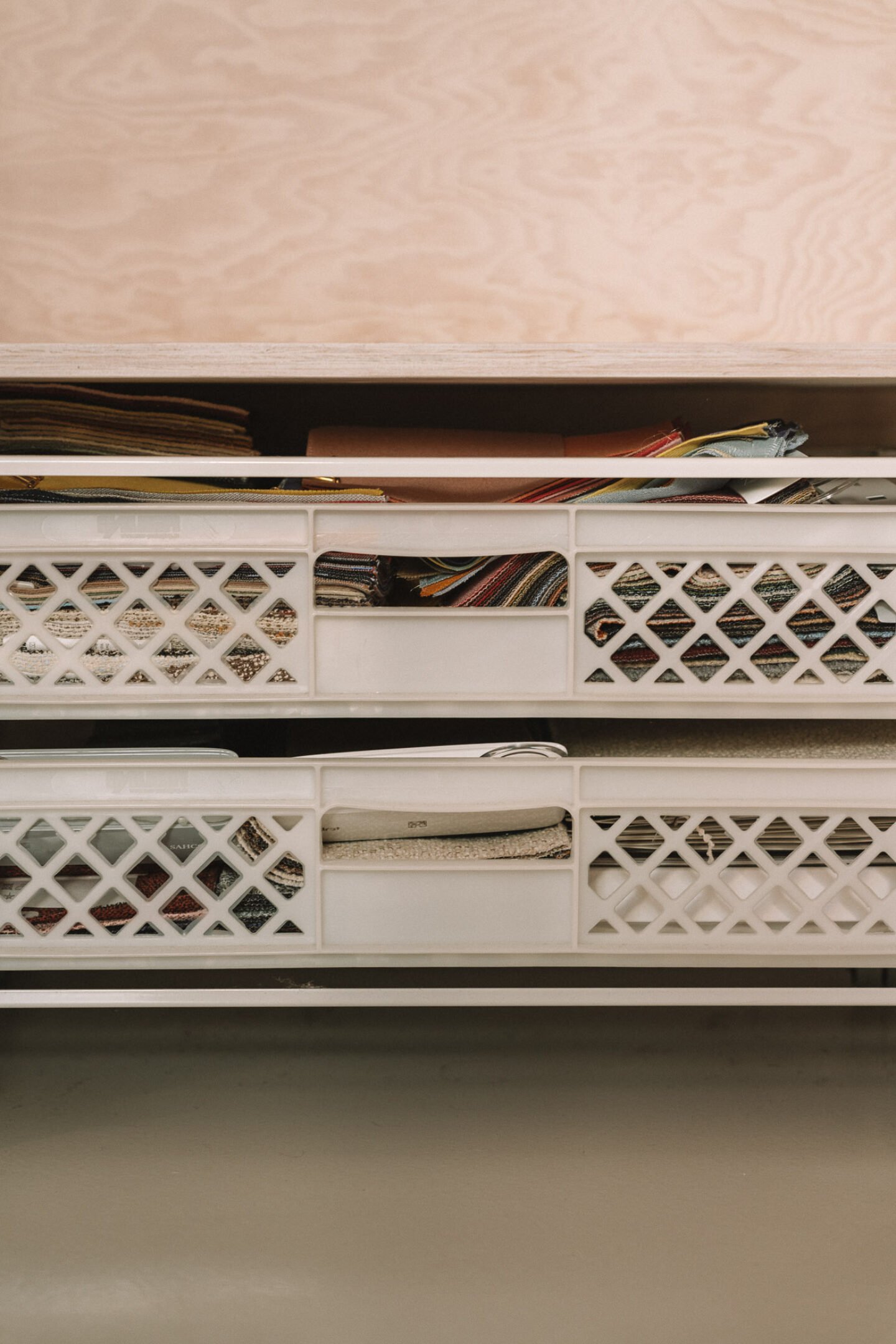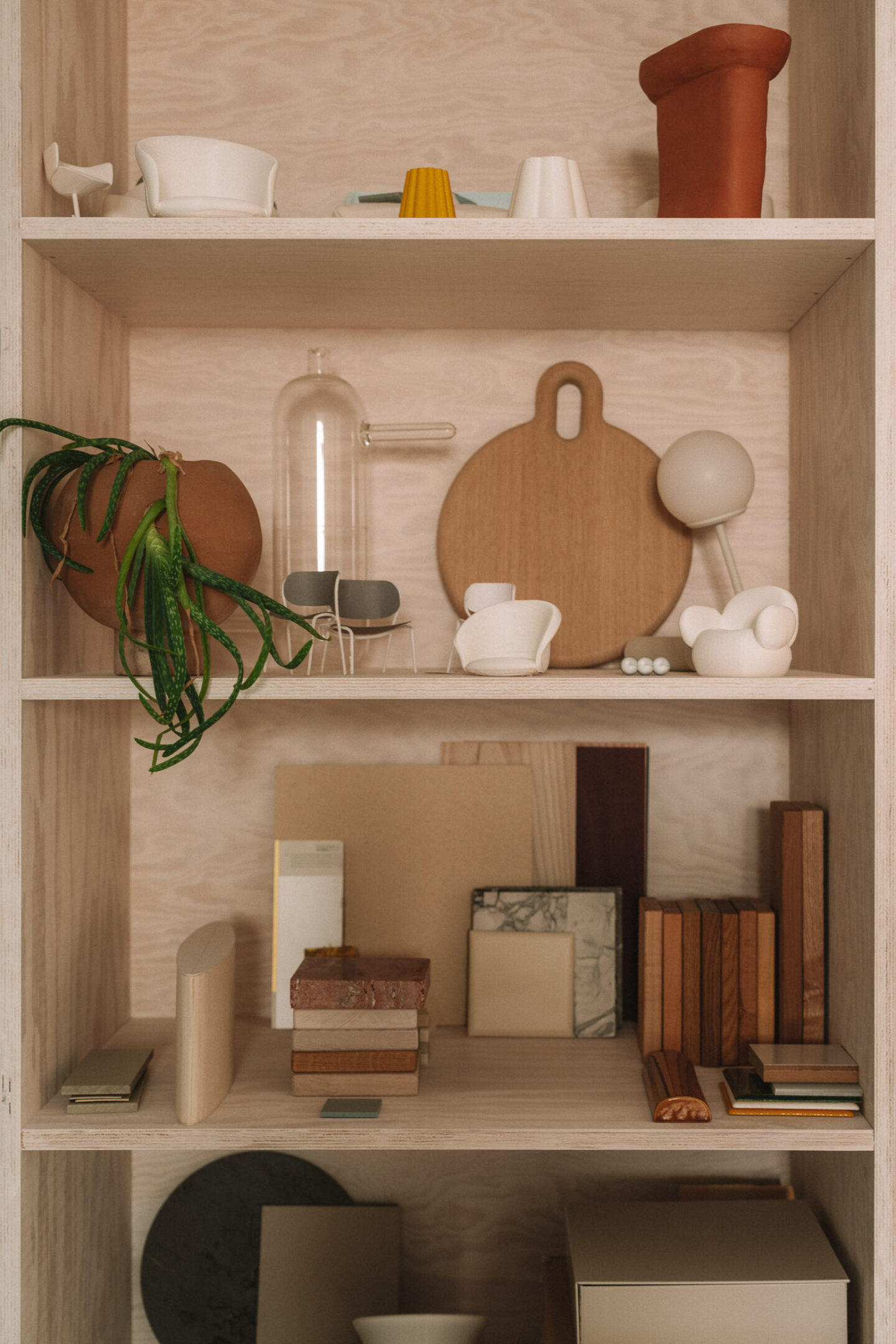 Even from a young age, Hanne Willmann was always interested in solving the little problems she encountered in everyday life. She, for example, tells us about her childhood endeavor in which she tried to improve the closure of tetra packs; a curiosity that seamlessly guided her into the world of design. "There was never a point where I said, 'I want to be an industrial designer.' It was always clear that I wanted to be in that field, and working with furniture was always the part I enjoyed the most," she explained. Her first design, the Willmann Vase—a vase combining a glass base with a contrasting concrete cylinder on top—was produced by the Danish label MENU while Willmann was still a student. Since opening her own studio in 2015, she has designed an extensive range of products. In collaboration with various international brands such as Schramm, Schönbuch, Favius, Woud, or Interlübke, she has created objects ranging from lamps to beds and armchairs, just to name only a few.
"Every design is a symbiosis between my creative vision and the needs of the client I'm working with."
While Willmann's creations are unified by a clean design language and her passion for simplicity, the designer is devoted to finding solutions that turn something relatively rational, like an office table, into a more appealing and inviting object. Through her process of considering the practical, physical, and sensuous components of a design with equal attention, Willmann creates products that beautifully balance functionality and emotion. However, she emphasizes that each project is different as it is always the result of a collaborative process with the client. "Every design is a symbiosis between my creative vision and the needs of the client I'm working with. The final design is greatly influenced by this collaboration and the creative freedom available during the process. The latter often, but not always, depends on how big the production of the design will be," she explains.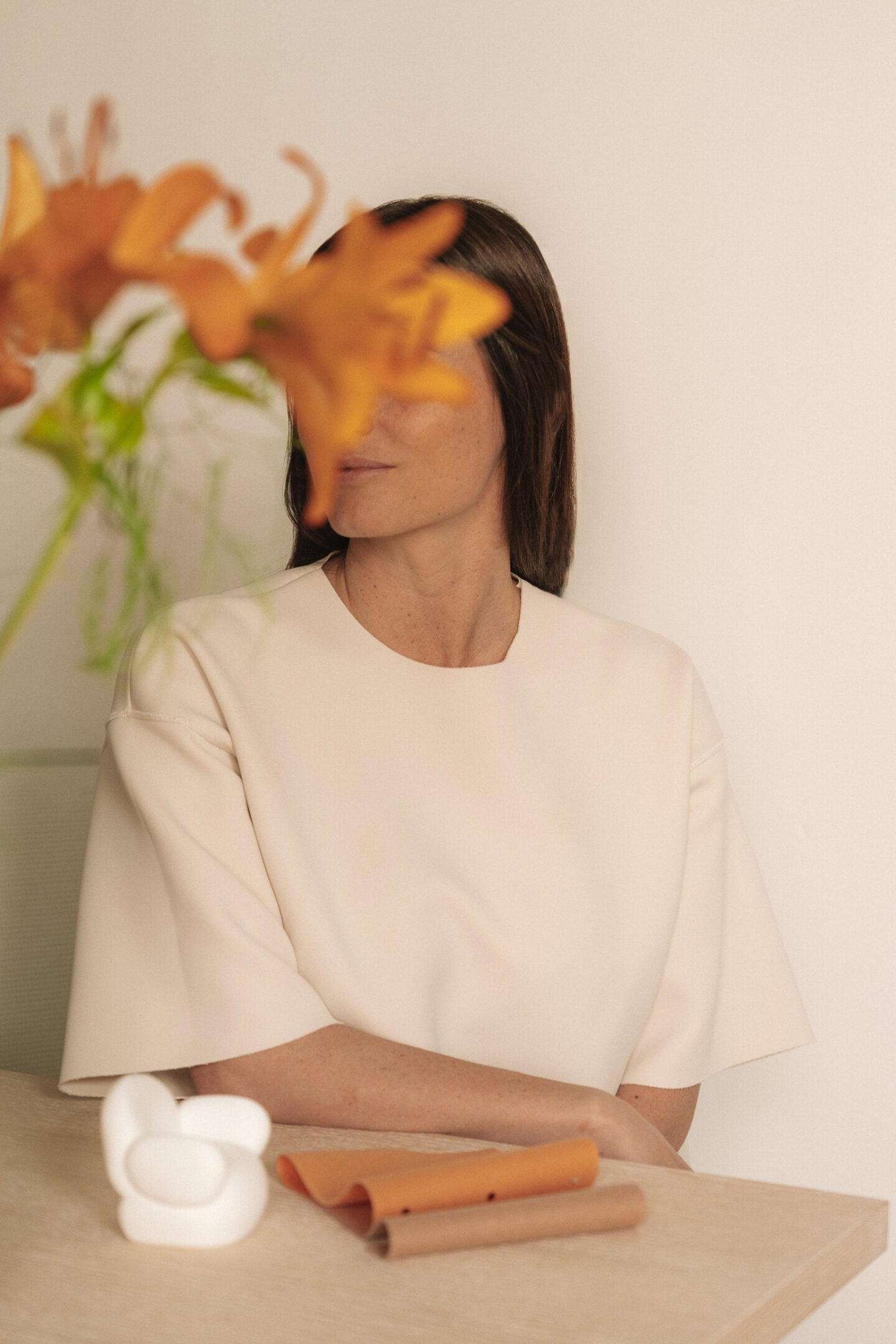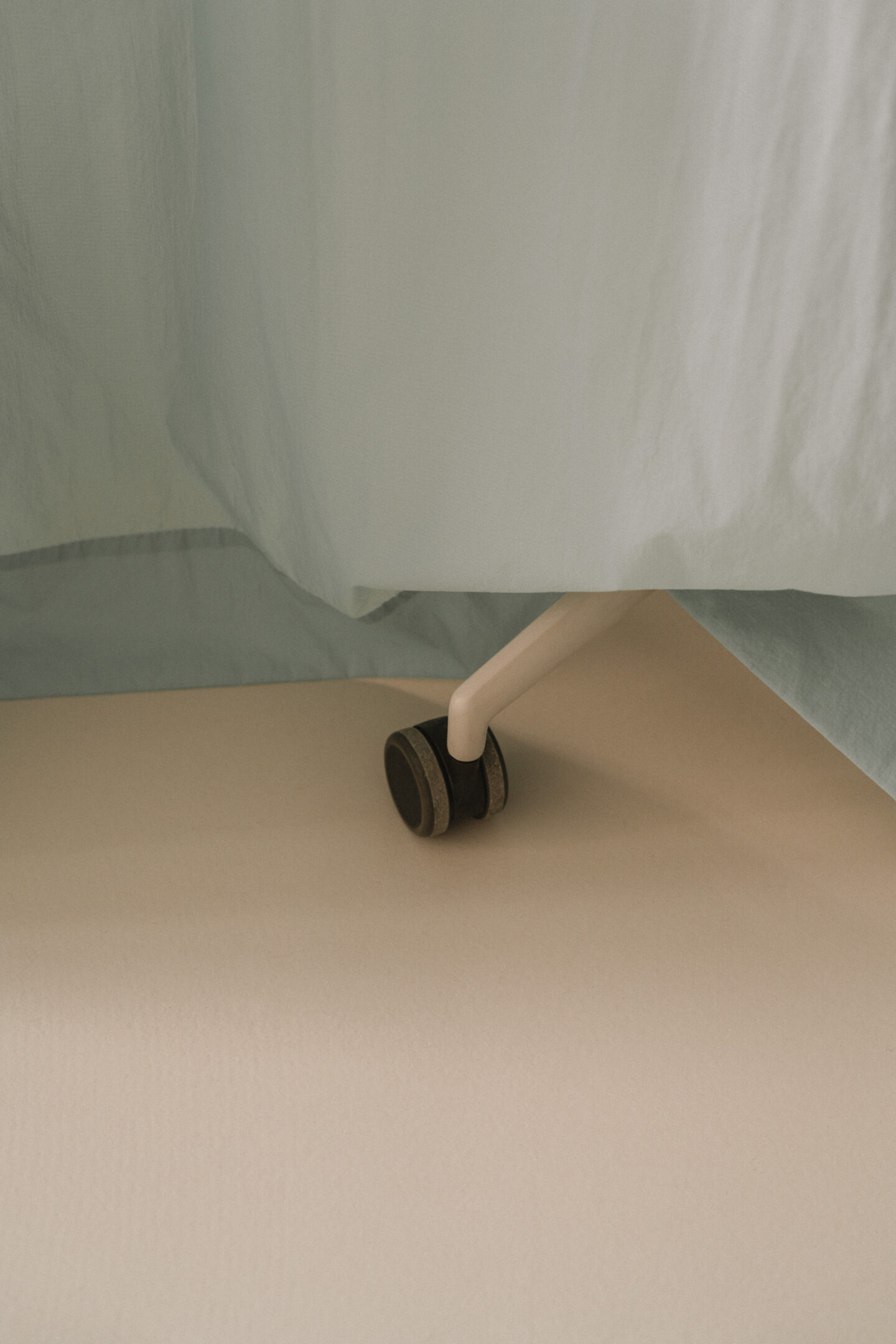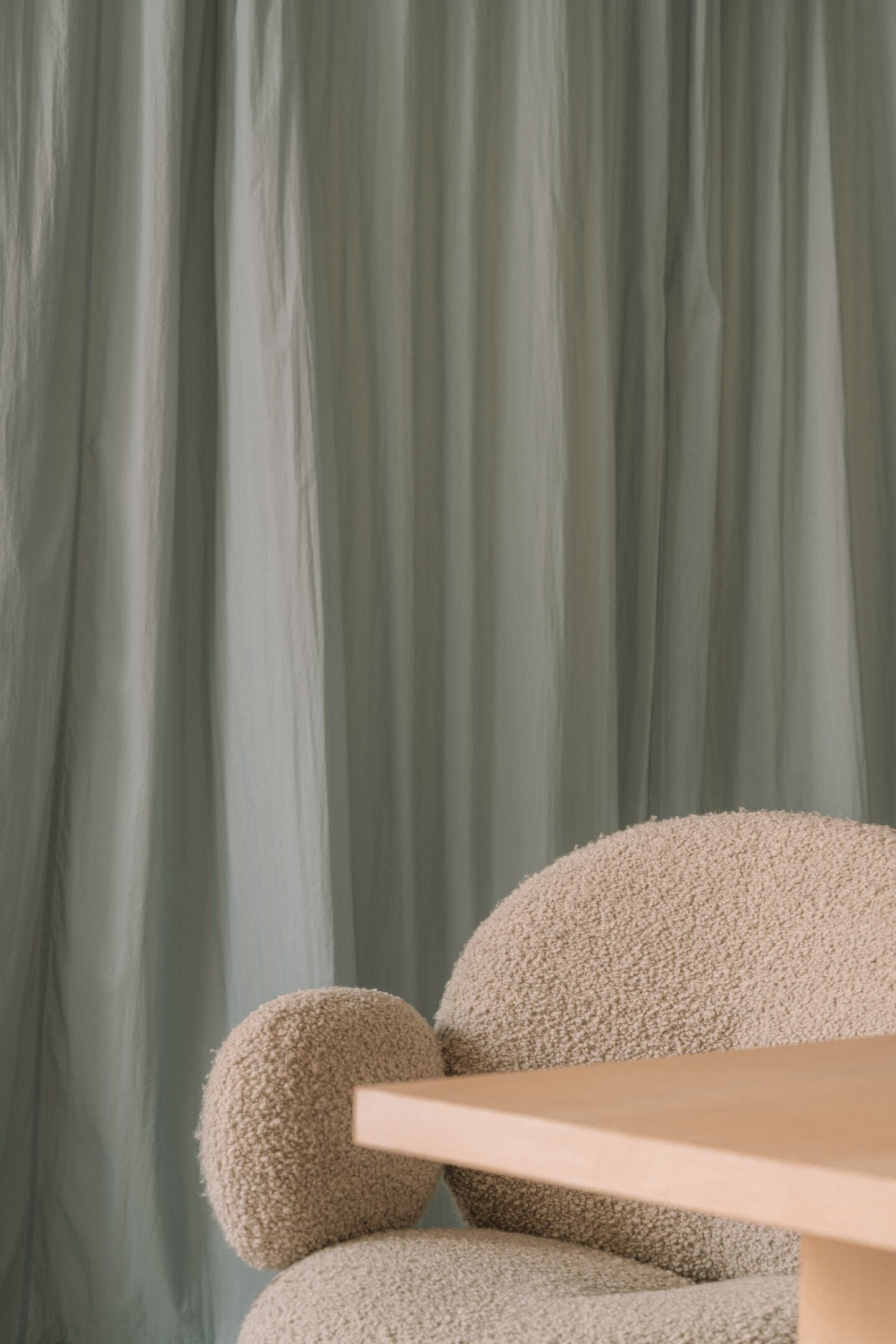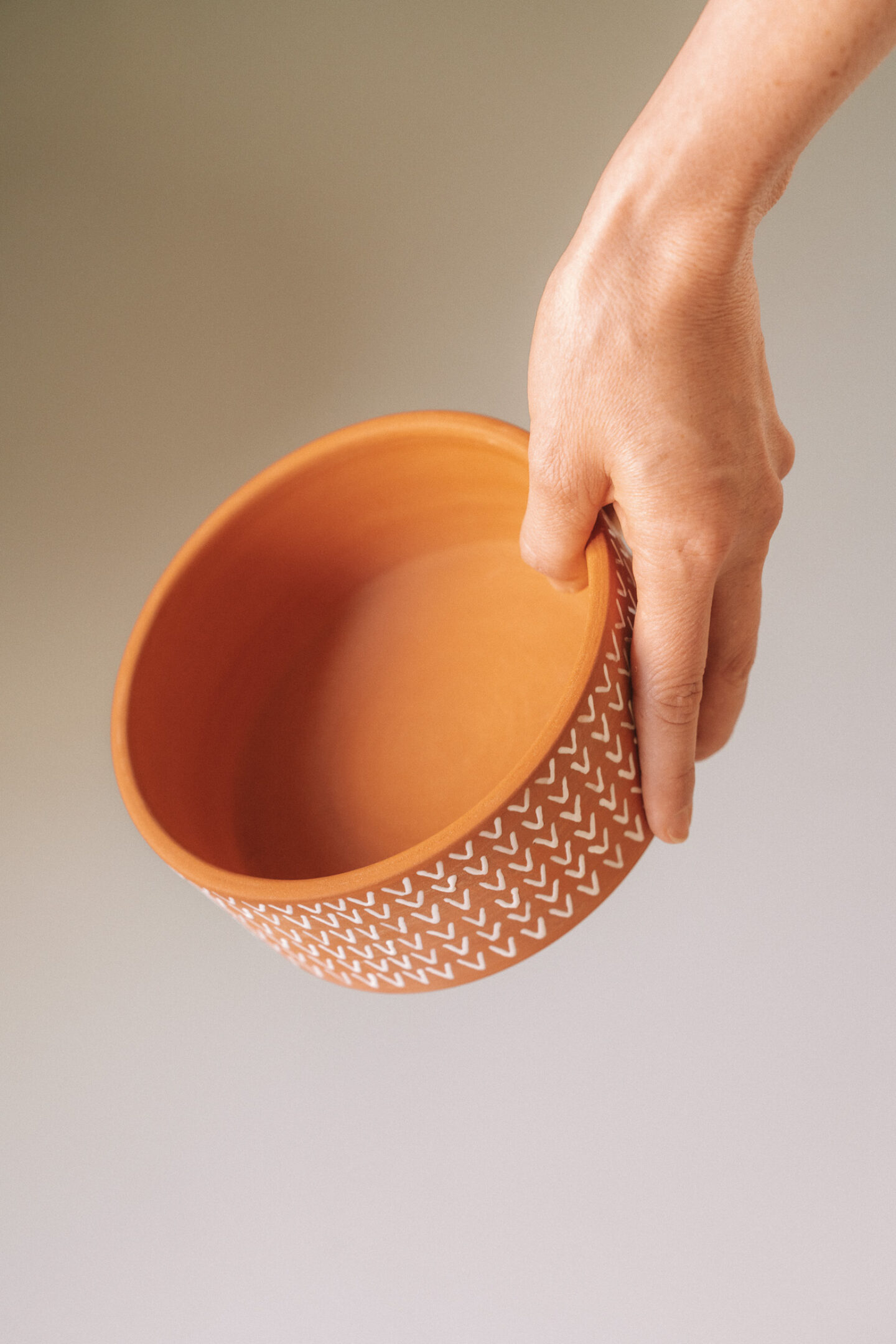 Moving around in the studio, we spot various prototypes and models of her creations. We see two versions of the Bromo Table, an elegant side table featuring a ceramic base that poetically plays with round shapes. The tables stand in dialogue with the Tray Shelf right next to them: A minimalist shelf consisting of a delicate black metal frame and several inlay shelves from natural and dyed oak.
"The early stages of being a designer are challenging as you strive to establish your reputation and try to fit in."
Looking at Willmann's earlier designs, such as the above-mentioned shelf or the vase, and her more recent works, like the Bromo Table, we can witness an evolution toward softer, more playful shapes and colors. When asked about this development, Willmann tells us, "When I started my studio, I was quite young and still exploring my identity as a designer. Back then, my designs leaned towards minimalism and a more reduced language. Perhaps, it was an attempt to find my place in the industry." She goes on to say, "The early stages of being a designer are challenging as you strive to establish your reputation and try to fit in. As you get more successful over time, however, clients become more receptive to your ideas. If they see that things are working out for you, you also gain more freedom in your designs."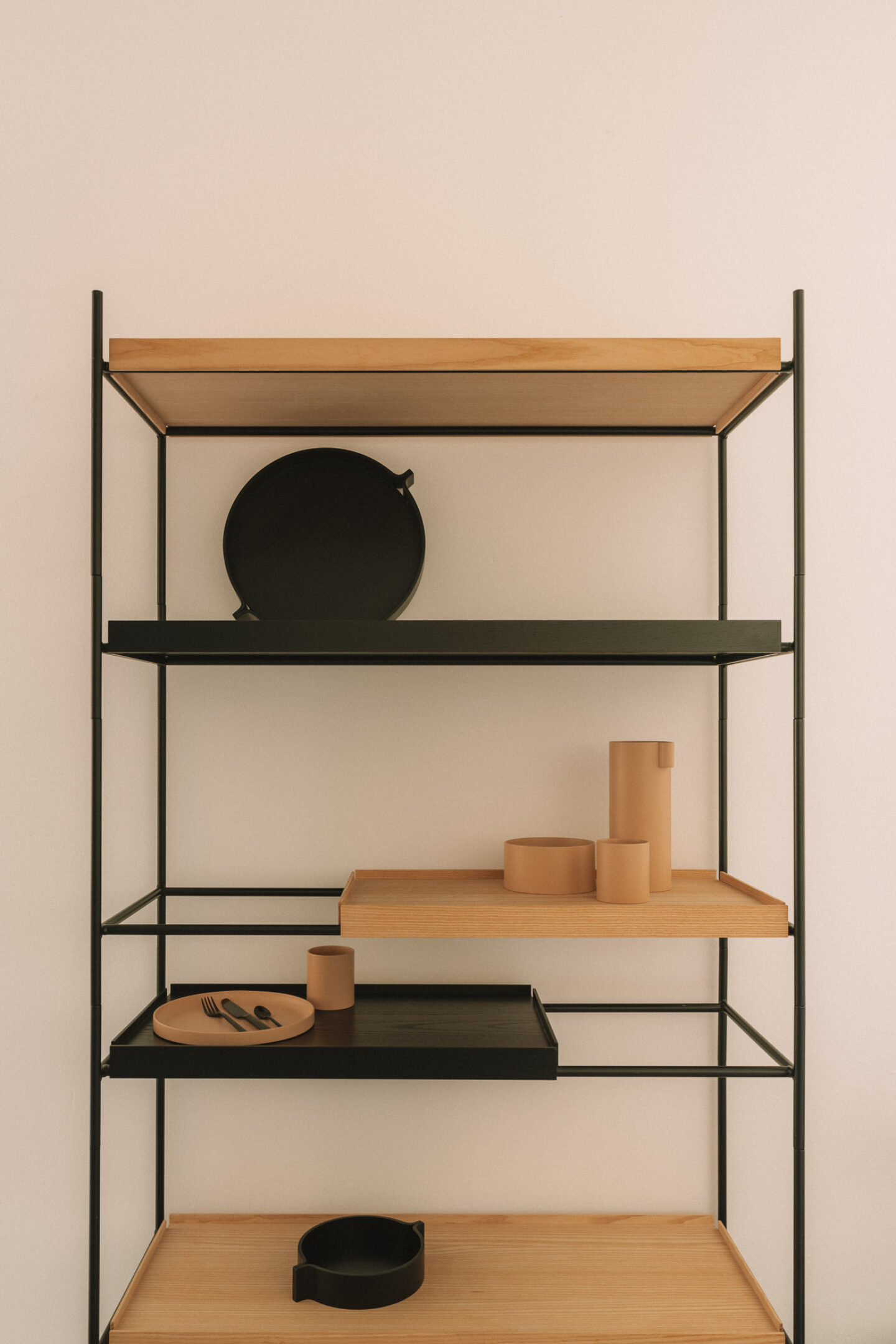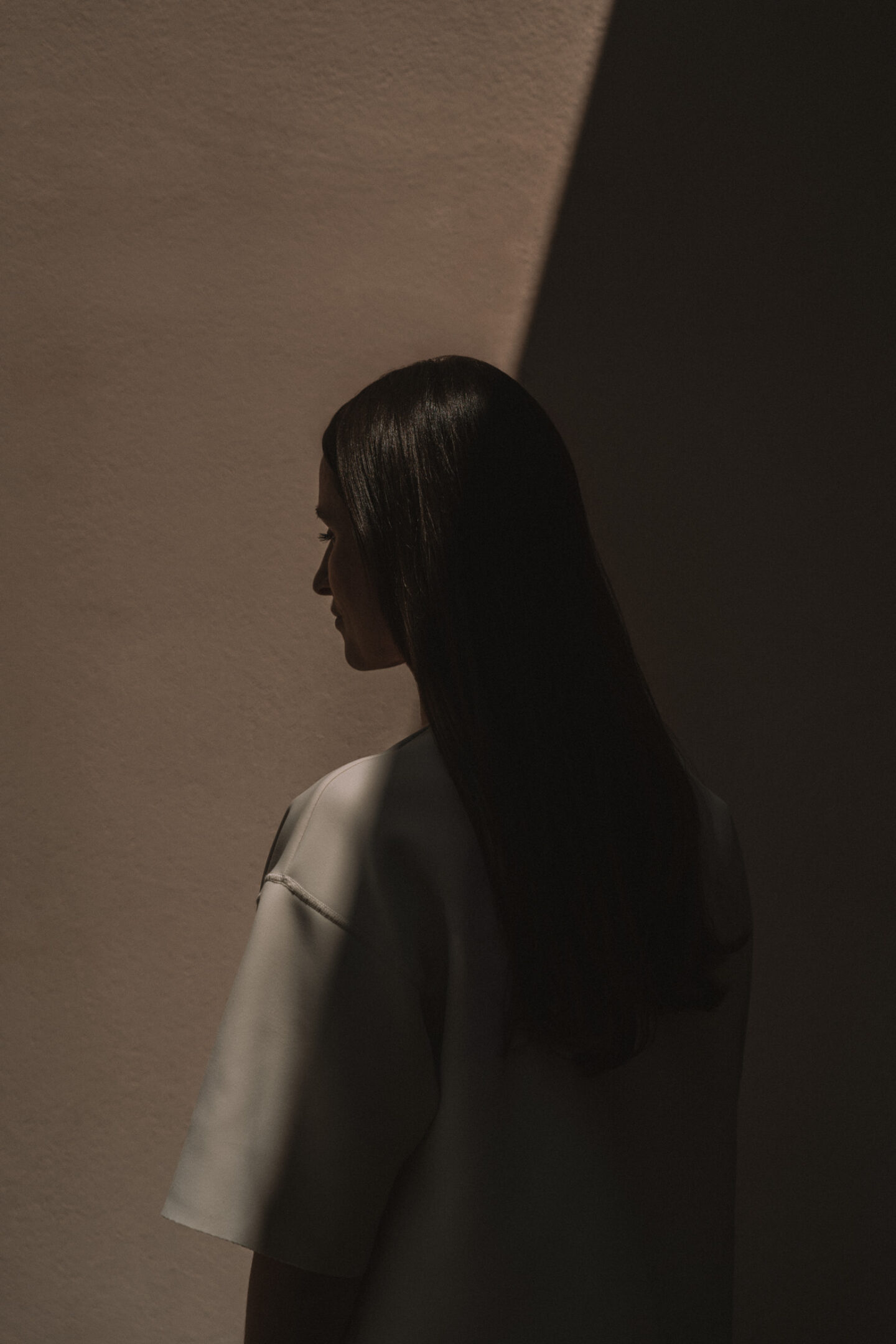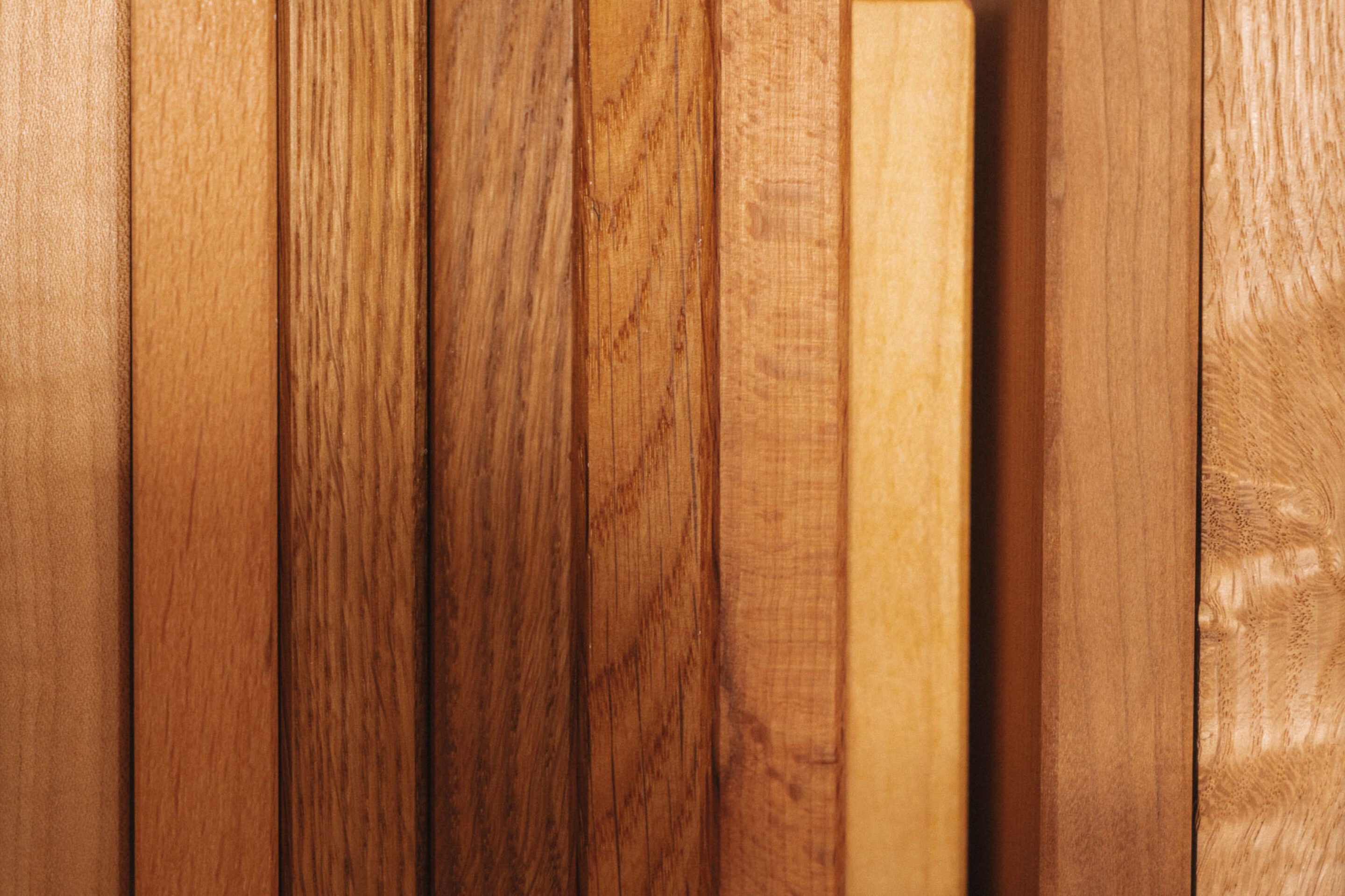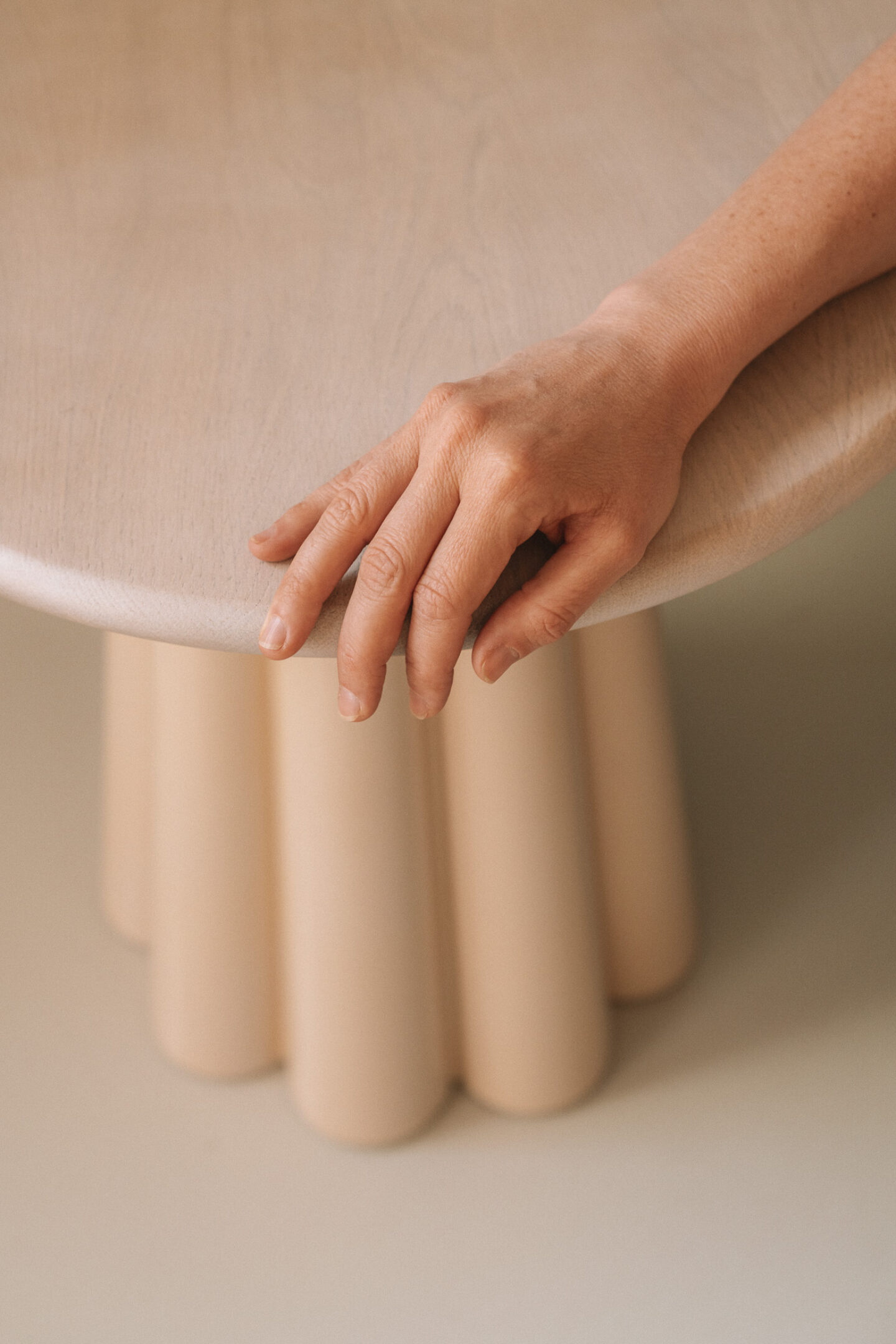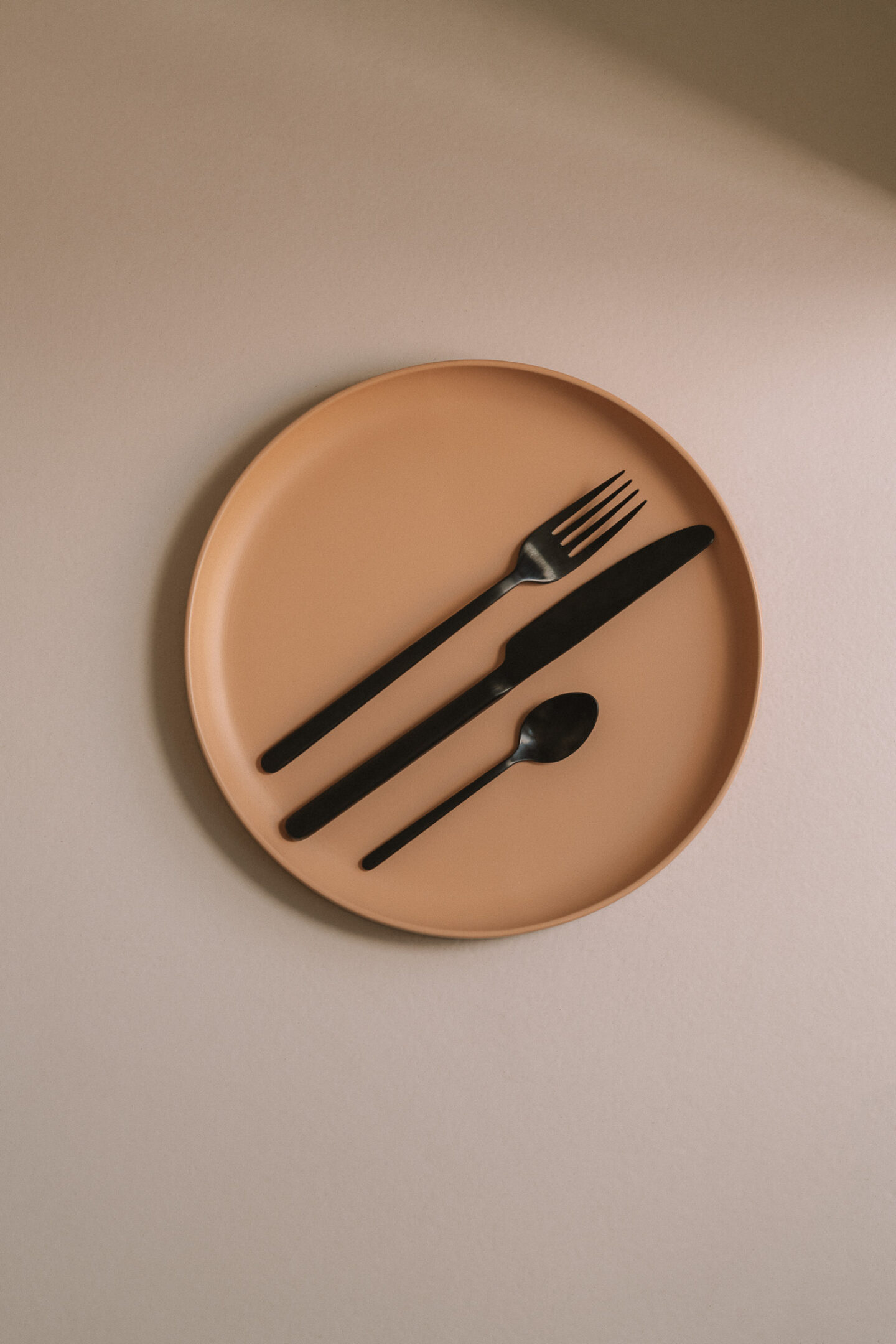 "When you sit in an armchair or a sofa, the material forms a symbiotic relationship with your body."As we walk up the small staircase opposite the entrance, we reach the second level of the studio. From here, we spot a round shape peeking out from the back of the room. By its distinctive form, we recognize it as part of the Nana Love Seat—one of the studio's latest creations. "The Nana Love Seat is a product we created for the manufacturer FreiFrau, who gave us a lot of freedom in designing it," Willmann tells us. It is an upholstered armchair with a voluminous seat and back- and armrest. While the round shapes of the Nana Love Seat are reminiscent of clouds, its clean and balanced character still communicates elegance. It is the perfect example of how soft and emotional design can be straightforward and without frills.
When discussing this particular product, Willmann shares her fascination with upholstery. "I love working on upholstered furniture because it involves more than just form and rational utility. The material itself carries a lot of emotionality," she continues. "When you sit in an armchair or a sofa, the material forms a symbiotic relationship with your body. For a designer, this provides an additional dimension to work with," she explains. "You must consider not only aesthetics but also physical and emotional associations. How does sitting on the sofa make me feel? What memories or sensations does it evoke? The possibilities are vast, and I think it's great when a sofa not only meets your expectations when you sit down on it but when it exceeds them."