Technology, architecture, and art combine as influences in the iconic designs of German industrial designer Konstantin Grcic. During the global pandemic, on a humid August afternoon we visited his studio in Berlin's Schöneberg district to meet the world-renowned designer in real life, and to see the ingenuous new 'Bell Chair' he has created for Italian furniture brand Magis.
Grcic's studio operates in a diverse range of fields, including industrial design projects, exhibition design, and architectural collaborations. Functioning as an office space for his team of three designers and studio manager, the third floor open-plan room is bright and furnished with samples of his many designs, along with hundreds, if not thousands, of books lining the back wall. The overall energy of the studio is relaxed, friendly, and professional—an ideal mood in which to lead a fascinating conversation with Grcic about how the objects we use impact us. He is one of a small group of industrial designers, alongside the famed French Bouroullec brothers and English Jasper Morrison, who use high-tech materials to develop mass-manufactured products on a global scale. Characterized by technical sophistication, geometric forms, and interesting angles, Grcic's designs are considered classics and are exhibited in some of the world's most iconic museums, including New York's Museum of Modern Art and The Centre Pompidou in Paris.
Grcic is one of a small group of designers who use high-tech materials to develop mass-manufactured products on a global scale.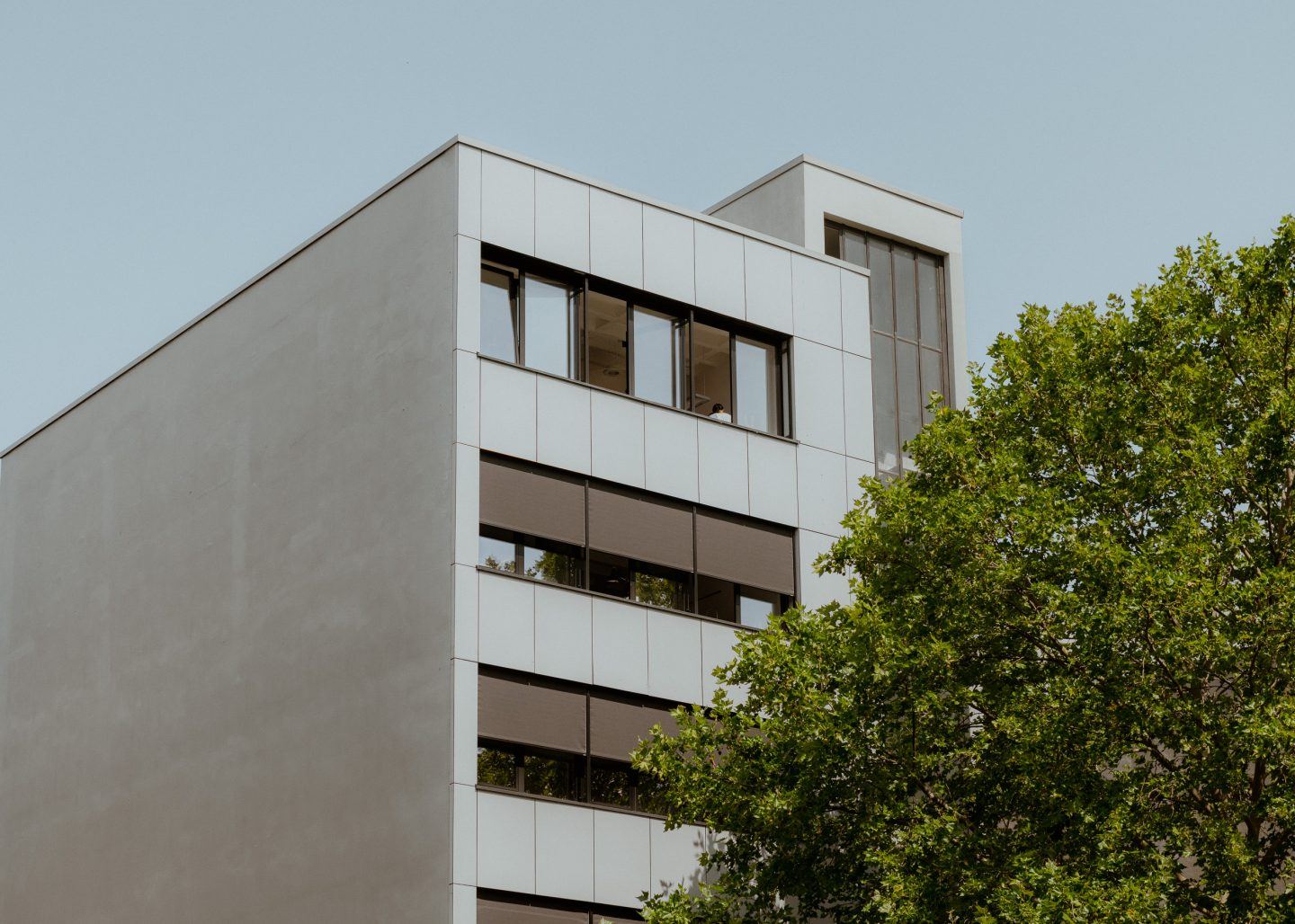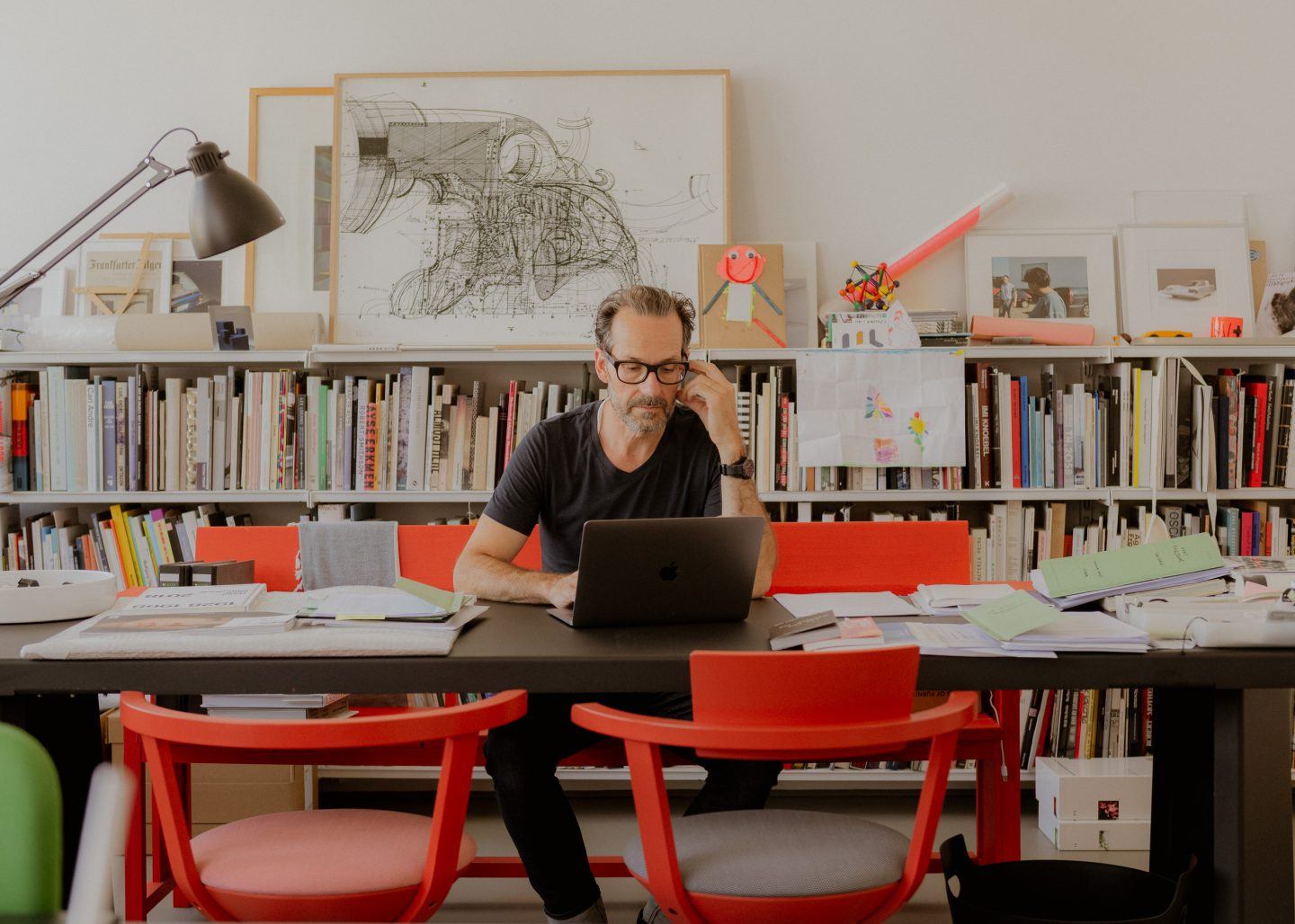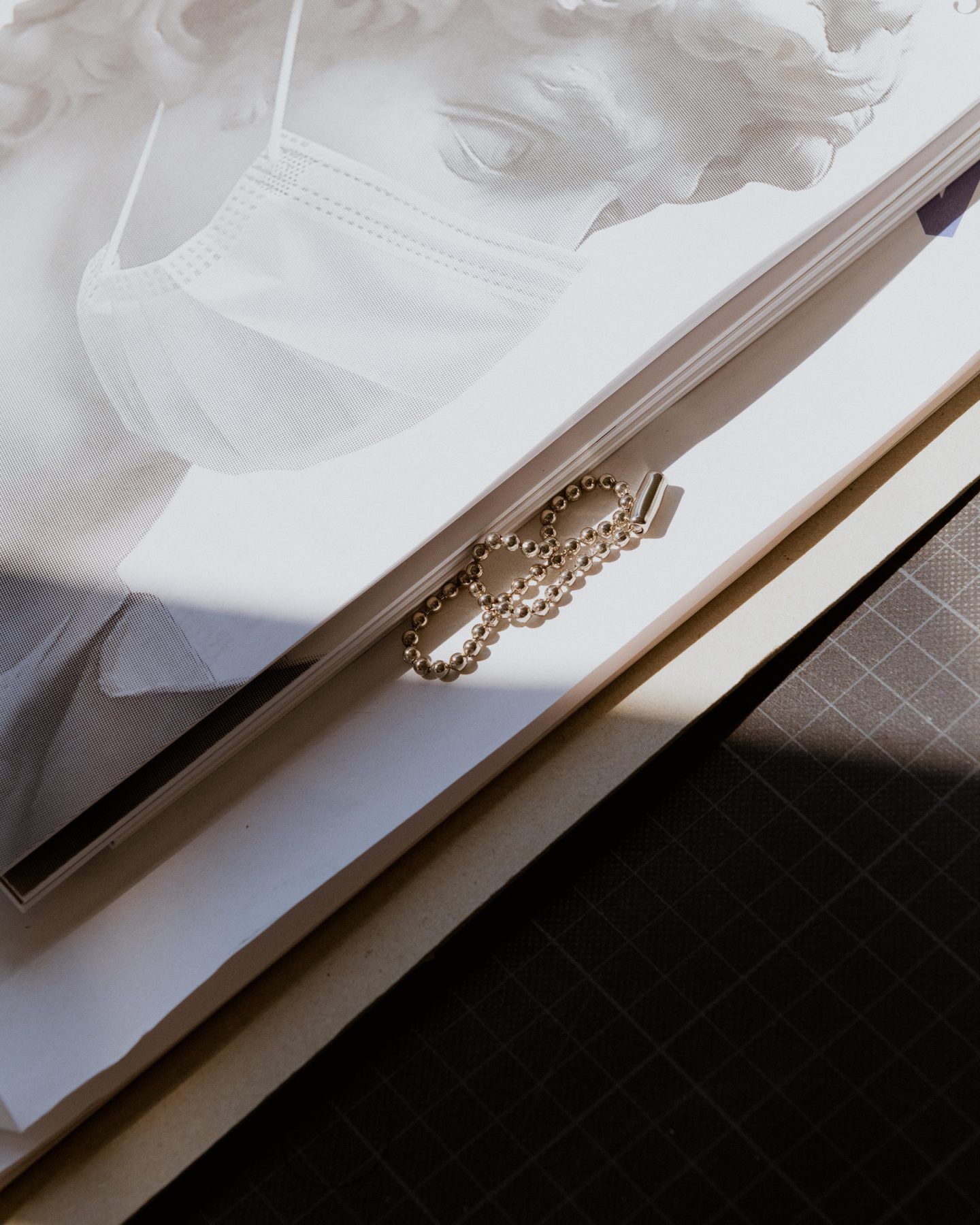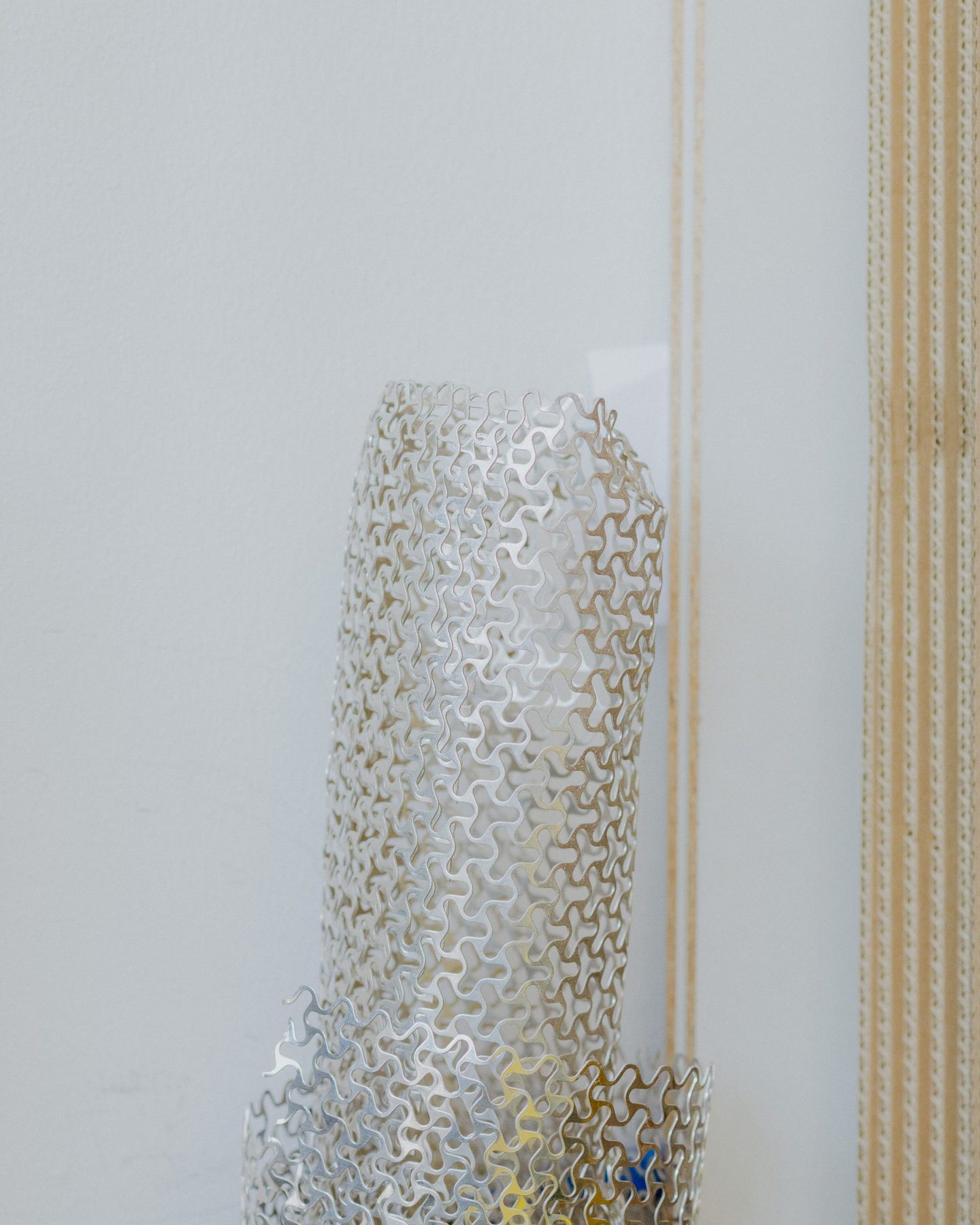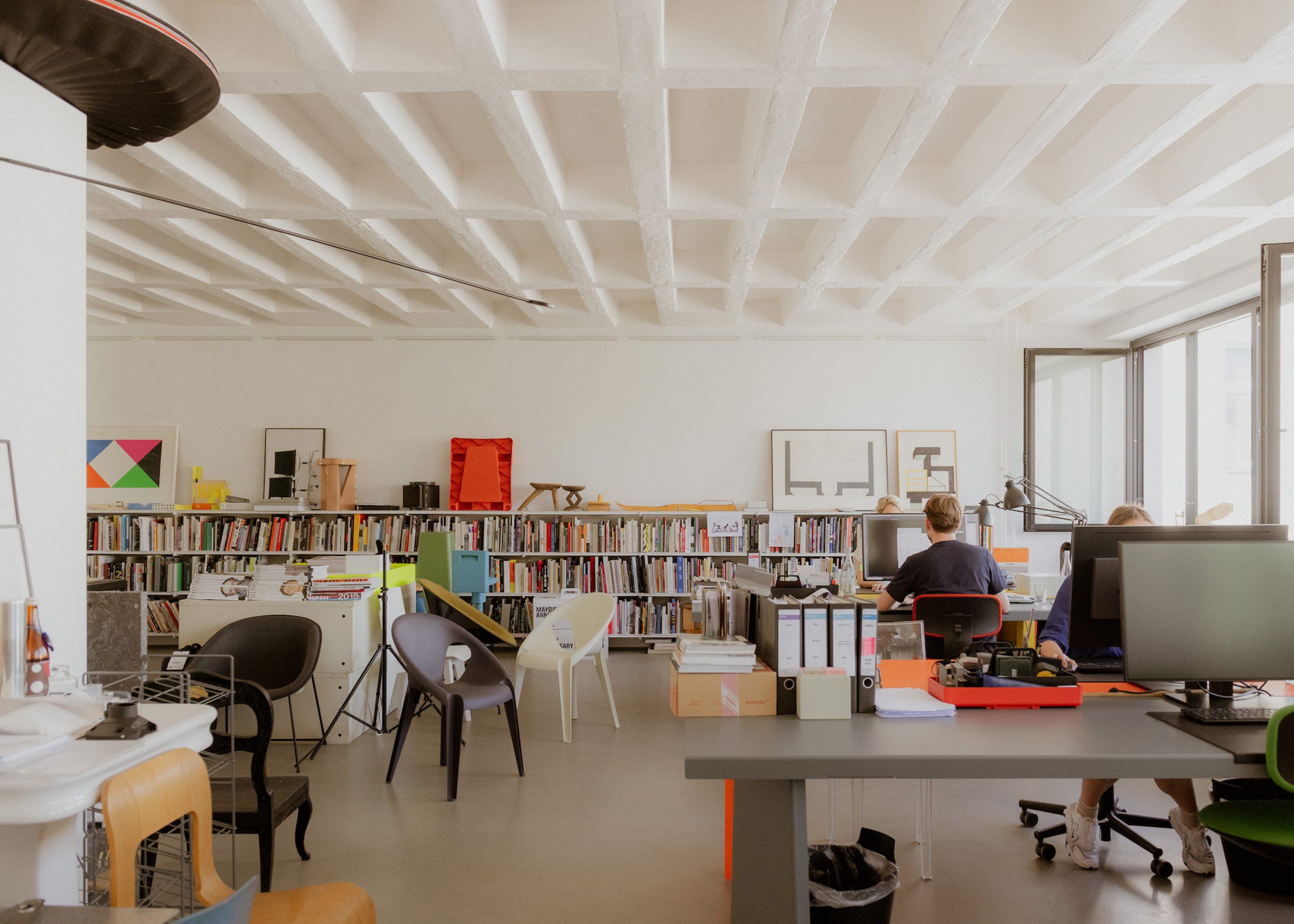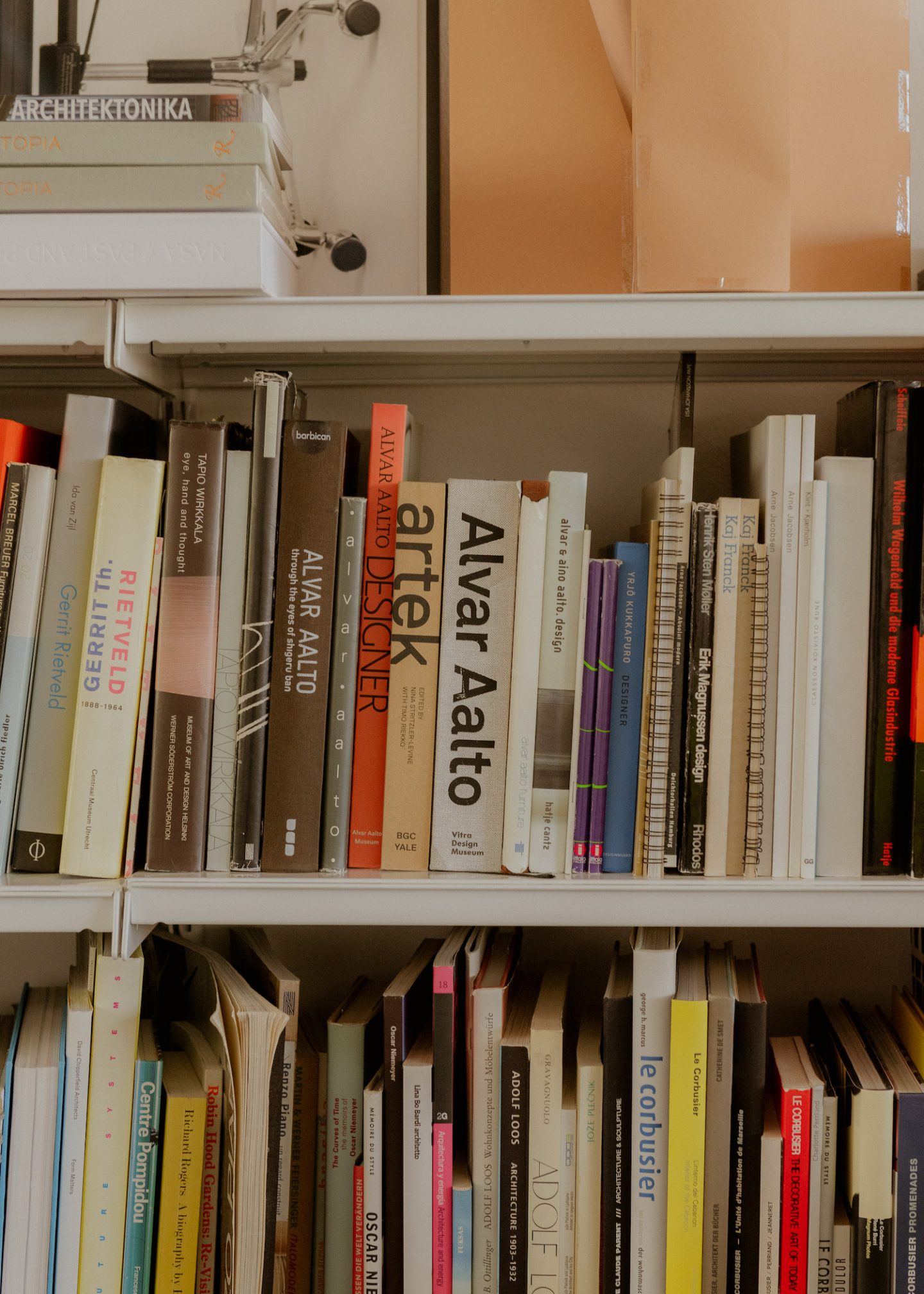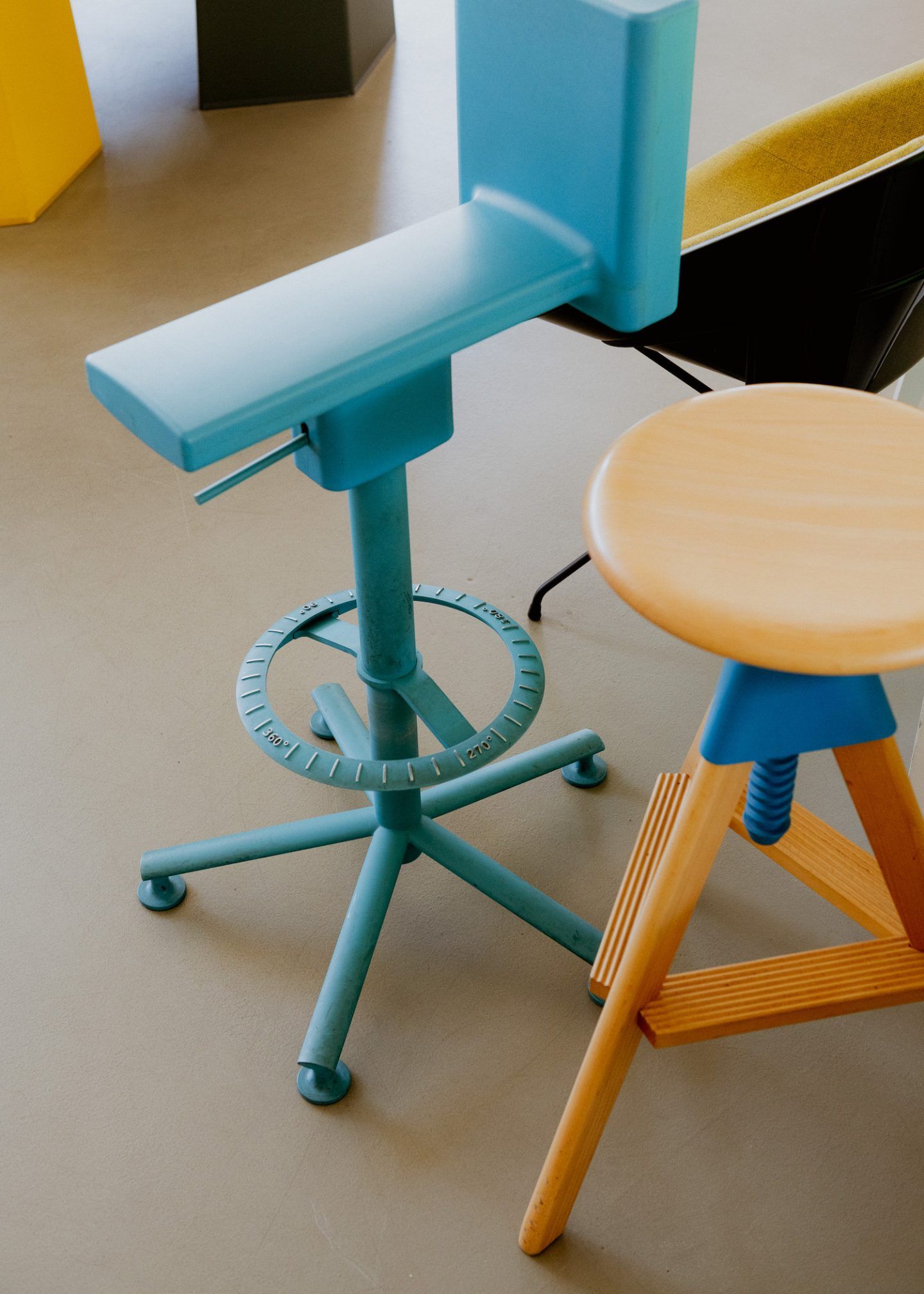 Grcic's slightly unusual path into design began with an apprenticeship in antiques restoration in the mid eighties. "It wasn't really what I wanted to do, but at that time it was very difficult to find work in Germany," explains the softly spoken designer. "Yet even though it was clear that I wanted to build new, "To me, industrial design is about making good products, but affordable, available, and accessible ones" rather than repair or restore old, I learned a great deal from that experience," he says. Having moved to London, in 1988 he enrolled in a furniture-design course at the Royal College of Art.
It was during this period of eclectic and colorful postmodernist furniture design that Grcic emerged as part of a new era of neo-modernist designers, carving out an aesthetic that championed simplicity in form and material. "I come from the modernist tradition of working with classical materials," he says. "To me, industrial design is about making good products, but affordable, available, and accessible ones." This philosophy has flourished in just about everything Grcic has done in his 30 year career. "I believe that the products you make should be legible; you see them and you understand what their function is and how they're built—not that everyone is overly interested in that," he laughs. "It's a very nerdy thing I love, and I obviously never expect people to think about a chair in the same way as I do. But I do it because I have a passion for it," he confesses.
From childhood Grcic was surrounded by art in his family: his German mother is a contemporary art dealer, his Serbian father was a collector of 18th-century art, and Grcic's sister is an artist herself. "I grew up in an environment with a love for art on many different levels, and that informed the travel we did as a family; weekend trips to museums and so on," he says. "There were always artists in the house too; it gave me an understanding of what an artist is, how they live, and what they do. There's something very powerful in the expression of doing what they do because they believe in it." This awareness has certainly influenced Grcic, whose path in design has always been with a certain form of authorship. "But still, I understood that I wasn't going to be an artist myself," he says. "I work in applied arts within a different kind of context; my projects are not self-initiated or self-fulfilling."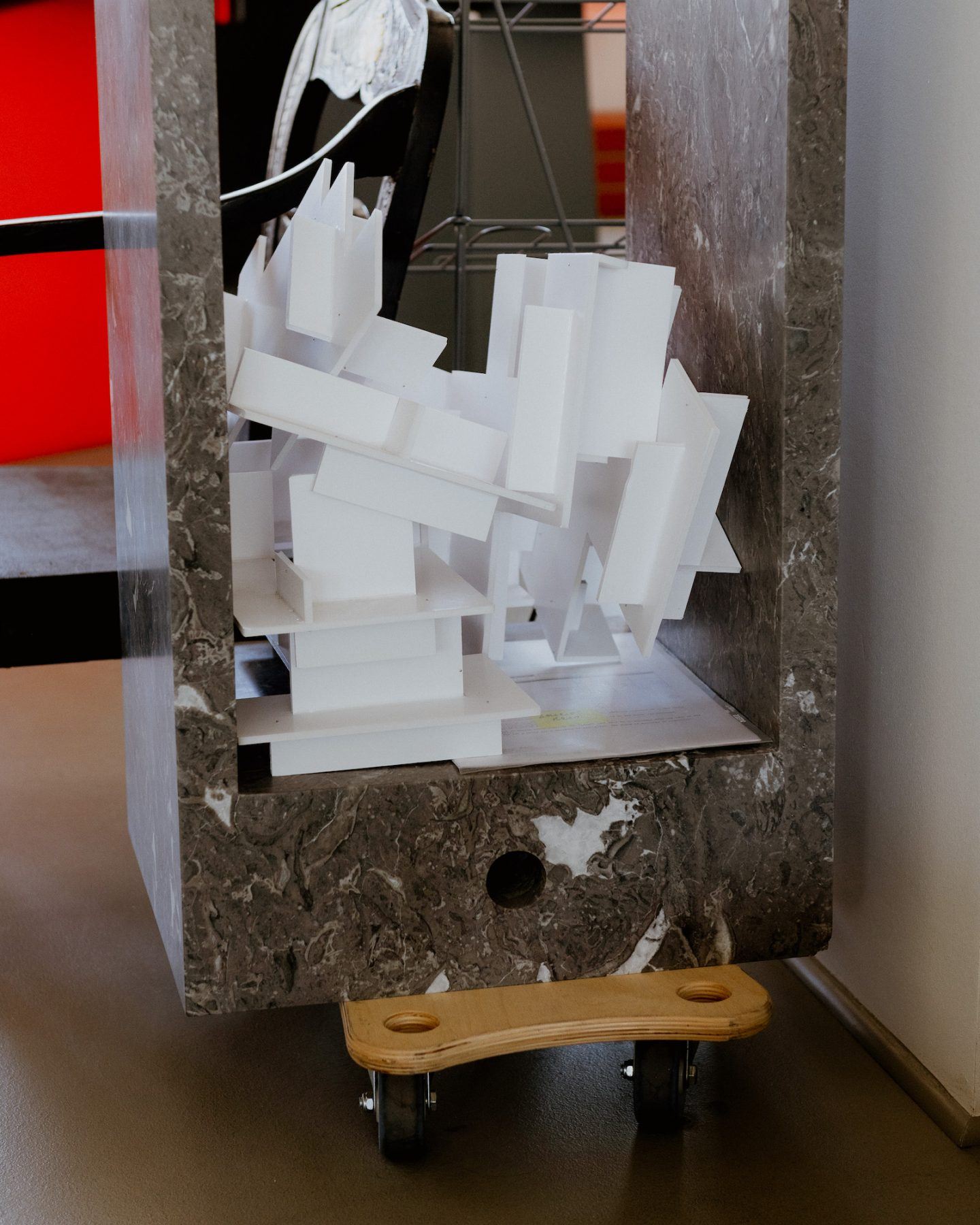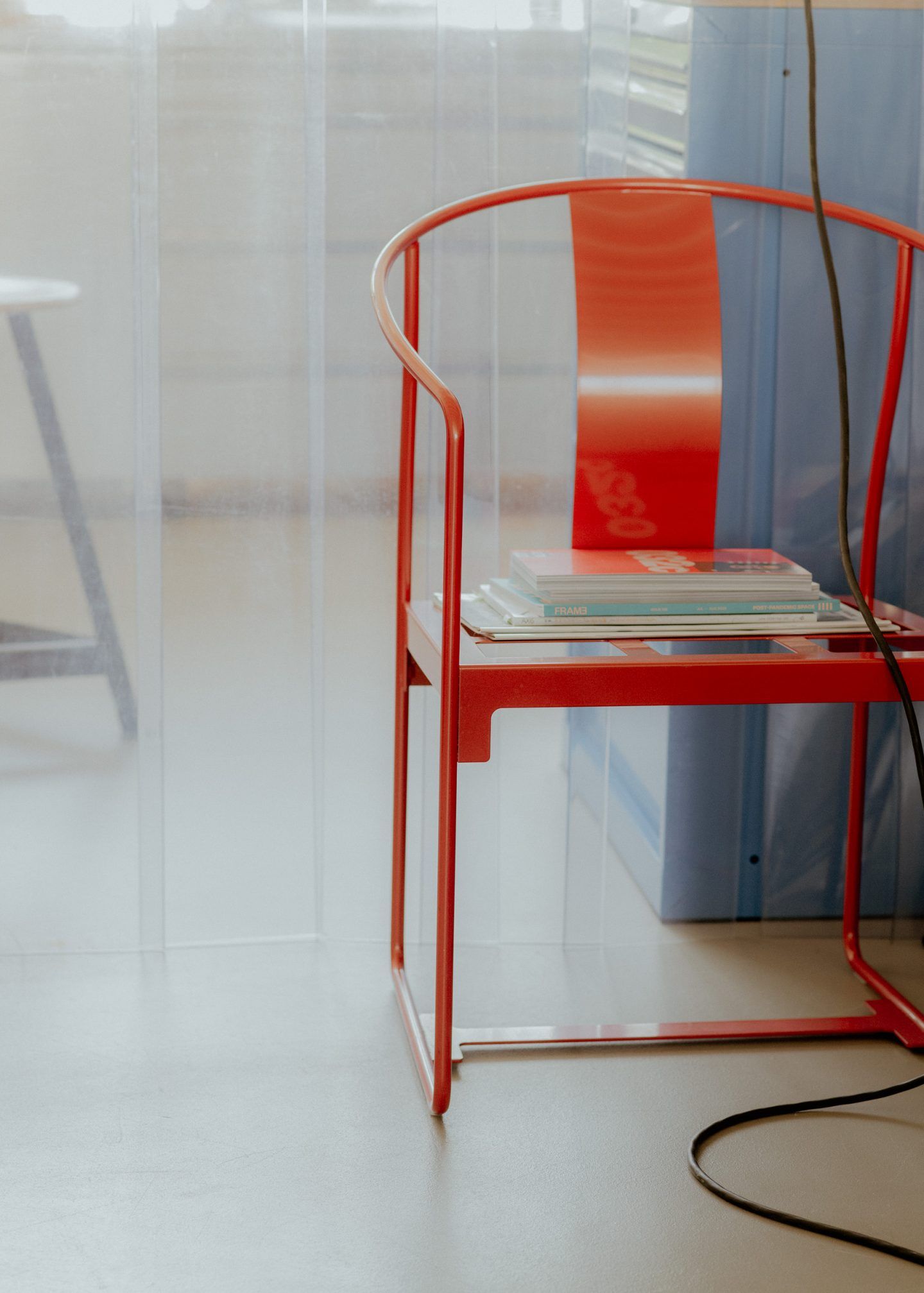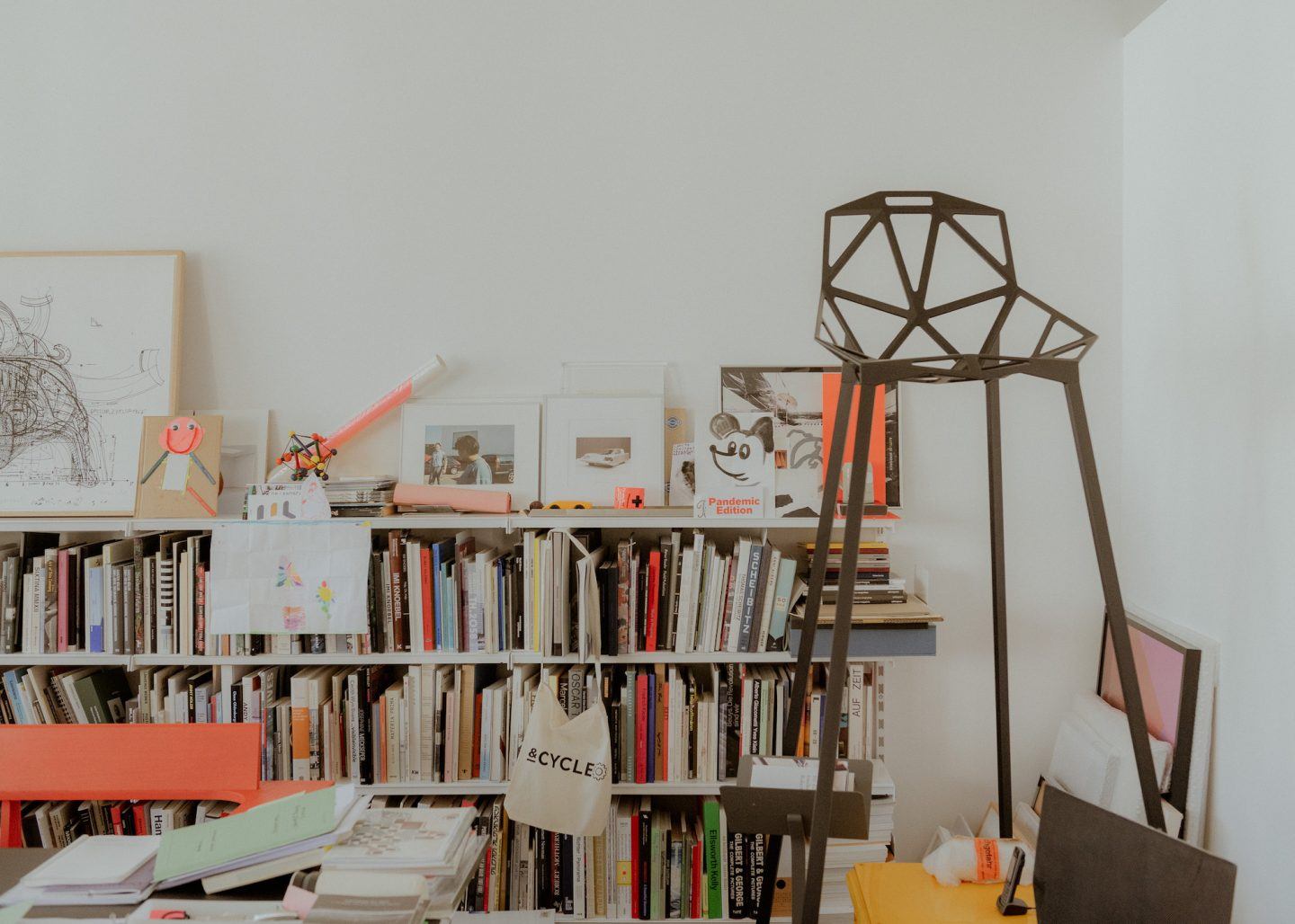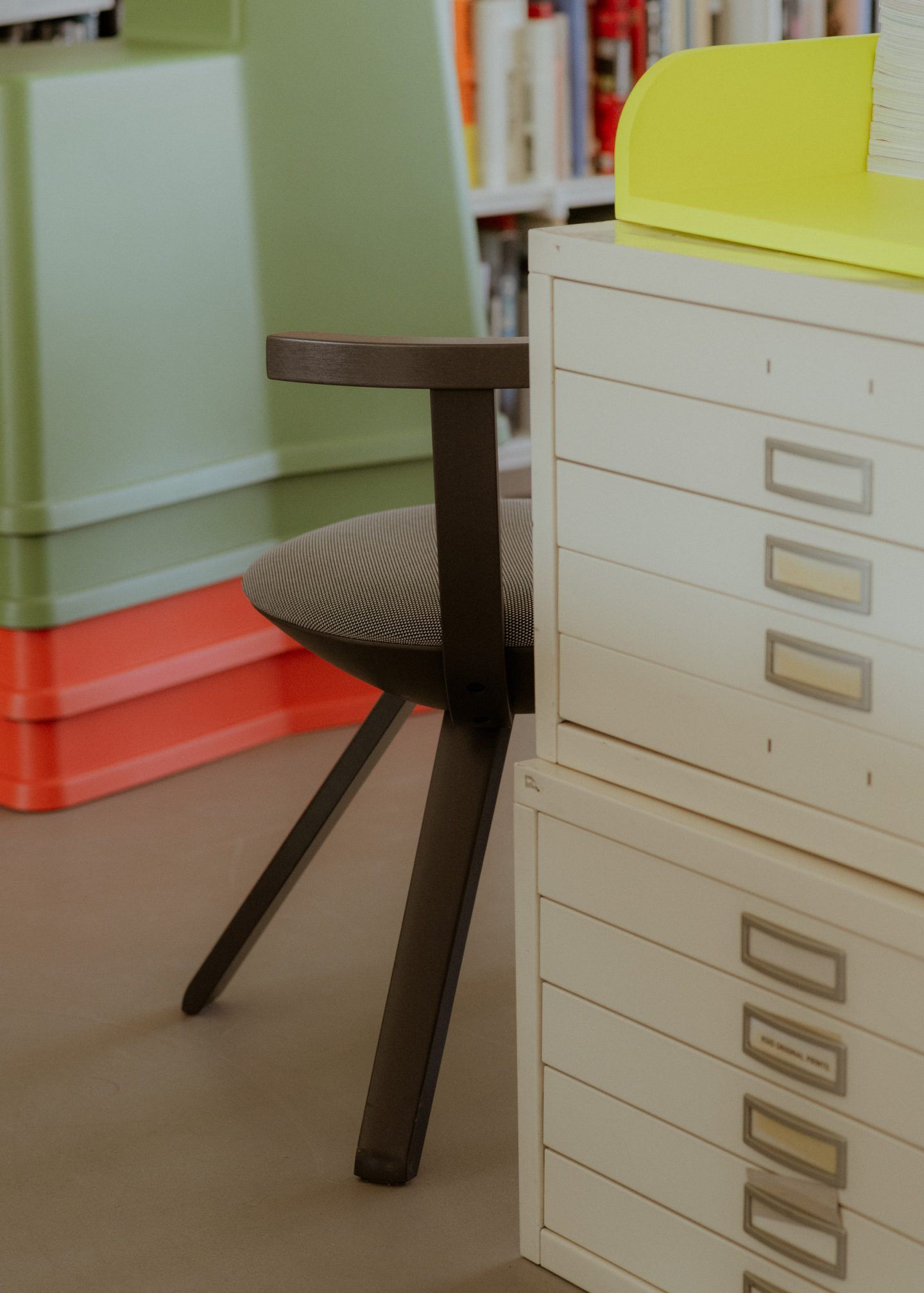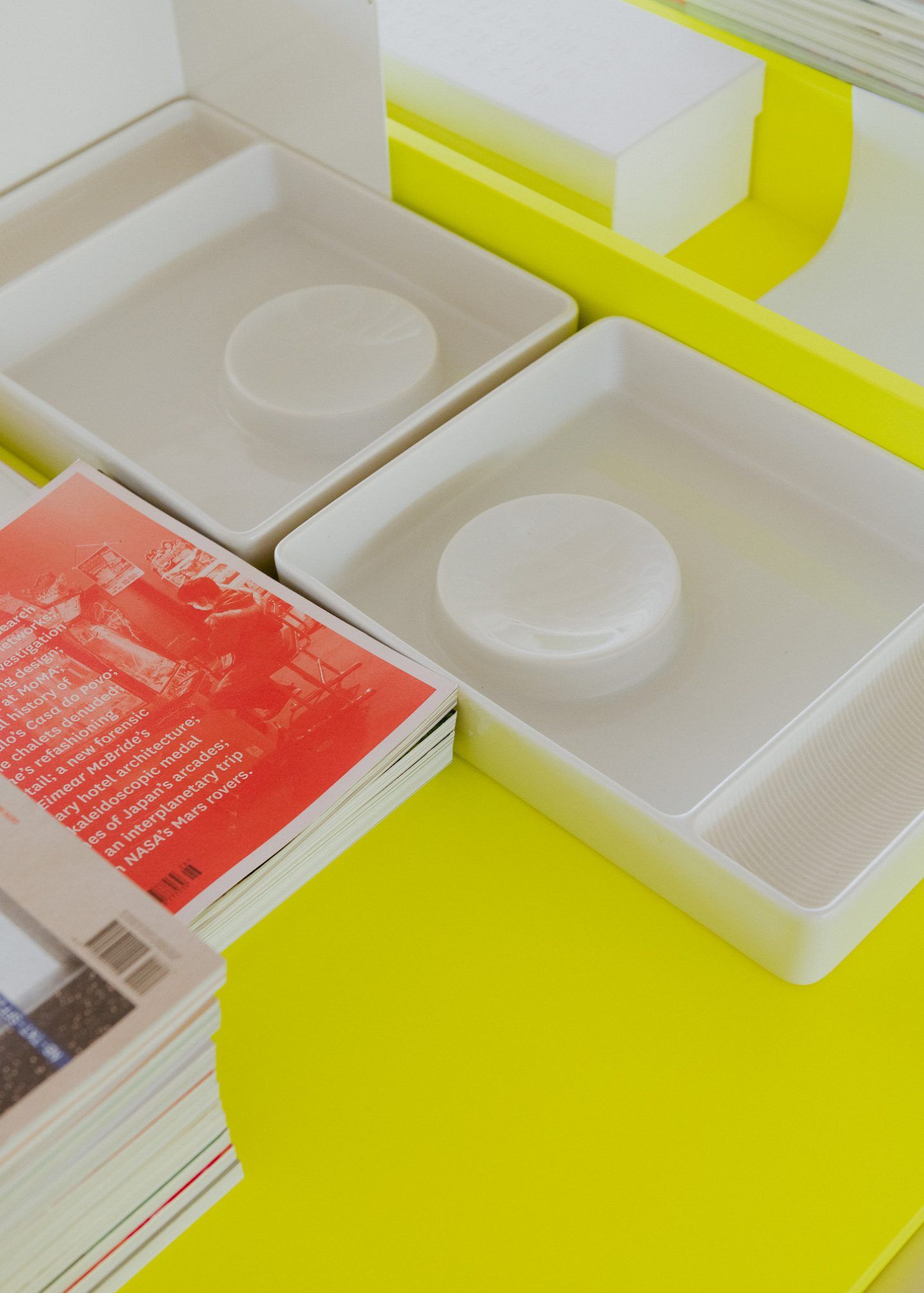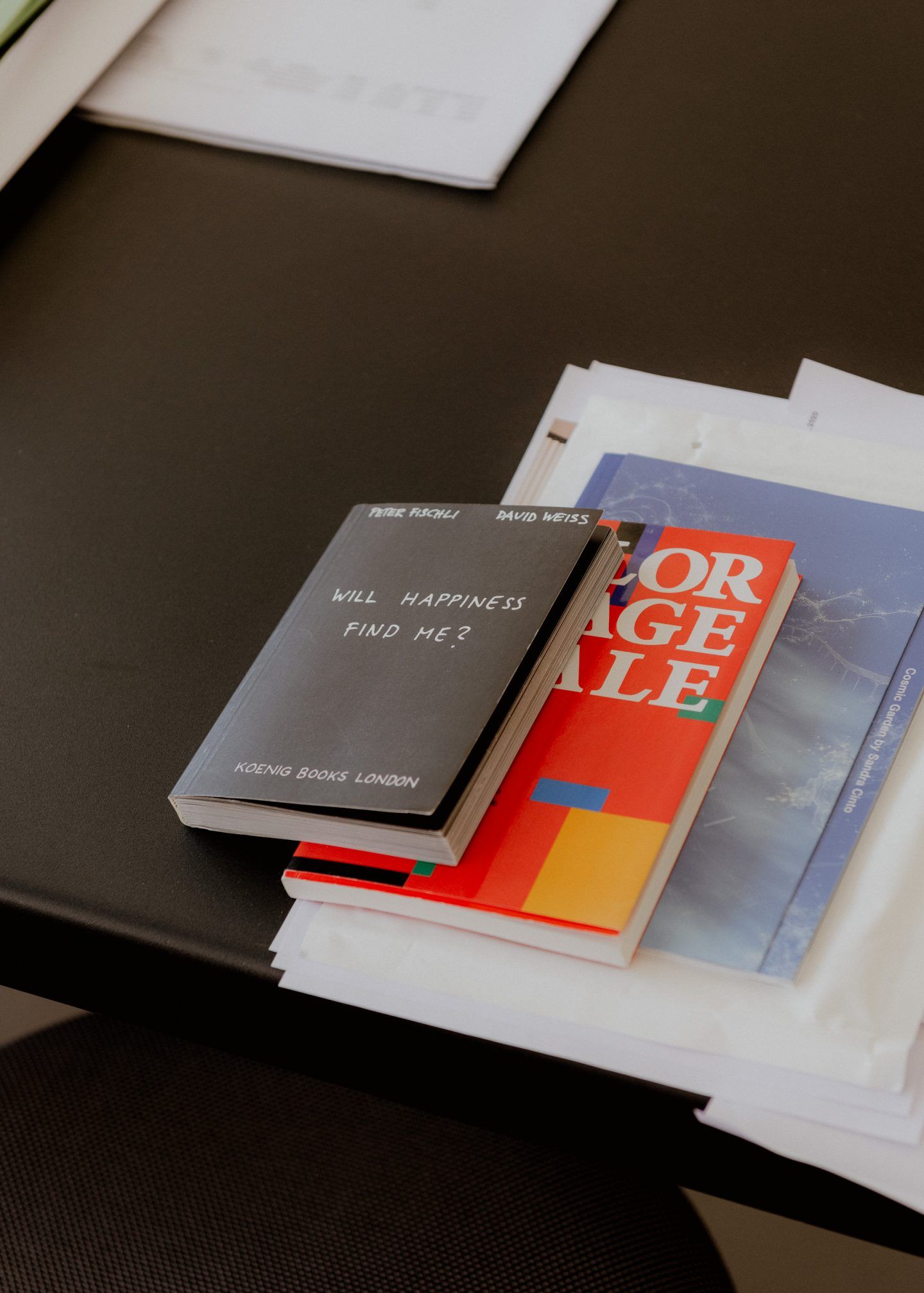 His most recent project is the 'Bell Chair', a minimal, multifunctional monobloc seat made from industrial waste.
His most recent project in question is the 'Bell Chair', a minimal, multifunctional monobloc seat made from 100% recyclable industrial waste from Magis's own factory. It is lightweight, low-cost, and as energy-efficient as humanly possible, and its curved, egg-shaped backrest classes its appearance well above the standard and ubiquitous plastic chair. "Magis and I discussed together, if we do a chair in 2020, it has to be affordable, stackable, and for both the indoors and outdoors." Plastic is the obvious choice then, but of course, it comes with its own complications. In an era of environmental degradation and toxic globalized consumption, for designers to create new mass-produced products often garners contentious discussions about necessity. A plastic chair, even more so. But this was the exact predicament for Grcic in taking on the challenge. After all, there are millions, potentially even billions, of cheap plastic chairs in existence, each taking 1000 years to decompose in landfills—so why add to the noise? "The whole challenge was to find an answer to that," he says, "because there is no such thing as bioplastic."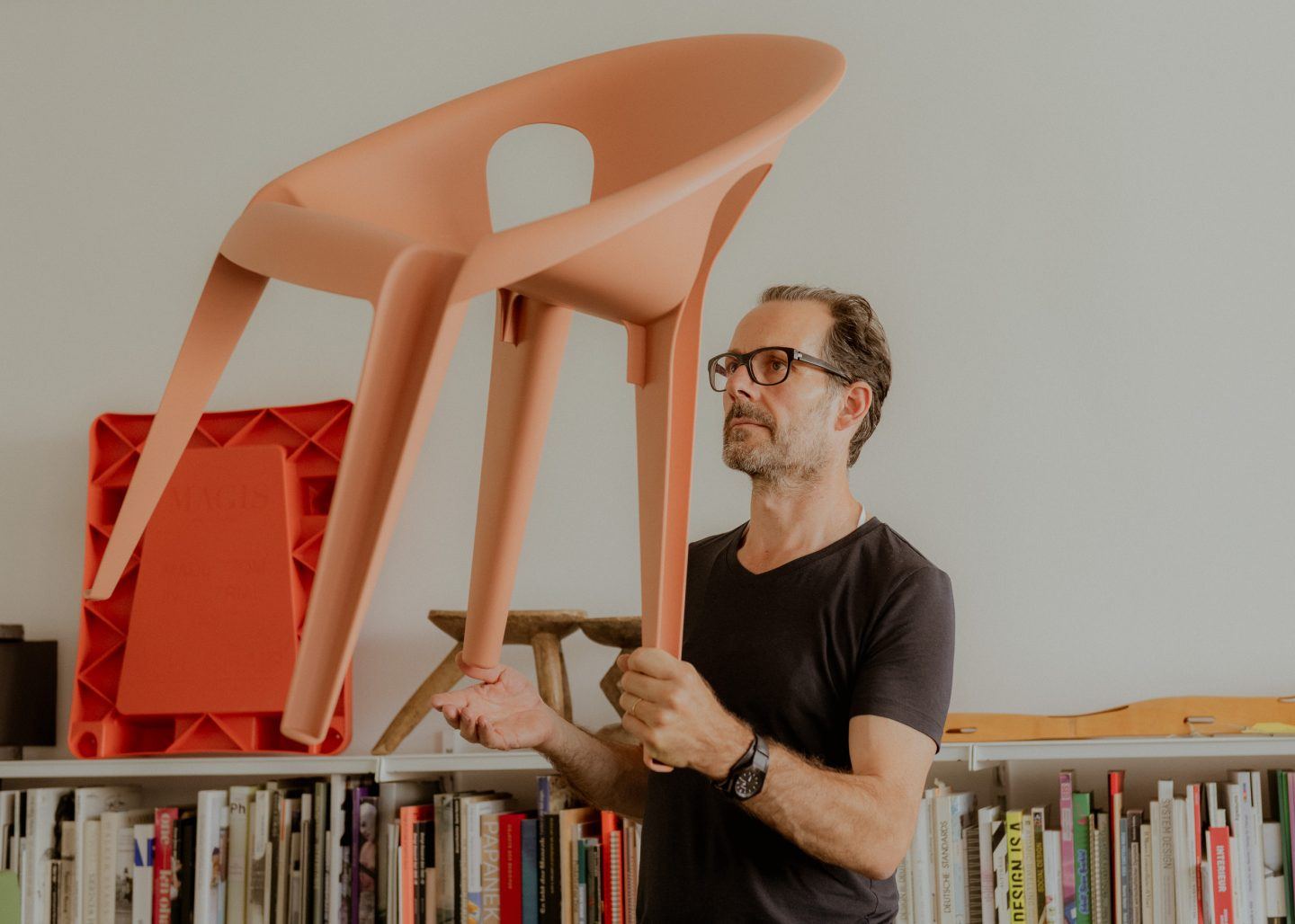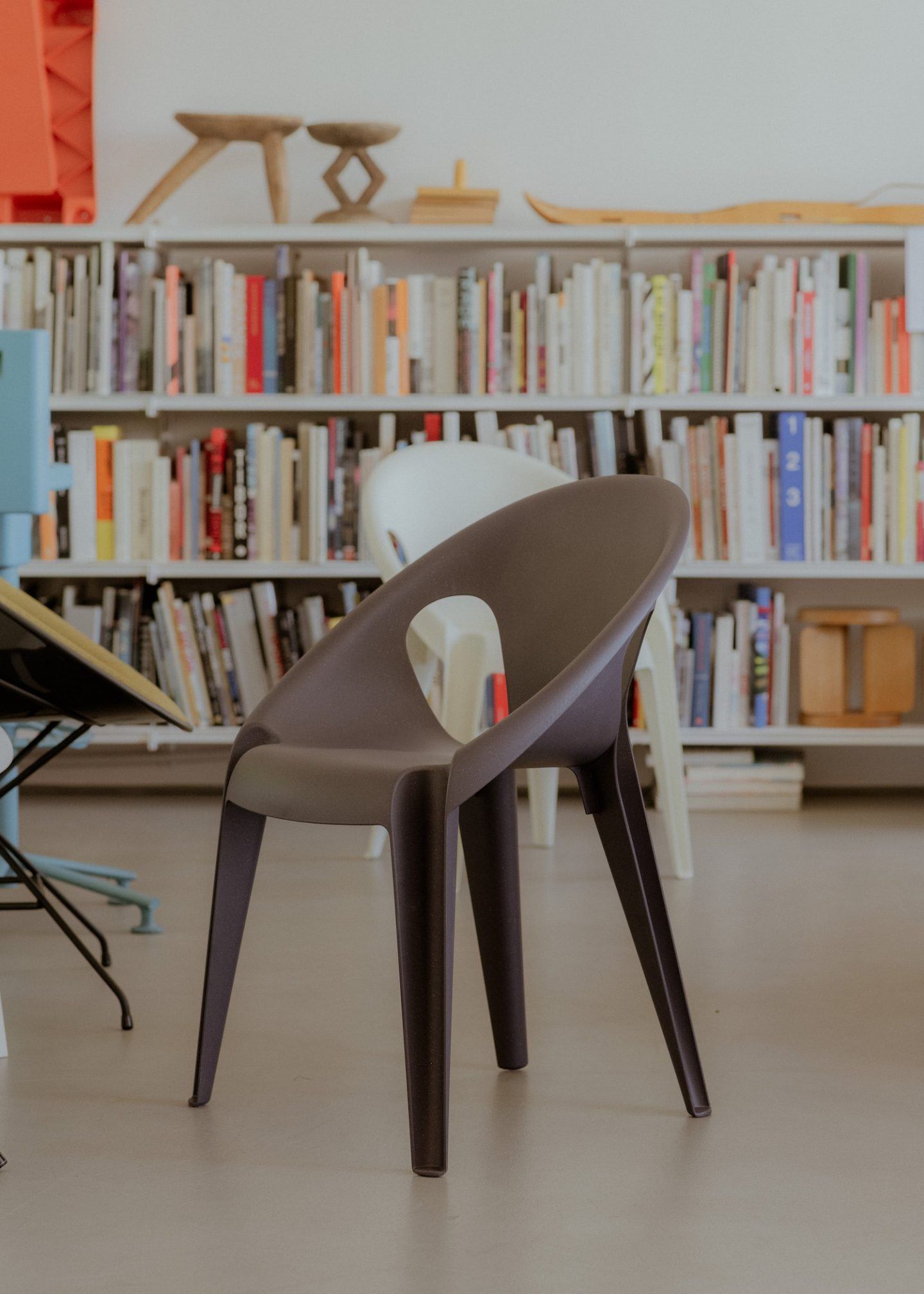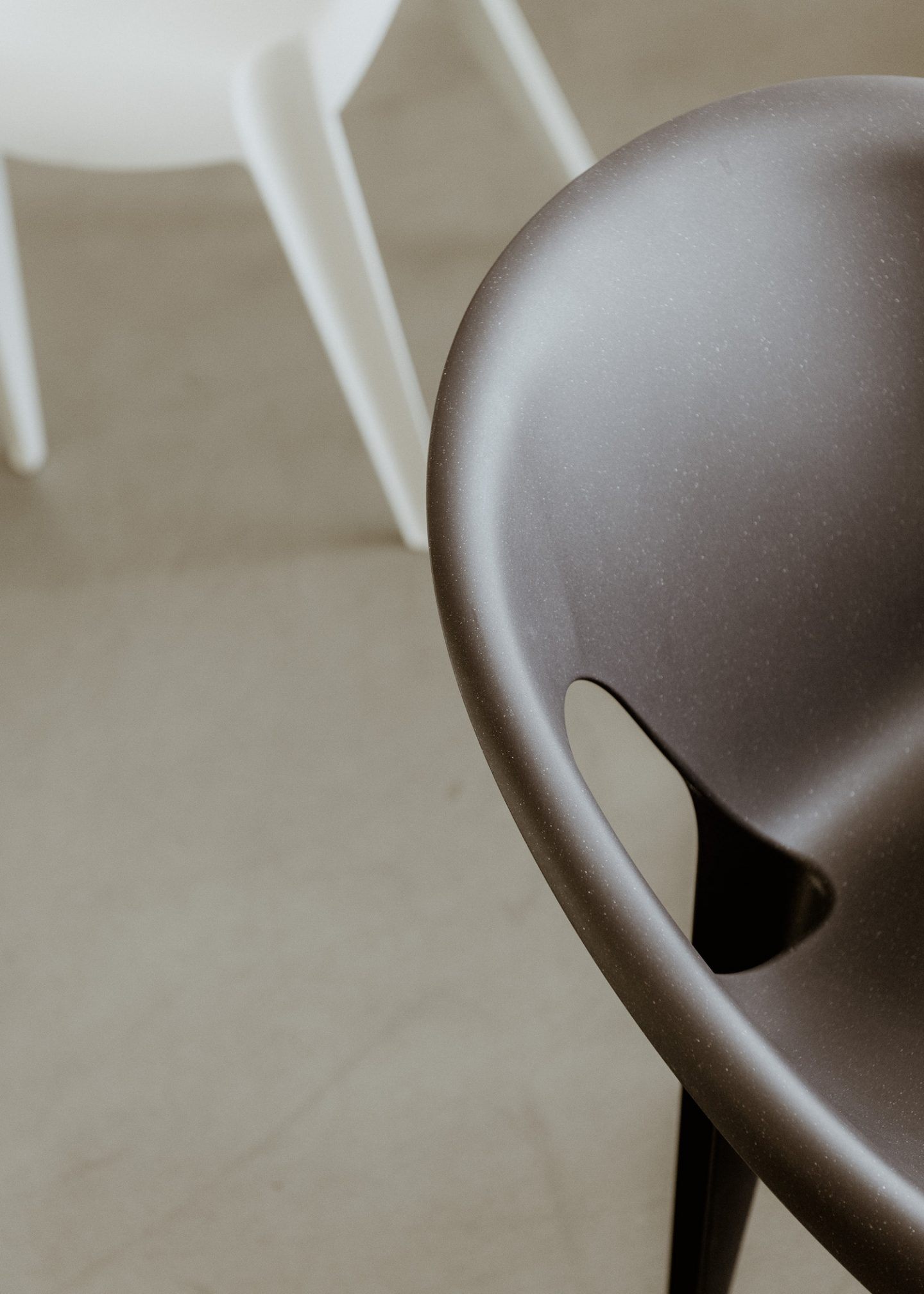 Upon being approached to design the chair, Grcic was initially wary. "I thought, Oh, I really don't want to do this right now. But the more discussions we had, the more I felt it was an important opportunity The Bell Chair comes at a tumultuous time—not just for industrial design but for industries the world over.to make some big changes—we can customize our logistics concepts and minimize the chair's footprint for one," he says. So it seemed the answer lay in turning the waste accumulated by Magis's own furniture production into a new product, forming an almost closed material cycle. The patented material excludes almost all 'new' materials and can be 100% recycled again after use. I sit on the chair during our interview; it weighs just 2.7 kilograms and is surprisingly very comfortable. "The key to that is the chair's bell-shaped shell," he says. It's bulbous geometry provides not only a highly efficient design, but it is also welcoming for your behind.
Despite such progressive steps though, the Bell Chair comes at a tumultuous time—not just for industrial design but for industries the world over. Like many, Grcic's studio has had to adapt to the unfolding global pandemic, and scramble to find new ways of working and producing. "Overnight our normal dialog with the companies we work with just came to a complete halt," he shares. Factories and manufacturing processes were interrupted, projects were suspended, and Grcic's team, like most of the western world, began working remotely from home. "We were thinking, 'Okay, what's going to happen?' We had all switched to a restrictive mode of working, wondering how to get through it," he says. The stark realization that COVID-19 will be around for a lengthy period of time is one that has dawned on many of us in recent months. "It's a global experience that is affecting everything, so we need to rethink what is urgent, and what doesn't matter anymore. Because now we have to really change the world upside down and around," he adds.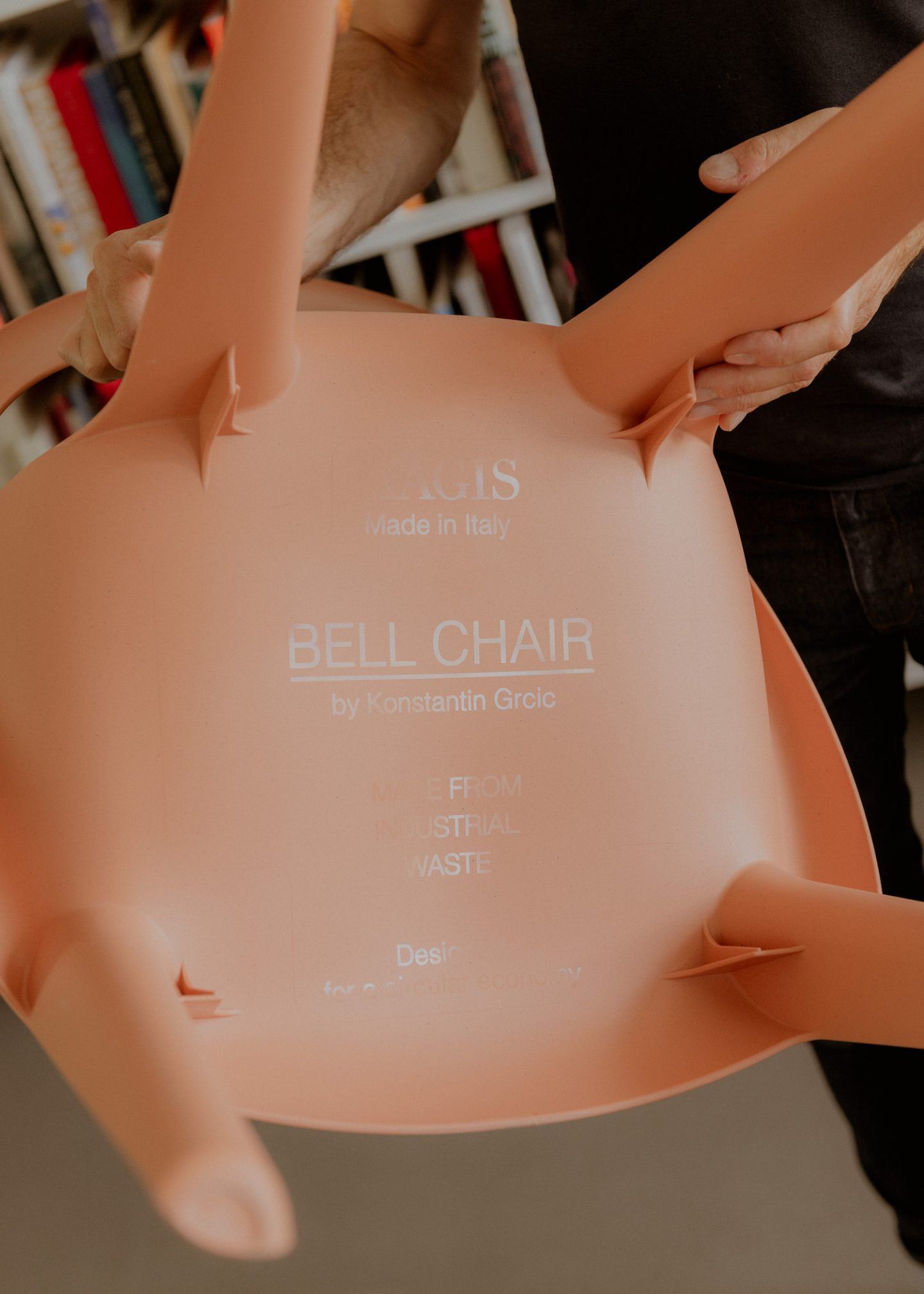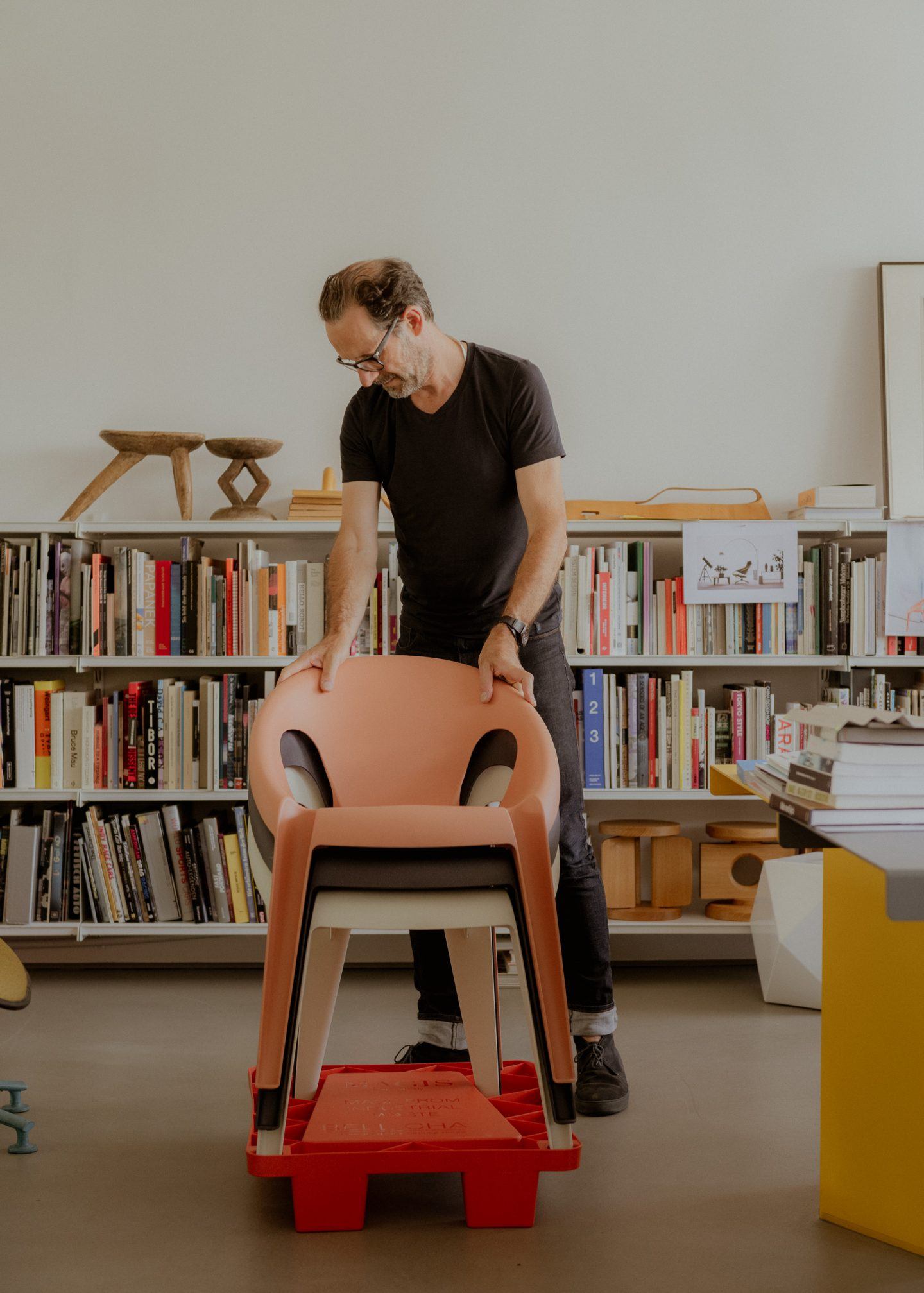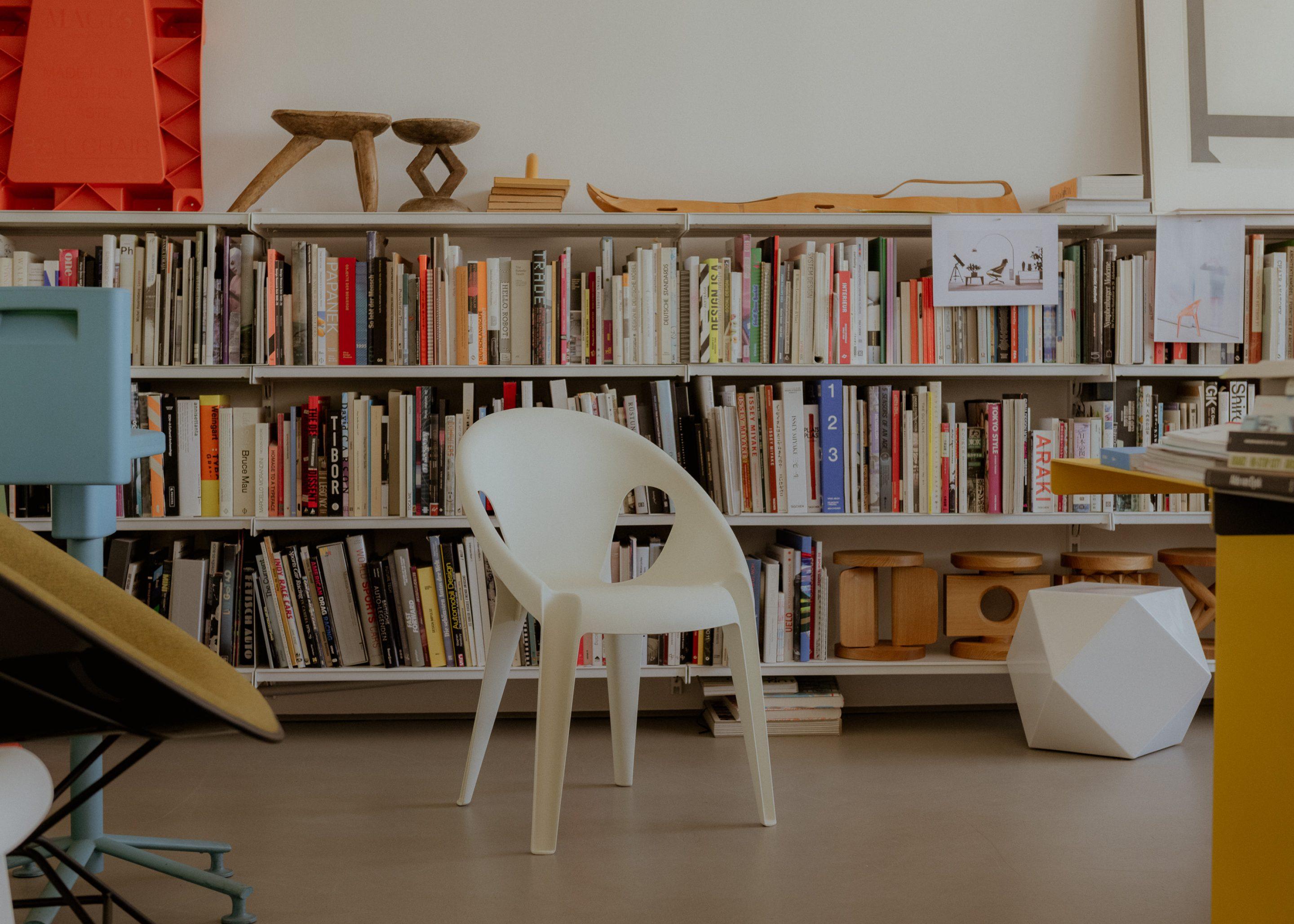 As a designer, Grcic has always related his work to broader sociological concepts in large contexts. He has previously said that designing chairs touches issues of society; when I ask him about this, he remarks earnestly: "When you think about the history of the chair, really, sitting on one used to be a privilege. But now, they're the most common object," he says. "The difference is that our social dynamics have changed. For example, look at how I'm sitting on the chair right now," he suggests. "How's my posture? I mean, I should probably sit more formally correct—this is an interview, but it's 2020, so you don't mind," he laughs. Yet all jokes aside, a chair to Grcic is more than just an item of furniture; it is an incredible object that reflects the developments in our culture, in how society interacts. "There's something really nice about that," he says. "You interact with it in a direct way, and it has the power to make you feel comfortable or relaxed."
"Our lifestyles have changed, so the way we use furniture has changed too"
For Grcic, it is also important that we investigate how the concept of home has changed for each of us, through the experience of the pandemic. "Interestingly enough, our projects are directly linked to this experience in terms of furniture," he says. "Our lifestyles have changed, so the way we use furniture has changed too. It's really personal now; we are spending far more time at home, surrounded by the objects that we live with." It is a compelling thought to end with, and is a reminder of how designers like Grcic—and those at the forefront of technological innovation—will continue to influence our lives in future years to come.