With a portfolio that spans minimalist furniture, functional design objects, and futuristic artworks, the practice of Jakub Kubica meets at the intersection of various disciplines. Despite their versatility, all of his works come together under the arch of a broader vision—the quest to rediscover the known and to foster a conversation about nature and how we, humans, interact with it. During a visit to his atelier, Ignant was invited to explore Kubica's cosmos and the place where his ideas take shape.
The arrival at the studio takes us about 60 kilometers outside the center of Berlin and to the top floor of a former GDR factory. Today, within this factory, the shoes for the German footwear label Trippen, the brand where Jakub Kubica holds the position of an art director, are being produced.
Kubica, who also lives in the studio during the week, has converted the space into an ample atelier featuring all amenities. With plenty of room available, he invited artist and friend Ilya Goldman Gubin to share the workspace with him. "We redefined the entire floor when we moved in here. I created a bedroom, a little gym area, a coffee corner, and a small workshop, so I have everything I need," Kubica tells us as we meet him at the beginning of July. "I usually drive here on Monday and stay until Friday, as being here throughout the week allows me to stay fully focused on my projects."
"I enjoy designing furniture as it allows me to shape the space around me and to redefine my way of living."
While transforming the upper level of the factory, special attention was paid to preserving its industrial character. Traces of a ripped-out floor remain imprinted on the ground, while unplastered walls radiate an urban vibe. However, this raw backdrop's characteristics are elegantly counterbalanced by Kubica's minimalist design pieces.
Coming from a multifaceted creative background that led him from graffiti and graphic design to running his own creative agency-turned-magazine, Kubica has shifted his focus toward creating functional objects in recent years. "I enjoy designing furniture as it allows me to shape the space around me and to redefine my way of living," he shares with us as we ask him about his practice. In our conversation, the designer tells us that his ideas stem from his needs and desires, reflecting the objects he wishes to have in his surroundings. "I somehow compare my approach toward creation to the one of an architect: They have a certain philosophy and idea of life and build their environments according to it. I follow a similar concept," the Slovakia-born artist explains. Moving throughout the studio, we experience firsthand how his vision of such an environment manifests.
Prominently positioned in the center of the spacious loft, an expansive table constructed of an aluminum base that supports a dark-toned glass surface is taking the stage. The flawless tabletop reflects the rectangular Privacy Neon lamp, one of Kubica's latest creations, which hangs suspended from above.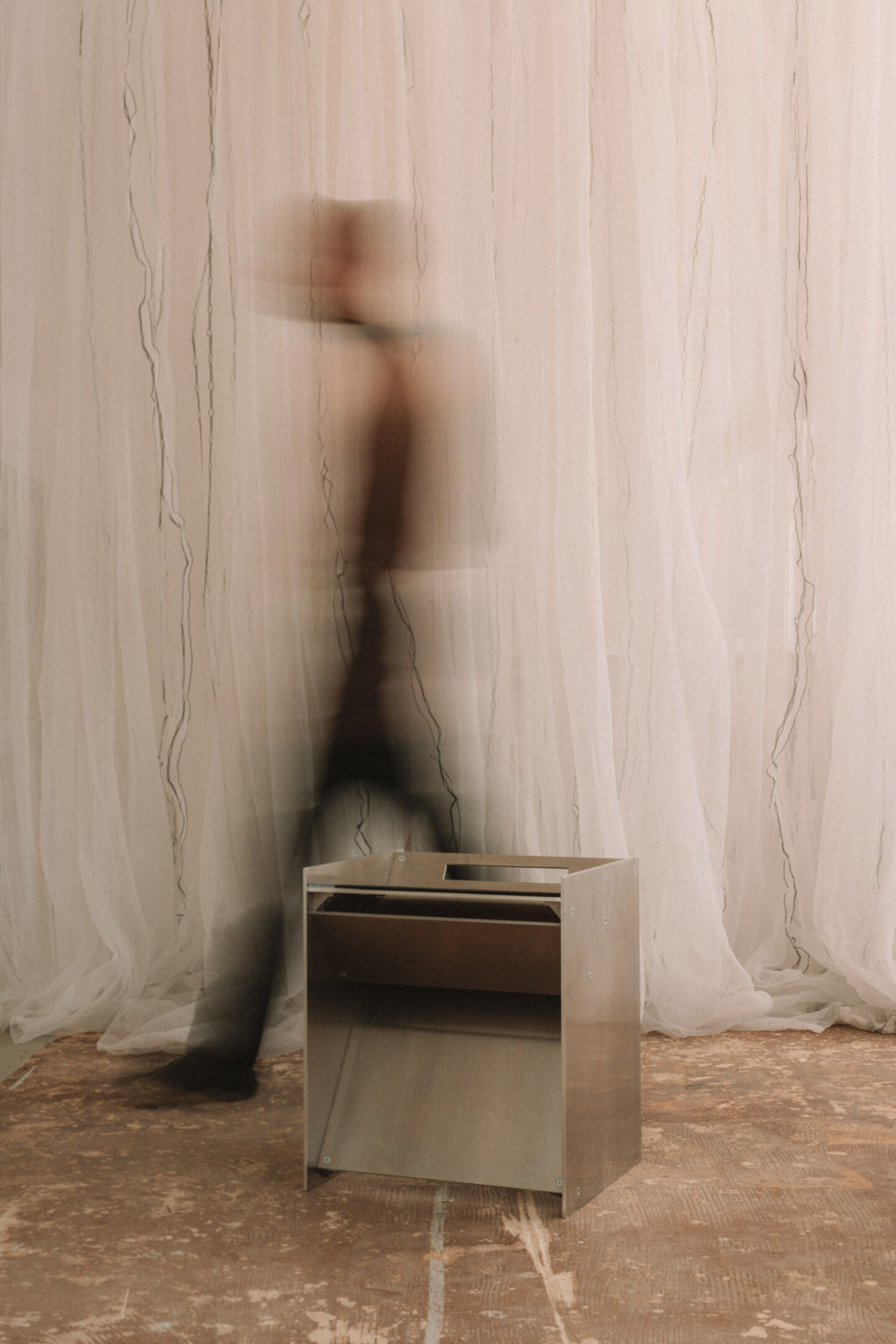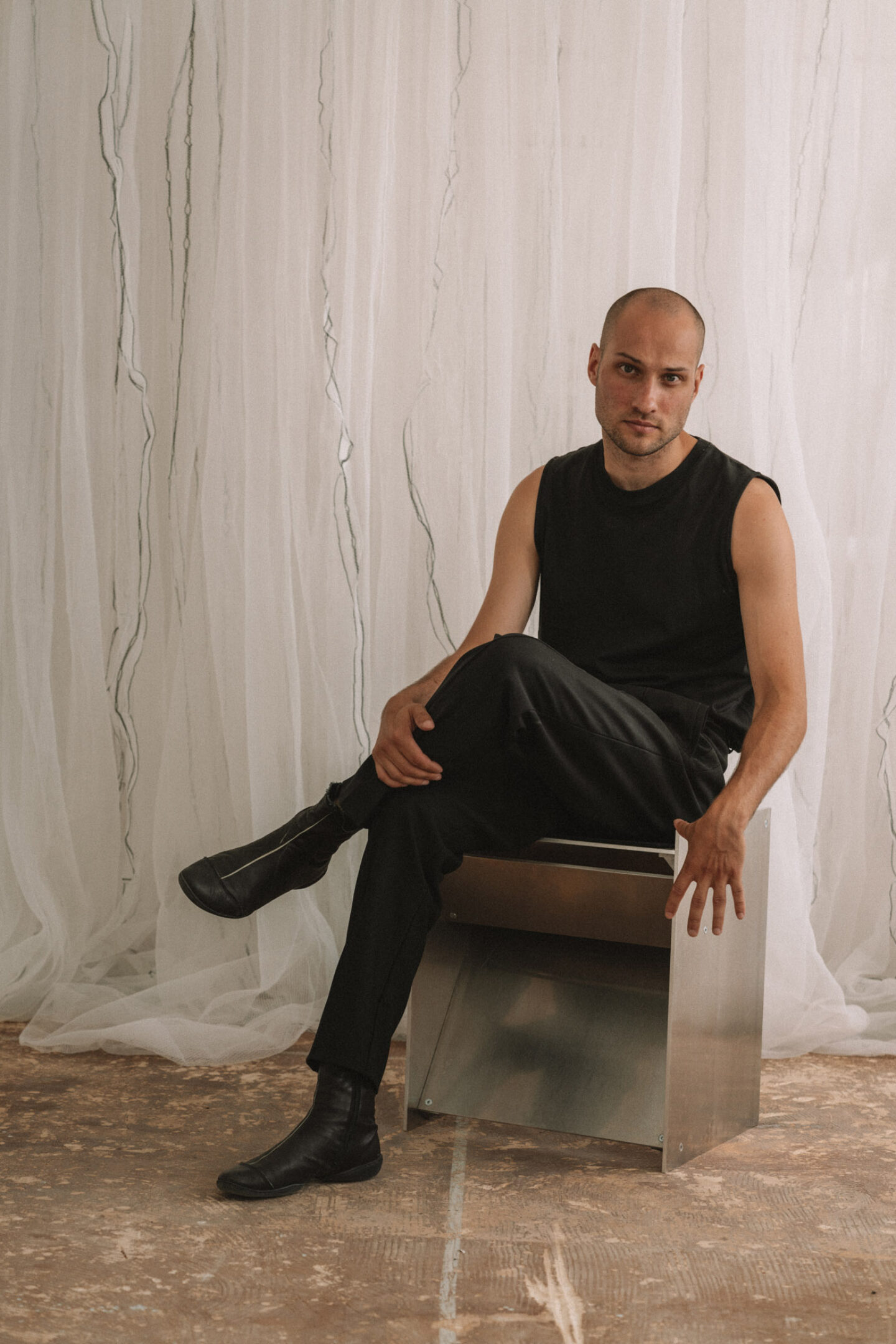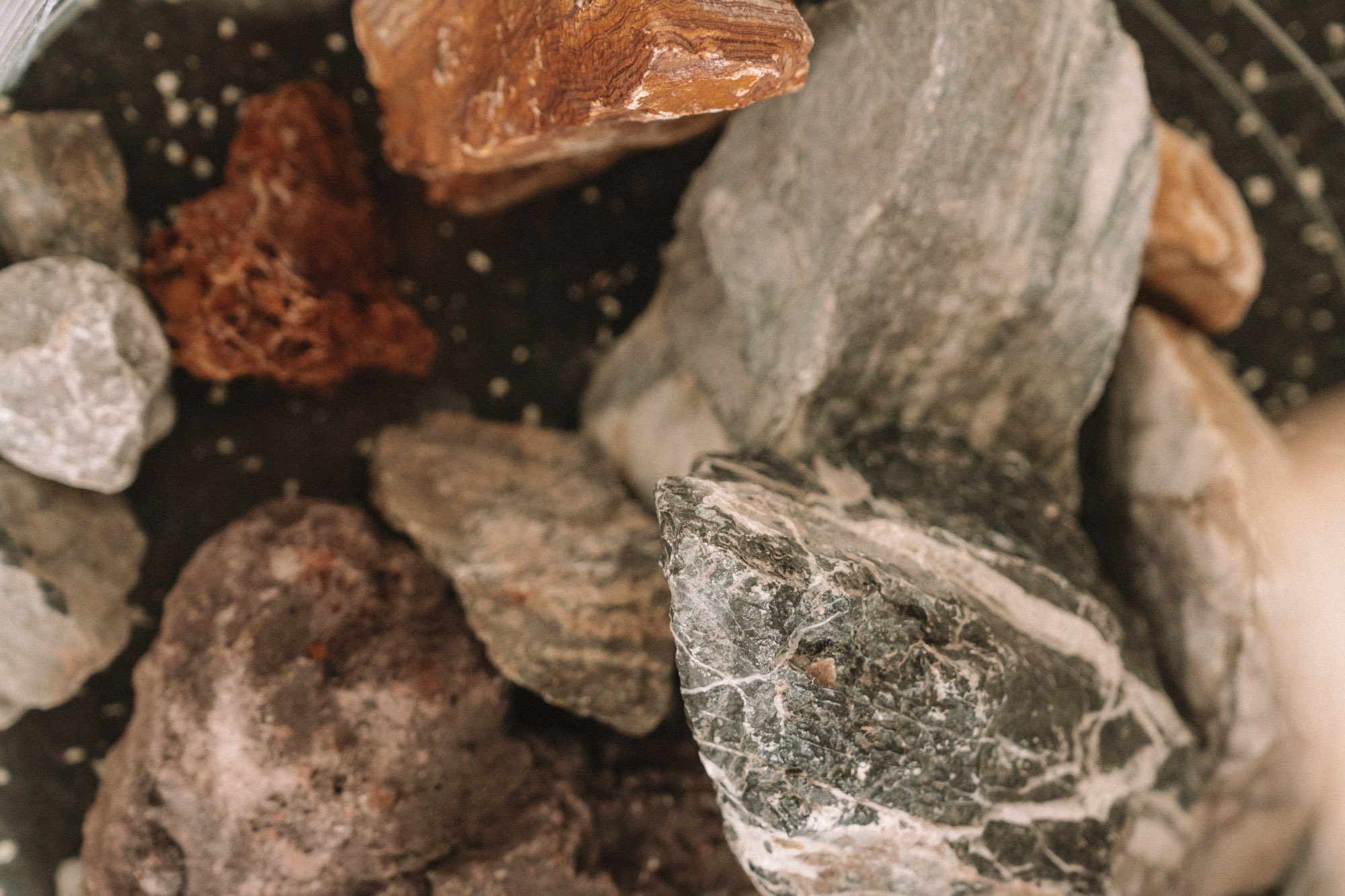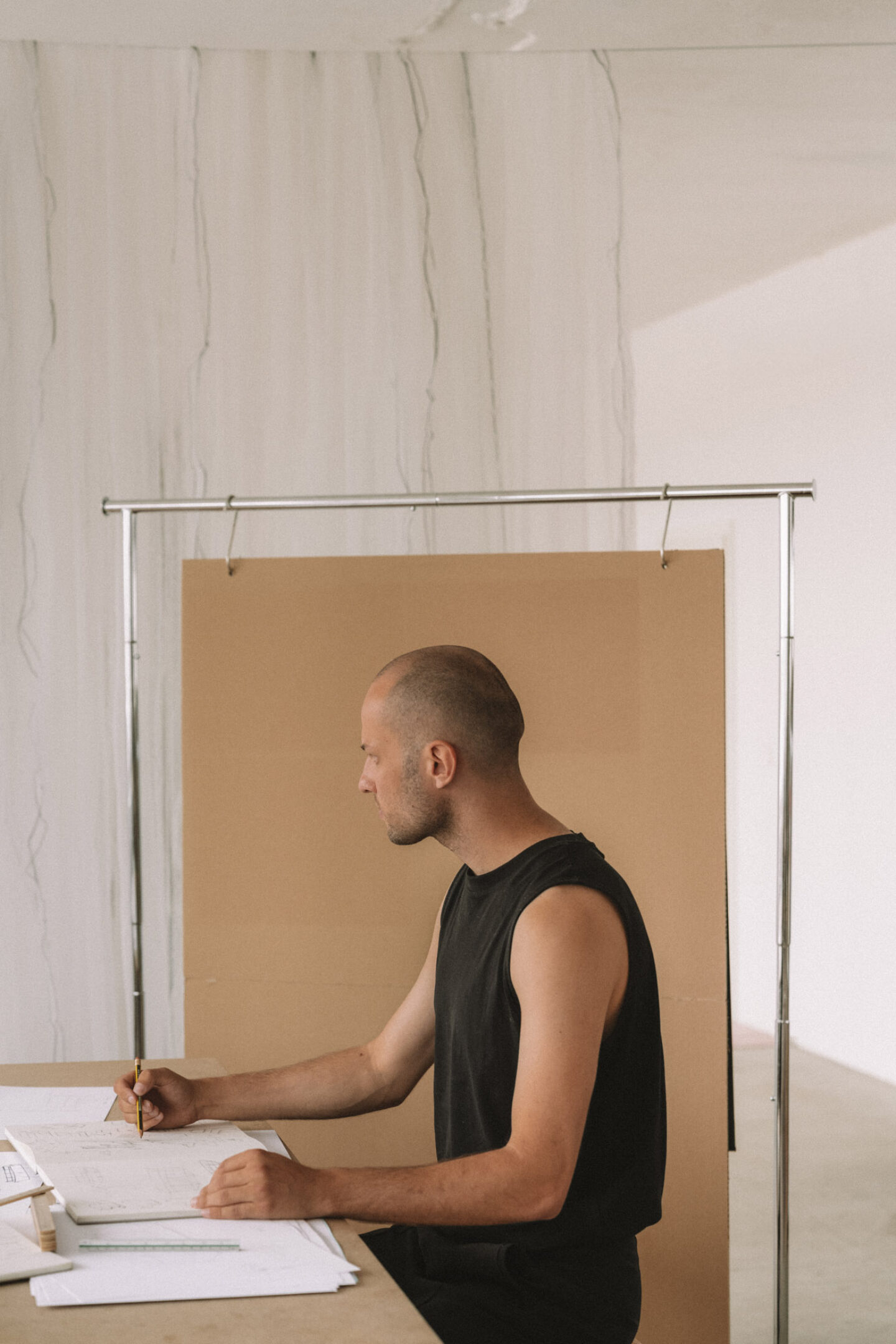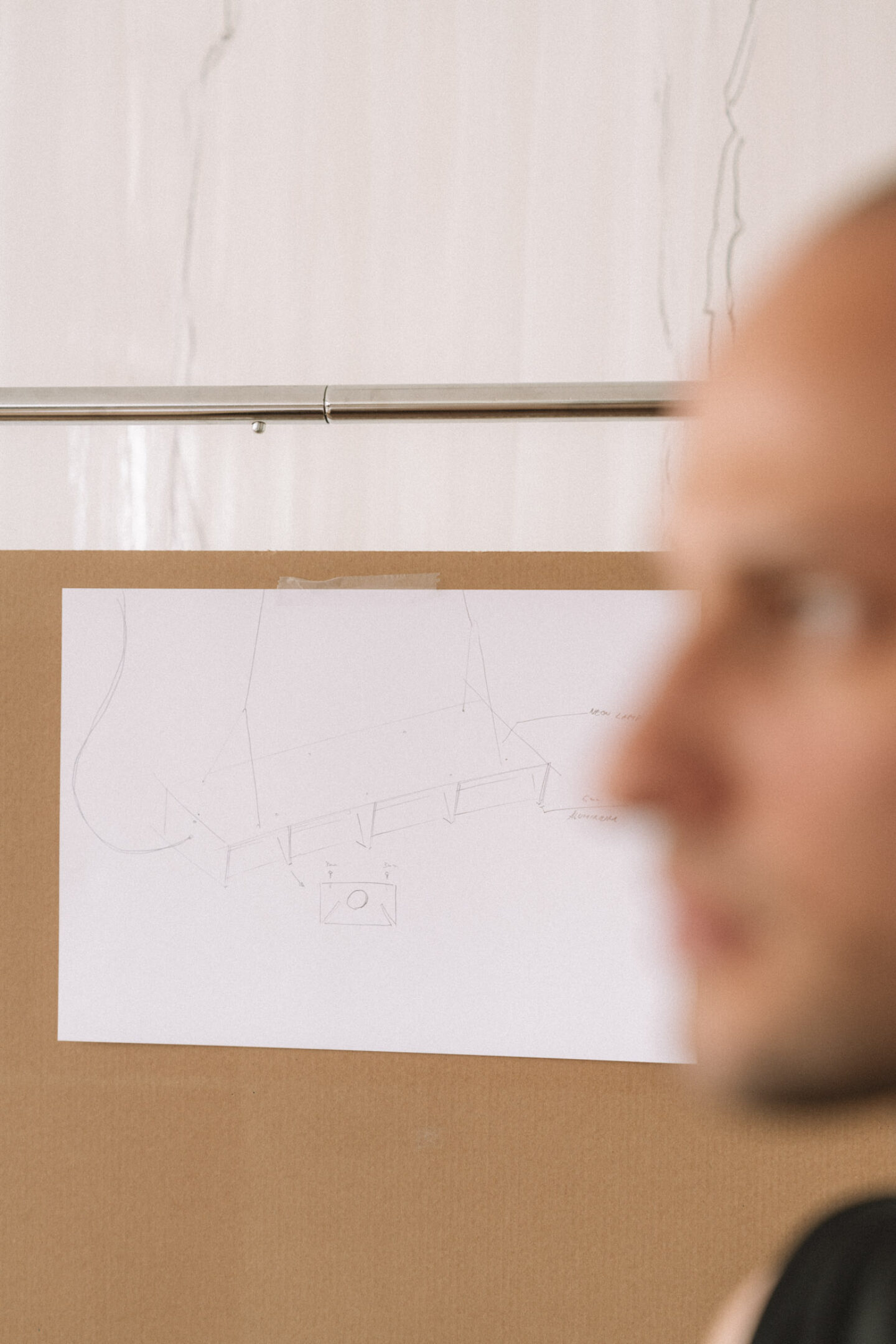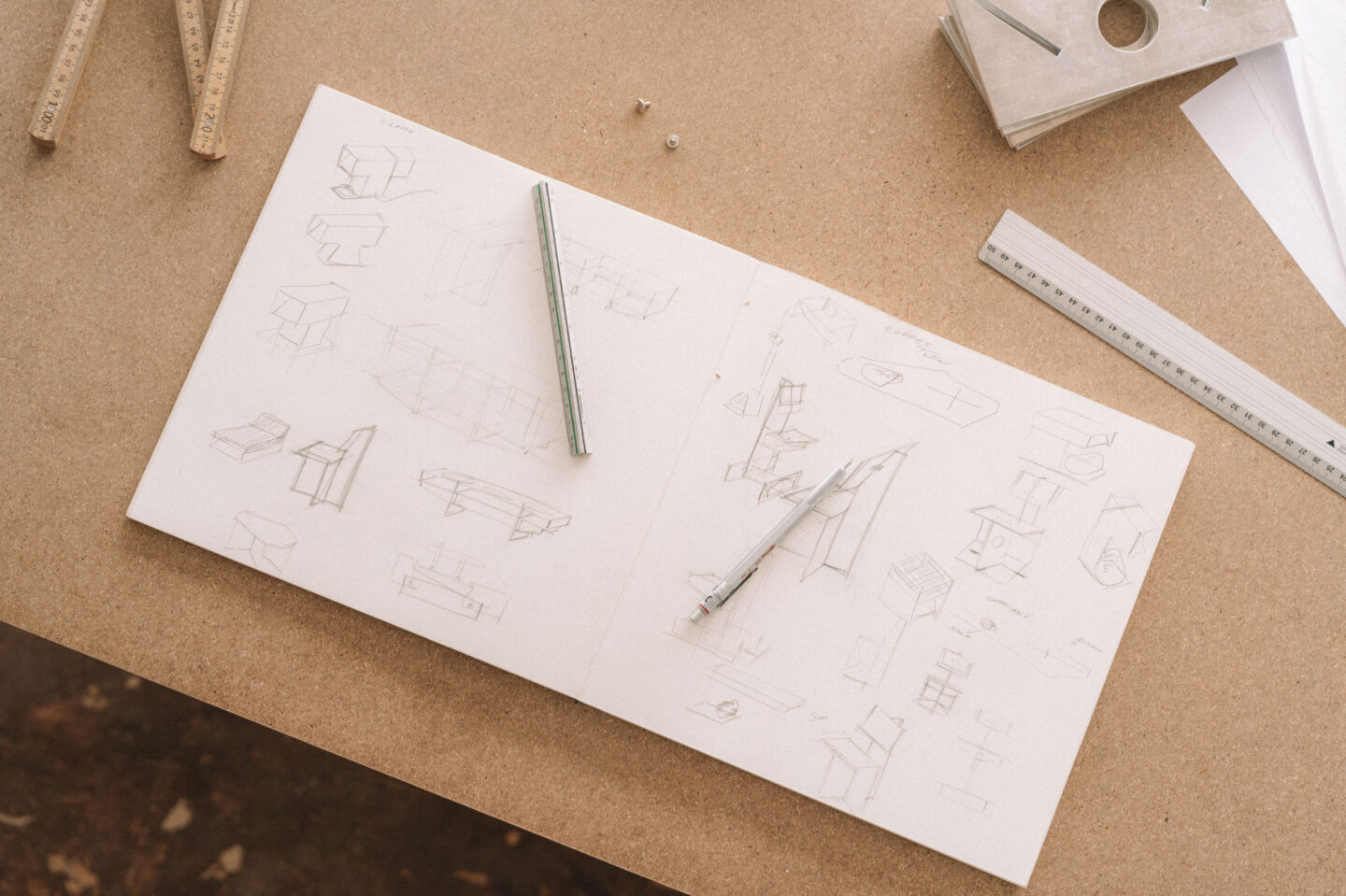 "In my art, I play with the notion of rarity and how presentation can influence our perception of the value of things."
As we go to another room in the building, we spot three Drone chairs grouped to form a living room area. Built from straight-cut aluminum plates that contrast with a circular backrest made of black leather, the chairs have a futuristic yet modernist aesthetic.
Surrounded by the chairs stands one of Kubica's Merge side tables. The Merge series entails a collection of objects, such as tables and oil diffusers, in which natural materials have been placed at the center of the design. The table is constructed of a big rock as one of its legs. The rest of its structure is built from aluminum sheets, which respect the stone's shape as they're carefully cut around it. "Juxtapoisitoning natural and sterile materials is something that runs like a thread through my practice as an artist and designer," he explains. "However, when designing furniture, I try to create objects that are accessible to a broader audience. When it comes to my art, I have a more playful and conceptual approach."
As an example, Kubica refers to his group of artworks titled "Please don't hesitate to contact me," through which he explored the vulnerability of nature and its potential loss. To create the pieces, he slipped into the role of a "mad sci-fi archeologist" in a dystopian scenario. Almost desperately trying to repair the remains of broken nature with tools and fixtures that borrow from the visual vocabulary of a medical context, Kubica is tackling the main environmental issues of our time. While the structures and the act of repair suggest newfound value in nature, they also shift the paradigms between the ordinary and the cherished. "Something becomes precious when only a limited amount is available," he shares. "In my art, I play with the notion of rarity and how presentation can influence our perception of the value of things."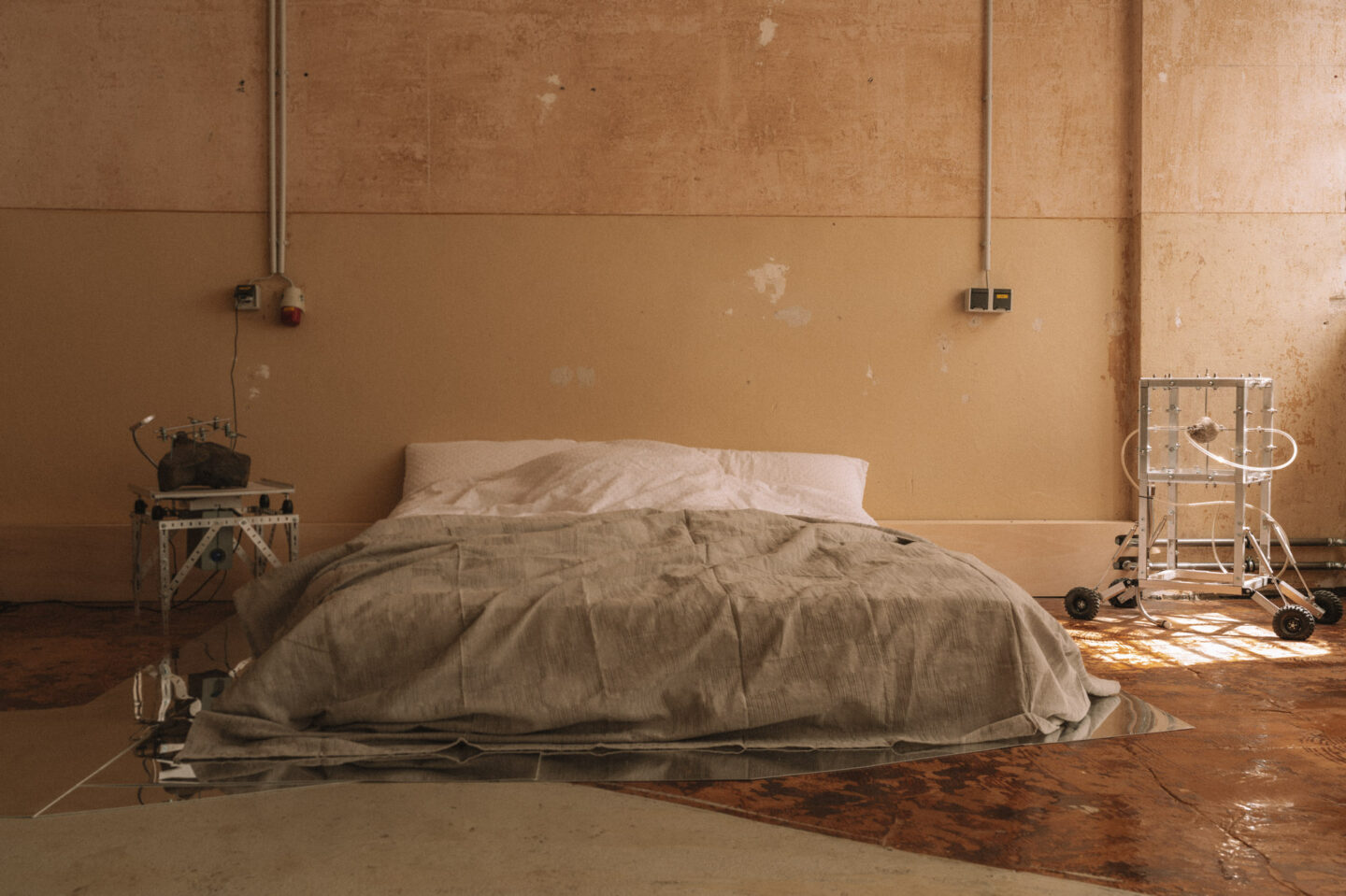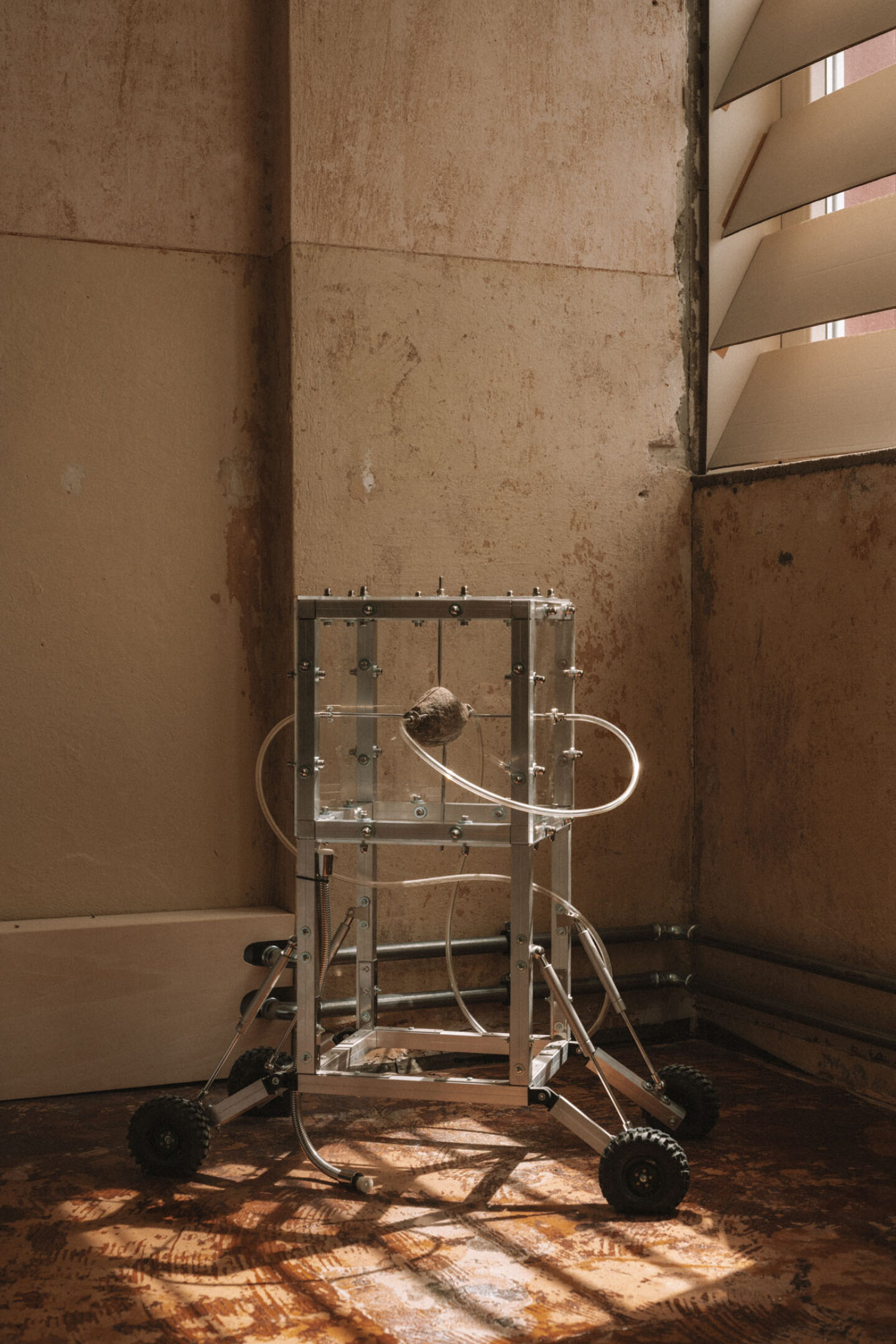 Continuously evolving, it is difficult, and perhaps also unnecessary, to put the practice of Jakub Kubica into one category. While having explored the composition of experimental soundscapes for many years, one of his more recent projects included developing fragrance oils for the above-mentioned oil diffuser. "In the end, all of my work is about contributing to creating a certain environment," Kubica says. "I like to combine existing skills and apply them in new fields. Only specializing in one area is very limiting and, in my opinion, an old way of looking at things," he emphasizes. "My vision for the future is to build a space where my artworks, furniture, scents, and sounds can coexist. So, in some way, each of the works I currently create is a piece of a puzzle that eventually will add up to an immersive environment."