Immersed in the beautiful Apulian coastal landscape, 'Casa Maiora' is Barcelona-based Studio Andrew Trotter's latest residential project. Minimal yet rustic, the four-bedroom house is an architectural statement with simplicity and serenity at its core.
Sitting on a hill in the small seaside town of Carovigno, Italy, just a stone's throw away from the blue Mediterranean waters, the house has been strategically positioned on the southernmost border to take advantage of the elevated level and panoramic sea views. A departure from the region's typical white vaulted buildings, its design is inspired by the neighboring villas of the coast, which traditionally feature grand colonnades and lime-wash walls in earthy tones. Built out of tufo, a local sandstone, the residence has been painted—both internally and externally—with a completely natural powdery pink lime wash, which suits the traditional building methods while integrating harmoniously into the landscape.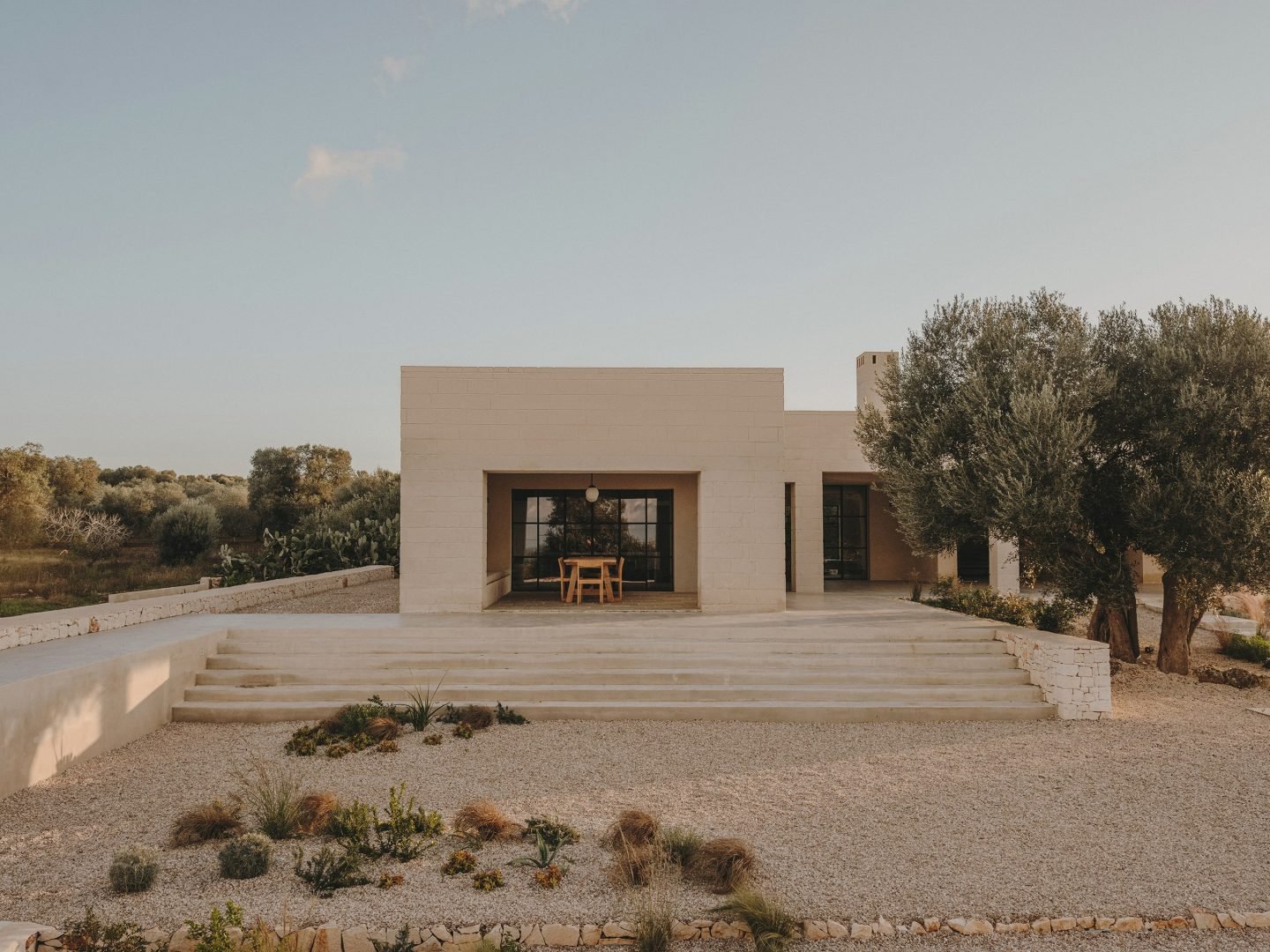 Conceived for outdoor summer living and designed with a connection to nature in mind, the house features a large shaded veranda covered in thick cane and reminiscent of Moroccan souks—an excellent gathering and resting spot during the hot summer months. Inside, expansive open spaces, including four bedrooms and various social areas, are beautifully appointed with high ceilings and large windows providing ample natural light and capturing the beautiful scenery outside. With several niches intended for storage, the kitchen has a large island with a bespoke terrazzo top crafted by a local artisan, whereas the bathrooms feature locally made sinks designed by the Studio and cocciopesto flooring—a building material from ancient Rome, consisting of lime mortar with crushed lime and bricks. Throughout, warm earthy tones and minimal decoration—including built-in furniture, selected vintage designs, and locally found antiques—instill a sense of lightness and tranquility that matches the serene and untouched beauty outside.