British architect John Pawson designs uncomplicated spaces with an emotional content that highlights the habitable quality of their architecture. Eminent for his nuanced approach to spareness and simplicity, his talent extends across design disciplines and mediums, as a testament to the power of minimalism. Upon the release of his latest collaboration with Danish textile studio Tekla, we caught up with the celebrated architect to discuss not only his contribution to their new bedroom collection, but also his design philosophy, and how architecture is much more than what meets the eye.
"I've always been an admirer of simple things in life," says Pawson, speaking over Zoom from his home in London. Behind him, an imposing shelf is filled with books and an assortment of magazines. "As you can see, this is my wife's office," he is quick to remark, highlighting the space's lack of zen refinement. "My workspace would be kept to a strict minimum; just plain white walls." As he walks us through his childhood, his values and guiding principles, what is immediately clear is that Pawson is frank, sociable, and funny, but also a man who embraces order and tranquility.
"Since I was a young man, minimalism has always been there, in some form"
For the architect, minimalism has always been an instinct ingrained deep as an old tattoo, indelible and permanent. "Since I was a young man, minimalism has always been there, in some form. I never had much in my room, it was always unadorned," he says. Born in 1949 in Yorkshire, Pawson attributes his penchant for simplicity to his upbringing. "My parents were brought up as Methodists. They were both well-off, but they led a no-adornment kind of life. My mother had a genuine inner modesty; she didn't like stuff and only had one smart suit—admittedly, it was Chanel. It was always reassuring to see this uniform," he shares. Growing up in the industrial landscape of market town Halifax also left its mark. "The moors of Yorkshire might add to the reason why I enjoy having less. There, everything was wonderfully made of the same plain stone and the hills around were treeless. A sense of emptiness inevitably surrounded me."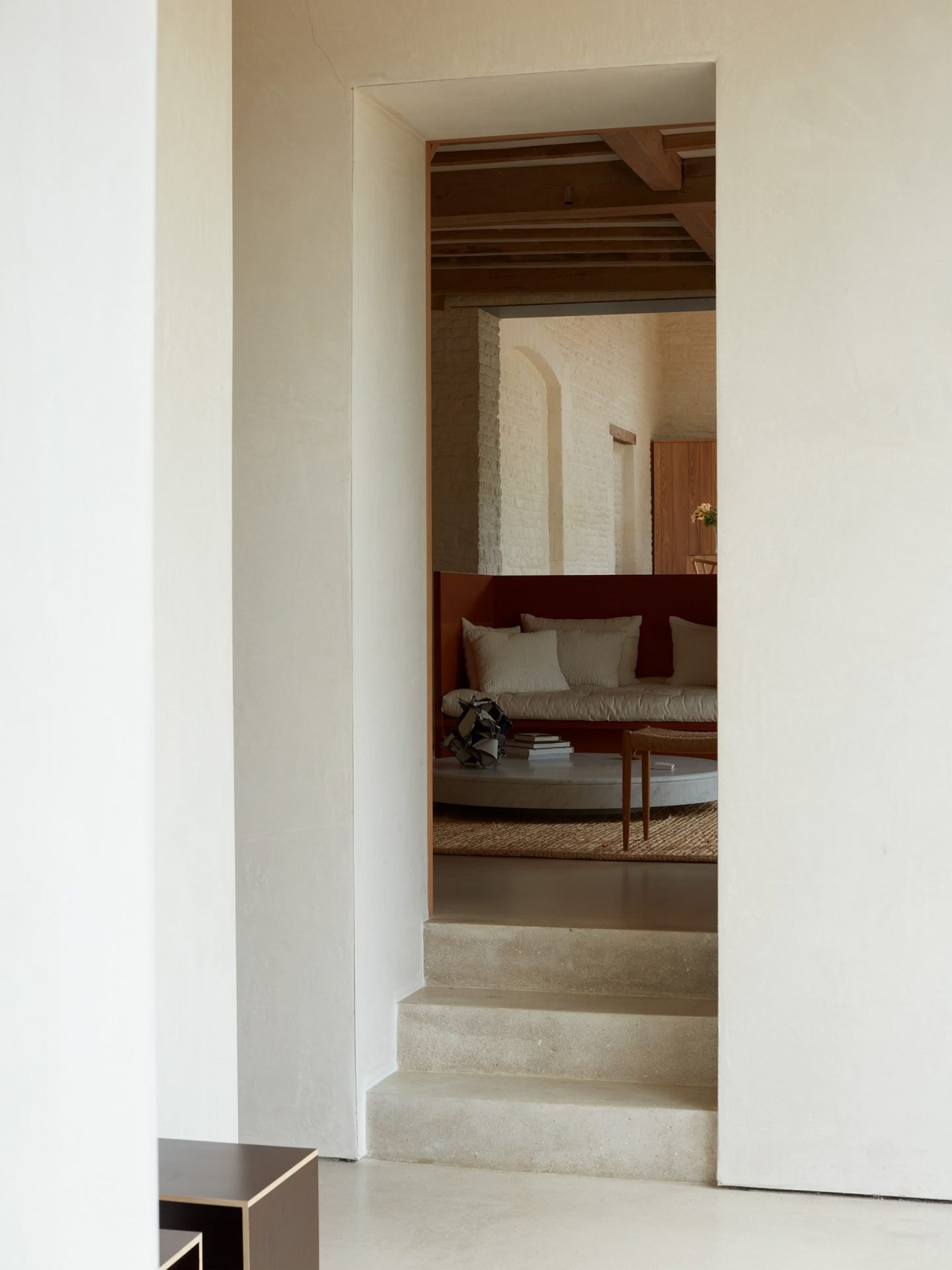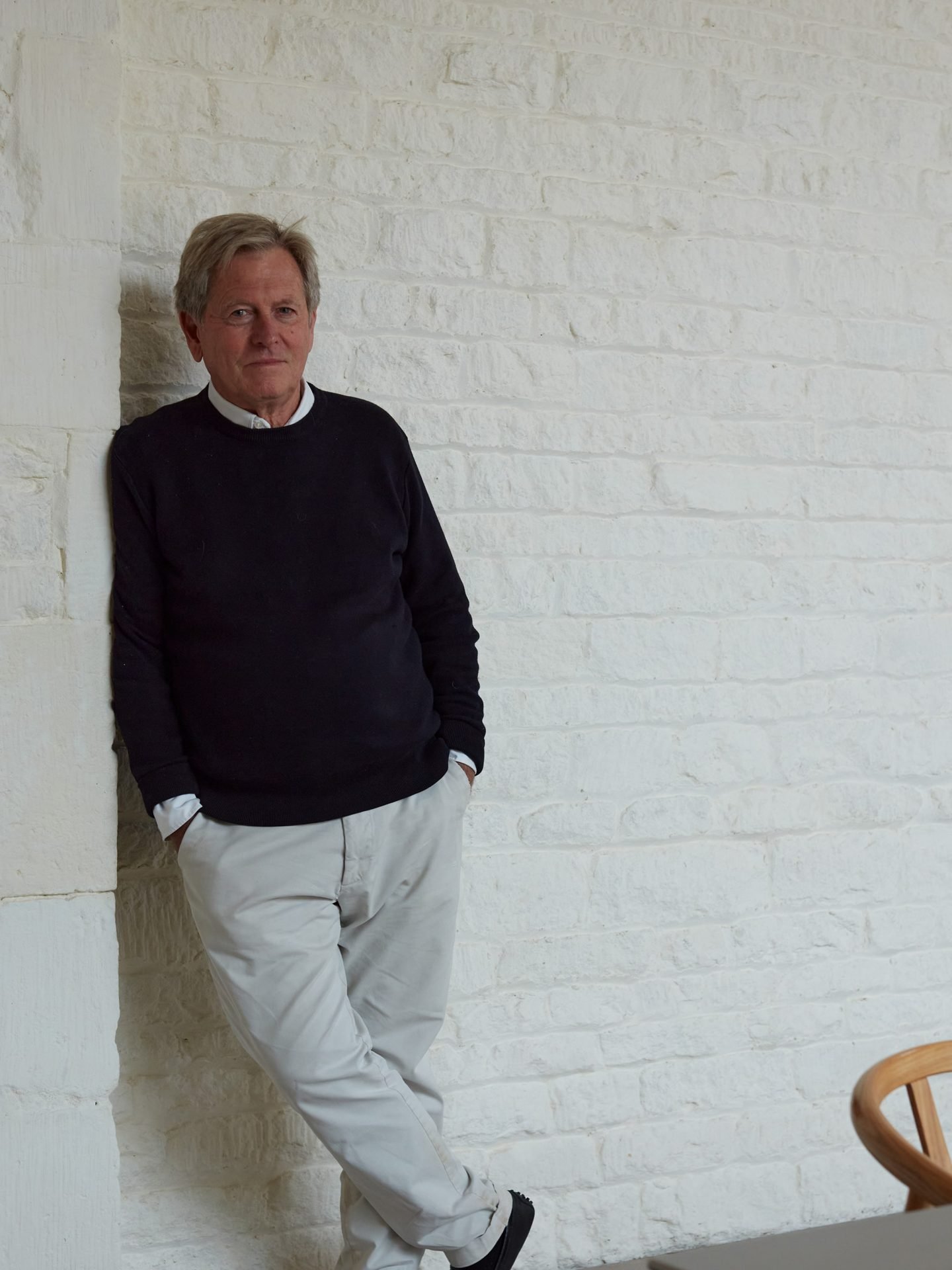 The instinctual draw towards uncluttered spaces was to give way to Pawson's unique architectural taste, but actual architecture came late. "I spent six unsuccessful years running one of my father's textile companies," he explains. "Eventually, I followed my gut feelings and took a trip to Japan, where I trained with [the icon of Postmodern Japanese design] Shiro Kuramata." Pawson found himself inspired by pared-back Buddhist monasteries, the quiet zen of Japanese design, and the idea of emptiness as a field of endless possibility; upon his return, he began studying at the Architectural Association School of Architecture in London, which he left in 1981 to start his own studio.
Pawson pushed extreme spareness to the forefront of the era, becoming a pioneering force in the world of architecture
Today, Pawson is one of the most celebrated working architects—globally renowned for his stunning atmospheric spaces that celebrate simplicity. However, it would take a while before Britain warmed to his work. "At the beginning everyone thought I was mad. England did not have a reputation for visual arts—other countries like The Netherlands, Germany, Belgium, or Portugal, understood my work better," he observes. An early adopter of minimalism, he pushed extreme spareness to the forefront of the era, his undisputed talent making him a pioneering force in the world of architecture. Pawson brings a penetrating depth to his works, of which, in a career spanning over four decades, there have been many. From designing Calvin Klein's flagship store in New York, to the London Design museum, to his farmhouse in the Cotswolds, his prolific practice includes residencies, restaurants, galleries, and holy spaces across the world, including the much-acclaimed Monastery of Nový Dvůr.
Pawson's intent is to stun with simplicity. Poetic in their design, his spaces toe the line between tradition and modernity, softness and hardness, through spare palettes, clean lines, fine natural materials, and an emphasis on light and proportion. Achieving minimalism, however, is no small feat. "Minimalism is more than decluttering alone. It requires a lot of work to develop the perfect balance between adding and subtracting, until no further refinement can be reached," he explains. For the architect, minimalism has an incontestable ability to stir up feelings. "I strive to create rigorous yet emotional spaces, where people feel comfortable and at home. Sometimes adding a few things can completely change the space or spoil the architecture," he adds.
"I strive to create rigorous yet emotional spaces, where people feel comfortable and at home"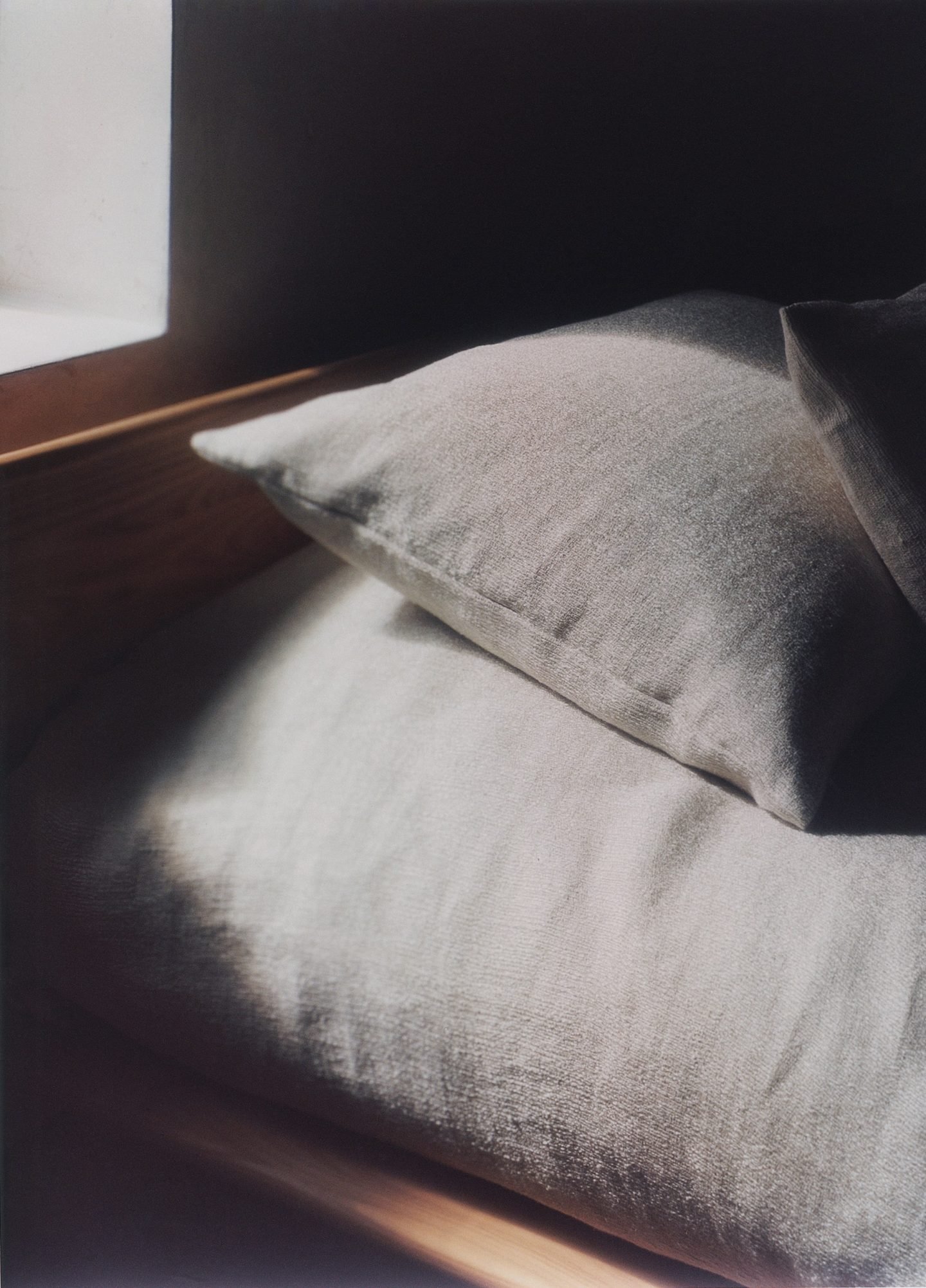 Pawson could not be more passionate and tireless—this may explain why minimalism has proved to be so incredibly successful for him. Throughout the years, the architect has been wholly coherent with his vision, constantly refining his aesthetic. "I try new things all the time, and I enjoy taking risks. Without them, architecture would not be evolving," he says. The current craze for minimalist interiors and lifestyles is a testament to this. If thirty years ago minimalism was not a word often found on the lips of designers, today it is everywhere, in all its various renditions and adoptions. "I enjoy taking risks. Without them, architecture would not be evolving""I think the fundamentals of minimalism are universal, and applied to everything really. I think it will go on to be a kind of standard or measure," Pawson comments on society's current move towards an appreciation for 'less is more.' "It is not for everyone. Some people warm to it, others don't. Interestingly, all my children seem very happy with having less," he says with a soft smile.
Pawson doesn't draw distinction between his life and his work, living very minimally himself. "Minimalism runs through everything I do. Not being surrounded by clutter gives me a sense of freedom," he explains. "I tend to focus on what's essential; I don't like stuff and I hate shopping," he admits. "Although, I've put on too much weight during lockdown. And eating too much is not minimal," he adds, laughing.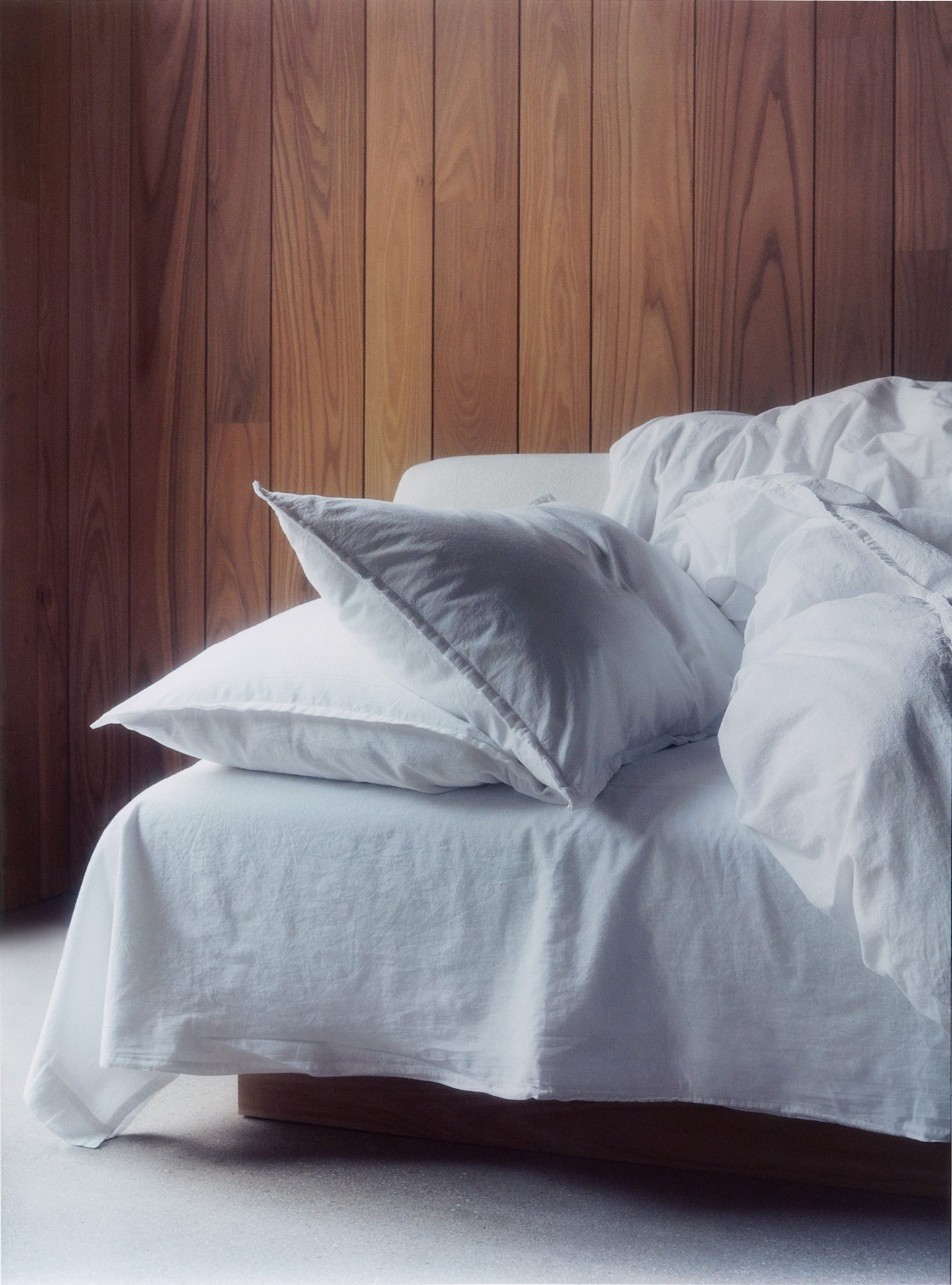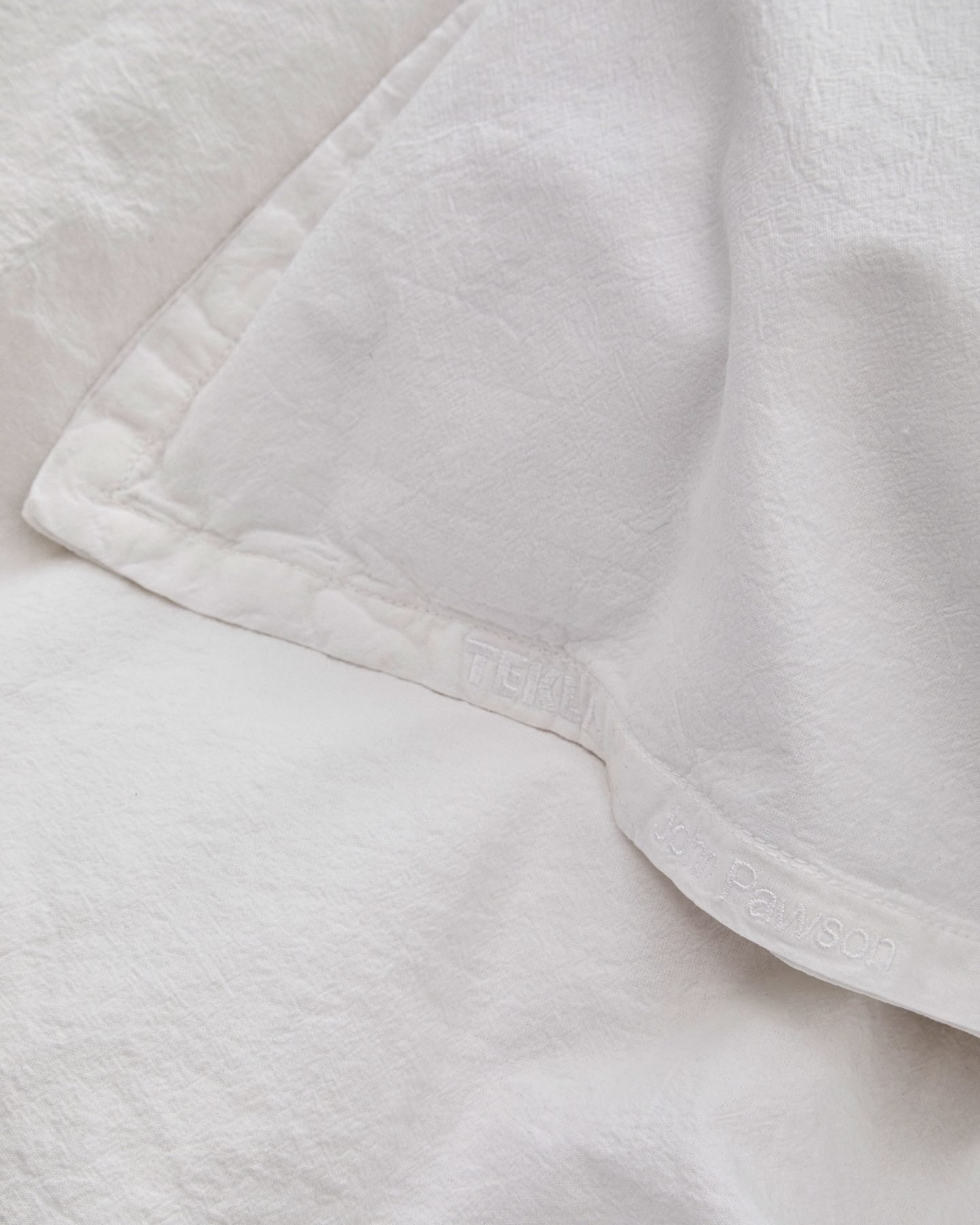 Though Pawson is mostly known as an architect, there is hardly any limit to his creativity. And that is why he is such a captivating designer. His work is versatile, broad in scope but also in terms of typology and mediums—no matter the project, everything can be traced back to his set of preoccupations with mass, proportion, geometry, light, and ritual. Textile is no exemption. "In the last decade, I started taking an interest in the soft side of architecture," shares Pawson. With a long lineage in the textile industry, the architect is highly fluent in the language of fabrics. "My father manufactured women's clothes; I have learned so much from him. He really understood the weight and composition of fabrics," he continues.
Pawson's bedroom collection with Tekla continues his foray into timeless textiles
Pawson's acquired skills serve him to this day. Released for summer 2022, his latest collaboration with Danish brand Tekla—the third of its kind—continues Pawson's foray into timeless textiles; and exquisitely so. The Copenhagen-based studio, founded by creative director Charlie Hedin and known for its thoughtful textile products for the home, has recently partnered with the architect for the design of a new complete bedroom collection, titled 'Tekla / John Pawson'. Visually appealing and beautifully manufactured, it includes duvets, sheets, bedcover, cushion covers, and decorative pillows, made from 100% cotton in a warm shade of off-white, as well as a low platform bed frame with a hinged headrest for bedtime reading in a warm wood, which elegantly contrasts with the soft white bedding.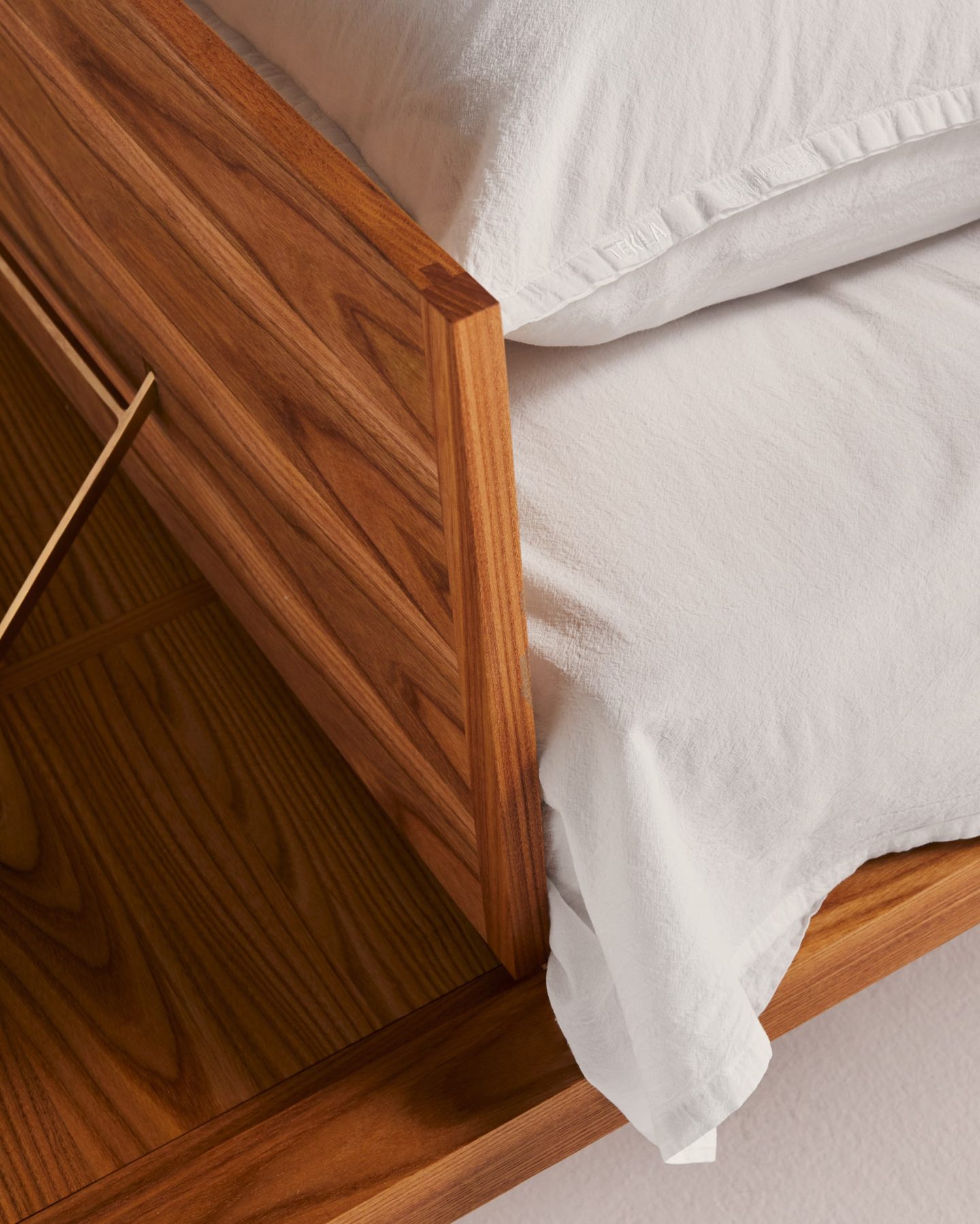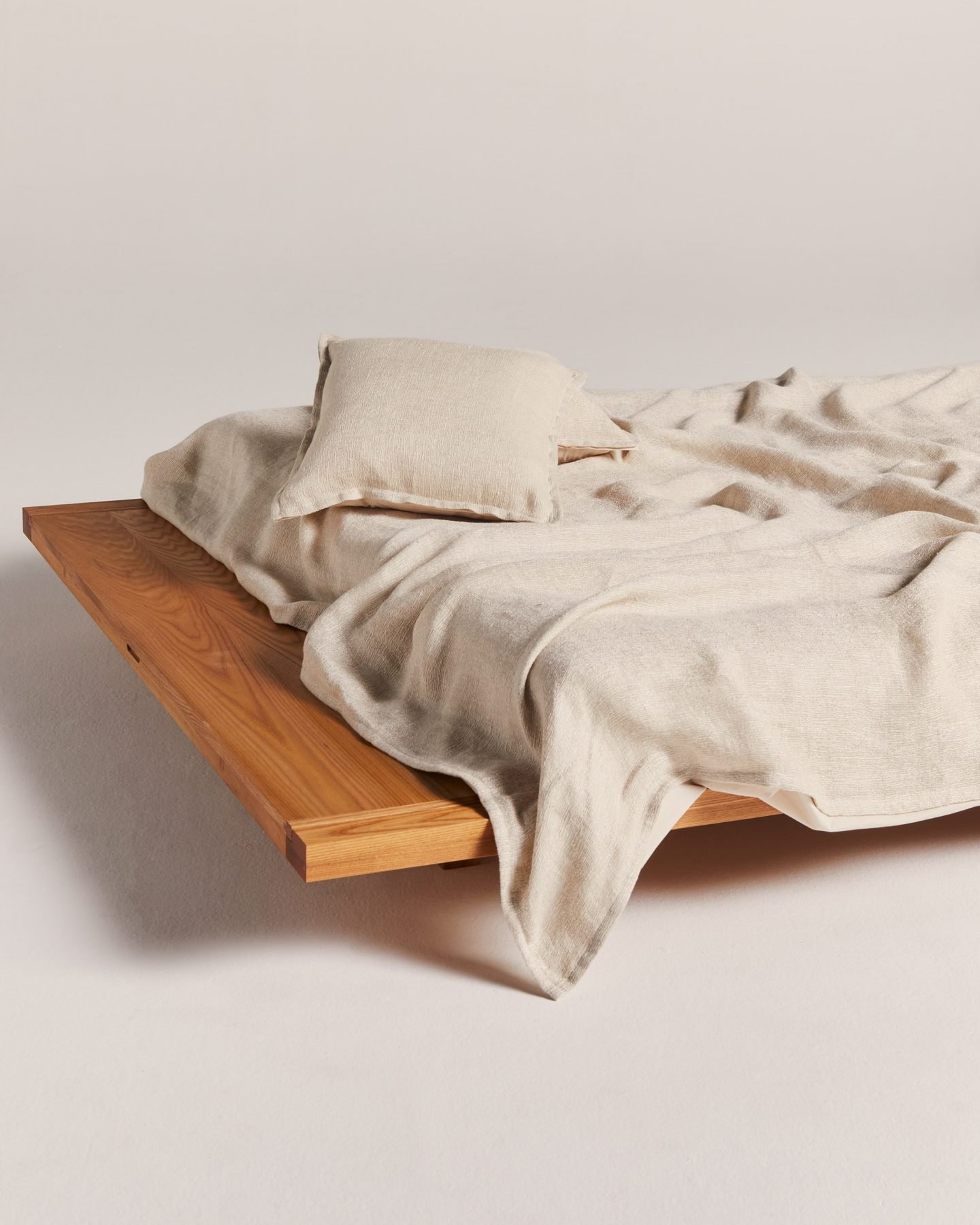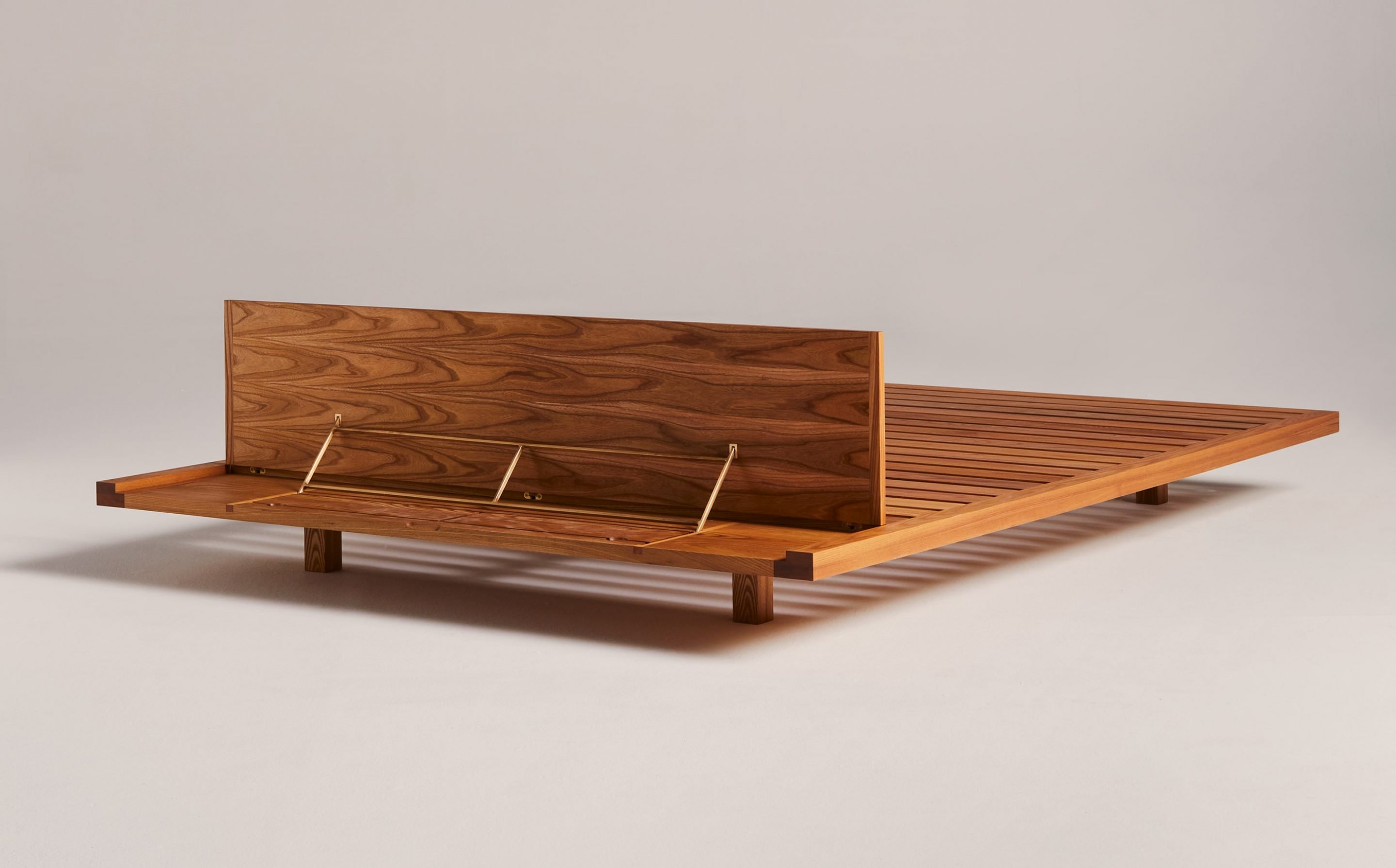 "This special cotton has a unique character. When put on the duvet, it looks like a sculpture"
The products' earthy and soft colors are inspired by Pawson's renowned project and self-designed countryside residence in Oxfordshire, 'Home Farm'—a cluster of 17th-century farm buildings recently revamped into a marvelous family dwelling. Described as a manifesto for his architectural vision, the 1610 farmhouse and its organic atmosphere and material palette (mostly stone, timber, and plaster) served as a starting point for the bedding's design. "'Home Farm' was about uncovering the bones of this centuries-old structure and making a harmonious composition without losing the essential character of the space," explains the architect. "We had a limited palette of raw materials, like stone and stainless-steel frames, which I really appreciated. In many ways, it's the same approach here. This special cotton that Charlie found, which has the feel of linen, has a unique character. When put on the duvet, it looks like a sculpture; I hadn't seen anything quite like that," he says. The architect is referring to the textured surface and layered construction with the precisely finished mitered corners of the textile. "It is also very photographic," he adds. "The campaign images are so nice, which is unusual for bedding. Beautifully lit, the material picks up all the different creases and edges."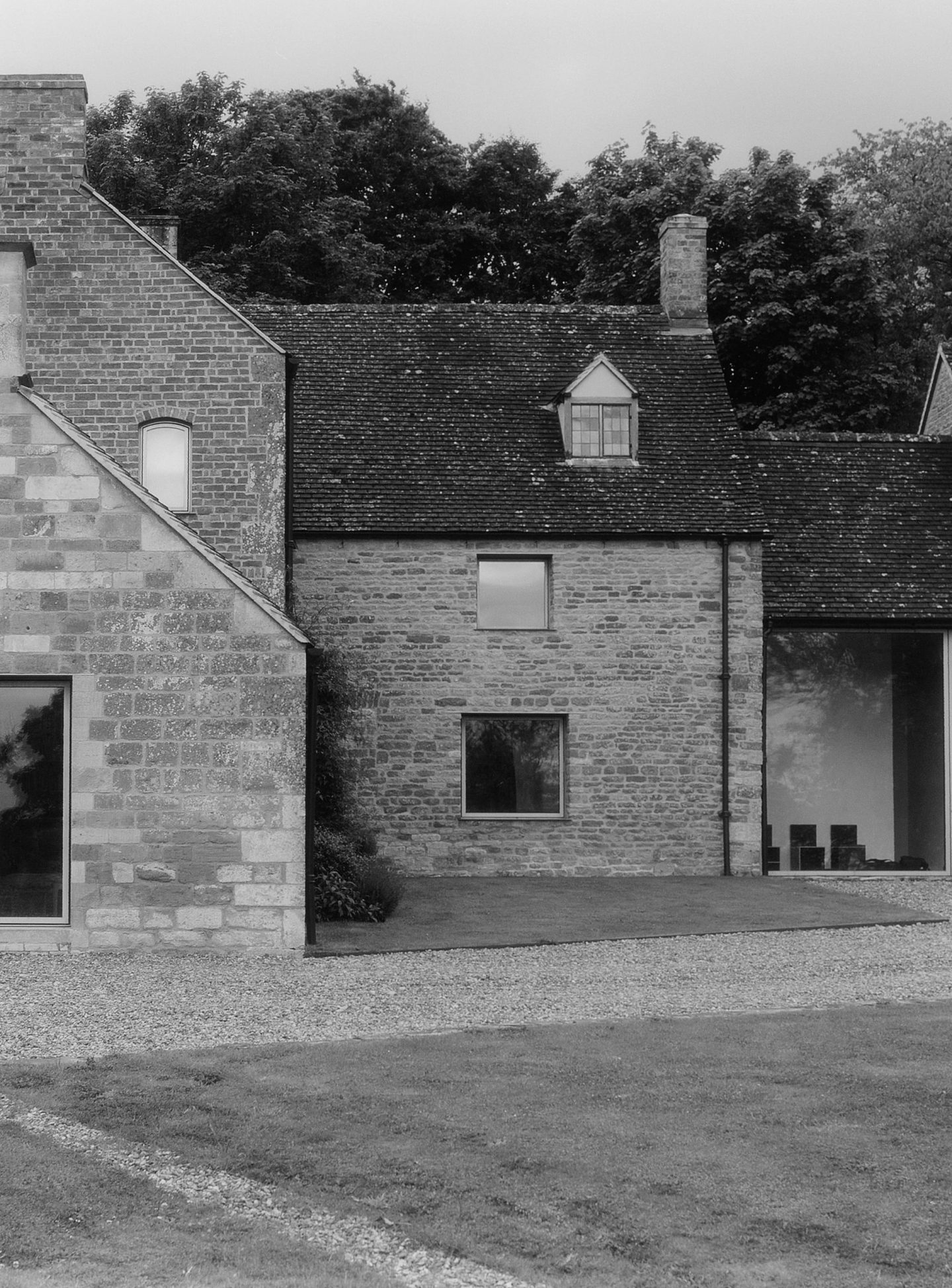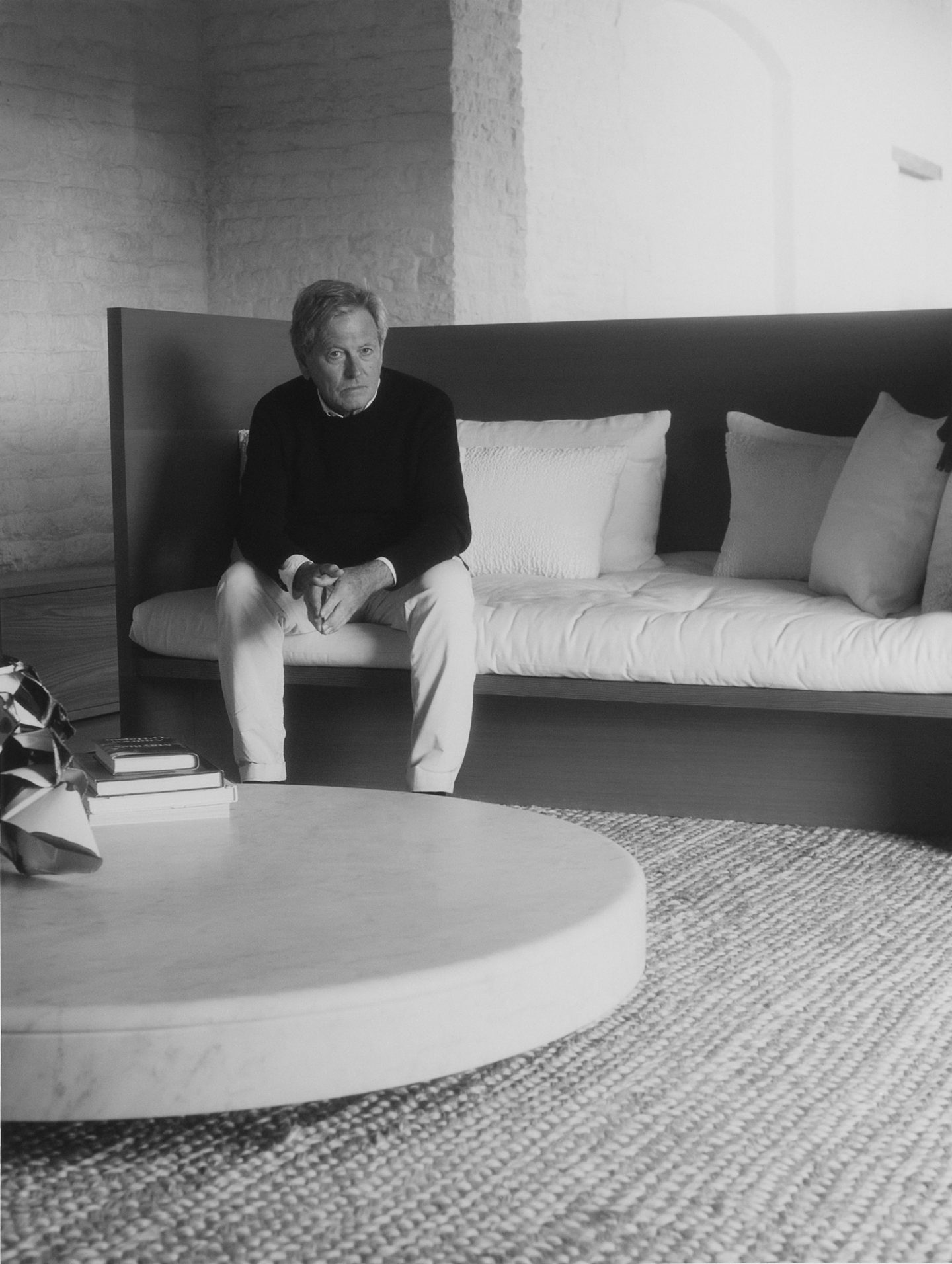 For Pawson, the project is a natural extension of his work as an architectural designer. "Everything I do is architecture. I think of textile design as architecture as well. Sheets are part of the deal. You spend half of your life in-between sheets—they are imbued with meaning," he explains. "The daily ritual of sleeping is every bit as important as architecture." The designer emphasizes the collaborative effort in the Tekla creations and how his brilliant eye and Tekla's hard work and dedication to impeccable craftsmanship are all prominent within the collection. "All kinds of interacting ideas and reasons are tied together here. Tekla already has the experience in finding beautiful materials. It was mostly an editing process. Together, we did some of the detailing for the edges; some small tweaks here and there," he remarks. "It was particularly exciting because, here, the collaboration is directly with the manufacturer, and, together, you get to make the choices."
"I think of textile design as architecture as well. Sheets are imbued with meaning"
As we wrap up our conversation, nothing shines through more than Pawson's desire to bring minimalism and comfort in every aspect of the home, including the bedroom. The staunch advocate of minimal living visualizes his ideal sleeping space as spartan as possible. "The more we subtract, the more we are left with. My bedroom would comprise nothing but a bed. No bedside table, no light, no reading light, no TV. Just a bed with beautifully textured sheets," he says. "My wife sees it very differently," Pawson adds with a soft laugh. Living with a minimalist means there will always be some level of compromise. Yet, despite not always agreeing with his wife's tendency to add the unnecessary, the architect is full of praise and love for his wife of over 30 years, Catherine. "She is absolutely fantastic," he adds. "Together we can discuss everything, from my big projects to my vision for Tekla. She's the one who really knows me best"—a closing statement as touching and personal as his design ethos.
Tekla and John Pawson's Collection 'Tekla / John Pawson' is available from June 23rd, 2022. More information here.