Having grown up with creative parents in an environment that celebrated craft and design, Hana Karim believes that her career path as a ceramic designer wasn't a choice—it was always there, waiting to be discovered.
Born in Slovenia, Hana lives and works in the capital city Ljubljana, crafting ceramics in a studio space opposite her apartment. After focusing on jewelry design for a number of years, the ceramicist has evolved her practice into creating bowls, plates, and mugs, inspired by an intention to 'upgrade' her own things. Her ceramics are characterized by endearing imperfections and softly misshapen forms–Hana enhances the rustic appeal of the traditional craft through washes of color glaze, inviting drips and uneven brush strokes to grace each object's surface. To discover Hana's artistic process and inspiration, we visited her studio and observed her at work with the potter's wheel, alongside finished earthenwares ready to be sent to their new homes.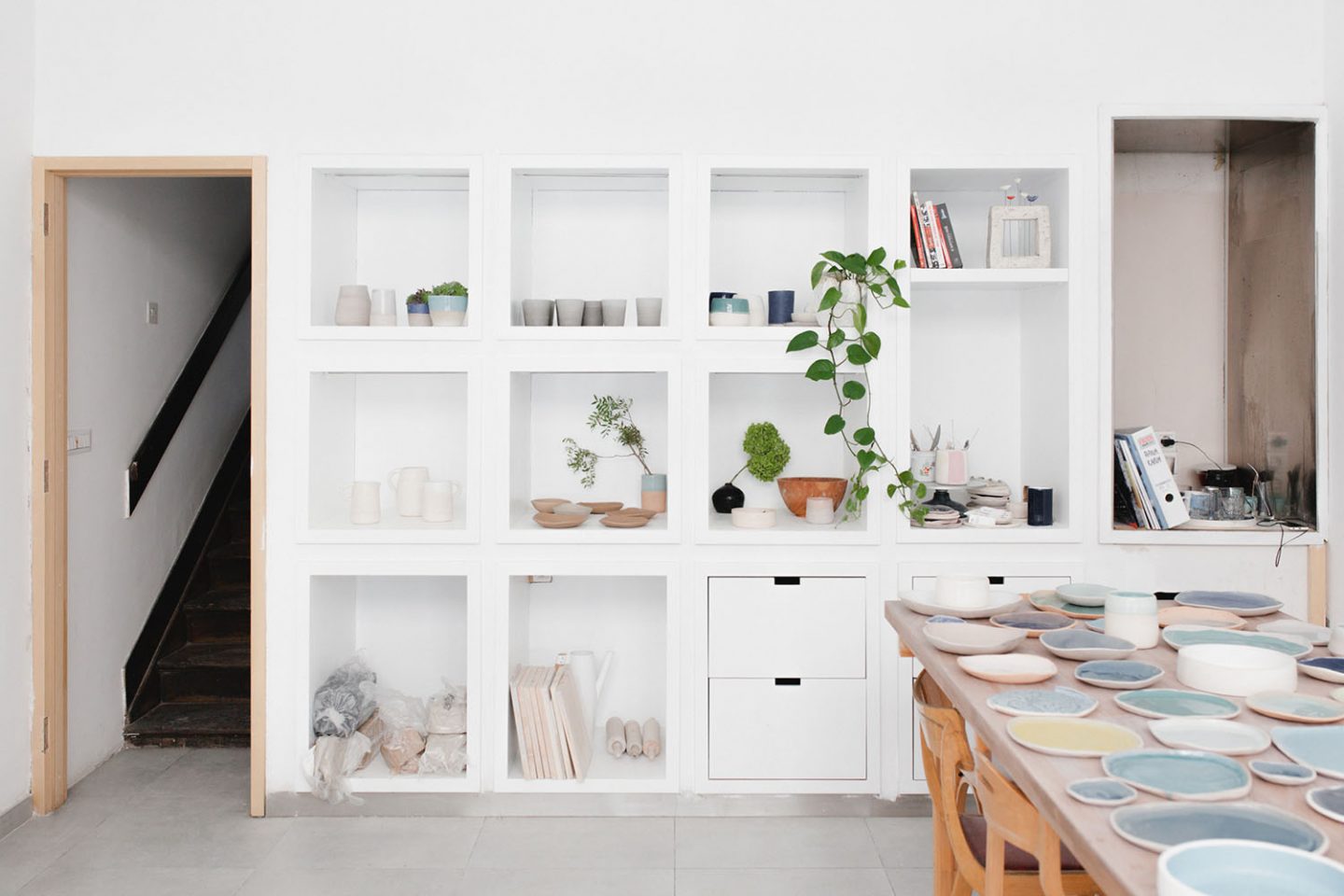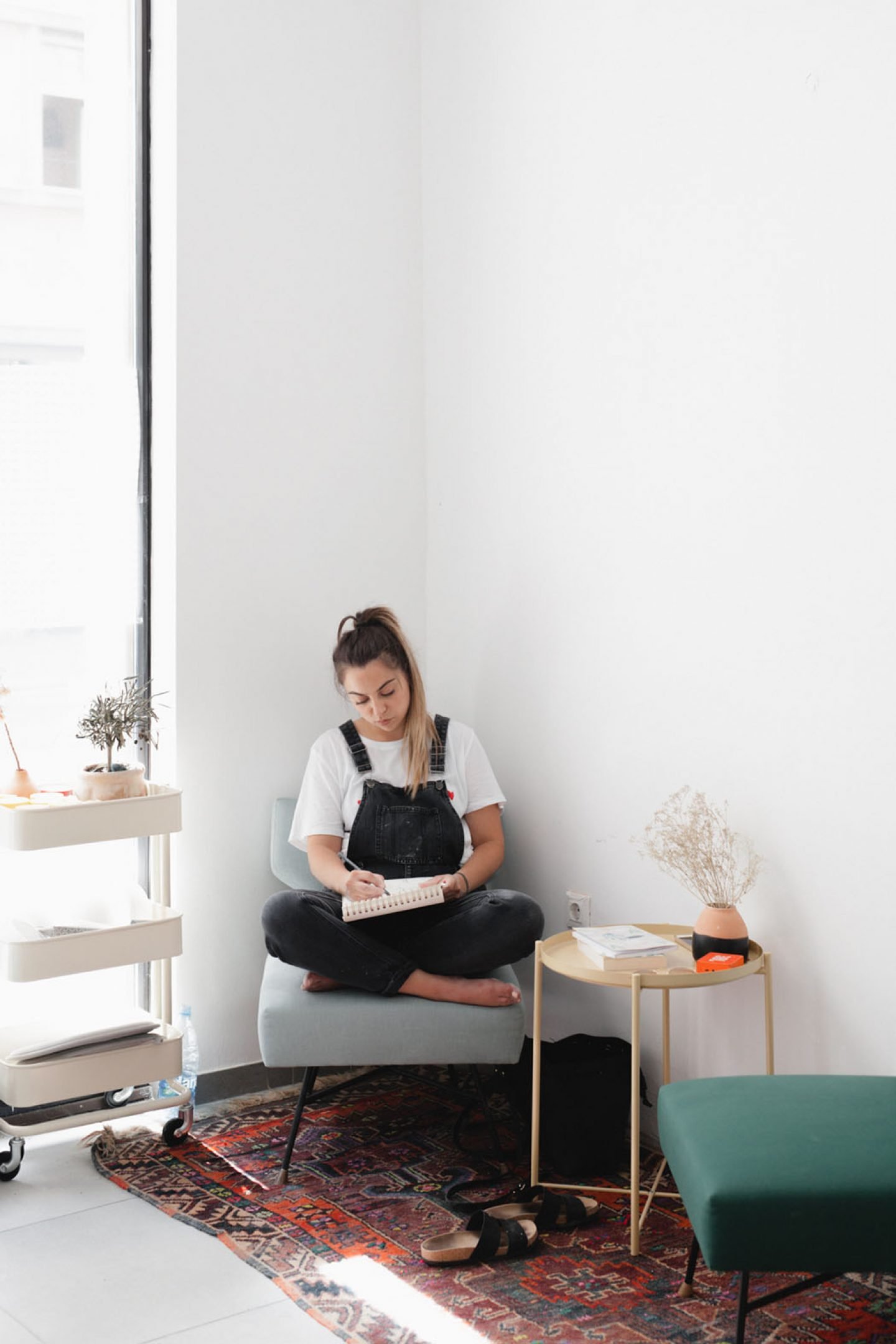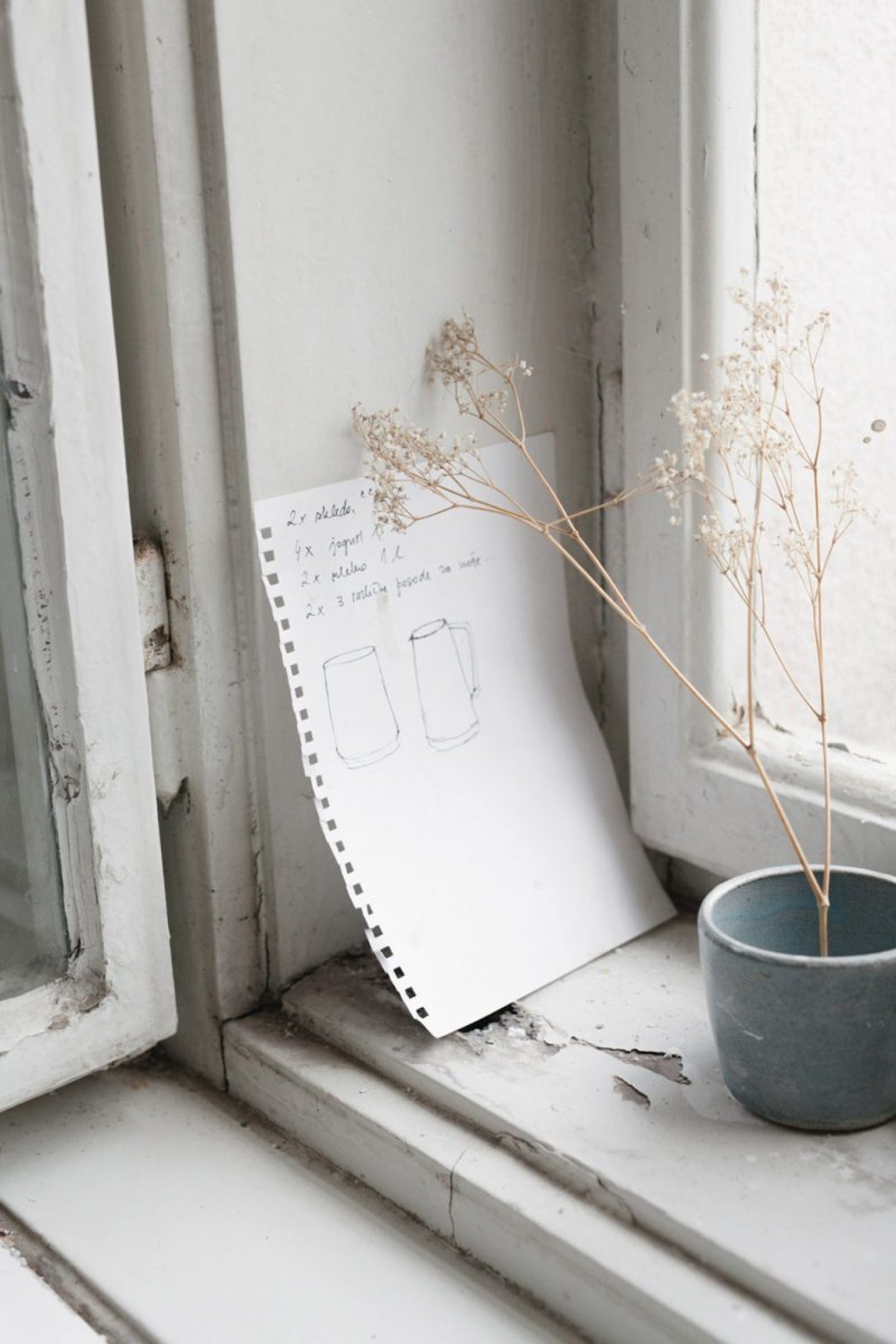 Your work has caught quite a lot of attention off- and online. Could you tell us more about your story and how you got to the place where you are now?
Whenever I try to describe what I do, I get very poetic and emotional. What I do is merely an extension of who I am and mostly how I perceive myself in a given moment. If I'm determined, my work will be reflecting that, if I'm in love, my work will give that away. If my mind is in perfect harmony or perfect disharmony, that's when the most magical creations come out. The sloppiest come out of chaos; most of the time they don't even make it through the bisque firing. That's when my basic instinct tells me to retreat. I sometimes talk about coincidence or dumb luck that have led me to where I am, however I sincerely believe I am exactly where I'm supposed to be right now.
What lead you into working with ceramics? Are you self-taught or have you learned it from someone else?
I somehow got caught up in a substance that always gives me just enough to keep me perpetually curious. However, two main characters of my story have always been my parents. My mom started experimenting with ceramics almost two decades ago and soon after she got her first kiln, I joined her at her studio. First of all—"If my mind is in perfect harmony or perfect disharmony, that's when the most magical creations come out."my mom is essentially an art teacher and a very good one for that matter. She has this natural sense, not simply for teaching techniques but also to challenge and motivate. She's also a brilliant potter with her very own sense of creating. Her fundamental inspiration comes from prehistoric cave drawings and the first man-made objects such as Venus figurines.
How would you define the style of your work and how did it develop?
When I was around 22, I started experimenting with these geo-shapes that eventually turned into my first contemporary jewelry series called 'Geometric/Organic'. For a young designer, I had such a clear vision of what I wanted to create. I pushed the boundaries and made a symbolic transition from objects of embellishment to wearable miniature sculptures. Considering the fact I made my jewelry out of ceramics made everything more extravagant. Functionality always came last back then.
Eventually, I wrote a thesis about miniature sculptures and how they relate to the human body and soon after said a sort of bittersweet goodbye to jewelry. Bitter because it was an ending of my first true creative expression, sweet because I've found a new love to keep me busy—pottery. There is so much left to discover about it, it overwhelms me just to think about it! I'm discovering it piece by piece, each time I try something for the first time and the results always lead me to somewhere new. Saying I'm not yet where I aspire to be can sometimes make me look insecure or like I'm fishing for compliments. The truth is I am on this continuous journey of discovery. When it ends, I'll stop creating.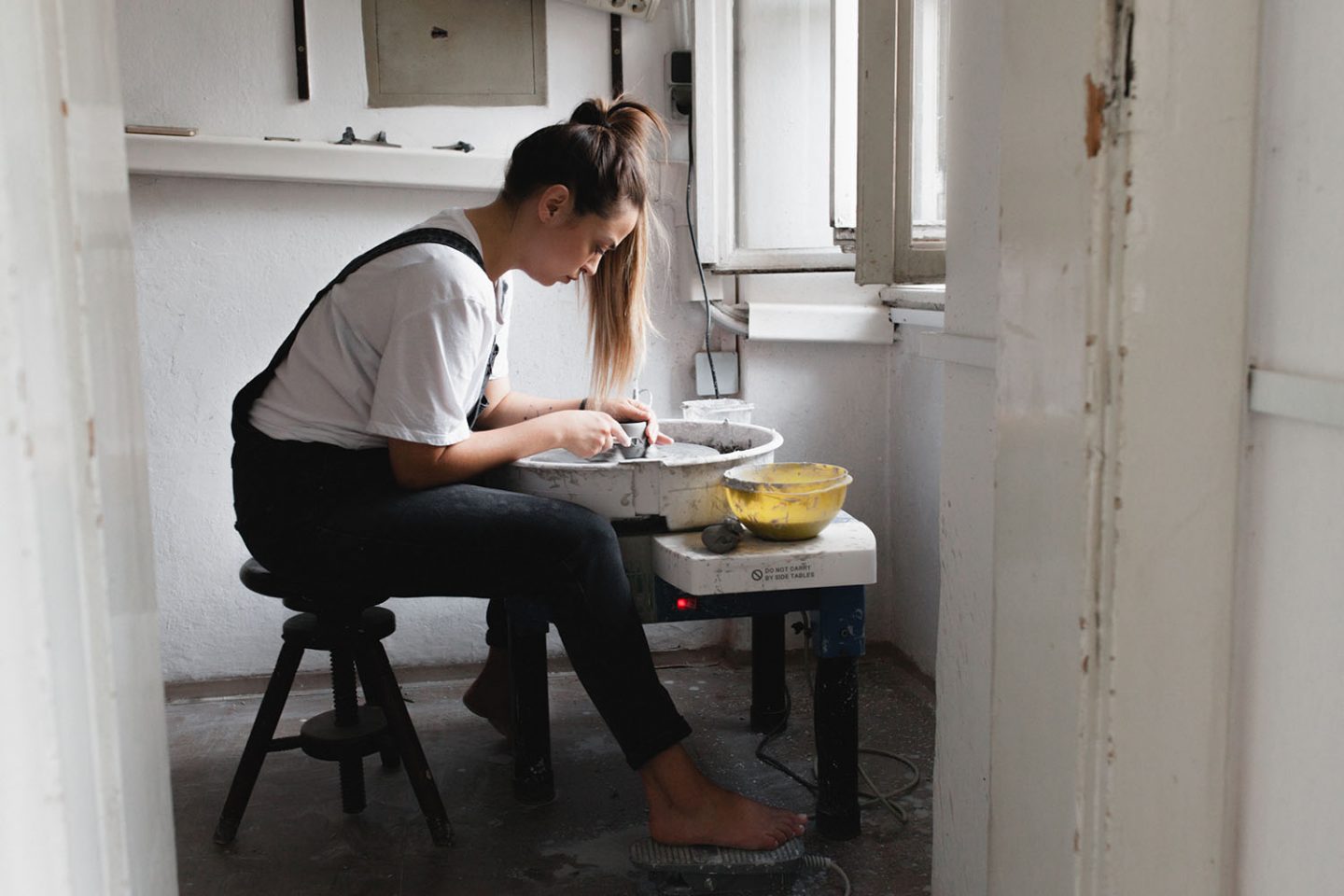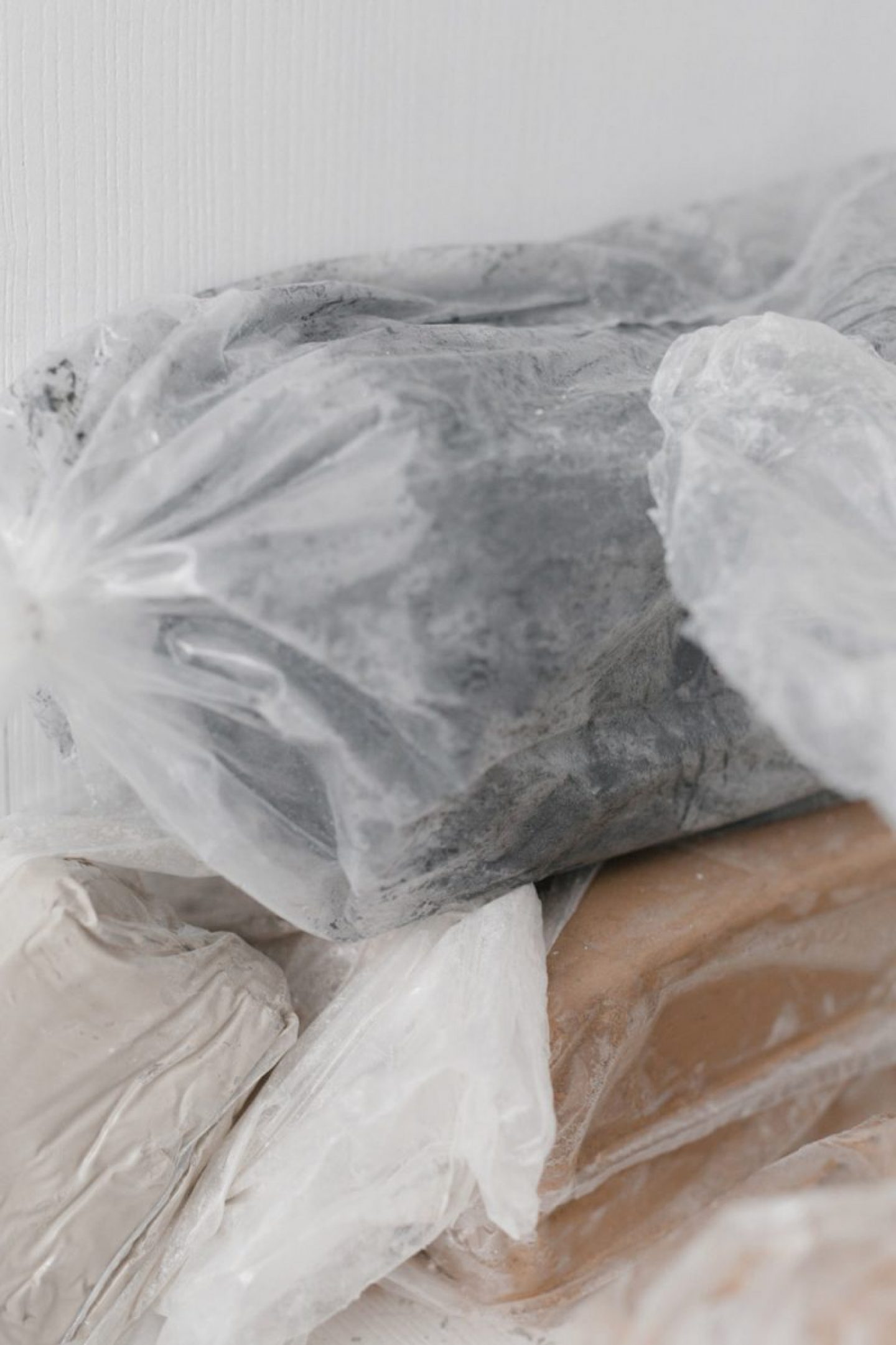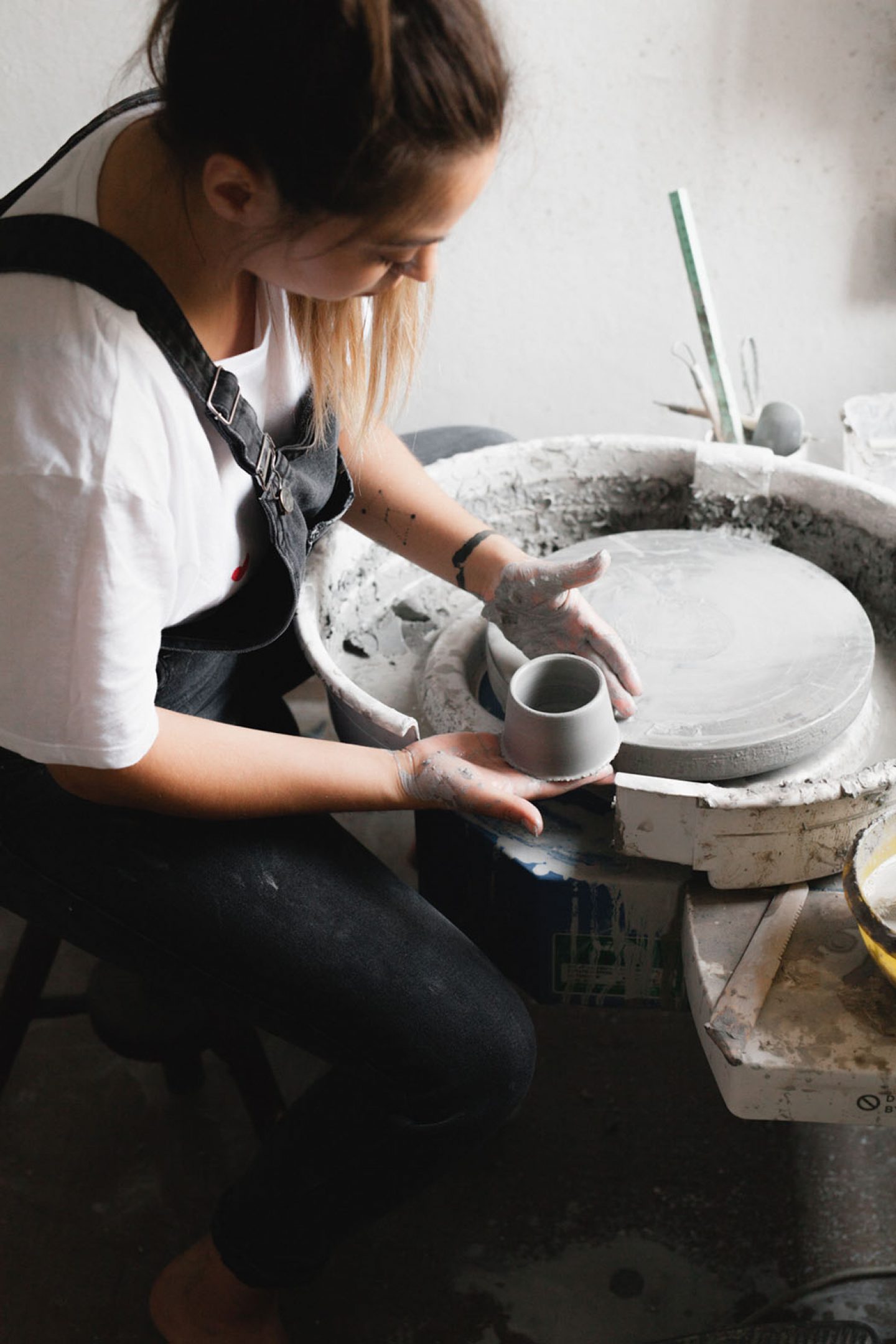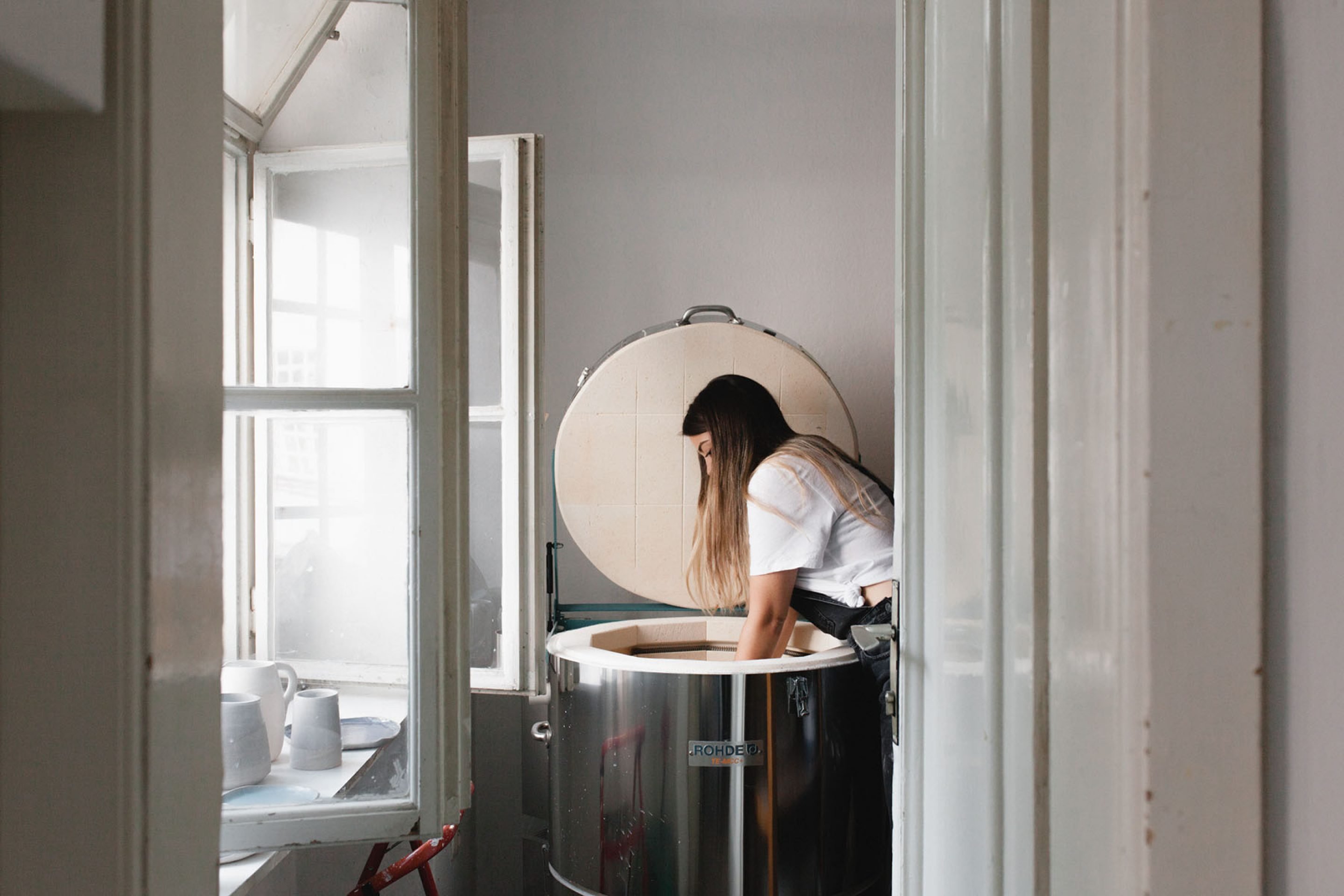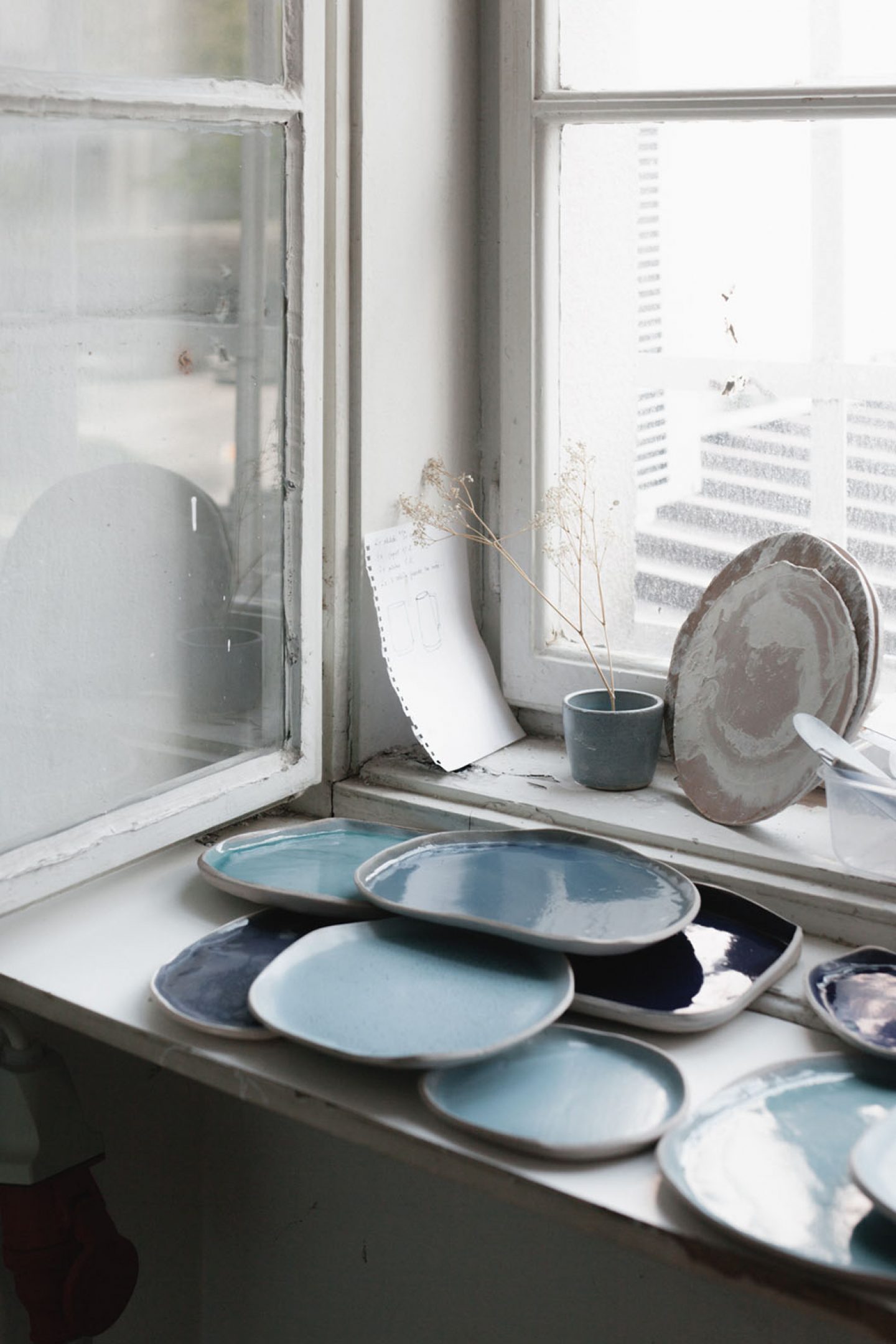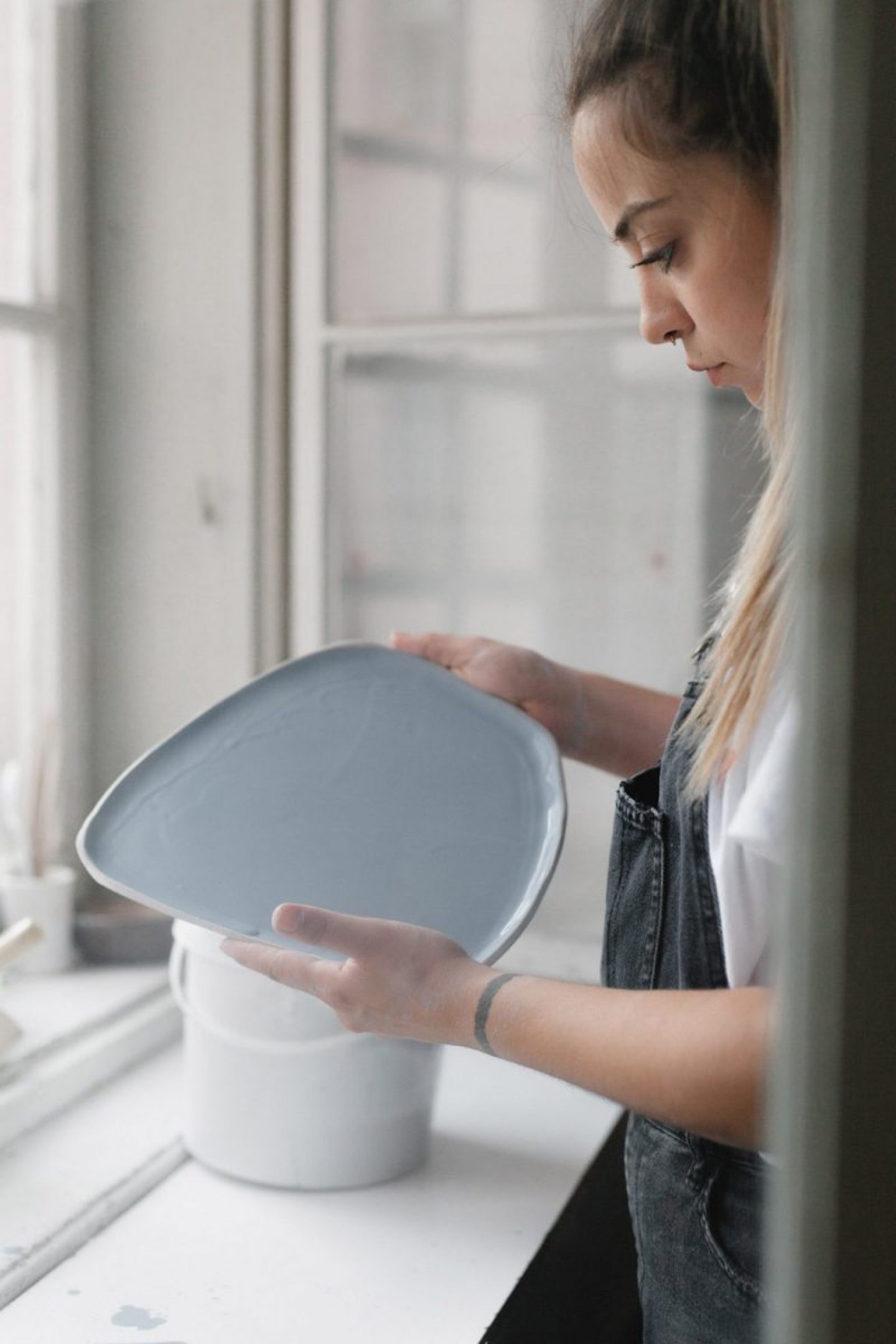 Do you come from a creative background? How did your family and the place that you come from shape you?
My background is creative in a truest sense. My parents are both artists and that resulted in life filled with artistic objects, paintings, sculptures, events, people, conversations ever since I can remember. Growing up in this sort of environment showed me both the downsides and the beauty of being an artist. My parent's story is a crazy story about how much passion and determination one can have in life. They didn't get any support of their own to become what they wanted so they did their best to make sure their kids get as much as they needed. For that, I am beyond grateful and I'm aware my story is much different from theirs. But the craziness, passion and determination are the same.
What is on your mind when you are shaping the object?
Most of the time I just feel very present. Working with such a primal substance as clay can be above satisfying. Because clay is basic and tactile. It's so primal, most people get it naturally. "Clay is basic and tactile. It's so primal."It can be soft, wet, messy; you can shape it just by softly pressing your fingers against it. Sometimes my mind wanders off and I think to myself OMG if this survives the journey ahead and makes it to the final object, someone will be using this piece of mud to eat their meals or drink their coffee!
The colors of your pieces are one of a kind—how did you develop your own color palette and how does it change with time?
You see, I don't quite know how to answer this. It is so hard to look at my work objectively. But I find this tool called Instagram so useful when I want to take a step back and see what's exactly going on with my creating. Taking photos of ceramics is something I really enjoy and sometimes I just scroll through my feed to see what color, shape or mood my current creative statement is in. Lately, I've found blues and greens and everything in between to be a sort of an archetype. No batch of freshly fired ceramics goes without this palette these days. Some time ago everything was much darker—I got really caught up in transforming my plates into galaxies. Before that, there were bright pastels and metallics.
Which materials fascinate you the most except for clay? Are there any that you have not worked with but would like to try out?
I get this question A LOT and each time I answer it, I start to think, "Damn, I'm really fixated to this material, aren't I?" But seriously, there are so many techniques I have yet to try out within my beloved milieu, I really don't think about any others. I'm thinking about porcelain lately though!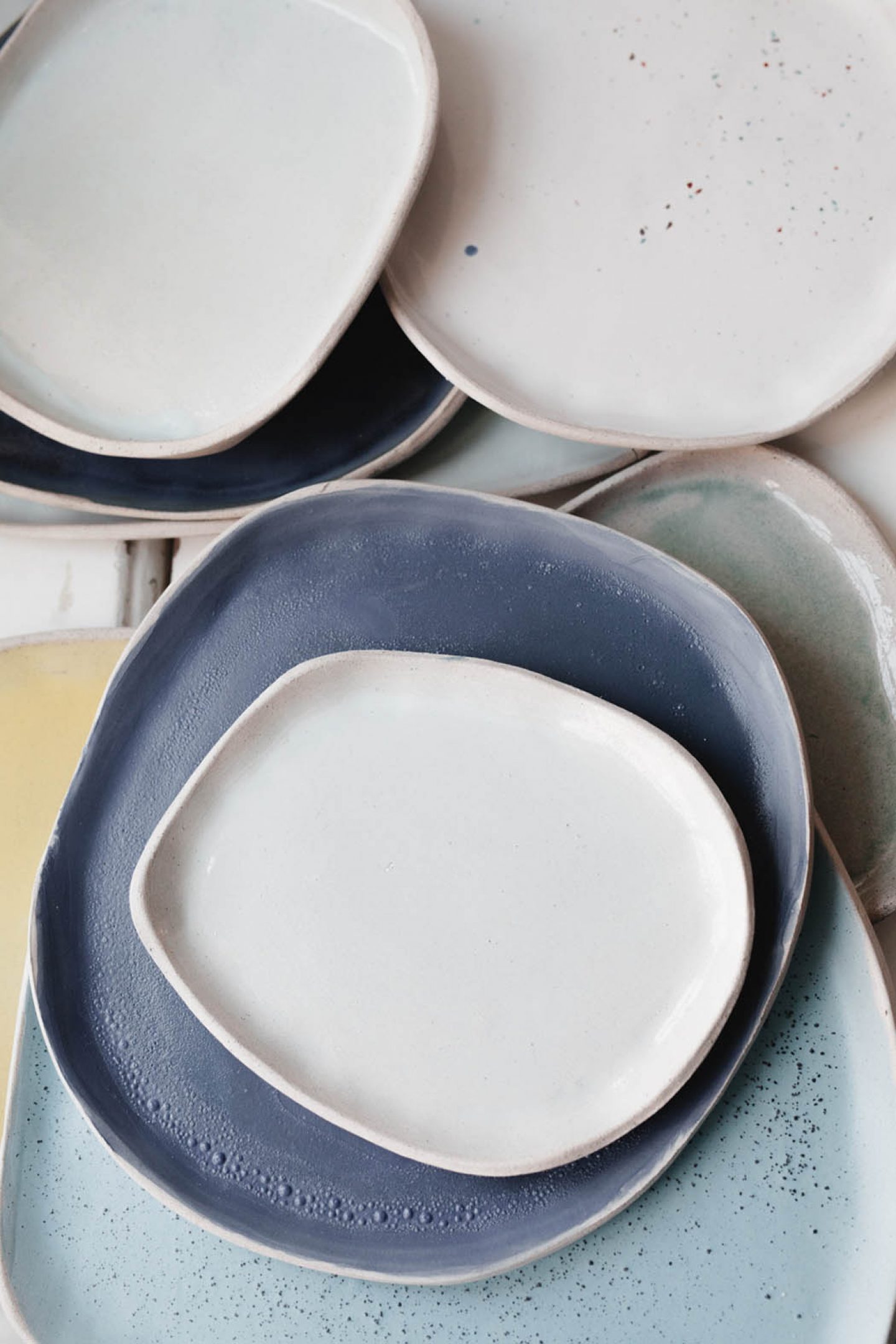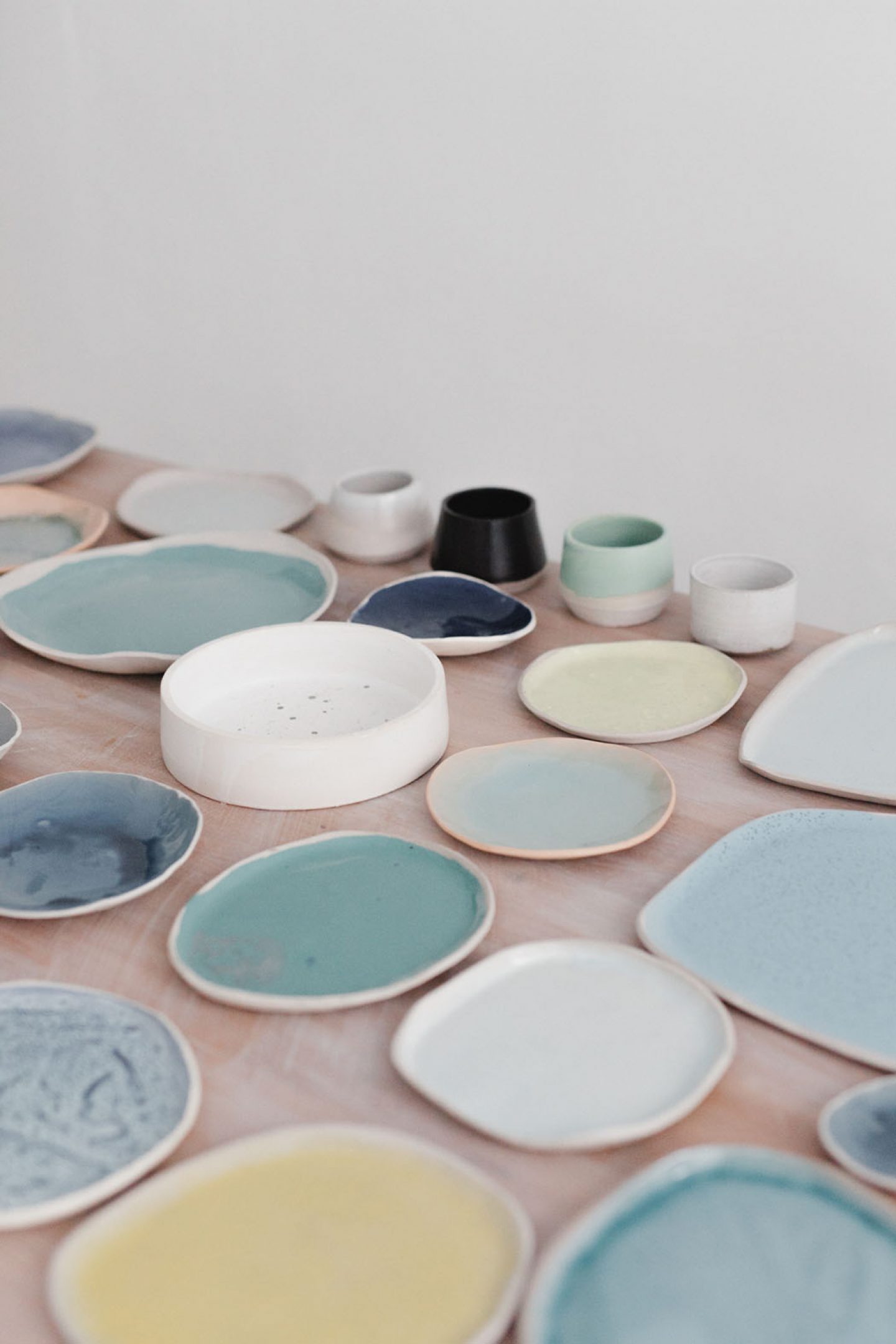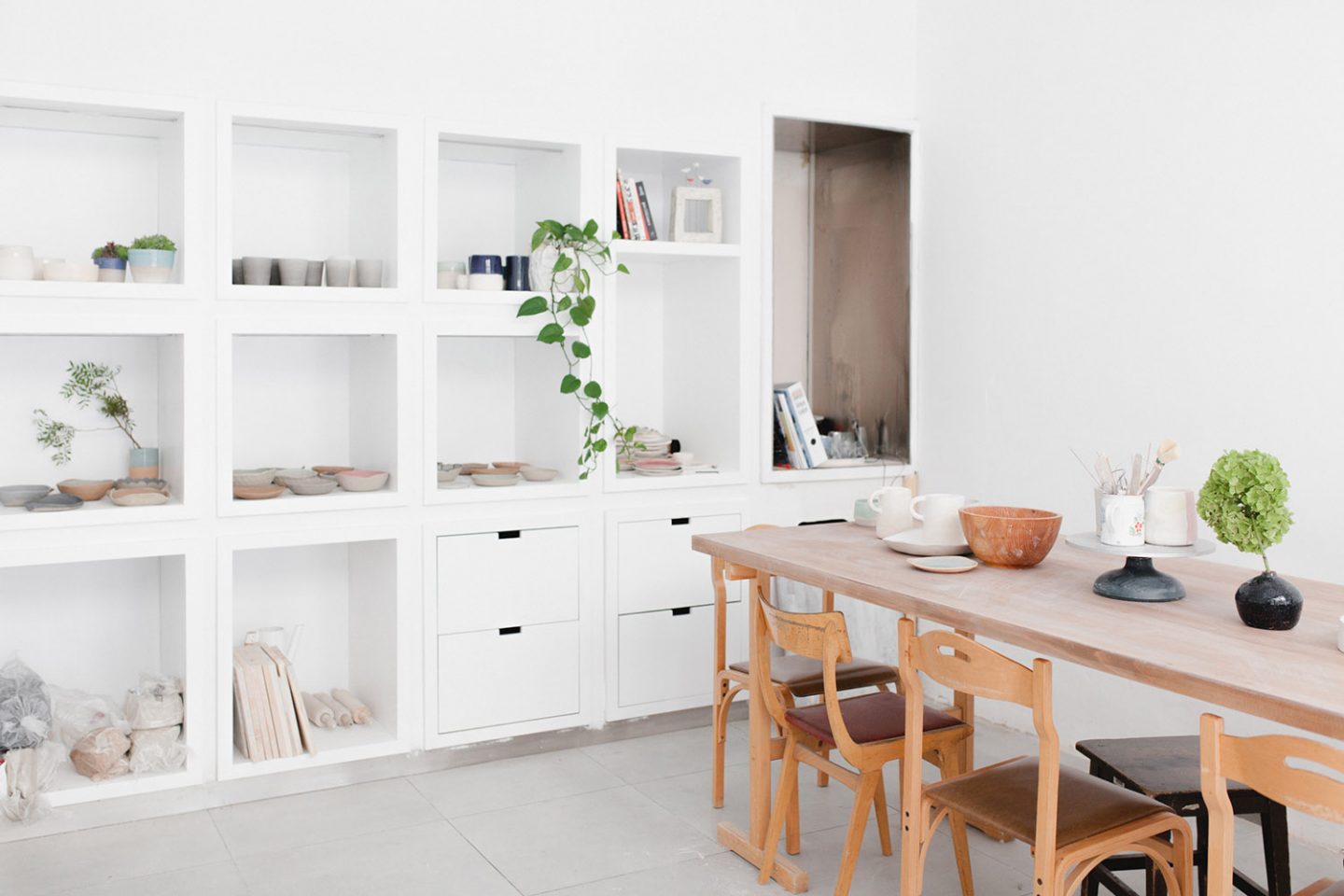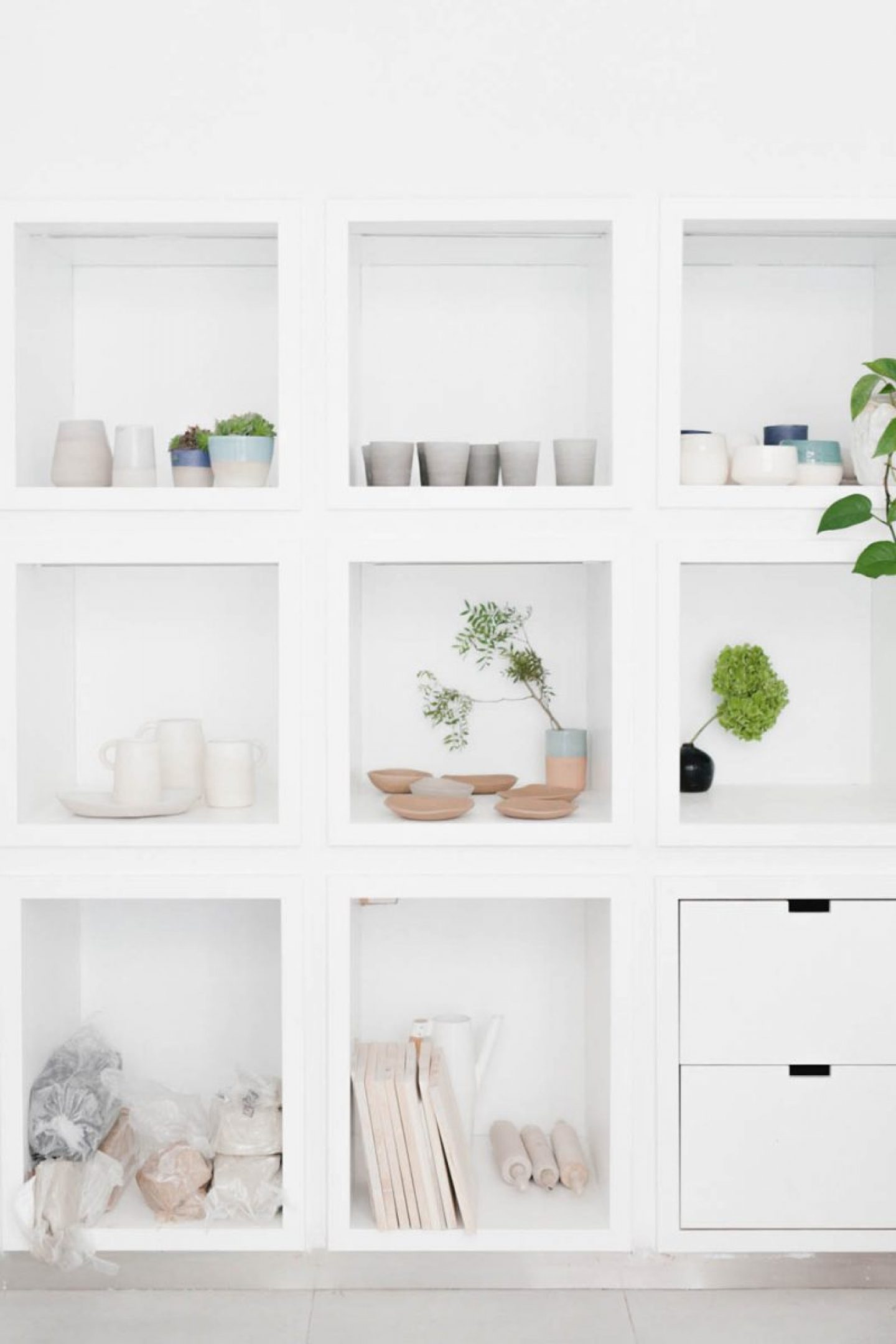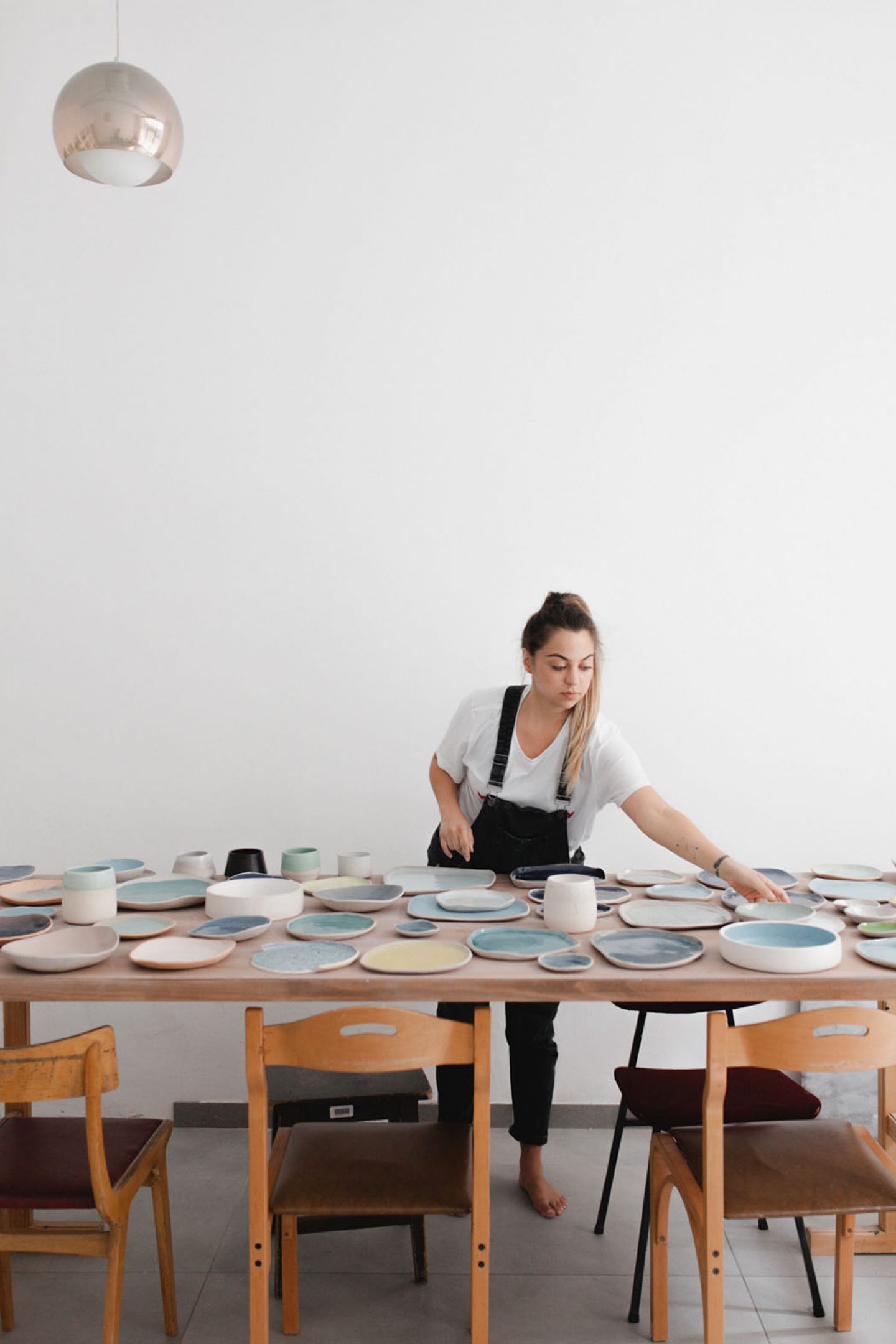 How would you describe the creative scene in Ljubljana, Slovenia, and how does it impact your own work?
I've been working in Ljubljana as a ceramicist for the past year and just recently got keys to my true love—my own studio. Ljubljana is a vibrant city, full of amazing artists and designers. I was lucky enough to get to know many of them and I'm happy to call many of them my friends. I definitely spend too much time at the studio lately because one of the reasons I love this city is its culture. Or just, you know, walking around the city, getting coffee in lovely cafes, observing architecture and people. I also hold hand-build ceramics workshops at my studio and that gives me a chance to be around some awesome people that experience how awesome ceramics is first hand.
What are the benefits of coming from a smaller-sized country for your creative work? What are the drawbacks?
In the past, I got asked if I intend to move abroad many times, because for a while that was a scary trend, especially for young designers. I've always seen creating in such a small environment"I've always seen creating in such a small environment as a benefit." as a benefit especially since Ljubljana has the charisma of a dynamic European capital. I never felt any limitations, particularly with opening up to global markets by opening my online shop. Right now I see no downsides; the creative scene is in constant moving around here.
Do you have a dream project that you would love to realize someday?
If you'd asked me this question one year ago I would have said that I wanted to have my own studio. I got it and across the street from my apartment as well. So in addition to my dream coming true I can now take my morning coffee and drink it while sitting on front stairs, watching the people go by. (People also ask if I come to the studio in my pyjamas but why would I wear pyjamas to the studio?)
I think dreams shape from experiencing something subliminal for the first time and then trying to make it a regular in your life. Right now I'm booking a trip abroad to get some new skills in my fingers. I'm certain this is going to broaden my mind and make me dream a lot in the future.