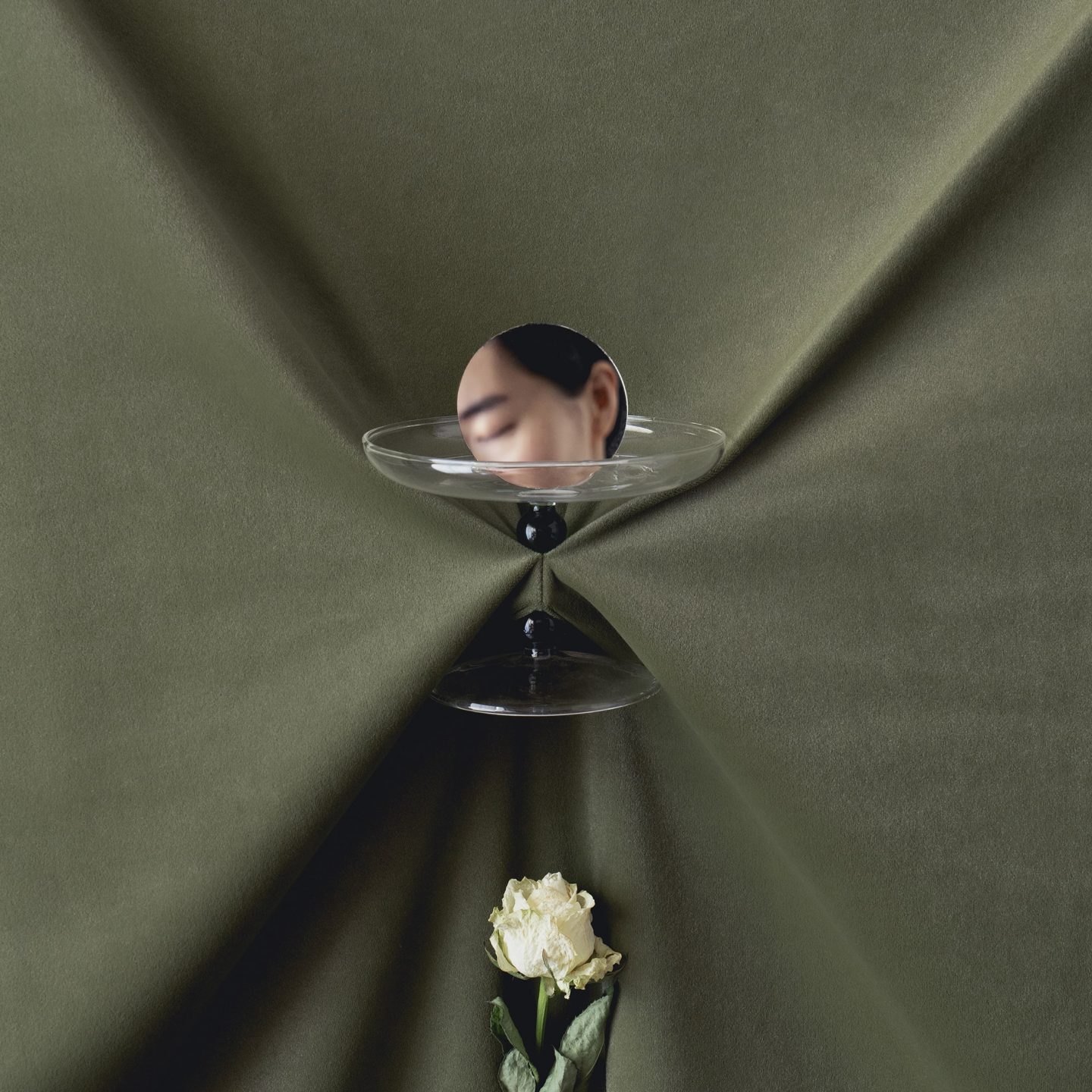 "I Pursue A State Of Harmony And Beauty": Ziqian Liu On Her Mesmerizing Photographic Compositions
Shanghai-based photographer Ziqian Liu is in a constant search for order and beauty. Enchanting and borderline surrealistic, her self-portraits are imbued with a serenity that invigorates, soothes, and forges a connection to the environment and the viewer. IGNANT caught up with the artist to discuss her rigorous minimalistic style and her ability to convey emotion through studies in perspective, concealment, and mystery.
As much as self-portraiture has been a hallmark of painters for centuries, photographers have continued this grand tradition, pushing its incredible storytelling capabilities beyond conventional codes. Today, much of this happens on photo sharing services and platforms like Instagram. Ziqian Liu is one of many photographers excelling at it. With a dedicated online presence and over 350,000 followers, it is almost impossible not to come across and delight in her aesthetically pure and balanced images. Subtle yet captivating, her portraits are a prime case of abstract, evocative self-portraiture in which symmetry and order, rather than the human body, reign supreme. Shot with natural light and in muted color palettes, they feature a wide range of exquisitely arranged fragments of the artist's body, gently offset by the curated placement of vibrant and exuberant props.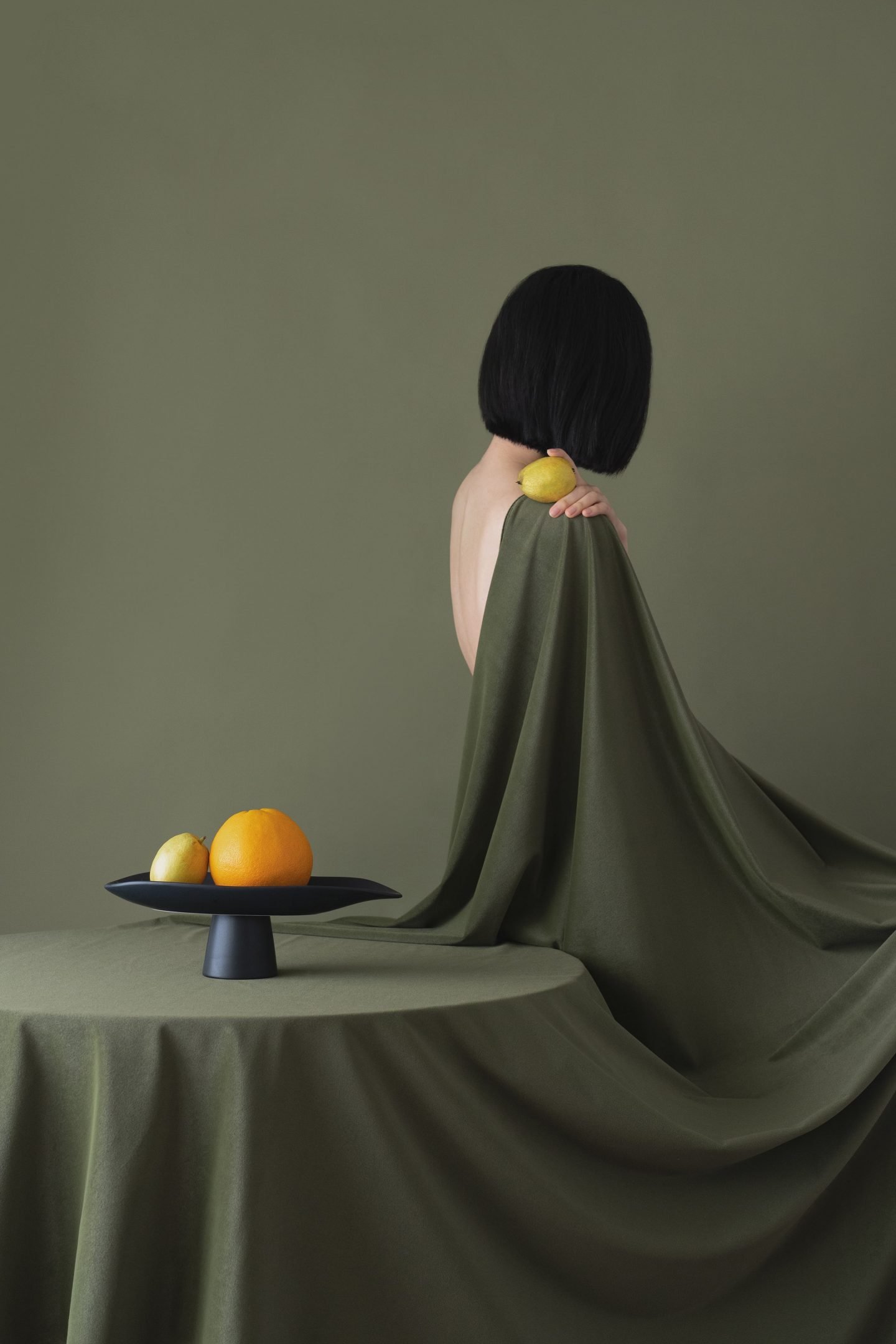 "I first began experimenting with self-portraits at my Shanghai home in 2017, in an effort to keep my mind busy and soothed," Ziqian explains over Zoom. Over the years, self-portraiture grew to become a cathartic way to record the changes in her life, work through her feelings, and release the thoughts held in her subconscious mind. "Self-portraits are like a diary to me, but in the form of pictures. They are a visual documentary of my state of mind and emotions, at various stages [of my life]," she says. "Looking at them, they take me back to a particular moment. Just like when you hear a song, or smell a scent, each image triggers a web of memories that connects me deeper to myself." Pouring her raw self into her art has paid off—Ziqian's work has appeared in international publications including VOGUE Portugal and ELLE China as well as in galleries across the world.
"Self-portraits are like a diary to me. They are a visual documentary of my state of mind and emotions"
Ziqian's images are not only imbued with emotion, they are also intrinsically interconnected with the space she resides in. "All my portraits are shot at home, in what is both my living room and a studio—my own little world," she says. Shot in the privacy of her room, they are the result of an introspective, solitary process of discovering the beauty that surrounds us. "Loneliness can be an illusion. When I think I'm alone, I'm actually surrounded by other things, like plants or a bird by the window. Or even the interesting ideas in a book, or the characters in a movie—all of which surround our lives," she explains. "I usually install background paper for shootings on one wall; on the other side [of the room] is the office area, connected to the balcony and its plants, which often bring me inspiration."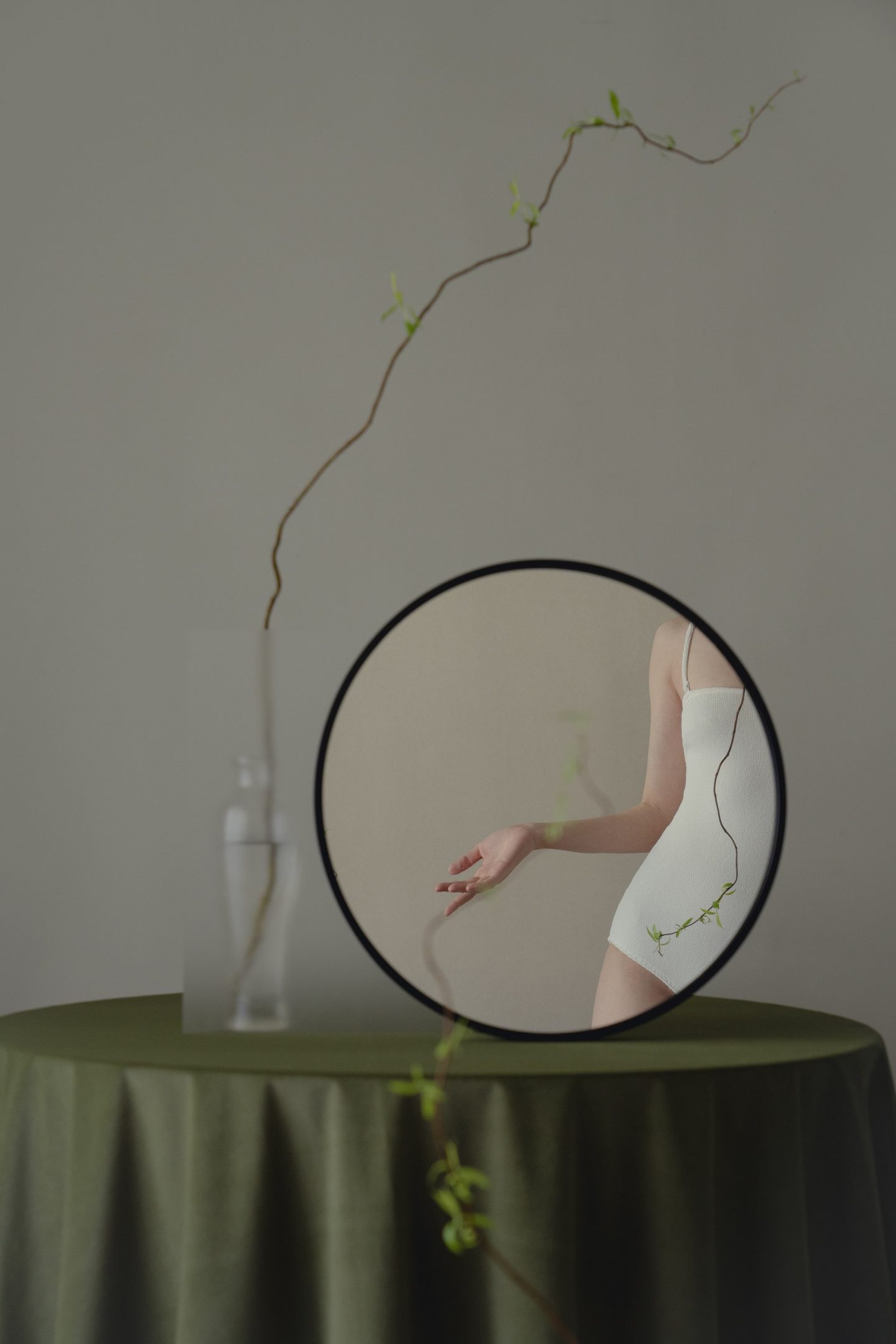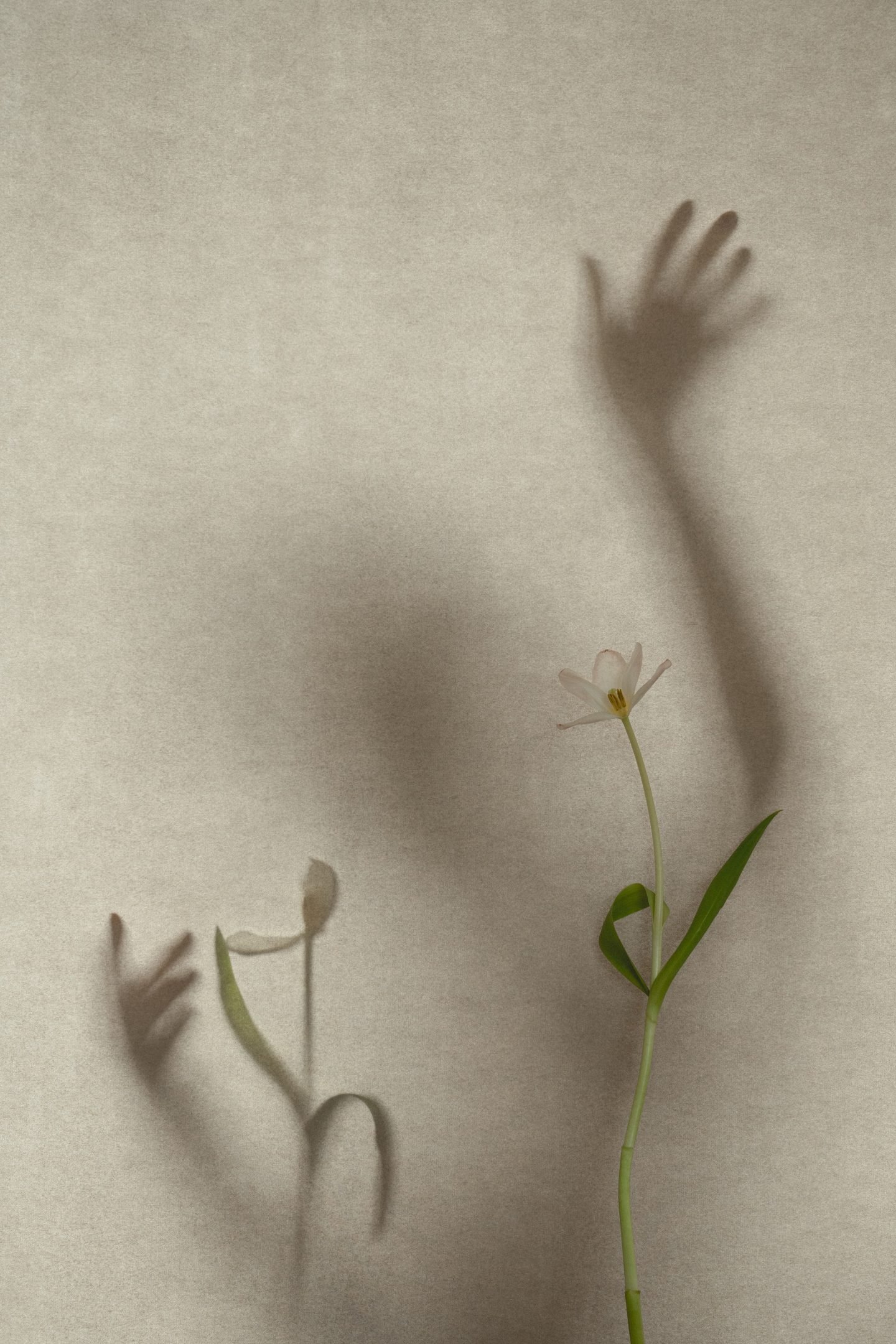 From glasses to vases, mirrors, and chairs, the objects that appear in Ziqian's enthralling portraits are both props and decorations found in her home. "I like to constantly move and rearrange things in the home to maintain a sense of newness. Sometimes, the very process of placing objects is what gives me ideas for new compositions," she shares. Everyday, ordinary objects have become recurring motifs in her work. "When I started photography as a hobby, I selected items that were easily accessible as props," she explains. "As I photographed more and more, I became more specific about my style and direction. I wanted to integrate elements that are closely related to daily life. They can shorten the distance with the audience and enable viewers to transfer the imagination found in the work into their own world."
"I seek a state of balanced coexistence in which beauty can best be embodied"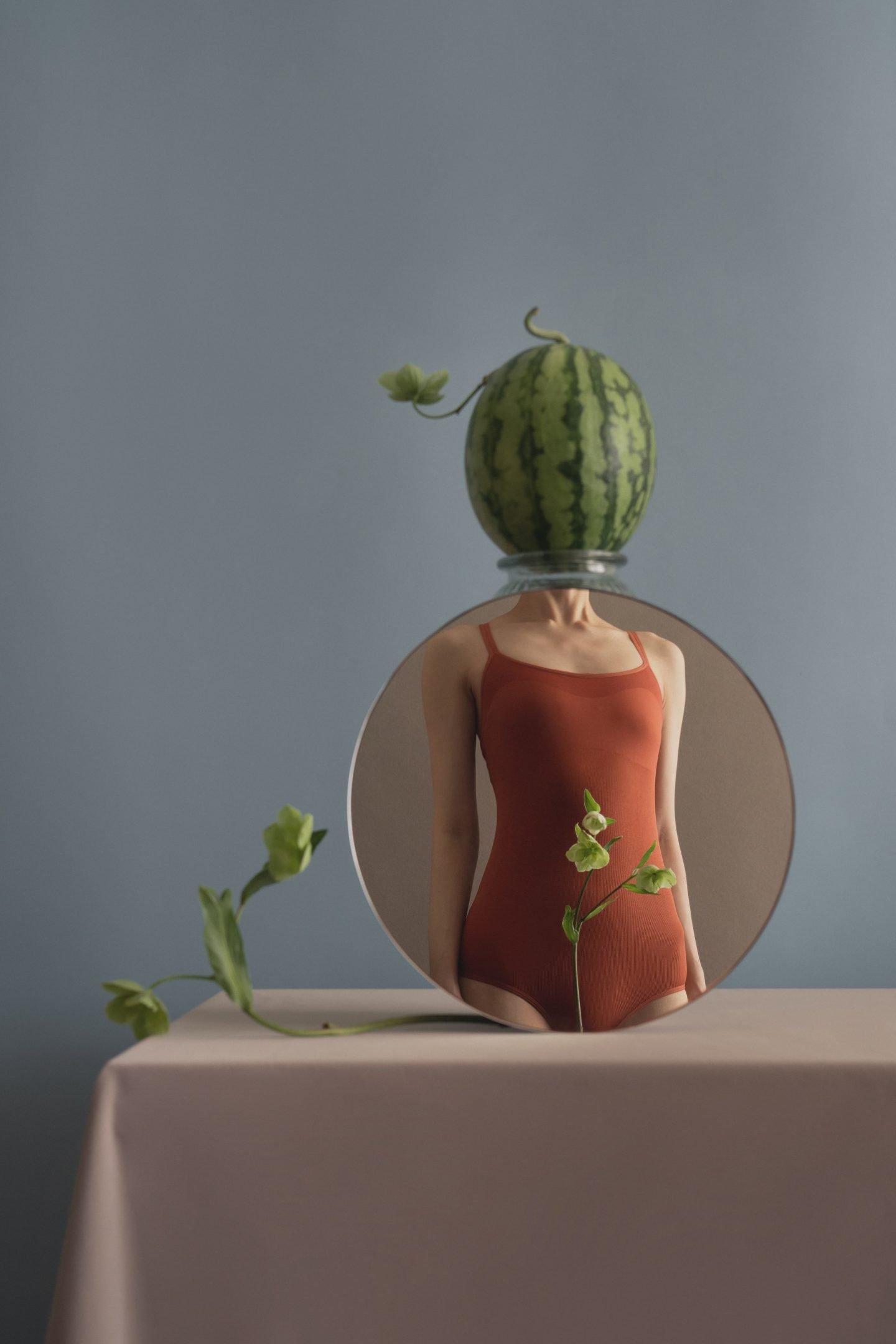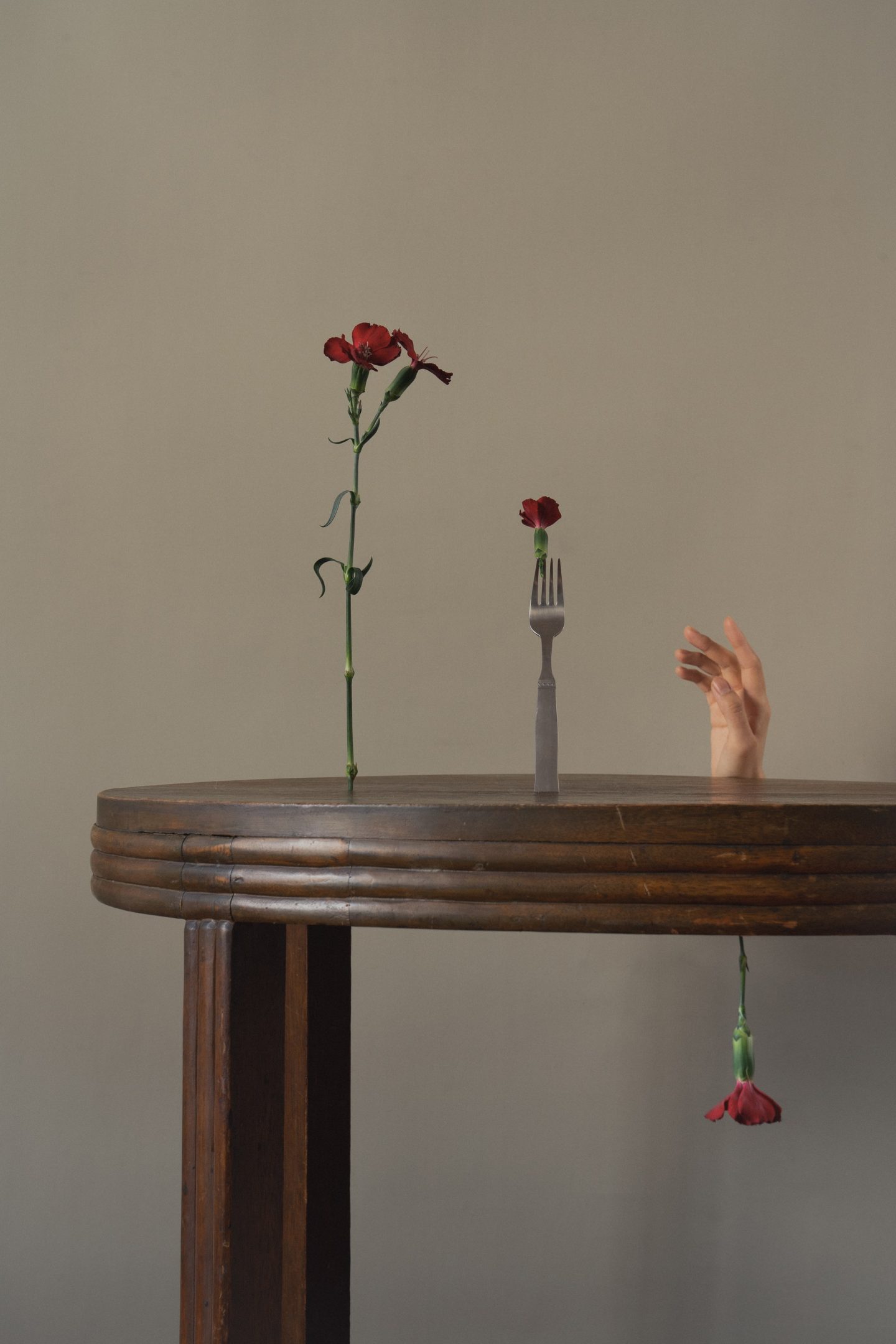 One of the props most prominent in Ziqian's imagery is undoubtedly nature, featured in the form of fruits or plants. "It's the rich expression of nature that truly inspires my creativity," the photographer admits. "I'm incredibly fascinated by plants. Plants grow into completely different shapes—no matter their color, shape, or texture—by relying on the same water and air. However, when they wither or dry, they show a different feeling," she explains. Plants are related to Ziqian's overarching shooting theme: the symbiosis between human and nature. "I use my creativity to show that human beings can live in harmony with nature, and tolerate each other. I seek a state of balanced coexistence, full of peace and emotion, in which beauty can best be embodied," she adds.
"What I'm trying to convey through my work is to look at the same thing from different angles so as to disclose different findings"
In the images, elements of nature are often mediated by surfaces specifically employed to stimulate curiosity, entice engagement, and spark a dialogue around the image. Adding a sense of mystery to the frame are often opaque glass panels that separate Ziqian from the nature featured in the work. "This is a metaphor of the current border that exists between humans and nature; it is a representation of my wish for a return to nature," she explains. Another central prop in her photography is mirrors. Presenting a very unique visual effect, Ziqian plays with their reflections and angles to present an alternative vision of reality. "Things we are familiar with often remain in a fixed image," she notes. "What I'm trying to convey through my work is to look at the same thing from different angles so as to disclose different findings. This is not only for things but also for understanding others and our hearts."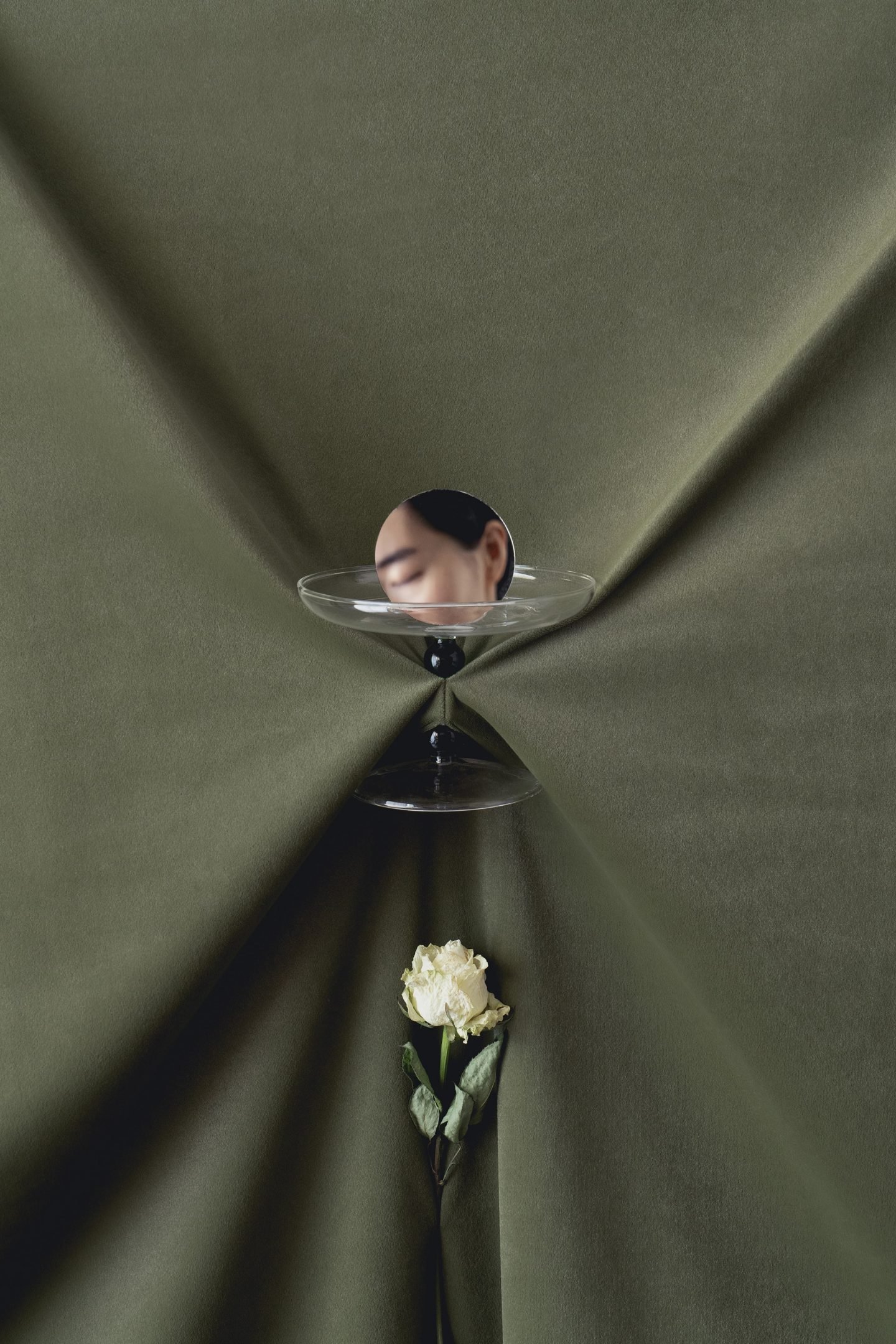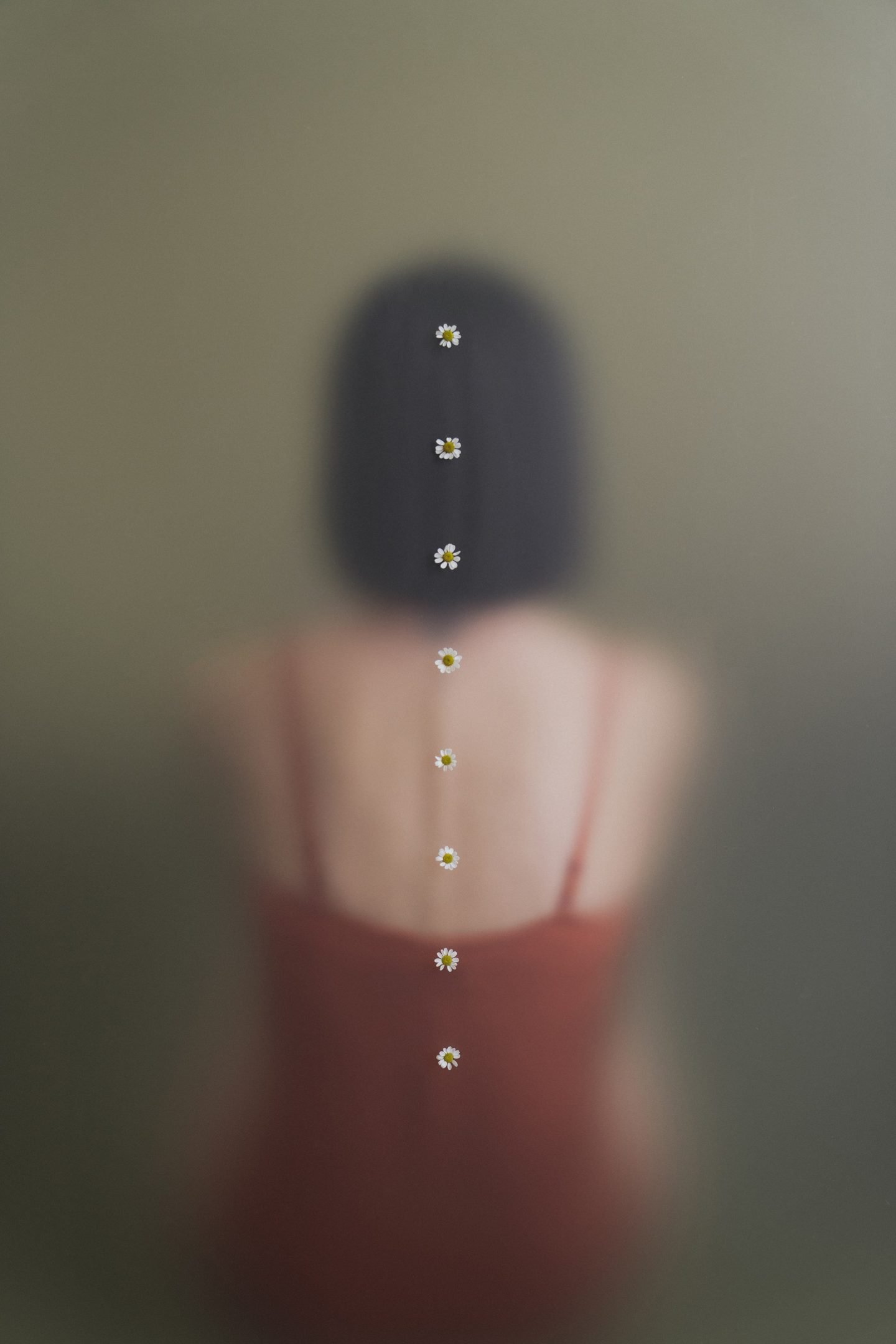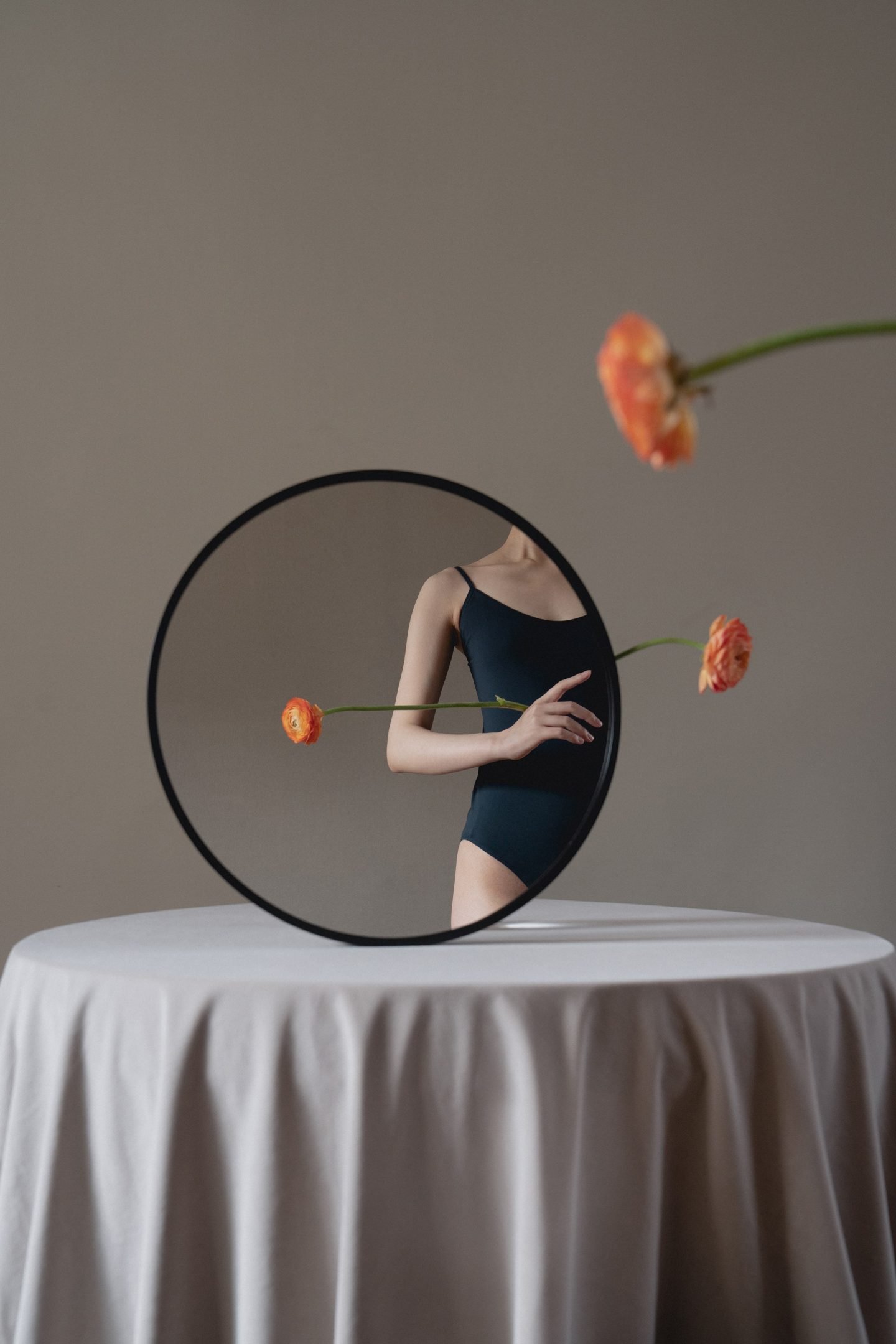 In Ziqian's self-portraits, her face is deliberately hidden. This is conceived for the viewer to freely identify with the portrayed unspecified body and project their sense of self when viewing the composition. Yet the photographer isn't afraid to engage with her works' connotations. Whether partially exposed or fully concealed, Ziqian's body contributes to the meaning of each image. "Having control of my body and its representation is empowering," she explains. "By experimenting with mirrors, I have learned to accept myself more easily," she confesses. "In the past, I was very concerned about my appearance; I would look in the mirror to see if there were imperfections I needed to cover up. By capturing them from different angles and perspectives, I found that my so-called 'flaws' are also beautiful, they are just a normal part of my body. I became more positive, more peaceful," she adds.
"By experimenting with mirrors, I have learned to accept myself more easily"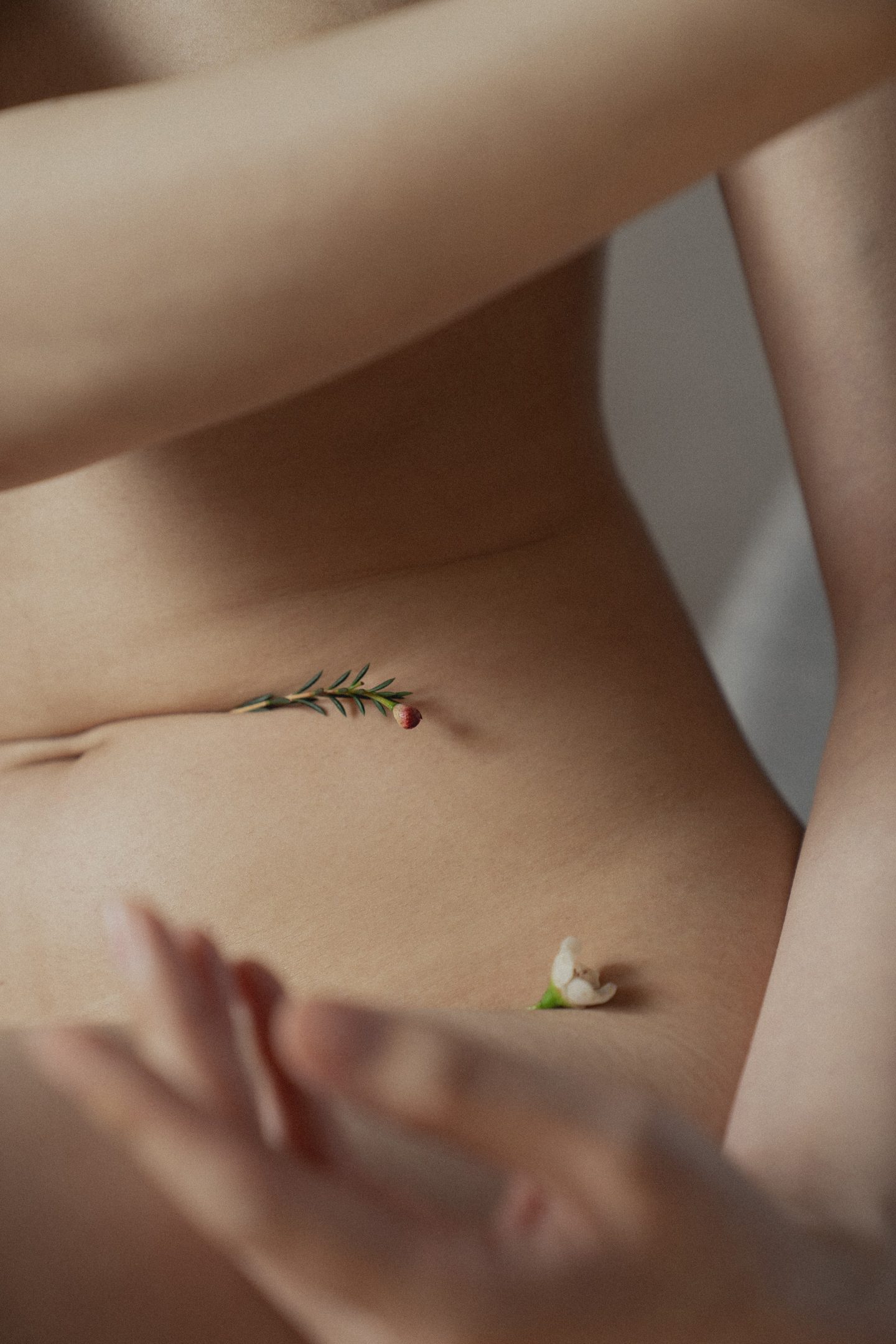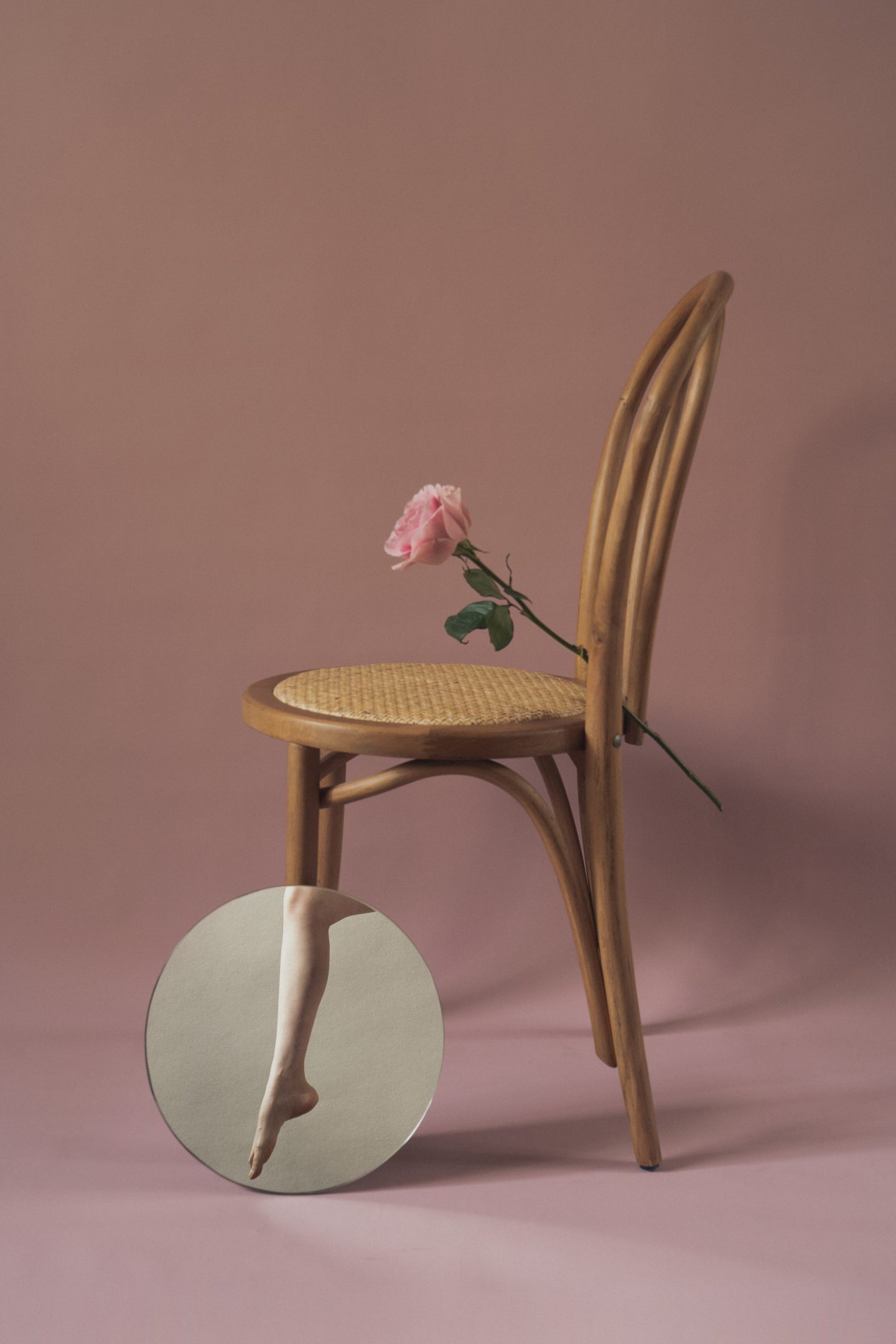 "The self-portraits are a window onto a parallel world, but they are also my safe haven"Bringing a delicate aura and a sense of peacefulness to her viewers, Ziqian's enigmatic yet balanced images represent the idealized world Ziqian wishes to live in—one that satisfies her desires for rigor and peace, both in the layout of things and in the patterns of human interaction. "The self-portraits are a window onto a parallel world, but they are also my safe haven, where I can repair my emotions and calm down," she shares. Balance and serenity are traits Ziqian carries over into every aspect of her life. "In my personal life, I appreciate a sense of order. I like to organize my house in a neat, square way. I also consistently strive for regularity and have a relatively fixed time to do everything. These qualities are unconsciously expressed in my works and indirectly affect my composition and attention to detail," she explains. When asked about her utopia, Ziqian is quick to comment, "I pursue a state of harmony and beauty, in which nature provides resources for human beings, and human beings draw from it with restraint, sustainability, and gratitude. As for myself, I hope I can always be patient and kind, but keep a strong heart."