Swedish-Iraqi designer Sizar Alexis creates compelling interior objects and furniture pieces that reflect the elegant minimalism of Scandinavian design. Displaying serenity through natural materials and geometrical shapes, his latest body of work is informed by a deep interest in Brutalism and the architectural heritage and cultural richness of Ancient Mesopotamia.
"I want to highlight and share the wealth of [ancient Mesopotamian] culture with a broader audience, and in a different part of the world," explains the designer to IGNANT. Born in a Chaldean household in the northern Iraqi town of Ankawa, Alexis's family strain is a live continuation of the indigenous people of the 5,000-year-old Mesopotamian civilization. "[Materials] have the ability to ground us deeper in our true nature, in a world that is increasingly divided"His work is a conscious attempt to merge cultural influences from antiquity with contemporary Scandinavian design principles of simplicity, functionality, and materiality. His collections of objects and furniture pieces also reflect his long standing fascination with Brutalism's monolithic and geometric traits, which he developed while training at Beckmans College of Design in Stockholm. Alexis carefully juxtaposes Brutalist angular shapes with noble materials, such as steel, leather, and pine wood, to create minimalist designs that last. "I opt to work with natural materials that are found in abundance in the Swedish landscape; materials that stand the test of time and look better with age," explains the designer. "They have the ability to ground us deeper in our true nature, in a world that is increasingly divided."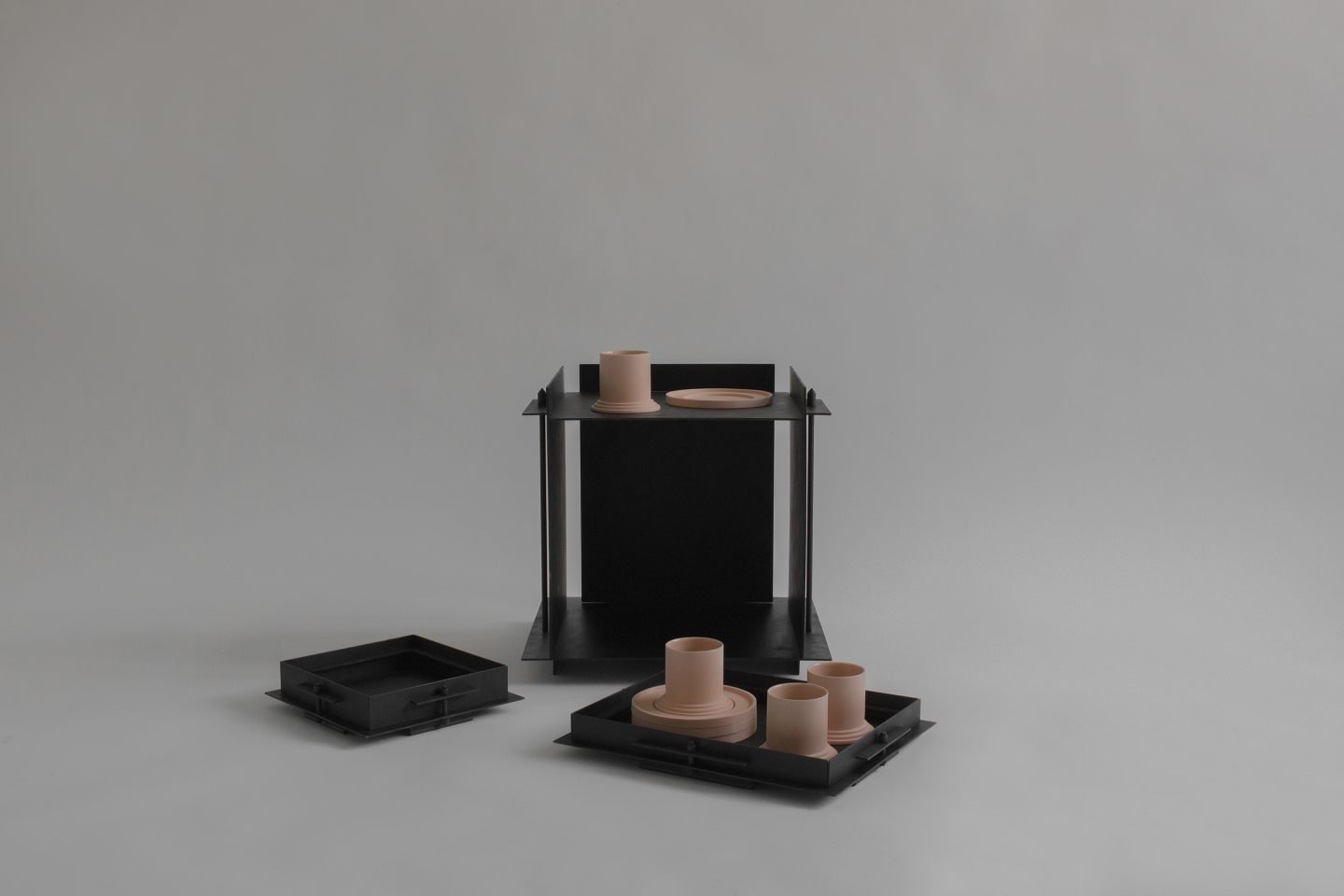 Alexis's cross-cultural approach is beautifully embodied in his latest body of work shown below. This includes artisanal items in blackened steel such as 'Girra'—a line of modern candle holders named after the Mesopotamian god of fire and light—and the 'Pilier' series of side tables, sideboards, and trays which the artist describes as both an acknowledgment to the early Mesopotamian invention of metalworking and a nod to his hometown Eskilstuna's steel industry. Marrying Brutalist shapes with Scandinavian pared-down aesthetics, his highly geometrical furniture series' 'ItooRaba' and 'Ode' feature burned and natural pine from Sweden's dense forests. The latter, the 'Ode' series is a fascinating study of the historical hexagon, a shape that "dates back to ancient Mesopotamia ca. 690 BC in the form of a hexagonal shaped cuneiform of the Assyrian King Sennacherib's annals," he explains.