The Budapest Cafe・Chengdu, China
In the capital of China's Sichuan province is an unlikely coffee stop — The Budapest Cafe. Inspired by the films of Wes Anderson, Melbourne studio Biasol has combined mint green, pops of pink and more than a dash of nostalgia in this must-visit cafe.
The designers from Biasol focused on what they cited as the 'vivid' and 'nostalgic' aesthetic of the American filmmaker; whose stylized vision has spurred on Instagram accounts like @accidentallywesanderson. His aesthetic is unique; striking color palettes are combined with design symmetry, intriguing locations and always, the curved beauty of Futura text. "He tends towards one-point perspectives and peering down from above," the designers from Biasol explain, "he gives attention to the edges of a set as much as the middle; and frames stories with proscenium arches." To achieve such a look, they focused on materials and spatial arrangements that mimicked such attention to detail; resulting in salmon terrazzo walls, pastel greens and blush pinks for the walls and furniture, and feature grey marble: "Our design draws on filmmaker Wes Anderson's meticulous memorable and magical worlds to create an inviting destination with whimsical character and international appeal." From the Eero Aarnio Bubble Chair to the pink ball pit atop the tiered terrazzo seating — they've created a dining space evocative of some of the most fabulous scenes from Wes Anderson's back-catalog.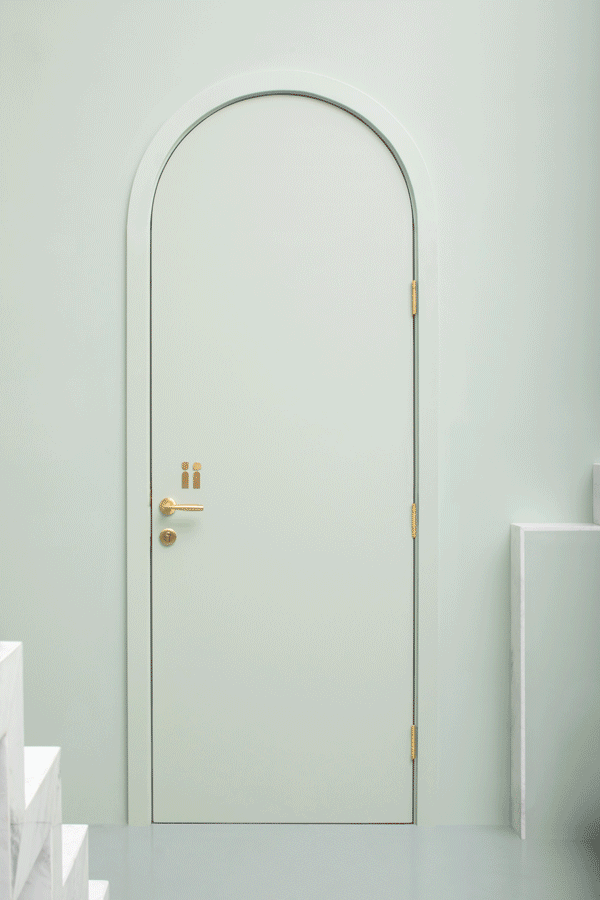 The Budapest Cafe
Number 7
Second Section of the Second Ring Road
JianShe Lu, Chenghua District
Chengdu, China