The practice of Athens-based artist Theodore Psychoyos revolves in its essence around matter. His functional objects put raw shapes and smooth surfaces in dialogue and explore the fine line between gravity and balance. Through the hefty character of his creations, which often take on the shape of stools, benches, and tables, he challenges our ability to adapt to the spaces that surround us. Ignant visited the sculptor in his atelier, just a few kilometres away from the centre of the Greek capital.
We find Psychoyos' studio in a neighbourhood close to the port of Piraeus, an area that has become increasingly appealing to a creative audience in recent years. The abundance of vacant industrial buildings and the—compared to other European cities—still relatively affordable rents have attracted designers, artists, and galleries who have started to settle down here.
Upon entering the studio, we immediately notice the delicate morning sun that filters through the partly transparent roof and slowly moves through the space, creating an ever-shifting atmosphere. The soft, natural light contrasts beautifully with the raw, industrial features of the building—a former Ouzo distillery. While patches of white and grey plaster peel off the walls, unveiling the sturdy stone structure beneath, the cracked concrete floor reflects the warmth of this September morning. The many signs and writings on the walls tell stories of the days when the distillery was still operating.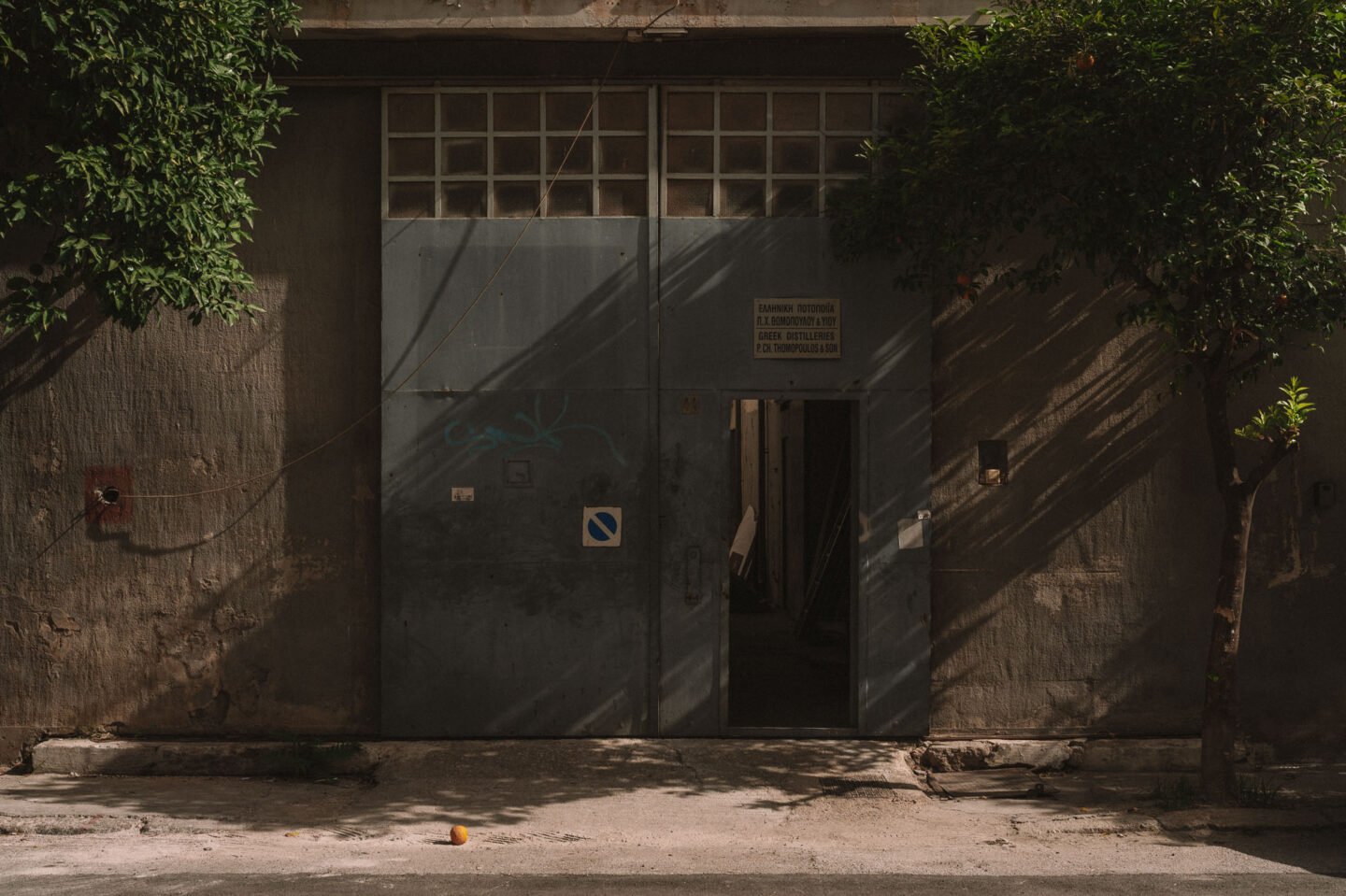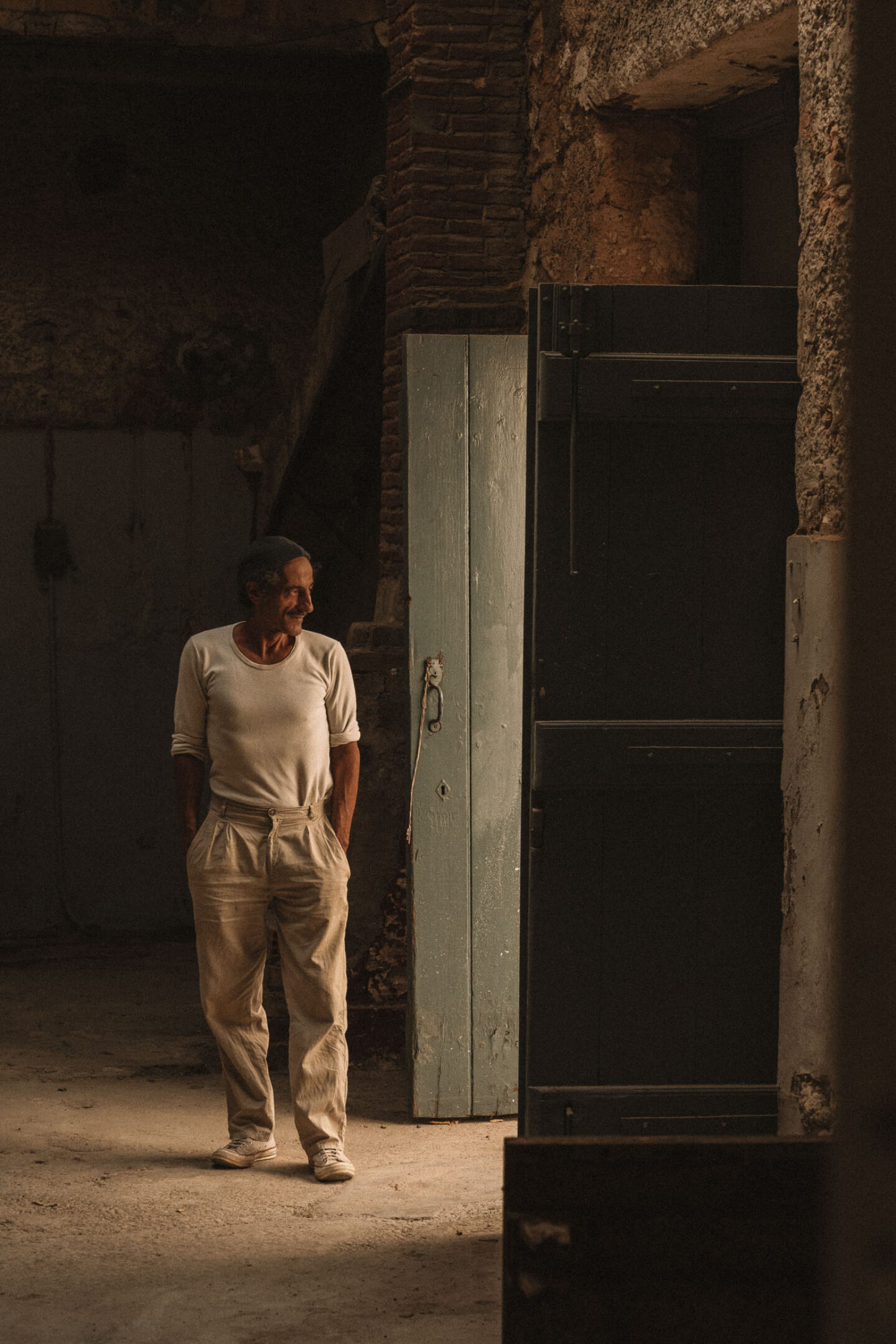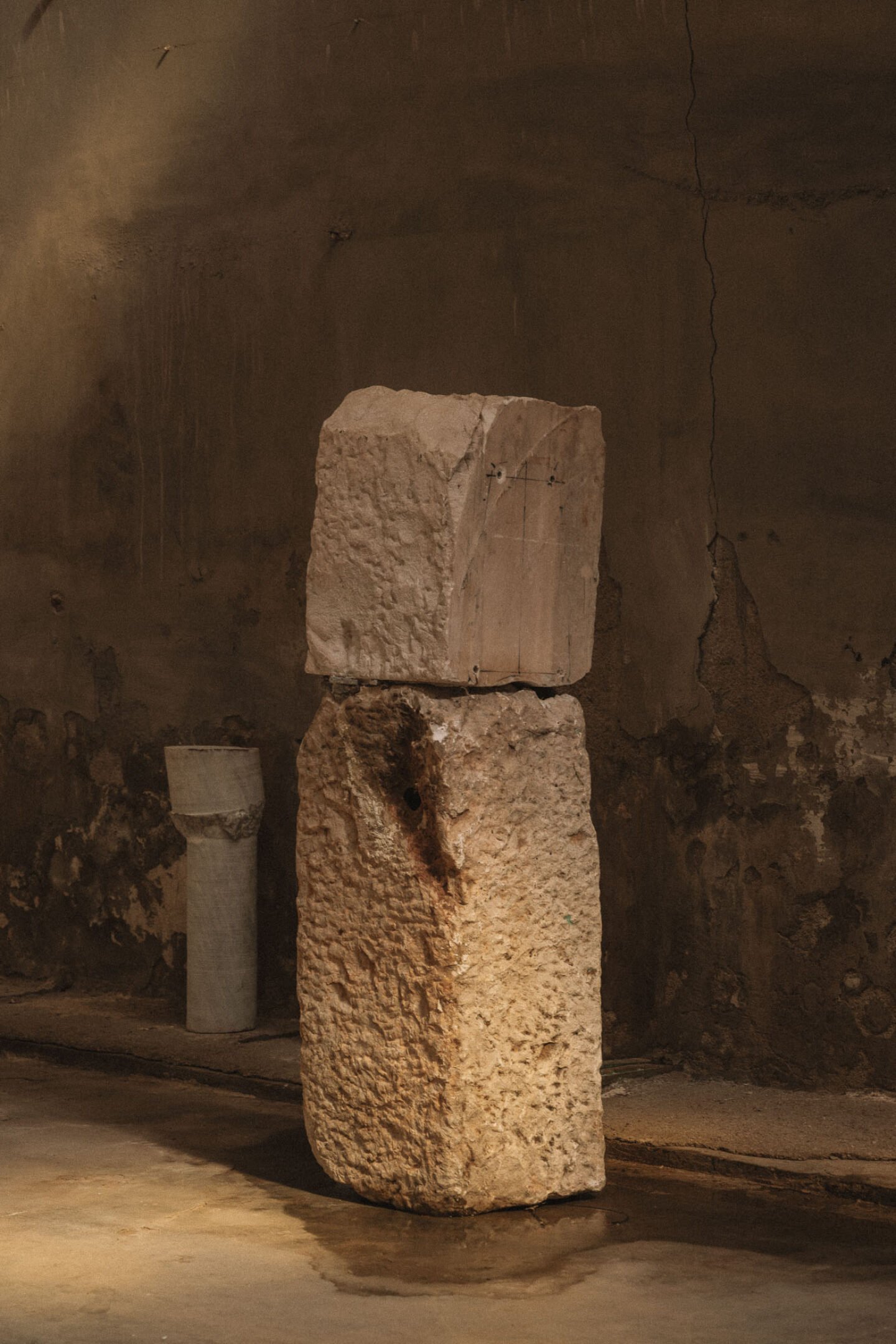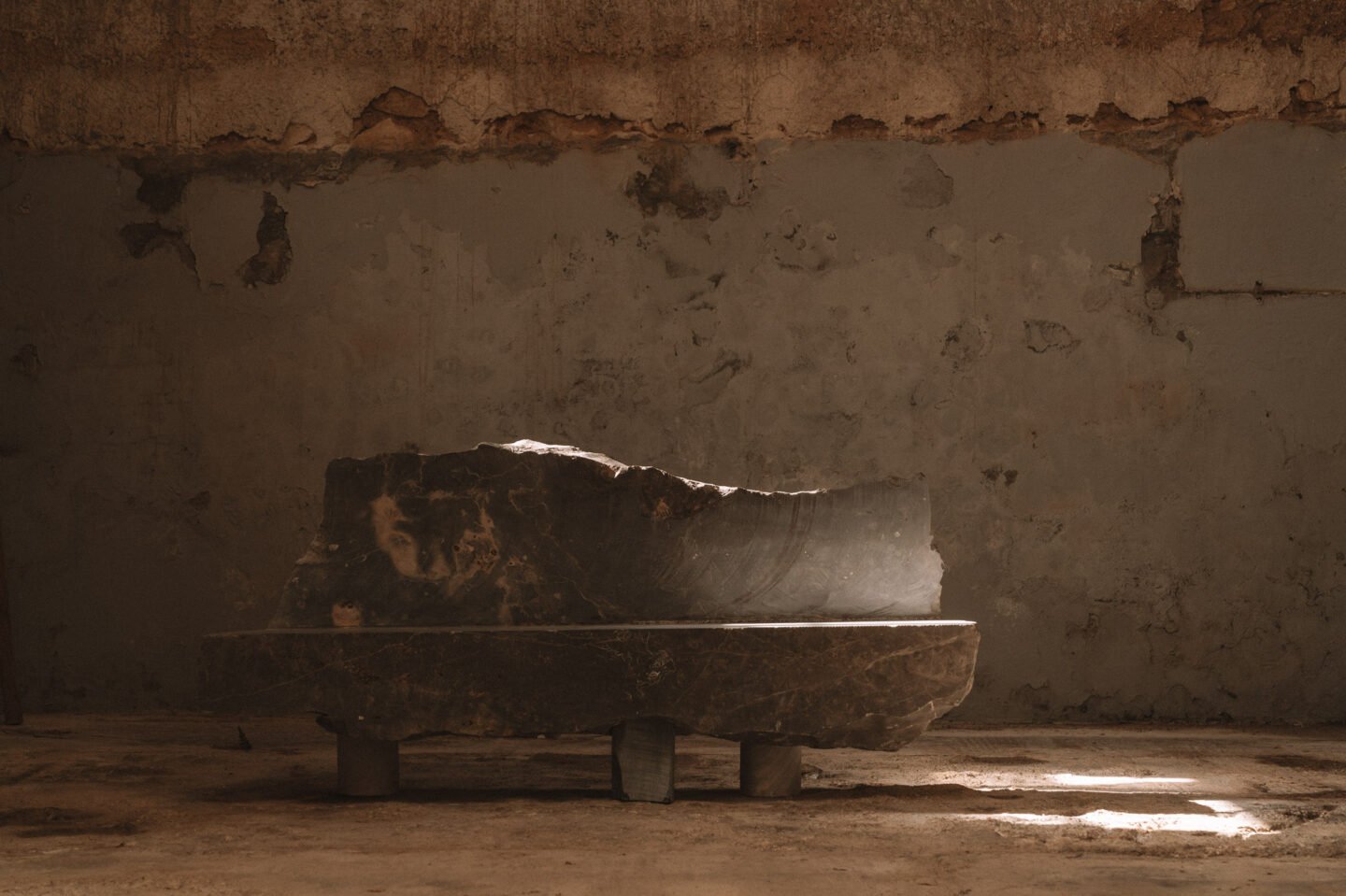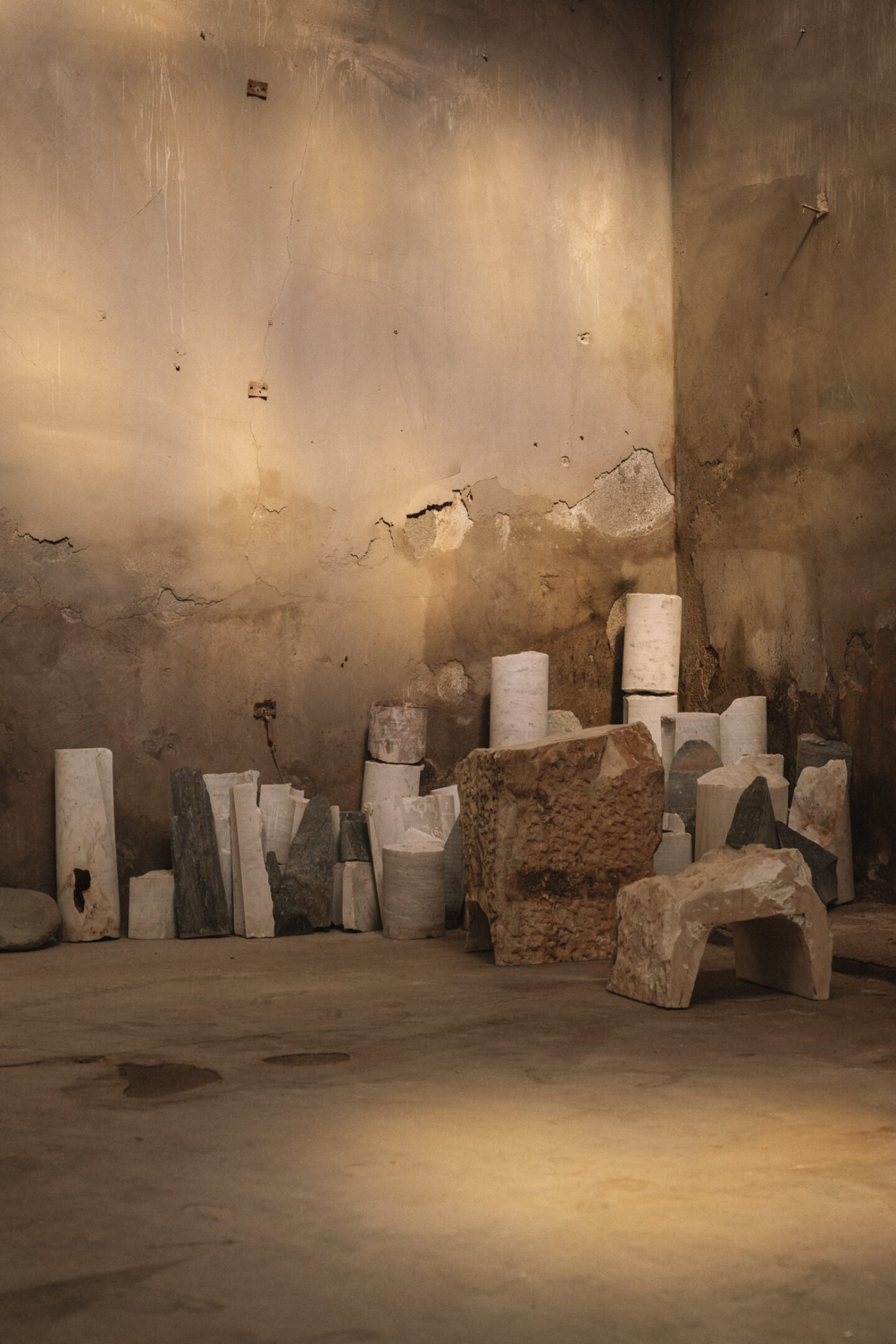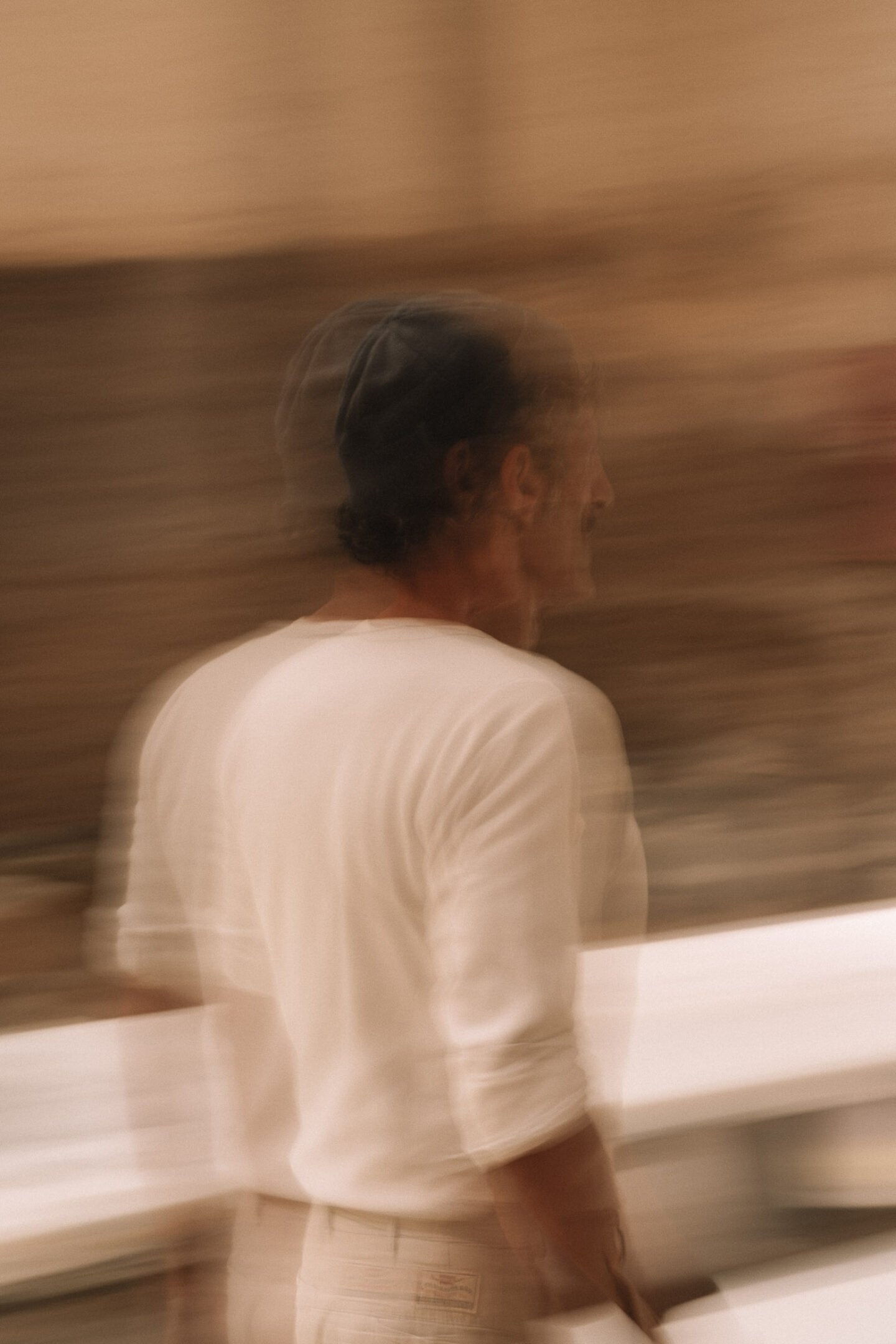 Psychoyos established his studio here around three years ago with the support of the property development, research, and publishing company Molonglo and has arranged his workspace across various rooms. One is dedicated to shaping the material, while the others serve as storage or a place to test ideas. As we enter the main area, which the artist regularly transforms through immersive installations, we take a seat at an expansive table stretching across the entire space.
"I started working with marble in my late twenties when I was at art school in Paris," Psychoyos tells us about his beginnings. "After my studies, I went to the Greek island of Naxos, where I continued to work with the material," he adds. "The work with marble is tough, though. The pace and effort you put into shaping it is out of proportion, so back then, I decided to put it aside and focus on other things." What followed was an exploratory journey of the artist in which he tested different mediums, ranging from playing the piano to creating large-scale ink paintings.
"I have reevaluated my relationship with marble as I decided to confront myself with the concept of matter."
A few years ago, Psychoyos began to reconsider his connection toward materials. While the marble's weight and sturdiness initially deterred him, he now appreciates this quality, making it an essential element within his practice. "I have reevaluated my relationship with marble as I decided to confront myself with the concept of matter," he says. "I'm interested in weight and gravity because, in a time where everything is getting increasingly virtualized, gravity is the only thing that keeps us connected to the earth." He briefly stops and looks around the space before continuing, "I mean that in a direct way but also in a philosophical sense. As we give weight to something, we give it importance."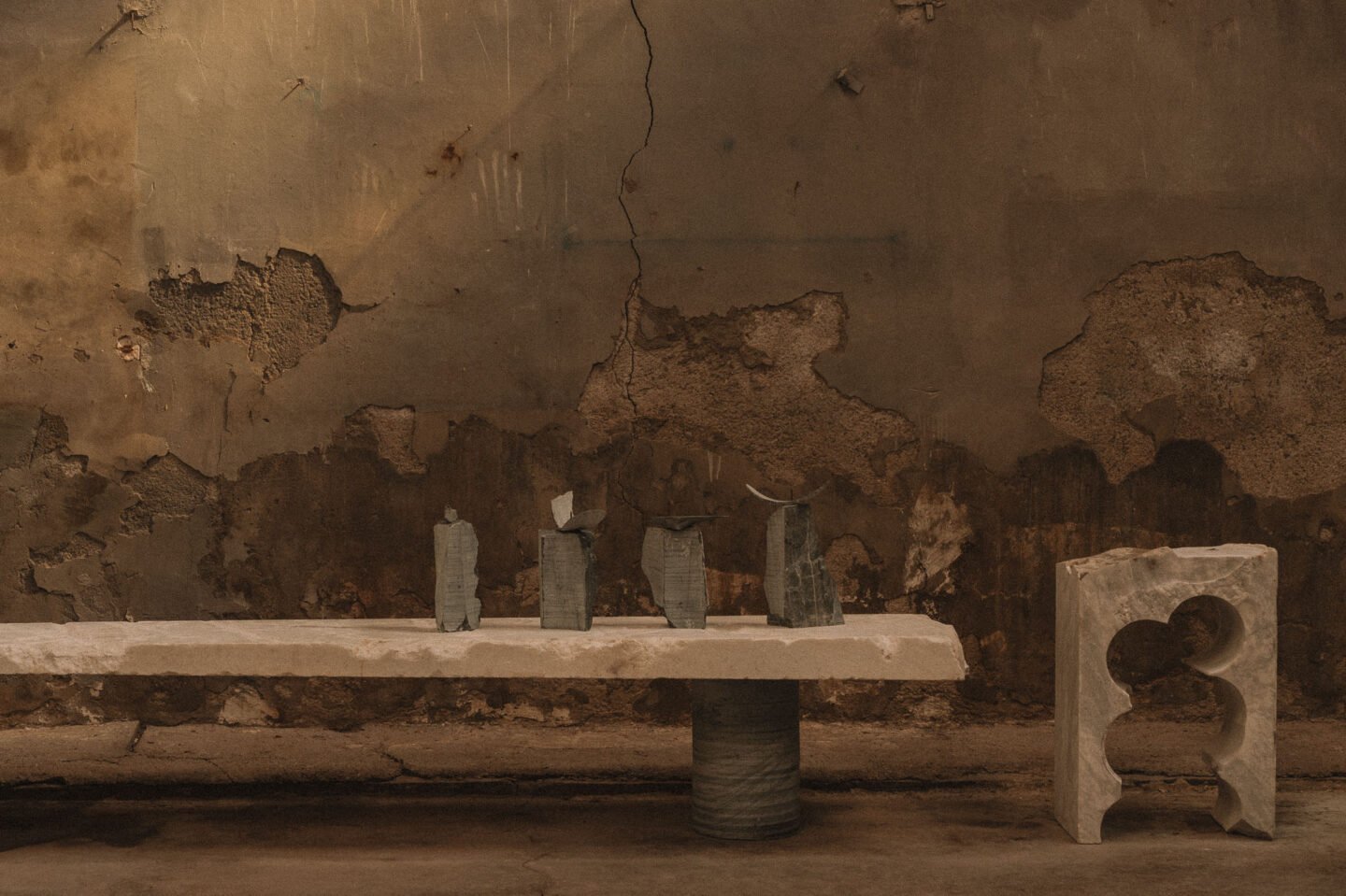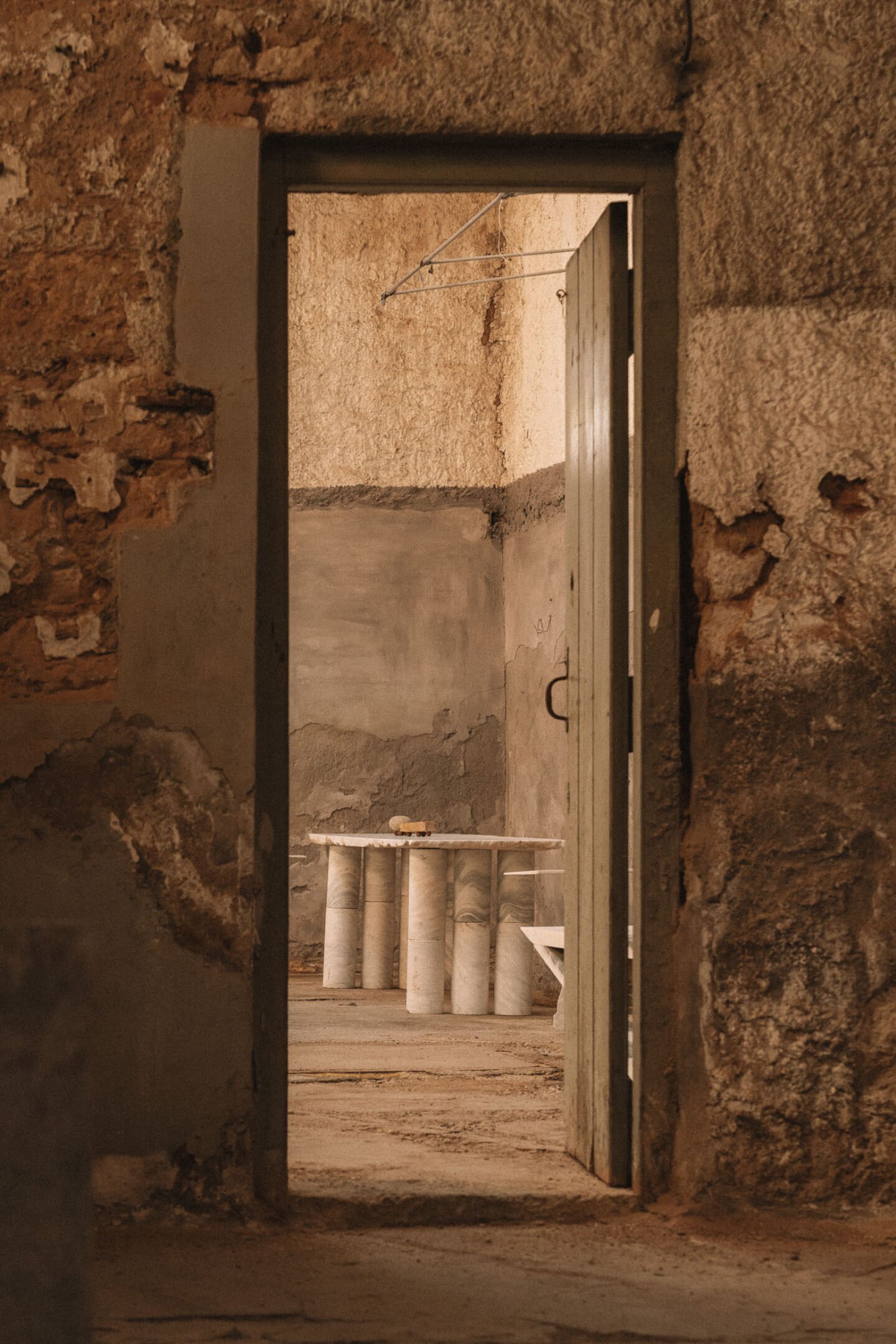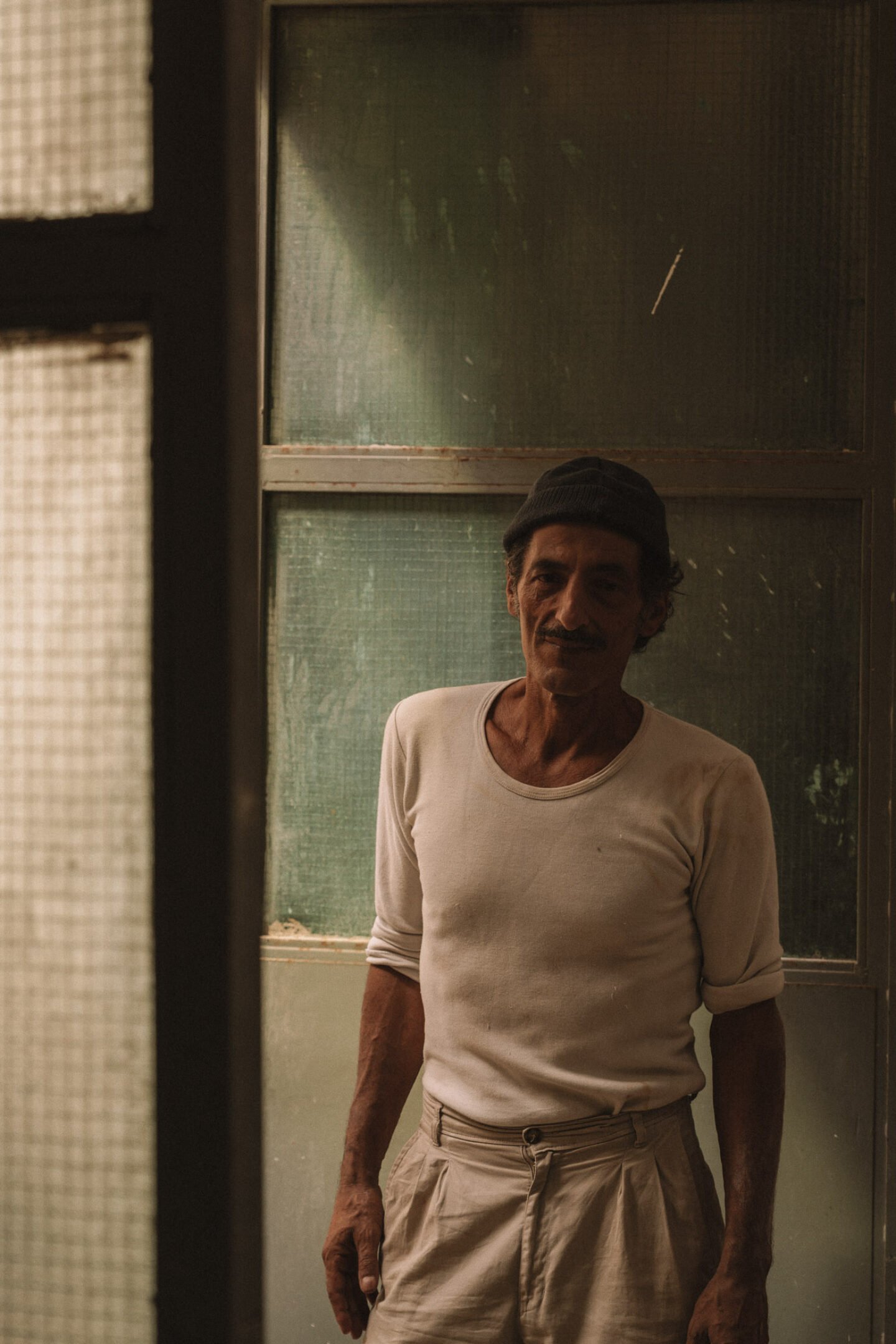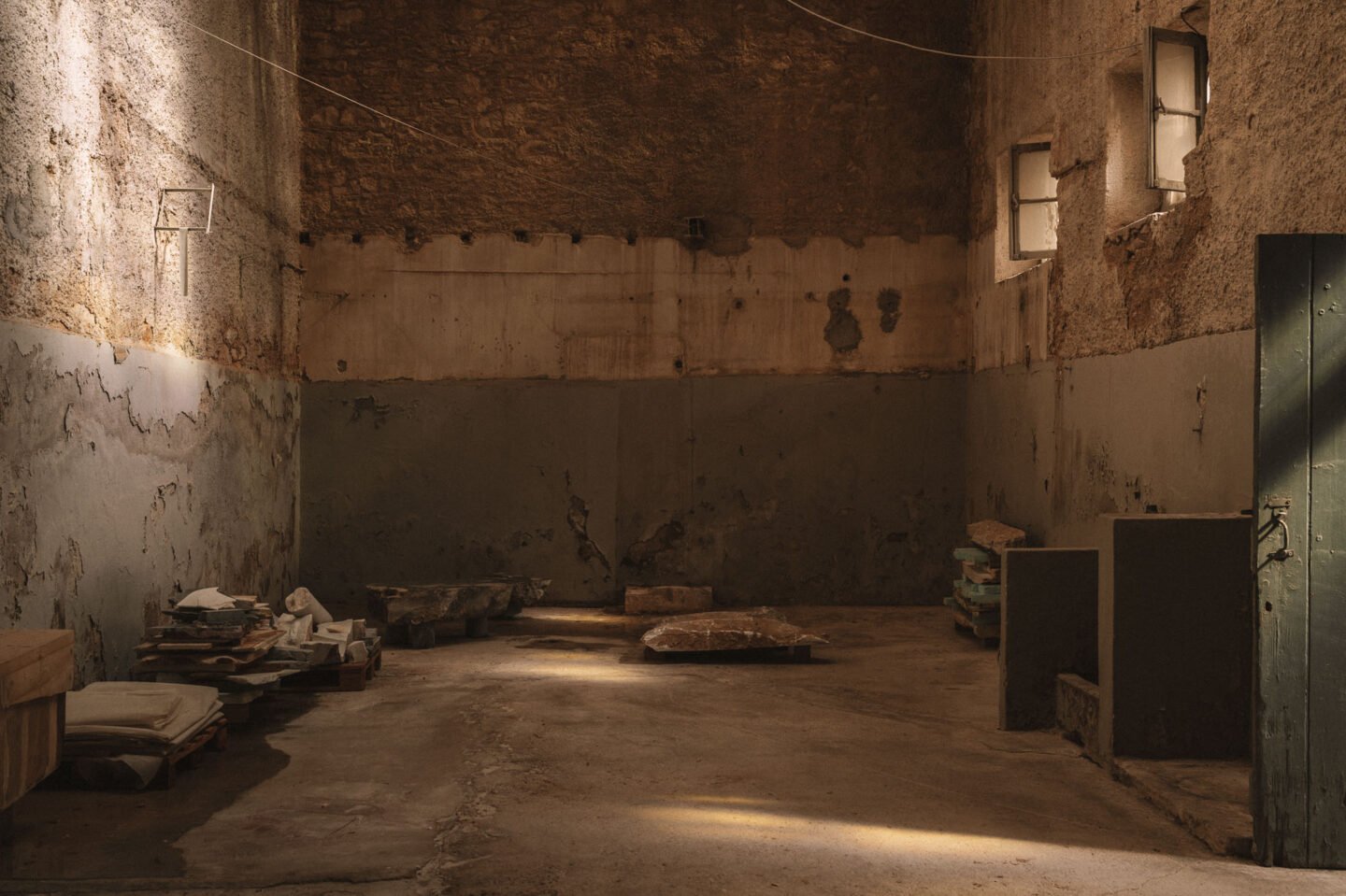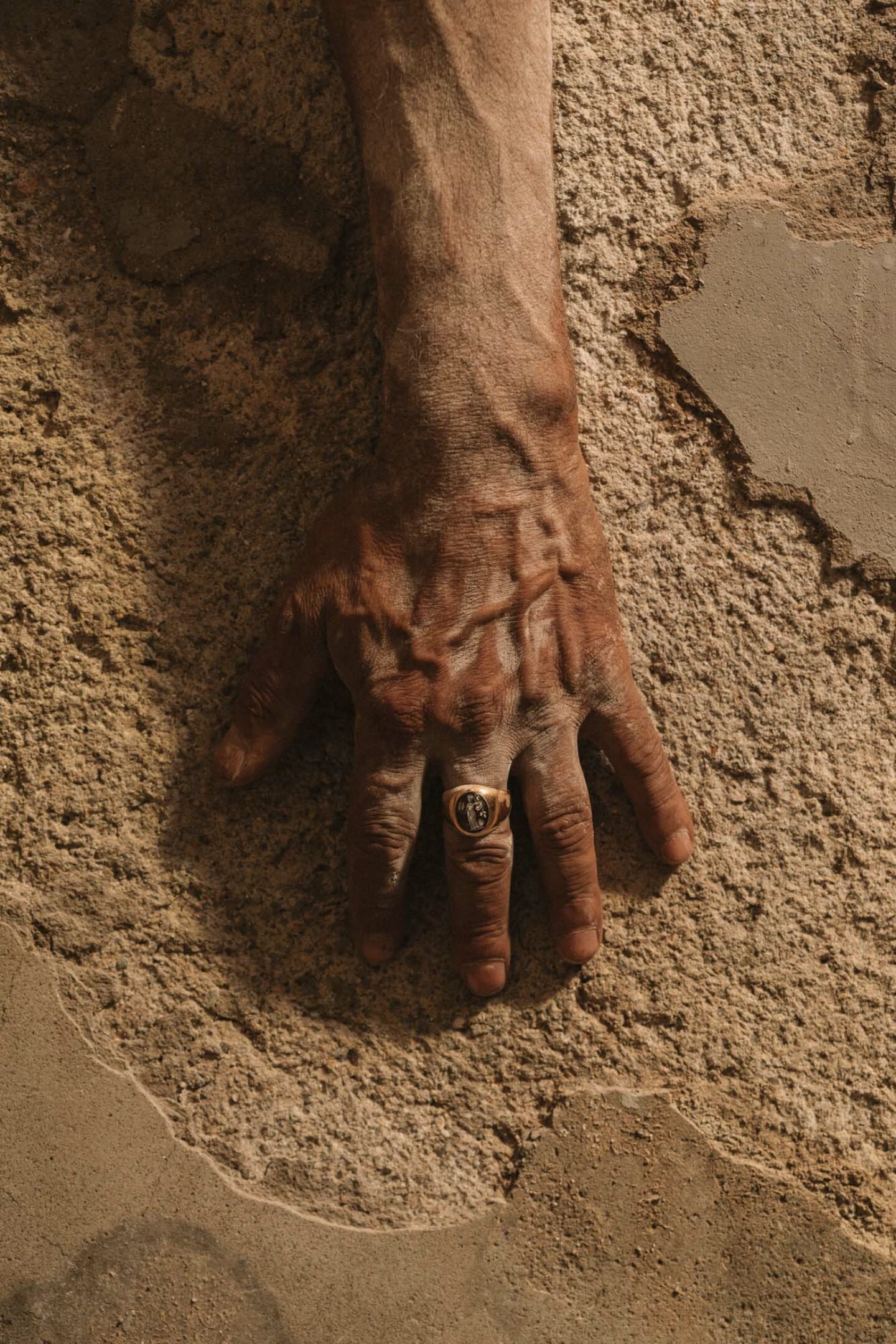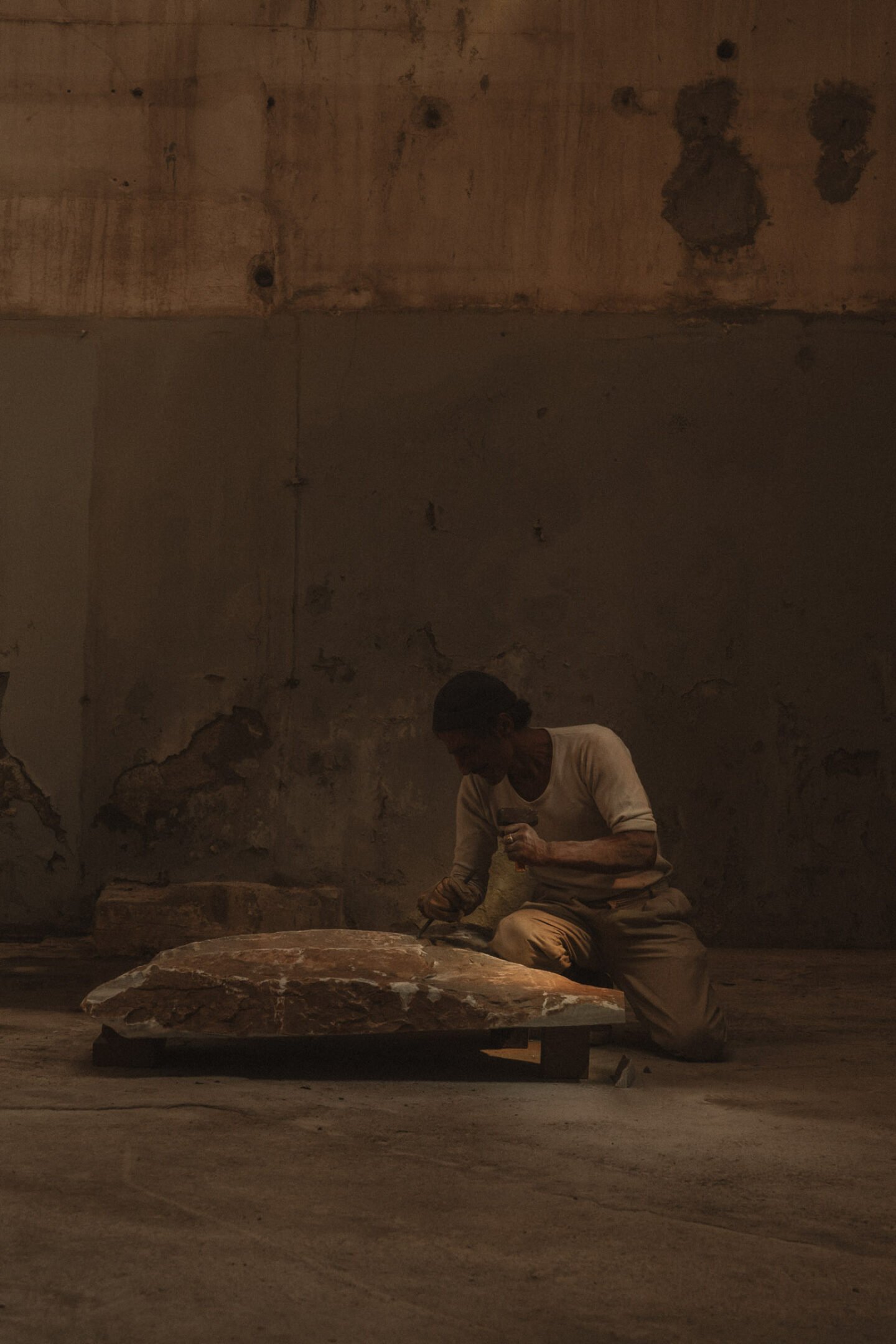 "The pieces I use are often accidents or became redundant at some point in industrial production."To create his objects, the sculptor exclusively works with found stones, which he retrieves from factories and old quarries. "Marble has been widely used in Greece for thousands of years. People have been working with it a lot, and you can find it everywhere. The pieces I use are often accidents or became redundant at some point in industrial production." In his practice, Psychoyos frequently employs the ends of marble slabs, sliced at irregular angles, remnants from cut-outs, or fragments of broken blocks, all of which bear unique marks of imperfections. "I barely modify the pieces after I bring them to my studio. I like the traces of humans, machines, and the natural marks on the rocks. The essence of my work lies in observing those elements and balancing them in a way that makes sense." Suddenly, a smooth, machine-cut marble piece forms a bench when paired with a rough, unpolished rock. Once discarded, cylindrical stones function as components of tables, and rounded marble blocks are combined with a hand-hammered stone and translated into a chair.
The combination of these contrasting qualities results in a raw and rebellious aesthetic—an aspect that doesn't overly concern the artist, however. What intrigues him is how the objects make us move within a space. "I like that my works are quite heavy and that their position cannot be easily changed. Through that, they challenge us to navigate differently around them and break a certain pattern," he shares. "What interests me is our ability as humans to adapt to spaces and the objects within them. It is like imagining being on a field with one tree. You would go under this tree to seek shade rather than planting a new one somewhere where you think it might fit better and then wait another twenty years for it to grow … That is also how I like to look at my objects."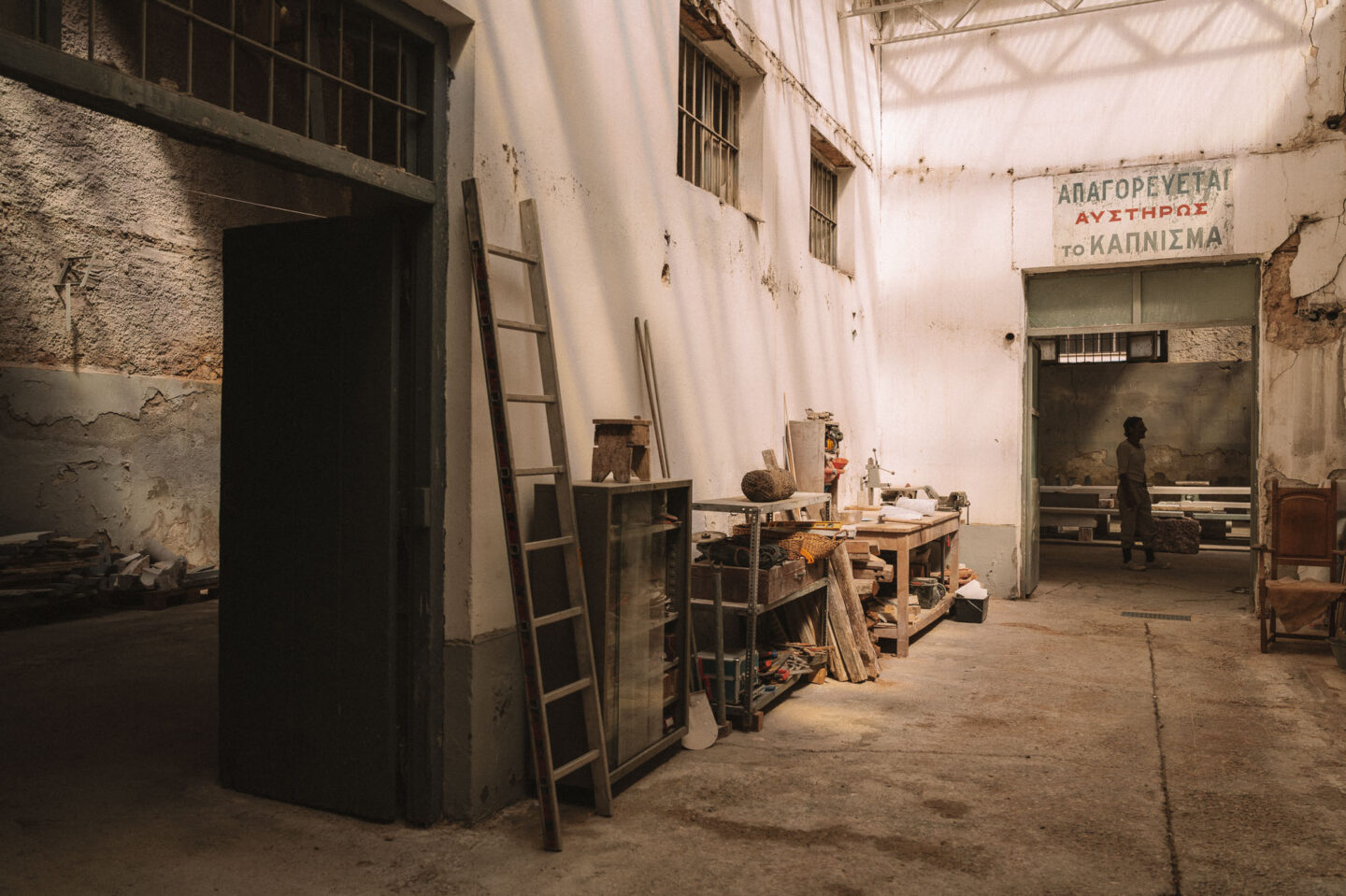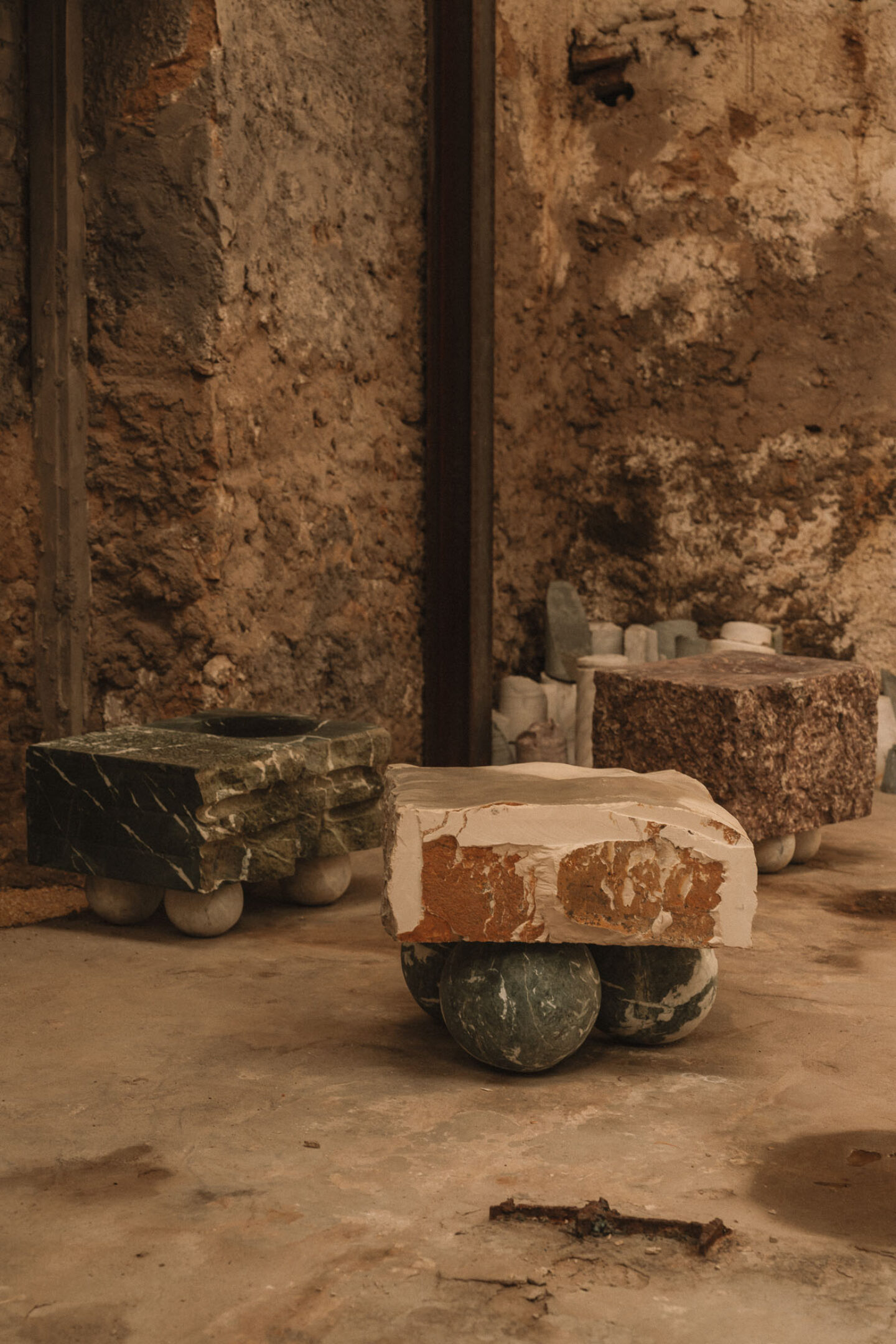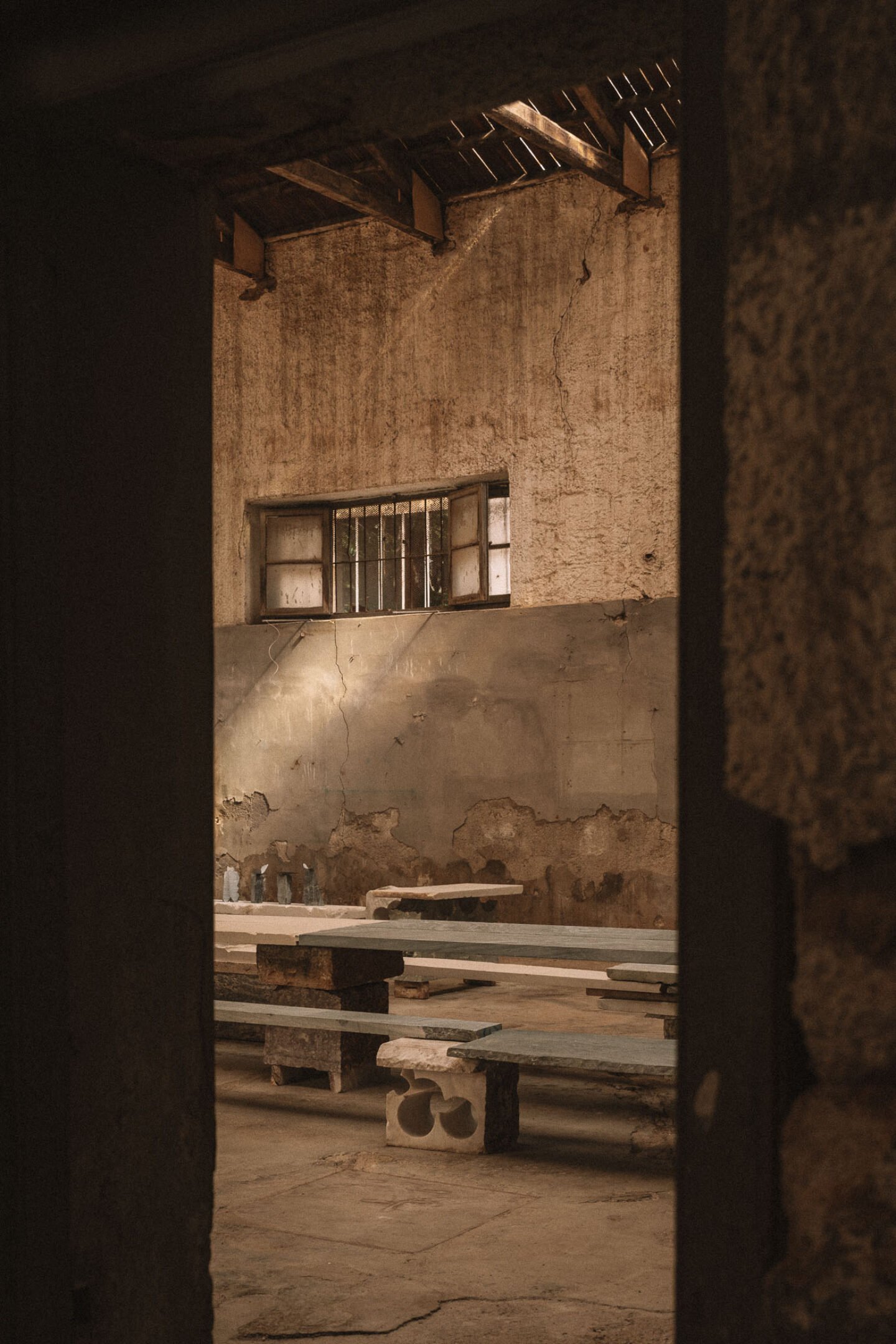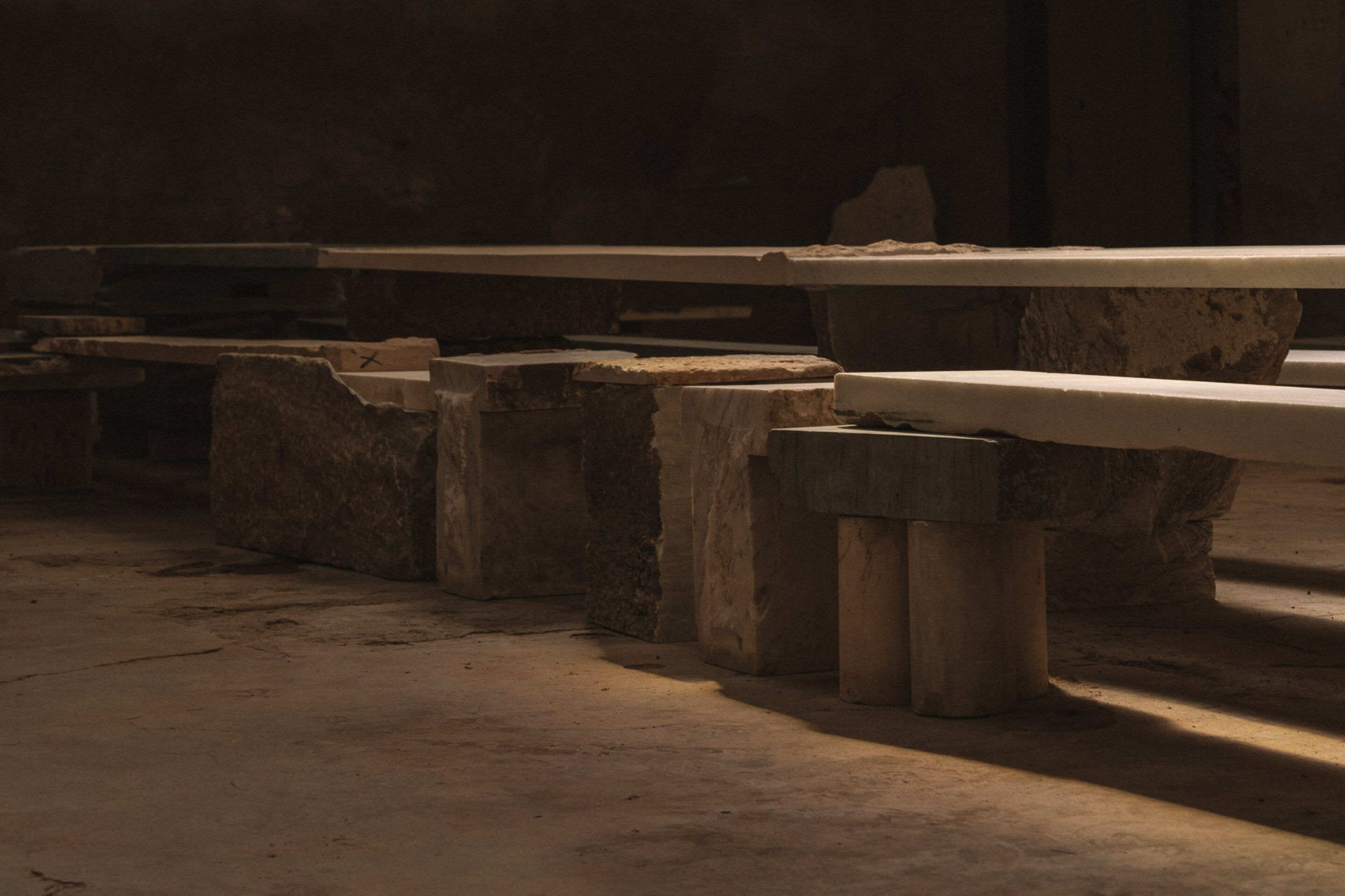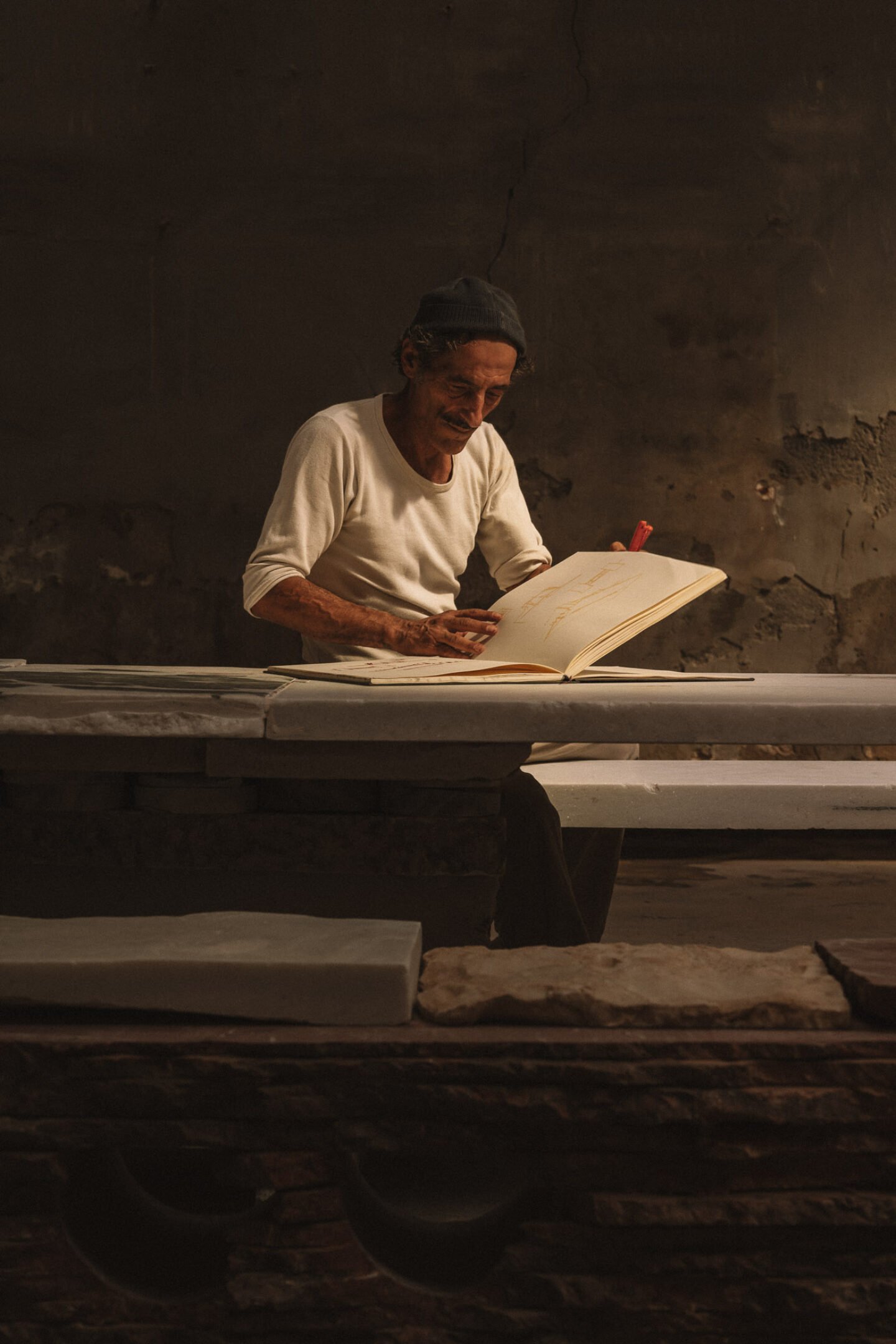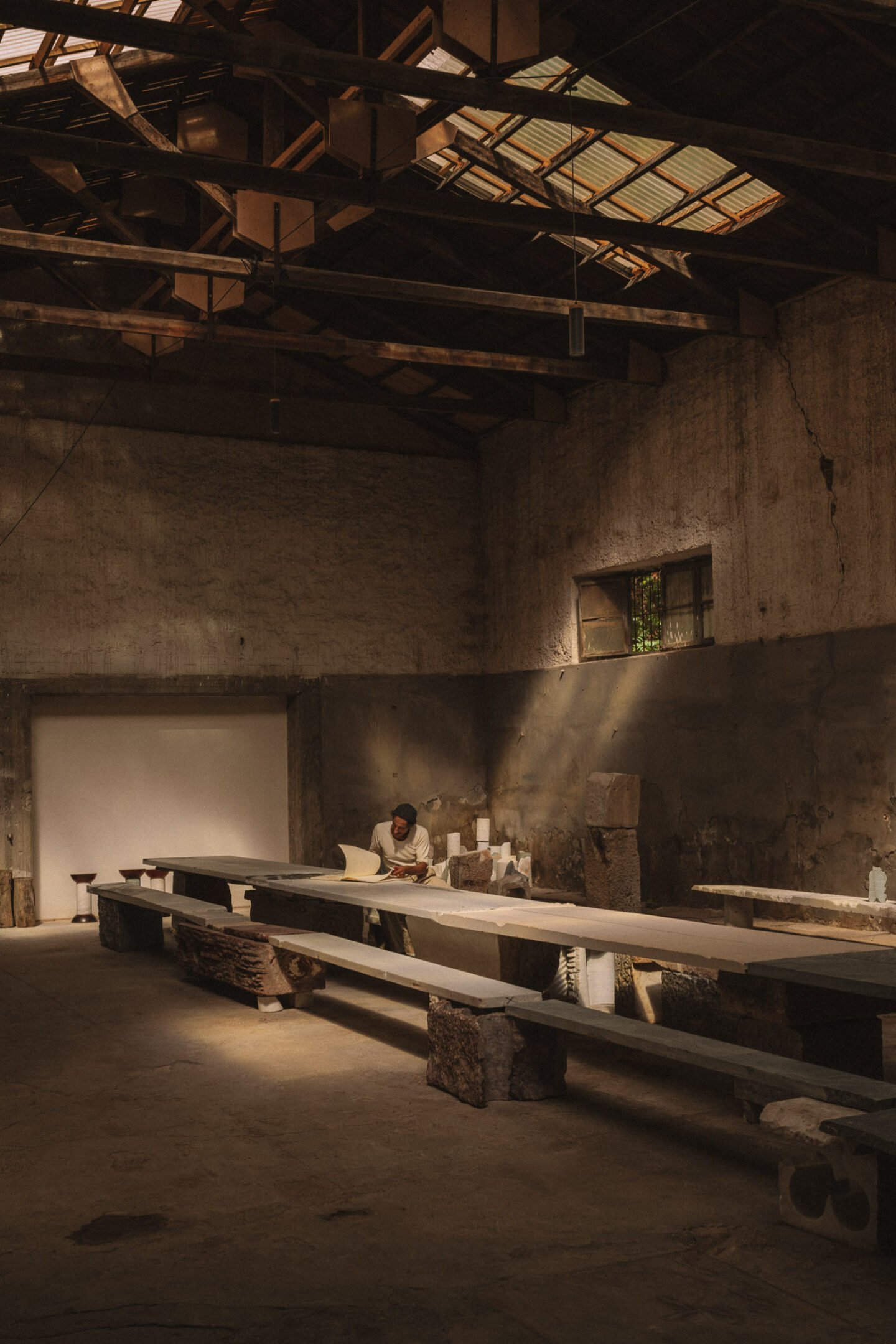 Psychoyos pieces are undoubtedly surrounded by a sense of weight and heaviness. With a radical and raw approach—stripped of decoration, devoid of unnecessary embellishments—his objects provoke fundamental questions about the connection between humans and matter. His work reaches deep into the essence of the material, which bears its marks with an almost stoic resilience. Yet, far from feeling suffocating or burdensome, Psychoyos pieces pulsate with an energy of permanence that grounds the observer—a feeling that sits with us long after we've left the old factory.