Name

Project

Neue Nationalgalerie

Images

Words
After years of renovations, the Neue Nationalgalerie, first conceived of by seminal architect Ludwig Mies van der Rohe (1886-1969), will reopen to the Berlin public this summer—having been meticulously remodelled by renowned firm David Chipperfield Architects.
Grouped alongside Le Corbusier, Walter Gropius, and Frank Lloyd Wright as one of the pioneers of Modernist architecture, Mies van der Rohe was the last director of the Bauhaus School before its closure by the Nazis in 1933. He fled to the United States a few years later, and did not build in Europe for three more decades, until 1962, when he was appointed as architect for the newly founded Kulturforum, a collection of cultural institutions and museums in the former West Berlin. The Neue Nationalgalerie, a new building that exists as part of the Kulturforum, was only completed a year before Mies's death, in 1968. It remains his last major construction and most celebrated work: with its arresting horizontal form, dramatically cantilevered roof, and expansive glass windows around its signature ground floor showroom, the gallery became an iconic example of high Modernist architecture—and is a testament to Mies's 20th century vision.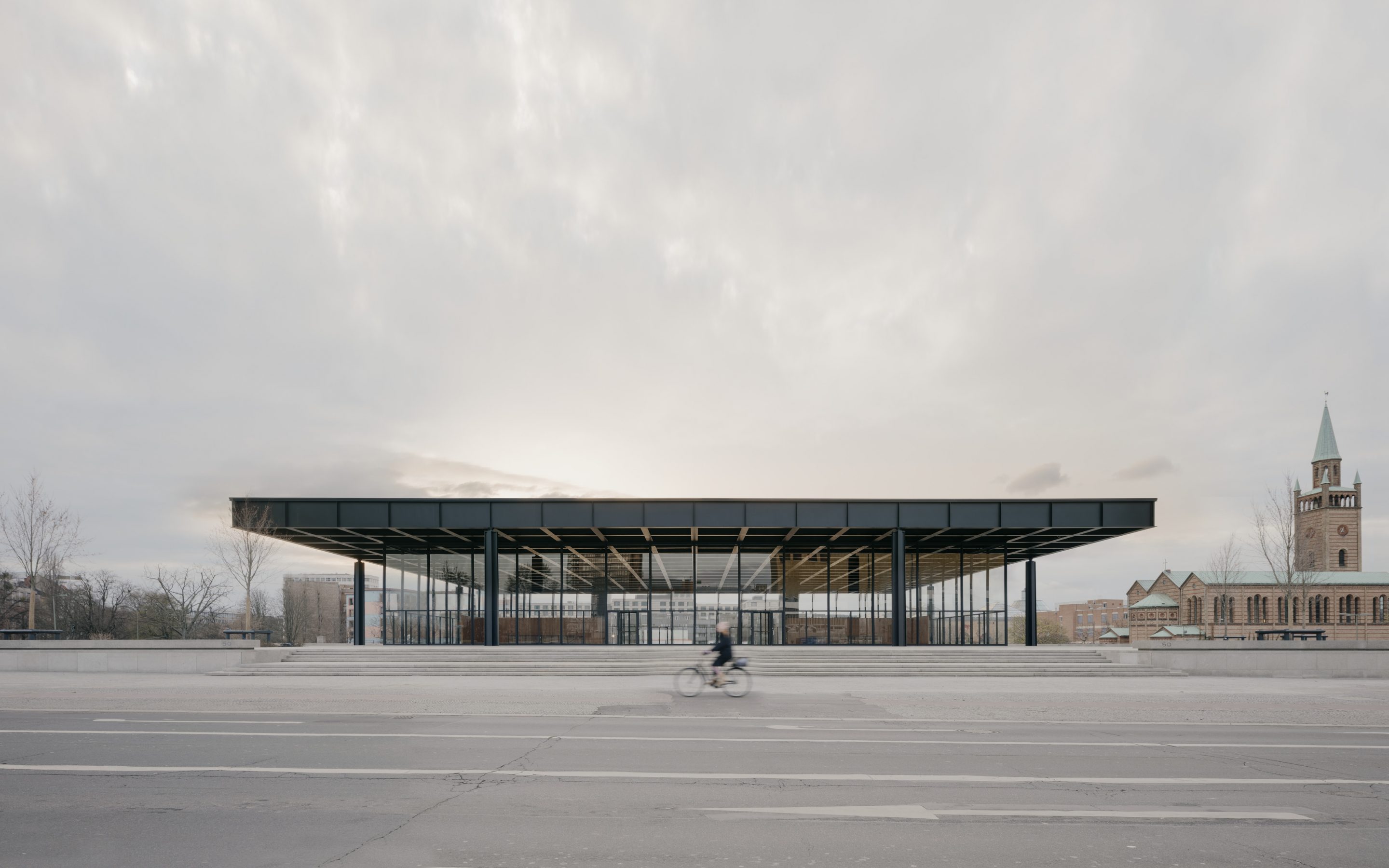 For the 50 years since its original opening, the museum has existed as an important monument and an example of cultural reinvention, in a city that had lost almost all of its artistic venues during and after World War II. The building itself has carried this significance through the decades, hosting an outstanding collection of modern and contemporary art, with large-scale installations and sculptures by the likes of Richard Serra, Gerhard Richter, and Ernst Ludwig Kirchner, among others. Despite the many successful showcases, the building was in need of restoration, so English architect Sir David Chipperfield was named as responsible for the gallery's refurbishment in 2012.
The gallery became an iconic example of high Modernist architecture—and is a testament to Mies's vision
An extensive repair of the gallery's reinforced concrete shell and a complete overhaul of technical services required an in-depth intervention from the firm. The architectural structure, however, was to remain virtually unchanged. Visitors hoping for a complete visual transformation of Mies's masterpiece would be let down: today, the gallery looks pretty much as it did in Visitors hoping for a visual transformation of Mies's masterpiece might be let down.1968, which for the firm, was precisely the point. "There was no promise of new splendor, no promise of new qualities, no reinterpretation or aesthetic upgrade," explains Martin Reichert, Partner and Managing director of David Chipperfield Architects Berlin. It was "merely the refurbishment of the last work by Ludwig Mies van der Rohe in line with accepted conservation practices."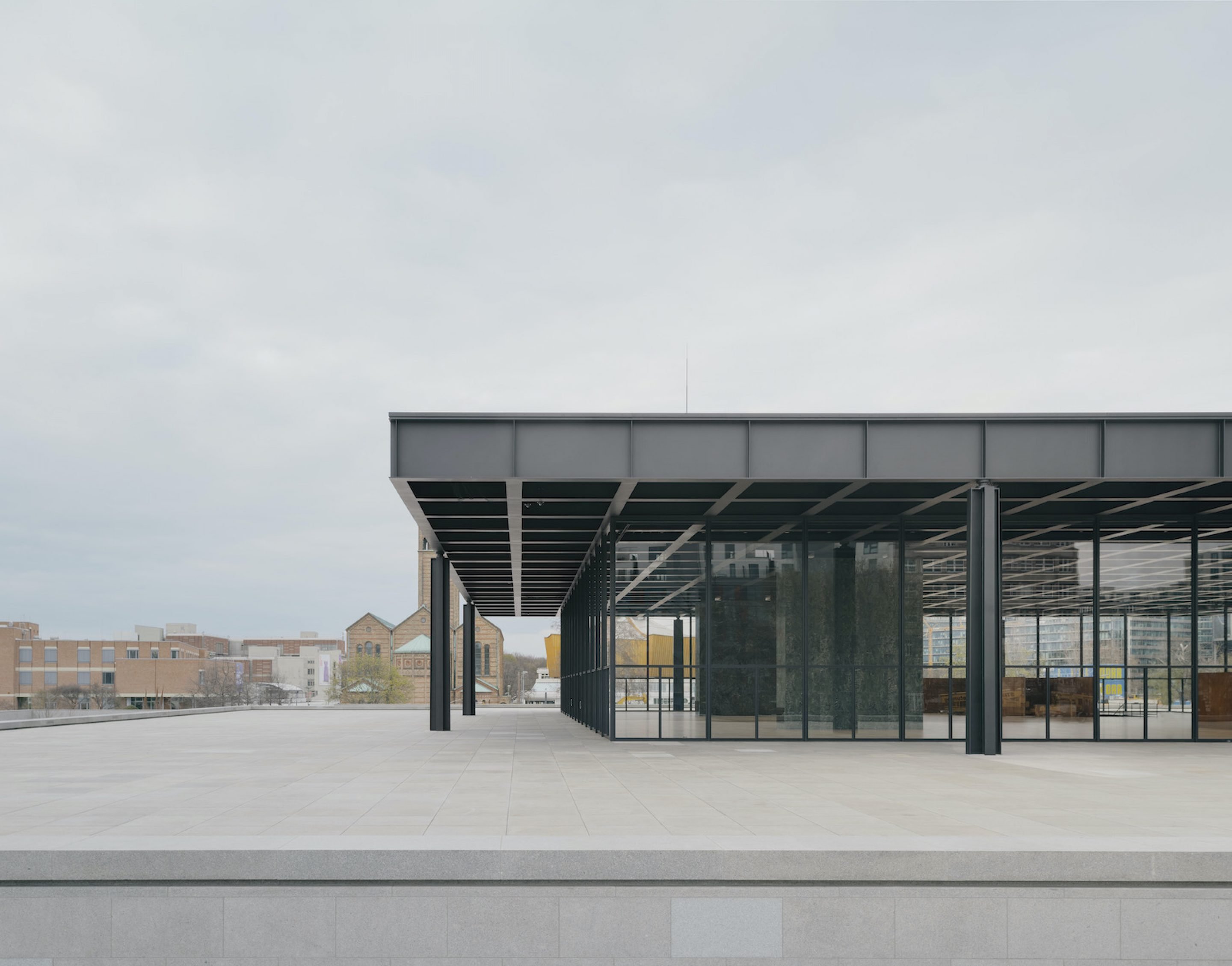 The client, the Prussian Cultural Heritage Foundation (a federal government body that oversees 27 museums and cultural organizations in and around Berlin), asked for the gallery's touch ups to be "as much Mies as possible." The 101 million euro project achieves exactly this brief, with interventions that could best be described as a respectful renovation. "Taking apart a building of such unquestionable authority has been a strange experience but a privilege," explains Sir David Chipperfield. "The Neue Nationalgalerie is a touchstone for myself and many other architects. Seeing behind its exterior has revealed both its genius and its flaws, but overall it has only deepened my admiration for Mies' vision."
"Taking apart a building of such unquestionable authority has been a strange experience but a privilege"
Chipperfield explains that their work was "surgical in nature", addressing technical issues like improving accessibility for disabled visitors, replacing large glass windows and reducing their condensation in cold weather, removing asbestos-riddled materials, and homogenizing the granite façades, all the while leaving the "bones" of the building intact. Inside, colossal green marble plinths and wooden partition walls are the only elements that interrupt the interior of the voluminous ground-floor space, while the lower-ground floor was semi-reconfigured to maximize storage space and improve visitor facilities like the cloakroom, cafe, and museum shop.
"Certainly carrying out such a task in a building that leaves no place to hide is daunting, but we hope to have returned this beloved patient seemingly untouched, except for it running more smoothly," Chipperfield says. To lower the 150,000-square-foot building's environmental footprint, lighting and HVAC systems were upgraded, while more than 35,000 original building components were removed or replaced, including tiles from the grounds outside and slabs of stone on the main-floor pillars.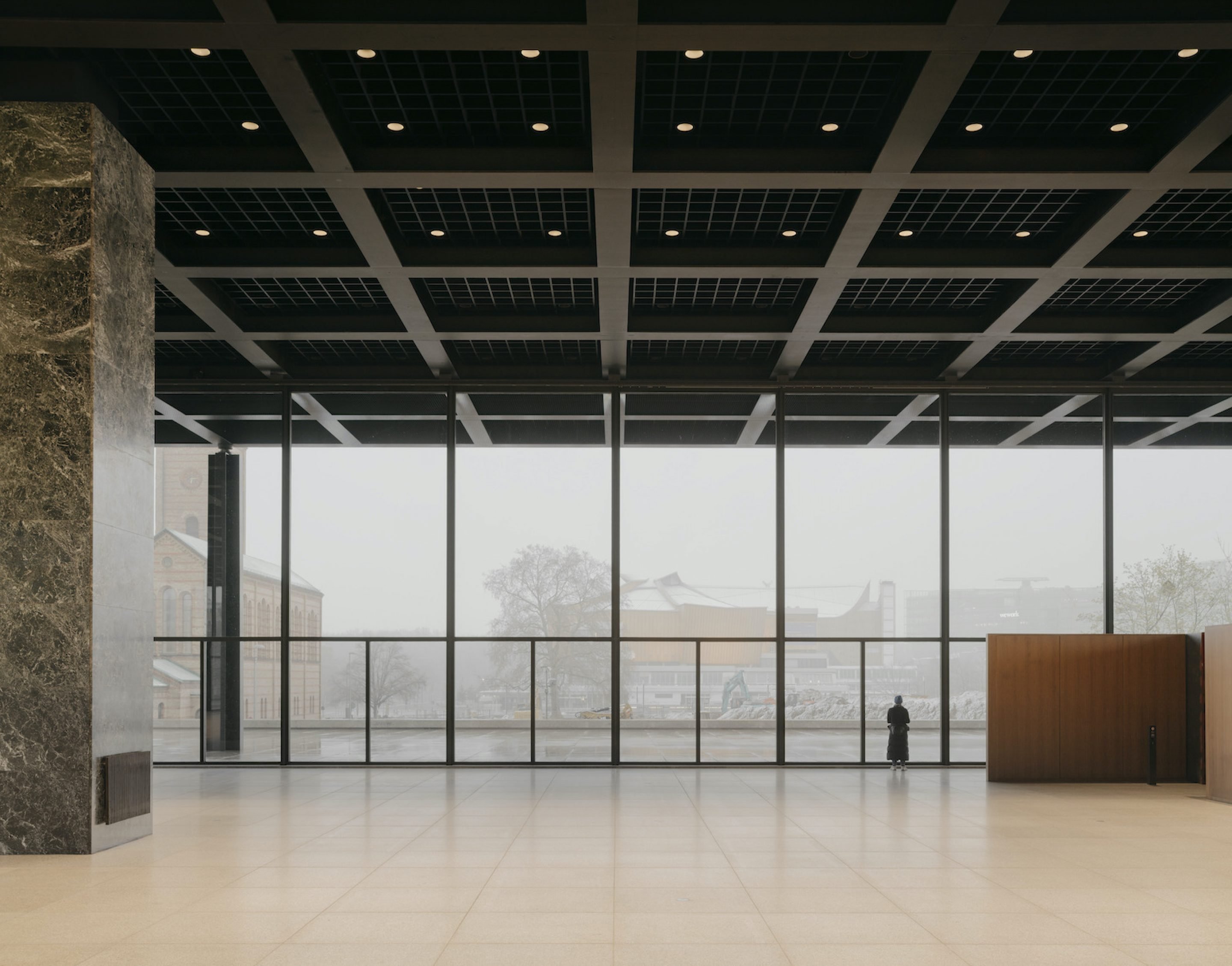 While implementing the overhaul in general, Chipperfield's team deliberately refrained from trying to change the building visually, or reinterpreting it by updating colors or details according to contemporary styles. "We accepted the traces of use and aging on the natural stone, on the original metal mounts in the interior, and on all wooden building elements, repairing damage in accordance with standard restoration methods," Reichert says. "The project was exceptional in many respects: the gravity with which even seemingly marginal conservation issues were discussed, [and] the high degree of appreciation for the material building fabric… as well as the explicit message that there is nothing more to see than a major work of late Modernism, that has been restored with great care."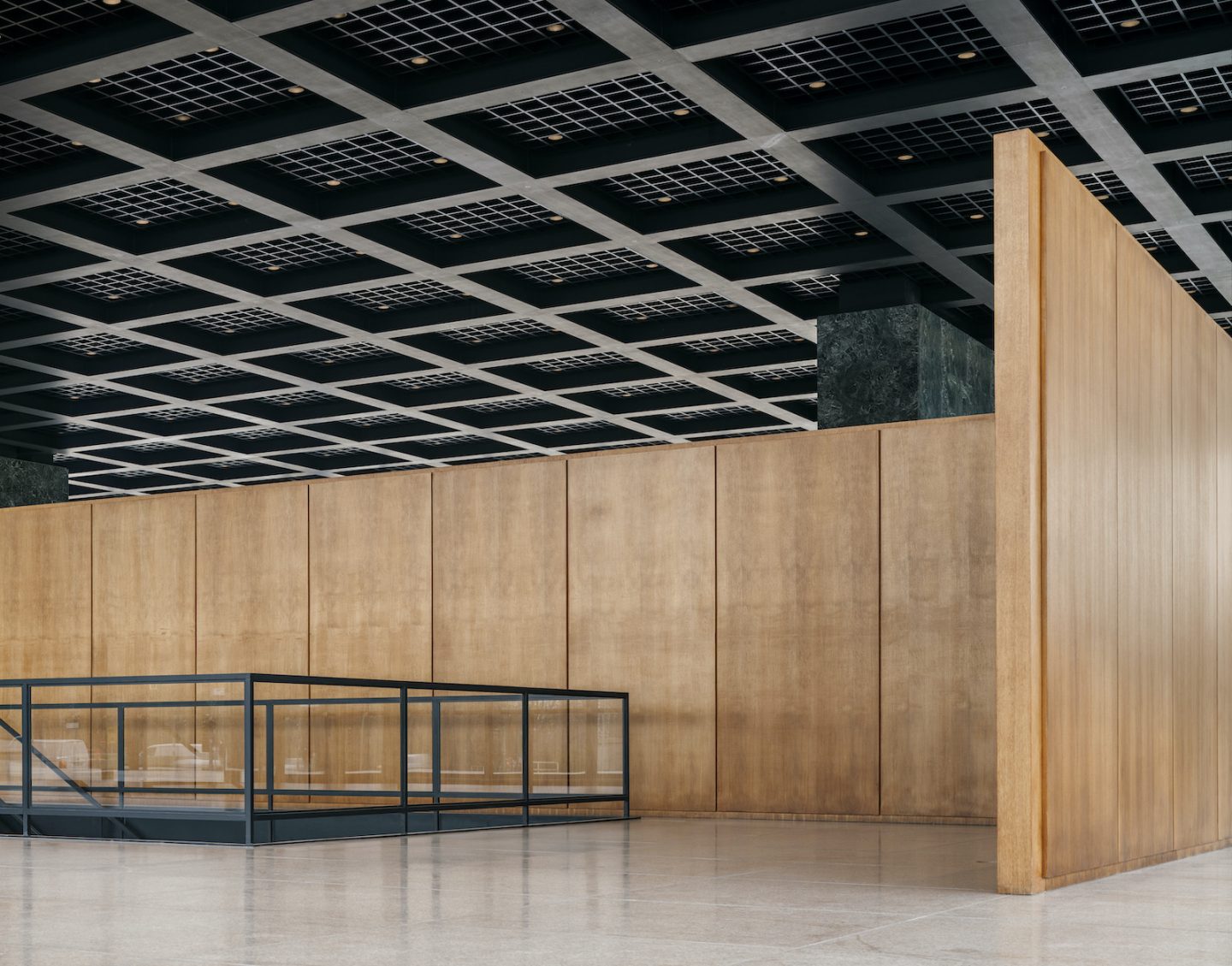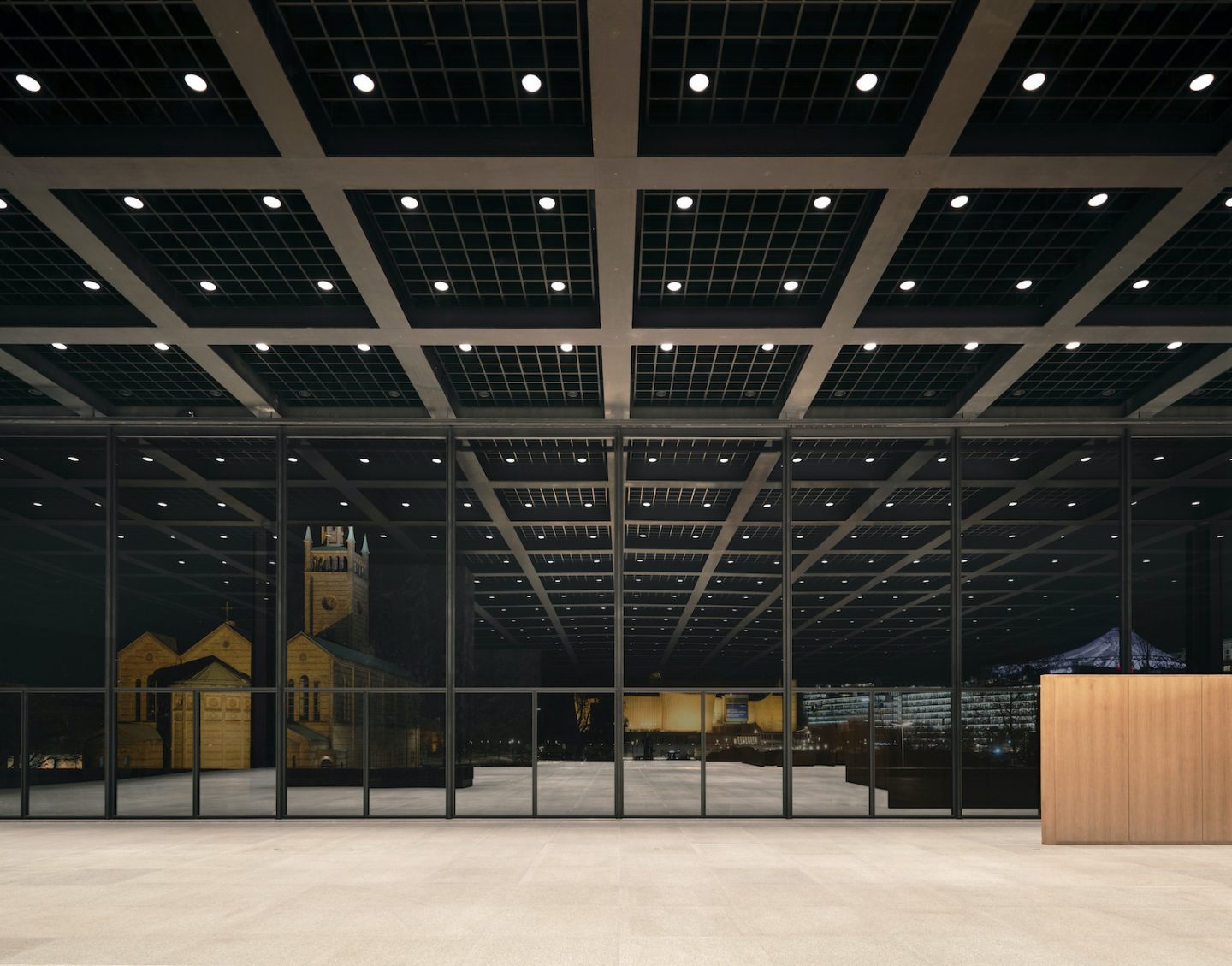 Later this year on August 22, the Neue Nationalgalerie will reopen. With it comes a permanent collection of contemporary works by world famous artists like Pablo Picasso, Francis Bacon, and Andy Warhol—all of whom had their works confiscated from German museums by the Nazi Party, after Hitler called them Institutes like the Neue Nationalgalerie are a tribute to the role and power of art in modern society."degenerate" and staged his own counter exhibition. The works will be rehung on the walls of the Neue Nationalgalerie as an exhibition called "The Art of Society 1900 – 1945," along with a temporary show by American sculptor Alexander Calder, whose sheet metal stabile 'Têtes et Queue' (1965) was first placed on the outdoor terrace when the museum was inaugurated in the Sixties.
Further insight into the design, execution, and restoration will be available in the forthcoming tome Neue Nationalgalerie Berlin: Refurbishment of an Architectural Icon (Jovis), which features essays, articles, design documents, and large-format photographs. From providing insight into the history of humankind to addressing current socio-political issues, institutes like the Neue Nationalgalerie are a tribute to the role and power of art in modern society. This is especially true in our current time of turmoil; we need spaces for participation, engagement, and connection more than ever, and must protect these places as pilgrimages for learning.