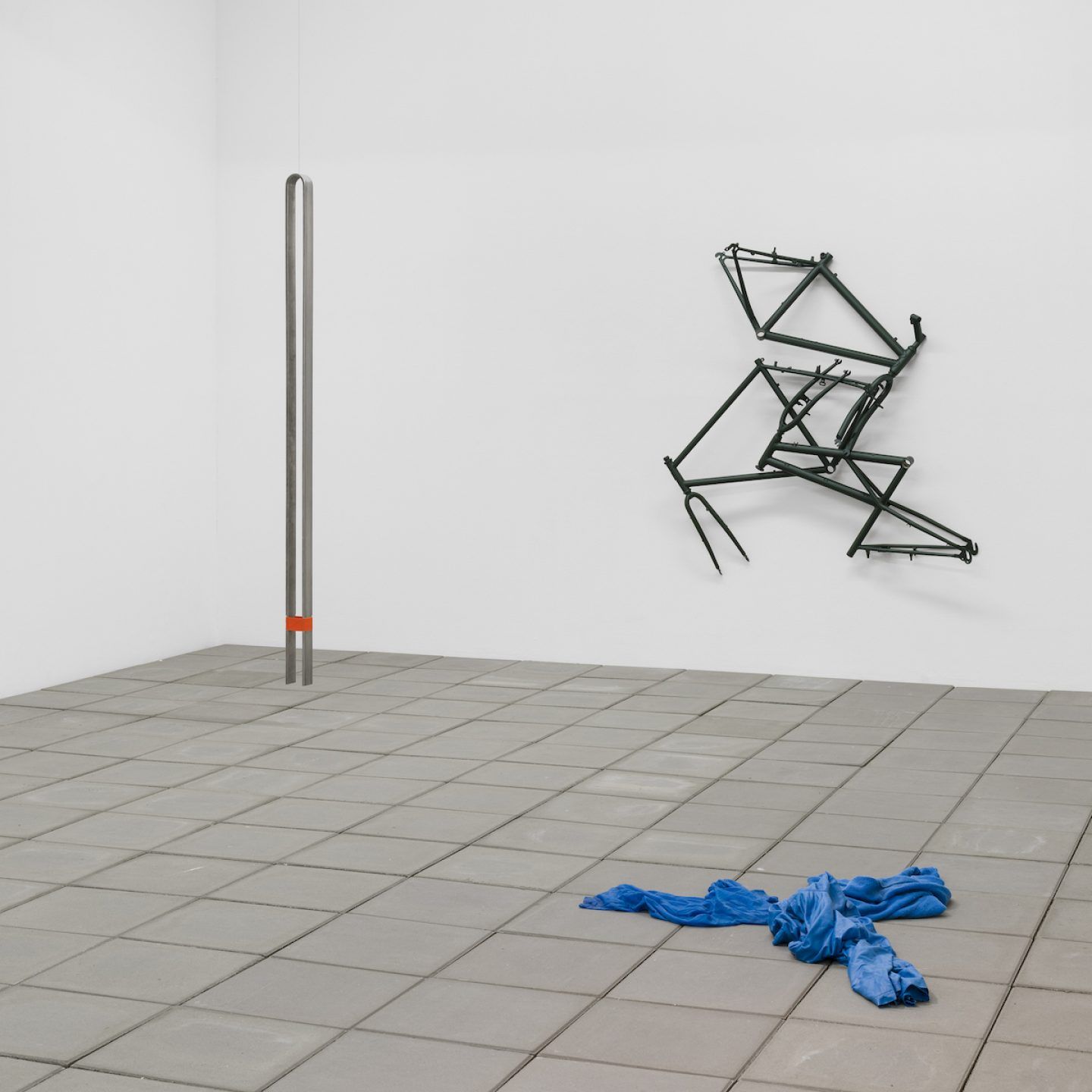 Felix Kiessling's Taumel Exhibition Explores The Effects Of Urban Materialism Through Art
German Conceptual artist Felix Kiessling's new exhibition 'Taumel' (Tumult) uses defunct everyday objects he has transformed into abstract and minimal works, to comment on the politics of industrial materials. His new exhibition is on show at the alexander levy gallery in Berlin.
Drawing connections between materials and space, the pieces comprising Kiessling's exhibition are made from items we encounter in urban areas: in construction sites, public spaces, and buildings we commonly interact with. His two sculptures titled 'And the world turned silent for a little while Rot/Weiss'; encompass two old steel doors that were crushed by an 800 kilogram concrete weight, painted in red and white respectively. Other works include a series of wall-mounted sculptures made from repurposed bicycle parts, that aim to represent themes of property in public spaces: "The bicycle stands for mobility and independence, though through choice of model and color it also stands for individuality and differentiation," explains Kiessling's exhibition statement. "The bicycle has been forgotten or left behind, rusted and broken on the street. But it shows the divided relationship of an affluent society to its artifacts."
Combined into abstract sculptures and covered with fresh paint, the discarded objects are transformed into new works that highlight the tension between individuality and mass production. "Detached from their initial function, the found objects can be read as symbols of a society that is moving towards a collective state of insecurity," the statement continues. "Our environment is built from geometric and symmetrical construction materials. These materials will be the elements on which the forces of the exhibition will rub off, will cause them to totter and destroy their symmetry." 'Taumel' will run at alexander levy gallery in Berlin until October 24, 2020. For more information on the exhibition, click here.