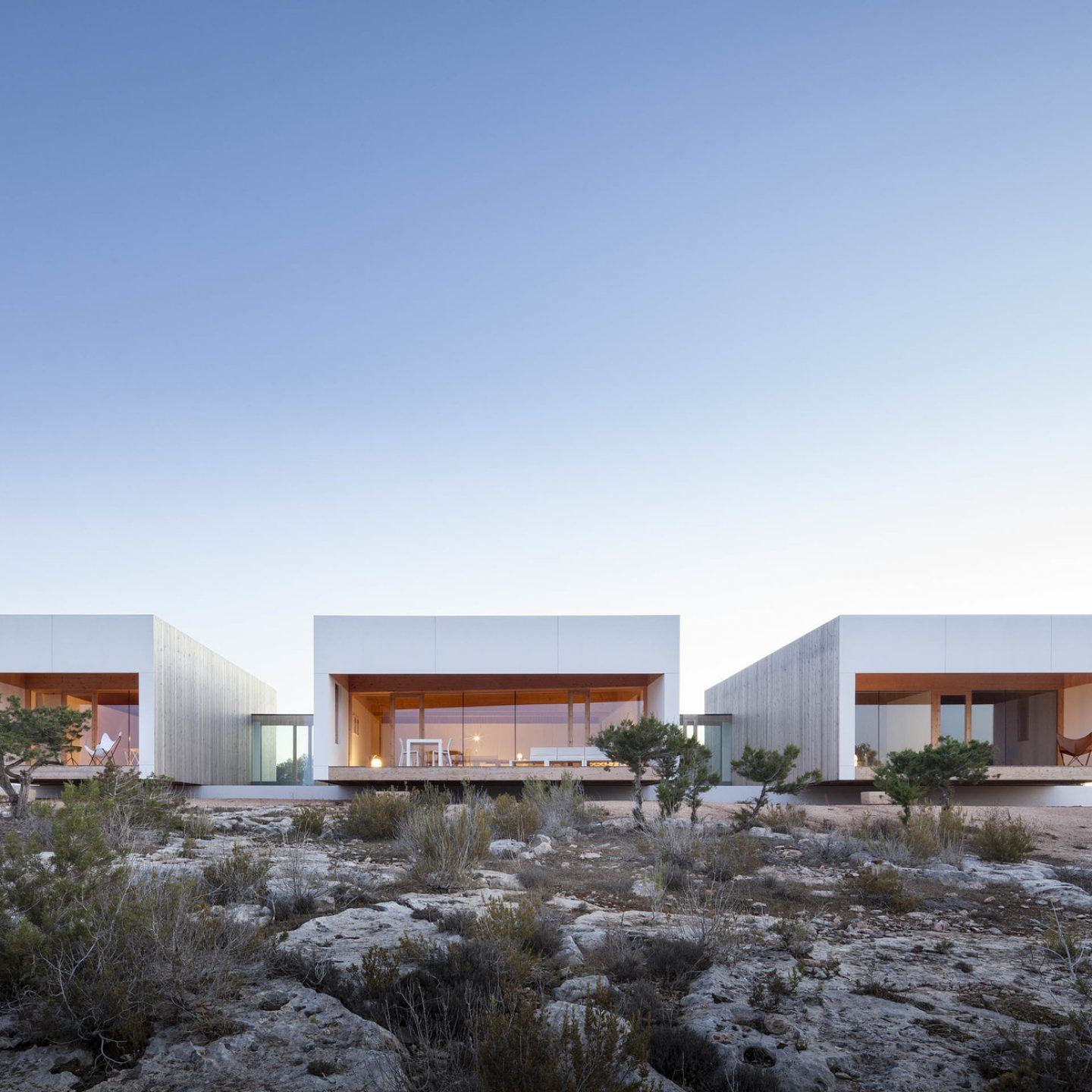 Marià Castelló Martínez Designs "A House Nested In The Stone" On A Spanish Island
Three colossal, geometric forms emerge from rocky terrain to make up the above-ground form of 'Bosc d'en Pep Ferrer', a residential property located along Formentera, one of Spain's small Balearic Islands—measuring at just 12 miles long.
The home's floor plan, cleverly designed by Spanish firm Marià Castelló Martínez, spans three levels vertically and three separated enclosures horizontally. Rather than excavating the entire plot to create the home, the architects unearthed a rectangular passage for the lower-ground floor, leaving segments of the rock untouched to build the home's spaces around it, calling it what they describe as a "house nested in the stone." The sculpted rock's perpendicular surfaces exist as exposed walls, providing a textured, sandy-colored cross-play between the natural and man-made worlds. On the lower-ground floor, residents are immersed into the earth; the bare rocks contrast against a fusion of other natural materials: pine and fir wood left in their natural colors, crushed gravel from the excavation, capri limestone, and white marble.
The above-ground level contains the main living and bedrooms areas: multiple passageways between the three rectilinear volumes connect each space together, leading residents through an experience of both lightness and darkness, earth and air, sky and sea. The three geometric forms face outwards, with panoramic views of the sea due to the floor-to-ceiling glass windows. The neutral furnishing of 'Bosc d'en Pep Ferrer' recalls the island's natural palette, a place that is beautified by its incredible landscapes, crystal-clear waters, and the slow pace of life.