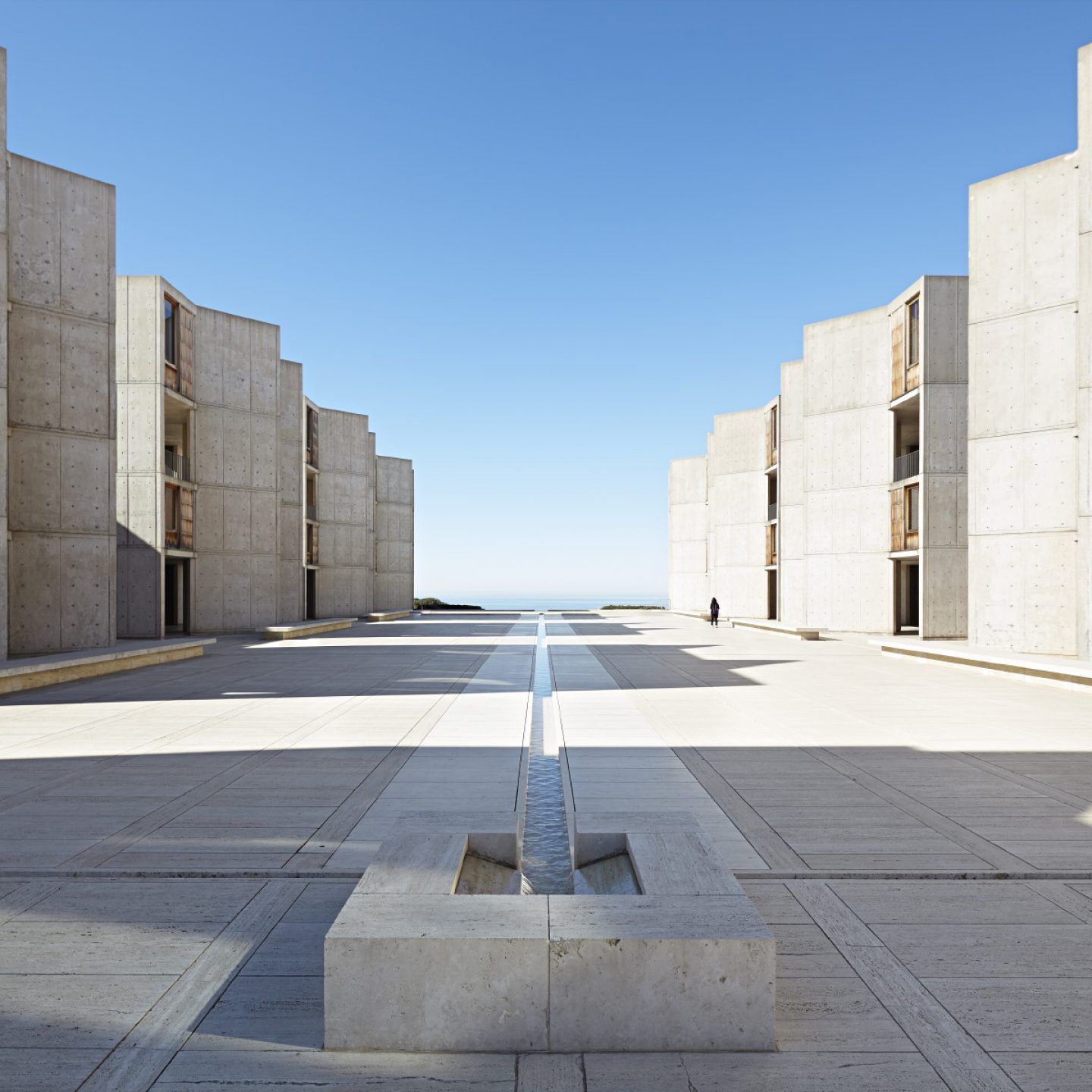 On America's Pacific Coast, Louis Khan Designed A Transcendent Space "Worthy Of Picasso"
Jonas Salk was a pioneering American microbiologist whose creation of the first polio vaccine in 1952 changed lives forever. His dedication to eradicating the infectious disease that killed millions was acknowledged by the US government in the sixties with the gift of a parcel of land in San Diego. Salk determined to build a laboratory there, enlisting famed architect Louis Kahn to "create a facility worthy of Picasso".
The biological research center that resulted merges function, form, and monumental beauty on a bluff overlooking the Pacific Ocean. The rugged, windswept landscape was the perfect location for the Salk Institute—which remains in use fifty years after it was built and is widely considered as one of America's great Modernist masterpieces. German photographer Nils Koenning made the pilgrimage to the site, capturing its just-blushed majesty in the last hours of sunlight.
Kahn believed in the transcendent potential of a space that merged art, architecture, and science; and with the Salk Institute, he has achieved just this. The formally inspiring complex is also structurally simple, durable, and practical in use. Constructed from a pozzolanic-concrete compound common during Roman times, the buildings give off a rose-tinted glow. Originally intended to be three times the size, today the Salk Institute consists of two main octagonal buildings with attached studies that run parallel to one another and which are separated by a large-scale courtyard and a water feature.
These buildings house large-scale columnless laboratories, whose flexible floor plans were designed for freedom of communication and to allow them to evolve as necessity requires. Attached to these buildings are eight towers with angled fronts finished with teak details. These structures house the studies of the scientists, and thanks to the staggered nature of the building's front, each one has views to the ocean.
Dividing the symmetrical space is a courtyard paved in dazzling travertine stone. Until Luis Barragán interjected, Kahn had intended to fill the space with a luscious garden. Barragan suggested that the area would be more affecting if it had nothing in it at all. At the center of this minimally adorned space is a water feature called 'The River of Life'; oriented towards the Pacific Ocean, the sun sets along its watery axis twice a year during equinox.