Step off the main drag of Zurich's happening, design-focussed District 4, head through an concrete archway and turn your gaze to the right. From the corner of your eye, you'll note white sans serif letters adoring a sweeping glass facade. Though first unassuming, upon closer inspection the store it fronts reveals itself to be a treasure trove of high quality everyday goods and considered essentialist design with a few surprises thrown in along the way. Once you start to browse, you might not want to leave. Welcome to QWSTION.
It's the tiny, often hidden elements of their designs that set this brand apartThe characteristics that define the Swiss bag brand's flagship store – which combines its own bags with a curated selection of like-minded clothing, footwear, accessory and interior brands – are just as applicable to their products: A range of everyday backpacks, totes and weekender bags sold across two platform flagships stores, eight 'galleries' in other shops, and an ever-growing list of international stockists. It's the tiny, often hidden elements of their designs that set this brand apart: Snap locks you can close with one hand, zips that only glide one way to prevent things falling out, removable straps and hidden inner pockets for everything you didn't realize you needed. Keen to discover the secrets to the success of this introverted and innovative label, we paid a visit to QWSTION's Zurich flagship store, which also houses their studio and workshop. There, amidst an inspired shop fit-out created by the designers themselves, we got to know three of the brains behind the business: designers Christian Kaegi, and Matthias Graf and CEO Hannes Schoenegger. Over a coffee or three, they gave us the low-down on the identity, design and business questions this brand is posing themselves ahead of their 10 year anniversary in 2018.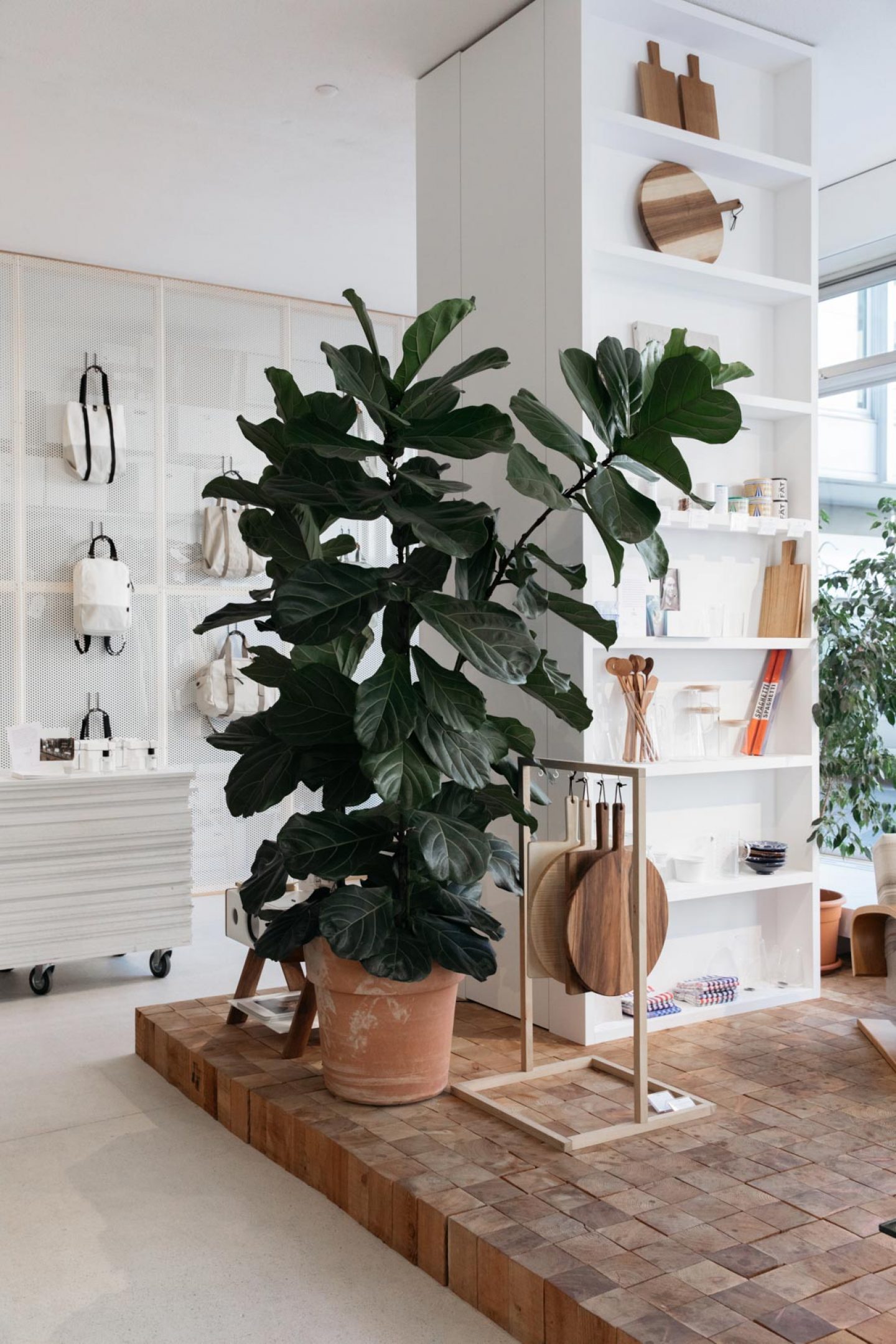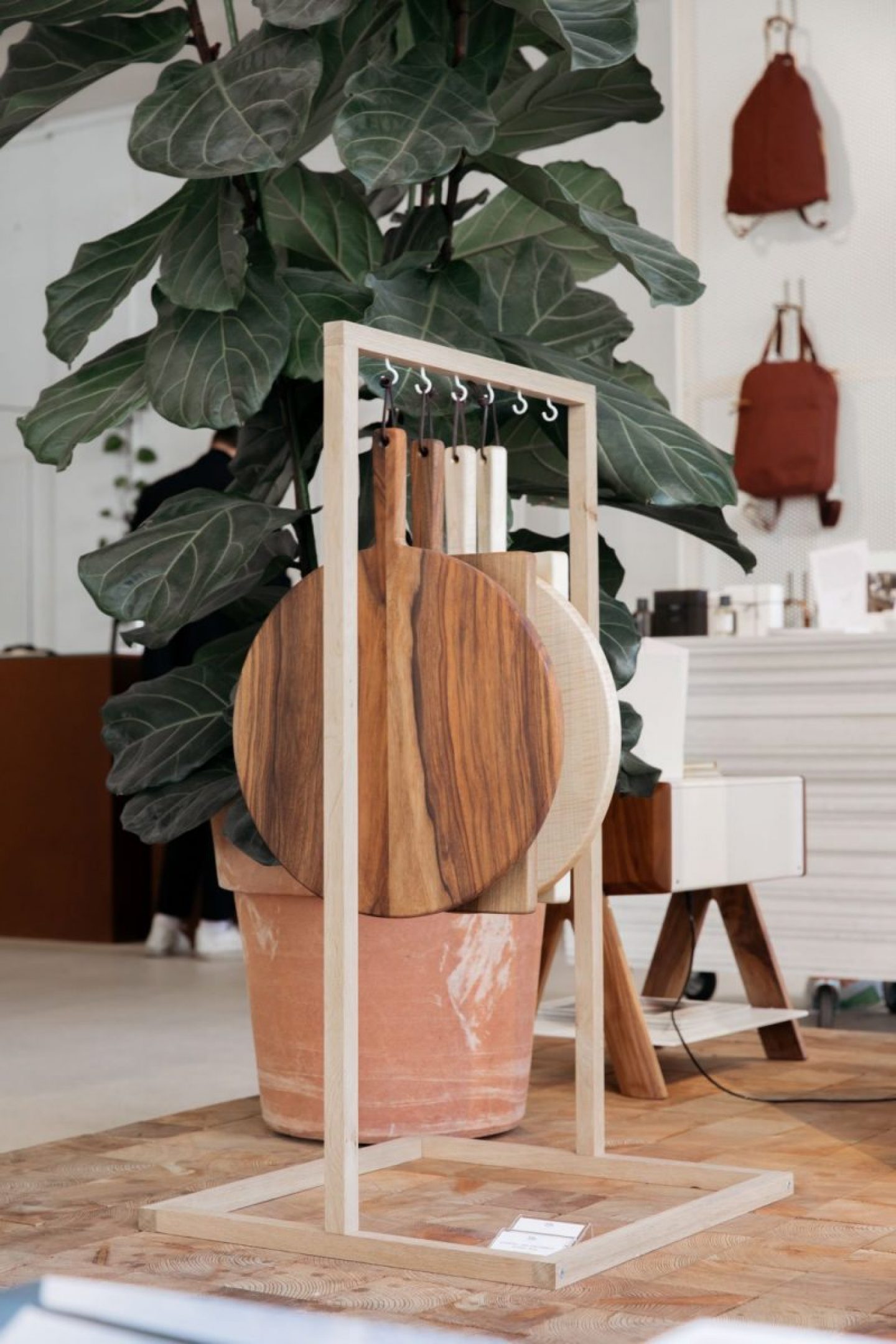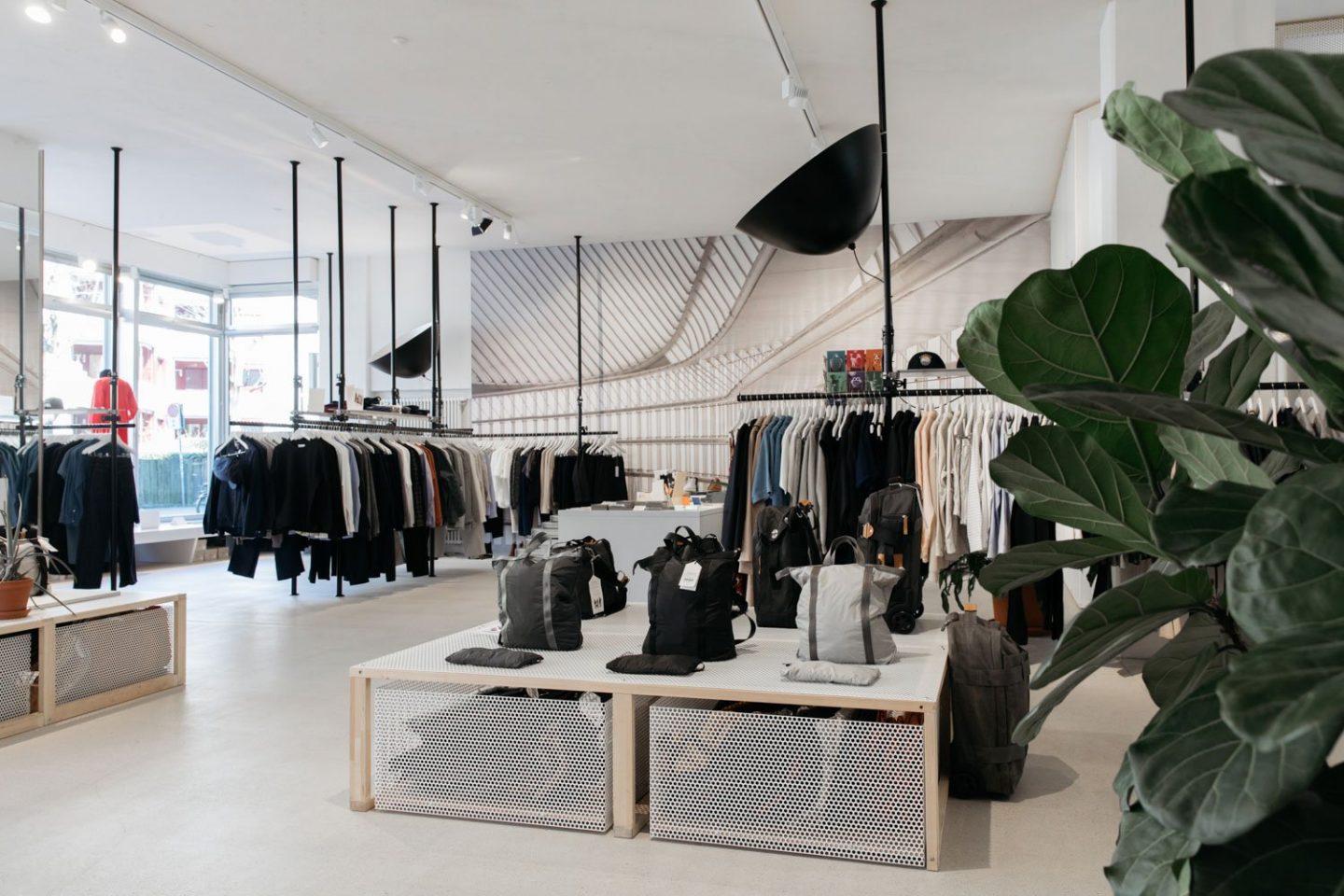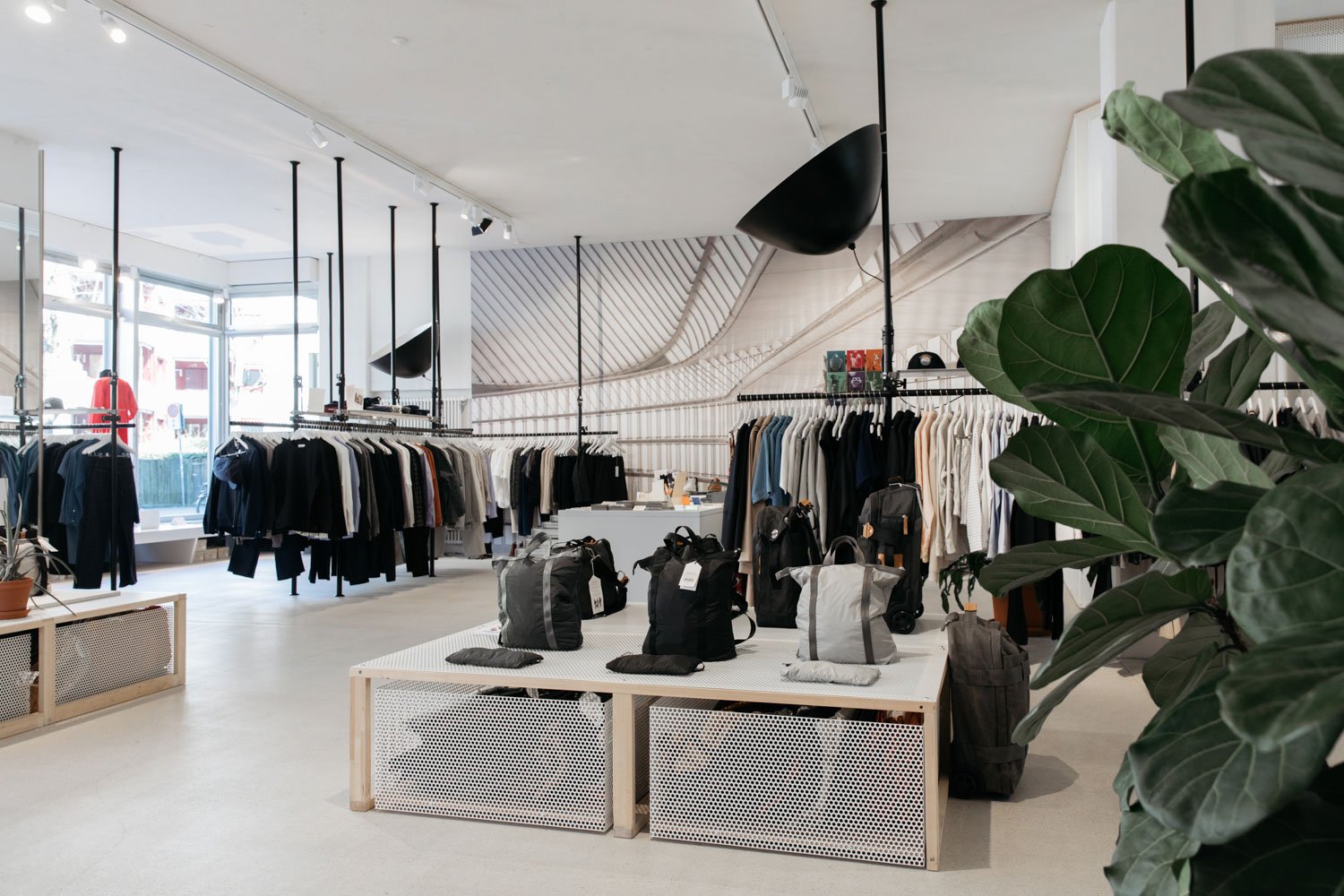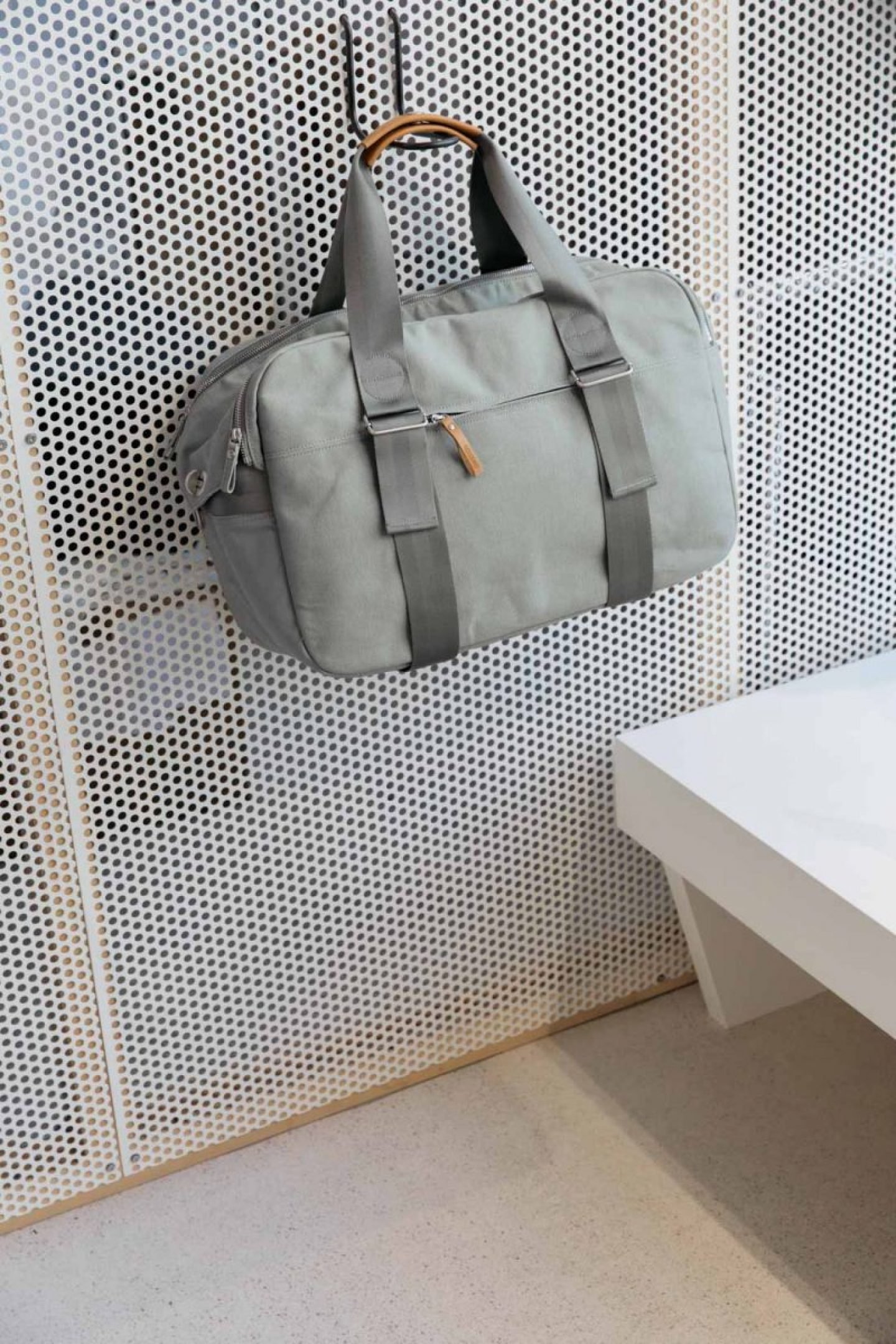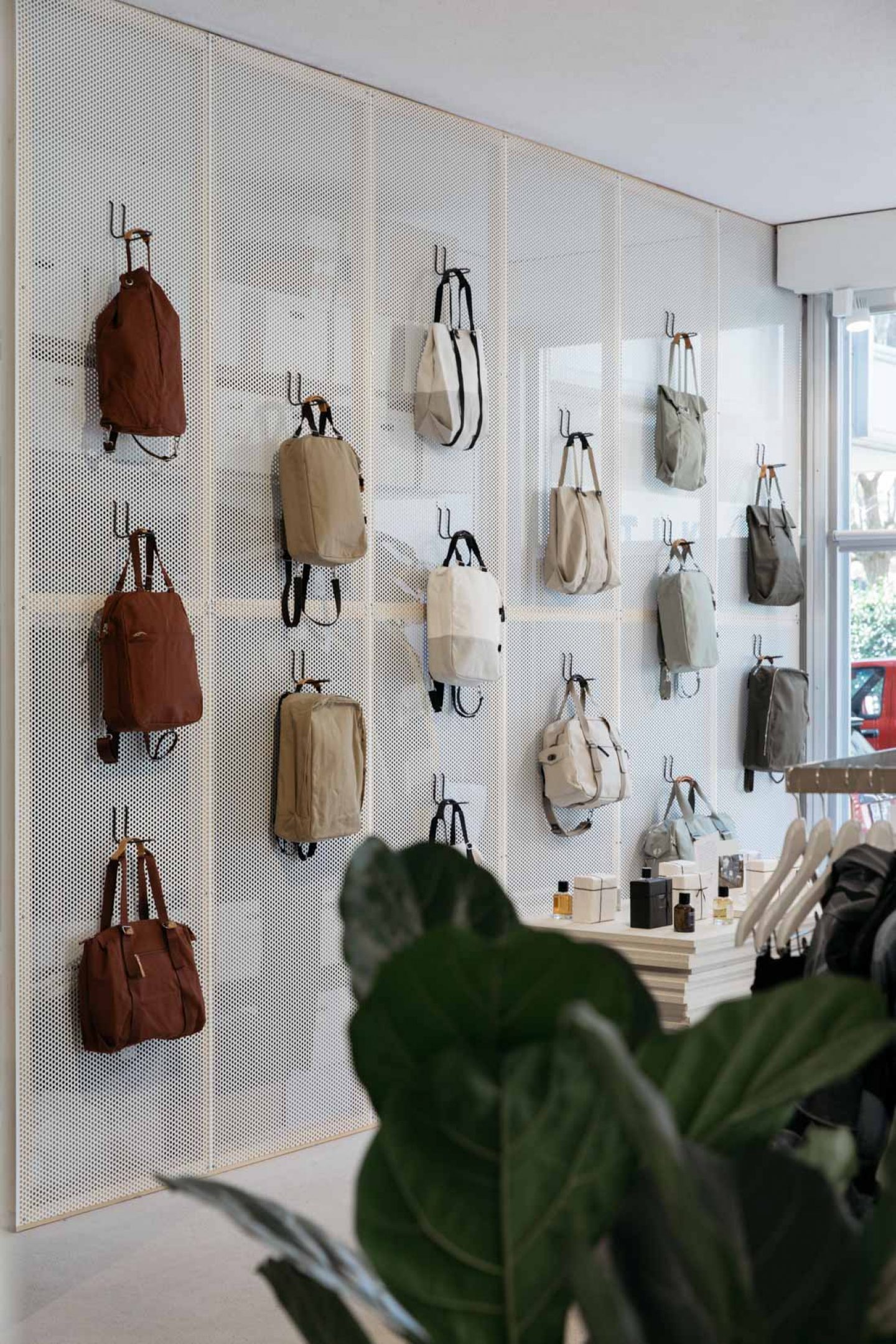 QWSTION was founded in 2008 by a team of five: Sebastian Kruit, Matthias Graf, Hannes Schoenegger and industrial designers Christian Kaegi and Fabrice Aeberhard. What was the impetus to start a bag brand, and where did you see the gap in the market? Almost 10 years on, how do you look back at your origin story?
Kaegi: We're pretty transparent about the origin of QWSTION – the gap in the market that we saw was simply that we traveled a lot ourselves, and the everyday bag we wished we could find for that purpose didn't exist. That was the first spark for the company.
Schoenegger: We first started with a backpack that allowed us to hop off our bikes and head straight into a meeting without having that "cycle courier" look. So we started creating bags and testing them amongst our network of friends. The feedback we received was positive, so we started to design more and scale the operation.
Did you know each other beforehand?
Kaegi: So Fabrice [who is now focussing on other projects than QWSTION] and I had a design studio together, and we knew Sebastian through that, and Hannes and Sebastian already knew each other too – Sebastian is the common thread. It took a while for things to get started properly – around a year perhaps – but at some point we just made the decision to commit to it. Before then we were researching and testing things out and developing the concept, trying to make improvements to things we weren't happy with. Our first product, as Hannes mentioned, was the Backpack. Pretty soon after that came the Weekender. And now we have a variety of different sizes for everyday and travel bags. So the collection developed pretty naturally.
We try to approach everything we do from the other side, not to copy but to develop and to innovate
Your philosophy is: "A good answer is the result of the right question." The choice of QWSTION as your brand name appears to reflect your considered approach to design. What are the big questions you're asking yourselves at the moment when it comes to the brand?
Graf: We try to approach everything we do from the other side, not to copy but to develop and to innovate – on both a functional and an aesthetic level.
Kaegi: Sustainability is a really important value to us, and one of the things we want to keep getting better at. The development of new materials is a big process for us, one that we're always questioning and trying to evolve, and at the moment we're at a really interesting point in the current European economic context – and also with the growth of online retail, which of course poses challenges to physical retail. So we try to go our own way with things and try to approach these issues with considered, progressive solutions.
Schoenegger: And on the business side, we've been growing strongly and organically for the past eight years. Yet we're always asking ourselves what to invest in, how much energy to dedicate to which market, where should we next open – we're constantly seeking answers to these questions.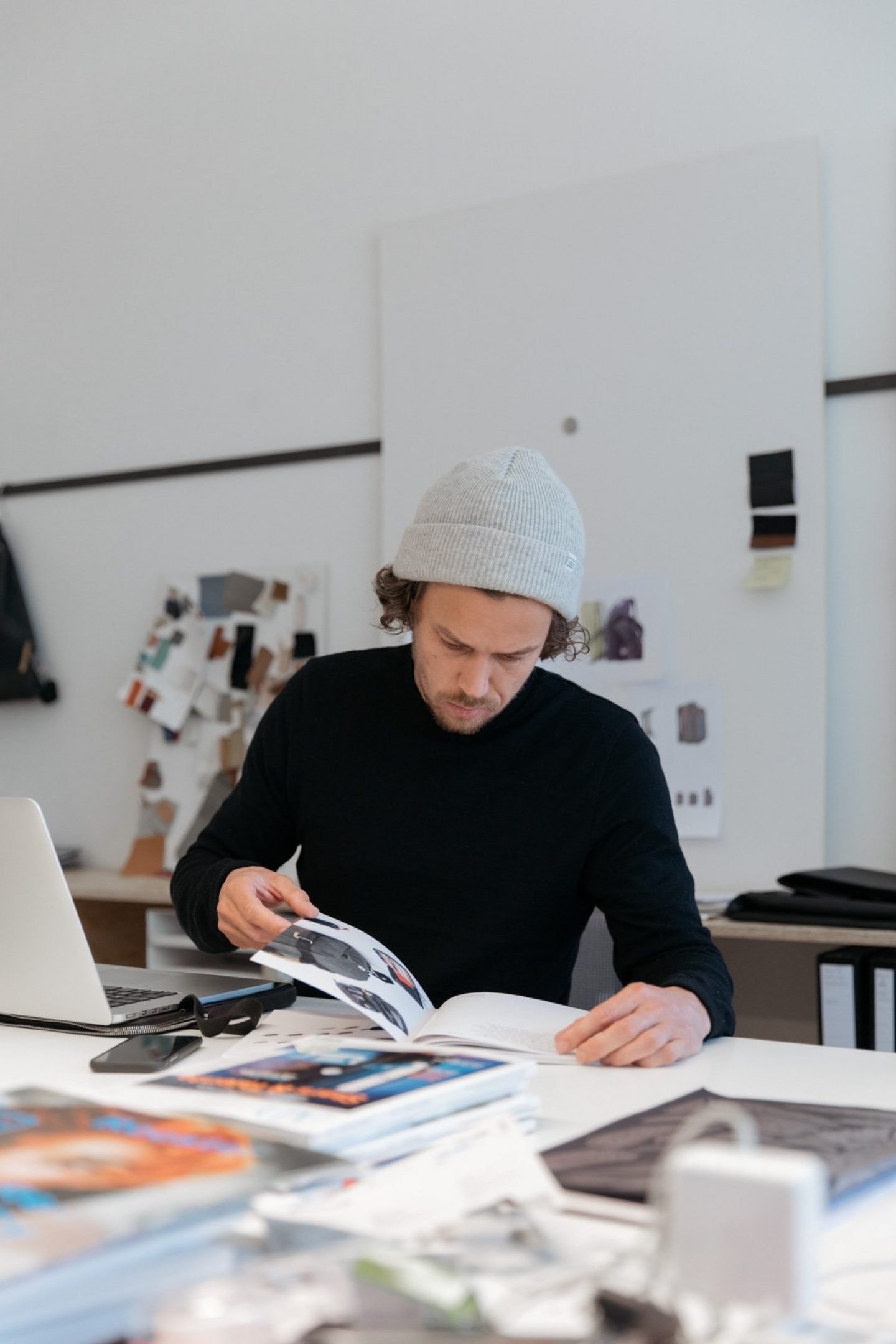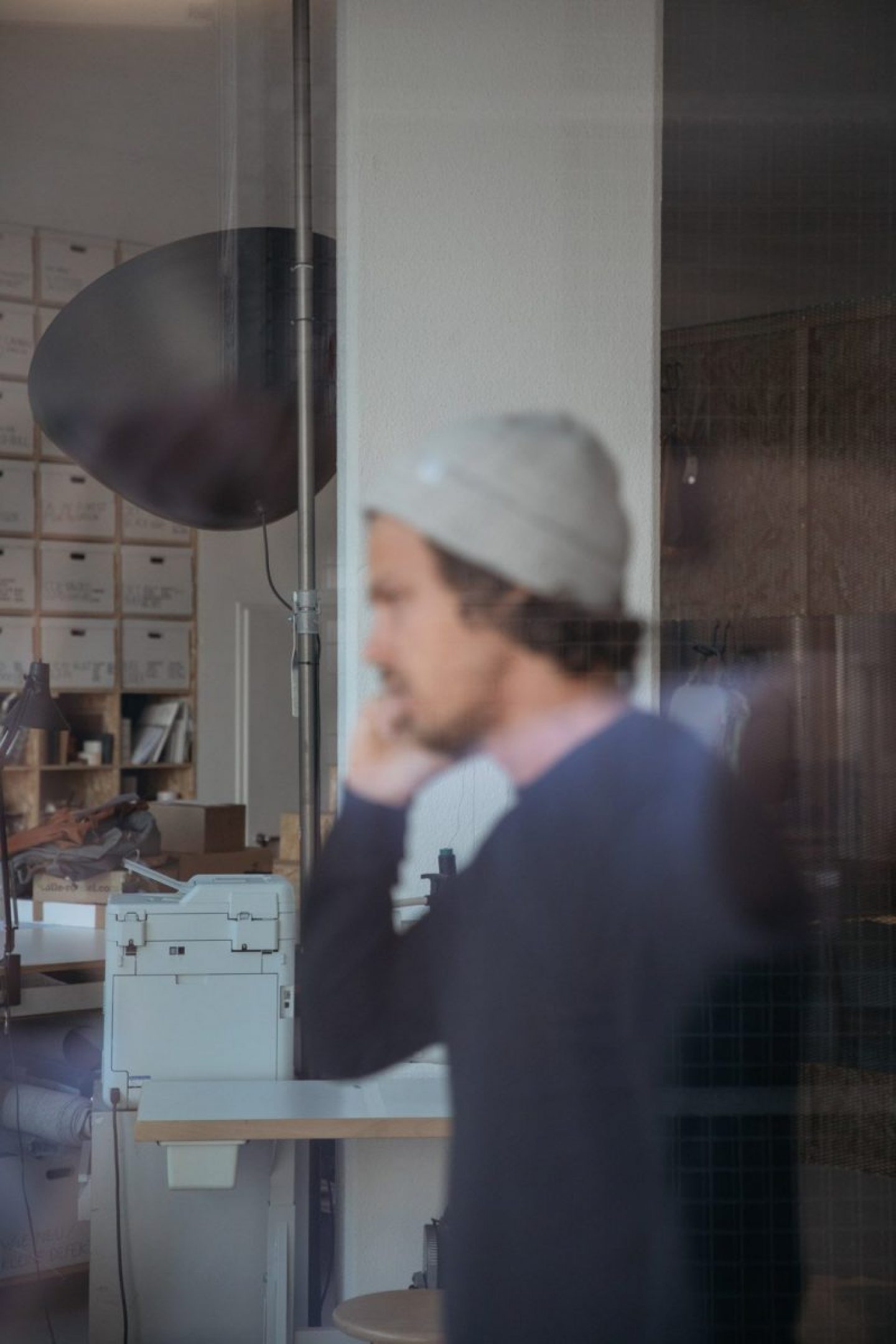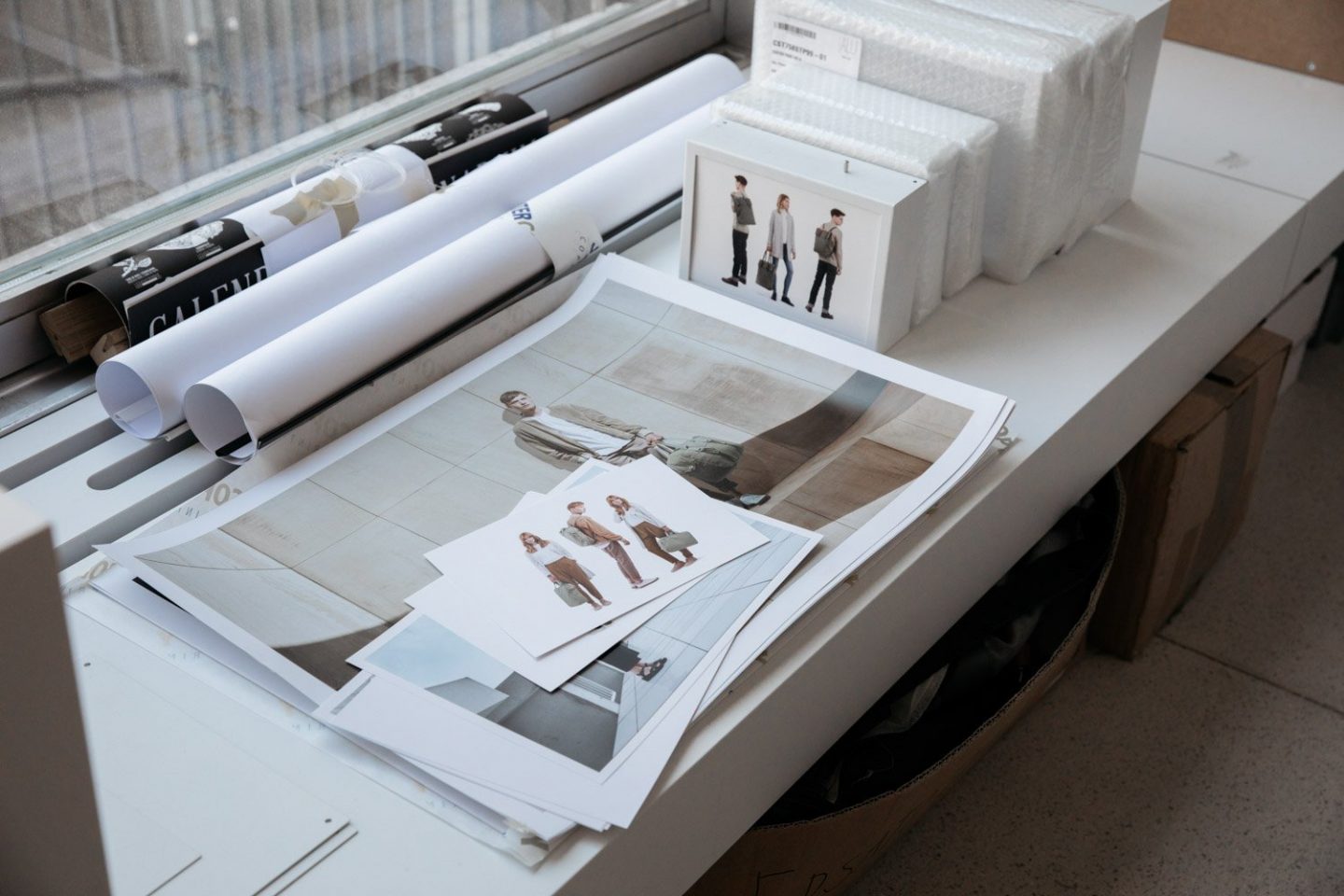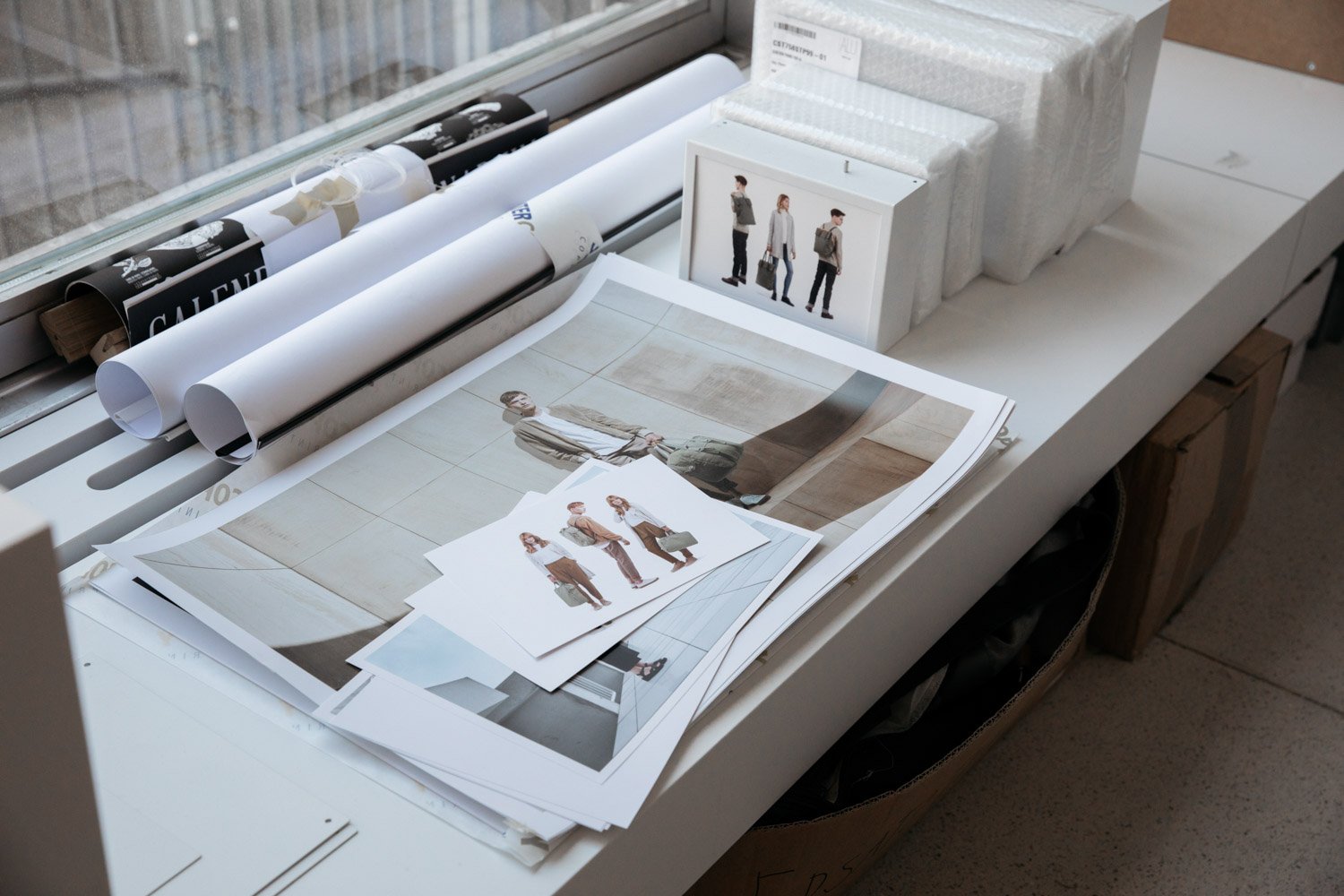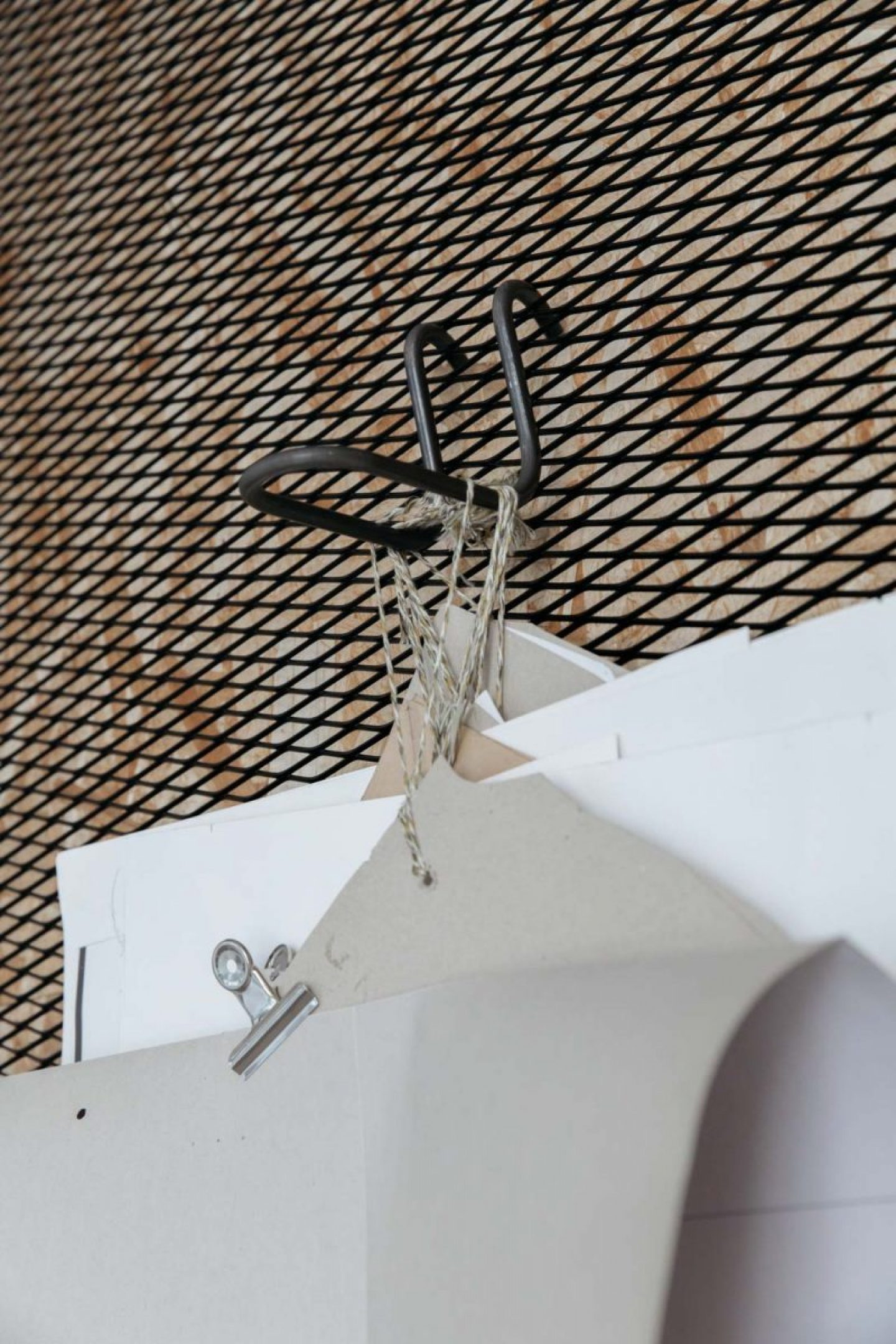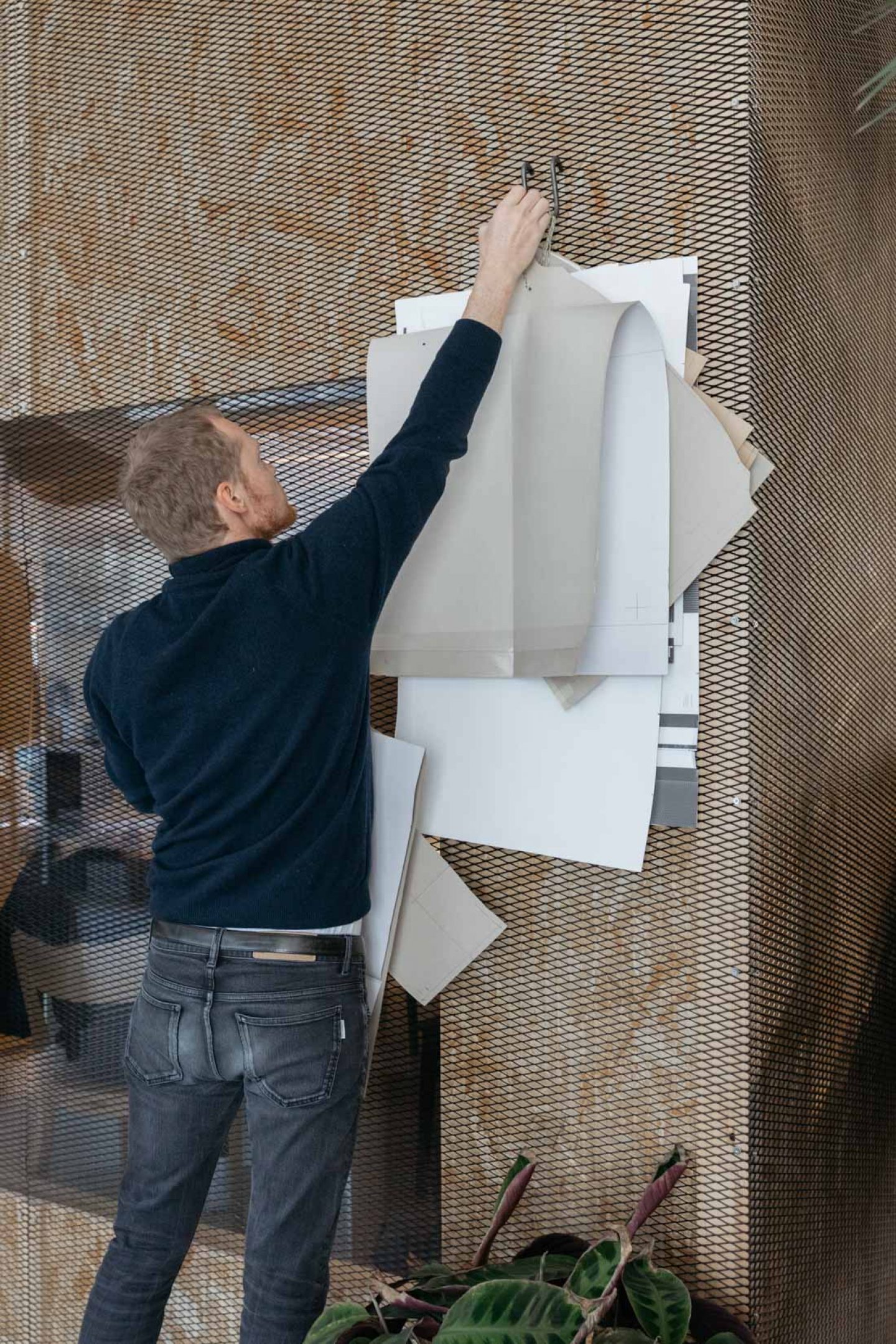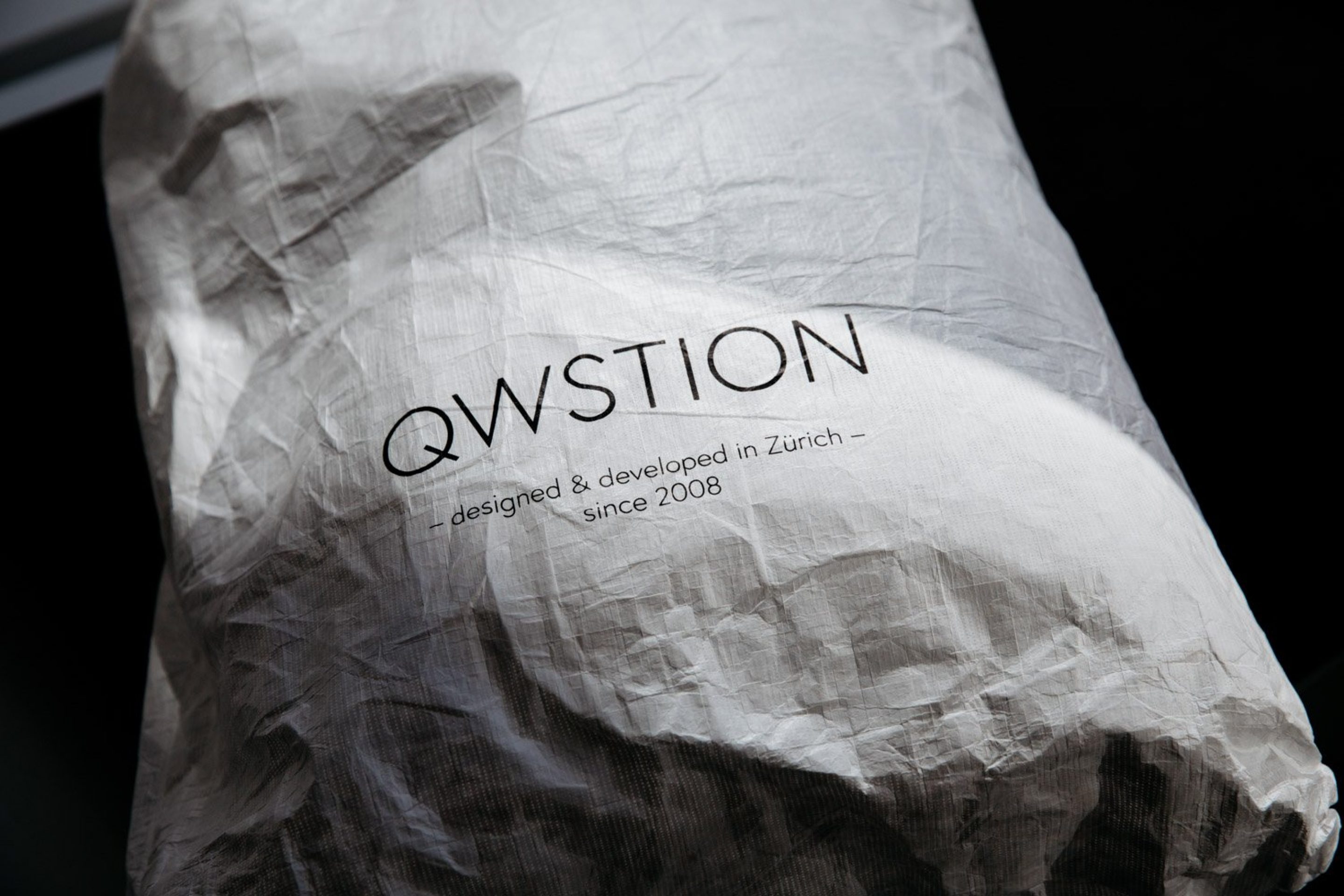 I'd like to hear about your design process. Can you give us an insight into the steps that you follow behind the scenes from inspiration gathering to final product?
Kaegi: I think it's a pretty classic design process. There'll usually be a question for us to answer at the start, then we'll try to find the answer. Sometimes that question will arise from a new material, or an idea for a new bag for a particular purpose. So we'll say, now we'd like to produce an everyday bag that holds around 15 liters, for example, and we'll define the precise question through an open discussion, then start to sketch out ideas for how to approach it. Pretty early on we might already pop over to the sewing machine to trial an idea, to create a prototype. So the idea will come at the start, then we have lots of different avenues for realizing it as a team – for example, mock-ups and prototypes… and usually we try here in our workshop in Zurich to create a finished prototype that we're happy with, that we'll then take to our manufacturers so they have a good base.
We don't necessarily bring out a new range every season, but we'll put out seasonal editions
The manufacture will then give their input as to the finishing touches, and any small tweaks that need to be made to produce it. In between there's lots of testing involved, either amongst ourselves, or maybe we'll give out a few prototypes to friends. I think this process applies to all elements of our design – graphics, for example, or when we put out a new lookbook, or set up a new store – both temporary or permanent. What's maybe also special about our process is that it's very evolutionary. We don't necessarily bring out a new range every season, but we'll put out seasonal editions – say, bring out the classics in our collections in new colors. Until now, we've brought out around one or two new additions to the collection every year. That's also about as much as our resources can handle!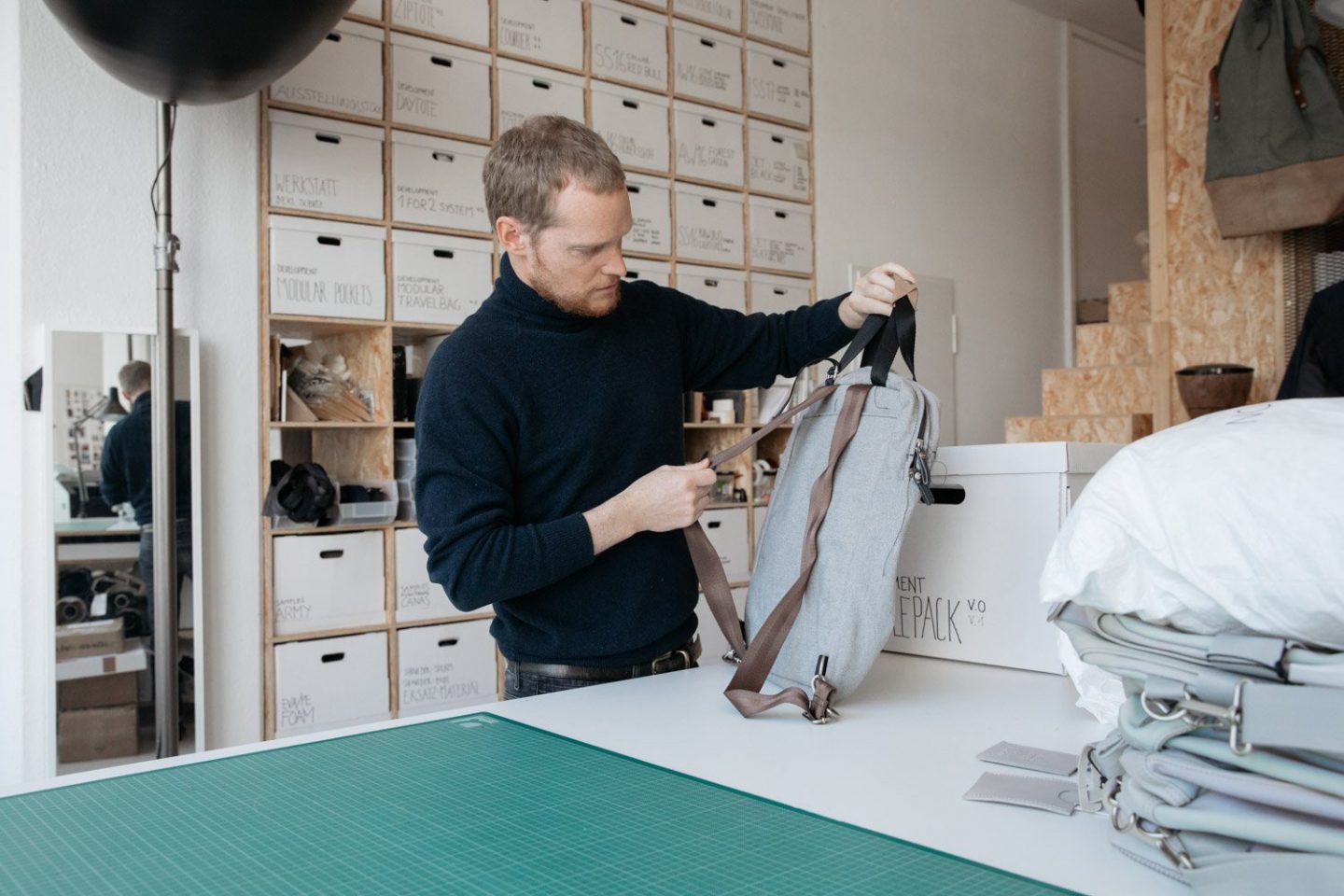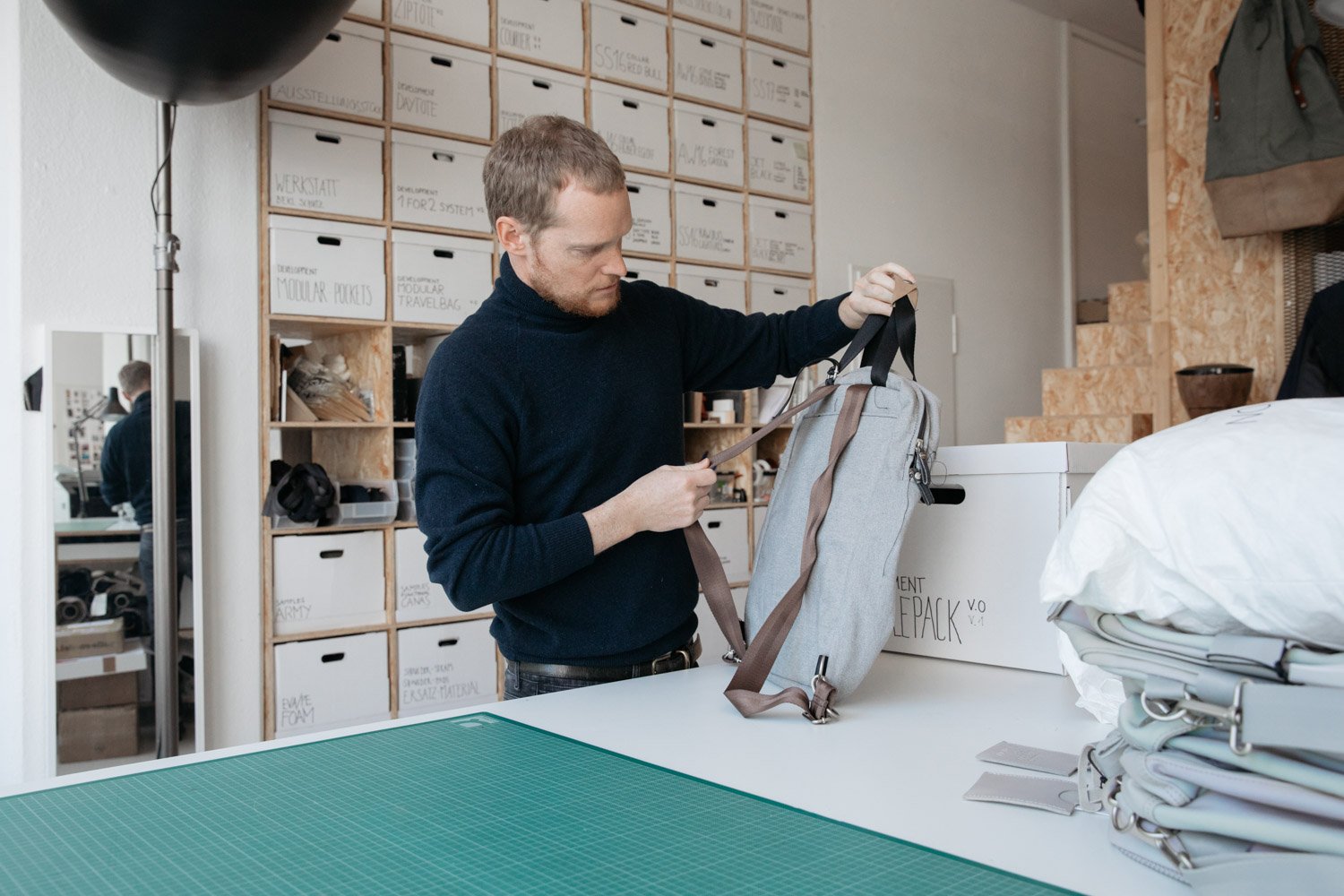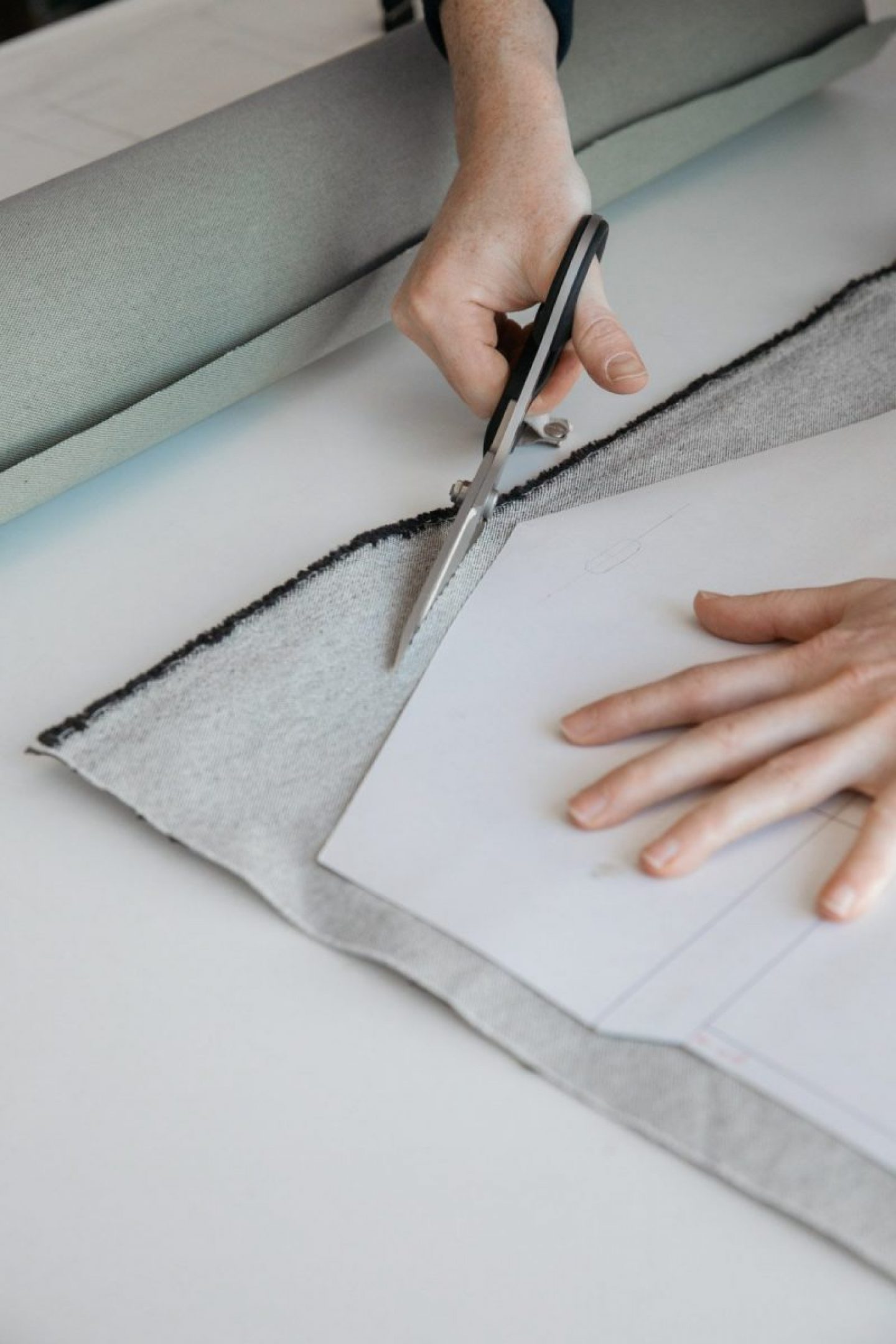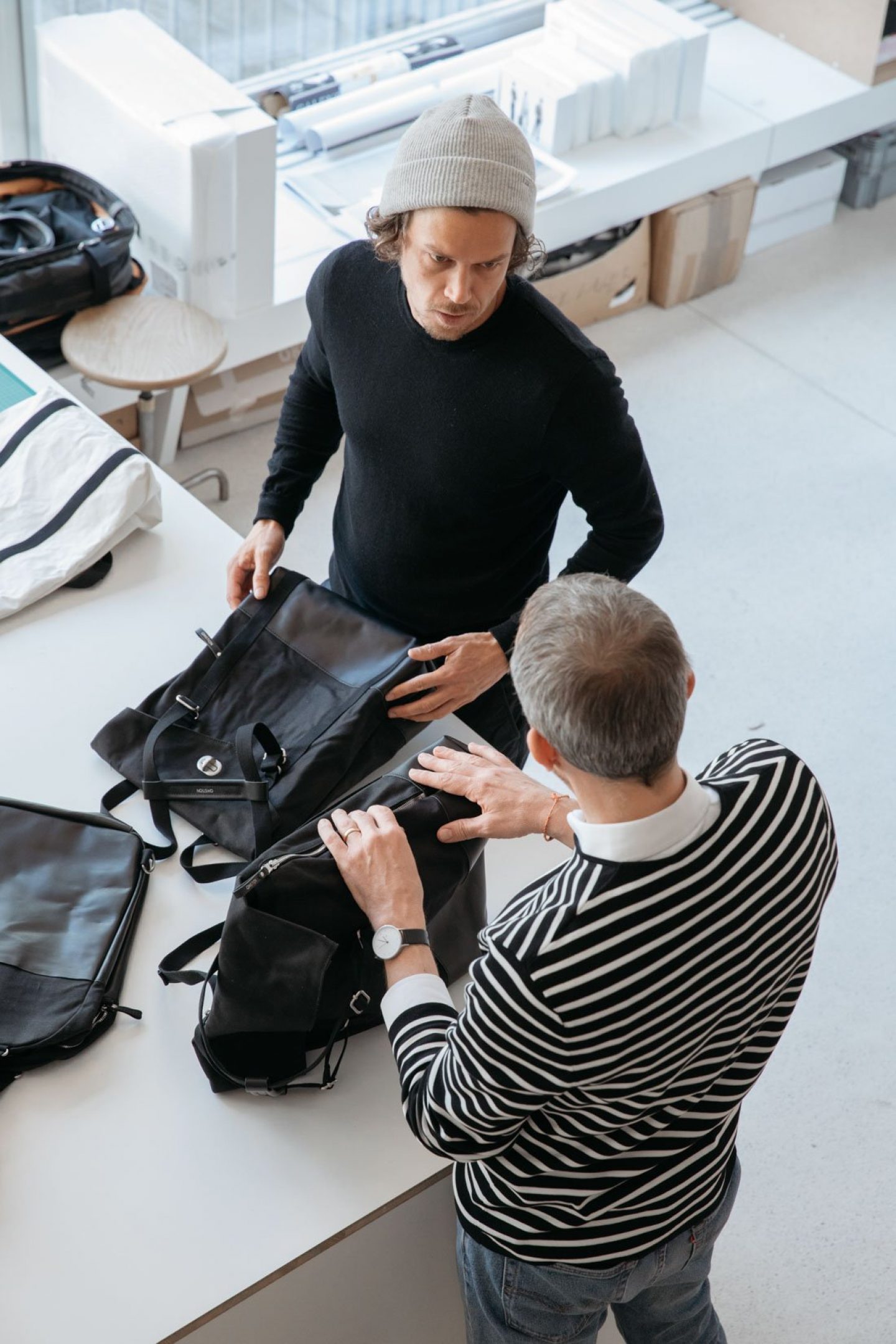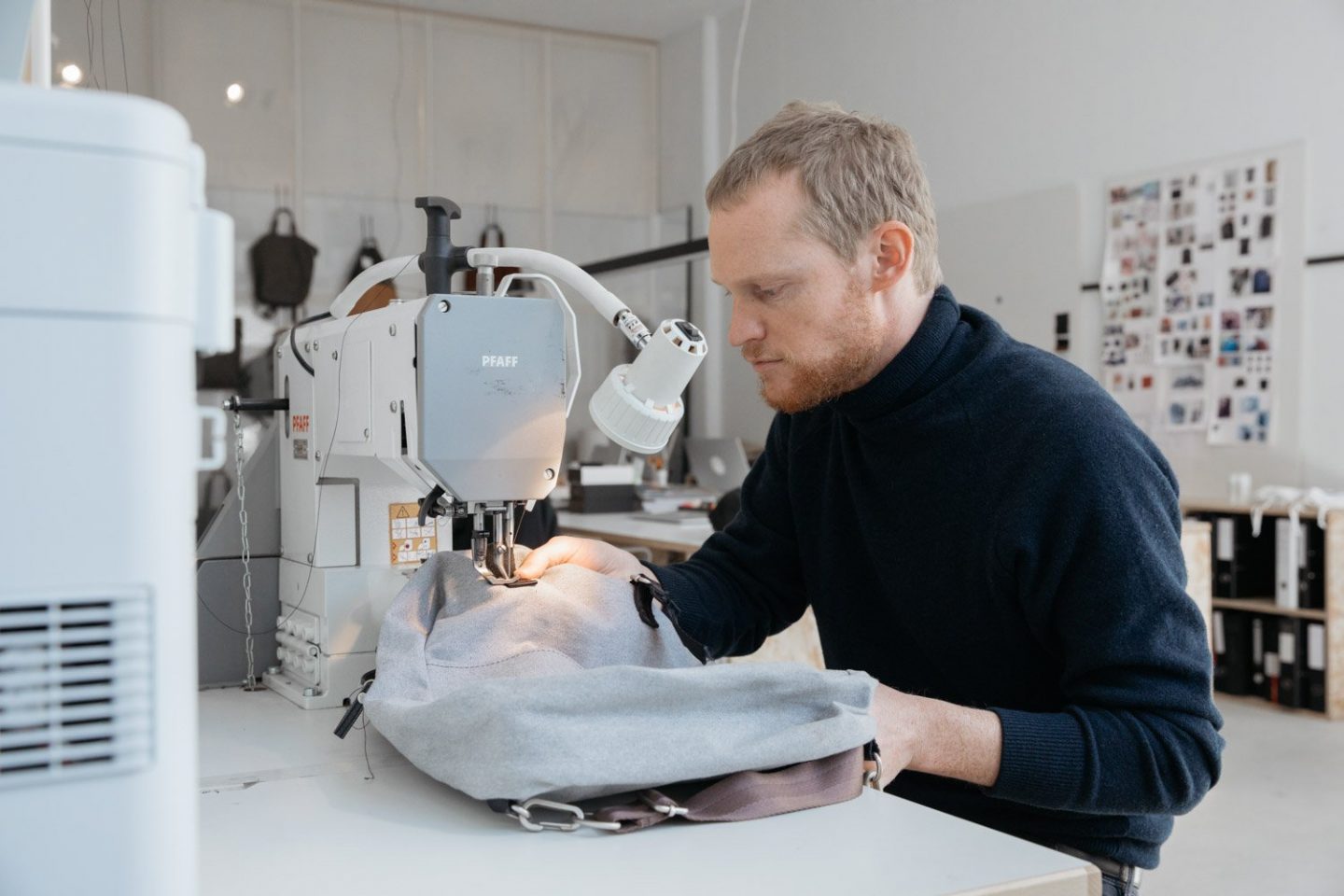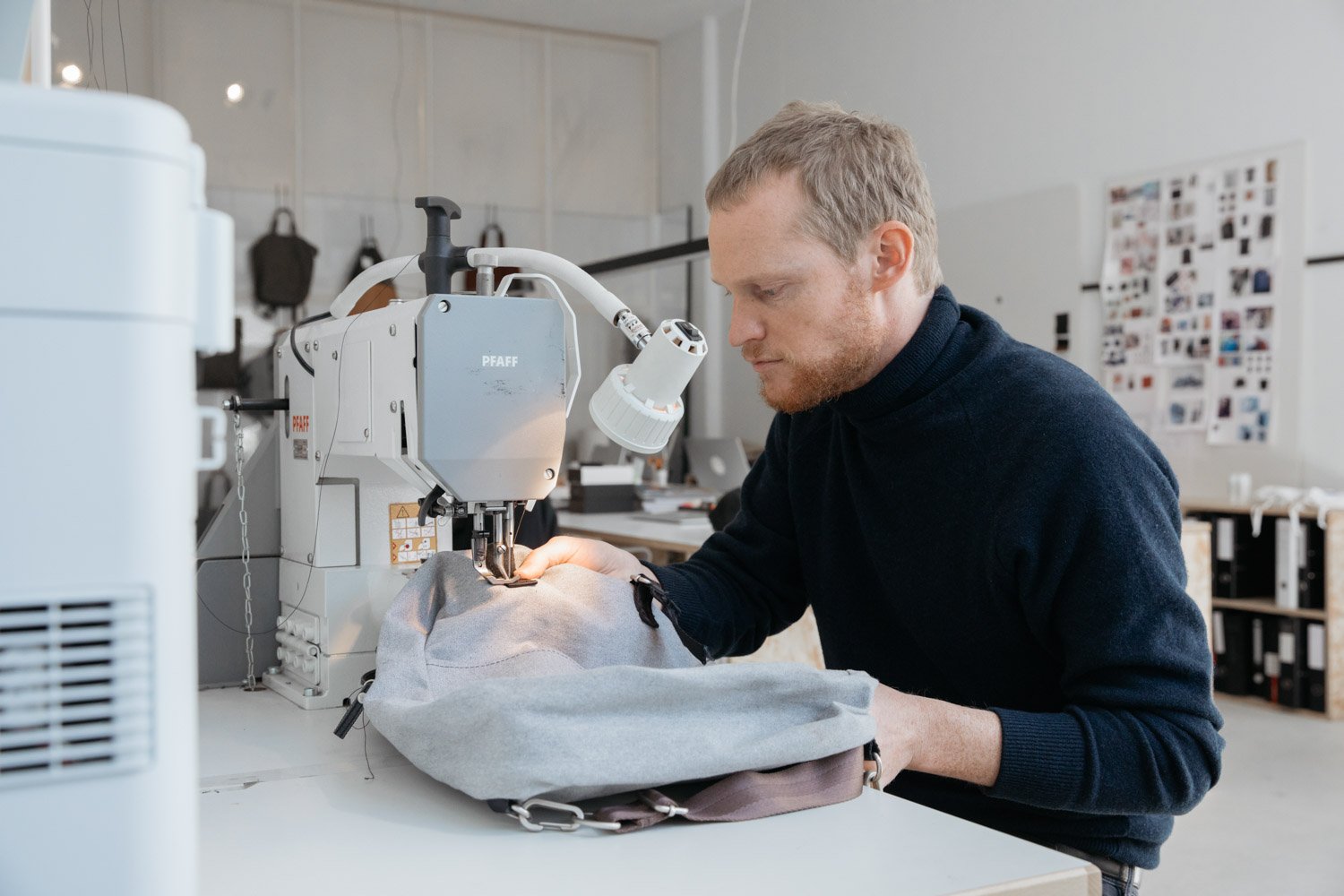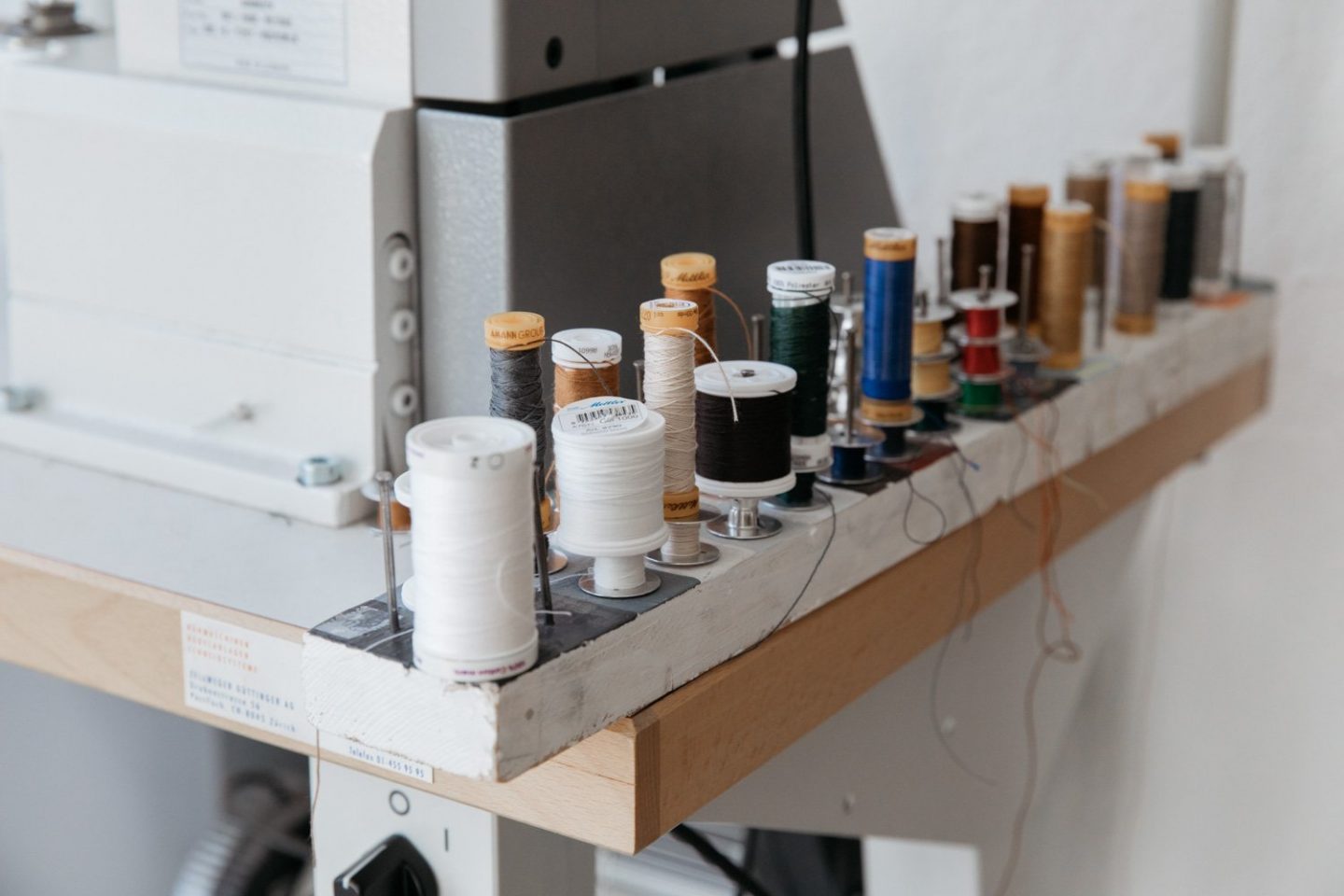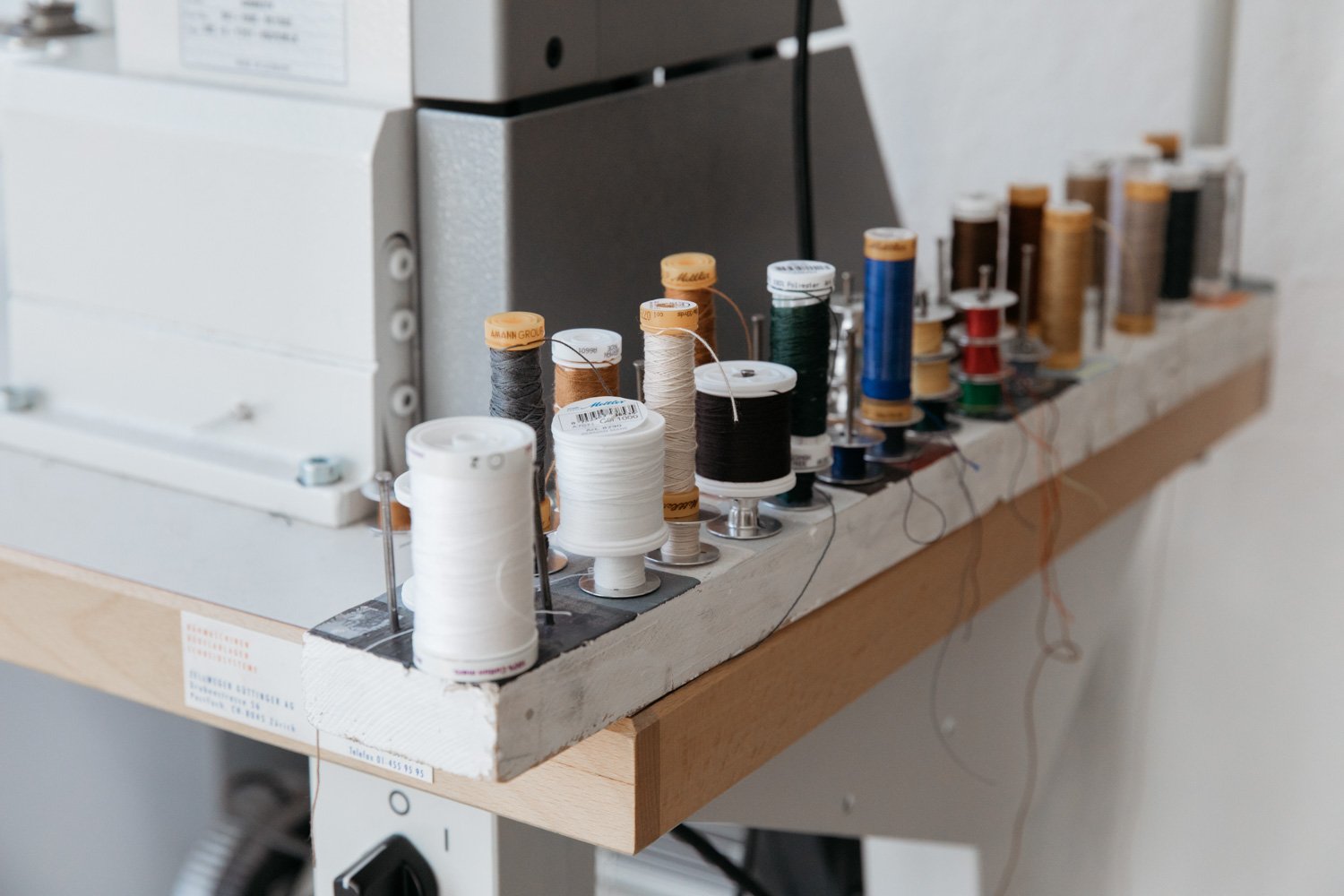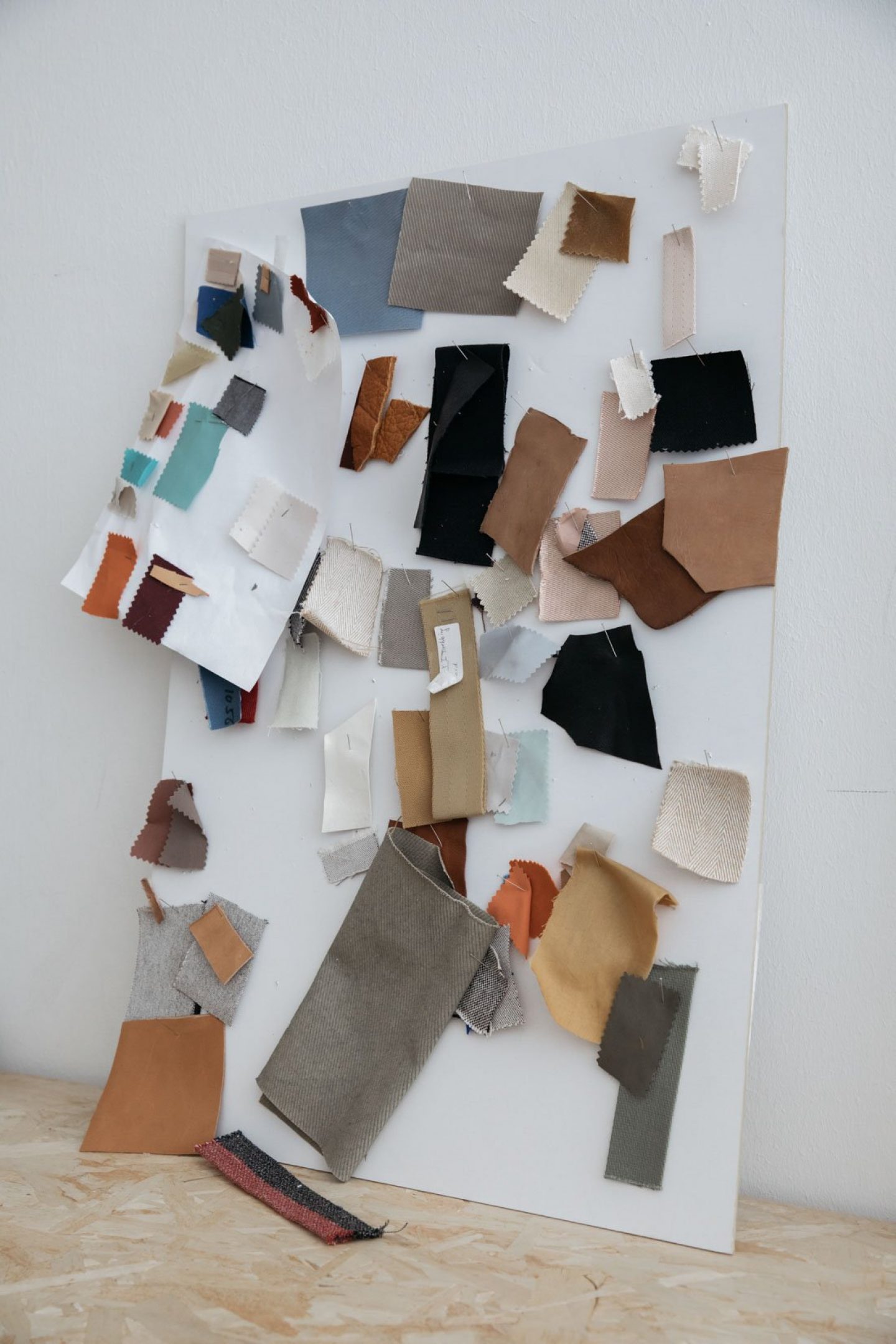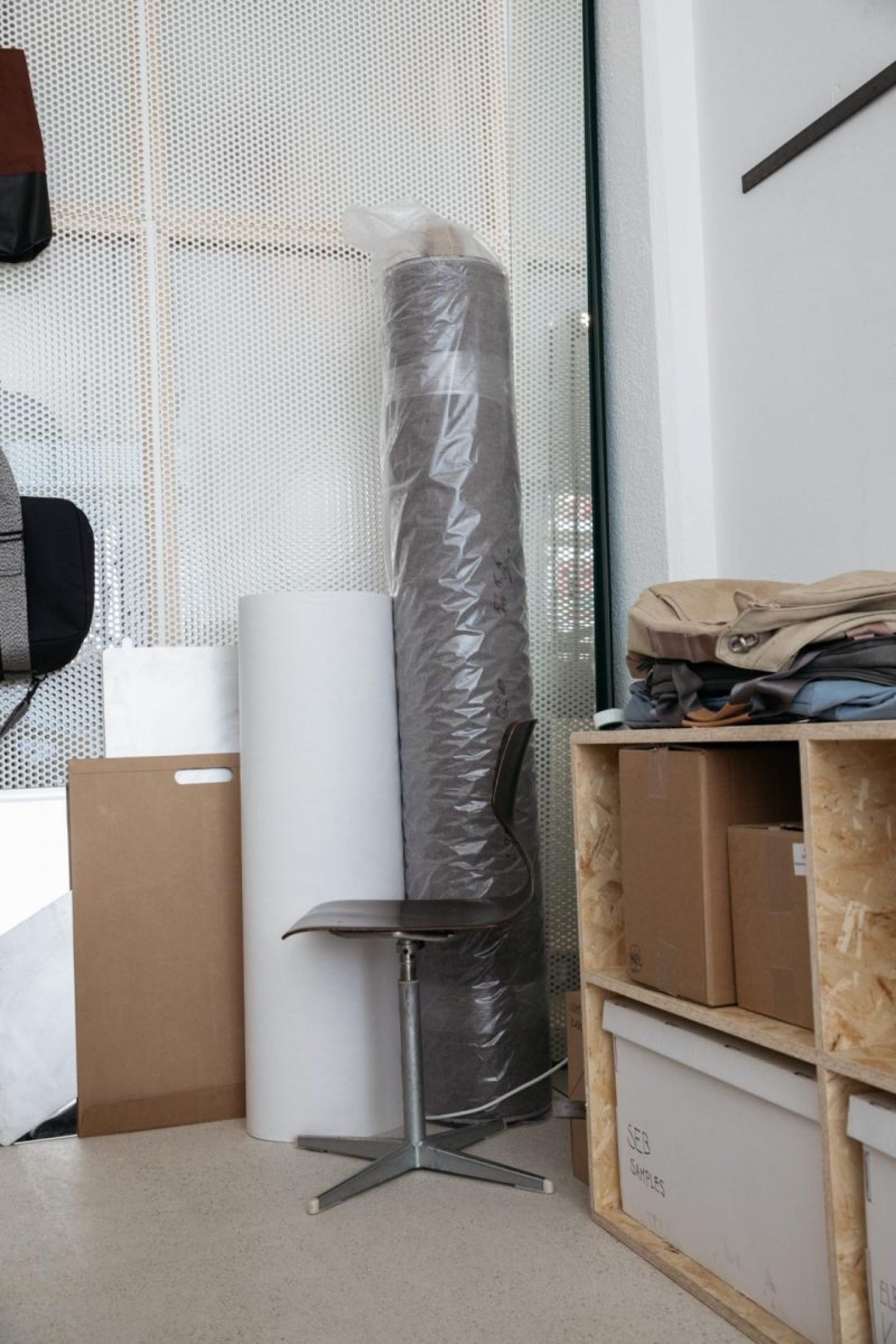 With Zürich as your base, what does your Swiss heritage mean to you and to your customers?
Kaegi: So Switzerland has a pretty good history and reputation when it comes to industrial design. We've always been ahead of the curve, and at the core there are many similarities to Scandinavian design – we want to make products that are timeless and high quality, good for everyday use. It's a bit of a contrast to say, French design, where fashion trends play a big role. It's perhaps more extroverted. We're more introverted, understated.
We want to make products that are timeless and high quality, good for everyday use
Graf: That's reflected in the structure of our society, too – Swiss cantons are pretty inward-focussed. Which is reflected in the way we work, too.
Schoenegger: Yes, that's definitely part of Swiss culture. We're a culture of diplomacy. Understatement is valued in our society.
Kaegi: And in terms of design, the focus lies on quality – so working with high quality, sustainable materials in the right way, producing high quality products, and everything that comes with that.
What are this season's new colors?
This year we've got our collaboration with Julian Zigerli, which is done in a light grey that's iridescent when you look at it from a certain angle. We've also got sage, a grey-green like the herb, inspired by the muted tones found in Mediterranean regions. Then we've got a brown leather and canvas edition, where we tanned the leather brown with vegetable dyes, and combined it with grey canvas – it's got a bit of a safari look. The material is new, too – made from a blend of organic cotton and recycled twine. We developed this two or three years ago, and it's even more sustainable than organic cotton itself.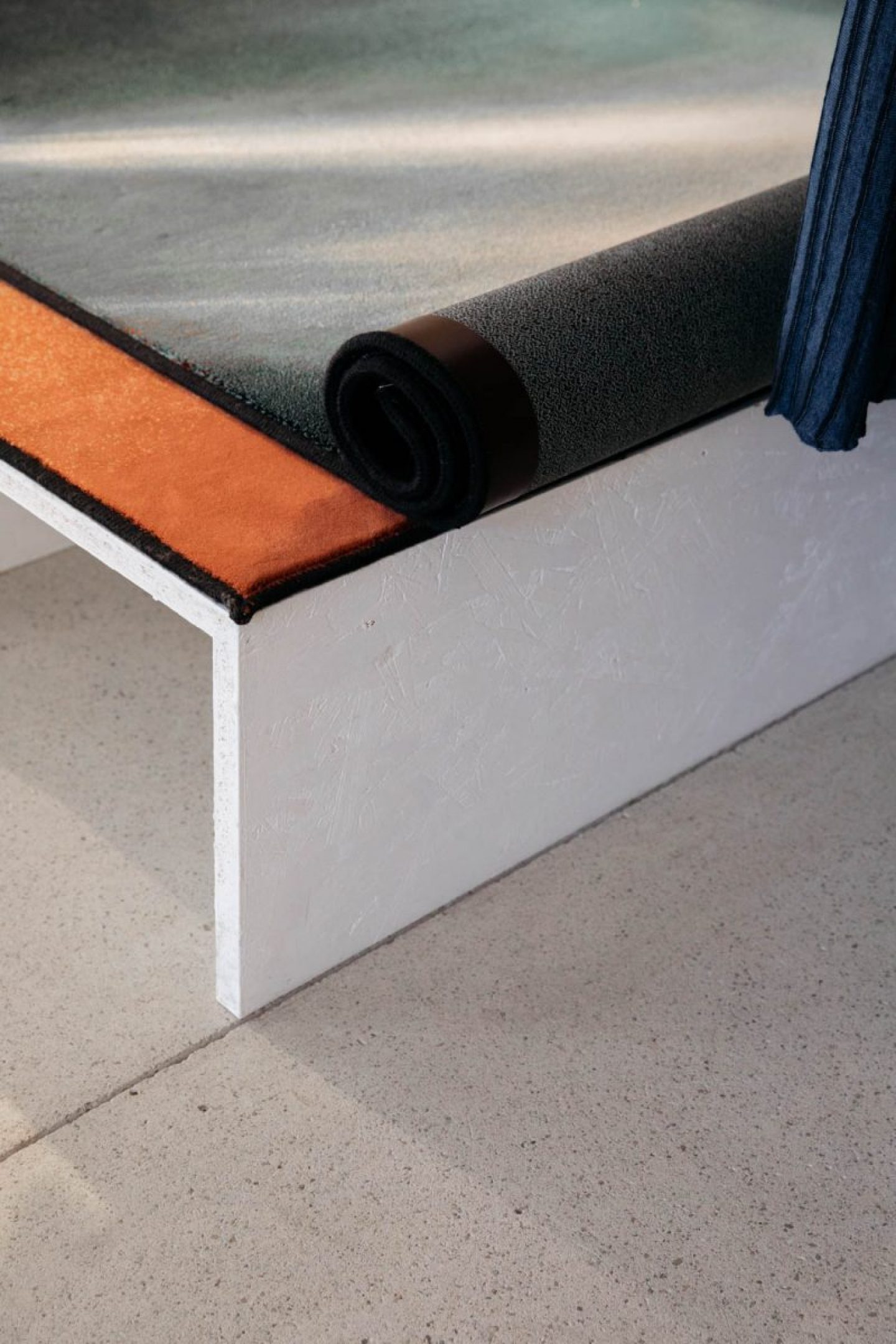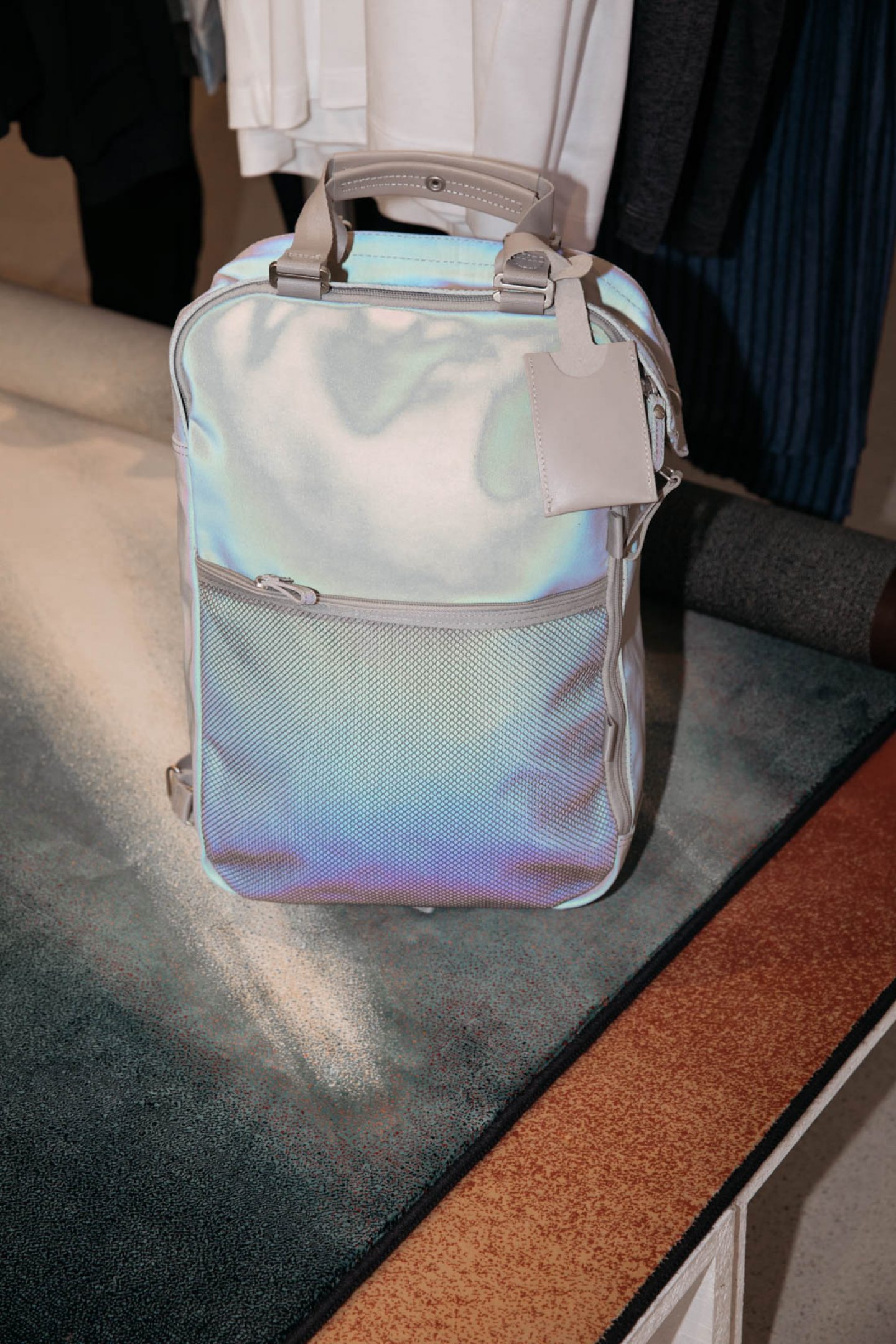 You've said previously that your campaigns – many of which are shot by Urs Bigler – are crucial to your brand identity. Can you tell us more about what QWSTION's photographic style says about your brand world, and the audience you appeal to?
Graf: So this goes back to our philosophy of "question the norm", which we also apply to our visual brand world. We often flip photos upside down to create a new dimensions or unexpected angles. We apply this approach everywhere – in our shops, in our newsletter, on our website… [points at catalogue] this one's been turned on its head. It's a reaction to the over-saturation of imagery. We want to keep looking at things in a new way. I do the location scouting together with our photographers. Urs Bigler has been part of our team since the start, and was very involved in the initial development of the brand world, but in the meantime we also work with other photographers, depending on the location and requirements of the shoot.
With retail moving ever more online, the impact of a well-curated store holds more power than ever. Your QWSTION concept stores — in Zurich and Vienna — recognize this with inspired interiors in addition to stocking a range of cutting-edge brands that complement your own products. How do you see the importance of a physical retail space today?
Schoenegger: It's clear you need touching points, and it's important to us that our customers can touch things, try them on, see what size fits… which you can't do online. And so we believe in the need for an omni-channel approach – so you need the online shop, a platform like this, and also to have a presence in other retailers that align with our philosophy. "Shops-in-shops." That's the mix that we follow.
Kaegi: And then these touchpoints offer an insight into our ideas and our world. We believe that physical retail is going to keep its rightful place, because many people really enjoy experiencing products physically, and like having the opportunity to ask questions and receive advice, to get personal input as to which bag is right for which purpose. This physical experience is really important to the brand.
Can you tell us more about the concept behind your two "platform" stores, QWSTION Zurich and Vienna?
Kaegi: So the base idea is that we want to bring to the fore the aspects of retail that online can't offer. The physical aspect – to come in, to feel good, to be able to take your time and discover. We realised as a team that we didn't want to create a mono-brand store but instead to provide context for other brands that share the same values as we do. Through that we can share our complete vision of what inspires us, what keeps us going. Now here we have around 25 partner brands that we showcase, across a variety of categories. We usually showcase only one brand per category. So we have one footwear brand, one book publisher – they're all specialists in their respective areas.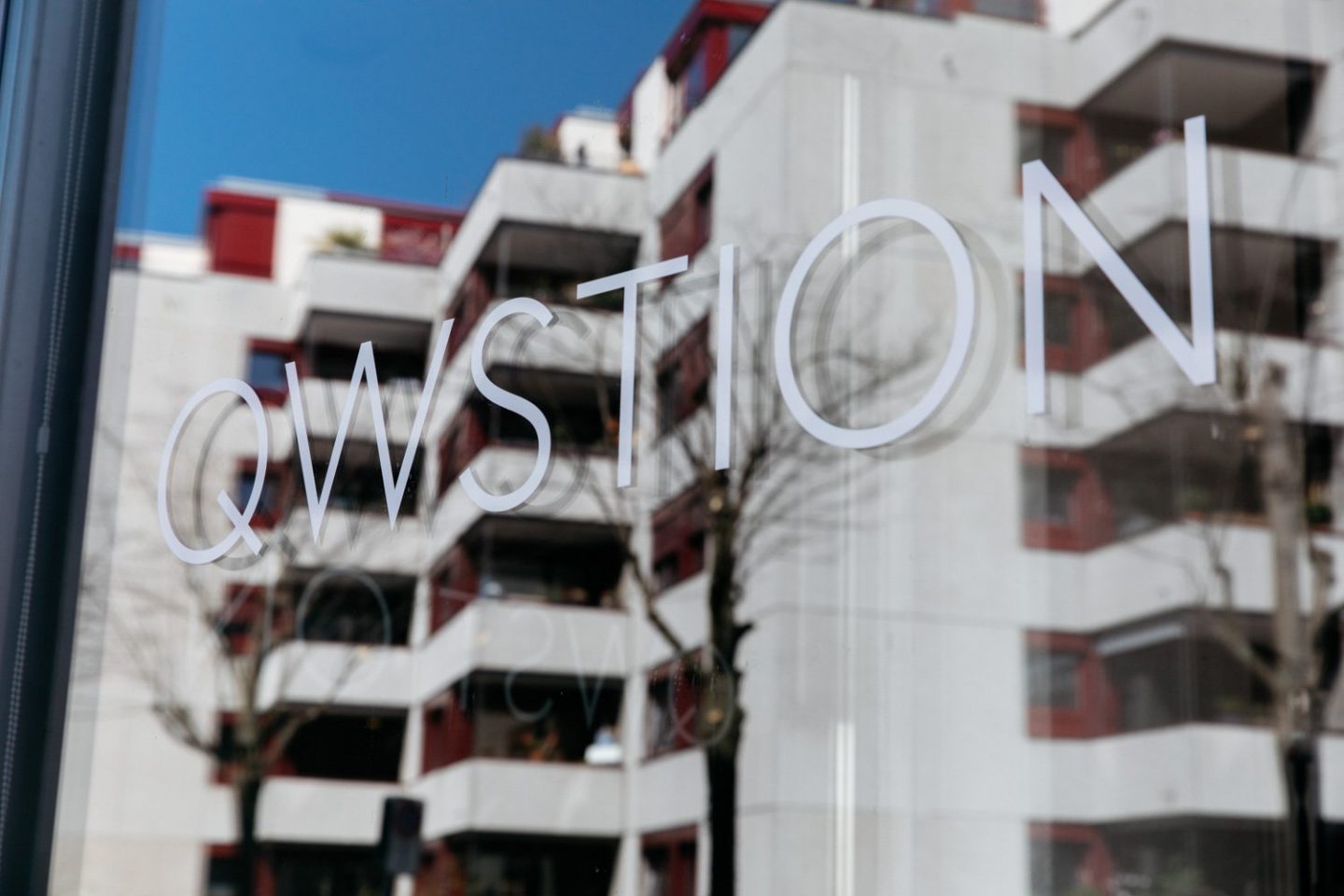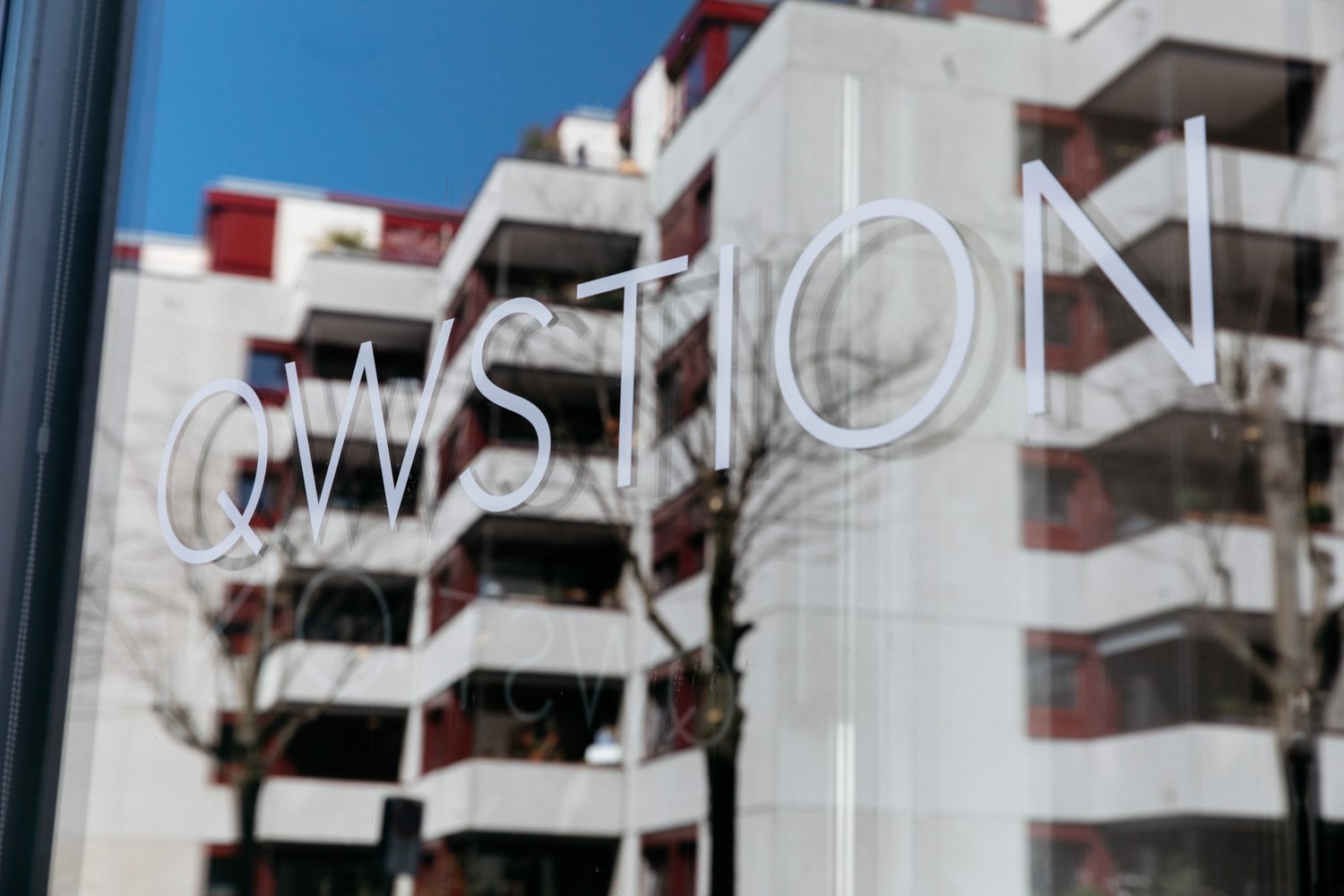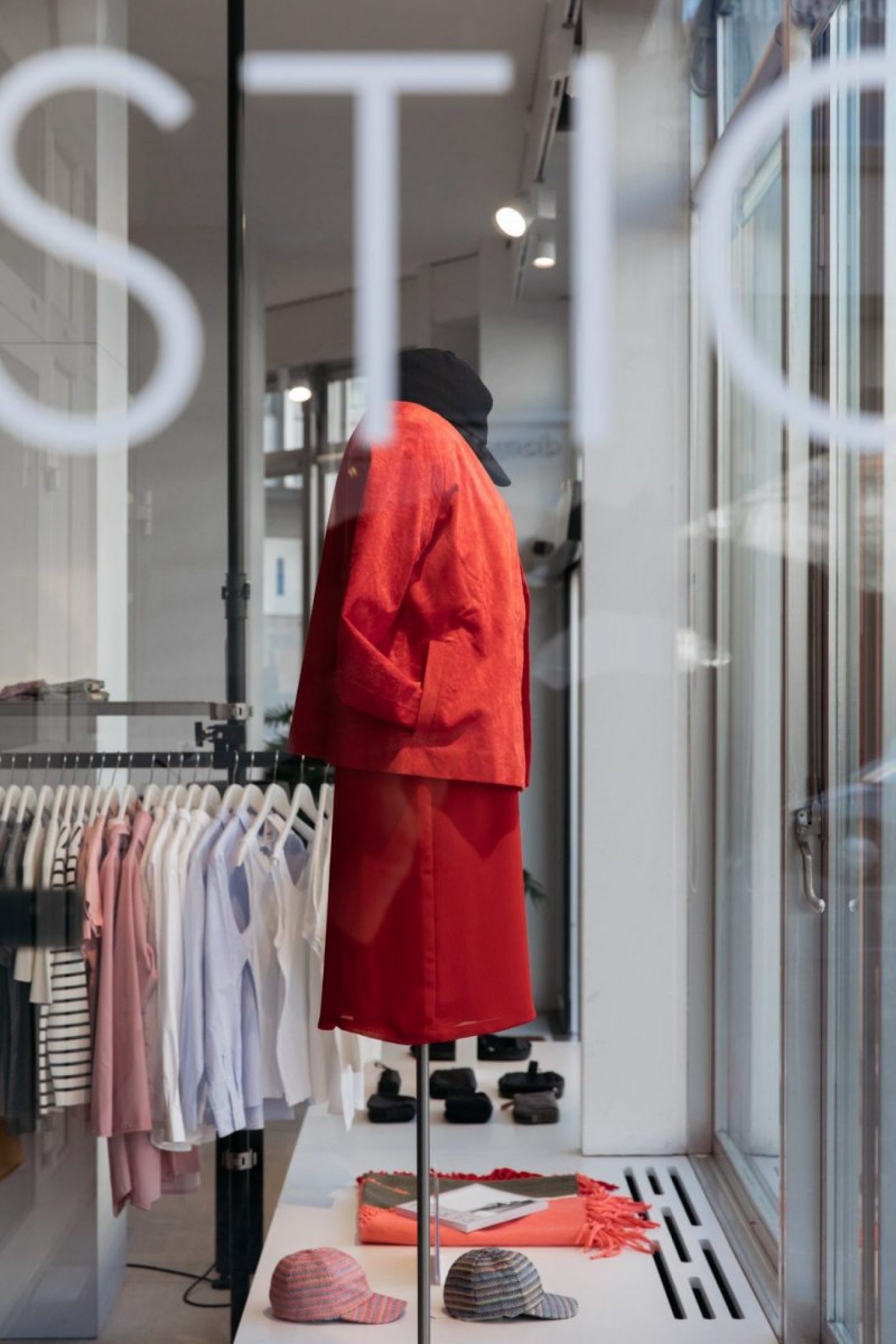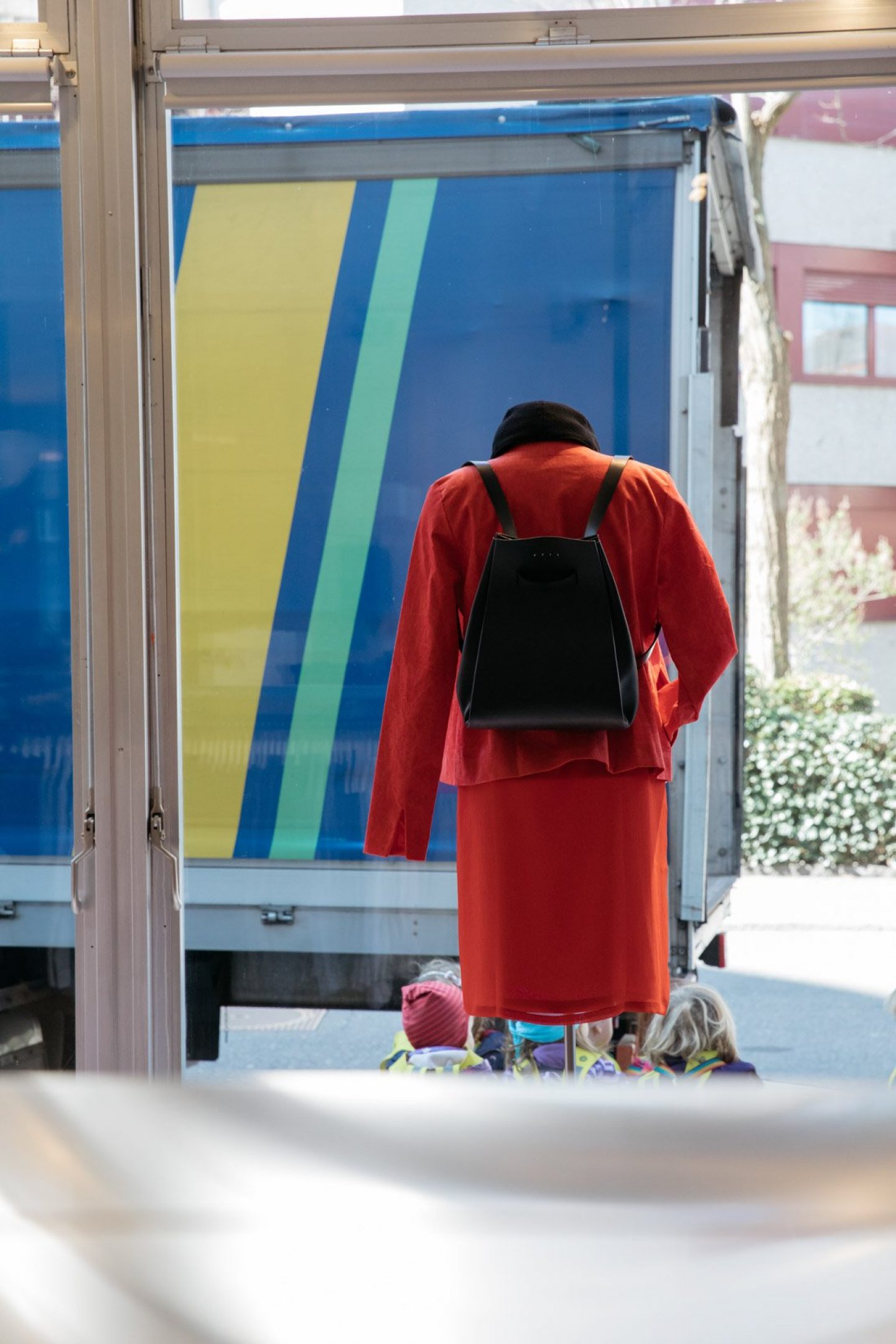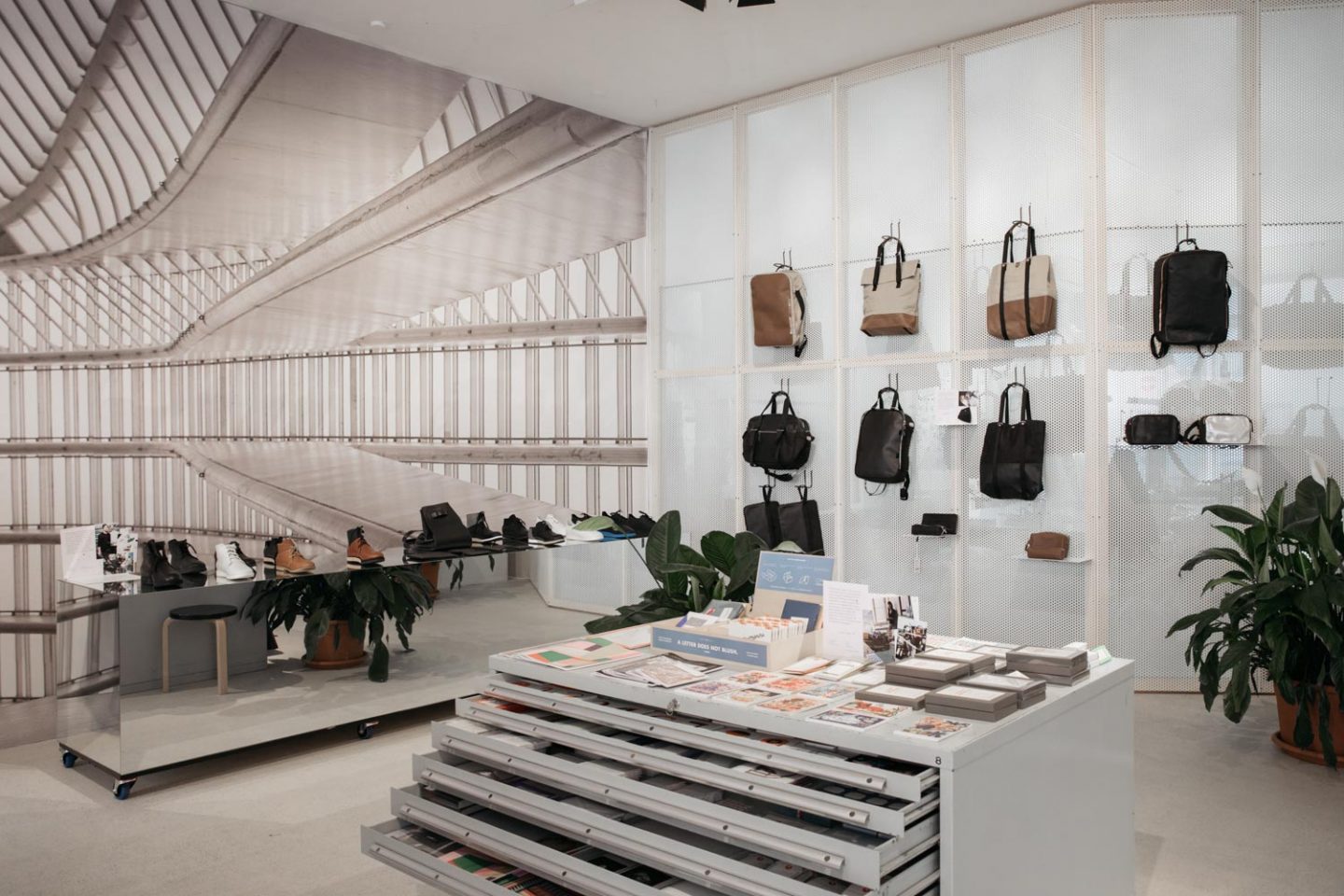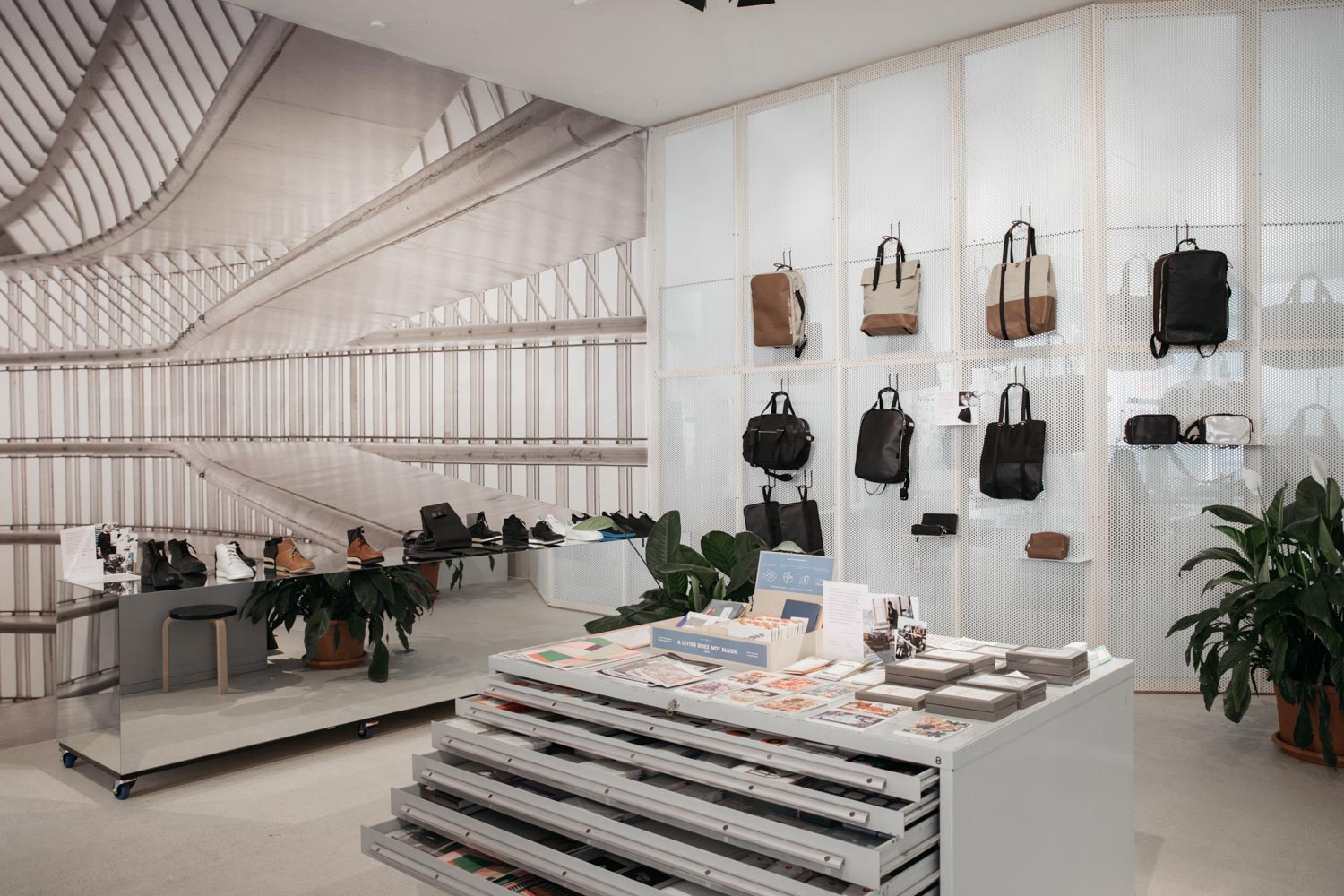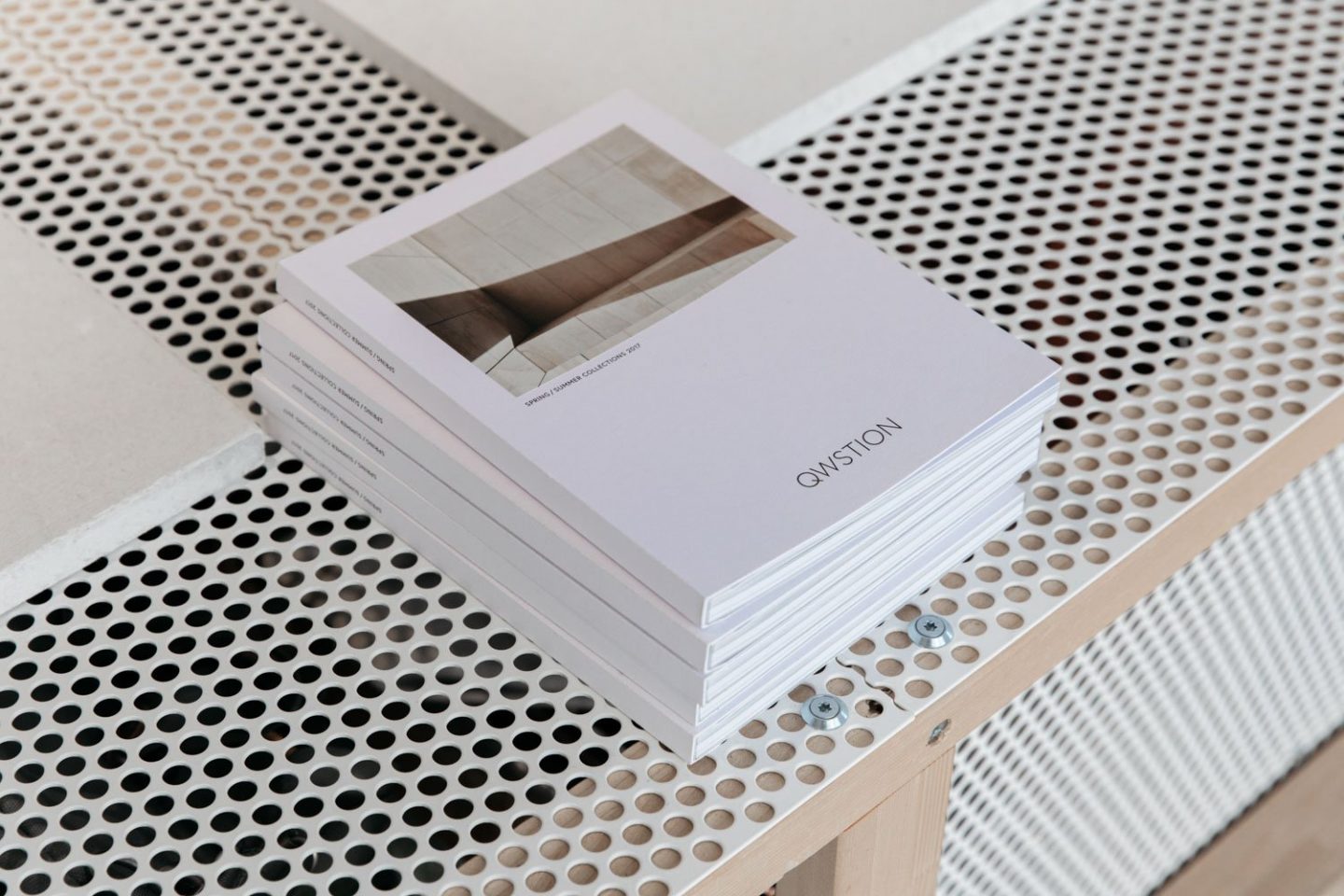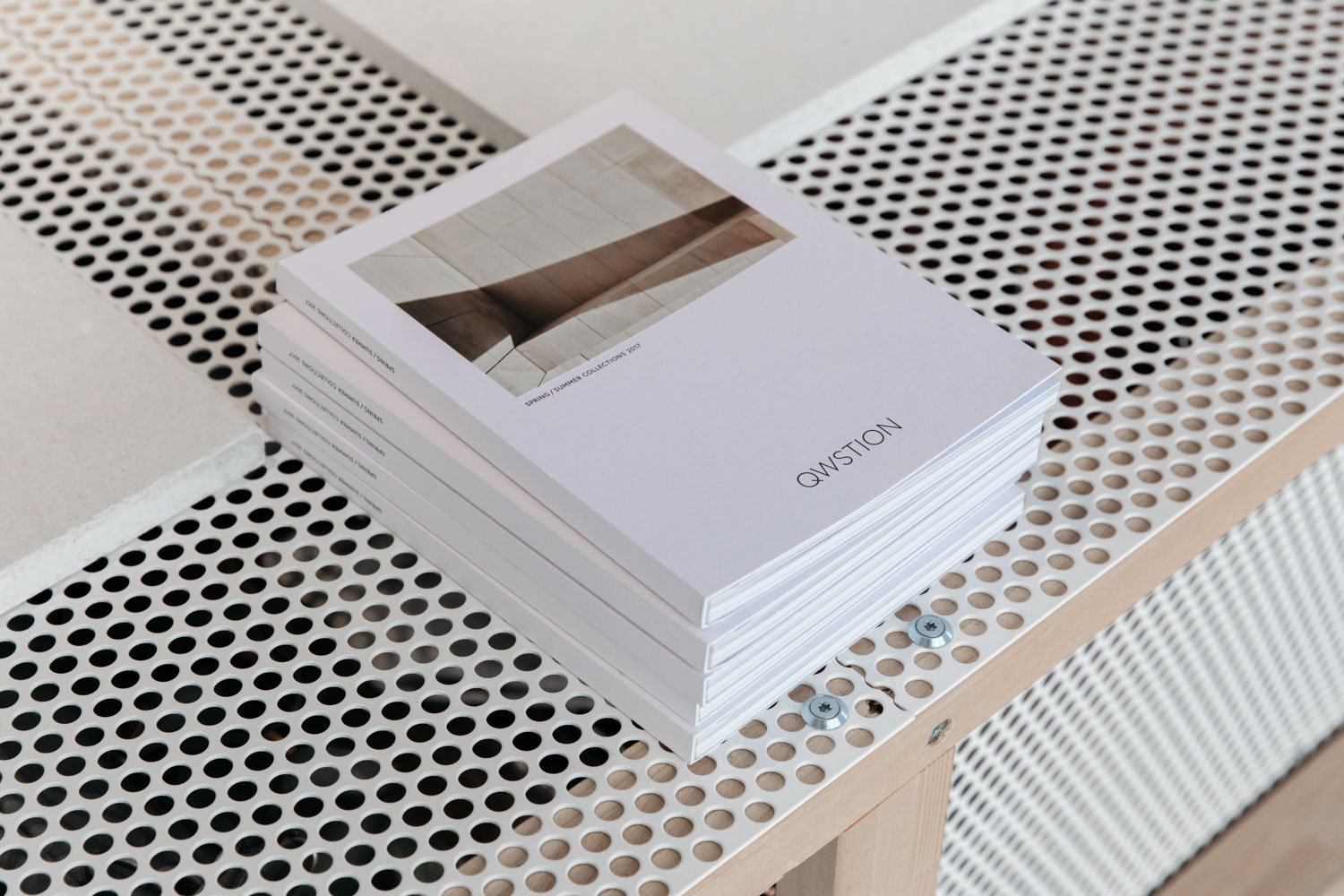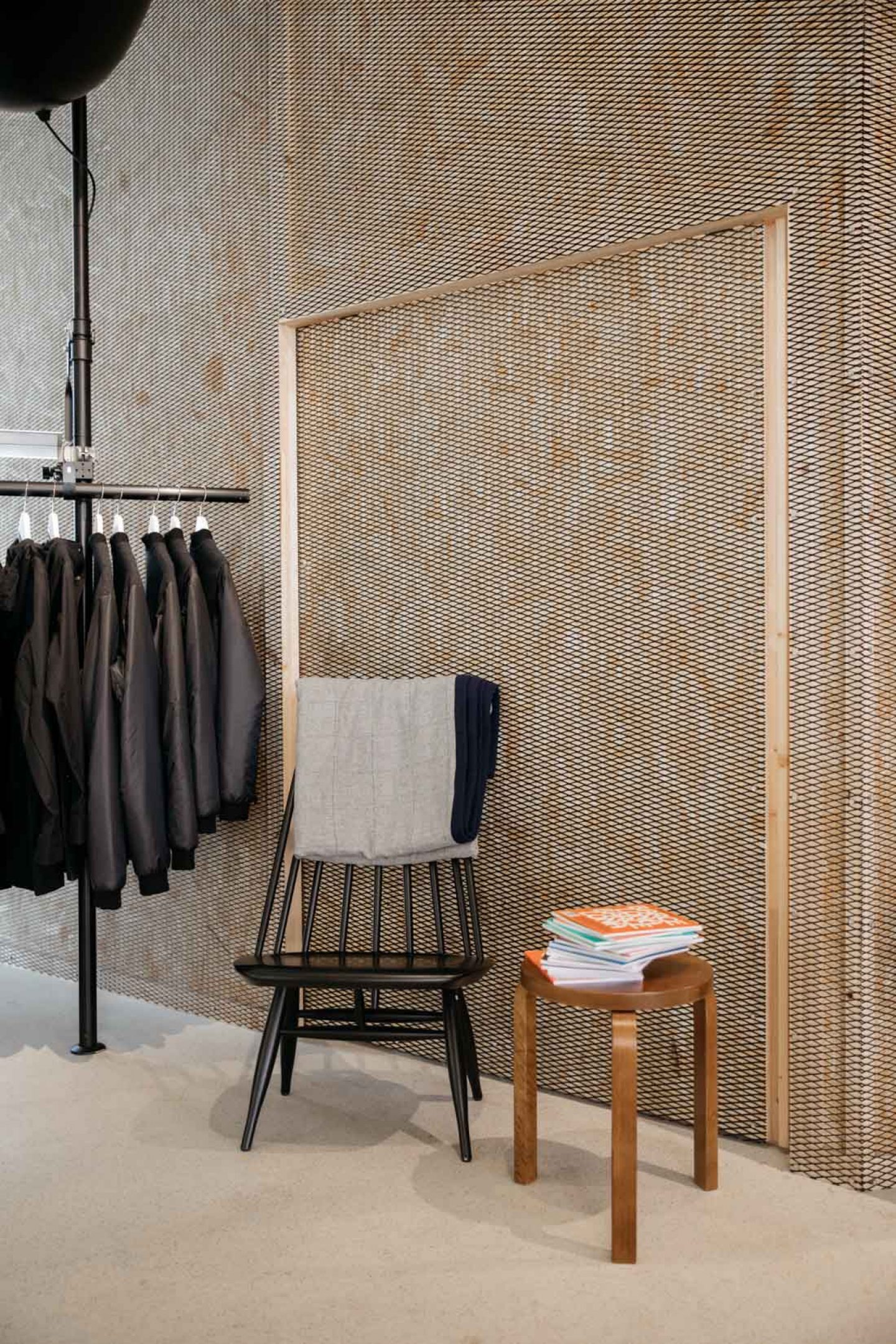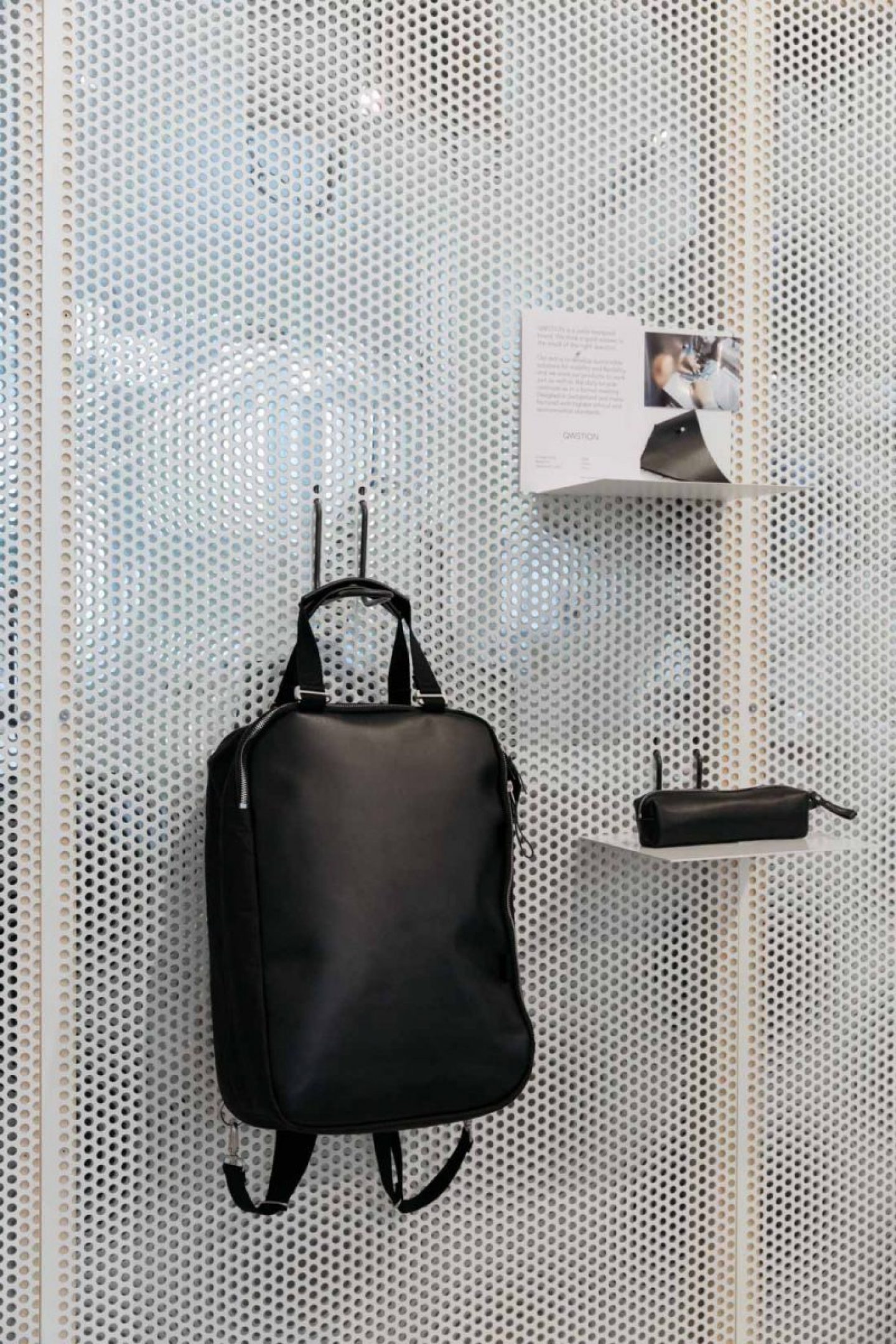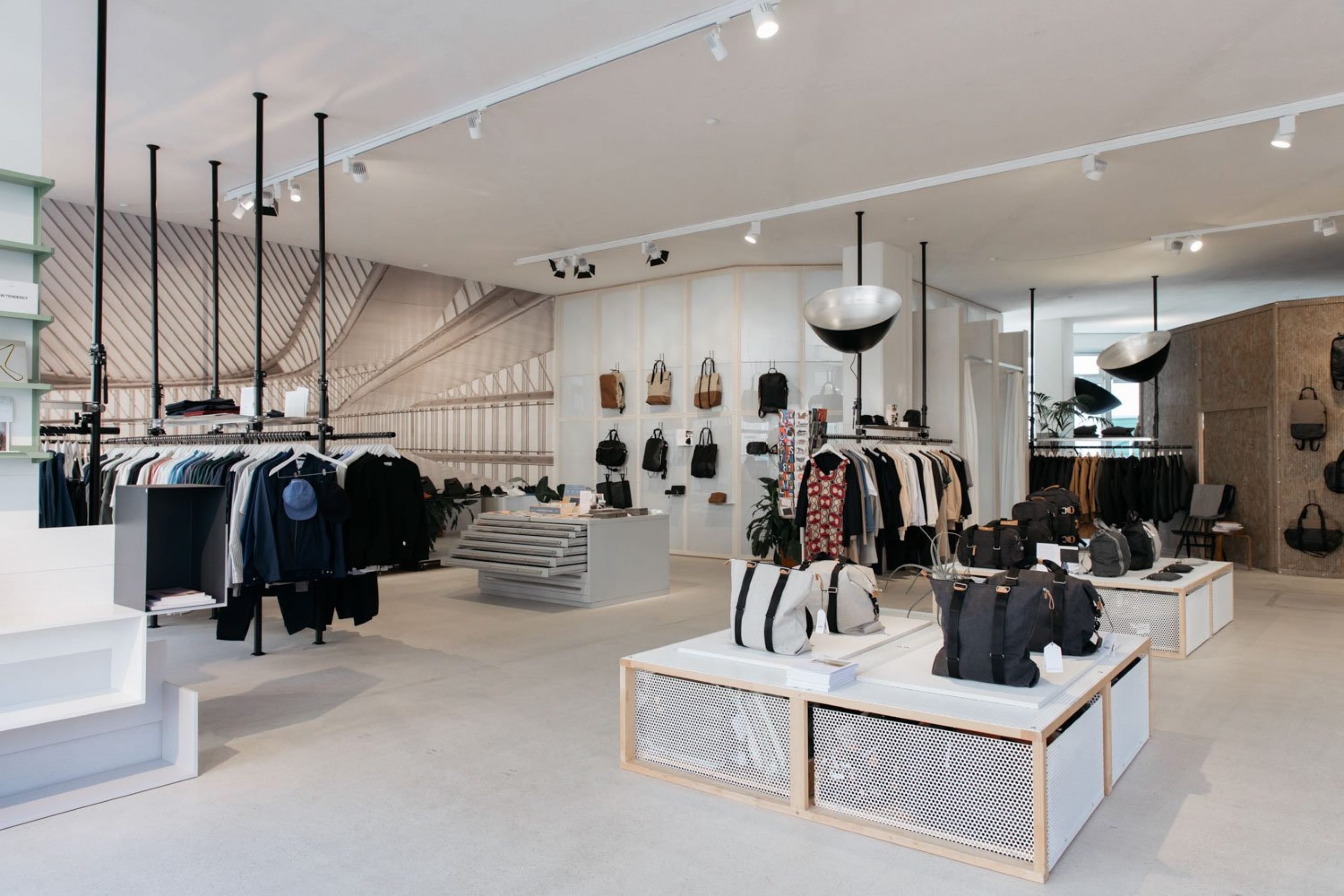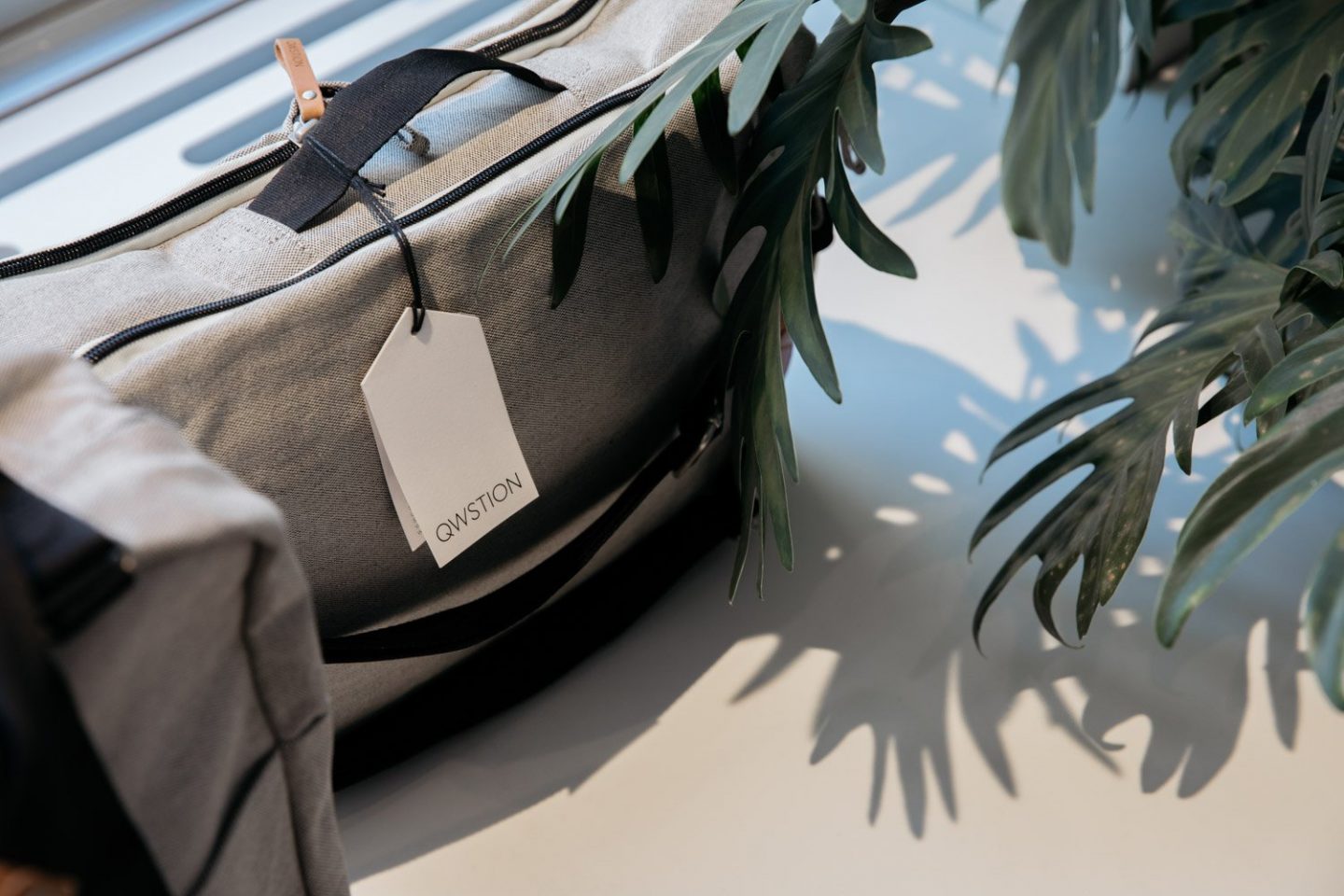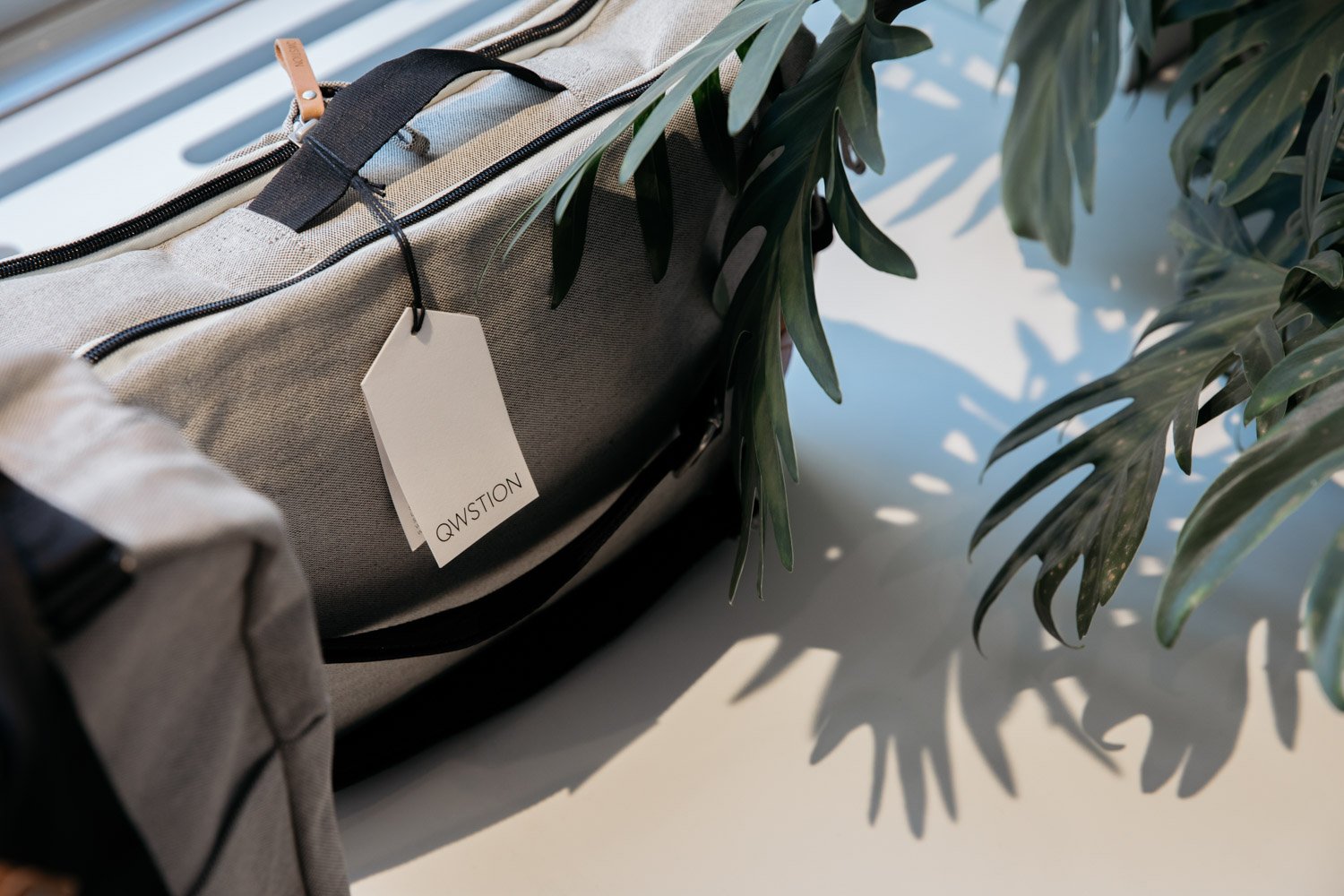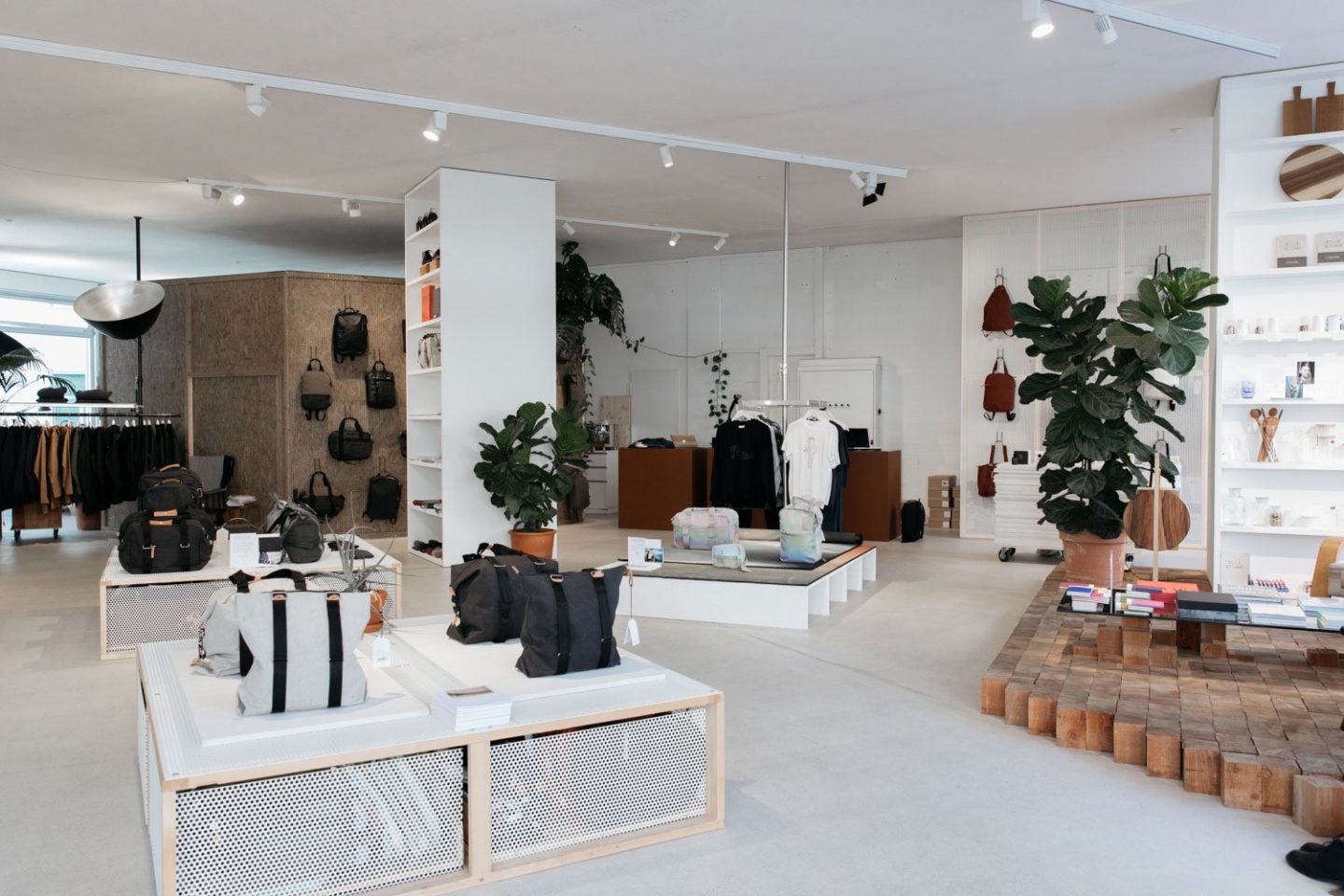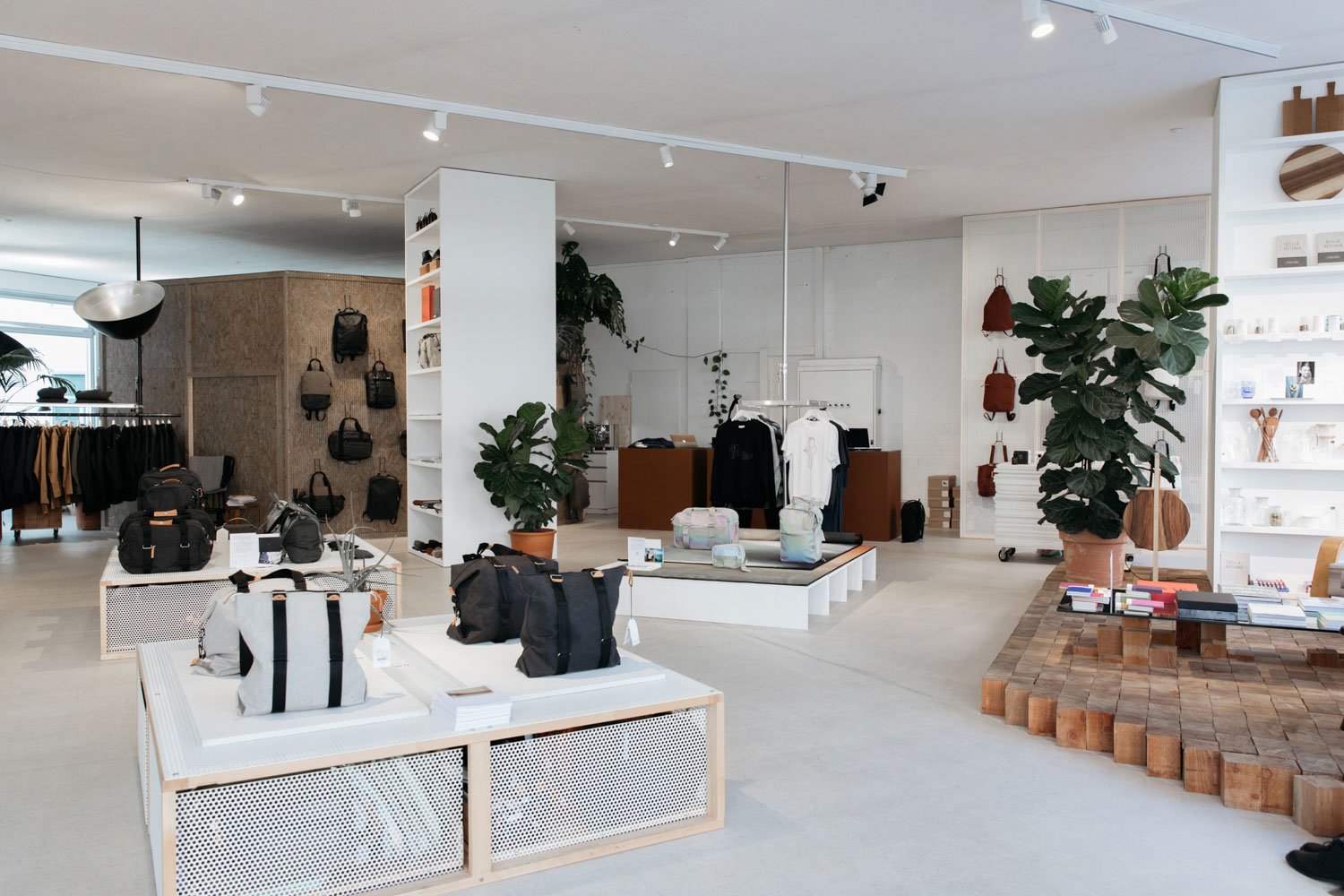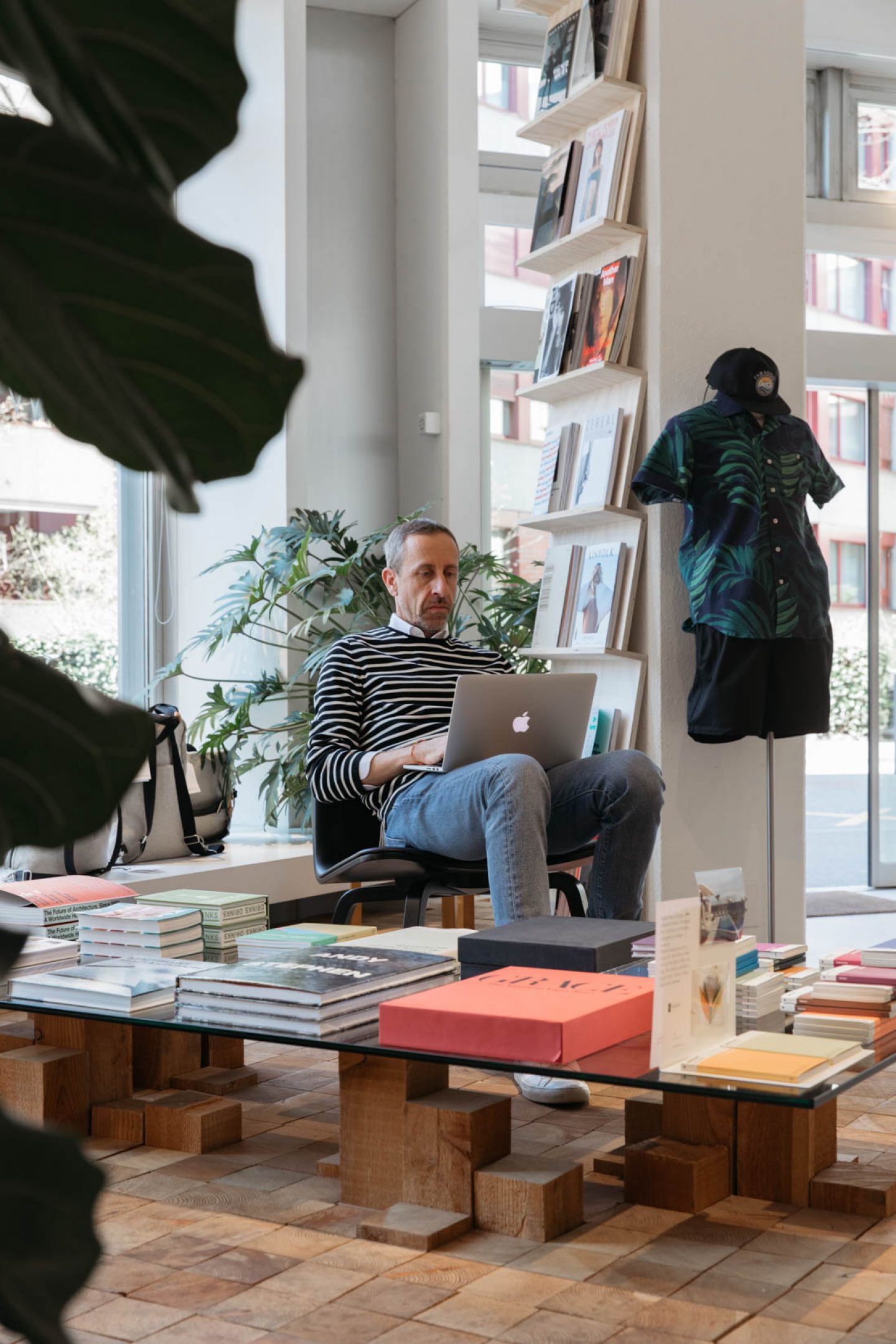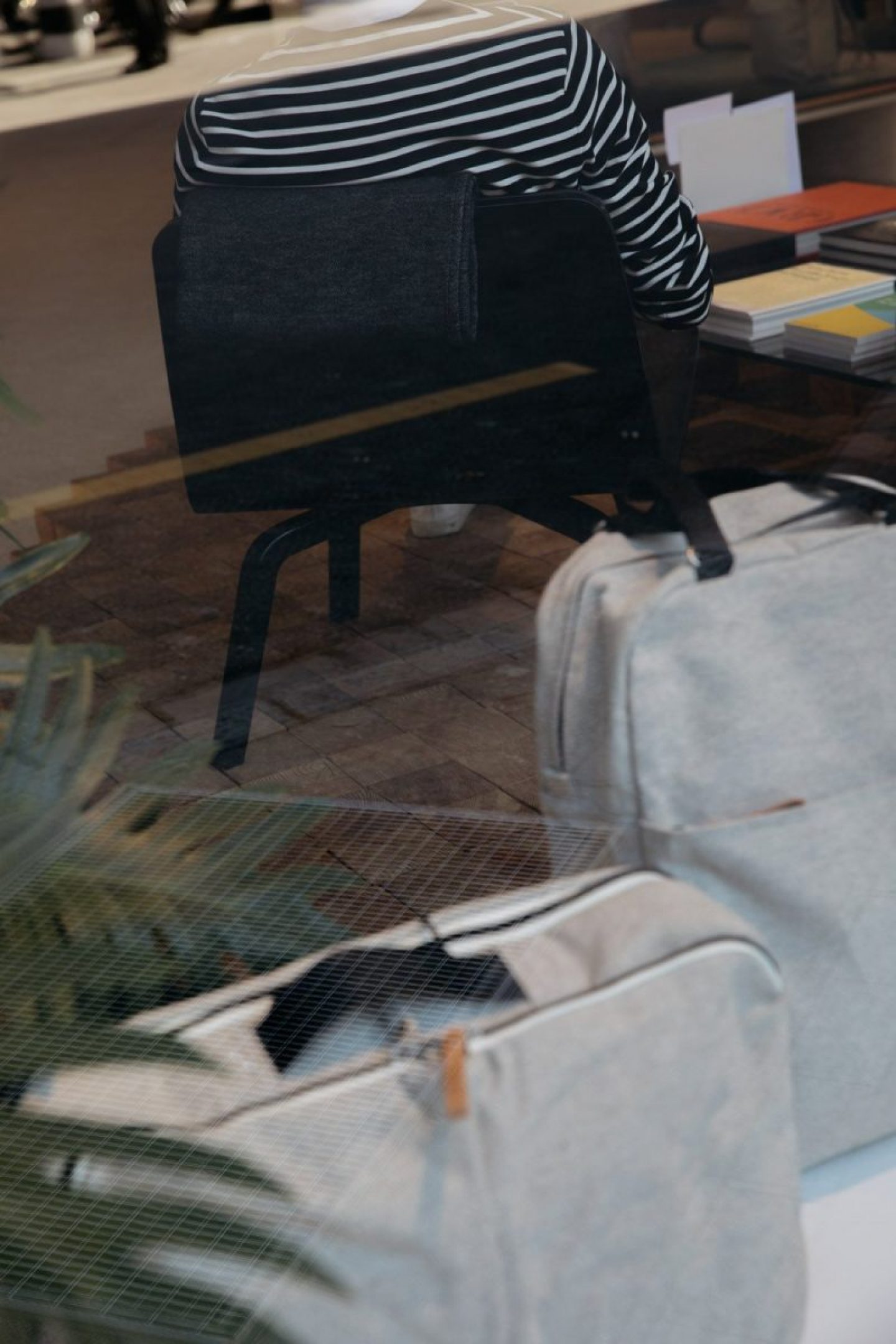 You've collaborated with the likes of D.N.S, Voo Store Berlin, EuropaType and Julian Zigerli. What do you look for in collaboration partners, and what are your favourite aspects of working together with a different creative energy?
Graf: We haven't yet developed as much as we could have in this area. We've receive many requests for collaborations, and we always look at them case by case to decide whether they make sense to pursue. The question is always: What value will it bring? Is there an exciting context? Is it going to allow us to develop something new? Then of course we need to have the capacity for them, and of course as a small business that can be tricky sometimes. So recently we've been able to take up one or two a year. The raincoat, for example – that arose from the fact that we had a partner [D.N.S.] who was already in the process of textile development – so taking a cotton and making it rainproof, which resulted in an all-weather coat.
Kaegi: When we collaborate, we want to make sure that something new can come out of the project. It should be a balanced dialogue coming from two different positions that results in something innovative. Our collaboration with Julian Zigerli is a good example – if you're familiar with Julian's world, you know it's full of color, extroverted – but also with these Swiss values underlying it. And then on the other side, we've got our understated style. I think we managed to bring together our differences well, and show both sides in the final product.
We want to keep focussing on making good everyday products And finally, what's next for QWSTION? Which inspirations and movements in travel wear and accessories are propelling the brand forward?
Kaegi: There are various aspects. We always try to keep a balance between what we want to do and what we have the capacity to do. That's often a challenge, which comes down to setting our priorities – like sustainability, as I mentioned before. That's an area where there's always room for improvement on different levels, like the development of new materials. That's on the product side – we want to keep focussing on making good everyday products. But the everyday – and the context in which our bags are used – is changing. Gadgets are getting smaller – when we started, we used to have bigger compartments for laptops. On the visual communication side of things, we're currently developing a new website which we've been working on for a long time, and is almost ready [laughs].
Schoenegger: Otherwise, I think we'll keep going in the same direction as the niche we first identified when we started the brand – so luggage and fashion. With us, it's always an evolutionary process!