Recently, we visited Kühn Keramik, a charming ceramic shop in Berlin-Kreuzberg. Located in a former pharmacy, the shelves of the showroom are bursting with handmade ceramic pieces. After climbing down the staircase from what used to be a poison cabinet, you enter the workshop where Bernhard Kühn and his team create everything from unique cups and plates to small decorative sculptures. The products are made of clay from the Westerwald region and the glaze comes from Meissen. They are typically spruced up with gold, silver or platinum. Additionally, they feature more than 400 different motifs burnt into the ceramic. No piece is like the other, yet they all carry Kühn's signature style.
We chatted with him and his wife Claudia Elsholz, who oversees the business side of the store, about the beginnings of Kühn Keramik, what's so special about the design and why they're more successful in other parts of the world than in their home country.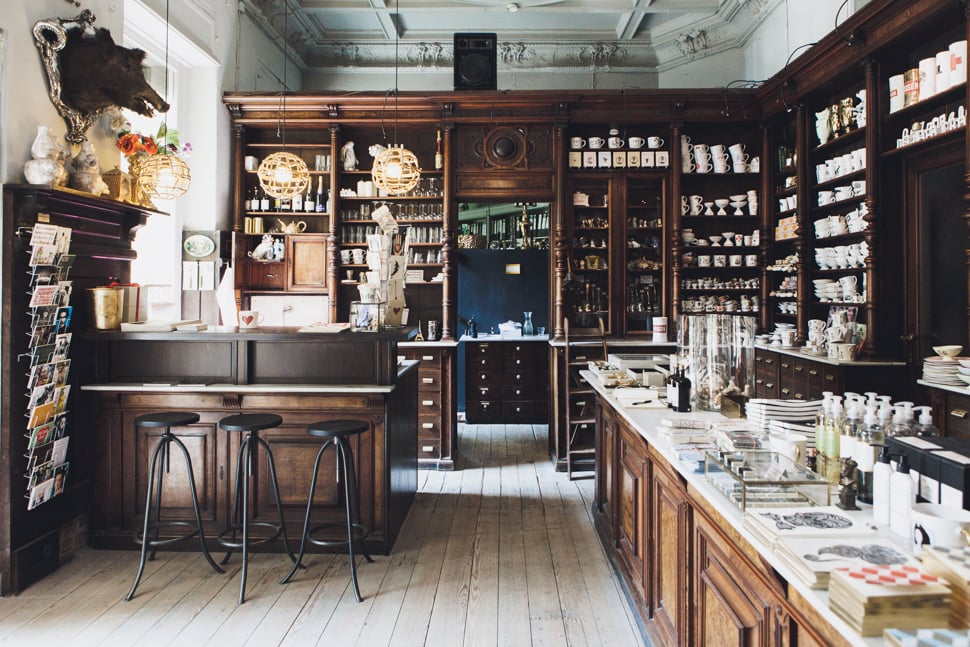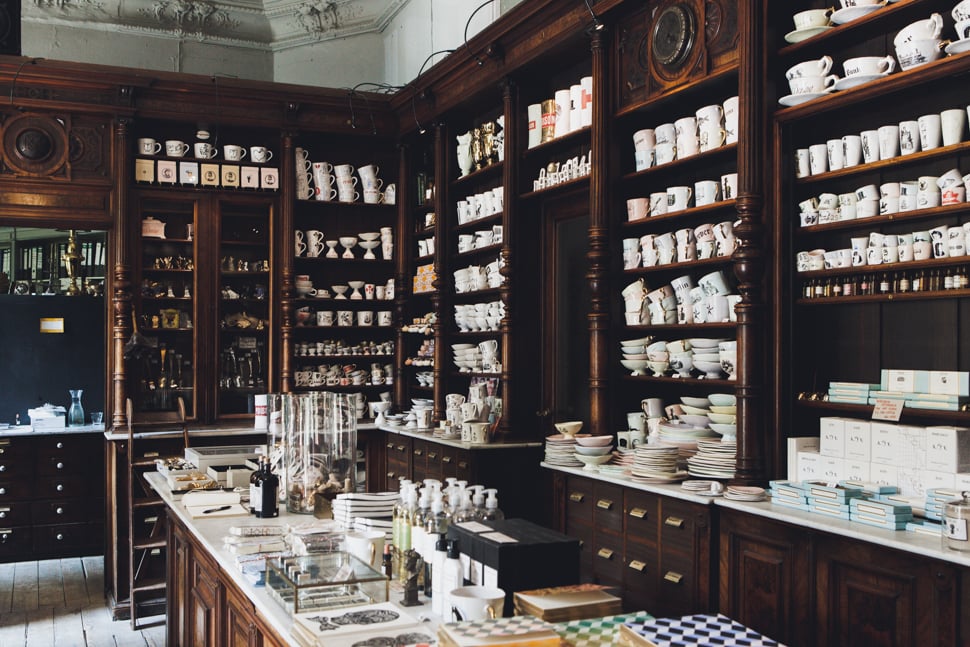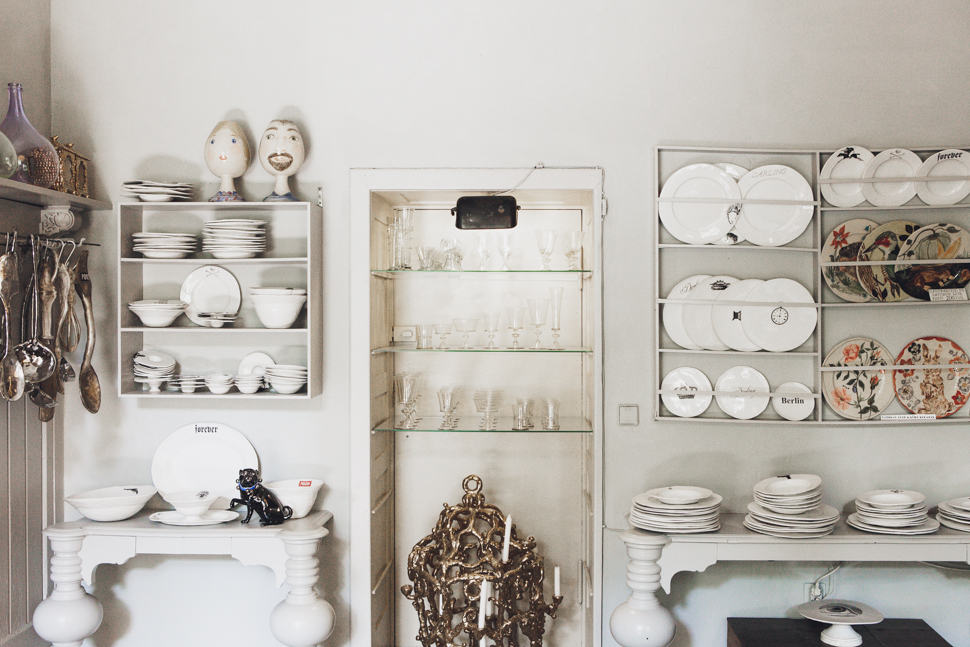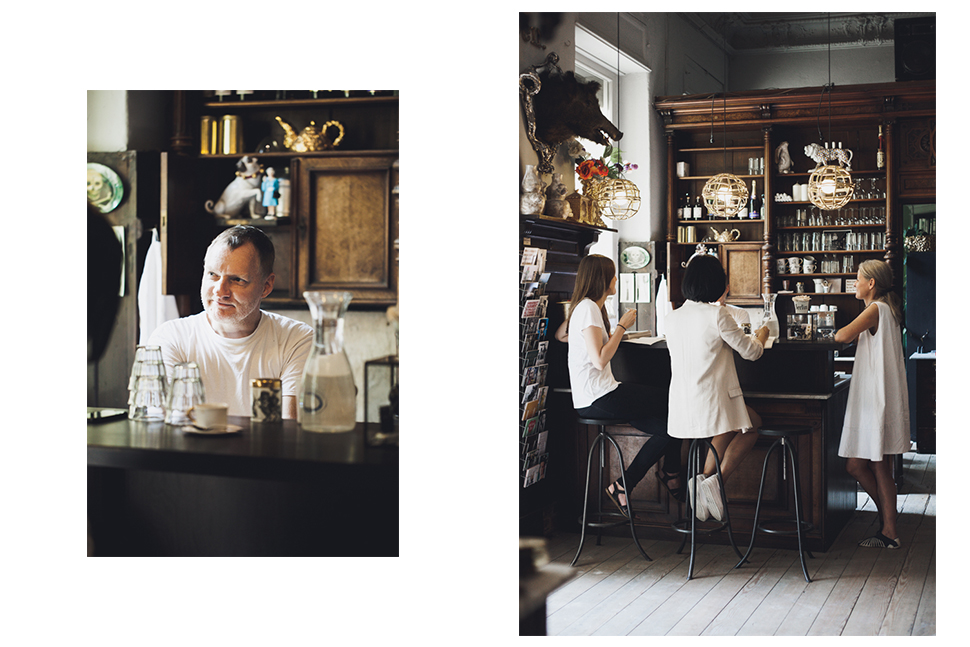 When did you first open Kühn Keramik here in Berlin?
Bernhard Kühn: In 1993. But we only moved into this space in 2009. It used to be a pharmacy and we were really lucky to stumble upon this place.
What were you trained in originally?
Bernhard Kühn: I'm a state-certified ceramicist. I was doing my apprenticeship for two years in Landshut, Bavaria, and finished with a journeyman's examination. So I'm not a master, just a journeyman.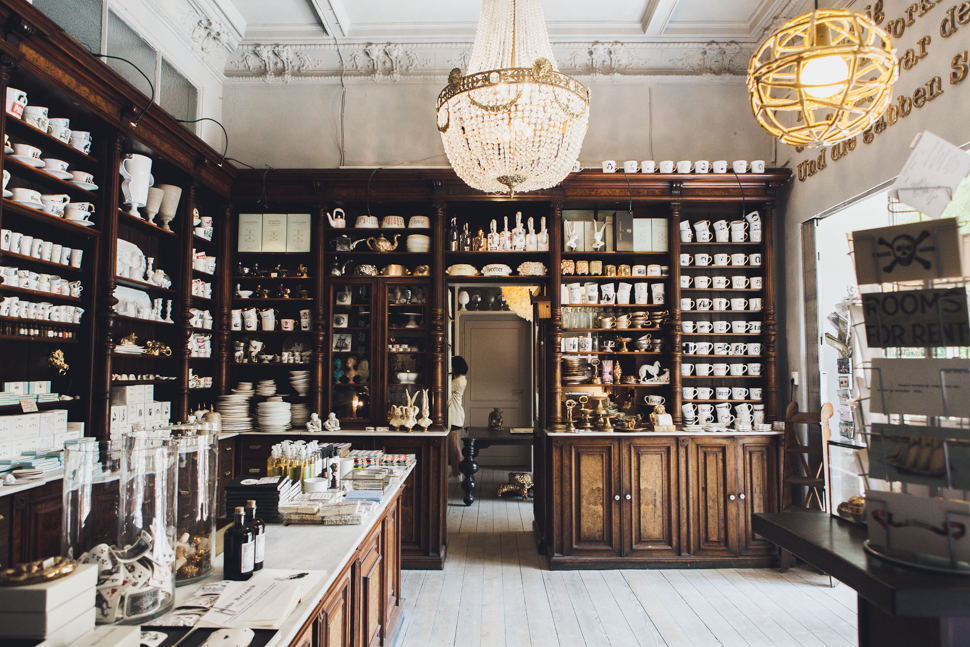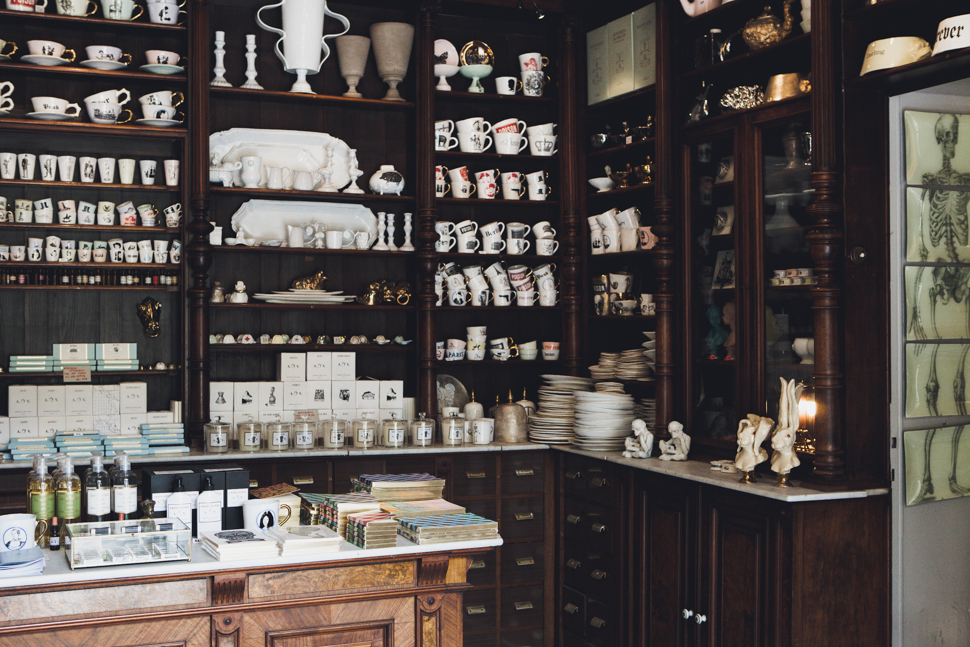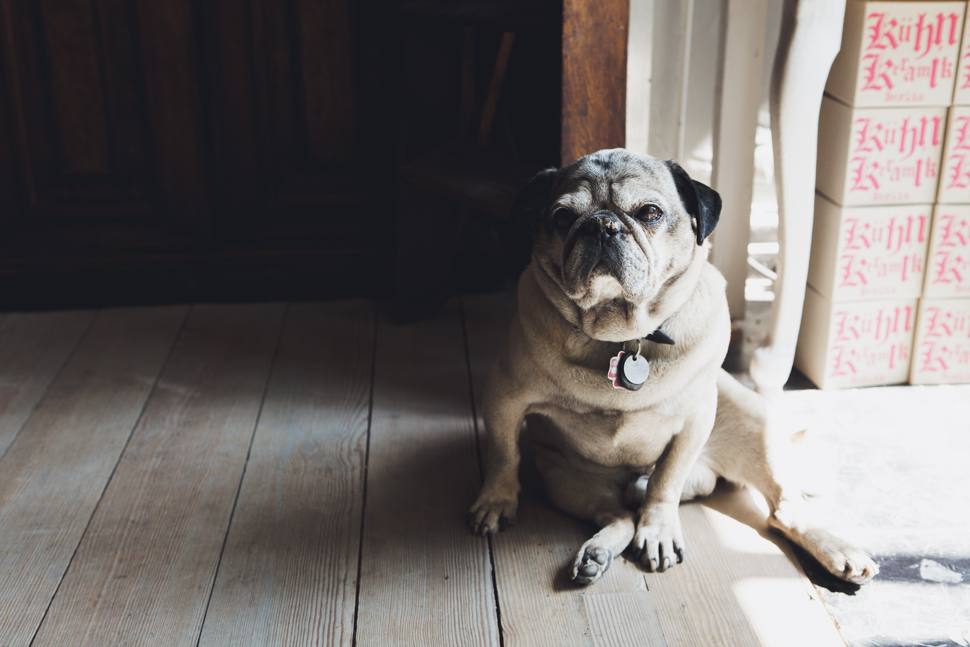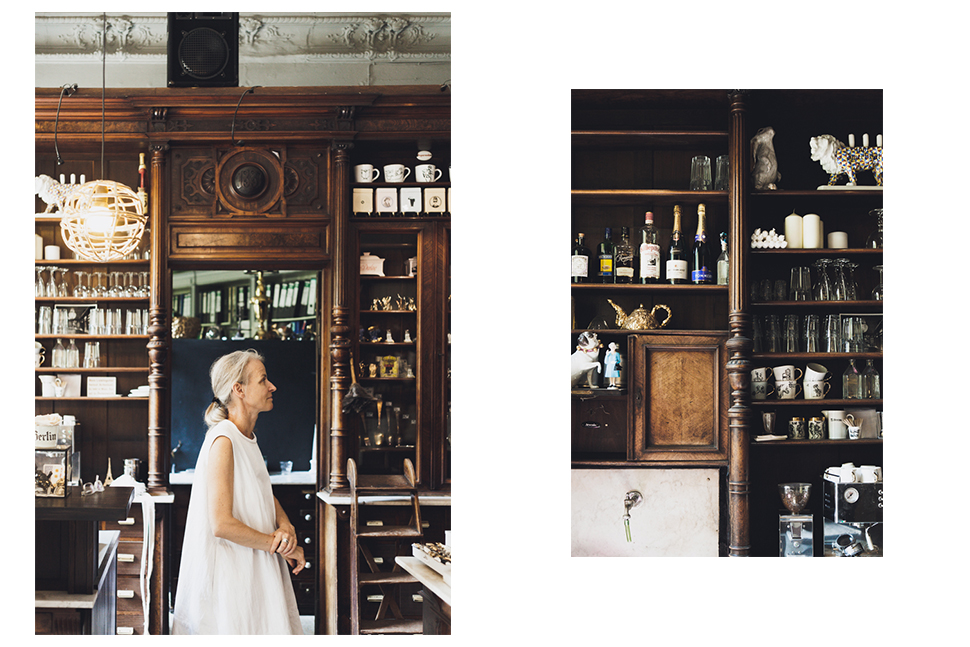 How did you end up owning you shop here in Berlin?
Bernhard Kühn: There are many different reasons for this. After I was finished in Bavaria, I moved to Paris where I went to ceramic school for another two years. When my scholarship was about to expire, I was wondering where to go next. I was always sure that I wanted to move back to Germany. I had friends in Berlin and so Berlin it was.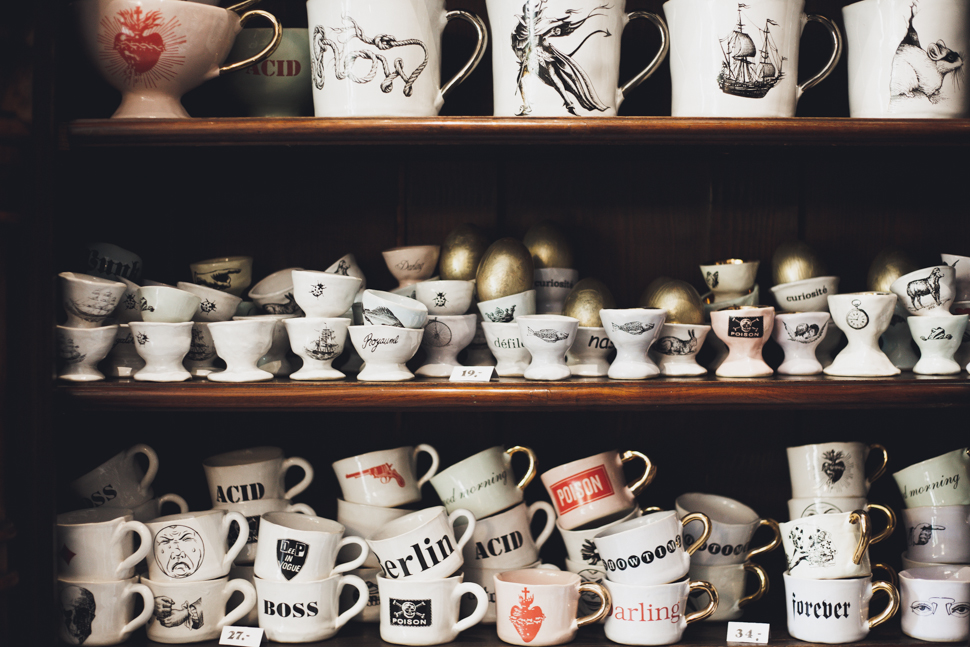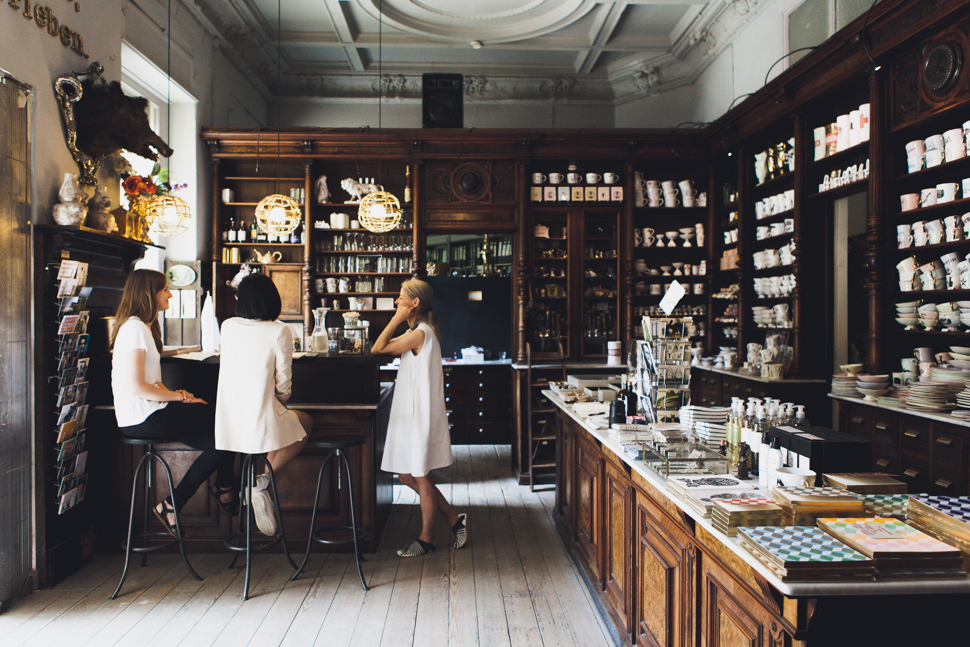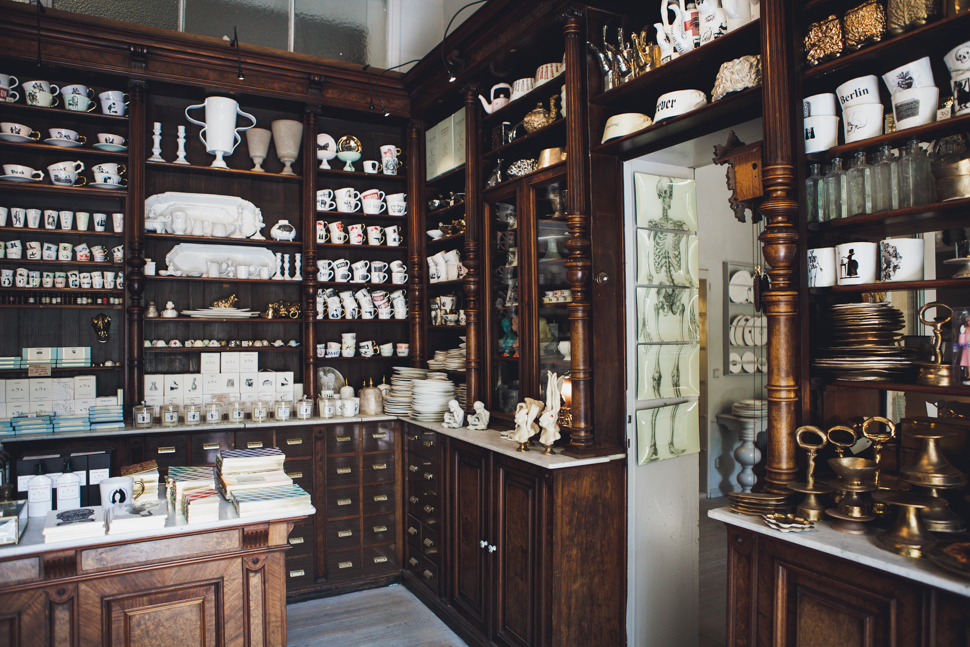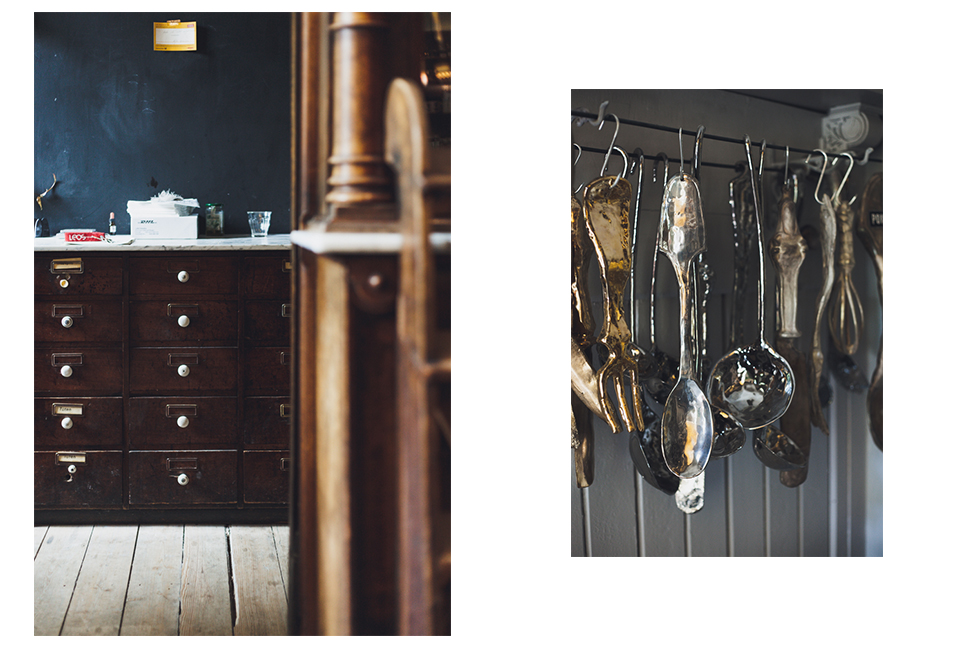 Can you remember what the city's creative scene was like and how it has changed since then?
Bernhard Kühn: In the beginning, there were a lot of other ceramicists and now, there are way less. I think only half of them are still here. But then, there are a lot of inquiries from people who want to do an internship at our studio. What I noticed is that during all these years, only two interns were originally from Germany. Most of them are from countries like Japan, France and Sweden, because it's Berlin and there are many young international people here.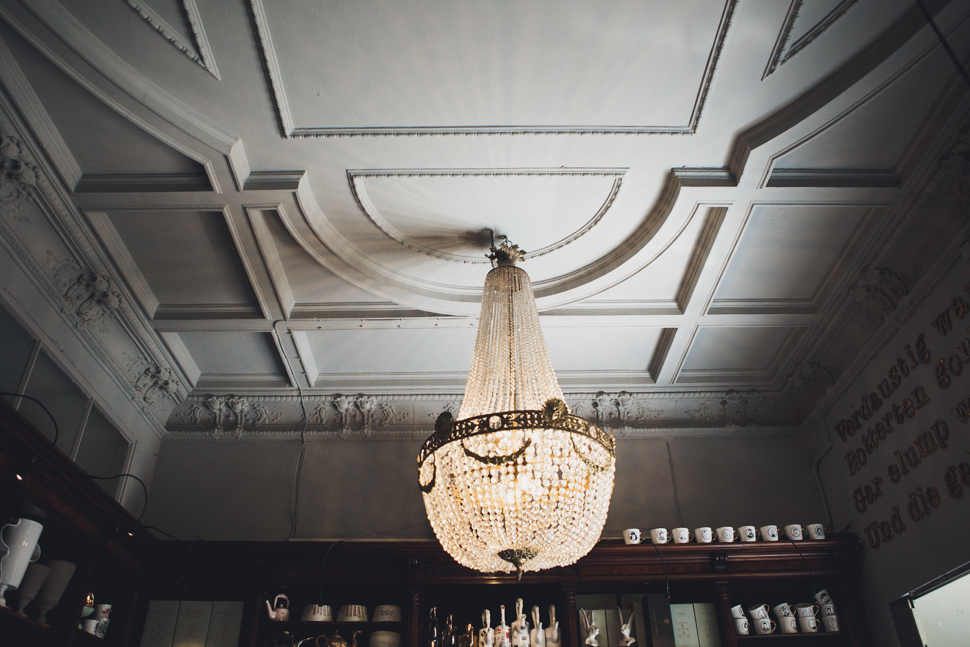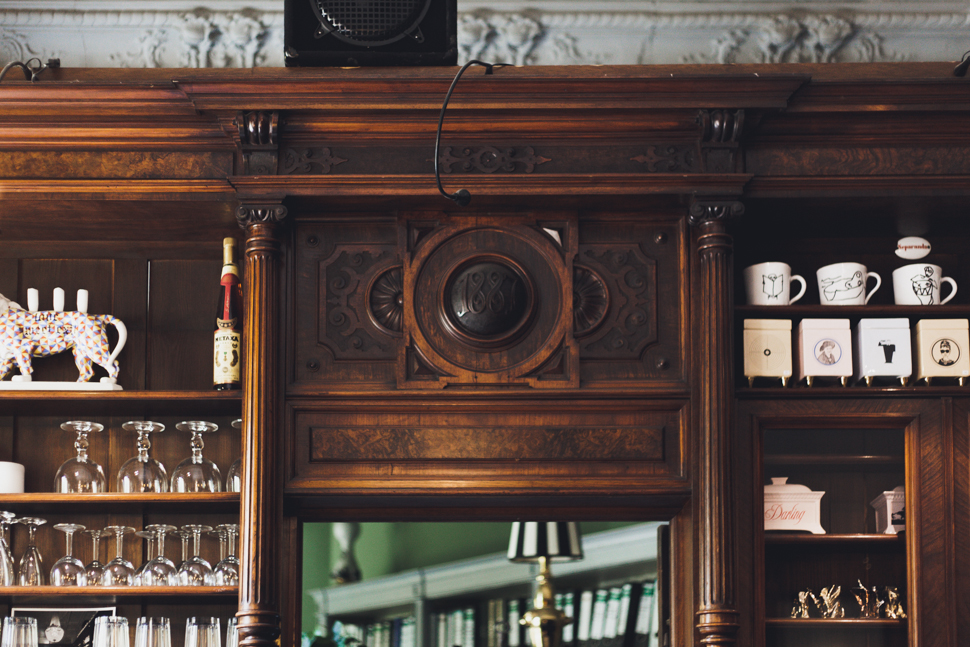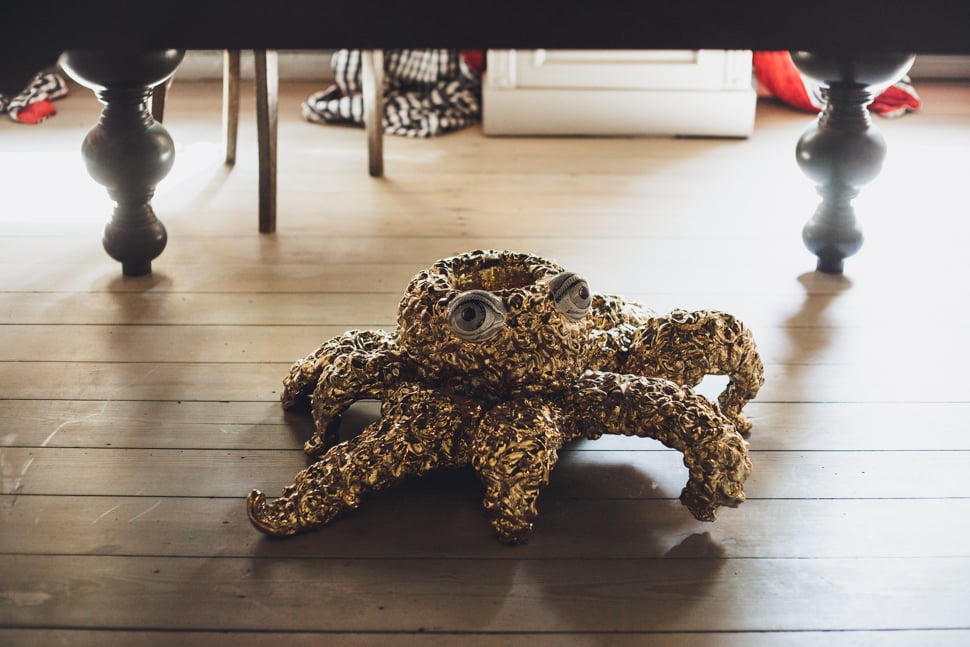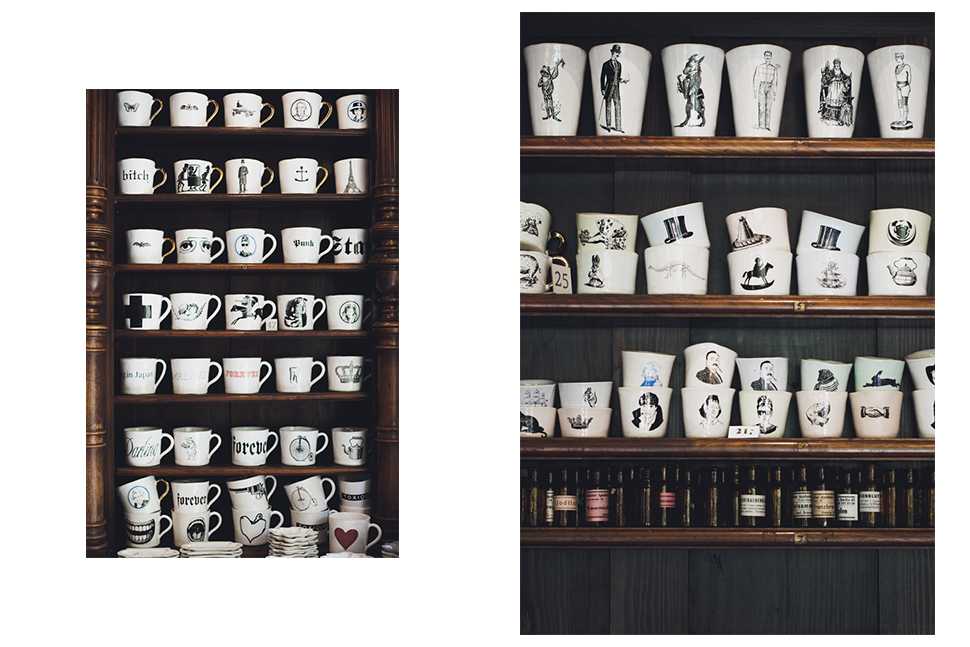 What do you think makes your pottery stand out from others?
Claudia Elsholz: I think the question should be, 'What do they have in common other than the clay?' [laughs]
Bernhard Kühn: I was never really customer-oriented, nor was it my goal to sell stuff on the potters market. So I never really thought about what brings in most of the money. Eventually, I did of course – I make cups because people need them and buy them. But most of the time, I look for what I need. If I need cups, then I make cups. This was also the idea behind our latest 'Berlin' series. We didn't have any pottery at home, so I started to wonder what the basics are: a deep plate, a bowl for salad and so on. It's more like the other way around. And maybe this is what makes us different from others, who think about the market first. I've never been that analytical about it.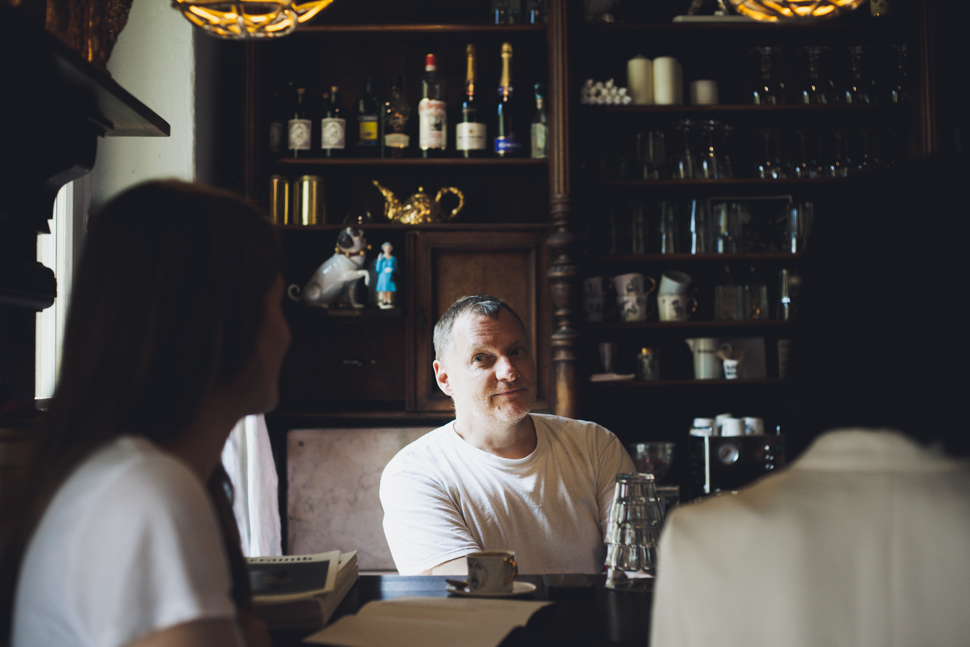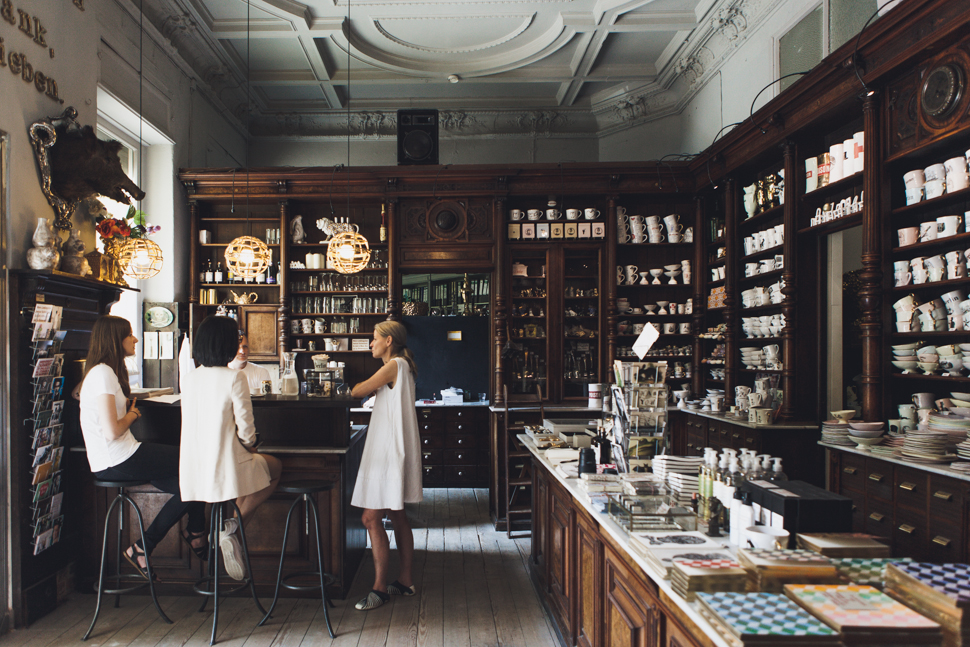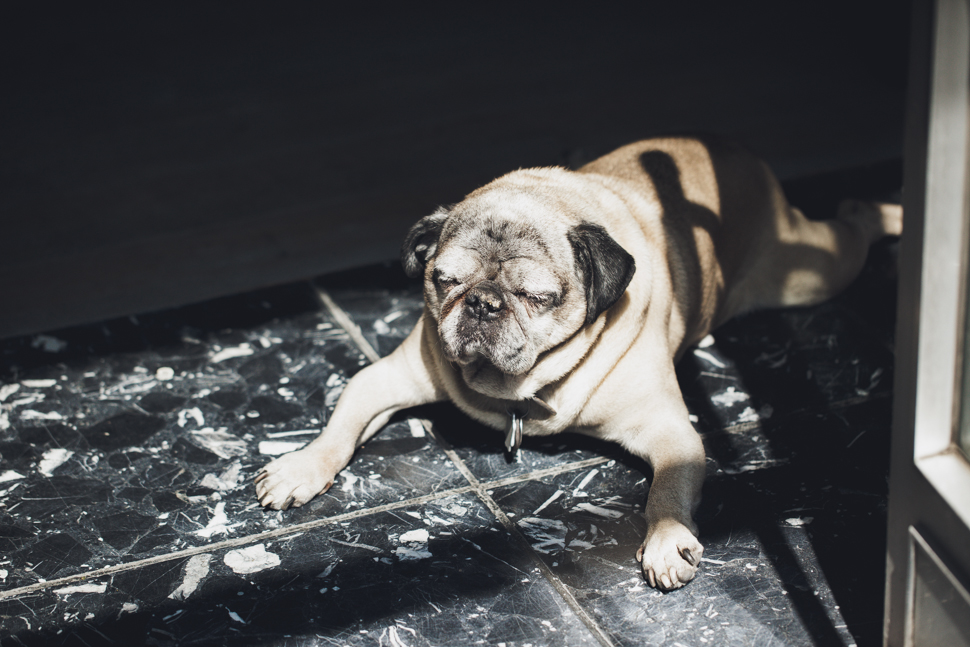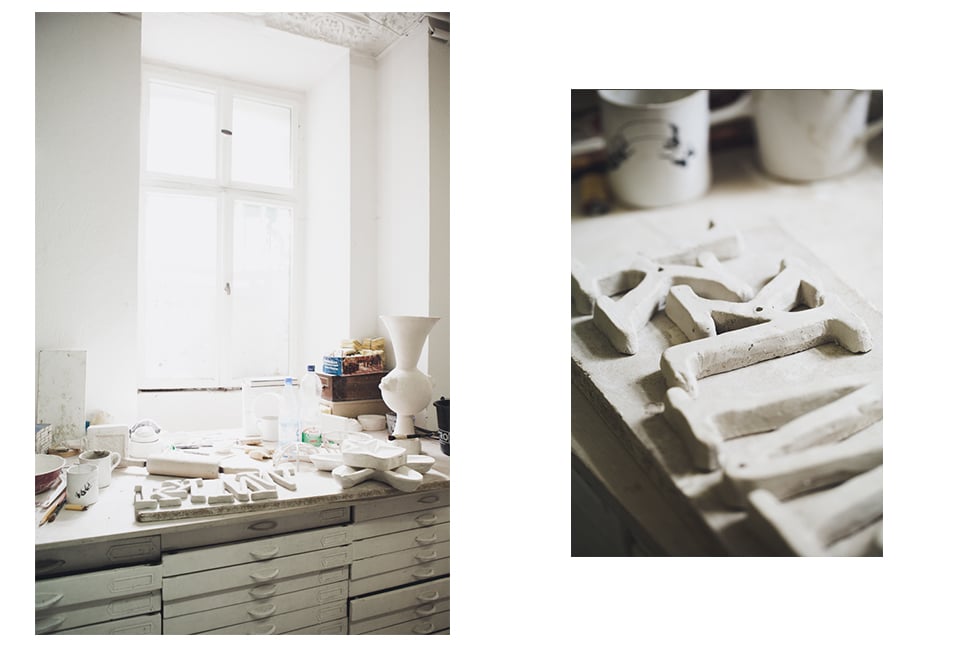 How would you describe your style of pottery in 3 words? It's not exactly simple and classic…
Bernhard Kühn:: No, because I'm not simple and classic. And therefore, also not really 'German'. When we go to different fairs, people are always surprised to hear that we're from Germany. They always think that we're English because of the style…
Claudia Elsholz: I would say… Alice in Wonderland, baroque, ironic.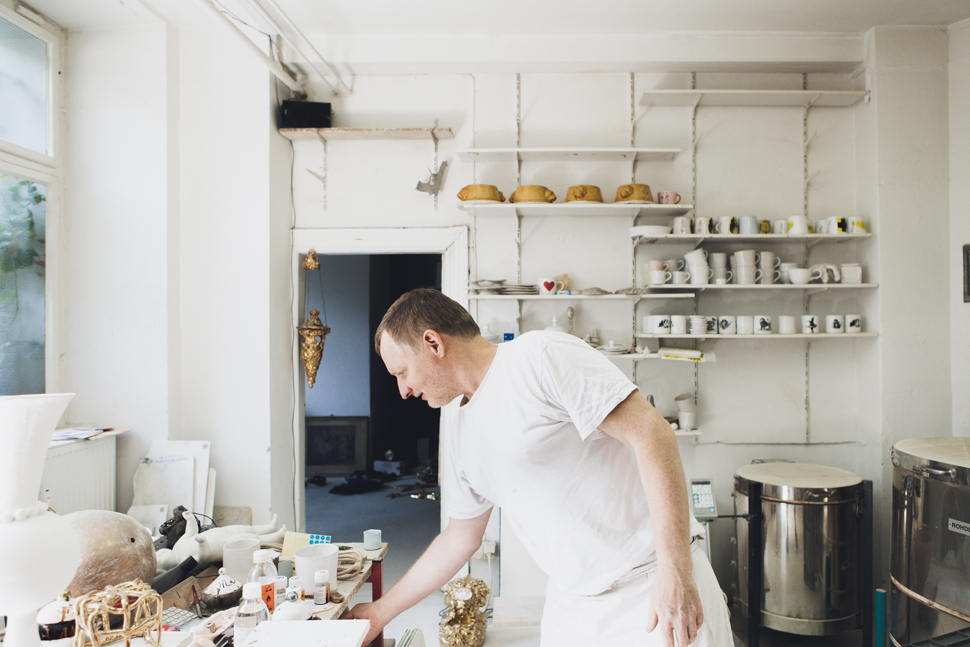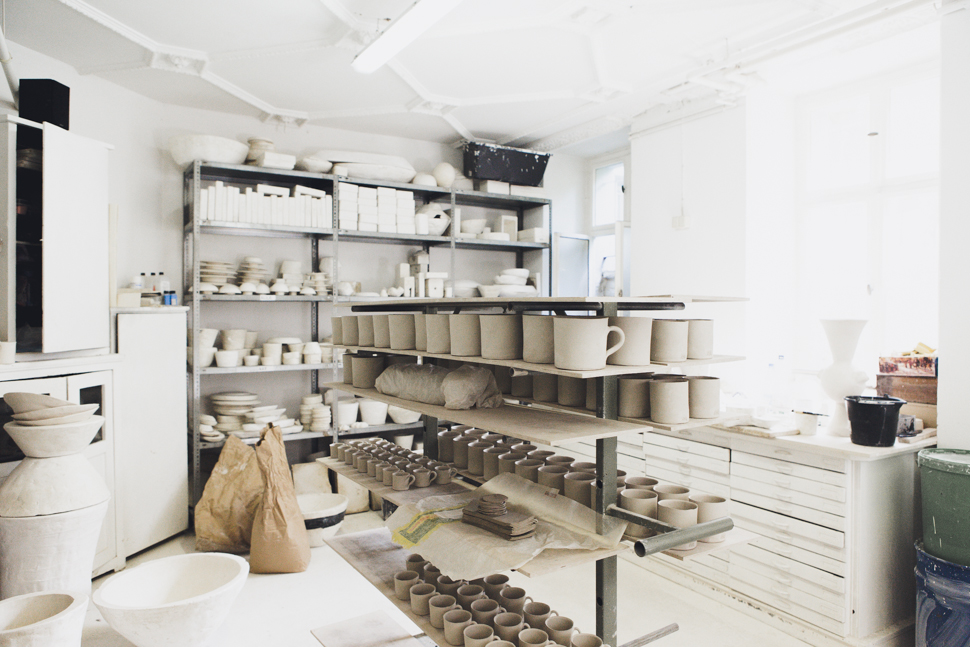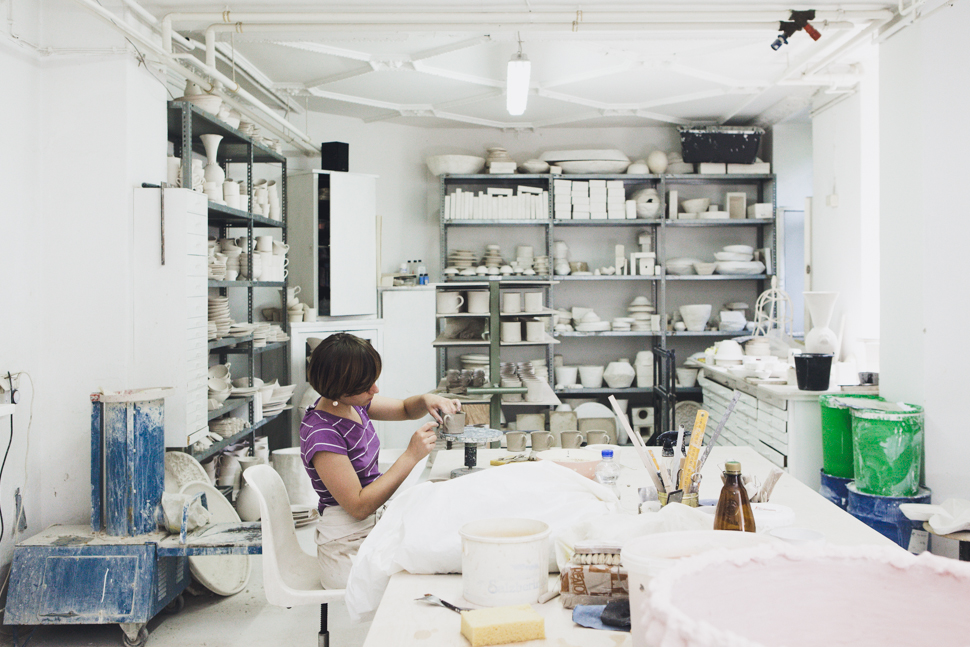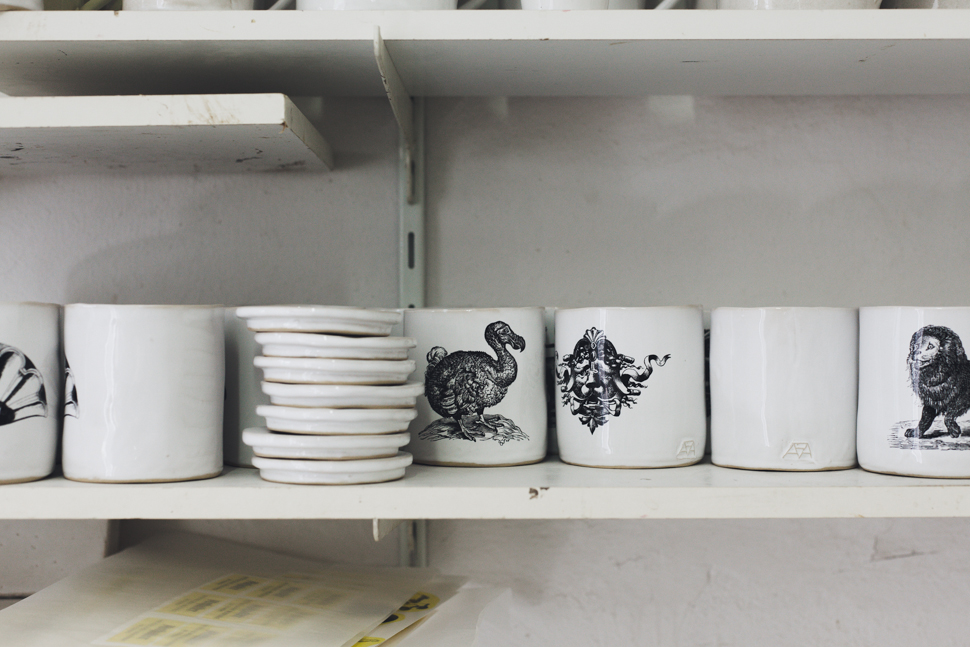 After all these years, do you have a favorite collection of yours?
Bernhard Kühn: It's always the one I'm working on. But at the same time, I notice that whenever I stumble upon old creations, I think, 'Oh, this was also quite nice'. It always changes and then I also sometimes forget about things.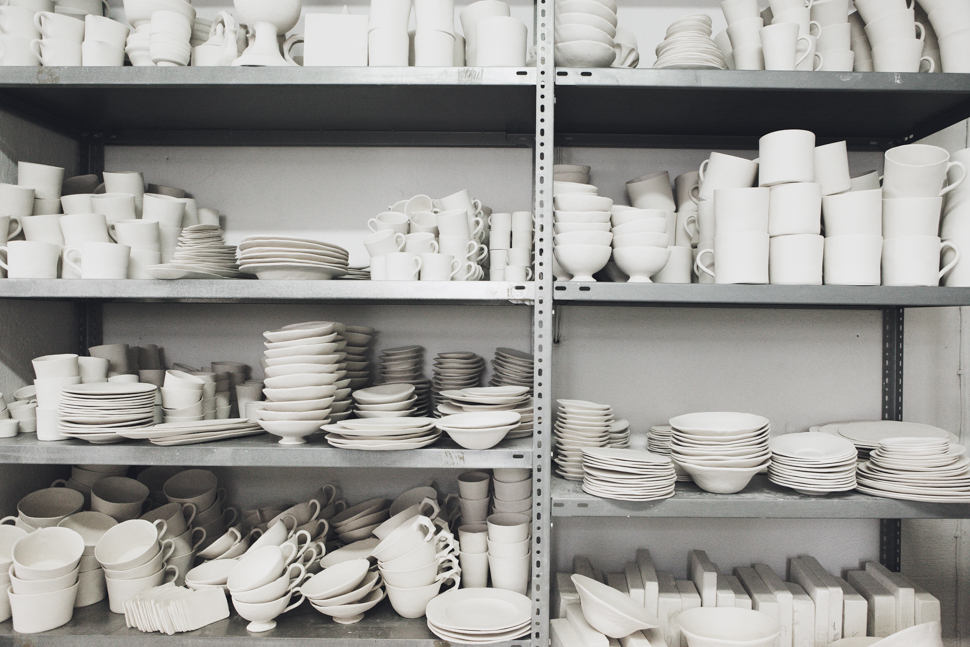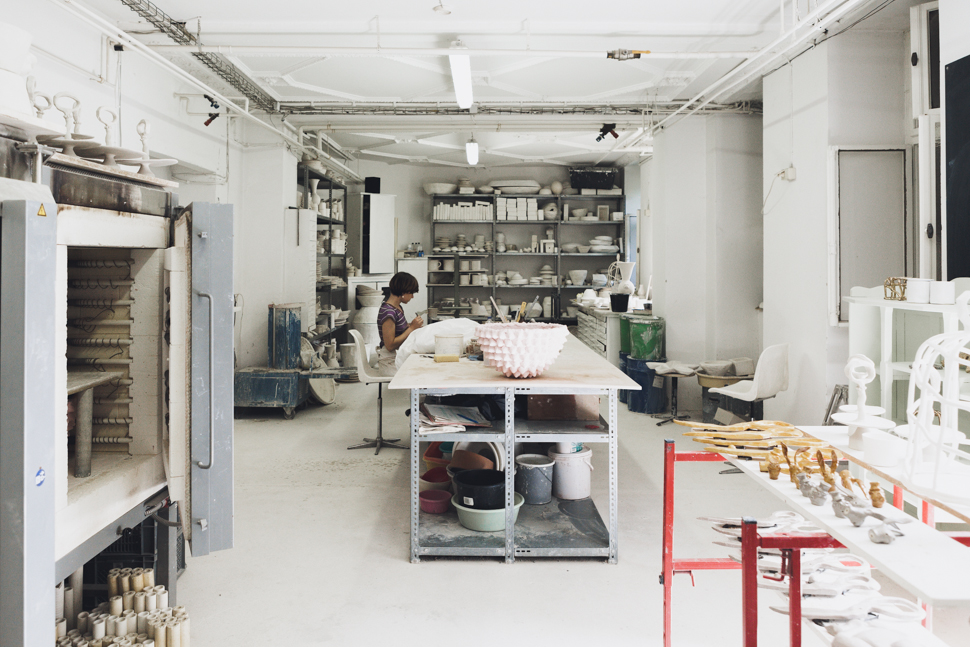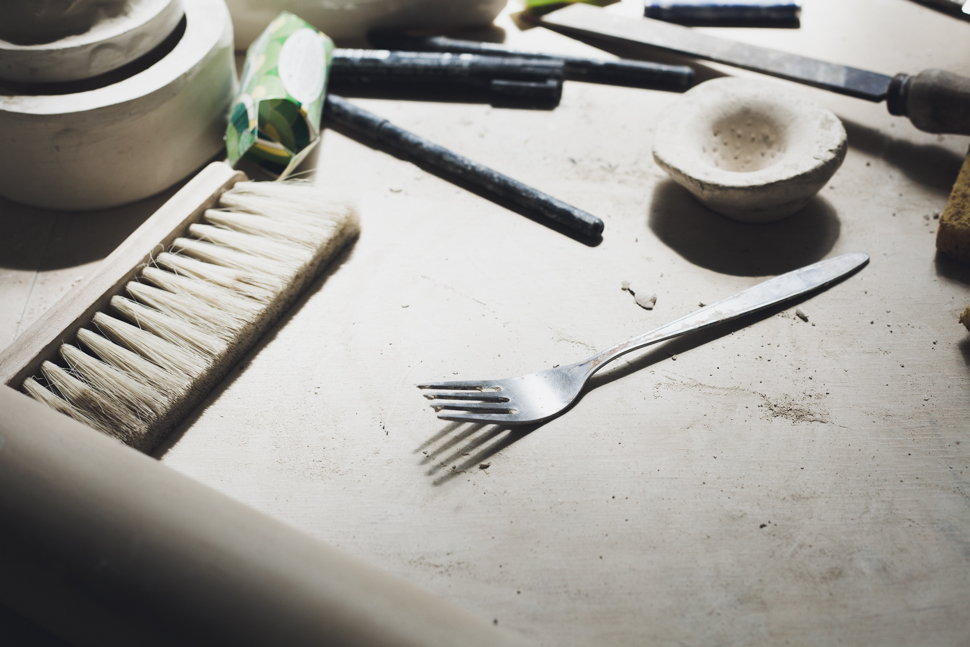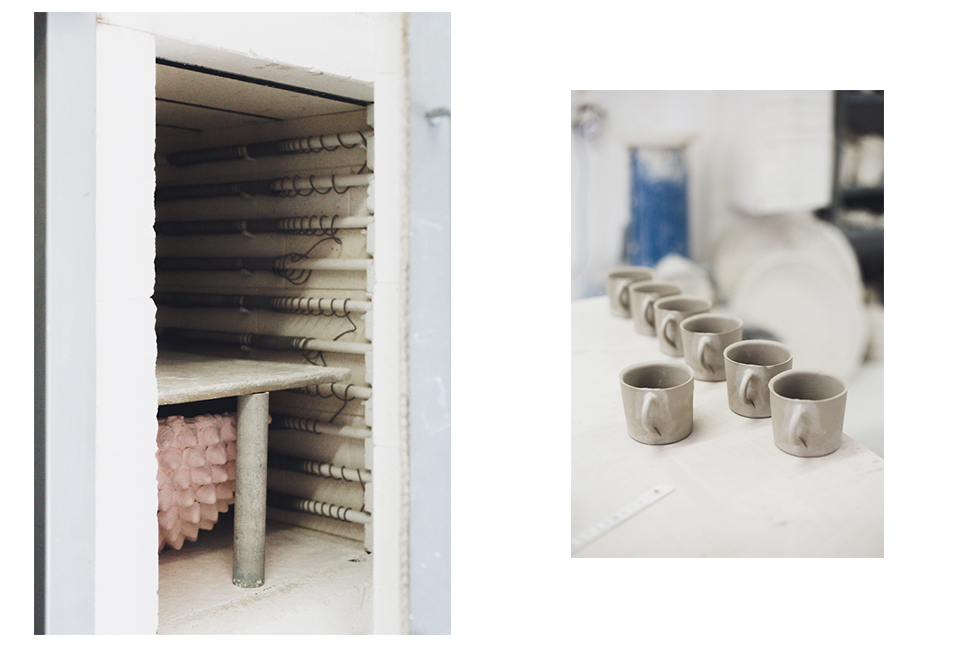 And do you know what the customers like to buy most?
Bernhard Kühn: Cups.
Claudia Elsholz: Definitely cups [laughs]. Over the past few years, it used to be the big cups, nowadays it's the smaller ones. In terms of the different style of cups, there are two kinds of people: those who like to buy the floral ones and those who are more into the punk motifs.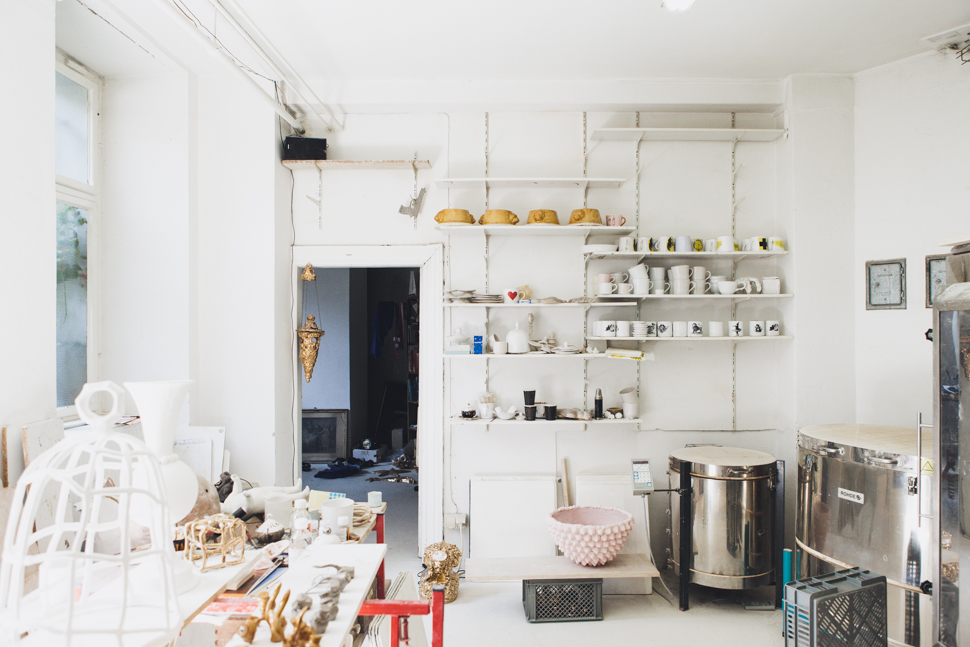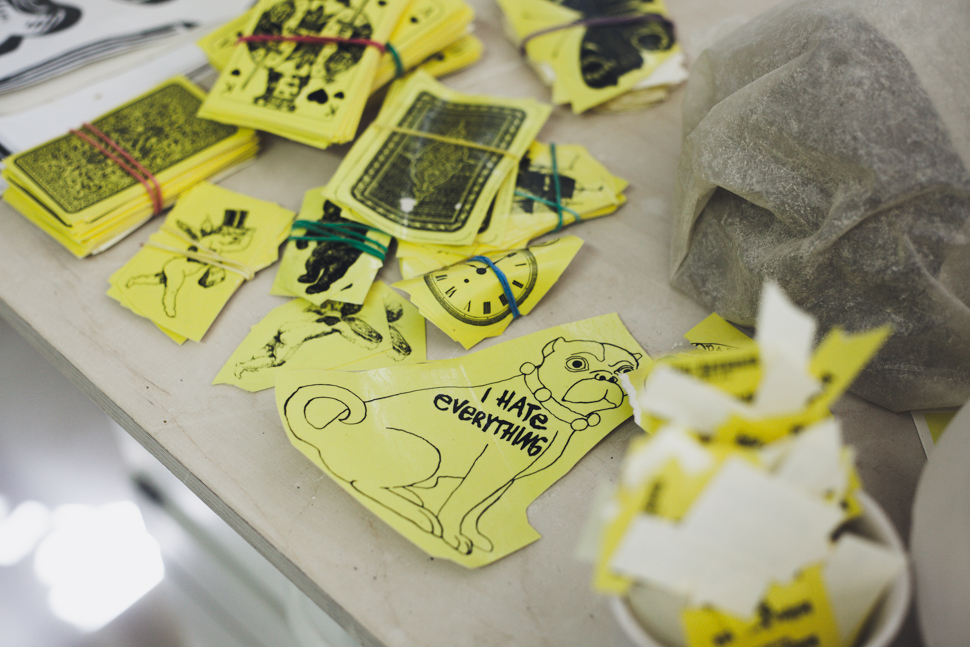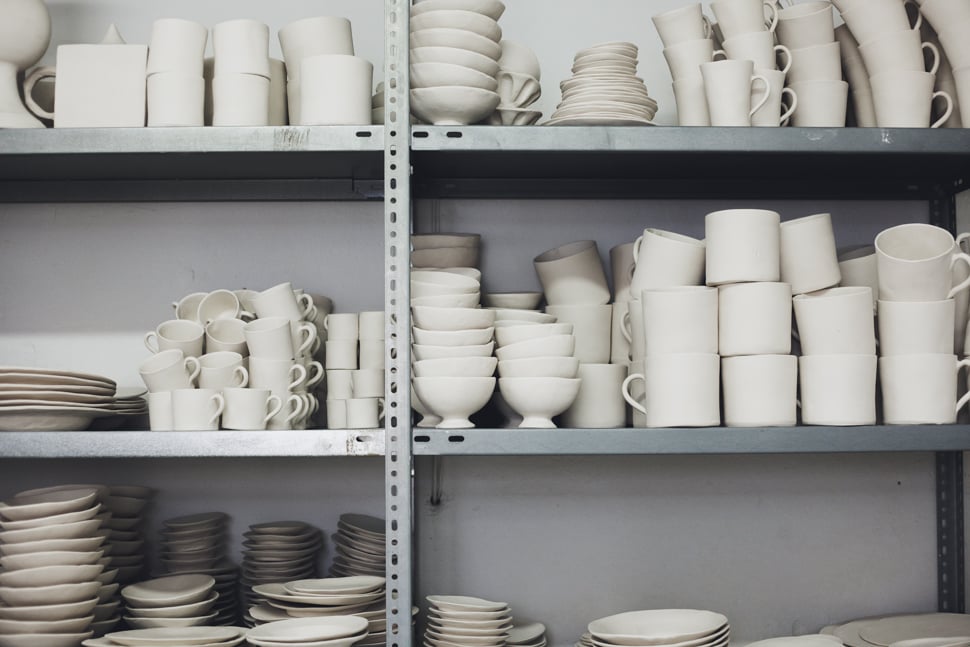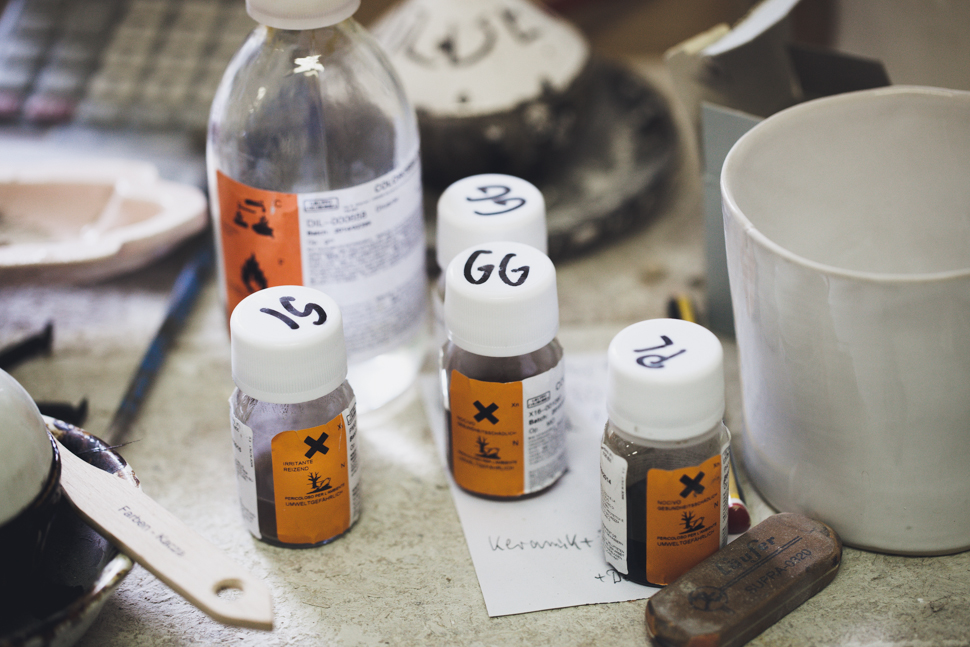 Where do you get your inspiration from?
Bernhard Kühn: Everywhere. There's really no plan behind it. I never think about what might be in fashion. Take the skull, for example, I've always liked it and so we just put it on the cups.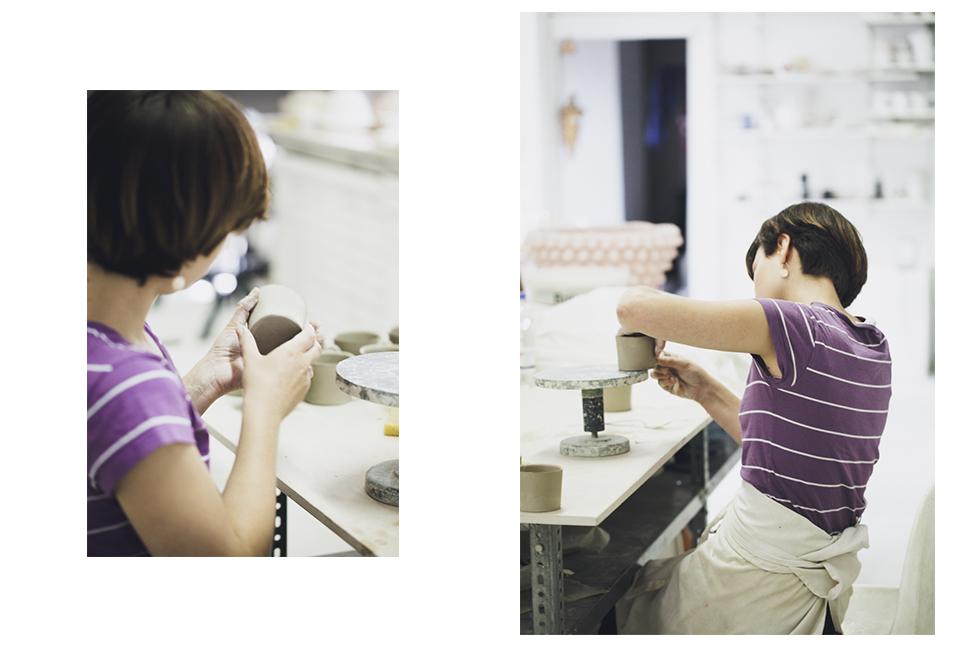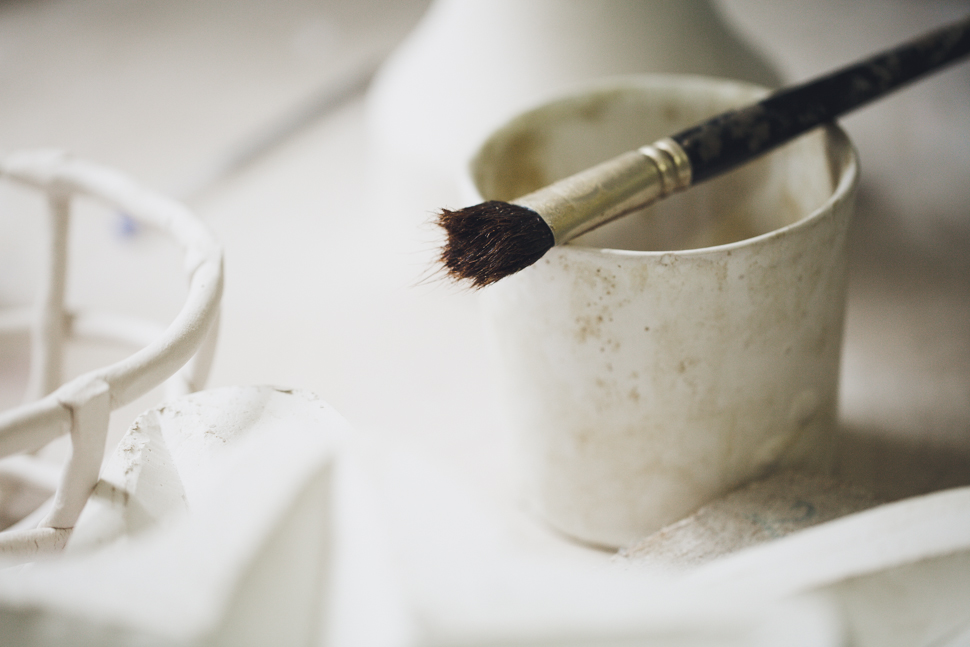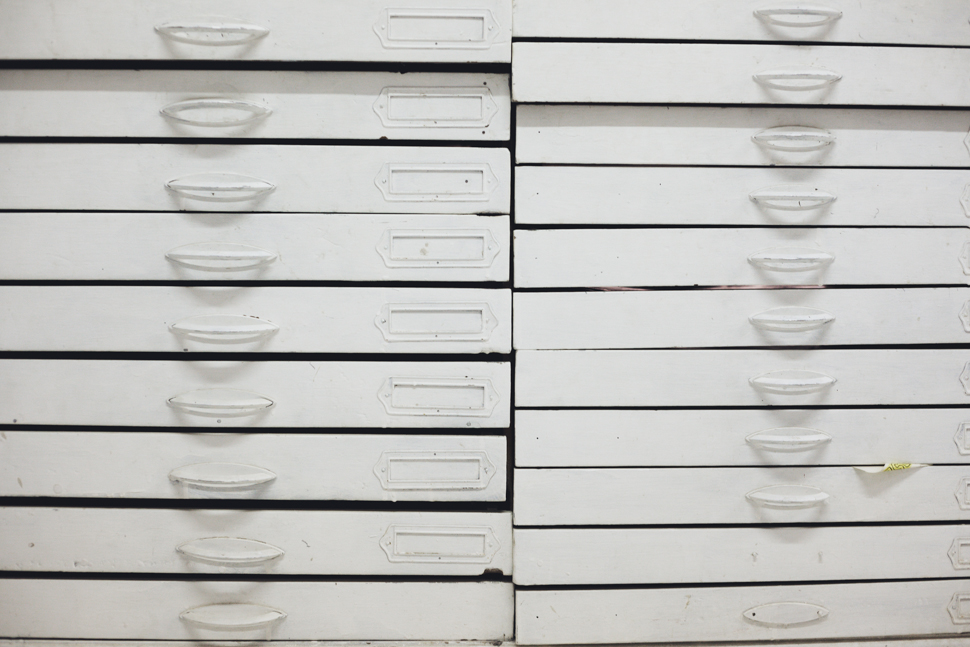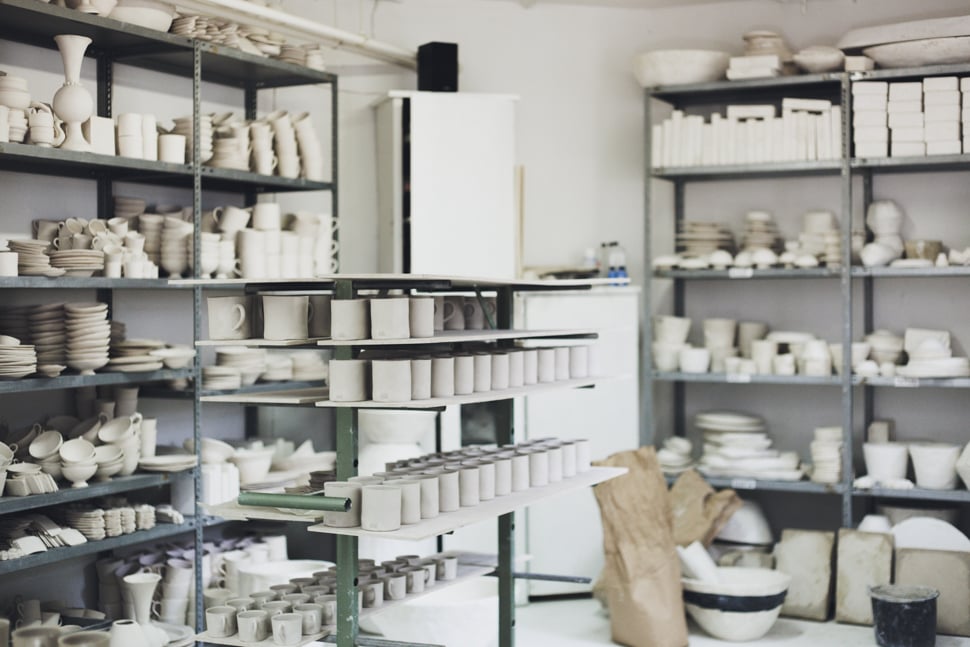 What's the process behind putting the motifs on the pottery?
Bernhard Kühn: It's called a decal, which is a ceramic print. We use old templates from different sample books. Then, we print them on big sheets of paper with a silkscreen technique. We then cut it out, put it into water and then fix it onto the ceramic. The motif will then be imprinted and burnt into the ceramic. There are also some motifs drawn by hand like the carlin and portraits series, which consists of more than 60 different portraits from all kinds of celebrities.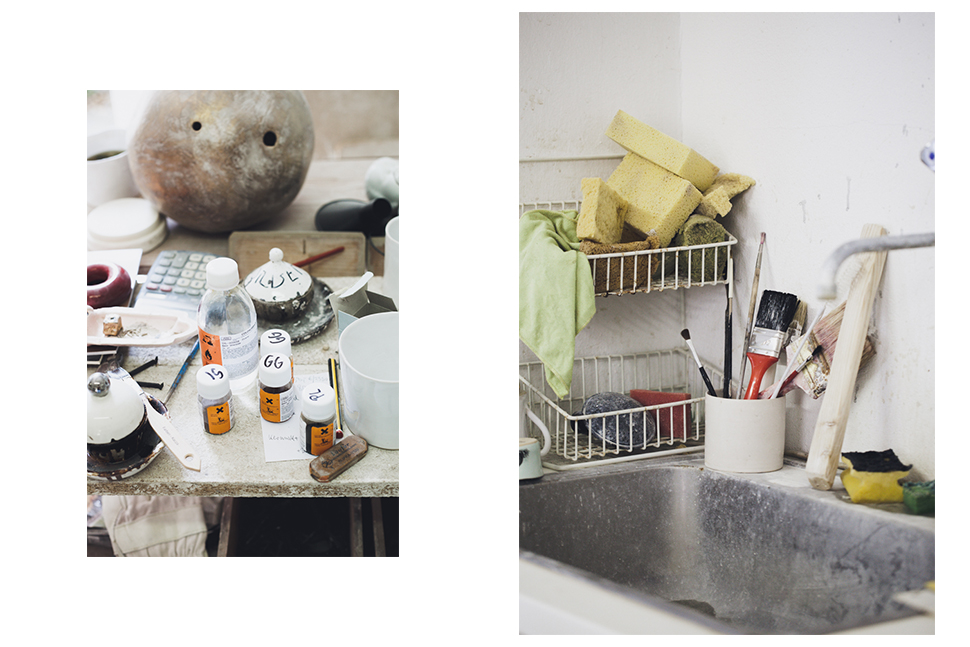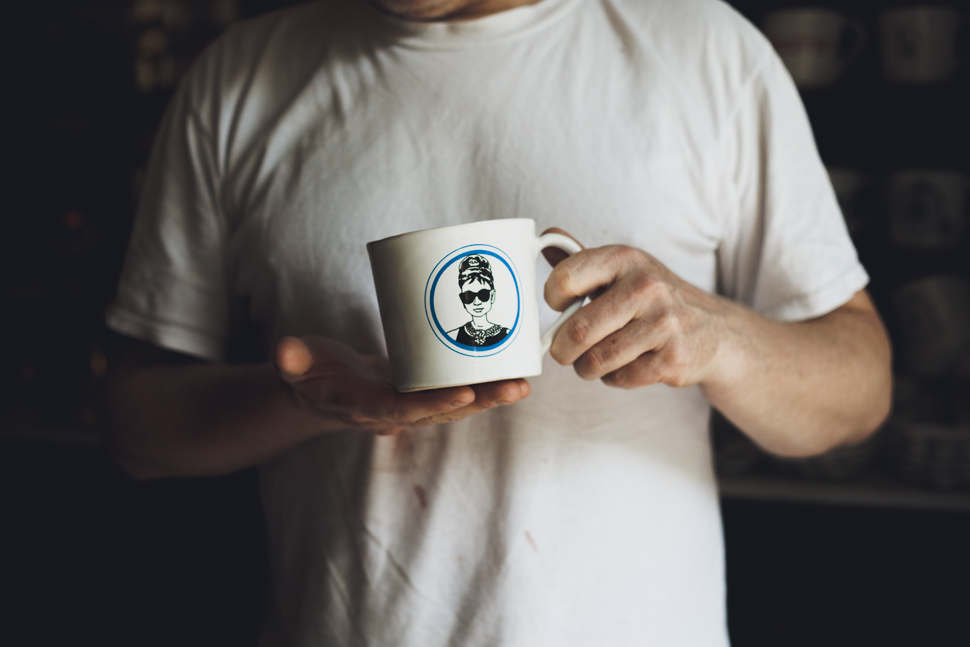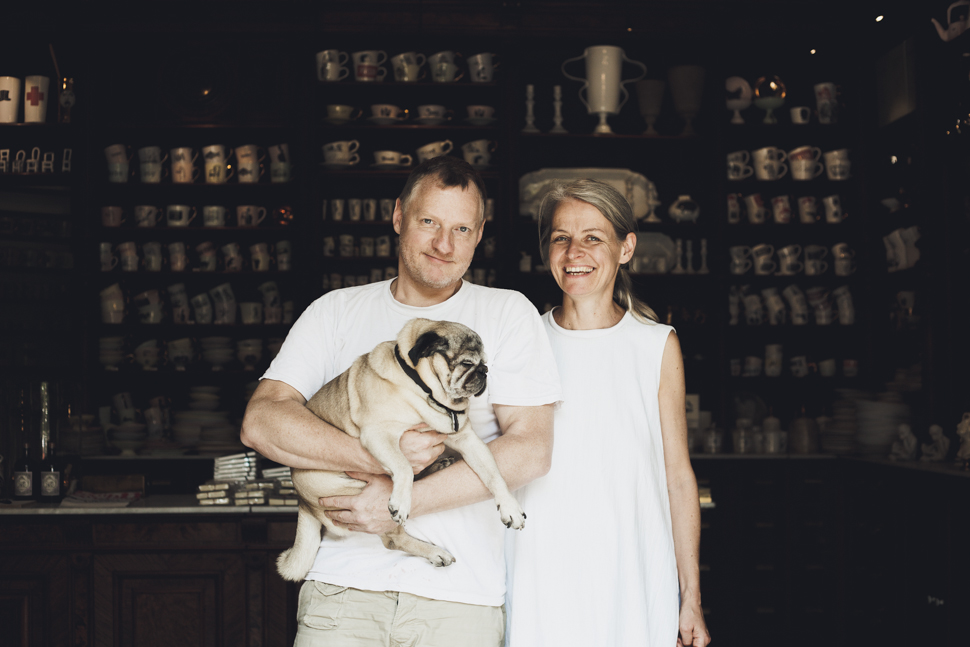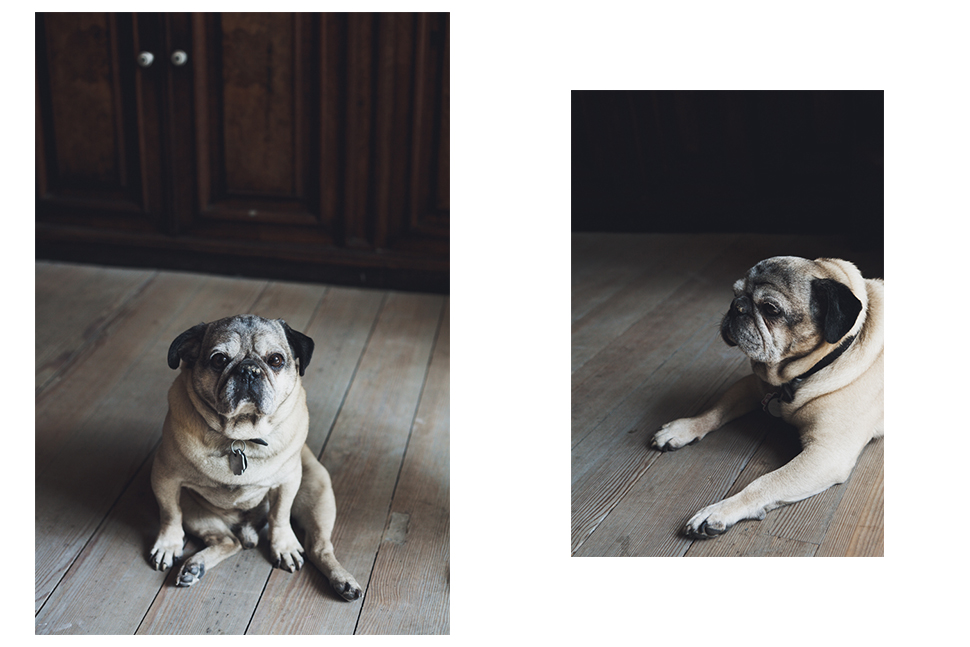 There's a great demand for Kühn Keramik internationally – where is your biggest market?
Claudia Elsholz: France, Norway, Japan and Asia, in general. They really appreciate the material and our interpretation of ceramics. For Germany, it's just too expensive and the ceramic isn't even enough. Also, everything must have a brand name here. If the neighbor doesn't know where it comes from, then it's not worth it.
Bernhard Kühn: No price tag, no big name and it's also crooked – that's really bad. In general, Germans don't have very good taste [laughs].
This interview was condensed and edited.
Photography by Ana Santl, Interview and Text by Jessica Jungbauer