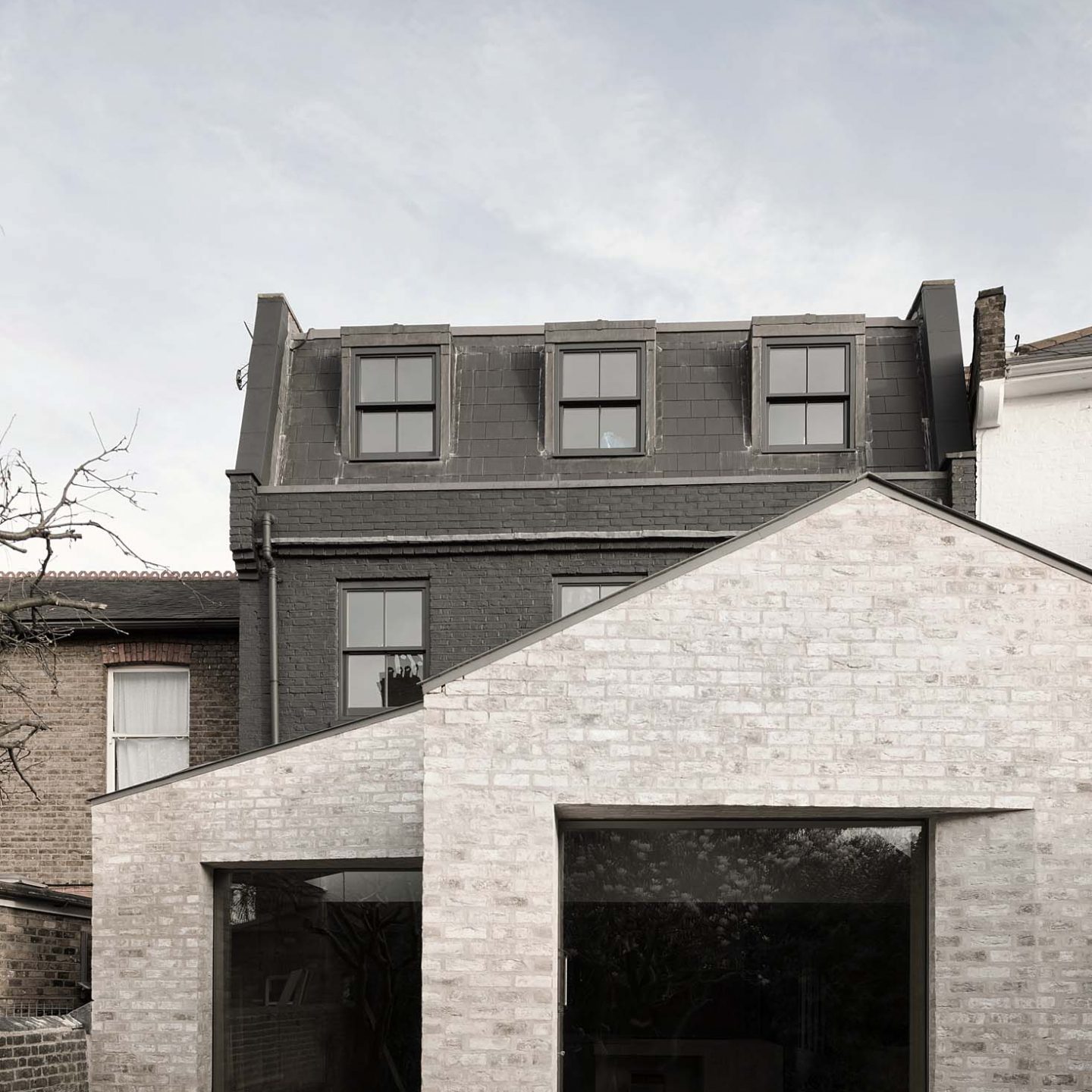 McLaren.Excell Extends A West London Victorian House With Two Monumental Interlocking Brick Volumes
London-based firm McLauren.Excell has restructured 'Kew House', a simple Victorian home in the London borough of Richmond, into a series of intertwined spaces—through an elegant brick-clad extension with pitched roofs and large frameless windows.
"The project principally involved the building of a rear extension, comprising two chamfered forms nestling together," explains the firm. Standing in contrast to the dark-painted rear facade of the house, the pale-brick extension lends the new volumes a sense of robustness; accentuated through the rough pointed brickwork, grounding concrete plinths, and slanted windows and doors. "The simplicity of the exterior belies the complexity of concealed structures, interlocking pitched roofs and wedge-shaped walls—all neatly resolved so as not to compromise the purity of form," they continue. Inside, the two intersecting volumes create a dramatic folding ceiling landscape, with sharp lines and shadows magnified by the incorporation of a large skylight. Throughout, several monumental frameless openings offer views of the back garden.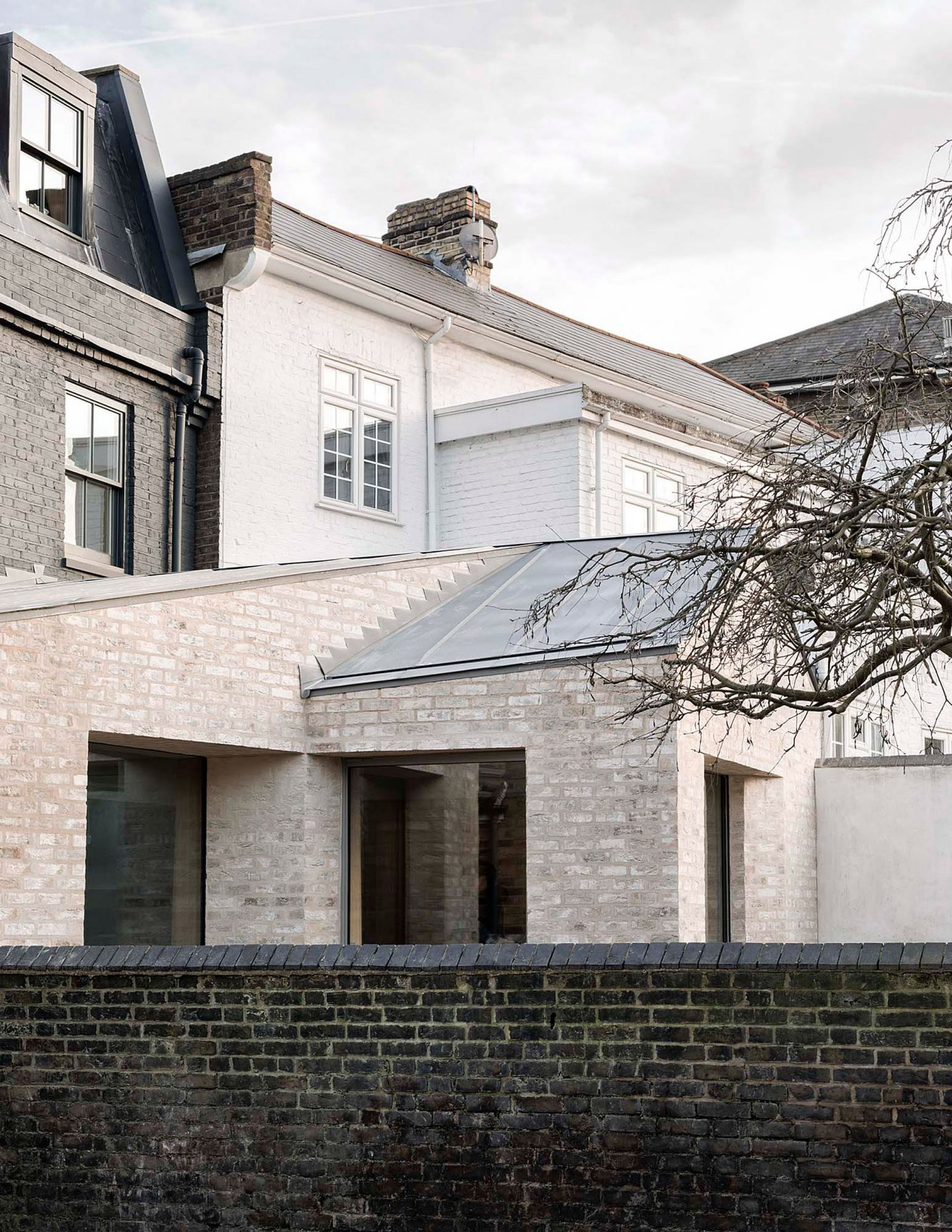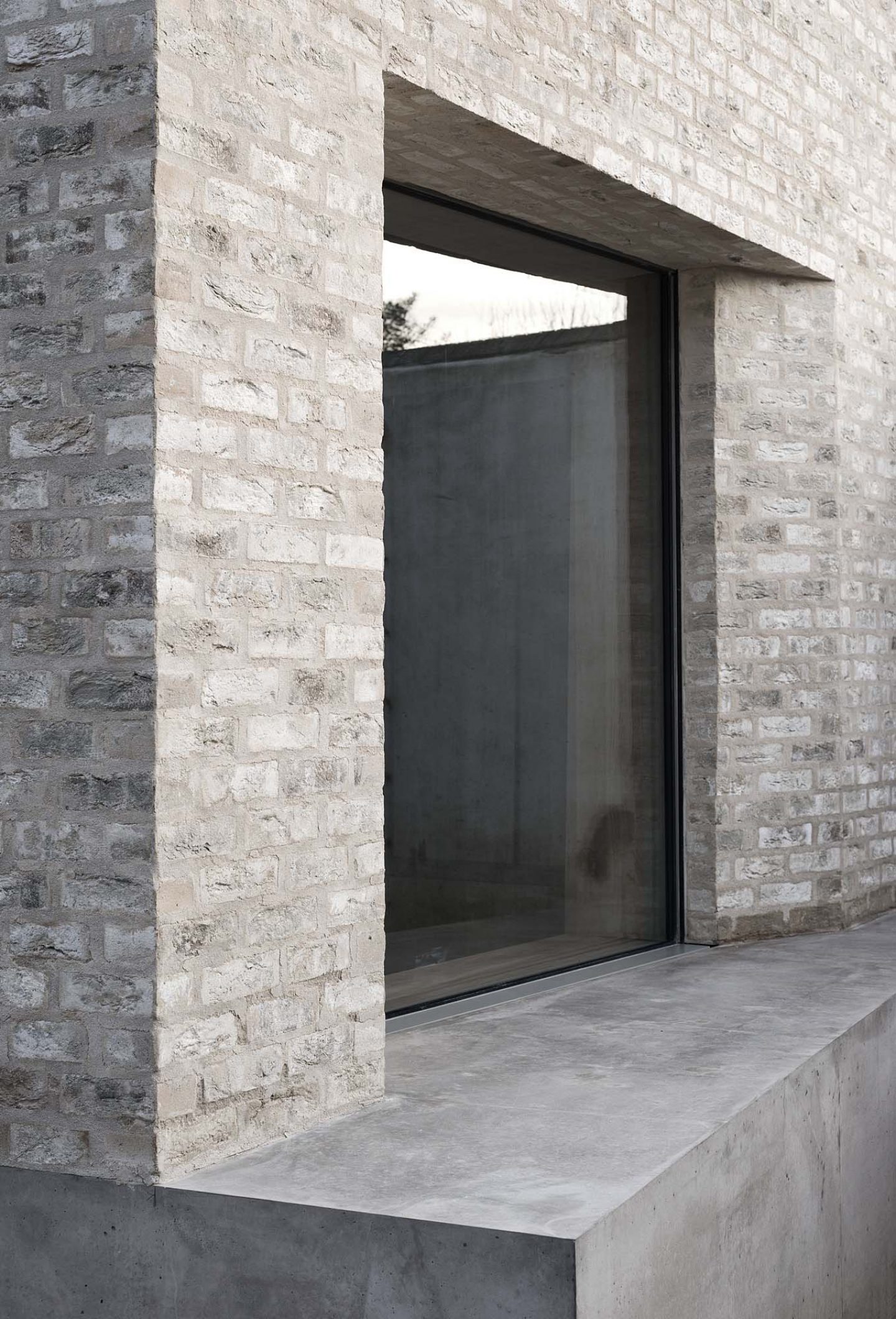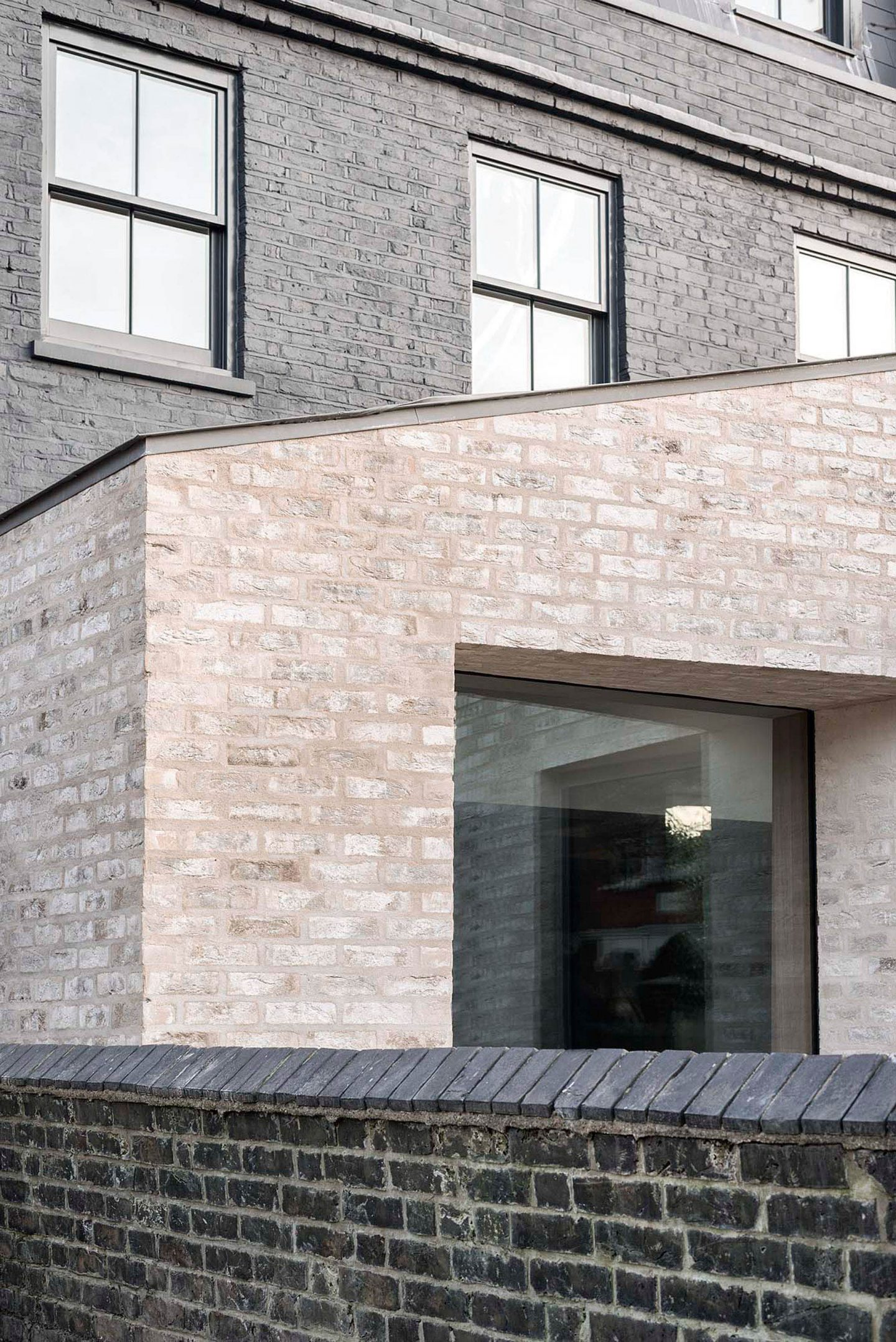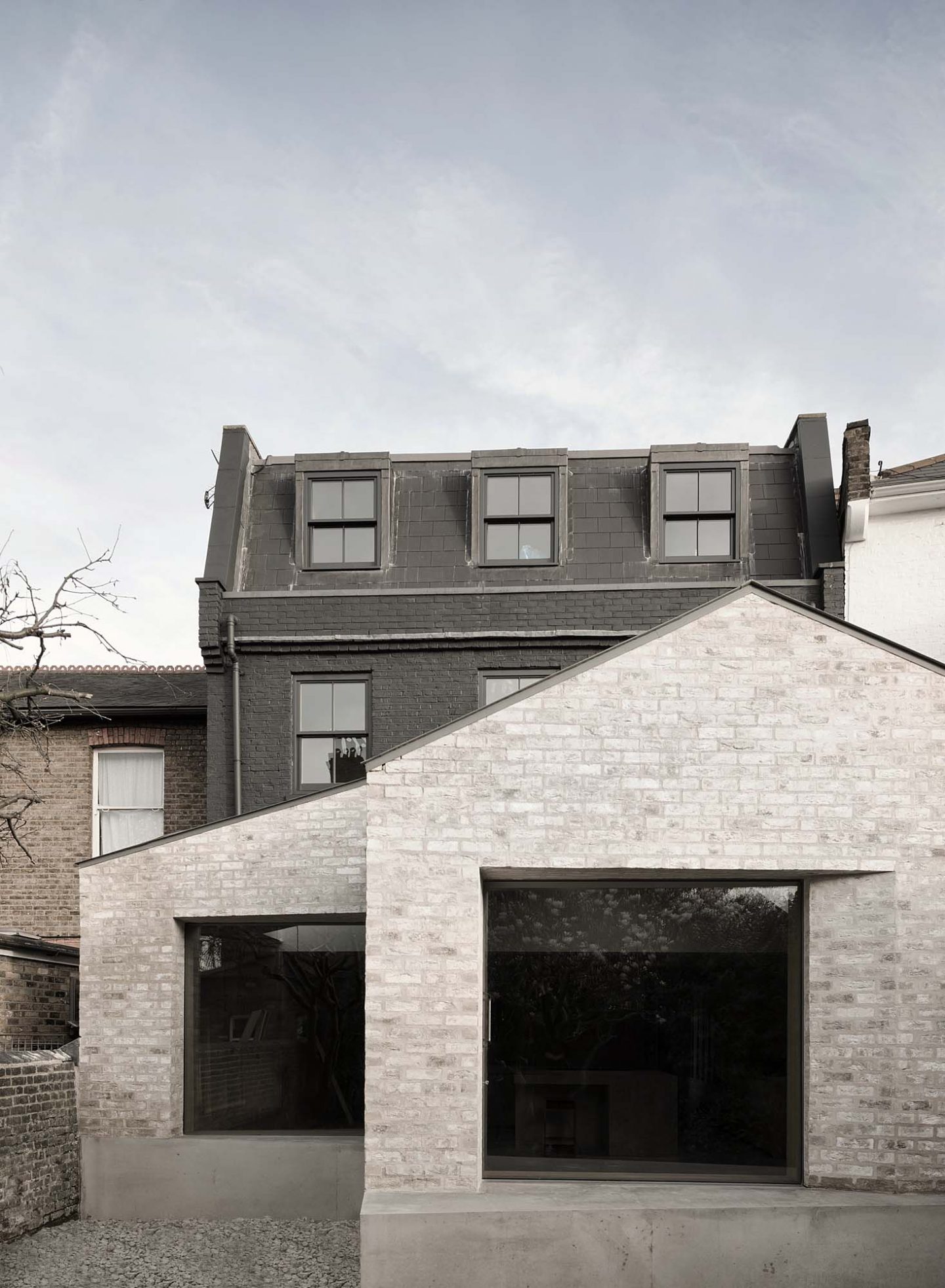 "The theme of mass and solidity continues with on-site concrete elements defining the arrangement of rooms and providing the backbone to the interior scheme," says the studio. Blending old and new elements of the house, concrete is used throughout the ground level for flooring and for a central core containing the stairs, washroom, storage and kitchen units, as well as for a sculptural kitchen island and for the surface of the bathrooms located upstairs. Setting off the dominant dark concrete are extensive wall panelling and joinery in slender oak, which "give a necessary visual lift and softness to the scheme," the studio says. A simply crafted oak staircase ascends from the entrance hall to two upper floors, housing bedrooms and bathrooms that feature a material palette of wood, concrete surfaces, and white ceilings.