In recent years, in Berlin's southeast district of Oberschöneweide, a historic disused production hall was converted and revived into a creative hub by various London and Berlin-based architects. Here, seconds from the river Spree, three large industrial warehouses were transformed in 2017 into studio space for Polish-German visual artist Alicja Kwade: a sought-after contemporary artist of our time, whose work has been exhibited in galleries, museums, and private collections across the world.
Although the neighborhood's landscape still looks a little mechanical, with its towering factory halls and power plants, there's no denying this part of the city's appeal—with endless art studios, culture experiences, and dance parties sprouting up in what is now considered trendy real estate: warehouses and former production mills. Despite the fact that a little over a decade ago this area was considered extremely underdeveloped in terms of opportunities, like other areas of Berlin, the future for artists is bright—and those like Kwade have been able to buy, as opposed to rent, their spaces.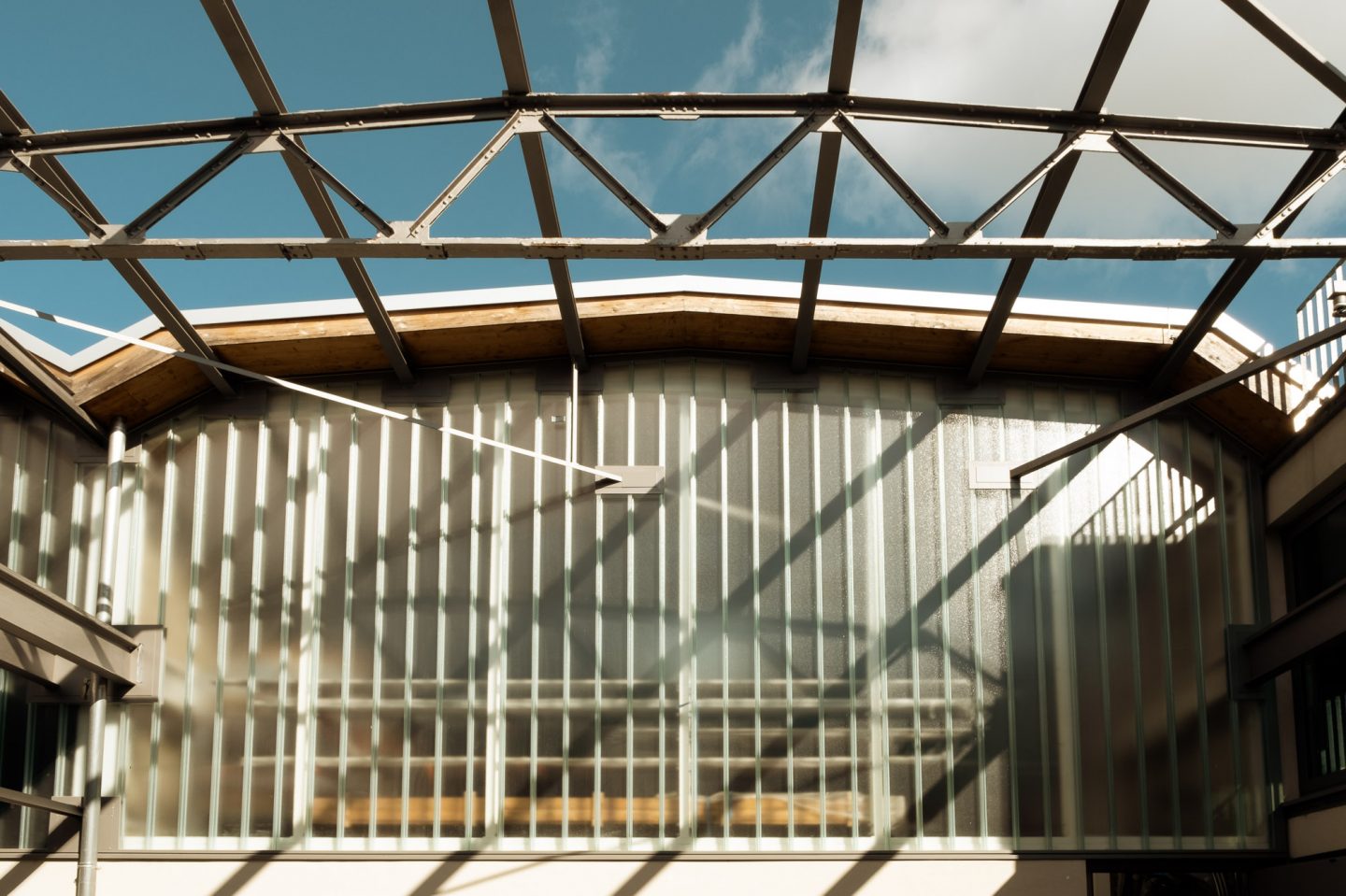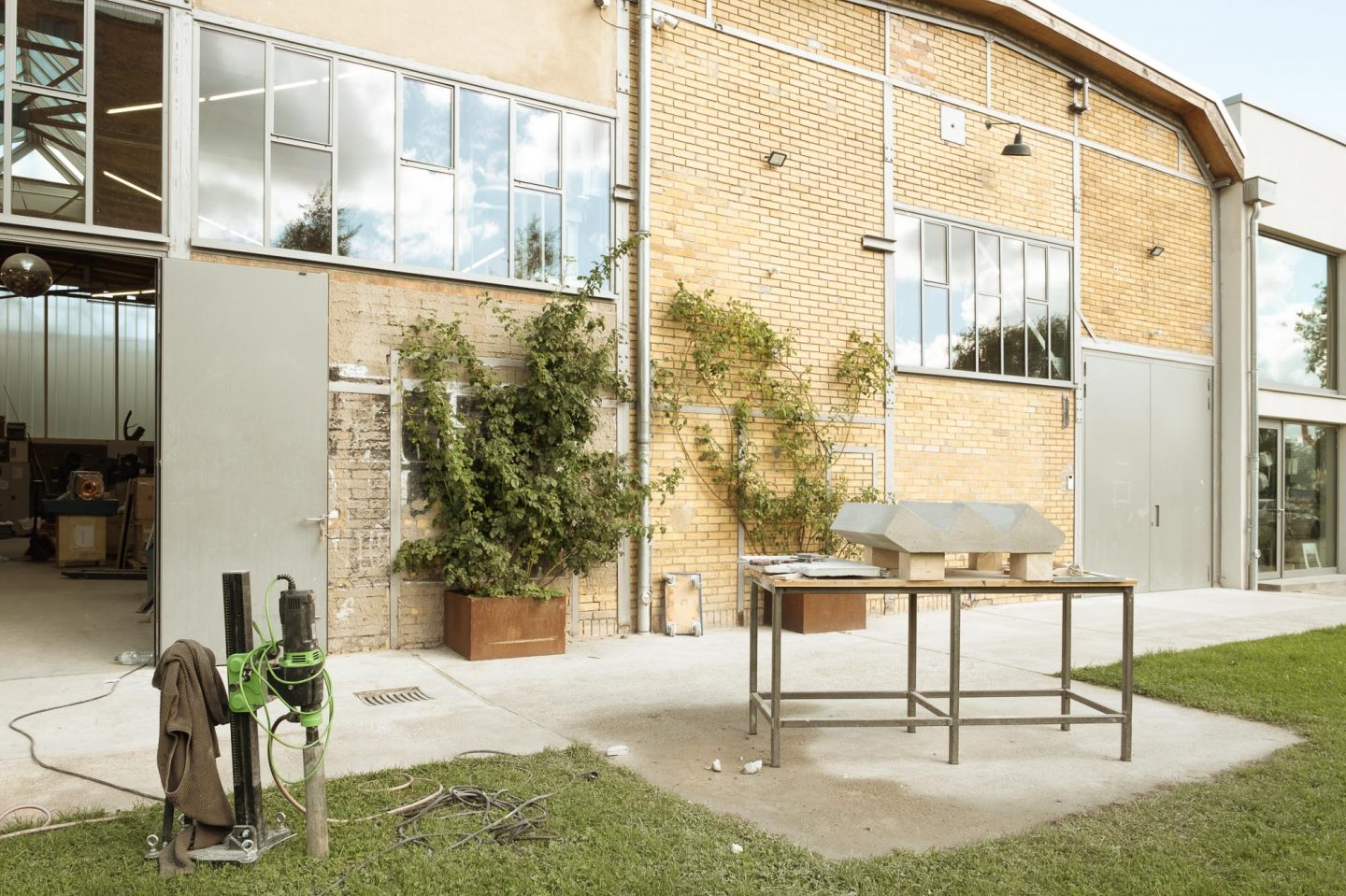 Inside the light-filled, high-ceilinged brick and glass walls of her studio, people operating heavy machinery and angle grinders call the artist over to check something on an in-progress sculpture, asking her opinion over the noise on the texture of the piece's surface. Massive wooden boxes and crates are stacked on top of one another, and there are parts of various works in different stages of production scattered all across the dusty room: like many of her enormous spherical sculptures, the pieces can only be moved with forklifts.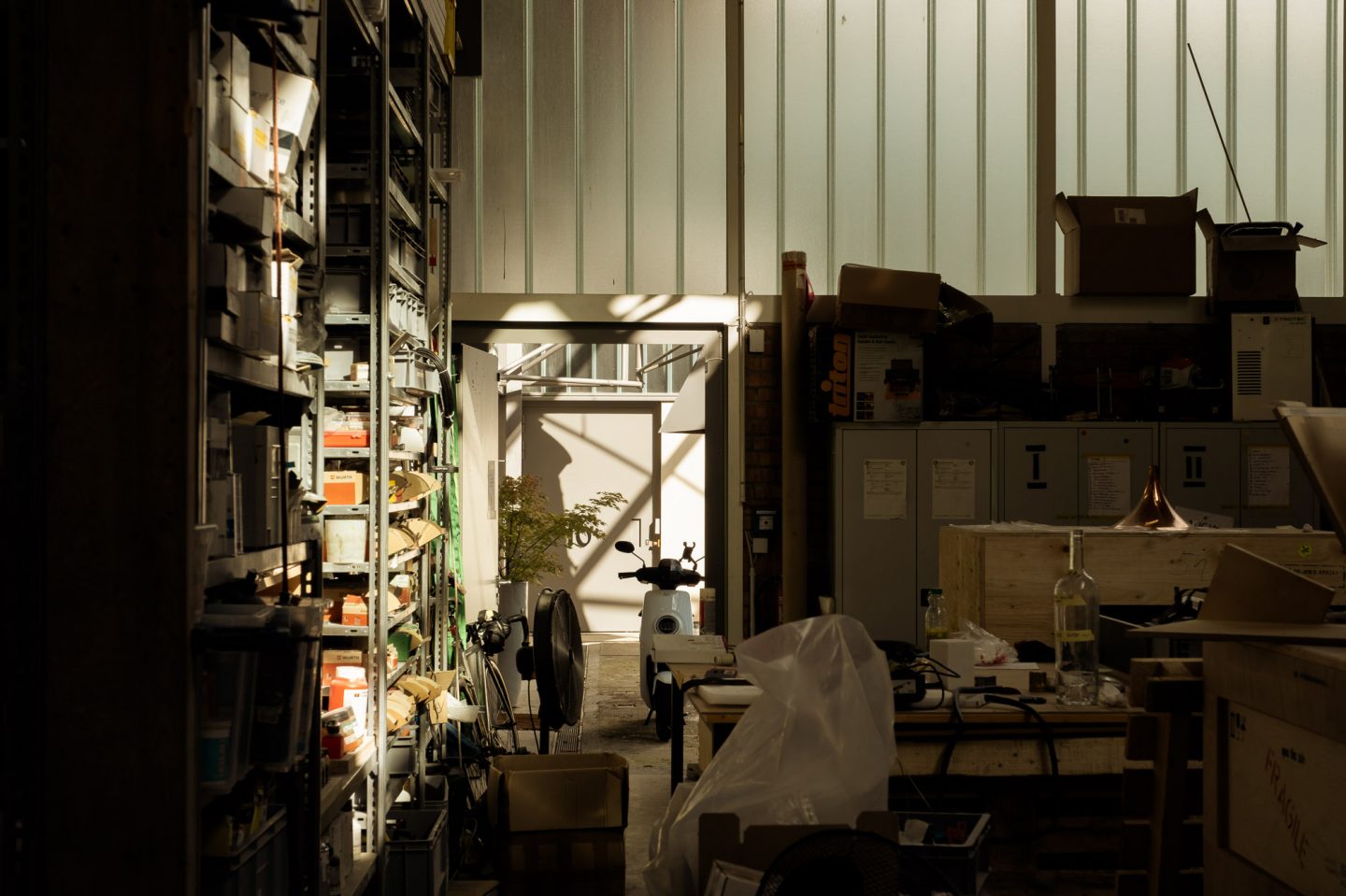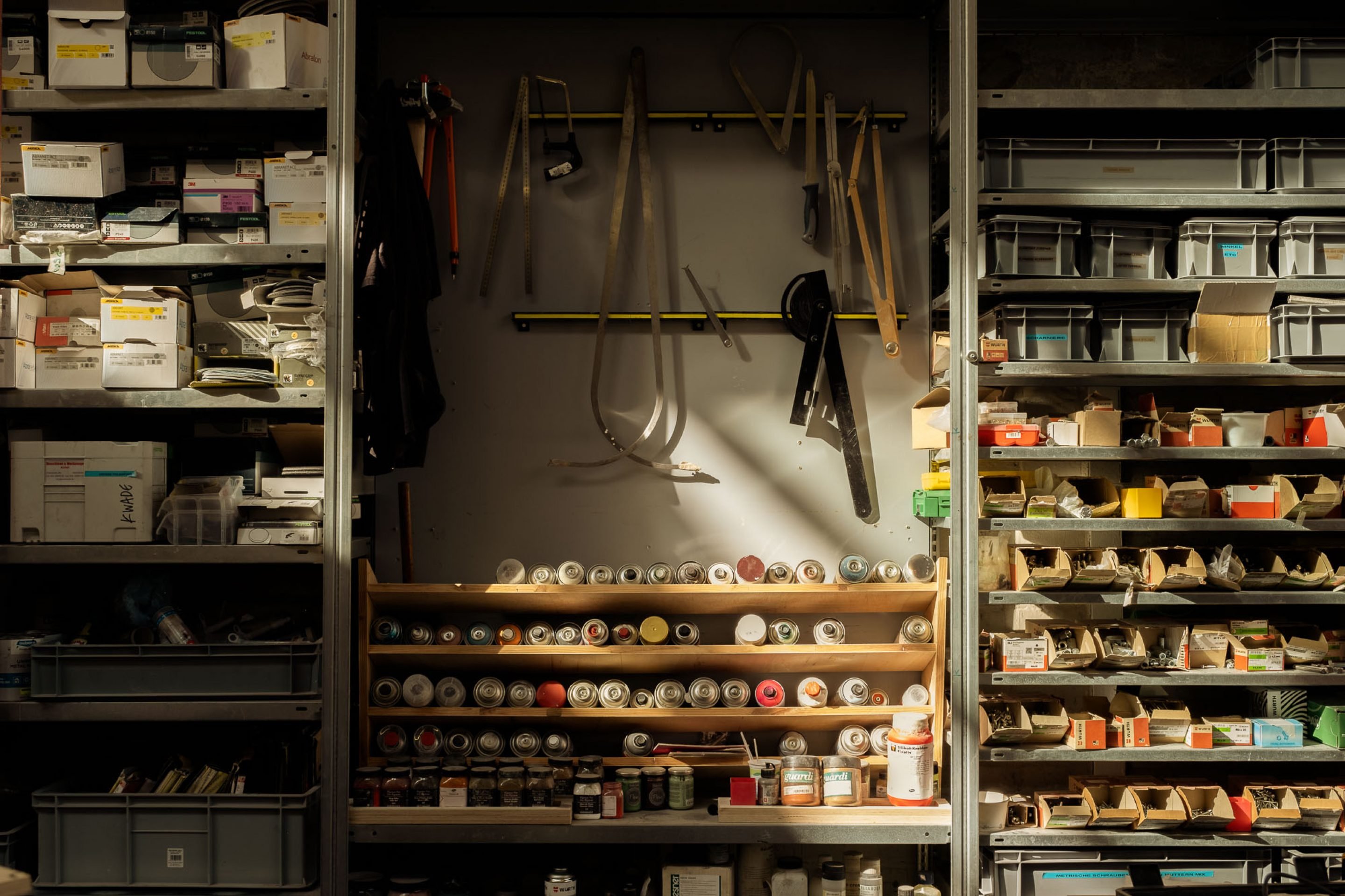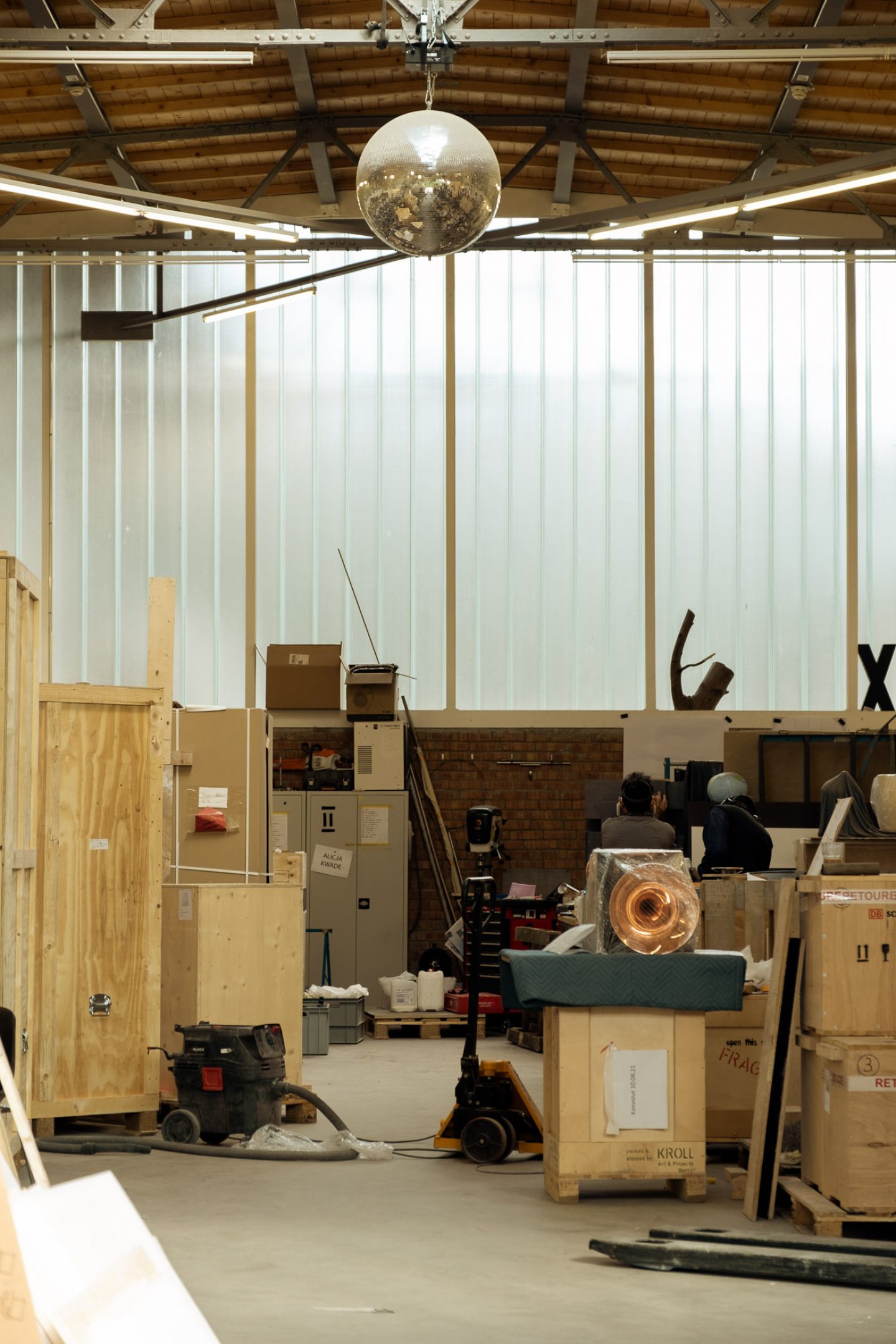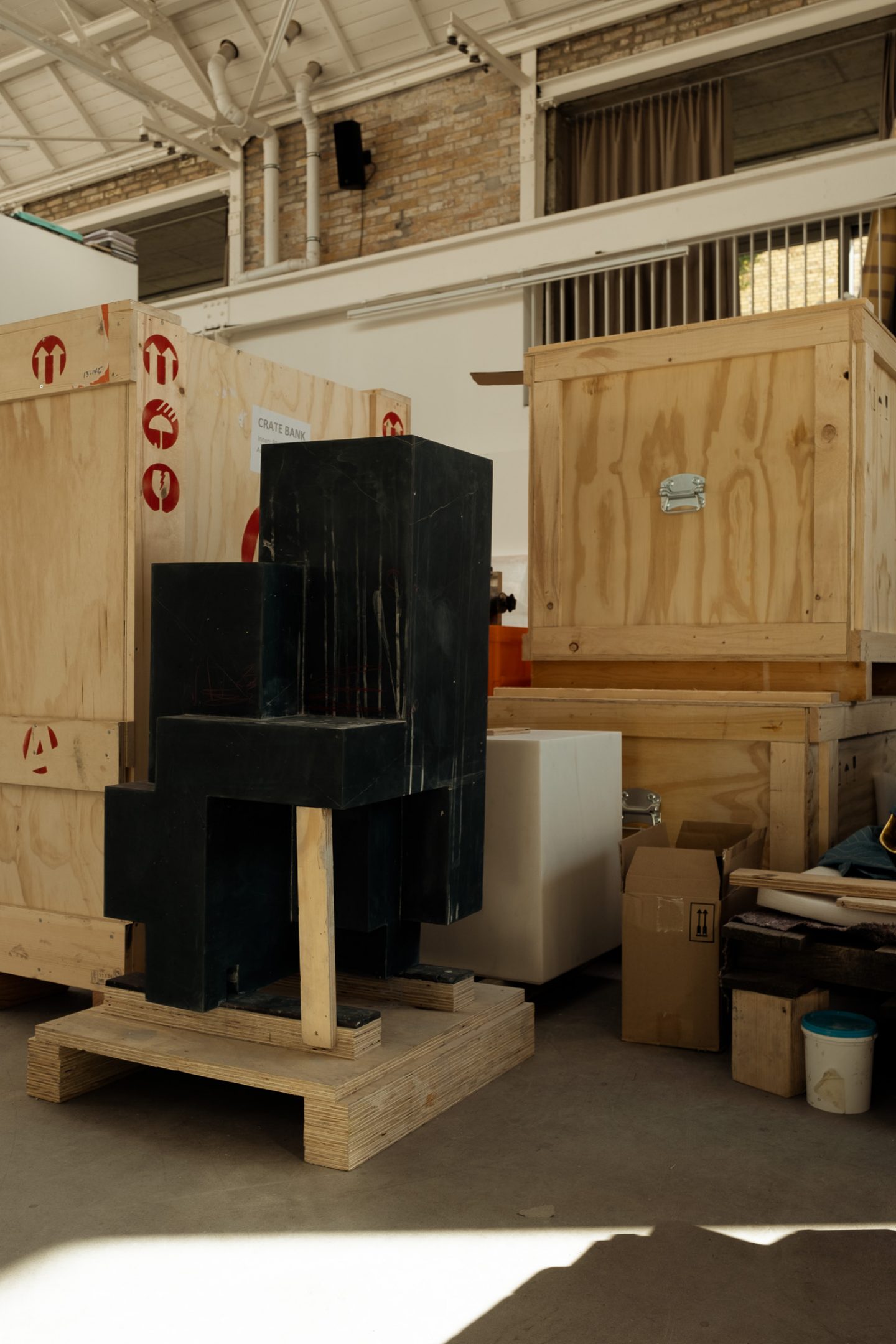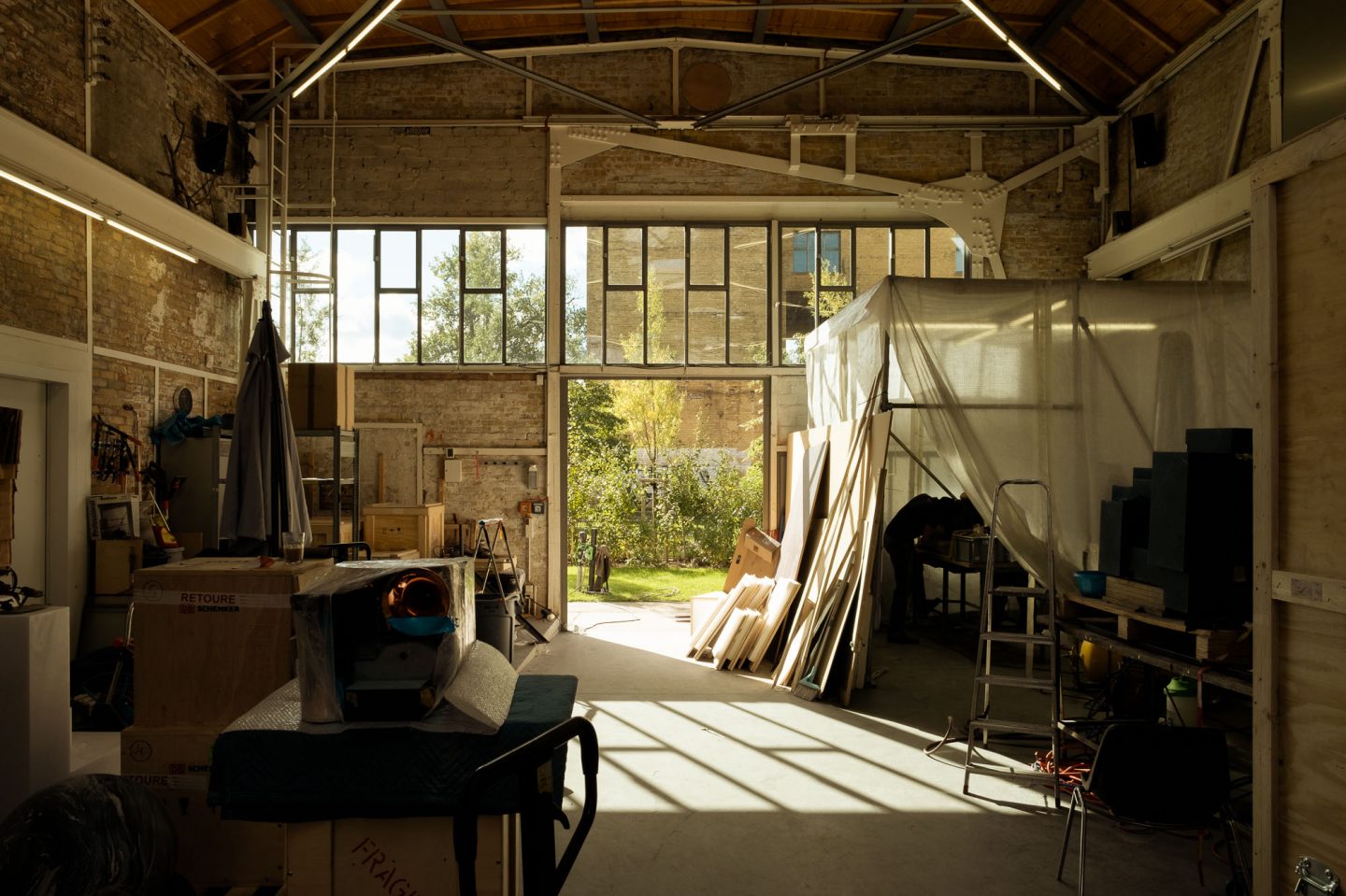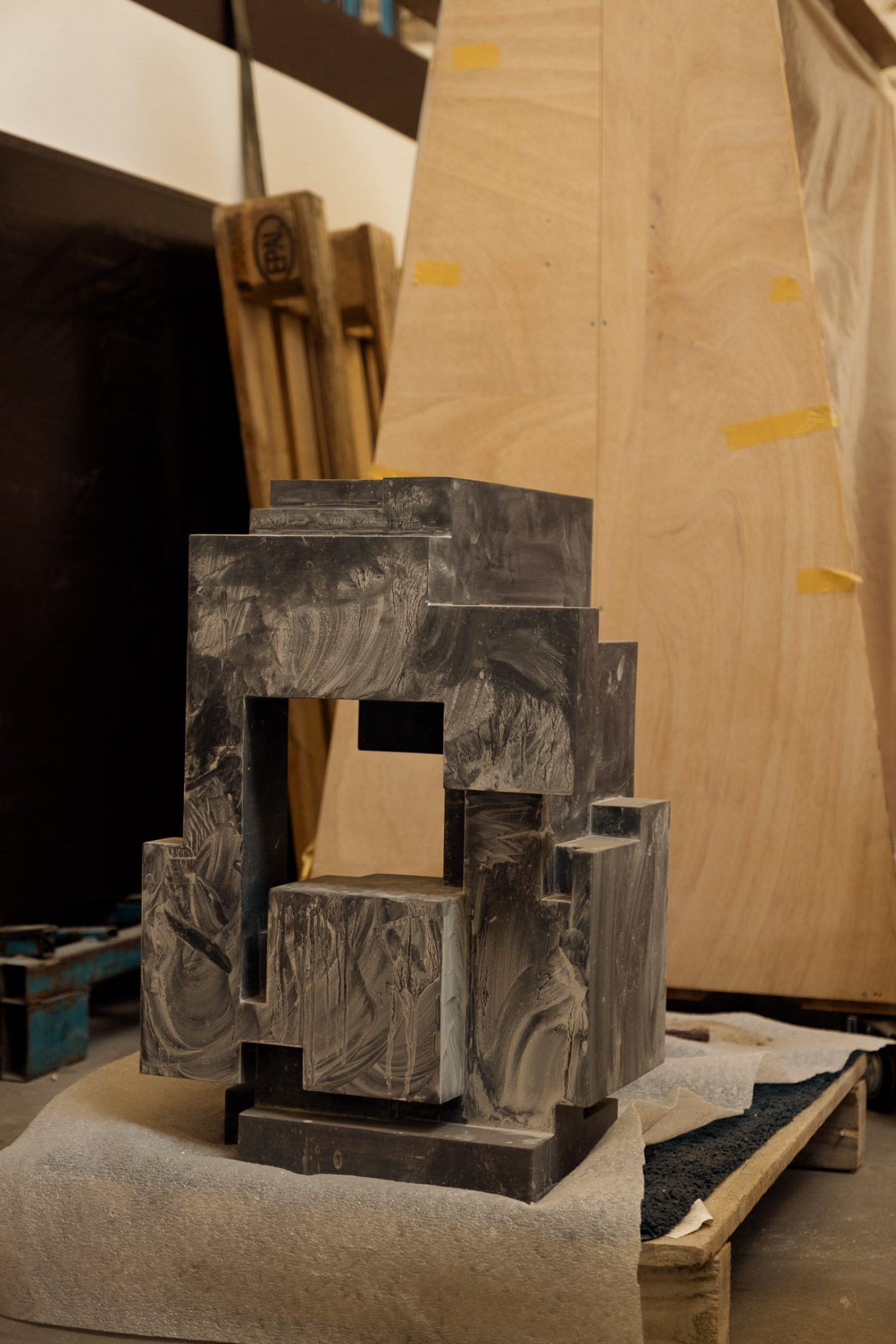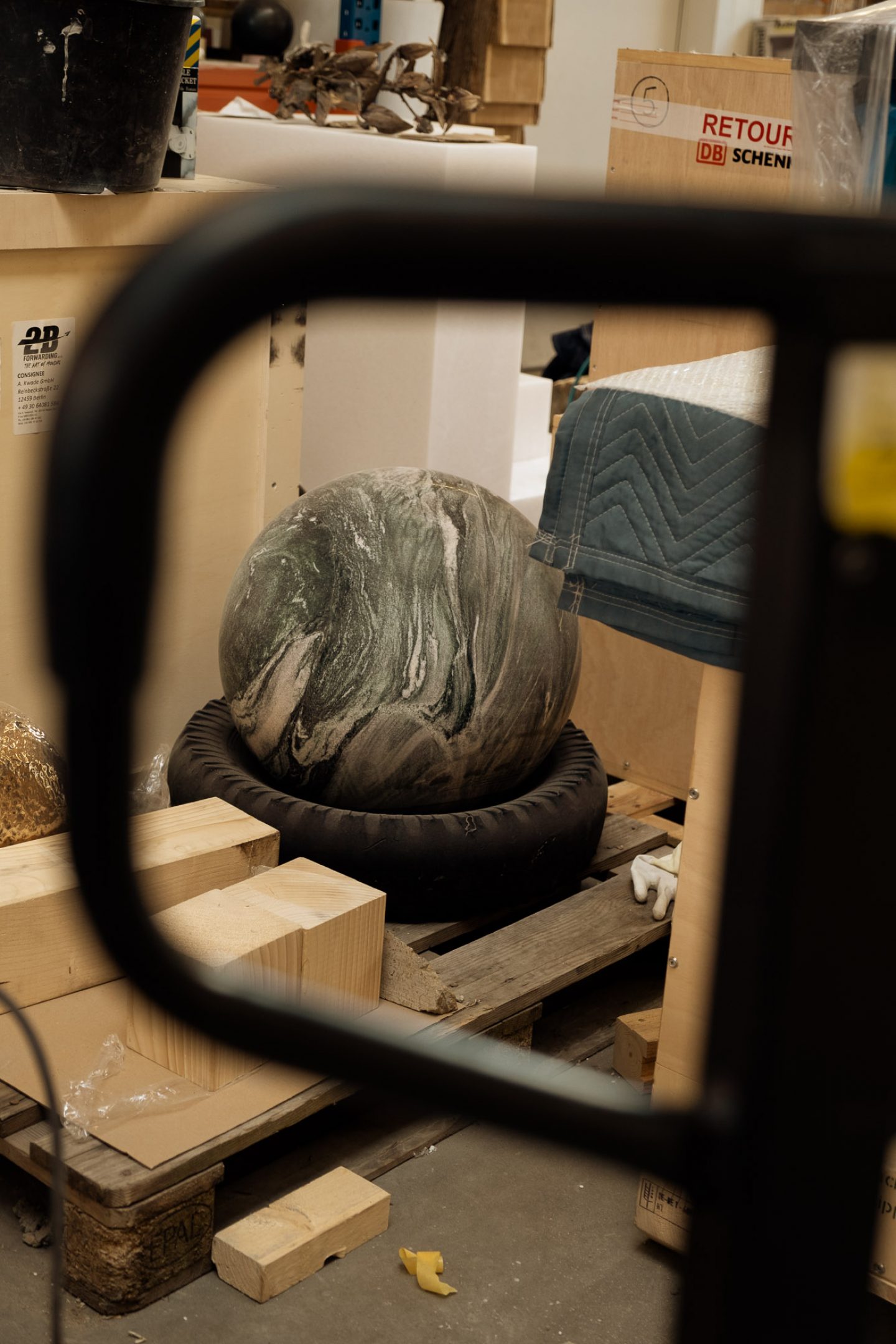 In another room, five-meter-high shelves hold the weight of tree trunks, stones measuring a ton, and huge sheets of wood; materials that will be used for future artworks not yet in motion. More than 20 people work together in a team on multiple projects at once to produce large-scale works of steel, stone, wood, and metal. Yet no matter what type of sculpture or site-specific installation Kwade has conceived of, there are certain elements that reoccur in her practice: a compelling interest in everyday objects; an exploration of time, space, and matter; and a dose of irony and humor to balance out what she feels is the absurdity of human existence.
"If I look at a stone, a star, or whatever, my research is always the same—to understand why things appear, how they appear"
"For me, human beings are quite satirical creatures somehow, there's just no way to get it," she replies, when I ask her if we'll ever understand the point of why we're here. With Kwade, there is no time for small talk, so we get straight into the hard-hitting questions. The artist, who is in her early 40s, has a kind smile and a focused directness about her when she speaks, a trait that is perhaps indicative of someone who builds very precise constructions for a living.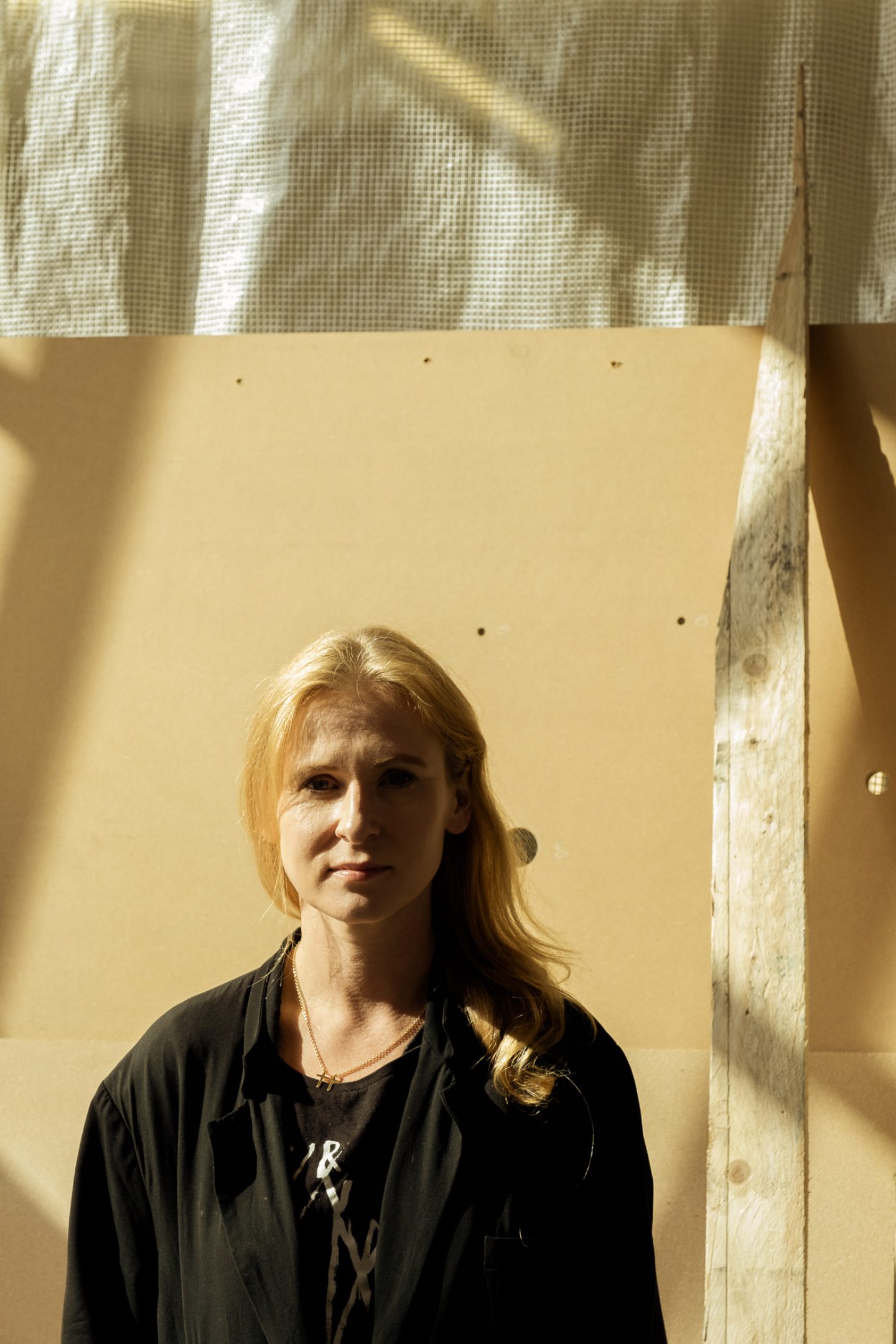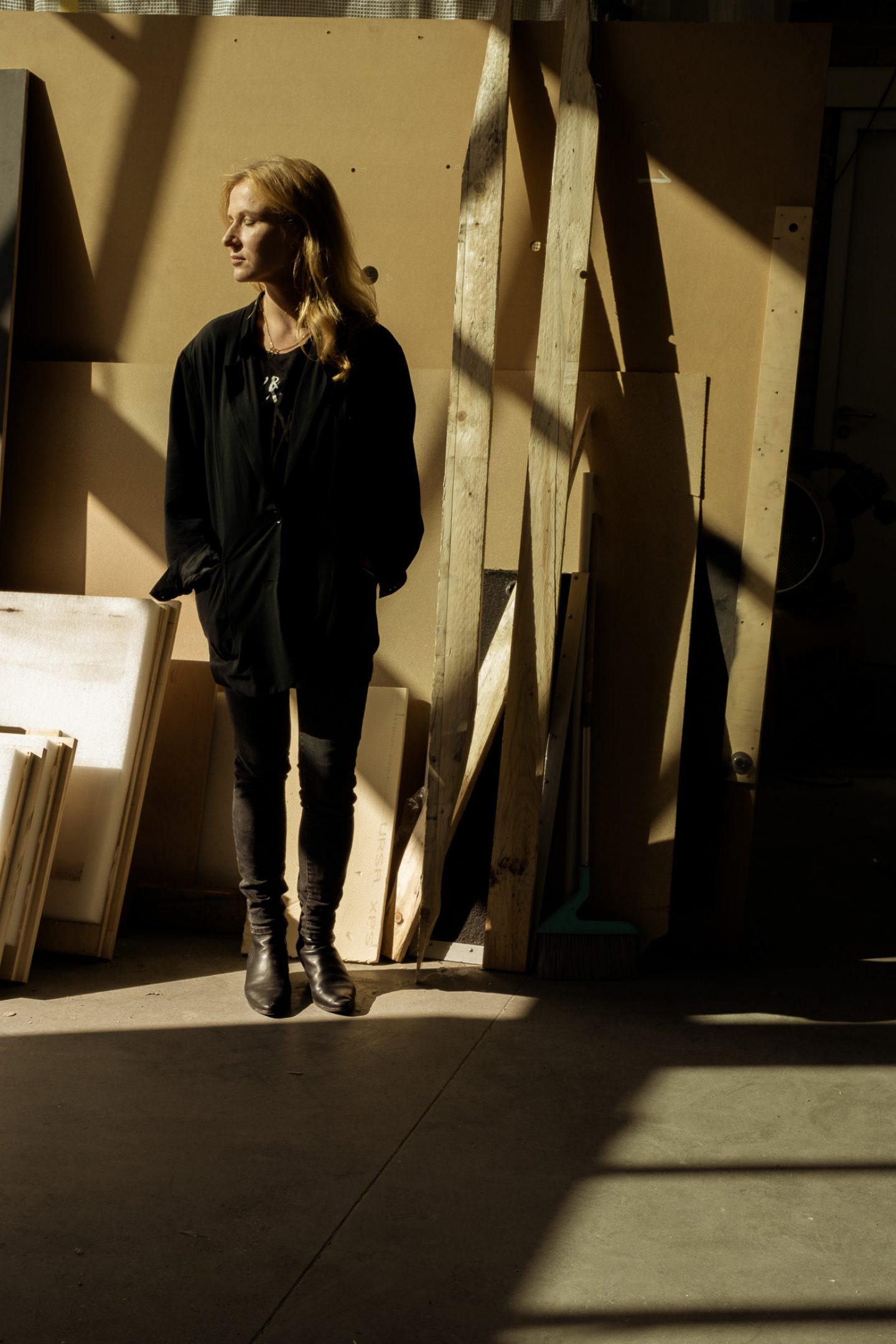 "If I look at a stone, a star, or whatever, my research is always the same—to try to understand why things appear, how they appear, and why we believe them," she says, sitting on a chair encircled by a large collection of architectural models. We are in her office on the second floor of one of the buildings, which is spread across three stories: The ground floor with its kitchen for group meetings and communal eating (which has been scaled back in numbers of eaters at one time since the start of the pandemic); the second floor where her desk is, a modest space surrounded by hundreds of sketches and models; and above it, another small room with a bathroom, terrace, and kitchen, for when the artist needs alone time to withdraw, sketch, make calls, or research.
It is Kwade's particular talent for making complex things feel familiar that makes her work so intriguing
Kwade moved to Germany from Poland when she was eight years old. In the last two decades, she has since earned acclaim for her immersive architectural installations and sculptures, yet it is her particular talent for making complex things feel familiar that makes her work so intriguing. Her current exhibition at Berlinische Galerie, 'In Abwesenheit' (In Absence) for example, uses philosophical, scientific, and social enquiry to comment on how a person and their physical presence in space can be described through information.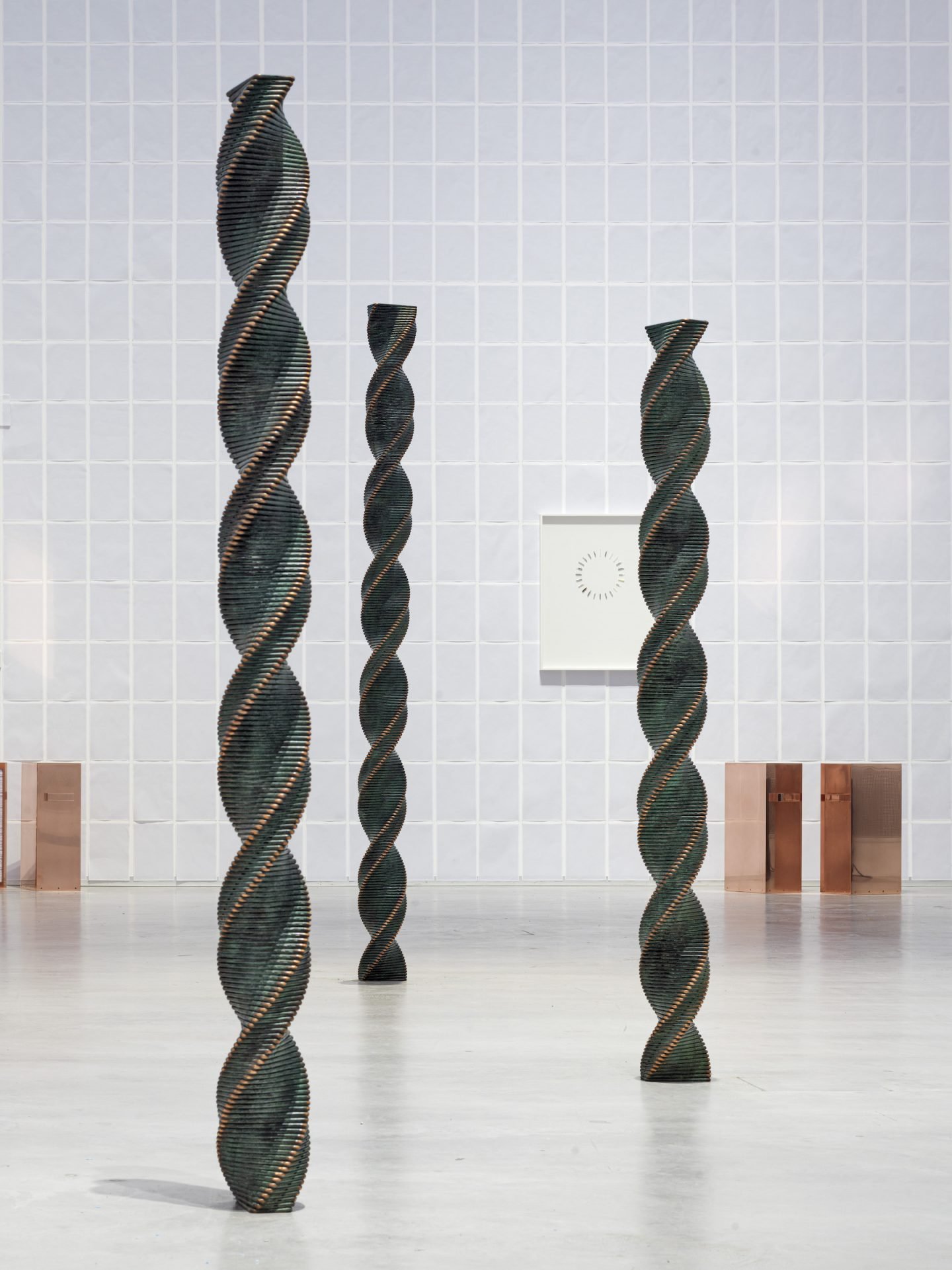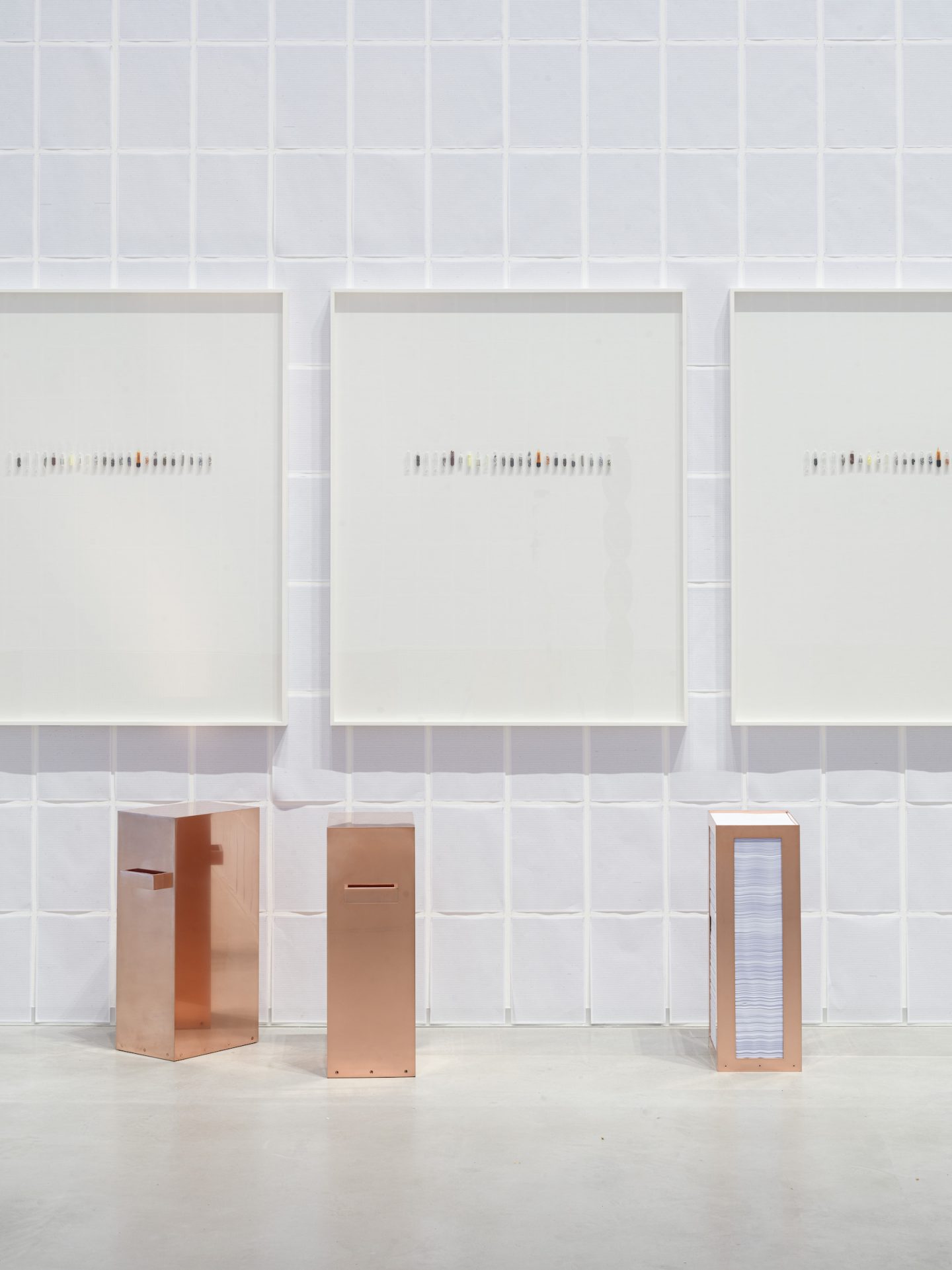 Her sculptures and constructs displayed at the exhibition inform our perceptions of the elements and information that make up the human body: one piece, titled Principium (2020), uses what looks like discarded smartphones twisted into three life-sized double helices of our DNA. However just one iPhone was 3D-scanned and the form was used to digitally "I'm just looking at myself as one example of a human being"build these life-sized double helices, and their form was then cast in bronze. Another piece, called Self-Portrait (2020), consists of 24 tiny glass ampoules containing in pure form the chemical composition of the human body, with tiny powders and crystals of hydrogen, nitrogen, carbon, and so on. A third piece, an enormous ring of black steel, is dotted with 24 speakers that blast the artist's heartbeat across the exhibition hall. It is a physical manifestation of the body's information; thus, with it, Kwade is looking at how a human being can be described.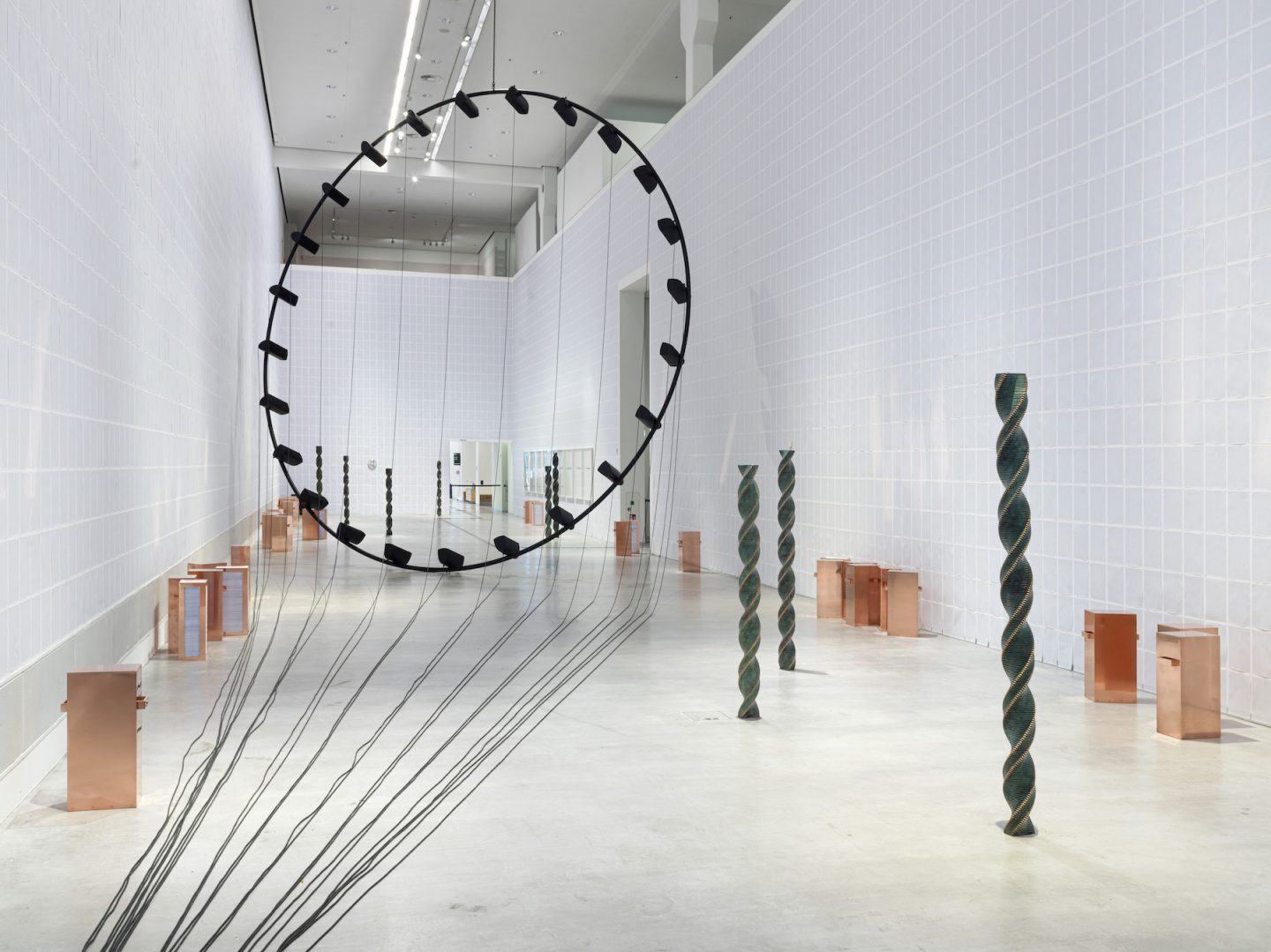 "I don't care about where I came from or where I've been raised, I'm not interested in those details"
Despite being referred to as a series of self-portraits, Kwade stresses that the pieces in the exhibition are not about her. "It's kind of funny, you know, but I'm not interested in myself at all," she explains. "I don't care about where I came from or where I've been raised, I'm not interested in those details. I'm more looking at myself as one example of a human being, and I'm just trying to see what that is made of, and to look for some authenticity in the materials in the process."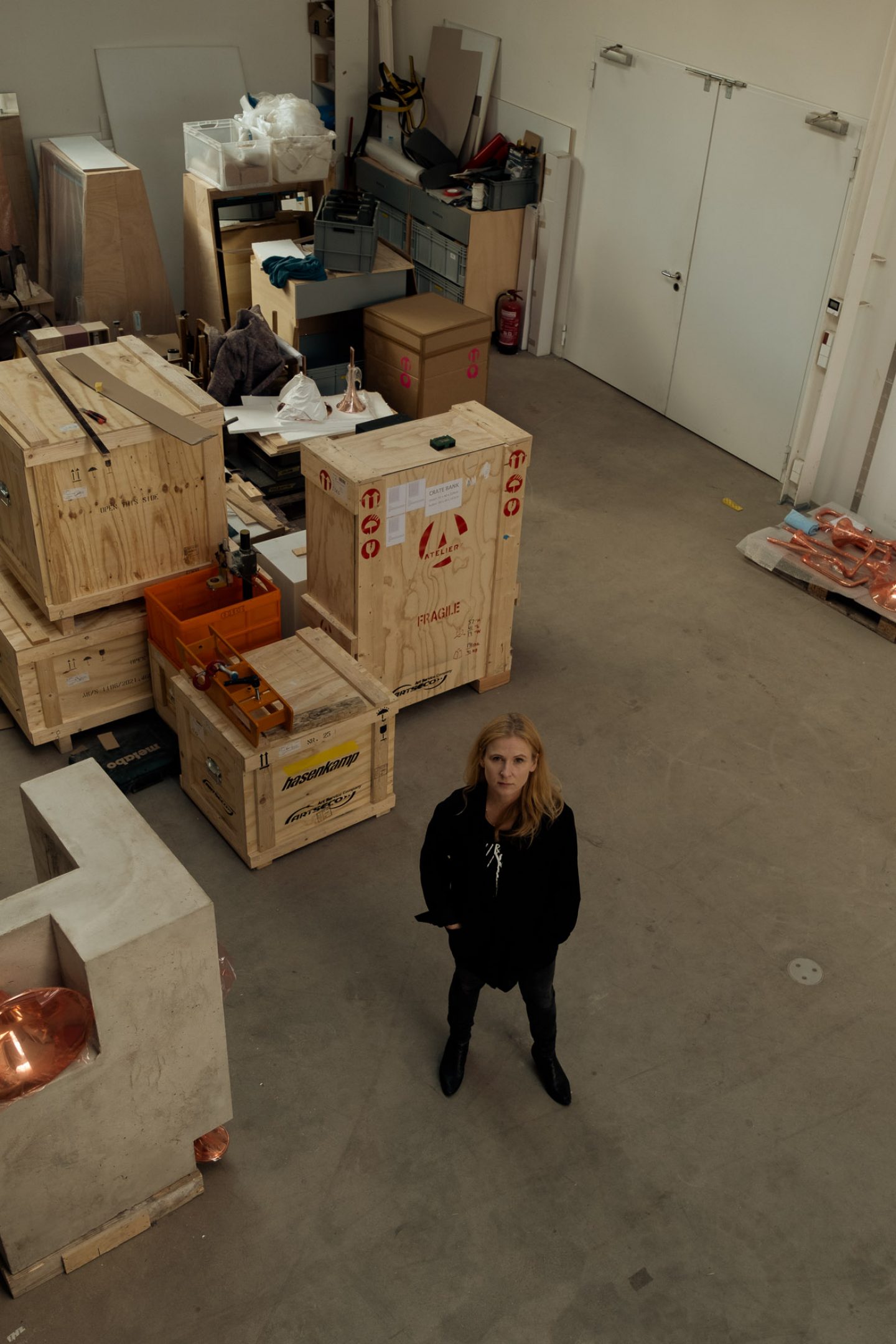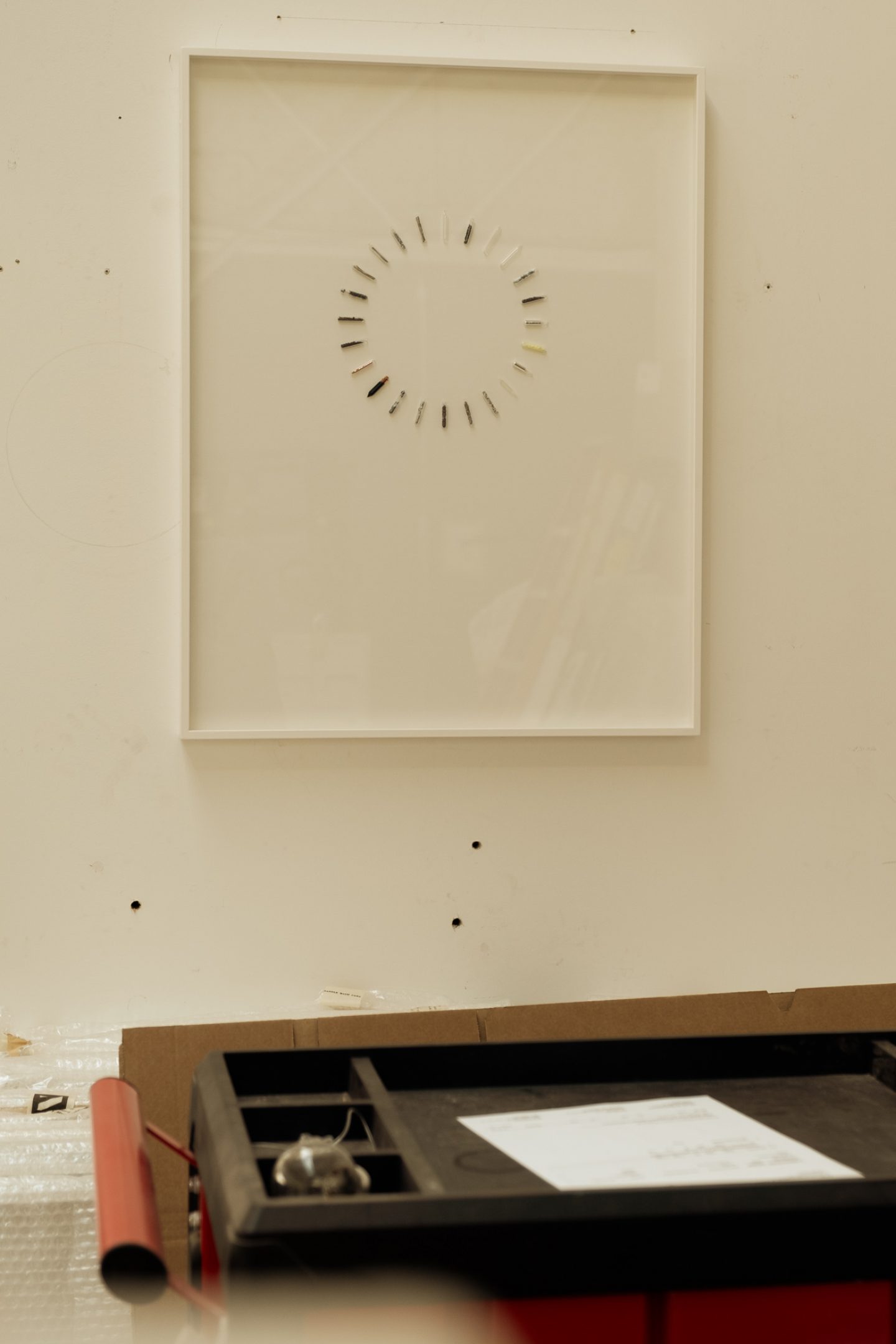 Back at the studio, there is no clear or structured procedure that leads each day. "What I can say is that I try to get in some quiet hours during the day or on the weekend, to work on my creative process," she says, "which means looking at all "I have a deep interest in finding out what is not to be found out"the works, researching, learning, reading, and sketching." Multiple project managers will work with her simultaneously to develop ideas in more detail, "because they can work more efficiently on the computer than I can," she laughs. Then there is communication with curators, registrars, engineers, and directors, and more—"All the in-between process is quite exhausting because it's usually about solving problems," she says. "This part can be very stressful, because you have to be very precise about things until the very end. But my favorite part of the process is here, when everything is ready and you see it come together."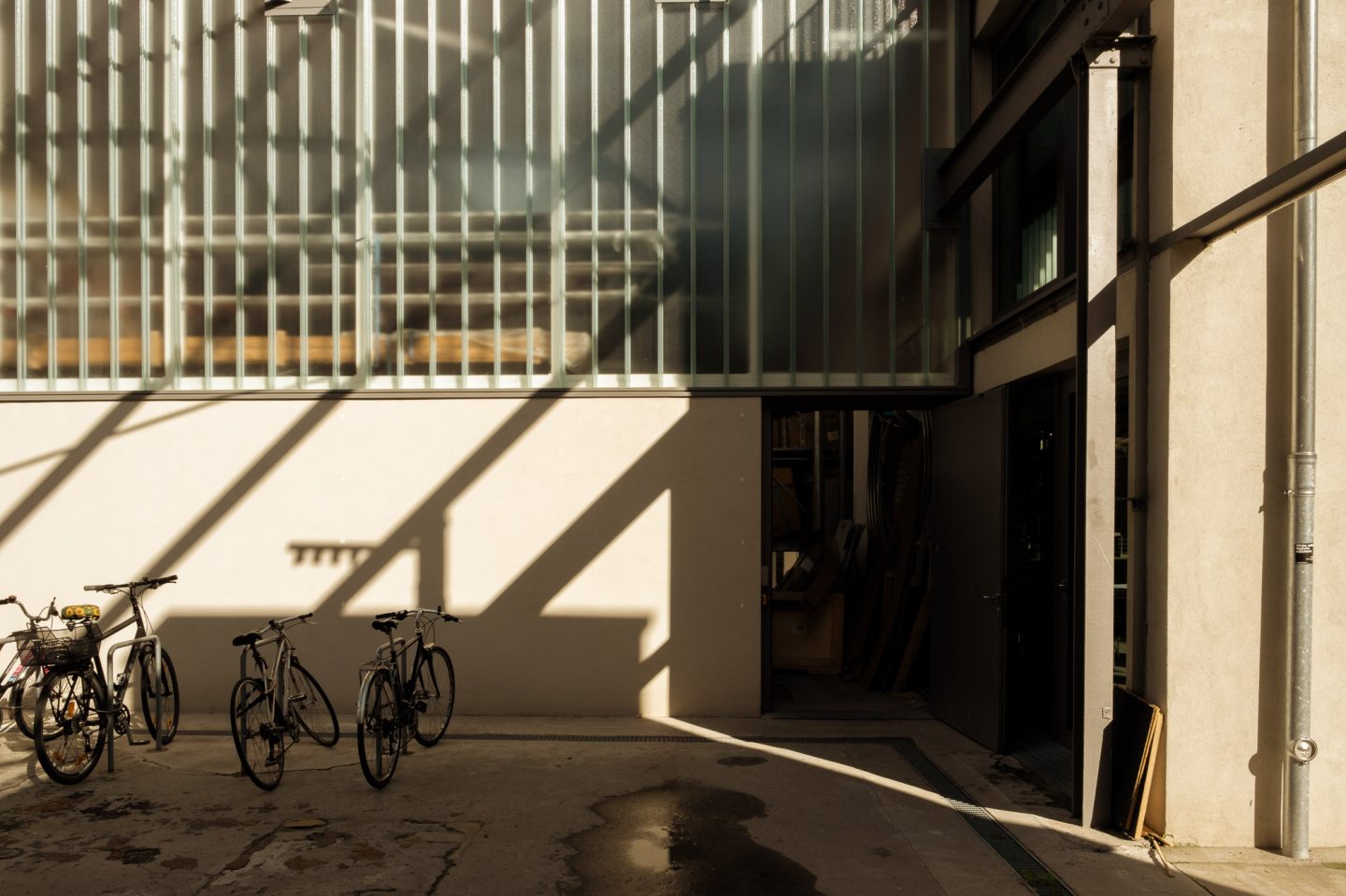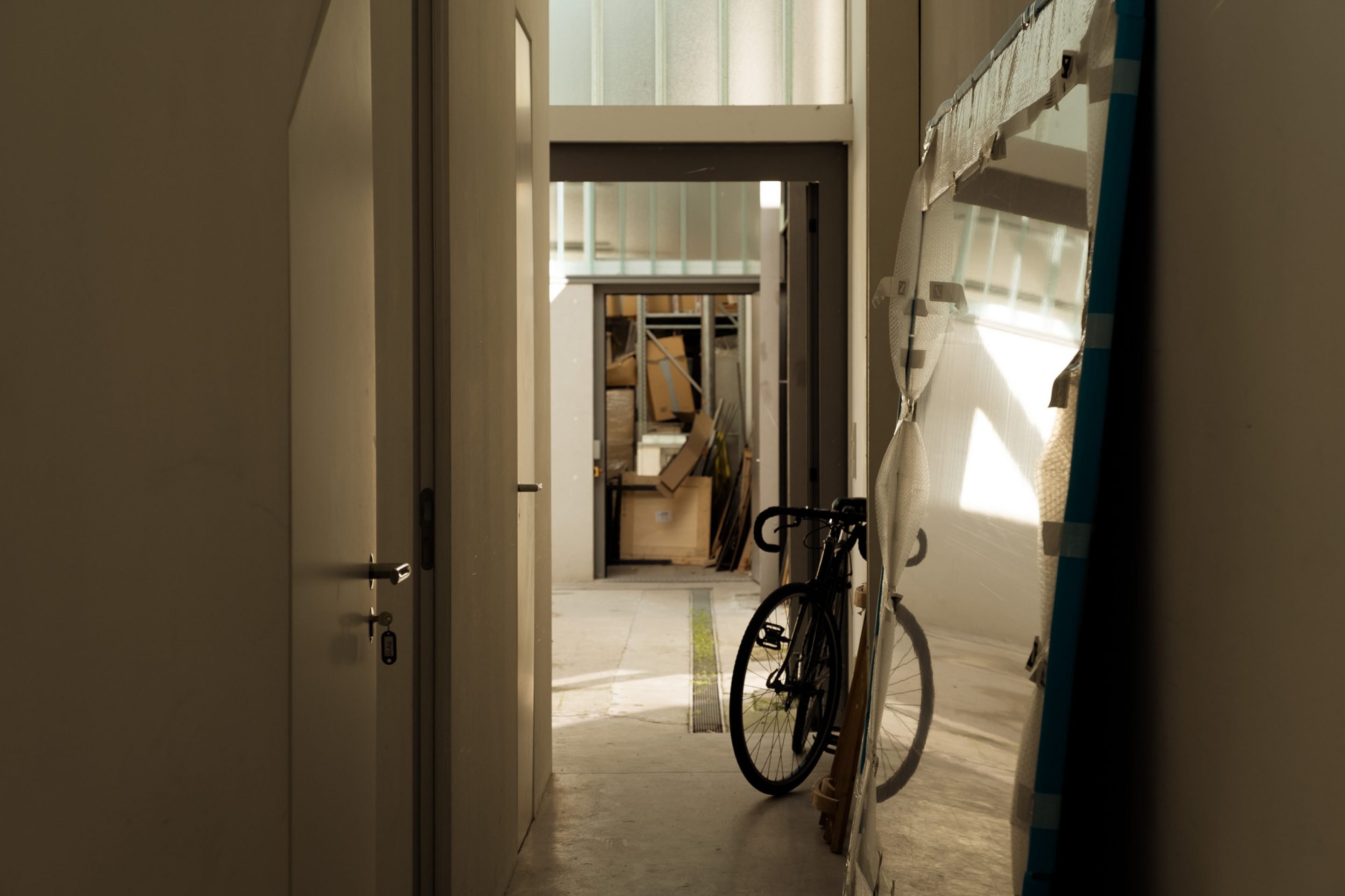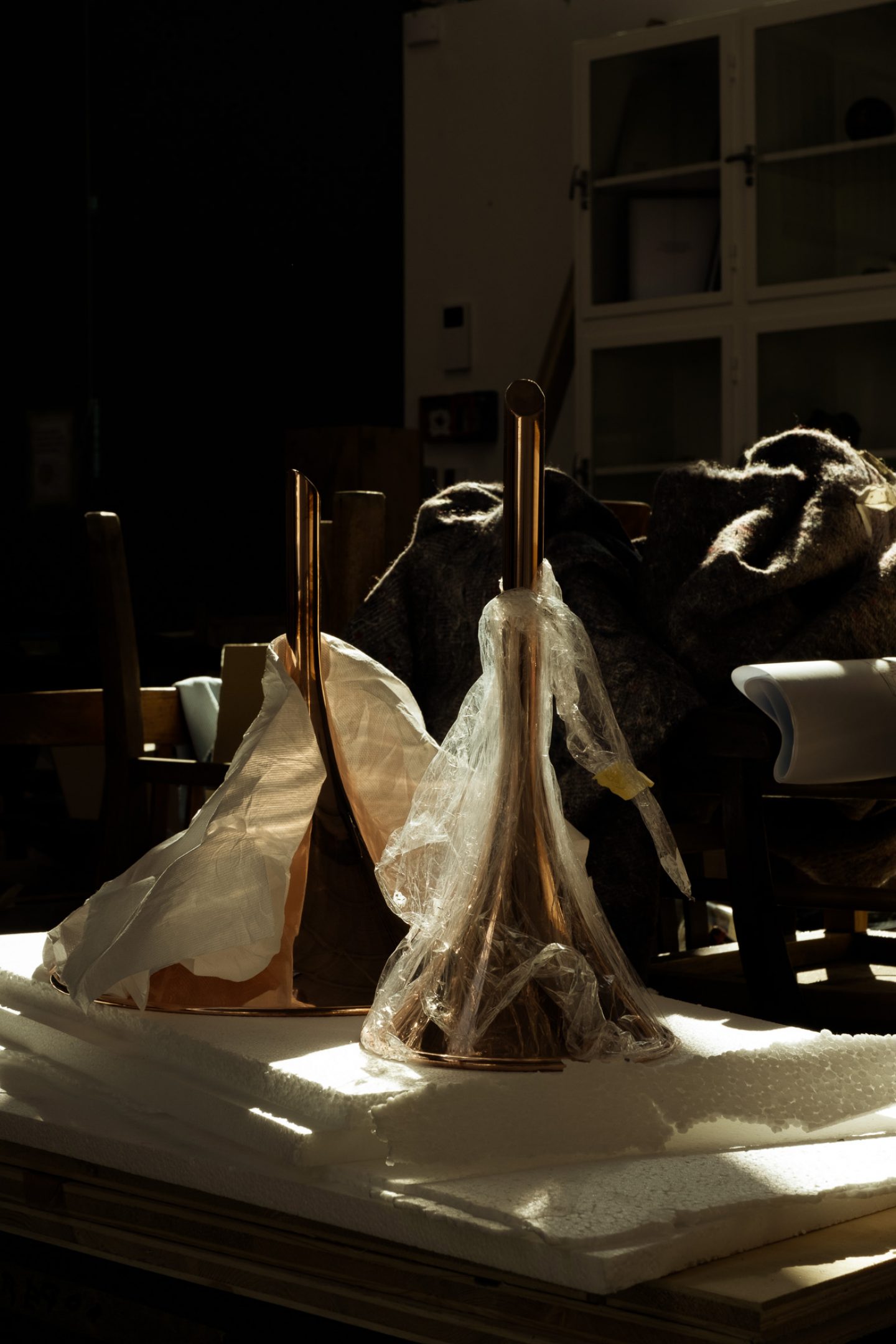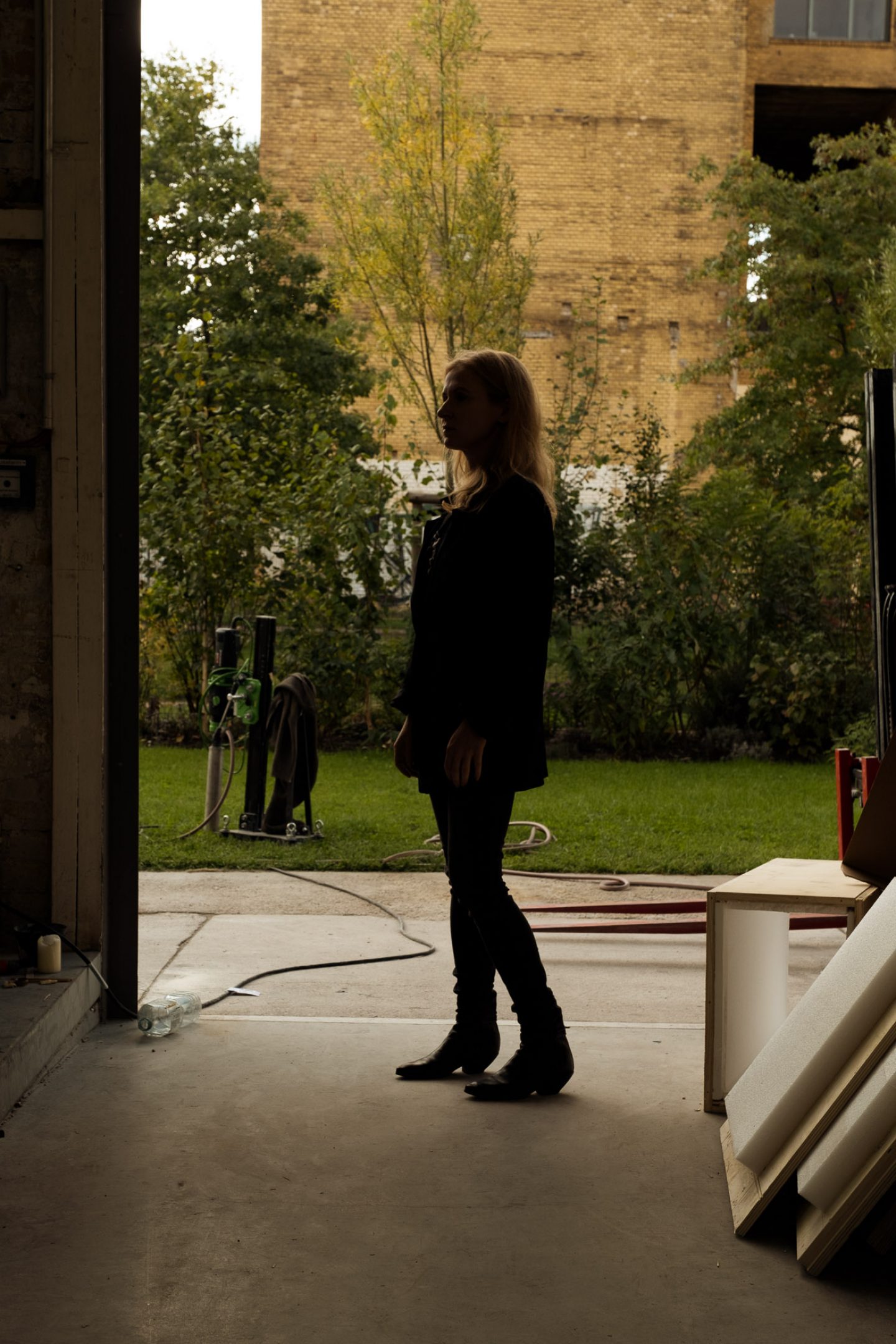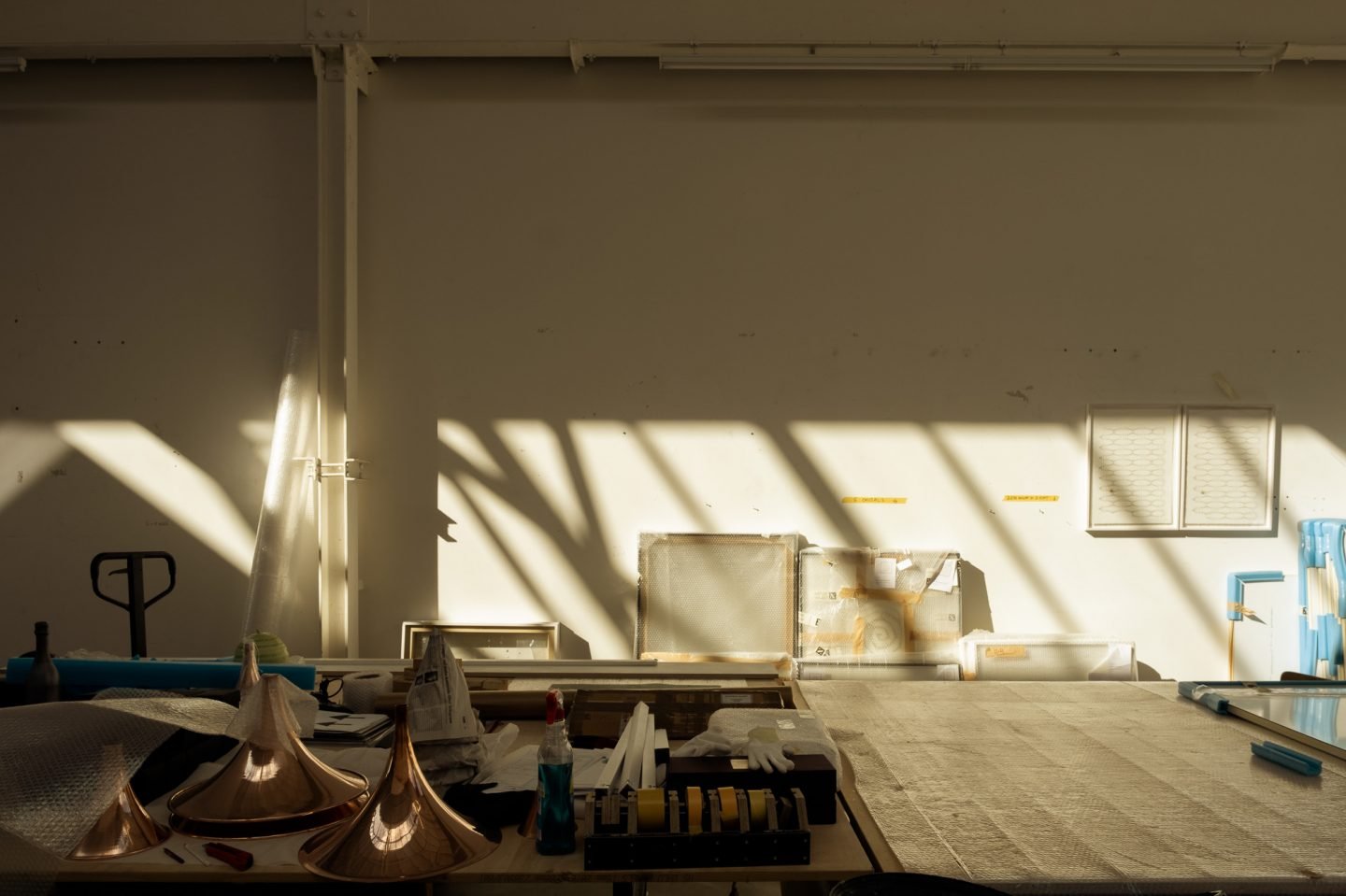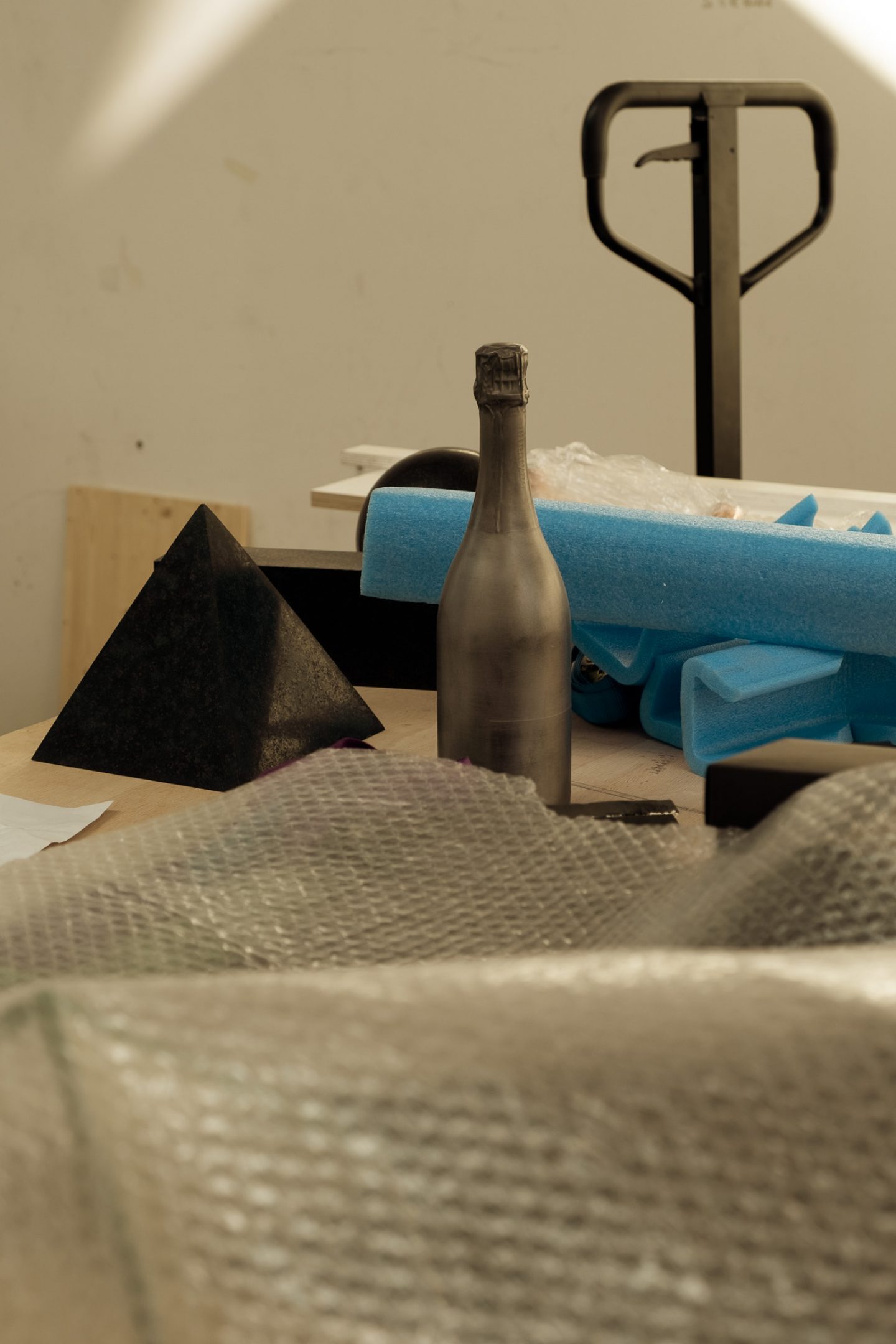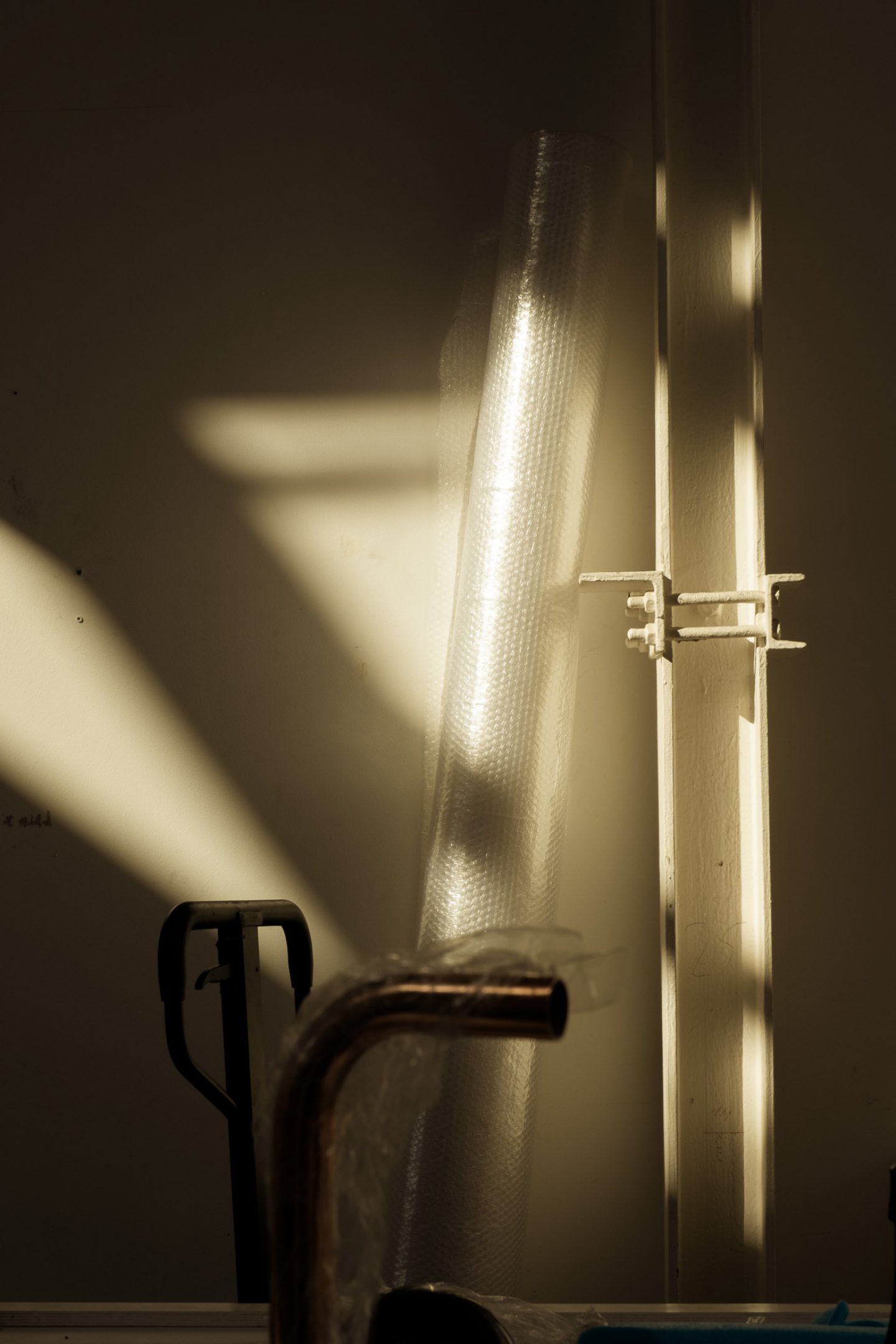 The important part Kwade hopes we take away from her way of creating is to continue to question why things are the way they are. "There was a certain point where I started to question things and not just believe them," she says. "I grew up in a country where everybody's Catholic like crazy, so they just believe things without questioning them. I started to hate that when I was a child, and began to refuse to accept it."
"When you start to question things, you always end up in the solar system. Everything ends there anyway"
Her planetary sculpture ParaPivot (2019) on the Roof Garden of the Metropolitan Museum of Art in New York City is one of her boldest and most iconic works to date. Given the fact that the piece makes us ponder an otherwise unfathomable universe, I ask where her interest in the solar system came from—was it there since her childhood? "How that came about, I have no idea," she laughs. "It's more that I have a deep interest in finding out what is not to be found out, because it's so abstract that we can't understand it anyway. And of course when you start to question things, you always end up in the solar system. Everything ends there anyway."